Ancelotti believes in Everton project
Monday, 28 December, 2020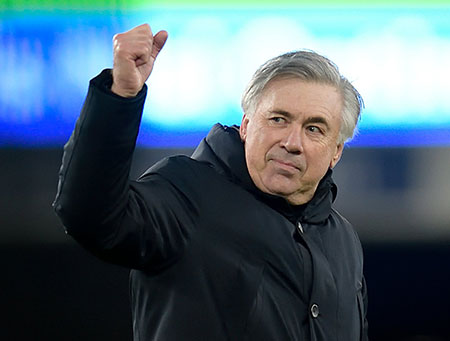 Carlo Ancelotti has been at pains to play down talk of his Everton side being in the 2020-21 title race, insisting, quite realistically, that it's a long season in a hugely competitive league, but he is clearly content to be in the job he took at Goodison Park a year ago.
The Italian has described on numerous occasions recently his delight at being at an ambitious club, a "family club" and he believes that the foundations are being put in place for lasting success for the Blue half of Merseyside.
Even if his team should find a way past Manchester City today and join Liverpool on points at the top of the Premier League table, his target of European qualification won't change. Beyond that, however, he is planning for bigger things and doesn't rule out staying with Everton beyond the terms of his 4½-year contract which expires in 2024.
"It will be the same," he said in The Guardian. "We have to be honest with ourselves; we're not of the same level as some of the teams. We would like to be as soon as possible, and we're working towards this, but if you ask me today I would say we have to be honest about it.
"After one year, we have progressed really well and we would like to improve further next season.
"The project is very ambitious. We are building the new stadium and improving the quality of the squad," he continued. "There are all the ingredients to come back to the top — to fight, to be competitive in England and Europe.
"I want to stay (past 2024) but it doesn't mean we can't be competitive before the end of this contract. We can win trophies before then. We have to continue to improve."
Ancelotti sees parallels between his task at Everton and the one he undertook at AC Milan in 2001, one that became an eight-year stint and an impressive haul of trophies that included the Champions League.
"When I went to Milan in the first period they wanted to restore the club's history, like Everton now.
"This club wants to be competitive with the top teams in the Premier League. I don't know if it will be this year but for sure in the future we will be there."
"To win the League today? In England this is difficult. There is no country where the competitiveness matches the Premier League.
"I don't feel pressure. I love what I'm doing. I feel really good coming here every day."
---
Reader Comments (30)
Note: the following content is not moderated or vetted by the site owners at the time of submission. Comments are the responsibility of the poster. Disclaimer
Paul Hewitt
1
Posted 28/12/2020 at 08:46:52
How anyone can question what Carlo is doing is beyond me. A world class manager, who has took us from 15th to 2nd in 12 months.
David Greenwood
2
Posted 28/12/2020 at 09:13:42
Couldn't agree more, Paul.
Has Carlo got everything right? Clearly not, but where we were to where we are now and, perhaps even more importantly, where we are headed, it's just night and day.
Ajay Gopal
3
Posted 28/12/2020 at 10:42:01
The one comment that really got me misty eyed (not mentioned in this article, but quoted in the BBC):
"I am really pleased because I found the right club, a nice club, a family club. I live in a nice area so, after one year, I can say I was lucky."
I don't remember having heard a manager say that: not Moyes, not Martinez (my favourite recent manager), not Koeman, not Allardyce, not Silva.
We've got to believe in Carlo – there will be bumps and setbacks along the way. But, as long as Carlo is motivated and the board continue to support him, I believe that he will take us to success.
Thomas Richards
4
Posted 28/12/2020 at 10:52:13
Put a glow on me reading that article.
If only we could find a way for the doubters to believe in the project.
Brian Murray
5
Posted 28/12/2020 at 11:10:14
Ajay @3.
Your favourite was hell-bent on getting us relegated and it was definitely on the cards. He didn't have an inkling how to defend even when in front. I assume you mean that glorious first season (except for the end of it). Fair play, kidda, here's to better times with a boss who breathes the same air as him... and that's about the only comparison. See you at the San Siro soon... 🤫😬
Pat Kelly
6
Posted 28/12/2020 at 12:21:45
"We can win trophies before the end of the current contract".
A bold statement. I'd settle for one trophy. Despite the progress to date, I think winning a trophy is unlikely in his current contract. Maybe, if he stays on, the squad will have been sufficiently rebuilt to win something during his next contract.
Danny O'Neill
7
Posted 28/12/2020 at 12:41:52
It's good to hear an Everton manager talking like that Pat. But with his record why wouldn't he? That's how winners talk; not playing down any form of expectation in order to preserve the manager's position. Previous manager's have made statements such as "knife to a gun fight" prior to playing Manchester City. That's akin to saying "expect to lose, anything else is a bonus and it won't be my fault guv". I for one am sick of having my expectation played down.
Of course, there will be those who get overly sentimental on his comments and those who will sit in the "well of course he would say that" camp.
For me, he touches a lot of bases there. Ambition and what sounds like a genuine affection for the club, the city and the job ahead of him. As long as he is our manager, I for one do not doubt his motives or intent and yes, I know he is being well paid, but his CV warrants that.
Interesting debate on Talk Shite this morning. In-between fawning over Allardyce, they moved onto style versus results. A Chelsea listener phoned in to give the view that fans just remember winning trophies, not how they played to win them. That clearly is a valid point, but interestingly he said that every now and then you are lucky to have a manager who can win and play with style, "like us under Ancelotti".
Still work in progress but I'm intrigued to see where we will be as a squad going into next season after another 2 transfer windows.
Tony Abrahams
8
Posted 28/12/2020 at 14:00:07
I'm not technical Danny, so I can't put it on here,
but there is a cracker doing the rounds with Danny Murphy, showing all his biased wisdom from that same show the other week. Hence the title talkshite!
Thomas Richards
9
Posted 28/12/2020 at 14:14:47
Good post Danny.
Annoys me when his wages are brought up.
Fail to see the relevance to the ordinary fan.
If and when we win a trophy will the posters complaining about his wages say " I'm not going the parade, hes on 200k a week"?
Brian Murray
10
Posted 28/12/2020 at 14:31:49
Let's hope no parades allowed until we are ready and our skipper Ben has his hands on the premier!
Jason Wilkinson
11
Posted 28/12/2020 at 14:34:34
Tony, I watched the YouTube vid of Danny Murphy making a tit of himself. He thinks we should have gone after Brenda. The way we dealt with Leicester affirms my belief we got the right man. It has taken a bit of time. We have not always looked comfortable but Ancelotti is getting the squad to play to his tactics. We can play on the front foot. We have learned how to play without the ball and defend resolutely also. There are signs that we are grasping the idea of quick counter attacking play. I thought our play against Sheff U for the goal was sublime. We didnt panic. The passing was well thought. Switching from left to right then the skill in the box to lay the shot on for Sigurdsson. No team has battered the Blades this season. They were always going to be tough to break down.
City will be different. They possess a much greater goal scoring threat. However Ancelotti will have looked at ways of getting at them. City will play their usual keep ball and over commit at times. We need to be smart and quick enough to counter and hit them on the break. I wouldn't be surprised if we have periods of dominance in tonight's game either. We are capable of keeping the ball and probing for the right opportunities. The game will be won by the team who best executes their managers tactics. My money is on wily old Carlo out foxing young Pep.
Julian Wait
12
Posted 28/12/2020 at 14:46:09
Danny #7 - I have a very good mate who is a lifelong Chelsea season ticket holder since the 80s. He thinks Carlo is the best manager they ever had, that the Carlo years are exactly as you describe, that Carlo is a class act and a gentleman, and that it was a disgrace the way Carlo was fired at Goodison by Chelsea. He really wishes Carlo every success at Everton.
We've got the right guy. It doesn't guarantee anything, but I think he is perfect for us.
Rob Halligan
13
Posted 28/12/2020 at 14:49:32
Talking of managers, I'm hearing that Chelsea are on the brink of sacking Lampard, and replacing him with Thomas Tuchel.
Mike Hughes
14
Posted 28/12/2020 at 15:11:58
I certainly like the team spirit that Carlo has fostered at EFC.
It's a shame we didn't have him from the beginning of the Moshiri project - but perhaps now is the right time for both parties.
Onwards and upwards.

Danny O'Neill
15
Posted 28/12/2020 at 15:37:55
Yes Thomas. To you and I, the manager's wages are irrelevant. You get what you pay for and if you want someone of his standing in the game, that comes with a premium as with any profession.
Julian, I work with a PSG supporting French colleague. He doesn't have a bad word to say about Carlo and I suspect he now secretly follows Everton as his weekly curiosity is getting to obvious!
I'll check out the Murphy clip Tony. Always good to be entertained by these so called pundits giving their expensively paid for "expert" opinion.
I don't know who the pundit was on the radio this morning but he descended into even more blatant drivel when suggesting Mourihno has never had a better striker than Harry Kane at his disposal.
Now I get opinions can differ and understand the drive to promote home grown English talent. Kane is undoubtedly good but Drogba and Ibrohamovic anyone?
John Davies
16
Posted 28/12/2020 at 17:17:50
Great comments from Mr Ancelotti. I love his obvious passion for our Club & his desire to build something properly which will last us for the "long-term".
I'm currently reading his book "Carlo Ancelotti. Quiet Leadership. Winning hearts, minds & matches". It's a great and easy read which gives you a real insight to the man and how he operates.
Comments in the book from his ex-players, which are truly revealing, include:
Zlatan Ibrahimavic – "After playing under so many different coaches, in Carlo I finally met the best coach ever".
Cristiano Ronaldo – "Carlo's one of the best and most important people I have met in my entire time in football. With Carlo it's like family – you become part of his family."
John Terry – "Carlo's man-management was the best I've ever known in any of my managers. He is, for me, the ultimate."
Remarkable praise from 3 of the world's best and most decorated players.
The book really helps people understand the man we are so fortunate to have "at the reins" right now and why, in time, he will make us successful again. Read the book people. I promise you'll enjoy it.
Peter Warren
17
Posted 28/12/2020 at 18:45:47
I really like Carlo and made up he's here. But comments like he has taken us from 15th to 2nd aren't correct and just hyperbole which doesn't serve us.
Carlo took us from 15th to about 9th as I recall and indeed we had a shocking finish to the season. Hopefully he will improve on that and get us into Europe by finishing 6th this season. The football at the start was pretty good, then was pretty poor but Ancelotti and his staff have since made us resolute when we were previously leaking goals for fun. I think that shows quality in management.
It's going to take time; the squad is still weak; players like Gomes and Gbamin still have it all to prove; other players need replacing (such as Pickford and Coleman) for differing reasons. This will all take time and patience but hopefully we have the right man at the helm; he certainly has the credentials and seems happy, content and motivated (whether for money or otherwise) which can only be of benefit to us.
Dennis Roussos
18
Posted 28/12/2020 at 20:06:13
Would anyone else love to see Ibra come play for us for a year or two? He still kills it in Serie A, such a player. With Carlo here, I'd be stoked if he came over. What a foil and mentor for Calvert-Lewin he could be?
Sukhdev Sohal
19
Posted 28/12/2020 at 23:47:32
18 Sorry but I disagree. He's an arrogant player and he would never leave Milan, which is his favourite city in the world and is a club he loves.
Milik I would like to see arrive.
Dennis Roussos
20
Posted 29/12/2020 at 05:16:57
To be honest with you Sukhdev that kind of perceived arrogance is exactly what we need up front.
Brian Murray
21
Posted 29/12/2020 at 05:49:57
No problem with a nasty or arrogant streak in our players but hope the days of giving a 30 plus in age s last payday are coming to an end. Plus it would speak volumes for the ability of Brands to seek and identify rich promise.
Colin Glassar
22
Posted 29/12/2020 at 09:56:41
Diego Costa would be great for a short-term loan. He wants out of Atletico Madrid and he's the type of player Carlo would love to have.
I love Carlo but admit to having a bit of a wobble a few weeks ago during that terrible post-derby run. The man is a genius and I feel embarrassed to have ever doubted him.
Mal van Schaick
23
Posted 29/12/2020 at 14:07:07
Agree with #22. Costa six month deal. Warn him on conduct and twelve month deal after if his conduct is good. Clause to sack if he misbehaves. A quality midfield player in the January window and we will be top four.
Dan Nulty
24
Posted 29/12/2020 at 14:12:00
I'm in two minds on costa. Solid player but a shit of a human being. I'd take to the end of season as suggested. Better than tosun. I worry for dressing room harmony with him on board. Personally think he will end up at Arsenal though. Arteta needs someone who can get on the end of crosses. Don't think we will compete with their wage structure so there would be a reliance on Carlo's pulling power. I know who I'd rather play for though between him and Arteta.
Stuart Sharp
25
Posted 29/12/2020 at 14:12:46
Would take Costa in a heartbeat. Yes, a short-term contract is probably wise, but for a club desperately in need of another striker... he'd be a good shout.
Bjorn-Ivar Pedersen
26
Posted 29/12/2020 at 17:13:40
"Ancelotti sees parallels between his task at Everton and the one he undertook at AC Milan in 2001, one that became an eight-year stint and an impressive haul of trophies that included the Champions League."
I too see the parallels with what he do for us. The player types he is bringing in is very similar to what Rossoneri brought in, in his early seasons there.
So if we just hang on to him, I can almost guarantee he will deliver trophies within reasonable time. I am a fan off the guy for a reason.
Peter Mills
27
Posted 29/12/2020 at 17:35:22
John#16, having recently read the book, I would also recommend it.
Apart from managing players and staff, Carlo also stresses the importance of managing upwards, dealing with the demands of club owners. He has dealt with the likes of Abramovich at Chelsea, Perez at Real Madrid and Berlusconi at AC Milan, I think that experience will be invaluable in dealing with our major shareholder whose judgment has been questionable in his time with us.
Mick O'Malley
28
Posted 30/12/2020 at 07:50:18
I wouldn't touch Costa with a barge pole now, 18 goals in 70+ appearances for Atletico and has been constantly injured. He is nowhere near the player he was at Chelsea and would miss a lot of games through injury.
A No from me.
Gary Carter
29
Posted 30/12/2020 at 08:32:58
It would be nice to really make a statement of intent and sign Zaha. He's on fire this season and at a stage of his career where I think he would be a really good match with us and Carlo. It would give us more pace and would allow us to play Richi up front if needed or James in the middle to solve the problematic Sigurdson/Gomes playmaker role.
The perfect window for me, and I know this will be an even more unpopular wish, would be to sign Dele Ali as well, he would flourish under Carlo I'm sure
Jerome Shields
30
Posted 31/12/2020 at 21:07:28
The fact is that Everton are a Big Club and need a Big Manager.
For years, Everton – or rather Bill – was trying to do it on the cheap with the next up-and-coming manager. They pissed about with Moyes, Martinez, Koeman and Silva. . . they didn't even get the cheap right, at considerable cost.
Ancelotti is a proven manager with Big Clubs. A season and a half into his tenure, Everton have spent more time this season in the Top four than out of it. He has done that with mostly players brought in by other managers. Everton this season will finish in the top six.
If Ancelotti was to be replaced, it would have to be a current ex-manager of Man City, PSG, Bayern Munich, Real Madrid, Atletico Madrid but definitely not Barcelona (poor sods). They don't have any excuses, they can read Spainish Newpapers.
---
Add Your Comments
In order to post a comment, you need to be logged in as a registered user of the site.
Or Sign up as a ToffeeWeb Member — it's free, takes just a few minutes and will allow you to post your comments on articles and Talking Points submissions across the site.