10-man Everton U23s hold on to earn a draw vs Liverpool
Monday, 18 January, 2021
Everton U23s 1 - 1 Liverpool U23s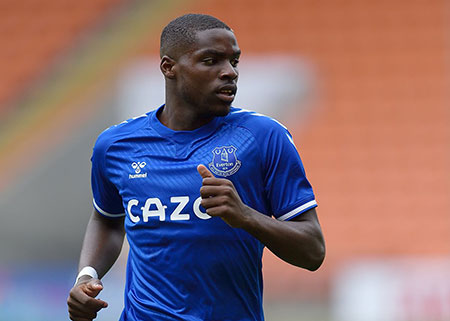 Everton Under-23s took a fine early lead inside the first minute against rivals Liverpool on Monday night, but eventually gave up an equalizer, then had a man sent off near the end.
David Unsworth's young Blues headed into the contest at Southport's Pure Stadium in 8th place in the Premier League 2 table.
In-form Everton striker Ellis Simms failed to fire the Toffees to derby success, having hit 8 goals in 11 league games so far this season. The other upcoming star to catch the eye was Neils Nkounkou at left-back.
Everton got off to a brilliant start after a great run from Nkounkou down the left wing, feeding Broadhead, and the ball finally came back to Rhys Hughes who drilled one into the far corner, past the hapless Reds keeper, to give the Blues a fine early lead!!!
After that welcome surprise start, it was pretty much one-way traffic, including an incredible escape from a dreadful backpass by Nkounlkou that put Harry Tryer in all sorts of trouble but Ryan Astley was across smartly to stop the ball from bobbling over the Everton goalline.
On a rare Everton corner, Simms ambled in at the near post and somehow missed a simple header from point-blank range. At the other end, a dangerous Liverpool free-kick on the edge of the area and Everton initially defended it until Morton drifted a looped shot over everyone, into the top corner of the Everton net.
Both sides had more chances to score in the final 10 minutes of a lively half, with Everton failing to hold on to their impressive early lead.
Everton restarted the game for the second half but Everton were very careless with the ball at times and Liverpool came very close to scoring, somehow Harry Tyrer deflecting a fearsome close-range miraculously shot over the bar.
Broadhead went on a great run with the ball but ran out of steam when it came to shooting at goal. Onyango was pulled back unfairly, giving Rhys Hughes an opportunity from the set-piece but the delivery was hopeless.
Katia Kouyate came on for Kyle John after the Everton full-back had been booked, and immediately set up Hughes who sliced his shot horribly wide. Kouyate was blocked after turning his man, setting up Hughes for another set-piece effort that so nearly crept in, forcing a good save.
Kouyate then went in very recklessly and caught the Liverpool sub above the ankle with his studs, leading to a straight red card with 3 minutes left. 10-man Everton hung n through some more scares to take a point.
Everton U23s:
Tyrer [Y:86'], John [Y:75'] (76' Kouyate [R:87']), Nkounkou, Baningime, Ouzounidis, Astley, Iversen, Onyango, Simms, Hughes (91' Anderson), Broadhead (94' Cannon).
Subs not Used:
Barrett, Hunt.
---
Reader Comments (69)
Note: the following content is not moderated or vetted by the site owners at the time of submission. Comments are the responsibility of the poster. Disclaimer
Derek Knox
1
Posted 18/01/2021 at 15:30:41
Just discovered it is also on LFCTV (sorry for swearing) so if anyone has IPTV they should be able to get it. Possibly also through Youtube.
Tony Everan
2
Posted 18/01/2021 at 17:04:01
Thanks Michael for the heads up, I will tune in to see how the young lads are progressing, particularly Ellis Simms and Thierry Small.
Dale Self
3
Posted 18/01/2021 at 17:04:41
I need to get more involved here. Cmon Blues! Smite the Red Shite!
Michael Kenrick
4
Posted 18/01/2021 at 19:01:30
The Live Frum is open for business!
COYBBBBB!!!
Brent Stephens
5
Posted 18/01/2021 at 19:02:27
Get in!
Michael Kenrick
6
Posted 18/01/2021 at 19:03:01
Thomas Richards
7
Posted 18/01/2021 at 19:03:28
Great goal

Mike Gaynes
8
Posted 18/01/2021 at 19:06:05
Link, please?
Brent Stephens
9
Posted 18/01/2021 at 19:08:52
Sorry Mike I don't have a link for non-season ticket holders.
Michael Kenrick
10
Posted 18/01/2021 at 19:09:56
Link added above, Mike (refresh the browser page)

Mike Gaynes
12
Posted 18/01/2021 at 19:14:19
Thanks, guys, but it does appear to be a members-only access. I'll just watch for your updates.
Dale Self
13
Posted 18/01/2021 at 19:14:59
Sorry about that, hey don't forget the unofficial unwashed. Post some commentary and don't be knobs like the Guardiad tards.
Brent Stephens
14
Posted 18/01/2021 at 19:18:37
Even my balanced so far. Rs close from a corner. Simms wins throw-in. Nothing comes of it. 17 minutes.
Brent Stephens
15
Posted 18/01/2021 at 19:21:19
Blues playing 4-5-1 when not in possession. Nkounkou won several challenges so far. And then nearly gives a goal away with poor header.
Brent Stephens
16
Posted 18/01/2021 at 19:27:57
Yawn. 27 minutes.
Brent Stephens
17
Posted 18/01/2021 at 19:31:49
Onyango wins ball and shoots just wide. Astley good defence again. 30 minutes. Simms brings ball out of our half well. Great pass and almost penalty.
Brent Stephens
18
Posted 18/01/2021 at 19:37:18
1-1. Sloppy goal after free kick. Lobbed over Tyrer.
Brent Stephens
19
Posted 18/01/2021 at 19:41:12
Simms close after good work by Beni. 40 minutes.
Brent Stephens
20
Posted 18/01/2021 at 19:47:01
Rs close again. Too much space. Onyango good defensiwork and wins corner. Good ball out of our half by Hughes. But Broadhead offside. Rs finding space behind our line of 5. Simms, Onyango, Ivetson good out of defence.
Brent Stephens
21
Posted 18/01/2021 at 19:48:49
Close by Broadhead on the volley.
HT. bovril.
Thomas Richards
22
Posted 18/01/2021 at 20:01:30
Branthwaite could have played in this.
Its a good few levels down from the Championship.
Hes in the right place.
Brent Stephens
23
Posted 18/01/2021 at 20:10:51
Amazing save by Tyrer. 50 minutes.
Brent Stephens
24
Posted 18/01/2021 at 20:15:13
55 minutes yawn.
Brent Stephens
25
Posted 18/01/2021 at 20:20:32
Good break by Broadhead finishing with weak shot. A bit more yawn. 60 minutes. Only 30 more to go.
Brent Stephens
26
Posted 18/01/2021 at 20:25:13
Superb run by Beni and Simms almost gets in for a goal. 65 minutes.
Brent Stephens
27
Posted 18/01/2021 at 20:34:57
75 minutes. One eye on Coronation Street.
Brent Stephens
28
Posted 18/01/2021 at 20:35:47
John off. Kouyate on.
Thomas Richards
29
Posted 18/01/2021 at 20:36:57
Who is one eye, and what part does he play?
Brent Stephens
30
Posted 18/01/2021 at 20:40:56
Kouyate looks tricky. Wins free kick. 80 minutes. Hughes free kick almost in by post. Corner.
Brent Stephens
31
Posted 18/01/2021 at 20:44:57
85 minutes. Blow up ref for fecks sake.
Brent Stephens
32
Posted 18/01/2021 at 20:46:12
Kouyate red. Poor tackl.
Brent Stephens
33
Posted 18/01/2021 at 20:51:12
4 mins time added. Anderson on first Hughes.
Brent Stephens
34
Posted 18/01/2021 at 20:54:39
Cannon on for Broadhead.
Full time.
Derek Knox
35
Posted 18/01/2021 at 22:07:05
Bit of an anti-climax really, which mirrored in many ways, the way the senior side has been in many games this season, start off out of the blocks, get a goal, then sit back and invite pressure.
Basically, that was a home game for us, and we let them dominate the possession. Better finishing from them and we could have lost by a couple. Individual performances weren't bad, but we need to dominate and put our stamp on games more.
Jay Harris
36
Posted 18/01/2021 at 22:40:07
Meant to post this at HT
Fair score at HT. Missed the first few minutes (the goal) thanks to Everton's poor system of watching games. Why can't they make it easy and just have a link from the main site?
Thought Ryan Astley and Broadhead stood out for us. Morton and the other lad in midfield for them.
Nkounkou showed some good touches but also was a bit sloppy on a couple of occasions. Ellis Simms looks good when he is played in. I thought Harry Tyrer looked a bit all over the place too.
Second half was so poor; the only update to my half time view is Nkounkou looked absolutely knackered after 65 minutes.
Other than that, the tactics were poor (Unsy and John Ebbrell) and almost none of the players looked like they were aiming to get in the first-team squad.
David Hayes
37
Posted 18/01/2021 at 22:43:45
Derek #35,
I don't know which first-team games you've been watching but I've never seen that "score early, burst out of the blocks, and then sit back for the rest of game" tactic. Really?
I have seen the sublime and the ridiculous in our games but never that. I suppose perception and preconception – despite what you see and conclude – is individual depending on your mindset.
Derek Knox
38
Posted 18/01/2021 at 23:28:48
David @ 37, like you say perhaps we see things differently, but just cast your mind back to the Rotherham Cup Game and my point may become more apparent. I just picked that game for purpose of illustration, but it has happened many times recently and I have been watching Everton for nearly 60 years.
David Hayes
39
Posted 18/01/2021 at 00:12:45
Derek #38.
I too have been watching and supporting Everton since 1967 – over 50 years. Whilst having been heart-broken and elated along the way, it's in the blood.
I have always tried to look for what makes me proud to be a Blue and not look for and revel in the downs. believing the next game will affirm my faith.
And so it goes on but, above all, up or down, be truthful to what you see, and try not to use it all as an outlet for life's pain and angst.
I do not presume to tell anybody how to support their team and how to see what they think they see; it's all perception and individual.
Robert Tressell
40
Posted 19/01/2021 at 08:12:38
Some rumours linking Ellis Simms with Sunderland on loan. Might be good.
Derek Knox
41
Posted 19/01/2021 at 09:12:58
Robert @ 40, Interesting, and possibly a good move for Ellis. I just hope we have him tied to us with a decent length contract, the lad has proved he is not a flash in the pan, and presumably will get even better with competitive game experience. Sunderland seem to be doing okayish, but also hard to believe that they are now down to League One.
Maybe better for his development to actually go to a Championship side though (maybe Derby) it certainly worked for Leon Osman back in the day when he was an up-and-coming player with promise. I think there are a few others, from watching last night's mini-derby, who could benefit from similar type loans, Broadhead and Onyango possibly.
Tony Abrahams
42
Posted 19/01/2021 at 09:29:39
I'd agree, Derek. Simms looks to be full of running, so get him out playing competitive football and see how he develops?
Brian Murray
43
Posted 19/01/2021 at 10:13:37
Stating the obvious, I know, but we need Simms or his ilk pushing for a first-team place. If he's not ready, fair enough. It would be the Everton of old if we have to rely on Calvert-Lewin to soldier on with no proper back-up. Tosun will hopefully be off the wagebill, along with a few others next week.
Brian Harrison
44
Posted 19/01/2021 at 10:56:33
Does anybody know what the average age was of the 2 sides last night, only the Echo in their match summary said Everton take on a young Liverpool side.
Justin Doone
45
Posted 19/01/2021 at 11:45:48
As there are so few real gems of players that get discovered in our youth teams, I wonder why we bother?
Why not partner with a lower league team, an overseas team or simply just buy several U21 players each season and loan them back to their original clubs to develop playing real football?
Before firing bad thoughts in my direction, I'm a believer in youth teams for many reasons but often think how it could be done better from a young player's point of view.
Derek Taylor
46
Posted 19/01/2021 at 12:13:28
As has been said many times on here, these 'age related' leagues provide competition for kids v kids. Unlike the old Central League (North) and Football Combination (South) in which the 'Reserves' were a mixture of senior players returning from injury or just out of form and a smattering of youngsters on the way up.
It worked well for 80 years until 'star' players began to refuse the perceived stigma of 'playing in the reserves ' and clubs came up with the 'Under-23s' which allowed for just the odd senior player – usually returning from injury.
They do nothing to prepare 'the kids' for football with the 'grown-ups'!

Tony Abrahams
47
Posted 19/01/2021 at 12:27:20
Justin @45, think of the players that Everton sold during the dark years when Kenwright begged, stole and borrowed... and then think about how valuable a good academy can be?
Everton had four or five players win the under 20 World Cup a few years ago and Davies never went because he was given the summer off. Only Calvert-Lewin and Lookman were not brought through our academy out of all those World Cup winners, so it's obvious that Everton are getting something right, even if they didn't look like they'd been particularly well-coached last night, compared to their opponents.
I'd revamp everything, and I'd try and bring people like Osman and Pienaar to oversee the changes in style and technique, both of which sadly seemed to be lacking in that young Everton team last night.
Brian Harrison
48
Posted 19/01/2021 at 13:00:11
Tony 47
I saw an article the other day where Brands was saying he would like more ex-Blues on the coaching staff, so interesting that you name both Osman and Pienaar as ex-players you would like to see join our coaching team. But haven't we got enough ex-Blues on the coaching staff? Ferguson, Unsworth, Baines, Ebbrell and I know Jeffers was also on the coaching staff a while back. So far, having ex-Blues has hardly been a success.
Maybe we needed to appoint ex-Blues that know what it's like to win league trophies as the present lot certainly haven't done that. Now I am not saying you have to have won a league to be a coach, but maybe one or two who have would be an inspiration to our young players. I don't know if Peter Reid would want a coaching job, but maybe Trevor Stevens or Derek Mountfield or Garry Stevens could have been fast-tracked through their coaching badges if they haven't got them already.
Robert Tressell
49
Posted 19/01/2021 at 13:29:14
Youth football works okay to U18s. But U23s does not ready a player for the first team.
As soon as a player looks like first-team material (age anything from 16), the aim should be as few games as possible at U23s and as many games as poss on loan playing proper football.
Some develop later, but only when released, not in the U23s. And nice though it is to see Lundstram back in the Premier League, he's hardly one that got away.
Justin Doone
50
Posted 19/01/2021 at 13:38:07
So of the U20 World Cup Winners we did actually produce, who's playing for us?
Was it worth it from a club's perspective?
Where are the other Evertonians in terms of career development? I know injuries and our own internal management merry-go-round may have hindered their path, but have the players made the most of their opportunities?
Could we not just have bought 2 or 3 promising 22-year-olds from Man City (for example) and given them game time and been better off both financially and squad wise?
As for coaches, playing has little impact on coaching success. Personality, teaching, planning, and a winning mentality are more important. Tim Cahil, Arteta, Rooney, Phil Neville spring to my mind. Duncan and Pienaar maybe.
Tony Abrahams
51
Posted 19/01/2021 at 13:47:10
I'd say if a player has been out the game as long as the people you mention, Brian, then it's obvious they aren't interested in coaching, and probably because they can do without the aggravation.
I picked Osman and Pienaar because they were more technical and especially Pienaar because he always looked like he'd been very well coached.
I'd also say football is a horrible industry for backstabbing and probably loses loads of talented people who can do without less talented people going behind their backs.
Robert Tressell
52
Posted 19/01/2021 at 14:25:43
Justin @50. Kenny, Calvert-Lewin, Dowell, Lookman and Connolly were the 5 World Cup winners, I think.
Calvert-Lewinand Lookman were bought in. They'd played lower league football before joining us.
Kenny, Connolly and Dowell had only played U23s I think. Dowell was the biggest talent, Kenny was the captain type and Connolly the most limited.
So is it worth it?
I think it's definitely worth investing in youth. But we need much better coaching and development. Our academy has a very mediocre output.
And we should also buy up Man City etc academy players (as we did with Simms) and also talents from around the British Isles. This will be easier now the domestic transfer ban is up.
At present, there just isn't that much talent in our U23s. It's entirely possible that none of them playing last night will make it (I exclude Nkounkou as he's first team already).
The U18s is much better (and I include Thierry Small in that group).

Brian Harrison
53
Posted 19/01/2021 at 14:41:02
Tony,
You are probably right that the players I mentioned would have already been involved if they were interested, although knowing Reidy, I think he would be up for a couple of days coaching a week.
I think Brands/Ancelotti have looked at the youth set up and quite rightly are moving a few up to train with the first team and the other promising youngsters are being sent out on loan.
Whether our academy is fit for purpose is certainly up for discussion, but the cost of our academy has to produce better players than they have over the last 10 years. Let's not forget, this is not like youngsters at some of the top clubs where their standards to get in their first team are a lot higher than ours.
We have for the last 14 or 15 years finished mid-table, bar an odd season, so it isn't like we are asking our academies to produce players good enough to play in a league-winning team or a team that regularly qualifies for a Champions League place.
Andrew Keatley
54
Posted 19/01/2021 at 16:24:45
Robert (52),
You're obviously very interested in the academy structure. I've read various posts of yours that call for striking up links with smaller clubs either in the UK or abroad – like Chelsea have with Vitesse Arnhem, and we seem to be establishing with Sligo Rovers. Then there's the Red Bull model, which I seem to remember you've cast admiring glances at too. And the Dortmund model of fast-tracking actively sourced young talent into the first team, which you've definitely mentioned before as something we should aim to replicate.
I mention all this because it feels like you think that the process of judging which young players will kick-on and make it in senior football is quite straightforward – and I think the exact opposite. There are outliers of course - at both ends of the spectrum – but for every Dominic Calvert-Lewin, John Stones and Mason Holgate, there are a number of equally hyped young acquisitions (Scott Spencer, Lucas Jutkiewicz, George Green, Marty Foulds, Brendan Galloway, David Henen, etc) – and injuries, attitude, off-the-field distractions, club politics, and various other factors can also prove to be insurmountable hurdles for the most talented youngsters. Do you have any experience of the ins and outs of an academy – either as a player, parent or coach?
Justin (45),
It's not just about developing gems, it's about all manner of other things, including the local footprint of the club, which is very valuable to monitor and maintain. But I'd also say that, when you do find the odd gem, then it can save the club tens of millions of pounds having to buy a ready-made alternative. I am not at all sure of the financial implications of the academy, but when done well – as Liverpool have managed over the last few years – it can be very profitable on and off the pitch.
Richard Mason
55
Posted 19/01/2021 at 16:55:02
I didn't really enjoy the game, had to watch it on redshite TV. But no-one really stood out for Everton. Everything looked laboured and passing very sloppy at times.
I would like to see Simms go on loan. I think Broadhead needs to also, looks to have outgrown U23 football.
I still have hope for Beni and I'd love to see him catch a break with a good looking loan spell. Denis Adreniran seems to be getting game time at Wycombe.

Kevin Prytherch
56
Posted 19/01/2021 at 16:59:43
Our youth system seems to fail between the U23 stage and the first team stage. As some have previously mentioned, none of these players are used to playing against anyone other than their own age group, so it is difficult for managers to know how they'll cope. Hence why players like Martina are bought instead of trusting Kenny, and why the likes of Schneiderlin were constantly preferred over any of the younger players.
It is probably also the reason why the likes of Stones, Holgate and Calvert-Lewin have succeeded as they already have that experience of playing against men.
Don't know what the solution is, but we need that bridge between U23 and first team.
Tony Abrahams
57
Posted 19/01/2021 at 17:17:12
I only watched an hour, Richard, but it was clear to me that Beni has just stagnated. I thought Liverpool had a better rhythm, and they also had a better style. They tried to play, looked for each other to make things happen (only the final ball was missing), whereas Everton never really looked like a team, with only the centre-halves really impressing.
Simms, who mostly lived off scraps, at least showed a real willingness to run, but it was very disappointing to see that this is all's we seem to have below the first-team squad.
Robert Tressell
58
Posted 19/01/2021 at 17:23:57
Andrew, I am just an amateur. So my opinion doesn't count for a right lot!
But I'm not trying to assess the players as such, I'm letting the club do that. And if the club thinks a player might make it, he will be in the first team squad by age 18 / 19.
Those who aren't, don't make it.
The academy players who made it are, in recent-ish memory: Ball, Dunne, Jeffers, Rodwell, Rooney, Barkley, Davies, Osman and Hibbert, Gordon and Kenny. All apart from Osman debuted as precocious teenagers. He had injuries and kicked on after loans at Carlisle and Derby, I think. Dowell might have been a shade older too, but was being sent to develop at Nottm Forest, Sheffield Utd and Derby.
This is true for Stones, Holgate, Calvert-Lewin, Lookman and Branthwaite who we bought in.
Connolly, Foulds and Feeney, for example, are good players but were nowhere near first team at 18, 19, 20 etc. The club knew they weren't going to make it.
You can, of course, rise back up the leagues (Lundstram). And you can still fail having made the grade (Cadamarteri, Galloway).
But generally 18, 19 is the time to shine.

Mike Oates
59
Posted 19/01/2021 at 17:58:10
Our U23 set-up is poor, both from developing players for the first team and from getting them used to an expansive type of game.
Unsworth, in the games I've watched over the last few years, tends to set up his teams to scrap, to be far too defensive, and puts faith in a long punt up-field, hoping for Simms or his predecessor, the Scottish lad whose name escapes me, fighting on scraps. On the odd occasion when they've played Gordon, and Broadhead bring some class to the game.
How Unsworth has become Director of the Academy defeats me totally, and until last week, I had faith in Brands clearing the deadwood coaches out of the Academy set-up once Kenwright has gone and with it his "Everton Family Way". But now Brands is calling for ex-players to re-join or those there now (Coleman?) to stay and help.
Identify lads at 17, ship them out on loan at 18 and bring them back at 20, like the Chelsea model with Mount, Abrahams, Reece etc or get the Academy to a level where youngsters are coached good enough to get them in the first team at 19-20 like Man Utd with Rashford, Greenwood, McTominay etc.

Jason Wilkinson
60
Posted 19/01/2021 at 18:22:54
I'm bemused why we have an academy. The idea was to develop talent. Surely the more affordable way is to let the likes of Barnsley, Charlton etc do the hard yards and then pick them off when they look half-ready. We don't seem to generate much income from the players we develop. So few get a sniff at first-team action. It isn't encouraging to a young player to come.
When you look at our current first-team squad, only Davies is playing regularly from the youth system. Seems to me we would be better partnering with lower league clubs. Perhaps trading the likes of Besic, Bolasie, Tosun and any other players on the fringe. Even by way of we pay their wage in lieu of a transfer fee.
I'm not Unsworth's greatest fan. I cant see young players being overly impressed at his CV. Maybe Brands was hinting at getting more technical players back to help coach the kids.
Joe McMahon
61
Posted 19/01/2021 at 19:04:00
Jason, I've been saying the same thing for ages. The only reason I can think of is to keep Unsworth in the Everton family. Seriously, though, running the academy must cost a lot and loaning them to play first-team football does make sense.
Dave Abrahams
62
Posted 19/01/2021 at 19:11:22
Justin (50), I think the cost of running the Acadamy more than pays for itself, including players wages. The five young players who were in World Champions winning squad would show a huge profit with £10M profit on Lookman, £2 for Connolly, a good price for Dowell at Norwich, up to £10M or more for Jonjoe Kenny and £35M at least for Dominic.
In the past, John Stones was sold for over £40M profit, Barkley £15M plus up to £2M here and there for players like Antonee Robinson, Joe Williams and Liam Walsh, I think this shows there is money to be made if it is run properly, despite the profits shown.
I think it could and should be much better run and the coaching staff should be revaluated and changed, the quicker the better for the young lads who go there to learn to become better players by the education they receive, I don't think that football education is good enough at the present.
Antony Kelly
63
Posted 19/01/2021 at 19:29:56
If anybody thinks Unsworth is a developer of young talent is having a laugh. All he is interested in is trying to become the Everton manager.
He continues playing older players and setting up defensively. When he wins, his mates in the Echo shout about it... and when he loses, they don't write a thing, full stop.
Tony Abrahams
64
Posted 19/01/2021 at 19:37:13
It's easy to say these things and criticize, but watching the way Everton performed last night, then unless it was a one-off, the players didn't look to be enjoying it, and also never had much direction, or pattern to their play.
I'm older now, but I've always felt a little bit bemused by a system that very rarely throws out anything even that little bit remotely different.
Interesting point about the age that players have got to be really pushing on, Robert, and I wonder if this is down to the physical and competitive nature of the English game?
I'
Dave Abrahams
65
Posted 19/01/2021 at 19:42:28
Tony (64), it wasn't a one-off, they played exactly the same a couple of weeks ago: took an early 2-0 lead and defended it, they looked, like last night, eleven strangers playing together for the first time.
Tony Abrahams
66
Posted 19/01/2021 at 20:11:23
That was the bit that really surprised me Dave, and because it was a Merseyside derby, I definitely expected to see young players at least trying to play with a bit of passion and drive, but instead, it felt like they were waiting for anyone else rather than themselves to try and get things going.
Andy Crooks
67
Posted 19/01/2021 at 20:43:38
The best players don't always make the best coaches. I think it is a combination of remembering HOW you learned what you learned and bringing your life experience, mistakes and skills to young players.
I watched many young Everton players at the Milk Cup The best player I ever saw there, by a million miles was Franny Jeffers. I would hope and expect that he has plenty to offer. How not to do the wrong thing is a pretty good skill to pass on.
Tony Abrahams
68
Posted 19/01/2021 at 20:58:43
I hope that was Duncan Ferguson's starting point, when he decided he wanted to coach Andy?
Best coaching you can give to any kid, is to let them just go out and play, don't overload them, especially with pressure, and give them the confidence to express themselves, and the belief that they always learn more from their mistakes, instead of the fear, of making a mistake, which can stop them really expressing themselves!
Justin Doone
69
Posted 19/01/2021 at 22:33:42
To reiterate, I do believe youth academies are very worthwhile for many reasons including (although not necessarily set up for) educating and giving chance to kids from the local area.
Let's face it, without football or sport in general and little else to focus on, many kids have little or no opportunities to get off the streets, earn a decent living, and live on the right side of the tracks.
I was just thinking of possible consequences of Covid-19 over the next few year's for some clubs and prospects.
My view on our U23s is Unsworth has done a good job of bringing a winning team mentality but at the cost of actually developing and improving individual players' skill-sets.
We appear to have stopped producing technically gifted players, ie, forwards and attacking flair players. Dowell being an exception that we couldn't fit in.
I hoped Brands would change and improve this (maybe at U18 he has) but we don't play to a set club style or standard formation like what Liverpool, Arsenal and Man City do.
Our best young players are brought in from elsewhere. I've no issue with that but it makes me wonder why Tranmere, for instance, don't simply pick up our youngsters and do away with their own academy. Not that I would want them too... just a thought.
Jerome Shields
70
Posted 20/01/2021 at 06:15:54
At least they appear to be playing a system similar to the first-team squad, which they weren't doing prior to Ancelotti's arrival. Though progress has been slow regarding Brands changes.
I am not a fan of Unsworth and thought he is more interested in developing his personnel fiefdom, rather than developing first-team players, though Brands has tried to move him sideways in the structure.
Brands on the Board is a mixed metaphor.
---
Add Your Comments
In order to post a comment, you need to be logged in as a registered user of the site.
Or Sign up as a ToffeeWeb Member — it's free, takes just a few minutes and will allow you to post your comments on articles and Talking Points submissions across the site.