Tosun open to Besiktas return
Thursday, 28 January, 2021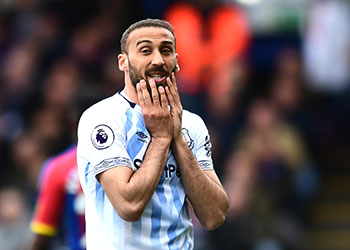 Cenk Tosun could be in line for a return to the club from which he joined Everton three years ago with both Besiktas and CSKA Moscow reported to be interested in signing him.
The Turkish international has largely failed to make the grade at Goodison Park and looked to be in the process of securing a permanent move to Crystal Palace a year ago but suffered a serious knee injury.
Tosun returned to action for the Toffees this season, making his first and only start of the campaign in the FA Cup against Rotherham but his exclusion from the last two matchday squads has been seen as indicative of the fact that he is not part of Carlo Ancelotti's long-term plans.
CSKA and Besiktas are both reportedly keen on taking him on loan until the end of the season with the potential to make the arrangement permanent if things work out.
Everton signed Tosun for £21m under Sam Allardyce in 2018 but could be prepared to accept substantially less in order to move him on following a return of nine goals in 49 appearances.
"If Everton and Besiktas have an agreement, I am ready to wear the black and white jersey again," the striker told NTV Spor. "I would like to contribute to Besiktas until the end of the season. If Everton approves the transfer, it will not be a problem for me."
Should Tosun leave this month, he will follow Yannick Bolasie out the door following the former Palace winger's loan move to Middlesbrough.
---
Reader Comments (47)
Note: the following content is not moderated or vetted by the site owners at the time of submission. Comments are the responsibility of the poster. Disclaimer
Minik Hansen
1
Posted 28/01/2021 at 17:27:22
So he's not going to West Bromwich after all, I for one wish he would be in the Prem, to see how he fairs given a run without injuries involved. Bolasie moved, Branthwaite and Simms out on loan, and maybe Gordon is next, and Tosun. Happy days - an incoming player would be a bonus.
Brian Wilkinson
2
Posted 28/01/2021 at 17:30:45
Deffo no for me, need to sell the player now and bring some money in.
Besiktas will take him on loan, then not buy in the summer, seen it too many times with Turkish clubs, always want players onloan, with no cash apart from a loan fee.
If Tosun goes out onloan, kiss goodbye to any chance of a transfer fee, would rather keep the player instead.
Jack Convery
3
Posted 28/01/2021 at 17:34:17
I wish all the best. Never quire up to it but will certainly do a job in Turkey if he stays injury free, Never a No 9 more a second striker. Thats both Allardyces' signings now out and more money wasted.
Gaute Lie
4
Posted 28/01/2021 at 17:35:04
Good luck to him.
Hope and believe we get a better striker in now. We cant challenge the top four with just on striker who deliver goals.
Tosun never delivered and should never been bought at all.
Tony Everan
5
Posted 28/01/2021 at 18:43:32
If Besiktas want him and Cenk wants to go there then tell them to get the cheque book out and pay us the 6.3m or whatever it is we are asking. We paid them 27million a few years ago, use the account that is stashed in!
And PS, don't let him board the plane until the cheque has cleared.
Kristian Boyce
6
Posted 28/01/2021 at 19:01:35
Knowing Turkish clubs history with transfers. We'll agree a figure now and they'll change it once it comes time to buy. We just need him off the books, he needs to get back to Turkey to get his hair sorted.
Gavin Johnson
7
Posted 28/01/2021 at 19:14:22
Always groan when I see the Tosun back to Turkey links. All the clubs over there want something for nothing. Fenerbahce mucked us about and still owe money for Joey Yobo.
Yes, Kristian, if I had a balding problem and was a premier league footballer I think I'd have a transplant than go down the boot polish route like Tosun
Mal van Schaick
8
Posted 28/01/2021 at 19:23:30
If he is allowed to leave we need another quality striker in before the deadline, even if it's a loan or short term contract while we scout a quality forward for next season.
Ian Edwards
9
Posted 28/01/2021 at 19:33:54
Bolasie gone. Tosun going. Bernard likely to be going. Simms gone on loan. Kean out on loan. Does this boring Manager intend to sign some offensive players or indeed keep any? All he has left us with is Richarlison and DCL. What a way to run a club. Park the Bus. Park the Bus. Park the Bus.
Fran Mitchell
10
Posted 28/01/2021 at 19:38:33
Yes Ian,.where would.we be without Bolasie, Simms, Bernard, Kean and Tosun.
Such integral squad members who have contributed so much to this team.
Club Legends the lot of them.
Tony Abrahams
11
Posted 28/01/2021 at 19:42:04
If heard he's not called the forward whisperer for nothing Ian E!
Kieran Kinsella
12
Posted 28/01/2021 at 19:43:27
Ian 9
A few months back there was an expectation that we'd have fans back in stadiums. That hasn't happened, which means the financial losses all clubs have experience this past year and worse and will continue to deteriorate. Consequently, I think we are happy to offload any wages we can especially those players who are higher earners and minimal contributors. In terms of the squad make-up, Brands said he ideally wants 3 goalies, 8 defenders, 7 or 8 mids, and six attacking players. "Attacking" being the key word as opposed to "strikers." By my reckoning, DCL, Rich, Gordon, Bernard, James, Sig, Tosun, would all fall into the "attacking" category. With Allan, Docoure, Davies, Gomez, Delph, Onyango, Iwobi, Gbmain falling into the midfielder category. So if we offload Tosun and Bernard, we are one short for "attackers". But the plan (hope) is we can manage as we are for six months and get someone actually good in the summer. As opposed to paying a dead beat for six more months or signing some overpriced castoff in this window
Robert Tressell
13
Posted 28/01/2021 at 19:44:24
I'm sure Ancelotti has noticed we're light on forward options, Ian. Brands too. It might well cost us unfortunately unless we get Zirkzee or another in. Options are not great but hopefully we get something. In January the options are mostly other people's expensive mistakes (which is why Tosun is available). I'm pretty confident the squad will be in very good shape after summer - but we may have to make do with more bus parking in the meantime. Appreciate it's frustrating, but the recruitment strategy is about more than this season.
Duncan McDine
14
Posted 28/01/2021 at 20:13:48
For a centre forward he spends too much time hugging the right wing. Ooh... political (David Brent voice). Get rid and hopefully they'll want to keep him in Turkey.
Derek Knox
15
Posted 28/01/2021 at 21:06:58
The Manufacturer of Brillo Pads are made up, they may have a new franchise in Turkey! Wish him all the best by the way, wasn't his fault at the end of the day. He was 'head hunted' by the genius that was Allardyce. It is almost painful when you think of the money Koeman, Walsh, Allardyce and Silva mis-spent.
Bullseye Moment again, Look what we could have had!
Thomas Lennon
16
Posted 28/01/2021 at 21:24:47
101 ways to support a club without wanting to appear to http://sportwitness.co.uk/everton-cska-moscow-tosun-transfer-usmanov-help-vlasic/

Pat Kelly
17
Posted 28/01/2021 at 21:45:29
First Bolasie and now this. It's all falling apart.
Jim Bennings
18
Posted 28/01/2021 at 21:51:13
Tosun is hopeless, he's never ever been a Premier League quality footballer and regardless of him staying or going we need another attacking option bringing to the club before Sunday.
DCL has not played through injury and will likely hit a goal drought at some stage, whilst Richi has stunk the place out going forward this season.
I don't know if Brands and Carlo have any irons in the fire but we have looked a bit blunt on several occasions in the league lately (Wolves aside) and fresh impetus might just swing a top five finish in our favour.
David Pearl
20
Posted 28/01/2021 at 22:04:42
We let Kean and Walcott go without bringing in another forward... does anyone expect an incomming if he does leave? If he is in the box and gets a chance, he scores, he's not so bad.
Looking forward to us playing on the front foot on the weekend. Surely?? Digne as a left back being picked out by James from the right. Cross for Dom, GOAL. Attack, Carlo... you're killing me.
Paul Birmingham
21
Posted 28/01/2021 at 22:10:11
On a separate note I'm reading the BB news on line and there's a report that there's a call for sanctions against clubs with Russian backing, which includes Everton.
Bloody typical, but let's hope that there's no sanctions, against Everton. This is related to the Navalny detention, on his return to Russia.
Interesting to see how this one plays out.
Kieran Kinsella
22
Posted 28/01/2021 at 22:32:33
Paul,
I can't see all those Chelsea-loving Tories doing that.
Kieran Kinsella
23
Posted 28/01/2021 at 22:37:05
The other thing is it would open a can of worms. How can you sanction corrupt Russian billionaires on the basis of their government but not apply the same logic to Chinese, Thai and Middle Eastern owners. Outside of the three red teams and Spurs everyone would be fucked. On second thoughts maybe that could happen.
Robert Tressell
24
Posted 28/01/2021 at 22:39:13
Usmanov is Uzbek, not Russian. But maybe the money is Russian?
Christy Ring
25
Posted 28/01/2021 at 22:41:48
I certainly hope we have a striker lined up before Monday's deadline, Calvert-Lewin is the only striker we have if Tosun goes.
Would we be foolish enough to bring no one in? YES!!!
Anthony Murphy
26
Posted 28/01/2021 at 22:42:58
Paul, read in The Times MP's calling for Usmanov to have his assets frozen because of his links to the Kremlin and the Navalny case.
There's a comedy tap in to an open goal.
Paul Birmingham
27
Posted 28/01/2021 at 22:46:20
Kieran and Robert, you've made very good points, and hopefully Moshiri has this covered in advance.
I hope Everton aren't impacted but no doubt the Panorama BBC Team will dig deep and God forbid.
If the businesses are legitimate and the books are clean and tidy, then, who knows what could become of this.
And the same BBC, giving the RS, the nice one for beating Spurs. Spurs forgot how to mark the runners and got mugged.
Now for a massive game v The Toon, a must win.

Paul Birmingham
28
Posted 28/01/2021 at 22:51:58
Anthony, jeez, it gets worse. Down to Farhad to get the health check passed for Everton.
Hopefully the club won't get penalised, but potentially, it opens a global can of worms in to trade and commerce, into and out of the UK.. and for ex Soviet Union countries and Russian business men in the UK.
Fekkn typical EFC, luck.
Ian Edwards
29
Posted 28/01/2021 at 22:54:38
Fran. Had we played those attacking players we would not have needed to park the bus at home to the likes of Leicester and West Ham. Tosun is a better finisher than DCL and we would carry more attacking threat playing them both.
Paul Birmingham
30
Posted 28/01/2021 at 23:02:12
Superb Derek, yes, it's a reminder and hopefully, lessons learnt.
Mick Davies
31
Posted 28/01/2021 at 23:04:46
Paul @ 21, I thought Moshiri was Iranian?
Fran Mitchell
32
Posted 28/01/2021 at 23:06:23
Are you talking the same player Ian? Tosun? Slow, not a threat in the air, not strong, no great skill a nothing of a player really with no discernable attributes, hence why he's been on the bench since he arrived.
He was a mistake buy by Allardyce, even when Allardyce bought him, he realised he was a dud a rarely played him.
Gordon, when given a chance has failed to step up - he has talent, but is far away from making a serious impact in the Premier League.
Bernard, goes missing from games. He would've been useless at Leicester, weak, not particularly quick, no goal threat. A bit of skill here and there, but that's it.
Bolasie? the answer to our problem. Pretty useless and ineffective, then he got injured. There's a reason we have struggled to give him away.
But yeah, all these players would have had us playing like 1970 Brazil against a feeble Leicester team.
Leicester fans must go to bed thinking: if only we had Tosun and Bernard in our team.
Paul Birmingham
33
Posted 28/01/2021 at 23:23:13
Hi Mick, yes Moshiri, is Iranian, but Usmanov, is a business partner and friend.
It's got the making of a 007 mission. Let's hope Everton, are not impacted.
Gavin Johnson
34
Posted 28/01/2021 at 23:45:56
I don't see political issues affecting Everton in terms of sanctions, unless there were clear financial irregularities. Colonel Gaddaffi nearly bought Man Utd. I don't see how a footballing body would make sanctions because this has nothing to do with football.
Jim, bet you're sad things didn't work out for Bolasie. I remember when you were his biggest fan back in his Palace days...
Derek Thomas
35
Posted 29/01/2021 at 00:11:44
I think Umanaov was just tacked on the end as a rehash of the old panorama story.
This must have been the reason Moshiri sold his shares in USM to bring him under 10% threshold, which counts as for the purposes of the deadman walking that is FFP, 'official involvement'.
Nothing to see here, or as Moshiri says... whose fiver is it in the end?
Nicolas Piñon
36
Posted 29/01/2021 at 01:29:42
Would be so strange if we don't get anyone instead of Tosun, he's not a better finisher than DCL, but that ain't enough to make him better than DCL or even as close as good. So I don't understand the point in saying that.
We need urgently Doucouré and Allan back. And I believe Iwobi must start on Saturday. I don't know what will happen with the Godfrey/Digne decision but Iwobi must play.
COYB!!!
Ajay Gopal
37
Posted 29/01/2021 at 03:26:59
Just a thought: maybe Pochettino does not fancy Kean and he may be willing to cut short his loan. Hence, all the desperate offloading of forwards to free up some wages. Kean would be a very decent backup to Calvert-Lewin for the rest of the season.
Hugh Jenkins
38
Posted 29/01/2021 at 07:59:11
Mick (31), Paul (33). I think Mr Moshri was Iranian but has since become a British citizen - so technically, at the very least, Everton is one of the very few EPL clubs still owned by a British subject.
Martin Berry
39
Posted 29/01/2021 at 08:15:19
Good luck to Cenk if he goes, I rate him in the right set up as he is a finisher.
If we offload Tosun, Kean, Walcott, Bernard and Besic etc would could have quite a pot of transfer money for the summer and thats when it gets interesting.
Obviously we will need another striker and right back. Time will tell what Carlo and Marcel have in mind.
Frank Sheppard
40
Posted 29/01/2021 at 08:15:34
I am sure he wants to move as he never gets a look in. Thing is we need cover. In theory Richy can play centre forward as well, but it's been a while since he has, he is more of a utility player now, which is weird.
Mark Dunford
41
Posted 29/01/2021 at 09:01:08
Be glad to see him go. He has had next to no impact since he arrived and is clearly at the wrong club. Needs to be in a slower league where he gets time and space in the box. This should have been obvious before we signed him.
Jim Bennings
42
Posted 29/01/2021 at 09:01:14
Gavin 34
I will be the first one to hold my hand up that I was more than pleased when we bought Bolasie (even if we paid over the odds) because he was a player that I really thought would change the dynamic of how we played.
Strange thing is at that time in 2016, we already had some lightening fast players like Deulofeu and Lennon, Lukaku, Ross Barkley was no slouch nor Mirallas.
If anything we probably need a change of dynamic to our attack now more than then, we could do with that type of signing now, when you look at our attacking options we are quite slow motion.
Anyway going back to Bolasie, I loved him at Palace, every time we played them he was the one for me that really stood out as the threat, pacy, powerful, really good crosser of the ball.
Shame it never happened for him at Everton.
Bobby Mallon
43
Posted 29/01/2021 at 09:51:53
I think Richy is sulking about being made to play out wide if the front 3 and wants the number 9 slot. I for one would play him up top in a two against Newcastle with DCL, team for game.
Olsen
Coleman
Keane
Mina
Digne
Iwobi
Doucourér
Sigurdson
Rodriguez
Richy
DCL
Gavin Johnson
44
Posted 29/01/2021 at 15:36:02
Jim, Bolasie will go down as a dud, partly down to the crazy fee and the fact we could have probably got Zaha for around the same money. It was a ridiculous fee and that injury did ruin him but he had 5 assists and a goal up to his injury so who know how his career could have panned out.
Bolasie was never a goal scorer but an old fashioned style winger with a bag of tricks who would run down the flank and cross to a target man. He had good chemistry with Rom and he might have proved his critics wrong. As it is, he'll always be a poster ball for the money squandered under Steve Walsh
Paul Jones
45
Posted 29/01/2021 at 17:12:24
I reckon Tosun was one of Walsh's holiday buys from Turkey. As a footballer seemed on a par with the cigarettes, designer clothes and jewellery people return from that part of the world with.
Dodged a bullet when we was linked with Slimani when he must have gone to Morocco for his hols.
Brian Wilkinson
46
Posted 29/01/2021 at 18:19:12
Got a cheek the Turks, want him onloan, and Everton to pay half his wages, thankfully Everton told them where to go.
Tony Everan
47
Posted 30/01/2021 at 12:00:38
Let him go on loan, with a contractual obligation for them to buy for 8m in the summer.
Justin Doone
48
Posted 30/01/2021 at 15:29:05
Tosun is a decent striker. He just hasn't the skill set or athleticism to be consistent or good enough for the Premier league.
More club's (especially Everton) should make more use of the loan system. Its a good sensible option to assess a player and how they fit in.
Can't blame clubs that do it. We either don't do business with them or we do. It shifts wages off our books as there are no buyers.
Tuson certainly doesn't suit our style and needs to go. I'm more surprised that Bolasie hasn't made our squad. He's also inconsistent but can be a game changer. The type of player we need, pace, strength, attacking threat.
I'm resigned to no incoming players until the summer. Season 1 assess squad. Then strengthen weakest area which was midfield. Seasons 2 assess squad.
Our weakest area is now the forward / attacking options. I look forward to adding real quality in the summer. A shame really as we have an opportunity to make European qualification.
---
Add Your Comments
In order to post a comment, you need to be logged in as a registered user of the site.
Or Sign up as a ToffeeWeb Member — it's free, takes just a few minutes and will allow you to post your comments on articles and Talking Points submissions across the site.