Tosun returns to Besiktas on loan
Sunday, 31 January, 2021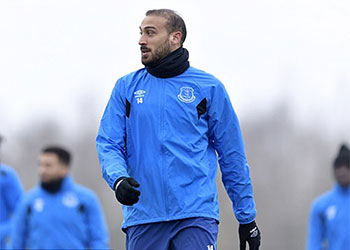 Updated
Cenk Tosun is heading back to Besiktas, initially on loan, with the striker finalising a loan move until the end of the season
The Turkish international will return to the club from he joined Everton three years ago with the Instanbul club covering his wages for the remainder of the season.
No loan fee or obligation to buy appears to have been included in the loan arrangement and his departure will leave the Blues short in attack with Dominic Calvert-Lewin the only recognised out-and-out centre-forward on the books.
Quote tweeting Besiktas's farewell in 2018 when they suggested the two parties would meet again, Tosun said on the social media site: "Are we ready to make history again?" He has since updated his profile to reflect his new team and flw to in Istanbul to complete the transfer.
---
Reader Comments (46)
Note: the following content is not moderated or vetted by the site owners at the time of submission. Comments are the responsibility of the poster. Disclaimer
Stephen Brown
1
Posted 30/01/2021 at 20:04:57
We simply have to sign 2 attacking players before Monday otherwise it completely negligent!
A centre forward and a pacy wide player!
I'm worried if we don't !
Good luck to Tosun but would have liked some cash in ?!
Paul Hewitt
2
Posted 30/01/2021 at 20:21:26
To be fair he was never given a proper go. He's better in a front two. And is a good finisher.
Joe McMahon
3
Posted 30/01/2021 at 20:28:08
For nearly 20 years, we have had to endure 1 striker up front. Moyes made it his trademark (Bent, Beattie, Johnson etc), the only striker we have had that was capable of doing this on his own, and making his own goals was Lukaku (and Saha when fit). I look accross te park they have 3 of em banging them in, it's sickening. Goals win games.
Si Pulford
4
Posted 30/01/2021 at 20:37:50
Never good enough. Him and Bernards wages off the books. I doubt we'll sign anyone unless it's a real rabbit out the hat. There aren't even whispers. Looks like they're planning for summer.
Steve Shave
5
Posted 30/01/2021 at 20:47:45
Agree with Stephen's suggestion we need a striker and a wide player if those two leave. One on loan and one signing, Lemar might still be a loan option? We should go for Edouard at Celtic, I'd be delighted with those two signings. Happy Berny and Cenk are following Bolasie out the door but we need new blood.
Steve Shave
6
Posted 30/01/2021 at 20:49:02
Also if this is a loan without an agreed deal for them to sign him in the summer then I am going to be pissed, we need to get rid not get him back older and further depreciated!
Alex Gray
7
Posted 30/01/2021 at 20:50:51
Needed to get rid of him and Bernard to free up wages but, as today showed, if we don't sign anyone, we won't get into Europe.
If Calvert-Lewin or Richarlison get injured again, we literally have no back-up whatsoever. Digne is not a winger.
It's amazing after all the money we've spent that the squad has no competition.
Meanwhile Moise Kean has been banging them in, granted in the French league.
Tony Everan
8
Posted 30/01/2021 at 20:56:25
We must have someone lined up on loan or they wouldn't sanction it. We'll probably hear about who's coming in tomorrow.
Robert Tressell
9
Posted 30/01/2021 at 21:07:43
Telling myself the same thing, Tony. Hopefully that's right.
Bill Gienapp
10
Posted 30/01/2021 at 21:53:45
Dude, sending Tosun out on loan is weak. Sure, any salary off the books is helpful, but it just thins the squad even more, and he'll be right back on our hands at the start of next season (best case scenario, Besiktas pleads poverty and tries to arrange an additional loan - standard Turkish operating procedure).
If we get Zirkzee (or someone else) in before the deadline, it'll make more sense, but we rarely do quality business in January. There's a reason Brands has largely avoided it.
Peter Laing
11
Posted 30/01/2021 at 21:59:28
Good riddance to rubbish, Allardyce wasting £27M on Tosun and £20M on Walcott. Both out on loan with no resale value. As bad as today's result was, Brands and Ancelotti have had a job on their hands purging the Club of players whose contribution is negligible.
With Bolasie gone, Bernard outbound – yes we are short... but the squad is leaner and it will free up wages for new players. A striker on loan would be a bonus.
Matt Muzi
12
Posted 31/01/2021 at 09:15:14
With previous statements from Brands about the January transfer window, the worldwide economy, added to our history of wasting vast amounts of money on the wrong players, I wouldn't be at all surprised if, as well as Tosun and Bernard going out, Kenny and Gordon go out as well and no-one comes in.
Conor Skelly
13
Posted 31/01/2021 at 09:35:10
Julian Draxler on either wing, anyone?

European football writer Tom Williams told the Transfer Talk podcast:

"A player who could potentially be crossing the Channel is Julian Draxler.

"He is still on the books at PSG, barely getting a kick, has been endlessly linked with English clubs, only has six months left on his contract at PSG and they are desperate to sell him. They've been desperate to sell him for the last two or three years, ever since Neymar and Kylian Mbappe came in and he was frozen out of the first team picture.

"He's still only 27, a German international and from a technical perspective, an absolute Rolls Royce of a footballer. There hasn't been a huge amount of chatter around the prospect of him leaving but I think there's a potential bargain to be had if there's a club in need of a bit of spark in attacking midfield areas and are willing to stump up a small fee to get him off PSG's books."
Robert Tressell
14
Posted 31/01/2021 at 09:43:49
It's a possibility, Conor. Whatever the case, we have till 11pm tomorrow.
Draxler is talented if fit. But could well be another declining talent looking for a big wage as his motivation and contribution dwindles.
A try-before-you-buy deal might work.
It's pace and mobility we really need though.
Tony Abrahams
15
Posted 31/01/2021 at 09:52:05
We need more pace and better width Conor, we need people to run, so Rodriguez can find them, and we need better players, so Ancellotti, can continue to get rid of the players who will never take us to the next level.
Yesterday was sobering, but how can Everton really open up with that team? I'm not saying it's wrong not to criticise, but we are never going to be able to squeeze the pitch with Keane pairing Mina, it's probably one of the reasons why Marco Silva lost his job?
Derek Thomas
16
Posted 31/01/2021 at 10:02:01
We've bad too many of these...could deffo be contenders, really good player - he was; who come on loan do 'well', sign a big contract, then either ease off, get injured - or both.
It's a mine field.
Jason Li
17
Posted 31/01/2021 at 10:45:07
Please make the move to help your own ambition Tosun.
Let's hope the outgoings add up to be enough to bring in one good loan signing.
1000s of Evertonians can see we've got the low block defense mastered. We just need to add to our offensive set-up gameplans, like American football. A mentally brave rapid dribbler who can go through people in the final third wouldn't go amiss - when we're boxing teams in. Eze at Palace or Martinelli at Arsenal or Son at Spurs type would have me toasting this transfer window.
I think in a year to two years, Gordon is that player, but we need a very good player to be available today.
Steve Shave
18
Posted 31/01/2021 at 11:48:07
How about dipping into the championship, Olise looks really promising and could be an exciting option off the bench. Buendia the dream but out of our price range right now. Striker wise there is Toney at Brentford?
Bobby Mallon
19
Posted 31/01/2021 at 11:51:07
Tony Abraham's, I agree wholeheartedly when you say we are not going to be more expansive and open up with those type of players. But someone somewhere must have had a plan when Micheal Keane and Mina where bought. I'm not a coach but I have known ever since we bought Keane that he could never play the high line, the only time he looked comfortable was when Zouma played alongside him. Then instead of getting a centre back, in the same mould as Zouma we buy Mina. Another who is not quick enough to play the high line. I think Godfrey was bought to do just that but needs must and he was needed to go left back. Same for holgate at right back. I think Carlo has his plan now but just needs time to implement it and that won't be in this window. We need 3 players in the summer a right wingback of substance. A central midfield player of the Foden type and a left sided forward who can score 10 /15 goals a season who also can take people on in the Zaha mould. Sigurdson has had his day at Everton so has Coleman and I think personally Pickford, but we don't need a new keeper if we buy Olsen and Virginia lives up to his early billing. I will give one prediction though. We will beat Leeds Wednesday.
Tony Abrahams
20
Posted 31/01/2021 at 13:20:50
It's definitely on the players and the manager after yesterday Bobby
Pat Kelly
21
Posted 31/01/2021 at 15:57:01
Not even a fringe player at Everton ! He'll probably be back in the summer as our new striker.
Brian Wilkinson
22
Posted 31/01/2021 at 17:31:46
I would have taken Dzeko short term.
Karl Graham
23
Posted 31/01/2021 at 17:39:10
I think the only attackers coming in will be on loan. We have Kean and Tosun coming back in the summer if we get them sold that is the only way I can see us buying someone. We do not want too many strikers on the books. Tosun did the job he needed to do in his first half season score the goals to get us up the table. Unfortunately the goals dried up and he didn't offer enough all round. If we get £6/8 million for him in the summer that would be decent business.
Fran Mitchell
24
Posted 31/01/2021 at 18:11:10
Tosun was never good enough and is typical of what the January window gets you.
But with him gone, and Bernard leaving too our squad is desperately short. Rumours of Gordon leaving on loan too, which is probably good for his development but will leave us with literally zero options from the bench.
A loan of someone is needed - but who, Igalho or someone of that ilk?
Or do we have any long term targets we make moves for now?
Very frustrating that our squad is so limited.
It's the price paid for bad investment. And with our books.we can only buy with them gone:
Bernard, Tosun, Walcott, Kean, Bolasie - that's like 100 million in fees + about 300k + a week in wages.
Tony Everan
25
Posted 31/01/2021 at 18:52:03
Celtic rumoured to be interested in Jonjoe Kenny, a master stroke part exchange + cash on the cards for Oddsocks Edward ?
We have to be working on some sort of a deal for a new forward, and Carlo's not going to sanction any old journeyman coming in, it will have to be quality. There's no way we would let these players go without having a cunning plan.
Steve Shave
26
Posted 31/01/2021 at 18:53:37
Tony I like your thinking and admire your optimism as always. Let's bloody hope so, Edouard would be an excellent signing. Celtic are in disarray and the boy is rumoured to be unhappy.
Steve Shave
27
Posted 31/01/2021 at 18:58:12
Edouard and a winger on loan would be fantastic. Leverkusen just signed Gray from Leicester for £2M, outstanding business. Bailey is running down his contract there so I wonder if he is on his way and Gray his replacement? Yes please to Bailey on loan with option to purchase. All speculation of course but I bloody loves it. Sam Hoare, Robert Tressell, transfer soothsayers, scouting gurus, what say you?
Tony Everan
28
Posted 31/01/2021 at 19:05:12
Yes Steve, and if you believe the rumours Brands has been tracking him for a year or more. So it would not be a rash January signing.
Also we need to be thinking that Kean will be moving on to Juve or PSG, if we could get Edouard in now it could make good business sense too. The more we sell Kean fornicate the summer the more we will get fleeced on buying his replacement.
It's overly optimistic at this late stage but stranger things have happened. The Roswell incident?
Tony Everan
29
Posted 31/01/2021 at 19:07:12
Fornicate?
Thomas Richards
30
Posted 31/01/2021 at 19:10:49
a kind offer Tony.
May well take my mind off the game but will give it a miss thank you
Steve Shave
31
Posted 31/01/2021 at 19:11:30
Tony that's funny, other things on your mind bud? ;)
David Pearl
32
Posted 31/01/2021 at 19:18:12
Tony, your spellchecker knows ypu well.
Bailey would be great but l wont be holding my breath. To get rid of Walcott, Kean, Simms, Tosun Bernard, Bolasie and not bring anyone in? Surely we have someone lined up!
Brian Wilkinson
33
Posted 31/01/2021 at 19:38:24
Newcastle looking to bring Gueye on loan until end of season. Why are we not looking into this???
Steve Shave
34
Posted 31/01/2021 at 19:42:52
I just can't see us signing a striker permanently this window, we'll be bloody stuck with Tosun again in the summer, can't risk it.
Brian Wilkinson
35
Posted 31/01/2021 at 19:55:44
One game we played with no striker and we got a win, I really hope Carlo is not even thinking of not playing with a striker if Calvert-Lewin is missing on that basis.
Pretty sure we will bring a striker in, even a loan signing, sheer madness if we do not.
Jason Wilkinson
36
Posted 31/01/2021 at 20:01:37
I think we would have got a player or two in by now if we were looking. Unless the budget is so tight we need a few out to get the wages for new blood. My gut feeling is Carlo & Marcel weren't bluffing when they said no to incoming players.
Steve Shave
37
Posted 31/01/2021 at 20:06:06
Brian, I had a similar thought: you can't play the false 9 effectively without devastating wingers... we don't have the artillery.
Alex Gray
38
Posted 31/01/2021 at 20:10:10
I have a bad gut feeling we're not looking at the minute and need to balance the books a bit sadly. Hope I'm wrong but I'm certainly worried.
Fran Mitchell
39
Posted 31/01/2021 at 20:36:52
Brian, saw that about Gana. Apparently he isn't keen but is open to return to the Premier League. We should be in for him, 100%.
Him and Allan in the middle – at least we'd have energy in the middle of the park and would actually compete with other teams.
Robert Tressell
40
Posted 31/01/2021 at 20:38:34
Steve S, for 6 months you get a has been looking for some dosh.
- Diego Costa
- Marco Arnautovic
- Christian Benteke
- Jordan Ayew
- Shane Long
- worse!
Players we might actually want and be able to get:
- Mariano Diaz
- Abdellah Sima
- Odsonne Eduoard
- Dennis Bouanga
- Boulaye Dia
But in that latter category I've seen no rumours so it really looks like there'll be no incomings unfortunately. If we don't get Zirkzee then I think we've had it.
Stephen Brown
41
Posted 31/01/2021 at 21:02:01
At this point, I'd take Costa on a 6-month deal! Not exactly forward-thinking but at least he's available, played in the Premier League... and is a nasty bastard!
Steve Shave
42
Posted 31/01/2021 at 21:10:25
Thanks Rob, Zirkzee has gone to Parma I thought? Kenny has been loaned to Celtic. Now Brands may have been the mastermind behind the James deal but the fella can't sell a hot chocolate to an eskimo.
Steve Shave
43
Posted 31/01/2021 at 21:11:46
I'd definitely take Mariano Diaz off Real Madrid on a 6-month loan, Robert!
Alex Gray
44
Posted 31/01/2021 at 22:00:26
Id take Diaz or any of the latter on Roberts list! Reality is we've had two keepers on our bench before players leaving and our Newcastle bench was truly dire attacking wise. If Gordon goes on loan we have no attacking bench options. With more congested fixtures we will pick up injuries and our season will be derailed.
Brian Wilkinson
45
Posted 31/01/2021 at 23:26:21
Zirkee is in Italy tonight so forget that one, I would take Dzeko.
Dave Round
46
Posted 01/02/2021 at 19:13:25
We appear to be writing the season off already. We are saving wages on Tosun and Kenny but ultimately devaluing them for the summer as their contracts will be running down. I think we rejected a good sum from Schalke, bet they wish they had taken it now.
---
Add Your Comments
In order to post a comment, you need to be logged in as a registered user of the site.
Or Sign up as a ToffeeWeb Member — it's free, takes just a few minutes and will allow you to post your comments on articles and Talking Points submissions across the site.