Celtic take Kenny on loan
Sunday, 31 January, 2021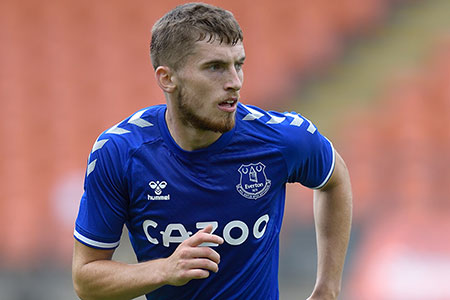 Jonjoe Kenny will spend the remainder of the 2020-21 season at Celtic after the Scottish club secured the full-back on loan despite reported interest from Burnley.
The Finch Farm academy product has been surplus to Carlo Ancelotti's requirements since failing to impress the Italian when handed opportunities earlier in the campaign and has been the subject of speculation linking him with a move to Turf Moor or back to the Bundesliga.
Kenny spent last season on loan at Schalke where he impressed but not enough for them to sign him on a permanent basis amid the financial constraints that have come out of the COVID-19 pandemic.
After Everton apparently failed to agree a deal with Burnley, Celtic have moved to replace Jeremie Frimpong with Kenny after the former moved to Bayer Leverkusen.
---
Reader Comments (61)
Note: the following content is not moderated or vetted by the site owners at the time of submission. Comments are the responsibility of the poster. Disclaimer
John Keating
1
Posted 31/01/2021 at 20:25:42
You have to laugh at these journos.
Jonjoe Kenny reported that it's a done deal signing until the end of the season loan deal for his "boyhood team", Celtic.
Wouldn't it be great if he signed and then announced to the world his "boyhood team" is Everton but up North he follows Rangers?
Paul Birmingham
2
Posted 31/01/2021 at 20:40:48
All the best to Jonjoe Kenny, if he moves on either on loan or in a transfer deal.
For me, he needs to take control of his destiny and. Get playing football regularly as being a bit-part player at any football club, can't be good for the player's development.
If Everton can get a few bob for him, even better.
Mike Doyle
3
Posted 31/01/2021 at 21:10:14
Any news on Besic?
Andrew Ellams
4
Posted 31/01/2021 at 21:11:38
Looks like Kenny is going to Celtic and I've seen rumours of Gordon going out on loan. Well struggle for a bench on Wednesday.
Steve Shave
5
Posted 31/01/2021 at 21:13:09
Jonjoe Kenny to Celtic, confirmed.
Ian Horan
6
Posted 31/01/2021 at 21:49:34
Jonjoe Kenny to Celtic on loan is laughable, we all know he isn't good enough. We need to shift these fuckers out permanently. As it will be groundhog day again in the summer, fuck these loans off!!! Get enough of a fee to pay the crap players' contracts up – that's all that's needed as they become zero value towards the last 6 to 12 months of their contracts.
Rob Halligan
7
Posted 31/01/2021 at 22:01:16
Thing is Ian, what if the clubs taking these players on loan don't actually want to sign them permanently? Unless there's an option to buy them when the loan deal is up, there's not a lot any club can do when loaning a player out.
Phill Thompson
8
Posted 31/01/2021 at 22:02:01
Hope this works out for Jonjoe, it has though all the trademark signs of our worst loan decisions - send a player to a club that's struggling, suddenly the manager who brought him in is sacked and he doesn't get a game. I can't see Neil Lennon lasting more than a week or two. Good luck Jonjoe.
Philip Bunting
9
Posted 31/01/2021 at 22:04:51
With clubs having taking a massive hit with covid there is little money sloshing around for transfer fees. It's hard to give players away due to their wages. This move is for the best as if he is successful it may lead to a transfer fee rather than going sterile like Besic. Cannot believe that guy is still at EFC, you wouldn't even know he was there as little is said or heard of him.
Robert Tressell
10
Posted 31/01/2021 at 22:05:18
Fair enough. Zero chance of playing for us this season.
Peter Mills
11
Posted 31/01/2021 at 22:11:57
I reckon Jonjoe will love the Scottish league, and it will help his development.
I don't think his future is with us, which I'm sorry about as I've watched him from an early age and I love his attitude. I would very much like to be proved wrong.
Whatever he does, wherever he goes, I think he'll make a decent living from the game and he will give more effort than quite a few who played for us at Goodison on Saturday.
Tony Everan
12
Posted 31/01/2021 at 22:12:22
Good luck to Jonjoe, I hope this loan is a success so we can get a decent fee for him.
When are they going to tell us about Edouard coming to Everton?? Come on why wait ..
Paul A Smith
13
Posted 31/01/2021 at 22:12:54
This is good for him to be honest I can see it being permanent. Its vital we get a genuine Right Back this summer with Colemans best days behind him.
24 hours to go in this window, will we pull something out of the bag?
Olalekan Taofik
14
Posted 31/01/2021 at 22:13:34
Good for Joejoe to garner more experience possibly sold off after loan spell.
Ordinarily, I expect the likes of Cenk Tosun(the leader of flops, Bernard, Gomes, Gbabim( injury prone) etc to move on.
I wonder if Isco is still on our radar and the likes.
Thomas Richards
15
Posted 31/01/2021 at 22:13:42
Good luck to the lad.
A great club.
Jim Jennings
16
Posted 31/01/2021 at 22:15:30
Potentially a bad move for Jonjo. Yes he needs games but I cannot see him kicking on playing against the calibre of opposition he will face. With his contract up in summer 2022, he really is at a crossroads if this doesn't work out. He did OK in a poor Schalke team who were in freefall in the second half of his season there. Hope it works out for him but he may end up having to drop down to the Championship if he wants regular football this summer.
Bill Gienapp
17
Posted 31/01/2021 at 22:52:05
Good opportunity for Kenny, but a loan move is rather pointless for us, since it doesn't look as if he has any future with the club.
If Bernard goes too, and Gordon gets loaned, we won't even have any attackers left for the bench, let alone as legitimate cover for injuries. I'm almost fascinated at this point.
Gavin Johnson
18
Posted 31/01/2021 at 23:26:50
Puzzling move if it's true the Burnley move hasn't happened because we were holding out for £10m. We should have accepted half that amount. Hopefully that's a move that can happen in the summer. Look, he's never going to play for us so this move is good in that it gets his wages off the wage bill in the meantime.
I see Gray's gone to Bayer Leverkusen. Might we be signing Leon Bailey tomorrow?!? We have to bring at least one player in with three players going from our bench in Kenny, Tosun and Bernard.
Christy Ring
19
Posted 31/01/2021 at 23:35:04
Don't think it's a great move, can't see Lennon lasting much longer. Tosun gone back to Turkey, we have only one striker now, have we enough senior player's to make the bench on Wednesday, certainly no forwards. If we don't bring in a striker tomorrow, something seriously wrong at the club.
Martin Reppion
20
Posted 01/02/2021 at 00:15:20
I understand all the financial stuff, Covid, FFP, etc. But even with their relative levels of non-achievement, we can't ship out Walcott, Bernard, Bolasie, Kean, Tosun, Simms, and Gordon (potentially) and have nothing coming back the other way.
As I see it, the ones who have been mentioned aren't coming here. Zirkzee was an exciting hope. Edouard would have been a deal maker for me while we were talking to Celtic, but it does not seem to have happened. Dzeko could do a job and is available on loan but he is on very silly money. King can't score in the 2nd division.
I am hoping for a Fellaini-size surprise tomorrow. I won't hold my breath.
Jamie Crowley
21
Posted 01/02/2021 at 01:43:07
If we're letting this kid go, I'm happy he's off to Celtic.
Hope he excels and has great success. Brilliant Club. Brilliant fans, second-best fans in the world most likely.
Just don't sing that song, Jonjoe.
Paul Jones
22
Posted 01/02/2021 at 02:45:49
Hope he does well and I am sure will be a great experience. Personally have great memories of being in the away end at cup final with Celtic fans against Watford. Likewise at Cup Winners Cup Final against Rapid Vienna when many Celtic fans followed Everton.
Then I lived away from home and often ended up in opponents end for finals when getting tickets but always seemed to be accompanied by Celtic fans.
Kieran Kinsella
23
Posted 01/02/2021 at 02:52:34
Jonjoe Kenny was born 25 years too late. True Evertonian, diminutive, reasonably skilled, heart of a lion. In the 90s he could have been our Gary Neville. But technically and physically the game has moved on and he's not what we need. It's a shame. He's a good lad. I wish him all the best.
Jack Convery
24
Posted 01/02/2021 at 04:17:03
I wish him all the best. He should do well at Celtic but I believe a season in the Championship would have served him better. Will Nicola Sturgeon let him in to Scotland ??
We deffo need a couple coming in surely. I know your names not etc etc.
John Dingle
25
Posted 01/02/2021 at 04:41:07
Inside Futbol are reporting that Zirkzee is in Parma and going to sign tomorrow.
Disaster for EFC, no backup forward... no chance of top 6.
Tony Abrahams
26
Posted 01/02/2021 at 08:18:21
John@1, it's probably because Jonjoe's first team was called Custys, and the very first kit the lad would have played a proper football match in, would have been in a replica green and white Celtic kit?
I think the religious aspect has slowly changed, but a kid from the north end of Liverpool with a name like Jonjoe, would definitely be a catholic, and although I'm made up for the lad and his family, I'm also gutted that Jonjoe won't get to play under a jam-packed Parkhead, which would be an amazing experience all on its own.
Tony Abrahams
27
Posted 01/02/2021 at 08:22:47
Jim @16, Burnley definitely wanted Kenny, talks broke down because Everton wanted more than Burnley were prepared to pay, and my own guess would be that Jonjoe still has aspirations of playing for Everton, such is his love of the club.
Dave O\'Connell
28
Posted 01/02/2021 at 08:26:54
Another player going, no-one coming in by the looks of it.
What next? — 3 goalkeepers on the bench???
Dave Abrahams
29
Posted 01/02/2021 at 09:57:06
What a contrast in some of the views on here! Read Peter (11) and his sensible post and attitude and read some of the others, one of them should be ashamed of his post when he reads it again.
Jonjoe a local lad been with Everton since a very young lad, gives his all, loves the club as much as any of us. He will give 100% for Celtic. I hope he does well there, good luck lad,
Chris Williams
30
Posted 01/02/2021 at 10:25:54
Good luck to the lad.
I think the Gordon loan is dependent on whether or not Bernard moves. If he does, Anthony stays and gets game time with us.
Carl Rutherford
31
Posted 01/02/2021 at 14:13:05
I always felt sorry for jonjoe won u18 league with Everton, won u23 league with Everton. Won honours at u17 with England, won World u20 Cup with England. What else do you need to achieve to get game time? It shows how big a jump it is from academy football to Premier league (or perhaps the lack of will of clubs to develop their own). Either way I wish him luck. Strikes me as the kind of player who doesn't complain just gets on with it.
Mike Gaynes
32
Posted 01/02/2021 at 15:20:20
Brilliant opportunity for the lad. A top young man with a great heart, superb fundamentals and a never-say-die attitude every minute he's on the pitch. Ultimately lacks the natural talent for the Prem, but has everything he needs to build a great career in the Championship or Scotland. Wish him nothing but the best -- may he play for another ten years and retire healthy and wealthy.
Tony Abrahams
33
Posted 01/02/2021 at 15:41:41
He will have a good career in the Premier League, I'd be willing to bet, Mike.
He also helped Oxford to win promotion, and was also in the running to be voted the best newcomer in the Bundesliga last season Carl, which shows to me that Jonjoe has got a great attitude to go along with his winning mentality. He's been used once in the Premier League this season, away to Newcastle, in a game that Ancelloti played without wingers, and in a game where every single Everton player struggled to get going.
We will see how he goes anyway, and if he's going to improve, this will only happen now he starts playing regular competitive football every week.
Jamie Crowley
34
Posted 01/02/2021 at 15:42:08
Amen to that last sentence, Mike.
Kieran Kinsella
35
Posted 01/02/2021 at 15:52:50
He may turn out like Richard Dunne. Generated mixed reviews for a few years but ultimately had a very good career in the Premier League.
Alan McGuffog
36
Posted 01/02/2021 at 16:51:55
Good luck to the lad, he has always shown a great attitude. Sad but he had no future at Goodison.
I don't think it's a great move for him though. Celtic gave up the ghost weeks ago, the team is a shambles and the Scottish Premiership is a dead rubber. I feel he needs more of a challenge if he is to kick on.
Andy Crooks
37
Posted 01/02/2021 at 17:25:32
Alan, normally I would disagree with that. Scottish football, especially Glasgow football is tougher than you would ever think. However, Covid ruins that. He could have been learning under a passionate coach in an intense atmosphere. Sadly, it is indeed a dead rubber.
The tragedy of Scottish football is that the Old Firm appear to take it in turns to be a shambles. I remember in the Fergus McCann era watching Charlie Nicholas, one of my favourite players, play against Hearts. Can't remember whether Brady or Macari was coach, but the atmosphere was incredible.
The day the Scottish Premier League is ever decided on the last day will herald the beginning of Scotland's world cup winning campaign!!!
Tony Abrahams
38
Posted 01/02/2021 at 17:37:44
I can still remember Hearts throwing it away all those years ago Andy, and as much as I liked Celtic when I was a kid, that was proper heart-breaking watching grown men crying, such is the passion that people have, for the beautiful game.
Justin Doone
39
Posted 01/02/2021 at 17:38:44
Good player. Easily good enough for EPL. I think it will be a good loan move for him.
Probably our best right footed crosser of the ball from open play and I'm surprised he hasn't been given more opportunities to supply DCL.
Downside is he's not a defender or an attacking fullback to oust Holgate, Godfrey or Coleman. Lacks the pace and positional sense to be our answer but good back up.
Alan McGuffog
40
Posted 01/02/2021 at 17:47:20
Indeed, Andy. Didnt Celtic do nine in a row followed by Rangers doing much the same when they were bringing in loads of English players ?
Then Rangers getting ( rightly) punished allowing Celts a clear field, up till now.
Mike Gaynes
41
Posted 01/02/2021 at 18:11:09
Tony #33, think so? I can't see a Prem club buying him, but who knows, he might pull a Lundstram -- lock in a place with a Championship side and ride a promotion back up into the Prem!
However, Jonjoe wasn't close for Bundesliga Newcomer of the Year. The top 3 were Davies, Haaland and Wirtz.
Jamie Crowley
42
Posted 01/02/2021 at 18:29:17
Does JonJoe have a translator lined up?
Tony Abrahams
43
Posted 01/02/2021 at 18:43:05
He was set to sign for Burnley, Mike, but Everton wanted more money for him. I thought the magazine bild, had him in the running? Maybe before Scalke badly faltered?

There cheeky those sweatys Jamie, (sweaty sock = Jock) because "we cannae understand yer pal" is probably the first thing they'll say to Jonjoe!
Chris Williams
44
Posted 01/02/2021 at 18:44:26
Deal now announced
Dave Abrahams
45
Posted 01/02/2021 at 18:46:04
Mike (41) Burnley are a premier league club bid £9M for him in the last few days, Everton wanted £10M so Jonjo Kenny has gone to Celtic on loan, he will play for them tomorrow night, a start of some regular first team football hopefully for Kenny, if Burnley stay up they could come back for him in the summer and get him cheaper.
Fran Mitchell
46
Posted 01/02/2021 at 18:47:06
When did Burnley bid 9 million and when did we turn it down?
Dave Abrahams
47
Posted 01/02/2021 at 20:20:42
Fran (46), between last Thursday and yesterday Fran, Jonjo is playing for Celtic tomorrow night.
Chris Cole
48
Posted 01/02/2021 at 20:47:41
Best of luck to the lad but it looks like another disastrous loan selection from our club.
Celtic just sold their RB but their form has fallen off a cliff and the manager must be for the boot anytime soon - awful decision.
Burnley would have been great for him - RB is their weakest defensive position and he could have had a great opportunity there - Dyche clearly knows what he's doing with defenders.
Disappointed for the lad that we didn't let him go if £9m was offered!
Mike Gaynes
49
Posted 01/02/2021 at 21:08:11
Dave and Tony, thanks for the Abrahams kitchen exclusive on Jonjoe. I hadn't heard anything about a Burnley bid either.
I'm gritting my teeth here as I continue to hear the media talking about Brighton signing Caicedo. I think we really missed one. I've seen the kid play, and he impressed me greatly.
Tony Abrahams
50
Posted 01/02/2021 at 21:20:52
I heard a rumour yesterday that Kenny was going to Burnley for £9 million Mike, but whilst the price was only a rumour, the rest of it was definitely true.
Maybe Gbamin is the reason Everton never went for Caicedo, Mike? But I've just read Graham Potter, saying that although it's a gamble, these are the types of signings and players, that Brighton have maybe got to start taking chances on.
Ashley Roberts
51
Posted 01/02/2021 at 23:21:22
Good luck to Jonjoe!! I hope he does well and is able to find a place in the premiership on his return as I don't see a future for him at Everton. He has been unlucky as he was second best to Seamus and now Mason has come in before him as right back. He is a true blue and wears his heart on his sleeve and I believe he would walk through a wall for our club which is more than can be said for some of the squad. I just don't see him making the first 11 week in and week out.
Jay Wood
[BRZ]
52
Posted 03/02/2021 at 11:42:54
Brian Murray
53
Posted 03/02/2021 at 11:47:58
Jay. Assume you mean good for us to get some sort of a fee. Probably a decent pro but as we seen not the level we going
Jay Wood
[BRZ]
54
Posted 03/02/2021 at 11:50:02
Oh-er!
Dunno what happened there. This has happened before.
I included two different links, but neither both appeared and the one that did doesn't work.
Gremlins in TW Towers.
I'll try again, then leave it to the eds to sort out if it fails again.
Lennon Hails 'Excellent' Jonjoe Kenny Debut
Jay Wood
[BRZ]
55
Posted 03/02/2021 at 11:54:55
I meant exactly what I wrote, Brian.
Good for JJK.
He's a good lad. A good pro. He will have a long career in football, regardless of who it is with.
Brent Stephens
56
Posted 03/02/2021 at 12:18:07
That's good reading about JJK. Always want any lads we bring through the ranks to do well for us and I thought JJK was almost there but not quite. That's a great start for him up there and hope his game benefits from the move.
Jay Wood
[BRZ]
57
Posted 03/02/2021 at 12:25:20
Exactly, Brent.
It's a win-win for all.
There has been a great deal of ridiculing of the academy production line on these pages. Of individual players. Of the loan system.
Surely it is a positive to read reports as linked about one of our loanees? They play, they improve, the club benefits either way by getting a player back better prepared for PL football, or as a more saleable asset.
Good for the player. Good for the club.
Bill Griffiths
58
Posted 03/02/2021 at 13:02:45
Sounds like an impressive start. I'm still hoping he progresses and makes a career here with The Blues.

Tony Everan
59
Posted 03/02/2021 at 13:32:35
Sounds like the ideal loan move for Jonjoe. It will suit his game perfectly having a license to attack down the right in almost every game. I think they will want to make it permanent. I wonder if we are still interested in Edouard?, if so there could be deal to be done.
Dave Abrahams
60
Posted 03/02/2021 at 17:00:08
Bill (58), I was hoping that Jonjo would haveva good career at Everton, because he's good enough in my opinion, but that deal with Burnley was definitely on, to sell not loan him, I think he just wants to play first team football and get on with his career.
Kieran Kinsella
61
Posted 03/02/2021 at 17:13:06
JJK could be the next Jackie McNamara or Tommy Boyd. Celtic love a fired up, tough tackling full back who can blast in a few daisy cutters. Lennon or not, I think he'll do well there now and if the money works, he could do well there for a long time. Different kind of player but Scott Sinclair was someone who was "the promising youngster" for quite a while but never quite made it as a prem starter. He went to Celtic and had a great career.
---
Add Your Comments
In order to post a comment, you need to be logged in as a registered user of the site.
Or Sign up as a ToffeeWeb Member — it's free, takes just a few minutes and will allow you to post your comments on articles and Talking Points submissions across the site.