Koeman: They're living in the past at Everton
Tuesday, 2 February, 2021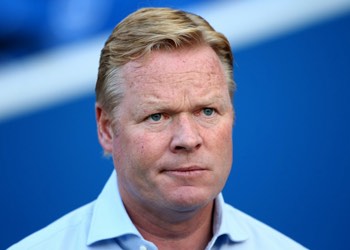 Ronald Koeman has cited the lack of a proven goalscorer and the weight of supporter expectation among the reasons for his failed tenure at Everton.
Hailed by majority shareholder, Farhad Moshiri, as the "Hollywood manager" to complete a northwest quartet rounded out by Pep Guardiola, Jose Mourinho and Jurgen Klopp, the Dutchman arrived at Goodison Park amid a flurry of optimism in 2016.
However, despite a spending spree on attacking midfielders and some promising results in his debut season, the Koeman regime hit the rocks just a few weeks into his second campaign at the helm and with Everton languishing in the bottom three of the Premier League, Moshiri sacked him before eventually hiring Sam Allardyce as a stop-gap appointment.
He has since taken roles as the head coach of the Netherlands national team and Barcelona where he is trying to keep the Blaugrana in touch with La Liga leaders Atletico Madrid and he has reflected on his time with the Toffees in an interview with Alan Shearer in The Athletic this week.
"At Southampton, there wasn't the same pressure as when I was the manager in Everton, and Everton wasn't the same pressure to compare with the pressure at Barcelona," Koeman explained.
"It was difficult, that period, because Everton are a club — and also the fans — who expect sometimes too much. I think sometimes they are still living in the past about the great seasons that they had at Everton.
"My first season was a really good one. Romelu Lukaku scored 25 league goals and we had great home games against Manchester City, who we beat 4-0; we beat all the big ones and it was great.
"But to do the next step, that's the most difficult one. We spent a lot of money, we signed Jordan Pickford, we signed Michael Keane, we signed Gylfi Sigurdsson and some more players but the big miss was that we did not have a striker like Lukaku. That was really painful.
"We were close to signing Olivier Giroud at that time. Finally, we started with Dominic Calvert-Lewin as the No 9. At that time, he was too young, but if you see him playing now, he's really a good player and I like him.
"That was a really difficult situation — when we lost Lukaku, we lost 25 goals. That was difficult and when we signed Wayne Rooney, maybe we had Davy Klaassen and some other players in the same position at that time. That was difficult, but what we missed at that time was really a goalscorer."
---
Reader Comments (150)
Note: the following content is not moderated or vetted by the site owners at the time of submission. Comments are the responsibility of the poster. Disclaimer
Justin Doone
1
Posted 02/02/2021 at 17:31:23
I understand what he's saying but who was actually responsible for buying and selling players? Who had final approval?
He certainly didn't appear to have a game plan. He didn't improve or get the best of of the players. That was all of his responsibility.
If he can't handle the expectation of Everton fans, what's he doing at Barcelona?
Please just admit it was a good opportunity but he wasn't upto the challenge. Nice pay off either way.
Never wanted, never liked, thanks for nothing. Nothing personal, our board made a bad appointment.
We have moved on.
Jack Convery
2
Posted 02/02/2021 at 17:35:10
He should have read our Motto - Nil Satis Nisi Optimum - there's a clue there. Arrogant R Sole is Mr Koeman.
Kevin Molloy
3
Posted 02/02/2021 at 17:39:39
he very nearly finished us. if he'd been allowed to sign another couple of bollox players I don''t think it would have been recoverable. The most disastrous appointment in the history of the club. An appalling chap to boot. Mark O'Brien said his pitchside demeanor was that of a bloke waiting for the RAC, which just about sums it up. Careless to the point of well, words fail.
Jay Wood
[BRZ]
5
Posted 02/02/2021 at 17:55:17
A good response to Koeman's nonsense in the Echo:
Mike Gaynes
6
Posted 02/02/2021 at 17:58:19
Bravo to David Prentice.
Koeman was, and remains, a complete ass.
Neil Copeland
7
Posted 02/02/2021 at 18:00:19
Perhaps if he had shown an interest in the team and training as opposed to going on holiday or playing golf he may have done better. Yes, we needed a striker so why did he not oppose the signing of 3 no10s instead of one plus a striker?
At the time of his appointment I was really optimistic, such a let down. His treatment of Niasse says everything you need to know about Ronald, an arrogant dick.
Tony Hill
8
Posted 02/02/2021 at 18:04:19
He was a lazy disaster and the man who has done us by far the most damage.
Joseph Murphy
9
Posted 02/02/2021 at 18:04:21
Funny how managers who aren't good at their jobs say the club expects too much when they really mean 'I'm not good enough to achieve your expectations'.
With or without the money Koeman blew, I bet Ancelloti would never utter those words.
Plus, if anyone is looking to their past too much it's Barcelona, by appointing a former good player who is again proving to be a very average manager wherever he ends up. I'm surprised he's lasted this long there but don't worry, it won't last.
Mike Keating
10
Posted 02/02/2021 at 18:05:36
This is the genius who spent weeks publicly tracking Sigurdsson with an open cheque book and didn't bother to bring Mane with him from Southampton then complains we never replaced Lukaku - look how that ended!
Left us in the shit and walked away a multi millionaire.
Kieran Kinsella
11
Posted 02/02/2021 at 18:06:10
I'm puzzled as to why he even agreed to this interview. He is far from popular at Barce despite his playing days there, so he agrees to talk about his miserable failure at another club? I'm sure Barce fans who don't keep up with the EPL are overjoyed to hear his aloof, comments about "living in the past" etc and aren't thinking "wait a minute, that's probably his attitude here as well."
Kim Vivian
12
Posted 02/02/2021 at 18:07:06
Contrary to all the hype leading up to his appointments he really, of all our recent managers, was the epitome of how NOT to be an Everton manager - and I include Big Sam in that. To think Arsenal were in the hunt for him at the time as well. Dodged a bullet there.
I suppose if he's going to sit for an interview like that he has to fight his corner, as it were, but a tenure best forgotten barring a few fleeting exceptions.
All in the past now, RK.

Nicolas Piñon
13
Posted 02/02/2021 at 18:08:49
The guy is a joke
He let go Suarez al Barcelona who's shining at Atletico Madrid and Messi will leave him in summer. That says it all.

Kenny Smith
14
Posted 02/02/2021 at 18:14:31
Totally the wrong manager at what should of been totally right time.
Wasted a fortune on guff players. If you're replaced by Allardyce you know you've done a shite job. and he was a closet kopite. We should of sacked him when he posted that picture of his Christmas tree.
I do agree though you can't replace Lukaku with a very young DCL or even him now to be fair. But it's his own fault because he did fill his squad with number 10s instead of anyone who could find the net.
Dale Self
15
Posted 02/02/2021 at 18:29:22
What a nard. I guess he needs a distraction from the clown show he's brought to the Nou Camp. Smug bastard.
Ken Kneale
16
Posted 02/02/2021 at 18:30:17
What a great response from David Prentice - I applaud his considered and accurate comments.
John Raftery
17
Posted 02/02/2021 at 18:30:35
He failed to manage upwards. A whole load of players were signed in the summer of 2017 for virtually every position in the team bar the one we needed most, centre forward. He could, and should, have vetoed the signing of Rooney and the ridiculous fee spent on Sigurdsson. He should have insisted on the bulk of the money received for Lukaku being spent on a credible replacement.
His all too public mismanagement of Barkley which in the end cost the club about £30m, his inability to build rapport with anybody be they players, fans or media, revealed his limitations as a manager, leader and communicator. I would have sacked him after the debacle of the 3-0 defeat at Atalanta. The final few weeks after that were chaotic. He showed no clue how to arrest the decline.
David Currie
18
Posted 02/02/2021 at 18:31:23
He only ever came for the money and had no love for the club, was a lazy sod as well.
Fran Mitchell
19
Posted 02/02/2021 at 18:31:37
Hindsight shows Koeman was exactly what we didn't need.
He is arrogant, and ultimately lazy.
He is the one manager who had everything to succeed. He had an already decent quality squad - a world class striker and some solid players with a couple of high quality youngsters. He had money to spend.
And he absolutely blew it.
Lazy in training. Lazy in recruitment. He thought his name would make him a success.
The horror irony is, when he came I remember the scepticism of "he's only here until he gets the Barcelona job".
I always countered this with "if he gets the Barcelona job, then it means he'll have been a success with us".
If only.
Colin Glassar
20
Posted 02/02/2021 at 18:38:05
He should have done a Robert Maxwell in the Aegean before he (eventually) accepted our more than generous offer. One of our worst ever managers IMO.
Barry Rathbone
21
Posted 02/02/2021 at 18:38:58
He's right of course but it was his job and that of managers since Joe Royle to rectify the situation.
The blame is not on fan expectation but the inability to use that expectation as a driving force as Klopp has managed at monkey island,
Watch the fan reaction when we won under Martinez at OT the potential here is monumental for the right man
Mike Keating
22
Posted 02/02/2021 at 18:39:57
My son bought me a Barca shirt with Koeman's name and number on the back in honour of his appointment.
It's been hanging in the wardrobe waiting for a miracle at Barca so I can sell it on eBay to a deluded Barca fan but I guess it's destined to stay there. Man was a complete fraud.
Ray Robinson
23
Posted 02/02/2021 at 18:41:47
Well he never even bothered to use the word "we" in interviews. It was always "Everton" - as if talking about a team he was merely watching rather than managing. Appeared arrogant, never attempted to "get" us, and never appeared the least bit bothered. Good riddance. Won't last long at Barcelona.
Brent Stephens
24
Posted 02/02/2021 at 18:42:16
Mike #22 I guess the moths are going to have that shirt given how long it's likely to stay in the wardrobe.
Jack Ledwidge
25
Posted 02/02/2021 at 18:44:47
Koeman always struck me as arrogant, aloof and full of his own importance. He had little interest in Everton. It was always about himself. He reminds me of a time in my own junior football club. Our manager was chasing a centre forward pre season. He said to the guy, who had a big ego, I'd love 20 goals from you this season. The reply came "so you don't want any after Christmas "
He delivered either.
Joe McMahon
26
Posted 02/02/2021 at 18:45:25
A dreadful appointment. Elements of what he says are true, however he went along with Sigurdsson at 45 million and wanted the inept Klasson.
He didn't care enough about the club, he's a vile man.
Kristian Boyce
27
Posted 02/02/2021 at 18:46:00
"They're living in the past at Everton" - Surely you could say the same at his current club? Hiring a past legend (but pretty terrible manager) to help a team in decline.
This article sums him up, arrogant and shows up his disinterest that we all saw from him.
Andy Crooks
28
Posted 02/02/2021 at 18:46:27
I really see nothing terrible in Koeman's comments. Had we signed Giroud all could have been different. I don't know that he was lazy, how do any of us? I would suggest that lazy people do not achieve what he has.
When my views go against the majority, I reconsider them. I have, and go back to the thrashing of Man City and consider what might have been.

Andy Crooks
29
Posted 02/02/2021 at 18:51:42
Also, do not remember one post saying he was a dreadful appointment. Martinez, now that WAS a dreadful appointment.( retreats, smugly, to bunker)
Soren Moyer
30
Posted 02/02/2021 at 18:58:59
Too much expectation!!!!? You are damn right the expectations are high in our club! Why do you think you were getting paid 9 mil a year??? For keeping us in the premier league? He is deluded and a conman.
Derek Knox
31
Posted 02/02/2021 at 19:01:38
Ronald never had a Klueman, almost ruined Everton, with his arrogance and profligacy on ill-suited players on ridiculous contracts and wages, and yet walked away with a Euromillion equivalent in compensation.
Shows how disparate Football can be allowed to be, from both the grass roots and against the loyalty of the fans, who unfortunately remain victims, while the guilty have gone free.
I assume that the appointment was instigated by Moshiri, who has obviously learned very expensively the error of his ill-suited, and ill- advised decision to appoint him in the first instance.
Hopefully we are now in the Recovery Room, and things can only get better.
Des Farren
32
Posted 02/02/2021 at 19:07:56
I don't disagree with the overwhelming view here on his performance at Everton, aloof, arrogant and inept.
But can we just separate this from his actual comments which were:
1 The fans are sometimes living in the past.
2 The fans expectations are not realistic.
If you,for a moment, can forget that these comments were made by Koeman,would you not agree that there is some basis to his argument?
Dale Self
33
Posted 02/02/2021 at 19:15:33
Possibly Des but Koeman is a big tit and we're not taking that from him.
Kieran Kinsella
34
Posted 02/02/2021 at 19:18:59
Des 32,
On point 1, yeah in a sense e.g we all love to make remarks like "remember back in 1985. " so in a nostalgic sense we live in the past but I think he's implying we think it's 1987 and we assume we will win the league. I don't see much of that among our fan base. On point 2. Fans I know in the real world, and most people on ToffeeWeb, I definitely don't think anyone is living in cloud cuckoo land with expectations.
Jason Li
35
Posted 02/02/2021 at 19:19:24
Koeman's face with his quotes - swipe left.
Paul Birmingham
36
Posted 02/02/2021 at 19:23:42
For me he was a lazt arrogant manager who didn't work close enough to th3 club to feel the pulse of Everton and it's supporters.
Priority trips to golf courses and not taking enough interest in the club contributed to his downfall.
Floored operation and poor transfer policy and buying players for the wrong need, and to play out of position.
Being a very good player doesn't mean you can be a very good coach.
Let's see how long his tenure at Barca as manager, lasts.
Des Farren
37
Posted 02/02/2021 at 19:25:51
Kieran@34
Have a look at the comments any week on the live forum and tell me we don't have unrealistic expectations.
Kieran Kinsella
38
Posted 02/02/2021 at 19:29:34
Des
Fair enough. I don't go on the live forum much
Will Mabon
39
Posted 02/02/2021 at 19:48:39
The "Lazy" may have been first germinated by an article a few months into the first season. I forget the publication (Echo, maybe?). The article stated he never left Finch Farm later than 4 pm and was quoted along the lines "If you have to work long hours you're not doing the job properly" - which is smug in itself.
There are arrogant people, there are those that like to project arrogance, then there are those that are arrogant and like to project it. Koeman is one. Goes out of his way to be an arsehole.
The Barcelona talk for so long; based on what precisely? A complete mystery. As is the fact he's got the positions that he has. His record is pretty much the same throughout his management history. Southampton was the exception.
As to "Expectation" - in competitive sport? Not having hope and expectations is the defeatist position.
Ray Said
40
Posted 02/02/2021 at 20:00:19
It takes a really special manager to be 10 points behind the leaders with Messi in your team and then to spend your time talking about a past employer in interviews. Concentrate on the job in hand Ronald before you get your P45-again.
Bobby Mallon
41
Posted 02/02/2021 at 20:02:02
Why is the interviewer not asking these questions
Kristian Boyce
42
Posted 02/02/2021 at 20:02:49
Will @39, I think there was also that golfing trip story too which didn't enamor fans to his cause either. Wasn't it basically that he went MIA during a transfer deadline day?
Steve Shave
43
Posted 02/02/2021 at 20:03:54
I can't stand this arrogant prick, really, genuinely cannot stand him!!! He sanctioned the biggest transfer splurge in this clubs history, well him and the grinning idiot Walsh. A splurge so incoherent it out the club back 5 years and dissipated most of the set aside transfer funds. A group of 6 year olds could have bimbled together a better transfer strategy than those two cockwombles!!! This really makes my blood boil. Yes we didn't replace Lukaku but whose bloody fault was that? Enough of this "we had Girouds quiff in the building but his Mrs didn't like the weather" shit, there was NO excuse for it. Nor was there for not protecting Barkley (our 2nd best player at the time and best no 10) and replaced him instead with three inferior no 10's at a cost of £70million plus exorbitant wages for Gylfi and Wayne!!!! Utterly shambolic, now he has the gall to blame the Everton fans. I for one was pleased when he landed his dream job at Barcelona, if only to see him get viciously sacked in the summer the second they can get someone else in, then he can reflect how he sacked off a great job as the Netherlands coach only to be treated like a Camp Nou bitch!
Danny O'Neill
44
Posted 02/02/2021 at 20:07:34
Going to have to give this one some thought before responding. Explosive but equally interesting.
Will Mabon
45
Posted 02/02/2021 at 20:07:58
Kristian, yes - now you remind me. That too.
I can't believe he's not been found out, as it were. Maybe it will happen after Barca sack him.
Benn Chambers
46
Posted 02/02/2021 at 20:24:14
It could be argued that he is also living in the past. Living off his past glories as a player because let's face it, what's he done as a manager? He's absolutely shite.
A reality check is needed. Barcelona are on their knees and the elite coaches won't touch them with a shitty stick at the minute. €1 billion in debt and the greatest player in history about to leave as soon as the last ball is kicked this season. They are a mess and that's the only reason he's manager, because he's the only one that would take it.
His first day in charge he absolutely Niasse'd Suarez and look at him now Atletico flying and top of the league 14 goals in 15 games. The man is an utter c**t.
And excuse us Ronald. Excuse us for wanting better when we know what success has tasted like. Excuse us for showing ambition and for expecting our manger to be able to fucking do something with £200m in transfer funds. We should take this prick to court for the spending of that money we gave him. We're only just putting his mess right 3 years later!
He'll be unemployed very soon and I'll laugh my head off when the axe falls.
Cunt.
Peter Gorman
47
Posted 02/02/2021 at 20:32:24
Isn't he the prick that publicly stated on numerous occasions that his 25 goal-a-season striker was better off at a bigger club?
Absolute ocean-going thunder-c**t of a man.
Derek Knox
48
Posted 02/02/2021 at 20:32:39
Steve @ 43, there is no such thing as a vicious sacking with these Managers these day at major Clubs. They walk away without even a leg-slapping, the only thing that gets slapped is the Wallet with another Mega-Buck severance package. He'd get a roll of barbed wire from me, delicately woven round his private parts, then attached to the tow bar of a very fast car. Go, Go, Go !
Brendan McLaughlin
49
Posted 02/02/2021 at 20:33:29
Ridiculous claim that Everton fans live in the past and have unrealistic expectations. David Moyes...11 years as Manager. I rest my case.
Steve Shave
50
Posted 02/02/2021 at 20:35:51
Fair point Derek, however I suspect being sacked by Barcelona will be the only job to hurt the arrogant fucktard. I'd start on another but who could possibly say it better than Benm Chambers 46?!
Joseph Murphy
51
Posted 02/02/2021 at 20:40:32
One name in response to our expectation being much much higher than yours, Ronald - Davy Klaassen.
Remember, you upscaled you expectations closer to ours and didn't play him for Holland when you unbelievably given that job based on your playing days reputation.
James Lauwervine
52
Posted 02/02/2021 at 20:43:56
Yeah, well as long as it's not the past when you were our manger I'm fine with that. I'm not one for personal abuse, but I have never disliked anyone ever associated with our club so much, which is saying a lot. Everything is 'difficult, difficult, difficult' That's all he ever went on about in press conferences and interviews. He is totally full of shit and, quite frankly, a c**t.
Jim Jennings
53
Posted 02/02/2021 at 20:50:23
Andy #28
"I don't know that he was lazy, how do any of us?"
There's a lot of irony in your post given that your default response to any defeat is to come on here and accuse the players of not caring, not being impacted by it, going home and not dwelling on their performance, being overpaid etc. So I would ask you: how do you know they do not care, how do any of us?
Soren Moyer
54
Posted 02/02/2021 at 20:58:00
Des, we are not expecting to win the league but with so much money at his disposal and his extra fat salary we were expecting better players, better performances, better results and definitely not expecting hovering above the relegation zone.
Dave Abrahams
55
Posted 02/02/2021 at 21:01:15
Yes David Prentice, who I like, had a good go at Koeman for the way he performed when he was manager here and the damage he did football wise and financially, he, Dave Prentice, has had plenty of time over many years to have a go at Everton's chairman, I can't recall one word of criticism.
Dennis Stevens
56
Posted 02/02/2021 at 21:06:31
Tbh, when I heard Koeman had been appointed my first thought was that I'd rather have hung on to Martinez until we could find somebody better.
Tony Abrahams
57
Posted 02/02/2021 at 21:09:47
What he says in all his aloofness shows me he never had any feelings for Everton whatsoever, and this continued when he was managing Holland for a pittance because of a loophole that made sure he was still getting paid a king's ransom off Everton?
Living in the past? Of course you can find an argument for this, but I'd say at least 33% of our fans have never seen us win a trophy, so this doesn't really make sense to suggest such a thing to these fans.
He had no feelings for Everton, and never tried to hide the fact, and for a manager who spent a fortune and was also an absolutely fantastic footballer, I honestly couldn't believe how poor his method-less football was on the eye.
Andy Crooks
58
Posted 02/02/2021 at 21:13:09
Jim @53, fair point, taken on board.
Will Mabon
59
Posted 02/02/2021 at 21:18:27
Dennis - I felt the same. Never wanted Koeman near.
Brent Stephens
60
Posted 02/02/2021 at 21:19:54
Tony #57 "for a manager who spent a fortune and was also an absolutely fantastic footballer, I honestly couldn't believe how poor his method-less football was on the eye."
Yes, strange. There must be many players who are good footballers, perhaps for instinctive reasons, perhaps because they understand their specific role in the limited context of the couple of positions on the pitch which are close to them, who religiously follow a manger's instructions - but who don't really understand the bigger picture, and the changing picture, in a game, and who would just never make a manager.
Rob Dolby
61
Posted 02/02/2021 at 21:22:46
I was happy with the Koeman appointment and his straight-talking compared to some of the rubbish spouted from Roberto. He picked us ahead of the Gunners and had Southampton playing good footy.
It all started to unravel when Lukaku left and he didn't land Giroud. Without a striker, his stockpiling of misfits was always going to bite him on the arse.
Playing more golf than training, blaming everyone else meant that he was more or less manoeuvring his own sacking. Sure enough, his arrogance and past reputation have got him 2 massive jobs since leaving us but God knows how. Barca will soon enough give him the chop but it will always be someone else's fault.

Peter Mills
62
Posted 02/02/2021 at 21:33:17
I have to admit I thought Koeman was just the man we needed when he was appointed, totally knowledgeable about the game and a disciplinarian.
How wrong I was. His performance at our club was a disgrace. And this interview is utter bullshit. We don't have unrealistic aspirations, they are simply high.
Tony Abrahams
63
Posted 02/02/2021 at 21:51:42
I was thinking the other day about the great players, who have struggled to become good managers Brent, and was wondering if it was because the things that came naturally, is maybe not easy to convey to others.
Koeman was such a player, and was arguably one of the most comfortable ball playing defenders I've ever seen, but watching Everton play under him was the total opposite, and was mostly very uncomfortable viewing, because there was imo, absolutely no real method whatsoever.
I also wonder if the story about Kenwright refusing to allow him to bring in Sammy Lee, (if that's true) affected his feelings before he'd even got his feet under the table? But if this was true, it would only confirm that he only came because he got an offer he couldn't £e£use.
Barry Thompson
64
Posted 02/02/2021 at 21:55:56
"He'll be unemployed very soon and I'll laugh my head off when the axe falls". - yeah, so will his bank manager.
Peter Mills
65
Posted 02/02/2021 at 21:57:08
Brent #60, or it may just be that they can see through the whole pantomime, play it for all it's worth, get their agent to talk them into a lucrative job, mess it up, blame everyone else, get sacked and swan off into the sun with their contract paid off.
I'm pretty sure it's quite an industry within the game. Unfortunately, we've been suckered into appointing Martinez, Koeman, Silva and Allardyce who were all at it. It has brought our club's future into jeopardy. Personally, I don't see Carlo as belonging to the same coterie but, if he is, we are in very serious trouble.
Barry Thompson
66
Posted 02/02/2021 at 22:02:24
"He'd get a roll of barbed wire from me, delicately woven round his private parts, then attached to the tow bar of a very fast car. Go, Go, Go". —- Derek I sincerely hope I never upset or offend you. By the way any chance of letting me drive the car.
Ian Riley
67
Posted 02/02/2021 at 22:04:36
Talking crap and his management of Everton was crap. Evertonians old enough to see Everton win trophies have that to remember. Our history gives us expectations to reach that level again. Sadly we were never going to reach those levels with him.
Andy Crooks
69
Posted 02/02/2021 at 22:16:25
Sean O'Hanlon
70
Posted 02/02/2021 at 22:19:29
I am very much into crosswords, and I noticed an anagram for his name: "What a complete twat."
Mike Gaynes
71
Posted 02/02/2021 at 22:20:06
Andy #29, I guess you weren't reading my posts back then.
Derek #48, it's because I'm secure in my masculinity that I'm able to openly confess here... that I love you.
Barbed wire, private parts, fast car... I will be laughing until breakfast tomorrow.
Andy Crooks
72
Posted 02/02/2021 at 22:23:49
Mike, honest to God, you think you can get away with a sneaking a comment under the radar. Should have know better!!
Mal van Schaick
73
Posted 02/02/2021 at 22:29:13
Ha. Thanks for failing us and leaving us in the dark days. Trot on, we'll see you in Europe.
Derek Knox
74
Posted 02/02/2021 at 22:30:17
Soren, my thoughts exactly, let's hope evil spirits get exorcised at Elland Road tomorrow.
Mike G, glad I made someone happy, no point in being Les Miserables, although we have a full supporting cast on here at times.
Paul Swan
75
Posted 02/02/2021 at 22:36:26
Right from the start, Koeman didn't get Everton, didn't get the supporters, and still doesn't. We were just a meal ticket for him. He had previous, however, for doing exactly the same at Valencia.
No class whatsoever and I will piss myself laughing when he makes a bollocks of his 'dream job'.
Danny O'Neill
76
Posted 02/02/2021 at 22:43:10
So, had to give this one time.
I was one who was pleased at the time with the Koeman appointment. I admit in hindsight to being blinkered by my admiration of Koeman the player vice Koeman the manager. I was uncomfortable with us appointing Martinez and dismayed at our pursuit of Silva. With Koeman, I thought this could be something.
A great player, possibly one of the best centre backs I've seen and my word what a shot he had on him. An unstoppable straight arrow that frequently pierced the net. That probably warped my view as I have continuously preached a great player doesn't translate to a good manager. I should have known better.
I liked his straight talking, but that is what probably comes out in this interview. I don't think he is purposely being offensive. He is being Dutch. Those who have worked with Dutch people, lived in or near Holland will understand they are naturally blunt straight talking people. Even by a "tell it how it is" scouser standard, they border on rude at times, but that must be taken in the context of them not speaking in their native language too. That aside, they are a very direct people by nature in my experience.
So, with that in mind, in Koeman's head and given the time he was at Everton and our recent history over the decades since the 80s, I can see his "living in the past" perception. Sometimes the truth hurst. I do personally wallow in the past longing for future success. But that's me the life long Evertonian, not someone from Holland who has achieved huge success on the European club and international level.
But, the guy never had any conviction in Everton. For me the alarm bells started ringing when he seemed to need convincing. I believe at the time we were also linked with his Dutch counterpart who ultimately flopped at Palace. He never seemed to buy into Everton and it never really felt like he wanted to be there. Much more comfortable on the golf course by all accounts.
I hope that is a balanced view.
Geoff Hind
77
Posted 02/02/2021 at 22:49:15
Simple, poor manager who has shown a lack of class. He will be found out at Barcelona.
Christy Ring
78
Posted 02/02/2021 at 22:52:20
It says everything when he blames the club and not himself for sending us completely backwards, Arrogant twat. He lost Lukaku spent the whole summer trying to buy one of our worst signings for £45m, and then buys two more No.10s, and no striker.
I remember watching Klaassen in the Europa League Final against Man Utd; I think he touched the ball once. Barkley, the one man who kept trying to play football and always showed for the ball, he hung him out to dry and used him as the scapegoat. That finished Ross at Everton, in my opinion.

Steve Shave
79
Posted 02/02/2021 at 23:08:12
Christy 78 totally agree, Barkleys Everton career was salvagable but yes he hung him out to dry and didn't seem to trust him. Ross was one of ours and a damn good player, Koeman handled that all really badly and we lost alot of cheddar over it.
Will Mabon
80
Posted 02/02/2021 at 23:15:23
Sort of know what you mean with the Dutch thing, Danny - but the Dutch are direct, not rude and arrogant, in my own experience. Dick Advocaat? Jol, Gullit, HIddinck? Even van Gaal.
Koeman is a smug. overrated manager. Overrated by himself and what baffles me most, by the football world. Most of his tricks have been reminded in the course of this thread, and it's not pretty reading. At one time I seriously wondered whether he was trying to fail here.
Will Mabon
81
Posted 02/02/2021 at 23:21:28
Steve, If you look back over Koeman's "Career", there's invariably a fall guy, a scapegoat, someone to rip in public. He really hit the ground running with Suarez, barely hours. And he always causes upset and discord, upheaval, dragging it out in public. Biggest fraud in the game.
Brian Murray
82
Posted 02/02/2021 at 23:23:53
Will. Look at Martinez. Very limited at his job but set for life so it's not his nationality, just a strange industry that an iffy or average cv ( Moyes Sam etc is rewarded time and time again.
Frank Wolfe
83
Posted 02/02/2021 at 23:24:04
While I agree with many of the comments above about Koeman's faults but as Danny (76) says, I believe there is a hint of truth to the "living in the past" comment.
Although we have a great history as a club, of which we are all rightly proud, the reality is that in the modern (Prem Lge) era we are not a big club. It's harsh to say but we have won nothing in 25 years and cannot compete financially with the big boys. Yet, every new signing will say how great it is to be signing for a "big" club and getting us back to our former glory. This continues to be the club's party line (especially under BK) and all it does is put a millstone around every manager's neck. I know it rankles with many supporters but I think that this is what Moyes was alluding to with his "knives to a gunfight" comment.
Don't get me wrong, I want and hope for the best for Everton. Nothing would make me happier than seeing us winning things and returning to the "top table" but I know that this is a really difficult job and it's not something I just EXPECT because of our name or history. Having said that, I do think that we are currently headed in the right direction and I like Ancelotti & Brands approach. They are fairly honest (eg we are not in a position to win the title) and prepared to be patient and take a longer term view (eg on transfers).
Will Mabon
84
Posted 02/02/2021 at 23:33:04
Brian, I was actually saying it's
not
a Dutch thing. It's Koeman.
Martinez may have struggled when the going got tough, and he was a frustrated corporate PR at times, but his intentions were right. He probably over-hyped the players in public and was too defensive. Koeman, on the other hand...
I agree about the "Strange" aspect!
Danny O'Neill
85
Posted 02/02/2021 at 23:35:41
Like a good politician Will, I didn't mean to suggest that Dutch people are rude or arrogant. I meant to say that having lived on the Dutch-German border, having many Dutch friends and professional colleagues, I mean that they can ofter be perceived as being direct and blunt. To those that don't understand them and compounded by them speaking in a foreign language, that can come across in a way it is not meant to. I for one could not express myself in the Dutch language!!
Also, sometimes as much as we get defensive, an outsider's view brings home some uncomfortable truths. Everton's woes go way back before Koeman's tenure.
But, I make no excuses for Koeman's indifference to Everton, just trying to add some context and perspective.
David Pearl
86
Posted 02/02/2021 at 23:36:45
I remember also Barkley being dropped by Koeman as he wanted improvement from him before offering any new contract. Ended up we lost one of our best young players in years. Although we also lost Deulofeo, Lukaku and Stones. I'm sure l wasnt the only one thinking we could build a team around those 4.
It also took us years to replace Baines, Distin and Jags. Poor planning all round. I don't even want to add up all the signings made that we wont recover a penny on, that have cost us millions. Bolasie, Sandro, Siggy, Scheids, Walcott, Tosun. £150m+ to buy, plus wages. And sold for next to nothing. Not only that but we let Sandro, Walcott, Bolasie and Tosun go and will still be paying a lot of their wages... probably up to 500 grand a month so they can play for other clubs.
I cant stand Koeman. First game vs Spurs l knew it would be shit. But l put the blame solely at the feet of Moshiri who went from one style to another and threw ridiculous sums of money around. Icing on the cake when he hired Silva.
Will Mabon
87
Posted 02/02/2021 at 23:38:44
Danny, is there any such creature as a good politician? :)
James Newcombe
88
Posted 02/02/2021 at 23:39:38
My only memory of him at Southampton is when we played down there in that green kit, and Martinez completely outfoxed him. I was staggered that we appointed him!
Derek Thomas
89
Posted 02/02/2021 at 23:42:45
He's an odious tulip munching toad, who, if reports are correct, when he wasn't on the golf course, was last to arrive and first to leave.
His treatment of Niasse was despicable - who for all his faults...which were legion, was worth every penny we paid out just to see the look on cloggies fat grid when those 2 goals went in.
He had a great career, but was an absolute awful snide of a player...and as we've seen with Niasse a human being.
I was going to say tailor made for the rs, but I doubt even thrry would have him.
Then you add on to all that the red and white Christmas tree.
His tenure nearly ruined us and set us back years.
Danny O'Neill
90
Posted 02/02/2021 at 23:44:09
Well Will, that is a totally different debate and a totally different site. But as much as we bemoan politicians, if we ever need an example of why you shouldn't have non-politicians in seats of power, Donald Trump has just given us that. Personal opinion I agree, but just saying!
Stan Schofield
91
Posted 02/02/2021 at 23:54:07
Koeman was simply unprofessional when he was Everton manager.
He said that Lulaku needed to leave in order to realise his ambitions and potential.
He consistently criticised Ross Barkley in public.
He consistently failed to accept accountability for bad performances on the pitch, always blaming the players.
He should have been sacked sooner.
His appointment was a very bad mistake.
At least now we have an accomplished and highly professional manager, a top manager, in Ancelotti.
Will Mabon
92
Posted 02/02/2021 at 23:56:13
Danny - it's better that I don't get into that debate, but will leave with this, from Billy Connolly:
"The desire to be a politician should bar you for life from ever becoming one."
Christine Foster
93
Posted 02/02/2021 at 00:06:00
He was perhaps, one of the worst managerial appointments Everton has ever made. No one in my living memory comes close and that includes Lee, Bingham, Walker, Silva, Martinez, in fact anyone you can remember.
He had absolutely no respect for anything or anyone except his pay packet, no respect for the club, its supporters or players, no respect for why he was appointed or what Moshiri was trying to do. It was beneath him.
Danny made comment re the fact he was being Dutch, no, and I have worked in Amsterdam, he was rude and dismissive but more than anything he couldn't have cared less.
Frankly every Everton supporter KNOWS what he did and how he left us, for all the moaning about how we are currently playing, its because of the players koeman bought in, the players still on our books and now only getting rid. THATS why we are in the position we are now, THATS why on the pitch we are a fragmented half team thats being replaced by Ancelotti.
Its been a dreadful legacy, we are living in the past because its all we have had to hold on to after the disgraceful tenancy of Kenwright, the naivety of Moshiri and the bad management of Koeman. The perfect storm.
John Pickles
94
Posted 02/02/2021 at 00:14:21
He left us with probably the slowest team in the history of the Premier League but it would have all been alright if only we signed goal machine and speed merchant Giroud.
Next week Ronny tells us how the COVID pandemic could all have been over in a matter of weeks if only they'd banned chop suey rolls in all the chippys.
Jack Convery
95
Posted 03/02/2021 at 00:39:22
If 2020 was a person it would be Mr Koeman.
Jim Harrison
96
Posted 03/02/2021 at 01:50:20
It's possible for two things to be right at the same time.
He is right in so much that his second season was blighted by the loss of Lukaku and him not being replace
He is right that fan expectation is based on former glories and often not realistic
But it is also right that fans can point to the signing made in his second season as being poorly planned and imbalanced
Its also fair of the fans to be critical of his attitude
He had more money than any Everton manager in history at that point, and was part of a team that sold the most prolific striker in recent history and replaced him with, well, no one.
As for Niasse, I actually side with Koeman. He should have gone. It was a mistake to sign him. He has only just gone and even as a free agent struggled to get a team. He was crap.
Seb Niemand
97
Posted 03/02/2021 at 01:55:35
I lost all regard for Koeman when I saw the way he threw Davy Klaassen under the bus. I sincerely believe there was a very good player in Klaassen who needed conditioning and confidence and got neither of them.
As for supporter expectation and the lack of a proven goalscorer - did he think the Barca fans would have any lower expectations that Everton's and as for lack of a proven goalscorer, well, he can't get at tune out of that lazy mug Messi, can he?
Joe Corgan
98
Posted 03/02/2021 at 02:21:36
I know much of this will already have been said but I have to add my own two cents here.
I can honestly say I've never disliked an Everton manager as much as I disliked Koeman, perhaps with the exception of Allardyce. Interestingly, perhaps, I disliked them both from day one but I was willing to give each of them a chance.
Koeman complains that he lost Lukaku and couldn't replace his goals. Well, he had plenty of money in the kitty and failed to do so. In that second season, it's not as if we were creating chances left, right and centre and failing to put them away. We were god-awful all over the pitch - and that's down to the manager.
As for expectations - they come with the job. Moshiri will have set those expectations. If you feel they're unrealistic, you don't take the job. Instead, we chased Koeman across Europe that summer, gradually offering more and more money until he was prised away from Southampton - naively as it turned out.
This was a man who couldn't be bothered to delay his holiday, or make a quick trip back to the UK to sign his contract and do a couple of interviews. Instead the club had to "announce" him using footage filmed in his hotel lobby.
Once he took the job, he was the last in and the first out of the training ground on the days he bothered to turn up.
He was never interested in living in Northern England, nor up to the challenge of awakening the biggest of the country's remaining sleeping giants. He was surly, disinterested, uninspiring and downright lazy. Yet he puts his failures down to the lack of a striker? All we've learned is that he's still as arrogant as he ever was.
Andy Mead
99
Posted 03/02/2021 at 03:33:12
I would love an explanation from him as to why he needed to sign four Number 10s
I was staggered by the money he was allowed to spend with no obvious plan. Surely someone at the club asked the question as to why Sigurdsson, Vlasic, Klaassen and Rooney for the same position? Moshori just as much to blame for letting this fool loose with bags of cash.
Dane Munro
100
Posted 03/02/2021 at 03:46:29
Hello, everyone on here. I've enjoyed all your comments. The one saying "If 2020 should be a person and have a name, it should be Ronald Koeman" was sharp and class; wish I'd thought of that one.
I apologise for this as Christine Foster is the only lady on here and I applaud her for that. Like every other comment about Koeman's words regarding we Evertonians, I thoroughly enjoyed yours too, Christine, but I get a miffed when anyone has a go at Kenwright.
Why? He's an Evertonian, like us and too many clubs are foreign-owned. Although this isn't bad in itself, I am well proud we have an Evertonian on point at our football club.
Why? Because, after 60 years of being an Evertonian and the first 15 playing footy against the Goodison Road gates next to St Luke's, I really appreciate the importance of a man at the helm who I know will always put the football club he loves before himself.
Personally, if I were ever good enough, I would play for Everton for nothing and I wouldn't play for any other football club in the world. And I wouldn't give a shite being paid as I would just live off and feed off the sheer overwhelming pleasure of doing so and living my dream.
I sincerely believe Kenwright is no different and, whilst he is alive, he should be respected as such as I am convinced he has always done the very best he could do for our football club.
Secondly, it was Kenwright who spent years at Highbury "courting" Mr Moshiri that convinced him to come and finance our club, our dreams. As a typical Scouse bloke, who has had the last rites umpteen times as a much younger man and therefore has never taken anything for granted, especially my life and being alive, I will not believe Bramley Moore is actually happening until I am sitting in my seat but it is down to Kenwright persuading Mr Moshiri to come here that is giving life and expectation to a greater dream.
Without Kenwright's love of EFC, he would never have got Moshiri to come here and we would never even be able to moan and get angry about Koeman's tenure at all, nor the money spent if it wasn't for Mr Kenwright.

I love you for being an Evertonian, Christine, but without Mr Kenwright and all those before him, with him and Moshiri after him, we would not have our beloved football club and people like me would not have had the sheer delight of the Kendall & Harvey days and my life would be so much poorer except for my 23-year-old boss Evertonian lad, Gabriel; the only experience and joy that can top the lot.
God bless our football club and all Evertonians.
Alan J Thompson
101
Posted 03/02/2021 at 04:10:07
He complains that he lost his main striker in Lukaku but, correct me if I'm wrong, wasn't it him who told Lukaku that, if he wanted to reach his true potential and win things, then he would have to leave Everton?
And now he wants to use it as an excuse as to why he was no good at the job. They say those who forget the errors of the past are doomed to repeat them: Messi, anybody?
Phillip Warrington
102
Posted 03/02/2021 at 04:16:06
Just another excuse for failure, unless the manager has no input on who he would like to sign then you have to say you're right. I can't work out how he can blame anybody but himself for the players Everton bought under his reign, and he even had a season first to work out what he needed and didn't.

I do agree to one thing I could never work out: why Everton have not splashed the cash on a striker instead of midfielders and wingers considering Everton have always had a better-than-average centre-forward throughout their history?
Steve Brown
103
Posted 03/02/2021 at 04:24:26
Koeman mainly used his time with us to improve his golf handicap. We have spent 3 years unpicking the financial mess Walsh and our miserable Dutch ex-manager made over 12 months, when they were like rich drunks in a casino.
In terms of living in the past, I assumed when I saw the headline that it referenced his management philosophy and style. Fascinating to see that unravel real-time at Barca.
Darryl Ritchie
104
Posted 03/02/2021 at 06:12:08
Outstanding player (football that is, not golf).
Lousy manager (had some success in Holland, years ago... not much since).

Been collecting a paycheque on reputation alone since 2009.
In it for the money. (I can't blame him for that. I'd do the same if clubs kept throwing millions my way...) I wish he'd shut up, though.
John Daley
105
Posted 03/02/2021 at 06:57:29
Ronald Koeman, Transfer Deadline Day, 2017, as the clock ticks down on Everton Football Club's frantic search for a centre forward...
Danny O'Neill
106
Posted 03/02/2021 at 07:35:40
Haha. Like that Will. No that statement is a safety check on steroids!!
Christine, I am generalising and stereotyping on the Dutch psyche. Amsterdam is the capital and generally more outward looking. I worked / lived on the border with Limburg in the south.
Just as our capital is more cosmopolitan and liberal in comparison to the North West (for example) who are more direct and hard faced by nature. And yes, on both counts that is generalising and stereotyping as you will find examples of both in either region.
We all agree, Koeman was a poor manager for Everton. The worst? I still feel sad that Sam Allardyce was ever associated with Everton Football Club and Mike Walker's reign still gives me PTSD.
Looks like Sam's firehose has lost it's connection to the hydrant and run dry by the way.
Eugene Ruane
107
Posted 03/02/2021 at 08:32:18
.
Dane #100, do you wear a MEGA hat?
Your post just has a kind of slightly Trumpy (?)..um.. 'evangelical' tone.
"U.S-manov!! U.S-manov!! U.S-manov!!"
Martin Berry
108
Posted 03/02/2021 at 08:38:03
Too aloof and totally lacking the charisma to manage the great Everton.
The antithesis of someone like Joe Royle.
Christine Foster
109
Posted 03/02/2021 at 08:47:37
Dane @100,
Believe it or not, there are quite a few females who post here on TW. This is about 15 years all up for me, so have seen the good the bad and the ugly.
My singular line regarding the tenancy of Bill Kenwright is my opinion and I am sure you are just as adamant in yours; there has been so much written already regarding that, I would rather not dredge up the debate but leave you with your perspective.
Suffice to say that it was mentioned in relation to the comment by Koeman that we are living in the past, especially when the near present was filled with a club that barely survived financially with no investment and poor management throughout.
As a result, we did live in the past because it was all we had and the hope it would get better. Koeman in his comments didn't "get" Everton and did not understand exactly why we believed in something he clearly didn't.
Dane, I hope the club has now entered a new phase in its being and we can leave all that behind; it may take a few more years but I hope the corner we are turning is not another roundabout!
Mark Murphy
110
Posted 03/02/2021 at 08:54:58
I bet the Barca fans wish they actually were living in the past!
Dave Abrahams
111
Posted 03/02/2021 at 09:51:36
Eugene (107), I thought Dane (100) sounded like a very good Christian, I mean if he likes Kenwright so much, idolises even, he must love everyone.
Thomas Richards
112
Posted 03/02/2021 at 10:08:16
There are still thousands who agree with Dane's every word, Dave.
A clever man is Blue Bill. He has to be, given the amount of disciples he accrues.
Dave Abrahams
113
Posted 03/02/2021 at 10:28:02
Thomas (112),
I'm positive there are more Evertonians who like Kenwright than dislike him.
The one point that always irks me is when people say "Kenwright is one of us". Well I've followed Everton for a long time and never met a Blue who even remotely resembled anyone like Kenwright as a fellow Blue, never ever.
Thomas Richards
114
Posted 03/02/2021 at 10:32:20
Me neither, Dave.
If Bill had been around in the 1800s he could have made a living out of charming the snake oil charmers, such is his ability.
Brian Harrison
115
Posted 03/02/2021 at 10:49:58
I think Koeman's comments to the interview that Alan Shearer did for The Athletic just highlight the massive difference between Koeman and Ancelotti.
Koeman has won nothing as a manager yet displays all the arrogance of a man who has won everything you can in the game, whereas Ancelotti, who has won everything, shows not one jot of arrogance.
Koeman decided to live way outside the City region instead, choosing to live as far away as possible. For those who think there is no issue with that, could you imagine a Man Utd manager living in the suburbs of Liverpool? Where Ancelotti based himself a short bike ride from the City centre, as he was quite happy bumping into fans.
Koeman sold most of our promising young players: Barkley, Deulofeu, Lookman – and actually encouraged Lukaku to leave to better himself. We have seen the difference under Ancelotti with more youngsters training with the first team and getting game time.
I know that Ancelotti has got his critics on TW but thank God we have a proven winner rather than a serial loser and moaner, and during this interview his arrogance shines through as not once does he admit to his mistakes. For me personally, I think he looked at Everton as being a tiny step up from Southampton, but it gave him a massive hike in his salary.
The only thing that was constant with Koeman was his desire to manage Barca, well it doesn't seem to be going very well but that won't surprise any Evertonian.
Ajay Gopal
117
Posted 03/02/2021 at 10:55:59
Koeman 2021: "... but the big miss was that we did not have a striker like Lukaku. That was really painful."
Koeman 2016: "If Romelu was to play at Everton until the end of his career, I know he has left something (behind). His potential is greater and higher than Everton as a final destination."
(Independent.ie: "Ronald Koeman makes bizarre statement suggesting Lukaku needs to leave Everton to fulfill potential")
So, you arsehole, who was responsible for literally escorting Lukaku out of the door?
The worst manager in my years of following Everton (Moyes years onwards) bar none – not even Sam Allardyce. At least Sam did what he was asked to do, ie, keep us up in the league.
As much more eloquent posters before me have posted, Koeman's tenure was the most damaging in recent history, and we were lucky, very lucky that we managed to claw back from the brink of relegation. As someone else suggested, if I was Moshiri, I would sue him in court for dereliction of duty.
Eddie Dunn
118
Posted 03/02/2021 at 11:22:18
Koeman always thought he was better than EFC, His pressers displayed a complacency and arrogance and his record stinks.
A cold fish. A mercenary and a cunt.
Will Mabon
119
Posted 03/02/2021 at 11:58:52
John @ 105;

that's a great find. It's him!
Barry Cowling
120
Posted 03/02/2021 at 12:23:06
he wasnt called clueless koeman for nothing.i was totally done with him when he sold del boy, also losing the ability to create chances, I think he was top of assists at the time. I know I may get slated but I was disappointed Martinez left just when we had some money to spend as I'm sure he would have spent it better, and he was desperate to succeed here unlike couldnt give a monkeys koeman, wasnt he something like the 4th or 5th highest paid manager when he came in,, what a waste of money, I put him solely responsible for the wasted years before ancelloti turns up
Anthony Hawkins
121
Posted 03/02/2021 at 13:08:50
" Ronald Koeman has cited the lack of a proven goalscorer and the weight of supporter expectation among the reasons for his failed tenure at Everton."
Koeman was more than welcome to buy a new striker if that was the key missing element.
Bill Fairfield
122
Posted 03/02/2021 at 13:25:22
Well Koeman is about to lose one of the greatest players of all time,so another good excuse when he gets the boot by Barca
James Head
123
Posted 03/02/2021 at 13:35:50
After a morning of quiet contemplation, breathing exercises and meditation I find myself relaxed and ready to face this crazy world we're now living in, I come onto TW to browse any chat about tonights game and come across this article regarding Koeman, what an absolute arrogant tw*t, another fraud riding the managerial merry-go-round, my blood pressures just gone back up so i'm off for a long walk, Koeman is synonymous with cu*t.
Francis van Lierop
124
Posted 03/02/2021 at 15:12:44
The warning signs were there. He got fired twice, by Valencia, and my local club AZ.
His departure from Ajax was less than harmonious, after big rows with the then Technical Director Louis van Gaal (who quit as a result).
Ok, he did a good job at Southampton, and Moshiri made the wrong choice, as we now know in hindsight.
I thought at the time it would come good. How very wrong I was.
Another one one of Koeman's mistakes was not to bring Dusan Tadic with him from his old club. His fee would have been similar to Klassen's, never mind Sigurdsson's...
Tadic is still playing Champions League for Ajax, and is mostly one of their best players.
The thrashing at home by Atalanta, I'm still angry about, it was on my birthday.
Many have used the adjective's arrogant and clueless. Spot on.
I wonder how long he'll last at Barca? He'll get fired at one point, I've said so to a mate in the Summer.
Michael Kenrick
125
Posted 03/02/2021 at 15:25:15
Dane,
Here's a little quiz for you.
Q: Assuming Bill Kenwright actually paid for his Everton shares with his own money, how much has he subsequently pocketed from the club as pure profit?
a: None
b: Only what was due him as the beloved Chairman of Everton FC
c: Only reasonable business and travel costs in the line of duty
d: A couple of million pounds
e: Over £20M pounds
Take your time. No prizes.
Dave Brierley
126
Posted 03/02/2021 at 16:04:00
Dane Munro@100 An oasis in the desert. You should appear on here more often mate. Ignore all the Bill haters.
MK. "Assuming Bill Kenwright actually paid for his Everton shares with his own money." Have you evidence to suggest otherwise?
I'm asuming you do all your work pro bono?
Eugene (strange comment even by your standards) Dane and I wear MEGA hats. You should try one.
Rennie Smith
127
Posted 03/02/2021 at 16:10:50
I remember following Koeman on Twiiter when he became manager, his posts split around 25% commenting on what was going on at Everton against 75% old clips of himself scoring for Holland or Barca. He made it an open secret he thought he was "destined for bigger things". An absolute arrogant tw@t, I look forward to the day he gets the boot from Barca.
The failures always make excuses. Fat Sam still can't understand why he wasn't liked and claims he got the boot because of a press campaign.
Paul Swan
128
Posted 03/02/2021 at 17:19:42
And I'm glad his flip flops never turned up
Brian Murray
129
Posted 03/02/2021 at 17:22:32
Michael. Add an f. the arteta money in the biscuit tin ( sorry couldn't resist.
Danny O'Neill
130
Posted 03/02/2021 at 17:34:44
I don't often stray into the Bill debate as it is very divisive and I would expose my lack of research against people who are much more well read into the detail.
But for what it is worth, I do not despise or hate Bill Kenwright. In my own simple (and as I say not very well read up) view. I see someone who is an Evertonian as much as the rest of us. I get Dave's point, he is a Blue who demonstrates more overly sentimental, over-the-top emotional sentiment that I would associate with a Kopite, but I don't doubt his Everton-ness.
As I see it, he picked us up when no-one would touch us with a barge pole and at the time, I was just glad to be rid of Johnson.
He has hung on too long and even in the Moshiri years has been until recently wielding too much influence. But then maybe that is Moshiri's problem to sort out.
The Bill debate isn't really my thing but thought I'd chip in as I don't believe he is the demon many make him out to be. Well, not through intent anyway.
Dave Brierley
131
Posted 03/02/2021 at 17:46:35
Amen to that Danny.
Christy Ring
132
Posted 03/02/2021 at 17:51:43
Michael # 125 Didn't Paul Gregg's wife say that they loaned him the money to buy his shares, then fell out with Gregg who wanted to move to King's Dock? Gregg sold his shares to Earl, Bill sold Bellefield for £9m, leased it back, then sold Rooney to keep the club afloat, as he and none of his fellow directors put a penny into the club. They just borrowed, and used the Sky money?
Tony Abrahams
133
Posted 03/02/2021 at 18:29:47
The barge-poll bit always gets me Danny, because Kenwright 'ocked Everton for years. I still remember the front page headlines in the echo were he claimed he'd buy Everton, a striker with his own money, "in our dreams of course"
Danny O'Neill
134
Posted 03/02/2021 at 18:45:21
The problem being he didn't have any money Tony!
Look, I think Kenwright should have let go years ago and his continued influence even when Moshiri came in. set us back yet again. The "our Wayne" homecoming, the manager appointments, they all had Kenwright stamp on them until we appointed Ancelloti.
But the rot had set in before that. I believe it goes back to the very season after we won the league in 1987. Our only player investment was Ian Wilson - remember him?! With Dr David Marsh at the helm, we went into reverse and failed to jump on the inevitable Premier League bandwagon when were still a name. We are still a name of course, but you get my meaning. By the time we woke up, we were surviving on the last day of the season and damaged goods.
Onto the match tonight. I haven't seen the team yet!
Minik Hansen
135
Posted 03/02/2021 at 18:55:41
Maybe if Niasse had kept his locker from start..
Jerome Shields
136
Posted 03/02/2021 at 19:33:13
He was a disaster at Everton and it is taking years to sort out his mess. Lucky he didn't get his big signing goalscorer. Cottee would have looked great in comparison. Niasse who he give up on coaching was his best forward in his second season. . He owes Niasse and should sign him for Barcelona for all the difference it will make to Koemans Barcelona tenure.
Still can't believe Barcelona give him the Manager job. It will take years to recover after he is gone.
Jerome Shields
137
Posted 03/02/2021 at 19:33:14
He was a disaster at Everton and it is taking years to sort out his mess. Lucky he didn't get his big signing goalscorer. Cottee would have looked great in comparison. Niasse who he give up on coaching was his best forward in his second season. . He owes Niasse and should sign him for Barcelona for all the difference it will make to Koemans Barcelona tenure.
Still can't believe Barcelona give him the Manager job. It will take years to recover after he is gone.
Julian Wait
138
Posted 03/02/2021 at 20:54:12
"Calvert-Lewin as the No 9. At that time, he was too young, but if you see him playing now, he's really a good player and I like him"
$300m to you Ronnie
Jerome Shields
139
Posted 03/02/2021 at 23:05:45
Actually Koeman has got it wrong "Everton are living in the past " He should have said "Everton are living with the Horlicks past that I left them with".
Chad Schofield
140
Posted 04/02/2021 at 05:49:47
Oh the irony of the pig-man rooting through his history to blame all but himself won't be lost on most people. He has done so throughout his playing career and looks like he'll continue to do the same.
He's now at the pinnacle of where he wanted to be, at Barcelona. When he doesn't win as much as he should from his privileged position, it will be everyone else's fault. Exactly as it was when Holland failed to capitalise on winning the Euros in '88. No team could live up to his ego as a player except Barcelona... and it's the same for his managerial career. It wasn't Southampton's players who did well, no, it was him.
I'm sure in his own mind he single-handedly got Holland to the heights of the final of the mighty 2018–19 UEFA Nations League... only to lose, which undoubtedly was a surprise (he did get 'surprised' a lot in his disasterous Everton spell by other managers), in the final.
He is now at his beloved Barca. Before long he'll be rewriting history, his own history, in bars to whomever will listen to the curly-tailed turd.
Kevin O'Regan
141
Posted 04/02/2021 at 13:03:15
This is certainly interesting and was just thinking earlier about it before I read this. Hope was mentioned above along with expectations - we need to keep those separate. When we speak here about 'we the fans' do or don't have high expectations we need to be careful - are those statements based on stats or a poll ? Or just a feeling ?
I was wondering why our away form has been decent and home form not great. Ever since Moyes left and our style of play as well as the game in general have changed, we seem to be suspicious of the passing game. Remember the John Stones scenario in terms of playing out from the back and getting in trouble and booed by his own fans ? Well, like it or not the game is now all about chasing others down, pressing and stopping others from playing. Personally I don't like it as I feel it kills creativity and focuses more on athleticism. Many Evertonians love a fight, the dogs of war and a good crunching tackle. Often our team is afraid to move forward with the ball and pass it back far too often - maybe we still haven't replaced Arteta (until now at least) - and the fear of failure seems to be there. That fear seems to be less present when playing away from home - maybe due to the fans expectations - maybe due to the fact that as the home team you are expected to take the game to the away team - and we haven't the confidence to do that especially with a slow midfield and when simple mistakes are so often punished.
So long story short, I believe that RK is partly correct (even if I don't like him) - we love and know our history, but we need to decide as a club about managing the expectations - allowing players to make mistakes - if they don't take risks (at least the younger ones) they will never grown and learn and continue to be fearful of failure. We need to give them chances, to accept that they will make those mistakes, that we will love them for trying - but we also need to allow managers to have the time they need to adapt, fix years of mistakes and to grow their own team. Patience is a virtue, football management is not magic, or even money - it's balancing act between team effort, spirit and talent. Starvation of success + huge investment means we want the success now, but we're not the only ones thinking that way.
Pat Waine
142
Posted 04/02/2021 at 13:56:07
Koeman won nothing of note as a manager and is a complete twit who wrecked Everton. we are just now recovering from from the mess he left. Sandro bolaise klassen williams martina. a horrid period of Hoofball not football.

Jerome Shields
143
Posted 04/02/2021 at 19:28:27
Kevin #141,
That was caused by players not able to pass, players not available for a pass, and an absence of final-third play. Koeman talked about the high press. He had not a clue how to implement it or the type of players required.
If someone at Everton had read Pass Spanish Newspapers, that information was there in black and white. Koeman at Everton was a carbon copy. Southampton performances were based on a solid backroom regime, not on Koeman. That's why someone (or group) is going to get hung in Barcelona for letting him be the manager.
The fans can read Spanish Newpapers and they are raging, according to a cousin of mine who lived in Barcelona for 25 years and still has friends there.
Dan Nulty
155
Posted 04/02/2021 at 20:01:06
What a cock Koeman is.
Anthony Jones
156
Posted 04/02/2021 at 22:36:50
Barcelona won't tolerate him much longer.
Miserable clown.
Ian Linn
157
Posted 05/02/2021 at 02:49:17
Kinda says it all when you are fired and your replacement is Sam Allardyce.
Mike Kehoe
158
Posted 05/02/2021 at 06:53:14
It's a rare thing to feel sorry for Barcelona fans but this guy's arrogance is only matched by his ignorance.
Terry McLavey
159
Posted 05/02/2021 at 09:50:06
He speaks of signing Klaassen and Sigurdsson like they were a good thing?
Wasn't there a rumour he spent most of his time on the golf course?
Of course he had the opportunity to make us great again but he wasn't up to it, the arrogant bitter old man.
Clive Rogers
160
Posted 05/02/2021 at 10:14:41
Terry, he went to Portugal on a golfing trip when it was the last week of the transfer window. Think it was when they signed Sigurdsson.
Iakovos Iasonidis
161
Posted 06/02/2021 at 00:51:52
What a prick... I liked him as a footballer though! As a manager, he and Walsh really damaged our club beyond imagination. The amount of money they spent and what they bought is a joke, a bad one...
Trevor Powell
163
Posted 08/02/2021 at 13:01:23
Perhaps, it's you RK who is living in the past. I wonder how many times you chided the players with, "Talk to me when you have won a champions league medal!" What a superb job you are doing at Barcelona in the one of the most boringly predictable leagues in the world. Perhaps, you can get old Walshie in to help you scout players again!
Francis van Lierop
164
Posted 09/02/2021 at 13:35:24
I saw Real Betis play Barca at the wekend. The Betis keeper is none other than Joel Robles.
As the Dutch commentator put it, Koeman didn't think him good enough, so he bought Pickford. A real improvement...
Paul Swan
165
Posted 16/02/2021 at 22:53:46
Absolutely delighted to see billy big balls working his magic at Barca tonight.
---
Add Your Comments
In order to post a comment, you need to be logged in as a registered user of the site.
Or Sign up as a ToffeeWeb Member — it's free, takes just a few minutes and will allow you to post your comments on articles and Talking Points submissions across the site.