Everton vs Tottenham Hotspur
Tuesday, 9 February, 2021
FA Cup 5th Round Preview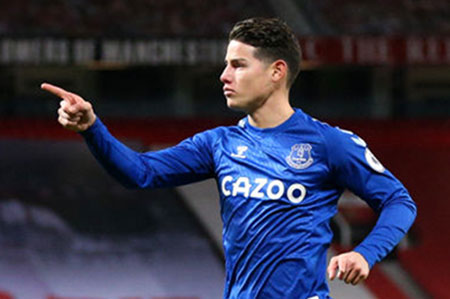 James Rodriguez will be assessed during to training to see if he can play despite a recurrence of his troublesome calf issue
Everton and Tottenham go head-to-head at Goodison Park on Wednesday evening in the FA Cup Fifth Round with a place in the last eight up for grabs.
It's the first meeting between the two clubs since the opening day of the 2020-21 season when the Toffees triumphed 1-0 at Tottenham Hotspur stadium and they come into the tie sitting alongside each other in the Premier League table.
Everton's medical staff are assessing James Rodriguez this afternoon to see if he can play any part in the game. The Colombian played more than an hour of Saturday's 3-3 draw with Manchester United but came off after bringing the Blues level with a wonderfully composed strike when he felt tightness in one of his calf muscles.
Carlo Ancelotti was asked his pre-match press conference today about the fitness of James and that of Jordan Pickford, who has missed the last two games with a rib complaint, and Allan who has been recovering from a hamstring tear since early December.
"I have to wait until after the training [session] we have in the afternoon to check on some situations," the Italian said. "One is James, if he is available or not; one is Jordan, if he is available or not. They are going to train and then we will see.
"Allan started [training] with the team. He is not ready yet but I hope that he will be ready next game [against Fulham]."
Tomorrow evening's clash in the cup between the teams currently sitting seventh and eighth in the Premier League is a reverse of the opening game of the season in which Everton triumphed 1-0 on the debuts of Rodriguez, Allan and Abdoulaye Doucouré.
Spurs have struggled to live up to their pre-season hype and manager Jose Mourinho has come under fire for what many perceive to be an overly negative style of play.
After losing three in a row in the League following their FA Cup Fourth Round trouncing of Wycombe Wanderers, however, they beat West Bromwich Albion 2-0 in North London on Sunday. Spurs were not expected to have Harry Kane available for this one after he picked up an injury a couple of weeks ago but be made a surprisingly rapid recovery and returned to lead their line against West Brom, scoring the first goal in the process.
Dele Alli is available for selection but Serge Aurier is doubtful and both Sergio Reguilon and Giovani lo Celso are reportedly ruled out.
Ancelotti was asked how his style of football compares to that of Mourinho, whose success in the game over the past two decades makes the Portuguese one of the few managers who can match the Italian's achievements, and he felt that they have a similar approach.
"I think we are really close on our ideas of football," he said. "It is an honour for me to be compared to Jose. Mourinho's teams are always in balance. How I see his team play is comparable to us. don't know if it is a new style of football but for me to be compared to his style of football is an honour."
Victory for the Toffees would, of course, put them into the last eight of the competition and one step closer to ending the club's long trophy drought. Ancelotti was asked whether he felt it would be more important to win a trophy this season reach Europe. An FA Cup triumph this year would deliver both, of course, but the manager insisted that European qualification is the more important aim.
"We are working for [silverware]. I know how desperate Evertonians are to win a trophy and we are working for this. I don't know if now, this season, is the right time, but what I can reassure [them] is we are trying to win a trophy here as soon as possible.
"For the stability of the club, the most important [thing] is to reach a European position. Of course, for the happiness winning a trophy will be really important but reaching Europe will give us a big improvement in terms of the stability of the club."
Ancelotti has favoured a policy of rotation as a matter of course at times this season but it's become a necessity lately given the glut of fixtures on the calendar which has Everton in the midsts of a run of nine games in 27 days between their FA Cup Fourth Round defeat of Sheffield Wednesday and their Merseyside derby date at Anfield on the 20th of February.
Pickford would be a good bet to return if passed fit and Yerry Mina could come back into central defence after sitting out the draw at Old Trafford, possibly to give Ben Godfrey his first rest in quite a while. The young defender has been ever-present at either left back or centre-half in recent weeks and has been in excellent form but Ancelotti may use this opportunity to rest him.
In midfield, Alex Iwobi and Gylfi Sigurdsson., both substitutes at the weekend, could start in place of James and Andre Gomes respectively but with Allan nearing fitness, it's likely that Tom Davies will keep his place. In the forward areas, new signing Josh King is cup-tied.
Home ground advantage can often be vital in cup games but with fans barred from Goodison Park due to the pandemic, Everton have struggled on their own turf against top-flight opposition in recent weeks.
Indeed, while they came through the previous two rounds against Championship sides Rotherham and Wednesday with home wins, Ancelotti's men haven't beaten a Premier League club behind closed doors at Goodison since the first week of October.
There is no better time to arrest that disappointing run than against Spurs in the last 16 in what is being talked about as Ancelotti's most important match so far as the Toffees' boss.
Kick-off: 8:15 pm, Wednesday 10 February 2021 on BT Sport 1
Last Time: Everton 2 - 0 Tottenham Hotspur (FA Cup 5th Rnd, Feb 19, 1983)
Predicted Line-up: Pickford, Holgate, Mina, Keane, Digne, Davies, Doucouré, Sigurdsson, Iwobi, Richarlison, Calvert-Lewin
Partial quotes provided by Jay Wood
---
Reader Comments (128)
Note: the following content is not moderated or vetted by the site owners at the time of submission. Comments are the responsibility of the poster. Disclaimer
Thomas Richards
1
Posted 09/02/2021 at 14:01:40
Ancelotti press conference today.
Trophy or Europe: "For the stability of the club, the most important is to reach Europe. For the happiness of course a trophy is really important."
Got me thinking that one. Not for long though. I would take an FA Cup win over a top 4 slot all day.
Rob Halligan
2
Posted 09/02/2021 at 15:07:40
Thomas. Trophy all day long for me as well, seeing as the FA Cup gets you into Europe anyway, albeit only the Europa League, or will it be the new Euro competition next season?
Jamie Crowley
3
Posted 09/02/2021 at 15:20:22
Inasmuch as winning a trophy is simply paramount for this club, I'd argue Top 4 is more important.
Finishing Top 4 and qualifying for Champions League will equate to more exposure over the globe, more money, and better player recruitment. It's a trophy all to itself. It's a massive accomplishment over 38 games in one of the toughest leagues in world football.
We need to qualify for the Champions League sometime during Carlo's reign, and this season is completely nuts and will probably be our best shot at it.
All that being said, I normally don't condone one of the seven deadly sins, but in this instance Greed would be welcome. I want both a trophy and a Top 4 finish!
Have to beat Spurs. I really detest them. The game will be shite, they will slow it down, Jose will play his brand of anti-football. If we look poor, that's to be expected playing against a Jose team. I don't care how we look, I don't care how shite the viewing experience is and will be, I want to win and advance. That's all that matters.
Jay Wood
[BRZ]
4
Posted 09/02/2021 at 15:46:30
Ah, the eds 'doing thar thing' and converting my post from another thread into a whole new thread.
As a supporter, I also come down heavily on preferring a trophy in the cabinet rather than qualifying for Europe via the league. All the more so that winning the FA Cup still (I think!) guarantees you a European place.
But I also understand the sentiment Carlo expresses on the importance to the club's 'stability'. I interpret that as progress and improving our finances, as well as raising our profile and making us a more attractive destination for new talent.
But to repeat, if we could cherry pick, trophy all day long for me.
Michael Kenrick
5
Posted 09/02/2021 at 15:55:53
You did such a nice job with the quotes, Jay. I could not have done it better. And saved me a task.
I find these difficult to listen to, to be honest, especially if they throw in bloody adverts after less than a minute, and most of the questions are so inane. But Carlo knows he has to tolerate the nonsense and try to say something meaningful.

Jay Wood
[BRZ]
6
Posted 09/02/2021 at 16:00:48
He plays the game well, Michael. Whether live, or currently remotely on Zoom.
'You're on mute!' He keeps reminding journos.
Very smart fellah. Never has a bad word for anybody. Even makes journos asking dumb questions feel good about themselves.
Michael Lynch
7
Posted 09/02/2021 at 16:04:08
I had to mull this one over for about a millionth of second, and it's a trophy for me.
"For the stability of the club" - what does that even mean? Income? Attracting better quality players? Reputation in lucrative overseas territories?
Anyway, I'm not convinced that reaching the qualifying rounds of the Europa is better for stability than lifting the FA Cup at Wembley for our first trophy since 1995. However, if I'm wrong, and scraping into Europe trumps winning a major domestic trophy, then fuck football and fuck Everton.
Rob Halligan
8
Posted 09/02/2021 at 16:07:57
It's got to be a trophy, for no other reason than to stop the RS constantly reminding us that the last time we won something was 1995. They have banners to remind us, and every time they get "put down" by blues on other forums such as the BBC "Have your Say" or the red echo, they always just post back 1995!!
So come on Everton, time to update the honours list!!
Michael Kenrick
9
Posted 09/02/2021 at 16:09:54
"If he feels comfortable, he's going to play. If he does not feel comfortable, he's not going to play."
I'd never have expected this level of uncertainty. The whole thing is just astounding to me...
Martin Mason
10
Posted 09/02/2021 at 16:17:19
Top 4 for me and get into Europe. Far better for the club in terms of revenue, European experience for the squad and trips to Europe to watch games. The league and FA cups are fairly meaningless now. League position defines 100% where we're at as a club.
Kieran Kinsella
11
Posted 09/02/2021 at 16:44:40
I dislike the trophy or top four debate intensely. It seems as if we have this discussion around this time every year and I think it's born out of fear that we are about to be dumped out of the cup. If we convince ourselves "top 4" is better then it softens the blow if/when we lose in the cup. The problem is, despite the merits of either side of the argument, the outcome (barring one occasion 16 years ago) is that we end up with neither the top four or a cup.
To Carlo's point about Europe, if we win a cup we will be in Europe anyway. So I would like to see us go all out for the cup tomorrow. If we lose we lose we move on. What I do not want to see (as has often happened in the past) is a dying swan routine whereby we capitulate in the cup, have an immediate but temporal improvement in the league the peeter out for the rest of the season.
Dale Self
12
Posted 09/02/2021 at 16:46:00
I'm glad he said that out loud. Agree with Martin although I still have an outdated love for the domestic cups. In order to recruit in a way that will sustain success Everton must be in Europe and it is about damn time for some CL action.
Terence Leong
13
Posted 09/02/2021 at 16:48:02
Press conferences are basically time fillers, for journalists to get some sound bites, to write articles that don't quite say anything.
But the articles serve the purpose of bringing attention to a forthcoming game, and that's win-win for everyone. The competition gets it air-time and the publicity, the news outlets get their news circulation (traffic, if you are looking at online), which translate to sponsors willing to put money down for ads etc.
Having said that, Ancelotti is certainly a lot classier than many other managers, bearing in mind that English is not his native tongue, it's even more impressive.
To the topic of winning a trophy or UCL / European place, it's one of those things I believe, all of us prefer not to choose i.e. why choose between one, and why not aim for both?
Our last trophy in 1995 in some ways, demonstrated that while it gave us joy and memories, it glossed over the club's inadequacies. Hence, Joe Royle couldn't have the money to build on the 6th place, and then it soon unraveled.
At the same time, while Moyes pushed us towards the European places and won nowt, it's really nothing to shout about every year, to finish without anything to look at.
In my opinion, it's more of what a trophy or a European place finishing is more likely to reflect.
A European place, is more likely to reflect that the team is being built up in a progressive manner, compared to a cup win, where it could really be just over those 8 to 10 games (in the case of FA cup, it's 6 games).
I know many would wonder what Moyes could have achieved with some financial backing, but I also think that many also felt that Moyes is first and foremost always playing it down. He is unlikely to make any quantum leap in the way he builds a team.
With Ancelotti, you get the sense that he is more assured, given his experience. Even though he tries to manage the expectation, he speaks with confidence. Underlying it, he has alluded to making concrete progress, whereas Moyes was always having the same rhetoric of "let's get to 40 points and take it from there".
In sum, I am probably with most here, to want to win the FA cup, and then qualify for Europe (UCL if possible).
Tony Everan
14
Posted 09/02/2021 at 16:49:44
Give me top 4 or an FA cup win or both. I'm not too fussy about it!
Dennis Stevens
15
Posted 09/02/2021 at 16:59:25
Well I want to see Everton try to win every match they play. If they endeavour to do so & are good enough then they'll regularly win trophies & qualify for European competition.
Bobby Mallon
16
Posted 09/02/2021 at 17:12:25
Spot on
Derek Knox
17
Posted 09/02/2021 at 17:22:01
Now I'm going to buck the general trend here with either/or, and boldly say why can't we have both? Send a real statement out, it's mathematically possible Premwise, and only a couple of all out games in the FA Cup, so why not?
Man City are the only real team to be concerned about in both Comps, but I didn't suggest winning the Premiership just finishing somewhere on City's coat-tails, would do nicely Sir!
John Boon
18
Posted 09/02/2021 at 17:31:41
As a long time football traditionalist I still consider winning the FA cup as a prime achievement. However as Evertonians I don't think we should waste time quibbling about what is best to win after twenty five years of winning nothing. I will take anything.
As regards those others over the Park don't even bring them into any discussions. I really do NOT care what they do or don't do, or even might do. This particular attitude suits me very well and allows me to continue to watch, enjoy and even become frustrated by Everton. The RS winning or losing is no more important than Oldham Athletic winning or losing I don't know why I picked Oldham, it could be any team.
Craig Walker
19
Posted 09/02/2021 at 17:48:03
Between the two, FA cup trophy win for me.
Jerome Shields
20
Posted 09/02/2021 at 18:01:57
I have always thought to have consistent success a team has to be able to play and compete in two competitions, or else they will be back to square one the following season. A European place and a good Club run are great preparation for a season playing in the Premiership and a European competition, where the objective is to have more of the same the following season.
Everton where never going to progress being out of Caraobo Cup and the FA Cup early, even if they got a European place. I have often thought the football regime of Everton for years consisted off ; out of Cups by Xmas, Warm weather break, FA Cup weekend break , I nternational do nothing break and mid table mediocrity. Nice, easy and well paid work if you can get it.
I was impressed when Ancelotti stopped the Warm weather break. I personally would have advocated a cold weather break, the colder the better. They deserved that and a kick in the ass.
Eddie Dunn
21
Posted 09/02/2021 at 18:17:42
I'll tell you what most fans want..a trophy! The Europa bloody League raises very little revenue, so if Carlo is talking about top seven and some games starting very early in the summer against a plethora of shite teams from Estonia and the Pyrenees then the FA Cup wins hands -down. Who talks about our wonderful Europa campaigns of the past? And who enthuses about Rideout's header in @95? It's a no-brainer!
If it was really a choice between top Four or a trophy, then fair enough, there would be attractions for better players to join the "Project" and the club might look as if it was making progress...after all, Arsenal's success last year seems quickly overlooked once they hit a bad run!
Personally, I want some silverware. Something that will go o the records as an achievement.
When the likes of Lukaku moaned about European footy and then sat out the ordinary games(so he could be fit for the League), I had to laugh. So much crap spouted about the Champs League(I want to play champ's League) and then managers view the early rounds like the bleedin' League Cup.
Robert Tressell
22
Posted 09/02/2021 at 18:24:23
I agree with Jamie. I don't care if we don't manage a single shot but win on penalties. I just want us to win.
Mike Gaynes
23
Posted 09/02/2021 at 18:26:59
Robert and Jamie, AMEN.
All that matters is the result.
Tony Everan
24
Posted 09/02/2021 at 18:28:44
Top 4 or an FA cup ? . It's like asking a starving man if he wants a thick cut Aberdeen Angus fillet steak or a freshly caught wild Sea Bass grilled over charcoal with some aioli.
Justin Doone
25
Posted 09/02/2021 at 19:32:00
Win the FA Cup = trophy in the cabinet and European football.
That's doesn't mean it's ok to do a Wigan and get relegated after wining something but for a trophy I'd except 10th place as long as the progress appears to be there.
I want to win every game, everything that's available to win I want Everton to achieve. But what I want and what we achieve are dreams vs reality.
Look how Arsenal and Chelsea went backwards this season. I want to continue forward momentum and hopefully that's FA Cup and top 6, but I would take 10th to guarantee Cup success.
Nick Strong
26
Posted 09/02/2021 at 20:04:26
I don't think I could handle the stress of qualifying to the group stages of the Champions League if we came 4th.
The Villarreal game is a mental scar; we weren't really ready for Champions League back then and had a bent referee officiating his last match! I think next time we qualify, we want to have enough quality on the pitch, not just scrapping in.

Stan Schofield
27
Posted 09/02/2021 at 20:24:12
I don't see any point in stating a preference between league placing and cup win. Our aim is to win every game, it's that simple. So we aim to win the cup, and we aim to win the league. We aim to win every competition.
If there were a law of Nature that made winning a cup and finishing in the top-4 mutually exclusive, then there would be a point to the debate. But there isn't, so there isn't.
Sean O'Hanlon
28
Posted 09/02/2021 at 20:43:19
Not interested in trophies or qualifying for Europe. winning all our remaining games for the rest of the season will do for me! ;-)
John Skelly
29
Posted 09/02/2021 at 20:48:25
For me, a top 4 over a cup anyday – after all, we are not Wigan. Apologies to any Wigan fans...
Mark Burton
30
Posted 09/02/2021 at 20:50:04
Top 4 for me with Liverpool in 7th. That would be Seventh Heaven for me.
Joe McMahon
31
Posted 09/02/2021 at 20:56:39
Qualifying for Champions League group stages for me, that's the top table I'm afraid. Can anyone remember who were the finalists in the FA Cup for the past 3 years? 5:15 PM kick off etc, it's not the same.
We need Champions League money for the stadium, Moshiri/FFP and access to more quality players.
Paul A Smith
32
Posted 09/02/2021 at 21:00:14
I think winning all of our home games and hopefully one or two away should get us in the top four.
I want us to win the cup and finish top 4, I might not get either but by trying to keep winning our next game will give us a chance at least.
To win the cup regular or have that chance you have to be a top 4 side anyway. That is all the evidence suggests.
Arsenal I think are the exception but they had been a champions league side for years. Now they are not and have stopped winning cups.
If our rotation continues to be as good as its been so far, that'll be another advantage we have.
Barry Rathbone
33
Posted 09/02/2021 at 21:09:25
Trophy – absolutely no argument.
Big Joe's FA Cup is revered to this day as a proud part of our history compared to Moyes's European qualifications which are already a footnote.
Weird logic to consider foregoing a trophy in the belief European qualification will bring you enough dough to win a trophy!!
Mike Oates
34
Posted 09/02/2021 at 21:11:25
With about £25m for playing and qualifying from Champions League Group stage vs £5m for similar in Europa, its a non brainer, Champions League for money, for prestige, for attraction for better players. Doing well in Qtrs, Semis etc leads to extra £25m in Champions vs £5m in Europa.
We need to substantially increase our revenues, we need top level football for Bramley Moore, we need Champions League to keep Digne, Richarlison and DCL, and possibly Godfrey the way he's playing.
Rodriquez has had a huge amount of downtime over his career with Calf problems and I expect we wont see him again for a few weeks.
Not related - but any more news about Gbamin ?, gone off the radar again worryingly !
Bobby Mallon
35
Posted 09/02/2021 at 21:16:17
IMO I don't think Gbamin will ever play again. The injury to his knee has never had a good recovery record. Similarly Achilles injuries. Hope I'm wrong but not holding my breath.
Danny O'Neill
36
Posted 09/02/2021 at 21:26:07
I too don't like this debate as I want Everton to win trophies and qualify for Europe; which you do by default anyway if you win a trophy.
But, here goes. The traditionalist in me? Trophy all day long. Such a feel good factor, puts you on the map and the road to further success. Everton in the 80s, Man Utd and Chelsea in the 90s, before they won titles or qualified for the Champion's League.
I was ecstatic at Wembley in 1984. I didn't care for much, winning future leagues or playing in Europe but seeing Kevin Ratcliffe lift silverware as Everton captain for the first time in my life is up there with the birth of my son. The rest that followed was a by-product.
But I appreciate the landscape has changed and we have a different manager, who himself has different expectation, so covering all bases, I'll take the following in priority order:
1. Win the FA Cup and qualify for Champions League.
2. Win the FA Cup and qualify for Europa League.
3. Win the FA Cup.
4. Qualify for Europa League.
Either way, European football next season!
Rob Halligan
37
Posted 09/02/2021 at 21:28:34
Paul #32.
Arsenal I think are the exception but they had been a Champions League side for years. Now they are not and have stopped winning cups.
Arsenal are the current FA Cup holders. Just thought I'd let you know!
Stephen Brown
38
Posted 09/02/2021 at 21:39:48
Winning a trophy ensures players and manager are forever held in high regard by fans and the club!
Trophy all day long! It's been way too long!
Paul Birmingham
39
Posted 09/02/2021 at 22:41:38
Win tomorrow night, for me and then build and move on.
Goodison has been Everton's Achilles heel this season, tomorrow is a great chance to start winning against a decent Spurs side.
Yep, like everyone, I'd like to see silverware this season, and European qualification, but there's a long way to go, win tomorrow and the quarterfinals.
Overall, year on year, Everton's in a better position than last season, and there's potential to push on further this season.
Midweek match nights are a welcome break from the lockdown and work. I'm looking forward to the game and a few ales to see Everton through.
Barry Williams
40
Posted 09/02/2021 at 22:45:58
Of course a trophy would be great, and the FA Cup qualifies you for Europe. However, if you finish outside of the European places, what top players will want to come on the back of an FA Cup win?
For me, I would prefer the Champions League any day of the week over an FA Cup win, if it came down to choice. It takes the club to a new level in terms of revenue and new signings in my humble opinion, It is much more long-term.
The offshoot of getting better players in would be a better chance in the cups anyway!
Christy Ring
41
Posted 09/02/2021 at 23:06:22
I just want us to pick the best team and try to win every match. FA Cup and 4th place would be perfect, with Liverpool 5th. Hope Carlo picks the same team as the weekend.
Carl Manning
42
Posted 09/02/2021 at 23:13:46
Champions League all day long. It's the pinnacle of club football! Win the FA Cup, get Europa League, and if you're lucky, you'll play the team that finished 5th in Spain or if you're really lucky, the Champions of Malta. And as previously mentioned, the financial rewards are minuscule when compared with the big one.
Champions League automatically puts you in a whole different league for player recruitment. £25M for making the groups, then £2.5M for every win, £1M a draw, on top of increased advertising and ticket sales.
Truly big clubs play in the Champions League and don't settle for the other cup.
Martin Berry
43
Posted 09/02/2021 at 23:15:10
I am sure Carlo will have a cunning plan to win this game; additionally, he knows to stop Son and you almost stop Kane.
I am pleased that Allan is not being rushed back as we have some tough Premier League games coming up. Same starting line-up as against Man Utd then see how it goes.
Justin Doone
44
Posted 09/02/2021 at 23:45:12
I would love to win the FA Cup but I say that about every match.
I actually predicted Spurs to win it at the start of the season, still hope I'm wrong.
I think Carlo is taking it seriously so hopefully a win in normal time and no injuries.
Brian Wilkinson
45
Posted 09/02/2021 at 23:49:50
Why not both?
Jason Leung
46
Posted 09/02/2021 at 23:57:47
I think it has to be Champions League. We win the FA Cup but don't make Champions League, we don't keep major players like Digne, Rodriguez, Richarlison and lose the attraction to the better players and in the seasons coming, we drop further and further down the ladder...
John Keating
47
Posted 10/02/2021 at 00:18:01
We should go out to win everything and just see how the dice land.
I think Coleman might get a start against Spurs. I also think with all the games coming so thick and fast they should just have penalties after the 90 minutes if it's a draw. We have an important game on Sunday and an additional 30 minutes won't help.
Fingers crossed we get it well done and dusted in normal time.
Geoff Lambert
48
Posted 10/02/2021 at 00:26:26
Trophy all day long for me.
Jay Harris
49
Posted 10/02/2021 at 00:33:10
An FA Cup win or a Champions League place?
They are not mutually exclusive. It is possible to get both but on the other hand, it is possible to get neither.
There is a lot more competition at the top of the league now and the FA Cup is no longer seen as a chore by the big boys so we will have to be good and lucky in both quests.
Personally, I am not bothered about top 4 or FA Cup as long as we achieve one of those aims.
The FA Cup would have a nice homecoming (hopefully) and give a boost to the players but a top 4 place would put us back among the elite.
Derek Knox
50
Posted 10/02/2021 at 00:36:59
Justin @ 44, we've all heard the myth that Spuds win the FA Cup when the year has ended in a 1. Well here's a new one, the Spuds will be mashed, fried, or leave without their Jackets tomorrow. Mark Kane, and Son out, and they will be roasted!
Nicolas Piñon
51
Posted 10/02/2021 at 00:52:19
Olsen
Holgate Mina Godfrey Digne
Iwobi Davies Doucouré Richarlison
Sigurdsson and Calvert-Lewin
I'm afraid there'll be no James Rodriguez tomorrow from the start; hope he makes the bench at least. I wouldn't exclude Gomes and Sigurdsson from starting together neither.
COYB!!

Derek Knox
52
Posted 10/02/2021 at 02:05:03
Meant to add to my post at 50, hopefully someone will 'chip the keeper'!
Dick Fearon
53
Posted 10/02/2021 at 02:16:39
My 1966 trip to Wembley was a highlight in my 71 years of supporting Everton.
I dearly hope our trophy-deprived younger fans get to enjoy their own day in the sun.
Phil Smith
54
Posted 10/02/2021 at 02:56:17
Cup for me. Not like getting in to the Champions League did us any good last time around. European football next year and build towards the Champions League the following seasons.
Drew O'Neall
55
Posted 10/02/2021 at 05:02:05
Champions League qualification more important for me.
We (fans) can't go to Wembley so that would be a frustration after the last 12 years and we need to start to obtain regular Champions League football to bring in the players we need to challenge for trophies regularly and sustainably.
Dave McDowell
56
Posted 10/02/2021 at 05:03:58
Top 4 & FA Cup, winning breeds confidence & you have to go flat out for both.
Prioritisation of one gives an opportunity for excuses & lack of commitment & I'm fed up with us falling at the final hurdle or limping over the line due to mental weakness.
We need to be that team that goes on an unbeaten run until the end of the season, no excuses, no "if only" BS, out & out focus the players to achieve success.
#35 Bobby, I agree I've thought for a long time the poor kid will never play again in the top flight, the thigh injury was catastrophic & likely lead to associated injuries especially due to the physically explosive requirements of top athletes.
Paul A Smith
57
Posted 10/02/2021 at 06:14:58
Yes, Rob, I know that but they got to 3 finals on the run and won it previous to Man City last winning it. They have found it harder since they dropped from the top 4 but they are the exception because they are rich from years of Champions League anyway.
Alan J Thompson
58
Posted 10/02/2021 at 06:16:39
Do I want us to finish Top 4 or win the FA Cup, NO!
I want us to do the Double. The only thing less that will come close to being acceptable is trying to do it.
Mourinho does not seem to have started his best eleven in previous rounds but has had them on the bench and used them in the last 20 minutes if things aren't going his way.
I would think that as Spurs break with speed that Mr Ancelotti might start with his quickest players in defence so wouldn't be surprised to see Godfrey and Holgate as the central defenders, Digne at left-back and gamble with Coleman or Mina at right-back or, play three at the back and flood midfield although that may depend on James playing. And do we have any other choice than Calvert-Lewin and Richarlison up front?
Geoff Trenner
59
Posted 10/02/2021 at 07:23:52
Tony @24. I'd want to see the wine list before making that decision!
Peter Mills
60
Posted 10/02/2021 at 07:25:37
I wonder how many times the commentator will mention that "Spurs win the Cup when the year ends in 1"?
They were lucky to scrape through the 3rd round. We can win this.
Christopher De Costa
61
Posted 10/02/2021 at 07:51:51
Well, if we win the cup, we're in Europe anyway. Okay, it's not the Champions League, but it's the monkey off our back, plus it will stand us in good stead for a crack at the Champions League next year with a stronger squad containing more of Carlo's signings.
Christopher Timmins
62
Posted 10/02/2021 at 08:09:38
This will be a hard watch as Spurs are very defensive and we are not that great when playing on the front foot. I expect a number of changes from Saturday and hoping we come out on top in a tight game.
I will go with the following 11 to get the job done:
Pickford
Coleman
Mina
Keane
Digne
Iwobi
Davis
Doucouré
James
Calvert-Lewin
Richarlison
Tony Abrahams
63
Posted 10/02/2021 at 08:24:37
It's got to be top 4, even if I can't believe I'm writing this because I am absolutely desperate for our younger fans finally see us win something.
I love the FA Cup and, under normal circumstances, I'd pick it every time, but Everton have been mismanaged and I don't think it's money that's going to be our biggest problem. I'd say FFP looks like it could be our biggest obstacle. So, using that logic, I'm going for the money "just this once".
Andrew Ellams
64
Posted 10/02/2021 at 09:08:19
I'm still very old school when it comes to the FA Cup so I want to be in the Cup Final every year.
Being an Evertonian that grew up in Chorley maybe I'm destined for a year of FA Cup magic.
Wouldn't it be typical if Everton were to win it in a year when the fans couldn't go to Wembley though.
Hugh Jenkins
65
Posted 10/02/2021 at 09:25:36
Since Mr Moshri has shown his level of ambition in appointing Carlo as our manager, surely, as a matter of progression, our expectations will rise too?
We aspire to be amongst the teams that challenge for "The Treble" i.e. The Premier League Title, the FA Cup and the Champions League Title.
If that is truly the level of our ultimate ambition, then, along the way, I think it reasonable for us to aspire to win the FA Cup and finish in the automatic UCL qualification places in the league.
So, that's what's on my wish list for this season.
Martin Reppion
66
Posted 10/02/2021 at 09:38:03
Danny #36 why the pessimistic top aim?
Surely the number 1 target is to win everything we are still in?
Therefore:
1. Win the League and Cup
2. Win the Cup and qualify for Champions league.
As for your lower targets, don't the FA cup winners qualify for the Europa league automatically anymore?
That is off my chest now. So, let's get down to what I wanted to say.
My earliest memory is watching the trains bedecked in Bue and white coming past our house after the 66 final. What seemed to a 3 year old like thousands of people cheering, and I had no idea why. But I knew it was something special.
Move on to 1995 and I was there. Bang in line with Rideout's header that seemed to stop in the air and go in in slow motion.
I can't remember when finishing 2nd, or even 3rd or 4th at ANYTHING started being more important than the feeling of exhilaration that winning gives you. So for me there is no debate. If we can't win the league (and I live in hope) I'll take 2nd prize. And that has always been winning the FA cup.
Thomas Richards
67
Posted 10/02/2021 at 09:46:09
Think Godfrey has to play tonight to cover the runs from Son.
We will play with a deep lying back four so hopefully no space behind.
On the counter is what has me concerned. We need Bens pace tonight imo
Anthony Dove
68
Posted 10/02/2021 at 09:48:02
No Holgate please.
John Raftery
69
Posted 10/02/2021 at 09:59:47
In the 'All Or Nothing' documentary series, Mourinho tells his Spurs players they are too nice and need to be 'bastards' on the pitch if they want to win. Tonight our players need to be bastards if they want to win. If they do that, they can overcome the disadvantage of having to play at an empty Goodison.
Danny Broderick
70
Posted 10/02/2021 at 10:05:26
Hoping Rodriguez is fit. When he plays, the opposition have to change their plans to try to nullify him. We are far better with him in our team...
Kim Vivian
71
Posted 10/02/2021 at 10:19:09
For me, the FA cup far more embidies the football I grew up with and really enjoyed when I used to go to games simply enjoying watching football - I started out watching Pompey in the old 2nd division - with Mike Trebilcock on the team no less - and of course we were never in the hunt for a European competition or league title, but that did not dettrract from the enjoyment of a decent match. Great, however, if we could get a cup tie against a first division team so we could watch the stars of the day.
Sadly these days the European competitions, particularly the Champs league epitomises in more ways than one how the ethos of the game has deteriorated with the influx of the big money and cliqueism.
I appreciate the need in the modern day and age to generate huge revenues to keep afloat and attract top players, and Europe is the real banker for this. Unless Everton are involved (like, rarely) I cannot get emotionally involved in European competition really, and will watch if I think a good game may be expected.
So for me, if I had to choose, and leaving money out of the argument, it would be the FA cup every time, with as good a league position as we can possibly achieve - but Europe in itself does not bother me.
Dave Williams
72
Posted 10/02/2021 at 10:20:22
I can't understand the negativity towards Holgate. I accept he had a tough game against MU but he was defending against a rejuvenated Shaw and the excellent Rashford and surely any defender would have a tough time against those two especially when he was often left to cope on his own. He is a very good player- hasn't reached his level from last season yet- and his pace and aggression will be needed tonight to cope with Son. I'd play him at CB with Ben and give Coleman a game. Gomes has to continue with Tom and Doucoure in midfield and I think Siggy will replace James though I would go for Iwobi.
Tough game this one and we need Richi to find his form if we are to win- can't carry anyone against Spurs.
Clive Rogers
73
Posted 10/02/2021 at 10:21:32
For me, on current form, Gomes, Davies and Godfrey must all play for us to have a chance. Sigurdsson and Iwobi have not shown enough recently and too many changes disrupts team understanding.
James Newcombe
74
Posted 10/02/2021 at 10:24:51
FA Cup for me. I remember in 1995 saying to myself:
'Let's not leave it so long until the next trophy!'
That worked out well!
James Marshall
75
Posted 10/02/2021 at 10:29:28
1995 has a become a bit of a "I remember where I was" moment, especially for the semi final (I vividly remember where I was). That alone tells a pretty tragic story of our club.
Great day when Amo scored those 2 at the end v Spurs. I also remember some panel show with Uncle Bill on it midweek before the final, and everyone on there wanting us to beat Utd. God the 90's was f***ing great.
As an aside and on the subject of a cup win or top 4 - I'd take top 4 these days. Getting into the CL is a golden ticket (potentially) whereas a cup win is a day out and a place in the EL. Modern football is geared towards the CL so that would serve us better as a club, in my view. Cup wins to follow would be ideal.
Sadly as we don't live in an ideal world and we all support Everton, we'll probably get knocked out tonight and finish 5th.
Kim Vivian
76
Posted 10/02/2021 at 10:52:42
James Marshall sums it up really with his golden ticket comment for me. I agree, James, that Champs league would probably serve us better in the modern world as a club (financially), but saddened that it has to be the case that the emphasis moves away from the ethos of the game (in my view) to become more money driven.
Brian Harrison
77
Posted 10/02/2021 at 11:20:34
Not only have many clubs devalued the FA Cup by playing squad players rather than their first team, but by playing the 5th round in midweek the FA have devalued it further. How times have changed you couldn't imagine teams years ago playing weakened teams in the FA Cup, it was every players dream to play at Wembley. So its very much a heart versus head when it comes to winning an FA Cup or doing well in the league, the fans want the trophy but the owners want financial stability. I think Wigan were a perfect example, yes they won the FA Cup but also got relegated, and are now struggling financially. It would be interesting to ask their fans would you have given up winning the cup to staying in the league.
I am looking forward to the game tonight and it will be interesting to see which teams each manager chooses for tonights game. I am hoping that Spurs rest Harry Kane because for me they are a completely different side when he plays. I think he is by far the best Centre Forward in the Prem given Aguerro has hardly played this season. Kane not only scores a lot of goals but he is up amongst the top of the assists list which is most unusual for a top striker. Son seems a far better player when Kane is in the team, and both link up very well. I think Richarlison is desperate to score and striker live or die by the goals they score, they can put in a shift and do a lot of good things but they will always be judged on their goal returns. With City and the other lot coming up next week we will need our strikers to be in top form and what better way than by scoring tonight.
Bobby Mallon
78
Posted 10/02/2021 at 11:23:41
Danny @70 I agree and I think he will be the perfect player to open up their defence so long as we have runners
Tony McNulty
79
Posted 10/02/2021 at 11:47:05
Please prove me wrong Everton, but we don't have the look of a cup winning team to me.
As a team we have a level of inconsistency which is frightening. If only we could address this and the unforced errors
From the comments made by King I sense that Carlo actually thinks CL is possible (which it is) although he is reluctant to say so in public.
CL is priority for me: we would attract better players.
John McFarlane Snr
80
Posted 10/02/2021 at 11:56:24
Hi Barry [33] and Kim [76] I think we are singing from the same hymn sheet, I was two months short of my 28th birthday in 1966 when I paid my first visit to Wembley, and I feel for any fan who is in a similar situation. The qualification of a European place may lead to filling the coffers but it doesn't guarantee success, and it still leaves the trophy cabinet bare. It may be selfish of me but like any supporter I would like to win every game, but if it comes to a choice of money for the club or the winning of the FA Cup, I'll take the latter every time.
Danny O'Neill
81
Posted 10/02/2021 at 11:58:02
Haha Martin (@66). I was tempted but a dose of reality got the better of me. City's league so Champions League will have to do this season!!
Yes, FA Cup winners do; so 3 is win the FA Cup (& qualify for Europa League). 4 is via 5th or 6th place.
You have a very keen eye. I hope you never mark my homework!
I too think James should play. If anything, this is the type of game he will thrive in.
Tom Bowers
82
Posted 10/02/2021 at 12:01:26
This competition much like the Carabao cup has become a farce especially rounds up to this stage.
Teams are more than likely to give the benchwarmers a run out as the league positions become more important and regulars will be given a rest or at least only used as subs.
Burnley is a prime example yesterday leaving both their centre backs out against Bournemouth.
I suspect Carlo is thinking that way now that Everton have a real chance of getting into the top four, so the next league game is uppermost in his mind.
Still, it's a game both teams would like to win no matter what starting elevens are picked. C.O.Y.B.
Bill Griffiths
83
Posted 10/02/2021 at 12:04:21
Red Echo just posted that Dai Davies has passed away aged 72. Met him once and he seemed a really nice bloke.
Thoughts are with his family.
Bill Griffiths
84
Posted 10/02/2021 at 12:04:29
Red Echo just posted that Dai Davies has passed away aged 72. Met him once and he seemed a really nice bloke.
Thoughts are with his family.
Andrew Ellams
85
Posted 10/02/2021 at 12:10:20
People keep saying the big clubs are devaluing the cup etc. but far fewer clubs from outside the so called elite win it now than in the glory days.
The so called Sky 6 have won it every year bar 3 since the Premier League came into being and one of those 3 was Everton, a big name in English football.
John McFarlane Snr
86
Posted 10/02/2021 at 12:20:26
Hi Bill, [84] so many players leaving us is making me nervous, I think that Dai Davies was given a rough ride by some supporters. in my opinion he was superior to David Lawson in every aspect, despite the fact that Lawson Joined Everton for a record fee for a goalkeeper
Brian Murray
87
Posted 10/02/2021 at 12:23:45
Still vivid in my head the the st end chanting dai dai to the tune of Mary Hopkins those where the days my friend. RIP dai davies.
Bill Griffiths
88
Posted 10/02/2021 at 12:30:28
I agree John, I never thought he was as bad as some supporters seemed to think. Certainly didn't deserve the nickname Dai the Drop.
Dave Abrahams
89
Posted 10/02/2021 at 12:38:39
Lyndon, just noticed you've left Godfrey out of the starting line up, is that by design or accident? Seems very strange to me and maybe some other fans, I mean we are trying to win the cup, aren't we?
Danny O'Neill
90
Posted 10/02/2021 at 12:45:11
Although the first Everton goalkeeper I remember, I don't really remember Dai Davies if that makes sense. George Wood was the first one I truly remember seeing play.
I too hope that's an oversight Dave and not insider knowledge by Lyndon.
John McFarlane Snr
91
Posted 10/02/2021 at 12:48:08
Hi Dave [89] I didn't reply to your post on the pre 1992 thread because my laptop was playing up, I think it was suffering from 'ToffeeWeb fatigue', let's hope that we can arrange that get-together with Darren in the near future.
Colin Glassar
92
Posted 10/02/2021 at 13:05:45
Spurs are dangerous, and hurt, opponents so if we get past them we might go further in this competition.
Olsen
Coleman
Mina
Keane
Godfrey
Sigurdsson
Davies
Gomes
Digne
Doucoure DCL

Subs: Pickford, Virginia, Holgate, Nkonkou, Small, Bernard, Besic, Richarlison, M. Mouse.

I presume James and Allan are unavailable.

Kim Vivian
93
Posted 10/02/2021 at 13:10:30
David Pearl
94
Posted 10/02/2021 at 13:11:17
Danny, l could have written the exact same sentence. We must be the same age bracket. I think l remember George Wood better because the first time l saw him play l was in the Gwladys Street with my dad for a testimonial. Usually l'd be upper Bullens stuck at the back.
Some strange first scorer odds on offer. Kane, DCL and Son around only 7/2. Then 4 Spurs players on 9/2 before James at 13/2. The bookies can't split the winner. Tense night coming up
Robert Tressell
95
Posted 10/02/2021 at 13:18:15
Spurs won't be relishing this game. Not much to choose between the sides or the managers. And both clubs face the dilemma of whether to rest players for the league.
Should therefore be very cagey and the first goal may decide it. Really wouldn't be surprised if it ended with penalties.
It would be a very big deal to win a cup.
Soren Moyer
96
Posted 10/02/2021 at 13:23:34
Surely we can go for both! Why not? FA cup is the only competition we are still in it so can't see how it would weaken our chances of finishing in the top 4!
Mike Hughes
97
Posted 10/02/2021 at 13:31:00
RIP Dai Davies.
I remember him when I was a kid.
His obituary on the BBC website is worth a read.
He seems to have been very grounded and down-to-earth.
Not like some of the "big time Charlies" around the game now.
Best wishes to his family.

Brian Wilkinson
98
Posted 10/02/2021 at 13:52:41
R.I.p Dia Davies, a far better keeper than the press game him credit for, certainly better than Dave Lawson.
David Hayes
99
Posted 10/02/2021 at 13:56:04
Tom# 82, I think you are spot on, and it's been the case for along time now since Sky/ BT started running the game, The FA cup holds its value mainly for the fans. Breaking the wait for a trophy would be glourios though to get that barren tag off our backs. A win tonight will surely go along way to getting the home hodoo out of the mindset before a mental block to the team.
Brian Wilkinson
100
Posted 10/02/2021 at 13:56:43
Dave@94" I remember Everton playing Wigan Ath away in a friendly, at the old Springfield Park ground, we played George Wood as a striker for that game and he scored 5 goals.
After the game was manic, milk crates being thrown at each other in the Streets, and one of the Wigan pubs being totally trashed by Evertonians, Bluetoes or something like that.
Brian Wilkinson
101
Posted 10/02/2021 at 14:10:33
I watched Spurs against Chelsea, Chelsea did a number on them, attacked and put Spurs on the backfoot, struggling to get out of their own half, if Everton take the game to Spurs we will win it, sit back and invite them to attack and we could be in trouble.
Tim Drake
102
Posted 10/02/2021 at 14:12:07
Whilst we should obviously be trying to win the cup AND get top four, I personally would prefer us to lift the cup.
I totally understand the arguments for a top 4 finish and agree it could potentially be more beneficial to the club in the long run but I was a young boy when we last won a cup and my memories are foggy at best. It would be nice to be able to celebrate something proper - which in my darkest moments I worry may never happen again.
Ultimately, when I go to sleep I dream of us winning titles - not finishing top 4!
Anyway - fuck it. Let's do both.
Graeme Beresford
103
Posted 10/02/2021 at 14:12:57
Very hard game to call. Both clubs without a major trophy in decades however both clubs pushing for Europe. Spurs especially have a tough game away at City at the weekend. How will both teams go about tonight? Will it be a tactical setup from both Carlo and Jose or will both teams go for it from the off and make it an interesting cup tie. I'm going for the first option. Expect Spurs to set up to defend and nick a goal rather than full pelt from the off.
Tough one to call all around. I would like to see us go at them full pelt from the off, get an early goal and go ahead and win the game 2/3 nil. Something we haven't done in a long time. However it's obviously not as easy at that. Richarlison and Iwobi, who I'm assuming will start, will be the difference makers tonight. They need to get hold of the ball, run, and whip crosses in. However this will only work if players flood the box such as DCL, Sigurdsson etc.
I don't even know how to call it, every time I'm optimistic we get beat, everytime I'm pessimistic we win. I am going to try and change that tonight by being optimistic and saying a 2-0 win for the blues, however my pessimism is now getting ahold of me and yelling, 'what the hell have you done!!!'. COYB.
Tony Everan
105
Posted 10/02/2021 at 14:54:54
RIP Dai Davies
We have to be at this tonight from the off, there's no need to be timid. When we show courage and desire for it we are a match for better sides than Tottenham. After many years of doubting I am starting to believe again too. We have some very good players, some improving, battlers and some flair. I want to see Richarlison back to his best tonight, it could make all the difference.
Olsen
Holgate Keane Godfrey Digne
Doucoure Davies Gomes
Iwobi DCL Richarlison
Sigurdsson on for the last 30 mins.
John Raftery
106
Posted 10/02/2021 at 15:40:54
Many clubs might field less than full strength teams in this competition but in the majority of seasons, the trophy is won by one of the moneyed clubs. Since the turn of the century only Pompey (2008) and Wigan (2013) have interfered with the monopoly. We must hope we can beat Spurs tonight and then have a tilt at beating City, United or Chelsea, possibly all three.
Derek Taylor
107
Posted 10/02/2021 at 16:39:09
Can't see us breaching the usual suspects to make top six but have had a wad on seventh. Has anybody worked out what has to happen for seventh to 'get into Europe'?.

Martin Reppion
108
Posted 10/02/2021 at 16:42:35
Danny #81, made me laugh there pal. Sorry, I can be very pedantic at times. Okay, all the time.
On the goalkeeping memories, Gordon West was the keeper when I started watching, but I had a soft spot for Andy Rankin because of a picture in a football annual showing him caked in mud in a way that doesn't happen on modern pitches.
I also remember one of the next 'reserve keepers' Andrew Brand. I later saw him playing for Crewe at Bradford (we'd moved to Yorkshire in 1967).
I met him a couple of years ago as a family friend works with him for the Cheshire police, where he has been more successful than as a footballer.
Pat Kelly
109
Posted 10/02/2021 at 16:53:33
The only way to resolve the trophy or top four debate is to win the Premier League. That should make us all happy.
Andrew Clare
110
Posted 10/02/2021 at 16:56:49
Our defence will have to be on their toes tonight as Spurs have two deadly strikers – as good as, if not better than, any in English football.
They are also a very physical team so we must be well prepared.
They have a couple of key midfielders missing so hopefully we can take control.
All games in the Cup are going to be difficult if we progress.

John Guy
111
Posted 10/02/2021 at 17:00:30
The 1984 cup win cemented a feelgood factor that was brewing, and a 7th place finish was followed up with the championship next season, and a golden era, which could, and should, have lasted longer. Time to go all out for the cup, cement a top 4 place at least, and kick on from there. If any manager is fit to oversee our renaissance, it's Carlo, surely. It is time.
Mike Gaynes
112
Posted 10/02/2021 at 17:15:21
Pat #110...
"That should make us all happy."
Ridiculous. Fantasy. Pure piffle, as you lot would say.
Even that wouldn't make EVERYBODY here happy. We could win every game and there would still be folks here criticizing our style or Carlo's lineup... or complaining that we don't get stuck in enough.
Brian Murray
113
Posted 10/02/2021 at 17:27:29
To play a full strength team wiling a big league game looming is not the done done these days no matter who is manager. Carlo talks well about the importance of the cup so maybe he will have big Nevs attitude. Aim for the top. No less. End of.
Paul A Smith
114
Posted 10/02/2021 at 17:32:27
We need to go out there like determined bullies on a mission tonight. Put their snowflakes to bed.
John Keating
115
Posted 10/02/2021 at 17:45:10
Mike
You are correct in what you say. However, on numerous occasions, you have also, correctly, said "Do not respond. Don't reply, ignore their comments, don't contradict, just ignore." It actually gets at them more than if you respond.
Hopefully this is our year; if not, then next or maybe the next... Slowly we are on an upward trajectory; lots of bumps in the road.
It was a brilliant day when we beat them 4-1 in the semi. I've seen all our successes since '63 but, at Elland Road that day, I shed a tear.
Thomas Richards
116
Posted 10/02/2021 at 17:49:07
John 117.
Me too, mate. What a day at that game. Media expected a Spurs - Man Utd final. Our boys upset them big time.
Bobby Mallon
117
Posted 10/02/2021 at 17:49:46
Derek 107 if a team finishing in the Euro places at the end of the season wins it. Then the cup win place goes to the next in the league team.
John Keating
118
Posted 10/02/2021 at 18:01:19
Thomas,
The biggest thing in our favour that day was not the players, management or tactics – it was simply that we had 3 sides of the ground PLUS a load in their one side.
Thomas Richards
119
Posted 10/02/2021 at 18:03:38
We surrounded them John.
The noise was unbelievable from our fans.
The players responded and the result was ours.
Great days John, hopefully get some days like it in the not too distant future
Tom Bowers
120
Posted 10/02/2021 at 18:12:34
When Andy Rankin was at his best (not that often I should say) he was brilliant especially that 4-0 thrashing of Liverpool at Anfield 1964. What a memory.

Will Mabon
121
Posted 10/02/2021 at 18:20:53
That '95 Everton-Spurs semi is still in my top ten games list. Fantastic, it felt like a home game. I watched the goal highlights for the thousandth (or more) time earlier. Of course, the London club bias was present, all the media predicted a Spurs win - and we battered them.
4-1 tonight then...
Thomas Richards
122
Posted 10/02/2021 at 18:41:29
https://twitter.com/NevilleSouthall/status/1359564037093289986?s=20
Stephen Vincent
123
Posted 10/02/2021 at 18:52:20
Frankly I don't care how we play this season KITAP1 would be just fine, if we can achieve positive results. Given the choice and in an ideal world I would take the trophy, but under current circumstances and if we ever are going to dine at the top table it has to be top 4 (preferably top 2). We just can't ignore the income that, that sort of finish would generate.
Next season I would expect more fluent football from Carlo, but for the present pragmatism must rule. But let's be optimistic and expect both. I know it's not in our make up but who would have believed we be in the position we are now 12 months ago and it could be considerably better.
For me though stuffing Fulham out of sight at the weekend is far more important than tonight.
Danny O'Neill
124
Posted 10/02/2021 at 18:59:37
No worries Martin, I laughed myself at your scrutiny! You should read the article on Gordon West's wife (second plug I've given).
Bobby, I appreciate that it is difficult to keep up with change in the game right now. It's hard enough knowing what this week's offside law will be!
Unless things have changed (possible to likely) isn't that the case for the League Cup but in the FA Cup don't the runners up get the spot if the winners have already qualified through the league? If both winners and runner up have already qualified then it goes to the next highest league position.
There are all kinds of complex scenarios, that I wouldn't even attempt to go into or this would be a long post. But 7th would come into the equation if the League Cup and FA Cup winners had already qualified for Europe through the league. Especially if the Runners Up had as well.
I think. The head hurts trying to work it out.
Steve Shave
125
Posted 10/02/2021 at 19:04:49
This is going to be a tight cagey affair I predict. Frustrating if that is the case because on the first game of the season we went at them with a real swagger, so exciting and it was a fantastic performance. I think we could cancel each other out and it might go either way on a set piece. I would go with 3 at the back with Iwobi and Digne as wingbacks. Gomes/Davies alongside the Duke with James just in front. DCL and Richy up top.
Andrew Ellams
126
Posted 10/02/2021 at 19:06:07
Bobby @ 117. The rule about defaulting the Euro place if one of the top 6 wins the cup was removed by UEFA about 5 years ago. I think Villa and Watford both missed out because of the change.
Jay Wood
[BRZ]
127
Posted 10/02/2021 at 19:17:19
Team for tonight named:
Olsen, Godfrey, Mina, Keane, Digne, Doucoure, Davies, Sigurdsson (c), Iwobi, Richarlison, Calvert-Lewin.
Jay Wood
[BRZ]
128
Posted 10/02/2021 at 19:19:14
Gomes and James not even in the squad. Not a strong bench. Subs:
Subs: Virginia, Tyrer, Holgate, Nkounkou, Bernard, Coleman, Onyango.
Back to doubling up on goalkeepers on the bench!
Brian Murray
129
Posted 10/02/2021 at 19:19:59
Tom bowers post 120. Unforgettable day for me as a kid in the kop end. Not really grasping why grown men where dancing and hugging each other. Enjoyed it more when it got a lot safer when the 3 rd goal went in it was like a fire drill and thousands streamed out except for the pockets of blues going nuts and at the opposite end. Harvey became a man that day.
---
Add Your Comments
In order to post a comment, you need to be logged in as a registered user of the site.
Or Sign up as a ToffeeWeb Member — it's free, takes just a few minutes and will allow you to post your comments on articles and Talking Points submissions across the site.
---