Ferguson hails Everton players' never-say-die attitude
Wednesday, 10 February, 2021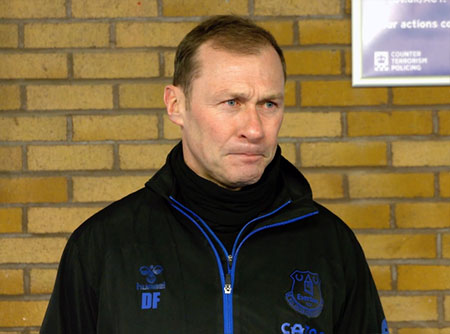 Everton Assistant Manager, Duncan Ferguson, says that the Blues' fightback against Manchester United on Saturday and this evening's extraordinary 5-4 win over Tottenham in the FA Cup show the strength of character in the camp.
Just four days after Dominic Calvert-Lewin's dramatic last-gasp equaliser at Old Trafford secured a point for Everton in a 3-3 draw, Bernard smashed home a superb extra-time winner to propel the club into the last eight of the FA Cup after the team had had to come back from conceding an early goal to Spurs.
Calvert-Lewin was on the mark again, hammering home an equaliser in the first half that ignited a rally from the Toffees that saw them go 3-1 up, only to concede late in stoppage time to go into the half-time interval at 3-2.
Tottenham levelled the tie at 3-3, Richarlison grabbed his brace with an excellent second, only for Harry Kane to equalise again seven minutes from the end of normal time. But Sigurdsson found Bernard with a sublime dink over the top in the 97th minute and the Brazilian finished with aplomb to settle a breathless encounter at Goodison Park.
Asked by evertontv if he and Carlo Ancelotti were proud of the team after the epic Fifth Round tie, Ferguson said: "Yeah, brilliant. The players showed tremendous character in the match.
"We went behind, showed that character to get back and into the lead. We got up to 3-1 and were fantastic in parts of the game. We weren't so good in defending set-pieces tonight; I thought Tottenham were very strong in that department.
"The boys have had a great attitude all season, a never-say-die attitude. I think it was there for everyone to see tonight, as it was at Old Trafford.
"There were a lot of players who come in tonight and made a difference. Bernard had a great finish on his left side; Gylfi was great and had a lot of assists. Dominic was fantastic; Richy scored a couple of goals which will be great for his confidence; so all around there were a lot of good performances out there.
"It's been far too long since we won a trophy so hopefully this is our year. We're all pushing for it. The players, as you can see tonight, are all fighting for it."
Sigurdsson, meanwhile, spoke to the BT cameras afterwards and expressed his satisfaction with the victory, even if he felt Everton had been too open at the back when defending dead-ball situations.
"I think it was too open-ended, too many goals," he said "It was probably good to watch!
"It was fantastic to come back. We conceded, I think, three goals probably from corners or set pieces, which is something we need to have a look at and work on, but the spirit in the team to come back and eventually go through is fantastic.
"We started really slowly. We were kind of caught in between pressing and sitting back and they took advantage of that. They were much better in the first 20-30 minutes but I think after our goal we came out a little bit and obviously got the 3-1 lead but we're disappointed to then concede just before half-time.
"As I said, it was probably fantastic to sit at home and watch the game but, for our liking, it was too open. But it was a fantastic cup game and obviously fantastic to still be in the competition."
---
Reader Comments (25)
Note: the following content is not moderated or vetted by the site owners at the time of submission. Comments are the responsibility of the poster. Disclaimer
Paul Kernot
1
Posted 11/02/2021 at 02:45:45
What's going on here? Everton don't win cup ties that go into extra time. And especially not against so called top 6 opposition. We also don't score 5 when the opposition have already put 4 past us or, for that matter play open, attractive, free flowing, attack focussed football.
Jamal Paktongko
2
Posted 11/02/2021 at 03:20:58
I believe we are changing into a potent force
James Flynn
3
Posted 11/02/2021 at 04:55:00
Sigurdsson's right. Open from the start. A Mourinho team attacking from the start. Who knew?
Kind of game suitable for Sigurdsson to display his skills, which he did.
Eddie Dunn
4
Posted 11/02/2021 at 07:56:47
Sigurdsson contributed to some great goals but his crazy grabbing of Sanchez was both ineffective and could easily have resulted in a penalty.
It seems that anything goes at corners these days. Surely it is time that rules were enforced to stop the holding and shirt-grabbing.
Outside of the box, a shirt pull is usually a yellow card although I did notice that Moura got away with one which stopped us breaking. Every other one was yellowed. Then we go to a free-kick or corner and it becomes WWE.
Bobby Mallon
5
Posted 11/02/2021 at 08:11:08
I actually think Sigurdsson (who by the way was my MotM) will cringe when he sees how bad his defending was at set-pieces. To not look at the ball but just obstruct the player is not good. But he was fantastic.
Danny Baily
6
Posted 11/02/2021 at 08:14:44
Great to hear Dunc say after the match that, while we're doing well in the league, the FA Cup is the one we want.
Tony Everan
7
Posted 11/02/2021 at 09:24:07
I think Carlo Ancelotti, assisted by Duncan and Davide are changing the mindset of this Everton team.
The psychology is different from what it used to be, the players Carlo and Brands have signed have been a resounding success and have fully bought in to what Carlo Ancelotti wants from them.
A resonant and constant word from Ancelotti is that he wants the players to play with 'courage'.
I think the players have responded to the call and if they can keep it consistent are on the way to achieving great things. The fact that Tom Davies and Andre Gomes have rally stepped up really does make us stronger in a vital part of the team. Allan is on his way back too. Richarlison maybe finding form. King has been bough to add depth to the forward line. All positives that will make us even stronger.
I think this time he optimism around is not built on sand, it's built on solid foundations. It's going to be a great ride between now and the end of the season to see how far we can go.
Phil (Kelsall) Roberts
8
Posted 11/02/2021 at 09:47:30
Sigurdsson, meanwhile, spoke to the BT cameras and Everton had been too open at the back when defending dead-ball situations.
Watching MOTD and Leon's highlighting of the main person who failed to mark his man - - - erm? I think he needs to replace the word Everton with the personal pronoun "I".
Graham Mockford
9
Posted 11/02/2021 at 09:55:12
First time this season our zonal marking has come unstuck. If you watch how we line up for corners we put three men on the six yard line. It's normally Keane DCL and Mina. Their job is to defend that zone and if a ball comes into that area to make a clearance
So whilst undoubtedly Sigurdsson didn't do a great job. Firstly not getting tight enough and secondly getting too tight I'm sure the coaches will be looking at how we didn't get defensive headers on the initial cross.
Thomas Richards
10
Posted 11/02/2021 at 10:03:09
Graham,
The coaches looked at it during the game and changed it accordingly.
After the poor defending initially from set pieces Michael Keane moved to marking the area where they were hurting us, the near post.
Jon Harding
11
Posted 11/02/2021 at 10:21:32
Sigi was not helped on the first goal by Dom not jumping at all in front of Sanchez. Fairly pathetic attempts otherwise.
Good job the Iceman had a stormer going forwards.
Ian Horan
12
Posted 11/02/2021 at 10:28:56
When you watch the first Spuds goal Sancrez actually pushes DCL just prior to him jumping yet VAR never picked it up.
Robert Smith
13
Posted 11/02/2021 at 10:59:29
Can anyone explain the refereeing on the passage of play in the 92nd minute where Kane fouled Davies near their box. The play continued as the ball broke for Tottenham to counter attack only for Digne to pull down the breaking Tottenham player. The ref books our player for a deliberate foul and Kane for his earlier misjudged foul. Yet the free kick is against Everton. Anyone else left scratching their head on that one? What am I missing? Surely we should have got the free kick in a dangerous position at the death of normal time.
Graham Mockford
14
Posted 11/02/2021 at 11:20:49
Phil Smith
15
Posted 11/02/2021 at 12:35:17
Rob, I think it was a foul on Tom but he allowed play to continue and we had the ball but lost it almost as quickly. It was a bit messy that.
Andrew Keatley
16
Posted 11/02/2021 at 12:41:44
Robert (13) - If I am remembering the incident correctly the Kane foul on Davies resulted in the referee deciding to play on, with Everton still in possession. The subsequent foul by Digne was after Spurs had won back possession - hence why the eventual free kick went to Spurs. Apologies if I am wrong with any of those details, but that is how I think the sequence went; hugely frustrating at the time, but ultimately it's just the nature of the advantage law.
Mary Coleman
17
Posted 11/02/2021 at 14:18:50
Fantastic result what a performance. Go Carlo go!!!! Nice to see our Dunc being pushed forward to do some media, looks like their grooming him to be next up!!
David Pearl
18
Posted 11/02/2021 at 15:24:27
Mary, you could be right. Or maybe Carlo wanted to finish his coffee before it got cold.
I see DCL is having a scan. He has played a lot of football over the last couple of years and having not long come back from injury l hope he is allowed the time to recover.
So its on to the next game. I would give Bernard another go on the left and push Richy up top. I know it leaves King on the bench but l'd like to give Richy his shot in the number 9 spot.
Eddie Dunn
19
Posted 11/02/2021 at 16:01:10
David- it was encouraging seeing us score without DCL. It perhaps makes us more unpredictable. I am very pleased that we have King on loan as another injury would have us struggling.
Derek Wadeson
20
Posted 11/02/2021 at 16:29:16
That result would not of happened under previous management. The game may have ended 5-4 but it would not of been in our favour.
Carlo telling players to be brave and have courage is having it rewards. For a while we may have to put up with goals conceded while trying to get the balance right.
Both Gylfi and Tom Davies are having an upturn in form because the coach has confidence in them, hopefully the fans will respond.
Afterthought is Mason Holgate going to beat Seamus Coleman in being the next whipping boy on ToffeeWeb.
Jerome Shields
21
Posted 11/02/2021 at 17:36:50
Glad to see Ferguson wheeled out. You are sure to get the truth from him and his passion for Everton. Ancelotti recognises this and gives him the outlet. I think Duncan is the man for the moment, for Ancelotti it is one block in his overall plan.
Ian Linn
22
Posted 11/02/2021 at 18:17:45
Spurs fans who complained about Mourinhos defensive tactics got their wishes last night, Spurs scored four. Much better.
Martin Berry
23
Posted 14/02/2021 at 08:41:43
And all this after Carlo called the players lazy after the Newcastle game.
Looks like there has been a work behind the scenes that has done the trick.
David Currie
24
Posted 15/02/2021 at 22:19:05
Back to lazy last night!
Bill Rodgers
25
Posted 16/02/2021 at 19:52:47
"Ferguson hails Everton players' never-say-die attitude"
That must surely be printed on a thousand tee shirts?
---
Add Your Comments
In order to post a comment, you need to be logged in as a registered user of the site.
Or Sign up as a ToffeeWeb Member — it's free, takes just a few minutes and will allow you to post your comments on articles and Talking Points submissions across the site.