Everton vs Fulham
Friday, 12 February, 2021
Match Preview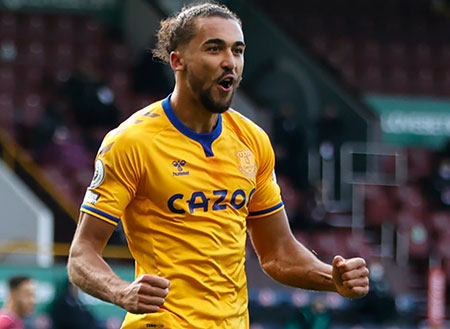 Dominic Calvert-Lewin misses out again with a recurrence of his hamstring strain but Carlo Ancelotti says he should be back for the next game against Manchester City
Everton's quest for European qualification resumes this weekend when Fulham come to Goodison Park.
The Blues welcome the Cottagers looking to build on two resilient performances against Manchester United in the Premier League and Tottenham in the FA Cup, performances that have hopefully injected some new-found belief into Carlo Ancelotti's charges in the build-up to a run of important fixtures.
The Toffees prevailed 5-4 in a wild Fifth Round tie in midweek but it came at the cost of leading scorer, Dominic Calvert-Lewin, who had to be substituted early in the second half with a recurrence of the hamstring strain that kept him out of action for a time last month but his manager doesn't think he will be out long.
Calvert-Lewin will be joined on the sidelines by Jordan Pickford who has now missed three games with a rib injury but he too could be in contention in midweek when the League leaders come to town.
James Rodriguez and André Gomes are fit, however, and Josh King is eligible after being cup-tied for the Spurs match.
"Both [Calvert-Lewin and Pickford] will not be available for the game on Sunday," Ancelotti said in his pre-match press conference today. "We are looking [at] the next game on Wednesday where we think both of them will be available. "[Calvert-Lewin] only had the feeling that something wasn't good so he stopped. He only has a little problem. He can play on Wednesday.
"We have back Andre Gomes, James, Josh King, and in the next week we think Allan will be back so the squad is ready for the next games.
"James is fine. He trained yesterday and today and is available for the game on Sunday. No problem."
King has made two appearances off the bench since arriving in a deadline-day move from Bournemouth and is almost certain to make his full debut on Sunday. Like Richarlison, he can play wide or as a centre-forward so it will be interesting to see which one gets the role up top or if it's more of a twin-striker formation.
It also remains to be seen whether Ancelotti will press James back into action from the start or whether he will keep an eye on the clash with Manchester City on Wednesday and the Merseyside derby beyond and keep him in reserve, with Alex Iwobi in the line-up instead.
With Gylfi Sigurdsson and Tom Davies so instrumental in the win over Spurs, Gomes would have some way to go to shift either one of them but the Portuguese, who has been in good form himself, might benefit from rotation given that both of the former two midfielders played 120 minutes just four days previously.
Fulham looked dead and buried early in the season and a shoo-in for relegation straight back to the Championship but, since losing at home to Everton in November, they have shown some resilience and effectiveness, even if they haven't always been able to convert enough draws into wins.
They surprised Leicester at the King Power Stadium in their next game on 30 November and then lost just once, away at Manchester City, until Chelsea edged them 1-0 at Craven Cottage in mid-January, including holding Liverpool and Spurs to draws.
Scott Parker will reportedly be without Tom Cairney and Terence Kongolo but Josh Maja could be in line to make his first start since joining on loan at the start of the month.
Despite the fact that Everton have a 100% record at home against the Cottagers and that this weekend's visitors will start the weekend seven points adrift of safety at the wrong end of the Premier League, Ancelotti's men will underestimate them at their peril. Former Blue, Ademola Lookman, in particular, will be itching to put in a good performance on what briefly and intermittently his stomping ground.
Then there's the small matter of the fact that the Blues haven't won at home in the League without fans in the ground since beating Brighton in the first week of October. It's their away form that has kept them on the heels of the top six and with games in hand but they are going to have to make Goodison a fortress again on their own if they are to realise their European dream this season.
Kick-off: 7pm, Sunday, 14 February 2021 on BT Sport 1
Referee: Andy Madley
VAR: Kevin Friend
Last Time: Everton 3 - 0 Fulham
Predicted Line-up: Olsen, Holgate, Godfrey, Keane, Digne, Davies, Doucouré, Gomes, Rodriguez, King, Richarlison
---
Reader Comments (210)
Note: the following content is not moderated or vetted by the site owners at the time of submission. Comments are the responsibility of the poster. Disclaimer
Tony Waring
1
Posted 12/02/2021 at 16:34:15
So looks like we'll get a good idea of how good King is. Would be great if he scored a couple... not impossible against Fulham you'd imagine. Hopefully Calvert-Lewin will be straining at the leash for the match against Man City.
Phil (Kelsall) Roberts
2
Posted 12/02/2021 at 16:45:01
I'd forgotten we had signed Josh King. Phew!
Well, hopefully phew! come Monday morning.
Duncan McDine
3
Posted 12/02/2021 at 16:50:12
Sounds very much like Carlo will be making a few changes from the team on Wednesday night. I'm not surprised either – I'm still fatigued just from watching it!
Carlo's selection will be almost as 'interesting' as my wife's reaction when I gently inform her that I'll be watching the game at 7pm on Valentine's Day!!
Kieran Kinsella
4
Posted 12/02/2021 at 16:50:15
Tony @1,
Fulham don't give up a lot of goals. The last time they conceded three in the Premier League was against us back in November.
Defensively they are pretty solid. Their issue is scoring. They seem to draw a lot or lose by the odd goal.
Tony Abrahams
5
Posted 12/02/2021 at 16:57:06
I like watching Fulham, Kieran, they've come on leaps and bounds since the start of the season, so I'm not expecting an easy game.
Robin Cannon
6
Posted 12/02/2021 at 17:12:56
I'm very pleased it's the late Sunday game, with that additional time to recover. Returnees do give us some scope to rotate, too, despite how sparse our bench looked on Wednesday.
Ian Bennett
7
Posted 12/02/2021 at 17:25:58
Gbamin another month. Geez he's just broken. More chance of Joe Parkinson playing than him.
Kieran Kinsella
8
Posted 12/02/2021 at 17:29:14
Tony @5,
They reminded me a bit of Aston Villa last season, decent enough, organized, just lacking a je ne sais quoi.
If they go down, but stick by Parker, I can see them rebounding pretty quickly and sticking around for a long while, kinda like Burnley did.
Kieran Kinsella
9
Posted 12/02/2021 at 17:30:48
Ian Bennett
Yes it's actually been 18 months now since he last played. Aside from the specific injury healing, that's a long long time to be out of the daily routine of professional sport and then try and condition yourself to come back.
Mike Gaynes
10
Posted 12/02/2021 at 17:31:03
Phew! is right, Phil.
Tony #1, King hasn't scored two goals in a league game in two years, so let's not get overexcited. Just one tap-in or penalty would be great.
I'll be especially pleased to see Allan back in the line-up. Doucouré, Davies and Sigurdsson have done excellent work in front of the backline in his absence, but his quality is very much needed.
Tom Dexter
11
Posted 12/02/2021 at 17:34:31
I would play Richarlison up top for the Fulham game and play King and Digne on the left.
Should be enough to get three important points... let's just hope it's not a 'Newcastle' performance.
COYBB
Mike Gaynes
13
Posted 12/02/2021 at 17:38:23
Kieran #9, I think conditioning will be no problem -- the guy is only 25. He'll be fully fit to play.
The massive question will be performance level. Will he still have the speed necessary to play Premier League football after those two injuries?
It seems inconceivable... But miracles do happen.
Colin Glassar
15
Posted 12/02/2021 at 18:14:22
These games are usually banana skins for Everton. I'm more confident against Man City, to be honest... but saying that, it seems Carlo is slowly improving our loser mentality.
Jamie Crowley
18
Posted 12/02/2021 at 18:32:11
Thank goodness Dominic will be healthy soon. We need him.
I was just thinking, in the last week we've been treated to two moments I'd define as nearing "iconic".
Ben Godfrey's "Fuck Off!"
Carlo blowing on his coffee.
The last reaction "iconic moment" was a while ago - Big Dunc hugging the ball boy.
What's next? Those two moments above make me grin ear-to-ear. Never mind the Dunc - Ball Boy moment which I just loved to death. I'm hoping there's many, many more of these snapshots in time to come.
Derek Taylor
21
Posted 12/02/2021 at 18:48:59
Prior to seeing him in action, I have King down as one of Brands's makeweight signings. Never impressed me at Premier League or Championship levels, I just hope he proves me wrong.
Joe Cavanagh
22
Posted 12/02/2021 at 18:52:28
Can't help but think that it would be good to see Richarlison have a spell with a more central role, as he ended up doing against Spurs. I often think he's wasted or marginalised, or too easily derailed, out on the wing.
Then there's the question of who to put on the left – Bernard, Nkounkou, King? Depends on how attacking we want to be.
David Pearl
23
Posted 12/02/2021 at 19:00:10
Joe, exactly my thoughts. He just scored a brace, hungry again so why move him away from the middle? Let him get some more. On the left l would play Bernard. Give the guy a chance! I also liked Coleman on the right, a lot more involved than lwobi.
Frank Sheppard
25
Posted 12/02/2021 at 19:08:00
Fulham game is definitely a banana skin. All their match reports recently seem to say "Played well but didn't get the result they deserved." So a big worry they might come good against us. Hope not.
Jeff Armstrong
27
Posted 12/02/2021 at 19:16:51
I think Ancellotti needs to properly manage the squad over the next 3 or 4 games leading up to the Man City cup tie. Sensible use of King, Coleman, Nkounkou, Bernard, Holgate etc, against Fulham, Man City (league) and Liverpool to get points on the board but also keep one eye on the cup game.
Rest Calvert-Lewin, Digne, Sigurdsson even, for a proper tilt at the cup tie without ceding league points. Easy to say, but come on Carlo, we're now entering the "business" end of the season. You've got us here, you earn the big bucks, now deliver... Please!
Dale Self
28
Posted 12/02/2021 at 19:17:26
Joe and David, I'm with that and I remember being informed that King can play the wing (although let's take a moment to note that he is cup-tied). King looked interested when he came on vs Man Utd so that looks like a preference for me as well.
Jeff Armstrong
30
Posted 12/02/2021 at 19:18:45
David Pearl,
Great point about Coleman there.
Bill Gienapp
35
Posted 12/02/2021 at 20:02:57
Ian (7) - I agree with your basic point - I'll believe Gbamin's back when I actually see him on the pitch - but it doesn't sound like he's had any sort of setback. These things just take time, plus I imagine Everton are making a point of not rushing him back.
John Skelly
36
Posted 12/02/2021 at 20:11:04
How is Gbamin? I thought he was retired injured a while back...
I don't think Fulham will be a banana skin, we have improved so much.
Fear no-one this season. I think everyone fears us more, and about time. 😉
Tony Hill
37
Posted 12/02/2021 at 20:16:34
Bill, I hope he's going to be a player for us of quality. We're right to take our time, of course. No panic. He's 25 and we can still get the best of him, there are no rules about these things.
Tom Harvey
38
Posted 12/02/2021 at 20:27:08
Kieran Kinsella @ 9
Just consider his psychology should he find the required fitness to play a prem game. His team mates would have I feel sure have been gentle with him in training, he then in his mind has to be able to commit to full blooded challenges during a real match.
He'll know he's has this weaknes, the psychology job he'll need to be ready is atleast as big as the medical one.
Soren Moyer
39
Posted 12/02/2021 at 20:30:01
Colin @15, Yes by hypnotizing technics.
Tony Hill
40
Posted 12/02/2021 at 20:33:29
And yet players do it, Tom. Gomes for one and Barkley after his leg break and Coleman etc. I just have a feeling that this fella is going to come good.
He's at the right club to find his way again. Ancelotti is starting to create a Zen calm about our proceedings and I think Brands is part of that too. That's good for the likes of Gbamin and it should be good for fans like me who are impatient.
Tom Harvey
41
Posted 12/02/2021 at 20:42:44
Tony Hill @ 41
Absolutely, it's by no means impossible. And I'd like to see him put himself about on the park.
There's been some amazing recoveries over the years, but for me, it's the repeat nature of his injuries that dominates my thoughts.
Tony Hill
42
Posted 12/02/2021 at 20:46:31
I agree, Tom, it's a worry but let's hope.
Barry Williams
43
Posted 12/02/2021 at 20:47:42
With Calvert-Lewin out, we could see a new dynamic in the forward line. A forward line that contains King, Richarlison, and James, is nothing to be sniffed at.
I guess Sigurdsson will on the bench - he put a shift and a half in on top of his goal and 3 assists, so Gomes back in I reckon.
Will Iwobi be picked? Bernard?
Nice to have options again!
Kieran Kinsella
44
Posted 12/02/2021 at 21:10:45
Tom 38/Tony 40
To Tom's point, do you remember Li Tie? He was good for us for some time, got injured then was never the same. Moyes had said after he eventually left that he was fearful of getting injured.
I don't even remember what the injury he had was but I assume it was painful if it affected him that much. Hopefully, Gbamin will make it -- both physically and psychologically.
Michael Kenrick
45
Posted 12/02/2021 at 21:22:59
Li Tue... Oh the memories!
This from our Past Player Profile:
But the new season started badly for Li Tie, sent off after just 12 mins from coming on as a sub at Arsenal and picking up two yellow cards for two silly challenges. Then he hurt his foot and missed a few more games then he went back to China to train with the national squad... and fractured his shin in training! Out for the rest of the dismal 2003-04 season.
And it proved to be a very long recovery period for Li Tie. He did not return to full training until October 2004. He got fit enough to play at International level for his native China on numerous occasions but he never played for Everton again.
In March of 2006, it was decided he needed another operation, which put paid to any chances of a return for the 2005-06 season, and his contract expired, leaving him as another Everton crock who was, remarkably, quite able to play for China!
He joined Sheffield Utd but only played one game for them.
I think we had a story recently about him going into coaching... Yes, he was made manager of China just over a year ago! How's he getting on, I wonder...???
Kieran Kinsella
46
Posted 12/02/2021 at 21:27:58
Michael
I think he is the national team manager in China now. I remember in his first season he was a lucky charm, we never seemed to lose when he was playing. That being said, I remember bizarrely seeing a similar trend with Tobias Linderoth at one point in time. So it just goes to show, Stats don't tell the whole story.
John Raftery
47
Posted 12/02/2021 at 21:40:44
We have six league games scheduled before the cup tie which is five weeks away. Although there is a lot of football this month, things are less congested after the derby match. Subject to fixture changes we then have four free midweeks leading up to the cup tie.
Carlo will continue to rotate the squad with a view to keeping everyone fully fit and available while picking up enough points to maintain if not improve our league position. Hopefully by the time we face City in the cup he will be able to field a full bench and be in a position to make five substitutions if necessary.
I think Josh King will surprise many. He has pace, finishing ability and the motivation to earn a longer term contract.
Tony Hill
48
Posted 12/02/2021 at 22:02:42
Luck, the way life falls, will decide, in sport as in life. Some make it, some don't
With regard to Li Tie, we have had special links with the world's two superpowers now - US (Howard et al) and China (their coach). Have we made the best of that?
Tom Harvey
49
Posted 12/02/2021 at 22:15:07
John Raftery @ 47,
I watched King in the games he's come on late and I have to say he looks like he's got two left feet and is all thumbs with no fingers.
Probably early nerves, but there's nowhere to hide on Sunday, the adrenaline might do him some good.
Karl Masters
50
Posted 12/02/2021 at 22:15:47
Almost 46 years to the day since Fulham's only win at Goodison... 2-1 on 15 February 1975. An Everton team, top of the league, messed up big time to Second Division Fulham in front of over 45,000 disgusted fans.
Viv Busby, later to bizarrely rock up as Kendall Mk3's assistant in the near disastrous 1997-98 season, scored both their goals, one after a horror error by Dai Davies. Fulham went on to the Final where they lost to West Ham.
It was a season we should have won the league, but ended up 4th, and the FA Cup was more than possible, but this 8-year-old was already hooked on the Everton drug.
Paul Kernot
51
Posted 12/02/2021 at 22:27:33
John #36. I'm with you re us fearing nobody these days. In fact, after that cup game v Spurs, as good as Man City are at the moment I wouldn't mind betting the last thing Pep will have wanted from the draw was Everton away.
Thomas Richards
52
Posted 12/02/2021 at 22:31:53
Tom 49
Im backing him for first goal after reading your post
Tom Bowers
53
Posted 12/02/2021 at 22:41:23
I remember that Fulham game in 1975. We stunk the place out. Just hope it doesn't happen again this weekend.
It may be a good thing we got King in before the window shut.
He has experience and although he doesn't have the youth of DCL he will be handy in other areas. Hopefully Richie and James can keep finding the net.
The next few weeks sees some tough games although I suppose they are all tough with this Jekyll and Hyde team but a Euro place is on the line.
Sukhdev Sohal
54
Posted 12/02/2021 at 22:50:30
We really need to get our home form back on track. We've got the lowest home xg figure in the league. DCL has also earned us 14 points this season with his goals, and we're without him. It's a far cry from scoring 5 and 4 goals in single matches against WBA and Brighton. I think we need to play with a higher intensity at home. Away from home the onus isn't on us to play fast football so we can control the game and play slowly. I would go with Richarlison up front and Bernard on the left, as he was pathetic when he came in for our last home league game against West Ham. I really hope Iwobi doesn't start as he's absolute dog shit.
Brian Murray
55
Posted 12/02/2021 at 22:57:00
Tom. Post 53, The cruel irony of that day after going all the way to Plymouth was Lyons had a perfectly good goal ruled out after getting it back to one each, ref ? You guessed it Thomas.
Sukhdev Sohal
56
Posted 12/02/2021 at 23:01:15
We've won every single home premier league match against Fulham. It really needs to continue.
John Skelly
57
Posted 12/02/2021 at 23:16:38
Karl 50 I was at that game they had a keeper called meller or something big blond fella played a blinder.
Tony Hill
58
Posted 12/02/2021 at 23:20:36
John @47 correct about King. He won the free kick for our equaliser against Man United despite lacking match fitness. He is a good player who could be a significant figure for us in the future, given the chance.
I hope he's not going to be another Iwobi, damned regardless.
Ricky Oak
59
Posted 12/02/2021 at 23:23:27
Uh oh, Parker is pissy because the fucking RS stole a player from them for a paltry £4M. Be just like them to rile a team that's about to play us..!
Please Everton, keep up the momentum and help my negative/inferiority mindset.
Ricky Oak
60
Posted 12/02/2021 at 23:26:02
Just like to add, Is Josh league tied?
Great player on his day, trust.
James Flynn
61
Posted 12/02/2021 at 23:26:20
Every team favored to win in England's top football league is a step or two away from slipping on a
banana skin
. Everton no different. Because the Prem is the toughest professional football league on earth.
After 22 games, we're fighting for a CL spot while Fulham is 8 points adrift from safety with a GD of -14.
If we're even pretending for a European place next season, it's Everton wins, Fulham loses. The better team is Everton.
Barry Williams
62
Posted 12/02/2021 at 23:29:10
Tony Hill - 48
I actually think we are a lot commercially smarter now. Li Tie was at Everton in the early to mid-two thousands, then China was not a place to get a lot of money of merchandise I reckon. I was there in 2002 for a holiday, and all the western goods in Beijing - the capitol, seemed to be fake. Nowadays China is different, I work in Shanghai, though whenever I will get back to my job is another thing, and Shanghai is full of places that sell sports gear, and to get the genuine thing is a status symbol. The Chinese are huge consumers. However, the Chinese do not give two figs about Everton, I know, I lived in Wuhan as well as Shanghai. A lot of the kids who like football weren't born when Li Tie was at Everton, and Basketball is the most popular sport there.
Howard, and to a lesser extent Landon Donovan and Joe Max Moore were not utilised as commercial entities enough. Though it might have been that Everton weren't perceived as a big club back then, and football might not have been so popular in USA - Mike Gaynes will know.
It does appear though, that we are getting a lot of attention in Columbia, via James, and Mina to a lesser extent.
But, lets face it, Everton just haven't been trendy enough for decades, especially internationally.
But yes, we haven't exploited the popularity of international players enough,
Ricky Oak
63
Posted 12/02/2021 at 23:30:57
We was laughing loads against spuds about King, reckon that somehow we affected Everton in a positive way, just saying like, the whole evening was exhausting yet so refreshing, laughter is great, mkayy...
John Skelly
64
Posted 12/02/2021 at 23:51:58
I don't wish to disappoint anyone on this site but you really don't know your history Mr senior except.
Tony Hill
65
Posted 12/02/2021 at 23:58:17
Horrible news that some arseholes have tried to break into Carlo's house tonight before they ran away after being disturbed by his daughter. Mercifully, no-one was hurt.
What you don't want to hear.
John Skelly
66
Posted 12/02/2021 at 00:03:29
I have to add an apology it was junior sometimes I take knee jerk reactions when I have one too many about not knowing.
Mike Gaynes
67
Posted 13/02/2021 at 01:37:08
Barry #62, more parallels. You lived in Wuhan? My wife's family is there, on the campus of the University of Science and Technology. She was stuck there for 6 months last year. Where do you work in Shanghai? I did some business with the US Chamber of Commerce there. Lived for a short time in the Jing An district, near the temple.
By the way, I once bought a killer pair of adidas football boots on the street in Shanghai... to my astonishment they turned out to be genuine.
Re the USA, Everton is guilty of ongoing, gross marketing negligence here. ManUtd, Arsenal, the RS and even Chelsea and Spurs have done booming business here for decades. Us? Nothing. Zip. No leverage at all from the USA players who played at Goodison. Never even tried. To this day, buying Everton gear here is almost impossible.
Mike Gaynes
68
Posted 13/02/2021 at 01:54:37
Michael #45, Li Tie is immensely popular as China's national team coach, probably because due to COVID they haven't played a game since he was named to the post a year ago.
But the team is pretty dismal. They will barely get out of the first round of Asian qualifying for the WC. In desperation for talented players, they have started calling up naturalized citizens -- English-born Nico Yennaris from the Arsenal academy via Brentford (now renamed Li Ke) and two Brazilians.
Last fall, Li Tie also called into his national team camp a powerful central defender name of Jiang Guangtai. We knew him as Tyias Browning. He is not yet eligible to play for China because he represented England at the U-17, U-19 and U-21 levels. Those rules are under review.
So two Evertonians could be representing China when they resume WC qualifying play against the Maldives this spring.
Peter Warren
69
Posted 13/02/2021 at 02:57:19
Mike it's difficult to buy gear (for kids at least) in Liverpool. I have no doubt it will be impossible for you in the States. .
I have a son Everton mad and he's probably average / perhaps slightly smaller than an average 11 year old (last year of junior school). Anyway , he had to wear the biggest junior shirt and that just fits (perhaps a little small).
After that the next size is adults! Obviously even a small adults will swamp him. Therefore no correct size for an average kid between 11-18 - the age where they want to wear kits.
Terry Farrell
70
Posted 13/02/2021 at 07:06:20
I remember beating WBA 1-0 and Li Tie scored it. Young Wayne Rooney looked brilliant.
Not sure about King and a 6-month loan shows neither are the club but he's got the attributes and he could share the load with Calvert-Lewin.
Looking forward to seeing Antonee Robinson today and still sorry he had to leave. I think he is already better than Chilwell.
Steve Shave
71
Posted 13/02/2021 at 07:31:12
Jamie 18 I loved those moments too, Carlo blowing his Bovril, cool as you like. When big Dunc was running up and down the touchline against Chelsea, hugging ball boys. It was so wonderful to see, the passion, what it meant to him, an iconic Everton moment which will stay with me.
Paul Birmingham
72
Posted 13/02/2021 at 07:47:03
Let's hope the squad is tuned in and galvanised and can take out Fulham, and hopefully no injuries, from this game.
Kunal Desai
73
Posted 13/02/2021 at 08:16:03
I remain cautious about tomorrow's game. Seen it in recent weeks, Everton being a home banker against the likes of West Ham and Newcastle. Tomorrow is no different.
I'd like to see us start on the front foot, the desire and committment and application needs to be there against the lesser clubs as well.
Danny O'Neill
74
Posted 13/02/2021 at 08:24:03
The manager has been effectively managing the squad all season and I trust him to do so this weekend whoever he selects. We are still too thin so will have the occasional Newcastle moment, but I'm just seeing a bit of momentum gathering now as we head into the business end of the season.
I was really hoping to see Gbamin for Everton. I don't feel like that happens this season and sadly I'm not convinced it will at all. I sincerely hope I'm wrong on both counts.
I guess I sound a bit negative this morning. I'm not, far from it!!
Martin Berry
75
Posted 13/02/2021 at 08:50:27
I am really interested to see which team Carlo picks after the Cup exertions and also with his eye on Man City in midweek.
I am sure we will win and have the momentum to do really well in the upcoming tough fixtures, that will really shake the luvvies at Sky.
Ajay Gopal
76
Posted 13/02/2021 at 09:03:50
Kieran (46), even Darren Gibson when he joined us had a weird record that we never lost a match in his first 10(+) appearances for Everton or something like that. Unfortunately, it all went south for him after that.
Coming to today's match, I believe Carlo will rest Sigurdsson and Davies and bring in Gomes and James. He may also give Godfrey a break. I would also rest Doucouré, if possible, but that would be making too many changes to the team. So, my starting XI:
Olsen
Coleman Mina Keane Digne
Doucouré Holgate Gomes
James
King Richarlison
Subs: Virginia, Godfrey, Sigurdsson, Davies, Iwobi, Delph, Bernard
Eddie Dunn
77
Posted 13/02/2021 at 09:14:09
We have to be "on it" right from the start tomorrow. No sleepwalking into an early Fulham trap.
We seemed to need a spark versus Man Utd and Spurs so it would be nice if the boys were truly fired-up for Fulham as they are a good footballing outfit who will be very keen for the points.
On King, I like the lad and expect him to show us what he can do.
Gary Willock
78
Posted 13/02/2021 at 09:17:14
Would love to see a few rested and a focus on attack. Would save James for those next 2 games, and let's see whether King offers something different on the right of a 3. Hopefully get 2-3 ahead then sub other key players ahead of a massive week.
Olsen
Coleman Holgate Godfrey Digne
Doucoure Davies Gomes
King Richie Bernard
If we get enough ahead then give the Duke and Digne some rest for Onyango and Nkounkou to get some minutes too.
Mark Murphy
79
Posted 13/02/2021 at 09:17:22
46 years ago!!! My God – I'm depressed! Remember it like yesterday.
And Carlisle... Where have the years gone???
Neil Lawson
80
Posted 13/02/2021 at 09:23:29
With Kevin Sinfield running 7 marathons in 7 days (by way of example), it continues to perplex me why professional footballers need to have a rest after a full day at the office. Fine if they have a niggle, but if they are the best player for the position and are playing to form, then pick them, especially given the salaries they demand. Tommy Lawton played twice a day, not twice a week.
Mark Murphy
81
Posted 13/02/2021 at 09:32:13
The ones that amaze me though are the tennis players, especially at the top. 3-4 hours games then another one the next day!
Mark Murphy
82
Posted 13/02/2021 at 09:32:13
I know what you mean, Neil, but there's a difference between fitness levels now and when Tommy Lawton played. It's about optimum fitness. I'm sure Kevin Sinfields 3rd 4th etc days weren't as comfortable as his first.
Equally I'm sure that Dom, for example could play everyday if asked – he just wouldn't be as effective.
Tony Everan
83
Posted 13/02/2021 at 09:36:04
Fulham will have been watching how Newcastle performed against us a couple of weeks ago.
They will be using that as their blueprint for this game. We have to be ready for the closing down, the pressure and be ready to fight in the midfield to win possession. The win won't come easy. If we are not up for the fighting part of this match to allow our talent to count, Fulham will do a Newcastle.
Olsen
Coleman Keane Godfrey Digne
Doucouré Davies
Iwobi James Richarlison
King
Everton 2 Fulham 0
Danny O'Neill
84
Posted 13/02/2021 at 09:42:43
It's relevant to Everton v Fulham, but keeping a keen eye on results today. Obviously winning our own fixture is in our own hands but providing we do there are some interesting fixtures, that if they go in our favour could see us in a very decent position come Sunday evening. Not a prediction, but if this worked out:
Leicester v Liverpool draw.
City beat Tottenham.
Brighton peg back Villa.
And we beat Fulham with the game(s) in hand remaining.

Mark Murphy
85
Posted 13/02/2021 at 09:44:53
Aaargggh Danny - why did you DO that??
Now I'm all excited again. It's the hope that kills! UTFT
Jeff Armstrong
86
Posted 13/02/2021 at 09:49:59
John Skelly @64...
What you on about?
Jerome Shields
87
Posted 13/02/2021 at 10:02:11
This is the type of game where Ancelotti may not select an identifiable attacker. Fulham are likely to shut up shop.
Ian Bennett
88
Posted 13/02/2021 at 10:19:32
Olsen
Godfrey
Digne
Mina
Keane
Davies
Doucouré
Gomes
King
Richarlison
James
Not sure Sigurdsson can play 120 minutes and Sunday.
Jason Li
89
Posted 13/02/2021 at 10:29:55
Barry and Mike - growing up, me and my mates were Summer Bay and Neighbours fans, so all wanted to try Australia for a gap year, although not sure why none of us made it?
A tinge of regret at never staying in Shanghai for a few days as it looks good on TV – I don't know any Mandarin, so if I ever go I'll need to do it as an English-speaking tour.
In Hong Kong, where a few relatives and friends have chosen to remain and I visit every-so-often, there are many who love their football and Hong Kong football team, especially as a lot of UK bankers & IT people go to live there, so it's a good British feel in the bars (they sell pints too) – at least it used to be anyway a few years ago.
Plenty of Man Utd and Liverpool fans there, and small amounts who support other teams depending on where in the UK they travelled over from. On Facebook, there is a growing Hong Kong Everton page though, so maybe things are picking up. Also, Hong Kong is where Bruce Lee is from and origins of great old-school dubbed Kung Fu flicks, like Way of The Dragon.
The game: Would like to see Nkounkou get some game time. It's a club in the relegation zone, so a great opportunity if we are winning by 2 clear goals to get on in left midfield and see him edge closer to challenging for a position.
Richarlison – I think he has transformed into one of those players who lives for goals. Last season, he had a good taste of it as a striker and looks like he believes he should be a main goalscorer still with Calvert-Lewin, from the way I've seen him play and then the joy he got against Spurs.
Say like Frank Lampard or Van Nilsteroy, the types who will do anything to be in the box when the ball is coming in as they know they are likely to score. I don't think Richarlison is wrong and is one of the few who can strike through the ball cleanly from the edge of the box with both feet, not just curl it. Maybe we can sacrifice some width at times if he's allowed to come more central to get a shot off to keep him happy. It works for Sterling at Man City and Richarlison has just a good a shot on him.
Anyway, another win hopefully, Davies another step towards the most appearances for an Everton player, and Champions League music on the horizon, and plenty of interesting theories and debates on here in the next few days would make it another great football weekend.
Alan J Thompson
90
Posted 13/02/2021 at 10:41:32
3-0 to us Mina, a double, and Keane scorers off crosses from Godfrey and Digne just to show that our Manager knows all about defenders.
Dave Williams
91
Posted 13/02/2021 at 11:07:23
Mark Murphy, your comparison with tennis players is spot on. Ok they don't get a physical bashing but their fitness levels are astounding.
What we have to bear in mind tomorrow is that our next two games are Man City and Liverpool. City is a free hit being our game in hand but whilst Liverpool are suffering they will raise their game against us. I think we really need to beat Fulham and resting too many or shoehorning players into unfamiliar positions must be avoided. Drop points tomorrow and it puts the pressure on to beat either Man City or Liverpool and whilst we are quite capable of doing that it would be nice to go into those games three points to the good after tomorrow.
I'd play Josh King from the start – he's a decent player from what I have seen and has always given us more trouble than most. Rest Sigurdsson for André Gomes and see how Seamus plays wide right after looking so good on Wednesday- he knows the role from way back.
Olsen
Holgate Godfrey Keane Digne
Coleman Davies Doucouré Gomes Richarlison
King

Richard Mason
92
Posted 13/02/2021 at 11:15:24
Off topic, but why have Everton stopped producing the training videos on a Friday? I enjoyed looking at them.
Every other team still does it. Everton's marketing and media just seems very poor.
I hope he plays King and Richarlison both centrally tomorrow.
Brian Murray
97
Posted 13/02/2021 at 13:54:48
Richard. For decades the word 'marketing' has been a dirty word and might as well be in Chinese. We've never been quick to see an opening, eg, Tim Howard's heroics in the World Cup — even the president remarked on it.
Big push over the pond for merchandise? Don't be daft. Same with Cahill for Australia. Plus numerous ventures and iffy average kit deals. The three ground moves... ! Need I go on?
Darren Hind
98
Posted 13/02/2021 at 13:55:19
I watched extensive highlights of the Fulham game last week and I have to say I was impressed. They have some very talented individuals which made me wonder why they have struggled to buy a win. They're deffo improving. I don't expect a walk in the park, but I do expect a hard fought victory.
You can get 1/1 at the bookies right now and for those who see only a home win that represents decent value. Snap it up. those odds will not lengthen.
Everton again for me... but this lot are improving and they have good players. starting to come into form. They will not go quietly.
Barry Williams
99
Posted 13/02/2021 at 13:59:39
Mike Gaynes - 67
Don't want to get too off topic again! A few months ago we had a discussion about this - I was in Jiang Xia in Wuhan, then I mentioned Michelle Aboro is Shanghai! My first place was near the old Shanghai Station, my new place, can't remember the district because I was only in the flat a few weeks before coming back to England!
Shangahi sells a lot of genuine goods because shopping is a major hobby amongst those who have money there. Social status and prestige, as you know, go a long way in Chinese society. Shopping is a day out.
It is really weird that Everton have neglected the American market. A lot of Americans, because of the nature of America, I am sure have an affinity for British clubs, or would follow a team because they have American players in them.
Jason Li - 89
I lived in Hong Kong for 4 years, it was a great place. I lived on Lamma Island. Brilliantly different islands in one small place.
I have lived in a lot of countries, mostly in Asia, and Everton just do not register. I did my best when teaching by comparing their history to glamour boys like Chelsea, or letting students know that Liverpool were formed after Everton and because of Everton, but alas, if it wasn't Man Utd, Chelsea, Liverpool or Arsenal, they didn't really care. It would be a hard market to break, then you have the issues with fake goods!
As for the Fulham game, time to utilise the squad again. I'd like to see Holgate get his mojo back, and it will be interesting to see if Richarlison will be afforded more space in the absence of Calvert-Lewin, depending on how King plays. I am sure they haven't signed him just to sit on the bench, especially after being cup-tied.
Oliver Molloy
102
Posted 13/02/2021 at 14:54:08
Has anyone else read this piece claiming Ancelotti saying he has a problem communicating with Richarlison?
I cannot believe this could be true... but, if it is, I find it unbelievable. Considering we have translators, other players in our team who speak Portuguese, and of Richarlison being in England 4 years or so, surely this must be bollocks?
"To talk with Richarlison is not easy because his English is not good, my Portuguese is so bad, so the communication is not so easy but I try to speak with him every day."
Colin Glassar
103
Posted 13/02/2021 at 15:07:29
Oliver, anyone who lives what, 4-5 years in a foreign country and doesn't pick up the lingo is either: A) thick as pigshit, B) disrespectful towards his country of residence, or C) both of the above. Gareth Bale is another prime example. He lived for donkey's in Spain and still can't even recite the alphabet or count past 3.
If you live and work in a foreign land, at least try to make an effort. And before anyone starts with the xenophobia attack, I am the grandson of immigrants, I'm married to a non-English speaking foreign national, my kids are foreign-born who learnt English here, etc. I also learnt two foreign languages whilst working abroad.
It's easy if you are interested.
Jon Harding
104
Posted 13/02/2021 at 15:14:21
Surely Bernie deserves a start in a game like this after having scored the winner in the week? On the left in front of Digne.
King to get some more minutes but for me starting on the bench.
Long weekend when we don't play till Sunday night!
Danny O'Neill
105
Posted 13/02/2021 at 15:20:01
Hear, hear, Colin.
My German is rusty now, but I can converse enough to be understood; enough so that the locals don't feel compelled to do the polite thing and break into their much superior English.
I didn't do so well with Italian, but grasped the basics so I could get around supermarkets and restaurants without sounding like an ignorant English tourist talking in English really really slowly and for some reason putting on a very strange accent.
As you say, it just takes a bit of effort and is viewed on as being courteous. Even if you sound like a 4-year-old, I've always found people appreciate you making the effort.
Barry Williams
106
Posted 13/02/2021 at 15:21:36
Colin Glassar – 103
Sometimes it isn't as simple as that, depending on how far apart the languages are. I speak from a bit of experience as I was a language teacher for a long time and have lived in countries in which the language was very different to English, and despite English being on the national curriculum, a lot of locals don't speak it.
I spent 6 years in Japan. They have 3 alphabets, really weird grammar that changes depending on politeness, and the sentence structures are very different to English. I could converse and hold a conversation there, but man it took a while, and I don't believe I am thick or disrespectful. I work in China nowadays – but been home a year due to the world situation. Mandarin has tones that change, so if you say a word with the wrong tone, it means something really different. Very hard to get your head around. French people can live in England for decades and still have a strong accent.
So I get the issue!
Dave Abrahams
108
Posted 13/02/2021 at 15:25:24
We should play our strongest team for this game, not taking any chances on not-fully-fit players, but not saving any who are 100% fit and go for the three points. Right or wrong, I didn't think we played our strongest XI versus Newcastle.
As Rabbie Burns said, "Gather ye rosebuds while ye may" – he never said a truer word. Get the three points in the bag and then worry about future matches.
Thomas Richards
109
Posted 13/02/2021 at 15:27:10
100% Dave.
Who did Rabbie Burns play for??
Colin Glassar
110
Posted 13/02/2021 at 15:29:15
I don't want to get into a debate about language skills, Barry. I don't think I could get my head around an Asian language tbh. But these guys, if they felt the need to, could have the best language teachers available. Remember Pochettino?
Danny O'Neill
111
Posted 13/02/2021 at 15:32:05
Yes Barry, latin languages and French in particular do retain the accent more so and struggle with pronunciation of English words. That's obviously stereotyping and clearly some individuals master languages better than others.
I suppose that comes from languages being in families and related. English is a Germanic language influenced by French. I found German easier but then I lived there longer.
I still agree with Colin; if you live in a country you should make the effort, however difficult you find it and how "stupid" you think you sound.
That might be a cultural thing. Working in multi-national environments where the business language was English, I used to find the Italians (for example) very difficult. If they couldn't speak it perfect, they would rather not at all and lean on a colleague who could. Even though their 50-60% mastery of English was way superior to my Italian.
Image-conscious, the Italians... Hence Carlo giving Duncan the stare when he almost messed his hair up with the Old Trafford celebrations.
Jay Wood
[BRZ]
112
Posted 13/02/2021 at 15:35:11
Or maybe, Colin Glassar, it is a question of literacy and the capacity to learn.
Richarlison comes from an extremely impoverished background. Football was his escape route. Not schooling. He is typical of many Brazilians from poor backgrounds. Put to work at a young age to help with the family's precarious finances.
More than half of Brazilians 25 and over haven't completed High School. One in three haven't even completed Elementary School. 7% don't even enter school. Ever.
Richarlison is not stupid. He is anything but 'disrespectful'. His humility is very, very evident.
He is much loved in Brazil – exactly because he is just like so many of them. There is no other high profile Brazilian sports person who comes close to him who not only quietly gives his time and money to good causes, but also regularly speaks out on a wide range of issues like social inequalities, the Amazon and Pantanal fires, the debacle of the Ministry of Health's handling of the pandemic.
A very poor post, Colin.
Danny O'Neill
113
Posted 13/02/2021 at 15:39:54
As always, Jay Wood (BRZ), you come back with very well articulated commentary.
I do like the YouTube post of Richarlison and Mina having a dance-off with the kids at what I presume is a Liverpool school with Spirit of the Blues as the background music.
Gets very competitive. Between the two of them, not the kids!
Tony Hill
114
Posted 13/02/2021 at 15:51:34
Hasn't Richarlison been learning the language? I'm sure we've seen him with his teacher and he passed some exam.
Anyway, I was worried about his confidence before the Tottenham game but not now. Those two goals were superb finishing and he's got his eye back in.
I don't give a toss about his language skills if he keeps playing like that.
Colin Glassar
115
Posted 13/02/2021 at 15:54:52
Jay, you know Brazil. I know the Andes region quite well. The majority, I believe, of South American players come from extremely poor backgrounds yet many of them learn the language of their adopted countries, or at least a smattering.
I may be wrong, maybe Carlo misspoke. The lad might be quite fluent, who knows? But please don't equate poverty with a lack of interest in learning a new language. I've met Hispanic fruit pickers in California who through sheer need pick up the basics.
Like I said, not interested in creating a wider, endless polemic. If you are interested, and willing, you can learn the basic language skills wherever you reside.
Mike Gaynes
116
Posted 13/02/2021 at 15:54:58
Barry #99, forgot that, thanks for reminding me. But I spent a few days on Lamma Island myself, really beautiful. You must have loved living there.
Colin #103, agreed that it's respectful to work the best you can to learn the language where you live, but Barry and Danny are correct too that it's not always a matter of lack of effort, but getting your head around an entirely different system of human communication.
My wife has been in the US for 20 years and has worked relentlessly on her English, but still struggles with sentence structure, gender and tenses that are utterly alien to her native Chinese concepts. And the accent, for her, is simply unconquerable.
She could not be coached in a sport, for example. She would understand the basic language, but not technical concepts. So I'd suggest not being too harsh on Richarlison.
Graham Hammond
117
Posted 13/02/2021 at 15:56:34
I expect a very tough game tomorrow as they are fighting for their Premier League survival, they have some good players too. If we show the same intensity and offensive quality as we did against Spurs, then we will win... but our defence cannot put in a repeat performance.
We were abysmal, particularly on corners. Digne trying to man-mark a big fella? Sigurdsson looking at the corner taker through his arse? If this continues on corners kicks, we seriously must limit ever giving them away wherever possible.
Colin Glassar
118
Posted 13/02/2021 at 15:58:18
I withdraw the words 'ignorant' and 'disrespectful' as they are OTT and out of order. I still maintain the old saying of "where there's a will, there's a way".
Kevin Molloy
119
Posted 13/02/2021 at 15:59:57
The modern-day life we lead, where nobody can be criticised for anything ever again, because you haven't walked in their shoes.
I think Colin is perfectly entitled to question Richarlison if he's been in England 4 years and doesn't speak a word of English. He's a grown man with unparalleled resources. It's not great. Not a capital offence... but just a bit disappointing.
Danny O'Neill
120
Posted 13/02/2021 at 16:03:34
I get your sentiment though, Colin.
It goes back to my earlier point. Regardless of background or education, if you live in another country you make the effort, however good or bad that effort is, at attempting to communicate in the language of the locals.
I did.
Hugh Jenkins
121
Posted 13/02/2021 at 16:28:44
Colin (103) - depends who you listen to? On other sites it has been reported that Bale is fluent in Spanish?
Brian Wilkinson
122
Posted 13/02/2021 at 16:32:21
Not sure why the language barrier is a problem, I remember Harry Catterick having a board on the table with 22 markers for players on it, he moved each counter to where he wanted players to push up and make runs in his team talk.
Sure that board might still be knocking about, in one of the removal boxes, when we left Bellefield...
Bernard speaks decent English anyway, so I'm sure Bernard could help Richarlison out with translation.
Jay Wood
[BRZ]
123
Posted 13/02/2021 at 16:34:12
Good to see that you have stepped back from your very subjective judgement of Richarlison, Colin, based on very little.
As others have also pointed out, it is not necessarily a question of being 'pig stupid' or 'disrespectful' as you blithely labelled Richarlison.
You will get no argument from me that poverty is not necessarily an obstacle to any learning, not just language learning, but it can most certainly be a life-long obstacle for many.
I for one didn't care for the character assassination, the assumptions and implication of your words towards a very decent man based on a couple of sentences from Carlo, taken out of context. It is worth reading what followed those comments.
Asked if he has to routinely keep Richarlison motivated, Carlo said:
"No, I don't think so. He's a professional player and he tries to do it all 100%.
"In this sense no he doesn't need to be motivated, I think he's a young player and I think he has a great desire to be at the top, but he has to follow step by step this desire to improve."
Carlo gave evidence of Richarlison's desire from his performance vs Spurs.
"What I saw is that he scored two goals. There are two kinds of players. The players that can run and the player that can decide games by scoring goals. He was decisive for the game and so he didn't need to run. But when he's not decisive in the game, he has to run. He knows this."
Richarlison is an extremely driven footballer. I just roll my eyes when people bring up his frowning 'sulky' face as evidence of... well, I really don't know what.
That is his game face. He is extremely serious about his profession and always wants to perform well and WIN!
When it doesn't happen, he is not happy. Who saw recently at the final whistle when we drew or lost a game him go down on his knee and repeatedly thump the pitch in frustration?
Who recalls his home truths about himself and the team following the thrashing in Silva's last game at Anfield? About the need to be stronger, smarter, braver in such games?
So his English isn't great? Plenty of native English speakers I could say the same thing about.
Jason Wilkinson
124
Posted 13/02/2021 at 16:37:16
Why don't we get Mourinho to translate for Richarlison? He's doing nothing worthwhile at Spurs...
Brian Williams
125
Posted 13/02/2021 at 16:41:32
Ancelotti could always buy one of those instant translator gadgets. You choose your input and output language, speak into it and it instantly speaks in the chosen output language.
I used to use one to speak to Derek Knox. 🤣
Paul A Smith
126
Posted 13/02/2021 at 16:42:46
This is not an easy game tomorrow. Fulham have been one if those unlucky sides that have lacked a clinical finisher.
The likes of Gomes who has been rested midweek needs to put a performance in tomorrow and maybe King will get more minutes too with Calvert-Lewin out?
Barry Williams
127
Posted 13/02/2021 at 16:53:46
Colin Glassar - 110
Yip, don't want to get into a language debate either, too much like work! And yes, they could have the best language teachers available, and a latin to latin language is easier in a lot of ways. I did see something posted about Richarlison doing his English homework. All's I will say, is that I met very intelligent people who couldn't grasp or retain a new language, and uneducated folks from poor backgrounds who could much quicker. Different types of intelligence I suppose! And yes, you do have to be motivated.
Danny O'Neill- 111 You've alluded to cultural issues. For example some nationalities are shy when it comes to speaking foreign languages because they believe mistakes will make them lose face. I had no qualms about trying, but have often just been met with blank faces. That said, it happens when I speak English too!
With Richarlison, he is in a weird situation. For one, he is in an international arena where English is spoken in a number of dialects, and I am not sure how Italian, or Italian English commutes over to Brazilian Portuguese. Also, he is in a city with a very strange accent. When abroad, if someone wants to speak to me in English, but if I am not in the mood, I put on a thick scouse accent, and this usually does the trick. I have actually been asked which part of Germany I am from! What might happen with Richarlison is that one day it may all click. After 2 years in Japan thinking I am never going to get my head around this, I amazed myself by having a 15 minute or so conversation with a taxi driver in Japanese. It wasn't until I got out of the taxi and thought, whoah, wait a minute.
Mike Gaynes - 117. Does Li Tie speak English? You will know the difficulties from Chinese To English and vice versa. My Chinese is basic, and the year away has not helped!!!!!
What I will say, footballers do have a lot of time on there hands, but we must not forget that they are young lads too. That definitely comes into the equation I think. Bit generally, a lot of the modern footballers have excellent language skills, but we must also be aware that sometimes they might use literal translations that don't take into account the subtlety of meaning at times. I think Martinez suffered this a little, and it actually gets more pronounced the more advanced you get, paradoxically.
The modern football player is often multi-lingual, and that has to be lauded.
However, I am sure the football language is well understood.. But you have to remember how hard different English accents are for foreigners. Imagine having Ferguson, Rooney and Gascoigne all advising you about tactics at the same time.
Kieran Kinsella
128
Posted 13/02/2021 at 17:02:15
Wouldn't the playing ground verbiage be pretty simple? Especially given that few of the players are native speakers? Portuguese is a Latin language like French and French is woven into English?
I get Mike's point but Asian languages are entirely different than European dialects. I've never learnt or studied Spanish but through interactions with Spanish speakers I've picked up enough to understand the key words of my industry.
Now if you talked to me in Spanish about another industry, I'd be clueless, but the work lingo I understand. I'm surprised to hear Richarlison is still struggling. He doesn't need to understand the grammar, just the key phrases which surely he hears every day?
Oliver Molloy
129
Posted 13/02/2021 at 17:08:28
Richarlison would have a basic grasp of English in my opinion, perhaps the manager isn't getting his messages across clearly enough.
Given any number of resources Ancelotti would have at his disposal, this surely should never be the case with any of our players. That's my point and why I was surprised reading what he said.
Danny O'Neill
130
Posted 13/02/2021 at 17:15:15
You probably touch on the most important aspect of learning a language Barry. Aptitude; it's not for everyone. Regardless of background or privilege, language is one of those areas where aptitude counts more.
Everyone's brain works in different ways and we are all good or not so good at different things.
Random one before I get back to the football, but in my young professional days, I discovered I had a natural knack for high speed Morse Code. No explanation, I just took to it like a duck to water. Language is similar, some people have an aptitude for it, others can be Cambridge qualified scientists, but they don't take to languages. I've seen people with no GCSEs end up speaking fluent Arabic.
Fulham gave us a tough game last time out. We were in seeming cruise control but they came back well. I'm not taking their league position or ours for granted. We need to be professional and focussed tomorrow. This season is in our hands now. Cliche yes, but right now, we put ourselves in a very inviting position with a win tomorrow evening.
Barry Williams
131
Posted 13/02/2021 at 17:15:17
Kieran Kinsella - 129
You are correct in many ways. Even as an English speaker, when I was teaching in Azerbaijan, I didn't understand some of the technical English my Russian/Azeri speaking students were using. Thus, I had to learn some new English words related to oil rigs. And I am English.
Same with my Japanese students in the medical profession, or the engineers and those in other industries too. I'd have to look up the English my foreign students were using; so there will definitely be some stock phrases that will be used in football.
However, Ancelotti seems to be a manager who likes to get to know his players, and maybe that's what he was alluding too. It might be more to do with an emotional message than a tactical one, which would be a lot more difficult to get over correctly.
Brendan McLaughlin
132
Posted 13/02/2021 at 17:24:05
Jeez...how does Big Dunc communicate with Richarlison? Via the medium of dance?
Colin Glassar
133
Posted 13/02/2021 at 17:31:07
Barry 128, I accept your point. Some people are just incapable of learning a second language including some very intelligent and highly paid people.
I worked with so many English speaking expats who simply refused to learn the local languages as their attitude was, "I'm the boss, they can talk to me in English". And let's not go too far, the countless thousands of Brits who have retired to warmer climes and can't be arsed to learn even basic conversation. Hence the disrespectful comment.
I'm sure Richarlison, and Aguero, are lovely lads and if they don't feel the need to communicate adequately with their teammates in a common language, then that's their choice. I think of it as more of a wasted opportunity.
Anyway, let's just beat the crap out of Fulham!
Justin Doone
134
Posted 13/02/2021 at 17:31:57
Ful if he no lern es inglish cel for big big munee
Jon Harding
141
Posted 13/02/2021 at 18:17:19
Loving this site during lockdown!
Language skills today. Boxing earlier in the week. And Russian politics / democracy last week.
Anyway, Richarlison is a diamond so how about some of our other lads helping him out by learning a bit of Portuguese?
Jon Harding
142
Posted 13/02/2021 at 18:23:54
From my experience, I have a bit of sympathy with an Italian and a Brazilian trying to communicate in English.
When I lived in Lyon as a student, my French was passable when talking to the locals but I really struggled with the Spaniards on my course. They seemed to speak French so differently from me in terms of accent.
And as for the two Polish students... no chance.
John Skelly
143
Posted 13/02/2021 at 18:23:59
Well said jay wood 124 spot on observation.
Brent Stephens
144
Posted 13/02/2021 at 18:23:59
Taught (Situational) English as a second language in Melbourne many moons ago. Joe Pinter, the course leader, was originally a Hungarian who fled in the 1956 revolution – settled from there in Scotland before moving to Australia, and spoke with a Scottish accent.
One teacher was originally from the Netherlands, with a mixed Dutch / Aussie accent. Another teacher was Aussie born and bred. And me with my scouse accent. Wal Gerard was the dept head, a pom with quite a refined English accent.
Students didn't know if they were coming or going!
Bill Gall
145
Posted 13/02/2021 at 18:39:30
It is fine learning a language but the difficulties come sometimes in the countries whose language you are learning.
I never studied but was taught German a couple of times a week in school 1951-55. I went to Germany with a boys club in 1956 and could read signs and a menu, but the dialect that was spoken in the area we were in, I didn't understand a word they said.
As they say, Scouse is a unique language and we are supposed to speak English but how many struggled to understand a Wigan accent?
Danny O'Neill
146
Posted 13/02/2021 at 19:06:57
It's great isn't it Jon Harding?!
Very true Bill. We have our accents, which a foreigner who speaks English but in many European countries it goes beyond accent and is a dialect. Germany is a good example. I really struggle in Bavaria, Austria and the South Tyrol area of Italy.
Richard Mason
147
Posted 13/02/2021 at 19:23:01
Pretty sure I saw a YouTube video last year of Richarlson talking to Americans, and was speaking a fair bit of English.
Some things he couldn't understand but he had an overall grasp on what was being said to him.
Carl Manning
148
Posted 13/02/2021 at 19:34:55
To add to the language debate, I think something is lost in what Carlo is trying to say. After all, Gomes speaks the same language and speaks English fluently, so I'm sure if there were any doubt, Carlo would just make sure André was nearby to clarify issues.
Also worth remembering that Aguero, after many years here, and being a true global superstar, doesn't speak enough English to do a proper interview! His after-match ones are always as basic as can be and very brief.
I saw an article with Lomachenko and Usyk, the phenomenal boxers and great friends, who both said their lack of English was costing them millions in endorsements etc in the USA, but it didn't bother them as they were boxers, not marketeers.
Bill Gall
149
Posted 13/02/2021 at 19:36:07
Danny it shows the difference in the accents, I remember being in a bar in Canada and the Olympics were on. They were interviewing athletes in the British Village and 5 of them, after they spoke, I mentioned to my friends what part of England they were from. They asked me how I knew and I said by their accents.
Rob Halligan
150
Posted 13/02/2021 at 19:53:33
Does anyone know why Bielsa at Leeds always uses an interpreter when doing TV interviews, but can be seen clear as daylight on the touchline barking out instructions, or telling a sub what to do, all in English, at least I assume it's in English?
He's been in this country long enough to be able to do interviews in English now. Carlo spent two years at Chelsea, but that was over ten years ago, and although not great, his English is understandable.
Mike Gaynes
151
Posted 13/02/2021 at 20:14:57
Jon #142, it's one of my favorite things about this site. Over the years I have learned so much about non-footballing subjects here (when the moderators allowed it!) that it's become an ongoing gift. I have books on my bookshelf, foods in my pantry, movies on my DVR and songs on my iTunes that I learned about here, and the historical and cultural education is ongoing.
Also, valuable health information has been exchanged here... and once in a while the jokes are really, really good. (Not often, but occasionally.)
Robert Williams
152
Posted 13/02/2021 at 20:20:37
BW 128. 'And yes, they could have the best language teachers available, and a latin to latin language is easier in a lot of ways.'
Nothing like a bit of Latin, Barry, remember it well. Amo, amas, a -fuckin'- bat.
Didn't you just 'love' it!!?
John Keating
153
Posted 13/02/2021 at 20:29:34
Rob,
Every time I see Bielsa getting interviewed, I expect him to do a Julio Geordio from Harry Enfield and Chums.
Barry Williams
154
Posted 13/02/2021 at 20:45:25
Colin Glassar - 134
I have come across the Brits who just can't be bothered learning any of the local language too, in many places. A bit of arrogance in there, might be a colonial thing!
Robert Williams -153
There was definitely no Latin teaching going on in my school! My smatterings of Latin are from dinosaur names. Don't ask!
But just thinking now that Everton have become a team of many nationalities, it must sometimes be hard to communicate in match sometimes, but be able to swear at other players and officials in your own language.
Against Spurs we had English, Swedish, French, Columbian, Icelandic, Nigerian, Brazilian, Irish and Norwegian players on the pitch, with instructions coming from an Italian and a Scottish gentleman.
Something to ponder me thinks!

Mark Murphy
155
Posted 13/02/2021 at 21:07:32
Carl - Carlo is Italian and Gomes is Portuguese. How is that the same language?
I speak Spanish but struggle with both Portuguese and Italian so not sure what you mean? Portuguese sounds Russian to me whereas I can understand Catalan.
Gomes and Richarlison will understand each other but not Carlo.
Peter Gorman
156
Posted 13/02/2021 at 21:21:11
Caesar aderat
Pompey adsum jam
Caesar sic in omnibus
Pompey sic in tram
How's that for a bit of Latin
Jerome Shields
157
Posted 13/02/2021 at 21:45:26
I think that Ancelotti was speaking more as a exasperated older man speaking to a 20-something younger man and musing that there was possibly of a language problem. It appears that Richarlison, like Calvert-Lewin, who both have defensive duties on top of their attacking duties, have a tendency to get drawn too deep.
Against Spurs, they both seemed to have finally listened to Ancelotti, especially Richarlison, who was transformed in his forward positioning. It is easy to forget that, after he was out after his red card, the calls on ToffeeWeb were that Everton couldn't perform without him. When he did arrive back, Everton did seem to get their act together, though I myself did wonder about Richarlison's performances. Credit to Ancelotti in that he continued to praise his contribution and, it seems, by his communication comments, may have blamed himself for not getting through to Richarlison.
But, like myself, who has two 20-something sons and have felt the same inadequacy myself, I am glad to say that something must have got through, given the recent performance of Richarlison, as it has slowly but surely with my sons.
In Brazil, I bet he is being celebrated as a star at the moment. It was a star performance against Spurs.
Laurie Hartley
158
Posted 13/02/2021 at 22:00:59
Tony #83 – I agree with your view that we will have to win the fight and that is also why I am not sure Iwobi is a good pick for this one. He has improved a lot this season but I don't think he should start. I like the rest of your pick but would swap Iwobi for Gomes.
Olsen
Coleman, Keane, Godfrey, Digne
Doucouré, Davies, Gomes,
Rodriguez
King, Richarlison.
On Richarlison. The lad must play on the left – that is where he is most effective. I was blown away by the way he took his second goal. Head over the ball, hardly any backswing and not much to aim at. Absolutely fantastic technique. A great goal.
With the results today, it is imperative that the team and Carlo focus on this game. Forget about the midweek game – this is the one to win.
John Keating
159
Posted 13/02/2021 at 22:21:23
I don't think tomorrow's game is going to be easy and Calvert-Lewin will be a big miss. I hope we are not as open as the Spurs game and can play as negative as we want as long as we finish up with the 3 points.
Our 2 games in hand are against really good teams so getting 3 points on the board tomorrow is a must.
Man City and Brighton did us a turn keeping Spurs and Villa below us. Leicester City put Liverpool in our sights and we have to get level with them tomorrow no matter how.
Danny O'Neill
160
Posted 13/02/2021 at 22:42:23
I said earlier that, if results go our way and we win, we sit healthy tomorrow evening.
I didn't quite get my wish list, but not far off.
Over to you, Everton. It's in our hands now.
Danny O'Neill
161
Posted 13/02/2021 at 22:49:48
Rob (150) & Mark (155) you have me back on the language thing!
I think the Bielsa thing goes back to my cultural point earlier. He's confident enough communicating at a basic level and barking out a few orders around those he knows and is comfortable with, but doesn't feel confident enough to talk in an interview. He probably get's by in day to day conversation (colloquial) but is far from fluent.
Mark, intrigued by your Italian-Spanish-Portugese assessment. I don't speak either but lived in Italy for 2 years (yes I learned colloquial but don't confess to speak). My Italian colleagues always said they kind of understood Spanish but that Spaniards understood or could interpret Italian better the other way around. Portugese I get; without understanding any of them in detail, you can just hear that it is very different.
Mark Murphy
162
Posted 13/02/2021 at 22:51:29
Aaarrrggghhh Danny - stoppit!!!
Danny O'Neill
163
Posted 13/02/2021 at 22:54:25
Can't help it, Mark. The anticipation and hope is bursting inside!!
John Skelly
164
Posted 13/02/2021 at 23:04:09
Can we just beat Fulham and cheer in any language you like?
Mike Corcoran
165
Posted 13/02/2021 at 23:17:10
I worked in an Irish bar in East Germany back in 1994. Picked up enough German to get by at the time and could understand all the Germans bar speak I needed to. Struggled with some of the Irish lads from Cavan, talked so fast.
I went from there to France for 6 months and surprisingly, despite my school CSE grade 4 and with a little help from my future Missus, got by a lot better. Wherever you go, take a phrase book cos they love an English speaker who at least has a go, basic manners really. So feck you, Bielsa.
Barry Williams
166
Posted 13/02/2021 at 23:54:30
Danny O'Neill - 130
Sorry mate, thought I'd replied. Must have imagined it. Yes, aptitude goes a long way, and teaching language to students, you study all the different ways that they can learn. I won't go into it here. For me, I forget symbols so quickly, so I have forgotten say the Japanese katakana alphabet, love playing guitars, but can't read music.
I guess it is the same in sport. Some football players can look equally skilled, but one can just be more intuitive to reading the game better than others.
Alan J Thompson
167
Posted 14/02/2021 at 04:58:00
English does things a little different from most languages in that it describes something before telling you what it is. In French, Le chat noire – 'the cat black' – while in English it is 'the black cat'. (Try and get the same, intended dramatic meaning in other than English of Shakespeare's, "To be or not to be").
And English seems to change with at least every 7 miles sorry, 11.2 km, you only have to go to Widnes. Did I learn a foreign (you can't be both English and foreign) language when living abroad (somewhere outside of the British Isles)? Fair dinkum bloody oath, G'deye mite, while Christine might like to explain a sux of fush n chups.
Steve Shave
168
Posted 14/02/2021 at 07:48:08
Laurie 158 - I really like that team selection, I guess much depends on Gylfi's legs after his great performance mid-week and James's fitness, they could be interchangeable in your system.
Martin Mason
169
Posted 14/02/2021 at 07:52:32
I'm not sure now that the squad is that much weakened by the loss of individuals because others such as Gomes, Davies and Sigurdsson have upped their game. We're still lacking absolute quality in certain positions but I'd say we are easily top 6 quality now.
We are lucky in many respects; watching Brighton last night they were a much better team than Villa but had no quality up front compared with us to convert their many chances.
Bobby Mallon
170
Posted 13/02/2021 at 08:26:18
So long as he keeps scoring goals starting tonight I couldn't care less if he can't spoke
ingland.
Paul Birmingham
171
Posted 14/02/2021 at 08:47:11
Big stakes, and this is a tough game but a great opportunity to get some home points, ahead of some tough fixtures over the next month.
I expect some changes with a view to Wednesday, but Everton will have to be focused and let's see how Fulham set up, as they have improved since we last played them.
Potentially some changes in midfield but Tom Davies I expect on merit to retain his position. Richarlison and King will be interesting and let's home Josh King, if he starts, gets a couple of goals.
Looking forward to the match and a few beers.
Tony Everan
172
Posted 14/02/2021 at 08:50:08
Laurie 158, Steve 168,
I have to agree with you about Gomes's inclusion for Iwobi. I think it makes the midfield a bit more compact and enables it to function better. It should wrestle more control of the game, I think we should expect Gomes's improvement in form to continue. It looks linked to overall physical fitness to me. I am no physio but he seems to be moving a bit for freely and seems to be a fraction faster to the ball and on his toes a bit more. Something has clicked with regards to his training regime.
Steve, I think the game could be shared between James and Sigurdsson today. James doing the first shift for 55-60 mins and inflicting some damage. The Sigurdsson doing the late shift and taking advantage of some extra space in his no10 position.
It would be wrong to dismiss this game as easy. It is a game that will show we can leave behind the one step forward two steps back disease. We have to prove we are progressing enough to be ruthless against teams like Fulham, like genuine top 4 contenders would be.
COY Blueboys!
Mal van Schaick
173
Posted 14/02/2021 at 08:59:51
We are a great position in the league with games in hand with the top four.
The Fulham game will test the strength of the squad and give King an opportunity to shine as he gets his chance due to Calvert-Lewin's injury.
Let's put this one to bed and get some momentum for the Man City game in midweek. Our top four European dream is within touching distance.
Robert Workman
174
Posted 14/02/2021 at 09:02:40
I have lived in Vienna for more than 15 years. Initially, I was determined to become fluent in German. Studied it through books, excellent CDs (Michel Thomas) and, finally, on a course. After 2 years, I had reached a decent level, in my humble opinion.
Then I stopped learning. Why? Because so many people, even in a city like Vienna, prefer to speak fucking dialect. This is a completely different language. As different as Cantonese is to Mandarin.
However I have come to realise just how difficult English is, not just to learn, but to speak. German is simple and correct, in one respect. You pronounce every letter.
So our opponents today should be called Full Ham, not Fullum as we say!!!!
Steve Shave
175
Posted 14/02/2021 at 09:08:05
Good call, Tony – I think it is a solid plan to try and involve Sigurdsson if we can and piggyback off his good performance midweek, confidence must be growing for him currently.
I agree also that Gomes's improved form over the past 4-5 weeks seems to coincide with improved mobility and fitness, let's hope the injury is finally behind him because, when he is on song, I love watching him play. COYB!
David Peate
176
Posted 14/02/2021 at 09:27:00
Dave (108),
I think that you will find that it was Robert Herrick who write the poem about gathering rosebuds. He didn't play for Everton either. However, the Herricks were Irish footballers and, sadly, they never made it to Goodison.
Alan Johnson
177
Posted 14/02/2021 at 09:33:02
Is 'fuck' a universal language?
Dave Williams
178
Posted 14/02/2021 at 09:33:06
I agree on Gomes. He looks sharper and fitter to me and his passing is quicker. Hopefully a sign of him returning to form.
Tom is also looking fitter and more settled in his role and I can see him taking the holding role allowing Allan to play further forward once Allan is fit again.
As someone above posted we have fringe players starting to show significant improvement so our coaching and fitness teams have to take some credit together with Carlo with his man-management skills.

Mark Murphy
179
Posted 14/02/2021 at 09:38:03
Danny, your Italian friends are partly correct. I can hold a conversation with an Italian with him speaking Italian and me Spanish but then I have worked in Italy as well and picked up some. Portuguese sounds completely different to me – like Russian with a Sean Connery lishp – but I can understand written Portuguese.
With Bielsa, his touchline instructions are all basic phrases – he's probably learned them specifically – but I understand that he really doesn't speak English, not is he interested in learning it for some reason – he's a complicated one.
Back to today – UTFT!! Come ON!!!
Jason Li
180
Posted 14/02/2021 at 09:54:28
Robert, that makes sense to me as I know a bit of Cantonese and find learning Mandarin a long road. Python coding and Excel formulas (both basic to intermediate ability) are easier than Mandarin to me. French and Italian at school were enjoyable to learn at school - especially as I really liked Sunday Football Italia too. I can imagine in the future kids during GCSE can watch films and football in Spanish for example, on demand with tech tools nowadays which is great for them to enjoy the language now and into adulthood.
Like your German analogy, I think Americans say: "If you do the math" and it sounds correct in comparison to "If you do the maths." Although, it needs someone who knows the origins in terms of why both ways are said to understand which is likely to be the right way. Also Birming-ham rather than Birmingum.
Looking at the fixtures, even if we get 4 points out of the next 9 (from next three Premier League games), when we've got potentially our hardest league fixtures out of the way, the coast is pretty much clear and in our hands running into the rest of the back 14 or so games. Plus when James, Allan, Digne and Richarlison were out, we still picked up points against the best which means we are truely running like a top 4 team that can rotate quality – whatever the reason, and are not reliant on a first eleven anymore like the last few seasons.

Jason Li
181
Posted 14/02/2021 at 10:21:23
Right - time for the language of love as the Missus will want plenty of attention today, and then back to my other half 7pm this evening!
Mike Iddon
182
Posted 14/02/2021 at 10:24:38
We have won every game this season where Sigurdsson has scored or provided an assist.
Colwyn Harris
183
Posted 14/02/2021 at 10:31:52
Barry #62...
Everton didn't exploit the South African market, either, despite Steven Pienaar being so iconic.
It is not easy to get Everton merchandise here. Others certainly did.
Raymond Fox
184
Posted 14/02/2021 at 10:45:33
Well we all know what usually happens when this scenario plays out, don't we!
When we meet a team that's down at the bottom of the league and we are at last looking like we might actually achieve some success we lose.
Sorry to be a Job's Comforter, and maybe this will be different, we definitely have a better more competitive squad now than for many years.
Pity that Calvert-Lewin is out, could King step in and become the hero? Let's hope so.
Laurie Hartley
185
Posted 14/02/2021 at 11:10:55
Steve and Tony - agree with all that. Gomes is looking much safer in possession the last couple of games - and boy can he pass a ball out of defence.
Jason # 180 - 9 would be better but let's get the first 3 on the scoreboard ;)
I'm feeling cosmic waves eminating from the Wallasey / New Brighton zone.
Andrew McLawrence
186
Posted 14/02/2021 at 11:14:24
The only thing we can be sure about today is that Lookman will score.
Tony Everan
187
Posted 14/02/2021 at 11:20:24
Good interview with Josh King on the club site if you're interested, worth a read. Gives a bit of an insight into his personality, he seems focused, looks after himself properly and ready to contribute. I think the lad will give us good quality strength in depth over the next few years.
https://www.evertonfc.com/news/2024596/king-feeling-evertons-big-club-vibe

Rob Hooton
188
Posted 14/02/2021 at 11:32:10
Let's hope we sort our home form out and win this one, otherwise I will be swearing in a multitude of languages! I think I can swear in at least a dozen of them, always try to learn the basics wherever I go and the locals are always keen to teach the more vulgar parts to a willing learner.
Dave Abrahams
189
Posted 14/02/2021 at 11:54:22
David (176), thanks for that, I remember that phrase from long ago, I always associate it with Burns for some reason, thanks for putting me straight.
James Marshall
190
Posted 14/02/2021 at 11:59:35
My preference would be Richarlison up front. He looked so much more confident once he scored a goal the other night, and he appears to enjoy playing up front.
Stick him up there with King wide, and/or rotate them a little bit - that's what I reckon Carlo will do tonight. Losing DCL felt like a blow, but we do have rotation options among our forward players now so it's not all bad.
Sometimes forced changes can make a positive difference - we've seen it before. Tonight is a must-win game (a daft concept since they all are really) for keeping pace with the European places. The league feels like it's beginning to take shape now, so winning our games against the lower teams takes in extra importance.
Tonight is the kind of game we always arse up in the last 20 years. It's time to step up.
Paul Randall
191
Posted 14/02/2021 at 12:00:52
I'd like to see King start up front, supported by Richarlison, he always seemed to play well against us when playing for Bournemouth, usually scoring!
Robert Williams
192
Posted 14/02/2021 at 12:06:47
Buongiorno, good morning, bore da.
The Latin of the mighty Roman Empire is now a dead language. Welsh, the oldest language in Western Europe, is still alive and kicking – not bad for subjugated nation.
Anyway, I deviate, Hail Carlo cont!!p
Thomas Richards
193
Posted 14/02/2021 at 12:07:28
Everton odds against on Oddschecker.
Against Fulham. Am I missing something here
Colin Glassar
194
Posted 14/02/2021 at 12:15:42
The best Italian accent I've ever heard must be Aldo Raines in Inglorious Basterds. It's really glorious.
Martin Berry
195
Posted 14/02/2021 at 12:33:24
Excited to see King's pace and alongside Richarlison. If we keep things tight in midfield then we should cause too many problems for the opposition.
Even money at home looks a steal but there again anything can happen in the Premier League.
Mark Murphy
196
Posted 14/02/2021 at 12:35:19
Jason Li,
Football Italia on Sundays! I'd forgotten how much I missed that! Brilliant stuff.
And good luck with the missus – mine thinks I'm winding her up about us playing this evening – she'll get the right hump when I leave the table half-way through our "romantic" dinner...
Jason Li
197
Posted 14/02/2021 at 13:45:30
Mark,
Yes, that guy who read the Gazetta Della Sport with no socks on in a suit with a coffee al fresco. Brazil's Ronaldo, The Divine Ponytail, Del Piero, George Weah, Batistuta (the debates I had with mates on Batigol vs Shearer if both played in Serie A and then the Premier League to compare) ... great footballing days.
Must remember if I'm watching the Everton live preview, to sit back away from the phone when Sarah is speaking today – might get sensitive... :)
Oliver Molloy
198
Posted 14/02/2021 at 13:50:33
Olsen, Coleman, Godfrey, Mina, Digne, Davies, Gomes, Doucouré, Rodriguez, King, Richarlison.
COYB.
Tom Harvey
199
Posted 14/02/2021 at 14:02:41
"All or Nothing!"
If we're serious about the European places we come away from this game smiling, any other result is unacceptable,
Considering Fulham's position relative to ours, this is the biggest game of the season so far (for us), West Ham and Chelsea will most probably win on Monday, at that point the gap will be there between the contenders and the pretenders.
Danny O'Neill
200
Posted 14/02/2021 at 14:06:56
This King - Richarlison has me thinking.
As someone who grew up on 4-4-2, I don't actually like it in the modern game as the midfield tends to get overloaded.
But I do like the thought of those 2 as a pair tonight. Just need to think about how we set up the midfield.
It could give us a different approach to what I believe is a defence that can cope reasonably well with balls into the box and obvious set pieces? Someone who has watched them more than me would need to clarify that.
Mike Keating
201
Posted 14/02/2021 at 14:16:32
Interesting discussion of language acquisition - I have little to add of any worth apart from to say that after 2 years trying to learn Spanish at school an exasperated Mr Ling wrote on my end of year report;
"This boy is tone deaf to foreign languages; I'm sending him to study metalwork with Mr Hickman."
Needless to say, I was crap at metalwork too. But, 35 years later, I decided to prove my old Spanish teacher wrong and enrolled on a conversational Spanish course run by a native from Seville.
Turned out he was right – I was hopeless!
Interestingly, I spent two years living in Germany and quickly learned to get by.
Mike Corcoran
202
Posted 14/02/2021 at 14:17:35
Is it possible, if fit, to leave Sigurdsson out tonight after providing a goal and 3 assists along with the pass that won the penalty?
What I don't want is James and Sigurdsson in the same team or either defending against wiley bruisers on corners. Saying that, whatever team he puts out will probably surprise me.
Barry Williams
203
Posted 14/02/2021 at 14:25:40
Colwyn Harris
It's weird isn't it? At the time we had Pienaar, the club was strapped for cash, you'd have thought they'd exploit every conceivable avenue. Made no sense to me! But then a lot of things don't!

Ian Edwards
204
Posted 14/02/2021 at 14:26:25
We really need to improve our poor league home form which is on a par with the bottom teams. W4 D2 L4.
Ancelotti needs to be brave and learn from the defeats to West Ham and Newcastle. We only need one holding mid and play an extra offensive player instead of leaving them isolated. He needs to grow a pair. Go straight on the offensive, press and pen them in.
Dale Self
205
Posted 14/02/2021 at 14:39:45
Ian, "grow a pair"? I think some fans may want to do just that on the live forum later. Get fully behind them and you're barbs won't be critiqued.
Thomas Richards
206
Posted 14/02/2021 at 14:44:02
Ian, 204
Interesting.
What team would you like to see selected today?
Ian Edwards
207
Posted 14/02/2021 at 14:55:34
Dale 205. I comment on what I see. If Ancelotti punched Scott Parker in the centre circle some of you would say Parker headbutted his fist. I support Everton FC. I'm not a Carlo fanboy like a few on here.
Ian Edwards
208
Posted 14/02/2021 at 14:58:55
Thomas 206
My team would be
Olsen
Godfrey Mina Keane Digne
Iwobi Doucoure Bernard
Rodriguez King Richarlison
Dale Self
209
Posted 14/02/2021 at 15:00:23
It's just that your words rarely have empirical content Ian, that's all. By the way, we all support Everton FC.
Steve Brown
210
Posted 14/02/2021 at 15:00:35
Ian 207, you also shared that we should include Tosun, Bolasie and Kean as our front three and mooted Eddie Howe as a potential manager.
Matt Mex
211
Posted 14/02/2021 at 15:01:08
First time poster, long time reader. In fact I read ToffeeWeb so often I feel like I know you all, in the main a good thing. From Liverpool but have lived in Mexico for the last 11 years. Don't think there's any others but if I'm wrong let me know.

Enough of introductions, today we need to get the basics right, if we defend properly then our extra class will eventually show through even if it takes an hour. It generally works away and we should bring the same principles today, we've lost too many points at home on the presumption that we will win just because it's at goodison.

COYB
Danny Baily
212
Posted 14/02/2021 at 15:05:36
Hope King has an impact this evening. Think we need to rotate the squad a little with the games we have coming up so maybe starts for Coleman, Bernard and Holgate.
Graeme Beresford
213
Posted 14/02/2021 at 15:07:40
Must win! Must must win! Everytime we want to go up the table we mess up. There's no doubt Fulham will be up for this. They have to be. First goal is massive. Eyes of the country will be on us I just hope we don't mess up.
Dale Self
214
Posted 14/02/2021 at 15:20:54
Pawlsen is embarrassing himself here
Steve Cotton
215
Posted 14/02/2021 at 15:22:09
This is where we normally shoot ourselves in the foot...3 games in hand behind the RS, chance to make up ground on the teams above...
cue poor performance
Lets hope not...
Nicolas Piñon
216
Posted 14/02/2021 at 15:23:49
COYB! COYB!
Nicolas Piñon
217
Posted 14/02/2021 at 15:24:50
COYB! COYB!
Michael McLoughlin
218
Posted 14/02/2021 at 15:27:20
Has anyone got a link please
Derek Taylor
219
Posted 14/02/2021 at 15:31:19
Our lads don't usually respond well to 'must win' shout -outs so I rather think it's a drawn game if anything. After mid-week exertions, we shouldn't get too anguished, though.
Geoff Trenner
220
Posted 14/02/2021 at 15:33:41
Colwyn @ 183 and Barry @ 203
Interesting. I spend a lot of time in South Africa as my daughter lives there and I have developed a few business interests locally. I see lots of Everton shirts, mostly Pienaar and Ferguson in both Jo'burg and Cape Town. Certainly more than Man Utd or Liverpool.
Mike Powell
221
Posted 14/02/2021 at 15:49:00
Jury is out on Josh king, the bits I have seen of him, dosent look up to much.If he wants a contract this is his chance to prove himself, if not we let him go end of season, We need to win this great chance to put pressure on the red shite, but we all know this is Everton, and we always muck it up, here's hoping COYB
Anthony Jones
222
Posted 14/02/2021 at 15:55:27
In defense of Richarlison, maybe the scouse dialect is confusing him?
Andy Crooks
223
Posted 14/02/2021 at 15:55:27
On Friday the Racing Post tipped Richarlison to score any time in the match at 3/1. I thought that was terrific value but the best I could get yesterday was 13/8. Not great but I took it because it's one of those bets that (USUALLY) keeps your interest for ninety minutes.
We have better players than Fulham. If we want it as much as Fulham ( and my God why would we not?) we will win well.
Michael Barrett
224
Posted 14/02/2021 at 15:56:22
We allways batter Fulham, so nothing will go wrong today er oh hang on...
Brent Stephens
225
Posted 14/02/2021 at 15:58:12
Ian, we all support the blues. Like you, I'm an Everton fanboy.
Jay Harris
226
Posted 14/02/2021 at 16:01:50
I remember that 4-1 in 62/63 to win the league. Could a similar shoreline today produce another league win.Haha.
I would prefer Coleman in front of Holgate in this one to negate Robinson and Lookman.
I expect King and Richy to get on the scoresheet today.
Barry Williams
227
Posted 14/02/2021 at 16:02:36
Geoff Trenner - 220
Excellent - I have hardly seen any in Asia, and I have lived in quite a few countries there.
The strangest sight was in Hong Kong, when a load of locals descended on the pub me and my mate were in; they were all in Everton tops. It was the Everton Hong Kong supporters club I think. That was about 15 years ago though. It was an interesting spectacle. I think my mate got a photo and posted it on bluekipper or the like, not sure.
The two things that make me go up to strangers abroad are Everton tops, and Motorhead T-shirts! Both, not in popular demand!
Paul A Smith
228
Posted 14/02/2021 at 16:07:19
Just looking at the table and we can go level on points with United with our games in hand if we win them.
Its a big ask to win all three of course and we are not as good as Man City but I can see where our tactics and set up may be successful enough to finish top four, if we are prepared to spoil a good few games.
The energy simply wont be there to go toe to toe like we did with Spurs last week. Every game will need a different approach and we'll need everyone wanting to achieve success.
Brian Wilkinson
229
Posted 14/02/2021 at 16:15:26
Come on Blues massive 3 points today please.
Going forward to the Derby, yes I left the City game out for now, what I saw in the highlights of our neighbours game, was a Leicester team not going toe to toe, but playing balls through to Vardy.
He ripped them to shreds, if we can get James pinging those balls to Richarlison and Calvert-Lewin, we have the beating of our neighbours next week.
Anyway back to today's game, do what we have been doing the last couple of weeks, same amount of graft, play the simple ball, no game is a gimme, players need to focus on this game and forget for those 90 mins, the next games coming up, once we achieve our goal, then start to set a game plan for the up coming games.
Like I say Friday, I would get the players in, put the hilights of the Leicester game on, and work on trying to ping those balls through to Richarlison, or Calvert-Lewin.
That is their weakness, being turned around and chasing back.
Tom Harvey
230
Posted 14/02/2021 at 16:29:07
Anthony Jones @ 222
"In defense of Richarlison, maybe the scouse dialect is confusing him?"
Especially the versions of this dialect used by Big Dunc and Carlo.
Brian Wilkinson
231
Posted 14/02/2021 at 16:41:15
Andy@223, not sure if you have Betfred, but they have done a price boost, Richarlison to score anytime in today's match, now 9/4 available.
Brian Harrison
232
Posted 14/02/2021 at 16:42:01
Well Fulham are 10 points behind 4th from bottom, so they need wins and quickly, so I don't think they will come here to defend. That might be a plus for us providing we score first. which will make them attack even more and hopefully be susceptible to us hitting them on the break.
But teams in their position are always dangerous, and our last home game against Newcastle another club in a similar position won by 2 clear goals. If we have any real ambitions of a lofty finish we have to beat these sides. Also you want to go into our next 2 games full of confidence, not having doubts if we don't win today would create.
So no shooting ourselves in the foot today, be confident and clinical in front of goal.
Michael Barrett
233
Posted 14/02/2021 at 16:43:54
Brian wilko..they could have the under 10s keeper in, and 2 hot dog sellers from county road at centre back and we would still shit ourselves...surely you no that mate.
Keith Meakin
234
Posted 14/02/2021 at 17:21:09
We will penetrate and dominate, Fulham hate playing at Goodison Park.
Richalison will carry on his good form and no sentimental ex player scoring against us this time. COYB 4 - 0
Mike Gaynes
235
Posted 14/02/2021 at 17:35:29
Always a ray of sunshine, Michael. Trying to lock up the Sour Sod Of The Year award early this year?
Colin Metcalfe
236
Posted 14/02/2021 at 18:02:58
The form book tells us that whenever the blues are favorites at home we turn in a dreadful performance and lose, let's hope they buck the trend tonight 2-1 to the blues 💙
---
Add Your Comments
In order to post a comment, you need to be logged in as a registered user of the site.
Or Sign up as a ToffeeWeb Member — it's free, takes just a few minutes and will allow you to post your comments on articles and Talking Points submissions across the site.