Ancelotti: We couldn't match Fulham's intensity
Monday, 14 February, 2021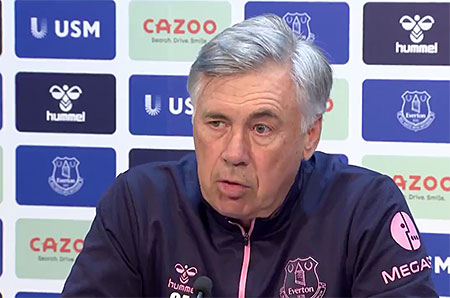 Carlo Ancelotti cited fatigue as being a big factor behind his team's dreadful home defeat to Fulham this evening, one that could prove to be damaging to his team's hopes of qualifying for Europe this season.
Everton lost for the third time in four home fixtures as Scott Parker's relegation-threatened side played them off the park and left Goodison Park with a well-deserved 2-0 victory, leaving Ancelotti's men facing successive games against leaders Manchester City and arch rivals Liverpool in which to try and quickly reverse their fortunes.
The Italian's starting line-up only featured four players who played the full 120 minutes in midweek and while he suggested that was a big reason why his side lost so badly, he also acknowledged Fulham's own display.
"First of all, we were missing the physical aspect [to our game]," Ancelotti told the BBC. "I think we suffered [from] the two hours against Tottenham.
"We were not able to keep pace with the intensity that Fulham put [into the game], pressing a lot and, practically, we were not able to play as we wanted.
"We wanted to have good control of the game, put in more midfielders on the pitch but they pressed a lot.
"I think [tiredness] was one of the aspects but not everything because sometimes you have to say the opponent did play better than you and they deserved to win."
In his interview with evertontv, however, the manager hinted that there is also a problem with his team's mentality and that they can get complacent when they're expected to win.
That bodes well for the next two games, fixtures in which they rarely do well.
"We have to better at home — we've lost too many games," Ancelotti admitted. "I think when we suffer, we win. When we think it's not going to be too difficult, we lose some concentration and motivation.
"On Wednesday, it's going to be a difficult game against a team that has won, I think, 14 games in a row so it's time for them to lose!"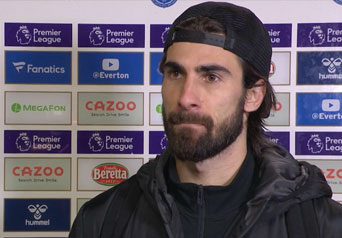 André Gomes, meanwhile, refused to blame the gruelling cup tie against Tottenham for the poor performance against the Cottagers.
He told evertontv: "Obviously, it was really tough for us… disappointing" he said. "It wasn't good enough so we want to be better and prepare for Wednesday.
"[Fulham] played really well. It was difficult for us to manage the game and we didn't have the pace or intensity we normally have. It was a hard defeat for us but, like I say, we need to learn from our mistakes and focus on Wednesday.
"We tried in the last 20 minutes, trying to push forward to get back into the game but, unfortunately, it didn't happen. We need to blame ourselves for what we did and we must learn from that.
"Obviously, it's a hard time. We are playing every three days but the Premier League is like that. Every team is having the same problem so we can't blame that. It was only our fault, I would say.
"We were really confident before this game but it's the Premier League — every game is tough and if you don't have the right approach to the game it's really tough."
---
Reader Comments (91)
Note: the following content is not moderated or vetted by the site owners at the time of submission. Comments are the responsibility of the poster. Disclaimer
Neal Kernohan
1
Posted 15/02/2021 at 22:03:59
Rubbish tired my hole! Try working in a factory 40 to 60 hours a week! the opportunity to move to joint 4th with 1 or 2 games in hand in the PREMIERSHIP and they are tired! No desire.
David Currie
2
Posted 15/02/2021 at 22:07:37
Correct Carlo but at half time you had a chance to change things? King, Iwobi and Nkounkou would have given us much needed pace. Amazed that he only brought King on when we were 2-0 down with DCL out the boy should have been on from the start.
Newcastle and now Fulham have both played us off the park, why can't we play on the front foot against teams near the bottom of the League. Pick the right players and attack, we are at home!
Mick Conalty
3
Posted 15/02/2021 at 22:09:44
Thank you Carlo &Andre
for explaining so clearly the problems you faced in trying to cope with the mighty Fulham.
Do me a favour and stop
taking the PISS.
Paul Hewitt
4
Posted 15/02/2021 at 22:19:40
You mean the players couldn't be arsed?
Soren Moyer
5
Posted 15/02/2021 at 22:19:53
Really!!? They probably think they are dealing with a bunch of idiots! Not good enough. What about other disastrous performances? Even in those games we have won the performances have been below par and we've been extremely lucky to get away with wins or draws. We are the only side Newcastle have won at in their last god knows how many games! Take a look yourself:

12/12/20
Newcastle United 2 - 1 West Bromwich Albion
16/12/20
Leeds United 5 - 2 Newcastle United
19/12/20
Newcastle United 1 - 1 Fulham
26/12/20
Manchester City 2 - 0 Newcastle United
30/12/20
Newcastle United 0 - 0 Liverpool
03/01/21
Newcastle United 1 - 2 Leicester City
12/01/21
Sheffield United 1 - 0 Newcastle United
18/01/21
Arsenal 3 - 0 Newcastle United
23/01/21 Aston Villa 2 - 0 Newcastle United
26/01/21
Newcastle United 1 - 2 Leeds United
30/01/21
Everton 0 - 2 Newcastle United
02/02/21
Newcastle United 1 - 2 Crystal Palace
06/02/21
Newcastle United 3 - 2 Southampton
We are a joke!
Soren Moyer
6
Posted 15/02/2021 at 22:48:39
" "Obviously, it was really tough for us… disappointing" he said. "It wasn't good enough so we want to be better and prepare for Wednesday."
Believe me Andre. We have heard this before many many times before!
"It was difficult for us to manage the game and we didn't have the pace or intensity we normally have."
Name one game we played with pace and intensity!
"It was a hard defeat for us but, like I say, we need to learn from our mistakes and focus on Wednesday."
Why didn't you learn it after other utterly crap performances against Leeds, Newcastle, Leicester and West ham to name a few!?
"Obviously, it's a hard time. We are playing every three days but the Premier League is like that."
I have news for you! Its not just Premier League Andre! In Spain and Italy for example, they play 3 games a week too! What about Fulham, West Ham and Newcastle? Aren't they playing the same amount of games as we do!!!?
Paul Birmingham
7
Posted 15/02/2021 at 22:57:54
Get beat I don'tt mind but making Fulham look like Barca vintage 2014, is not good enough.
I hope there's been some honest open minded review of this match, as it was the best example of to set up and get smashed, because there was no belief, no movement no desire etc.
This Wednesday and the next month if fixtures will be a defining phase in this season for Everton.
The facts are this Everton, and other recent Everton teams never turn up regardless of the opposition when the stakes are high.
That was our best chance of getting 3 points for possibly, and I really hope not over the next few weeks, as the fixtures we have are tough.
Dust down now and move on, and hopefully the sludge has finally been flushed out of the squads mindset for this season.
Blood, swear and tears and more for the Everton cause on a Wednesday, and no more pathetic after match excuses, from any of the players.
Fulham epitomised all the good traits of a decent footballing team and the warning lights were on at half time, as with better finishing it could have been at least 3-4, nil to them by half time.
Now let's see which version of Everton turn up v City.
Dale Self
8
Posted 15/02/2021 at 23:06:25
Will someone please fabricate some press credentials for Soren so he will stop formatting his posts like that?
Michael Connelly
9
Posted 15/02/2021 at 23:31:35
Team for City:
Olsen
Coleman Keane Godfrey Digne
Davies Doucoure
Iwobi Allan Richarlison
Calvert Lewin
Pace everywhere; slow coaches Sigurdsson, Gomes, James can warm the bench for an hour at least.
Barry Rathbone
10
Posted 15/02/2021 at 23:43:59
The best teams play as though the lives of their families depend on the result knowing ability is nothing without fight. It grates disproportionately because our fukn neighbours emerged from the second division overtook us and built an empire on on this simple truth
In my 60+ years supporting this club I could count on one hand the amount of times we have shown real "bottle" the perennial shithouse geno runs deep in the dna of this gutless club.
I like CA but see nothing from him to suggest he understands let alone has a plan to change this.
If he said another debacle will result in the twats having a yellow streak painted on the back of their shirts and the badge changed to a chicken I might change my mind.
We're still drifting
Jason Wilkinson
11
Posted 15/02/2021 at 23:55:47
Barry,
Spot on pal. For the money they receive the effort is scandalous. There are players getting a game that don't give two hoots whether they win or lose at this club.
Carlo Ancelotti has been around the block. He must see it too.
Steavey Buckley
12
Posted 15/02/2021 at 00:11:21
Ancelotti does not understanding defending and defenders that is why Everton are conceding so many goals. Digne is not as good defender as Godfrey and Coleman is not a better defender than Holgate. Yet, Ancelotti plays weaker defenders with all the consequences of more goals conceded
At this time of year, Everton should be looking for central defenders from the under 23s because they have at least 6 months of playing competitive football in the PL2. No chance, there are none.
In games of late, Ancelotti has been forced to rest Keane to Mina because the only other proven central defender Everton had to play in further games in empty stadiums without the pressure and intimidation of 'packed houses' was Branthwaite. He is out on loan wasting his premier league time at Blackburn as Everton are conceding too many goals to be serious challengers for a top 4 place.
Barry Rathbone
13
Posted 16/02/2021 at 06:32:35
John Keating
14
Posted 16/02/2021 at 08:20:41
There can be no excuse for the Fulham performance from the manager or players it was totally unacceptable from top to bottom
A disgrace
If the couldn't cope with Fulham's press and intensity then God help us in the next two games when we really will get serious press and intensity.
Dave Abrahams
15
Posted 16/02/2021 at 09:24:44
And loads of fans, well nearly all our fans think Carlo Ancelotti knows more than us, definitely NOT when it comes to knowing Everton it doesn't. He should also know how to motivate them, he didn't on Sunday at the start and again at half time. The players should know how to motivate themselves versus Man. City and Liverpool, no matter what happens in those two games will not alter the fact we threw away the chance to win three points against Fulham, and those type of performances happen far too often from the team and from Carlo Ancelotti, I think they will come again with this squad of players.
James Fletcher
16
Posted 16/02/2021 at 09:35:51
If the players selected were suffering fatigue then the obvious answer would have been to select players that didn't play much in the week...
Derek Thomas
17
Posted 16/02/2021 at 09:51:21
James@16; they probably didn't play Vs Untd and/or Spurs because they weren't considered good enough (whoever they are - I don't know).
Would they have been as crap as the others though? Tough one to answer, I doubt they would've been worse.
Anyway we are, or we should be done here, we've talked it to death so lets move on - its game on tomorrow.
Who knows how The Mk II Tinkerman will go with team selection and formation...and even fewer will know in advance on which Everton will turn up...upto and including Ancelotti and the players themselves.
Strange days Indeed.
Tony Abrahams
18
Posted 16/02/2021 at 09:59:35
I've just had a text saying Carlo's tactics book was found when they recovered his safe, so hopefully he gets it back before tomorrow night!
Iain Love
19
Posted 16/02/2021 at 10:19:06
Really disappointed and upset with the result and performance.
I like James, Sigurdsson & Gomes but all 3 of them lack pace and should never play together as a trio.

Brian Murray
20
Posted 16/02/2021 at 10:54:21
Dave post 15. So your saying another window or ten until the last one paced loser is totally gone and then Carlo will know how to pick and stick with a winning formation ( team ). I can smell them hot dogs on Wembley way and the san siro from here.
Tony Everan
21
Posted 16/02/2021 at 11:06:27
Gomes " we didn't have the pace or intensity we normally have". He should audition for 'Live at the Apollo'.
Thomas Richards
22
Posted 16/02/2021 at 11:13:18
Dont think Dave was saying that Brian
Colin Glassar
23
Posted 16/02/2021 at 11:17:00
Gomes/pace an oxymoron without a hint of self awareness.
Lee Courtliff
24
Posted 16/02/2021 at 11:27:41
Bernard, Iwobi, Nkounkou, etc all played either zero or only part of the game against Spurs.
We could easily have put James in midfield in place of Siggy, Bernard and Iwobi either side of Richy or King and had pretty fresh team.
Instead, we played the same bizarre formation we had away at Newcastle and, somehow, managed to put in an even worse performance.
Awful selection from Carlo.
Tony Everan
25
Posted 16/02/2021 at 11:33:18
Barry #10 First paragraph there goes to the molten core of the club, it's soul. This is what has been missing for 30 years. We have/had? become the five star cruise ship for semi retired footballers.
The question mark is that I believe Carlo knows what an almighty mess the mentality side of the club is in. He probably privately doubts that even he can operate successfully to remove the foul tumour of mediocrity that leeches season after season on this great club's innards.
I still believe that Ancelotti has standards that he is determined to embed. I want the fans to give him plenty of trust and time to do it. I think there has been improvement in the team and there will be bumps along the road, but fuck me Fulham was no bump, it was a pothole the size of a crater.
I also must admit some of the team selections he has come up with have been unnecessarily weak , selections that just don't cut the mustard in the physical, competitive world of he Premier League. Always and without exception the intensity and desire has to at the very very least match the opposition or the control of a game is conceded .
Our midfield needs to be constructed with intensity and desire as the priority qualities, it goes without saying they need to be hugely talented with the ball too . Is it too much to as to have both?
Peter Gorman
26
Posted 16/02/2021 at 11:36:44
Neither the Spurs game nor the 'intensity' of Fulham deserve a mention. Our lads turned up like it was a half-hearted training session so they can shut the fuck up.
Gomes showed how easy it could have been when he strode forward and took a shot; Fulham folded like tissue paper. The only problem was it was as pathetic a shot as his contribution all evening.
Eddie Dunn
27
Posted 16/02/2021 at 11:42:23
The problem is that Ancelotti tries to "manage" his players by keeping them happy, giving the big noises the game time they demand whilst attempting to tinker with selections and tactics.
His team is not fit enough, is not motivated enough and his cuddly, arm round the shoulder routine is not working.
He is indulging James, who is contributing jackshit.
Many of these guys let Silva down. Man City will expose our defensive statues and the lovable neighbours will destroy us.
I have zero confidence in them.
Colin Glassar
28
Posted 16/02/2021 at 12:08:55
Spot on Tony. This club has been a rudderless ship for decades. No manager is going to turn this around after 50 league games.
Yes, he makes some bad team selections but he can only use what cloth he has to cut with. Whoever he chooses there is always 1-2 player (min) who go MIA in games, usually the same ones.
Carlo will get us there, eventually. If he can't we may as well give up. Oh, and please don't ever mention Potter, Dyche, Moyes, NES or even the former Bournemouth manager who was a favourite on here.
Thomas Richards
29
Posted 16/02/2021 at 12:29:43
Ahhhh good old Eddie Howe.
The clamour from one or two posters to appoint him as our manager was fervent.
Brent Stephens
30
Posted 16/02/2021 at 12:36:30
I remember distinctly that call for Eddie Howe. And now?
Neil Lawson
31
Posted 16/02/2021 at 13:11:53
Everyone posting is passionate about our club.
Eddie (29) Spot on.
Carlo was much vaunted as the epitome of Mr Cool as he sipped his tea as all around him were losing the plot when Bernard slammed in number 5.
Did anyone think like me at the time ? Where is his passion and excitement? Is this just another job ? Am I really that bothered ?
Mick Roberts
32
Posted 16/02/2021 at 13:12:14
Put simply, Ancelotti does not get the most out of these players.
Dave Abrahams
33
Posted 16/02/2021 at 13:23:42
Brian (20), what I was indicating, was that Carlo should be utilising the fit players better than he has done in too many games, we all know he is stuck with players he can't get off the books, because no other club wants them or can't afford the ridiculous wages we are paying themCarlo can't do anything about that situation, he should know, by now that certain players can't play in the team together, the full backs are handicapped if a certain player is selected because he offers no defensive ability, without Calvin Lewin he should have a similar player who will do the running necessary to keep defenders busy, he had that alternative but didn't use him 'til it was too late.
You are correct, it won't take ten transfer windows before it gets better, but until the summer he will have to use the squad better and not experiment with different formations versus the weaker teams, with Sunday's formation he made us one of the weaker teams, not for the first time.
Jay Wood
[BRZ]
34
Posted 16/02/2021 at 13:43:20
Carlo just said in his City presser DCL definitely out for tomorrow, but could be back for Saturday.
Pickford trained OK yesterday and could play. Allan and James also.
Says we will need to play a defensive rather than open game v City tomorrow.
No issues with Josh King's fitness, that he can and will play during the season. That he is adapting well to the team.
Gave the Colombian journo short shrift when he asked if James is being deliberately targeted by opponents to take him out of the game and if James himself could do something to avoid getting these knocks.
Carlo replied the only way for James to avoid physical contact is for him not to play! That, or a radical rule change. Carlo considered the challenges were normal, so no sympathy from the manager for James.
Need to scroll past the still photo in the link to around 16 mins 30 secs for the start of the presser.
Thomas Richards
35
Posted 16/02/2021 at 13:56:26
And now no Howe. 😁
John Parr
36
Posted 16/02/2021 at 14:13:57
Barry (10) I think the yellow streak on the jersey will look good, with the chicken emblem on the front too. Pity managers don't have the courage to do that! This tiredness crap really pisses me off. Tennis players play 5 sets on their own, often for four hours or more, practice for hours the day after, then go and play another 5 sets the day after that. They'll often play 3 times in a week for what could be well over 12 hours. Our poofs play with 10 others for 3 hours and have a nice kick about on training days.
Martin Berry
37
Posted 16/02/2021 at 16:30:32
The team selection shot us in the foot, no width no outlet.
When we play City and Liverpool we will need a strong midfield but we will also have to create chances on the counter, when you don't have a counter attacking formation how are you expected to score ?
Danny Broderick
38
Posted 16/02/2021 at 17:06:49
I didn't see the Fulham game thankfully. But I do find it strange how, when top international footballers fail to perform, players who are given the best of everything on and off the pitch and paid handsomely to boot, somehow it's not their fault it's the manager's!! They are tired if they have to play 3 games a week. All that training takes it out of them also no doubt!
The manager isn't getting the best out of them. The manager isn't motivating them. The manager's failure to spill his tea is somehow indicative that all our problems are Carlo's fault!!
Maybe if we brought in the best motivational manager we can find - Klopp, Guardiola, Simeone - somehow we'd get consistent performances from Bernard, Sigurdsson, Gomes etc. Or would we?!
Tony Abrahams
39
Posted 16/02/2021 at 17:13:44
I've read a couple of people on ToffeeWeb, suggest that Ancellotti is not bothered because of his lack of celebrations the other night Neil@31, but these shouts came from people who have already told us they don't like Ancellotti, and one actually watched the clip a few times just to confirm that view. Funny!
One thing is certain though and that's if he carries on performing like the other night, it won't matter what his feelings are towards Everton, because that was unacceptable, and Evertonians will be the first to tell him.
Dale Self
40
Posted 16/02/2021 at 17:18:48
I think it was DCLs goal that he celebrated with an impressive old man fist thrust. It just got comical after a few more goals so he took the stoic route. His demeanor is what the club needs, slow and steady confidence when it is good and the perplexed disappointment without callouts when it is bad. While you could indict some lineups he gets this right.
Darren Hind
41
Posted 16/02/2021 at 17:23:00
Tired ????
Good to see so many dismissing this nonsense.
Like the past four managers. This guy thinks we were born yesterday.
The honeymoon period is coming to an end. More and more people are becoming disgruntled with this soulless dross.
We want to see the Sultans of swing. Not the Zombies of Ming
Tony Abrahams
42
Posted 16/02/2021 at 17:27:22
Maybe the last few managers were just not good enough Darren, but after the heroic departure Moyes received, born yesterday is the first thing that comes to mind.
Mark Murphy
43
Posted 16/02/2021 at 17:29:14
Although I'm in the "give Carlo time camp " (or happy clappers" as we are dismissively summarised) I don't want to read "we couldn't match Fulham's intensity". I want to read "that shit won't happen again and I'm working hard to make sure it doesnt"
That sentence is an excuse, not a reason, and is unacceptable.
Step it up Carlo lad!
Thomas Richards
44
Posted 16/02/2021 at 17:37:07
Jay Wood
[BRZ]
45
Posted 16/02/2021 at 17:44:03
Ah! The mystical art of the reading of 'body language' as a means to categorically and unequivocally define, label and pigeonhole who and what a person is.
The truth is a lot less fanciful and already explained by Carlo himself on the night.
Carlo's Cool Tea Blowing Explained
It was so cold on the night Carlo said he couldn't speak and he asked for a cup of tea. And there was no joyous celebration because he had seen a VAR check was being run.
What next? Interpreting the hidden messages in his farts?
Forget it. Been done already.
Thomas Richards
46
Posted 16/02/2021 at 17:49:37
Carlos farts are magnifico.
I have it on good authority he can give a good rendition of boogie woogie bugle boy with them.
(cue
Well he certainly talks out of his arse)

Paul Swan
47
Posted 16/02/2021 at 18:10:10
Zombie football is only just about acceptable if it produces results. Zombie football and no results is no better (or worse) than Sam Allardyce. We are paying a lot for his services and have every right to feel aggrieved with the shite served up on Sunday.
I would love Ancelotti to do well and as an Evertonian pray that he still will but on the Evidence of the Newcastle, West Ham and now Fulham games he just seems to be the latest in a long line of bottlers who send out mentally week fragile teams with no detectable tactics. Worse than this he seems to have no ability against those sorts of teams to change things around. It was obvious from the demeanour of the players on Sunday that they believed all they needed to do was turn up to beat Fulham - witness Mason Holgate. A manager should never allow that to happen unless he he'd the same opinion
Darren Hind
48
Posted 16/02/2021 at 18:20:45
Oh Dont mention TGT Tony.
I forgot about him. I was talking about Martinez. Koeman, The Night king and Silva all spouting similar shite to what Carlo has spouted here.
I have nightmares that after spending 500m on players 100m + on five managers..TGT comes back to haunt us by finishing above Carlo.
Lets hope that prospect is put to bed sooner rather than later.
Dale Self
49
Posted 16/02/2021 at 18:22:23
I absolutely do not wish to escalate the back and forth over Carlo but while we would like there to be a public lashing over the Fulham no-show that isn't how you run a locker room full of internationals and low confidence players. And before you slag them just realize this was the squad he inherited and he is indeed getting them to play better although the inconsistency is painful. And hey man, we're three points from safety so there.
Tony Abrahams
50
Posted 16/02/2021 at 18:24:44
Ancellotti couldn't slag the players for the other night because he'd lose the dressing room, unless he also included himself in the debacle.
I only look at what Ancellotti has spent Darren, because he wouldn't have been appointed if the others you mentioned hadn't wasted so much money on mediocrity. But Moyes, took us for fools imo, and was unbelievably clapped out the fucking ground.
Jerome Shields
51
Posted 16/02/2021 at 18:38:10
This is the first time that a Everton Manager has acknowledged that there is a problem with the Everton squad's mentality against teams that Everton as expected to win against, citing loss of motivation and concentration.
This is a mentality that has existed for years at Everton. Kenwright &Co, hanger on Everton Stars, Finch Farm and Mercenary substandard Footballers on Popstar wages have all been analysed and blamed as the causes of this often recognised and typicial Everton malaise. Maybe Ancelotti may get to the bottom of it and Good Luck to him in trying to sort it out. There has been a reduction in the Injury Recovery loophole to get out of training, since Ancelottis reorganisation of Medical Services.
I don't buy the fatigue excuse, which was pushed in the media.
Kieran Kinsella
52
Posted 16/02/2021 at 18:40:26
Tony Abrahams
Moyes upcoming six games are all against the "big" clubs. Be interesting to see if he adopts his usual "knife to a gunfight" mentality. I saw him do that against the RS -- shutting up shop at 0-2 a few weeks ago. I expect more of the same and those who laud him as a genius to remember his true nature.
Bill Rodgers
53
Posted 16/02/2021 at 18:40:51
When Everton play like this, they are out on their own - no team in the Prem is anywhere near as bad. I have yet to hear any credible explanation for it. Fatigue does not convince - every team in the league has the same schedule. It is a total lack of desire, they even take throwins half-heartedly. Young players like Holgate and Davies give the ball away constantly and look untroubled. It is a deep and repeating plague.
Thomas Richards
54
Posted 16/02/2021 at 18:41:52
That Guardiola needs a talking to.
Look at the money Mancini and Pellegrini spent.
Thomas Richards
55
Posted 16/02/2021 at 18:45:24
Kieran,
Some of our fans obviously still hold Davie close to thier hearts.
Astounding
Anthony Hawkins
56
Posted 16/02/2021 at 18:53:40
Everything was slow against Fulham. There was no sense of urgency until the last 10 minutes. Hats WAY too late and has to be addressed. It can't be properly until the summer but now other teams know how to get to us
Darren Hind
57
Posted 16/02/2021 at 18:54:00
Agreed Tony.
I hated Moyes and his expectation management when he was here and you have to say. He hardly set a high bar for Carlo But he spend less in 11 years than Carlo has in 11 months. His team regularly finished about the seventh place we are in now and although he often played dull unimaginative football, people like Baines Pienarr and Osman ensured it was still a sight better than what we see now.
Given what Carlo earns, His pulling power, his incredible tactical know how and the fact that he inherited a team in much better position we are surely entitled to expect more from him than we got from TGT.
Tony Twist
58
Posted 16/02/2021 at 18:57:30
Blatantly obvious he can only play one of James, Siggy or Gomez. He played all three of them which was footballing suicide. It shows that past glories are exactly that, in the past. He seems to think that putting stars on the pitch is all that matters, they can work out the solution by themselves. Moyes is doing a much better job now and for the future at West Ham unfortunately. Ancelotti is an expensive luxury.
Thomas Richards
59
Posted 16/02/2021 at 18:59:23
Darren Hind
60
Posted 16/02/2021 at 19:03:25
People Lauding TGT "as a genius". I don't even think his fans ever thought he was anything more than a "steady Eddie"
I would like to see any post from anybody (including Richard Dodds) stating that.
I worry about this club. It doesnt matter how far you lower the bar...it's never quite far enough
Thomas Richards
61
Posted 16/02/2021 at 19:05:46
https://youtu.be/Sfkl4Bxl3vY
Thomas Richards
62
Posted 16/02/2021 at 19:07:08
Lighten up lads.
Its becoming like a link to the samaritans.
Christy Ring
63
Posted 16/02/2021 at 19:09:21
Fatigue ye right, Sigurdsson has been like that all season, as a comment said earlier he went from a false no.9 to a false no.5. He has to start King tomorrow night and let Sigurdsson recover from fatigue.
Anthony Hawkins
64
Posted 16/02/2021 at 19:31:36
I don't think it's as bad as everyone is making out. 2 games in hand and the potential to jump to 4th. However unlikely that may be it's significantly better than the last few seasons and potential to improve on that next season.
Those who are feeling down now should consider that Ancelotti encouraged Richarlison to give one more season to the club. He could be off in the summer if we don't get European football. I suspect others may be too - then there'd be major rebuilding to be done!
Tony Abrahams
65
Posted 16/02/2021 at 19:36:04
Moyes would have been gone after two years if we'd have had an ambitious owner, and yet he lasted eleven years because we didn't, and got clapped out the stadium.
No wonder all these managers must think we were born yesterday, because although I've slagged Kenwright for years, only now, whilst I'm writing this post, do I realise how much talent the man must really have!
Darren Hind
66
Posted 16/02/2021 at 19:41:37
Agreed Tony.
Uncle Bill and TGT, An unholy alliance.
The birth of expectation management.
Still prevalent today
Neil Copeland
67
Posted 16/02/2021 at 19:43:01
With the exception of Manure at home, so far this season we have had decent results against the better teams. It looks a long shot for the next 2 games but I remember all the doom and gloom before we played Leicester, Chelsea and Arsenal earlier in the season and look how that turned out.
There will be setbacks and although some of the football being played is not what we all want but overall we have improved. I think we should let Carlo get on with bringing in points however he can with the hope that style of football will improve as he shapes the team.
We are still in with a shout of top 4 and certainly top 6 together with an FA Cup quarter final.
Things could be so much worse.
Sean O'Hanlon
68
Posted 16/02/2021 at 19:49:08
Colin (#28) How many games does Mr. Ancellotti need to turn the club around? You suggest 50 games is not enough.
I wished Duncan Ferguson was given 50 games.
Tony Abrahams
69
Posted 16/02/2021 at 20:10:17
Maybe you will get your wish one day Sean, but for a club who are on their longest ever trophy-less run, and who've tried every different kind of manager over the last few years, whilst wasting an unbelievable amount of money, I do find it crazy that people are fed up at one of the most successful and experienced managers in the game, after about 40 games, but maybe I shouldn't be surprised the way Moyes was clapped out of Goodison, without winning at Anfield, Old Trafford or Arsenal, never mind showing many signs of winning us a trophy. And people won't give Ancellotti a little bit of time? This is really bizarre in my mind.
Jerome Shields
70
Posted 16/02/2021 at 20:13:29
Anthony#64
Don't tell the players that. They will down tools even more, according to Ancelotti.
Thomas Richards
71
Posted 16/02/2021 at 20:49:46
Crazy is a good word to use in thus situation Tony.
Agree 100%
Brent Stephens
72
Posted 16/02/2021 at 20:52:50
Bizarre indeed, Tony.
Bill Gall
73
Posted 16/02/2021 at 20:56:48
Talking about not matching Fulham's intensity watching Barcelona V P.S.G. now this is intensity.
Jay Wood
[BRZ]
74
Posted 16/02/2021 at 21:11:04
Watching the game too, Bill. PSG far the better team for me.
Verratti in PSG's midfield is some player. Moise Kean impressing. Gana Gueye not surprisingly subbed off at half time having picked up a yellow card then got a warning from the ref for a second foul just before the interval.
In English league games tonight I see Simms played all game in Blackpool's 1-0 home win with Rochdale while down the road at Preston Anthony Gordon got 30 mins as sub in their 0-1 loss to Watford.
And Moise Kean just denied by a fantastic ter Stegen save.
Phil Bickerstaff
75
Posted 16/02/2021 at 21:12:46
Look at Moise Keane tonight against one of the best teams in Europe. Absolutely priceless.
Never mind... we have King for tomorrow against Man City.... mmmmmmm.
Then again, look at the service he gets.
Thomas Richards
76
Posted 16/02/2021 at 21:16:06
True Phil.
When your team mates are Mbappe, Di Maria, Icardi, Veratti, Neymar there is half a chance you will get chances provided
Bill Gall
77
Posted 16/02/2021 at 21:24:26
Agree there Jay Barcelona rely too much on Messi and Griesman, good job they removed Gueye.
Kean is a different player than when he turned out for Everton, he most probably will want to leave next season but I would prefer he stays and make sure he has support because he knows where the goal is.
Thomas Richards
78
Posted 16/02/2021 at 21:29:01
Classic headed goal off Moise Kean there.
Jay Wood
[BRZ]
79
Posted 16/02/2021 at 21:31:26
Moise Kean classic far post header from a deep freekick.
PSG on easy street. 3-1. Virtual white hankies being waved for Koeman in the ether.
Christy Ring
80
Posted 16/02/2021 at 21:33:51
I thought when Moyes joined he inherited a geriatric team from Smith. In my opinion he moved us from relegation candidates to a top 4 place, with no money from Bill & Co just a selling club. But for me, all the good work he did meant nothing because of the sneaky and underhand way he joined Man Utd.
Dale Self
81
Posted 16/02/2021 at 21:35:45
Koeman is living in the past. Hit it Jethro.
Soren Moyer
82
Posted 16/02/2021 at 21:45:01
Koeman has single handedly destroyed Barca! Arrogant prick!!!
Graham Hammond
83
Posted 16/02/2021 at 21:45:13
Moise Kean will be sold as he is not and never was an Everton player. We don't like young players or players with pace who drive forward and take risks and try to make things happen.
We buy young players for sure, then too often fail to play them and allow them to prosper.
Bill Gall
84
Posted 16/02/2021 at 21:47:27
Phil #75
Kean was not happy at Everton and wanted to leave, instead of having an unhappy player they loaned him out, and the way he is playing if he is sold next season we will get more than what we paid.
Jay Wood
[BRZ]
85
Posted 16/02/2021 at 21:47:43
Mbappe hat trick. 4-1 PSG.
Those white hankies turning into funeral shrouds for Koeman.
Alex Gray
86
Posted 16/02/2021 at 21:49:56
Every time I see a PSG result, Kean has scored. It's almost like having better players around you improves your game... Who knew?
Tony Abrahams
87
Posted 16/02/2021 at 21:52:03
What a goal that 4th was Jay W, football of the highest scientific order, with a finish to match, brilliant stuff!
Bill Gall
88
Posted 16/02/2021 at 22:00:59
I think that Koeman is going to find out soon, that Barcelona supporters do expect better.
Dave Abrahams
89
Posted 16/02/2021 at 22:21:19
Bill (84), I think a lot of players would have been unhappy Bill, getting ten minutes here and a couple of three and four minute cameo's, he was reassured he would be well looked softer when he came, seems at times he was treated like a doormat, maybe that is one of the reasons he wanted to leave. I definitely think you are right in that we will get more than we payed for him, don't think that was the plan when we signed him.
Justin Doone
90
Posted 17/02/2021 at 01:12:07
Kean not a Carlo buy. I agree with Carlo, he doesn't bring to the team what we need, team work.
Better off on loan. If we can sell great, bring in better in the summer.
It's always back to Moyes with some fans. Great for us at the time but we have moved on. He'll do well at West Ham but he's not going to crack the top 4.
Carlo expected his players to do better against Fulham, no one on the pitch knew how to react. He'll feel let down. Lack of leadership on the pitch.
He has to take some responsibility for that. Strange line up and subs.
Steve Carse
91
Posted 17/02/2021 at 18:10:06
Graham (83), indeed Kean was never an Everton player -- he's an employee of Raiola. Raiola will continue to totally determine his career path. How the lad ended up at Everton in the first place is a mystery until you put Raiola into the picture.
---
Add Your Comments
In order to post a comment, you need to be logged in as a registered user of the site.
Or Sign up as a ToffeeWeb Member — it's free, takes just a few minutes and will allow you to post your comments on articles and Talking Points submissions across the site.