Brands set to sign new contract with Everton
Tuesday, 16 February, 2021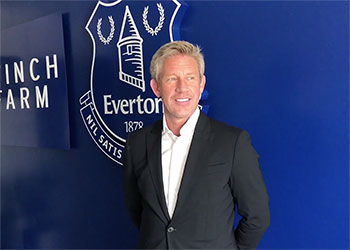 Everton's Director of Football, Marcel Brands, is said to be close to agreeing terms on an extension to his current contract with the club.
The Dutchman's existing deal expires this summer and while there has been speculation over whether he would remain at Goodison Park, privately it was always expected that he would stay on.
Brands has been in the post since the spring of 2018, coming on board as Everton were putting the final touches on a contract for team manager, Marco Silva,
The duo were seen as the foundation of a new era at Goodison Park after the recruitment failings under their respective predecessors, Steve Walsh and Ronald Koeman.
Silva's tenure only lasted 18 months but Brands earned a place on the Everton's Board of Directors and has overseen a gradual cull of unwanted players from the squad as well as a modified transfer strategy since Carlo Ancelotti took the reins as manager in December 2019.
The Liverpool Echo report that Brands is expected to put to paper on his new deal soon and that was backed up by comments made by Ancelotti today.
"For what I know there is work in progress," the Italian said. "I think that no doubt, he is going to stay and sign a new contact.
"We are working well. I have a good relationship with him and I will be really pleased he if can sign a new contract, but from what I know there is work in progress."
---
Reader Comments (125)
Note: the following content is not moderated or vetted by the site owners at the time of submission. Comments are the responsibility of the poster. Disclaimer
Kevin Prytherch
1
Posted 16/02/2021 at 22:48:54
Great - he's been a roaring success so far
Dale Self
2
Posted 16/02/2021 at 22:49:51
Nice. It seems we have some good news in the pipeline for when things on the pitch go off. We've done fairly well for such a frozen transfer window. It will be good to have no turnover upstairs and he certainly deserves to work with Carlo on what comes next.
Christy Ring
3
Posted 16/02/2021 at 22:50:32
He's got rid of a lot of mediocre buys, either sold or on loan, and will probably get a profit on Kean. Hopefully he can offload one of his worst purchases Delph.
Paul Smith
4
Posted 16/02/2021 at 22:51:12
Brancelotti
Take us forward to the promised land.
New stadia, new contract, beat City tomorrow, happy days.
See you at the live forum.
Ian Edwards
5
Posted 16/02/2021 at 22:51:19
The fact that after a number of transfer windows under his control we will probably have Sigurdsson up front tomorrow suggests he shouldn't get a contract renewal. One thing I will say in Ancelotti's favour ( never let it be said that I'm unfair) is that Brands has let him down in the transfer market.
Kunal Desai
6
Posted 16/02/2021 at 22:51:29
I'm still not convinced by Brands. Some of those he's brought in - Delph, Gbamin, Gomes - injury prone plus Iwobi was a panic buy.
Where are the players he's meant to unearth for us.
Would rather cut out a DoF and have Carlo dealing with Moshiri directly in relation to transfers. Yes he's he managed to get shut of some of the deadwood but its the players he's brought in that need questioning.
Bobby Mallon
7
Posted 16/02/2021 at 22:56:34
This is another great piece of news. Let's hope he finds another moise keane
Bobby Mallon
8
Posted 16/02/2021 at 23:00:26
Kunal @6 I will give you Delph and Gbamin, but Gomes injury prone. The lad got his ankle snapped in a tackle
Lyndon Lloyd
9
Posted 16/02/2021 at 23:06:27
There was little in Gbamin's injury history at Mainz that portended the horrible issues he's had with us. His longest absence was a month and a half in the autumn of 2017. He's just had awful luck and the longer he stays out, the more likely he'll get injured again, sadly.
Delph cost £8m, a minuscule fee that reflected his injury record at City. He was bought as a cut-price addition to add experience and depth in midfield. I don't think anyone expected him to miss quite as many games as he has.
In his time at Barcelona, Gomes missed a total of 6 weeks through injury, four of those comprising one lay-off. Hardly "injury prone".

Ian Edwards
10
Posted 16/02/2021 at 23:16:52
Bobby 7. We have a Moise Kean but have mismanaged him.
Dale Self
11
Posted 16/02/2021 at 23:30:46
No Ian we didn't. We're selling him after a lack of effort to earn his place in the squad.
Mike Keating
12
Posted 16/02/2021 at 23:34:00
Moise Kean scored tonight against Barca away from home. We seem to have bought a gem and lent him to someone else. Something seriously wrong there.
Dale Self
13
Posted 16/02/2021 at 23:36:51
See previous entry Mike. There is the wrongness.
Gavin Johnson
14
Posted 16/02/2021 at 23:37:03
Ian #5 how has Brands let Carlo down in the transfer market? Every player we've signed since Carlo has been here has been excellent. Brands work has been flawless in the transfer market. Then again, the signings might have a lot to do with your hero, Carlo's influence, Ian.
Andrew Brookfield
15
Posted 16/02/2021 at 23:38:03
At Kunal #3 you don't half talk some rubbish. Where are the gems he's uncovered? Branthwaite and Godfrey look pretty impressive, both unknown to Carlo. Moise Keane is tearing it up at PSG.
Brands is our future, it's a slow turnaround, but it's a turnaround. Believe.

Mike Doyle
16
Posted 16/02/2021 at 23:38:44
Perhaps he can cover for DCL up front?
Jay Wood
[BRZ]
17
Posted 16/02/2021 at 23:54:56
On balance, I'm happy if it's true that Brands intends to sign a contract extension.
On the one hand, personally I'm disappointed that he hasn't unearthed any 'diamonds in the rough' for (near) Seamus Coleman-like fees as he did at his previous clubs.
But then to be fair, he may have done that in recruiting Brainthwaite and Nkounkou last year. Still too early to tell, but their few outings for the first team certainly show promise.
On the other hand, he inherited a right shit-fest. Too many poor to average players, on long contracts and high salaries, making it almost impossible to shift them.
On that score he has been hamstrung on how quickly he could clear out the deadwood and freshen the squad up with better quality players for the manager to utilise.
No DoF or manager has ever had a 100% hit rate on his purchases, but for me Brands' success rate remains in credit.
Now five years into Moshiri's ownership I think it serves us best as this time - all the more so with the likely new stadium on the horizon - to maintain the stability and continuity a Brands-Ancelotti combo gives us in the DoF-First team manager model we now follow.
Dale Self
18
Posted 16/02/2021 at 23:59:46
Yes other Mike, he did that by getting King remember?
Dale Self
19
Posted 17/02/2021 at 00:05:23
Sorry, Mr. Doyle. I shouldn't be referring to you like that, again my apology.
Kevin Prytherch
20
Posted 16/02/2021 at 00:09:39
Brands signings before this season...
Richarlison - Really Silvas signing - doesn't count.
Mina - overpaid and inconsistent. Possibly the weakest 6ft 4 player I've seen.
Digne - success
Bernard - our top earner for a while. Really?
Iwobi - the least said the better. One or 2 promising games does not make £35m
Kean - poor, but at least we might make a profit
Gomes - resting on his 100k a week contract. Poor.
Delph - up there with Iwobi as one of the worst signings in the clubs history
Gbamin - can't blame Brands for that one.
This season (inc last Jan)
James and Allan - blatantly Ancelotti's signings but Brands did drive a good bargain
Branthwaite and Nkounkou - both look promising
Godfrey - a gem.
King - wait and see
So until this season I would say that Brands had a 1 in 8 success rate costing the club close to £170 million in transfers and nearly £1m a week in wages. He has been piss poor up until this season.
Jerome Shields
21
Posted 16/02/2021 at 00:11:30
Good news that Brands is signing a new contract. He did have to take risks on injury prone players due to the fact that Everton was a undesirable destination. It has in the nain worked out and hopefully Gbamin will workout Lyndon; Gbamin did have a lengthy injury record but I thought he was worth the risk. Sam Hoare type of player. Those days are over now and Medical Services is not the soft touch it was for career injury players I hope we will see progress on the work Brands has done on the youth side.
Kieran Kinsella
22
Posted 17/02/2021 at 00:15:07
Bear in mind he's not solely in charge of transfer negotiations as evidenced when BK was "heavily involved" in the King deal. We don't know the whole dynamic. Maybe he draws up incredible lists of players then Kenshite pays over the odds for one and blows the whole budget.
Soren Moyer
23
Posted 17/02/2021 at 00:21:58
Fantastic!! Next in line is new IMPROVED contracts for Gylfi, Iwobi and Gomes (G.I.G) I assume!
Jason Li
24
Posted 17/02/2021 at 00:36:35
The valuation of the squad has gone up substantially on his watch, so no surprise.
If Brands can pull off a couple more Godfrey high standard level of signings, now he's fully in the role, then why not.
And to clinch the deal ... He was the only one strong enough in the last 10 years or so, to resist handing Garbutt a new 5 year contract. :)
Anthony Jones
25
Posted 17/02/2021 at 00:40:43
Looks like Kean wasn't managed right. Always looked crap for us. Scores against Barca away and alongside Mbappe. Buying Iwobi was desperate though. Brands is not the messiah.
Derek Thomas
26
Posted 17/02/2021 at 00:48:35
Not a fan of this whole DoF lark. The concept isn't new its been around on the continent for ages. What I have noticed is they usually stay at Clubs 3 times as long as managers.
Or, put another way...
The Owner, having brought in and got rid of 3 Coaches, gets the idea (sometimes put) in his head that, hey, maybe its not all the Coaches fault, maybe its the fault of the guy who, for the last, 8, 9, or 10yrs has been giving my 3 Coaches all these crap players to work with, aka...'He's not the sort of player you wanted? - You're the shit hot Coach, so coach him until he is.'
This usually results in The Owner getting Rid of both.
Even if Brands's record is, in my mind, at best 50/50, I never really thought he was going anywhere...and if he's angling for and will get a pay rise, given his average performance he's doing well.
Anyway, much as I'm not a fan of the position he's only part way through his 2nd manager yet...allegedly.
Yeah, but everybody has one now...and 3 of them get relegated every season, even more of them never win a carrot.
Yeah, but Brands is different you'll see, etc, etc. - we shall indeed see...or not, as the case may be.

Dale Self
27
Posted 17/02/2021 at 00:53:00
was that a critique or some kind of stream of consciousness approach?
Jason Wilkinson
28
Posted 17/02/2021 at 01:13:05
I think overall Brands is doing ok. Some good. Some mediocre signings. He was tasked to get rid of the deadwood. I would give him a C+ on that score. It admittedly was never going to be easy. We gave Sandro a 5 year deal on 120k per week ffs. On the "Brands' signings I would give him a B+. With a new contract and a long term manager who has more nouse than Silva, Allardyce & Koeman. We might start to see some wow! signings. He hasn't got an easy job luring top quality players to come to Everton. No trophies in 25 plus years. No European football. 3 maybe 4 internationally recognized stars. Compare us with City, United, Liverpool, Chelsea, Arsenal, Spurs etc. We are not very many players dream EPL destination.
If we can gain a Europa league place his job may become easier. If he can provide 1 automatic 1st choice player and a decent squad player every transfer window. We will have a stronger chance of gaining a seat at the elusive CL table.
Like most of you I want us to win things now. The reality is we are starting from a lowly position. We're still competing with 4 or 5 other teams for 5th place. Back in Europe with a stronger squad. Our aim next season is to be 5th in the pecking order for the title. A bit of luck and maybe some of the top 4 under performing and we could have a shout at top 4. I will give them (coaches, manager & Brands) another 18 months to show us what is possible. I hope Moshiri has made it clear to him we need CL football at BMD. Nil satis nisi optimum Marcel.
Derek Thomas
29
Posted 17/02/2021 at 02:19:06
Dale@ 27; all of the above probably.
Mike Gaynes
30
Posted 17/02/2021 at 02:49:52
Count me among the happy clappers for this news. Overall I think Marcel's done a good job. Some mistakes, of course, but mostly excellent decisions.
Richarlison, Digne, Mina and Gomes? Three out of four ain't bad. (Sorry, Kev, but Mina is really good.) James, Allan, Doucoure and Godfrey? Spectacular, although obviously it was more about Carlo with the first two. Kean? Yes, he's playing much better for PSG than he did for us, but he's still ours. Nkounkou and Branthwaite? We don't know yet, but is anybody complaining about what little we've seen? Not me.
And as Lyndon points out at #9, the injury thing with some of the other acquisitions is sort of a red herring.
My point is that Marcel has done what he was assigned to do -- start to build out a Champions League club. The core is in place now. The job is still in progress, of course, but the progress is obvious.
And he's done very well pruning the dead branches from the tree (although obviously I thought he went overboard with Robinson). I'd say, without doing backflips over the guy, he has more than earned the new contract.
Julian Wait
31
Posted 17/02/2021 at 04:28:35
Moise Kean never looked interested before the game where Dunc subbed the sub, didn't look interested in the game where Dunc subbed the sub, and barring a miracle change of attitude was never going to stay after Dunc subbed the sub.
MK simply didn't want to be here. It was a way out of Italy, but it clearly wasn't what he wanted, and he was like a fish out of water and never settled. He looked lost out there at times, like a blindfold Ross Barkley, and gave stupid fouls away at a startling rate for the time on the pitch.
We've seen this kind of turnaround before to be honest. Remember that De Bruyne was at Chelsea as a young player and it didn't work out, and he's perhaps the most gifted player in the league, certainly one of the most gifted.
Brian Murray
32
Posted 17/02/2021 at 06:28:04
Numerous players on loan not just at efc have really looked the part and then soon as the contract comes the hunger goes. I'm sure that won't be the case with our ultra professional Marcel. Will it ?
Paul A Smith
33
Posted 17/02/2021 at 07:00:20
Completely with Derek Thomas and the fact Brands gets love from some quarters just shows how shit we have been when a DOF is getting praise for certain things.
It seems to me the role of this man is to bring players in to suit any manager we get. Problem is, these managers have to follow in a similar style if you have a crop bought by the DOF.
So if and when Ancelotti goes, we need a manager that can work with the players bought for Ancelottis style.
Isn't it funny how Brands has more celebrity status than the DOFs of Barcelona, Juve, The Madrids, Bayern, Man City, Man United etc etc. Brands has seen documentries made about him and it seems he gets more attention than any DOF i've ever known.
The old way of the manager picking a player and the board going for him seems far more practical and logical to me.
Mike Gaynes
34
Posted 17/02/2021 at 08:03:48
Paul #33, say what? Brands is on the board.
Therefore what we have is "the board going for him"... don't we? And considering the other members of the board are Moshiri, Ryazantsev, Bill and DBB, who would you rather have bringing in the players Carlo wants? This is no game for amateurs.
Your mention of other major clubs just proves the point of needing a DOF in the modern football world and not leaving player acquisition to business executives. Name a top club that doesn't use the DoF model these days? One, Manure, and last I heard they were trying to recruit one. True football people like Rummenigga, Abidal, Begiristain, Rangnick, Leonardo, Emenalo build winners, not "the board".
Welcome to the 21st Century.
Tony Abrahams
35
Posted 17/02/2021 at 08:23:10
How do you know Brands, has more celebrity status than all those other people Paul A?
This is just going to be another thread on ToffeeWeb, which shows how divided Evertonians, have been for a very long time, and probably since the days of stability that was offered by Kenwright and Moyes.
All opinions, mine is that Brands has got more than a few things wrong, but he seems to have a plan, and you don't get nowhere without a plan, which is very evident looking back at the people he replaced.
Colin Glassar
36
Posted 17/02/2021 at 08:30:24
Talk of BMD, Brands new contract etc... wow, I've almost forgotten the Fulham debacle.
Bobby Mallon
37
Posted 17/02/2021 at 08:52:10
Ian Edwards, Mike keating it happened with us didn't it. We got Lukaku from Chelsea who never played for them cause at the time he didn't fit in. Same as Salah and De bruyne. Some players are bought but don't fit in and are loaned out and do better. Remember we got the captain of Ajax who played in the Champions league final but I never here you complain he didn't stay to make our midfield better. He's playing well again now. Vlasic another one, I don't here any of you complaining he's not with us helping our midfield.
Bobby Mallon
38
Posted 17/02/2021 at 08:56:30
I do believe that if he had played constantly after the Newcastle game he would have stayed. But hindsight is wonderful
Erik Dols
39
Posted 17/02/2021 at 09:01:13
Brands has had some hits and some misses. For me, on average, he is doing a good job. Of course it's not going quick enough to our liking. To be honest, I wouldn't be devastated if he left, but I like it that he stays.
I keep reading Richarlison is purely a Silva signing. Now of course the two knew each other from Watford but Brands - at PSV - did scout Richarlison in Brazil before he moved to Watford. Richarlison just chose to go to Watford over PSV (and Ajax). Was widely reported in Dutch press. Buying Richarlison was something that Brands and Silva agreed upon easily.
Shaun Laycock
40
Posted 17/02/2021 at 09:04:51
I for one think Brands has been operating with one hand tied behind his back...remove the deadwood and then buy. I thin he has done a very good job on this. His signings have been mostly successful, but expectation is high. If they don't work, sell them on. I think him signing could be our best signing of the season.
Tony Everan
41
Posted 17/02/2021 at 09:08:03
It's good news the Marcel Brands is signing a new contract. His initial plan as I understood it was to be in the main buying quality younger players who have massive potential. I want more of this going forward. I am hoping this contract extension signals a more significant shift in the direction of our recruitment.
I want more Ben Godfrey type signings to reinvigorate the club. I think Brands will be pushing for this type of recruiting. Ie, The club needs a midfielder the mould of Godfrey. Someone younger, bursting with energy and the single minded will to win. A wide man too, with pace energy and skill, again with the same mental attributes.
Like others above I agree he has been far from perfect, but who would have been perfect? He's done ok and done well enough for us to trust him to do his best for the club over the coming years.
Paul A Smith
42
Posted 17/02/2021 at 09:18:51
Tony A. Possibly because I see more of him on TV than any of the others I mentioned. Who do you know at any of them clubs that has so much appeal every time a transfer is made?
I understand he will be seen from time to time but as a whole, we speak about him like he plays for the side.
I don't understand this club sometimes. We were successful in the 80s and most people hated the board members. Now we are shit its a popularity contest.
Mick Conalty
43
Posted 17/02/2021 at 09:21:22
For all he has done, I think
Brands deserves a
6 month rolling contract.
Erik Dols
44
Posted 17/02/2021 at 09:35:52
Don't know where else to post it, apologies for being off-topic, but I was just reading some comments from PSG fans on Moise Kean. Of course last nights match will have them being a bit overly optimistic but anyway:
Kean has exceeded all my expectations, promising player, good finisher, good work rate, good pace, always looks motivated, hungry and energetic
Moise was fighting until the second he was subbed out.
Best part is, that mentality also exists in "unimportant" games. He has incredible work rate on almost all games he played with us.
Really makes you wonder why we didn't see any of that at Everton. Sometimes this just doesn't work out. Perhaps the culture clash was too big and Paris is a better fit for him.
Bill Griffiths
45
Posted 17/02/2021 at 09:46:09
Decent article on Red Echo site regarding Brands and the need for patience regarding tenure and aims etc.
Frank Sheppard
46
Posted 17/02/2021 at 09:46:12
Jury out on this guy still on balance much to be said for continuity hopefully.
Thomas Richards
47
Posted 17/02/2021 at 09:46:55
The majority of his signings have been successful.
I reckon he deserves a new contract
Antony Kelly
48
Posted 17/02/2021 at 10:02:18
Brands has been poor for me I'm surprised he's got an extension. I don't rate him. Since he has been in post we have finished 8th, 12th and still have the rest of this season to play. Hopefully Ancelotti is calling the shots regarding signings, that would make more sense to me...
Ian Horan
49
Posted 17/02/2021 at 10:04:05
I cant believe how myopic some of the posters appear to be. Brands had a near mission impossible task when he arrived, the moving of the dead wood as people call it was never going to be easy. Brands has found some younger players who are head and shoulders above what our acadamy has produced, Knouknou, Braithwaite, Kean, Godfrey. Yes the last two came at a cost however if sold now we would have substantial profits on each and everyone. His role has not just been about signings he was brought in to restructure recruitment and the academy operating model. Oh and let's be honest here he doesnt get shafted on incoming transfer fees. He has played a blinder on that front. Duke 25 mill, Alan 22 mill, James no fee, Godfrey 25 mill, baithwaite 750k, Knouknou 500k ish. Digne 18 mill, Mina 27 mill, Gomes 22 mill.And before anyone throws the Iwobi fee at 35 mill, it is a structured deal 25 mill rising to 32 to 35 mill dependant on a number of factors. So in closing he hasn't acted like a kid in a sweet shop with moshiris millions I would say he is a top quality shrewd operator on transfers
Si Pulford
50
Posted 17/02/2021 at 10:12:24
Very few people on here are recognising that we're just not that attractive to top talent. So Brands has to roll the dice. The best players simply won't sign for us. And outside of the best players there are no guarantees on the success of a signing. So he's doing a good job when you step back and look at the actual task in hand rather than assessing him on a criteria that would be hard to satisfy as DOF for Barca or Madrid.
Will Mabon
51
Posted 17/02/2021 at 10:14:59
Nobody mentions "Unearthing gems" anymore. Bring back Walsh.
Phil (Kelsall) Roberts
52
Posted 17/02/2021 at 10:29:41
I love people who say things with complete balance.
I quote from above
Delph - up there with Iwobi as one of the worst signings in the clubs history.
So these two are two of the worst signings in this club's history.
Bernie Wright. Claus Thompson, Danny Williamson, Glen Keeley, Aiden McGeady, Oumar Niasse, Antolin Alcaraz, Marc Hottiger, Kepler Wessels, Per Kroldrup.
I think all these 10 are higher in the list of worst signings. And that is just from the top of the head.
Too much hyperbole in the statement above.
Not fulfilled expectations or maybe our desire - but worst in our history?Please.
Brian Williams
53
Posted 17/02/2021 at 10:45:50
Phil, I think the statement was made out of frustration and general disappointment. The poster probably didn't stop to consider our "previous" for signing failures.
Cut em a bit of slack mate, it's Toffeweb after all not the high court. And the poster could be like me and have a memory that only goes back a little while. 🤣
Tony Abrahams
54
Posted 17/02/2021 at 10:54:20
I don't see Brands on the telly Paul A, but I don't see any of the others on the telly either, and wouldn't even know any of their names to be honest with you.
Brands having celebrity status? I'm not sure that's even remotely true mate!
I don't speak about Brands really, I've never understood why he signed Iwobi, I think he failed Silva, but possibly because his hands were half-tied, but now he's finally got rid of most of the deadwood, and has also got the experience of Ancelotti, which might just help him concentrate on continuing the revamp of the most underachieving football club in the country, I'd say I'm glad Brands is staying, because I honestly think he deserves the chance.
Paul A Smith
55
Posted 17/02/2021 at 11:01:02
Tony its probably not entirely true but the point is how is he so disliked or liked here. The fuss is outrageous. Who really cares about him? There has been a documentry about him like I said above.
All that jargon with Keans mum, handing her shirts and promising to look after her boy. What is that about? Cringe.
If he stays he gets things right and wrong but if he goes, Moshiri will get some other hit and miss Simon Cowell of football to do the same.
Si Pulford
56
Posted 17/02/2021 at 11:03:04
I don't think he commissioned the documentary himself like, but harsh to hold it against him.
Paul A Smith
57
Posted 17/02/2021 at 11:07:30
Si, I didn't suggest for one minute he directed or commisioned the documentry. It was made for us because we are shite and a soppy story about a director of football cheers us up.
The bigger picture is he gets far too much attention (and love) for someone who has never played a game for us.
Hes just a DOF that will one day leave and very possibly without the club achieving anything but a lovely bank account and more sellable assets.
Tony Abrahams
58
Posted 17/02/2021 at 11:16:28
He was probably being sincere to Kean's Mum, Paul A, but football isn't really like that. If you're not the manager and don't pick the team, it's impossible to really look after someone, but I got the gist of what Brands meant, saying that to a parent sending their kid to a foreign land? But like yourself I'm not interested in this kind of bullshit, and if I think Brands let Silva down, I don't think Ancelotti would allow it, and I'm hoping the real sea of change, is happening below the first team, if that makes sense, and where I see Brand's most important role.
Kevin Prytherch
59
Posted 17/02/2021 at 11:16:46
Phil 52 - even with inflation, £3m on Williamson vs £35m on Iwobi. I would say that Iwobi was worse because of the money spent.
Same for £8m on Delph and £80k p/w wages, I would say is worse than most on your list, again due to the amount of money spent.
Niasse and Koldrup would be high (although we recouped some money on Koldrup I think), but I would still say Iwobi and Delph are up there with the worst.
Sean Callaghan
60
Posted 17/02/2021 at 11:25:47
As with most things in life the reality of Brands' tenure so far falls between the polemics of the views expressed here: neither a roaring success nor an abysmal failure.
Why I'm personally glad about this new is that it represents the two things that this club has been lacking for the best part of a decade, stability and continuity.
Okay, some might say this is the same mindset as the much maligned satisfaction with the 'seventh-ish' mentality that characterised the Moyes era, and I totally get that.
You can't build the sort of sustained success that we need going forward from a place of chaos, such as we've seen over the last seven years, so if Brands (or any other hypothetical DoF, for that matter - he hasn't been such a success that I'd say he alone could do this job) needs another term to continue the restoration of order I can see the logic in giving him a new contract.
Brian Harrison
61
Posted 17/02/2021 at 11:39:40
I think this summer could be pivotal in how we move forward as a club, and irrespective of who the DOF is we have major problems to address. As I see it we have a bloated squad which Ancelotti has already alluded too this season, and while we have loaned some players out most will be back on our books come the summer. So all we have done is by loaning out some players we have just kicked the can down the road for a few months.
But the most worrying aspect is what sort of transfer budget will Ancelotti and Brands have to improve the club. We are very close to our FFP limit so we will have to sell big to be able to finance the improvements Ancelotti will be asking for. I read last night one of the European press guys suggesting that we had loaned Kean to PSG with a a potential for them to make the move permanent. Now when Carlo was asked this question when we loaned Kean out he said no deal to sell had been agreed, seeing how well Kean has done lets hope Carlo is right. I am sure given a choice Kean would prefer to stay at PSG, and if Everton do decide to sell him we should play really hard ball as rumour has it that also Juventus would like to buy him back. When you think of how much some German clubs are asking for Sancho and Haarland both in excess of £100 million. So lets hope if we do sell him we are looking more towards those figures than that £30 that we paid for him.
Also Tosun is out on loan but I cant see Besiktas offering the sort of money we would want, so maybe he will come back in the summer. So apart from Kean, Tosun and Bernard I cant see any of our other fringe players bringing in much cash. I would think that Carlo would be looking to bring in a full back as well as a couple of strikers and another midfield player. Can he get the quality he wants if we only have maybe £60/70 million to spend. I would also think that FFP will be looking very closely if Usmanov tries to inject more money into our club so maybe that source will be closed for a while.
Thomas Richards
62
Posted 17/02/2021 at 11:44:03
Brian,
Re FFP.
Did I read somewhere that there is an amnesty for this summers transfers?
Jason Li
63
Posted 17/02/2021 at 11:44:20
He's increased the squad value by about £150 million, or 50% in around 3 years. Which business owner wouldn't give this type of employee an increased contract?
Of course, he's not the only single variable affecting squad value and quality over time, but has played a major part. With all the young players he's signed going up in value, that asset valuation will keep on going up.
And this is the key.
If the value goes up or stays the same (or not down much), at least we can swap out non-performers at no cost over a period of time. That's how we will become a team challenging for the top because we always have dry gunpowder to buy a player when he's available to us as our transfer kitty grows year-on-year when we swap out non-performers.
What I mean is: If 3 years ago we sold all our players and started again, the squad we can rebuy back would be with £300 million in cash. Now if we sold and started a new squad, it's with £450 million of cash because that's what we can spend.
Keep this trajectory, and in 3 years we'll have a £600 million squad and can swap out non-performers and spend more on better quality. It's working :)
Brian Harrison
64
Posted 17/02/2021 at 11:52:58
Thomas 62
Yes they have suspended FFP rules for this season but they will add this seasons to next season when both years will be added together. So although no FFP action will be applied this season anyone thinking they could spend what they wanted this season and it be a free hit is wrong. So seeing we were very close to our FFP before this season started I am sure with the signings we made that will push us even closer to our limit. So the start of next season will see us under more pressure to reduce our spending.
Martin Mason
65
Posted 17/02/2021 at 12:07:16
Excellent news. It is so positive to see the club employing competent professionals.
Robert Tressell
66
Posted 17/02/2021 at 12:12:17
Success is built on long term strategy. Brands first few years have involved sorting out an inherited mess and dealing with a few different managers. Some of the acquisitions have been poor - Iwobi is the one that sticks out as seriously overpriced for someone we didn't need at the time.
The first wave a big, bad contracts expire this summer and enables more effective squad building. A huge wage bill and FFP have tied his hands a bit to date. I expect an encouraging summer with 2 or 3 new first teamers and some talented back up. I'm pleased Brands will now oversee that.
He's also made a good start on getting our bloated academy in better shape and developing players through much needed loans. More work to do here, including recruitment of high quality 14 to 16 year olds that we've been banned from for a few years.
So all in all this is good news - and with Brands and Ancelloti in place we have proper experienced professionals running the footballing side on and off the pitch. That will bear fruit.

Tom Harvey
67
Posted 17/02/2021 at 12:14:35
Mike Gaynes @ 30
"My point is that Marcel has done what he was assigned to do -- start to build out a Champions League club. The core is in place now."
Mike I don't share optimism about the strength of our current team/squad.
We have champions league class players in James, Alan and Decoure, but James if fit enough for a game will as you seen against Fulham,will sub himself if he doesn't enjoy the game, Alan getting on in years, we can't rely on him, Decoure yes, he's looking good for a few years. Both James and Alan were brought in for the here and now and not future.
Iwobi? Sigurdsson? Gomes? These aren't capable of anything meaningful in the CL, maybe the odd good game but not consistantly so.
I can't include Bernard, Ancelotti wants him out, Tom Davies is improving and I like what I'm seeing, I think he can devolop into an Alan type.
Digne yes, Godfrey yes, Keane yes/no, Mina yes/no, Holgate I'm strarting to worry about., Seamus his age excludes him.
Richarlison yes, but he needs to wake up or somebody attach jump leads to him and put a few volts into him.
DCL excellent poacher, work rate/ethic, he harasses defences, but he's no Harry Kane or Cavani, we need another striker and Moise Kean is not it, even if he is finding the net for PSG, he's just another Balotteli if he stays with us. King, Ancelotti obviously doesn't rate him.
We have a way to go, there are some healthy looking green shoots coming through, but not quite a verdant garden.
Martin Berry
68
Posted 17/02/2021 at 12:29:25
I have been impressed with Marcel who inherited a right mess when he arrived, he will need further time with us being a "project" though.
I will be interested to see what he will do with the Moise Kean situation and the transfer fee we receive from PSG.
Obvious he will not come back, he is going to be a very valuable player if he continues to play like he did against Barca in the 4-1, he looked a totally different player, two levels up from he showed whilst at Everton.
I think we are in for an exciting summer in the transfer window.
Pat Kelly
69
Posted 17/02/2021 at 12:35:05
Delph, Iwobi ???
Anthony Hawkins
70
Posted 17/02/2021 at 12:37:48
Did wonder if Brands would and really pleased he has
Danny Broderick
71
Posted 17/02/2021 at 12:44:05
I'd maybe give Brands a C if I was feeling generous. His job is basically improving the buying/selling for the long term future of the club.
Well, who have we sold well? We got decent money for Lookman and Gueye. We got £2.5 million for Schneiderlin. The rest of the players have either left us on loan or on frees when their contracts expired. This is not really Brands' fault, as the players were given such inflated contracts before he came here. But I can't really say he has sold well. He's done ok, no more.
In terms of buying, it's hit and miss if I am being generous. The recruitment improved this season with Ancelotti's input. Before Ancelloti, Brands brought in some dross, such as Lossl, Delph, Bernard, Gomes. He made some good buys in Digne and Mina. The jury is still out on Iwobi and Kean. Ancelotti insisted we got Allan, James and Olsen. Brands brought in Godfrey, Doucoure and Branthwaite.
So at best, a mixed bag. I may have missed one or two players out, as I'm just writing this off the top of my head. But we need far more Godfreys and Doucoures and far less Bernards and Delphs if Brands is to be judged a success.
James Brand
72
Posted 17/02/2021 at 12:48:21
The issue for me is I always like to go back and compare the squad with Moyes best squad when he also claimed to have put value on the pitch...in other words, how many of our squad today would get in the first 11 instead of Moyes' strongest 11?
Won't go through the whole squad but here's some highlights:
Martyn or Pickford? OK, quiet at the back I was just getting this started...
Coleman or Coleman - here's the point: WE'VE NEVER REPLACED HIM, but I do prefer the younger Coleman
Lescott or Keane - Lescott for me
Digne or Baines? It's about par for me but I'd lean to Baines tbh
Rodriguez or Arteta? Par again for me though I'd probably lean to Arteta for two reasons: I recall him tracing back and I also loved singing his song...
Richarlison or Cahill? Par again...though perhaps different players anyway
Bernard or Pienaar? Stupid question
Graveson or Gomez? Stupid question
DCL or the Yak? Yak (but DCL does admittedly have time)
Allan or Carsley - only one has scored for us against that lot so he's a shoe-in...
The point is this: within the context of this thread (DoF), it's the DoF's role to add value to the pitch. Say what you want about Moyes/Kenwright, but I just don't see many of the current players displacing any in Moyes' team which was achieved on a shoestring without the DoF.
Derek Taylor
73
Posted 17/02/2021 at 12:52:28
I would mark Brands 6/10 - mainly for his tenacity in moving on dead wood. But to those who would do away with the DoF post, I would remind them of the alternative. Kenwright.
Sukhdev Sohal
74
Posted 17/02/2021 at 12:54:11
Danny, fully agreed. Decent but not great. Getting paid millions a year to splash £40 million on Iwobi and Delph. That was the past though, and hopefully now we sign younger players with more power and pace (and quality) than those two. Seems like it's the case now.
Brian Murray
75
Posted 17/02/2021 at 13:23:16
Derek. Brrr. Sorry someone walked over my grave or left a door open.
Joe McMahon
76
Posted 17/02/2021 at 13:38:04
Sukhdev, Iwobi isn't awfull and certainly not like the Walsh/Koeman days of 45 million for Sigurdsson and 30 million for Pickford. Also Kean is doing alright for himself at PSG, if he fancies trading playing in the CL to come back to Everton. Which yes I know is a stretch.
David Connor
77
Posted 17/02/2021 at 13:45:57
Pull your finger out Brands. Not exactly been a roaring success so far. What a soft touch this club is. Give out new contracts to serial under-achievers. The club needs to toughen up. But we have been saying the same for years and it still hasn't changed.
Ian Horan
78
Posted 17/02/2021 at 13:50:31
Strange comparatives, Brands can't be responsible for the churn of the squad since TGT left, he can be for the last 3 years. Lets be honest Gomes loan year he was a consistent 7/10 so we would have been foolish not to get him permanently. Brands bought Vlassic for 5 mill sold for 15 mill. Iwobi is an initial 25mill with add ons. Brands remit is not just about transfers in/out. I would happily back that his buys if sold would generate a substantial profit. We have a professional now as opposed to a Walsh or Kenwright circus..
Kevin Prytherch
79
Posted 17/02/2021 at 13:55:30
Ian 78 - sorry, Vlasic was bought pre-brands. He can't get credit for that one.
John Davies
80
Posted 17/02/2021 at 13:56:21
I don't think Brands has done too bad a job to date. I think Godfrey, Doucoure, Branthwaite & Nkounkou have been good signings. Allan & James I credit to Ancelotti.
Once Brands has permanently got rid of Besic, Bollasie, Wallcott, Kenny, Delph, Iwobi, Holgate, Sigurdsson, Bernard, Kean & Gomez, he will in my eyes have done a brilliant job. (Just my opinion).
When you look at how many players he has to get out and replace, with better to keep the depth of squad and improve us, he has a mountain still to climb!
I wish him luck and hope he's as good as some people would like us to believe.
Si Pulford
81
Posted 17/02/2021 at 14:02:38
People saying Brands recruitment has got better because since Carlo came in.
Yes! That's why we got Carlo. To attract better players. Now Brands has a slightly more achievable remit than 'sign champions league players' on premier league wages who are fine with potentially playing in the championship for Silva/Koeman.
Purse. Sows ear. Etc
Robert Tressell
82
Posted 17/02/2021 at 14:12:08
To be fair to Brands, it's not clear whether he has been able to implement his own strategy. It does appear that there's been considerable influence (or interference) from Moshiri and our underwhelming managers too. This summer, a combination of experienced professionals brought us Rodriguez, Allan, Olsen, Godfrey, Nkounkou and Doucoure.
You can debate ages, injury records etc but the quality is certainly there. And we bought in the positions which most urgently needed attention. That bodes well.
If we can bring in similar quality to address the wide / forward positions (with younger, fitter players as Brands says he wants) then we should be a much stronger.
Paul A Smith
83
Posted 17/02/2021 at 14:14:16
James 72 I am glad you made that post because its pure logical. As much as many will not like hearing it and I am no lover of Moyes but his recruitment was close to fantastic.
And by the way it has been great for West Ham so far too. When he was out of work and linked with the Job after Koeman, I wanted him as DOF if there was such a thing and if he was coming back.
For what Everton could afford and manage in that era, Moyes should have been given an MBE for recruitment.
This Brands fella is doing nothing special. Buying and selling for a football club. What a job. Moyes ran the team too.
In fairness to Brands i couldn't expect a 100% record from him either. Its just not possible without a rednoses luck but he has to aim for 100%
Thomas Richards
84
Posted 17/02/2021 at 14:20:35
Moyes should have been given MBE.
Just trying to work out what MBE initials stand for in Moyes case.
Alan J Thompson
85
Posted 17/02/2021 at 14:30:49
I seem to get the impression that some of you think that Mr Brands goes out and buys players he wants and just negotiates the price for those players Mr Ancelotti has persuaded to join. Does Mr Ancelotti not say that he has a good relationship with Mr Brands or do you think he is just being diplomatic and sucking up to a Board member?
Paul A Smith
86
Posted 17/02/2021 at 14:32:31
Thomas, maybe as today's theme is about Recruitment and DoF roles, maybe it could be "Moyes Bought Everyone" as part of the debate.
Brendan McLaughlin
87
Posted 17/02/2021 at 14:38:55
Thomas #84
I'll sit on the fence:
"Manager of Battling Everton" or "Manager of Bottling Everton"
Thomas Richards
88
Posted 17/02/2021 at 14:39:08
Paul A.
I've got M for minge, B for bag...
Struggling for the last one.
Barry Rathbone
89
Posted 17/02/2021 at 14:43:46
Good news, overall Brands is doing a good job.
Moyes MBE stands for "Moyes buggered Everton"
Paul A Smith
90
Posted 17/02/2021 at 14:45:51
We could joke all day, Thomas, but we'd only look laughable ourselves if we tried to slate his recruitment.
Cahill, Pienaar, Arteta, Fellaini, should all have been in successful sides. A couple he got wrong but, overall and with the resources he had, his work getting players in was superb.
Bill Rodgers
91
Posted 17/02/2021 at 15:16:37
I would like to see the manager and every coach at EFC, from Ancelotti and Brands, down through Ferguson, Baines and all the rest, asked a simple question:
"What explains the appalling performance against Fulham, and what do you propose so that it never happens again?"
Everything else is useless waffle.
Thomas Richards
92
Posted 17/02/2021 at 15:19:10
I'm not joking, Paul.
Disliked him when he was our manager. Even more so when taking into account the sly, underhanded way he went about the Man Utd job.
A slippery fucker, not a man to trust imo.
Ian Horan
93
Posted 17/02/2021 at 15:19:51
Moyes managed us between 2002 to 2013 and yes, Pienaar, Felliani, Cahill, Arteta and Baines were outstanding buys given the budget at the time. But I am sure we all agree, given the current status of the Premier League, that purchases from Championship teams etc will certainly not consistently break the top 4.
Thomas Richards
94
Posted 17/02/2021 at 15:25:56
Ben Godfrey could play for any of the top four teams Ian.
Pete Williams
95
Posted 17/02/2021 at 16:15:27
Still gotta find out if King is up to the job, loads are only out on loan and Allan being out for so long is worrying. So, even under Carlo, I'll still only give Brands 7 out of 10, could do better on his report card. He needs to get good money for Kean to finance future deals for a right back and a good keeper. So the jury is still out on Brands
Brian Murray
96
Posted 17/02/2021 at 16:17:38
Tony abrahams post 54. You say getting rid of most of the deadwood. Have a look tonight a chunk are still turning up like a bad smell around the first team. Seamus, sorry but a top 4 club would of phased him out over two years ago. Siggy and Gomes great when it suits them one game in five if we are lucky. Iwobi Bernard ditto. Jury out on Tom may still be a player in there somewhere. The two goalies no where near top four. Good luck once again in the summer Marcel.
Paul Jones
97
Posted 17/02/2021 at 16:18:05
With regard to Moyes recruitment it was 50/50 Pienaar and Arteta were successful try and buy signings. There were some astute signings but some big buys like Beattie that were disastrous given our budget and the foray into the USSR market was bad but also foreseeable and should never have occurred.
I would hope given the massive fees we have paid for some players that subsequently have been proven to be of low quality that the lessons have been learnt. In the past it was very unhealthy that preferred agents were particularly close to manager or even related.
Paul A Smith
98
Posted 17/02/2021 at 16:36:15
Thomas I can't understand why a comment cannot be made on here without some influence of emotion.
It is beyond frustrating now but I can't help commenting on here and mostly through frustration.
What Moyes does, done or goes on to do personally has absolutely nothing to do with his recruitment at Everton.
Of course he was going to fail on some players. The best managers also do but overall its total stupid to even question it. I mean what was his biggest kitty, about 25 million?
If I am ever in court I will beg the judge that nobody from ToffeeWeb be part of the jury.
There would be calls of guilty to murder because I swore on ToffeeWeb a while back.
What is the point of commenting on anything if your personal feelings are attached?
If someone asks you was Pienaar a good signing for Everton do you answer, no because Moyes is a prick and I don't trust him?
There are many intelligent people on here but relevance is thrown away by emotions, hate and ignorance in so many cases.
Moyes signed Coleman, Arteta, Cahill, Jags, Lescott, Martyn, Howard, Fellaini, Baines, Johnson, Yakubu. Yobo, Valente, McBride, Donovan off the top of my head.
Someone then calls out Beattie and gives him a 50/50 on signings, fucks sake that is truly emotional.
To play for the top side you have to be technically brilliant too Thomas. Godfrey is miles from that but doing well for us.
Thomas Richards
99
Posted 17/02/2021 at 16:39:15
Quite an emotional post from you there Paul.
What did you consider "emotional" in my post?
Pete Williams
100
Posted 17/02/2021 at 16:45:28
Moyes was good with Irvine as his number two and is now good again with Irvine supporting him. Moyes signings were often good, but he had some really dodgy ones. Bilyaletdinov and Van der Meyde come to mind. He also never got us a real centre forward. However, his teams always put a shift in which isn't happening when we play any team below us.
Paul A Smith
101
Posted 17/02/2021 at 16:45:45
I predicted that would be your reply Thomas.
We were talking about players signed and you brought side dish stuff in like you didn't trust him, don't like him.
I don't either mate but those emotions have nothing to do with the subject we were addressing.
Its not personal against you Thomas its ingrained. You mention a nice thing Kenwright has done and it'll be shot down with something irrelevant like the kings dock or something.
I find it impossible Thomas I cant get my head around why so many choose to digress.
You could say to someone tomorrow, Carragher was right about Everton there wasn't he and even if he was, someone will tell you he talks shite.
Its funny at times but not helpful if you want a serious debate.
Michael Barrett
102
Posted 17/02/2021 at 16:52:34
Colin Glasser 36..I think half of the happy Clappers have foregot that Fulham game, as someone on here said so eloquently unwarranted positivity is delusion he had the happys number.
Rob Halligan
103
Posted 17/02/2021 at 16:57:08
WTF is a "happy clapper"? Is it someone who's happy and claps?
Brian Murray
104
Posted 17/02/2021 at 17:01:06
Paul a smith. Post 101. Of course emotion is maybe apart of a viewpoint on here because like yourself we all care and no stone should be unturned until we have got rid of this passive ineptitude on and ( still ) off the pitch. Oh and irrelevant comments like the kings Dock ! Jeez it was a total game changer or would of been for efc. No point scoring from me as I say I just want the best people running our club. See you at Wembley 🤫
Dale Self
105
Posted 17/02/2021 at 17:04:59
Moyes, Master Bedwetter Eunuch is my contribution to that MBE mystery.
Thomas Richards
106
Posted 17/02/2021 at 17:18:59
Paul,
Not too difficult to predict to be honest.
You posted an emotional post after pulling me for doing the same.
I didnt post emotionally btw.
I posted an opinion.
I didnt discuss the "players signed"
That was you and other posters.
You post in your manner, I will post in mine Paul.
Hows that for you?
Michael Barrett
107
Posted 17/02/2021 at 17:32:50
Rob halligan its someone who puts up with shite, and says things like " we'll beat these" every fucking week.
Mark Murphy
108
Posted 17/02/2021 at 17:36:37
Rob, its someone who doesnt agree that Ancelloti is shite and Allardyce-like.
Ian Bennett
109
Posted 17/02/2021 at 17:36:46
Need another good performance from Moise Keen in the champions league to starting adding to his transfer value.
€60-70m seems fanciful from the euro journalist - but if PSG can get a good run going and Kean delivers, this could add valuable money to the summer transfer pot.
Thomas Richards
110
Posted 17/02/2021 at 17:46:02
"of or denoting a form of evangelical Christianity in which members of the congregation sing and clap enthusiastically during acts of worship."
Collins definition of happy clapper😁
Rob Halligan
111
Posted 17/02/2021 at 17:48:32
So, a happy clapper is someone who is optimistic, or someone who doesn't agree with someone else's opinion. Thanks lads!!
Rob Halligan
112
Posted 17/02/2021 at 17:51:31
Cheers Thomas!!😁😁
Thomas Richards
113
Posted 17/02/2021 at 17:52:13
Hallelujah brother Rob
Don Alexander
114
Posted 17/02/2021 at 17:54:04
Moyes MBE? Mutters Baffling English.
Paul A Smith
115
Posted 17/02/2021 at 17:58:02
Brian 104 hopefully. I am not saying don't have emotions I am full of them, just try not to let them rule a discussion.
Thomas your posts are fine with me mate and you seem sound I just thought you were digging at the judgement on Moyes signings but I did say it wasn't just your post but my apologies anyway.
Lets see how emotional we all feel at 11 tonight mate. 😫

Thomas Richards
116
Posted 17/02/2021 at 17:59:44
https://youtu.be/olQrCfkvbGw
There you go Rob.
Im in the back row
Paul A.
Likewise mate.
No need for apologies Paul, i never took any offence.
I can see clearly how much of a Blue you are.
End of the day thats all that matters 👍
Don Alexander
117
Posted 17/02/2021 at 18:04:08
Given that our Moise is playing with Mbappe and Neymar next to him I reckon I'd be worth £50mill or so with those two either side of me.
Another "great" current PSG player at the moment is Ander Herrera, the guy who was a waste of space at Old Trafford.
France is like Scotland folks, a doddle for the top dog, and Barca last night were like us against Fulham.
Richard Mason
118
Posted 17/02/2021 at 18:06:16
It's not just who Brands signs, it's the manner in which he gets the deals done. Every player except iwobi, he did not overpay for.
If that was Walsh we would have paid double or triple for any player brands brought in.
And even with iwobi, (I don't rate) 25m rising to 30m for a 23 year old with plenty of Orem league experience. It was the going rate
Ian Horan
119
Posted 17/02/2021 at 18:48:40
I believe the Manxs didn't give Moyes an MBE, when we beat them with Paddy Powers "Grim Reaper" photographed behind him, if my memory serves me correct Moyes got an OBE.Out Before Easter.
Dale Self
120
Posted 17/02/2021 at 18:55:25
Not sure if you Keane clappers watched the game but he was a passenger and it took the in-run from the LB to clear him for his free unmarked header. You will also see him getting free on the wing because he does fuck all and is left in space after not making any impact. The only tackle I witnessed him attempted was a foul. I don't want to talk his value down but that is a Parisian shop window there don't get excited.
Dale Self
121
Posted 17/02/2021 at 18:55:28
Not sure if you Keane clappers watched the game but he was a passenger and it took the in-run from the LB to clear him for his free unmarked header. You will also see him getting free on the wing because he does fuck all and is left in space after not making any impact. The only tackle I witnessed him attempted was a foul. I don't want to talk his value down but that is a Parisian shop window there don't get excited.
Paul A Smith
122
Posted 17/02/2021 at 19:01:15
Thomas 116 thanks mate onwards and upwards.
I just found out we are on amazon and BT tonight so hopefully I have the choice of not listening to that phoney Steve McManaming.
I thought it was only on LFCBT.
Coyb
Tony Abrahams
123
Posted 17/02/2021 at 19:50:03
So most of the players are still deadwood then Brian@96, which shows me, how bad the squad was when Brands first arrived.

Paul Hewitt
124
Posted 19/02/2021 at 06:21:41
Barry @89. Finishing regularly around the top 6, Yeah Moyes really buggered us up.
Steve Shave
125
Posted 19/02/2021 at 07:44:20
It makes sense to give Brands another contract. We need to give him the chance to shape his vision. If he can ship Delph in the summer, Besic (who's contract is up I believe) and one or two others and not overpay for quality in three key positions, then I think things will really start to move forward. I was excited when we signed Kean but this was sadly short-lived, apart from the Newcastle game which he bossed, he looked bang average at best and utterly disinterested. If we can get a fee anywhere near £45Million it would represent fantastic business. I think Richy will stay one more year (mainly because there won't be many clubs willing to pay what we would want for him). In my opinion Brands has got a lot more right than wrong, if only Moshiri could have got him and Carlo in from the beginning, I bet he rues the day he pursued that swollen ham of a man Koeman and the grinning retard Walsh, those tossers set us back 5 years.
---
Add Your Comments
In order to post a comment, you need to be logged in as a registered user of the site.
Or Sign up as a ToffeeWeb Member — it's free, takes just a few minutes and will allow you to post your comments on articles and Talking Points submissions across the site.