Liverpool vs Everton
Thursday, 18 February, 2021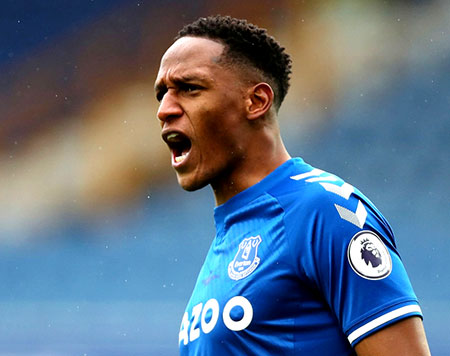 Yerry Mina is almost certain to miss out with the calf strain he sustained against Manchester City on Wednesday
It's that time of the season again. Time for the ritual dread of the trip across the Park; for the cursing of past luck; lamenting past failings; and for the examination of an intractable Everton psychological hangup that has, for so many years now, held them back from winning this fixture.
It took the Toffees 21 years to finally win at Old Trafford before Bryan Oviedo struck that uplifting goal under Roberto Martinez in 2013; maybe that numerical coincidence can be the omen for them at Anfield this weekend.
Or maybe the combination of Carlo Ancelotti's management, the unpredictability of this COVID-affected season and the absence of fans on the Kop will be enough to tip the scales in Everton's direction.
They do come up against a Liverpool side on their worst run of form for a long time, particularly at home where they were utterly dominant before Burnley punctured their apparent infallibility on their own turf. Then first Brighton and then Manchester City came to Merseyside and left with all three points, all part of a sequence that has seen the reds lose five of their last seven Premier League games and slip out of the top four.
While they've been awful at home recently, perhaps Everton's trump card coming into the derby is their away form. They're unbeaten on their travels since the start of November and have won four of their last five and if they can channel any of that spirit of invincibility on Saturday, then they stand a good chance of finally ending this miserable run on this ground.
Ancelotti will be without Yerry Mina after he was withdrawn from the defeat to Manchester City because of a calf injury. The Colombian was restored at centre-half alongside Michael Keane after sitting out the fixture against Fulham last Sunday but lasted just 18 minutes of the 3-1 defeat to Pep Guardiola's side before having to come off.
The manager suggested that Mina would almost certainly be absent at Anfield during his post-match press conference on Wednesday evening, saying: "He had a problem on his calf," the Italian said. "I don't think he will be available for the game on Saturday."
Given his speed, physicality and impressive recent form, Ben Godfrey would seem to be the better replacement for Mina, with Mason Holgate starting at right-back again and Lucas Digne dropping back to left-back.
The hope then is that both Allan and Dominic Calvert-Lewin will be available, however, as both have been sorely missed during their absences. The striker has missed the last two games with a hamstring strain but the Brazilian hasn't played since the first week of December because of a tear of his own hamstring that has only now finally healed.
He was withheld from the City clash for reasons that Blues fans fervently hope was so that he could be fully prepared for the derby and not because of any sort of relapse. Should he start, he could either replace Tom Davies — that would be harsh as the young Englishman has done really well of late — or partner him, perhaps so Gylfi Sigurdsson can be rested.
If Calvert-Lewin passes his fitness test, his presence back up front would allow Richarlison to move back out to the left flank and Alex Iwobi to continue on the right if James Rodriguez is used off the bench again.
The biggest selection issue, though, may well surround the goalkeeper's spot where the presence of Jordan Pickford would almost certainly provide a lightning rod for unwanted attention based on what happened in the Goodison derby back in October.
Neither Liverpool fans nor the media have stopped going on about his challenge on Virgil van Dijk that has sidelined the Dutchman ever since and the prudent thing on Ancelotti's part would surely be to rotate Robin Olsen back in and avoid the drama altogether.
Because of Van Dijk's injury and that of Joe Gomez and Joel Matip, Jürgen Klopp is working with unfamiliar and inexperienced central defensive pairings. He had dropped Jordan Henderson into the back four over the last couple of League games, first to partner Fabinho and then, after the Brazilian suffered an injury of his own, new signing Ozan Kabak, who enjoyed a better evening in the Champions League against RB Leipzig than he did in the 3-1 defeat at Leicester last weekend.
Klopp is hopeful that Fabinho will recover from a muscle injury in time while Naby Keita is a possible returnee in midfield but if Ancelotti will have learned a anything from watching Liverpool in recent games it's that while the reds remain dangerous going forward, they are vulnerable at the back when truly tested.
The recipe for success should then be simple enough: keep things tight and compact at the back while having enough adventure and intensity going forward to really get amongst whatever defence Klopp goes with. With their opponents wounded by recent League results and without the added dimension of fans in the ground, Everton may never get better conditions in which to finally win at Anfield and put this dreaded hoodoo behind them.
Courage!
Kick-off: 5:30pm, Saturday, 20 February, 2021
Referee: Chris Kavanagh
VAR: Andre Marriner
Last Time: Liverpool 5 - 2 Everton
Predicted Line-up: Olsen, Holgate, Keane, Godfrey, Digne, Davies, Allan, Doucouré, Iwobi, Richarlison, Calvert-Lewin
---
Reader Comments (324)
Note: the following content is not moderated or vetted by the site owners at the time of submission. Comments are the responsibility of the poster. Disclaimer
Graham Hammond
1
Posted 18/02/2021 at 23:08:38
Three to four weeks out then for Mina now given that it is his calf. Disappointing that a player so young should be plagued by calf trouble, sadly trouble can often recur too.
David Pearl
2
Posted 18/02/2021 at 23:42:54
Shame as he has really stepped up this season and has started throwing his body on the line with a new found grit and desire needed in the prem. Much improved. Hope he is back soon.
Jerome Shields
3
Posted 18/02/2021 at 23:45:13
Mina in his last two showing, including against Man City has not been at his best. Maybe this problem was working on him.
Chris Leyland
4
Posted 19/02/2021 at 00:02:10
I'm sure that I read that we haven't won a league game this season when Mina wasn't playing
Justin Doone
5
Posted 19/02/2021 at 00:32:10
I think Mina has started to show his promise even though he has a bit of Bambi about him, (unconventional footwork) but even Bambi learnt to run.
Sadly his injury record remains an issue. He o e Keane needs to agreed sold. Godfrey the go-to defender to become the mainstay centres back next season.
Steavey Buckley
6
Posted 19/02/2021 at 01:25:43
It would been a good opportunity for Branthwaite to further prove his qualities of a 6' 5" tall man. Unfortunately, Ancelotti prefers to keep the 'untried' in the Everton squad. Coleman who came on for Mina contributed 2 goals for ManCity.
Kieran Kinsella
7
Posted 19/02/2021 at 01:55:35
Steavey
Really? Did you hear Mowbrays comments about Branthwait struggling with Ched Evans? He's a kid with potential, he did OK in a few dead rubbers last year but you would really drop him in against Salah and co?
Steavey Buckley
8
Posted 19/02/2021 at 02:22:35
Kieran: The situation is the same when the season began in September, Everton needed more attackers, but Ancelotti allows Kean and Walcott players with experience to go out on loan without adequate replacements.
Then in January when pushing for a top 4 place, Ancelotti allows 2 more players with experience to go out loan without adequate replacements. As of late, Everton are conceding 2 or more goals a game.
Branthwaite and Kenny can't be any worse than those in the defence when considering Richard Dunne was 17 years and 3 months when he made his league debut and played a further 60 games before transferred to Man City.

Kieran Kinsella
9
Posted 19/02/2021 at 02:29:43
Steavey
They could be worse. When Dunne made his debut we were in a relegation battle, the manager was gone a month later and we finished 15th. Right now we are 7th, also the EPL has moved on. The likes of Carlton Palmer and Andy Sinton would not be stars now but they were then.
Steavey Buckley
10
Posted 19/02/2021 at 02:43:12
Kiernan. It's not a gamble when Everton are conceding 2 or more goals a game. In games of late, Everton have conceded 3 and 4 goals in 2 games. It's different if the defence had been watertight, but that is not the situation now. So playing Branthwaite and Kenny would not have made Everton's situation worse - they may have made the situation better. But sending them out on loan has made Everton's situation worse when there are no others with experience. Mina will be out for awhile, as the defensive situation gets worse.
Si Cooper
11
Posted 19/02/2021 at 02:54:10
Steavey (8), I think you need to substitute 'when well placed in the league' for 'when pushing for a top 4 place'. There is no evidence/ guarantee that we would now be the same or better results wise if we had not allowed those players to go on loan.
Who knows, it may well be in the next couple of years that giving those players that extra experience in their early careers is what actually helps to propel us into the top 4.
Kieran Kinsella
12
Posted 19/02/2021 at 03:26:45
Steavey 10
You seem to think conceding 2 or 3 per game is some kind of maximum. I'd refer you to Southampton's annual 9-0 losses to illustrate that it could be worse. I get the sentiment, I was a fan of Richard Dunne and of Jonjoe Kenny but I feel JJK was born 30 years too late. The likes of Gary Neville could win titles 20 years ago but now they need more pace and skill. In the Dunne era, JJK could've been our Gary Neville but in this era he seems too short, too slow and not skillful enough. Branthwaite, maybe he'll make it although I had similar hopes for Penno and Duffy and they came up short, but at this minute after being run ragged at Blackburn I don't think he's ready.
John Boon
13
Posted 19/02/2021 at 04:08:44
Branthwaite lots of potential but not yet ready for the Prem but should be in the near future. JJKenny obviously a very pleasant hard working full back who will be a pro player but somehow I don't think it will be at the Premier level. The disparity between the Premier and the Championship and the Scottish League is huge.Proof is how the three relegated clubs are all at the top of the Championship.
Paul A Smith
14
Posted 19/02/2021 at 06:50:49
I can't believe Branthwaites name is even mentioned before a derby. The lad who has just struggled in his last Blackburn game and has virtually no premier league experience after signing for Everton from Carlisle.
What planet are we on? We have a Comlumbia international out which is bad news, so lets hit Ancelotti with a stick even though he still has 3 fit CBs in the squad.
It'd be quicker for you online tacticians to just post -I Hate Ancelotti- and leave it at that.
Why can't you dig for real reasons that could help the club progress?
Didn't know Van Dijk was injured though so thats a bonus.
Mike Kehoe
15
Posted 19/02/2021 at 07:40:59
Steavey Buckley, I bet your FIFA team is fucking awesome
Jim Bennings
16
Posted 19/02/2021 at 07:50:28
Shame about Mina because he's a big threat from corners for us too.
The thought of starting Holgate in the derby, who strolls through games far too leisurely gives me jitters, a back five including Holgate AND Pickford however means I'll spend most of the day on the lavvy.
Seriously unless we start learning how to defend properly we will be darted again tomorrow teatime.
We have this annoying habit of standing off players, do that with the likes of Salah and it will end only in one way.
I'm not even going to mention our record in Merseyside derbies anymore because it's not even a record now, it's a complete embarrassment and everyone that's been associated with our club over this last decade should be ashamed of it.

Robert Tressell
17
Posted 19/02/2021 at 07:57:43
Strange comments. We're well stocked at centre half and Branthwaite obviously is a big talent but he's in a good place learning the ropes.
And the defence doesn't operate as a separate unit detached from the team. They operate in a team structure. More than anything we're conceding because we can't hold on to the ball in the attacking third and can't get a grip on possession. It's therefore easier for the opposition to pile forward and apply sustained pressure.
Anthony Flack
18
Posted 19/02/2021 at 08:12:28
Simple - stop giving the ball away
Some of our football is high risk looking incredible when it comes off but with a tendency to give it away
Usually the defender hits the midfield with a pass and then there is a risky flick tried that works occasionally
We missed DCL holding the ball though Richarlison really tried against City
Mike Kehoe
19
Posted 19/02/2021 at 08:13:50
I hope we go with a 442 with King and Richarlison up front. The quality they have will be difficult to contain for 90 mins and their central defence is definitely their weak spot.
I just want us to brave, not stupid and keeganesqe, just not timid and negative which has too often been the case.
Dick Fearon
20
Posted 19/02/2021 at 08:21:48
I have never seen an unbiased report on the Van Dijk Pickford incident.
I remember VD barreling in on goal making no effort at evading Pickford who as most keepers do in that situation was spreading his body.
Is there a video of the action and if I am wrong I will say so.
John Keating
21
Posted 19/02/2021 at 08:23:46
Like at Goodison don't be surprised if the RS start at 100 mph and get one. We do tend to start both half's a bit slow and switched off.
Immediately after the City game we should have brought in a psychologist. Tactics, team and form does not count against the RS. It is all mental and that's where we fall down
Christy Ring
22
Posted 19/02/2021 at 08:34:26
Steavey #6 Coleman contributed 2 goals for City, wow, the first goal was a deflection off Seamus, hardly his fault, the 2nd a shot from Mahrez from 20yds? how was it his fault, the 3rd Sigurdsson never followed Silva and he scored. You didn't mention how Coleman kept Stirling so quiet?. You mustn't have seen that? Try and be a bit more constructive in your criticism.
Mike Kehoe
23
Posted 19/02/2021 at 08:44:37
If Pickford would have intended to damage st Virgil he would have took out Holgate.
John Raftery
24
Posted 19/02/2021 at 09:02:51
I think we'll know in the opening minutes what sort of performance we'll get from our team. If they start as they did against Fulham, slow, lethargic and seemingly uninterested, we will surely be in for another pasting. On the other hand if they start on the front foot with every player determined to get a good first touch, win their first tackle and make their first pass quickly and accurately we might see them give a good account of themselves as they have done in several away games this season.
I thought Allan's injury looked serious on the night it happened at Leicester. He was running flat out when he pulled up very sharply on tearing his hamstring. That usually means a six to twelve weeks layoff. He was been out for over nine weeks. Throwing him straight into a derby looks questionable to me; not so much concerning the risk of a recurrence, more the risk of him needing an hour or so to get tuned into the pace of the game. A derby game is not usually the ideal environment for a player to ease his way back in.
I agree Pickford should be left out of this one for the reasons cited by Lyndon. This will be the first Anfield derby I will miss in fifty three years so we are bound to win!
Tony Abrahams
25
Posted 19/02/2021 at 09:08:17
Most sensible thing I've seen written on ToffeeWeb, for a while in my opinion Paul A, and you know which sentence I mean mate, whilst also adding to anyone wanting to post negative bollocks, to think about who we are playing tomorrow night?
Not liking Ancellotti, is a personal opinion, but save it till after the game please, because we are playing the team, that most of us hate the most tomorrow night, and sometimes it means we've got to unite.
I can still remember Campbell's goal, but it was that fucking long ago, I can't remember it like it was yesterday, unfortunately. United they stand, divided they fall, has never been a more apt description for the football club I love, so come on Evertonians, let's unite, and see just where it takes us🤞🙏
Martin Mason
26
Posted 19/02/2021 at 09:08:18
Logic says that if we are playing a side that has done badly for a while and needs a result they will get it from us. Logic says that if we play Liverpool at Anfield we will lose. Logically I'm going for a hurtful defeat for us yet hoping that we can produce a good performance.
Eddie Dunn
27
Posted 19/02/2021 at 09:14:13
i would have Coleman in and drop Holgate who has, of late displayed a nonchalance whilst being exposed as a square peg in a round hole. He can do better but I would go for Coleman, who is a specialist and usually does well against the Red ones.
The key for us is the possible return of Allan as protecting the space in front of our defence where Mane. Salah and Firminio lurk, will be key.
We really need DCL back to test their patched-up centre half pairing. As Lyndon says, we will surely not get a better chance to stick it up them than tomorrow, with their dodgy keeper/defenders and Thiago slowing down play.
Let us go for the jugular and shut their bleating shithouse fans up.
I haven't watched it, but BBC Online have Mane talking about the last derby "Last Merseyside derby not the best memory".
I wonder how long it will be before the pundits mention You-know-who???
Brian Murray
28
Posted 19/02/2021 at 09:16:43
For once we need them to lose their head and nerve. Maybe leave a few get well soon cards about the place an hour or two before kick off and the odd bmd leaflet.
Kunal Desai
29
Posted 19/02/2021 at 09:20:40
I've heard it a few times over the seasons that Everton will have no better chance to win at Anfield, yet the outcome has always been either been taking a point or suffering defeat.
One of the worse Liverpool sides were under Roy Hodgson yet we still could't beat them playing out a 2-2 draw.
For me it's simple these games mean more for them and and those associated with the club. You watch them in this fixture over the years, they want it more.
It helps that they have had an actual leader over that time in Gerrard and now Henderson. Who exactly do we had/have to rally the troops??
Tomorrow will be no different, even without fans, like City they will go up one or two gears if need be because they'll want it more.
Tony Abrahams
30
Posted 19/02/2021 at 09:23:03
Many a true word said in jest Brian M, because once Joe Royle began to get under their skin, they began to show their true colours imo, but we only got a few seasons out of this, whilst we have showed them to much respect ever since Big Joe, departed.
I know we have no fans there tomorrow night, but to show the players that don't already know how much this game means to Evertonians, just show them the scenes behind the goal when Sigurdson scored at Anfield in the cup, I spoke to American relatives who were at that game supporting Liverpool, but they said that was the highlight of the night for them, they'd never seen nothing like that in their lives
Rob Halligan
31
Posted 19/02/2021 at 09:32:46
Eddie # 27. you say "I wonder how long it will be before the pundits mention You-know-who"?
They haven't stopped bleating on about him since 12.41pm on 17th October 2020.
Thomas Richards
32
Posted 19/02/2021 at 09:43:04
Re van dijk
Mention it first lads.
Do thier heads in.
Jason Li
33
Posted 19/02/2021 at 09:47:07
Look
If you had
One shot
Or one opportunity
To seize everything you ever wanted
In one moment
Would you capture it
Or just let it slip?
If Alisson plays a nervy game and DCL is fit with his aerial ability against their back four, then the lads have to be up for it. If we're under the cosh, I don't mind if we hit it down to the corner flag like rugby just to get Alison to wander out once or twice and see what happens. Doucoure to play slightly to the right to make Trent think twice about a long ball switch to Robinson and any interceptions.
Kunal @ 29 I totally agree. They gloat and brush it off, but they gloat because it means everything to them and nothing less. When we win (you can't throw a heads in a toin coss forever) and they lose, watch their self belief crumble, and accusations, sob stories and bitterness will make the Live Forum show a nothing burger. Admittedly, I like to visit the live forum - great banter too.
But: I can imagine the RS when they lose to the Blues will be the biggest outpouring this side of the Millenium.
Kevin Molloy
34
Posted 19/02/2021 at 09:47:08
There are good reasons for our appalling record with that lot. I mean, they've been in 4 CL finals in the last fifteen years, they are a bloody good side sadly, who would choose us as the team they most want to beat. Carlo will start to redress the balance in the next couple of years (the process has started already) but tomorrow may come too soon.
I wouldn't be replacing Tom with Allan unless he is absolutely tearing it up in training. We can see what a good player he is, but he's had quite a few games where he's not done himself justice, and Tom for me is in a real purple patch at the moment.
Brian Murray
35
Posted 19/02/2021 at 09:48:17
Tony post 30. Who says I'm friggin joking 😆, We haven't got many playing with a nasty streak, maybe Ricky and Ben the god. We can't rely on var to bail us out this time I'm glad Ricky on a bit of a streak plus Dcl back so play to our strengths no knees knocking at the sight of that yellow budgie on the shirt and we can beat them.
Tony Shelby
36
Posted 19/02/2021 at 09:59:43
Hate them.
100%, with every bone in my body, despise them and the majority of their classless, braying, boorish, fuckwit fans.
Time for every player in blue to put in a proper shift for 90+ minutes and to rip Bugs Bunny's band of entitled, media-shagging charlatans a new one.
COYFB!!!

Brian Murray
37
Posted 19/02/2021 at 10:01:55
We keep hearing Carlo just can't or won't plan for the likes of Leeds or Newcastle but is a master of the big games. Step forward you beautiful eyebrow and giz a boss weekend for a change. Coyb let's have these shiesters.
Rob Halligan
38
Posted 19/02/2021 at 10:05:01
Dick Shite on SSN along with Kevin Campbell to talk about the match tomorrow. No doubt he will mention the Virgin Van Dick injury, but I wonder if he'll mention his Kung Fu challenge on Phil Neville?
Kunal Desai
39
Posted 19/02/2021 at 10:10:12
Rob - or the Gerrard Swan dive or the Schpitters wrestle mania move on Lescott
Mick Conalty
40
Posted 19/02/2021 at 10:11:24
Jordan Pickford Everton
Legend.
Single handedly stoped
the R/Shite retaining
the title.
Martin Mason
41
Posted 19/02/2021 at 10:11:58
Do you heathens have no respect !!?? That is St Virgil of Anfield
Rob Halligan
42
Posted 19/02/2021 at 10:15:23
Kunal, or the Gerrard two footed lunge on to the chest of Gary Naismith. Fuck me, the list is endless. The most horrible vile bunch of gobshites you will ever come across. Come on blues, just go out and twat them!
Anthony A Hughes
43
Posted 19/02/2021 at 10:25:36
Or the thigh stamping challenge from Stevie shithouse on Campbell ley alone Owen's two footed flying assault
Andrew Dempsey
44
Posted 19/02/2021 at 10:27:51
Let Duncan pick the team and manage this game, that would be the wisest bit of delegation Ancelotti could pull off for this one.
Carlo can just stay home and have a mug of cocoa, that's our best chance of winning this game.
Tony Everan
45
Posted 19/02/2021 at 10:28:42
Get a win and we can then get back on track. forget City, it's the Fulham match that still sticks in the throat as a worrying and inept performance. We need to get the mojo back and then go on a run. There's no better game to do it .
Luckily we have Ben Godfrey who will step in for Mina no problem. I'm with Lyndon for using Holgate as right back.
They key is Allan and Calvert-Lewin returning. The concern is that it's a tough first game back for Allan, he may not be at 100% just yet. Still, he's got to play if he is approaching full fitness.
Olsen
Holgate Keane Godfrey Digne
Davies Allan Doucoure
Iwobi DCL Richarlison
It's Iwobi I am most concerned about in the line up, he is not as aggressive as I would like. He closes down too slow as well. There's no doubt in my mind that he needs to up his game. I have chosen him before James as he offers more of an outlet out wide and despite his failings offers a bit more defensively too.
With regards the keeper I marginally prefer Olsen , he is less jittery and more stable than Jordan . Jordan I has some qualities but he promotes panic. I'm far from convinced that either is good enough for us as a long term solution. It's something we have to look at in the summer window.
Jerome Shields
46
Posted 19/02/2021 at 10:31:21
I thought Holgate played well against City. I would bring Colman on as a attacking sub as against Spurs. Actually Sterling had a real frustrating game.
It the centre field that will determine alot. To play Pickford or not, that is the question. ??????. To play Pickford would certainly put it up them, but is it worth the one proverbial error risk. .
Forward wish I expect the attack to be as predicted. Hopefully the highly motivated intense Everton will turn up. Glad it is a Away game stats wise.
Dave Abrahams
47
Posted 19/02/2021 at 10:35:03
John (24), I'm also very wary of Allan coming back into this game without previously been tried out in another game, would hate him to break down, if he's ready fine, if not leave him until he is, same with Calvin Lewin, I think he is vital if we are going to win this game, but as vital as he is I would prefer him to miss games until he is absolutely fit, it will be a big loss without those two, but we've played well in quite a few games without Allan so let's see if Ancelotti can promote some belief into these players and create a system that will beat Liverpool on the day, they have been defeated by lesser teams than Everton at Anfield very recently.
I will be watching this game from the start believing we can win it, even without Allan and Calvin Lewin, I think we will all know within the first fifteen minutes which Everton are turning up, I hope it's the one who have come to fight and win.
Brian Harrison
48
Posted 19/02/2021 at 10:35:18
Well we go there more in hope than expectation, I cant think of a derby game between Premier league teams that have been so one sided as this derby game has become. I saw a stat last year that completely astounded me and its that they have scored more goals in the the derby games at Goodison than we have. You would think that given the law of averages that every few years we might get a victory at there place, but seems law of averages doesnt come into play in this fixture.
During the last 25 years I think the only time they were concerned was when Joe Royle was in charge. Whose mantra was simple get stuck into them and let them know they are in a game. Far to often we have paid them to much respect and suffered badly for it. I like many who live in this city have many red supporting friends, and they don't even mock me now when we lose, I think they would view us beating them especially at there ground as totally unacceptable Whereas we get a draw at home to them and most of us are happy with that.
Players owners and managers have changed at both clubs over the last few decades but the one constant is we always lose at Anfield. Here's hoping for a miracle, but not expecting one.
Dave Abrahams
49
Posted 19/02/2021 at 10:43:55
In my post above I forgot to mention John Rafferty's record of fifty three years watching Everton play Liverpool in the Derby game at Anfield, fantastic, can anyone on here beat that, I know I don't come anywhere near that, Peter (Mills) you've got quite a few and Rob( Halligan) how about you two?
Anyone can watch a winning team, but to go to Anfield with our record there, year after after year is amazing, 10/10 John and to anyone else near to this.
Joe McMahon
50
Posted 19/02/2021 at 10:44:17
I see the BBC homepage has an interview with a diving red, RE the derby talking about the injuries. It will be on football focus tomorrow, and the Bias just keeps rolling on.
John Pickles
51
Posted 19/02/2021 at 10:47:00
Liverpool 0 Everton 5.
Sky Sports headline ' Liverpool unbeaten run at Anfield by Everton with fans present now stretches to 22 years'.
Andrew Clare
52
Posted 19/02/2021 at 10:49:29
The main reason we have such a poor record against our neighbours is simple. We have been a mid table team and they have been a team challenging for honours. Over the past 20 plus years we have a poor record against all of the regular top four teams.
Until we build a team that can challenge little will change.
Until 1970 we were as big as anyone since then apart from a few short years in the eighties we have fallen short.
This season although our neighbours form has been erratic they and Man City are in a different department to everyone else.
Derek Taylor
53
Posted 19/02/2021 at 10:50:20
Likely to be Ancelotti's usual 'dog's breakfast ` of a team with three or four changes seen to be necessary to cover one man's absence. Throughout this sad sequence of results, I've thought that our manager is the architect of his team's misfortune just as he was in his later days at Chelsea;.It was he, not Ranieri, who most deserved the epithet of 'Tinkerman of Stamford Bridge !'
Kase Chow
54
Posted 19/02/2021 at 10:51:19
Call me defeatist but in most of my Everton supporting life I've only really seen us bottle it.
And on that basis I'll expect nothing because it simply hurts too much
(I am of course hoping to be desperately wrong and will happily apologise to all and sundry)
Please please please Blues put in a performance and win. Just win. Please
Dave Williams
55
Posted 19/02/2021 at 10:54:03
We have to play our more combative players and get stuck in from the start.
Coleman, Holgate( who gets ridiculous criticism on here), Davies, Doucoure, Allan, Richi, DCL, Digne and Godfrey must all start. No place for Siggy or Gomes or Bernard and I am struggling to give James a start but we do need some creativity.
Olsen
Coleman
Holgate
Keane
Godfrey
Doucouré
Davies
Allan
Richi
DCL
Digne
This side gives double protection on the flanks against Mane and Salah and a midfield three who can play a bit as well as working hard and getting stuck in. The likes of James to come on if needed when their midfield is slowing down.
Oh, and Duncan to give the final team talk to make sure we don't start slowly.
Result?? I've given up predicting a win against them but the performance and attitude has to give us fans some pride at least.
Craig Walker
56
Posted 19/02/2021 at 10:54:43
Hate these games and every year, I say that I will not watch the next one. I cave in though in the hope that our luck will change and we'll actually beat them. It's the fear of missing out. My lad is 10 years old now and we've never beaten them in his lifetime.
If Burnley and Brighton can go there and win, why can't we? We need to lose the inferiority complex and each player needs to perform. Do that, and we have a chance. It'll come down to being resolute at the back, taking our chances and whether the RS asthmatics are back on the tonic (allegedly).
Barry Rathbone
57
Posted 19/02/2021 at 10:55:07
This is the "time machine" game when I head off to another space time continuum only briefly popping back to confirm the inevitable. The adage "ignorance is bliss" was surely coined for Evertonians and the derby.
Dale Rose
58
Posted 19/02/2021 at 11:09:48
I am sick to death of fucking pundits. When it comes to us they make Escape to Victory appear unbiased.
Chris Williams
59
Posted 19/02/2021 at 11:20:47
I've not watched all the Sky programme, but in the bit I've watched they've not stopped talking about all their fucking injuries and how badly it's affected them.and how the fact that they were inflicted on them by Everton in the last match.
Only Liverpool have been so badly by injuries seems to be the narrative, led by the Sky numpty. And how this could add spice to tomorrow.
As for that gurning twat Kuyt!
Christopher Timmins
60
Posted 19/02/2021 at 11:26:33
Passive just won't get it done tomorrow. I can't imagine Carlo will take a risk with Allan after such a long layoff. We need to be brave on the ball, not continually giving it away. It has to be a given that we will be good without it and make life hell for them all over the park.
Their full backs are there for the taking particularly the right back but you can't expose him unless you have an attacking intent, if you have 11 behind the ball all the time, he will have an easy day at the office. If DCL is not ready then play King up top, we need a focal point up top and Charlie having a go at the right back.
If fully fit I would go with a 5 - 3 - 2 of
Olsen
Coleman
Keane
Holgate
Godfrey
Digne
Doucoure
Davis
Gomes
Charlie and
DCL (King)
Hopefully our season will be back on track by 7.25 tomorrow evening.
John Kavanagh
61
Posted 19/02/2021 at 11:27:27
I'm anticipating a full hours drama documentary pre-kick off about the planned murderous attack on the blessed VVD by the trained assassin Pickford and for a minutes silence to be observed in his memory. A reliquary containing St. Virgil's boot will also be paraded around the pitch carried by 200+ tearful ex RS BBC, Sky and BT pundits.
F**k 'em - I'd play Pickford and hopes he takes out Salah and/or Mane this time out before they have a chance to dive their way to VAR victory as usually happens.
Here's hoping that DCL plays, does them with two power headers that Joe Royle would be proud of and sends the Live Forum into melt down for the right reasons for once. Godfrey for captain tomorrow and for next season.
COYB
Laurie Hartley
62
Posted 19/02/2021 at 11:29:30
Tony # 45 - I think your reservations about playing Iwobi in a derby are well founded. He won't go for a 50/50 ball. I would have your starters but replacing Iwobi with Gomes in a 442
Olsen,
Holgate, Keane, Godfrey, Digne
Doucoure, Allan, Davies, Gomes
DCL, Richarlison
Plenty of character in that lineup.
Mark Burton
63
Posted 19/02/2021 at 11:30:22
Pickford in goal for me. He should lead the team out and bow to the benches just to really rile things up. RS will forget about the game then and only go after him. We may have a chance of really upsetting the Sky RS lovers
Graeme Beresford
64
Posted 19/02/2021 at 11:32:11
Always hate the derbies, as a kid I seem to remember them being more of a spectacle than they are now days. I don't know whether it's because football has changed a lot over the last decade and the rough and tough approach doesn't work anymore, or it's just I'm getting older, but the whole day used to determine how I felt for weeks. Now, I tend to write off the six points every season and a draw is more like a win.
In a game where historically nothing has ever gone for us, maybe it's time we had a right go at these at Anfield. However, do you risk playing and getting caught by the ever dangerous Salah and Mane or do you play Brighton and Burnley style and try and nick a 1-0. In my own person opinion I think attack is the best form of defence however attacking managers such as Martinez have been caught out badly at Anfield in the past and even though their form isn't amazing, they should not be underestimated.
Is this the game for Pickford or Ollsen. I hate to say it but I actually want to see Pickford in goal and I want him to be everything we know he can be. Demanding for crosses and punches, quick off his line, solid and imposingly etc etc. I hope he starts but I just hope it's not a game where we are talking about another Pickford error as that could be curtains for him with us.
Also to me I disagree with Lynton's line up. There's too many players in that starting lineup who don't offer much on the day and that is a concern for me. I think we need to play our very strongest team, the team who we started the season with, when we were winning game after game. This to me is the perfect game for James Rodriguez. When you're looking for someone to provide the killer pass, or spread the ball 50 yards, he can provide. Unlike Iwobi who seems to get the ball, put his head down and run. I would be starting James with the communication with to him, 'we need a good game from you today mate, this is it, all the other games in the season don't matter, this is the one the fans will adore you for, for the rest of your life'.
Tom Davies I have always been a defender of. At 22 years of age, he has plenty of time to improve and his main problem has always been not knowing what his position is. When he first burst onto the scene he scored that goal against Man City and everyone thought, wow we have a boss little attacking midfielder here. However, he's now finding his role more like Allan. A defensive midfielder who will break up play. However I wouldn't start him tomorrow.
My team would be;
Pickford
Godfrey Holgate Keane Digne
Doucoure Allan Gomes
James Richarlison
Calvert-Lewin
That is the team that was so effective and there's no reason we can't play it tomorrow. I would have Godfrey as right back, using his pace against Mane and Gomes in the middle as our goto man for a creative pass out to the flanks. Allan will sit and break up the play. I think starting that team shows intent to go out and actually try and win the game. Bring Iwobi, Sigurdsson and Davies on as substitutes but I think leaving James out is like them leaving Salah out, seems defeatist to me.
As ever, we go in with optimism. A draw is always a good result. But imagine if we go there and win. Not by a sweaty goal, but imagine going there and playing well and beating them 2 or 3 nil. Be great wouldn't it, here's to hoping. COYB.

Laurie Hartley
65
Posted 19/02/2021 at 11:37:14
Dick Fearon # 20 - they see what they want to see but here is the truth of it:
Dale Rose
66
Posted 19/02/2021 at 11:38:57
John #61. Can you take over on Sky tomorrow. Brilliant.
Jim Bennings
67
Posted 19/02/2021 at 11:40:22
I wouldn't say I hate or fear derbies anymore.
I think I'm just numb to them now such is 20 years of failure, what is it since the turn of the century, 3 Everton wins?
You tend to just go past a point of feeling when you only expect failure in the buildup to them.
I'd say I probably feared losing more in the 1990's because we had that hoodoo over them, we absolutely had them by the bollox and we just never wanted that run to end but the fuckers have made us suffer in the last 20 years for that.

Andy Crooks
68
Posted 19/02/2021 at 11:49:06
John R @ 24, absolutely spot on. It is amazing how the first three minutes of any games sets the tone; like the opening page of a great novel is often the novel in miniscule.
We must get right in their faces, get fucking ripped right into them. Give their supporters something to whinge about for a generation.
Let this be the game where the legend was born.
Andrew Ellams
69
Posted 19/02/2021 at 11:50:12
Calvert-Lewin is a must tomorrow because his availability impacts selection all over the pitch. It means Richarlison can go back to the left, Digne move back to full-back, and Godfrey can face Mane up at right-back instead of Holgate.
We do desperately need Allan back and, with no midweek game, there is no need to rotate.
Mike Keating
70
Posted 19/02/2021 at 12:10:12
John @ 61 - you beat me to it. I was about to say Pickford should be given the job of man marking Salah.
UTFT
John Raftery
71
Posted 19/02/2021 at 12:12:32
Thanks Dave (49). I don't know if Peter and Rob can match it. They are mere youngsters compared with me!
The rare victories, five in the league and one in the league cup, have been well and truly savoured. Arguably the greatest was the 2-0 game in March 1970, not least because it took us within sight of the league title. Having lost 3-0 to them in December, anything less than a win at Anfield would have left a shadow over the season. We beat every team at least once that season. The next time that feat was achieved by any team was in 1984/85, the season of the Sharp derby.
Mick O'Malley
72
Posted 19/02/2021 at 12:23:23
Please Blues do us proud, you owe us a long overdue Derby win,I can't stand their smug faces after the usual victory so please give us something to shout about COYBs !
Neil Copeland
73
Posted 19/02/2021 at 12:35:50
Pickford has to start for me, if ever there was going to be a RS red card then it will be for a challenge on Jordan. Hopefully he does not get injured in the process.
COYB let's twat the shite!
Brian Murray
74
Posted 19/02/2021 at 12:36:55
My older brother reminds me when took me in the kop boys pen ( can't really remember) 1964 at least four first teamers out that say but a young lad ran about like a man possessed and also scored ( Harvey ). Point is my brother tells me from the first whistle we didn't give them a second touch. All over them like a cheap suit. That's the only way we be celebrating tomorrow not standing back admiring them and Bollox to our usual slow start we need dunc or someone to tell them if Carlo is too passive what it means to us.
John Keating
75
Posted 19/02/2021 at 12:49:01
Allan and DCL back!!
Jay Wood
[BRZ]
76
Posted 19/02/2021 at 12:57:12
Dick @ 20.
'I have never seen an unbiased report on the Van Dijk Pickford incident.'
Nearly a week after the game there was finally some level headed and fair analysis by ex-England keeper Rob Green.
Within this written report there is a Tweet by David Prentice in which you can see the play of the incident, accompanied by Green's comments.
It very much supports my own view that this was a football incident, a coming together of two players, which happens scores of times every weekend without injury.
Rob Green on Pickford Challenge
Personally, I would DEFINITELY play Pickford tomorrow because otherwise it can appear that we are allowing history and the opposition determine our team selection.
It's not as if he is going to have 30,000 Vikings baying for his blood, is it?
AND he is a better keeper than Olsen.
Jason Li
77
Posted 19/02/2021 at 13:08:49
Pickford*
Coleman | Keane | Holgate | Godfrey
Iwobi | Davies | Doucoure | Digne
Richarlison
DCL
2nd half subs incl Allan, James and King, or for injuries or red cards.
*Can pull out the Emergancy Kryptonite Jump on Salah when under the cosh. I'm kind of thinking go with the Sky pundits myths and just make the RS players afraid of him and make it now a strength. :)
Go for it in 2nd half, usual Davies off but this time Allan in so it works out a bit more attacking with defence fairly covered.
Andrew Ellams
78
Posted 19/02/2021 at 13:13:48
Things is Brian if you give them a hard time physically it works against you. Mane and Salah will be swan diving all over the place and the media turn against you.
I definitely believe that there were referees allowing the VVD incident to influence decisions in games straight after and why was Michael Oliver still being asked questions about in an interview a couple of weeks ago.
And on the subject of refs I see we have the same one that allowed Klopp to run around the pitch like a lunatic when they scored after Pickford's howler.
Kunal Desai
79
Posted 19/02/2021 at 13:17:55
Probably need to play our best side here
Pickford
Holgate Keane Godfrey Digne
Doucoure Allan Davies
James DCL Richarlison

Stan Schofield
80
Posted 19/02/2021 at 13:20:27
Jay@76: Good post, interesting analysis by Green. I mentioned on another thread that I have a weekly Zoom session with some old school mates, all reds. One of them has mentioned the VVD/Pickford incident several times, and I think I finally put him 'right' this week, but from a different perspective than the actual detail of the incident.
I pointed out that VVD had earlier in the game taken out, apparently deliberately, Rodriguez, basically buggering Rodriguez up with injury after he was playing well. And that, if VVD hadn't done that thuggery the course of the game would have been different and in all probability VVD would not now be injured so severely.
An interesting thing is, none of those reds disagreed that VVD had deliberately taken out Rodriguez, they stayed silent on it. It actually shut them up about Pickford, especially given that we'd recently been discussing Leeds circa 1970 and Norman Hunter who they consider a dirty player.
I even said that what had happened to VVD was Karma given his attack on Rodriguez. And they stayed silent on that as well. These lads are generally reasonable, and I wouldn't anticipate some other RS fans being so reasonable, but they need to be told nevertheless.
John Keating
81
Posted 19/02/2021 at 13:22:14
352
Holgate Keane Godfrey
Richie Allan Gomes Davies Digne
James DCL
Pickford has to play just to piss them off
Ian Hollingworth
83
Posted 19/02/2021 at 13:31:00
I hope a lot of the work at Finch Farm today is psychology as in drumming into this bunch of weak minded players just how important this result is. Some of our current players will not have known who Everton were when they were growing up let alone begin to understand what this match and rivalry means to us fans.
The psychology can also play to their ego's by telling them what heroes they would be to be part of the winning team or the legend they would become by scoring the winning goal e.g. Kevin Campbell.
Every man has to fight like he has never fought before, we simply have to want it more than them.
I want the Everton players to show us tomorrow that they do care and that they want to win this game to give something back to us long suffering fans.
Chris Williams
84
Posted 19/02/2021 at 13:37:31
DCL and Allan fit tomorrow
Mina out for several weeks
Rob Dolby
85
Posted 19/02/2021 at 13:50:35
I agree with Dave 55. That team has a bit of steel and quality about it.
Funny how after our draw against United a few weeks ago Neville and Spit wanted DeGea to come out and clear everything out if the way for our late equaliser but when Pickford did actually clear everything out of the way in the Derby we have had weekly reminders of its impact and how reckless it was.
Foden scored a great goal against us but Richarleson got a lucky break off the post.
Media coverage is a joke. I wonder if it's the same in the other big leagues in Europe. Objective, impartial reporting would be totally refreshing in the modern hyped to death premier league.
Utft.
Neil Copeland
86
Posted 19/02/2021 at 13:58:56
Stan #80, that's really interesting. I had a similar conversation a few days after the Goodson derby with 2 reds. One goes to every game home and away and is generally a decent lad. The other is a typical trophy hunting fan who just spouts and was gobbing off about Pickford and Richy saying that something needs to be done before someone has a career ending injury. The sinuation being that Everton are a team of thugs when it comes to the derby.
I pointed out to him that had VVD been correctly carded for his early challenges on James and DCL he may not have even been on the pitch. I also said, like you, that the incident with Pickford was rough justice in that respect. He responded by saying that the "tackles" made by VVD were simply run of the mill defender type letting the opposing players know they were in for a hard game.
Before I could answer, the other red who follows them everywhere, said yes and so was the one made by Pickford on VVD - it happens and there is an element of live by the sword die by the sword. I couldn't have put it better myself. Needless to say the gobshite shut up at that point and skulked off sulking.
Bill Rodgers
87
Posted 19/02/2021 at 14:19:30
We can talk about a lack of quality against City, or fatigue against Fulham but in both cases the problem was a complete lack of commitment and intensity. Teams like Burnley, Fulham, Brighton, Leeds will lose more than they win - but they are always fully committed. We will win games with a brilliant streak and then turn out like half-hearted, nonchalant, slow-witted losers.
That has happened regardless of the manager and regardless of the players. We have Everton rejects playing top roles for PSG and Ajax. Even Lookman is having a great season. What is it about EFC that produces the worst dross in the Prem? I think it's an obsession with LFC which causes us to go for quick fixes. They never work. This Ancelotti quick fix will not work. You need to build from scratch as Bielsa and Klopp did. But at EFC, it never happens cos we kid ourselves.
John McFarlane Snr
88
Posted 19/02/2021 at 14:20:12
HI Brian [74] following a report in the People newspaper that Everton players had been prescribed purple heart tablets at an earlier date, a Liverpool fan ran on to the pitch and planted a replica wooden purple heart. The game didn't go quite as your brother described it, Everton had established a three goal lead in the first-half, with goals from Derek Temple, Fred Pickering, and Colin Harvey, I was on the kop that day and Johnny Morrisey completed the scoring by lobbing the ball over Tommy Lawrence in front of the kop. Liverpool tried quite hard, and Andy Rankin in the Everton goal played a blinder, in fact he was made man of the match by many.
Chris Williams
89
Posted 19/02/2021 at 14:21:03
Carlo also rubbished the James rumours as a load of old bollocks
I paraphrase.
Andrew Ellams
90
Posted 19/02/2021 at 14:25:41
Thing is Chris is that he would say that 4 months before James can go anywhere.
The story is not worth worrying about because he's not going anywhere this season and if he does want out it is what it is.
Kevin Molloy
91
Posted 19/02/2021 at 14:35:30
the one thing I don't want to see tomorrow is a tentative Everton, perhaps affected by all the cryarsing still emanating from across the park. We've done nothing wrong, and we need to steam into this one from the off.
Jamie Crowley
92
Posted 19/02/2021 at 14:43:31
I think we'll win. I truly do. I don't believe Liverpool are half as strong a team as they have been the last couple of years. They're vulnerable.
We'll come out with a gameplay and stick to it. It will most likely be pack and counter, and when we play that type of game we're at our best. Liverpool will allow us to play that type of game.
I'm hoping beyond hope that Henderson or Milner plays, and they feel some sort of obligation to extract retribution for the VVD injury, and they draw red and go down to 10 men. But knowing the refs in this semi-crooked league, that's very wishful thinking.
Everton 3, Liverpool 2. UTFB
Ian Edwards
93
Posted 19/02/2021 at 14:45:03
My team tomorrow:
Olsen
Coleman Keane Godfrey Digne
Iwobi Doucoure Allen Richarlison
DCL King
442-. Go at them.
No Holgate at RB. Robertson/ Mane will destroy him.
No Pickford. He's never played well against them. Ancelotti needs to show some decisiveness and select his best Keeper and stop rotating. That is Olsen.
James Marshall
94
Posted 19/02/2021 at 14:45:56
Jamie - you think we'll win every game, and one day you'll be right!
As someone who doesn't wear blue-tinted specs, I reckon it'll be a draw at best. We haven't beaten them for about 150 years now and I don't see any valid reason why that might change.
Eddie Dunn
95
Posted 19/02/2021 at 14:46:53
Kevin- spot-on and Pickford should start as omitting him is confirming his guilt. We need to get out there and be at them from the off.
Thomas Richards
96
Posted 19/02/2021 at 15:02:09
First instruction from me would be to throw a couple of naughty ones in early on.
Set the standard and get the opposition at it.
Three central midfielders a must in this one.

Andrew Ellams
97
Posted 19/02/2021 at 15:07:20
Tomorrow is as much in the head as it is about form and that could be our undoing depending on the starting XI.
Brian Murray
98
Posted 19/02/2021 at 15:12:59
I think we have had this month's cameo from siggy so I doubt a lot of ball watching and pointing from him and his sidekick Gomes will be enough tomorrow. Best show some teeth and have Allen and Davies and let Carlo plan the rest. It's apparently what he excels in.
Thomas Richards
99
Posted 19/02/2021 at 15:14:00
Coleman
Godfrey
Allan
Doucouré
Davies
All of them have a fuck you mentality.
All must start.
David Pearl
100
Posted 19/02/2021 at 15:17:21
Pickford:
Operation Tossed Salad
Tackle To Kill
Ian Edwards
101
Posted 19/02/2021 at 15:17:45
I'm not interested in Pickford's guilt. I only care about having a Keeper who won't cock up. Pickford will cock up.
Thomas Richards
102
Posted 19/02/2021 at 15:22:36
"I don't think Everton will have much of the ball.
"I also don't like the midfield; Tom Davies is weak to say the least, and you need strength and aggression in there.
"[Abdoulaye] Doucoure brings a lot of that to Everton, but [Gylfi] Sigurdsson doesn't. That's going to be a key area in this type of game."
Steve McMahon.
That would go up on the dressing room wall in days gone by
Bill Gall
103
Posted 19/02/2021 at 15:22:42
This will be a unusual Derby game with no supporters, and this may even the game more into Everton's favor. I don't believe that the Everton players will need to be told that they need to be more motivated for this game, as any game against Liverpool they should know what is at stake in winning.
Winning is being known as the best side on mersyside by beating both the league and world champions and showing those biased pundits that Everton are becoming one of the top teams in the future.
We haven't lost the last 23 games at Anfield we drew 11 and that is better than what the media like to make out as we haven't won the last 23 games at Anfield.
Difficult to guess what Ancelotti' s team will be with who he will have available, but we all now who their danger men are. here's to a win by 2 goals.
David Pearl
104
Posted 19/02/2021 at 15:25:23
Thomas, we tried 3 mids against Utd and City and each time our midfield is wide open. Siggy wandering back to cover while Gomes and Douc cover the full back positions. Our best chance must be with the 4411 formation so we can stop TAA and Robertson. We then need Keane and Godfrey to win their duels, and James to have his 6th good game of the season.
My main concern is can we afford to have James on the pitch? I'd rather Bernard than Iwobi also.
FTRS
Thomas Richards
105
Posted 19/02/2021 at 15:27:33
Not if you have the right three midfielders available David.
Siggy isn't one of them.
I wouldnt start James tomorrow.
Kevin Molloy
106
Posted 19/02/2021 at 15:27:49
it's a sobering thought when you consider how much we adopt an obdurate shape that we are conceding an average of three goals a game at the moment. I just can't see Liverpool not scoring the same sort of number. Therefore, surely james has to start.
Jay Harris
107
Posted 19/02/2021 at 15:39:23
This is a derby against Liverpool tomorrow and reading through the posts I cant understand the anti- Ancelotti rhetoric from some posters.
I say to them if you think you know better than Ancelotti apply for the job and see how far you get.
In the meantime it would be far more helpful to get behind the manager and the team for what could be a watershed moment..
Personally speaking Pickford would be the first name on the teamsheet to really wind them up and play out of his skin because he owes us a good game.
Then I would tell Richy to run around Thiago shouting "Im coming for you".
I would also tell DCL to launch into the two makeshift CBs at every opportunity and to let "The worlds best goalkeeper" know he is in a game.
I would also invite Peter Reid into the dressing room before the game and at half time accompanied by big Dunc to give the lads some helpful advice.
Thomas Richards
108
Posted 19/02/2021 at 15:41:26
Should clarify David.
Three central midfielders.
Richarlison and Iwobi either side.
4-3-3 in possesion
4-5-1 out of possesion.
Jay Harris
109
Posted 19/02/2021 at 15:53:01
Darren,
Whats the odds on a 0-0. LOL
Brent Stephens
110
Posted 19/02/2021 at 15:55:40
Andrew #69 - nice reasoning about why dcl playing impacts favourably right through the team selection.
Peter McEvoy
111
Posted 19/02/2021 at 15:58:49
I think even though unfortunately you wouldn't get a keeper out of Olsen and Pickford they are both poor Go and buy Nick Pope,
I would play Pickford out of principle and not let media or red shite dictate our selection We need to be committed and pick a team who can compete
Holgate is a centre back not a fullback My team would be
Pickford Coleman Keane Godfrey Digne Doucouré Gomez Sigurdson Allen Richarlison DCL
Need to show a bit of pride and agression
Fingers crossed COYB
Jack Convery
112
Posted 19/02/2021 at 16:06:17
My ream for tomorrow would be
Olsen
Holgate Keane Godfrey Digne
Coleman Doucoure Davies Richarlson
James
DCL if fit - if not King.
I've included Coleman because of his attitude and to get stuck in to that gobshite Robertson. I've left Pickford out as he will get too hyped up for game and have those in front of him on edge all afternoon. Once we are 3 nil up bring on Allen for James, to choke the midfield and grin at them and keep shouting You're Not Champions Anymore - Simples.
My father once told me that Brian Labone being injured in the semi final against the RS was the changing of the guard on Merseyside - lets hope the VVD accident and subsequent shit fest marks the end of the RS.
Paul A Smith
113
Posted 19/02/2021 at 16:18:08
If Pickford has switched on that one brain cell he was born with, he'll be stood in that tunnel laughing himself stupid before tomorrows game.
Taking stares of death in the process but winding them fools up so much they can't compose themselves on the pitch.
Its going to be very tough and I expect them to come flying out of the traps to kill us early. Refs and luck is always against us but panic is always a problem for us under pressure.
We defend too desperate at times and do ourselves no favours. If we stand tall and concentrate we give ourselves a chance.
Wouldn't suprise me if they have a few changes tommorrow. Likes of Shaquiri. He likes to talk us up in the press does Klopp then picks his bench warmers to embarrass us.
Big shame for me tomorrow is Coleman. I don't know if I would play him. If he was fit enough then yes he plays but look back at how many Derbys at anfield he has been available for over the years.
He was bang on form before almost every derby he missed. Just a hint of the luck we suffer around that shower.
Thomas Richards
114
Posted 19/02/2021 at 16:23:45
" for Virgil van Dijk, it is good we didn't play Everton straight away again, let me say it like this."
Klopp
Get your retaliation in first boys.
Rob Halligan
115
Posted 19/02/2021 at 16:33:11
Hi Dave # 49. Sorry but I don't come anywhere near John's record of attending derby matches there! My earliest recollection of going to a derby there was early 70's when we got beat 4-0, and we scored two own goals, I think it was Tommy Wright and John McLoughlin. I may have gone to a few more derby matches in the 70's, there, but then started playing Saturday football at the very beginning of the 80's for about fifteen years. As far as I can remember, the last one I missed there was when Olivier Dacourt gave us a first minute lead, but we still lost 3-2.. so I think in total, I may have been there about 30-35 times (including cup games), and seen us win twice! A shameful record, and I just know we will win tomorrow because no blues will be in attendance.
Neil Lawson
116
Posted 19/02/2021 at 16:43:34
I have not the faintest idea what will happen tomorrow. What I do know ( I think !) is that the team selection will tell us a lot about Carlo's mindset. I believe he needs to be brave and select the few consistent battlers/brave/committed players we have and not simply to shoehorn his fit favourites into some makeshift system.
Pickford? Yes. Definitely.
And as others have said, get the big tackles in first and early. I can take losing but only if it is with real fight and not with a whimper. However, I would gladly take a lucky undeserved win and spend all week smirking.
Only issue is, that if we win well it will be because VVShite is still unfit. Poor lambs.
Rob Halligan
117
Posted 19/02/2021 at 16:45:42
Thomas # 96 ............ "First instruction from me would be to throw a couple of naughty ones in early on"
That's exactly what St. Virgin Van Dick did three times in the first ten minutes at Goodison. Was twice on James and once on DCL. Had the referee done his job properly, then Virgin Van Dick could and maybe should have been sent off for two bookable offences, and we wouldn't be having the RS and the biased loving RS media mourning the passing of Virgin Van Dick for the last few months. He would have only missed one game! 😀😀😀😀
Thomas Richards
118
Posted 19/02/2021 at 16:47:08
We owe the ref a pint Rob. 😁
Nicolas Piñon
119
Posted 19/02/2021 at 16:48:34
#93 Ian
You say Robertson/mane would destroy Holgate if playing
Do you remember how manes goal was back in October? Robertson passed Coleman as if in a highspeed highway

...
Although our recent run of bad results, I believe we are stronger than back then
We finally have once again our best starting eleven back and Ancelotti has had time to pick up more defensive certenties from that match on and it's up to him to put them on the pitch...
Olsen
Holgate Keane Godfrey digne
Iwobi/Davies Doucoure Allan Richarlison
JR
DCL
Luke Welch
120
Posted 19/02/2021 at 16:49:38
Lose the Derby tomorrow and slip up at home against the team's in the bottom half, and things won't look so rosy position wise.
Just hope they're not slow out the traps because Liverpool will want revenge!
Rob Halligan
121
Posted 19/02/2021 at 17:00:33
Luke, what exactly will Liverpool want revenge for? If you mean for the injury to Virgin Van Dick, then bring it on. Let one of the bastards take revenge out on Pickford, as I assume that's who they will target if he plays, and hopefully gets sent off!
Luke Welch
122
Posted 19/02/2021 at 17:07:06
Rob that could well happen! There was real anger when VVD got injured, and maybe there is some resentment or even fault attached to that challenge and their crumbling title defence.
Frank Sheppard
123
Posted 19/02/2021 at 17:08:20
I dread this fixture. Please,Please surprise me. COYB.
Brent Stephens
124
Posted 19/02/2021 at 17:11:13
If the other lot are being gee'd up by Klopp, looking for payback, then that might work in our favour - they could become too emotional and lose their heads (not them literally losing their heads - apparently it's Pickford job to look after that).
Rob Halligan
125
Posted 19/02/2021 at 17:13:09
Luke, you're right about their crumbling title defence, as that's what the RS biased media are solely blaming it all on!
Thomas Richards
126
Posted 19/02/2021 at 17:18:40
Can somone please get the rat of a left back around the throat when he kicks off grabbing and shouting in players faces.
He does it every single game.
Only saw someone stand up to him once this season. He melted like a lolly ice.
A bluffer.
Rob Halligan
127
Posted 19/02/2021 at 17:24:28
Thomas, his cynical challenge on Allan at Goodison won't get a mention tomorrow, nor will the three cynical challenges by Virgin Van Dick. Just the challenge by Pickford on St. Virgil which will be rammed down our throats all day by the RS biased media.
Tony Hill
128
Posted 19/02/2021 at 17:24:40
He's a deeply unpleasant man, Klopp, isn't he? No grace or class, the perfect manager for them.
Jamie Crowley is right: there is much still to play for.
Luke Welch
129
Posted 19/02/2021 at 17:25:52
Rob exactly! All the ingredients to boil over tomorrow, if, and it's a big if, both teams come flying out the traps anything could happen.
Kieran Kinsella
130
Posted 19/02/2021 at 17:29:42
I'd play King. Not Josh, Andy. He ended one of our previous barren runs against this lot
Thomas Richards
131
Posted 19/02/2021 at 17:30:06
Rob,
When it gets mentioned to me I laugh at them and tell them it would have been two knees gone if van dijk hadn't jibbed the tackle.
Always gets an interesting reply.
Your right mate, we get no protection off refs in these games.
Step up and look after ourselves
Paul A Smith
132
Posted 19/02/2021 at 17:33:54
Thomas 114. Did he say that about Van Dijk? Someone wants to sit that fake scarecrow down and show him the injustices in derbies we have faced and continue to face because things like a refs nephew from Devon supports that shower of inbred scum.
Thomas Richards
133
Posted 19/02/2021 at 17:43:02
He did Paul.
Did you catch the one during the week?
"we are not happy. Who wants to be on the same points as Everton"
Jim Bennings
134
Posted 19/02/2021 at 17:43:03
Carlo should just walk into the dressing room an hour before kickoff tomorrow supping his hot cuppa or whatever and just stick a little poster on the wall saying
"TWAT THESE"
No other words needed, then just walk back out supping his beverage.

Martin Mason
135
Posted 19/02/2021 at 17:44:16
Why are we not playing King? Why did we buy him?
Luke Welch
136
Posted 19/02/2021 at 17:45:17
Would like to see a midfield of Alan, Gomez and Doucoure with Richi, Iwobi and Dc as a forward 3.
Paul A Smith
137
Posted 19/02/2021 at 17:49:49
Thomas I didn't mate I tend to ignore his interviews because I can't stand his sarcastic laugh like everyone else is an idiot.
Now you have informed me, I feel more angry about them as a whole and just hope we kick lumps out of them tomorrow.
They are really horrible and although its a clever Klopp statement to get fans on his side after bad form, its poor taste as usual from them sympathy seeking cowards that adore biters and spitters.
Thomas Richards
138
Posted 19/02/2021 at 17:53:20
They look down thier noses at us Paul.
We are the shit on the bottom of thier shoe.
To be fair, we have given them reason to do that over the years.
It HAS to stop somewhere mate.
Andy Walker
139
Posted 19/02/2021 at 17:54:46
Thomas 102. I thought Steve McMahon was spot on. When McMahon was challenged with Davies was man of the match against Spurs (I thought he had a great game) he said every player has one decent game in them, again I agree. Davies is generally weak and ineffectual but has been better of late, particularly against Spurs.
As for us not having a lot of the ball tomorrow and Sigurdsson not bringing much to the team, again I have to agree with him.
On a broader point not specific to you Thomas, Pickford's 'tackle' (albeit with no malice) was diabolical and he should have been sent off, if it had been the same 'tackle' made by Alisson on DCL we would have been screaming blue murder. Pun intended. So let's not drop to a level of hypocrisy usually reserved for the red shoite.
If we can get a draw tomorrow I will be happy. DCL and Allan are fit apparently so we stand a better chance than we might have otherwise. Depends what mindset we turn up with...
Dave Williams
140
Posted 19/02/2021 at 17:54:59
This is starting to sound like a good old fashioned derby with the veiled threats of retribution for poor old VVDs injury. It brings back memories of Ball v Smith, Reid v Souness, Reid v MacMahon,Andy King ill advisedly threatening to chin Souness after the game,Duncan v everybody and countless potentially career ending tackles.
The team talk has to be inspirational and the team selected has to be up for a physical battle. They will go for it from the kick off and we must be wide awake and ready. If they are as wound up as they sound then they will leave gaps for us to exploit. This is no game for the likes of Bernard,Siggy or Gomes. Godfrey, Coleman and Davies will relish it!
Bring them on!!
Mike Gaynes
141
Posted 19/02/2021 at 18:03:07
We. Will. Win.
Anthony Murphy
142
Posted 19/02/2021 at 18:06:08
Talking about retribution and good old fashioned feisty derbies, I hope if Klopp stands on the half way line when we are warming up and does his pathetic, childish 'observation' that big Dunc walks over and stands there staring straight back at him
Neil Lawson
143
Posted 19/02/2021 at 18:06:46
Dave Williams. Spot on. Let's be honest here. We don't really care how we win, just that we win. Call out for Micky Bernard, Tim Cahill, Tommy Gravesen and, of course, Dunc. Just go out and ( as said higher above) twat 'em.
Kieran Kinsella
144
Posted 19/02/2021 at 18:07:40
Thomas Richards/Andy Walker
I think some of this "Tom is weak" has to do with aesthetics. He's not massive but he will get stuck in. The goldilocks hairstyle probably counts against him in the "weakness" stakes. Allan isn't physically any more impressive. If Tom shaved his head, got a dragon tattoo across his face and had a knife scar across his cheek, I'd bet we'd hear a lot less about him being "weak."
Steavey Buckley
145
Posted 19/02/2021 at 18:08:23
Everton need a new goal keeper, right back, right winger, midfielder another centre half right now if Everton are going to progress this season. Next season is too late. Everton did have another centre half and right back with first team experiences, who could have done a job this season, but Ancelotti prefers to have players with no experience but loan out players with experiences.
Darren Hind
146
Posted 19/02/2021 at 18:09:11
Tony Shelby@36
Another fantastic post.
Serious question; Do you post wearing Tommy Gravesen's bills ?
Not for the first time your pre-match post has made me laugh out loud. Keep eating the raw steak lad
I wish you was playing tomorrow
Thomas Richards
147
Posted 19/02/2021 at 18:09:51
Kieran 144.
Valid point to Andy.
I didnt say he was weak, I posted an article where Mcmahon said he was i
Mark Murphy
148
Posted 19/02/2021 at 18:10:39
I'd usually be happy with a draw but I'll be miserable as f@ck if we don't win tomorrow.
It's been far too long.
COYB!
Kieran Kinsella
149
Posted 19/02/2021 at 18:11:41
Steavey
If experience is what you want then bring in John Burridge as goalie and Kazuyoshi Miura in midfield. Your example of Branthwaite as "experienced" is a head scratcher when looking at games played by our other four center halves.
Paul A Smith
150
Posted 19/02/2021 at 18:16:43
Not sure about that anymore Thomas. This game is a massive part of the premier league brand mate.
The first time in any season that Liverpool see a few decisions go against them is the Man U game away. And likewise for Man U.
These 2 are all the premier league care about 100%. The officials discreetly do anything they can to help both sides.
I have spoken with a couple of mates for years now about how its more the little decisions that affect these games and its often overlooked. For example a free kick given for next to nothing to stop a counter.
Its something that has drove me mad for years because the pundits and majority of general fans focus on a disallowed goal or red card.
Over 90 mins the small decisions or 'momentum decisions' as said by Klopp are key to how the game flows and who can gain pressure and momentum.
A couple of seasons back the Evil drew away and West Ham and afterwards Klopp was pressed on a couple of big calls that went against them.
He replied something along the lines of - it wasn't so much the big decisions but the momentum decisons that affected us. My ears pricked up knowing exactly what he meant.
He hated the fact West Ham were slowing their high pressing game down and was annoyed the ref made it easier for them.
Every 50/50 goes their way at Anfield or Goodison in general and I don't see us ever beating them away, a man down before Kick Off.
Colin Glassar
155
Posted 19/02/2021 at 18:29:56
If, in the highly unlikely case, we win I hope we don't go overboard baiting our neighbours. It's been more than 20 years since we beat them at Mordor so, IMO, we will look desperate and petty if we celebrate too much. We are better than that.
Dave Lynch
158
Posted 19/02/2021 at 18:31:55
I truly admire the positive posts.
For me... This is them at Satan's pitt and we always bottle it.
John Skelly
160
Posted 19/02/2021 at 18:34:57
To be honest the game could go anyway but if we're to arrest our mini slide a none defeat would be acceptable.
Soren Moyer
166
Posted 19/02/2021 at 18:43:41
I'm afraid Branthwaite is not the answer. He has been awful playing for Blackburn recently. You can watch him this weekend and see for yourself.
Bobby Mallon
167
Posted 19/02/2021 at 18:44:57
To win tomorrow we need to do to things.
1. Push onto Robinson and A Arnold, don't give them time to move forward.
2. Don't give Salah or Mane any space. Brighton did it.
Paul A Smith
169
Posted 19/02/2021 at 18:45:23
After Van Dijk was killed by Pickford then brought back to life by the power of crutches. They went on to lose 1 in 17 fixtures.
That was in the Champions league at home to Atalanta. .
Bobby Mallon
170
Posted 19/02/2021 at 18:54:34
My team
Olsen
Holgate
Keane
Godfrey
Nkounku
Coleman
Doucourér
Allan
Davies
Digne
DCL if fit /Richy in a 4/5/1. Coleman and Digne putting pressure on the shites fullbacks and doubling up on Mane and Salah
Thomas Richards
171
Posted 19/02/2021 at 18:57:18
Paul A.
Look at how many goals they conceded this season when the greatest centre back the world has ever seen was playing.
Then have a look how many they conceded in the next same amount of games
Chris Leyland
172
Posted 19/02/2021 at 19:01:08
Just been on the BBC Sport website. They've got an interview with Klopp talking about the last Derby. They've got interview with Mane talking about the injuries in the last Derby and they've got a quiz about Merseyside Derby sendings off with a picture of.. an Everton player getting sent off.
Nothing like a bit of even and Unbiased journalism. Winds me up no end. Please, just for once, can our players get motivated and finally stick one over those horrible, entitled whining bastards.
Rob Halligan
174
Posted 19/02/2021 at 19:03:25
Bobby, we can certainly exploit the weakness of Trent Arnold. He may look ok going forward, but his defending leaves a lot to be desired. He's always caught on the wrong side of his attacker and is not exactly blessed with pace. Any ball over the top and he's doomed. Richarlison will leave him for dead if he plays wide left.
Actually, when I say he looks ok going forward, what I mean is he can hit a good dead ball or cross if not put under pressure, but he definitely can't defend. One of the most over rated players I've ever seen.
Christine Foster
175
Posted 19/02/2021 at 19:07:30
I think we need to go for it. Go for the kill. Right from the off. No settling in and sitting back on this one, that plays right into their hands, don't give then an inch ANY WHERE on the pitch. Close them down attack is STILL the best form of defence.
Thomas Richards
176
Posted 19/02/2021 at 19:11:11
Dale.
Good enough for me.
Start sharpening your studs.
Rob.
Very over rated in my opinion.
Strikes the ball nice but thats it.
Loses possession more than anyone in thier side.
Poor awareness of space as well
Christine Foster
179
Posted 19/02/2021 at 19:20:52
We have to force mistakes, pressure them at every turn, protect each other.
This is not a day to hit on the break, absorb and hope. This is the day were good prospects become great players. This is the day when great strikers become immortal. This is the day when one such immortal should out do the Braveheart battle speech. This is the day the only tactic is go out there and fight for each other, fight for the fans, fight for immortality.
Thomas Richards
182
Posted 19/02/2021 at 19:23:22
Christine,
Its the skippers armband for you after that post. 😁
Ian Bennett
183
Posted 19/02/2021 at 19:26:05
There's a chance for tomorrow. Stay in the game, get the ball forward and punish them at set pieces.
The three central midfielders need to rough up Thiago, and we need to get Calvert Lewin one on one with Henderson.
Play at the right tempo, and this might unseat a Liverpool team packed with quality, but susceptible if you can get to their weaknesses.
Thiago is a talented player, but not a scraper. Henderson a talented midfielder, but won't fancy a foot race with Calvert Lewin as last man.
Get the ball forward and don't be ashamed to play it long. The two midfielders can sit, and 3 can break forward to ensure Calvert Lewin isn't isolated.
Olsen
Holgate
Godfrey
Keane
Digne
Coleman
Allan
Davies
Doucoure
Richarlison
Calvert Lewin
Tony Abrahams
184
Posted 19/02/2021 at 19:26:14
Rob, I'd put King on our left, and Richarlson on our right, and get them both cutting inside, onto the weaker side of their two fullbacks, that are not the best at defending.
Team selection is everything tomorrow, Ancellotti's really has got to get his team selection right.
Just Imagine playing at Anfield tomorrow for Everton Thomas? I used to dream about it regularly as a child, and was actually 3 goals down, at Anfield in one cup game with 20 minutes to go, and can still remember everyone of our team, doing airplanes all over that bastard ground, when we equalized with two minutes to go.
All except me, honestly, I was screaming at my own players to get back for the kick off, because playing against Liverpool, my desire always fueled my belief, and we still had time to win the game. Let's just hope our players have got both belief and desire tomorrow🙏
Kieran Kinsella
185
Posted 19/02/2021 at 19:29:45
Andy Crooks
Don Alexander would love to fill in as bill. I'll fill in as Moshiri and give Ian Edwards a blank check to rebuild the team
Jay Harris
191
Posted 19/02/2021 at 19:38:31
I played at Anfield as a youth. It was a pigsty then. Corrugated iron roof and the pitch ran down at one end.
Now its lipstick on a pig.
Paul Birmingham
194
Posted 19/02/2021 at 19:45:18
Tony@25 and Rob@42, that's the spirit, and hopefully Everton wont be fazed and will get stuck straight in and keep their heads.
No kamikaze passes in our own penalty area, and hopefully Everton, will shoot on site. Possession wise Everton's passing and transition play has go5 to be clean, as we've contributed to our downfall th3 last couple of games with sloppy passes.
Their Gk, is proving a liability, get some teasing weighted through balls in on angles for our attack, pending whom starts.
Let's hope Salah and co, get the book tomorrow for feigning and cheating.
He'll be doing his latest subutteo model, stunts, for sure.
Play tour strengths at corners and deadballs, and they can be beaten. City spanked them 4-1, so Everton can go for them.
Yep the hope is eternal the facts of history state a long time, but that can be changed tomorrow, if Everton turn up.
"What's Our Name?"
Thomas Richards
200
Posted 19/02/2021 at 20:05:15
Michael, Lyndon.
Ive kept the two up front spots for you lads.
Honest.
Whats happened to our posts 😁😁
Brendan McLaughlin
201
Posted 19/02/2021 at 20:06:57
Thomas #200
Red cards all round..hope it's not an omen for tomorrow!
Christy Ring
202
Posted 19/02/2021 at 20:09:24
Pickford
Coleman
Keane
Godfrey
Digne
Davies
Allan
Docoure
Richarlison
Calvert-Lewin
King
The reason I wouldn't start Rodriguez on the right, in the last derby, apart from being hacked by St.virgil, Coleman was facing Robertson's overlaps and Mane with James looking on.
Brian Wilkinson
203
Posted 19/02/2021 at 20:11:25
We all know it will be the Pickford hour, before we get down to buisness of them actually discussing the match.
Here is one for the younger generation about a game us older folk were at.
After ending Geoff Nultys career, did Jimmy case have any regrets, did he fuck, his response was It was a clash of knees, my knee was tougher than his, after that I used to love getting the abuse, because I know I had got under the Evertonians skin and thrived on it.
Not one hint of remorse about his tackle, or ending a fellow professionals career.
Jimmy shithouse case, never forgotten.
Peter Mills
204
Posted 19/02/2021 at 20:15:07
Brian#203 - Well said. What a horrible character.
Rob Halligan
205
Posted 19/02/2021 at 20:16:20
Thomas, either the team we've got has folded, or the season has been declared Null and Void!
Thomas Richards
206
Posted 19/02/2021 at 20:19:22
Rob,
Every chance of a null and void.
Have you seen the league table?
Bill Gienapp
207
Posted 19/02/2021 at 20:24:51
Normally I'd want James to start in a match like this, as we could use his quality and I think Liverpool's defensive vulnerabilities will enable him to have an impact. On the other hand, if he does start, you know Liverpool will be under orders to all but commit assault and battery outright.
Rob Halligan
208
Posted 19/02/2021 at 20:30:22
Rock bottom, Thomas? Sack the manager!!
Rob Halligan
209
Posted 19/02/2021 at 20:36:45
We all know that the RS are the spawn of the devil, so I wonder if their next manager will be Bielsabub?? See what I did there? 😁😁😁
Jack Convery
210
Posted 19/02/2021 at 20:54:28
Just as the kick-off is about to happen - Let the Captain shout "For Frodo and Sam" and play them off the bloody park. Give them cause for endless sleepless nights and counselling. With Pickford's removals in attendance to pick up the pieces. Have 'em! Let Mordor crumble into the pit of shit in which it belongs. COYBs!!!
Brian Murray
211
Posted 19/02/2021 at 20:54:36
Neil Lawson post 143. You put mick Bernard with legends Cahill etc. Jeez he was one of the worst full backs we had in the 70s ( sergeant tiger Robinson flick a coin ) there again with a surname like yours maybe that's why u lowering the goodison bar. Coyb
Phil Flannery
212
Posted 19/02/2021 at 20:58:06
Clever that Rob.. can't play Holgate or Pickford tomorrow
Kevin Molloy
213
Posted 19/02/2021 at 21:09:07
I know Evertonians enjoy pointing out Liverpool's oddities, but they really have surpassed themselves this season. Klopp saying 'there'll be no retribution as too much time has passed' like Everton went out to deliberately hurt one of their players. When in fact the complete opposite is true, VVD did try to injure one of our players (our best player as it happens) and then was himself hurt in a completely accidental coming together. And for them to continue to talk about this incident every week since it happened until the return fixture is just plain weird. It seems that they are now looking back on this season as the one Everton ruined. Which is fine by me like, but lord how odd they are.
Steavey Buckley
214
Posted 19/02/2021 at 21:30:45
When others fails play Coleman at full back to fail again.
Peter Dodds
215
Posted 19/02/2021 at 21:40:44
We're going to win tomorrow. Nullify their wing backs (keep Richy and James up); get the big boys up for the dead balls; test the dodgy keeper. I'm really confident: this is our time, boys and girls!
Neil Lawson
216
Posted 19/02/2021 at 21:49:34
When my uncle David was in goal he needed the bar to be lowered !
And yes, Micky Bernard may have been dreadful but Mane, Salah and mates would be too lily livered to go anywhere near him.
Phil Bickerstaff
217
Posted 19/02/2021 at 21:50:55
What about the game at Anfield where McMahon two footed Ebrell.
They carried McMahon off on a stretcher and the ref showed him a red card
Fucking justice the dirty red bastard
Jamie Crowley
218
Posted 19/02/2021 at 21:52:06
James Marshall back at 94 -
Jamie - you think we'll win every game, and one day you'll be right!
MATE! [as they say...] You obviously didn't see my posts prior to the Man City game!!
Christine Foster - Braveheart speech, yes. But I prefer 300.
"This is where we fight. This is where they die. Remember this day men, for it will be yours for all time."
If they played that clip prior to exiting the locker room, I'd club a baby seal to death just for kicks. [Joking].
Jamie Crowley
219
Posted 19/02/2021 at 22:07:05
Peter Dodds and Christine Foster (again) -
I couldn't agree more with you both.
This is a game where we must attack. Their back line is vulnerable, and Klopp has a system. He's not good at altering his system.
They can't help themselves. Those wingbacks will bomb forward and leave space. We have to attack and exploit that space. It will be there for the taking. This is the main reason I am positive about this game.
Liverpool have one way of playing, and it involves wide men getting forward. We can just punish them. I'd bet the house and kids they will not adjust to us. They are arrogant, and don't see our attacking threat and feel they should take the game to us. In doing so, in their typical fashion, we can hurt them severely by exploiting that space they will leave open at the back.
They will have the ball the majority of the time. If we can quickly move the ball from the back to those open spaces when we gain possession, we will slaughter them. This is entirely different to Man City, and I expect an entirely different result.
Danny Baily
220
Posted 19/02/2021 at 22:30:50
Love the positivity on here. Sadly I don't think we'll be able to cope with the intensity in their game. You never know though. We're long overdue a bit of luck in this fixture.
Christy Ring
221
Posted 19/02/2021 at 22:31:48
Steavey #214 Fair play to you Steavey, you never answered me when I replied to you blaming Seamus for the two goals against City? Now you slander him again??
Kevin Molloy
223
Posted 19/02/2021 at 22:51:52
hells bells Tony, did you actually play against Liverpool?
Danny O'Neill
224
Posted 19/02/2021 at 23:00:16
I've never liked or looked forward to these matches.
My first recollection was the Andy King 1 - 0. I witnessed the Grahame Sharp 1 - 0 at Anfield as we unknowingly at the time were on the march to the title. Incredible high points.
Yet I remember the 5 - 0 humiliation and despite being on the brink of a second title in 3 seasons and Sheedy's 2 fingers to the Kop after a free kick, losing 3 -1 at Anfield. Real low points.
I despise Liverpool Football Club in a way that holds no logic in the older, wiser football supporter I have become. It is not bitterness, as I respect good football and good teams when I see them. I doubt they can bring themselves to say the same. A peculiar bunch considering we are apparently cut from the same cloth. I could go deep on that, but it's not for here.
I was a bit alarmed the first few posts were debating a player who is not even available for selection. Tomorrow is about those players who walk on that pitch regardless of who is or isn't available or picked.
We owe this lot one. We owe them a lot more than one.
If we win tomorrow, I will not gloatingly post on social media. I will not text my Kopite family members to goad and bait. I will have extra wine, ecstatically jig around the living room and eventually go to bed very content.
Jay Harris
225
Posted 19/02/2021 at 23:08:20
I've totally had it with Sky now.
As well as showing the VVD incident over and over they now say Leon Osman was a tough tackling midfielder who would get sent off in the modern game.
Rename it Redsports instead of Skyports and you would be more accurate.
Neil Copeland
226
Posted 19/02/2021 at 23:09:34
Danny#224, I too witnessed those games first hand and was one of around 5000 blues in the kop when we lost 3-1.
Your post mirrors my feelings 100%. Spot on sir.
COYB
Christy Ring
227
Posted 19/02/2021 at 23:17:53
Looking forward to tomorrow's game with confidence guy's, have to say, always enjoyed the banter, but time to say goodbye, have enough of the click here, sadly I won't be back NSNO.
Brian Williams
228
Posted 19/02/2021 at 23:18:52
Ignore the Sky TV shite. Ignore the ex shite pundits. Forget any real or imagined anti-Everton bias.
The wait ends tomorrow!
Rob Halligan
229
Posted 19/02/2021 at 23:22:24
Jay, if you thinks it's bad tonight, just wait until Gillette Soccer Saturday starts tomorrow, followed by the build up on sky to the match. They will rip Pickford apart, and heap praise all over St. Virgin van Dick. It will be the biggest injustice ever, poor old Virgin Van Dick getting injured. How dare Pickford do this, send him to the gallows immediately!
Tom Bowers
230
Posted 19/02/2021 at 23:29:04
Sky really is backward when it comes to sports especially football.
They use many ex-players who are awful commentators and rely on their idiotic views when in the studio talking about games even the likes of Gary Neville and Carragher. Quite honestly I don't listen to their claptrap anymore.
When the games are on all you get is a load of babbling about numbers, passes and percentages but very little real commentary about who has the ball etc.etc. like we used to get so expertly with the likes of Kenneth Wolstenhome, Brian Moore, John Motson and other contempary's of their's.
Just too much yakking from today's people.
The interviews with players and coaches especially those who cannot speak good English are especially boring.
As for tomorrow's game we need to come out with attitude and intensity if we are to get anything but somehow I feel Ancelotti cannot instil that.
Anything remotely like many poor performances this season will be another embarrassment I fear.
Kieran Kinsella
231
Posted 19/02/2021 at 23:58:14
Jay 225
Osman? So based on that Joe Parkinson must be a serial killer. The punditry is at the level of the old Saturday afternoon wrestling with the RS as Big Daddy and Everton as Giant haystacks.
Jim Burke
232
Posted 19/02/2021 at 00:02:01
Crikey some record that John Raftery #24, well done sir! Which are your top 3 from those 53+?
Tony Hill
233
Posted 19/02/2021 at 00:04:55
Phil @217, one of the greatest moments in derby history.
Why are we all up and at 'em for tomorrow but not for the City game or for any other fixture against hard opposition where we pack in before we start?
Don't excuse fear or lazy disengagement in our team, ever. It's been the curse of the last 30 years at least. If we keep finding reasons why we won't win, then we won't win.
The moment of our redemption when Carlo (like/unlike his predecessors) finds the right mix after a series of astute transfer windows is a myth. We aren't going to buy our way to success, we're going to have to fight our way by altering our mindset, by focus on basic skills of touch, movement and ball retention and, above all, by massive amounts of self-belief.
Soothe these players and this manager with cliches about Rome in a day and suchlike flannel and we will be waiting for centuries.
Start now against the shite and don't stop, game after game after game after game. It's that straightforward and that hard.
Andrew Keatley
234
Posted 19/02/2021 at 00:09:28
Rob (174) - Trent Alexander-Arnold "not exactly blessed with pace"? Are you serious? I reckon he's quicker than any player we have in our entire squad (except maybe Godfrey).
Their victory in Leipzig in midweek was only achieved after capitalising on two horrendous misplaced passes by Leipzig players inside their own half. If DCL is fit and able to start then I'd like us to play James (or King) and Richarlison really close to him, and aim to play long to DCL. Liverpool will no doubt look to press us deep in our own half and if we can beat the press with accurate long passes into DCL (and wide in behind the full-backs) - and get support up to him - then I think he will give the make-shift Liverpool centre-half pairing (whoever they are) a tough afternoon. Michael Keane and Pickford (if he plays) will be key, as their long passing is probably most effective for this.
Whatever happens, I hope we find ways to get on the front foot.
Brian Wilkinson
235
Posted 20/02/2021 at 01:01:55
I would like to see Trent in a race against Calvert-Lewin Andrew.
Steavey Buckley
236
Posted 20/02/2021 at 01:04:04
Christy Ring#221. Everton have conceded 16 goals in the previous 6 matches which will result in questioning the performances of the defenders who have not done well.
Tony Hill
237
Posted 20/02/2021 at 01:14:04
Neither of their full backs has had a good season. Alexander-Arnold is a poor defender and positionally inept; ditto Robertson. In attack, as well, those two have been much less effective this season and, despite all the gobshitery about the Sainted One and the flop Thiago, that is the main reason, I believe, why they have fallen short. Teams have rumbled them.
If we keep those two quiet, as others have done, and frustrate Klopp's long ball game to and between the full backs then we have a serious chance.
Oliver Molloy
238
Posted 20/02/2021 at 01:23:51
I reckon we can get at their full backs.
We heed to play quicker and fire good crosses into the box from both flanks and we have a real chance.
Kieran Kinsella
239
Posted 20/02/2021 at 01:41:33
22.00 I'm going out on my balcony to do a happy clap to commemorate 22 years of plucky underdog performances at Anfield
Jay Harris
240
Posted 20/02/2021 at 01:57:57
Kieran #231 good one. LOL.
Personally I think the flanks are more important than centre MF in this one so I would consider putting Coleman in front of Holgate to double up on Robertson/MAne and get forward behind them with Iwobi.
Stick DCL and JAmes in the middle to put them away.
COYB Lets make up for all the slip ups and go level with this shower with a game in hand.
Shove Klipperty's words down his throat.
Brian Murray
241
Posted 20/02/2021 at 02:17:02
Kieran post 239. That clap may turn into a we shall not be moved. Victory jig, ok il get me duffel
Ernie Baywood
242
Posted 20/02/2021 at 02:17:41
I can't believe how much I'm hearing that Pickford might not play. Lightning rod? Good! They've played the victims over this for months yet the media and our fans think that puts pressure on us? If it was Alisson who did it, he'd not only play, but they'd warm up in Karate Kid T Shirts in his honour. It would all be about the pressure being on us due to the incident. The pressure is only on us if we make it that way. Let's make it clear - Liverpool are the victims here. They've positioned themselves that way. Play up to it. Have Pickford say he was entitled to go into that challenge and he'll be doing it again in this game. Tell them we're going back to the Dogs of War in midfield! If they want to be victims, let them be victims.
Our best 11:
Pickford (our best keeper imo, and with not a single shred of remorse or regret)
Coleman (our only actual right back and has decent character)
Digne (class act)
Keane & Godfrey (clearly our best and potentially long term CB partnership)
Allan, Davies, Doucoure (modern day Dogs of War and required to give a platform to Digne and the attack) and...
Richarlison, James, DCL (our best attacking players).
People will say that we can't have James because he doesn't help cover their attack. What about their defence? Let it be that lot saying that they can't afford Mane and Salah because they don't take the pressure off their biggest weak areas.
We've tried being passive in big games. We've parked the bus and hoped for the best. We now have a choice, with nearly a full strength squad, to either minimise the opposition's strengths or to target their weakness. I think it's time we put that lot under some pressure and see if they can take it.
Twenty odd years of cowardice - it's far too long to just be an unfortunate coincidence. And it's too long to just hold your hands up and say they must be better than us. It's a statistical anomalie that happens because we go in under pressure every time. We're under pressure when they're in form, and when they're out of form, when they have a controversial player, and when we have one. We think like losers every time.
COYB!
Andrew Keatley
243
Posted 20/02/2021 at 02:36:29
Brian (235),
Decent shout. Calvert-Lewin is certainly quick, but his pace never seems to take him away from defenders. Some players seem to travel as fast with the ball as without and Calvert-Lewin is definitely not in that number.
Steve Brown
244
Posted 20/02/2021 at 02:38:03
What, has Van Dijk picked up a knock? They kept that one quiet.
Bill Gienapp
245
Posted 20/02/2021 at 03:06:11
Hear, hear, Ernie (242). Excellent post and I also agree with your line-up.
Steven Sturm
246
Posted 20/02/2021 at 05:05:31
Good one Ernie. I'm undecided on Pickford vs Olsen, but for this match, Pickford must play.
Bring it.
COYB!
Dick Fearon
247
Posted 20/02/2021 at 06:04:36
Jay Wood BRZ @76,
Thank you for that info about the incident. Allison has made similar blocks on attackers. Usually the striker tries to avoid colliding with the keeper but, after watching that video, it seems to me that Pickford showed no less courage than did Van Dijk.

Ian Jones
248
Posted 20/02/2021 at 06:49:37
According to the BBC website
'No reigning top-flight champion has suffered four home league defeats in a row since Everton in 1928-29.'
It's about time they matched our record.
If Brighton and Burnley can win at Anfield and West Brom can get a draw, then there's no reason Everton can't win. I would usually be pleased with a draw but for me it's win or bust. Leave everything out there.
I usually watch the derby games but may have to sit this one out today. Having said that, the last game that I missed (well all but the last 5 minutes) was the one where Origi nicked it in the last minute or so.
Ernie Baywood
249
Posted 20/02/2021 at 08:25:01
Dick 247 never mind challenges on attackers, Allison has made similar challenges on his own defenders in recent weeks.
It's football - bits bang together from time to time.
I wonder if Wijnaldum will be doubting if he can play after his comments incited death threats against a young man and his family?
I'm typically an irritatingly balanced guy, but in my 40 years supporting this club I've never felt more "fuck 'em". Fuck 'em.
As Thomas said earlier. Get your retaliation in first.
Mark Murphy
250
Posted 20/02/2021 at 08:33:48
Kieran @239 - Do you live on Scottie Road as well then???
UTFT - make it our day Blues!!!
Tony Everan
251
Posted 20/02/2021 at 08:36:27
Ernie 242 & 249
Two first class, cracking posts, that every blue should have a read of.
Kim Vivian
252
Posted 20/02/2021 at 08:38:41
Play Picks. No crowd to wind him up and I actually think that all the shite hype could bring the best out of him.
Lynn Maher
253
Posted 20/02/2021 at 08:54:55
Sorry if anyone has mentioned this on a previous post, but I have only just looked at BBC red button football news.
Of course the first item is two pages about last years derby and obviously we are the perpetrators of all things evil. On another thread on main BBC sports page, the last earth shattering news relates to the fact that the 13 year old son of former Everton player Phil Jagielka has signed for Merseyside rivals Liverpool !
On what planet does that warrant a mention?
Mars the red planet of course!
Please let today be our day on blue planet earth 🌎
David Greenwood
254
Posted 20/02/2021 at 08:59:24
Ernie, take a bow.
Two great posts, sums today up perfectly.
Let's fucking do this people. COYB
Neil Lawson
255
Posted 20/02/2021 at 09:10:35
Not quite on point, but why is it always "Trent" on TV commentary?. I thought his surname was Alexander -Knobhead (or similar). I wonder if Calvert-Lewin and Hudson-Odoi and Robson-Kanu et al have complained to the authorities that they are the victims of double barrel discrimination.? Or does the fact that you play for the greatest team this broadcasting world has ever known give you special privileges? Oh silly me. Of course it does.
Alan Johnson
256
Posted 20/02/2021 at 09:16:50
Ernie Baywoood should give the team talk... Good on yah Ernie
Dave Williams
257
Posted 20/02/2021 at 09:18:27
Great posts from Ernie especially the first one- show it to the squad, get Duncan and Big Joe to help with the team talk and put Peter Reid on the bench for a ten minute cameo- that's all the time he'd need!!
Alex Gray
258
Posted 20/02/2021 at 09:26:03
Well today's the day lads. I fear the worst everytime we play the Kopites but I woke up this morning with a gut feeling that we'll turn them over today!
COYB!!!!
Brent Stephens
259
Posted 20/02/2021 at 09:39:16
#242 and #249 - now framed and standing on my TV.
Michael Ward
260
Posted 20/02/2021 at 09:43:14
Holgate (who I rate highly) is in a terrible run of form and should be nowhere near the first 11. Sigurdsson should only ever play as a no.10 so should not play in this game. James it could be argued is our best player and whether he starts will say a lot about our ambition in this game - that said I think Iwobi this season has made a big difference to how we play, his pace and directness on the right give us a bit more tempo in our play and I think we always look better at a higher tempo. So for me it comes down to who we play in the middle. I think Davies has been playing well and would keep him in so I would go with.
Pickford
Coleman Godfrey Keane Digne
Doucoure Allan Davies
James DCL Richy
I also wouldn't be massively upset if we switched Gomes for Davies, or played 2 CM James as a 10 and Iwobi on the right. But starting the team I mentioned gives us the options I have said above Sigurdsson could go into a 10 position off the bench King could come on for Richy or DCL. Holgate could come on to tighten it at the back if needed.
Dan Murphy
261
Posted 20/02/2021 at 09:57:12
Seamus must play. He'll be up for it, knows what it means and has a finite number of these left.
Who are we? True believers, know our history, real footy fans.
Who are they? Mostly glory hunting fairweathers who can't enjoy footy unless it involves having something to gloat about.
Love and respect to all blues worldwide. Whatever happens tonight we'll be the real deal and they'll still have no class.
Put Alison and Alexander Arnold under heavy pressure and they'll cough up a goal or 2. COYB
Tony Abrahams
262
Posted 20/02/2021 at 10:02:06
I played against them loads of times Kevin, but only up to reserve level, and that game was actually a quarter final FA youth cup match, and we absolutely destroyed Liverpool 3-0 in the replay.
Just memories, but when Thomas said he was gonna bring me on to change the game, it got me thinking/reminiscing, but history is for fools, sang Roger Waters, and to see that Wattsapp flying round with 1995, replacing the clock on the liver building, it would be nice to shut these horrible red fuckers up tonight, or better still let the phoney bastards show their true colours!
Rob Halligan
263
Posted 20/02/2021 at 10:03:08
That Klopp is one utter bellend. This is what he says on the BBC website .
"Nothing will be carried over. A week later, two or three when we got the diagnosis for Van Dijk, it is good we didn't play Everton straight away again. Let me say it like this".
So what exactly does it mean, that had we played them within a few weeks of Virgin Van Dick being diagnosed with an ACL, that it would have been all out war, would their gobshite players have gone onto the pitch carrying machetes, machine guns, a colt 45 revolver, all with the intention of a mass attack on Pickford? The man is a Fucking gobshite, and in my opinion, he should be brought before the FA, because to me, that is a statement to incite revenge, and he should be made to explain.
Play Pickford today. There's no Norwegians, cockneys, all those from the home counties, and wherever they all come from apart from Liverpool, to give him absolute hell. Pickford will be fine, and if any of their players want to take revenge on him, then let's hope the referee is strong enough to send him off.
Craig Walker
264
Posted 20/02/2021 at 10:14:39
Not sure my nerves could stand watching Gomes try and win the ball in or around our box. If he does start, hope he can produce the form he showed in that Anfield performance a few seasons' back when he looked a real player.
I'd love to be optimistic but we usually do better against them when we think we've got no chance. Despite their dip in form, their front 3 still scare me every time they attack.
Law of averages says we must beat them at some point. Please be today. A win and some stadium news would give us some crumb of comfort during the next 6 months of the "VVD's injury cost us the title" agenda.
COYB
Anthony Murphy
265
Posted 20/02/2021 at 10:20:18
Agree we should play Pickford - what message does it send out if we don't. I think they will make a meal of every challenge and the ref will oblige. They will look to extend the narrative that we go over the top in Derbies (Wijnaldum last time) and Klopp will ensure they make the ref aware
We just need to keep our heads and play to win, although I think we'll see conservative tactics from Carlo.
Peter Mills
266
Posted 20/02/2021 at 10:24:50
Tony#262, Rob#263, it's 7 hours til kick-off, you're going to peak too soon, turn the heat down, simmer for a while!
Tony Abrahams
267
Posted 20/02/2021 at 10:28:28
In a city, in which we know how much the media can actually damage you, it's horrible to see how much control over the media Liverpool FC, currently have.
Andy Hunter in the Guardian, I'd love to have a debate with him, alongside many of the other red message makers, who all wear red glasses. You can feel the vitriol for Everton in his writing, so has I said, please let's make them show their true colours Everton, because it would make our players never want to lose to them again.
Robert Tressell
269
Posted 20/02/2021 at 10:36:02
Our desperation to win is our continued downfall. It creates the stage fright and builds up the inferiority complex. Royle was the only one to get the mentality right, so that the team could focus on just doing the simple things well that put the opposition under pressure. A good compact and aggressive midfield will help and direct play / crosses to force mistakes out of Henderson and Kabak.
Thomas Richards
270
Posted 20/02/2021 at 10:39:07
A clear bias against Everton when it comes to all things liverpool in the media Tony.
Worse, they don't even attempt to hide it.
Echo is obviously the worse along with its sister the Mirror.
Tv, radio is dominated with liverpool ex players.
The nest has been poked with the stadium, manager and the talk of the lad behind Moshiri drives them nuts.
Fuck them all.
Same goes for the vast majority of thier fans. From the same city but different to us.
George McKane
271
Posted 20/02/2021 at 10:44:11
Tony - - morning mate - - I agree with The Dreadful Media Bias - - saw photographs on Sports Pages yesterday with Pickford and Richarlson Challenges shown - - also the TV Pundits "laugh" with "no intention" or such when it's anyone else but for Everton - -Yellow/Red card - - also saw a referee bring back play after allowing play on after a foul on several occasions - - happened to Rodrigues the other week and a comment was "referee allowed play to go on" - - who am I angry with - - well The Press Liason Officer at Goodison (who I am sure is on a very good salary) and our EPL/Referees Contact - - where are they - - what do they do - -they remind me of The Government Flood Office who must do nothing all year round but when there is winter flooding they panic - - but that is enough whinging from me today - - sitting doing some Yellow House paperwork and summing up all my "posso waves" - - more later. Take care Tony/Dave and all TWebbers. Up The Blues - - by the way - - I was there in '64 - - Andy Rankin/Colin Harvey - - 4-0 - - Up The Mighty Blues - - It's a Love Affair.
Brian Murray
272
Posted 20/02/2021 at 10:45:25
As much as we all want a mick Lyons load of heart and courage. It never got us anywhere in fact the only time in the 70s we beat them was when he was on the bench and Kenyon kept his cool all day and marked dalglish out the game ( king derby ) So are calm head is needed today because with that speccy twat screaming at the ref they only need half an excuse for a card. ( I know in 71 Johnson scored winner for us but you get my drift,
Brian Murray
273
Posted 20/02/2021 at 10:50:20
George post 271. I hate having to pick on on past glories again but that 64 game I was in the kop boys pen with my older bro who actually left me at full time and was dancing on the pitch. Scary left in there blue scarf on as you can imagine although it was like a fire drill when the third went in. What are your memories of the day.
Colin Glassar
274
Posted 20/02/2021 at 10:51:37
So the media are building this up to be a replay of, The Rumble in the Jungle, or, The Thriller in Manilla? Why? So they can pontificate endlessly how Everton twice ended their beloved rs defence of the title?
I've been saying it for years, the rs have a firm grip on the media unmatched by anyone, even Man U.
It's not only journos in the print media eg Dunne, Rudd, Northcroft, Liu, Reddy etc all openly avowed rs fans. It's also the 100's of former rs players who work as pundits, columnists, co-commentators, social influencers etc We have no chance against such a behemoth.
This is why we shouldn't go OTT even IF we win. The headlines tomorrow will be something like, "Bitter little bluenoses go berserk after beating the mighty reds for the first time in decades"! I suggest we just take it in our stride and show them our class.
Mike Kehoe
275
Posted 20/02/2021 at 11:00:17
Rob 263
I expect there will trouble today outside anfield with lots of talk on social media of a 'welcoming committee' being arranged. I would hope Klopp is called to account for his thinly veiled threats as many will no doubt interpret this as a call to arms.
A man of such monumental vanity will not cope if they continue to falter.
Seriously, COYB
Ed Fitzgerald
276
Posted 20/02/2021 at 11:04:52
Tony @ 267
Andy Hunter is an Evertonian and I've read the article in the Guardian and it's reasonably balanced. I'm sure much of the broadcast media and RS fans have attempted to blame Pickford for much of the worlds problems as well as the continued absence of St. Virgil and their lamentable defence of their title since the last derby.
George McKane
277
Posted 20/02/2021 at 11:09:16
Brian - - are you or your family from Stanley Road by any chance - - yes I have fond memories of that day - - I like you was in the boy's pen/Kop with my match going mate Brian Brady and a few others - - my memories as a then 15-year-old are a bit dimmed now - - but - - I remember being slightly worried about Andy Rankin - - no need - - but my fondest memories are of Colin Harvey scoring and good old Jonny Morrisey terrifying them and scoring - - I danced down The Valley and along Kirkdale Road - - laughing and smiling my head off. It is truly a wonder - - no matter what - - to be a Blue.
Brian Murray
278
Posted 20/02/2021 at 11:13:30
My bro has an office on Merton road ( James Murray solicitors ) I'm youybgestcof six all blues from Walton by the bridge the other end really by nogsy. ToffeeWeb are doing a piece on my bro he was mascot in 63 all year and vernon would often show him around the dressing room. Got some great pics him on pitch on lap of honour with vernon lifting him about his head.
Brian Harrison
279
Posted 20/02/2021 at 11:17:28
The media has long had a bias towards them, when you think of the things they have got up to in the last few years, the attacking of the Man City coach with bottles and cans, and despite a heavy police presence no arrests made. Couldnt be anything to do with Liverpools Chief of Police being a season ticket holder of them. The old guy pushed into a fountain in Barcelona. Klopp walking over to the ballboy for clapping at the end of a game, he suddenly realised the cameras were watching so flashed his false smile. The times he has gone onto the pitch to remonstrate with refs but no action taken. Again this week the snide comments about not wanting to be level with Everton.
Thankfully not only has our manager won a lot more than Klopp, Ancelotti just always shows his class. Only a few weeks back Klopp chased Sean Dyce down the tunnell again mouthing off but sooned stopped and turned away when Dyce stopped and turned. Again no admonishment about Klopps behaviour.
Nobody can argue that last season they were head and shoulders above every other team in the league and deserved all the plaudits they got. But that doesnt mean the media and the authorities should turn a blind eye when they fall foul of how a club its fans and manager should behave.
John Boon
280
Posted 20/02/2021 at 11:18:53
We gave Man City respect. YES far too much respect after the first hour.Personally MC do deserve some respect but RS should NEVER get an ounce of respect. I am quite sure that their "Divers in Chief", have been practising all week. There is something seriously wrong if WE are not totally psyched up for this one. We have to stay strong and really come out fighting. They have been tamed by both Burnley and Brighton as well as City so we should be able to top all three. COYB.
Oliver Molloy
281
Posted 20/02/2021 at 11:19:31
I agree with all who say Pickford should play, but not because it could piss them off, I think if we play the right type of game, then his kicking and ability to pick out CL will be useful.
Also think Coleman must play right back, Holgate just not at it, and in my opinion the game will matter more to Seamus Coleman than the former.
The rest of our back four pick themselves given Mina is out
Godfrey, Keane, Digne.
It the midfield I just can't make my mind up about
Davies, Doucoure, Allen, Gomes, Sigurdsson, Rodriquez, Iwobi
I think he will go for steel with Davies, Doucoure, Allen and Sigurdsson ( because of his dead ball abilities ).
Up front is obvious.
Calvert Lewin, Richarlison.
The manager will pick whatever side he thinks will get a result, praying whoever ends up starting they are totally up for it and give everything on the pitch.
COYB.
George McKane
282
Posted 20/02/2021 at 11:29:59
Sounds great - - I think one of the (then) young girls in our Theatre Group - -www.yellowhouse.org.uk - - worked for your Brother - - Louise Horrocks - - she was/is a great girl - -I thought she could make it into "theatre" but she needed a "real" job.
George McKane
283
Posted 20/02/2021 at 11:32:49
See mane is on FF saying the last Derby"not the best memory" - - where is our answer - -never any mention of the challenges on James and his (Mane) rash challenge - - OK my last comment about them today - - from now on it's Blue all the way.
Brian Murray
284
Posted 20/02/2021 at 11:36:42
Brian Harrison post 279. There's a big difference between keeping our councel and Carlo and our anonymous press officer keeping their dignity and letting Klopp incite and say what he wants about the murder committed in the last derby. They truly are just animals is the only way to describe them. Stop at nothing to get an edge.
Brian Murray
285
Posted 20/02/2021 at 11:42:24
Ok George I hear you about the theatre. Don't make a song and dance about it ( sorry could resist ) yeah known Louise for years, friends with my sister Tricia. Like you I'm done with kopite talk let's just turn up for once.
Alan J Thompson
286
Posted 20/02/2021 at 11:44:56
As usual, I have more idea who Mr Ancelotti won't be playing (mostly due to injury) than who will but I'd imagine that he will continue with Keane and Holgate in central defence so that the right footed Godfrey can negate the left foot only Salah (is that how you spell it?).
And King to start.
Mark Murphy
287
Posted 20/02/2021 at 11:45:28
Ed are you sure he's a blue?? I've seen several sources naming him as a red.
And that article is NOT balanced - "neither team want to talk about the last Derby " "so I will bring it up anyway and make an issue of it again"
Thomas Richards
288
Posted 20/02/2021 at 11:48:04
Keane and Holgate.
Two players with limited ability to read play, no awareness of runs made off them.
One in a partnership with that lack can be covered. Two of them in partnership is asking for trouble.
Luke Welch
289
Posted 20/02/2021 at 11:48:48
George, what kind of theatre group do you work with?
Brian Murray
290
Posted 20/02/2021 at 11:56:12
Luke, the only stage fright we need to worry about is at 5:30 pm...
Luke Welch
291
Posted 20/02/2021 at 11:59:17
Get you, Brian! Just wondering that was all because I work in theatre too.
Ed Fitzgerald
292
Posted 20/02/2021 at 12:01:53
Mark,
Yes I am sure he is an Evertonian. I don't think the article is biased at all. To be fair our manager is the one who stated we should be fearful of the game. Simply reporting that and Klopp's utterances aligned with no win there in 21 years makes for a reasonable article IMO.
Andy Crooks
293
Posted 20/02/2021 at 12:04:27
Good stuff, Ernie Baywood. This is the day for legends to be made, a chance for our players to say they won the game that started it all.
Give them hell that kopites will cry about for a generation. The covid derby that will become legend. We will win, oh yes we will win!!
George McKane
294
Posted 20/02/2021 at 12:05:29
Luke - Theatre for young people – all free! Best to look at www.Yellowhouse.org.uk – or/and go to YouTube, put in 'Yellow House Liverpool' Iif you know someone who is interested, you can always call me on 07972611052. We do not perform other people's work...
We are Brave,
We are Strong,
We are singers of our own Song.
Mark Murphy
295
Posted 20/02/2021 at 12:07:32
My wife has just made the-hurtful-but-probably-accurate observation that I moan about Liverpool more than I talk about Everton.
After today, I'm not giving that shower of gobshites another waste of my breath.
Come ON Blues – make today OUR day!
UTFT
Tom Bowers
297
Posted 20/02/2021 at 12:12:03
I really don't care what the line-up is. It just seems that, no matter what it is, they are so unpredictable in so many games. Some players are just playing in bits and starts but never for 90 minutes. They are so wide open and vulnerable at times, it's embarrassing.
Richarlison has generally been a disappointment this season and James not far behind after a promising start. Without the emergence of Calvert-Lewin, I dread to think where we would be...
However, the main problem is the inability of whoever plays midfield to play as a tight unit when not in possession. The Liverpool front three will have a field day if allowed to have the space to run at Everton's back four like Fulham's offence did.
It wouldn't surprise me to see Liverpool try to get at Pickford in some way for what happened in the last game as it has basically ruined their season.
I just want to see a wholehearted effort by the Blues instead of some of the piss-poor performances we have seen in too many games this season.
Luke Welch
298
Posted 20/02/2021 at 12:14:05
Thanks, George, I will have a look. I have been working as a playwright and dramatist in Riga for the last few years.
Mark Murphy
299
Posted 20/02/2021 at 12:15:06
Okay, Ed, maybe he over-compensates then to counter any suspicion of bias as I've not seen a good word for the Blues from him in years. And yes, I read the Gruniard.
Let's hope he's saying nice things about us after tonight.
UTFT!
Kevin Prytherch
300
Posted 20/02/2021 at 12:22:15
Let's set up to kick them off the park and disrupt them.
Back 4 of Holgate, Keane, Godfrey and Digne
Midfield of Coleman, Allan, Davies, Doucouré and Richarlison
Calvert-Lewin up front.
Richarlison, Coleman, Digne and Doucouré with a license to break forward at will knowing that we have Davies and Allan to cover.
Don't give them a chance, kill their fragile confidence, then bring on James and whoever else once they're down.
Rob Halligan
301
Posted 20/02/2021 at 12:24:55
Can I just say, irrespective of whether we win, lose or draw today, there will be an announcement on Tuesday regarding the new stadium; hopefully, for the majority of us, good news.
So should we (whispers it quietly) lose today, I hope nobody wheels out the "Ah another defeat so the club announce news on the new stadium" shite!
Thanking you in advance.
Kevin Molloy
304
Posted 20/02/2021 at 12:32:18
Just been on to RAWK to read their build-up for the game. A clear majority are making the point that the referee needs to be reminded in the press conference before the game of the thuggery which took place three months ago, and that Liverpool need to go in hard from the off, breaking legs if necessary.
Calmer heads have reminded these hot heads that Everton don't have a genuine hard man, and that of more concern is Everton's propensity to cheat in order to win free-kicks and penalties.
I've always gone on there before the derby, and usually it's condescending snide remarks, nothing more. This time it's bad.
I want to beat Liverpool more than any other team, but 'hate' doesn't come into it. I've always liked Jurgen Klopp up to now, but I think this real descent is almost all down to his hysterical reaction after the last game. This is on him.
Dale Self
305
Posted 20/02/2021 at 12:33:32
Did you wash your hands and overall being before you came back here?
Thomas Richards
306
Posted 20/02/2021 at 12:36:08
Re Tom and his contribution.
Bournemouth have told the league they will no longer be "taking the knee" pre match.

Bobby Mallon
307
Posted 20/02/2021 at 12:40:40
Tony Abraham's 262 don't worry about those horrible twats – it's our Liver Building.
Dale Self
308
Posted 20/02/2021 at 12:41:04
They'll all be talking about Pickford taking the knee in the pregame...
Allen Rodgers
309
Posted 20/02/2021 at 12:42:27
Briefly turned on Sky Sports News today and turned off again. Merson and Sherwood both Everton haters are on the panel so we know what's coming. Even Phil Thompson would be better than these two gobshites.
Howard Sykes
310
Posted 20/02/2021 at 12:42:31
Interesting concept that we should pick our team to suit Liverpool.
Over the years, I have seen countless examples of Liverpool players committing horrendous tackles on Everton players. In the next derby match, did they leave them out? Short answer: of course not... so why should we? Leaving him out would be like admitting guilt, where there is none. The "incident" was six-of-one and half-a-dozen of the other.
Kevin Molloy
311
Posted 20/02/2021 at 12:48:18
Tony, wow that's fantastic. I remember watching Liverpool Boys U11s when I was about 10 and thinking the kids were already leagues ahead of my level, so to get to just under first-team level is brilliant. I wish I'd been good at footy!
Andrew McLawrence
313
Posted 20/02/2021 at 12:51:51
Hearing under Covid relaxations that clubs can organise kick abouts with their fan bases in the local community. So if you live in Greater London area, Liverpool FC's is tomorrow at 3 o'clock
Rob Birks
314
Posted 20/02/2021 at 12:55:52
Neil Lawson, spot on, fella. I've cringed and cursed at this for ages now. I fuckin hate the biased favouritism of it all. "Trent this, Trent that." It's deplorable and makes me sick!!
Rob Halligan
316
Posted 20/02/2021 at 13:04:24
Rob and Neil. Did you also know that "Thiago" is also his first name? His full name is Thiago Alcantara. Don't know if he's got a middle name?
Mick Conalty
317
Posted 20/02/2021 at 13:06:43
Kevin 302#
We already new.
Rob Birks
319
Posted 20/02/2021 at 13:11:54
Rob H. I've got a bit of sick in my mouth! ;}
Geoff Lambert
321
Posted 20/02/2021 at 13:15:23
If we win today – and that's a big 'if' – I want it to be so controversial that Kloppy and all the redshite pundits go into meltdown.
Darren Hind
322
Posted 20/02/2021 at 13:18:15
The BBC are calling todays game a "grudge match". I think from Liverpool's point of view, it always has been, but we have always been too nice for them. I think that trend may be reversed today.
I'd heard good things from Norwich supporters about Godfrey and that was kinda backed up by some on here who saw him in the flesh. He is incredibly quick, but the thing I like most about him is he has demonstrated he doesn't give a fuck for reputations and clearly has a nasty side to him. Mason won't be taking any backward steps today either...
Nasty fuckers are a little like bad apples... they tend to make other players in the barrel nasty too. Allan's return may be perfectly timed. Not my type of player, but he was born for this type of fixture and will not be found wanting when the gloves come off.
A Gray/Sharp type of performance from Richarlison and Calvert-Lewin will soon have the rest of the boys up for the fight.
I fancy us today. I don't care how we get the win. Normally, I like to see the beautiful game played beautifully, but I'll make an exception for this. I don't just want to beat them today... I want our boys to kick fuck out of them.
Twenty years of shit, boys. End it today.
Twenty-odd years of nice. End it today.
Give these fuckers something to bleat about for the next six months too.
Ian Riley
323
Posted 20/02/2021 at 13:22:59
Ian Riley
324
Posted 20/02/2021 at 13:23:04
Brian Murray
325
Posted 20/02/2021 at 13:23:20
Need a clear calm head. Don't give them kopites in the van an excuse to give them a Swan Lake penalty or two.
George McKane
326
Posted 20/02/2021 at 13:29:48
Luke, I've done lots of work throughout the Old Eastern Block for over 25 years now, from Lithuania down to Georgia and almost all in between. Keep in touch, maybe email/text. Good Luck.

Duncan McDine
327
Posted 20/02/2021 at 13:32:34
Darren, that should be the team talk. Love it
Barry Thompson
328
Posted 20/02/2021 at 13:37:03
Any type of win would do for me today – I had a fringe and a reason to visit the barbers the last time we won at their shithole; however, my ultimate type of win today would be exactly as Geoff L describes – give them twats and all of their media mates something to winge about for the next 6 months.
I now worry that, the next time we win at their midden, I will no longer need to see the dentist either. Come on, boys – today of all days... stand up and be counted, show us the shirt is worth fighting for, and batter these bastards on their own patch. Make us proud of you.
Thomas Richards
329
Posted 20/02/2021 at 13:48:14
Yul Bryner had a fringe last time we won there, Barry.
It's been far too long...
Jonathan Tasker
330
Posted 20/02/2021 at 13:50:53
Some good rallying calls above.
I wouldn't be playing Pickford today. Not because of last time but because he's a terrible goalkeeper. Hard to believe Ancelotti and Brands haven't been able to buy better.
Colin Glassar
331
Posted 20/02/2021 at 13:53:28
Long gone are the days when if I couldn't get into Anfield Road, or the Main Stand Paddock, I'd sneak into the Kop (scarf hidden) and get crushed by those smelly bastards to watch Everton.
On the way home, the bus was 50/50 with good-natured banter and scouse humour. Sadly, that has disappeared... in the main, nowadays to be replaced by anger and hatred.
Their endless titles, our demise, Emlyn Hughes, Heysel, the gloating and condescension on their part, has all added to the animosity, I believe both clubs need to work harder to lower the vitriol and temperature before someone gets seriously hurt.
Starting tomorrow.
Colin Glassar
332
Posted 20/02/2021 at 13:54:59
That was fat Ronaldo (BRZ), Thomas.
Oliver Molloy
333
Posted 20/02/2021 at 14:04:49
Rob @ 301.
Let's have two big days!
Darren,
For me. Holgate is a nightmare waiting to happen. If he plays, I hope you're right and I'm wrong. Like you, I don't give a fuck how we win – just win!
COYB
Tony Hill
335
Posted 20/02/2021 at 14:19:57
Oliver @333, I can forgive much for his propulsion of Gorgeous Bobby into the third row.
Kim Vivian
336
Posted 20/02/2021 at 14:41:59
Slightly off-topic but as omens go - I had some serious bad lockdown barnet so decided to cut my own hair. Despite my worst expectations (read: expectations of likely result this evening) it came out okay/good (read: good result for the Blues tonight).
Let's just get at 'em boys. Pretty? - ugly? - I don't care so long as it's a win.
Dale Self
337
Posted 20/02/2021 at 14:59:18
Let's hope you are a true hairvoyant Kim!
Rob Halligan
338
Posted 20/02/2021 at 15:04:06
Two unwanted premier league away records to be smashed in the space of a week
Fulham never having won at Goodison, and Everton not having won at mordor this century.
COYB.
FTRS.
Oliver Molloy
339
Posted 20/02/2021 at 15:09:49
Tony @ 335,
Yep, remember it well...Tom Davies was walking along the touch line and just pulled up when yer man went flying past him, and then just walked on - very funny...
I remember going mental when Sigurdsson scored that wonderful equalizer, what a goal that was and then going absolutely "out of control " when you know what happened at the end.
None of that today I hope except of course, for us scoring more that them.
COYB.

Brian Murray
340
Posted 20/02/2021 at 15:14:08
Kim, the dragged through a hedge backwards look and blues derby domination could start a new trend !
Anthony Jones
341
Posted 20/02/2021 at 15:14:12
If he plays the players suggested here then we have a chance.
I think we need more aggression in this squad though. We need to learn from the top clubs. Snide players win. It is a big part of football.
Brian Murray
342
Posted 20/02/2021 at 15:16:22
Kim, we need something for the weekend as the barber used to say, coyb
Tony Hill
343
Posted 20/02/2021 at 15:23:31
I'm going to contradict what I said above about not being able to buy success. I've just read Moshiri's words from yesterday about Brands and how we're just at the beginning of a long process.
It's reminded me, because I often forget, that these people (i.e. Usmanov and what/whom he represents) just don't accept failure. They keep going regardless.
It's not merely about Everton, of course, it's about our city and what it opens up for our investors especially post-Brexit, the power and the money. None of that is necessarily attractive but it's relentless and we will have our ascendancy.
I still want us to show courage, control the ball and pass accurately in the meantime, though.
Whatever happens tonight, we need to recall that our day will come because very wealthy and ruthless people will insist upon it. That's good, isn't it?
Tony Hill
344
Posted 20/02/2021 at 15:28:11
Where is Sam Hoare, by the way? One of the very best contributors to the site. I hope he's ok and just busy. It would be great to see him back.
Perhaps I've missed recent posts by him.
Dale Self
345
Posted 20/02/2021 at 15:30:45
And Patrick McFarland
Dale Self
346
Posted 20/02/2021 at 15:32:13
McFarlane. Sorry
Jeff Armstrong
347
Posted 20/02/2021 at 15:33:54
Steve Ferns
Danny Baily
348
Posted 20/02/2021 at 15:35:07
I just hope the club have no cause to release the 'update' on BMD they've no doubt got ready for Monday.
Dale Self
349
Posted 20/02/2021 at 15:36:31
We need all those people today. UTFT
Thomas Richards
350
Posted 20/02/2021 at 15:37:06
Its already been announced for Tuesday Danny.
George McKane
351
Posted 20/02/2021 at 15:39:18
Love is an amazing thing. There is no logic to Love. It happens. When you love someone everything is possible. Love makes us strong and brave and forgiving. With Everton and Evertonians it's Love. Not jump on the bandwagon, glory hunting, look at me. No never no. It's True Blue Love. Of course, it can hurt you, and sometimes feel like your unconditional Love is not fully returned but isn't that real Love.
Van Gogh - - a great Evertonian - - said: "there are three types of Love:1 To Not Love and Not be Loved: 2 To Love and not be Loved in Return : 3 To Love and be Loved.
We are Evertonians we are all in category 3:
"If you're down and confused
And you don't remember who you're talking to,
Concentration slips away
Cause you're baby is so far away
Love the one you're with, Love the one you're with,
Love the one you're with, Love the one you're with."
No matter what It's Great To Be An Evertonian - - we know who we are - - why we are Blue and we stick with our True Love no matter what. Stand up, straight and proud.
It's mid-afternoon in Grey New Brighton but I can feel The Blue Sky trying its best to break through. Sometimes it seems that it will never brighten up - - but our time is coming - - of that I am sure:
"To everything turn, turn, turn
There is a season turn, turn, turn
And a time to every purpose
Under heaven"
I am relaxing, listening to music, some poetry and art getting myself "in the mood" and then I will watch the match here at home on my own -- like most of us - - the last few weeks have been a bit of a roller coaster to say the least - - just like being in Love - - someone this morning - - Brian Murray recalled the 64 Derby - - I was there - - 4-0 - - cannot live in the past but it's good to give yourself a good memory to Light The Blue Touch Paper - - I don't care about the weather today - - or tonight - - I miss the Match going routine - - friends and the atmosphere - - the gas in The Dark House - - singing - - dancing - - handshakes and hugs:
"Night and day, you are the one
Only you beneath the moon, under the sun
Whether near to me or far
It's no matter darling, where you are
I think of you night and day"
I feel like Fred Astaire and could tap dance my way to Goodison - - I used to be a Tap Dancer but I had to give it up - - kept falling in the sink - - along Scotland Road - - passing all those Streets and Churches and Houses - - full of Beautiful Memories that still pull at my heartstrings - - I can hardly wait to walk those paths again:
"Oh I remember, I remember
When life made more sense
Ah, ah, take me back, take me back, take me back, take me back
Take me back, take me back, take me back, take me back
Take me back (woah) to when the world made more sense
Well there's too much suffering and confusion
And I'm walking down by the river
Oh, let me understand religion
Way, way back, way back
When you walked, in a green field, in a green meadow
Down an avenue of trees
On a, on a golden summer
And the sky was blue
And you didn't have no worries, you didn't have no care
You were walking in a green field
In a meadow, through the buttercups, in the summertime
And you looked way out over, way out
Way out over the city and the water
And it feels so good, and it feels so good
And you keep on walking
And the music on the radio, and the music on the radio
Has so much soul, has so much soul
And you listen, in the nightime
While we're still and quiet
And you look out on the water
And the big ships, and the big boats
Came on sailing by, by, by, by
And you felt so good, and I felt so good
I felt I wanna blow my harmonica"
I am just going to give you all a quick blow on my mouth organ - - close your eyes and just listen - - I am sure you can hear it now - - Mmmmmmm - - there you go:
When I was a kid there was an old guy in a gaberdine Mac and flat cap and he would push a pram along Scotty and stop at the top of the Streets - - he would spar and skip with a string - - people loved him and my Mum - - and all the Mums - - would send him something - - a few pennies if you had it but I remember giving him a plate of food now and then - - his name was Gus - - you see we had a community - - a feeling of being part of something - - good times or bad - - we were part of it - - together and we must always remember we are all Blues - - I remember being taken to see Everton around 1958/9 by Frank and Mike Kane from Back Great Mersey Street - - good men from St. Alphonsus - - it's funny but everything was linked then - - of course Saturday going The Match no matter what - - Sunday Morning Mass - - Father Winder - - the men in their best suits and then into our pub - - The Britannia for a pint before Sunday Roast - - and the singer in our pub - - Alex Young - - Men Who Were Proud To be Blue - - it was in their Blood - - and they taught me to be the same - - True and Loyal and Never to give up - - Tommy Ring/Bobby Collins/Mickey Lill and later The Golden Vision:
"When the vision vanished
They heard a choir of birds singing
In the heavenly silence, between the trance and the reeds
And they stood upon the lawn and listened to the silence"
Lived through tough times - - our House being knocked down - - Communities forcibly split up - - Mums and Dad's passing on - - tears and fears - - Thatcherism - - unemployment - - Tate's going - -my sister Joan with her working pinnie and scarf on her head - - - - no more Tillotsons - - Bibby's no more - - my brother John - - gone - - My Dad used to say "sleep it off John" when he had a few afternoon bevvies - - I wrote a farewell Poem for his funeral called "Sleep it off John" - - my sister Colette (gone) bringing Tony's Saturday dinner into The Jester and putting it on the counter - - all these memories come back as I go along Scottie/Smith Street and Wessie Road to The Dark House and through it all Being A Blue - - of joyous days and laughs and singing and playing footie together - - I remember after the game when gangs of men would play footie on the Olla or in The Swings and we would join in - - 25 a Side - - Pudding and Beef - - this is where I lived and loved - - and still do - - people talk of getting back to normal - - no - - normal was fear and pressure and work being the boss - - and no time for conversation - - I am looking to be part of The New World - - the world we want - - Our World.
"Why did time begin and where does space end
Isn't what I see and hear and smell
Just the appearance of the world in front of the world
Isn't life under the sun just a dream"
Right now my heart is bursting with memories - - and goodness and fondness and absolutely full of "posso waves" and love for my Fellow Blues - - everywhere:
"And when heart is open
And when heart is open
You will change just like a flower slowly openin'
And when heart is open
You will change just like a flower slowly openin'
When there's no comin'
And there's no goin'
And when heart is open
You will meet your lover"
No matter what - - we will all still be Blues today and tomorrow - - let's not call each other names today but pass around a cosmic wave of Bluetiful thoughts to all our Blue Brothers and Sisters wherever they are.
I am sending Blue Cosmic Grooves out onto The Blue Astral for all of you - - just look up and you will feel it - -grab it - - it's for you.
Keep cosmic - - keep cool - - your friend - - George

Tony Hill
352
Posted 20/02/2021 at 15:46:15
Lovely, thanks George. St Anthony's is still magnificent round there, of course. Now you must have the Dome of Home?
George McKane
353
Posted 20/02/2021 at 15:47:57
Yes Tony - agreed - I was in St. Anthony's before the Lockdown last year - funeral sadly.
Mike Keating
354
Posted 20/02/2021 at 15:52:01
After a little bet with myself, I turned on Football Focus to see if they are still going on about the so called Pickford tackle but may have missed the preview, if there was one, but I'm sure I caught them at the end wishing VVD a speedy recovery. they just don't give up do they?
Adrian Haggar
355
Posted 20/02/2021 at 15:53:49
Reading some opinions on here do make you smile and yes I do appreciate we are all allowed our own opinions which is why this forum exists. Its funny that all of a sudden Davies is now a world beater and should be in our best starting 11 when all he's had is a decent game and a half in over 100 he has played. if we are all ready to accept this level of mediocrity then we will forever be a mid table team at best. And Holgate should be nowhere near this team today as he has been awful for a while and Mane will skin him all night, I want Coleman's energy and effort on the right. I agreed with loads on here, play Pickford just to piss them off and he is just about the better keeper!!! Should risk the 442 and play DCL and King up front as there shite at the back. Wouldn't it be nice just for once to have all the dodgy decisions go our way and upset all the media when their darlings get beat!!!!!
Anthony Murphy
356
Posted 20/02/2021 at 16:02:07
See they've stuck up a load of flags and scarfs outside Anfield to give us one of their welcomes - absolute bellends of the highest order and a total embarrassment
Jerome Shields
357
Posted 20/02/2021 at 16:09:36
George. Trying to get through lockdown as best you can.
Dick Fearon
358
Posted 20/02/2021 at 16:15:11
With my wife and 10,000 other chosen I was at Anfield in 1999 when another underdog Everton was predicted by most pundits to be in for a hiding.
What shone through that night was the amazing fighting spirit of our team that did not give an inch.
From my seat 12,000 miles away to world wide Evertonians good luck lads and lasses.

Paul Birmingham
359
Posted 20/02/2021 at 16:19:25
Great fighting spirit Darren, and let's hope Everton, go out today and smash them and keep their cool and do the basics.
No inviting Salah on the inside, keep him on his right, and watch out for the diving of Mane, but their all proven to take the dive and use their hands, as if they are allowed to play basket ball.
Both barrels tonight, down the RS, and sort them out. Fekk the media, Everton is all that counts.
Hopefully a good night tonight for Evertonians.
If the players took half the spirit of TWrs, they'd win this match.
Brent Stephens
361
Posted 20/02/2021 at 16:24:37
Jerome, see you in a couple of weeks!
Raymond Fox
362
Posted 20/02/2021 at 16:25:09
All the chest beating on here counts for nothing on the pitch.
I would like to think that we are in with a chance, but watching our team lately I cant fancy us.
Defence wise I think we match them, but its up front where they are the more dangerous.
Stranger things have happened, lets hope its today.
Thomas Richards
363
Posted 20/02/2021 at 16:26:01
Hows the nerves Brent?
Sean Callaghan
364
Posted 20/02/2021 at 16:27:21
George, thank you. Beautiful stuff, as ever.
Tony Twist
365
Posted 20/02/2021 at 16:37:28
Turn up and just do a professional job blues. Today isn't about playing football it is about getting one over the opposition by any means. Klopp has started the mind games days ago talking about us being level on points with them, he knows we just wilt with the slightest pressure which is evident over the last two games. It is time we step up to the plate and don't concede an inch to them.
My team (no chance Ancelotti picking the same team) is:
Olsen,
Holgate, Keane, Godfrey, Digne,
Allan, Davies,
Doucoure,
King, DCL, Richarlison.
No luxuries, get the ball up to the front three as quickly as possible without losing the shape of midfield and defence.
Good luck blues.
Darren Hind
366
Posted 20/02/2021 at 16:37:42
George
Did you ever get yor hands on a book called "The lost tribes of Everton and Scottie road" by Ken Rogers ?. Came out about ten years ago. There are some truly amazing images of the buildings, the streets and the people from an area you will know like the back of your hand. from Margret street baths to Vauxy
bought it for me dad just before he past on. He was besides himself.
If you havent seen it, make it your business to get a look at it. Its not available on Amazon any more, but you can get a look from the kindle version for about a pound.
We must have been in the Britania on sunday Afternoons at the same time loads of times Jimmy Cass may have been "one of them" but he ran a fantastic ale house
---
Add Your Comments
In order to post a comment, you need to be logged in as a registered user of the site.
Or Sign up as a ToffeeWeb Member — it's free, takes just a few minutes and will allow you to post your comments on articles and Talking Points submissions across the site.