Coleman: It's an amazing feeling
Saturday, 20 February, 2021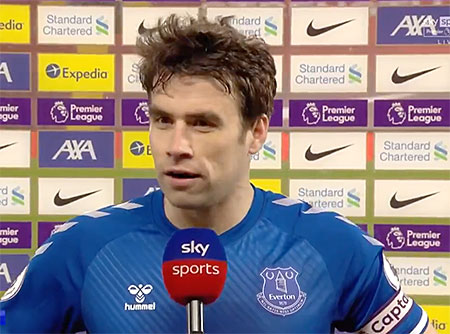 Seamus Coleman was all smiles after this evening's long-awaited victory over Liverpool but while he insisted it was a relief to finally put to bed a long-standing hoodoo on the home turf of Everton's arch rivals, he also called on his team-mates to turn around their disappointing home form.
The skipper played an instrumental role in helping shut Liverpool out in the Toffees' 2-0 win at Anfield and almost scored himself with what would have been a terrific goal just past the half-hour mark but, as the only Everton player on the pitch to have experienced a win over the reds, he was just happy to come out on the winning side.
Richarlison gave the Blues an early led, latching onto James Rodriguez's neat, defence-splitting pass and burying a shot in the far corner of Alisson Becker's goal and when Dominic Calvert-Lewin was felled trying to slot home a with 10 minutes to go, Gylfi Sigurdsson slotted from the spot to put the result beyond doubt.
"It's an amazing feeling," Coleman beamed afterwards, with video clips of him being embraced by Carlo Ancelotti after the final whistle illustrative of how much it meant to him.
That's for all the Evertonians who have struggled over the last number of years.
"You know, coming here all the years and kind of letting ourselves down but, more importantly, letting the Blue side of the City down… it's been hard.
"We can put a [positive] face on it and try and brush it off but I've been in the City basically for 10 years and it's difficult to take and you feel sorry for the fans [who are] fed up of you coming up with the same clichés after losing [derbies] so, to be honest, thank the manager for the way he set us up.
"The players put in an unbelievable shift and that was against the champions, so we're delighted.
"[The key] as a team was just to compete and try and break the press when we could. But, listen, when you're holding a lead, it is difficult to be brave and try and play it out from the back and we probably didn't play as much as we would have liked but we got the result.
"Dominic came on and made a difference and I think for us now [it's about moving] on as quickly as possible because it can't just be a celebration of this. We need to start moving the Football Club forward and that goes back to [results like] against Fulham at home and West Ham at home and that's where we need to start being better all round."
---
Reader Comments (39)
Note: the following content is not moderated or vetted by the site owners at the time of submission. Comments are the responsibility of the poster. Disclaimer
Phil (Kelsall) Roberts
1
Posted 20/02/2021 at 22:09:49
10 matches played on Merseyside so far in 2021.
Everton the first of the two clubs to win one.
Brian Ronson
2
Posted 20/02/2021 at 22:20:37
Evertonians are entitled to enjoy tonight. The Club needs to ensure we never again have to endure the misery. All the snide comments, the air of superiority, the contempt that Liverpool fans have heaped on us. Not a word of congratulations from Klopp who is only a nice person when he wins. Klopp has lost it completely if he takes on big Dunc. Carlo and the players have made their mark on history
Jim Harrison
3
Posted 20/02/2021 at 22:43:31
Brian #2
Why would Klopp offer any congratulations? I wouldn't expect our manager to do it if the circumstances were the other way round.
Jon Bentley
4
Posted 20/02/2021 at 22:43:46
That's a shocking stat Phil, no matter how you look at it
Brian Ronson
5
Posted 20/02/2021 at 22:51:11
Jim, do you mean if Liverpool hadn't won at Goodison for twenty one years. Of course managers are going to look after their own. Koop made contemptuous comments about Everton before the match. He has shown himself to be graceless. Can't believe you want to defend him
Mike Gaynes
6
Posted 20/02/2021 at 22:53:10
That was more than a captain's performance from Seamus. It was a commander's performance.
Did you know he was the only remaining Everton player who had previously beaten the RS?
Paul Kernot
7
Posted 20/02/2021 at 23:03:20
I think my Mrs has left me. She legged it out of the house when I was shouting & swearing at the telly!
Seamus & the whole back line & yes that certainly inclused Pickford were amazing. So was Tom.
Mike Hughes
8
Posted 20/02/2021 at 23:03:23
What a brilliant night.
I'm made up for Seamus who must be one of the most genuine pros in the game.
Also, the bargain of the PL era.
To come back from horrendous injury and play at the top level again - brilliant!
An inspiration.
A true Blue Hall of Famer.
Colin Glassar
9
Posted 20/02/2021 at 23:12:57
A very subdued motd tonight. Are they upset about something?
Paul Birmingham
10
Posted 20/02/2021 at 23:22:02
Let's make this a normal routine game, Everton's, squad today had the physical, mental and physchological, upper edge on the RS, from start to finish. Outplayed and out planned, out thought.
Their body language is a busted flush and they are going down the bog...Mr Ed, is on the edge.
It's the strangest of seasons but let's see what happens.
UTFT!
Frank McGregor
11
Posted 20/02/2021 at 23:44:20
"At last well done Everton" scared to look at the game at times but a good win.

I had made 2 wishes to myself that I would see Everton win again at Anfield and the other wish being I would see inside the new ground.

My brother took me to my first game at Goodison in 1949. Everton were playing Preston North End. I am 82 right now so I hope I am not expecting too much.

Paul Birmingham
13
Posted 21/02/2021 at 00:35:56
Top Man, Frank, well in.
Great Day for Evertonians!
Larry O'Hara
14
Posted 21/02/2021 at 00:40:54
Not ashamed to admit it that game brought tears to my eyes. Now let's do Southampton: saw us beat them 8-0 in the snow once...
Paul Birmingham
15
Posted 21/02/2021 at 00:45:36
Colin, your well On The Ball, spot on ma8.
The troglodyte Murphy, can't take the reality salts, from today's game.
Hopefully the start of the path to a better place for Everton.
David Currie
16
Posted 21/02/2021 at 03:33:27
Great for every Blue around the world tonight but special word for Tom Davies who is a Blue for life, he was superb tonight and is proving a lot of fans wrong just like his best mate DCL did.
Phil Smith
17
Posted 21/02/2021 at 03:49:30
I didn't really watch the game as I missed the first 4 minutes and then saw we were 1 up and decided after watching for a bit that I'd jinx it if I saw the game. Periodically checked in and stayed for the last 10 minutes. Been a long time coming. What a fecking monkey off our backs! Hopefully we can kick on now and sneak into the CL.
Jay Harris
18
Posted 21/02/2021 at 03:51:55
Im really please for you Frank (For all Blues TBH).
Us old timers have been through some unusually lean years but today I was jumpimg off the sofa like I was 16 again.
Lets hope its the real turning point for us.
Paul Kelly
19
Posted 21/02/2021 at 05:59:04
60 grand, 60 grand, Seamus Coleman .
Lee Courtliff
20
Posted 21/02/2021 at 10:33:52
Hope you get to see it, Frank.
Really pleased for Seamus. The clichés were getting harder and harder to stomach year after year.
But it's finally over.
Billy Roberts
21
Posted 21/02/2021 at 13:35:30
Lee @ 20
Totally agree, Coleman was sick of coming out with the same stuff year on year like us but as Captain he had to say something.
It is brilliant to see a superb professional like him enjoying the moment, wouldn't it be great to see him lift a trophy.
Tony Abrahams
22
Posted 21/02/2021 at 13:51:24
Frank@11, I hope your second wish comes true mate. I had a lovely day yesterday, long story but I went to watch an academy game in the morning, and met some genuine football people, who just made me feel good about life.
I came home, over two hours to go till kick off, I decided to go for a walk by the jewel in our city's crown. The wind was howling by the waterfront, but the Pier-head always inspires me, and so does the drive along the dock road now that our new home is going to be there.
I said a little prayer for Everton besides Bramley Moore, and then came home and just knew we were going to beat Liverpool, when my partner told me she'd made a pan of scouse, because I'd been winding one of my horrible red mates up because of an idiotic post about Liverpudlians wanting to keep it scouse!
Anyway my brother has just texted me to say one of his in-laws, has been given a start date for December, with regards to Bramley Moore. So like everyone else Frank, all's we've got to do now is stay alive to see it, on the banks of the royal blue Mersey!
Lee Courtliff
23
Posted 21/02/2021 at 15:13:50
Billy #21 It would, mate. I'm gutted that Baines had to retire without a medal to his name...I really hope Seamus doesn't go the same way.
I've just watched the highlights again, I think it's starting to sink in that maybe, just maybe, our time is coming around again.
I was 13 when we won the Cup... I'll be 40 in August...we've earned this.
Tony #22 Nice story, your prayer obviously helped.
Ajay Gopal
24
Posted 21/02/2021 at 16:03:42
Exactly, Billy (21)! It would be absolutely fantastic if 60,000 pounds Seamus Coleman were to win a trophy before he hangs up his boots. Isn't it great to see a core group of young guns starting to form Everton's next generation? I mean the likes of Calvert-Lewin, Godfrey, Davies, Holgate, perhaps Branthwaite as well. It would be great if I could include Richarlison in this group, but realistically I think he will move on sooner or later. If Brands and Carlo can add 1 or 2 more quality players every year, we should be challenging for honours regularly.
Kevin O'Regan
25
Posted 21/02/2021 at 18:56:27
Seamus is an absolute credit to the club - his honesty, humility and hard work ethic are rare. Delighted for him that he finally got this win under his belt. Top class Evertonian.
Oliver Molloy
26
Posted 21/02/2021 at 19:03:45
An Evertonian for life. He knows what this win means to us all.
The reports of Coleman having a word with Klopp and backing up the Dunc are classic.
"We are allowed to talk or is it just you Jurgen?"
He got the club and the roots immediately when he first set foot in Goodison and he knows he has much to be grateful for being an Everton player, that's what people really like about the man, so genuine and decent.
His best days may be behind him, but he gives still gives everything.
Seamus is desperate to win a trophy and knows he has maybe the next twelve to eighteen months or so to do so as part of the squad.
I know he is very excited about the new ground, but it has come too late for him.
He's 32, contract is up in 2022 and if he stays injury free the best he can hope for maybe another year, maybe two.
All of Killybegs and Donegal, actually probably the whole Ireland are praying it happens for him, that's the standing of the man over here, have never heard anyone say a bad word about him.
COYB
Andy Crooks
27
Posted 21/02/2021 at 19:16:23
Since the day he signed, Seamus Coleman has represented everything that is good about Everton. A top professional, top man, top player.
To seen Seamus lift a trophy for Everton would be the happiest day of watching sport in my life.
Thomas Richards
28
Posted 21/02/2021 at 19:29:03
Great player, great man.
His work with disabled children goes mostly unnoticed, think I am right in saying his brother is downs syndrome.
A man of the people.
The local Everton kids knock on his door, he never lets them down.
Cans of lemonade, chocolate sweets.
A brilliant man.
Oliver Molloy
29
Posted 21/02/2021 at 19:35:03
Wouldn't it just Andy, it could happen.
Gerard McKean
30
Posted 21/02/2021 at 19:35:29
Andy Crooks, I agree wholeheartedly. There are many of us who believe that Everton are a bit too "soft" in giving jobs to old boys at FF. However, Seamus has to be seriously considered for a long term role at the club. He speaks well and clearly has a football brain and he does so much for the club in an unsung capacity. I happen to go to the same church as Seamus (pandemic notwithstanding) and to see him week after week talk to the little ones who wait for him to come out and never refuse an autograph or selfie is a credit to the man. He is truly one of us.
Barry Rathbone
31
Posted 21/02/2021 at 20:15:25
Remember when he started with a few cameo roles and always did well only for Moyes to bin him off to the stiffs.
I was amazed he stayed tbh the fortitude of the fella is remarkable I fully expect him to manage the club one day.
Billy Roberts
32
Posted 21/02/2021 at 20:34:31
Lee@23, Ajay @24
Bang on lads, wouldn't it, shouldn't it!!
We all see a core group of God- Frey, Holgate, DCL + Tom who all in their own way are saying to Liverpool etc fuck off
Step aside, put this alongside class like Rodriguez etc it is exciting isn't it ?
Imagine if Pickford finally got his act together like yesterday when he was superb ?
Stephen Brown
33
Posted 21/02/2021 at 20:44:12
Seamus Coleman is a complete gentleman and gets it!! Delighted for him !
We now must beat Southampton and West Brom in the next 2 games! I want to see this 'Fuck You' attitude in every match!
Am I also being greedy in wanting the embarrassing away records at Chelsea and Arsenal also smashed away this season too!!
I'm also pleased Seamus talk about the fact that they're pissed off about Fulham, Newcastle and West Ham!!
I'm looking forward to the next few years!! Good luck, Seamus!
Des Farren
34
Posted 21/02/2021 at 21:20:41
Nice thread. I think Seamus brings the best out in us.
Frank # 11 you had an early start and a long innings. Good luck man. I'm 77, live in Dublin and hope to see the stadium built. Do we become more passionate as we age?
Brian Cleveland
37
Posted 22/02/2021 at 01:47:32
Oliver (26) maybe our first game at Bramley-Moore Dock could be his testimonial? Just a thought...
Mike Fell
38
Posted 22/02/2021 at 07:43:34
This was better than '99 - the obnoxious Hun wasn't around then! All 4 of the kids have witnessed our first win at Anfield and they loved it - the genetics have passed on nicely. Great day, great club and at last a little bit of luck went our way. Maybe next time I can watch it rather than listen to Radio 4!!
Denis Hignett
39
Posted 22/02/2021 at 10:29:00
Blue for many years. Seen many ups and downs.
This was right up there with the ups.
But we must start winning at home.

Oliver Molloy
40
Posted 22/02/2021 at 11:47:37
Brian @ 37,
Now that would be fitting - against an Ireland select maybe.
That is probably the fixture he would go for.
Thomas @ 28,
His brother Stevie has cerebral palsy.
Frank McGregor
41
Posted 22/02/2021 at 18:48:52
"Thank You" It was just great of you all.
To the posters who commented on my post#11, I never thought I would get such a response thanks again.
Frank
Jim Burns
42
Posted 23/02/2021 at 21:13:35
Seamus – quiet, modest, hard-working, ego-free – a credit to that shirt and epitomising all that it means to be blue. A rare animal in what is now a media-driven money-choked jungle.
Thank you sir – from the Franks of this great club of ours to the 5-year-old grandkids – just about feeling the pain we've known for years.
Now, let's bury Southampton and get real traction from this!
---
Add Your Comments
In order to post a comment, you need to be logged in as a registered user of the site.
Or Sign up as a ToffeeWeb Member — it's free, takes just a few minutes and will allow you to post your comments on articles and Talking Points submissions across the site.