Digne commits to new long-term deal
Wednesday, 24 February, 2021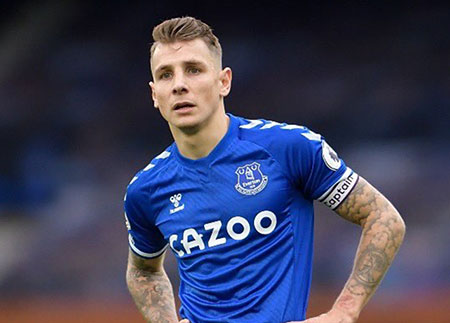 Everton have confirmed that Lucas Digne has signed an extension to his contract with the club, committing to a deal that will now expire in 2025.
The French international has established himself as arguably the best left-back in the Premier League and the Toffees' assist king and while he credits the ambition under Farhad Moshiri and Carlo Ancelotti as one of the big reasons why he wanted to extend his stay at Goodison Park, he also highlighted his relationship with the fans.
"The fans made me feel at home from the beginning, they showed me big love and created a song for me," Digne told evertontv. "It is something I really appreciate and it is very important for me to keep the stability.
"We have a big project with the Club and can reach something very good at the end of this season and for the next few years.
"I want to play in Europe and Everton is the best place to do that. I have seen the progress every year since joining the Club, we are building a strong team.
"When you sign for Everton, it is like an amazing wedding. You just have to do your best every day to show Evertonians the love you have for them. That is what I do.
"I want to show them what they give me and it is just amazing. It was clear in my mind that I want to continue with Everton."
Everton signed Digne from Catalan giants Barcelona for £18m in 2018 and was named Player of the Year and Players' Player of the Year in his first season.
He has played 95 times in all competitions for the club and scored five goals, including a couple of spectacular free-kicks, and has underlined his versatility this year by playing in a more advanced left-wing role under Ancelotti.
Since he signed for Everton, no left-back has created more chances in Europe's top five leagues than Digne.
---
Reader Comments (94)
Note: the following content is not moderated or vetted by the site owners at the time of submission. Comments are the responsibility of the poster. Disclaimer
Darren Hind
1
Posted 24/02/2021 at 17:19:33
I think he is a better wingback than full-back.
Barry Rathbone
2
Posted 24/02/2021 at 17:27:24
Love this lad and rightly hailed as one of, if not THE best left-back in the division. Great news he's signed.
A few more like him around the squad and anything is possible.
Ian Horan
3
Posted 24/02/2021 at 17:33:35
Quality, the week just keeps getting better.
I must agree with Darren – he is better attacking than defending, but quality in the top 3rd. Wingback with Godfrey behind him as a left centre-back.
Thomas Richards
4
Posted 24/02/2021 at 17:35:18
Great news.
I thought Man City may have come in for him.
Best left-back in the league for me.< Struggling with a couple of injuries lately, a sign of his commitment that he is prepared to play while not 100% fit.
Ancelotti won't play with three centre-halves in the long-term, Ian.
A committed back-four man.
Jay Harris
5
Posted 24/02/2021 at 17:36:43
The future is bright. The future is Blue.
Digne, Godfrey, Holgate, Davies, Calvert-Lewin, Richarlison, Branthwaite, Small, Gordon – all young and developing.
Liam Mogan
6
Posted 24/02/2021 at 17:41:48
It has to be a good sign that a player who is coveted by other clubs has committed to Everton. Also, the comments he makes about the club and the fans will go down a treat.
Are things really, I mean REALLY, changing? Dare we hope?
Kunal Desai
7
Posted 24/02/2021 at 17:54:37
3 points against the RS, news of Bramley-Moore Dock inching closer, and Digne signing a new deal. News keeps on getting better.
Stephen Brown
8
Posted 24/02/2021 at 18:00:38
If Carlsberg did weeks!!!
Tony Everan
9
Posted 24/02/2021 at 18:08:24
Great news, Digne is a top quality left back and maybe the the best offensive one in the League. Calvert-Lewin will be buzzing too, there will be a healthy supply of killer crosses coming in from the left for years to come.
We are getting to a stage now that we are becoming a very strong team. Strengthening in the summer can be much more focused on just one or maybe two real top quality players.
Robert Tressell
10
Posted 24/02/2021 at 18:17:52
Excellent. Keep the best you have and add better. Digne is certainly Champions League quality. We just need more like him.
Mike Doyle
11
Posted 24/02/2021 at 18:27:05
Kunal #7, would you describe these as a "Holy Trinity" of events?
Graham Hammond
12
Posted 24/02/2021 at 18:29:48
Pleasing that he chose to sign a new deal with Everton but not back to his very best, in my opinion, same as Mason Holgate in that regard too. Seems to have come back terribly quickly from the bad injuries he sustained earlier this season.
Great that he wanted to recover speedily and get back into the side as soon as possible but I am not totally convinced that such a quick return was for the very best, all considered. If he finishes the season well, though, I would not be surprised if Man City went for him this coming June or next.
Thomas Richards
13
Posted 24/02/2021 at 18:31:31
He would walk into Man City's team, this lad. A great signing, and another piece of evidence that the players are buying into Carlo's master plan.
We are on the march!
Dale Self
14
Posted 24/02/2021 at 18:34:17
Yay! Class, pure class and a fantastic professional to have lead the next ones up. Go Blues and go Bleus!
Paul Hewitt
15
Posted 24/02/2021 at 18:35:36
This week just gets better and better.
Colin Glassar
16
Posted 24/02/2021 at 18:38:10
Don't get me wrong, I love Digne but his defending is a bit iffy IMO. He's often easily beaten by fleet-footed wingers. Like his predecessor, he more often than not stands off and allows 9 out of 10 crosses to get past him.
Going forward, he's one of the best around, like his predecessor.
Danny O'Neill
17
Posted 24/02/2021 at 19:10:03
I wouldn't say he's an out-and-out wingback. They are very rare beasts and difficult to find. A good attacking full-back; there is a subtle difference in my opinion.
Either way, I'm delighted with this. I know it's hard, particularly on the younger generation and because of the countless false dawns, but it really feels like something is happening at Everton right now.
Niall McIlhone
18
Posted 24/02/2021 at 19:11:27
The best compliment I can pay Digne is that there isn't a dirty big hole where Baines used to be, and also that the fans have taken to him because they can see the quality he brings, especially in the final third.
We don't use him enough from direct free-kicks either. He should have first pop anywhere up to 35 yards out, but Richarlison and Sigurdsson seem to get more chance of having a go, often ending in disappointment.
Thomas Richards
19
Posted 24/02/2021 at 19:16:08
Not so subtle, Danny.
Agree 100% though.
Peter Mills
20
Posted 24/02/2021 at 19:34:14
At the moment, we have a number of players like Digne, James, Davies, Sigurdsson, who are happiest when we are playing with a lone striker, allowing an extra man to drop back into midfield or the back line.
This has worked well in away games when teams have to come at us, or against the better teams at Goodison. But it exposes our weakness against the "poorer" teams against whom we have struggled at home.
I suspect that is going to be the conundrum to be solved over the summer, who can we bring in that will give us additional creativity in midfield and attack without weakening the defence? Despite the frustrations many of us have around Richarlison, it also stresses the importance of his work rate.
Mike Gaynes
21
Posted 24/02/2021 at 19:48:35
Yay indeed. He's pure quality. Love the wedding comment.
Am I the only one who has noticed that inch-for-inch he's the best fullback in the Prem in the air? I mean the guy is 5'-10" and he never seems to lose an aerial duel. There's actually a Premier League stat that tracks this, and it says that in Digne's time at Everton he's won more than two-thirds of his contested headers:
Aerial battles won: 242
Aerial battles lost: 118
That's astonishing. By contrast, Coleman (also 5'-10") wins about 40% of his aerial contests. Bainesy was about the same.
As they'd say in the NBA, Digne has serious hops.
Brian Murray
22
Posted 24/02/2021 at 20:53:04
His passing and crossing are as good as any winger or midfielder. Maybe Thierry Small will end up playing behind him. Nice problems to have with Godfrey verging on the awesome.
John Pickles
23
Posted 24/02/2021 at 20:56:53
Not so long ago our best players were keen to move to a club that 'matches their ambitions' rather than extend their contract here. The fact that a foreign player who could walk into a good Champions League side is happy to sign an extension is a very significant and welcome sign.
Jerome Shields
24
Posted 24/02/2021 at 21:51:04
John#23
I agree. This is a welcome change.
Christy Ring
25
Posted 24/02/2021 at 22:17:50
A quality left back and a great attacking threat with his superb crosses. Also Digne signing a new contract shows he's happy here, and confident the club is going places.
Justin Doone
26
Posted 24/02/2021 at 22:24:59
Good news as he's a good player but I have to disagree in him being one of the best left backs in the league. Depending on how the team set up and play he can be very effective.
I like defender's firstly to be good defenders, hard to beat or get past. Godfrey has been outstanding in this respect. But he's not an attacking full back.
Digne has stepped into Baines role very well and they have very similar attributes. Both defensively week but have great delivery on crosses from open play.
To consistently challenge for top honours at home and in Europe we will need better but there are others area's of greater concern.
Lester Yip
27
Posted 24/02/2021 at 22:29:02
Great news! His work rate and determination makes him a consistent performer. I feel that given Godfrey can play as left-back, it gives us more adaptability when playing teams like Wolves.
A Traore, who has pace and muscle to bully his way in when playing against Digne, Godfrey can start and Digne play as left wing who we know will track back and provide additional cover. With Nkounkou in the pipeline left-back position is covered.
Right-back we know Holgate can play there. Similar to Godfrey if we need someone as attacking as Coleman, we need to buy.

Paul Birmingham
28
Posted 24/02/2021 at 22:42:22
Good to see the commitment and respect that Lucas has shown to Everton FC and Evertonians.
He's a versatile player with a sweet left foot, but his dead ball and crossing and shooting prowess is exceptional but core defending needs improving.
But all players have potential and can with grit determination, and belief improve.
Tom Davies is in a rich vein of form and his confidence and self-belief is great to see.
Let's hope that the last few days where Everton have beaten Liverpool, Bramley-Moore Dock, council approval and beaten the United U23s, is not diluted next Monday vs Southampton.
Everton must knock the smirk off Mr Ed's best mate next Monday. Let's hope Everton can get the win, and build momentum for the run-in.
Scott Phelps
29
Posted 24/02/2021 at 23:30:49
Means nothing in modern football! If an offer comes in and the player wants to leave, they simply refuse to play and train. Then find themselves in the U23s or the getting the move they want.
Contract renewals mean nothing in terms of commitment from players, rather simply ensuring wages for x amount of years.
Pete Williams
30
Posted 24/02/2021 at 23:46:35
Three pieces of brilliant in one week? I could get used to this.
As for Digne's quality, we are much better with him than we would be without him. I agree he came back too soon and can get done by wingers in one-on-ones. However, Ancelloti is using him in ways that minimise those risks and, as a result, he is very effective under him.
Hope we can keep the derby attitude for Southampton and keep the good news train rolling.
Kev Dooley
31
Posted 25/02/2021 at 00:32:24
He could well reach Tony Hibbert status If he keeps this form up.
Alex Parr
32
Posted 25/02/2021 at 00:55:22
Similar to a couple of comments, Digne is a fantastic player who can play left-back, left-wingback, left-midfield, and maybe even left-wing.
Against teams that we will give possession away to, I like the option of Digne in midfield with Godfrey behind as he gives that defensive solidity. Lucas can make something happen with a cross and gives something more in midfield. I don't see it as a defensive or negative deployment now, I think he plays as an attacking midfielder in some games anyway.
Against teams with less threat, he could play the attacking full-back role, with a more attacking option like Richarlison ahead of him creating the overlaps.
He's an intelligent player and I think between him, Ben and Niels on the left it looks quite good.
Mason Holgate, Seamus Coleman and perhaps Max Aarons could create a similar trio over on the right? Offering options for the deployment of one or two of those in games as I suggested above, and offering good cover.

Jack Convery
33
Posted 25/02/2021 at 01:41:50
More good news. Excellent. Keep it coming.
Phil Bellis
34
Posted 25/02/2021 at 01:48:24
The best left-back, in any team, I've had the privilege to watch "live" is Ramon Wilson; compact, clever, neat and, I believe, only crossed the half-way line 5 times in his entire Everton and England career
Rob Dolby
35
Posted 25/02/2021 at 02:18:52
Justin 26. Who is the best defensive left back in the league?
The game has moved on, full backs are generally converted wingers these days.
Digne is as good as it gets in the prem. His quality is sorely missed when he isn't in the team.
Great bit of business by the club.
Darren Hind
36
Posted 25/02/2021 at 03:15:22
There is no subtle difference between a wingback and a full-back. It's a pretty stark one. The minimum requirement to be a top-drawer full-back is to be able to defend. On far too many occasions, Digne has been exposed in this area.
He's a good footballer, no doubt. A big asset, no doubt. His presence gives us balance. He gives us a different dimension going forward... but the best left-back in the Premier League? He's not even the best left-back at the club. We have a centre-half who is a better left-back than he is.
I'd rather celebrate a player's assets. Foolish claims do nobody any favours. What next? James is our best defensive midfielder?
Derek Knox
37
Posted 25/02/2021 at 03:50:05
Can only be more good news for the Club and fans alike, it seems this week has been one of the best for good news, can it get any better? Having read the posts above I can't recall seeing any mention of another good aspect in Digne, is that he rarely gets injured.
Every player has had a bad game at some point for us, but Digne has less of those than anybody else, long may that continue, I haven't counted Ben Godfrey in that before anyone points that out, as he has only been with us a short time.
Terence Leong
38
Posted 25/02/2021 at 04:32:29
Just looking at the quality of his assists in a recently released YouTube clip, put out by the club, to commemorate his contract extension. The days of pure full-backs defending resolutely is gone. He does his fair share of defensive work.
As pointed out about his winning of aerial battles, he has also shown that he is adaptable even at centreback. While we are unlikely to want to or have to play him there, it shows his tactical nous and footballing abilities. He is coming into his peak years, like Baines did. Hopefully, it will coincide with trophies.
To see yet another left-back and left-footer put in those crosses and deadballs... Glad that the club continues to have quality left-backs.
Danny O'Neill
39
Posted 25/02/2021 at 07:02:13
Wilson was my dad's era so I had to listen to stories of how good he was. I don't recall Van den Hauwe being the best, certainly not as a footballer. Hard as nails and a good left-back in a great team but not the best.
Hinchcliffe had a good spell and a cultivated left foot. Has to be Baines in my lifetime, but even then, he was behind a centre-back as second-choice for left-back in his early Everton career due to doubts over his defensive abilities.
I like Lucas, he is a very very good attacking full-back. Not the best in the league but good enough to be part of (hopefully) our next great team.
Thomas Richards
40
Posted 25/02/2021 at 07:30:31
Ray Wilson was the best left-back I've seen.
Who would you consider to be a better left-back in the Premier League, Danny?
Karl Graham
41
Posted 25/02/2021 at 07:36:53
The Number 3 shirt and captain's armband next season would be my next step. Contract is perfect length. If he still has something to offer at 32 we can give him another year but Nkounkou should be 24 and Small 20 and if either are going to be good enough we'll know by then.
He is the best left-back in the league in my opinion and can also cover centre-back and left-wing. When he is out the team or off-form, it affects the team overall – that's how you know a player is top drawer.
Geoff Trenner
42
Posted 25/02/2021 at 07:42:22
Nobody close to Ray Wilson. Asking him to do anything other than defend would have fallen on deaf ears but he was the best defensive left-back I have ever seen anywhere in my 60+ years.
Martin Berry
43
Posted 25/02/2021 at 08:16:42
He loves it at Everton and when you consider where he has been that says a lot. I still think he is on his way back from that injury and not quite 100% just yet.
He will be a key player in the future of Everton. I'm so pleased that he has committed himself to the club and speaks so well and highly of it.

Tony Abrahams
44
Posted 25/02/2021 at 08:16:46
Van den Hauwe was a very good footballer imo Danny, but I thought this stood out more when he played centre-half, in a game that is all about opinions.
I'd disagree with Darren because, in the modern game, I'd say that Digne is a better left-back than Godfrey, who I'm sure he was alluding to, but Godfrey is a much better defender, and I'm sure will become the best central defender in the country, if he can go and leap like Digne, because I'm not sure how good Ben is going to be in the air.
Danny Broderick
45
Posted 25/02/2021 at 08:22:58
Darren (36),
Digne not the best left-back at the club???
Why do you talk such nonsense mate? It's like you are on a permanent wind-up...
Kevin O'Regan
46
Posted 25/02/2021 at 08:56:52
Guys, don't get too bogged down with the job description – football has changed all over the pitch, players are asked to be more agile in terms of what they do – strikers need to help defend, keepers play with their feet etc. So don't be pedantic about the role because he was asked to fill Baines's boots and has done that pretty well.
Of course there are better defenders – but see Tony Hibbert as an example of one who stuck to his guns like a defender from the past...
The game has moved on and our fixed definition of the job of the player needs to move on too, whether we like it or not. Those who don't adapt, but prefer to stick to the job description from a game long gone will be left back (excuse the pun).
Duncan McDine
47
Posted 25/02/2021 at 09:17:39
Lucas, you're saying all the right things. You smooth talking little French dude! We've had some quality left backs over the years. Since I was old enough to properly follow the blues, we've had Hinchcliffe, Bally, Baines and Digne that have all been among our top performers and creators.
Robert Tressell
48
Posted 25/02/2021 at 09:23:46
That's right Kevan, full back is really a midfield position now - and the most essential attributes are a good engine, pace, being comfortable on the ball and attacking capability.
In the modern game, full back is the position with the most space available - since centre mid is so congested.
You can play 4 centre halves to good effect but it vastly limits your attacking potency which leads to things like the Newcastle debacle.
It remains important to block crosses etc too but the team structure helps to address that (ie covering midfield players) not just the individual's diligence.
Danny O'Neill
49
Posted 25/02/2021 at 09:35:25
I think he's close Thomas and up there.
If I go off the past few seasons, I have liked the look of Chilwell. Still only 23 as well so he will get better.
And, I hate to swear, so I won't, but there's a very good left back across the park; can't deny he has been a revelation for them. Feel unclean, 10 hail Mary's for me.
I probably was being harsh Tony. Pat was a good footballer, I just don't recall him being the best. I like your centre back call, he was good when in that role.
I too can see Digne being captain. He has that presence about him.
Brent Stephens
50
Posted 25/02/2021 at 10:11:32
Kevin #46 - exactly. The game is a lot more nuanced now. Positions much more flexible.
Graham Mockford
51
Posted 25/02/2021 at 10:49:39
Kevin #46
Spot on. City's 'left back' appeared to playing mostly in central midfield last night. The 'jumpers for goalposts' contributors won't get it though.
John Pickles
52
Posted 25/02/2021 at 11:01:24
Pat van den Hauwe's raison d'etre at Everton was to be a defensive full back, a master-stroke by Kendall replacing the popular John Bailey. He was behind Sheedy who's defensive efforts make James look like Stuart Pearce so he had to be great defensively. Sheeds providing all the crosses from the left was more than enough.
Thomas Richards
53
Posted 25/02/2021 at 11:14:29
"The 'jumpers for goalposts' contributors won't get it though"
😁😁
Bill Gienapp
54
Posted 25/02/2021 at 11:52:41
I agree with Rob (35) - if the footballing world is going to act like Trent Alexander Arnold is a world-class fullback, when the schism between his attacking prowess and defensive shortcomings is far starker than Digne's, I certainly have no problem lauding Digne as one of the best left-backs in the Premier League.
I also happen to think his overall defensive workrate is quite good. Sure, he's been roasted badly on a few occasions, but I rarely feel any concern over his ability to get the job done.
Phil Smith
55
Posted 25/02/2021 at 12:25:33
His attacking threat is not in doubt but his defensive work this season has been woeful. People seem to go past him like he's not there. Think he needs to sort that out pronto to be considered as one of the best full-backs. Seems a little confused this season as to what his role is. On his day, pure gold.
Fran Mitchell
56
Posted 25/02/2021 at 12:27:50
You could say there is something of a golden era of left wing backs in the Premier League:
All of: Shaw, Saka, Tierney, Roberton,Chilwell, Castagne, Justin, Cresswell, Targett, Digne, Zinchenko, Reguillon are excellent players.
Similar could be said of the right side.
It is a signal to the way the game is played now, and full backs are just as important to attacking fluidity as are centre-forwards and creative midfielders.
Clearly, they need to be solid defensively, but you see with the likes of Wan-Bissaka, while he is excellent defensively, Man Utd will probably look for someone else as he simply doesn't offer enough going forward. The key thing really is that they have the fitness and pace to get up and down the pitch, can read the game well enough to not get caught out positionally.
The much lauded Lampety for example, while an exciting talent, has almost zero positional awareness and just roams the pitch like a no10.
Also, it's important that when one full back goes forward, the other stays back and helps keep shape, this way the centre midfielders can easily cover the departed full back in case of a counter attack.
In terms of Digne, he's certainly amongst the best. His crossing and link up play is excellent 90% of the time, he's hard working and disciplined. he's as good as we could hope to get. If we had a Digne on the right hand side, we'd be a much more dangerous team.
Danny O'Neill
57
Posted 25/02/2021 at 12:52:23
John Pickles (52), Sheedy used to give my best mate (God rest his soul) kittens. He lamented him as much as he loved him.
He would gush over his talent and skill whilst equally raging at his "laziness" and unwillingness to "mess his hair up" (his words not mine - I always referred to one of his goals in the 5 - 0 destruction of United to counter that).
Joking aside, we both saw what you saw. Pat was the left back, Sheedy the left midfielder. As most are saying here, much more is expected of full backs in the attacking sense now. Also, not just positions, but formations fluctuate during the match much more now. We're not quite NFL in swapping out most of the team depending on offence / defence, but you do see teams' formations and players' positions shift depending on whether they are attacking or defending. Certainly a lot more than we used to.
Sheedy, similarly to comments about James, played the game in his own time at his own pace. Slowed it down to see things others didn't or couldn't. His patience in a pressure cooker of a match to wait for the right moment to slip the ball through for the 3rd goal against Bayern. Waiting on the edge of the box, Gwladys Street end with the Norwich defence in front of him. Had he hit a brick wall as he seemed to stop? No, patience. Waited for the runner (Heath) then bemused the defenders with an unexpected lobbed pass right over their heads.
Sometimes moments like that were more enjoyable than the Sheedy goals and free kicks themselves.
With Digne and Nkounkou, I think we look covered on the left. We have a strong centre back 4; strong enough for it not to be a priority this summer. Defensive priorities are clearly Seamus' replacement.
Danny O'Neill
58
Posted 25/02/2021 at 13:02:25
Sorry, missed the edit timeframe. I was unkind and disrespectful to Seamus. Should read Seamus' eventual successor.
Mick O'Malley
59
Posted 25/02/2021 at 14:03:16
Pat Van Den Hauwe was a better left back than Baines all day long, not many got past Pat and if they did they only did it once, Darren I get what you're saying about Digne he is great going forward but is a little bit suspect when confronted with pace where as Godfrey is an out and out defender with pace, both excellent at what they do but Godfrey defo the better defender
Graham Hammond
60
Posted 25/02/2021 at 14:17:21
Totally agree with Mick (#59) in saying that Godfrey is a better defender than Digne and Van Den Hauwe was a better defender than Baines also. I am old school, I want my defenders to defend, my attackers to attack and my midfielders to knit things together. Lucas Digne is a quality footballer but the lad is no defender, for the most part, hopefully, he can regain his very best form in the very near future, same with Mason.
John Keating
61
Posted 25/02/2021 at 14:17:44
The problem with Godfrey playing left-back, and Holgate at right-back, is that, unlike Digne, they can't cross the ball on the run. Godfrey tends to stop and bring it back onto his right.
Best left-back in my time, without hesitation: Ray Wilson.
Andrew Ellams
62
Posted 25/02/2021 at 14:26:11
Godfrey is going to be Keane's partner in the middle from next season and we will buy a Coleman replacement in the summer.
Danny Broderick
63
Posted 25/02/2021 at 14:34:35
I saw a dad and lad doing keep ups every day on holiday about 3 years ago. Both could clearly play. It turned out the dad had been a player in the lower leagues, and the lad was about 16 and in the academy at Sunderland. He had all the tricks. I asked him what position he played and I couldn't believe it when he said fullback. They told me then that fullback is the most difficult position on the pitch, it's the new centre mid. You have to be a good player now to be a full back, you need a bit of everything and a good engine to keep getting up and down the pitch.
The days of having Hibbert, Lescott, even Godfrey at full back are long gone. You might get away with it for a couple of games, like we have with Godfrey this season. But the days of having a pure stopper at full back are long gone. The centre of the pitch is now so congested that full backs are a key outlet going forward.
We've been blessed to have Coleman and Baines for so long. Digne is comparable to Baines, and Aarons seems well regarded, though I haven't seen much of him. Hopefully he could be the long term successor to Coleman.
Derek Knox
64
Posted 25/02/2021 at 14:48:17
John @52, Pat Van den Hauwe was in the most part a solid defender, but he did have his off days too. I remember after the Rotterdam Cup Winners Cup triumph, we played Man U at Wembley on the Saturday.
Too early for us to be honest, but Manure were fresh, excuse the anomaly, it was expected because we were playing so well, that we would add the FA Cup to our Trophy haul that season.
I remember it vividly, because I was there, Pat backed off, and backed off, an advancing Norman Whiteside, down United's right side. Why he never characteristically stopped him by the half-way line is still a mystery.
Of course we all know what happened after that. How elation after winning the Cup Winners Cup, could turn so quickly to disappointment, was a shock in itself. A very quiet bus on the way home.
There is little chance that these days, any team would be expected to play two major Finals in the space of three days.
John McFarlane Snr
65
Posted 25/02/2021 at 14:48:35
Hi Mick [59] and Graham [60] I have always maintained that it's impossible to compare players from different eras, the only thing I can add is that, in my opinion, a Van Den Hauwe type of full back would be crucified by the FA disciplinary Committees, and as I've stated, it is only an opinion.
Thomas Richards
66
Posted 25/02/2021 at 14:51:20
Next season, Godfrey will play centre-half. Digne will play left-back. Digne is a far better overall left-back.
Ben is a great defender but has not got a great left foot.

Graham Mockford
67
Posted 25/02/2021 at 15:01:09
Mick
I would have to disagree, folk hero that Pat was, he wasn't in the same league as a footballer as Baines. He just played in much better sides.
Baines on the other hand for a period of about four years was one of the best left backs in Europe. If it wasn't for the fact he played at the same time as the best left back that's played in the Premiership Ashley Cole, he'd have got a lot more than the 30 caps he got. Also if he'd been a different type of character he'd have undoubtedly played for a title winning team, Ferguson tried to sign him on a few occasions.
John Boon
68
Posted 25/02/2021 at 15:05:57
Opinions are just that and posters too often make statements that what they think is ALWAYS right. After many years of watching Everton I think that Digne is an excellent left back, but there are others that to me were at least as good,if not better. Wilson immediately comes to mind but Baines was also tops.
We also need to look at the link up play with wingers and Baines certainly benefitted with Pienar as his regular partner. Digne has had to put up with many different wingers in front of him, which forces him to be very adaptable. I think he would be even better with a fast, skillful REGULAR partner ahead of him.
Ian Horan
69
Posted 25/02/2021 at 15:14:52
DK@64 I think your being very harsh on Pat over the Whiteside goal, it was a world class strike. When Whiteside was doing a number of sportsman's dinners around 2005, I attended one for utd supporters as I worked in Manchester with a lot of utd supporters at the time. Whiteside said it was the best goal of his career, that is some accolade give the quality of some of his strikes.
Danny O'Neill
70
Posted 25/02/2021 at 15:23:33
That's a good call John. Something I alluded to but didn't articulate as well earlier.
It talks to the narrative that you don't need the best 11 players in every position to be the best team. You need the right ingredients, blend, formula; call it what you want. Because of our history, some of our best players have not played in our best teams. Baines is a good example. I always felt sorry for Peter Beardsley. We talk about gifted players looking up to see movement and seeing statues; that's how he must have seen it.
Derek; amazing isn't it and it was a disappointing day indeed. I genuinely hope that the "lost" generation and the new one get to experience the "disappointment" of losing an FA Cup final only days after winning a European trophy, which was only weeks after clinching the league title.
Success breeds success, but with it comes expectation. We were disappointed at the end of arguably our most successful season ever. And we wanted (expected) more.
Mike Gaynes
71
Posted 25/02/2021 at 15:28:16
Kevin #46, really good post. Actually, Digne wasn't asked to fill Bainesy's boots, he was just asked to back them up. It was amazing how quickly he moved them to the bench. As I recall, Bainesy made a rare error in maybe the third game of the season, committed a pen in the Bournemouth game where Rich was sent off for a head butt. Bournemouth came back for a draw. Next game, there was Digne at LB. And there he has been ever since. Bainesy only started about six games the rest of his career. My favorite player, consigned to the bench. And I couldn't even complain, because Digne is so freaking good.
Bill #54, agreed. I think it should be pointed out that in addition to being terrific in the air, Digne defensively makes very few mistakes, rarely gets caught out of position and almost never gives the ball away. No, he's not a shutdown fullback defensively like a Hibbo or a Lescott, but he can always be counted on.
Martin Reppion
72
Posted 25/02/2021 at 15:40:12
All the comments about left-back, wingback etc are moot. This guy can play. He would be in the team in a 4-4-2 formation and in the team in a 3-5-2.
What really impresses me is his attitude. Compare and contrast Digne and Moise Kean. Who do you want beside you in a ruck?
Football is still about heart. How many times do commentators and pundits use the old 'They wanted it more' line? You never heard it with Kean. You will always know it applies to Digne.
When I pay my money to watch the game, I want to know that the boys in the Blue shirt (Don't get me started on change kits) will leave it all on the pitch.
As the great Dave Hickson said... "I'd break every other bone in my body for any club I played for; I'd die for Everton." That is asking a bit too much. But Digne has that spirit. I'd play 11 of him if I could.
Justin Doone
73
Posted 25/02/2021 at 15:47:24
The best left-back in the Premier League plays in red... I'll say no more.
I also understand what people mean when they say that the game has changed. Modern full-backs have to be an 'out' option to help attacking and provide assists etc.
But no they don't!
It's just that's how most coaches, players, fans and others want to play and set their teams up. From an entertainment perspective, I agree.
But, if we had wingers, creative and mobile midfielders, and, in general, much better attacking options, we wouldn't need both full-backs to attack as wingers and defend as defenders.
It's almost an impossible task for them.
Danny O'Neill
74
Posted 25/02/2021 at 16:02:19
Liking this thread so apologies for my persistence.
Mike Gaynes, a very good point. Baines was one of those players who, once the legs went, they seemed to go quickly. Gerrard (dry vomit) was another one.
Some players manage to adapt and prolong their career with a different approach. Others walk off the cliff edge so to speak.
Jerome Shields
75
Posted 25/02/2021 at 16:31:36
John #52,
I always remember the affable John Bailey after the FA Cup Final in which he played well. He was spokesman for the club at that stage, only not to be in the team the following season. As you say, replaced by Van den Hauwe, a masterstroke, who was outstanding. Now Everton concern themselves with players getting up to speed.
Mike Gaynes
76
Posted 25/02/2021 at 16:42:34
Danny #74, gotta disagree with you there. Bainesy's legs didn't go, and he didn't fall off any cliff. He was simply beaten out by a World Cup winner and U-20 World Cup winner who was 9 years younger than he was. On his rare appearances thereafter, Bainesy produced quality performances. Every time. That final goal against Leicester was extraordinary. (I'll never forget Mina body-slamming the poor guy.)
By the way, if anybody's interested, RBM/SB Nation posted a statistical and salary comparison of Digne to the other top left backs in the Premier League. Interesting stuff:
Lucas Digne: Performance, work ethic and leadership exemplified
Darren Hind
77
Posted 25/02/2021 at 17:41:42
I think if there was a poll asking Evertonians who they think has given the best performances at left back between Godfrey and Digne. Godfrey would win in a landslide.
Digne's a good player. He's versatile and proffessional. I like that he has signed again. I like that there is a thread where he is getting nice things said about him...but dear me ?
"Beat Leighton Baines out of the team" ? whatttt ? Thats like saying...Ah doesnt matter.
Lets try stick to the what happened rather than making stuff up. Baines was around 33 when Digne got here. The little niggles were taking longer to fix. His powers had been on a downward trajectory for a couple of years. He'd have deffo had a go, but he simply didnt have another full season left in him. Digne didnt come as an understudy. He was most definitely brought in to replace Bainsey.
The thread was worth revisitng though simply to see the claim that he is terrific in the air.
Graham Mockford
78
Posted 25/02/2021 at 17:55:10
I think if you did a poll of the Everton coaching staff who they think is the first choice left back at the club between Godfrey and Digne. Digne would win in a landslide.
Look I like Godfrey, he's been a revelation this year. Fast, strong and hungry. But he's a centre back who's got enough footballing ability to fill in at left back. I'd be genuinely surprised if he's not first choice there for many years.
Digne is a modern full back who gives you a lot more attacking options.
Danny O'Neill
79
Posted 25/02/2021 at 17:57:34
Fair enough comeback Mike. I guess I'm saying Baines' legs seemed to go relatively quick in the context of how many modern footballers can prolong their careers. He was 35 at retirement yet we didn't really see a lot of him in the last 2 seasons. I do feel the writing was on the wall when Martinez started to drop him. I know most fans were incensed and it caused a backlash, but behind the scenes, I wonder if there was something we didn't know about. It just happens to some players. Rooney is another example. They don't go gradual, they just suddenly go. Suddenly in the context of a football career - my cliff edge was probably a bad term to use.
Look, a great servant and great player; to reiterate the best Everton left back I've witnessed.
Jerome; you touch on the old adage that if you are going to change, it has to be for improvement even if that means outing a popular player. Pat for John Bailey, Dave Watson for Derek Mountfield (I was a Watson doubter because of my loyalty to Deggsy). Improvement needs to look beyond the popularity contest even if that means swapping out a fans' favourite.
I would look to the 50s and 60s cohort to provide earlier examples as there are many examples of unpopular decisions at the time taken by managers that ultimately turned out to be for the benefit of improving the team and squad.
John Pickles
80
Posted 25/02/2021 at 18:03:56
John #65. Yes, nowadays Pat's challenges would fall foul of most refs very quickly. My overriding memory of him was in an Everton vs Chelsea match where Chelsea's Pat Nevin was flying down the right wing. Pat vdH comes flying in with a shoulder barge and poor Nevin does about 3 somersaults and lands in the advertising hoardings. I pretty sure Pat didn't get booked for it, I'm not even sure a free kick was awarded.
Danny O'Neill
81
Posted 25/02/2021 at 18:41:35
Was that the same match where he elbowed David Speedy and got away with it John? Chelsea wore a bright light green kit.
Rob Dolby
82
Posted 25/02/2021 at 19:29:42
Justin 73. Make your mind up.
You say that you want defenders to be able to defend as a priority though you also say the best left back in the league is Robertson! He can't defend to save his life but loves bombing on and has quality delivery.
Darren insists that he wants his defenders to defend but, when Ancelotti picks 4 defenders, he is a dinosaur and coward for not attacking more!
It's all about opinion comparing generations. Although good in their day, players from even 30 years ago would look very average in today's Premier League. The current rules encourage skill, speed and technique. Before the Premier League, the rules allowed a more physical approach.
Christy Ring
83
Posted 25/02/2021 at 20:18:34
Justin #73,
I hope you mean Shaw, because the other red who gets away with so many cynical fouls has been very poor this season, and in my opinion, he is good going forward, but not a great defender.
Minik Hansen
84
Posted 25/02/2021 at 20:35:02
YES! Important! It'll make our other star players consider being part of this Brands and Ancelotti project. COYBBs!
Fran Mitchell
85
Posted 25/02/2021 at 20:54:36
Digne Stats this season:
16 games
6 assists
114 crosses
44 passes per match
38 Ariel battles won to 20 lost
34 tackles
39 clearances
18 interceptions
Tackle success rate 56%
Godfrey
1 assist
6 crosses
35 passes per match
17 games
29 tackles
66% tackle success rate
23 interceptions
52 clearances
32 ariel battles won to 16 lost
There are clear differences, Godfrey is, to zero surprise, stronger defensively. But the stats don't exactly show Digne as a liability in that regard. And in an attacking sense, there is no comparison.
So to claim Godfrey is our best left back is just not true.
Graham Mockford
86
Posted 25/02/2021 at 21:07:37
Fran,
My favourite Digne stat is that, in 97 Everton games, he's only not played the full 90 minutes twice (apart from when he got sent off against Southampton).
John Pickles
87
Posted 25/02/2021 at 21:26:47
Danny, in my mind it was blue, but after all this time I'm sure that my recreated memories are dubious at best.
The 'what hit me?' look on Pat N's face as he staggered up from the hoardings is, I think, still pretty fresh though.
I'm sure he signed for us not long after just so he didn't have to face the other Pat again.
Elbowing Speedy? I think most players either did or wanted to. He was the sort of player that you hated unless he was in your team, an eighties Robbie Savage.
Tony Abrahams
88
Posted 25/02/2021 at 22:00:40
Not only can Digne, get up and win his fair share of headers, he can also stand the ball up perfectly for Calvert-Lewin to go and score from some of his pinpoint crosses!
I think Digne got overplayed at times during his first couple of seasons though, and to the detriment of both himself and Leighton Baines, who definitely should have still been starting more games, because he was still one of the best players at our club.
Danny O'Neill
89
Posted 25/02/2021 at 22:35:09
I'm recalling a disappointing 2 - 2 draw at Goodison John. Chelsea had what was, at the time, a pretty radical bright kit. Might have been sky blue or green, but it was bright. You are correct though, wrong and as undetected by the officials as it was, he done what many probably wanted to with regards to Speedy!! Your 80s Savage analogy is bang on.
I'm surprised we didn't use Baines more and phase Digne in Tony. That's what makes me think whether behind the scenes and on the training ground they were seeing things we don't. Seemed to hit 33 and then we didn't get more than 20 games (possibly less) out of him. Either he was underused or the legs had gone?
Justin Doone
90
Posted 25/02/2021 at 22:43:53
I would consider both Robertson and Shaw (and a few others) better than Digne as a left back. Both defensively and offensively (in both meanings)
It's partly down to the individual as a footballer, but also how the team play and the player performing well in a role for that team on a consistent basis.
Digne is a good player. I would not class him as top class or world class but a very good attacking fullback.
Our lack of creative players further forward highlight why his attacking play and crossing is so important to us currently.
If Seamus could cross or pass a ball as good as Digne or JJK he would be on a par if not a better full back as I think he is slightly better defensively.
But he can't and although I still believe Seamus has another season in him, his poor distribution has always let him down.
However, when Shay came on to play as a wide midfielder I was very impressed with his runs, dribbling and even passing. I litterally couldn't believe how good he was.
Which also highlights how poor and desperate we are for a quality winger.
HAZARD please Carlo!
Tom Bowers
91
Posted 25/02/2021 at 23:00:20
Digne is as good as any in the Prem. in my opinion but may be getting used more often as a wing back from now on.
If they are not going to get Aarons for the right back role then why not Lamptey from Brighton who may still go down.
We have all loved Seamus over the last few years but like Bainsey his best days are mostly gone.
We must not get too cocky after the wonderful result against RS as the team still has to prove it can be consistent.
City are currently way ahead of the pack in many ways but with some astute acquisitions Everton could well be contenders for the title next season. It would be nice to have a team worthy of gracing such a magnificent new stadium when it's built.
Tony Abrahams
93
Posted 26/02/2021 at 20:46:32
I can't wait for Everton to go to Bramley-Moore Dock, Tom, but if the gods are to shine on us, then just imagine Goodison, seeing one more title win.
Maybe Michael K, is right? So if we are never going to unite, then we have just got to believe instead, and Everton are a football club that has seen the Phoenix rise from the flames many times, and that's why your post above has got me dreaming, mate!
Danny O'Neill
94
Posted 26/02/2021 at 22:33:00
Monday tells us a lot. Monday is big.
I'm not going to criticise and I'm not going to do the big "told you so". When many got carried away with a few good results just as many got hysterical with a few bad ones, up until now it was about staying in touch with the target. European football. That's what I've been saying all season, results and performances aside.
We are in touch, so job done so far. But now we're in the business phase of the season. Now we have to make games count and start to pull away just as a race horse kicks on in the final furlongs having stayed in the slip stream close to the pack.
European football and the FA Cup are on the table and ours to take. Get both or either then reinforce further than what we done last summer and who knows?
Ian Hollingworth
95
Posted 28/02/2021 at 20:03:37
Pat Van Den Hauwe = simply the best (IMO)
I loved watching him play
---
Add Your Comments
In order to post a comment, you need to be logged in as a registered user of the site.
Or Sign up as a ToffeeWeb Member — it's free, takes just a few minutes and will allow you to post your comments on articles and Talking Points submissions across the site.