West Bromwich Albion vs Everton
Wednesday, 3 March, 2021
Match Preview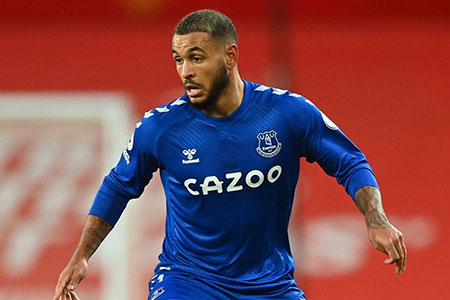 Josh King is still waiting for his first start since joining Everton from Bournemouth on transfer deadline day
Everton press on with their quest for European qualification with a trip to relegation-threatened West Bromwich Albion on Thursday.
The Toffees can claim fourth place with a victory, perhaps only briefly unless Liverpool and Chelsea draw at Anfield, but it would lay down another marker to further their prospects as dark horses for a Champions League place.
Although they finally got back to winning ways at home on Monday with a narrow win over Southampton, it's Everton's away form that has held them in the upper echelons of the Premier League this season and Carlo Ancelotti will be keen to make it seven away wins out of nine since this side's current unbeaten run on their travels started at Fulham in November.
While the Italian has always maintained that finishing in the top four is more a dream than a realistic goal this season, he is keen not to play down the club's ambition and has embraced the level of long-term expectation that exists among the fanbase.
"We are pleased to be in the fight," he said. "We have to use our expectations as a motivation. If expectations are high, it is absolutely normal at a club with fantastic history. We want to be back there as they were in the past.
"Expectation is not a bad word in my opinion. It is a good word. It keeps you motivated. I think it's important to have ambition.
"I'm sure this situation with the European positions will be decided in the last game and we want to be there until the last game."
Ancelotti will definitely be without long-term absentee Jean-Philippe Gbamin as well as Fabian Delph and Yerry Mina but he wasn't able to provide definitive updates on any of the players that missed the win over Saints because of minor knocks.
He explained that James Rodriguez, Tom Davies, Seamus Coleman and Robin Olsen would be assessed during training today before any decision is made, although he is no doubt hopeful that Davies, in particular, can play so as not to overwork Allan after three months on the sidelines himself with a torn hamstring.
Ancelotti might also rotate in the forward areas as well, where Josh King has been waiting to make his first start and Alex Iwobi will also be pressing for more action having had to bide his time on the substitute's bench as well in recent matches.
The game pits Everton against West Brom at the Hawthorns for the first time since Boxing Day 2017 when their current boss, Sam Allardyce, was fulfilling a brief interim spell as manager at Goodison Park before he was let go in favour of Marco Silva. The Premier League's renowned "fire fighter" was brought on board by the Birmingham side earlier this season after it was felt that Slaven Bilic would not be able to keep them in the top flight.
The Baggies are still mired in the relegation zone, nine points from safety and, as such, Allardyce faces arguably his toughest assignment yet in trying to keep a club from dropping out of the division. However, they have shown signs in recent weeks that they are becoming harder to beat, even if goals have been hard to come by.
Since losing at home 5-0 to Leeds and 4-0 to Arsenal in successive games, they have won at Wolves, drawn with fellow strugglers Fulham, held Manchester United and edged Brighton. Having shipped 18 goals between Christmas and the end of January, they conceded just five in February which suggests that they could be a harder nut to crack now than they were for Manchester City when they thumped them 5-0 at The Hawthorns on 26 January.
Allardyce is expected to welcome back Robert Snodgrass who has recovered from injury while Semi Ajayi is available again after serving a suspension. Those could be two of a few changes the West Brom boss makes having moaned that he will need to rotate players in view of the packed fixture schedule.
The Baggies will set up to make life difficult for Everton and Ancelotti's side can expect a physical encounter where they will need to be vigilant defending set-pieces and deep crosses. But on current form, the Toffees should go into this one expecting to win and just go in and do a professional job to get the job done. If they can get amongst them early and grab another early goal, they could well be able to prey on the insecurities and doubts of what can be a suspect defence.
Kick-off: 6pm, Thursday 4 March 2021 on Sky Sports
Referee: Darren England
VAR: Michael Oliver
Last Time: West Bromwich Albion 0 - 0 Everton

Predicted Line-up: Pickford, Holgate, Keane, Godfrey, Digne, Davies, Doucouré, Sigurdsson, Iwobi, Richarlison, Calvert-Lewin
---
Reader Comments (155)
Note: the following content is not moderated or vetted by the site owners at the time of submission. Comments are the responsibility of the poster. Disclaimer
Brian Murray
3
Posted 03/03/2021 at 18:08:35
Tenuous link to tomorrow is that our goalie on the bench might be offered a permanent deal. Olsen has shown what he is all about at old Trafford and surely we can do better than that for a first or second choice. Pickford we still don't know if he has it in him to cut the lapses out.
Kieran Kinsella
4
Posted 03/03/2021 at 18:19:32
West Brom's local paper seem to think Sam will rest players tomorrow to keep them fresh for the "six pointer" Sunday. Not sure I buy that. I can't see him resting anyone when his team is on 17 points for the season.
Allen Rodgers
5
Posted 03/03/2021 at 18:20:22
Brian @3 , I'm giving Pickford the benefit of the doubt when I say he has learned his lesson. Olsen is decent, no more no less, and I agree we can do better. The third option is to pay big money for a top keeper and I doubt we'll do that.
Brian Wilkinson
6
Posted 03/03/2021 at 18:34:07
Not a chance Kieran, he will not want to lose this one against Everton, he will feel he has a point to prove
Cannot see Sam playing a weakened team.
Brian Wilkinson
7
Posted 03/03/2021 at 18:42:07
I think Pickford has shown in the last three games, he is more focused and not bouncing about as much.
He may have conceded three against City, one a wonder goal, another deflected.
Said a while back, he has the ability, if he can sort his head out and stay relaxed and focused, for me he has, up to now done that.
Part of that is coming back into the team, after Olsen was given an extended run, after picking up an injury.
He now knows he cannot afford to take his selection for granted, needed Olsen coming in to give him the kick up the backside he needed.
Derek Knox
8
Posted 03/03/2021 at 18:52:50
That predicted team should be able to do the job, I see Allan's comeback has been thwarted, maybe and hopefully a precaution, although he didn't look himself on Monday but did enough. I see the Portuguese Carthorse has been overlooked too. Glad Tom's absence has only been a short one, as he was missed against the Sinbads.
Can't see it being a high scoring game, which we could do with to boost that GD, but I'll settle for another 3 points however we get them. Hope we see Josh King at some stage too, and not for the last 3 minutes of normal time.
Geoff Cadman
9
Posted 03/03/2021 at 19:09:47
I think Jordan should have done better with the 3rd City goal Brian. I wonder if he spent some quality time with the sport pyschologist during his injury. He also looks a bit slimmer since he came back.
Martin Berry
10
Posted 03/03/2021 at 19:22:31
We should be far to strong for the opposition providing we keep our concentration on any corners or anything they lump into the box.
I would like to see Iwobi and King start and Davies come into the middle and rest Allan for the Chelsea game.
I think we are on a run now where the team treats every game as a final, they know with some winnable fixtures ahead a place in Europe is there for the taking.
Ernie Baywood
11
Posted 03/03/2021 at 19:42:00
Massive game, but they all will be until either the end of the season or when European qualification isn't possible.
We know enough about Sam and his approach to understand that this will be a tough assignment. The problem he's got is that WBA are rank. If I'm Ancelotti I'm doing my best to encourage a football match to take place, which means selecting our best footballers, if fit, and surprising WBA with attempts to play more expansive football than we've been used to recently.
I'm going to be optimistic and predict that we will get an early goal and outplay them from there. 3-0, comfortably enjoyable win, 4th place, and on a high going into the Chelsea match.
Danny O'Neill
12
Posted 03/03/2021 at 19:59:08
Under normal circumstances Kieran it is exactly what Allardyce would do. He has no interest in gaining points from matches that don't matter.
But I agree with you; on 17 points he has not option but to try and get something from every game. Also with Brian; he has a grudge against us now. Some would say justifiably given the way a lot of fans (myself included) treated his time with us.
I pay no attention to him as I like to erase him from memory, but my son always comments on how Allardyce always comments on Everton. There is bad feeling I suspect.
Brian Murray
14
Posted 03/03/2021 at 20:09:14
Re big Sam. Never forget that defeat at Burnley when he had to walk to the tunnel close to the away section. Fck off Sam allardyce chant Probably still ringing in his ears so yes his ego won't let him forget that.
Tony Everan
15
Posted 03/03/2021 at 20:09:18
Mr Potato Head will have West Brom fired up for it. He was irritated by us Everton fans and our lack of appreciation of his efforts. I don't think he ever understood the club or it's support.
If we want top four I don't think there is much wriggle room for rotation. The strongest team possible must be on the pitch.
Our midfield has to work harder and close down faster. It's still a big area of concern that we are slower on the press than most of our rivals. We concede midfield possession and control because of it. To get into the top four and probably top six this needs addressing. I am looking for the Davies Allan Doucoure midfield 3 to do it. If James is fit, he plays a right side free role if injured, Iwobi out wide to provide some width.
Pickford
Holgate Keane Godfrey Digne
Allan Davies Doucoure
James DCL Richarlison.
WBA 0 Everton 2
Peter Mills
16
Posted 03/03/2021 at 20:14:05
I dislike Sam Allardyce, and hope we win tomorrow.
Brian Murray
17
Posted 03/03/2021 at 20:18:55
We shouldn't waste energy on Big Sam! To me, it's like Barca hating Espanyol. We are a class above the likes of him and his so-called achievements.
Joe McMahon
18
Posted 03/03/2021 at 20:19:00
To be fair Allardyce was brought in to do a job, didn't he get us to 8th. I'm not sure Unsworth would have managed that. Remember Sam didn't appoint himself, Moshiri called him in. No I'm not a huge fan, but he's effective at what he does.
To be honest I'm more annoyed at Unsworth for year on year hanging around in his cosy job at Everton without testing himself and managing in the lower leagues.
Danny O'Neill
19
Posted 03/03/2021 at 20:21:45
Had an opportunity to do so as well Joe. Didn't Oxford court him?
Jason Li
20
Posted 03/03/2021 at 20:25:36
Hope we get at least a point, obviously 3 will be super. I think Carlo can do it, even if he did a weird attacking formation like 2-1-4-1-2, he'll have something interesting, I'm sure.
Whatever the outcome, we need to keep our top 5 or 6 best consisent players 'managed' until the end of the season, and we can possibly even challenge for third. It's now about which clubs have got the best squad available and secondly how much freshness they feel going into matchday - who can handle the attrition every 3/4 days almost. Swaggering football next season when we bring in a couple more class players in.
I don't think Leicester can hold on without so many of their top 5 players unfit and they should stagnate for a month at least.
Dale Self
21
Posted 03/03/2021 at 20:32:00
To be fair, we hate him.
Nick Riddle
22
Posted 03/03/2021 at 20:34:12
Sorry Joe (18) but I can't accept that Sam Allardyce was anything but an embarrassing interlude for Everton Football Club.
When the taxi was called for Ronald Koeman on 22 October 2017, Everton were 18th with 8 points having won 2 and drawn 2 but lost 5 of the 9 Premier League games played. Not great, and a goal difference at the time of –11 does not make comfortable reading. But 4 of those 5 defeats and a draw away at Man City were against members of the so-called Big 6. The fifth defeat in that sequence was against Burnley who were enjoying easily their best ever Premier League season and eventually finished 7th.
The fixture computer handicapped Everton with games against 5 of the 6 acknowledged strongest teams in the country in the first nine fixtures, and Koeman paid the price. Against Man City (a), Chelsea (a), Tottenham (h), Man Utd (a) and Arsenal (h) Koeman secured one point with 3 goals for and 15 against. In the reverse fixtures, Allardyce secured an identical single point, at home to Chelsea, with 2 goals for and 14 against. Koeman didn't face Liverpool that season and to give Allardyce his due he did manage a 0-0 draw at home to Liverpool, alongside an away defeat (and a 3rd Round defeat in the FA Cup).
In the reverse fixtures against the four teams outside the so-called Big 6, Allardyce matched Koeman's defeat against Burnley and secured six points against Stoke, Bournemouth and Brighton, compared with Koeman's seven.
Everton weren't in a happy place when Koeman was sacked and he was certainly never a good fit, but Moshiri panicked. There was no real risk of relegation. We will never know but I suspect, had Koeman remained in charge, the final position would have been roughly the same as it was under Allardyce: 8th. Theo Walcott and Cenk Tosun would certainly not have been bought for transfer fees totalling perhaps £50 million with the club committed to salaries of reportedly £100,000 and £60,000 respectively, payable every week until June 2021 or, in the case of Tosun, June 2022 for two players whose 143 combined appearances for Everton is less than Tom Davies alone!

John Keating
23
Posted 03/03/2021 at 21:20:07
No game against an Allardyce team, especially one fighting relegation, will be easy. I can see this being a bit West Ham at home type of game. Both teams sitting back and waiting for a counter-attack.
I still think we need to play the best team we can, barring injuries, for all our games.
Dennis Stevens
24
Posted 03/03/2021 at 21:43:13
Joe #18,
As I've said elsewhere, Allardyce arrived after Unsworth had dragged us out of the relegation spots. He had a lot more experience, more time to work with the players, and a transfer window to bolster the squad. Despite all these favourable factors, Allardyce failed to perform any better than Unsworth had in the Premier League.
Neil Lawson
25
Posted 03/03/2021 at 21:52:16
Fat Sam is as arrogant as he is ignorant. He should never ever have been allowed to manage our club. (A coach maybe, but only if his huge loud mouth was emptied and filled with seats!)
Hence, nothing less than a comprehensive victory will suffice. If the team want the 3 points even more than I want to see Allardyce lose and be relegated, then a victory is guaranteed.

Nicholas Randall
26
Posted 03/03/2021 at 21:52:26
West Bromwich Albion are not in Birmingham. They are in West Bromwich which is a town in the West Midlands.
John Skelly
27
Posted 03/03/2021 at 21:59:38
We are not playing Sam Allardyce – we are playing West Brom and we are a better team; they will be hard to score against but 1 goal should be enough.
Nicholas Randall
28
Posted 03/03/2021 at 22:02:11
Sam Allardyce did perform better than David Unsworth who only won one game. He was not popular but he did not do as badly as some state.
Jerome Shields
29
Posted 03/03/2021 at 22:19:29
I am starting to get anxiety when I look at the Premier League Table and see the potential of winning their in-hand game.
As for Big Sam, he was a mercenary manager from the time he negotiated his Everton contract and preceded to further negotiate a contract extension using the Everton squad to achieve it during his tenure. It took supporter pressure to cause Moshiri to rethink and scuttle Big Sam's plans, as he realised the damage Big Sam was going to do to the Club.
I doubt the West Brom supporters are happy he is back, but he seems to be doing a reasonable job. Everton will have to have the right kentality to get a result.
Mark Andersson
30
Posted 03/03/2021 at 22:21:09
Nic Riddle 22... thanks for that interesting info.
I'm no fan of Big Sam but hopefully we can get a result.
Another 1-0 win will do for this and every game till the end of the season.
I just want to see the biased punters choke on their bullshit words.
Phil (Kelsall) Roberts
31
Posted 03/03/2021 at 22:42:43
Nic #22 - exactly my feelings.
Compared to the 2016-17 season, Koeman had dropped 8 points in those 9 games. In the next 5 games, Unsworth dropped a further 5 points. In the final 24 games, Allardyce improved us by 1 point.
Hate it when the facts spoil it. That season, we didn't beat anyone we hadn't beaten the previous season.
On the other hand, during Allardyce's time, we scored 14 fewer goals and conceded the same as the previous season in those fixtures. So it stopped the rot, but it says it all – depressing football.
Phil Malone Jnr
32
Posted 03/03/2021 at 23:04:56
Peter #16 - I also dislike Samuel and do so hope we are victorious.
Kieran Kinsella
33
Posted 03/03/2021 at 23:05:42
Phil/Nic
I get both sides of the Sam argument but I don't bear him any ill will. If you hire a decorator with a can of Ronsil to paint the Cistine Chapel, don't get upset when the frescos are whitewashed. I have some sympathy looking at from his perspective but he was a poor selection and that's on Moshiri.
Paul Birmingham
34
Posted 03/03/2021 at 23:13:08
Every game now is massive and tomorrow is a huge test.
Play our best available and keep the composure, guile and belief shown recently, and this can be won.
Calvert-Lewin and Richarlison are turning in, and as long as we don't give soft free-kicks away around our box, Everton are capable of winning this one.
Interesting to see who starts in midfield tomorrow, and the opposition will try and rough Everton up, so let's be up for the battle and have the desire and guile to win this one.
Fat Sam is history, and tomorrow is a chance for Everton to make their mark, on the run-in, this season,
Christy Ring
35
Posted 03/03/2021 at 23:22:10
Nick #2,2,
I completely disagree, Koeman was a complete disaster, we were in free fall. By the way, Tosun and Walcott cost £50M, and the salary – £160,000 between them per week – too much, Sigurdsson cost £5M less, and £120k per week, Klaassen cost £25M + wages Rooney cost £15M + wages? Koeman was a bigger embarrassment.
Martin Mason
36
Posted 03/03/2021 at 23:26:22
Carlo is playing mind games about who is fit and who is not. I believe that Davies will start in preference to Allan with Doucouré, Gomes and, sorry to say, Sigurdsson as a certain starter. Everton for at least 1-0.
Nick Riddle
37
Posted 03/03/2021 at 23:33:58
Kieran @33. While he's not someone I've ever warmed to, on a personal level, I don't wish Sam any ill will either, and I certainly don't blame him for jumping at the opportunity to manage the most prestigious club he was ever going to be associated with. Like you, I blame Moshiri, but at least he corrected his mistake at the earliest opportunity.
Christy @35. We'll have to agree to disagree about who was the greater embarrassment, and as I said earlier, Koeman wasn't right for Everton either.
Stephen Vincent
38
Posted 03/03/2021 at 23:50:47
After tonight's results, all of a sudden, if we win our games in hand, we are just 2 points behind 2nd place. So no pratting about, we need to win and win well. Anything less is simply not acceptable. Wouldn't it be great to not have to worry about qualifying for the league stage of the big cup?
David Hallwood
39
Posted 03/03/2021 at 23:55:13
All the results have gone for us tonight. We're playing a team 2nd from bottom and we haven't lost away this year. What could possibly go wrong?
Geoff Cadman
40
Posted 03/03/2021 at 00:03:25
I was willing to give Sam a fair chance when he arrived; him trying to take the credit for the West Ham game showed him up for what he was. The run we went on from Christmas until the Newcastle home game was a disaster.
Christy #35,
I agree Koeman was a disaster and we paid too much for Sigurdsson but he has still been better value than Walcott and Tosun. We're still paying half of Walcott's salary and Tosun took a pay cut to return to Turkey.
I thought Rooney was a free but on but on £150,000 a week and probably Kenwright's choice. He was in double figures before Christmas, I blame Sam for the fact he never scored again.
Lester Yip
41
Posted 03/03/2021 at 00:09:03
James might be needed for such game to unlock their defence.
Kevin Molloy
42
Posted 03/03/2021 at 00:11:25
The idea that Allardyce resents how he was treated here, when he left with ten big ones burning a hole in his pocket for six months work, is amazing but probably true. The crazy world of football.
He can't get too much on his fat horse what with us now having footballing royalty in the top job. Odds are he'll be thanking Mr Ancelotti come the final whistle for taking off our strikers after the third went in.
In terms of Koeman v Allardyce, Koeman created Allardyce; there would have been no need for fatty if that Dutch dickhead hadn't been quite so bad.
Phil Malone Jnr
43
Posted 03/03/2021 at 00:14:06
In all seriousness, I think tomorrow is going to be a tricky one. As boring as Sam's tactics and style of football is, he knows how to set up off the ball. Should be an interesting watch.
Derek Thomas
44
Posted 04/03/2021 at 00:29:57
"Expectation is not a bad word in my opinion. It is a good word. It keeps you motivated. I think it's important to have ambition."
"I'm sure this situation with the European positions will be decided in the last game and we want to be there until the last game."
Hopefully we are there until the last game... vs Man City! and we have it sorted.
But City will be Champions by then and might just be going through the motions... but what motions they have, even with their foot not firmly pressed to the floor!
Leicester drew, Villa lost, so not too much gratuitous tinkering and plenty of derby application, because we need to win.
Make it so please.
John Boon
45
Posted 03/03/2021 at 00:41:02
Sam Allardyce should never have been brought in by Everton FC because he was and is counterproductive to everything that Everton stand for. Despite recent results we do have a history that is very significant. The fact is we have spent more time at the top level than any team in England. We have had only four seasons from 1878 to 2021 below the "Best". Far too often this amazing achievement is overlooked, even by Evertonians. Our Motto says everything.
However, as much as Allardyce was totally the wrong person for Everton, how can any sensible and sensitive individual say they "hate" him? We have enough hate in the world without directing it at coaches or players. He may have been a lousy coach and we can boo him, or criticize him and point out all his faults as a representative of Everton.
He publicly made idiotic statements and still does. Laugh because we no longer have him but 'hate' is just too much. I have also noted that he actually did not do any more damage than some of other managers we have had. I am as delighted as any Evertonian that he left us and I will be even more delighted if we beat his team on Thursday. But that will be all that anybody should really need.
Paul Jones
46
Posted 04/03/2021 at 01:10:48
Allardyce was appointed when the owner was worried about his investment he delivered what was needed. Now we have moved forward. We are probably not going to be relegated or likely win top honours, likely just tread water until we move into new ground.
The owner is not an Everton fan – just a rich person moving his money and making it work in his best interests. I hope am wrong and would love to be shot down in flames.
Derek Knox
47
Posted 04/03/2021 at 01:26:21
Another series of games thus far that all the results have worked in our favour, the carrot has not only been dangled, but the string is getting longer and the rod shorter. If we don't take advantage again, I'm afraid we don't deserve a blow on the ragman's bugle.
I know we have a couple of niggles with minor injuries, but as has been glaringly obvious all season, where we had a leaky defence which has since been well shored up, it's the midfield department where everything seems to go pear-shaped. There are not that many games to go now and I do believe the Summer Window targets have already been earmarked, let's just hope that midfield is an area that is addressed.
We have the numbers, but out of those numbers we have, how many can we depend on, how many rarely get injured, break a toe, or fingernail, have a bad hair day, or some other reason are not available? I can count 3 off the top of my head, but any genuine injury to them or even worse two at a time, the whole show goes tits up.
Let's make Lardiola eat twice as much gum tomorrow so he gets lockjaw, at least we won't have to listen to his bullshit post game, and take credit for when he was at Everton and laid all the cornerstones that became his undoing on the night. No Tosun and no Walcott so he'll have a job to say he influenced the personnel.
Michael Stancis
48
Posted 04/03/2021 at 01:30:40
Another big game for us tonight. Must win if we want to take Europe seriously. Last night's results have gone our way so hopefully for once we can capitalise on them rather than chocking in the last minute.
Not an easy game as they're fighting for their lives. Any football fan knows that around this stage of the season, those down at the bottom are as difficult to play against those who are at the top. Allardyce will want to beat us and will use set pieces and long balls to try and test our back line. Defence need to be up for it physically and mentally. And need to be taking our chances.
But these are games we have to be winning if we want top 4. Players are giving it the biggun in the press right now which honestly makes me nervous. But hope for once they're not all talk and actually do more of the talking on the pitch. I do expect Carlo to rotate. But hopefully this squad is or should be good enough to beat West Brom (fingers crossed). No more cock-ups now in games like this.
Graham Hammond
49
Posted 04/03/2021 at 01:48:40
Allardyce inherited a team in freefall (tough fixtures, I concede) that could not defend to save its life. We finished 8th at the end of the season.
He propelled us significantly up the Premier League to basically finish as high as was realistic at that time. Big picture, he did his job and the job he was brought in to do.
The football was wretched but our home record stood up reasonably well. I think most would have taken 8th the moment the previous manager to him was sacked.
Job done as far as I am concerned. We moved on, fair enough, we opted to go for Silva.
Danny Broderick
50
Posted 04/03/2021 at 02:06:15
Arrogance is not a quality that Everton fans like in my opinion, and that was Allardyce's downfall. If we scraped a 1-0 win, he was proud as punch, it was all down to his tactical masterclass. If we lost a game, it was never his fault. He was never going to be humble enough to be our manager.
He did an okay job in terms of results, but he was never a good fit.
I have just looked at our remaining fixtures and they are not too bad. We have already played most of the top teams twice now. We've got Chelsea and Man City away that will be tough. But I fancy us to win 6 and draw 4 of our remaining 12 games. That would give us an extra 22 points, meaning we end the season on 65. If we maintain our form and keep the mentality strong, we will be there or thereabouts for 4th position.
Of course, we could fall short at any time as well. But I just hope the players are embracing a new mentality and approach to games now. We look solid and are having a go at most teams. We've just got to keep the momentum going.
Kieran Kinsella
51
Posted 04/03/2021 at 02:09:08
Phil Malone Jr,
"Interesting"? Not the word I'd use but I get your point. I fully expect this to the worst game of the season if not the decade in a true footballing sense but, as long as we win, I'm okay with that.
Jim Harrison
52
Posted 03/03/2021 at 02:25:46
I hate Snodgrass. Always seems to do well against us. Right little bugger of a player.
I also hate constantly having games in hand! Those two cancelled matches do my head in! Always playing catch-up.
Jay Harris
53
Posted 04/03/2021 at 03:55:37
Don't want to hear any more about Sam but, make no mistake, this game will be tough. West Brom play decent stuff at times but do not have the goalscoring capability.
This is one where we will need the keys to unlock their defence so James or Iwobi has to start. I would play Iwobi in front of Holgate. In view of what I heard the other day, I don't think Tom will make this one but I hope I'm wrong because he has been playing well lately.
I think we need battlers in midfield so If Tom is fit I would play Doucouré, Allan and Davies in midfield.
Let Sigurdsson sit this one out he hasn't got the pace anymore. So a front 3 of Iwobi, Calvert-Lewin and Richarlison. Back 4 stays the same for me.
Drew O'Neall
54
Posted 04/03/2021 at 04:14:11
Everton was like a beautiful woman who gave Sam a one night stand. He wanted more but Everton did too.
Nicolas Piñon
55
Posted 04/03/2021 at 04:50:13
I wouldn't play Gomes and Sigurdsson together tomorrow. We'll need to run more I believe. They had two more days to rest and that counts. Hope Davies makes it cause Allan can't play unless Carlo wants him injured again, as the record says. We can win it. Of course we can.
Pickford; Holgate, Keane, Godfrey, Digne; Iwobi, Doucouré, Davies, Richarlison; James; Calvert-Lewin.
Subs: Olsen, Bernard, King, Coleman, Sigurdsson, Allan, Nkounkou, Gomes.
It should be enough with that I believe. Left some players out, but we can't afford picking up silly injuries with so much at stake. COYB!
Frank Sheppard
56
Posted 04/03/2021 at 06:41:58
A 3rd win in a row, what a great prospect, and West Brom still seems VERY winnable. COYB.
Terry Farrell
57
Posted 04/03/2021 at 06:46:17
We must win to have any chance of top 6 this season. Timing is everything and results went our way last night.
Mal van Schaick
59
Posted 04/03/2021 at 07:01:23
Agree with the comments on this being a tricky game. May be two choices. Take the game to them and play high up the pitch in an open game, or keep the game tight and counter attack. Either way we need to beat these to press for the top four spot.
Derek Knox
60
Posted 04/03/2021 at 07:06:44
Drew @ 54, what sort of a beautiful woman would pay £6M to let a gum chewing grossly overweight gigolo, with a face like a buffalo's arse for sexual favours? 😛
Frank Sheppard
61
Posted 04/03/2021 at 07:12:20
I would like to see us enjoy majority of possession for a change. In too many games we have less than 50% possession, and settle into a mindset of defend and try and hit out on the break. Not sure that's enough for top 4 aspirations, certainly not the way to play against West Brom. COYB.
Paul Swan
62
Posted 04/03/2021 at 07:41:45
The only good thing I can say about Allardyce was that he replaced Koeman. In my opinion, two of the most odious characters in football and complete skid marks in the history of this club.
I can't forgive or forget the coward not facing what was left of the crowd after the final home game of the abysmal season he was here. This was the club manager claiming he had media appointments rather than join in the lap of (dis)honour at the final home game.
Nothing less than 3 points tonight is acceptable.
Steve Shave
63
Posted 04/03/2021 at 07:57:00
What Paul Swan said.

Steve Shave
64
Posted 04/03/2021 at 08:00:23
Allardyce really is an odious character. His England tenure was a hilarious insight into his sheer arrogance and narcissism, watching him try to swerve responsibility for it was compelling viewing at the time.
I was completely against his Everton appointment. Yes, he did what he was employed to do... but the way he seemed to deliberately alienate the fans in his interviews was unacceptable in my opinion. I celebrated his sacking and I hope he gets fucking relegated.
Duncan McDine
65
Posted 04/03/2021 at 08:21:38
Derek, if you find her, give me her number, please! I obviously don't hate Sam Allardyce as much as a lot of you, but wouldn't say that I like him either.
I'm cautiously optimistic about picking up another 3 points tonight, but West Brom will be scrapping for their lives.
Eddie Dunn
66
Posted 04/03/2021 at 08:22:37
They were quite good at Goodison until they lost a man and of late they look competitive, so I expect a very tough game.
Despite some of our results, we have lacked creativity and we will find it hard to score tonight. Let's hope for an early goal to force them out.
Derek Knox
67
Posted 04/03/2021 at 08:25:35
Duncan I'll try, but she even paid him a further £6M to do one, and say nowt! :-)
David Hayes
68
Posted 04/03/2021 at 08:35:27
In this type of game, as in all others, there are two teams involved... a fact that most on here tend to forget. Therefore, it is not as simple as playing all your imagined best individuals. In this case, the question is: What is most effective against what we have in front of us?
West Brom are mainly a 10-man defence with some pace out wide and try and force set-pieces, similar to the old Stoke under Pulis. So scoring early against them is vital for the rest of the game. Then we can impose our quality on them.
Attacking centrally at a wall of clod hoppers doesn't work unless you get lucky. Getting in amongst them in multiple areas in their box and quick movement in the area will result in chances or force them to foul in the area.
So, who do we play to greatest effect to achieve this? Then, how do we set up to deal with the second phase, if we score early, to inflict maximum damage and take control of most of the remaining game? They should not be able to compete from going behind if we then adopt a more balanced attacking and quality-driven method. We have the players to break them and, unlike many others, we are clinical finishers at the moment. COYB.
Bobby Mallon
69
Posted 04/03/2021 at 08:42:24
My team for tonight, if all fit:
Pickford
Coleman
Keane
Godfrey
Digne
Iwobi
Allan
Davies
Gomes
James
Richarlison.
Now I know I'm coming in for criticism for leaving Calvert-Lewin out, but I think him and especially Doucouré need a rest. We have plenty in midfield to cope without Allan (I think he needs games not resting and will be up to speed for the Chelsea game) and Doucouré really needs a rest and a good massage and a bottle of champagne and some Barry White playing in the background, he's on empty.
Calvert-Lewin on the subs bench, Doucouré not even in the squad. That team should be capable of beating West brom. COYB
Duncan McDine
70
Posted 04/03/2021 at 08:43:58
Nothing at all patronising about that first sentence David (68)!! If we're happy to carry on that theme... some people on here need to realise the difference between their, there and they're. Soz
Bobby Mallon
71
Posted 04/03/2021 at 08:45:49
Yes, Gomes is an intelligent footballer who does the dark arts for our team and he retains possession.
Bobby Mallon
72
Posted 04/03/2021 at 08:51:14
Oh Duncan 70, that's grammar police at its best.
Jerome Shields
73
Posted 04/03/2021 at 08:54:09
I doubt Big Sam has any resentment towards Everton. He is a specialist professional manager and will try to get the highest price for his services for as long as he can.
He did the job that was expected of him at Everton and, being the gurrier he is, tried to get an extension to his contract. In addition, he was right in saying that Everton needed to employ a Sports Psychologist, which Ancelotti has realised he has had to turn into on occasions lately, to work on the players' mentality. He also made sure he played the players that Moshiri had paid enormous sums for, knowing which side his bread was buttered on.
In the case of Walcott, Big Sam principally employed him to run at defences. In the case of Tosun, he did try to provide supporting play and employed him as an out-and-out attacker, rather than in maintaining the high press. This was better suited to their individual styles of play.
He just wasn't the right fit for anything like the School of Science going forward. I know his England career was short but he might have suited International Football.
West Brom is not going to be a easy game.
Kevin Prytherch
74
Posted 04/03/2021 at 08:55:24
Your flogging a dead horse their Duncan (70).
John Dingle
75
Posted 04/03/2021 at 09:01:20
Nick at #22 I think Sam was sacked on 23 Oct not Sunday 22. The date is etched in my mind as I was in A&E with MRSA, not a date I'll forget.
Derek Knox
76
Posted 04/03/2021 at 09:04:53
Bobby and Duncan, what about the empose that you both missed, possibly or probably a typo but, if we're crossing t's and dotting eyes. (Oops!)
Mark Murphy
77
Posted 04/03/2021 at 09:10:15
Duncan, you shouldn't of bothered!
Christopher Timmins
78
Posted 04/03/2021 at 09:22:49
If fit and available we should start with those who started at Anfield, this would allow Allan and DCL a break after layoffs and gives them a better opportunity to be ready for Monday. It also prevents the cardinal sin of playing Gomes and Siggy in the same line up. It's simply one or the other but never both and maybe neither. Most importantly it should be a good enough line up to get the 3 points and move us into the top 4 and 5 points off second with a game in hand.

Bobby Mallon
79
Posted 04/03/2021 at 09:25:11
Derek Knox what is an Empose. As soon as you tell me I'm having it as my word of the day
Jim Harrison
80
Posted 04/03/2021 at 09:26:07
Jerome 73
Oh but he does! He though he finally had his big chance! He has been on about it since he left in a away he hasn't with his other clubs.
And it's not like he was replaced with a serious upgrade in terms of results. The football got better and Silva did at least give us some high lights. He gave us Richalison, fat Sam gave us Tosun! But really the club were in a similar position when he left as when Sam came in.
He would love to do over Everton. Just like he loved doing one on Arsenal because Wenger basically accused his teams of being shite and only interested in kicking their opponents.
He would have loved a chance to show everyone what he could do with a budget and a prominent team.
Brian Harrison
81
Posted 04/03/2021 at 09:38:06
Well we know Carlo will rotate, but we dont know who will be left out. Lets hope we get the 3 points that would really put us into the mix.
Roger Helm
82
Posted 04/03/2021 at 09:40:26
They may be well organised and resolute but so are we, at least away from home, so provided we match their endeavour we have the quality for the big moments in the match. My prediction 0-2.
Tony Shelby
83
Posted 04/03/2021 at 09:41:57
I can't stand Allardyce.
His time as Everton manager was a nadir for our club. The football was fucking atrocious and seeing him in the dugout made me want to wretch.
A guy I know at the club confirmed that Fat Sam was a wannabe jack-the-lad who made bizarre, inappropriate comments at random moments.
Example: mid-way through a typical shit-show of a match he turned to my mate and said:
"All women can squirt, you know...?"
A Rugby-League-manager-looking, bung-taking, ten-men-behind-the-ball-my-speciality, pie-eating turd of a man.
COYFB!!!
Rob Halligan
84
Posted 04/03/2021 at 09:42:43
Allardyce couldn't even be arsed dragging his fat carcass over to Cyprus for the europa league game when we played in Nicosia.Total lack of respect in my opinion, for us fans that went over. Someone also mentioned above about the Burnley away game when he had to walk right passed the away section who gave him dogs abuse after a defeat, and he was just smiling. Twat!!
Let's just twat West Brom tonight and shut the fuck up both Allardyce and his garden gnome sidekick.
Sean Callaghan
85
Posted 04/03/2021 at 09:47:57
I was hoping you'd go full on Swiss Tony there, Drew..."managing Everton is very much like making love to a beautiful woman..."
Derek Knox
86
Posted 04/03/2021 at 09:51:01
Bobby, 'empose' is an ancient but rarely used word, which has been superseded by 'impose', as exerting a force on, putting a restriction on, or requiring a duty or charge to be paid (usually as a penalty). My next Class will be in about two hour's time depending on what has been written. 😜
Nick Riddle
87
Posted 04/03/2021 at 09:52:05
I stand corrected John (75). Still, he's long gone now and Everton are in a much better place. Hope you are too.
Andy Darron
88
Posted 04/03/2021 at 09:58:25
Some of the comments about Sam are unfair. After all he does have the chance to push us into the top 4 tonight!
Boom boom. I'm here all week folks
Joe McMahon
89
Posted 04/03/2021 at 10:22:15
This is gonna a tough game tonight, everyone's favourite manager has improved WBA defence, and we don't score many anyway.
I'm not a huge fan of Sam but having worked with Bolton and Blackburn fans, I can tell you they would have him back in a heartbeat.
I've a feeling the live forum tonight will be very abusive like this thread is bordering on. Just bear in mind if Sam is Lardarse, potato head or even just Fat Sam, what the hell does that make David Unsworth or Neville Southall? Sam Allardyce has achieved far more in his managerial career then David (Jabba) Unsworth will ever do.
Dave Williams
90
Posted 04/03/2021 at 10:23:28
Bobby #69 I like that team. I agree that Doucoure needs a rest and whilst DCL has had a few weeks off with his hammy we need him straining at the leash for Chelsea. Tom is a given for me if fit- we missed him badly against Southampton. I would expect James to be given an hour tops as Carlo will want him fit for Chelsea too.
I expect a difficult game but if we are up for it we have by far the better team and should win.
Duncan McDine
91
Posted 04/03/2021 at 10:27:21
Sorry I missed your previous lesson Derek, the dog ate my Microsoft Teams password.
John Dingle
92
Posted 04/03/2021 at 10:31:44
Correction to my post #75 I meant Koeman was sacked on 23 Oct 2017.
John Keating
93
Posted 04/03/2021 at 10:33:16
As we well know injuries can happen in training as well as during games.
At this time of the season and in our situation if a player is fit then he should play regardless of the opposition.
To rest players tonight just because we are playing Chelsea next doesn't make sense to me. We can slip up against either team and therefore should treat every game on the run in as a one off cup final.
David Pearl
94
Posted 04/03/2021 at 10:48:52
I think you're all being very fattist.
Body shaming is no joke and l will be making a stand tonight by watching naked
Dave Abrahams
95
Posted 04/03/2021 at 10:53:17
Tony (83), your friend might know one of the back room staff who embarrassed himself with his suck holing around Allardyce.
Dave Abrahams
96
Posted 04/03/2021 at 10:54:49
David (94), make sure you draw the curtains before you settle down!!!
Bernard Dooley
97
Posted 04/03/2021 at 11:19:58
Good preview as ever Lyndon, though having lived in the West Midlands for a while back in the day, I must support Nicholas Randall #26 in pointing out that WBA are emphatically not a Birmingham side. This South Staffs club, situated in the Black Country as it was universally known as in those days due to the amount of industrial waste pumping out of chimneys in the area are fiercely independent of their brummie neighbours. Bit like saying Southport or Tranmere are a Liverpool club.
I also lived in Nottingham for a few years in the Clough era when Forest were a great team. How they hated it when the media called them Notts Forest, given that they were the city team and Notts County represented Nottinghamshire.
Football supporters and clubs are highly sensitive to these things!
Derek Knox
98
Posted 04/03/2021 at 11:21:56
David @ 94, What in this weather? Cue the wrinkly jokes ! 😜
George McKane
99
Posted 04/03/2021 at 11:25:10
Dave/Dave/Derek - - - Googie Withers.
Laurie Hartley
100
Posted 04/03/2021 at 11:25:42
I look at the table and ask myself - "is this the game when we finally bury our habit of falling short when it really matters?"
I think it can be. Three points absolutely imperative if it is to be so.
Up the Blues!!!
George Carroll
101
Posted 04/03/2021 at 11:41:07
WHY don't we concentrate on the game instead of Sam. He did a job and was well paid isn't that what we all want. The expressions of hate say more about the people expressing them, sad and not what football is about and certainly shouldnt be evertonians lets leave the hate game to those across the Park
Bobby Mallon
102
Posted 04/03/2021 at 12:03:21
Christopher 78, was it not sigi who set up richy in the saints game, the same way as Rodriguez did in the Analfield game. Why do you say sigi should never play. Whilst James was out I think sigi contributed more than others for assists and the like. Sigi has scored 6 goals with 8 assists in all comps. Rodriguez has 5 goals 8 assists in competitions. Granted he's played 10 games more than James BUT he is not a bad player he's actually one of our better players get off his case.
Bobby Mallon
103
Posted 04/03/2021 at 12:03:56
Derek cheers
Colin Glassar
104
Posted 04/03/2021 at 12:07:55
Every game now is a must win if we are to maintain our European dreams. It's so tight from 2nd to 8th that a loss or two could see us drop to mid-table or go top 3.
It's a mad season and I don't have a scoobies how it's going to pan out.
Trevor Powell
105
Posted 04/03/2021 at 12:15:26
Home draws are no good for WBA. even if they have improved defensively a la Alladyce's style, they have got to come out and get win points as they may find that both Sheffield United and Fulham pick up more wins than them. They can rely on a freefall dive from Brighton or Newcastle to save them. The more they have to come out, the more we can hit them on the break!
Steavey Buckley
106
Posted 04/03/2021 at 12:19:58
If Ancelotti is tempted to play diminutive defenders against WBA, Allardyce will have his tallest players prepared for set pieces, crosses and corners as the best way to score goals. Pickford will be surrounded by WBA players during corners.
Tom Bowers
107
Posted 04/03/2021 at 12:29:09
No matter what they need teams will not changer their tactics.
Albion will still defend and try to steal a goal and the points.
They just don't have the firepower to come out attacking and will try for the set piece situations. It's up to Everton to hit them early and avoid giving away silly free kicks.
Needless to say we cannot afford another Fulhamesque game.
Annika Herbert
108
Posted 04/03/2021 at 12:30:30
Bobby @ 102, whilst Siggi has shown some improvement at times this season, he just doesn't do enough, often enough.
He certainly isn't one of our better players. At least in my opinion and, obviously, quite a few others.
Saying that, if he scores, or creates a goal, if he plays tonight, I will be extremely happy! We need everyone to contribute during this run in
John Raftery
109
Posted 04/03/2021 at 12:31:21
The inconsistent form of the teams below Manchester City suggests seventy points is likely to secure a top four place. Therefore we need to take an average of just over two points per game which is slightly more than we have achieved so far this season. Games such as tonight's simply must be won.
John Dingle
110
Posted 04/03/2021 at 12:34:01
Thanks for the best wishes Nick #87, I'm much better thank you.
Neil Lawson
111
Posted 04/03/2021 at 12:35:28
Joe (89)
Blackburn or, more likely, Bolton. That is his level. That is being generous to (cough/splutter/gag) Mr A. (oh, and "A" is for Allardyce, although other "A's" do spring to mind )
Brian Wilkinson
112
Posted 04/03/2021 at 13:14:08
Whatever it takes to get us in the top 4 for a short while, I will take,weather, whether, wether, take you pick.
We can disregard, the climate or the castgrated sheep, so let us go for whether we win like the vintage Eighties team, or play poorly, the main thing for me is securing those three points.
Can we please put the spelling police away, I could not give a Monkeys how anyone else spells, or dots their I or t, as long as I can read it, that is good enough for me.
I am pretty sure we all know what the person has put down is.
Can put up with having a moan at poor performances, people having different views on the game and players, but spelling is the bottom of my list on here from other posters, who may have made a little spelling mistake.
Anyway three points tonight swill do for me c.o.y.b
Tom Bowers
113
Posted 04/03/2021 at 13:14:52
The inconsistency of all Everton's available ''midfield'' players is why we are not part of the regular top four group this season.
Whilst all have had some decent games here and there we need that consistency level to improve for the remaining games to get that higher spot.
The odd goal from Syggi and James is not good enough as neither do the required shift over 90 minutes nor Iwobi or Gomes.
I would be, like most, delighted to finish above RS and at least fourth but we know too well how Everton can let us down.
Duncan McDine
114
Posted 04/03/2021 at 13:16:45
Sean 85 - Swiss Tony! Used to love the Fast Show as a teenager. Managing Everton is very much like making love to a beautiful lady. You must give her time, put an arm around her, and spend your load on a big pair up front.
Kim Vivian
115
Posted 04/03/2021 at 13:24:45
Brian - this will help the "police"
https://cdn.shopify.com/s/files/1/0053/4790/1538/products/70749476_517691449033307_5101519363429629952_n_1024x1024@2x.jpg?v=1573581309
Robert Williams
116
Posted 04/03/2021 at 13:26:34
I wonder whether Caul-i-man has been working on his diving headers for tonight's showdown?
Brent Stephens
117
Posted 04/03/2021 at 13:27:16
Brian #112 I agree with what, wat, watt you say - three points tonight will do for me.
I just hope we come out of the blocks fast enough. Put WBA on the back foot from the start. Let them worry about our shape and let them have to respond accordingly.
Andrew Ellams
118
Posted 04/03/2021 at 13:28:28
In this weird season all round we shouldn't forget that, several games in, Man City were actually in 14th place.
I doubt that we'll see anything like this again so the top 4 and Champions League money would really give us a springboard to get right in amongst them when things get back to some sort of normal.
Brendan McLaughlin
119
Posted 04/03/2021 at 13:34:07
Well in Brian #112
PS You don't dot T's...you cross them
Duncan McDine
120
Posted 04/03/2021 at 13:51:08
Brendan 119... that's proper funny
Joe McMahon
121
Posted 04/03/2021 at 14:06:51
Steve @106, a WBA corner will be like standing in the middle of Stonehenge.
Sean Callaghan
122
Posted 04/03/2021 at 14:08:03
And it's Monkey's, not...sorry. Coudln't hlep myslef
Derek Knox
123
Posted 04/03/2021 at 14:08:16
Brian @ 112, You have chosen to throw the dictionary away, so you will have to watch your words from now on in, but I see you are prepared for all whether, weathers! :-)
Brendan. 👍😂
Jay Wood
[BRZ]
124
Posted 04/03/2021 at 14:13:42
Quite simply, Everton as a club and fan base needs to expect and feel confident going into fixtures like tonight's game.
A win should be the norm. What we've had for too many years - this season included - is 'Everton that' results against teams we should be twatting away and a casual resigned shrug of the shoulders from supporters.
The mentality is slowly changing. Ben Godfrey is a new broom who is contributing much to that change as he demonstrates in this interview on tonight's game:
Putting Pressure on Ourselves to Win
I personally like that we are playing 'catch up' with fixtures in hand. It helps maintain focus and performance levels knowing we cannot afford any more slip ups if we are serious about attaining a top 4-6 finish this season.
Christy Ring
125
Posted 04/03/2021 at 14:15:19
Another great preview, Lyndon. I'd play Davies if fit with Doucouré and Allan hopefully if he can play two games in three days.
I reckon Gbamin will be fit before Delph.
Geoff Williams
126
Posted 04/03/2021 at 14:26:15
Please pick the strongest possible team and get the win. Think about Chelsea after this game is over.
Fran Mitchell
127
Posted 04/03/2021 at 14:27:04
Chelsea is a big, big game too. So we will naturally have one eye on that.
I can see Allan maybe resting - out for 10 weeks, so to expect 3 games in a week would be too much. So Davies in there.
James in or out? Personally I think Sigurdsson can do a job in today's match, bring on James if fit towards the end. With James key for the Chelsea match.
Also, will Calvert-Lewin be fit for another 90 minutes? May be a day to give King a start, and Calvert-Lewin for the final 30 minutes.
Doucouré could also probably do with a rest but maybe have to wait another day.
Alan J Thompson
128
Posted 04/03/2021 at 14:31:25
Who really gives two hoots about Sam Allardyce? I stopped reading half-way through as it seemed to be some sort of competition as to who could call or say the nastiest things about him. Leave it alone, it's yesterday's story.
For the first time, I'm a little bit worried about something Mr Ancelotti has said, about Davies, that he can play so as not to overwork Allan! So why was he not on the bench the day before yesterday? I can only hope it was something lost in translation or, unbelievably, something to throw Mr Allardyce off the scent.
Steve Carse
129
Posted 04/03/2021 at 14:34:21
Nicholas (28), unless you're giving the 4-0 victory vs West Ham in his last game in charge to Allardyce (when his input was just to pop his head round the changing room door), I think you'll find Unsworth won 2 league games.
Drew O'Neall
130
Posted 04/03/2021 at 14:40:44
Derek @ 60
Knoxxy, a fucking desperate one!
Brian Wilkinson
131
Posted 04/03/2021 at 14:45:52
Dictionary is under one of the wardrobes, levelling it up Derek 😀
Nick Lacey
132
Posted 04/03/2021 at 14:48:06
Is this game on TV anywhere in the UK as I can't seem to find it?
Tony Everan
133
Posted 04/03/2021 at 14:54:04
Fran @127,
Carlo frequently comes up with a team sheet that nobody predicted. I have been thinking the same about him deciding to start Josh King tonight and Calvert-Lewin being rested..
I agree with the calls to move on from Allardyce. Our central heating was broke, we got someone in to fix the boiler. He was never going to be the Architect of a new era. It was a transaction and nothing more.
Christopher Timmins
134
Posted 04/03/2021 at 14:54:57
Bobby # 102, Just to clarify, I can't have Sigurdsson and Gomes in the same team. I can live with one of them starting but equally I can also live with neither of them starting. James is a better option at No 10 than Sigurdsson and Gomes just does not give the creativity needed in the middle sector.
When the summer recruitment is finalised, I suspect that neither Gomes nor Sigurdsson will be first choice; however, I do accept that Sigurdsson can make a difference when called on.
Just a quick word about the opposition manager. Allardyce was at the club for less than a season and he hardly left the club in a worse state than he found it. Forget about him.
Tony McNulty
135
Posted 04/03/2021 at 14:58:16
It's on Sky, Nick.
Nick Lacey
136
Posted 04/03/2021 at 15:01:12
Tony 135 - I had a look and it showed the Chelsea game not the Everton one.
Tony McNulty
137
Posted 04/03/2021 at 15:13:42
Not on my TV, Nick. I just triple checked.
Having said that, given that Lardicio (as some genius on here named him a while back), is seeking points, I doubt Sky will make much from post match DVD sales.
Lardicio is amusing though. I saw an interview the other day in which he said he wished he had had his successor's £200m to spend. Given his record of having spent £50m on Theo Walcott and Tosun, I guess he would have bought four Brett Angells at £50m a pop had he been let loose.
Carl Manning
138
Posted 04/03/2021 at 15:14:39
I never buy into must-win games unless you're in West Brom's position or playing in the cup. We need 8 wins for a genuine tilt at the top 4. Doesn't matter who they come against; we just need to win 8 out of the last 14.
Derek Knox
139
Posted 04/03/2021 at 15:19:06
Brian @ 131, it must be a Chambers then! :-)
Mike Hughes
140
Posted 04/03/2021 at 15:20:07
Off-topic - but when was the last time at this point in the season we were the same odds as the RS to win the league? Both 500/1 with Paddy Power.
Let's hope we can keep the momentum going tonight. A scabby 0-1 will be good enough for me.
Michael Nisbet
141
Posted 04/03/2021 at 15:28:16
https://www.live-footballontv.com/
Tells you exactly what channel games are on, and kick off times.
Everton on Sky at 6pm. Chelsea game is on the same channel afterwards.
Martin Mason
142
Posted 04/03/2021 at 15:34:08
Difficult game for sure with selection difficult because winning is paramount yet key players need to be rested. The great thing now is that we have the squad strength to be able to rotate players so I'd expect changes from Monday with changes from the bench on the hour.
I can't suggest which players should be in which positions at what stage of the game because we have a great manager who knows far better than me. I'd be happy with the starting 11 from Anfield.
Nick Lacey
143
Posted 04/03/2021 at 15:48:28
Thanks guys, didn't realise that we had an early kick off.
Pete Gunby
144
Posted 04/03/2021 at 15:52:29
Let Brian dot his T's and cross his eyes.
Brian Murray
145
Posted 04/03/2021 at 16:06:56
If Carlo can't outwit this Ron Basset, then my Fanstastico tee-shirt is going back to the mega store!!
David Midgley
147
Posted 04/03/2021 at 16:21:47
Bobby #71,
Unfortunately he lost his book of spells six months ago.
An interesting article in The Times, 20 February by James Gheerbrant... might appeal to the serious followers of the game.
Clive Rogers
148
Posted 04/03/2021 at 16:23:52
Think Brian, 112, is lexdisic.
Rob Halligan
149
Posted 04/03/2021 at 16:42:39
Carlo has instilled a different mentality altogether in the first team squad. I read somewhere a few days after the derby game, that in the build up to the game, Carlo had just told his players "to forget what we are playing, or the name of the team we are playing, just treat it as another match, because at the end of the day all that's at stake is three points".
Certain players were left out or only on the subs bench because they weren't deemed fit enough to be included, or certainly Play a full game. This was a mistake that Martinez made for a midweek derby before the semi final against man Utd the following weekend. The size of the game got to Martinez and he decided to play a "Not fully fit" Gareth Barry in the derby rather than rest him for the semi final. Needless to say Barry did not make the semi as he aggregated his injury. Basically the derby match got the better of Martinez.
I don't know if anyone ever saw the Gary Neville Soccerbox programme when Phil Neville was on. Phil said that a derby match just seemed to take over the minds of some within the club, it was a be all and end all game. Nothing else mattered. He said one of the masseurs (Who I know so won't mention his name!!) would put post its on the wall at finch farm "Only 5 more sleep ins, 4 more sleep ins, 3 more sleep ins etc etc etc, the week before a derby match. Phil said such stuff wouldn't have been tolerated under Alex Ferguson in the build up to a Manchester derby, and he was certain the same would apply at liverpool. Basically a Merseyside derby completely took over the minds of fans and some players.
That's why now, Carlo will have it drilled into the squad, to just treat every game equally. I'm certain he will be saying tonight to get the thought of possibly going fourth completely of your minds and just treat the game as any other game, and go out and win the game. He hasn't won the trophies he's won just by pure luck!!
Andrew Ellams
150
Posted 04/03/2021 at 16:45:52
Hopefully Rob some of that will calm down now that they have the Anfield monkey off their backs.
Carlo can say what he likes but Dunc's reaction showed it was never just another game.
Mike Gaynes
151
Posted 04/03/2021 at 16:50:30
Good story, Rob!
There is a definite benefit to having a guy in charge who has been there and done that so many times... and so well.
Michael Kenrick
152
Posted 04/03/2021 at 16:50:58
"'Everton that' results against teams we should be twatting away and a casual resigned shrug of the shoulders from supporters."
What? Jay, I usually can't fault you for accuracy but the expectation is there amongst the vast majority of us fans. We are the ones who react the most when 'Everton that' hits.
There are only a handful of apologists who usually appear very late on in the after-match aftermath to provide their annoying 'perspective' on just why the poor result against a poor team was fully expected and fully merited.
To be honest, they boil my piss. I think that's the common man's expression.
Rob Halligan
153
Posted 04/03/2021 at 16:52:21
I agree Andrew. I think what Carlo means is that players put too much pressure upon themselves to do well in a derby and that pressure gets to them, which eventually leads to mistakes. Duncan celebrated at the end of the match the other week, the same as the players, but I'm sure he would have been telling players to "Just treat it as another game" in the week leading up to the game.
Jerome Shields
154
Posted 04/03/2021 at 16:53:12
Jim#80
You are right Jim. There was a keeness about him when he sought and got the Everton job. He really did think that he had got to the big time in the Premiershipand did give that impression.
His mistake was that he give assurances that he could work with the existing many overpriced players and then tried to adapt them to his relegation beating system. He probably thought if he got another transfer window could bring more creative, as he called them and spec up his system. Something he never had the opportunity to do before.
But like Moyes and Koeman he thought money would make the difference to his Management, but it actually takes more than that in practice.
Thomas Richards
156
Posted 04/03/2021 at 17:02:46
Rob, 149
If its the same lad I think you mean he is Everton mad.
Give me a clue.
No names, did you play against him?
Alan J Thompson
157
Posted 04/03/2021 at 17:03:44
Interesting, two wide players in Iwobi and Bernard with Gomes to spread it from midfield.
Colin Glassar
158
Posted 04/03/2021 at 17:06:27
Rob, I hope you're right. But can mentality make up for the lack of speed (passing the ball), physical weakness of some players and lack of creativity?. Carlo is making champagne out of (some of these) lemons but for how long?
To compete, on a regular basis, we still need 3-4 quality players with the above requirements and, mentality.
Rob Halligan
159
Posted 04/03/2021 at 20:59:40
Thomas,
I didn't play against him, but he does have a famous daughter!!
Thomas Richards
160
Posted 04/03/2021 at 21:04:21
She is doing well, Rob.
A very good player her dad. Couldn't get near him on the pitch, class midfielder.

Rob Halligan
161
Posted 04/03/2021 at 21:08:02
I've known him for years, Thomas. A close friend of mine used to work with him in Fords before he got the Everton job, I think it was about 1997. Went to a few aways with him.
---
Add Your Comments
In order to post a comment, you need to be logged in as a registered user of the site.
Or Sign up as a ToffeeWeb Member — it's free, takes just a few minutes and will allow you to post your comments on articles and Talking Points submissions across the site.