Doucouré sidelined until early April at least
Tuesday, 9 March, 2021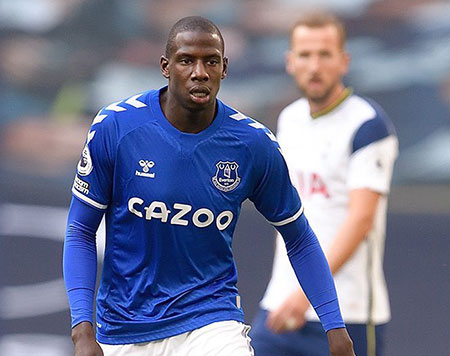 Carlo Ancelotti says that Abdoulaye Doucouré will miss at least the next two matches with an unspecified foot injury after he was ruled out of last night's defeat at Chelsea.
The Frenchman came off during the second half of Thursday's victory at West Bromwich Albion and rumours soon surfaced that he had suffered a fracture to either his foot or one of his toes.
Ancelotti did not address any of the speculation directly but he confirmed that Doucouré will be out for the rest of the month and the club's physios will take it from there.
"He had an injury in the last game and we are going to check. I think he will miss some games," the manager explained on evertonfc.com.
"Honestly, I don't really know what happened. [The medical team] are checking and will be more precise in the next few days. We're sure he will be out until the break and after that we will be more precise on the time of the recovery.
"We were without Digne for two months and we replaced him really well; we were without Allan for two months and Tom Davies did fantastic performances; and we are going to manage in the absence of Doucouré.
"Of course, he's a fantastic player, he gives a lot of energy but I think we have the possibility to replace him well."
However, Ancelotti announced that James Rodriguez will be assessed this week and that Seamus Coleman should be back this weekend when Everton entertain Burnley in the Premier League.
The Irishman has missed the last three matches due to injury and, unlike Tom Davies, was not named in the matchday squad to face Chelsea.
---
Reader Comments (132)
Note: the following content is not moderated or vetted by the site owners at the time of submission. Comments are the responsibility of the poster. Disclaimer
Danny Broderick
1
Posted 09/03/2021 at 05:21:55
Massive, massive loss. He covers so much of the failings in the other midfielders. Without him, we have no one who can get about the pitch with intensity. I really hope it is just a 2/3 week thing...
David Currie
2
Posted 09/03/2021 at 06:29:15
Big blow and hope he can get back soon.
When will James be back as he has not played since the derby win. We need his quality if we are to finish top 6.
Jim Bennings
3
Posted 09/03/2021 at 06:52:16
"Early April at least"
Knowing us that roughly translates that probably the rest of the season.
Huge loss, as seen last night, absolutely zero energy in that midfield.
Peter Dodds
4
Posted 09/03/2021 at 07:19:25
I have zero confidence in Carlo's statements about when players will return. May as well add 100% to the predicted dates.
Jim Harrison
5
Posted 09/03/2021 at 08:02:14
CN we get a break this season! Must only have had a couple of matches with a full squad!
Big miss.
Christy Ring
6
Posted 09/03/2021 at 08:06:33
A massive loss in our weakest area and when Carlo said early April and the medical staff haven't even assessed him? Probably won't see him again this season
Martin Berry
7
Posted 09/03/2021 at 08:17:11
Speculation as to how long he will be out, he will be sorely missed but until we get the facts of his time out lets leave it at that.
Joe McMahon
8
Posted 09/03/2021 at 08:18:03
I think this puts to bed any glimmer of hope some still have about finishing top 4. It will happen but not this season, the weak midfield needs new blood, as so does addressing our lack of goals.
Robert Tressell
9
Posted 09/03/2021 at 08:43:27
I've been pleasantly surprised by Doucoure. Much more tactically disciplined than I gave him credit for. It's a big miss but at least Allan is getting back into things.
Any idea when Delph might be fit again? If ever? Seems too soon to ask Onyango to step in unless its just minutes at the end of games.
Mark Evans
10
Posted 09/03/2021 at 08:47:24
Huge blow for our European ambitions. Without him the midfield has no energy, as witnessed by last night's showing.

This has to be put right in the summer, we cannot be reliant on one player. Midfield is our biggest weakness currently.
Bobby Mallon
11
Posted 09/03/2021 at 09:26:14
I think it's time for Onyango and Nkounkou to be given their head and played as of Saturday. Onyango to play in a midfield diamond with Allan, Tom, and Digne with Nkounkou as left back. Onyango right, digne left, Tom at the top and Alan at the base. Now I know people will say they are not ready ( Onyango and Nkounkou) but neither are Gomes, Iwobi and Bernard. I like Gomes but he's woeful at the moment. These lads deserve a go they won't let the side down I am convinced. Team Saturday
Pickford
Coleman
Keane
Godfrey
Nkounkou
Onjango
Davies
Allen
Digne
Richy
DCL COYB
Jim Bennings
12
Posted 09/03/2021 at 09:28:18
Robert
I completely forgot all about Fabian Delph, suppose that pretty much tells you about his Everton career, huge mistake and the self-styled leader-gobshite that Ashley Williams was for us.
What you notice when someone like Doucoure is there is that we lack a central midfielder with energy that can carry the ball forward, ok the Duke isn't really Kevin de Bruyne going forward but still we lack that ability to travel with the ball.
For me we will challenge the top four when we improve our right side (fullback included) and sign a midfielder capable of running with the ball and hurting teams.
Dave Williams
13
Posted 09/03/2021 at 09:52:15
Put Godfrey into the Doucoure role. He would add bite, aggression, energy and pace plus general physicality and he has the ability to beat a man or two. He can't be any worse than the alternatives. Seamus or Mina ( if fit) can come into the defence, or even Digne at CB with Nkounkou given a try at LB, or even Small.
Clive Rogers
14
Posted 09/03/2021 at 09:55:05
I'd like to see Broadhead get a run. He had a bad patch but has apparently been excellent recently. Couldn't he step into the right flank role instead of Iwobi?
Mark Dunford
15
Posted 09/03/2021 at 10:06:57
Very unfortunate when players with next to no serious injury record sign for us and then end up missing a significant run of games, or in Gbamin's case nearly two seasons. Signing Delph was a mistake; an attempt to repeat the success that we had with Barry.
I'd replace Doucoure with Davies who brings energy, versatility and commitment. The bench will be young for rest of season and I guess some of them will get time on the pitch if circumstances allow.
Be doing well to qualify for Europe but less frequent fixtures may help if squad is stretched. Have to take 3 points from games against low lying teams, and those Newcastle defeats really haunt us
James Fletcher
16
Posted 09/03/2021 at 10:07:27
I'd be keen to see any of the youth given a go or Godfrey pushed up into Midfield - he has played as a DM before and has a shed load of pace and energy, plus has the height to win balls lofted over.
Mark Louch
17
Posted 09/03/2021 at 10:09:15
From what I have seen of U23s, Onyango has promise but is light years off suitable for a regular first team spot and Broadhead will most likely only ever have a career down the foodchain a bit.
Not being negative, just realistic.
Doucoure's absence is significant but the combination of Allen/Davies/Sigurdsson/Gomes and even Coleman can make do and mend in most games.
Sadly we can forget Delph and Gbamin, with the latter being potentially never again at this level after 2 career-threatening injuries.
James Fletcher
18
Posted 09/03/2021 at 10:11:30
If not the youth then King, he's looked better in his cameos than Iwobi has.
Graeme Beresford
19
Posted 09/03/2021 at 10:40:12
Carlo and the coaches need to get them running in training this week. Get the fitness up and get running. Burnley won't be an easy game, they are aggressive, physical and are scrapping for every point. We need to match them for energy. I'm not too disheartened by last night. It's more the losses to Leeds, West Ham, Fulham and Newcastle that upsets me about this season. Where could we be if we would of picked up points against these teams. :/
James Marshall
20
Posted 09/03/2021 at 10:42:10
So is this 'injury' a smokescreen for his 2 recent brushes with the Metropolitan Police?
Dave Abrahams
21
Posted 09/03/2021 at 10:50:54
It's interesting, to me, that since Small, the young teenager, came on as a substitute in the Sheffield Wed. cup tie, he hasn't appeared with the rest of the "nursery players" on the bench, does this mean that he will not be signing another pro contract with the Blues. That was one of the reasons, I thought, he was selected for the cup game, to entice him to sign a new contract, I hope I'm wrong. There were a number of other clubs, at the time, reputed to be keen to sign him up.
Tony Everan
22
Posted 09/03/2021 at 11:03:29
Terrible news, sounds like at least 4 weeks out.
That doesn't mean we can down tools, it's up to Allan and Tom Davies to take more responsibility rise to the challenge. Gomesh, Sigurdsson and Iwobi will have to work harder. And who knows, Fabian Delph may be given an opportunity to earn his wages.
Christy Ring
23
Posted 09/03/2021 at 11:15:18
To be honest I have no faith in Delph, a total waste of money and wages, did Brands not see his injury record at City? If it was just one injury fair enough, but his injuries are like a scrabble board.
Robert Tressell
24
Posted 09/03/2021 at 12:23:20
Mark @ 17. Agree with you about Onyango and Broadhead. We can't just chuck them in and expect them to deliver what Gomes and Iwobi are not. Broadhead might end up being a decent third tier striker. Onyango probably needs a championship loan before being blooded beyond just a few mins or dead rubbers in the first team.
Nkounkou is more realistic, but I'd be more inclined to play him ahead of Digne at LW. Even then, it's a throw of the dice which may not pay off.
David Pearl
25
Posted 09/03/2021 at 12:29:20
Hmm a big miss as he is the one player we have that can carry the ball, when played central. I think he's a bit wasted playing as cover for the full back in a 3.
We will miss him more if Davies and Allan can't stay fit. I hope Coleman comes back soon too as l feel he has been our biggest miss. How we left ourselves so short, well.
We all know what we need in the summer. Iwobi has been found out playing on the right. In fact a lot of us on here wanted to see lwobi tried in the middle when Siggy wasn't on form... then again if he comes inside we have nothing else on the right side.
The shite have had injury problems of course (haha) but we haven't had a settled side OR formation for more than 4 games at a time.
Phil Smith
26
Posted 09/03/2021 at 12:38:27
One thing has been made perfectly clear during Ancelotti's rein... he won't play the untried for Premier League games. It's a major problem with such a difficult season. Amazed we haven't had more time injuries, really.
Phil Smith
27
Posted 09/03/2021 at 12:49:34
Oh and and bringing in youth players. If Phil Neville was breaking through now he would never get a game for us and would likely get all the comments about only good enough for a lower Championship side etc. even though he was a more than decent player on his day. If players don't get an extended run in the side you never know if they'll be another Kane or Cadamarteri. How long has it taken Tom to really start showing his qualities?
Kieran Kinsella
28
Posted 09/03/2021 at 13:34:38
Phil
The thing is that unlike a few years back the young players aren't playing well for the u23. JJK, Dowell etc did everything they could at U23 so deserved a chance. The current group have yet to master that level so why would we drop them in the first team?
Andrew Ellams
29
Posted 09/03/2021 at 13:57:23
The youngsters are not getting any further than the bench unless the decision is forced by more injuries.
From now until further notice the midfield will be a diamond consisting of Allan, Davies, Gomes and Sigurdsson with Iwobi and/or Bernard coming off the bench.
Steavey Buckley
30
Posted 09/03/2021 at 14:01:55
The major complaint is that Ancelotti won't play inexperienced players. He doesn't even want experienced players around neither even with a 'thin squad of players. Already at the beginning of the season he 'shipped out' Walcott and Moise without replacements then in January he 'shipped out' Kenny and Branthwaite also without replacements. Yet on the subs. bench there were Nkounkou, John and Onyango with just 1 premier start between them. So, it's the manager who has a problem with young talent not the players not taking their opportunities when given a start.
Jamie Crowley
31
Posted 09/03/2021 at 14:14:12
You can cover up a weakness on the pitch with tactics.
Problem is, when you have multiple weaknesses, you can't cover them all up. It's like you get one BandAid and if you have multiple wounds, one of them is going to bleed.
Doucoure out is a massive loss. He's a silkier James McCarthy - covers all the ground and does all the dirty work. He will be missed immensely.
Add to that the fact that Holgate has failed to impress and we miss Seamus, and it all starts to look a bit negative.
We freaking need JRod in the lineup now, and for the rest of the season. His quality can literally snatch a victory from a shite display. With Doucoure out, I feel like we miss James even more.
And this chat about Delph? Just no.
Alan J Thompson
32
Posted 09/03/2021 at 14:29:56
I don't suppose there's any chance that all these injuries are just disguising Finch Farm coming down with the Outer Mongolian strain of the corona virus that would mean a minimum of three weeks quarantine?
Do we have an imaginative Press Officer or could it be done by the Chairman's imaginative Accountant?
Fran Mitchell
33
Posted 09/03/2021 at 14:30:18
We always like to think that the youngsters must surely provide something that the first team can't.
The best, head and shoulders above the rest, young player we have is Antony Gordon.
Whenever he played in the u23s, he was miles ahead of the rest. Earlier in the season, I was among many who thought he should be playing more regularly.
Then he did play and it was clear that he was far from ready.
He's playing for Preston and doing well, sometimes he's affecting games, but he's inconsistent. He regularly get's subbed, and the manager has talked of his ability, but also that he needs to improve in his awareness, decision making etc. And he's the best of the lot.
So we can't really be expecting any of the lads on the bench to offer anything more than bodies to warm the bench, at this current time.
Hopefully they'll all improve from the experience, but ultimately, they are not the answer to our questions. They answer to our current needs will cost about 200 million.
Stephen Vincent
34
Posted 09/03/2021 at 14:31:47
Hind sight is a wonderful thing and may be there were other considerations - but sending Kean, Kenny, Walcott and possibly Gordon on loan do seem to be really poor calls right now.
The youngsters literally could not have less impact than Iwobi, Bernard and perhaps Gomes. Holgate looks less and less like a full back with every game.
I'm thinking that under the present regime Rooney might have been on loan at Shrewsbury until he was 25.
Doucoure will be a big miss, I read a post on another site that said he has been the 'lungs of the team' and that just about sums it up for me.
Kieran Kinsella
35
Posted 09/03/2021 at 14:44:14
Say we play Onyango and Broadhead v Burnley and they have a bad game. Then they're the fall guys for Everton's "failing Euro chase.' What would that do to their confidence? I could see the point of rolling the dice if we had someone who was absolutely dominating at U23 level. But the U23 team is comparatively worse at its level than the full team, so the only logic seems to be "Iwobi isn't good enough ergo anyone else is better," in which case you might as well grab someone from ToffeeWeb to have a run out as at least we have "heart." If your Ford Cortina has a dodgy muffler you can't will your moped into being a Lamborghini.
Thomas Richards
36
Posted 09/03/2021 at 14:49:23
Stephen, 34
The longer a player has left us the better he becomes in the eyes of the Everton fans.
Brian Harrison
37
Posted 09/03/2021 at 14:52:44
There seems to be an idea on these pages that Ancelotti has something against playing the youngsters. Well he has played Small, Nkounkou, Onyango and Gordon and the truth is non of them are ready for regular first team action. Anthony Gordon fair play to him admitted that he has let himself down when given first team chances, so you can hardly criticize Ancelotti for not picking him. Also another maybe not considered a youngster he has also played Davies when many posters on here wouldn't have him anywhere near the first team. The harsh truth is that very few make it from the academy to U23 level to first team, and we are no different from most of the Premier league. I think if you look through most Premier league teams and look how many have progressed through all levels of the club and they will be very few.
Young Foden at City is in my book head and shoulders above Mount, Grealish and Maddison, yet he with all his talent isn't a regular starter, admittedly he is playing for the best team in the Premier league. We have had too many players feature in our U23 side who are 21/22 and hardly ever have been involved in the first team squad. Chelsea have used the loan system to perfection they bring in highly talented youngsters then farm them out on loan. Then they decide who they will take back and who they will sell on and its been very lucrative for them, I think we are starting to do that at a much smaller scale. These young players on loan to Championship clubs are playing against better players than they will face at U23 level so its easier to asses whether they will make the grade by loaning them out.
Jay Harris
38
Posted 09/03/2021 at 14:57:51
Its a tragic loss but there is a simple solution play a back 4 of Holgate Mina Keane and Godfrey with Seamus and Digne on the flanks Tom Davies and Allan in the middle and DCL and Richy up front. That gives us the defensive strength and pace going forward.
When fit and appropriate James or Siggy can slot in in place of one of the MF.
Andrew Ellams
39
Posted 09/03/2021 at 15:36:45
Problem is Jay both Mina and Coleman are out injured right now too.
Brent Stephens
40
Posted 09/03/2021 at 16:13:10
As Kieran says, "Say we play Onyango and Broadhead v Burnley and they have a bad game. Then they're the fall guys for Everton's "failing Euro chase.' What would that do to their confidence?"
What's more how many knives would be out for Carlo?
I think he's right - nobody in the U23s is outstanding. It's clutching at straws.
Jay Harris
41
Posted 09/03/2021 at 16:35:31
Anfrew,
I believe Coleman and Mina are fit to face Burnley as is James but I was thinking ahead till Doucoure returns.
Steavey Buckley
42
Posted 09/03/2021 at 17:08:01
Ancelotti's attitude towards loaning out experienced players and not finding suitable replacements is the reason why Everton have struggled in many games this season and have 'pinched' games when in other games they have been found out especially at home.
Andrew Ellams
43
Posted 09/03/2021 at 17:10:01
Jay I'll be shocked if we see any of those three before April/
Colin Glassar
44
Posted 09/03/2021 at 17:13:59
Experienced players like Bolasie, Walcott or Kean, Steavey? Either not good enough or don't want to play for Everton.
Jerome Shields
45
Posted 09/03/2021 at 17:18:28
Tom Davies will probably take on Doucoure role.
Justin Doone
46
Posted 09/03/2021 at 17:21:34
I was impressed when Coleman filled in as a right sided midfielder. It was only as a sub but not having to worry so much about defense may allow him to be a rediscovered jewell.
He has pace, can carry the ball forward and works hard defensively or Iwobi?
Andrew Bentley
47
Posted 09/03/2021 at 17:32:22
Apologies if this has already been covered before, and not that I think that either of them are the answer - just keen to know if there is any more details on when Delph and also Gbamin may actually return to a football pitch?
Is Gbamin even training at all - even by himself?
Steavey Buckley
48
Posted 09/03/2021 at 17:38:30
The problem I have with Ancelotti, Colin, is not the loaning out of players or leaving players out of his squad, but he does not replace them with other experienced players from other clubs. This leaves the club without experienced cover. On Monday night against Chelsea, Everton had 4 outfield players and 2 goal keepers who had just one premier league start between them on the subs. bench. This is woeful when compared to Chelsea who had another 1st team full of experienced players in reserve.
Robert Tressell
49
Posted 09/03/2021 at 17:41:57
We can fiddle about with formations and personnel but the fact is we're well below full strength for the run in. Which means results may suffer.
The reason some of our reinforcements are on loan is the very necessary measure to control the wage bill. Failing to control the wage bill hampers our recruitment drive this summer.
4th this year would be way ahead of schedule and reliant on a lot of luck. Our spending levels seem more obviously designed to keep us competitive with the rich 6 until our stadium is built.
I do think there's a good chance in the cups though under Ancelotti - and the distinct possibility of sneaking top 4 next season in spite of restrained spending (by Rich 6 standards) and squad limitations.
Dale Self
50
Posted 09/03/2021 at 18:21:47
Nice long view there Robert, always appreciated since I'm still cutting my teeth on that stuff.
Frank Wade
51
Posted 09/03/2021 at 18:59:06
Steavey #48, very surprised you "have a problem with Ancelotti". Look at the table, 4 points off 4th, with 11 games left, an astonishing performance given our record since Martinez year 1. Doucoure is a huge loss, mostly for his work rate. We just have to trust the manager to find the most appropriate solution. Jay #38 suggestion is a probable but I prefer Godfrey at centre back and like to see James in the side.
I agree with Brian #37 in relation to loaning out the younger players.
Carlo and Brands are on a 2/3 year team building project.
Tom Davies? Has been given more experience in 1st team and starting to fulfil his promise now. The receding Hibbo/Osman barometer for Tom on ToffeeWeb in recent weeks would confirm that.
Gordon, Branthwaite and Kenny got limited time, not totally convincing, some promise, so now loaned out to get experience at a good level to see if they have a first team future here.
Kean? Jury out. Didn't look good with us, so loan rather than sell. Looks good with PSG. Hard to know.
Delph? Experienced international player with injury record, so we signed him cheap for 8m. Didn't work out. Was worth the wager. Could have been a Barry.
Gbamin ? No previous injury record, just bad luck. Similar to our luck with Konè.
Walcott ? Most will agree, he didn't play well enough, so loan deal took his salary off the books.
Holgate? Doesn't look like a solution at right back. Maybe he could be tried in the Doucoure position. Don't know if he has the speed and endurance ?
Godfrey? Signing of the season for me. Would prefer he is kept at centre back rather than left back or midfield. His pace a huge plus.
Iwobi? Has been disappointing mostly. Not as quick as I expected, but has had his moments.
And so the rebuild goes on. Hopefully it's complete before the stadium. Onwards and Upwards
Stephen Vincent
52
Posted 09/03/2021 at 19:05:41
Kieran # 35 possibly the most ridiculous post this year.
Einstein said that 'insanity was doing the same thing again and again and expecting to get different results' that is exactly what we do with Iwobi. He starts, plays dreadfully, can't cross a ball to save his life, is absolutely pilloried on here, gets taken off after an hour to be replaced by our invisible Brazilian. Maybe the kids won't work out but how the hell do we know.
Making a bad error in the first 5 mins of his EFC career didn't seem to affect Branthwaite's confidence.
Play them and find out.
David Cooper
53
Posted 09/03/2021 at 19:07:14
Doucoure has played 28 league and cup matches this season. I think he has missed 2 games against Leicester (1-1) where we played off the park but got a draw. Doucoure was serving a 1 game suspension. Yesterday missing again we lost easily against Chelsea. Often you don't realize how important a player or person is until they are not there. I think we are going to find out how important Doucoure is to us.
At different times this year we have played games with key players missing and in most cases Ancelotti has been able to work around missing players. Of the 3 players Allan, James and Doucoure who would have thought that Doucoure would be the one to be hardest to be replaced. He has come in for criticism here for his lack of ball control and misplaced passes. What will be missed is his physicality and ability to get up and down the park for the whole game. In my opinion Doucoure along with Godfrey have been the outstanding successes of this season. Trying to replace Doucoure with a mixture of Allan and Tom, good as they are, will struggle to make up for his absence. Maybe for one game Ancelotti can create a formation that will cover his absence but if his injury goes on for 3 or 4 games, he should try to find a like for like replacement. Godfrey has been tried in all positions across the back 4 but I would love to see him play the Doucoure role. They are very similar both have a physicality and presence, both seem to have endless running ability, in fact Godfrey is quicker. On the negative side both struggle with close control and picking a forward pass. But if they can win the ball, they can give it to someone else to pass the ball.
So I hope Carlo gives Godfrey a chance. He did play there for Norwich and if Seamus is fit, Hlogate go back to centre back.
Larry O'Hara
54
Posted 09/03/2021 at 19:17:59
David that seems interesting suggestionnre Godfrey: he's got the heart lungs and brain for it. And he may even do more forward runs that BBC are so BBC exciting
Kieran Kinsella
55
Posted 09/03/2021 at 19:21:40
Stephen 52,
Couple of things. Iwobi doesn't do the same thing over and over again. He was man of the match versus Wolves. Sometimes he is good, sometimes he is crap. Branthwaite is of no relevance to Iwobi because he is a central defender and is out on loan. Moreover he is an example of Carlo giving game time to a youngster who seems like he is or might be good enough, even though his loan spell has shown that he has room for improvement. If we are talking about an alternate to Iwobi we'd be looking at Nathan Broadhead. The soon-to-be 23 year old was made available for transfer last summer but based on his form for Everton u23, and Burton, there were no takers. There were no takers in January either. If he couldn't find a club in the lower leagues thinking he was worth a punt, it's not surprising that Carlo hasn't played him. Presumably he isn't at the level of even the "pilloried" Iwobi.
Phil Bickerstaff
56
Posted 09/03/2021 at 19:23:01
I think we all know, the midfield line will involve iwobi,siggy, Alan, Gomez and Davies.
Can't see Carlo changing defenders into midfielders.
Might get a surprise and see Gbamin show some bollocks and step up for contention
Brian Wilkinson
57
Posted 09/03/2021 at 19:25:59
Sorry to go off track, but am I right in thinking that the Government have until next Weds 17th March to respond to Bramley Moore dock stadium?
Tony Abrahams
58
Posted 09/03/2021 at 19:27:01
Andrew@47, I heard it was Gbamin, who injured Doucoure in training, but it was only a rumour though mate!
Kieran Kinsella
59
Posted 09/03/2021 at 19:27:58
Tony 58
Are you kidding about Gbamin?
Tony Everan
60
Posted 09/03/2021 at 19:34:03
Kieran, He can't be kidding because you just couldn't make that up!
Kieran Kinsella
61
Posted 09/03/2021 at 19:36:39
Tony 60
I realize his own injury wasn't his own fault but after two years out injured he needs to create out some good will. Recover the long lost Arteta money, negotiate a buyer for Besic, but injuring Docuore? Is this guy just cursed with bad luck or what?
Rob Halligan
62
Posted 09/03/2021 at 19:37:51
Brian, yep Liverpool city council submitted their approval the Secretary of state on Wednesday 24th Feb, so it was three weeks from then, 17th March. St. Patricks Day!! Drinks all round.
Frank Wade
63
Posted 09/03/2021 at 19:39:23
Interesting story on the BBC website today "
Hervin Ongenda: Striker who was supposed to be first superstar of PSG's Qatar era
"
Link
Relevant to our discussion here on bringing young players through, in that Carlo Ancelotti was manager at PSG for some of Ongenda's spell. A couple of interesting quotes.
"Ancelotti was paying a lot of attention to young players. He always wanted you to find a better solution, to learn continuously."
"I thought I wasn't playing enough at PSG. I went to the coach and he said I was going to play more and more. I asked: 'What is more?' He was honest and told me he couldn't know in advance. That's why I went to Bastia. Unfortunately, Makelele was out by November."
My takeaway from this is that Ancelotti has an interest in young players but crucially has the experience and judgement to know which of them are ready to learn and grow as players, physically, technically and mentally.
Hopefully Gordon, Branthwaite, Onyango, Small and Gibson along with a few others can contribute to our first team in the future.
Tony Abrahams
64
Posted 09/03/2021 at 19:47:04
No Kieran, it came about because I was saying to my mate that Doucoure, was injured, and he said his nephew had told him the same thing. His nephew works with someone who gets to know most things, so I said it must be true then, because so and so must have told him?
No, he said, it never came from him, but the rumour going round is that Gbamin, caught him in training! The new rumour is a hairline fracture, so maybe not as bad as first feared, if true?
The best thing about the conversation though was when we got talking about Ancellotti. I said I didn't think Moshiri, was the man in charge, because he's "only" worth about £1.2 Billion, has already spent around £500 million, and said he didn't want Everton, to be taking up as much of his time, as it has so far, and yet he's already invested half of his fortune into the club. He was smiling and said when Ancellotti, spoke to Everton, he never spoke to Moshiri, he spoke to the main man. It's gonna be okay eventually Kieran!!!
Brian Wilkinson
65
Posted 09/03/2021 at 19:50:19
Cheers Rob.
Dave Abrahams
66
Posted 09/03/2021 at 19:56:31
I don't know who added Besic and Broadhead to Everton's first team squad in January, Broadhead is playing regularly for the U23's and scoring a few, haven't heard a dickie bird about Besic, is he training with the first team squad? What's the point of putting him in the squad if he's not doing anything, surely he has got more energy and tackling ability than Gomes for instance.
Dave Brierley
67
Posted 09/03/2021 at 20:01:01
Tony@64 Did he mean Blue Bill?
Frank Wade
68
Posted 09/03/2021 at 20:06:58
Dave #66, No harm in adding Broadhead and Besic to make up the 25, in the event of Gbamin running amok in training again !!! Better than leaving the spaces vacant.
Tony Abrahams
69
Posted 09/03/2021 at 20:09:05
He's definitely the main man Dave, I've heard he even gets on the phone to all the new players!
Dale Self
70
Posted 09/03/2021 at 20:17:57
He's going to run this thing from the grave.
Bobby Mallon
71
Posted 09/03/2021 at 20:24:16
Steve Buckley @48. When are you going to get it. Those first team players left because either; they wanted out or it was necessary to get them off the wage bill. Plus ( you included) most never wanted Tosun, Walcott, bolasie in an Everton shirt again.
Frank Wade
72
Posted 09/03/2021 at 20:30:51
Tony #69, well if that's the case, hats off to him for getting Ancelotti.
Mike Gaynes
73
Posted 09/03/2021 at 20:41:29
Geez, and I figured he had hurt himself stomping the gas pedal of his Lambo. But Gbamin? Arggh. Cheers, Tony, for the inside info.
Frank, good posts at #51 and #63. Godfrey is a great example of a young player whom Carlo considered ready, and he plugged him right in.
Phil #56, agreed that neither Holgate nor Godfrey is a likely plug-in to Duke's role. The five you mentioned plus Bernard should cover the midfield.
Dave Abrahams
74
Posted 09/03/2021 at 20:54:48
Frank (68), No Frank, no harm at all, and if Gbamin was quick enough to catch Doucouré maybe he's on the way back at last!!
Don Wright
75
Posted 09/03/2021 at 21:33:49
Frank 63 this quote "I thought I wasn't playing enough at PSG. I went to the coach and he said I was going to play more and more. I asked: 'What is more?' He was honest and told me he couldn't know in advance. That's why I went to Bastia. Unfortunately, Makelele was out by November." was made after Carlo left and Laurent Blanc was manager
Frank Wade
76
Posted 09/03/2021 at 21:35:17
Dave, you're right, if Gbamin can catch Doucoure, he's definitely ready. What a bonus that would be. Fingers crossed. He's obviously taking part in hands-on training and not just working with physios. Could be ready soon.
Kieran Kinsella
77
Posted 09/03/2021 at 21:35:43
Tony Abrahams
Hopefully the "main man" gets his checkbook out again this summer. There's an old bike shed near Finch Farm that needs naming rights. I'd value it at a cool 100 million -- for first option to get naming rights.
Frank Wade
78
Posted 09/03/2021 at 21:39:54
Don #75, apologies you are correct, fake news on my part, must try harder, not ready for ToffeeWeb first team yet !!!
Maybe a loan deal for me ??
Jay Harris
79
Posted 09/03/2021 at 21:47:27
A hairline fracture is still 4-6 weeks in a boot and the time to regain fitness afterwards. He may be ready for the cup final.
Strange that Gbamin isn't even in the conversation. Maybe he wont recover to the required standard.
Neil Copeland
80
Posted 09/03/2021 at 21:51:24
Frank #78, U23s maybe?
Neil Copeland
81
Posted 09/03/2021 at 21:54:03
Jay, I think it would be a minor miracle if Gbamin recovered well enough to play competitively in the Prem again. I hope I'm wrong though.
Brian Wilkinson
82
Posted 09/03/2021 at 22:16:14
Another off track subject, but if anyone is looking for something to watch, check out another Sunday and sweet fa on YouTube, seventies play for today, quite funny with a young Ann Kirkbride on the touchline, the guy who played judd in Kes playing in the game, and Clive Thomas as the ref knocking one past Dave Lawson, in the last minute.
Good old Northern comedy, if you like the film Kes, this is for you.
Justin Doone
83
Posted 09/03/2021 at 22:18:41
In reply to a couple of Qs.
IMO Rabiot is a box to box midfielder. He's in between a Gomes and Doucoure, left footed and tall. Average pace, good energy, good passer and runner with the ball.
Right now he's an upgrade on Gomes, Davies and possibly Doucoure. Sounds good but not a big upgrade. Not wanting to be greedy but I would want better, someone who can score a few goals.
Rashford vs Ric.. Rashford in an attacking sense. Pace, dribbling, shooting. Ric does so much defending for the team. He's frustrating at times but he is incredibly hard working. That's a great trate for a young forward.
I think why not give Ric a rest and start King. But then I realise what the team lacks without him.
Frank Wade
84
Posted 09/03/2021 at 22:35:20
Justin, looking at Rabiot playing at the mo for Juventus, has just scored with a great header in extra time v Porto. Unless Juventus need the cash, I doubt he would come to us rather than another CL team.
Brian #82, thanks for that. My diary fairly empty on a 5k no visits lockdown in Ireland.
Frank Wade
85
Posted 09/03/2021 at 22:40:31
Yeah Justin, but he's just lofted one over the bar from a good position, in 2nd minute of injury time with his team needing a goal. That would not sit well with us TW folk !!!
Justin Doone
86
Posted 09/03/2021 at 22:45:09
Another player and topic.
Bernard seems to have so much talent but I've never witnessed such a gifted player panic and go to pieces in or near the box as much as he does.
The winning cup goal against spurs is so unlike him. What a finish.
But why can't he make a 10 yard pass, deliver a cross or shoot on target is beyond me.
Is he the worst best player to have played for us?
Mike Gaynes
87
Posted 09/03/2021 at 23:07:22
Neil #81, that's what I've been saying from the moment we got word of the second injury. The issue won't be fitness -- he'll be plenty fit. The issue will be performance level. It seems improbable.
Justin and Frank, a hearty "NO" from this Juve supporter to Rabiot. He's immensely talented. Also totally unproductive. Today's meaningless goal was only his third of the season. He has zero assists. Zero. And he's the clown in the wall who jumped up and let the free kick scoot under him to get Juve knocked out today. Better than Gomes? Certainly. Worth his ridiculous price? No, no, no.

David Hayes
88
Posted 09/03/2021 at 23:30:11
Had to believe, the amount of posters pushing for square pegs in round holes, after a decade of diriding successive mangers for doing exactly that. Decoure will be missed as his attributes add more visitility to our midfield. A tough tackling ball winner he is not, a midfield general, dictating play be is not. What he does is provide energy and drive on the front foot.

Adapting to a tactical switch combining Allan and Tom and using King and Ritchie in front of them in tandem with DCLs hold up and link up play would be an effective attack in my view. The defence is already solid and mobile enough to transist to back up the midfield when needed and reform quickly on mass.

Transition in all areas at speed is what in this present day is the dominant and most effective method. Man City and lately Chelsea have effected this already, we are building towards this steadily, but it doesn't happen overnight. We have made progress but currently lack a few pieces to fully compete. Carlo, is always aiming at this level, but is aware that right now we have our limitations.

The days of ridgid defence, midfield and attack as sesperate units are long gone. Midfield enforcers long gone, Roy of the Rovers strikers long gone. They only now exist in our distant memories. Speed in transition and quality supply and not a professional version of pub football that some desire to evoke old memories.

The game has changed multiple times for good and ill since the premiership started, but right now we are adapting at a faster pace that years gone by.

Kieran Kinsella
89
Posted 09/03/2021 at 23:47:21
David Hayes
I was thinking the same thing. We've already deployed the lad in three positions I don't think it does his development any good to turn him into Alan Harper just yet
Frank Wade
90
Posted 09/03/2021 at 00:06:04
Mike, I'll bow to your knowledge on Rabiot. The Juventus wall for the crucial Porto goal was astonishing for professional players. Apart from Rabiot jump, Ronaldo turned his back and Morata did both, all resulting in Juventus elimination from the Champions League. I can't imagine doing that even in a 5-a-side.
Andrew Keatley
91
Posted 10/03/2021 at 00:08:09
In relation to the Doucouré injury, he only played an hour of the WBA game, and seemed to be limping and grimacing slightly when he was withdrawn - so I'm assuming the injury happened during that match (as Carlo's explanation and Lyndon's article outlined).
The rumours about Gbamin being involved in injuring Doucouré are surely the mischievous imaginings of someone who believe's a bit too readily in the law of Mr Murphy. Has Gbamin even started training with the rest of the first team yet? I assumed he was still doing his own rehabilitation programme.
Si Cooper
92
Posted 10/03/2021 at 03:45:58
Re JP Gbamin: 'The issue won't be fitness -- he'll be plenty fit. The issue will be performance level.'
How do you measure fitness if not against a performance level, and in what aspects will he fall short?
Would they even let him 'mix it' with the first-team squad in training if it looked like he was still miles away from playing?
Mike Gaynes
93
Posted 10/03/2021 at 04:31:48
Si #92, by 'fitness', I mean just that -- how long he can run without getting tired, how strong he is.
By 'performance level', I mean speed, quickness -- whether he'll still have enough of those to be a Premier League footballer. Athletes suffering these injuries tend to lose a certain degree of explosiveness. Like Yakubu. And Beckham.
Annika Herbert
94
Posted 10/03/2021 at 07:20:27
Beckham was never explosive. He had a lot of other good qualities, but he was never explosive.
Pace was one of the few things missing from his game in fact.
Tony Abrahams
95
Posted 10/03/2021 at 09:14:33
Frank@72, are you talking about Stevie Wonder, getting on the phone to all the new players, singing "I just called to say I love you" or did you mean the man with all the money?
Dave Abrahams
96
Posted 10/03/2021 at 09:32:08
Brian (82), I will have a look at that, remember it from the first time round, brilliant, as you say, comedy at it's best, especially that goal by the ref.who had been harassed by the players throughout the game, " Cop for that" was his unspoken reply to all of them.
Frank Wade
97
Posted 10/03/2021 at 10:54:13
Oops Tony #95, sorry, didn't realise Stevie had a role at the club. Assumed you were giving the credit to your favourite Evertonian for persuading Ancelotti to come. Another faux pas for me, badly need a loan spell.
Now that you mention that song, it's very appropriate in these troubled times. 'No New Year's Day to celebrate'. 'No wedding Saturday in the month of June', 'No Halloween', 'No Christmas cheer'. We could add 'No Goodison trips'.
Tony Abrahams
98
Posted 10/03/2021 at 14:40:29
A loan spell, as in robbing Peter to pay Paul, Frank? even though Stevie told us the money was ringfenced!
Frank Wade
99
Posted 10/03/2021 at 15:26:16
Tony, I suspect Stevie was working in the Academy back in 2014 when a young Norwegian trialist named Erling Haaland was told he wasn't good enough. This was a more serious offence against the Blues, than any miscalculation around outgoing expenditure 10 years previous. Don't forget to phone Dave and sing him a hug. I know I would if I could.
Tony Abrahams
100
Posted 10/03/2021 at 16:15:31
I don't get that last sentence Frank, is that humour? Also the story I was told about Harland was a bit different than yours mate. Was Steve Walsh even at Everton in 2014?
Didn't Stevie say he was glad Everton never went to Kirkby, after they lost the case? I'd love to know why he was hellbent on taking us there if he didn't even want us to go there Frank?
Brian Wilkinson
101
Posted 10/03/2021 at 19:10:40
Dave@96, and the young lad at the end minding the refs hut for some change, then saying Dizzy Dean :-)
Frank Wade
102
Posted 10/03/2021 at 21:03:57
Oops sorry Tony, It's all getting a bit 'Tangled up in Blue' as Bob Dylan might say/sing. From your mention of Stevie Wonder working at the club, I suspected Stevie Wonder was working at the Academy in 2014, when Haaland was rejected. Steve Walsh, the chap who brought in Gana, was a different guy altogether. Looking forward to getting to Bramley Moore, getting a seat with a view and putting the long ground struggle behind us and all pulling the same way.
I assume you'll be phoning Dave and singing him the song. Hopefully we can meet up post game after the madness and sing a song for Dave, probably not 'My Boy Bill' lol
Roger Helm
103
Posted 10/03/2021 at 21:28:27
Yes Annika, as George Best said, Beckham had a good career for a player who couldn't run fast, tackle, head the ball or kick with his left foot.
Tony Abrahams
104
Posted 10/03/2021 at 21:35:00
Be interesting to hear your story Frank, as long as you stop assuming mate, and listen to all the good things Stevie, has done for our club.
Dave Abrahams
105
Posted 11/03/2021 at 16:19:36
Brian (10), I watched it again yesterday, still very funny, referee was brilliant and strangely, for a referee, likeable, one of the managers and his assistant were like Graham Taylor and Phil Neil, Phil Neil's " yes boss" after every sentence by Taylor, plus the little scally of a kid. Thanks for suggesting it to watch again.
Later in the day I watched a favourite black and white film of mine " Detective Story" with Kirk Douglas, William Bendix, Eleanor Parker and Horace McMahon, saw it on " The Kings" in London Road over sixty years ago, most probably bunked in to see it!!
Barry Thompson
106
Posted 11/03/2021 at 16:48:48
Dave A, I also watched it for the 1st time yesterday (was only about 11 when it was first shown) and I was struck by a couple of observations, 1 - those actors were actually quite shit at togger and 2 - that Deirdre Barlow was a bit of a looker back then. Please advise if you think I need to visit Specsavers. Nice to see Joe Gladwin again as I always liked him in Nearest & Dearest.
Dave Abrahams
107
Posted 11/03/2021 at 19:52:32
Barry (106) (1)maybe they were really very good actors trying to look poor at football. (2) Barry, yes Deidre wasn't bad was she? Well on second thoughts she was a bit better than Gail!! (3) yes, Joe Gladwin, love those little character actors, didn't know his name to be honest, but like a lot of these good " back ground actors you always know the face. Douggie Brown, not a bad comedian, was one of the team managers. Thought the play was well worth watching.
Barry Thompson
108
Posted 11/03/2021 at 20:09:06
Dave A
Douggie Brown, not a bad comedian
Wasn't bad Dave but to me Eddie Flanagan closely followed by George Roper took some beating.
Dave Abrahams
109
Posted 11/03/2021 at 20:46:01
Barry (108), Eddie Flanagan, yes I'll have him, great Scouse comedian,brought the house down, in the The Temple Bar just off Dale St. one Sunday afternoon, one joke, nobody stopped laughing for a good three or four minutes, don't know if you can get it on Utube, the one we're he finishes singing, after trying to talk the line " Oh your sausages and mash have gone overboard Ara Ara" brilliant, Eddie was just behind Cairnsie ( Jackie Hamilton) for me, but Cairnsie was a mate of mine so maybe I was a bit biased.
Graham Mockford
110
Posted 11/03/2021 at 21:19:01
Best Scouse comedian I've ever seen live was Tom O Connor. A truly funny funny man
Thomas Richards
111
Posted 11/03/2021 at 21:41:10
Spankingly good Graham
Jay Harris
112
Posted 11/03/2021 at 22:18:15
I used to have a cassette recording of one of Tom Oconnors repertoires which sadly disappeared amongst all the old junk but it was hilarious.
"Oink" Peters ring any bells.
Tony Everan
113
Posted 11/03/2021 at 22:52:18
Tom O'Connor was nearly my dad. My mum dated him about a 60 years ago. I can believe her as she was a bit of an Audrey Hepburn lookalike in 1960.
Tom Bowers
114
Posted 11/03/2021 at 23:05:32
There is a lot of talent at Everton including some really talented youngsters knocking at the door and hopefully will be ready to push the big names next season.
What puzzles me is the number of ''deadbeats'' still on the books such as Besic and Bolasie etc. who seem to be out of contention for a first team game every week and yet other such as Bernard and Iwobi at least make the bench but very rarely contribute anything.
Perhaps there will be finally a clear out come the end of the season by the manager to make room for one or two first class replacements.
Kieran Kinsella
115
Posted 12/03/2021 at 01:22:46
Tom 114
I get a no fed up with people bashing "deadbeat" Bolasie. He isn't even here he's out on loan and out of contract in three months. Coleman said he "didn't deserve" to be left out of the squad based on his efforts. He had a terrible injury, he did his best to come back. He's not a deadbeat. He's a good lad who worked his way up the ladder from the bottom.
Don Alexander
116
Posted 12/03/2021 at 01:35:43
Above there are various comments on Beckham, the player. I agree with most of them. Very talented with the ball, devoid of pace, but missing when the shit hit the fan (as it rarely did in his career admittedly).
He reminds me of our James.
And, to some extent, that's a compliment Senor Rodriguez.
Be nice if you could outdo him though.
Dave Abrahams
117
Posted 12/03/2021 at 10:17:15
Going back to the comedians, for just a minute Michael please, on of the funniest comedians of all time, never spoke a line, was a bit of a Scouser, well he lived here for a few months, reputedly went to St. Francis Xaviours school while he was here———drum roll —-Mr. Charlie Chaplin!!
Marc Hints
118
Posted 12/03/2021 at 13:43:28
He is out for 10 - 12 weeks, thats a big loss
John Crook
119
Posted 12/03/2021 at 13:57:38
Perfect, that means he is back fully fit in time for the FA cup final!
Kieran Kinsella
120
Posted 12/03/2021 at 14:08:09
James is skiving off again
Jim Bennings
121
Posted 12/03/2021 at 14:25:01
Rodriguez also set for a long period out, such a shame that such a top class footballer is injury prone.
We need to make sure this summer that we have another fantastic transfer window, we can't afford to rest on our laurels even if we do get top six.
We need more dynamic going forward, there can't be any dispute that we need to start adding more goals to our team.
Joe McMahon
122
Posted 12/03/2021 at 14:42:49
James and Jim, its gonna be hard recruiting as we need players that can manage the pace and tough of the PL and North West weather. I feel this has been an issue for James. Pity but he just hasn't put in the minutes.
We ain't ready for top 4 this season. How can we overtake Chelsea and Spurs with Kane, Son and Bale? With our lack of goals and limp midfield. Carlo has done great steps with what he has, but he ain't a miracle worker.
Fran Mitchell
123
Posted 12/03/2021 at 14:45:31
We're just gonna have to accept James as he is. He isn't necessarily Injury prone, it's not like he's got a duff Hammy or anything, he's just fragile and rarely at 100%. It's why he's here, in all reality.
He's still the best player by a mile. So if we can get 20-25 games a season from him, that's gonna help us.
But it also reiterates the need to have a bigger squad.
While.Siggy can sub for James, in reality Siggy just isn't talented enough to warrant playing free role no10, we'd be better off with a more conventional right wide-forward
Brian Harrison
124
Posted 12/03/2021 at 15:10:11
Not only did Carlo give an update on James and Doucoure he also has challenged Iwobi to tell him his preferred position. When Ancelotti was asked at the press conference about Iwobi stating he was delighted to be selected for Nigeria and hoped he would play in his preferred position. Ancelotti smiled and said yes I read the post and I want to speak to him of course, as I would like to know his preferred position, because usually I want to put players on the pitch where they are comfortable playing. So if he has an idea where he wants to play I have to know, I want to know. I would be delighted to know his preferred position and I will put him in his preferred position for sure no doubt. So I am going to have to tell him, tell me I am your manager I want to know where you prefer to play.
Ancelotti said when he had a similar conversation with Andrea Pirlo at AC Milan when he decided to move him to a holding midfielder I asked was he happy to play there or not. So if Iwobi wants to play No 10 or 9 I will put him there.
So next time Iwobi is selected then he had better perform, as I am sure Carlo will play him up top where he wants to play. So by saying what he has if Carlo plays him in his preferred position which I think Carlo will, then he has to perform a lot better than he has in most of his previous games. Pity he didnt have the backbone to have a discussion with his manager rather than release those views on twitter. But I think with his performances so far he must know the writing's on the wall so maybe he is making his excuse before being moved on. This of course is very clever by Carlo as it gives him a win win situation, Iwobi has to deliver when played in his preferred position and if he doesnt he cant have any complaints if he is left out. I think Carlo has given Iwobi more chances than he deserves and with James being out till after the international break and Sigurdsson being a doubt for the Burnley game maybe Iwobi will get his chance on Saturday, unless Carlo picks Seamus to play wide right instead.
Joe McMahon
125
Posted 12/03/2021 at 15:14:42
Brain, its incredible when you think of the players Carlo has managed in his career, Pirlo, Seedorf and Zidane amongst many others. Not sure Iwobi fits in with that lot though 🤔
Bill Gall
126
Posted 12/03/2021 at 15:36:10
Graham #110
Was Tom O'Connor the Liverpool comedian supposed to be a school teacher, if so I now I have a L/P of his in my old record collection.
Derek Taylor
127
Posted 12/03/2021 at 16:00:02
That's why he's here, Jim, and not at one of Europe's 'big' teams !
Derek Taylor
128
Posted 12/03/2021 at 16:07:02
Re Tom O'Connor, the first time I saw him he had members of the school in which he taught in Bootle in his backing group/choir. I seem to remember Joe Royle's Dad was also involved. Guitar ?
David Pearl
129
Posted 12/03/2021 at 16:43:54
I don't think we have much choice tomorrow but to play Iwobi central and Seamus on the right... who l am sure wont be moaning and will just get on with it. After all, we aleady gave Walcott and Kean away, the only others capable of playing wide right.
I don't think Carlo or Brands expected us to be up there with a shot of 4th. Maybe they also expected James to be available for more games. I like Richarlison in the middle but tomorrow l would move him back left and try to get DCL scoring again.
Bill Gall
130
Posted 12/03/2021 at 17:07:12
Derek #128
Joe Royle's dad played the organ in the Broadway Club I am not sure if he played any other instrument apart from the organ and piano.
Paul Birmingham
131
Posted 13/03/2021 at 07:41:52
Big loss in terms of covering the ground, there's not much energy and tank in the midfield without him, but the other players will have to step up and rise to the challenge.
Big stakes, big hearts and desire to go the extra 5 miles every game now.
Forget about the rest, reputations are as good as the last result, noes the time to rally.
Massive game and to beat Burnley in a must-win game. One hell of a Sri tonight so Everton must be ready for Burnley and the elements.
Paul Birmingham
132
Posted 13/03/2021 at 08:03:57
Sorry it should have said, fight, poxy ipad, lol.
---
Add Your Comments
In order to post a comment, you need to be logged in as a registered user of the site.
Or Sign up as a ToffeeWeb Member — it's free, takes just a few minutes and will allow you to post your comments on articles and Talking Points submissions across the site.