Pickford ruled out of cup quarter-final
Tuesday, 16 March, 2021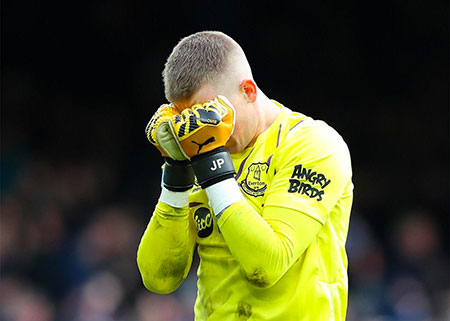 Jordan Pickford will be sidelined until after the upcoming international break, meaning he will miss action for England and Everton's FA Cup Quarter-Final tie against Manchester City.
The 27-year-old had to come off late in the first half against Burnley last Saturday because of a recurrence of an abdominal muscle injury and following scans by the club's medical staff at Finch Farm, it has been determined that he will need at least until the end of the month to recover.
Pickford was unavailable for a handful of games recently because of the injury and Robin Olsen deputised for him. However, the Swede has been battling a knock of his own and was absent from the defeat to Burnley which meant that young Portuguese keeper, Joao Virginia, stepped in to make his Premier League debut.
According to the Liverpool Echo, Olsen is hopeful of being fit to face Man City on Saturday.
Pickford, meanwhile, will not be available for England's upcoming World Cup qualifiers against San Marino, Albania and Poland and will, instead, undergo his recovery at Finch Farm.
---
Reader Comments (89)
Note: the following content is not moderated or vetted by the site owners at the time of submission. Comments are the responsibility of the poster. Disclaimer
Paul Kernot
1
Posted 16/03/2021 at 20:24:55
Not wishing to get too pessimistic here but it does look to be turning to shit right at the wrong time.
Thomas Richards
2
Posted 16/03/2021 at 20:26:40
If we think we are fucked we are definitely fucked.
Positivity boys.
Dale Self
3
Posted 16/03/2021 at 20:30:49
C'mon! It is obvious that Man City are peaking early against Monchengladbach. The post-match worshipping will be their downfall.
Andrew McLawrence
4
Posted 16/03/2021 at 20:33:04
Big Nev took his togs down to Finch Farm today, I heard. Norman Whiteside brought in as a free agent as well to help the mobility issues in midfield.
Rob Halligan
5
Posted 16/03/2021 at 20:33:36
Dale, I've no problem with Man City winning this game, and then going on to win the competition. I just hope half their team get crocked tonight!!
Dale Self
6
Posted 16/03/2021 at 20:43:43
With you there, Rob. When it gets to silverware, I lose my high road approach. We should have our puns set on stun Saturday.
And hey Neil, remember the Bernarder! 6-5 Blues!!!
Neil Lawson
7
Posted 16/03/2021 at 20:46:32
"Olsen has not given up hope of being fit for City." Well, that's a real confidence booster.
Let's all enter fantasy land and imagine a match-winning performance from Joao Virginia and a 95th-minute winner from Onyango.
It happens (but, unfortunately, never for us).
Kieran Kinsella
8
Posted 16/03/2021 at 20:51:53
Virginia didn't fill me with confidence on Saturday. He clattered into Godfrey, then later missed another attempt at grabbing the ball which led to Burnley having one bounce off the crossbar.
With that having been said, I remember our old third choice, Stekelenburg having a MotM performance against Man City a few years back. So, you never know.
Bill Gienapp
9
Posted 16/03/2021 at 21:21:45
Well... looks like all those folks who posted that we should just bench Pickford and throw Virginia out there may get their wish.
Robert Tressell
10
Posted 16/03/2021 at 21:23:11
Well it's not looking promising but you can't lose a game of football before a ball has been kicked. I'm still hoping for a win.
Peter Warren
11
Posted 16/03/2021 at 21:23:47
Confident with either keeper.
Mike Gaynes
12
Posted 16/03/2021 at 21:28:46
Yes, Santa Claus, there is a Virginia.
Phil Bickerstaff
13
Posted 16/03/2021 at 21:31:16
Is anybody watching Man City tonight? They are completely in control with no injuries for Saturday.
God help us with our massive squad...
Dale Self
14
Posted 16/03/2021 at 21:31:22
Well played, Professor Gaynes!
Kieran Kinsella
15
Posted 16/03/2021 at 21:45:28
Phil,
But I recall Davies and Lookman thrashing them, also Baines stunning them, and Fellaini making a monkey out of Bellamy.
Brian Ronson
16
Posted 16/03/2021 at 21:58:39
Let's be real. Whoever we have in goal, we aren't going to win the Cup. I am sure Everton will put in a better performance than against Burnley. Even if they beat Man City, Man Utd and Chelsea are better teams than us. The chance of us winning the cup is about the same as Boris Johnson telling the truth. I hope I am wrong!
Danny O'Neill
17
Posted 16/03/2021 at 22:12:29
Brian please try and shift those heavy gloomy clouds that hang over you.
We have a quarter-final to look forward to. Yes, look forward too. If we win that, we are one step away from the final. Even if Man Utd and Chelsea are better than us, we battled back against one and beat the other this season.
Also, Tottenham and Man Utd were far better teams than us in 1995. We didn't let that stop us thinking what's the point in winning the quarter-final as we will face Tottenham and then United? Cup football is there for the taking.
7th in the league with a game in hand and in the quarter finals. Much better place than this point last season.
Brian Ronson
18
Posted 16/03/2021 at 22:17:07
Danny, as I said I hope I am wrong. You however are living in a fantasy world!
Mike Keating
19
Posted 16/03/2021 at 22:52:53
We'll beat Man City, stuff Man Utd in the semis and lose the final against Bournemouth!
Rob Halligan
20
Posted 16/03/2021 at 23:07:54
Brian # 16, if we can beat Man City, then sure as hell we can beat Man Utd or Chelsea, neither of which are better than City. Also, it looks like you've already got Man Utd in the semi-finals as well, but I think Leicester City may have something to say about that. I'll give you Chelsea though!
Plenty already got us knocked out before a ball is kicked. Seriously, I don't know why we bother sometimes. I take it anyone who's got us knocked out four days before the game won't be watching it.
Dale Self
21
Posted 16/03/2021 at 23:50:36
Choose fantasy over folding like a taco, Brian.
Derek Thomas
22
Posted 17/03/2021 at 00:32:26
Plenty of reasons why we can't beat them... but only if you want to really upset yourself. But there's also many reasons how it can be done...
This isn't just any old Cup. This is the FA Cup, the Cup of upsets, giantkillers, of Yeovil, of Hereford, whose winner graced MotD for many a season, of Sunderland and Bob Stokoe, of being 2-0 down and winning 3-2.
A cup second only to the World Cup and some people being on the pitch... no matter what UEFA, the Champions League and the Europa League might try to tell you.
It CAN be don!/p>
Bill Gall
23
Posted 17/03/2021 at 01:21:38
Well maybe not having Pickford in goal could be a disadvantage, as most supporters who like to blame him for any long-range goals that go in, and City score most of their goals in and around the goal area and not from outside.
Oops De Bruyne just blew that logic out the window. Never mind... it's 11 against 11 and only changes when both teams bring on substitutes and then it seems City sneak an extra player on when no one notices
Derek Knox
24
Posted 17/03/2021 at 01:25:54
Derek T, alright mate, that's what I like a bit of antipodean positivity. Sorry to use Oz vernacular cobber, but 'strewth, I'd have been reaching for the razor blades a long time ago, and carked it, if I listened to half of the drongos on here mate, but I know you're a true blue, so hooroo! :-)
Back to Anglo Scouse Scottish here, like Carlo says 'the game of football is a simple game, there is no need to re-invent it ' and each game in the Premier League, as has been proved, can throw up some totally unexpected results. Now the FA Cup being the FA Cup, can throw up even more surprises, so let's hope this game is one of those!
Bob Parrington
25
Posted 17/03/2021 at 01:36:21
Derek, I like the final line of your #22.
Best to stay positive as negativity does no good. Many moons ago, when I coached juniors in Staffordshire, we somehow got to the final, I think it was against Audley. They had won every game of the season and were more than odds-on favourites!!! We had a "wonder boy" player who scored most of our goals but he didn't turn up for the game and so we played them with 10 men. Miraculously, we won 1 - 0 with the goal coming from a corner and in off the shoulder of one of our midfielders.
So... anything can happen. Our lads just played their hearts out and never gave in.
Okay, big difference from the Premier League but it's a great true story!
Graham Hammond
26
Posted 17/03/2021 at 02:54:59
I may not be known on this site for my positivity but we can win and we can beat City if every player believes and every player plays like his life depends on the result.
Controlled applied hunger, please.
Derek Thomas
27
Posted 17/03/2021 at 03:24:22
DK @ 24; more like plain old Garston - Gerrin to them. Which matches the weather here in Brisbane, it hasn't stopped raining for 2 days and another 3 to go by all accounts.
Still, as we're all(?) being positive, it's warm rain... if you call 20 C 'warm'; it actually feels bloody cold.
Ajay Gopal
28
Posted 17/03/2021 at 03:39:24
Well, Wigan won the FA Cup final against Man City with Joel Robles in goal (clean sheet, BTW). So, let us not write off the match already, eh?
Eddie Dunn
29
Posted 17/03/2021 at 07:46:15
Pickford has been in great form, lighter, more focussed and has saved our bacon several times of late. I thought Virginia did okay the other day. I hope that Ancelotti has been kidding all and sundry and that James will make it. We will need some creativity and let's recall that we somehow beat Spurs.
I don't suppose lightning will strike twice but Man Utd showed that they are human beings, so we must hope. This season has been a roller-coaster of winning sprees and losing sprees, and lots of unpredictability, so let's see!
Andrew Ellams
30
Posted 17/03/2021 at 08:25:59
FA Cup shocks very rarely happen unless the winning team was really up for and got in to the faces of the opposition. That's the key to Saturday, especially the like of Davies, Allan, Calvert-Lewin and Richarlison. Virginia in goal is only a potential excuse after the fact for defeat.
Martin Reppion
31
Posted 17/03/2021 at 10:23:52
Remember the 'Dream Final' of 1995? Man Utd v Spurs, 'Dream on' said Big Joe.
1973, Sunderland toppled Revie's mighty Leeds at Wembley, and for the babies, Wigan did for Man City.
I don't see Leeds in the Quarter-Final draw after their easy trip own south. Several teams bigger than Bournemouth appear to be missing from the Quarter-Finals. This is cup football. Believe and enjoy the ride. When the final whistle goes, we may be celebrating, we may not. But until then, COYB
David Hayes
32
Posted 17/03/2021 at 10:42:07
I am sure Virginia will be golden, as will all the other "Players" especially No 6 and No 10. "Roll up" your sleeves, you mighty blues, don't drag us down. We will need a Siggy to calm us down.
Colin Glassar
33
Posted 17/03/2021 at 10:42:51
Unleash The Dogs of War - on the live forum!! I can just imagine now the first fifty odd posts before the game even starts eg wtf is Carlo playing at? Why is Sigurdsson starting? We've got no chance with that team etc...
Even without Pickford in the team, it's cup football and miracles do happen, even for plucky little Everton.
So let the naysayers sharpen their knives, us happyclappers will dream of cup glory despite us getting thrashed (probably). Do it for Pickers, lads.
Dave Abrahams
34
Posted 17/03/2021 at 10:47:59
David (32), I hope Everton play like you ask, but I think City will be a Dark Shag and roll all over us!!
Robert Williams
35
Posted 17/03/2021 at 11:40:00
Dark Shag - now that brings back memories - did you chew it or smoke it?
Brent Stephens
36
Posted 17/03/2021 at 11:42:11
Whoaa! David #32 and Dave #34! Puns are for the Live Forum. Butt out, leaf them to Saturday, and Raleigh to the cause then!
James Newcombe
37
Posted 17/03/2021 at 11:44:54
Well that's made an impossible game, er... impossibler.
Colin Glassar
38
Posted 17/03/2021 at 11:53:23
Brent, if we line up all our Woodies, and all our Players perform, we could light up this Match and (old) Swan it all the way down to the Smoke!
Brent Stephens
39
Posted 17/03/2021 at 12:03:38
Just need to snuff them out on Saturday.
Clive Rogers
40
Posted 17/03/2021 at 12:13:15
Smoke and mirrors. This Strand is going to pot. I'm Craven a win on Saturday with Siggy on Senior Service. We'll be the Superkings.
Enough
Brian Murray
41
Posted 17/03/2021 at 12:21:12
Clive. We really have to Raleigh the troops in fact I would bine our positive support together.
Brian Murray
42
Posted 17/03/2021 at 12:26:07
City haven't a patch on us they will quit early
Tom Harvey
43
Posted 17/03/2021 at 12:27:56
I'm viewing Joao playing for what it is, he's a talented kid trying his best with an opportunity that's come early in his career, he's got things to learn, but that's not his fault, so come an get behind him!
We'll miss Jordan in this one, the last few games he's been the best keeper in the prem.
P.S.
Why do keepers have to be perfect or fill you with absolute confidence every game? Players like DCL are allowed to miss easy chances, they're shouted at, but all is forgotten when they score that next goal
There seems to be a lot less forgiving for keepers, more venting and ill will is stored up along with mistakes, keepers are every bit as human as strikers.
Tony Abrahams
44
Posted 17/03/2021 at 12:28:04
When the wind is howling and the rain feels about 3 degrees, then it's cold Derek T!
Twenty is perfect, I'd be going for a shower in the back garden in that heat, but that's the biggest shame about Saturday night, because Goodison, would have been scorching with a crowd, but Everton can still beat City, if we can just get DCL, on Stones, (even if he's been the league's best player imo this season's) and get a few decent deliveries into the box!🤞
Derek Knox
45
Posted 17/03/2021 at 12:29:33
David Hayes @ 32, 'Passing Clouds' bring the game closer, I just hope our 'Anchor' man, is a 'Capstan of Full Strength', and dependable like an 'Embassy' or a 'Consulate' and we have a 'Craven A' for that Cup, who knows we may even see a 'Black Cat' on the pitch, which will hopefully bring us a 'Lucky Strike'.
Colin @ 33, you left Iwobi out mate. :-)
Dave & Robert, Dark Shag (?) I thought you may have been talking about the Grafton, after midnight on a Friday Night!
Barry Thompson
46
Posted 17/03/2021 at 12:31:06
Well there's a good chance that we'll cough up a couple of goals so let's hope DCL is smokin. Hate us to roll(ie) over.
Colin Glassar
47
Posted 17/03/2021 at 12:34:45
More loosies need to be swept up by our ashen-faced MF. Some of them play like Camels so we will need a Lucky Strike to win this Regal affair.
Brian Murray
48
Posted 17/03/2021 at 12:44:19
We all know the drill. At em firing on all cylinders. Carlo will have at least 200 ideas up his sleeve
Brian Wilkinson
49
Posted 17/03/2021 at 13:44:20
Same spirit as the Spurs cup game and we have a chance.
Our midfield simply has to turn up for this game and not give them acres of space, easier said than done.
Kieran Kinsella
50
Posted 17/03/2021 at 14:59:49
Colin
Just for pragmatic reasons (mental health) I feel that we "happy clappers" are fortunate. The Naysayers have to live all week with the fear and dread of inevitable failure. Then if we do lose, they relive it in actuality a second time. If we win, they immediately turn their attention to the inevitable coming disappoint of the "false dawn." So they never actually get to be happy. It's kind of sad really. They should at least designate one day a week to feign happiness and let themselves dream "what if things don't turn out badly/"
Dave Williams
51
Posted 17/03/2021 at 15:45:24
It's all about attitude. Defend for your life, attack on the break. I see Mina returning for this with Godfrey at LB and Digne in midfield. Carlo has to play a team of fighters if he can find enough from our squad. We have the strikers to cause them problems.
James Marshall
52
Posted 17/03/2021 at 16:02:40
I'm going to stick my neck out and say we'll lose to City - we could have Lev Yashin and Big Nev in goal together and probably still lose this one!
Clive Rogers
53
Posted 17/03/2021 at 16:04:50
Has to play Davies and Allan in midfield. Davies is the best of the bunch at present.
Dale Self
54
Posted 17/03/2021 at 16:15:14
Ciggy will be crucial.
Hugh Jenkins
55
Posted 17/03/2021 at 16:41:16
No doubt the game will start "Pall Mall" and our defence will need to be "Bristol" fashion so that we don't "Strand" our "Guards" at the back.
It's a pity that "JPS"( Jordan Pickford = Special), can't play, so, it might end up that some of our "Cadets' other than "Virginia" will have to come of the bench to help.
If so, let's hope they have been on the "Weights" to build up their strength.
If we win, it will be "Perfectos" and we might celebrate with some "Sobranie Cocktails" but it might also require us to pray to "St Bruno" and "St Julien" to get us over the line so that Carlo can "Escort" us to join the "Clan" in the next round.
Chris Hockenhull
56
Posted 17/03/2021 at 16:51:40
Hugh (55) As a collector of vintage long gone beautifully designed cigarette packets (it's not as unusual a hobby I assure those smirking) I get every bit of what you say..and beautifully illustrated!!!
Brent Stephens
57
Posted 17/03/2021 at 16:53:18
Enough! I'm getting the vapors.
Brian Murray
58
Posted 17/03/2021 at 17:08:01
Well being a blue can certainly damage your health and doesn't need a government health warning. We all know it ! The terrible perfect storm is besides maybe Godfrey and Coleman the rest shy away from a fight. Case in point the Royle mid 90s team would easily over power this lot with added touch of class in limpar or kanchelskis
Dale Self
59
Posted 17/03/2021 at 17:29:59
I can't style it like you Hugh, outstanding brand name-dropping there, but we definitely need a tight pack on defense. And it is a shame we won't be rolling with James' Colombian Gold.
The way City started slow against Saints and had a game yesterday has me believing we have a Vantage. I'm looking for Ciggy to make a Kool assist to set up a RiTarleyton for a Gauloiseszo.
Dave Abrahams
60
Posted 17/03/2021 at 17:56:27
After all has been said and done I still think City will Turf us out of the cup on Saturday, so put that in your pipe and smoke it.
Chris Williams
61
Posted 17/03/2021 at 18:06:10
As long as we're brave and not Craven A?
We may need a Black Cat and be on our Guards
Neil Copeland
62
Posted 17/03/2021 at 18:18:24
It will take a Regal performance to Light up The Old Lady. We will need to Match their effort and not let them Swan around the pitch and who knows we may end up blowing Smoke up their backsides.
Colin Glassar
63
Posted 17/03/2021 at 18:21:27
Plagiarist, Neil!!
Neil Copeland
64
Posted 17/03/2021 at 18:25:24
Sorry Colin, just noticed your earlier post. I shall now retreat into the corner with head hung in shame.
John Boon
65
Posted 17/03/2021 at 18:27:42
Sometimes results defy logic or even common sense. As one who reads and enjoys most posts it is obvious that at times Toffee Webbers can be loyally illogical. "Loyally Illogical" means that forecasts and predictions aare determined by the heart rather than the brain.
With all that in mind I logically predict we will beat Manchester City (nb full title) 2-0. I say that from the bottom of my heart, although there may those of little faith that think such a valiant prediction is coming from the heart of my bottom. Time alone will tell.
John Boon
66
Posted 17/03/2021 at 18:27:42
Sometimes results defy logic or even common sense. As one who reads and enjoys most posts it is obvious that at times Toffee Webbers can be loyally illogical. "Loyally Illogical" means that forecasts and predictions aare determined by the heart rather than the brain.
With all that in mind I logically predict we will beat Manchester City (nb full title) 2-0. I say that from the bottom of my heart, although there may those of little faith that think such a valiant prediction is coming from the heart of my bottom. Time alone will tell.
Neil Copeland
67
Posted 17/03/2021 at 18:33:34
John, let's hope it's not a shitty prediction then.
Barry Rathbone
68
Posted 17/03/2021 at 19:08:04
Just be interesting to see if we give it a go because we can't win by outplaying City even if they turn up half-arsed they have far too much in that dept.
Be a nice change and would go some way to showing we're not just fair weather nancies.
Mick Conalty
69
Posted 17/03/2021 at 20:03:55
The picture of Pickford at the top of this piece.
Has he had a premonition of the result against Shiteeh.
Gaute Lie
70
Posted 17/03/2021 at 23:25:01
Wish him a speedy recovery. Perhaps it will do him good with a break..
But it will be interesting to see how Virginia is as a keeper in the top tier. Was not impressed last game ( his first?) against Burnley, but I guess he was nervous.
Who will then be our reserve?

Derek Knox
71
Posted 18/03/2021 at 06:27:02
Gaute @ 70, you say you were not impressed with Joao Virginia as a keeper against Burnley, which I consider a tad harsh on the lad. Burnley had scored both of their goals, while Pickford was in goal before his injury, neither goal being really attributable to him, and the second was almost unstoppable.
The lad was obviously not expecting JP to get injured or even subbed, so was taken by surprise and understandably nervous. Personally I thought he did okay, given the circumstances, and he certainly didn't concede any.
Roger Helm
72
Posted 18/03/2021 at 12:10:05
Of course we have a chance although City are favourites. It is a league where any side potentially can beat a better side, given hard work and a bit of luck. Make that a lot of luck in this case.
If Wimbledon can beat Liverpool and Sunderland can beat Leeds then we can beat City! COYB
Michael Connelly
73
Posted 18/03/2021 at 14:56:55
Probably got a max 10% chance of winning this tie, and maybe that drops to 5% if Virginia is in goal. Nothing in midfield going forward without Rodriguez. Gomes played alright against Fulham, but still woefully short of what is needed to beat City.
Nicolas Piñon
74
Posted 18/03/2021 at 15:08:44
Get some sleep guys, we cannot beat city
Andy Crooks
75
Posted 18/03/2021 at 15:48:41
Nicolas, we may not beat them quite as comfortably Leicester did but we most certainly can beat them. I have never looked forward to an Everton game thinking we cannot win. City are a top team, not unbeatable, though.
They are not going to win all four competitions. That dream will be over this weekend. We must and will show spirit and belief.

Nicolas Piñon
76
Posted 18/03/2021 at 15:54:15
I envy your optimistic thinking Andy, but without doucoure I don't make false illusions myself. Everyone talks about James, but for me, he is our biggest miss. If we win, I'll disappear from here for a month.
Gaute Lie
77
Posted 18/03/2021 at 16:06:28
Derek #71
You are correct and I am corrected,
I am actually looking forward to seeing more of him (Virginia). But there was an incident where he was leaving his place and Burnley was unlucky not to get a goal. But hey, all keepers make small or bigger mistakes, just look at De Gea. Virginia has my full support!
The real problem with our team is not the keeper or the defense, its our lack of moving forward from midfield, speed and creativity.
We will really miss Doucouré, as he better our midfield by miles.
Dale Self
78
Posted 18/03/2021 at 16:12:04
Nicholas, cannot is a phrase of certainty that is simply not tolerated by the game of football. I'm sure you were thinking the same about winning at Anfield. Obviously one can rationally prefer to take the favorite and have all the pundits' spittle on their side. In doing so you forget that this is a cup match, perhaps THEE CUP MATCH for Everton in a rather long time.
I also think you are underestimating the grit of Carlo's Bunch. They've achieved enough with tactical moves that they are willing to stick to a plan. Carlo has made it a premier expectation that he will have a plan. All we need is to survive the initial wave of possession or get some second balls to be in this. And if that doesn't get them the cig, gun or fish puns will!!! UTFT!!!!!
Nicolas Piñon
79
Posted 19/03/2021 at 01:04:19
My team:
Whoever; Coleman, Keane, Mina, Godfrey; Richarlison, Davies, Allan, Digne; Sigurdsson and Calvert-Lewin.
It's true, Dale, I wasn't optimistic going to Anfield, but Man City are too way ahead of Liverpool and at home we've had serious trouble lately.
This team could give us a good surprise; I hope Carlo chooses it!
Jonathan Tasker
80
Posted 19/03/2021 at 12:39:39
Let's put it this way.
I won't be tuning in
Alex Gray
81
Posted 19/03/2021 at 12:49:39
If we win tomorrow Carlo deserves a statue because with no fit keeper, doucoure or james and with them being able to bring five world class players off the bench at any point to turn the game around and our bench consisting off the under 23's I cannot see anything but a cricket score.
Id play ten defenders put them all on the goal line and pray for penalties!
Thomas Richards
82
Posted 19/03/2021 at 13:40:18
Jonathan.

https://www.urbandictionary.com/define.php?term=turn%20on%2C%20tune%20in%2C%20drop%20out

Brian Wilkinson
83
Posted 19/03/2021 at 16:07:54
I need to go to Spec Savers, I thought Virginia looked on the small side; however, he is 6ft-3in tall! We need to wrap him in cotton wool, god help us if he picks a knock up as well, after Pickford and Olsen being ruled out of the cup game.
If our defence can protect him, hopefully with Coleman in at right-back, we need our midfield to have the game of their lives, not allow acres of space, and try to get the ball forward for once, to turn Man City around.
Davies has got to start this game.
Ajay Gopal
84
Posted 19/03/2021 at 16:33:25
I am going to go early with my team prediction (4-3-3):
Virginia
Coleman Mina Keane Digne
Davies Godfrey Allan
Sigurdsson
Calvert-Lewin Richarlison
Come on, you Blues, we can do this! But everyone will need to have the game of their lives. Especially Calvert-Lewin and Richarlison have to be clinical in front of goal. We have not seen a worldly goal yet this season. Sigurdsson from the edge of the box, anyone?
Substitutes bench: Tyrer, Holgate, Nkounkou, Gomes, Bernard, Iwobi, King.
Rob Halligan
85
Posted 19/03/2021 at 16:39:02
Ah, go on Jonathan, tune in, please please pretty please, tune in. No, oh all right, don't. Like who gives a toss!
Steve Brown
86
Posted 19/03/2021 at 16:39:27
Jonathan @ 80.
Let's out it this way.
You won't be missed.

Phil Bickerstaff
87
Posted 19/03/2021 at 16:55:14
Nicholas @79.
I like your team. Just don't put Iwobi anywhere near the squad. Bring Gomes off the bench. He always seems to play better. Mindset like the Dogs of War Spurs semi-final.
Dick Fearon
88
Posted 20/03/2021 at 10:36:22
I will be picking up A$500 after our stupendous victory.
Derek Taylor
89
Posted 20/03/2021 at 15:52:49
What odds,Dick ? Here the bookies go 21/2 Home win, 51/10 Draw and 17/50 Away win.
---
Add Your Comments
In order to post a comment, you need to be logged in as a registered user of the site.
Or Sign up as a ToffeeWeb Member — it's free, takes just a few minutes and will allow you to post your comments on articles and Talking Points submissions across the site.