Calvert-Lewin called up for England qualilfiers
Thursday, 18 March, 2021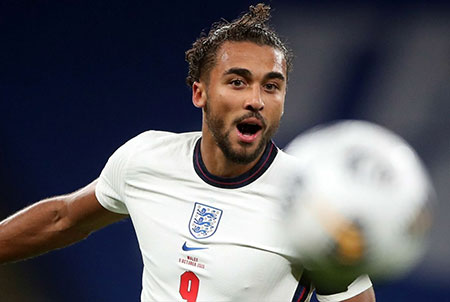 Dominic Calvert-Lewin will be Everton's sole representative in the England squad for the upcoming World Cup qualifiers against San Marino, Albania and Poland.
The striker's red hot goalscoring form earned him his first senior cap earlier this season and he scored on his debut while his club form means that he is currently an automatic choice for the national team.
Jordan Pickford is ruled out of this series of games after aggravating an abdominal muscle injury against Burnley last Saturday which will allow the likes of Nick Pope and Dean Henderson the chance to impress Gareth Southgate.
Michael Keane, however, was overlooked this time by the England manager, with Wolves defender Conor Coady and Aston Villa's Tyrone Mings getting the nod ahead of him.
Lucas Digne is in France's squad for their qualifiers against Ukraine, Kazakhstan and Bosnia but the Toffees' South American trio will be remaining on Merseyside after CONMEBOL postponed this round of their region's qualifiers over concerns around the spread of coronavirus variants.
---
Reader Comments (136)
Note: the following content is not moderated or vetted by the site owners at the time of submission. Comments are the responsibility of the poster. Disclaimer
Brian Wilkinson
1
Posted 18/03/2021 at 16:10:26
Well deserved.
Kieran Kinsella
2
Posted 18/03/2021 at 16:21:33
Keane hard done by IMO but it benefits Everton to keep him fresh.
Kenny Smith
3
Posted 18/03/2021 at 16:24:37
How Keanes been left out for Coady, Mings and Dier is beyond me. He's probably better that the nailed on to starter McGuire as well.
Well done to DCL.
Neil Lawson
4
Posted 18/03/2021 at 16:29:09
Kenny (3). Absolutely correct.
However, he deserves a rest having given 100% every game and having been one of our few stand out players.
Phil Smith
5
Posted 18/03/2021 at 16:31:25
Keane has been very solid and very consistent - far more so than Coady and, especially, Dier. England's loss is our gain.
Frank Sheppard
6
Posted 18/03/2021 at 17:21:40
Keane not selected is a strange decision, especially as the dire Dier is in the squad. Baffling.
Barry Thompson
7
Posted 18/03/2021 at 17:30:40
That should be Dire not Dier. MK could use the break for some well deserved rest & recuperation so cheers Gareth.
BTW - That's Michael Keane not Michael Kenrick.
Colin Glassar
8
Posted 18/03/2021 at 17:52:21
Glad that it's only DCL and not anymore. Keane and Godfrey must be gutted as they are two of the best English CB's around right now.
Thomas Richards
9
Posted 18/03/2021 at 17:58:02
I have no interest in the England team, don't watch the games.
Do England play with a high back four?
If so thats the reason Keane isn't selected.
Godfrey will be a regular in the years to come.
Paul Smith
10
Posted 18/03/2021 at 18:26:32
Cue the England haters. Well done Dom, something to be proud of and tell the kids when you have some.
Rob Halligan
11
Posted 18/03/2021 at 18:29:12
Thomas, I'm like you in that I don't give a toss about the England team. I sometimes wish none of our players were selected for their respective international squads. I always think back to when Neville Southall broke his ankle playing for wales, an injury that in my opinion cost us the double in 1986. Also the severe injury that Seamus suffered for Ireland, an injury that some say he's never really been the same player since he returned.
I think the RS fans are more inclined to support England than us, probably only because they have loads down south and in the Home Counties, and are probably more patriotic than us. They must be absolutely livid that Trent Arnold hasn't made the latest squad.
Thomas Richards
12
Posted 18/03/2021 at 18:33:22
England haters Paul?
Rob, the bestest right back in the whole wide world not in the squad?
Rob Halligan
13
Posted 18/03/2021 at 18:44:12
Fraid so Thomas. As I watch the Spurs Europa league, I can almost see the tears from Jermaine Jenas seeping through the telly. He must be heartbroken that "Trent" hasn't made the squad!
Thomas Richards
14
Posted 18/03/2021 at 18:53:22
"Bobby and Mo" will be disappointed Rob.
Why do commentators use thier first names in commentary?
There not thier fuckin mates.
Darren Hind
15
Posted 18/03/2021 at 18:53:35
Well deserved. I wonder where we would have been without his goals and his work rate. Deffo bottom half of the table
I always want Everton players playing for their country. I'm not sure I would watch any international games if they didnt
Tony Everan
16
Posted 18/03/2021 at 18:53:56
Coady and Mings chosen before Michael Keane? Either Keane's got a niggle of an injury or Southgate has lost the plot. Dominic will be happy and he should get a goal or two if he gets some decent game time.
I am firmly in the apathetic camp with Thomas and Rob, I'll have it on the telly and look up from my paper every now and again.
Neil Lawson
17
Posted 18/03/2021 at 18:56:35
I gather that Southgate was contemplating employing a back 3 comprising Trent, Alexander and Arnold, but Mr Klopp told him those 3 were unavailable. Far too important to be involved in kick abouts against 2 bit foreign countries. All three need to stay on Merseyside to polish the photos of the greatest defender of all time VVD.
Danny O'Neill
18
Posted 18/03/2021 at 19:10:38
I don't like the word haters. I'm not an England supporter and play a passing interest in international football, although it does provide a good gauge for the standard of each nations' standard more than the leagues these days.
That said, despite my disinterest in England, always pleased for players when they get the call as it obviously is a massive professional achievement for them.
Well done Dominic and all other Everton players called up for their respective national teams.
Thomas Richards
19
Posted 18/03/2021 at 19:15:56
Danny,
I agree.
"I don't watch England". . . Hater.
"Im backing Ancelotti".. Fan boy. Happy clapper.
Far too much emotion at times
Eddie Dunn
20
Posted 18/03/2021 at 19:18:54
Villa have had a rough patch and Mings has been sent off, and Dier has only got back in spud's team recently and he is a reckless scissor tackle waiting to happen. Very overrated.
As for Keane, I think Southgate may have had a word from Carlo that we are being rather careful with the lad...I suspect an injury has been hampering him. If Mina was fit perhaps Michael would have been rest more, but with Holgate playinfg rightback, there has been no let-up for him.
Eddie Dunn
21
Posted 18/03/2021 at 19:18:54
Villa have had a rough patch and Mings has been sent off, and Dier has only got back in spud's team recently and he is a reckless scissor tackle waiting to happen. Very overrated.
As for Keane, I think Southgate may have had a word from Carlo that we are being rather careful with the lad...I suspect an injury has been hampering him. If Mina was fit perhaps Michael would have been rest more, but with Holgate playinfg rightback, there has been no let-up for him.
Thomas Richards
22
Posted 18/03/2021 at 19:28:22
Just looked back at my post 19.
I could have worded that better.
No dig intended at any individual poster.
Derek Knox
23
Posted 18/03/2021 at 19:31:00
Have to share the disbelief that Michael Keane has not even been included in the squad, he has been one of the most transformed players at Everton in the last year. I think most of us knew, although the fee seemed a lot at the time, that he was a stalwart in the Burnley defence, and possibly mis-managed with us, early doors.
In all fairness to Michael when he was getting slated for sub-standard performances on TW, I know that is incredible in itself :-), he never complained, or made excuses, but he was carrying a serious foot injury, so should have been rested.
Glad for Dominic, but also hope he scores, but not get injured in the process, is that asking too much? Having said that I don't put a lot of interest or support in International Matches, unless it's the World Cup.
I do hope in addition to him scoring that he gets some decent service which will hopefully be noted by the Everton Coaching Staff, and emulated.
Rob Halligan
24
Posted 18/03/2021 at 19:36:04
Still watching Spurs, and they have blown their two goal lead from the first leg. Zagreb 2-0 up and seven minutes to play before extra time.
Duncan McDine
25
Posted 18/03/2021 at 19:40:36
Maybe you got a bit too emotional with your post at 19 Thomas? I wonder if Pickford would still be considered England's number 1 had he not been injured.
John Boon
26
Posted 18/03/2021 at 19:43:01
As an Englishman and an Evertonian it isn't too complicated. Everton are always FIRST. However I will always support England and WHY NOT ? Obviously I don't often agree with Southgate's picks, but even when I disagree with Ancelotti's picks I still want Everton to win.
If I was Spanish I would support Spain. If I was from Scotland I would support Scotland etc etc etc. If you are English why would you NOT support England ?
John Keating
27
Posted 18/03/2021 at 19:45:08
Well done Dom now just sit on the bench for the England games and put your feet up so you're fresh for us
Dave Abrahams
28
Posted 18/03/2021 at 19:55:01
John (26), I think there are a lot of football supporters, especially in Liverpool, who don't have any interest in how England fare in their games, I'm one of them, when Scotland had a very good international team I always had a bet on them to beat England, more so when there was an Everton player in the Scots team, won a few pound when Don Henderson scored the only goal at Wembley, lost on Germany in the World Cup final, England never stirred any emotions in me at football, like Eire did, strangely when it came to cricket I always want England to win.
Rob Halligan
29
Posted 18/03/2021 at 20:09:24
OMG. Sorry about this Eds, but what a goal from Zagreb to put them ahead against Spurs!!
Thomas Richards
30
Posted 18/03/2021 at 20:09:25
Me too Dave.
Watch the cricket and Rugby Union all the time.
In fact I watched the T20 England v India for 4 hours today.
Never miss an England game in the rugby.

Dale Self
31
Posted 18/03/2021 at 20:13:20
I'm piling on that Rob! The disintegration of Spurs is almost to the point of a needed casualty. Popcorn time.
Rob Halligan
32
Posted 18/03/2021 at 20:16:39
Dale, Orsic has scored a hat-trick, but his first and third goals were absolutely of this world.
Mike Doyle
33
Posted 18/03/2021 at 20:21:16
Rob # 11,
As as native of Old Swan who has lived in London for the last 30+ years I can confirm that most of the footie fans I know are far more interested in their club football than the England side. The only person I know who I would call a genuine England fan (member of the England Travel Club and attends friendly games as well as tournaments) supports Wimbledon and also attends Hampton & Richmond Borough's games.
If I recall correctly the old Everton fanzine 'When Skies Are Grey' ran a regular feature called Smalltown Boys. This often made point that the main interest in the England team lies in the supporters of lower division teams who rarely get to experience any "glamour" via their own team. Judging by the number of Union flags at England games mentioning the likes of Port Vale, Bristol Rovers etc I suspect there is more than a grain of truth in that assertion.
I'll admit to watching England in tournament finals but don't bother with the endless qualifying matches against 3rd rate opposition.
Dale Self
34
Posted 18/03/2021 at 20:28:09
And Rob, Kane had a chance to save Mourinho and couldn't do it, perhaps a move of self preservation there.
Rob Halligan
35
Posted 18/03/2021 at 20:31:31
Mike, you are spot on with that assessment. You see loads of lower league clubs' flags at England games. I've said that for years that it tends to be fans of lower leagues that follow England, why, I don't know? As you say, maybe it's a chance for them to go abroad for a footie game, knowing full well they won't get there with their club.
Just to finish on the Spurs game. Spurs lose 3-0 and go out 3-2 on aggregate. Two worldie goals from Orsic and also a couple of absolute blinding saves from the Zagreb goalie to see them over the line. A brilliant game!!
Dale, I'd have felt gutted for Orsic if Spurs had scored, just for those two goals alone, he, more than anyone, deserved to go through.
Peter Mills
36
Posted 18/03/2021 at 20:37:11
I'm not really interested in England, I'll watch them during tournaments and want them to win, but I don't lose sleep when they lose.
But international recognition is important to the players, so it's good that one of ours has been recognised. It's well-deserved too, Dominic has had a good season.
Michael Keane has played well too. However, we know he has to play deep, he is very slow on the turn, so his international chances are therefore limited. I suspect quite a few of our attacking limitations at home are due to this having to defend deep, our slow midfield is working in too much space against more athletic midfields. It's probably the key to the improvement required next season, it's not just a case of bringing in midfielders but looking at the speed of the defenders.
Derek Knox
37
Posted 18/03/2021 at 20:37:32
Might have been a one-off for that Orsic, but theoretically if it wasn't, and we or any other Club had been interested, before this game, how much would he have cost? Don't always have to go for these so-called Superstars, on super-wages and demands. There are players out there.
Barry Rathbone
38
Posted 18/03/2021 at 20:38:13
Spurs along with Man City are the biggest chokers in world football relative to spends. Moshiri could save a fortune buying a fully functioning team like Zagreb and shipping them over here. They'd be chuffed to bits living at Pontins in Southport.
Oliver Molloy
39
Posted 18/03/2021 at 20:43:11
Guess what they are saying on the Spurs forum...
Mentality is just not there!
Tony Abrahams
40
Posted 18/03/2021 at 20:44:14
I like England to do well. I think Keane has had a good season, and has really improved, although he's still got the same limitations, so I'm not a bit surprised that Southgate has overlooked him.
Tony Abrahams
41
Posted 18/03/2021 at 20:50:53
Man City, are chokers? They won the domestic treble two seasons ago (it had never been done before) and the only thing missing from their collection is the Champions League. Guardiola always tries to win "every competition" his teams enter, and he doesn't deserve to be mentioned alongside a club like Spurs for this very reason imo.
Although I do hope his chokers, have an off day on Saturday!
Barry Rathbone
42
Posted 18/03/2021 at 20:57:42
Tony 41,
Liverpool knocked them out the Champions League when they were expected to win – remember the caveat "for monies spent"?
They should have been Champions League winners by now – huge chokers.
Tony Abrahams
43
Posted 18/03/2021 at 21:04:46
I disagree Barry, and I'm not sure Spurs spend as much money as people think they do either.
I seriously couldn't believe Man City played that game after having their coach attacked on the way to Anfield, and I don't think any team has won more trophies than the 'chokers' in this country over the last few years. But, until they win the big one, I suppose people will always have this to back up their assumption, that City are a team of 'chokers'.
Barry Rathbone
44
Posted 18/03/2021 at 21:13:54
Tony,
Wigan stuffed them at Wembley and even we were a bogey side to them in the early Mansoor days. They are a cold unemotional outfit who tried their best to throw away a first Prem title at home to QPR (I think). No wonder they couldn't fill the ground even pre covid something missing despite their spends.
Just look at the top. top quality players Spurs have had passing through during the Prem era Klinsman, Modric, Bale, Sherwood. Berbatov, the list is endless you don't think they got them on a free and paid them peanuts surely?
Joe McMahon
45
Posted 18/03/2021 at 21:14:35
Barry, I personally don't see City as Chokers.
Barry Rathbone
46
Posted 18/03/2021 at 21:20:06
Joe,
Presumably you had Wigan as faves to beat them in the FA Cup Final then!!
Thomas Richards
47
Posted 18/03/2021 at 21:27:54
The chairman at Spurs (can't think of his name) is the best negotiator of transfer fees in the Premier League.
I don't know what the figure is but I would wager Spurs net spend over last 5 years would surprise a few.
Tony Abrahams
48
Posted 18/03/2021 at 21:33:25
No Barry, I don't think that at all, but I googled the last ten years net spend and Spurs come 6th in that table, and although City have obviously spent the most over that period, they have also won the most trophies, even though they nearly choked, against QPR. (What an argument that is, they nearly choked.)
I also think it's a very condescending strategy to slag Man City, for not filling their stadium every week as well Barry, and it's something that I'm sure will change over time?
Working class Mancs, I'd argue it takes years to build up a fan base of out of town, or overseas day trippers, but Man City look to me (not you – fair enough) like they are run so calmly and so professionally, and I can't see this changing whilst Guardiola retains his remarkable ability, and stays with that club.
Mike Doyle
49
Posted 18/03/2021 at 21:43:27
Rob # 35,
I just watched the brief highlights/goals from the Spurs game. Aside from Orisic, did you spot anyone else who would enhance our squad? Was there a Croatian equivalent of Bernie Wright on the field?

Barry Rathbone
50
Posted 18/03/2021 at 21:46:29
Tony,
Not sure why you are selecting the last 10 years for Spurs spending their profligacy goes back to before Klinsman!!
Man City should win everything domestically nobody is in their league financially but how can you defend losing the FA Cup to Wigan and continuous failure beyond these shores in the Champions League?
I might add that wetting their pants against Liverpool occurred at both grounds so your "coach attack" excuse has no relevance. And don't forget they choked in the Premier League last year to let the heathen become Champs.
These are facts that can't be ignored.
Andrew Keatley
51
Posted 18/03/2021 at 21:48:03
Barry (44) - Sherwood? Seriously? Tim Sherwood? Top, top quality player? Tim Sherwood ?
Also, Wigan did not "stuff" Man City in the 2013 final. It was a tight game that turned Wigan's way after Zabaleta was sent off with 10 minutes left, and which Wigan won with an injury time winner.
Sherwood?!?
Danny O'Neill
52
Posted 18/03/2021 at 21:50:01
We all do it, Thomas. No problems with me, especially when we acknowledge and put our hands up.
On Keane, I guess it depends on how the manager / coach wants to play. I think we have all well documented on here that Keane is much improved. But that's in a deep sitting, compact defence. If you want to play a high line, you don't go with Keane. Or should I say, there are probably better options when you have the entire pool of English centre-backs to choose from.
Tony Abrahams
53
Posted 18/03/2021 at 21:50:48
Not by you they can't, Barry, but no other team has won more trophies than Man City over the last few seasons, and that to me is the biggest fact, when I argue they're not chokers.
Barry Rathbone
54
Posted 18/03/2021 at 21:56:52
Tony,
Facts shouldn't be ignored by anyone.
I accepted your facts – they simply don't address my point about the monies spent.

Tony Abrahams
55
Posted 18/03/2021 at 22:01:30
And I addressed your opinion that you thought Man City were chokers, by saying that I disagreed because no team in England has won more trophies than them over the last few years (3 times now!) but, until they win the big one, some people will always have this to throw into their argument, as I also said, Barry.
On monies spent, I think they stand 4th in the table, Barry, behind Chelsea, Liverpool and Man Utd, with the cost of every trophy they've won, dividing into only £100 million!!
It shows you how far behind the Kenwright years have taken us.
Barry Rathbone
56
Posted 18/03/2021 at 22:01:46
Andrew 51,
Your denigration of Tim Sherwood is spot on, I actually meant Teddy Sheringham, lol!
On form Champions elect Man City against relegation Wigan should have been over before half time – no excuses... beyond them being choking tarts.
Danny O'Neill
57
Posted 18/03/2021 at 22:03:04
On the England / International thing again. John Boon, Dave Abrahams, Thomas, Mike, Rob, Peter and anyone else I missed.
My take is what I've said previous. I think in Liverpool we have always been more club first and even when it came to country, not particularly England endeared. Might just be me and the crew I hung out with or a generational thing.
Also, it might be personal. My paternal side is second generation Liverpool Catholic Irish. My maternal first generation Northern Irish (Grandfather) and Scottish (Grandmother).
I served for 28 years in the British Army under the Union flag and have a British Passport. Given that and my "mongrel" background, I am British, not English and when it comes to football, Everton, not England. But that's just me.
Barry Rathbone
58
Posted 18/03/2021 at 22:05:37
Tony,
Failing to win the big one whilst surrendering to weaker rivals from the league you dominate – Liverpool – is as big a definition of "choker" as you can get.
Danny O'Neill
59
Posted 18/03/2021 at 22:11:04
Sorry, have to come in on the Man City debate Barry.
Man City are an example of how to get investment right. They have spent a lot of money, but look at the return of investment.
Chokers?
Since their early to mid-2000s development:
4 x League titles with another pretty much in the bag.
2 x FA Cups wins. Hopefully we stop them on their way to a 3rd this weekend.
5 x league cups.
And during that time, have played some of the most entertaining football along the way.
Hardly chokers. Not achieved on the European scale admittedly but I'd swap places.
I've used them as an example of a long term project and stepping stone process. Manager by manager they have improved and progressed. But you have to give each manager time.
Tony Abrahams
60
Posted 18/03/2021 at 22:12:47
Again Barry, in your opinion. It's easy to say they choked, although Anfield has done this to a lot of the biggest and best teams over the years, and chasing the game in the second leg, they were winning one nil, got wrongly denied a second goal on the stroke of half time, which also led to their manager getting sent to the stands, with this decision probably knocked the stuffing out of them.
They choked, Barry, how can I argue with you mate, against a lower team that forfeited the domestic the domestic cups, to help conserve their energy fo4 the big one imo.
Thomas Richards
61
Posted 18/03/2021 at 22:12:56
Best footballing side in Europe for the last 3 years. Undone by sides playing a physical, high-tempo pressing game.
Pep has adapted their game to beat that. Nonetheless, a joy to watch. A team that plays football exactly how it should be played.
Paul Smith
62
Posted 18/03/2021 at 22:15:19
No offence taken, Thomas; 'haters' is a provocative word and my bad. Interesting take on the apathy towards England by Evertonians in some quarters. As long as I can remember, I've always wanted England to do well, after Everton of course.
Jay Woods
63
Posted 18/03/2021 at 22:15:33
Not that I care much about international football, but it's unfathomable how Dier can be picked and Keane not. I have long suspected there is an unspoken rule at the FA that Spurs must be represented somehow.
Tom Bowers
65
Posted 18/03/2021 at 22:19:51
Quite honestly I don't think Southgate cuts it as an England manager. His selections just astound me. Does he just put all the English players' names into a hat and then draw out the first 22 or whatever?
Some of these players, whilst having some decent games in the Premier League, are just not world class and never will be.
Ollie Watkins, really!! Conor Coady ahead of Keane? Come on !
Okay, in the upcoming games against Albania and San Marino he could play a team of players from the Championship and get the result but it will prove nothing about the squad's ability.
The Poland game will be a little more of a test.
By the way, anyone taking bets that Liverpool will draw Porto tomorrow.

Jay Wood
[BRZ]
67
Posted 18/03/2021 at 22:29:06
Describing City as 'chokers' based on loses in 3 or 4 one-off cup games in the many hundreds of game played by their multiple trophy-winning sides of the last decade is
one
possible label you could pin on them I suppose. Not one I personally would think of.
It certainly is not the defining one, or the only legitimate one you could apply. Other more flattering options are available and equally valid. Even more accurate and probable, I would venture.
Danny O'Neill
68
Posted 18/03/2021 at 22:35:25
Tom Bowers, I will not bore you with my usual tirade about the state of English / British football.
However (!!), Southgate is an example of what we (yes, 'we' – despite my previous) have available due to years of neglect.
A product of the English / British game over the past decades.
Hence there are no successful English / British managers. Alex Ferguson aside, no Premier League title winners in a generation... and let's not forget he started out in the 80s.
Mike Gaynes
69
Posted 18/03/2021 at 22:57:40
Off-topic a bit, but wasn't it fun to see a multimillionaire created in 120 minutes tonight against poor old Mourhino?
Never heard of Mislav Orsic. First cracking goal against Spurs, look him up, 14 in 21 in a weak league, 2 goals in 9 Europa League games, 0 in five for Croatia. Probably luck.
Second goal, cool finish in a huge moment, yeah, maybe this is a guy we could get cheap for our left wing spot.
Third goal, blowing through five defenders, worldy to put Spurs out... ah shit, forget it, we can't afford him.
This is a guy who was valued on Transfermarkt this morning at $8.25M and drives a Volvo or something. Now he'll probably go to the Bundesliga for $25M and buy a Lambo off the lot. Good for him.
Paul Birmingham
70
Posted 18/03/2021 at 23:06:48
Well earned by Calvert-Lewin, and he will hopefully get sharper and clinical and come back fit to take Everton to a winning run of games, starting this Saturday.
Keane has done more than Coady, Mings and Maguire, in my view, in terms of consistency. Is he being dropped for a few bad passes vs Chelsea and Burnley?
Bloody unlucky, if the case, but I'm happy for Everton, and Everton need a full squad for the next 2 months, as the Fixture schedule will impact our squad even more.
Regardless, I'm looking forward to Saturday, as it's the match, but I've serious concerns on the supply route for crosses etc for Calvert-Lewin, and Richarlison.
But hopefully there's gonna be a shock and Everton will beat Man City.
Mike Doyle
71
Posted 18/03/2021 at 23:55:32
Tom & Danny.
Let's be honest, if Gareth Southgate became available, how many top teams would be fighting for his services?
The reality is that these days, international football is little more than a quaint side-show and about as interesting as the early rounds of the League Cup.
Danny O'Neill
72
Posted 19/03/2021 at 00:17:06
Totally, Mike, none. He has actually already failed at club level. So the answer is none.
Kieran Kinsella
73
Posted 19/03/2021 at 01:50:54
Mike Doyle 33,
Funny you should say that. I grew up on the outskirts of London and had a lot of acquaintances who went to England games. But at club level, they all supported Leyton Orient, Millwall or Spurs. None of my Arsenal, Watford or West Ham mates (this was the '80s & '90s when no-one outside of the shadow of Stamford Bridge supported Chelsea) were ever bothered about England. Spurs seem to be an extension of the England team somehow. Same white shirts, same shit players, Dier, Sherwood, Sinton, etc.
My household was more like Dave Abraham's or Danny O'Neiil's. Mum is Scottish, Dad had one Irish and one English parent. I never cared much for Scotland cause of the bigotry, so it was kind of Eire, England, various underdogs (eg, Cameroon), Scotland then everyone else in terms of preference.
Alan J Thompson
74
Posted 19/03/2021 at 03:55:51
50 years ago, tickets for the England v Scotland games were as difficult to get hold of as Cup Final tickets.
These days, international football seems merely FIFA trying to retain a hold on the only competition that vies with the UEFA Champions League and very distant from international games being a test of differing styles of football.
Anyone remember Johnny Morrissey being the last of an Everton team to win honours when selected for an English League side?
Darren Hind
75
Posted 19/03/2021 at 05:25:50
I wouldn't worry too much about Keane. I think the Premier League and Carlo's style of football – played from behind the couch – has suited him down to the ground.
International football requires something different. Let Keane enjoy the game that suits him. He's had a great season... Mind you, I think he is lucky to be at liberty. I've seen lesser offences than that awful pass he played against Burnley warrant a custodial sentence.
Jim Bennings
76
Posted 19/03/2021 at 06:41:45
Well let's just hope he doesn't do his hamstring in, speaking frankly Calvert-Lewin hasn't looked sharp since the injury after Christmas.
I'm honestly not a fan of international "breaks" any year but in the middle of a season that's far beyond normal it just boggles the mind.
The fact that we haven't played Aston Villa home or away yet, a fixture postponed on January 16 still hasn't been rearranged tells you everything.
As for England, I'm neither too arsed either way, I find the football very bland, the current crop of players very bland and the realistic chance of major trophies null and void.
The last time I connected with the England rollercoaster was the Euro 96 team which was probably a penalty shootout win away from its first trophy since 1966.
Danny O'Neill
77
Posted 19/03/2021 at 06:46:33
I said that earlier and previously, so I very much agree, Darren. Keane is looking much improved, but in a system that suits. Not a defender for playing a higher line, as we have seen.
Eddie Dunn
79
Posted 19/03/2021 at 07:12:22
Barry and Tony, remember last season how City failed dismally to beat Arsenal in the FA Cup semi?
Incidentally, I'm with Tony on this argument but City never got out of second gear in this game!
Thomas Richards
81
Posted 19/03/2021 at 07:31:51
https://www.sofology.co.uk/
Carlo's latest innovative defensive set up.
Duncan McDine
82
Posted 19/03/2021 at 07:58:02
Thomas 81, according to some of our well known ToffeeWebbers, unless Carlo is sacked ASAP we will be regularly playing against Chesterfield, not sitting on one. I personally think sofa sogood.
Bobby Mallon
83
Posted 19/03/2021 at 08:07:38
Barry Rathbone @44, Manchester City.
Average crowd in 3rd division 28,261, 13th highest in all leagues.
The season before (2nd div) it was 28,196, season after (also 2nd div) it was 32,088.
I would like to see any other team get those gates dropping 3 tiers
Bobby Mallon
84
Posted 19/03/2021 at 08:10:19
Why do people go on about money spent means winning more. I don't agree, it's more about the players and manager you employ. You only have to look at us to realise spending loads of money doesn't mean more success.
Thomas Richards
85
Posted 19/03/2021 at 08:29:35
Duncan,
Ive heard we are in for Peter Couch.
Take a bit of weight off DCL
Martin Reppion
86
Posted 19/03/2021 at 08:34:18
I always look at the England team and ask one question. WHo from that team would get into the Everton team now?
Keane and Godfrey are the best centre back pairing in the league. Stones and Maguire may indivdually be better, but would we take Coady, Mings or Dire even on free transfers? I doubt it.
Similarly, Southgate usually plays with one or two spoiler midfield players. Henderson and Rice being his go to men here. Is anyone currently doing that role better than Tom Davies?
You have to wonde what the England manager sees in the countless games he watches.
But as others have said, at least Keane gets a rest and we don't have to fret about the most in form Centre Back in the county getting injured.
Chris Williams
87
Posted 19/03/2021 at 09:16:00
Tony Abrahams
88
Posted 19/03/2021 at 09:17:25
I'd say Man City, we're a tired team last season Eddie, just like Liverpool have also looked a very tired team this season. That report that Jay W, amongst others posted on ToffeeWeb, about "why Liverpool won't win the league" made a lot of sense IMO, and was proved accurate for the reasons it gave.
City, have been poor, in the Champions lge, I'd say they've also been unlucky, especially that Spurs game, but look at their record the season before last, when they had to win their last "14 league games" whilst also going after "every other cup" just to win the league by one point.
It's easy to brow-beat, and go on about one or two games, but a team that had to win their last 14 league games, whilst also being successful in two other cups, are getting called chokers?
It's funny, I used to admire City fans, because whilst United were winning absolutely everything, they were slipping down two divisions, but always stood by their team. They reminded me of Evertonians, for their loyalty, but since they've started winning, I've realised they're nothing like us!
Brian Murray
89
Posted 19/03/2021 at 09:29:10
Duncan post 82. No one has a divan right to succeed.
Tony Abrahams
90
Posted 19/03/2021 at 09:30:20
Kieran, I remember as a child when England we're playing Italy, and Dave, turned the sound down because the commentators we're getting on his nerves. I was fuming, then he wouldn't give us this big bag of sweets, and not because they were bad for us, but until Italy scored.
I was only about 7/8 but it didn't stop me uttering you f...ing dickhead under my breadth, and I remember not being bothered with the sweets anyway when the Italians eventually scored.
He didn't rub off on me though, I've took my oldest two to watch England during a World Cup tournament, and it gave me beautiful lifetime memories. I like all the home nations, but my country of birth is England.
Barry Rathbone
91
Posted 19/03/2021 at 09:39:31
Bobby Mallon 83 and 84
Citys pre Mansoor attendances merely shows a solid bed rock of support in the circa 30k bracket. One might of expected that to grow exponentially after replacing utd as the dominant force of the British game and it hasn't (ps they choked again against utd recently).
I can offer additional reasons for their inability to attract fans that domestic dominance SHOULD bring but won't because I can't be arsed but undoubtedly a factor is their lack of charisma. Easily collecting domestic pots is a bit "meh" given their finances amidst the complete disintegration of Utd, Chels and Arse. Europe is their real test and they've choked at every attempt.
Regarding our spends we've spent fuck all compared to City et al but be assured if we ever do we will consistently win stuff
Tony Everan
92
Posted 19/03/2021 at 09:39:37
Mike 69, I tuned into the game late, but in time to see that third goal by Orsic. The lad will now have his pick of clubs in the summer, and a decent pay rise to boot. From the moment he collected the ball near the half way line he was a man on a mission, made the Spurs players look like had turned to stone as he powered past them. Then the shot was not perfectly into the corner, it was hit with so much venom that the goalie couldn't react. It will be interesting to see if he can replicate that form consistently. I would like to see Iwobi being as confident, direct and lethal, if not, sell him and give Orsic a chance.
Brent Stephens
93
Posted 19/03/2021 at 09:40:00
Sofa so good, Brian.
Brian Murray
94
Posted 19/03/2021 at 09:47:59
Let's hope we leather em tomorrow. An early goal cushion will do then if we win it will castor our troubles away.
Justin Doone
95
Posted 19/03/2021 at 09:50:01
Well done Dom.
International football is very different and managing players with callups doesn't mean much, it's more of a pat on the back, your doing well, keep it up.
I don't really rate Southgate as a coach but what I do like about him is how he is adaptable and recognises good player's that are in or out of form.
Call ups or players dropped keeps them motivated. Very few players are played or called up every game.
But when it comes to tournaments, the real test, I'm not convinced he'll go for it. To steady, now with more pressure and everything to lose after England got much further in the world cup than expected.
IMO Dom isn't in the top 3 England strikers but he's having a good season and is still improving.
Keane isn't in the top 6 centre backs. Plus the lack of pace is highlighted more easily if a team isn't setup for him.
I'd have Godfrey, excellent season with pace and can play anywhere along the back line.
Brian Murray
96
Posted 19/03/2021 at 09:51:46
I banged the drum for Ellis Simms to be given a chance but he rightly or wrongly got no where near the first team for now anyway. Il say the same now about Tom Cannon, he's 18 not 8 and especially from the bench what harm will it do if the season is just petering out as usually happens.
Justin Doone
97
Posted 19/03/2021 at 10:08:18
Fan bases are grown slowly domestically because of location, family, friend's and others factors.
You need to dominate or at least challenge for honours for a good 10 years or more to be seen as a top team and take fans away from other areas, clubs etc.
City's fanbase will start to grow but it may take another 5 to 10 years before it's noticeable. Kid's being to young to attend or spend without an adult along for the ride.
Thats why utd, arsenal, liverpool can still appear to be the most popular.
But growing an overseas fan base can be far quicker, less loyalty and local rivalry etc. Leicester and City have grown massively in Asia in just a few years. Before that chelsea and arsenal in Africa.
Winning and having international players helps. Remember when we had Li Tie, the Chinese loved him and the idea they could support a local player.
So many lost opportunities.. if only we had a marketing dept..
Derek Knox
98
Posted 19/03/2021 at 10:34:03
Brian @ 96, while I totally agree with you regarding using youngsters, when their senior counterparts don't seem to be ' earning their corn '. Nathan Broadhead has been on the bench for the last couple of games, but only as a spectator, never even getting a warm up, so what chance have any others, or younger ones got?
Dave Abrahams
99
Posted 19/03/2021 at 10:42:53
Reading this thread today and I realised @ (28) I had put down that Don Henderson had scored the winning goal for Scotland in a 1-0 game at Wembley, I've never heard of him, it should have read Don Hutchinson, who played for Everton at the time.
Steve Brown
100
Posted 19/03/2021 at 10:44:23
Hopefully DCL discovers a bit of a niggle after the weekend game and can stay home.
Chris Williams
101
Posted 19/03/2021 at 11:00:59
Dave,
Don Henderson was an actor in Bulman from blessed memory. Not sure how good at football he was
Hutchison gave us all a surprise when he moved to centre forward
Clive Rogers
102
Posted 19/03/2021 at 11:05:27
Alan, 74, certainly do. Morrissey was very underrated and could have played at any level. Stats weren't available in those days but he would have been right up there for assists, especially for Joe Royle headers.
Brian Murray
103
Posted 19/03/2021 at 11:16:10
Morrisey. According to Jack charlton, was the only player they shied away from in a physical battle. The midfield trilogy owed a lot to him. Some player.
Chris Williams
104
Posted 19/03/2021 at 11:18:01
Morrisey took a nice penalty too. Pity he played in the era of the wingless wonders.
Brian Murray
105
Posted 19/03/2021 at 11:29:45
At editors request and off topic I won't mention them other shiesters. Just should be great timing for hazard to make his mark at Real Madrid after injury.
Brian Harrison
106
Posted 19/03/2021 at 11:33:31
I think its a bit rich to call City bottlers when we support a team that bottles situations more than most. City since Mansoor took over 10 years ago have won 4 Premier league, 2 FA Cups, 4 League Cups and you can definitely add another Premier league title to that list when this season finishes, they are in the final of the League Cup and still in both the Champions League and the FA Cup. Regarding total turnover which also controls FFP City are 6th in the last list Deloitte produced having a total turnover of £549.2 million behind both Liverpool and Man Utd, top of that list is Barcelona on £715 million.
A few posters have said about Spurs their turnover was £445.7, 9th in the list compared to Everton 17th on the list with £212.0 and you would have to think that Spurs revenue will increase further when they start having NFL matches played at their new stadium. So despite the money Moshiri has ploughed in we financially are miles behind many other Premier league clubs.
Brian Harrison
107
Posted 19/03/2021 at 11:40:01
See they have completed the Champions league draw for next 2 rounds,
Real Madrid/ Liverpool v Porto/Chelsea
Bayern/PSG v City/ Borussia Dortmund.
Eddie Dunn
108
Posted 19/03/2021 at 11:48:15
On the subject of Man City- I think that De Bruyne has been played when not fully fit and he always slows them down,. This was clear in the semi, V Arsenal where he was demanding the ball and slowing it down, allowing them to get back into shape.
Recently he was missing and Gundugan and others moved the ball about with more tempo and they looked a better team. I know Kevin DB is a marvellous player, but just like our own Allan or James, he needs to be fit.
Eddie Dunn
109
Posted 19/03/2021 at 11:48:15
On the subject of Man City- I think that De Bruyne has been played when not fully fit and he always slows them down,. This was clear in the semi, V Arsenal where he was demanding the ball and slowing it down, allowing them to get back into shape.
Recently he was missing and Gundugan and others moved the ball about with more tempo and they looked a better team. I know Kevin DB is a marvellous player, but just like our own Allan or James, he needs to be fit.
Brian Murray
110
Posted 19/03/2021 at 11:58:04
Time for hazard after injury to really make his mark at real. Fingers crossed
Danny O'Neill
111
Posted 19/03/2021 at 12:10:02
The City fan base spread is an interesting one Justin @97. Living in London since 2004, I have noticed the waves of support swinging as London more than most places tends to get that in the UK.
Back then I saw a lot of Manchester United followed by Liverpool on the high street amongst a smattering of London clubs. Even Chelsea didn't become massively prominent in the area I live until the Mourinho mark 1 era. The United thing has been consistent but I definitely noted an uptick in Liverpool in the past 2 years. Even though it's always been there, the was a definite increase in visibility.
Obviously the caveat is this is where I live and what I observe, but considering the "project" started around 2007-ish, they just haven't gained traction from what I see.
Justin Doone
112
Posted 19/03/2021 at 13:02:32
In the UK support is a generational thing. You still don't get many Blackburn or Villa fans in other parts of the UK. They didn't maintain success long enough to convert new fans in other parts of the country.
Similar with Everton, there are more because we had multiple, longer periods of success.
Hopefully BMD and a decade of success will see the country in a sea of Everton kits in 2050!
Kieran Kinsella
113
Posted 19/03/2021 at 13:55:42
Tony Abrahams
Dave sounds like my Dad. I remember the 1990 semi final, he spent the whole game moaning about how all the England fans are just hooligans and he hoped they'd lose. I was like "what's that got to do with Trevor Steven and Lineker? you old git." It was like watching a game with Alf Garnett
Kieran Kinsella
114
Posted 19/03/2021 at 13:59:21
Darren,
"I've seen lesser offences than that awful pass he played against Burnley warrant a custodial sentence."
The pass wouldn't have looked as bad if it had been received by an international calibre player, like Keane himself.
Thomas Richards
115
Posted 19/03/2021 at 14:10:43
Andy Crooks.
Please tell me you backed it
Danny O'Neill
116
Posted 19/03/2021 at 15:07:13
Worryingly Kieran, that sounds like me watching England!!!
I had a bad experience at my one and only attendance at an England fixture, which I appreciate I've mentioned before.
Away to Luxemburg in 1983. They won 4 - 0, yet all I remember as a then 12 year old was the England fans goading and scuffling amongst themselves based on club rivalries rather than watching the match. And then how they trashed everything in their path on a moving riot back into the city centre after the match.
Now I was no saint or angel as a youngster but I can honestly say I was fearful that evening. Left an impression on me that I've never shifted and watching England matches on TV in London pubs has unfortunately done nothing to change that view of the collective stereotype of the England following.
Andrew Keatley
117
Posted 19/03/2021 at 15:18:50
From what I could see, Keane's pass into Tom Davies in the Burnley game was not a good one. Davies was not expecting/wanting the pass so was slightly off-balance in trying to get to the ball, and it was not struck cleanly into Davies' feet. Keane took a risk with that pass that he didn't need to - but an average game is filled with those sorts of passes, and the fact this one lead to a goal being conceded is not something I'd pin on Keane, and certainly not on Davies.
As for the England question, I think Keane is extremely unlucky to miss out. Seemingly Southgate - who I do not rate as a manager - is proving loyal to his World Cup 2018 squad members, as the presence of Dier, Stones, Trippier, Walker and Lingard suggests. Mings just about deserves his place, but I am Keane over Conor Coady all day long. And I'd have Ben Godfrey in ahead of Eric Dier too - although there's a long list of players I'd have ahead of Dier (including Ezri Konsa, James Tarkowski, Lewis Dunk, Ben White, Ben Mee, Chris Smalling, possibly even Fikayo Tomori).
Danny O'Neill
118
Posted 19/03/2021 at 15:40:20
It goes back to depending on how Southgate wants to line up Andrew. If a higher line, then Keane is not your man, no matter how well he has played this season. Stones can play a high line and is used to it.
Davies v Keane blame. Okay it was a bad pass. Let's say a hospital one. Okay it was poor control or the player wasn't expecting it. Jury out either way.
For me the one thing us mortals don't know and I suspect was missing was communication between 2 players. Either Tom called for it, causing Keane to play it, unsuspectingly trusting the shout. Or Keane shouted it without Tom asking and played blindly before the receiver declined the invitation.
Either way it put us in danger and we paid for the collective mistake. Communication could be the issue here, not ability or decision making on either part. But you have to be on the pitch to understand that and only Tom and Michael will know.
Dave Abrahams
119
Posted 19/03/2021 at 15:48:44
Kieran (113, I admit I usually wanted England to lose, well I was happier when the did, but take no notice to his sweets story, his memory is way out but his imagination is running wild. I never ever bought him sweets, if you met Tony you'd notice he's got one arm longer than the other,I caused that, dragging him past sweet shops and ice cream vans, saved his teeth and me a good few pound,
Dave Abrahams
120
Posted 19/03/2021 at 15:55:00
Chris (101), thanks, just noticed your reply!!
Tony Abrahams
121
Posted 19/03/2021 at 15:55:51
When Goodison goes Kieran, you will see many grown men shed a few tears because it holds a thousand memories for so many of us.
I'll remember Dave, nearly throwing me over the Gwladys Street upper balcony when Andy King scored that famous winner against Liverpool, on a captivating day. Then I realized how much Everton meant to so many people and I thanked the lord that I was born blue!
Kieran Kinsella
122
Posted 19/03/2021 at 15:55:53
Dave,
Hahaha, always best to hear both sides of the story, lol.
Kieran Kinsella
123
Posted 19/03/2021 at 16:05:54
Tony
Was that the one where the police shoved King off the pitch mid-interview as there was a celebratory pitch invasion? Funny thing for me is that every time I've been to Goodison it was "under the lights" which is amazing. Half the games were midweek, the rest necessitated the lights due to bad weather, lol. Either way, it's magical!
Danny O'Neill
124
Posted 19/03/2021 at 16:27:38
Not that we'd be allowed in this day and age of parental responsibility but I'd love them to build a "ledge" behind one of the goals at Bramley-Moore Dock. Like the one in the pre-all-seated lower Gwladys Street that many a father and older brother tied their son or younger brother to with a scarf and visited them on only two occasions during the match. Once at half time to give them a sausage roll and second to pick them up at the end!!
Tony Abrahams
125
Posted 19/03/2021 at 16:30:45
That was the game, Kieran, seven is his number, seven years the wait, but the noise at Goodison when the Evertonians celebrated that day has never been forgotten by me, even if I thought for a minute that I'd been thrown over and out the stand.
You can't beat Goodison under floodlights, Kieran, I can still picture one of my son's face, every time I picked him up from school when Everton had a midweek fixture. He'd pump his fists and shout "Night match!" and then say, "I love night matches, dad!" and the memories keep flooding back
Danny, I stood on those barriers all season when I watched Everton win the league in 1985, and now I'm thinking about the Bayern Munich game once again!
Andrew Keatley
126
Posted 19/03/2021 at 16:50:33
Danny (118),
People on here are obsessed with high lines, and I'm not entirely sure why. I think Steve Ferns mentioned it a couple of seasons back and everyone lapped it up as the system du jour.
In any case, I don't see England playing a high line as Southgate seems to favour playing 3 at the back – and that is why Coady and Dier are in the squad, as Southgate favours their supposedly superior passing game, with the cover pace to be provided by Kyle Walker.
I reckon Southgate will go with Walker, Maguire and Stones – like in Russia 2018 – as I think he is not a manager who makes bold decisions or is particularly open to switching systems for different opponents.
For what it is worth, In a foot race between Keane, Coady and Dier, then I'd be backing Keane to narrowly beat Coady, with Dier noticeably a few yards behind.
Danny O'Neill
127
Posted 19/03/2021 at 16:59:17
Possibly an obsessio, Andrew. I just think that you need to be, as a team, higher up the pitch collectively to win in a style we all want to see.
I don't disagree with you in terms of raw pace, but that is not necessarily Keane's main issue in comparison to those players. It is speed of thought and speed of mind, which influences decision-making. That is where those players have a yard on Keane even if he may be quicker on the ground.
I think you're right about Southgate. He has a system in his head and sticks to it no matter what.
Tony Abrahams
128
Posted 19/03/2021 at 17:05:57
It's not so much about high lines, Andrew, but more about having a system that is hard to play against. Get tight to each other and close down the passing lanes. If the first player gets beat, the second player gets the ball, but if you don't play a high line, then I don't see how you can have a successful high press?
I prefer defending from the halfway line, because it can suck the opposition in, and leave them vulnerable to a fast counter-attack, but the main thing is, that every player sings from the same hymn sheet, otherwise any system will fail.
Tony Hill
129
Posted 19/03/2021 at 17:15:50
Keane's range and accuracy of passing against Wolves this season were superb. How did that happen and why haven't we seen it since?
i think he's one of our players – we have quite a few – who operates on a confidence tightrope.
Danny O'Neill
130
Posted 19/03/2021 at 17:19:20
Our greatest night in terms of an experience Tony in Europe's lesser competition of the three as it was at the time.
That's why I am an advocate of European, not just Champion's League, qualification this season. If we get into Europe we open another door on the road map to putting ourselves back on the map.
And maybe, just maybe, give ourselves more memorable moments for young Evertonians to reminisce over like our generation has dined off for 30 years.
Tony Hill
131
Posted 19/03/2021 at 17:29:44
Danny, there's loads still to play for this season, starting tomorrow.
I've suggested before that the wheel of fortune has just creaked into our zone; incredible that we're still very much in with a shout for 4th and in the QF of the Cup.
Wonderful, and we should enjoy it. If it all goes tits up, we can then enjoy a proper TW moan.
Win, win.
Thomas Richards
132
Posted 19/03/2021 at 18:07:26
Our biggest problem this season is the space in between the lines, caused by a deep lying defence.
If the defence push up by 15 yards, 15 yards of space between the lines goes.
If the defence push up 20 yards, 20 yards of space between the lines goes.
I think the main way we improve is by buying the fast centre half to partner Godfrey.
Makes the midfield and forwards jobs easier as well.
Barry Rathbone
133
Posted 19/03/2021 at 18:12:41
Lost interest in international football about the time the phrase "golden generation" was spawned to describe the heap of shite representing England.
Unfortunately, bar one or two teams, international standards have descended from a peak of footballing excellence (all kneel to Brazil 1970) to Championship quality.
What a change from hanging on every minute of England games with our Alan Ball in.
Andrew Keatley
134
Posted 19/03/2021 at 18:44:38
Thomas (132) - And you think we have the personnel in other positions to play a successful high press? You trust our slow and easily turned midfield players like Gomes, Sigurdsson and Davies to not get beaten by an individual piece of skill or a clever run and pass in behind them?
The high press is a good tactic if you have the players across the pitch to make it work to your advantage. Similarly, trying to pass through a high press can be a good tactic if you have the players to turn it to your advantage. But a high press does not automatically trump a deeper lying, counter-attacking set-up. This is not poker.
Danny (127) - I think Keane matches up with Dier and Coady for speed of thought/mind too. And there may well be games when England are up against an old-fashioned target-man centre-forward - or even a pair of them. I don't see Stones, Dier or Coady as a great partner for Maguire in such a game. But Mings or Keane - much better options.
Thomas Richards
135
Posted 19/03/2021 at 18:51:00
Andrew,
I have posted many times, Gomes, Sigurdsson and Davies will not start in the first team next season.
I didn't mention the high press, that's you.
I wouldn't mind a game of poker with you, Andrew.
Danny O'Neill
136
Posted 19/03/2021 at 19:20:29
We don't have the players and personnel right now, Andrew. That is why the manager is not doing it. Use the tools you have to good effect right?
But moving forward, if we want to win, and do so in an entertaining style, we need to be higher up the pitch as a team.
I think that's where we disagree on Keane. He is fine playing in the system we have been using lately. Not just fine, he's looked really good.
The moment we ask our team (the defence being part of that), to play higher up the pitch, I think he get's exposed. I say that because, in my opinion, I've seen him too often watch the ball drift over his head and then make his decision. Only he doesn't have the pace to counter for the fact he's made his decision too late. His speed of thought and speed of mind are slow and he doesn't have the pace to recover and counter it by reading the game and thinking ahead.
Look, let's not detract from the fact Michael has had and is having a great season. Because he suits how we're playing right now and how we're playing suits him.
Martin Berry
137
Posted 19/03/2021 at 21:22:43
Surprised that Keane was not included and its only a matter of time before Godfrey is in contention. Both are ahead of Dier and Coady for me.
Kieran Kinsella
138
Posted 20/03/2021 at 01:40:13
Bobby Mallon,
I used to live not a stone's throw – more like a feather's throw – from Maine Road when Man City were in the third tier. Rough neighborhood, lot of poverty, lot of crime.
But to your point: Man City was the thing holding the community together. I'd say along with Everton, West Ham and Sunderland, City have some of the most dedicated fans, a hardcore unbreakable local fan base who will never turn their backs on the team.
Now, did I get along with their fans? Make great mates? No. I was a southern-born Evertonian so we had different perspectives. But I had tremendous respect for their fans. But for the lottery of birthright, they would have been great Evertonians.
Lester Yip
139
Posted 20/03/2021 at 10:27:44
I can't keep scratching my head about this selection. Hopefully this will bring out more from Keane and Godfrey to prove how wrong Southgate is!
Ray Morgan
140
Posted 22/03/2021 at 19:20:41
He is a Championship player, not a premier League player!
---
Add Your Comments
In order to post a comment, you need to be logged in as a registered user of the site.
Or Sign up as a ToffeeWeb Member — it's free, takes just a few minutes and will allow you to post your comments on articles and Talking Points submissions across the site.