Everton vs Manchester City, FA Cup Quarter-Final
Virginia gets City assignment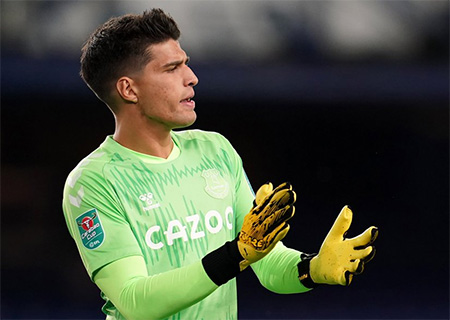 Joao Virginia will be between the posts again for Everton this weekend for the FA Cup Quarter-Final against Manchester City after both Jordan Pickford and Robin Olsen were ruled out.
The young Portuguese came off the bench against Burnley last weekend and kept a clean sheet as the Blues tried but failed to overcome a 2-1 deficit and he will be handed the first-choice slot again tomorrow as Olsen continues to battle an injury that has sidelined him for the past few games.
Pickford had to be withdrawn against the Clarets when he aggravated the abdominal muscle problem he struggled with a few weeks ago and isn't expected to be available until after the upcoming international break at the earliest.
"I'm not worried [about the goalkeeper shortage] because Joao is a young goalkeeper, without experience for this kind of game but [with] a lot of quality," Ancelotti said in his press conference. "Where I am worried now is the team has to play like we tried to put in place the right strategy for the game."
As expected, James Rodriguez will also be absent against the League leaders. Carlo Ancelotti indicated last week that the Colombian will be given every opportunity to get to something approaching 100% fitness before being selected again and he, too, is being pencilled in for a return after the pause for internationals.
Kick-off: 5:30 pm, Saturday 20 March 2021 on BT Sport 1
Referee: Michael Oliver
VAR: Andre Marriner
---
Reader Comments (135)
Note: the following content is not moderated or vetted by the site owners at the time of submission. Comments are the responsibility of the poster. Disclaimer
Tom Harvey
1
Posted 19/03/2021 at 18:21:35
Good luck, kid, do your best and, whatever the result, you tried your best!
Dennis Stevens
2
Posted 19/03/2021 at 18:28:33
Another clean sheet? Easy!
Ian Horan
3
Posted 19/03/2021 at 18:31:20
Think it's a vindaloo match: "We're going to score one more than you!!!"
Rob Halligan
4
Posted 19/03/2021 at 18:38:01
Good luck, Joao, you're going to need it. Not during the game, I may add, as I think you'll be okay, but from the moaners on here, some of whom will no doubt give you grief should you drop a bollock or two!!
Danny O'Neill
5
Posted 19/03/2021 at 18:45:27
Best wishes kid. You done well out of traps last time out, go and play without fear or expectation. An opportunity, not a gauntlet.
Barry Rathbone
6
Posted 19/03/2021 at 18:47:42
Cometh the hour...
We're all behind you, son
Sean Callaghan
7
Posted 19/03/2021 at 18:48:06
I know he's still a young un Rob, but I'm pretty sure they'll have already dropped by now.
Robert Leigh
8
Posted 19/03/2021 at 18:50:48
Put the following in front of him and his action should hopefully be limited:
Coleman Mina Keane Godfrey Digne
Davies Holgate Allan
Calvert-Lewin Richarlison
Legs, bite, quality... Leaves us something on the bench in Sigurdsson and Iwobi too.
Christy Ring
9
Posted 19/03/2021 at 18:53:47
Joao came on against Burnley,did nothing wrong, and looked confident. It's a great opportunity for him, and hope it goes well for him.
Delighted to see Gbamin back in full training today, I hope he can finally get a chance to establish himself here, and give us the extra bite we're lacking in midfield, he would be like a new signing.
Hugh Jenkins
10
Posted 19/03/2021 at 18:57:50
I expect, like all young men of his age, when called upon to step up, he is going to be both excited and terrified, tonight.
Let's hope that he is allowed to settle and focus early in the game, before he is really "tested".
If he can settle himself and feel he has "the right to be there", things will be less difficult for him.
Bobby Mallon
11
Posted 19/03/2021 at 18:57:56
Please leave Holgate out tomorrow unless he's in a back 3 with Coleman to his right.
Tony Hill
12
Posted 19/03/2021 at 18:57:58
Yes, good luck fella. Terrible at Reading and looks a bit wobbly but I have a suspicion this young man may come through for us.
Rob Halligan
13
Posted 19/03/2021 at 19:00:00
Should we kick off tomorrow, I'd like to see a change to the usual "one CB kills the ball and the other drills it to the wing". Just for this once, play the ball back to Joao and let him have a good kick of the ball. I know he won't be able to pick it up, but that first touch is always important for a goalkeeper. Adrenalin will be pumping through his body and I'm sure he will do well.
Tony Everan
14
Posted 19/03/2021 at 19:04:36
Best of luck to Joao ! We're all behind you, give it your best shot.
Prediction:
Everton 1 Man City 0
Joao Virginia MotM
Tony Hill
15
Posted 19/03/2021 at 19:06:20
That was our 84-5 kick-off, Rob. It's total bollocks and we should stop it.
Andy Crooks
16
Posted 19/03/2021 at 19:10:17
Nothing to fear, Joao, this is what you dreamed of. Same for the rest of them actually. This is why you do it. Get fucking leathered right into them and make sure every one of them comes off that pitch dreading facing Everton again.
Tony Everan
17
Posted 19/03/2021 at 19:13:47
Amen to that, Andy.
Rob Halligan
18
Posted 19/03/2021 at 19:14:52
Tony, it never works. The ball 9 times out of 10 goes for a throw-in, meaning we give possession away straight away. Try and keep possession of the ball for at least more than 2 or 3 seconds before giving it away.
Funnily enough, I seem to remember a game between us and Man City a few years back, when they kicked off, attacking the Park End. They kept possession for what seemed like an eternity but didn't seem to get out their own half. Was amazing to watch.

Darren Hind
19
Posted 19/03/2021 at 19:15:24
Is it too early for the Shelby team talk?
John Graham
20
Posted 19/03/2021 at 19:23:03
Good luck, Joao. Just do your best to dominate your area and slam anyone who gets in your way. Hopefully, if you do well, it could be the making of you.
Whatever the result we are with you. COYB
Neil Lawson
21
Posted 19/03/2021 at 19:31:02
Let's not forget Harry Tyrer. He will be the replacement. The way things are going, you wouldn't be against him getting on at some stage.
I do hope that Ancellotti will not set up with protection of Virginia as his paramount objective. Hoping he will show some ambition. What have we got to lose?
Anthony Murphy
22
Posted 19/03/2021 at 19:41:20
Fairytale pens anyone?
Kieran Kinsella
23
Posted 19/03/2021 at 19:50:25
Hoping for a repeat of the Semi versus Man Utd some years back, when we had injuries etc but Fergie announced not so much a B team as a C or D Team. Granted we still limped over the line.
Hopefully, Pep will do the same tomorrow and rest his best 30 or 40 players.
Darren Hind
24
Posted 19/03/2021 at 19:52:49
Brent Stephens
25
Posted 19/03/2021 at 20:02:42
Don't bite, Kieran.
Dave Abrahams
26
Posted 19/03/2021 at 20:13:12
Robert (8), not a bad selection there, I'd switch Godfrey with Holgate, giving us more energy and bite in midfield, where it is needed and Godfrey has tons more experience in that position.
Best of luck to all the players tomorrow and especially that young goalkeeper, he'll of a job for him coming into a game like that, the very best of opposition, but one you can savour and hopefully look back on with great memories of the match, and memories that we can all back on and boast about.
Paul Birmingham
27
Posted 19/03/2021 at 20:16:25
Hopefully the team will galvanise and believe they can beat City.
I hope Everton get stuck in and get them on the back foot and hope there's been some focus on dead balls, and our crossing -to the kill zones, in the box.
John Stones is rejuvenated but I still see him and their back four as their weakness, if they get hassled and can be mad3 to face their goal keeper.
I'm looking forward to the match and Everton can pull off a shock result, if they believe they can.
Hope eternal.
Brian Wilkinson
28
Posted 19/03/2021 at 20:28:27
I would go with just a back four and pack the midfield, do not give them space and for once get the ball forward and turn City around, easier said than done.
We did it in the league game against them, until a wonder goal put them back in the lead.
We cannot sit back, give them space or play the ball backwards, have a go and get the ball to the front two as quickly as possible.
Good luck tomorrow Joao.
Graham Mockford
29
Posted 19/03/2021 at 20:30:09
Kieran #23
I'm sort of siding with Darren. For sure they rested their big two Rooney and Ronaldo along with Van der Saar but it was still a strong side and they were all first team players including Vidic, Ferdinand and Tevez.
We played well that day and deserved our shoot out win.
I'll always remember watching the game in Benidorm were I was the only Evertonian in a pub of about 50 Mancs. Had to go out and celebrate in the car park.
Tony Everan
30
Posted 19/03/2021 at 20:33:34
Robert 8, Dave 26
I like it too, borne out of Doucoure being injured. Dave, I'd go with Godfrey too. We all know it won't happen, but Carlo has got to try something different with the midfield set up.
Darren Hind
31
Posted 19/03/2021 at 20:37:50
It pisses me off that Evertonians are so readily influenced by commentators on Sky sports or some other fawning lovie media outlet...D team ????
Rooney and a struggling Ronaldo didnt play, but even though I had plenty to drink and it was 12 years ago. I distinctly remember players like Tevez, Vidic, Ferdinand, Anderson, Scholes, Berbatov all playing for Man U that day. Some D Team.
Despite being ravaged by injuries of our own It was one of the very few great days we have had in the past 25 years..
How predictable, that one of the self proclaimed positives should try to denigrate it.
Said a many times before. We must have the most negative self proclaimed positives in world football.
Brian Wilkinson
32
Posted 19/03/2021 at 20:43:28
I would get Besic on the bench, he will either put in a man of the match performance, or get sent off, you can guarentee he will put a few tackles in.
Steavey Buckley
33
Posted 19/03/2021 at 20:45:20
Ther Everton defence has only been really strong when the line-up comprised of Holgate, Mina, Keane and Godfrey. The defence could have been further strengthened if Jo Jo Kenny and Branthwaite could have remained as back up on the subs. bench instead of being loaned out. The alternative to them recently was 4 outfield players and 2 goal-keepers with 1 premier start between them.
Howard Sykes
34
Posted 19/03/2021 at 20:52:17
Pretty much expected, Gbamin's been injured for two seasons, James is always injured, Delph is always injured. But this is all normal for Everton lol.
Dave Abrahams
35
Posted 19/03/2021 at 21:00:51
Tony (30), yes Tony, Carlo has to try something different, especially in midfield where we will miss Doucoure's energy and drive going forward and covering for a desperately slow section if the team, that's where Godfrey traits will be better suited tomorrow, he will have the energy, drive and will to win that will let some City players know they are in a game and will have to fight to win this game,come on Carlo show us some of that magic, it could be your last chance this season.
Kieran Kinsella
36
Posted 19/03/2021 at 21:04:12
Graham 29
I didn't realized that statement would be controversial. My reaction at the time was "Fergie is tossing Moyes a bone." Everyone I talked to at that time was of the same mindset. Years later AFTER the likes of Wellbeck and Silva developed into Utd regulars maybe the team seems stronger than it was. But I thought then and I still think now it was a weak team that we should have smashed.
Brian Murray
37
Posted 19/03/2021 at 21:06:16
For Virginia read drew brands lol. First and only debut against all conquering Leeds. Didn't go too well !
Peter Gorman
38
Posted 19/03/2021 at 21:06:25
Best of luck to the lad, time to make yourself a hero.
Tony Hill
39
Posted 19/03/2021 at 21:07:22
Godfrey has no passing game at all and no touch. If he's employed as a wrecker and battering ram then fine. He might do the sort of damage we require and put the fear of god up them.
Paul @27 paragraph 3, correct.
Thomas Richards
40
Posted 19/03/2021 at 21:15:04
If we think we are fucked, we are fucked.
No less than 100% from every player, full commitment and ee have a chance.
I would bypass midfield tomorrow, knock it long into the channels and let Dom battle for it.
Richy needs to stay in and around him or his flicks and knock ons are wasted.
DCL needs to put himself up against Stones tomorrow, this Dias is a top, top centre half. Closest I have seen to Vidic.
Positivity lads.
Simon Dalzell
41
Posted 19/03/2021 at 21:20:13
Bobby (11),
You should have stopped at 'tomorrow'.
Derek Knox
42
Posted 19/03/2021 at 21:21:07
Tony Everan @ 14, I get the gist of your post, but that would mean Joao was like a sand-bag on a busy rifle range! :-)
Seriously though, what is it with these injuries? Olsen, who unfortunately suffered a similar off-field violent assault burglary as did Carlo, but hasn't as far as I know played since, yet he has been unavailable after the incident.
Let's hope that emergency measures in several areas galvanise the team spirit and players against the best team in the Country, if not the World!
Ashley Roberts
44
Posted 19/03/2021 at 21:25:38
The only way I can see a win tomorrow is if we can keep it tight and hit them on the break. It could be Route One and so we will miss Pickford but good luck to Virginia, I hope he does well.
For me, the back 4 is Coleman Keane Holgate and Godfrey. These 4 protected by Davies Allan and Digne. Then play Sigurdsson in the #10 position, Richarlison and Calvert-Lewin up front. Then it will be a case of all 11 playing outside their skins. Fingers crossed. COYB.
Lee Courtliff
45
Posted 19/03/2021 at 21:25:44
I think this could be real 'magic of the Cup' type stuff.
Remember when we played City the week after Wigan knocked us out of the Cup?
We had to play a back up keeper that day and he was brilliant in our 2-0 win.
That score is 50/1 on Sky Bet, btw.
Kevin Prytherch
46
Posted 19/03/2021 at 21:32:55
This situation (the squad, not the keeper situation that is just unfortunate) highlights the complete incompetence of one Marcel Brands.
He has had 3 or 4 years, and in that time he has shrunk the squad to the point where one or 2 injuries results in a crisis. To a point where we only have 3 or 4 subs per game (Carlo is not going to play the rest). To a point where the wage bill has grown exponentially whilst the squad has got smaller and smaller.
We have had 1 recognised striker for half the year. We have 4 central midfielders for a team that plays with 3 central midfielders (Delph and Gbamin can't count). We have one recognised right back and one recognised left-back. (Nkounkou obviously isn't trusted and Holgate is makeshift.) We have potentially the worst crosser of a ball by a wide player in Europe (Iwobi) who somehow cost us upwards of £30M.
I could go on, but instead we go into a quarter-final with squad that barely has enough subs to fill the bench.
This is a man who's main responsibility is recruitment.
Bet it's still Kenwright's fault to some though!!!
Paul Birmingham
47
Posted 19/03/2021 at 21:41:04
Tomorrow can be done, and Everton, can spoil the day for City.
Use the anti of City, shitbagging out of the post Chrimbo game, creating uproar, and showing at the crunch hour, they didn't have the gonads to be up front with Everton.
That mystery is still unanswered today and miraculously 3 days later, City, were all back in training, and since that day, their record is what it, is, very good.
It's a one off but Everton, can win, Dirty Dozen, no surrender and basically piss them off on the park.
Fekkn hope so.. A good Trevor Ross sly late one, or Tony, special,, and a few Physco Pat, full blooded tackles can get City unstable, but it must be done early doors.
Wind up their back four, get Walker, if he plays, etc wound up, and on a yellow early and they could disintegrate, as they proved early doors, this season.
Tom Davies and if he plays Allan, will have to work and move the space more than they'll do in two normal games, but if the team is synced in, then a team effort and focus on the pitch can sort this situation.
Mentality tomorrow, will win the day, but play the right mind game and don't let City stroll round.
Smash them, it can be done.
No surrender, face the game and give their all,is what we can ask for, from the players and Evertonians, tomorrow night.
I'm for winning the game by any tactic, shit trick, but tomorrow, Everton, need to repay City, with a few of their own, and get over the line, and win this game.
It's a big ask, but not impossible.

Paul Kernot
48
Posted 19/03/2021 at 21:42:01
And to think it was just a couple of weeks ago we were laughing at Liverpool having to use 4th string centre-backs.
We have nothing to lose tomorrow. Let's just get at them from the off and see what we can achieve. As others above have said, it could just be Joao's big day.

Dale Self
49
Posted 19/03/2021 at 21:45:15
The clock for Brands has been shifted out because of Covid locking up the transfer market. He's done well to move deadwood which is the first smart move when a market locks up like that.
We've secured some of Carlo's preferences on decent terms and have made Everton look like a place where a talented player could increase his value and perhaps get a chance at silverware. Wait until after the transfer market thaws to judge what he can do with Carlo at the helm.
Thomas Richards
50
Posted 19/03/2021 at 21:54:33
David Pearl
51
Posted 19/03/2021 at 21:58:09
Keeper apart, we have a strong team to pick from. I'd go for a 4-1-4-1 and try to hit them on the break and make use of any dead balls. Coleman, Mina, Keane, Godfrey. Allan, Iwobi, Davies, Sigurdsson, Richarlison and Calvert-Lewin up top.
We have now gone out to 10/1 to win the game. I turned a £5 free bet from Paddy Power into £540 over the last few days... including an 80/1. So a 10/1 shot is nothing.
I've got £20 on the Mighty Blues (royal).
Dave Abrahams
52
Posted 19/03/2021 at 22:04:06
Kevin (46), Terrible innit Kevin!!
Paul Birmingham
53
Posted 19/03/2021 at 22:05:22
Well in Paul @48.
Kevin Prytherch
54
Posted 19/03/2021 at 22:05:43
Where does the notion come from that Brands has done well to shift the deadwood?
We took a £25M hit on Schneiderlin, we got a couple of mil for Dowell. Other than Gueye, who we didn't really want to sell, the other 3 major departures have been promising youngsters. Brands has done nothing to shift the deadwood other than wait for contracts to expire.
Tom Bowers
55
Posted 19/03/2021 at 22:10:19
We will be big underdogs, especially as we are playing at the Goodison graveyard yet again.
On any given day, Man City will dominate the ball and probably win given the form they are in. They may rest one or two which probably won't help us but, if Everton can come up big defensively, then they may just be able to take it to penalties.
COYB.
Paul Birmingham
56
Posted 19/03/2021 at 22:20:21
Kevin, good points, but in context, and on squad and club market value, it's a big if not impossible ask to get the dream team assembled in a few seasons.
It's a slow build recovery plan at Everton, and taking in COVID19, and the impact to man kind, and football.
Everton, are progressing as a club on and off the park, and the old sagas of patience, and more come into it.
Everton are progressing, but in view of players' availability for the game, tomorrow, it would be tough on any club, in view of key squad players missing.
Lessons learnt by the Everton, board, let's hope so, but the game's not started, and it's not over before the ball is kicked.
Hope eternal. "What's Our Name?"
Paul Birmingham
57
Posted 19/03/2021 at 22:29:00
Tony, let's hope so.
All have a good weekend, and in line of our own much-revered Poet Laureate George, seismic grooves and waves get into the ground tomorrow and make it a game too far for City.
Let's believe. UTFT!
Rob Halligan
58
Posted 19/03/2021 at 22:31:12
Howard # 34. Don't know where you're getting this "James is always injured" theory from? Five goals scored and four assists, including a pearler against the RS suggests otherwise.
He has played in 18 games out of 28, including 6 completed games while he has completed well over 60 / 75 minutes in a further 10 games!
Granted, we could maybe do with him being on the pitch a bit longer, but he's hardly always injured.
John Skelly
60
Posted 19/03/2021 at 22:32:32
I have not read most of the above posts but I have a feeling we will win this game.
Coyb this time!

Danny Broderick
61
Posted 19/03/2021 at 22:36:10
4-4-1-1 for me:
Virginia
Holgate Keane Mina Godfrey
Coleman Allan Davies Digne
Richarlison
Calvert-Lewin
They will probably rest a few. You just never know. If we can get stuck in and play like the away team, it might suit us.
It's a bit like that cup tie against Chelsea a few years ago where Lukaku scored twice. We need a hero. It would be great if Richarlison or Calvert-Lewin could step up and cause them problems. If we fall behind, we can always bring on Sigurdsson, King or Iwobi and try to take the game to them.
Let's hope they have an off day and a few of our boys have the game of their lives. I'm gonna say 1-0 to the Blues!
Rob Halligan
62
Posted 19/03/2021 at 22:38:31
Danny, #61.
King is cup-tied.
Dale Self
63
Posted 19/03/2021 at 22:53:29
Kevin, I was referring to getting the wage bill decreased. Moving players off the wage bill in the last window was a decent effort relatively speaking.
Rob Dolby
64
Posted 19/03/2021 at 23:05:43
Agree with Darren @31.
It's 11 v 11 in a cup game. Show some passion, play to our strengths, get the ball up early to Calvert-Lewin and let Richarleson scrap for the 2nd ball. I would quite happily bypass midfield tomorrow.
I can't see Virginia passing in triangles in our 18-yard box so maybe an old-school cut and thrust direct effort is called for. We won't be able to out football City but we can show desire and leave it all out on the pitch.
Coyb.
Colin Glassar
65
Posted 19/03/2021 at 23:11:03
I have to get my vaccine on Saturday so I'll probably miss the game – probably for the best.
Stan Michaels
66
Posted 19/03/2021 at 23:15:36
All the best to the kid.
John Boon
67
Posted 19/03/2021 at 23:23:51
Man City are such a difficult team to play against, but we just have to be positive as energy and determination can go a long way. This is a chance for all players to demonstrate that they can play "tough". Man City lost to Man Utd so they can be beaten. COYB.
George Carroll
68
Posted 19/03/2021 at 23:26:05
Well, at least it looks like Brands will deflect criticism of the young lad.
Good luck, lad, be strong – all Evertonians are with you!
Jerome Shields
69
Posted 19/03/2021 at 23:28:33
Good luck to the goalkeeper. At least he has played once for most of one half in the Premier League and did put in good performances in the League Cup.
Everton will have a defensive formation and will not be relying on open style play.
Mike Gaynes
70
Posted 19/03/2021 at 23:29:29
Go for it, kid. You'll be worth £20 million when you file that clean sheet!
Brian Wilkinson
71
Posted 19/03/2021 at 23:41:47
Dave@51, that's great Mate, I would have a look at Everton plus 1 goal as well, to cover any extra time.
Keith Slinger
72
Posted 20/03/2021 at 00:36:01
I would go you with:
Virginia
Keane Mina Godfrey
Coleman Davies Allan Digne
Calvert-Lewin Richarlison
Anthony Murphy
73
Posted 20/03/2021 at 00:40:20
Win this and we'll win the cup.
Si Cooper
74
Posted 20/03/2021 at 02:23:30
I actually thought we might catch Man City a little complacent in the last league game but they really just toyed with us.
It would take a massive swing in form for us to come out on top. We need to be faultless and they need to misfire. I think it would be a 14-man, 90 minutes plus performance so I'm not too bothered about exactly who starts. I guess less likely things have happened so I'll keep everything crossed but it's definitely loads more hope than expectation.
Wouldn't it be fantastic for Jean-Philippe to start the next phase of his come-back at an exhilarated Finch Farm! COYB!
Derek Knox
75
Posted 20/03/2021 at 06:32:23
Si, It's a pity we can't play 14 men from the start, with 3 subs too. Just depends which City turn up, they are good, but nevertheless not invincible.
Hopefully Pep will think we are down to basics with team selection and field a few peripheral players. However, I know they are desperate to achieve the 4 Trophies in one Season, which has never been done, so I can't see them taking their foot off the gas too much.
COYB
Terry Farrell
76
Posted 20/03/2021 at 06:41:04
Rob Leigh, that's the exact line-up I want too! War of attrition and just somehow win the game. Cut out their press by knocking the ball up to Calvert-Lewin and Richarlison and we can rattle their back foor. Iwobi and Gomes lose their men too easily and chase shadows. The first goal will be important.
Ajay Gopal
78
Posted 20/03/2021 at 07:37:30
Keith (72), I like your confidence – 'We are going to beat them with 10 players'! ;-)
I would go with Keith's team with Sigurdsson playing at the tip of the diamond – Godfrey protecting the back 4 of Coleman, Mina, Keane and Digne. Davies and Allan to help us prevent getting overrun in midfield. Coleman and Digne providing us width and hopefully getting some killer crosses in for Calvert-Lewin and Richarlison to attack. Richarlison needs to shake off his indifferent attitude, and this is the game to show that he is among the game's elite players.
I did not realise that King was ineligible to play (cup-tied).
My starting XI and bench:
Virginia
Coleman Mina Keane Digne
Davies Godfrey Allan
Calvert-Lewin Sigurdsson Richarlison
Subs: Tyrer, Holgate, Nkounkou, Gomes, Iwobi, Bernard, the kids...
If every one of our players plays the game of their lives, we can win this one. Looking forward to it!
Peter Mills
79
Posted 20/03/2021 at 08:00:36
For what it's worth, I've watched Virginia play live once and was very impressed with him.
Robert Tressell
80
Posted 20/03/2021 at 08:19:12
Whatever personnel and formation we pick, they will dominate the ball and create a lot of chances. We'll get a few chances too though. Hard work, discipline, crisp passing when we have the ball, some self-belief and a lot of luck is required. We can do it.
Derek Thomas
81
Posted 20/03/2021 at 08:22:02
Danny @ 61;
I'd go with that team... but nobody up to now has been able to correctly guess Ancelotti's starting 11.
Thomas Richards
82
Posted 20/03/2021 at 08:50:12
Injuries are part of the game. Every club gets them. Our current injuries sees this young lad in goal. Best of luck to him.
I've just been sent an interesting text... We have only had the following players available in same match day squad on 6 occasions this season:
James
Digne
Richarlison
Doucouré
Calvert-Lewin
Allan
Results in them 6 games? 5 wins & 1 draw
.
Billy Dawber
83
Posted 20/03/2021 at 08:51:03
Find it amusing that Carlo mentions Delph as not being fit in his pre-match talk. Has he ever been fit in his football career? Not with us anyway.
Fucking laughable that we paid for this waste of space.
As for Gbamin, only time will tell with him. Then we have our 3rd-choice goalie getting a game... can't be any worse than the other two in my book. Onwards and upwards, I say.
Can we win this game? Of course we can. Just depends on the tactics the Italian comes up with for this game. Apparently he's won heaps of trophies in his career... can his magic work with us? Let's see. NSNO.
Jerome Shields
85
Posted 20/03/2021 at 09:06:09
Kevin#54
You are right.
It has been Brands remit to reduce the wages bill and attempt to offload players before buying in players usually late in the Summer Transfer window, with a cash injection from Moshiri. Last year was the first year Kenwright didn't jump on the late Summer bandwagon, though he was apparently involved in the King transfer. The January transfer window is exclusively a attempt to offload, but like the Summer usually results in mostly loans out.
So its a case of running down contracts. It will be interesting to see what happens with Sigurdsson, and the media push for a extention. I am disappointed in progress on the youth development side. There appears to be no progress for youth after the miserable Carabo Cup exit and any chance in the FA Cup is going unless Joao shines.

We will see if Brands is really worth his salt this Summer and will he be worth the new contract he may sign. The truth is he has not done what it said on the tin he would do. Have never liked his Board role or his light feather approach to Unsworth or the Baines role.
Mal van Schaick
86
Posted 20/03/2021 at 09:16:45
Expect a tough game, but we have got so far in the cup, who knows what will happen? A sending-off may change the game either way.
I would pack the midfield and compete there, to try and stop them playing through us in the middle. Man City are a flick here and a through-ball there, we need to stifle their play, and counter-attack.
I hope for a win, but don't want a thrashing that would knock our confidence.
Tony Abrahams
87
Posted 20/03/2021 at 09:23:21
I also like Robert's team, and can't believe going for a vaccine is more important than watching Everton in the quarter finals of the cup, Colin!
I know I'm old fashioned, but there's only ever been one cup for me. Football has changed, but if we can roll up our sleeves and scrap, scratch and fight, then households all over the world will hopefully be singing our special FA Cup song tonight🤞
Thomas @50, I've seen it before mate, but it's brilliant that mate👍
Thomas Richards
88
Posted 20/03/2021 at 09:42:18
Gets me every time, Tony. The rainbow over the ground, old Billy at the end.
I find myself saying a similar thing every time I watch it.
"Fuck you. Fuck the lot of you. We're Everton!"
Rob Halligan
89
Posted 20/03/2021 at 09:46:56
Tony, I reckon Colin is having us on about going for his vaccine, I mean, where will be doing vaccines on a Saturday at 5:30 in the afternoon?
More likely the reason is his missus has got him hen-pecked and he's got to do some DIY around the house, or she's got control of the telly remote as she's sick of watching footie! Come on Colin, own up!
Rob Halligan
90
Posted 20/03/2021 at 09:48:06
"Fuck you. Fuck the lot of you. We're Everton!"
Well said, Thomas!
Brian Murray
91
Posted 20/03/2021 at 09:51:47
Rob. post 89. He's probably angry at you for that and slapping them marigolds off at even the thought of it !
Eddie Dunn
92
Posted 20/03/2021 at 09:52:13
I'm looking forward to the lad getting us through on penalties.
Rob Halligan
93
Posted 20/03/2021 at 10:00:47
Brian, then he's off to B & Q for some gloss and emulsion!
Brian Murray
94
Posted 20/03/2021 at 10:05:18
Rib. He will be overcome with it all ( and emulsion)
Brian Murray
95
Posted 20/03/2021 at 10:07:34
Rob not rib, getting my vaccine Tuesday. Klopp needs a jab pronto, preferably a flush one to the jaw the way he disses us.
Brian Murray
96
Posted 20/03/2021 at 10:10:33
I won't even attempt to say a team because, if we concede early, then any plans go out the window. Just have to do ourselves justice. Play to our strengths and you never know. Oh and tell Gomes the game is next week...
Keith Slinger
97
Posted 20/03/2021 at 10:15:43
Ajay, I forgot: put in Sigurdsson in the No 10 role, lol.
Gary Willock
98
Posted 20/03/2021 at 10:21:39
3-5-2 for me, packing the middle and getting the fullbacks to break.
Virginia
Keane Mina Godfrey
Iwobi Allan Davies Gomes Digne
Richarlison Calvert-Lewin

Brian Harrison
99
Posted 20/03/2021 at 10:39:39
This would have been a tough ask with all our first team players fit, to do it with some missing and a 3rd-choice keeper in goal makes it so much harder.
I wouldn't try and second guess what team Carlo will select, but I would start King, Calvert-Lewin and Richarlison up front. I think King deserves a start and seeing how poor Iwobi and Bernard have been when selected; we have nothing to lose. I am sure King would have expected more minutes than he has had... and even more so when you look at our results since he joined.
Not many expect us to win today; this season, that's when we have been at our best, when expectation has been low. It's when we have thought 3 points are in the bag that we have come unstuck. But to win, we will need to take every half-chance we get.
We know they will dominate possession so every dead-ball situation in their half will be important. Whatever team Guardiola picks, it will be very strong their first-team squad is miles better than the rest of the Premier League, so just make sure everyone gives 100% and then, whatever the result, you will have done your best.
Alan J Thompson
100
Posted 20/03/2021 at 10:40:41
Does this mean we'll have three keepers on the bench, if we have them?
Eddie Dunn
101
Posted 20/03/2021 at 10:41:24
Brian, King is Cup-tied.
Rob Halligan
103
Posted 20/03/2021 at 10:44:33
Off topic, but just heard Peter Lorimer has died. There seems to have been plenty of former players dying recently. Great player in his day, although I didn't get to see him much.
Brian Harrison
104
Posted 20/03/2021 at 10:48:19
Sorry, I forgot... King is cup-tied!
Alan J Thompson
106
Posted 20/03/2021 at 10:50:38
Rob (#103);
Hardly surprising given that it must be over 40 odd years ago that he played but he did have a thunderous shot which makes you wonder what he would do with the balloons they play with today.
Sean O'Hanlon
107
Posted 20/03/2021 at 10:52:34
Rob (#103) Very true. Seems to be a lot recently. Lorimer was known for his powerful shooting. He could hit the ball.
Talking of shooting - how many shots do we have during a game, and how many on target? Our shooting is diabolical, which is probably the reason why we don't take many.
Mike Corcoran
108
Posted 20/03/2021 at 10:55:41
4312
Brick wall
Psycho, bastard, nails, killer
Hard case, nutter, sly arse
Tyson in the hole
Dcl, Richarlison
Paul Birmingham
109
Posted 20/03/2021 at 10:56:39
RIP, Peter Lorimer, the original Rocket shot, those were the days.

Tony Everan
110
Posted 20/03/2021 at 11:00:05
I'll always Lorimer scored a goal of the month Volley in the 70s , it was one of the best connected and well hit shots of that era. I think it was timed with the old technology in the 70s and officially declared a rocket shot. I remember playing headers and volleys in the park aged about 12 and trying to recreate it. Leeds fans will be gutted today.
RIP to a great player, Peter Lorimer.
Brian Murray
111
Posted 20/03/2021 at 11:06:09
Class player Lorimer. Scored a perfectly good goal in euro final v Bayern disallowed in 75 ( our original Duncan played in it ) Elland road formidable place to go especially for us for over a decade. That great team would of win a lot more titles if Revie didn't insist on not resting any players at all. Wouldn't happen now. RIP Peter Lorimer.
Jerome Shields
112
Posted 20/03/2021 at 11:22:39
RIP Peter Lorimer a class player. Great at taking a on the volley shot. Great shooter all round.
Colin Glassar
113
Posted 20/03/2021 at 11:39:43
Legends from our youth are starting to drop like flies! RIP Peter Lorimer. A fantastic player.
Bernard Dooley
114
Posted 20/03/2021 at 11:56:48
Like you Colin, I too keep half an eye on the sports obituary columns and seeing contemporaries pass on is always a sober moment.
Lorimer was a true legend and I admire talented players who give everything to the game and to their club.
Top of my current "other club" respect list would probably be Mark Noble at West Ham, 450 games for the hammers and not a moment's trouble.
Colin Malone
115
Posted 20/03/2021 at 12:17:48
With Doucoure injured and Gomes and Iwobi playing in unfamiliar deep positions. Why hasn't Mo Besic been given a chance? No disrespect to Iwobi or Gomes, who in my opinion is class, I would like to see Besic given a chance along side Allan, giving out some Bosnian kisses.
With Carlo not knowing players positions [Iwobi ], Has Besic slipped under the radar?
Rob Halligan
116
Posted 20/03/2021 at 12:19:40
Reading today's match day programme, there are two standout stats for me..............
Today's game will be the 95th game in all competitions, of which we have won 47, city 22 and 45 draws. So we have won exactly 50% of all games played between us and city at Goodison, so let's hope we can keep that above 50% today.
Also, should we win today, it will be our 150th FA Cup victory at Goodison.
COYB!!
Bill Gall
117
Posted 20/03/2021 at 12:29:37
Sad to hear of the death of P.Lorimer one of the decent players Leeds had. As they say he had one of the hardest shots in football, with one of his shots from the penalty spot timed at over 100 mph. R.I.P. you will be with some great company.
Rob Hooton
118
Posted 20/03/2021 at 12:45:00
Can't see Pep resting anybody today with the international break coming up, will prob be a full strength lineup.
Anything can happen in football, they can be beaten and I sure hope we can do it today. We need every player putting a proper shift in with no sloppy mistakes and clinical on the break when we do get the ball.
COYB!
Ste Traverse
119
Posted 20/03/2021 at 13:17:52
Can't see anything down for us today. The best we can hope for is somehow take it to penalties and get lucky. It's the worst draw we could've got right now.
I can't stand City and the 'preview' by that beaut Chicoazul over on GOT is very nauseating with endless arse-kissing of them, made me sick. I wouldn't mind but anyone whose ever visited their site 'Bluemoon' knows they absolutely hate us.
There's been far bigger shocks in FA Cup history than us beating this City side but I really can't see it. Carlo is really going come up with something special for us to reach the semis.
Neville Wellings
120
Posted 20/03/2021 at 13:33:57
I'm thinking nil-nil, extra time, penalties! Well they've got no stats on Joao facing penalties.
Last time we played the third choice goalie, he got sent off soon after kick-off, and on came the fourth choice in John Ruddy. For the rest of the game against Blackburn, Ruddy didn't have even a half decent shot to save and that was because creative players like Arteta, Cahill and Ossie played like the Dogs of War, everyone tackling like Tony Kay to protect the new lad in goal, a bit of that today could help.
We played Man City in the Quarter-finalss in '66 with 0-0 at City 0-0 at Goodison and we were getting slaughtered in the second replay at Wolves in the first half-hour then two quick goals by Fred and Derek Temple and we were in the semis. So 0-0 today, penalties and a star is born.
COYB
Phil Smith
121
Posted 20/03/2021 at 13:48:24
Aye, good to see Gbamin back on the pitch but did anyone ekse think he look knackered and totally unco-ordinated? I know it's early days but worried about him. Would love to see him play the last few games of the season.
Must be in a pessimistic mood today as I have a bad feeling about today's game. COYB! Prove me doubts a false negative.
Dale Rose
122
Posted 20/03/2021 at 14:17:03
It's the Cup, anything can happen. I really fancy us for this.
Sad news about Lorimer RIP.
Kevin Molloy
123
Posted 20/03/2021 at 14:53:53
My word, those Mancs are in for a pasting. They'll be sorry their bus driver turned onto County Road in a few hours time. Very sorry.
Thomas Richards
124
Posted 20/03/2021 at 15:02:03
Hopefully not along the lines the City coach was greeted at Anfield, Kevin.
Derek Knox
125
Posted 20/03/2021 at 15:04:40
Peter Lorimer was a townie of mine, both born in Dundee. I never met him but watched him play for Leeds on several occasions. He had a hammer of a shot, and that was with the old ball, not the beachball they play with now. Sadly missed, but as someone said, there are a lot going recently from the 'old school'.
Still got mixed feelings about today, think we will not disgrace ourselves, but a lot depends on which team Pep puts out, and how much they want it!
Andrew Keatley
126
Posted 20/03/2021 at 15:05:05
Rob (116) -
"Today's game will be the 95th game in all competitions, of which we have won 47, city 22 and 45 draws. So we have won exactly 50% of all games played between us and city at Goodison"
Those numbers are all over the shop. 47 + 22 + 45 = 114.
Guessing here but should it perhaps be 25 draws? That'd make today the 95th match-up at least.
Michael Kenrick
Editorial Team
127
Posted 20/03/2021 at 15:15:41
Sorry, folks, no formal preview for today's massive game. So – reflecting many of the posts already made – I'm turning this thread into an unofficial match preview, lacking the usual perspicacious premonitions and prescient prognostications to which you have become accustomed.
I'll open the Live Forum too so all that positive energy and voracious encouragement for which it is rightly renowned can be voiced in the direction of Goodison Park in advance of The Big Match!!!
Brian Murray
128
Posted 20/03/2021 at 15:16:51
Thomas post 124. Nah we got more class than that. Rather die with our history than live with theirs. They a totally different species, even the odd one you see from here!
Derek Knox
129
Posted 20/03/2021 at 15:17:37
Andrew @ 126, Rob was always bottom of his class for Arithmetic! :-)
Sorry Rob, couldn't resist.
Thomas Richards
130
Posted 20/03/2021 at 15:24:20
Simon Dalzell
131
Posted 20/03/2021 at 15:26:41
Phil (121). I agree, Gbamin did look knackered and totally uncoordinated. So he could probably go straight back in the team.
I'm afraid our chances seem remote today. I hope my negativity is misguided. COYB. A minor miracle please.
Darren Hind
132
Posted 20/03/2021 at 15:40:04
Big ask but this is not a fait accompli.
The last thing City want is a real battle. Lets give them one. There is every chance that we can make those cheeky bastard bookies rue the fact that they offered 9/1 against us
Sure they are strong favorites, but its been proven that they are beatable.
Look. All I want is for our boys to leave everything on the pitch. I want them to let these City players know that this will be one hell of a struggle. Put doubts in their minds. find chinks in their armour. If 1-2 of them don't fancy the struggle lets find out who they are.
Fight, fight, fight with all our might
Tony McNulty
133
Posted 20/03/2021 at 15:45:47
Michael (127)
And no pusillanimous piffle either.
Dale Self
134
Posted 20/03/2021 at 15:52:51
Michael and Tony, as I was reading through I couldn't help but think of John Cooper-Clarke's 'the pest'. Fantastic piece, as is today's preview!
Brian Wilkinson
135
Posted 20/03/2021 at 16:02:49
Colin@115, I have been wondering the same about Besic, at worse could be on the bench.
Thomas Richards
136
Posted 20/03/2021 at 16:02:54
Fine rallying call Mr Hind.
Only one way we can win this and you have just written it.
Derek Knox
137
Posted 20/03/2021 at 16:03:38
Oliver the ref, hope nobody says if we get a Yellow or Red, "Pease Sir can we have some more?" :-)
Tony McNulty
138
Posted 20/03/2021 at 16:05:09
Thanks Dale - just read that poem through for the first time.
As many of us would attest, TW almost always contributes towards one's continuing education.
By way of an example, until a couple of years ago, I never knew so many varieties of fish existed.

Brian Wilkinson
139
Posted 20/03/2021 at 16:11:05
If we have to have any chance today, then Gomes and Holgate need to be omitted from the starting 11.
I would go with Mina, Godfrey and Kean at the back, Coleman and Digne as wingbacks, Allan and Davies in the middle, Calvert-Lewin and Richarlison in attack, then the hard part selecting the number ten, Siggy seems to play better coming off the bench, Bernard likewise, so I would start with one of them, then switch, when the other is blowing out of his backside.
Tony Everan
140
Posted 20/03/2021 at 16:20:59
Tony 138 , be careful, it doesn't take much for the full quota of fishy puns to rear their scaley heads.
Brent Stephens
141
Posted 20/03/2021 at 16:30:09
Michael #127 - " lacking the usual perspicacious premonitions and prescient prognostications to which you have become accustomed."
Ah, like the old time Music Hall. You must miss being on the boards!
---
Add Your Comments
In order to post a comment, you need to be logged in as a registered user of the site.
Or Sign up as a ToffeeWeb Member — it's free, takes just a few minutes and will allow you to post your comments on articles and Talking Points submissions across the site.