Gbamin could return to full training next week
Friday, 19 March, 2021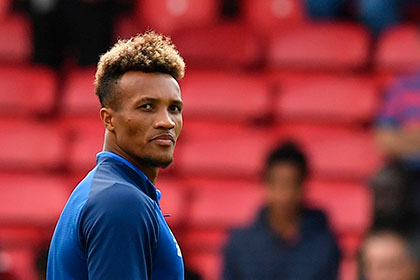 Jean-Philippe Gbamin's long road back to full fitness might nearly be over after Carlo Ancelotti revealed that the Ivorian could join the rest of the first-team in training next week.
Gbamin was sidelined by a serious quad injury after making just two appearances for Everton following a £23m move from Mainz in the summer of 2019 and was set to return to action almost year ago but ruptured an Achilles tendon and had to go under the surgeon's knife again to repair that.
He has spent the season so far on a slow, individualised recovery programme in an effort to patiently build up his strength in anticipation of a full return before the end of the season.
Ancelotti suggested in his press conference ahead of this weekend's FA Cup tie against Manchester City that he hoped both James Rodriguez and Gbamin would be in full training next week.
---
Reader Comments (45)
Note: the following content is not moderated or vetted by the site owners at the time of submission. Comments are the responsibility of the poster. Disclaimer
Robert Leigh
1
Posted 19/03/2021 at 18:46:31
Delighted for him, it would be great to see him in the squad before the season is out. Maybe that's best given his long road to recovery, then get him in midfield next season alongside The Duke and Allan.
Looked happy to be back on the grass, he will literally be like a new signing if he can perform.
Andrew Keatley
2
Posted 19/03/2021 at 18:50:38
Come on J-P lad!
Sean Callaghan
4
Posted 19/03/2021 at 18:56:05
Asking for trouble with that, Mark. He'll be out for 6 months with Saturday night fever...
Tony Everan
5
Posted 19/03/2021 at 18:56:17
It's going to be very difficult for him to get up to speed after so long out. Also, game time will be needed to get the confidence back to play at full tilt.
He will need some breathing space to get there, I am hoping fans are not too quick to get on his back. It would be a major boost for us if he could give that extra bit of steel and stability to our midfield and I am looking forward to seeing him play.
Henrik Lyngsie
6
Posted 19/03/2021 at 19:03:22
In the few games he played for us before the injury, he looked far from ready to the speed of the Premier League. 18 months out injured is a long time. It is going to be a difficult battle for him to get up to speed. He will have my full respect and admiration if he becomes a regular first-team player for us during the next 12 months. But welcome back; you deserve some luck now.
Darren Hind
7
Posted 19/03/2021 at 19:13:30
I still haven't seen him play.
Bryan Houghton
8
Posted 19/03/2021 at 19:22:54
Henrik,
I agree, when he played, he understandably looked a little off the pace of the Premier League, and was definitely trying to pick up the pace of it – and then he got injured. So, if he gets anywhere near playing time, we need to give him at least 6 months (and maybe longer) before we judge him – we need to lay off with the "Championship level at best", and the "crocked – get shut" bullshit after his first 25-minute cameo.
The damage these 2 injuries will have done to him psychologically, let alone physically, is going to be really hard to overcome. If he thinks that getting back to any sort of shape, and playing football again was hard – overcoming some of the knee-jerk bile on the Live Forum is gonna be where the work really starts.
Neil Copeland
9
Posted 19/03/2021 at 19:45:42
Good luck to him, I thought he looked decent (albeit behind the pace initially) when he came on against Palace at the start of last season.
Long road for him. 10- or 15-minute cameos from the bench to start with, I would think. Follow that up with a full pre-season and see how it goes. One thing is for sure: he will need all the help and support he can get plus a huge slice of luck.
Brian Williams
10
Posted 19/03/2021 at 19:50:21
He admitted himself he wasn't up to speed during his brief appearances but personally I saw enough to make me think there's a very good player there. Fingers crossed he's over the worst and stays injury free now.
Dave Abrahams
11
Posted 19/03/2021 at 19:59:18
Best of luck. Gbamin, hope you come back and help the team get some badly needed wins on the last leg of the season.
It would be nice to know what sort of injury James has been out with, has it been stated what ailment has kept him from playing, it started as being a little niggle, forget where the niggle was but it's costing upwards of £60,000 per week!!
Gavin Johnson
12
Posted 19/03/2021 at 20:01:40
Fingers crossed this is the end of it and he can be introduced slowly and get some minutes on the pitch before the end of season. Hopefully this will aid him in getting fully up to pace for next season.
Paul Birmingham
13
Posted 19/03/2021 at 20:07:33
Great recovery and determination, guts and courage, let's hope JP, can make a full physical and mental recovery.
The lads had very bad luck, hopefully there's hope on the horizon for his career at Everton.
It would be a boost but one step at a time.
Minik Hansen
14
Posted 19/03/2021 at 20:35:38
Coming back from injury without having adapted to the pace of the Premier League could be a good thing in disguise, having to restart everything and get shaped to be able to compete at this level.
Tony Everan
15
Posted 19/03/2021 at 20:38:07
Dave, it started with the swollen bollock, but now it's the recurring calf problem. I think they advised to give it more time to fully heal as it was continual being aggravated.
Darren Hind
16
Posted 19/03/2021 at 20:50:30
Dave A.
You wont need anybody to tell you how supremely talented James is, but there is a reason Bayern Munich and Real Madrid did not want to retain his services. Just as there was a reason we didnt have to fight off relentless opposition for his signature.
The guy is not suddenly going to give you thirty plus games a season.
Lets hope he can win us the cup. He's capable, but I don't see him playing enough in the league to alter perception that we are a pug ugly foofball team
Bill Gienapp
17
Posted 19/03/2021 at 21:03:51
I'm not sure there are any real conclusions to be drawn from the one-and-a-half matches Gbamin played for us before injury. He did look off the pace against Watford, but he was also thrown on unexpectedly (and perhaps ill-advisedly) after Gomes got hurt. I thought he played fine against Aston Villa, albeit it as part of a pretty poor team performance.
Dave (11) - re: James, it sounded like he's had a variety of minor complaints and has been playing consistently at 75-80% fitness, so the decision was finally made to just shelve him until he's 100% again - hopefully after the international break. We'll see.
Steavey Buckley
18
Posted 19/03/2021 at 21:06:06
Gbamin has had an awful string of injuries, and Everton fans will probably only see the best of him when he starts playing football next season.
It does appear that some players are not suited to the premier league because of the full-blooded challenges that go on all the time. So if the body can't take it, they will always be injured and much harder to adjust to the physical side of the game when they do return from injury.
Martin Berry
19
Posted 19/03/2021 at 21:28:17
I think J-P will be eased back in with maybe a few late appearances of the subs bench with a view to next season.
The player is a physical specimen and was very highly touted in the Bundesliga. He is still only 25 and will be a top player for us, we just need a bit more patience.
Wishing him all the luck in the future and a great Everton career.
Nicolas Piñon
20
Posted 19/03/2021 at 22:34:47
Very happy he is back in training at least! Come on, J-P!
John Skelly
21
Posted 19/03/2021 at 22:36:14
If he is fully fit, he could make a good team awesome. 😉
Don Alexander
22
Posted 20/03/2021 at 02:12:20
To me, our recruitment of non-British/Irish players is peculiar. Everyone on the planet knows the Premier League is the most physically demanding of all and yet we seem to consistently sign duffers who never step up to the plate (and for the avoidance of doubt I don't yet put Gbamin in that category), but it's been going on for decades. Yes, there's an occasional exception but our scouting system has bedevilled our progress for way too long as far as I'm concerned.
"Character" seems to be regularly ignored as a vital quality.
That said, I know diddly squat about m'sieur Gbamin's character, but I just hope he's more Reidy than Linderoth, soon.
Kieran Kinsella
23
Posted 20/03/2021 at 02:49:11
Don Alexander,
Tobias Lin deroth's Wikipedia page refers to his Everton career in one word as "unremarkable". Funnily enough, even though he wasn't very good, I remember him as being a bit of a lucky mascot as we had a pretty good unbeaten run when he was in the team.
But, to your point I agree. Brands described Gomes as a player he sought at PSV. More recently he talked about Klaassen as a player he admired at PSV who he now realizes wasn't Premier League material.
I think his first window (Gomes, Bernard et al) he still had his PSV notebook and was yet to grasp the Premier League. I'm hoping he's since figured it out – although his much-vaunted "new contract" was never confirmed so maybe he hasn't
Don Alexander
24
Posted 20/03/2021 at 03:07:14
Keiron, we're on the same page I think. Maybe Doucouré is an example of Brands's present-day perception of the type of character we need throughout the team. If so, good!
Now, all he has to do is sign other players of that mind-set, but with appreciably more talent. Simples?
Ajay Gopal
25
Posted 20/03/2021 at 06:19:24
I think the club has been very careful and patient with Gbamin's recovery, which is the right thing to do especially after such a bad set of injuries. Hopefully, he is now physically fully recovered.
Now, to get him mentally and physically match fit, I would hazard that a few U-23 games would not be amiss. Then, play him on the bench for the last few games of the season, so that Carlo will know if he has a long-term future at the club or if Brands needs to cut his losses and look for a replacement.
I certainly wish him well and great success with Everton.
Stephen Brown
26
Posted 20/03/2021 at 07:09:49
Speaking of Tobias Linderoth, I recently watched the full 'Rooney Arsenal' game on YouTube and Linderoth came on early. He had a great game! I was really surprised!
Robert Tressell
27
Posted 20/03/2021 at 08:30:26
It would be a remarkable achievement if he ever manages to get properly fit again. Missing for almost 2 entire consecutive seasons with very serious injuries.
He's a very good player. I've said before that I think Silva might not have been sacked had he stayed fit.
If he does get back, I wonder if he might get moved back to centre-half to reduce his running. He started there and former coaches at Mainz were reported as saying it's probably his best position anyway.

Danny O'Neill
28
Posted 20/03/2021 at 08:55:40
I hope this nightmare is finally behind him and we finally get to see if he is the player we thought we were buying. He is young enough to overcome and get his career back on track. Good luck to him and fingers crossed.
Phil Bickerstaff
29
Posted 20/03/2021 at 11:16:50
Get an injection and a pair of bollocks and tell Carlo that you are up for this game
You owe the club
Colin Glassar
30
Posted 20/03/2021 at 11:48:10
Who?
Andy Crooks
31
Posted 20/03/2021 at 12:10:14
Phil, I hear you are going to be our new physio! Please don't bamboozle them with your new- fangled fancy methods.
Andrew Keatley
32
Posted 20/03/2021 at 12:11:53
Phil (29) - If you and JP were to have a public downing of trouser in order to establish who has the more impressive set of balls then I'd imagine you would be running off into the horizon to avoid the big (and not so big) reveal.
Geoff Williams
33
Posted 20/03/2021 at 13:11:17
I doubt that he'll play much for Everton as he has been out injured for so long but I hope he proves me wrong as he could provide the physical presence currently missing from our midfield.
Tommy Carter
34
Posted 20/03/2021 at 13:19:03
Stephen @26,
Linderoth was a very accomplished Premier League player. He was unfortunate to enter the English game very much at the peak of the 4-4-2 formation.
Linderoth was a best sitting in a midfield 3. Whilst he was at Everton, he was deployed often in a very weak central midfield pairing with the likes of Gravesen (who himself was very much not suited to 4-4-2. Pembridge, Watson, Naysmith, Kilbane, McFadden etc making up the 4-man midfield.
I think we sold him too early but he was an asset with re-sale value.
As for Jean-Philippe Gbamin. I've got no idea what to expect.
Danny O'Neill
35
Posted 20/03/2021 at 13:32:44
Tommy, you've just made me shudder and have flash backs with that list of players you rattled off!!
Justin Doone
36
Posted 20/03/2021 at 16:54:38
GBAMIN takes it easy, go slow and treat it as a pre-pre-season for next season.
No one including himself really knows how good or how well he will do if he does manage to stay injury free and come back to playing professional football.
Good luck but I would be planning for next season without him and then anything else a bonus.
Pat Kelly
37
Posted 20/03/2021 at 21:21:02
Gbamin and James. not sure we'll see much of them next season. Plan summer recruitment on that basis. Likewise Delph.
John Pickles
38
Posted 21/03/2021 at 10:31:59
I hope for his sake his luck improves. At the moment, his 'time at club to time on the pitch' ratio is on a par with such 'legends' as Krøldrup and Van der Meyde.
Dan Nulty
39
Posted 21/03/2021 at 19:25:28
Firstly, I hope he can make a full recovery, secondly, I hope he is actually decent!
Mike Gaynes
40
Posted 23/03/2021 at 03:09:36
Well, here's where we find out what the young man can actually do. Keep in mind that returning to first-team training does
not
necessarily mean he will be returning to the pitch. It'll depend on how much the training sessions show that the injuries have subtracted from his talents. Carlo won't know that until he sees the lad play in full-speed scrimmages. Will he still have the requisite pace and explosiveness? Hoping against hope.
As to what he "owes the club"... give me a break. What he owed was his best effort and total dedication in overcoming two potentially career-ending injuries at the same time. Apparently that's exactly what he has given. Good for him.
And good luck to him.
Dan #39, best and most concise comment yet!
Paul Richardson
41
Posted 23/03/2021 at 15:24:35
He could be a revelation. Fingers crossed.
Andy Finigan
42
Posted 23/03/2021 at 22:35:03
Delighted for Everton and Gbamin. What a torrid journey he has been on. Hopefully his nightmare is behind him and judging by the delight on his face during training and to a sertain degree his overall shape and fitness we will get back a major accet back.
John Keating
43
Posted 23/03/2021 at 23:31:28
Who really knows what Gbamin is like as none of us have seen him yet
Hopefully he is as good as some people want him to be
10 games to go I'd just involve him in the matchday squad, maybe put him on the bench a couple of games.
Why risk him at this stage of the season? Let the coaching staff give him a full off and pre season and go from next season
Dave Williams
44
Posted 24/03/2021 at 10:04:00
Well said Mike G. He owes us dedication to his rehab and that's it. Fingers crossed for him- it would be awful for such a young man to lose his career through no fault of his own. Nice and easy does it and make sure he is properly ready before putting him on the pitch.
I wonder if Delph will feel any embarrassment at seeing JP training?
Brian Williams
45
Posted 24/03/2021 at 10:13:45
John#43.
Some of us have John, though fleetingly. I've said a couple of times that although he was off the pace (something he recognised and admitted at the time) I saw enough to convince me there's a very good player there.
I just wish him a change in fortunes.
David Hallwood
46
Posted 24/03/2021 at 21:33:01
My problem is, taking Coleman and Gomes as a rule of thumb, it took both of them a year to get back to where they were; and some will argue they never returned to their peak.
So I think Gbamin, may (and just may) be ready for next season, and won't be up to speed until october/November.
---
Add Your Comments
In order to post a comment, you need to be logged in as a registered user of the site.
Or Sign up as a ToffeeWeb Member — it's free, takes just a few minutes and will allow you to post your comments on articles and Talking Points submissions across the site.