Resistance is Futile
Saturday, 20 March, 2021
Everton 0 - 2 Manchester City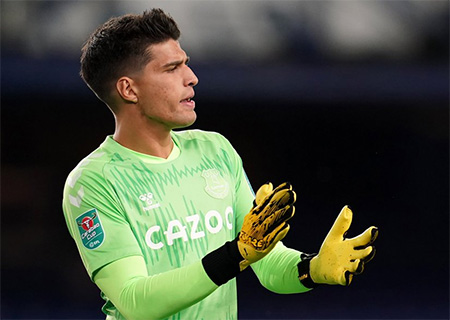 Joao Virginia was brilliant between the posts for Everton in the FA Cup Quarter-Final against Manchester City but Everton's valiant resistance was ultimately futile when the Champions elect scored with a little bit of luck to break the deadlock.
Both Pickford and Olsen were injured, along with four outfield players: Rodriguez, Doucouré, Delph and Gbamin. Sigurdsson and Gomes started; Davies, Iwobi and Keane are on the bench, where two substitute goalies are named, including elevation to this heady level for the first time for Zan-Luk Leban alongside Harry Tyrer.
Everton kicked off and tried to build an attack down the right. They continued to play a high press but would quickly have to reform their defence when possession was lost, then Allan was called for an early foul that Foden hit very hard from distance, Mina putting his head on it to give away the first corner. It was frenetic stuff, tremendous passing and movement from City.
Everton tried something clever from an advance throw-in but it didn't come off and City were quickly on the attack moving the ball around brilliantly but Everton were resolute in defence, and got a chance when Richarlison was fouled. Digne swung in a brilliant ball to the far post but the referee saw a foul by Everton.
Gomes fouled Bernardo, but The Blues were able to defend it high and look to gain possession, only to lose it immediately. Everton almost created aa counter with good work in the middle by Calvert-Lewin but Richarlison kept the ball too long and left Digne struggling.
City attacked again but Everton's defence was well marshalled, although Holgate almost fouled Jesus, and thought better of it. Digne marshalled a Foden overlap well at the expense of a corner that was repelled.
Virginia was required to collect a long shot from Sterling, and Everton got into the City area, Richarlison scooping a backwards shot just over the bar. City resumed their methodical probing until Fernandinho elbowed Richarlison in the face for a welcome pause in play.
Allan made a poor attempt to tackle Gundogan from behind and earned a really stupid yellow card. From the City free-kick it was Everton who mounted an attack, Gomes putting in a peach of a ball but Calvert-Lewin was the wrong side of the defender at the far post.
Calvert-Lewin ran forward with the ball and won a dead-ball chance albeit 30 yards from goal. Digne clipped it wide right and won Everton's first corner that he took but it was cleared. Fernandinho won a free-kick cleverly off Richarlison but Sterling skied it over the wall and the bar.
Richarlison was fouled again but the ball needed to be won back by Allan, yet the beginnings of an attack went nowhere. Richarlison was stretching when he saw a chance to shoot from distance, weak and well wide. A really lively move from Everton forced Steffen off his line and it almost fell for Calvert-Lewin, going for another Everton corner but Digne's good ball in was cleared.
Mina was called for a headlock on Jesus and Everton were out quickly to hunt down Sterling on the end of a square ball. There was a tremendously competitive spell with both sides at each other like terriers trying to retain the ball at close quarters. City won the corner but Everton cleared.
Everton were defending set-pieces with 11 men behind the ball, and unable to profit when they did disrupt the City attack. Richarlison picked up the ball from Gomes and swung in a half-decent ball that wasn't accurate enough for Calvert-Lewin.
Everton kept possession and won another corner, Digne again, with Mina advancing, winning a brilliant goal-bound header that he saw headed away agonizingly by Zinchenko on the line — Everton's best attempt so far, and a lot closer to scoring than City had been all the way through a very lively half of football. There was just time for Foden to fire in a shot that Godfrey did very well to block behind for a City corner, and that was cleared to end the half.
The visitors got things going after the break, building cagily from the back, Mina giving away an early corner, the defense of which was scrappy at best until Gomes fouled. Gundogan fierce shot fortunately his Fernandinho and flew away from goal, Sterling tried a volley that was high and wide. Sterling got loose but Mina defended well.
Calvert-Lewin won a good header and Richarlison just couldn't dig out the shot he wanted. Coleman almost got round Zinchenko but were struggling to get sustained possession. Fernandino fouled Richarlison again and was finally shown the yellow card. Mina won Sigurdsson' looping free-kick but it bounced up for Richarlison who could only volley wide.
A tremendous City attack saw a wicked shot from Sterling in acres of space and a brilliant finger-tip save for Virginia to turn it around the post. Everton had some possession but were very conservative with it when there was a chance to release Richarlison down the right. Digne tried to then plant one for Richarlison but it was covered by Laporte and Steffen.
City attacked and Godfrey made an excellent challenge before Mahrez replaced Bernado Silva. Their probing play resumed until Foden saw a chance to shoot, curling just away from goal. Digne did really well to keep pace with Walker and win a corner, this time for Sigurdsson on the left. It fell to Gomes who connected well but could not direct it at goal.
Calvert-Lewin did another fine layoff but Richarlison did not follow through well enough. City won a free-kick wide right that fell to Zinchenko but his shot was blocked. Gomes clipped Foden in midfield, earning yellow. Calvert-Lewin tried to release Digne with a clever ball that was read well by Walker.
De Bruyne replaced Sterling as Everton were increasingly penned back, defending well. When Everton did get possession, Coleman was hounded by 3 City players and forced to concede, restarting yet another attacking cycle. On this one, Foden drove his shot low, Virginia covering it well.
Laporte drove forward and it looked like De Bruyne was fouled but Laporte scooped the loose ball and Virginia touched his shot onto the face of the bar only for it to bounce back nicely for Gundogan to head easily into the empty net and bring to a painful end Everton's valiant defence.
Calvert-Lewin chased down a ball but his shot was blocked. De Bruyne got free and Everton were all at sea as the ball was scooped over Mina, allowing him to finish strongly under pressure from Godfrey. Everton complained vehemently about a high boot but Mahrez had clearly pulled back from the challenge and Everton were completely undone in the end.
Kick-off: 5:30 pm, Saturday 20 March 2021 on BT Sport 1

Everton: Virginia, Coleman, Holgate (87' Iwobi), Mina, Godfrey, Digne, Allan [Y], Gomes, Sigurdsson, Richarlison, Calvert-Lewin.
Subs not Used: Leban, Tyrer, Broadhead, Davies, John, Keane, Nkounkou, Onyango.
Manchester City: Steffen, Walker, Dias, Laporte, Zinchenko, Fernandinho [Y], Gundogan, Bernardo (64' Mahrez), Sterling (80' De Bruyne), Foden, Jesus (90' Rodrigo).
Subs not Used: Ederson, Stones, Aguero, Torres, Mendy, Cancelo.
Referee: Michael Oliver
VAR: Andre Marriner
---
Reader Comments (587)
Note: the following content is not moderated or vetted by the site owners at the time of submission. Comments are the responsibility of the poster. Disclaimer
Andy Walker
1
Posted 20/03/2021 at 16:34:45
Tin hat time.
Michael Lynch
2
Posted 20/03/2021 at 16:36:51
Terrifying line up, and that's before you look at our bench.
Neil Lawson
3
Posted 20/03/2021 at 16:37:29
You can guarantee that Carlo will surprise. No Keane ? Sigurdsson and Gomes ? Time will tell but I am not sure he wants to win. Strange choice.
Prove me wrong. Please.
Geoff Williams
4
Posted 20/03/2021 at 16:37:34
I despair, Keane and Davies on the bench
Paul Birmingham
6
Posted 20/03/2021 at 16:39:48
Let's hope and pray that this Team gives 100% for the 96 minutes today.
I'd have liked to have seen Tom Davies start, but nows the time for this team to make a stand and fight.
No scope for lazy tackles and hopefully they will shoot within range but get plenty of decent crosses in.

UTFT!
Tony Twist
7
Posted 20/03/2021 at 16:41:59
A very mobile man city side and he plays Siggy and Gomes in the starting eleven. Play either / or not both. No second chances in the cup Carlos, he needs to live in the now not hold players back for the next match. Davies should be in for Gomes from the off and sit in front of that back four.
Dave Williams
8
Posted 20/03/2021 at 16:42:23
Crazy selection- no Davies? Gomes and Siggy together? No Keane?
This could be a total disaster!!
Anthony Murphy
9
Posted 20/03/2021 at 16:42:56
5 subs today don't forget
Paul Birmingham
10
Posted 20/03/2021 at 16:43:32
Good battle rallying call, Darren, nows the time, for this team to prove a point.
Rob Halligan
11
Posted 20/03/2021 at 16:44:42
Just to amend something I posted on another thread about the fact we have played man city at home in 94 other occasions in all competitions. We have won 47, drew 25 and lost 22, not 45 as I mistyped. Meaning we have won 50% of our home games in all competitions against man city. 😁😁😁
Kieran Kinsella
12
Posted 20/03/2021 at 16:46:36
Is Bernard injured? Who's Leban?
Mike Keating
13
Posted 20/03/2021 at 16:51:47
Good question Kieran - after the Spurs game you would have thought Bernard should have made the bench - especially THAT bench but playing Siggy and Gomes together is the biggest worry for me.
Barry Robson
14
Posted 20/03/2021 at 16:53:10
I'm assuming Carlo has a plan and this is the best 11 available to execute that plan but it's not team o would have picked. Please God prove me wrong Everton and win this.
Jay Harris
16
Posted 20/03/2021 at 16:55:19
Don't like the idea of Gomes and Siggy in the same team and surprised at Tom Davies not being a starter but we have to accept there is s as plan to defeat City. Don't know what it is but whatever team we put B out it is a talk order.
We can only wish for all the team to put a shift in and see where that gets us.
Simon Dalzell
17
Posted 20/03/2021 at 16:57:32
Playing your strongest team in a huge game against the might of Man City obviously does not appeal to Mr Ancelotti. I despair.
Robert Tressell
18
Posted 20/03/2021 at 16:57:54
I'd have probably gone for Tom D ahead of Gomes too. But we've got 3 players with goals in them and we've got a bit of width too. We'll get a few chances and it will feel more doable the longer we hang on to a clean sheet. Here's hoping.
Tony Everan
19
Posted 20/03/2021 at 16:58:53
?
Andy Crooks
20
Posted 20/03/2021 at 17:00:53
What an opportunity for our players, the chance to become legends. What one of us on this site hasn't dreamed of this chance. Get into them, get right in their faces, walk off that pitch with no regrets. It doesn't matter what our line-up is. This is about, heart, spirit and will.
No fear, no respect no being fucking nice. Fucking rip into them from the first whistle.
Dave Abrahams
21
Posted 20/03/2021 at 17:01:13
I think Carlo wants some help today, starting with One Our Father, ten Hail Mary's and a Glory Be, but I don't think God listens to prayers about sporting occasions, he is fair and stays neutral, so in that case, well what do you think!!
Seriously some of those on the bench must not be up to scratch, so the likes of Gomes and Sigurdsson will going all out for sixty minutes before being replaced with fresh legs, shows how poor we have been left with injuries, good job we know how to grin and bear it.
Alan J Thompson
22
Posted 20/03/2021 at 17:02:03
I don't fathom what the plan is for this game and neither do I know who might be here next season, but I might hazard a guess about who also might be thinking about it.
Michael Lynch
23
Posted 20/03/2021 at 17:03:37
We're suffering from the mysterious shrinking squad syndrome. Getting rid of Moise Kean is looking a worse decision every day. I mean, the guy was miserable as fuck, but then so am I, so what's so special about him?
Carlo obviously has a cunning plan, but I have no idea what it is. You're playing the world's most mobile, fast-passing team, so you stick Siggy and Gomes in the middle, drop your best central defender, and leave the terrier-like Davies on the bench.
Really looking forward to being proved wrong here.
Brian Williams
24
Posted 20/03/2021 at 17:03:47
I just wish Ancelotti knew these players as well as some TWers do.
He might have some success then.
Michael Lynch
25
Posted 20/03/2021 at 17:05:51
On the bright side, Iwobi's not playing, and we're having pizza delivered for our dinner.
Mark Murphy
27
Posted 20/03/2021 at 17:11:41
Hahaha - love it! 😂
Ciarán McGlone
28
Posted 20/03/2021 at 17:12:59
Not a selection that gives any confidence. Especially if we continue with this overload of central midfield... and expecting Holgate to have any of the attacking skills required from a full back.
However this is a cup game and the least we should expect is that it is treated as one. Nothing but 100% effort should be tolerated.
If we try, I'll be happy with the players (maybe not Ancelloti), irrespective of the result.
Justin Doone
29
Posted 20/03/2021 at 17:17:12
Is a cup game. Win at all costs and get into next round. Nothing else, in term's of the football season, matters more than that today.
Rob Hooton
30
Posted 20/03/2021 at 17:26:39
We all knew we wouldn't be able to second guess Carlos's selection and boy were we right!
Keeping everything crossed, we will need some luck this evening but we can still win
Jay Wood
[BRZ]
31
Posted 20/03/2021 at 17:29:08
Looks like Carlo has gone for a fluid back five/five man midfield. Holgate, Mina and Godfrey the three centre backs with Coleman and Digne tucking in on the defensive. Coleman and Digne moving forward to join Allan, Gomes and Siggy when the play allows.
Big responsibility on DCL and Richy upfront to make the most of what for sure will be limited opportunities.
Also looks like he wants speed in 2 of 3 of his centre backs. If Holgate and Godfrey play as they did at Anfield, that is a plus.
Whoever was in the starting XI for either side it was always going to be a challenge for Everton.
1 game from Wembley. 2 games from the final. 3 games from glory.
Gerrin-ta-em!
Brian Williams
32
Posted 20/03/2021 at 17:29:29
Being realistic, if we fielded the team that all TWers wanted and agreed was our best team, they would still have to play to their absolute utmost and hope that City have an off day in order to win.
There's no shame in admitting that City are streets ahead of us in every department on the field.
Having said that I hope and expect 100% effort from every player.
Do that and you give yourself a chance to progress.

Ciarán McGlone
33
Posted 20/03/2021 at 17:39:48
I didnt read the team sheet properly.. 5 man defence.
Gonna be a long 90 minutes.. long ball probably our best option
Mark Murphy
34
Posted 20/03/2021 at 17:54:16
"I mean, the guy was miserable as fuck, but then so am I, so what's so special about him?"
Forgot to paste
Great comment! Love it!
Ernie Baywood
35
Posted 20/03/2021 at 17:55:08
I'm not sure which team is less watchable so far. I can't think of many less interesting football spectacles.
Might suit us.
Ciarán McGlone
36
Posted 20/03/2021 at 18:18:24
A half of two halves.
Very ominous opening period.. standing off and adopting a tight 532 in our on half..
Once we started to press them we looked much better.. effort now being shown. Everyone doing well but Gomes has been outstanding.
This game is there to be won.
Derek Knox
37
Posted 20/03/2021 at 18:23:15
Ciaran, Pep dishing out the Imodium in bulk at half time ! Feeling better as the game has gone on !
Brian Williams
38
Posted 20/03/2021 at 18:24:49
Ciaran, I think the fear we started with seemed to recede a bit as the half went on. Early on passes were just hit anywhere but then we strung a few together and confidence seemed to grow.
Jay Wood
[BRZ]
39
Posted 20/03/2021 at 18:27:40
The game is being played on Everton's terms.
The two banks of 'flexible fives' have dulled City's usual quick, slick passing. Virginia hasn't been tested at all. The centre backs refusing to been drawn out of position. Midfielders helping to choke City's passing lines.
City the ones looking lethargic, for all their harmless possession.
The 2-3 times we have taken time on the ball and actually passed through City, we're making inroads. We have encroached their penalty with a sniff of a chance far more than they have penetrated ours.
One telling corner. Just one telling corner could be all we need, given the way that first half has played.
Let's not pretend. City are a very special side. But, as we've seen with Everton many times this season, if you start low energy and low paced, it can be hard to throw the switch and pick it up to what is needed.
We are well in this.
Tony Hill
40
Posted 20/03/2021 at 18:28:52
I think it's a fascinating game and I'm pleased with our performance.
The measure of Foden as a footballer is that he didn't crumple after Holgate's daft challenge.. I've got a lot of time for that lad.
Darren Hind
41
Posted 20/03/2021 at 18:31:18
Worried here.
I backed us to win after ninety, but this might be going to ET
Tony Abrahams
42
Posted 20/03/2021 at 18:32:20
Agree with everything you said there Tony, now let's just hope the Gwladys St, can suck the ball into the net!
Ernie Baywood
43
Posted 20/03/2021 at 18:34:37
Still a long way to go. As Jay said, that half was largely played at City's feet but on our terms.
We threatened more than they did (or we threatened and they didn't).
I'll take dull for this game. We'll get a chance.
Phil Smith
44
Posted 20/03/2021 at 19:15:21
Oh well. We kept them out for 84 minutes.
The major problem with this side is there just isn't enough movement. There's no option to pass to up top. Too negative again. Oh well season over.
Ernie Baywood
45
Posted 20/03/2021 at 19:20:14
VAR should be ruling that out. In fact it shouldn't have even got to VAR.
The boot waved in Mina's face affects how he heads the ball.
Simon Dalzell
46
Posted 20/03/2021 at 19:20:42
I'm as angry as I've ever been. We should have changed it a while ago. My son and I have been saying this non stop. Gomes legless and yellow carded. This situation has arisen many times, and we've got away with it. Not today. Sorry Carlo. This one's on YOU. We had done brilliantly up to a point. Then subs. were vital. Fresh energy and negating red cards. How can the ' Manager' NOT see this. So reluctant to avoid the inevitable. A terrible trait Ancelotti has shown from day one. Timid. Spineless.
Brian Williams
47
Posted 20/03/2021 at 19:21:42
Well I think those slagging Ancelotti called it wrong because for 80 odd minutes the plan worked perfectly.
Everyone did their job and everyone gave 100%.
Sometimes the best team wins.
Timid? Spineless? Bollocks.
Don't let disappointment cloud common sense.
Alex Gray
48
Posted 20/03/2021 at 19:21:57
Defended well but you don't win games when you don't attack. Were always going to lose. Cant remember the last time we looked a good attacking side.
Martin Berry
49
Posted 20/03/2021 at 19:23:25
Proud of the effort we put up tonight and they had to employ all their big guns to beat us.
Thought Godfrey was excellent yet again and Gomes worked hard.
Ciarán McGlone
50
Posted 20/03/2021 at 19:23:27
No complaints from me. Tried hard, but beaten by a far superior team.
Simon Dalzell
51
Posted 20/03/2021 at 19:23:56
I will get stick from people saying ' we gave it a go '. We did really well for a long while long while. With a modicum of game management,we could have done more.
Phil Smith
52
Posted 20/03/2021 at 19:26:12
The only way to win against City is the way we trounced them 4-0 and Leicester hammered them earlier in the season. Sitting back just prolongs the inevitable. Very disappointing and predictable result.
Ernie Baywood
53
Posted 20/03/2021 at 19:27:59
Alex 48 I think it was against Brighton in October.
We abandoned being attacking for the first Derby.
I thought the plan was good. Don't press, don't chase. Apply pressure as a team when they get in our half. We restricted them to long shots and crosses. But it wasn't the all out defensive effort we tried in the league.
At 75 minutes I was wondering when the City subs were coming. And when Davies might come on. Ultimately it was de Bruyne who made the difference.
We had opportunities in that game.
Second goal an irrelevance. We were chasing. And it's a refereeing decision from someone who doesn't understand the game. Slow motion looks ok, but the game isn't played in slow motion.
Thomas Richards
54
Posted 20/03/2021 at 19:28:42
Timid?
Spineless?
Poor reflection of what I watched
Tony Hill
55
Posted 20/03/2021 at 19:29:33
I thought we did well. We were missing important players. Everyone gave it their best against the best side in the world.
The worry is that Man City are going to dominate everything for a long time - which will be very dull.
Ajay Gopal
56
Posted 20/03/2021 at 19:30:05
In the end, the quality of Man City's substitutes made the difference. Carlo just did not have the quality on the bench to change things around. Having said that,, DCL and Richarlison did not have great games. I thought the midfield of Gomes, Allan and Siggy worked very hard to keep City at bay, and so did Mina, Godfrey and Holgate. Coleman was disappointing. Well done to the young goalkeeper, he did his job well. Both the goals were not his fault, but his kicking was very one dimensional and predictable. Everton just did not trouble Man City enough on their set pieces. No shame in this defeat, but another trophy less year goes by.
Justin Doone
57
Posted 20/03/2021 at 19:30:10
Gutted. Not good enough. We move our focus back to finishing top 6 in PL.
Just disappointed we didn't go more attacking or try and play when (and it wasn't often) we were given a bit of time to move forward.
A few chances for Ric that he didn't hit the target with. That's the difference. Take your chance, you may only getting 1.
Neil Lawson
58
Posted 20/03/2021 at 19:30:36
We can not complain. However, such small margins. A tiny bit more of Virginia finger and we are now in extra time.
Great heart and fight. Why is that not there all the time ?.
How much better too with the goalie kicking long ?
Some terrific displays all over the park. No player warrants any criticism. There was a game plan. It might just have worked.
Well done Virginia. Mina and Godfrey outstanding. Richie too worked so hard ( and I am not his greatest fan )
The crucial thing now is to take this level of commitment in to the next game. No more shite please.
Kevin Dyer
59
Posted 20/03/2021 at 19:31:56
Phil #52 there's no formula to beat a team like them. That 4-0 they started with a centre mid pairing of the slowing Yaya Toure and slowing fullback Pablo Zabaleta, in one of Guardiola's play-a-fullback in midfield experiments.
Brian Hennessy
60
Posted 20/03/2021 at 19:32:35
Disappointed of course with the result, but not with our performance. We restricted City to half chances for 80 minutes and managed to create a few of our own. A bit of luck we could have nicked a goal.
Early days but our young keeper looks very impressive.
Jay Wood
[BRZ]
61
Posted 20/03/2021 at 19:33:04
Dull game, which suited us.
Scrappy first goal we could have done better with, but the ball and luck ran with City.
Mahrez raised boot on Mina, can understand why the ref let play go one. Game dead and buried at 2-0.
Virginia did very well. Absolutely blameless.
For anyone bemoaning the lack of substitues, our bench was:
Leban, Tyrer, Broadhead, Davies, Iwobi, John, Keane, Nkounkou, Onyango.
Some Blues would struggle to recognize all but 3 of those players.
The international break with few of our players travelling has come at a good time for us.
Gutted.
Billy Dawber
62
Posted 20/03/2021 at 19:33:12
Well done Carlo. Good team choice yet again. Sorry all you Carlo lovers but the man is out of his depth this time around. Set in his ways and can't see what others see. Maybe it's time to get rid. Another long wait coming up before we win anything. The writing was on the wall as soon as City came out of the hat but they are the best team around so lets not be to disheartened, just hope we can get some decent players in. That's all. We all live in hope yet again.
Joe McMahon
63
Posted 20/03/2021 at 19:34:03
Simon @51, we are impotent up front though, look at our goal difference. Until we have midfielders who will run with the ball try and shoot from 25 yards and another quality (qoal scoring striker) we just can't take on quality like City. They have reached another level with Pep.
Phil smith Lukaku scored 2 goals that game, thats a big gap never filled.
Steavey Buckley
64
Posted 20/03/2021 at 19:36:15
The 3-5-2 formation is one of the reasons why Everton got beat, because it leaves Everton more exposed at the back. Conceding 6 goals in the last three games, plus 16 goals conceded in one period of 6 games previously, shows that Ancelotti has not equipped Everton with enough quality defenders in reserve after Christmas.
Branthwaite had 3 impressive games last season, was MotM in one of them, but put him out on loan, while forced to include two untried 18-year-olds and a 16-year-old on the subs bench from the Under-23s in other games.
Thank heavens Everton have 46 points, because Everton are not in a good place at this moment. Nor are the fans.
Tony Hill
65
Posted 20/03/2021 at 19:36:21
What was pleasing about that game, apart from the full commitment by the players, is that you can see a serious base and part of the frame being put in.
I am disappointed but not angry or deflated. Let's aim for 4th now.
Tommy Coleman
66
Posted 20/03/2021 at 19:37:50
We done well for 70 mins but I was surprised Carlo didn't make any subs when it was obvious our players were knackered and a City goal was coming.
Michael Kenrick
67
Posted 20/03/2021 at 19:37:56
Pep pretty generous:
"One of the toughest games in the last year. So difficult to get through them. You need incredible talent and commitment from our players to win it in the end."

Dave Williams
68
Posted 20/03/2021 at 19:38:41
We did surprisingly well with a hugely weakened team and all credit to Carlo and his players. Godfrey and Gomes were excellent but Richarlison could have been sharper.
We put up a good fight.
Tony Hill
69
Posted 20/03/2021 at 19:40:03
ps: Excellent from Virginia – a big plus. And in Godfrey, we have acquired one of the best young defenders in world football.
Paul Smith
70
Posted 20/03/2021 at 19:40:32
Some of Calvert-Lewin's hold-up play and ball control was exceptional, Ajay, were you actually watching?
We're much better with Mina as well.
With 20 minutes to go, we tired and the gaps got slightly bigger and that's all a team like Man City need. De Bruyne's goal was clinical btw.
Nothing on the bench to affect the game but I would have preferred fresh legs earlier. A big shout for the keeper, he was fantastic.
Be interesting to see with better players if Carlo will be more progressive. We have to hope so. Fortune favours the brave.
Kieran Kinsella
71
Posted 20/03/2021 at 19:41:18
We don't have the squad to play another way and we looked pretty comfortable up until the goal. Man City are just much better than us and everyone else.
I am not going to criticize the team for giving it their best – which is what they did. It's all you can ask.
Daniel Debski
72
Posted 20/03/2021 at 19:41:23
Really no other way to go against this Man City team than an organised defensive setup. It's prone to what happened though – one odd goal from them, you must open up and you lose.
But if Carlo went with more attacking football, it would be most likely a 0-5 thumping. Their team is on an incredible run, they're winning everything... Best way to counter that is to play careful catenaccio style and try to not lose. Look at Everton's bench and then at Man City's. See the difference?
It was a good game, a bit of luck and Richarlison's overhead kick goes in or one of the strikers flick it to another who scores... and then it would be a completely different game.
Thomas Richards
73
Posted 20/03/2021 at 19:43:45
Steavey @64.
Which fans are you talking for there?
Not speaking for me, I am happy with the progress. Even more so after tonight's performance
John Keating
74
Posted 20/03/2021 at 19:44:41
Not sure what some people want?
If we would have played an open attacking game against this Man City team, more than likely it would have been a cricket score. We all could see what Ancelotti was after, playing defensively – well, most of us could; however, playing against such a team as City and holding on for 90-plus minutes is almost impossible.
For those slagging the team selection? Well, who would you have played? Where's the alternatives to what we had out and how would they have somehow changed the result?
Tony Hill
75
Posted 20/03/2021 at 19:44:41
Quite right, Paul @70, about Calvert-Lewin's touch. I thought both he and RIcharlison gave everything. As did the midfield.
That sort of defeat I can accept.
Kunal Desai
76
Posted 20/03/2021 at 19:44:47
Similar to the Man Utd game in the quarter-finals of the League Cup. The extra bit of quality yet again making the difference.
On to the league – let's pick up as many points as possible and secure 7th or better.
Summer is crucial, need a few more Godfreys in various positions. I'll be disappointed if we are waiting to do business towards the end of the window. This season has highlighted this squad's shortcomings and we don't have a squad. We need first-teamers and need to be smart in recruiting some good squad players.
Lots of work ahead for Ancelotti and Brands.
Don Alexander
77
Posted 20/03/2021 at 19:46:54
I thought the first half was damage control, and rightly so against a team and bench stuffed full of world-class players. Yes, it was unexciting but it was "professional".
By the end of the match, I was content with the effort shown, fed up that De Bruyne's goal was allowed given the proximity of Mahrez's high boot to Yerri's face – and never mind that he may have pulled out, the boot made Yerri's compromised clearance a gift for them. And I was impressed by our young 'keeper.
If we can put a realistic bench together next season, we'll continue to improve results, and hopefully the quality of attacking football.
Kevin Dyer
78
Posted 20/03/2021 at 19:47:04
Honestly, anyone calling out the players and/or manager after watching that has no clue. Man City are a team packed with world-beating talent, supplemented by quality. Their lesser players, like Zinchenko, would shine in other teams.
We played the perfect game-plan and executed it flawlessly. I honestly thought we were going to plunder a goal late on, or maybe in extra-time. Not one player out there gave less than their all.
Hats off to Virginia who showed character and ability and absolutely did not deserve to get beaten twice. I'd love to see more of him tbh.
Godfrey was immense, Mina dominant aerially and Holgate showed how much more comfortable he is at centre-half. Allan was back to his pre-injury best.
Gomes, I take my hat off; I thought he'd be a liability but he put in one of his best performances of the season. The wing-backs shut their wide players down and broke forward when they could. Sigurdsson was not as involved as Allan and Gomes but closed off routes to goal and kept shape with discipline. Richarlison and Calvert-Lewin were active and dangerous whenever we got on the ball.
Man City are near-unbeatable, courtesy of the financial doping present in football. Their 2nd eleven would qualify for the Europa League, no doubt. You have to get everything right, play to the maximum and hope most of their players are not on it to have a chance. Sadly, all it takes is a slight error or loss of concentration – inevitable after almost 90 minutes of resolute defending and trying to break without losing the ball sloppily – and one of their amazing players will strike.
Consider that, until this season, Gundogan was considered one of their squad players.
Barry Rathbone
79
Posted 20/03/2021 at 19:48:11
At least we can concentrate on the league now 🤣🤣🤣🤣
Tony Abrahams
80
Posted 20/03/2021 at 19:50:06
Billy @62, maybe if we get some decent players in, Ancellotti might then not be accused of being out of his depth.
I know it won't happen, but if those players could put that effort into every game between now and the end of the season, then they could still surprise us.
My only gripe tonight is that we were tiring, especially in midfield, he maybe should have changed it, but we needed more quality in forward areas, and never had a thing on the bench that was going to help us create anything.
I cursed Oliver, still think he might have blown his whistle if it was a City defender heading that ball. Mina's play-acting is poor imo, and I'd love to see play-acting taken out of the game, but can these referees provide consistency?
Michael Lynch
81
Posted 20/03/2021 at 19:51:43
Fair play to Carlo, his game plan was excellent. At 80 minutes I actually thought we were going to nick it in injury time or something.
City are a ludicrous team though. And it helps when you're bringing Mahrez and De Bruyne off the bench.
Andy Walker
82
Posted 20/03/2021 at 19:54:20
Great summary, Kevin. Totally agree, we played as well as any team has of late against Man City.
Grant Rorrison
83
Posted 20/03/2021 at 19:54:33
Tony 65. A team that gets beat at home to Newcastle, Burnley, West Ham, Fulham and Leeds 'aim for 4th'? Haha. Nice one.
The amount of people on here that are satisfied with sitting back and hoping not to get slaughtered amazes me. We're destined to be mediocre forever, it seems.
Thomas Richards
84
Posted 20/03/2021 at 19:55:49
Grant.
What would your team selection have been? What formation?
Steavey Buckley
85
Posted 20/03/2021 at 19:57:52
Thomas Richards,
I personally don't like getting beat. With some people, getting beat becomes part of a habit I don't wish to adopt. But you are quite happy to finish 4th in the Premier League, while Everton are conceding at least 2 goals a game, home and away, with scoring getting more difficult.
The maths says that Everton are on a slide. What do you think?
The Italian I would like to manage Everton is the one who hates to give away at least one goal in 2 or 3 matches, not the Italian who is not reacting to the 2 goals Everton are conceding in at least one match.
Andy Walker
86
Posted 20/03/2021 at 19:59:47
Grant, you need a slice of realism. You saw what happened as soon as we went to a back 4 with 5 mins left. Carlo gave us the best percentage chance we had of getting a result with the way he set us up. We looked pretty comfortable until a lapse after 84 mins.
Carlo did a great job with the assets he had available. I think we all know that if Carlo had been managing the City Squad and Pep our squad Carlo would have come out the winner.
Tony Twist
87
Posted 20/03/2021 at 20:00:27
We are a limited side, whether the addition of our "star" players would have made a difference... who knows? I think Europe is beyond us also; a top-10 finish looks probable.
I'm tired of the mediocrity.
Kevin Molloy
88
Posted 20/03/2021 at 20:00:31
I thought Gomes had a really good game tonight, against an excellent team.
Gavin Johnson
89
Posted 20/03/2021 at 20:03:06
We played well and it was a great performance. They were contained and, while it was 0-0, it was still possible to nick a goal. The 2nd goal came because the game opened up more.
I thought Virginia played well and made one great save. Let's play like that in the remaining games and get a European place.
Phillip Warrington
90
Posted 20/03/2021 at 20:03:57
We were never set out to win the game. Yes, we were in the game for 80 minutes but, as soon as we tried to push the issue, they were all over us.
Commitment was good.
Paul Birmingham
92
Posted 20/03/2021 at 20:06:37
Well done, Virginia, who done great and I thought the effort was there as well.
I've no complaints about the result other than some poor decisions by the officials: their second, if the other way round and was for Everton, it would have got disallowed.
Improve our shooting and now to go again vs Crystal Palace, a must-win to stay in touch with a European place.
Quality and depth of squad; Man City could put 3 teams out every week, and that's a big difference.
It was a siege the last 20 minutes but tonight was a defeat but the players done their best.
Gutted but not dejected.
I fancy Leicester as an outside bet now to win the FA Cup; we shall see.
Julian Exshaw
93
Posted 20/03/2021 at 20:07:47
If we show that fight and commitment, we can still reach the top 6 and I think most of us would settle for that at this stage. I just hope we hold on to Godfrey. Pep saw him in the flesh tonight.
Grant Rorrison
94
Posted 20/03/2021 at 20:08:29
Thomas @84.
It's not about team selection or formation, it's about mentality. I can't believe that so many people are quite satisfied with being rank average and accepting defeat before a ball is kicked. While ambition is considered idealistic and delusional, you're going to struggle to get very far.
Andy @86.
I might be more confident in your prediction if I hadn't watched us lose at home to some quite frankly shocking sides and get completely outplayed at times into the bargain.
What's 'realism'? It wasn't 'realistic' to win 4-0 against Man City a few years back. Or to beat Man Utd in the 1995 FA Cup Final. They both still happened.
Jim Bennings
95
Posted 20/03/2021 at 20:09:33
Listen, I'm not angry because this was a free hit, City are world class and we are in a false position in the Premier League, to be honest.
The current crop of players we have, they are at best just above a mid-table group, that are playing to the pinnacle of their abilities which throughout most of this season away from home, they have.
We can be critical of Ancelotti; personally, I don't think any manager will work at Everton until the mantra is changed at the club and the sentiment left behind, but whatever manager we get, the flaws are still there.
We will need to further ourselves as a club until we sign more dynamic, fitter attacking players; the way Leicester City have recruited players should be our model to follow.
We have this annoying habit of signing players that just sit in midfield; whilst the likes of Allan is good at his duties, we need to be signing dynamism. Doucouré is a good example but someone that's more creative and better on the ball.
We can't pull out the likes of Sigurdsson, Iwobi, Gomes, Coleman again next season and seriously expect much different results.
The summer is a massive one because it will give Ancelotti a serious chance to build on some foundations laid this season, but next season must see a vast improvement in the way we set about games of football.
There has to be more to all the outlay spent than just sitting deep defending, it's exactly what Allardyce was crucified for in just 6 months in the job.
Thomas Richards
96
Posted 20/03/2021 at 20:09:49
Steavey,
Thats fine, it's your opinion.

Steavey Buckley
97
Posted 20/03/2021 at 20:13:09
Richard, it's not my opinions – it's the maths opinions I am reciting to you. They are at least the Everton maths opinions.
Thomas Richards
98
Posted 20/03/2021 at 20:14:12
Grant @94,
Do you think the players had the wrong mentality tonight?
Mike Oates
99
Posted 20/03/2021 at 20:14:37
We did the best we could do with what we've got left in the squad. Basis is there, but with only 2 key injuries, possibly 3 with a real fit Gbamin we are left with a bench full of goalies and young kids.
But we needed the deadwood out and we will have with Kenny, Tosun, Bolasie, Walcott hopefully out the door. I hope Delph, Besic and Bernard join them.
So, with the basis we've got and another 3 or 4 real quality players, we will offer even more next season. We still might sneak into the Europa League yet.
Steve Shave
100
Posted 20/03/2021 at 20:17:43
Disappointed but I thought we played well, no shame in that performance; we seemed to contain them for long parts of the game.
Grant Rorrison
101
Posted 20/03/2021 at 20:18:53
Kieran 91. Who is David Cash and who took over his account? I take it by your post you were happy with getting beat today too and our last chance of doing anything this season going with it?
Thomas Richards
102
Posted 20/03/2021 at 20:19:12
Steavey,
Everton fans are "not in a good place" – your opinion. It's not mine.
Robert Tressell
103
Posted 20/03/2021 at 20:21:26
We were beaten by a team with the odds massively stacked in their favour. We needed a bit of luck along with the grit and discipline we displayed. Not sure what else we could have done.
With better players, we'll be more of a match for Man City – and everyone else, for that matter.
Anthony Jones
104
Posted 20/03/2021 at 20:22:24
It was a cup game. Go for a win. Get battered? Who cares. We had ~30% possession. The game plan wasn't perfect.
Grant Rorrison
105
Posted 20/03/2021 at 20:23:20
Thomas @98.
I don't doubt the commitment to the cause if that's what you mean. They played the way they were instructed to do and gave it a good go. I just think the cause was a lost one and will remain so until there's a mentality shift in general.
Steavey Buckley
106
Posted 20/03/2021 at 20:26:17
Thomas, it was a good time to beat Man City because they selected a beatable team, with Sterling not the same player in other seasons, while Gabriel looks poor most of the time when I have watched him this season.
So Man City did not have a lot up-front. Come to think of it, neither did Everton. Although, with some Everton fans, getting beat does not bother them.
Thomas Richards
107
Posted 20/03/2021 at 20:31:08
Don't know any Evertonian not bothered by a defeat, Steavey. We have had some terrible defeats this season. Tonight wasn't one of them.

Darren Hind
108
Posted 20/03/2021 at 20:32:54
I thought we'd win today. I don't have a logical reason for that notion especially given the talent within the City camp, I just had a gut feeling.
I was wrong.
The wait goes on.
Thomas Richards
109
Posted 20/03/2021 at 20:33:48
What did you think of the performance, Darren?
Ian Edwards
110
Posted 20/03/2021 at 20:33:56
Mike 99. The Deadwood was our Subs bench. We no longer have one.
Phil Smith
111
Posted 20/03/2021 at 20:35:46
Great title btw! Sums it up for me.
Kevin (59), and what about the 2-5 Leicester result? Pressing, pace and quick counter attacks. Everything that we're lacking at the moment. When we mauled them we had young, quick thinking Barkley and Tom giving it everything in the middle, Mirallas and Lukaku very fast and the added pace of Lookman when he came on. Our current side consists of Sigurdsson, Allan and Gomes (plus James when he's fit) in the middle. Zero pace. Little pressing and almost no movement in this team.
On their day, City might be unplayable but they started today without De Bruyne (who really changed the game when he came on – how good is he?) and Mahrez in the side. No pace = no chance against City. Dom is fast but Richarllison looks like he's lost a yard. Need to get some pace in this side – and fast... lol.
Jim Bennings
112
Posted 20/03/2021 at 20:36:50
Until we sign better players, it won't change.
I thank the players for their efforts this season but they are a glass ceiling bunch, sadly.
Darren Hind
113
Posted 20/03/2021 at 20:37:16
Gutsy but ultimately inadequate.
Nobody's fault.

Steavey Buckley
114
Posted 20/03/2021 at 20:38:55
I have watched a lot of Premier League games this season, especially watching Man City on the TV. The Man City team was very beatable this evening because both strikers, Sterling and Gabriel have not had good seasons by their standards. Their midfield was not particularly good and they played their reserve goal-keeper.
It is just Everton don't have a winning mentality, that's all, which is a far bigger problem than getting beat this evening.
Andy Crooks
115
Posted 20/03/2021 at 20:38:55
I thought that was a fine show under very tough circumstances. The players gave it all and, if we were going to win, this, in my opinion, was the way to go about it.
On another point, I checked on the Live Forum and was disappointed to see a critic of Carlo being subjected to vile personal abuse. The gang responsible should be ashamed.
Thomas Richards
116
Posted 20/03/2021 at 20:42:13
Agree with that, Darren.
Andy, I don't go on that. Disgusting comments on there. Everyone is entitled to thier opinion.
Tony Abrahams
117
Posted 20/03/2021 at 20:43:10
I thought the fastest player on the pitch was Godfrey, the kid defended brilliantly all night for me.
All opinions, but I thought Ancelotti played a system that suited the squad tonight, and not just because we were playing Man City.
Jay Wood
[BRZ]
118
Posted 20/03/2021 at 20:43:42
Manchester City are in a league of their own in England, if not Europe, right now.
In all competitions this season – Premier League, Champions League, League Cup and FA Cup – they have played 25 away games.
They have lost just one of those games. That was away to Spurs in the Premier League. That was on 21 November, 4 months ago.
In the 17 away games since then, they have had two 0-0 draws (consecutive away games vs Porto and Man Utd). Today represented the 14th consecutive away win for City since those draws.
It is not being meekly defeatist, or accepting mediocrity, or being easily appeased, or acting like an apologist for the manager, the players, the club, to acknowledge – given the relative strengths of the two squads – that achieving a win today was always going to be a stretch.
Looking to the future, I long for the day that we can go toe to toe with a team like City and come out victorious. That day was not today and was never likely to be.
Tony Hill
119
Posted 20/03/2021 at 20:43:52
Grant @105, I agree about the mentality but there was a toughness and tightness about that performance tonight which was promising.
We all want to see us flower as a side. I think it's going to happen. And as I've said before, we are now backed by people who will just keep going until they get success regardless.
Danny Broderick
120
Posted 20/03/2021 at 20:45:37
We did our best with what we had. Our game plan was to keep it tight and to hope for a goal from a set-piece, it seemed to me. I was a bit disappointed to see no subs until we were behind. Even if it was only Iwobi, we were crying out for fresh legs. He should have come on for Gomes or Sigurdsson 10 minutes earlier...
Anthony Murphy
121
Posted 20/03/2021 at 20:47:46
Great effort, but not sure what the plan was to actually win?
It looked to me like the plan was to take it to penalties.
Dave Abrahams
122
Posted 20/03/2021 at 20:48:45
Disappointed with the defeat, but the performance couldn't really be faulted. Oliver had the whistle in his mouth, ready to blow for a foul to the Blues. it seemed to me, but when it broke for City he immediately waved for them to carry on.
Injuries have had a big impact on the last few games for Everton, but today they battled well until a couple got tired after the 75-minute mark. I would have replaced Holgate with Nkounkou and pushed him forward on the left and Richarlison on the right and Coleman going back...
But no real complaints, we were playing an outstanding team with a squad of about 18 very good players, so the result was inevitable once they got that first, but lucky goal, and we had to go all-out attacking for the equaliser and leave ourselves open to City's quick breaking attack.
Bill Gall
123
Posted 20/03/2021 at 20:49:29
When you look at the team Man City can put out and the world class players they leave on the bench, it highlights the difficulty Everton had in competing against them. City, like Chelsea, were bought by Billionaires before FFP was brought in and Chelsea more than City were allowed to spend millions on world class players.
We know that Everton needed help in our midfield from last season and needed to get rid of some of the high earners who are no longer wanted. We strengthened our midfield that is strong enough if they are all fit. We are slowly reducing some of the high earners at the club but are having to lose money to do it.
During the next transfer window, the manager has to be given the funds to bring in who he wants as Allan, James, Doucouré and Godfrey were all good buys, a couple for the future and a couple to stabilize the midfield.
What we have to do is make sure that the likes of Richarlison, Calvert-Lewin, and Godfrey don't get their heads turned and get sold.
There is going to be the normal complaining about today's game but, with what he had available, Ancelotti played the right game, and City may have had most of the possession minutes, but they never really overworked the keeper, and it took a ball off the bar from a save, for them to score.
The team played well today and for once kept their positions, and played to how they had practiced during the week. We all would have liked a win today, but what we need is the same effort for the rest of the season – especially at home – to qualify for Europe.
Darren Hind
124
Posted 20/03/2021 at 20:49:51
Stuart Sharp
125
Posted 20/03/2021 at 20:50:48
I don't think we did a lot wrong given the players available. Anyone wanting more attacking play should watch the build-up to the 2nd goal. In the first half, we came just as close to scoring as they did.
I agree, subs could maybe have come sooner, certainly Davies, but basically we were beaten late on by a much better team.
Gutted with the result but I can't see much to complain about with the match. And I thought Godfrey was one of the best players on the pitch.
Ian Edwards
126
Posted 20/03/2021 at 20:51:13
I thought our best chance was getting it up to Calvert-Lewin and getting bodies around him and trying to get on the edge of their box as often as possible. Just sitting back and letting them come at us was just waiting for the inevitable.
Jeff Armstrong
127
Posted 20/03/2021 at 20:53:57
Good performance tonight, every player gave their all. Not quite good enough in the end, even against 75% City select 11. We stood toe to toe for 84 minutes, which is more than we expected. Let's take the positives and move on for the last 10 games or so and finish in the top 6, rather than collapse and finish 9th.
This new European competition concerns me, do we want to be in a pariah's competition? I don't think so...
Kieran Kinsella
128
Posted 20/03/2021 at 21:02:09
Ian 126
We did have 10 shots. But, aside from Digne, who was there in that matchday squad to generate those kind of chances? Outside of set plays or Richarlison producing a magic run, we don't have the ammo.
Oliver Molloy
129
Posted 20/03/2021 at 21:06:02
Like with any defeat, I'm disappointed, but not at all surprised. Man City are some side and we did well for 80-odd minutes. Eventually, their quality and our players running on empty proved the difference.
Certainly no disgrace and we move on.
Mal van Schaick
130
Posted 20/03/2021 at 21:07:03
A great effort by our players under difficult circumstances and we had injuries to key players. They are 25 points better than us in the Premier League.
They dominated and we were limited with our chances. It is what it is, and we have to finish the season strongly to get the best position we can.
Stan Schofield
131
Posted 20/03/2021 at 21:07:27
Can't complain. We've got a good squad, we were solid today, and were dangerous on the attack. It could have gone either way. Typical cup tie. No faulting the effort.
Man City are just a great side, so much strength in depth. The best side in this country in my lifetime. Probably the best side in the world at the moment.
We've been one of the best sides in the world ourselves, in the 60s and 80s. It'll come again, possibly under Ancelotti, and when it does we'll compete on an equal footing with the likes of City.
The best team won, it's as simple as that. But well done Blue boys.
Robert Tressell
132
Posted 20/03/2021 at 21:09:42
Obviously crap because this more or less finishes our season (other than a tilt at a Europa League spot) so I understand how fed up people are. Everyone is fed up.
But some glimmers of hope. Virginia did very well. I couldn't quite bring myself to voice the concern earlier but I was worried he might get a hatful put past him. But no, he did himself proud. I hadn't really taken him seriously as a first-team option but maybe he's close.
I also thought the mentality was pretty good. That team did believe it could win. Obviously not in a gung-ho sort of way but in the sense that it was expecting to sneak a goal and dig in. It was only beaten by a fortunate deflection and a goal which could have been disallowed.
If we keep that mentality and improve the playing squad, we will win games like that. And hopefully trophies.
Tony Hill
133
Posted 20/03/2021 at 21:10:36
I know we shouldn't moan about the media but BT tonight plumbed new depths.
The main commentator has the excuse that he clearly doesn't understand football and was reading from a script. McManaman, though, combines gruesome banter with embarrassing bias and has no mitigation at all for his awfulness.
It was an all-round disgrace.
Bill Gall
134
Posted 20/03/2021 at 21:12:25
Ian,
I guess you have not really watched City play much this year, just sitting back and let them come at us. City's whole game is on possession; they will pass it back to the keeper if it means keeping possession and dare the opposition to come out and try to win the ball and leave gaps that they strike.
There is only 1 team out of the last 33 to play them has managed a win, so don't you believe that the other 32 have tried various methods to beat them. We don't have the players to come out and attack a team set up that City have, without leaving gaps at the back that they will open up and punish you.
Pat Kelly
135
Posted 20/03/2021 at 21:12:47
With the "talent" we have, getting to a quarter-final was an achievement. Quality was eventually going to win out. Realistically, we are years away from winning anything. It'll take longer to build a trophy-winning team than to build the new stadium at Bramley-Moore Dock. Maybe this summer we can start both.
Thomas Richards
136
Posted 20/03/2021 at 21:13:01
I would be interested to hear Rob H's thoughts on the keeper tonight. Especially on the save he tipped onto the bar
Graham Mockford
137
Posted 20/03/2021 at 21:13:09
Pep called it. One of the toughest games they've had in the last four months.
We had a game plan, we executed it pretty well but just got undone in the end.
It's obviously pretty depressing we have to have such a game plan but it's the reality of the situation. Anyone thinking we should have been more expansive is deluded. We'd have got battered.
Brian Murray
138
Posted 20/03/2021 at 21:19:28
I'm not really into this glorious failure thing, That's more of a 90s Geordie eta. We have a good base for success and even Gomes stepped up. Whether the likes of him and Siggy will be here next season depends on Brands actually doing what he's paid for and getting at least five or six game changers in. Easy to say but that's the task. As we have seen the likes of iwobi won't just accept any scenario or club the same with besic etc. That in itself is criminal and a big stain in Brands ability. Busy summer ahead blue boys
Graham Mockford
139
Posted 20/03/2021 at 21:20:50
Andy 115
I wasn't in a gang, I was posting as an individual. The fact others had a similar view is by the by.
I stand by everything I said
Will Mabon
140
Posted 20/03/2021 at 21:25:55
Anthony @ 121,
me too, I believe that. With hopes of a bit of luck and maybe nicking one. Sad to say.
Tony Abrahams
141
Posted 20/03/2021 at 21:26:04
I think that if we could have done that Ian E, we would have had a much better chance mate, and looking at Dominic, he's developing into a proper big, strong and fast unit, and he his going to be very important to Everton, and how we play in the future.
I hope we continue to play this way all season, because Guardiola has never been a manager to give false praise after a win, and when Everton play like this they are a very hard side to play against.
Against most teams you don't always have to be so rigid, but rigid works better for this squad of players imo, although I can't wait to add more quality into our team.
Ancellotti has no emotion some say, I think he's warm and clever, but don't doubt for one minute he can't be cold. I'm not Keane's biggest fan, he never got in the England squad, and his manager said, he will just have to play better for Everton and prove people wrong, and then dropped him for our biggest game of the season?
Don't believe anything Ancellotti says, I just hope we can back him in the summer.
Will Mabon
142
Posted 20/03/2021 at 21:28:49
Graham, a bit more expansive mightn't have gone amiss. It was a cup game after all.
Mike Keating
143
Posted 20/03/2021 at 21:33:26
As I posted elsewhere, the future is grim and very dull;
https://www.fourfourtwo.com/features/evertons-long-wait-for-silverware-is-far-from-unique-as-footballs-superpowers-continue-to-dominate
I used to have soft spot for the Manchester Underdogs but they've become another Chelsea with knobs on.
FFP my arse!
Jerome Shields
144
Posted 20/03/2021 at 21:34:12
Everton played well this evening, where beaten by a lucky goal.
Graham Mockford
145
Posted 20/03/2021 at 21:35:23
Will 142
Well hindsight is the perfect science. The game plan was sound, on another day we might have nicked one. I appreciate it feels very negative but it is just a fact, they are a much better side than us with much better players. Could we have been more expansive? Well of course, I suspect we would have been out of it by half time. But hey it's all about opinions
Barry Rathbone
146
Posted 20/03/2021 at 21:37:06
I think what drives people to the disgusting vitriol Ian Edwards endured on the live forum is the result was not only entirely predictable but almost certainly signals another mid-table season with fuck all in the trophy cabinet.
Dead wrong that people can't point this sort of thing out without head banging lunatics spitting their collective dummies out.
Graham Mockford
147
Posted 20/03/2021 at 21:41:11
Barry
I disagree, I had pretty low expectations going into tonight. I certainly wasn't spitting my dummy out.
But if someone continually comes onto a forum spouting negative shite I'm happy to call it out.
Barry Rathbone
148
Posted 20/03/2021 at 21:43:18
Mike Gaynes
149
Posted 20/03/2021 at 21:45:35
My apologies, folks. Today's loss was my fault. Had to miss the game -- out with the wife. I kept checking my phone every five minutes, and it was 0-0 into the 82nd minute when she finally convinced me to actually watch the proceedings on my phone. And the moment I clicked in... arggh. I jinxed it. Sorry.
That malarkey aside, I am so proud of the effort today -- particularly by one very baby-faced goalkeeper who was everything we could have hoped for. And I would add hearty applause for inspired efforts by Godfrey, Mina, Dom, Gomes... hell, everybody in blue showed up and gave it all against the best team in the world.
Silverware next year.
Ian Edwards
150
Posted 20/03/2021 at 21:46:10
Graham 147
There is a huge difference between disagreeing with an opinion and also posting foul mouthed abuse.
Rob Dolby
151
Posted 20/03/2021 at 21:46:22
Unfortunately the English Prem is turning into la Liga, Scottish prem, bundis league etc.
It's David v Goliath whenever we play City, Chelsea or Utd. They can practically pick 2 teams made up of full internationals.
That is the size of the job Ancelotti has on his hands.
We had a chance tonight and I would have loved to have given them a bit of a bloody nose but when we did have half chances we snatched at them. Their first goal wasn't a trade mark move it was a bit of a scramble and reaction from hitting the bar.
Oliver is probably our best ref but disappointed in him for not blowing for their 2nd goal. He blew for an imaginary pull on sterling in the first half. Just be consistent. He definitely blows if that's against a city player.
Thought all of our lads put a shift in tonight. We where crying out for legs to come off the bench after an hour but we just haven't got that option.
Allan my motm but it could easily have been Godfrey, Gomes or the front 2.
Johnny Logan.

Jeff Armstrong
152
Posted 20/03/2021 at 21:46:36
Going on the LF is a lottery,it's instant, it's emotional, calling for the moderator is weak as piss.
Graham Mockford
153
Posted 20/03/2021 at 21:47:50
Ian
Try the Royal Mail complaint site
Graham Mockford
154
Posted 20/03/2021 at 21:48:58
Barry
Because shite is shite
Barry Rathbone
155
Posted 20/03/2021 at 21:49:28
Jeff
Think he got called a c**t - vitriol aplenty methinks

Gary Willock
156
Posted 20/03/2021 at 21:49:58
Sometimes you just have to pay credit to the opposition. They are a VERY special team. 25 wins out of 26 games tells you everything you need to know.
Hopefully we stay in the mix for Europe, but we have to be patient. Last year we were gash, this year we at least look like a team that's becoming hard to beat.
This summer is *massive* once again. We need a right back "digne", a goal scoring attacking midfielder who will get 15 goals, and a right winger who'll do the same.
Virginia's performance should save us any fees in that area. 3 big signings and we'll be hard to stop for top 2-4.
Tony Abrahams
157
Posted 20/03/2021 at 21:50:19
I rarely enter the live forum, but if there's been a spat or two then it's only reminiscent of Goodison Pk sometimes on match day, because football is a very emotional game.
Everyone reacts to a defeat differently, but earlier in the season every time Liverpool had a good win, you used to come on saying it's clear they are the best team around Barry, and tonight after going out the cup, you come on with smiley faces, saying at least we can concentrate on the league!
I know you like to tell it how it is Barry, but smiley faces doesn't really make any sense to me on an Everton forum, just after we have been knocked out the cup, and it's probably why I rarely agree with you in general mate, but we are all different and that's what makes this website so addictive I suppose.
Barry Rathbone
158
Posted 20/03/2021 at 21:52:00
Graham
Everyone knows that shite is shite but what is your reason for this
"But if someone continually comes onto a forum spouting negative shite I'm happy to call it out"
it seems your contention is only what you see as "positive" views should be allowed - yes?
Brian Murray
159
Posted 20/03/2021 at 21:52:40
Rob post 151. I assume you mean what's another year by your parting shot ha ha. Yeah but as I have said many times we have us dominate until they put their red snouts in the trough and ruined it for all of us ( 85 ) at least we have seen it. My kids have seen Jack ! Besides the derby win and they are in their 20 s and 30 s. Will it ever happen again ! Maybe to an extent we can at least compete and have a team on the banks of the Mersey to at least worry the usual suspects.
Barry Rathbone
160
Posted 20/03/2021 at 21:55:16
Tony
I rarely enter the live forum, but if there's been a spat or two then it's only reminiscent of Goodison Pk sometimes on match day
Not really if you call someone a c**t you get chinned and/or thrown out - very different to a forum
Thomas Richards
161
Posted 20/03/2021 at 21:56:36
Tony,
A nark in the match is face to face mate.

Pat Kelly
162
Posted 20/03/2021 at 21:57:42
Gary #156, if we can sign one player who'll score 15 goals it'll be a miracle.
Trevor Peers
163
Posted 20/03/2021 at 21:58:08
We did OK today, considering we have a shite set of players. The summer transfer window will be our usual last chance to improve us before next season begins.
Personally I don't think we have enough money to make a difference. Anybody who does think so is totally deluded, it will be exactly the same next season as this one.
Who could possibly make any impact at Everton ? All the best players go to the elite clubs which we are no longer one of, end of.
Robert Tressell
164
Posted 20/03/2021 at 21:59:26
Thanks for posting that, Mike. It's interesting reading. The rich clubs have done so well for themselves from oligarchs and tv money that, in terms of squad value, we're much closer to the Championship than the Champions League. Nevertheless (and others may have different views) but to me we look like we're making progress as a club.
Graham Mockford
165
Posted 20/03/2021 at 21:59:28
Barry
Of course not. Every one is entitled to an opinion. But by having an opinion you are subject to challenge. That's the way it works. If the website owners want to say that challenge is inappropriate then that's their prerogative.
I would say in this instance, here we have a poster who loves to come on mainly when we've had a bad result and be provocatively negative and it got the reaction it deserved. Just my opinion of course.
Bill Watson
166
Posted 20/03/2021 at 22:00:33
Bill # 123
I was going to say much of what you said so you saved me the effort.
Just to say that if we'd have 'gone at them in the first half' as many are saying then we'd have been dead and buried by half time. Maybe we should have thrown a few subs on after their first goal but until then City really hadn't looked like scoring apart from the one Virginia tipped around the post and there was always a chance we'd nick one.
Gomes is an enigma; he was as good today as he was poor against Burnley. Godfrey is immense and must be one of the buys of the season.
As most of us appreciate the defence and attack are OK but midfield is the area which, urgently, needs strengthening. If we can do that in the summer next season could be half decent.

Will Mabon
167
Posted 20/03/2021 at 22:00:36
Graham,
well then we must accept maximum safety first against City and whoever else is at or near their level at any one time, as a default approach. I think we played a very solid game today, and City's break ultimately came via a bit of lucky running.
I just think there was a chance here and there to go at them a little more, when regaining possession in and around our area, moving forward faster from the midfield, rather than everyone staying back until all City's players had dropped back into place.
We actually did this several times and it paid dividends. Gomes surprisingly was looking to get the ball moving up more than I can remember recently but often had no-one to find. Equally surprisingly, he went past and across people with the ball too.
There were periods where we were literally just hoofing the ball back up the pitch twice a minute or more, only for it to come straight back, putting us back under pressure (which we dealt with well, I admit), all for the want of a player or two making a forward run to give an option.
All said and done, I feel the system is becoming very rigid and we're seeing it regardless of the opposition. We can't change all the players and we don't need to. Would've been nice to chance our arm a little more, in a game we were never statistically favourite to win - but sometimes fortune favours the brave.
Brian Murray
168
Posted 20/03/2021 at 22:02:18
Ian edwards post 150. If you are offended then as a blue il apologise on whoever went a bit personal. I admire the way you stick to your guns but as long as you want what's best for the club and not just a mindless witch-hunt of the manager !Case in point I was banned in the forum for abuse to our Seamus mainly because I want us free from anything Moyes related ( still got nelly in the stands ) I should not of got personal because he is a great servant to Everton and a great captain. I just want us to get to the next level of player probably like you do. Coyb
Tony Abrahams
169
Posted 20/03/2021 at 22:04:16
I know that Thomas, and as Barry says it would usually end in fisticuffs. I'm just saying that this type of thing regularly goes on at Goodison, because this is what football and Everton do to us at times.
The live forum is not for me for this very reason though, because it's hard enough having to watch Everton sometimes, and when the football starts I always think it's better to just concentrate on the game
Barry Rathbone
170
Posted 20/03/2021 at 22:07:10
Graham
"be provocatively negative "
You admit that is your opinion but certainly it is not that of others as you can see here furthermore how that justifies laying out personal abuse to a fellow evertonian is mystifying.
I remember pictures of Liverpool fans fighting each other at some euro game and people saying it couldn't happen here. You and your compadres killed that myth
Kieran Kinsella
171
Posted 20/03/2021 at 22:08:22
Barry
Not necessarily, depends how big you are. I think Ian goes overboard with criticism just to stir it up. Which he's free to do. But as with family, some fans might criticize the team but if someone else does they get upset. I don't know about Graham but the other two who were upset are long term diehard passionate fans who don't generally cause a ruckus on here
Graham Mockford
172
Posted 20/03/2021 at 22:08:29
Will
I mean it's an argument of course. We were much open in the league game than tonight and in both games we got beat by two.
I think it was a probably a decent plan tonight, it certainly worked for longer. But the stark facts they had seven players on their bench who are better players than our starting eleven.
Thomas Richards
173
Posted 20/03/2021 at 22:08:36
It can get heated at the game Tony, I agree mate.
Ive had a couple and I would have my last pound that you have.
Its the frustration of being a Blue.
At the same time I disagree with a few on here at times, but back them all as Evertonians.
Don Alexander
174
Posted 20/03/2021 at 22:12:11
Leicester aside, the competitiveness of the Premier League was well and truly fucked once we allowed London's most dubious Russian in. Not content with that the EPL morons then allowed the sheiks in to buy success for City. Then those who consider themselves to be in charge decided to introduce FFP, thereby at a stroke hammering every Chelski/Citteh opponent for the next decade minimum, whilst those two and opulent others in Europe continue to cruise on as perennial boring winners.
To even have a chance of competing, good clubs with talented managers realise that the only way to squeeze a point out of the favoured ones is to play negative football in a bid to nullify their talents, and hopefully nick one late in the match.
Entertainment? As if!!
And all home delivered to true football fans by faceless blazered muppets who find themselves in a position to make crucial decisions to the damage of so many.
Rant over.
Barry Rathbone
175
Posted 20/03/2021 at 22:15:27
Kieran
"I think Ian goes overboard with criticism just to stir it up. Which he's free to do"
I think you are wrong on the "stirring" bit but even if you were right as you say he is free to do so. What I don't get is Evertonians calling each other "c**ts" as a result. Surely there are better ways to resolve differences of opinion
Graham Mockford
176
Posted 20/03/2021 at 22:15:52
Barry
If you are going to post an opinion don't be expect not to be challenged.
I think the number of posters who got upset at his posts is not surprising
Brian Wilkinson
177
Posted 20/03/2021 at 22:16:30
Everton were spot on with their tactics for well past the 80 min mark, once City scored and we went at them they got the second goal.
Our midfield and breaking at speed is the problem.
Defence is fine, but a right back would be a welcome buy, in the summer, we look sorted when we have Allan and Doucoure in the team, if we could get another quality midfielder to go with them and a right winger then we will be much stronger next season.
At the right price, I would have another go for Zaha and Max Aaron's and try and find that additional quality midfielder, unless Gbamin comes back strong.
Just a few tweaks here and there needed, and more strength from the bench.
Jason Li
178
Posted 20/03/2021 at 22:17:56
Emotionally it is frustrating to go out, as a trophy means so much. Logically, the chances of winning were low, even as it was mentioned above by Andy@86 - if we flipped the managers, the results would still be the same.
Congratulations on the recruitment of Virginia and Godfrey. Yes, it will take time to catch up the likes of Leicester who sign unknowns and spend 2-3 years improving them. But I think we are transitioning the right way as a club, and are not a million miles from consistently drawing with City. Possibly only just need one more summer transfer window for us to be a lot closer to City.
Kieran Kinsella
179
Posted 20/03/2021 at 22:18:02
Tony
Regarding backing in the summer, I look at RB and midfield as problems but I'm not sure who to keep in mf assuming we don't replace them all. They have their various merits but weaknesses. For eg if we go with James, he needs Duke and Allan to cover his ass. Rich and DCL up top that means one spot open. Do we bring in a speedy winger? How would speedy winger work with a better RB. I'm just not sure how to get the balance right without scrapping the whole lot save maybe Duke, as they don't offer us the right balance.
Jerome Shields
180
Posted 20/03/2021 at 22:19:44
Kevin #78
Great summary of the game.
Thought Virginia was really good. His distribution with both feet was excellent throught out the game. Better than both Pickford and Olsen. Really put the pressure on City.
Tony Abrahams
181
Posted 20/03/2021 at 22:20:12
Barry @170, something I finally agree on, and that is that it is a myth.
I still think we are different from them mate, but a lot of Evertonians are mad scousers, and amongst the most loyal fans in the country, and I've seen many, get a little bit more than defensive if someone is criticising something they don't agree with.
Will Mabon
182
Posted 20/03/2021 at 22:20:13
I know, Graham,
and I feel philosophically resigned about the result rather than dismayed. A little regret that such ultra-defence appears the only answer right now. I hope it changes. One day someone will throw the kitchen sink at City and tear them a new one - wish it had been us tonight, we had nothing to lose.
Grant Rorrison
183
Posted 20/03/2021 at 22:20:59
Anyone know why King and Bernard weren't even on the bench? We could have at least made some kind of change in the last 15 minutes if they had been to try and freshen things up a bit. One sub in the 87th minute after we've conceded suggests CA was happy with playing out another 30 minutes with a tiring side. You need to show some level of ambition and take a chance. It's a cup game and it wasn't rational to try and play for a further half an hour, regardless of approach, anyway.
Brian Wilkinson
184
Posted 20/03/2021 at 22:21:43
Max Aaron's and Zaha would be a start Kieran
Barry Rathbone
185
Posted 20/03/2021 at 22:22:43
Graham
No one is suggesting challenging is out of the question I am challenging you on your method not your challenge. So far you haven't managed a sensible reason why you would verbally abuse a fellow blue. Well, that's not quite right it seems you lose control at what you see as negativity - have I got that right?
Brian Wilkinson
186
Posted 20/03/2021 at 22:22:47
King was cuptied grant, no idea Bernard.

Mike Connolly
187
Posted 20/03/2021 at 22:24:05
Now that the season is over we'll have the Flip Flop brigade on. These are the guys who say well, nothing to play for the team have their flip flops on. They are burring their head in the sand. The phrase for these lazy players should be we've been playing with deep sea diving boots since Jan. Another home defeat all be it City. we need the fans back quickly to rip into our feeble excuse for players. Roll on next season, but we are Everton nothing will change.
Tony Abrahams
188
Posted 20/03/2021 at 22:24:26
If the Russian fucked the EPL Don, then I'd say it was your mate, the one with holes in his shoes that fucked Everton, but I take great solace from our opponents tonight, who had it even worse than us, but look at the bastards now.
Stephen Brown
189
Posted 20/03/2021 at 22:24:30
As a Welsh Evertonian, all I can say is sport is shit!
Rob Halligan
190
Posted 20/03/2021 at 22:25:54
Thomas # 136. Sorry mate, just seen your post. Made up for the lad. Thought he had a great game. Couldn't believe it was nearly five minutes before he had his first touch. I really thought city would pepper our goal to test him out. He looked very composed in the first half, especially with some of his passes out to our players. Had a couple of nervy moments in the second half when he went to try and punch the ball clear. In the save you mention, yeah a great save, especially considering he used both hands rather than using just his left hand when he would have been able to extend his arm a bit further. Was really unlucky the first goal as he managed to tip the initial shot onto the bar and just unfortunate it fell for Gundogen to head in. Was also impressed with his kicking, sometimes it's just best to get the ball down the other end as the opposition can't score down there.
So as I say, overall very impressed and didn't appear to show any nerves at all. Looks good for the future as a permanent back up to Pickford, if reports in the daily mail about Robin Olsen wanting to return to Rome are true.
Sorry Thomas, just re-read your post about his save onto the bar and not the one he tipped round the post. As I say, he was really unlucky with the first goal. He managed to get a strong hand onto the shot and tip it onto the bar, though it was more a reflex save as it was very quick coming at him. He stood up well to the shot. Overall a very composed performance from Joao Virginia.
Graham Mockford
191
Posted 20/03/2021 at 22:27:02
Barry
No, maybe we just have different views on what abuse means. I mean I call many of my best mates fucking bellends 😂
Barry Rathbone
192
Posted 20/03/2021 at 22:27:20
Stephen
Did Wales lose? I switched it off when they were comfortably ahead - bloody hell
Joe McMahon
193
Posted 20/03/2021 at 22:28:17
Don@174, nothing like Chelsea et al but Everton have now spent a lot. Its bad recruiting and high salaries to dross players thats the problem. For a club to have spent so much on players for our current goal difference is disgraceful.
Also remember when criticising City, Mansour approach Bill first.
Jeff Armstrong
194
Posted 20/03/2021 at 22:29:24
I get annoyed when" Evertonians " come on and ask why King was not on the bench FFS, I also think it's pretty obvious that Bernard was injured or if not, has thrown a hissy fit and is back in Mina's car's child seat!
Kieran Kinsella
195
Posted 20/03/2021 at 22:30:48
Barry
Andy Crooks brought up this abuse point, not wanting to start anything with him but he's posted similar remarks about players after defeats. So if we are United in supporting the team, therefore we shouldn't abuse one another, how's it acceptable to abuse the actual team we support? I feel personally if we set a standard of respect it should apply to everyone including the manager Darren (who was also offended by the abuse) calls The Ginger Twat.
Tony Abrahams
196
Posted 20/03/2021 at 22:31:32
Sorry Graham I can't resist but they fuckn must be if they're your mates!! Boom Boom!
Thomas Richards
197
Posted 20/03/2021 at 22:31:54
Thanks Rob.
I was impressed with him.
Seemed very calm by nature.
Confident lad.
Grant Rorrison
198
Posted 20/03/2021 at 22:32:58
Jeff 194. He's not mentioned on the official site as being injured. I don't follow Bournemouth and consequently had no idea that King had played for them in a cup game. Sorry about that.
Barry Rathbone
199
Posted 20/03/2021 at 22:33:45
Graham
They would have to be friends because with strangers you might get your nose re-arranged which brings me to the point I and others would probably make - forum manners should reflect real life - it's cowardly shite otherwise
Don Alexander
200
Posted 20/03/2021 at 22:35:02
Thanks Tony (#188) but I was for once trying not to pillory the smug self-serving sod who's still chairman even after decades of his cack conduct, repeatedly reducing us to mid-table at best.
Tony Abrahams
201
Posted 20/03/2021 at 22:35:34
Joe@193 I'm going to bed now before Graham gets me back, but surely this is only a rumour? I'm depressed already going out the cup
Will Mabon
202
Posted 20/03/2021 at 22:36:22
Rob - I still think he doesn't look 6'4"...
He had a very good game though. One of those messed-up punches, DCL (I think it was) jumped into him as he went to punch.
Stephen Brown
203
Posted 20/03/2021 at 22:36:51
Barry 192
Yes the last play in the 82nd minute ! Same as Everton !
God I'm depressed
Barry Rathbone
204
Posted 20/03/2021 at 22:38:41
Kieran
I happen to agree with you. I never personally abuse present staff of EFC be it the tea lady, directors or players and if I criticise it is about the job they do NEVER anything personal.
Ya twat - hahahaha (only kidding, mate)
Will Mabon
205
Posted 20/03/2021 at 22:40:25
Don, 174 -
some rather sad reality in there.
Roger Helm
206
Posted 20/03/2021 at 22:40:29
When you look at the quality of our bench you wonder how we can possibly manage a campaign in Europe next season, assuming we get that far, without a big influx of quality players this summer.
Jeff Armstrong
207
Posted 20/03/2021 at 22:41:56
Barry, Why does the tea lady always get dragged into it?
Does she even exist...At any club?
Barry Rathbone
208
Posted 20/03/2021 at 22:43:26
Stephen 203
Although English my ancestral dna goes back to Princess Nest of Deheubarth so I feel for you, mate
Mike Connolly
209
Posted 20/03/2021 at 22:45:56
Roger 206 Stop worrying. We'll get no wear near Europe
Barry Rathbone
210
Posted 20/03/2021 at 22:46:34
Jeff
You might be on to something perhaps we need a tea lady of substance - lets start a petition to sign Mrs Doyle, Craggy island. lol
James Head
211
Posted 20/03/2021 at 22:46:45
With this squad of players it was always going to be like taking a banana to a gun fight, be lucky to get a point in the next 5 games with the slowest midfield in world football, the bench was a disgrace considering the money we've spent, 10th place finish at best for these feeble mercenaries.

Jeff Armstrong
212
Posted 20/03/2021 at 22:47:56
Roger 206, don't worry we've got all those loanees coming back, Walcott, Kean,Tosun etc
Kieran Kinsella
213
Posted 20/03/2021 at 22:48:38
Fair enough Barry
Joe McMahon
214
Posted 20/03/2021 at 22:53:13
Jeff, Walcott will be out of contact and Kean ( who I would like back) won't be coming back. I think PSG will want him and Juventus possibly.
Phil Wood
215
Posted 20/03/2021 at 23:04:05
Well played Blues!
Much better turn out than I expected after recent results.
Let's take this performance and commitment into the last part of the season.
Cannot bring those inept performances back and replay them.
Need to make several pacey, quality signings at the end of the season, eject the deadwood and push on next season.
John Raftery
216
Posted 20/03/2021 at 23:09:30
I thought Ancelotti's team selection tonight showed some of the ruthless streak which lies behind the kindly uncle persona. Keane and Davies were responsible for the cock-up which led to us conceding the first goal last week. Both found themselves on the bench tonight.
Steavey Buckley
217
Posted 20/03/2021 at 23:17:29
I have to agree about money influencing the success at Man City but not as much as at Chelsea. They have tried to develop success with their academy, and produced players that all could play for Everton right now!
Tammy Abraham – homegrown
Andreas Christensen – homegrown
Fikayo Tomori – homegrown
Mason Mount - under-21
Callum Hudson-Odoi - under-21
Billy Gilmour - under-21
Reece James - under-21
Kai Havertz - under-21
Chelsea also have numerous players on loan in the premier league and in the championship.
But when looking deeply at Everton's academy the picture is not so 'rosy,' but disturbing. Since 2016, Everton only have one player who has graduated from the academy to play for the 1st team regularly at the beginning of a game or brought on as a sub later in a game.
Jeff Armstrong
218
Posted 20/03/2021 at 23:17:56
Paul A Smith
219
Posted 20/03/2021 at 23:36:16
Mike Keating 143 bang on. I'll have to read the post you mention about the future of the game.
Tonight was pretty much part of the bigger picture I always bang on about, why I can't be arsed with us in europa league and why I say our players are pretty much shite.
If you are not in the champions league regular, football is pretty much pointless.
Its not because I don't like the players but because they are nowhere near city or champions league players at the top clubs.
Its sad and I wish I could be more positive but i'd say if you want anything to change at Everton or in football, your energy needs spending in digesting Mike Keatings points, getting on board and hoping its changes.
Blaming Chelsea is ridiculous. Abramovic done what United and Liverpool done forever and the only affect its had on football is the elite got frightened when City and PSG done the same, then they closed ranks and set up shop for themselves.
Before Chelsea spent money, Arsenal and United were dominating English football and Everton still had no chance of the title.
Football is fucked for us and I hate the fact its a closed shop, as far as winning titles goes anyway.
Paul Hewitt
220
Posted 20/03/2021 at 23:40:19
We have spent £500 million. How can we have a week squad?
Stephen Vincent
221
Posted 20/03/2021 at 23:43:10
Jeff Armstrong, sorry I posted my reply to to your enquiry on the live forum too late. Do you want to continue the exchange?
John Boon
222
Posted 20/03/2021 at 23:48:36
I have been watching and loyally supporting Everton for over seventy years. I am only mentioning the length of time to put what I feel in perspective.
" The present Man City are THE best team in the top English league I have watched in all that time "That is my opinion and there may be many who disagree, but I don't know who have ever been better.
I am as disappointed that we lost as much as any supporter. However I refuse to be critical of any player who wore the Everton shirt today. Initially I was not to sure about the starting line up, but based on who was available Ancelotti probably got it right.
I still hope for better times ahead but it is so obvious from comparing teams that MONEY is the major difference. We had an under eighteen bench. Man C could have two successful teams in the Premier. As much as I admire their football I think it is such a shame that money has become EVERYTHING.
From the late fifties on such teams as Portsmouth, Ipswich, Burnley, Derby, Notts Forest, Blackburn have all won the top level. That does not include Everton and all the othe so called top teams of today Unfortunately the competiveness of the past will NEVER happen again. The main reason is money and Multi Billionaires who have come from over seas to own our Teams.
So as much as I admire the football of Man C as I previously mentioned, I don't like the way it has all happened. We may be fortunate enough in that we have a super wealthy backer in Moshiri and I still hope to see the new ground. I support the move, but my heart and soul will always be in Goodison Park along with the 78,000 + crammed together.We were all there to watch our local team do their best. and sometimes their "worst". But that is what it is to follow EVERTON.
Barry Williams
223
Posted 20/03/2021 at 23:49:10
Just throwing this out there. Do people think Calvert-Lewin and Richarlison make a good partnership?
Robert Miller
224
Posted 20/03/2021 at 23:50:48
We didn't lay a glove on them. FA Cup Quarterfinal and we played with no intent other than to get lucky. It's so predictable, I can't even be bothered being disappointed.
Ian Edwards
225
Posted 20/03/2021 at 00:01:39
Before heading off for the night just to list some of the abuse I received tonight:
Miserable prick, fucking pox, miserable twat, sad twat, knob, dick, fucking bellend, pig shit, fucking cock, knobber, Some fans also saw a cunt, add to that several 'fuck off's.
Some fans need to reflect on this.
Tony Williams
226
Posted 21/03/2021 at 00:14:37
As an Evertonian, I hate to admit it but between us and the so called big boys, there is an absolute total gulf in class.
Graham Hammond
227
Posted 20/03/2021 at 00:17:27
Barry #223. Absolutely not, I do not think DCL works particularly well with other players and certainly not with Richarlison sadly. He has upped his goal-scoring rate which is great but as I see it the team has to come first. We did well and won the league after losing Lineker and all his goals. Broadly speaking we were shite when we had Tony Cottee who was a goalscorer. We did well and finished 4th with Marcus Bent up top despite him scoring relatively few goals. Lukaku was a top goalscorer and yet again we struggled for some of his time at the club. From my point of view, unless we can get pinpoint crosses into DCL from either flank (which requires finding and buying real quality) then I am not so sure he is the way forward for us and maybe should be the player sacrificed to rebuild. Football has moved on from what we currently serve up. It is still, however, all about team balance from my perspective and sadly we are still a long way short of this in so many ways and in all departments.
Don Alexander
228
Posted 21/03/2021 at 00:21:16
Ian (#225) are you related to Boris Johnson or what?
Derek Thomas
229
Posted 21/03/2021 at 00:21:34
Not an unexpected result. Virginia and Godfrey stood out for me and we never lacked for 110% effort and dare I say it...Intensity.
Where that effort and Intensity was Vs Burnley and 4 more - well that's for another day...but it needs addressing soon.
In the absence of a lucky bounce, we never looked likely to score. Then they added Mahrez and KDB, we offered a very belated Iwobi - therein lies the whole game.
2 weeks off to twiddle our thumbs - I hate International breaks.
Jerome Shields
230
Posted 21/03/2021 at 00:23:38
Ian Edwards #225
I thought you were trying to be positive, but some are fixated in their attitude to Everton and knee-jerk when things don't go the way they want. Everton have improved a lot and will continue to do so.
Graham#227
I don't think pinpoint crosses would make any difference to Calvert-Lewin. . . His positional sense is poor and he is either in the wrong position or behind his marker. His touch in the area is poor, as is his shooting ability. In the last three games, he has resorted to flicking the ball, which is the same as humming a tune because he does not know the words.
On HesGoal, the accompanying commentator pointed out two clear poor plays by Calvert-Lewin that were examples of the above. Everton are going to need a clinical striker and Calvert-Lewin is not going to make it.
Barry Williams
231
Posted 21/03/2021 at 00:38:54
Graham Hammond - 227
I think both players have their strengths and weaknesses of course, but as a partnership I do not see any interchange of play, neither setting the other up a few times a match, and if the midfield are not creating, they are not creating for each other either. I feel there is a problem with the language barrier, but too me it goes beyond that. Calvert-Lewin is winning a lot of headers, but they are not getting picked up, and his hold-up play has come a long way, but something between them is just not gelling I feel. I also feel that Richarlison often picks the wrong ball. a couple
of times there was an outlet on the left, but he chose to cut inside, only to be confronted with a packed penalty area.
When Lineker left we still had Sharp, Heath, Wilkinson and Clarke. Oh what riches! Not sure if they were there at the same time!
Kevin Langley - remember him!?
Jerome Shields
232
Posted 21/03/2021 at 00:41:43
Calvert-Lewin seems to have given up on Ancelotti's one-touch advice, largely because he is rarely in a position to take advantage.
Barry Williams
235
Posted 21/03/2021 at 00:56:13
Don Alexander - 233
A poster made a really good point before (just tried to find it but alas), FFP has meant that teams now do not and cannot have the financial clout of the 'BIG BOYS', thus the only way to compete is to go defensive, nick one - which makes for much more boring games!
My gripe is the play acting and feigning of injury, it really is red rag to a bull!
Kieran Kinsella
237
Posted 21/03/2021 at 01:07:30
Don Alexander 226
Classic that cracked me up — no offense Ian.
Brian Murray
238
Posted 21/03/2021 at 01:10:08
Barry post 231.
Langley was invaluable with all the injuries we had in 87 title season, Reid, Sheedy, Mountfield etc, A quiet lad from Wigan but a great first touch.
Kieran Kinsella
239
Posted 21/03/2021 at 01:10:20
Barry/Graham
No I don't think they're a good partnership at all. Do you remember under Koeman that DCL got a lot of assists? He has it in him to work in tandem but I feel that Rich just does his own thing. He's never in the box for knock downs. He loiters about midway in the opposition half and has one idea: dribble for a bit then shoot.
Ian Riley
240
Posted 21/03/2021 at 01:11:21
That bit of extra quality beat us today. For 80 minutes we were level. In all honesty we done well. Until we get more competition for our first choice eleven then we will struggle against such sides. We needed quality players to come on at 80 minutes to upset city players, we didn't have them.
Carlo is not to blame. He knows we can't go toe to toe with city. Caution was his game plan hoping a mistake from city or bit of quality from us to win. A couple of quality players whom have won trophies are required this summer in the midfield area to drive the team forward.
All we know is getting this club back to the top is going to take some time and some luck.
Barry Williams
241
Posted 21/03/2021 at 01:17:16
Brian Murray - 238
We won the league because of squad depth that season - Paul Power! We had players like Neil Adams I seem to remember. Now, was there also a guy called Peter Billinge? Maybe that was a season or 2 before.
Kieran Kinsella - 239
Yes, they do not seem to be taking advantage of each other's talents at all, and seem on different wavelengths. I remember Calvert-Lewin getting a great assist from wing back!
Kieran Kinsella
242
Posted 21/03/2021 at 01:21:10
Brian Murray
Yes Langley was one of the many unsung heroes of 87. Everyone talks about the legends Sheedy, Sharp and co. But they forget all the injuries. Trevor Steven was top scorer with just 14 and I think 10 were penalties. Then you had Langley, Marshall, Pointon, Adams, Wilkinson obviously Power and Harper all playing an important role.
Kieran Kinsella
243
Posted 21/03/2021 at 01:28:07
Barry 241
Yes I remember Peter Blllinge, I have an old team poster showing him. But bizarrely I just Googled him and while Everton records list him as Billinge he appears to have changed his name to Billing after he joined Crewe. Some kind of witness protection gig? Or someone at EFC couldn't spell?
Barry Williams
244
Posted 21/03/2021 at 01:29:56
Kieran Kinsella- 243
I had a search too, and didn't find much. thinking I'd imagined it, or it was the Stella!
Brian Wilkinson
245
Posted 21/03/2021 at 01:47:18
Barry @235, I mentioned FFP in a post, not sure if that is the one you are referring to.
Kieran Kinsella
246
Posted 21/03/2021 at 01:49:05
Barry, lol.
Like the time we signed Riquelme. Wait – that was Stella.
Andrew Keatley
247
Posted 21/03/2021 at 01:50:53
Ian (225),
"Before heading off for the night, just to list some of the abuse I received tonight: Miserable prick, fucking pox, miserable twat, sad twat, knob, dick, fucking bellend, pig shit, fucking cock, knobber, Some fans also saw a cunt, add to that several "fuck off"s."
I can only assume that frustrations with the result bubbled over in a bit of an unsavoury manner and you became the target. But I am slightly troubled by your inclusion of the phrase "Some fans also saw a cunt" – in respect of the various insults thrown your way. I wasn't on the Live Forum today, but I had a quick scan of it just now – as I'm sure you did in order to source the list of insults that you have offered up – and I cannot see anyone calling you that particular curse word.
Someone used that word to describe Steve McManaman. Someone else used it about the commentators in general. A couple of other people used it about the team. Another used it about the ref. That was it as far as I could see.
So, to the person (Barry @ 155 I think) on this thread who introduced that idea that someone used that word, that is an unhelpful addition to the conversation.
And to you Ian, it really weakens your call for sympathy by perpetuating the myth that someone used that particular insult in reference to you, especially since you probably know that nobody did. No need to gild the lily.
Brian Wilkinson
248
Posted 21/03/2021 at 01:52:12
Must be on another thread Barry, I cannot find it on here.
Barry Williams
249
Posted 21/03/2021 at 01:52:48
Brian Wilkinson - 245
Cheers Brian, I didn't think I had imagined it, and it was a good point!
Brian Wilkinson
250
Posted 21/03/2021 at 01:55:59
I think it might be post 78 on the Gouverment wanting more time post, I thought I had put it on here as well about it.
Barry Williams
251
Posted 21/03/2021 at 01:56:22
Kieran Kinsella - 246
There have been a number of signings I wish were Stella fuelled and imaginary!
Brian Wilkinson - 248
Must have been mate, I did try to see it on here to reference you! Don't like steeling other's ideas!
Brian Murray
252
Posted 21/03/2021 at 01:58:09
Ian Edwards, I'm jealous that you are looked at as a cult figure on ToffeeWeb although I'm drunk so may of mis read it ! Seriously once again I apologise on behalf of fellow blues for the abuse. At least you wasn't called a closet kopite now that is below the Lonsdale!!!!!
Paul Jones
255
Posted 21/03/2021 at 02:14:10
For the first goal Mina did flinch because of the the raised boot and the referee considered the foul but given there was no contact and loss of teeth the game was played on. However given the difference in quality of squads the plan partially worked. We was in contention for 84 minutes once a goal was conceded so late was inevitable that we would not be able to respond given the paucity of the bench compared to our opponents.
I thought Virginia acquitted himself very well. His shot stopping and distribution was good. There did not seem to be the usual drama in our penalty area.

Si Cooper
257
Posted 21/03/2021 at 02:38:53
Bill Watson (166), you had me nodding my head all the way up to the comment about Gomes being very poor against Burnley. I've had him down as 'much improved' for at least the latest 3 (including tonight), but he seems to be permanently on some supporters radar as 'good for nothing'. It may be that he has taken notice of Tom Davies improvement and reacted to that in the right way.
Now, I'm not saying he is necessarily the answer to our midfield problems, but I'd suggest that he is currently in Carlo's good books and he probably won't be on Brands 'definites for shifting' list in the summer. I feel he is offering way more than Schneiderlin did (especially attitude wise) for most of his period with us and it took a long time for that player to be cast aside by the managers. At the prime age of 28 in the summer he may be capable of setting himself up for a few years renaissance with us and perhaps the Portuguese national team.
Kieran Kinsella
258
Posted 21/03/2021 at 02:51:09
Si Cooper
I think Gomez has finally adapted to the physicality of the EPL and come to realize he's a fairly well built fellow himself so doesn't have to get brushed aside as he did in the past. Now I'm not suggesting he had the time bending ability of James, but he does bring a calming composure to the team. He doesn't panic, he waits until he has a good option. My concern is that neither he nor James have any pace, and neither are good tacklers. So looking to next season, I can't see us progressing if both are playing regularly. On talent alone I'd pick James, but factoring in cry baby weakness, James isn't reliable enough. But if James is out, we have Sig who also is slow and can't tackle. So, Gomez may have to go just because it's easier to offload one player versus two number 10s and replace him with someone who can run faster than Bilyletdinov AKA a snail over salt
Steve Brown
259
Posted 21/03/2021 at 03:06:49
Think we'll need to set up a TW Truth and Reconciliation Commission after last night's live thread!
My take is that posters get frustrated with Ian Edwards because he doesn't offer alternatives to what he criticises. But, the abuse was definitely completely over the top.
Steve Brown
260
Posted 21/03/2021 at 03:10:18
The main problem wih our midfield is that it lacks pace and energy. As a result, we can be out-worked by lesser teams with more legs in that area. Doucoure's passing might be erratic on occasion, but we will really miss him for the remainder of the season.
Kieran Kinsella
261
Posted 21/03/2021 at 03:14:59
Steve Brown
I agree. If I could wave a magic wand I'd shift Bernard, Iwobi and Tosun and bring in some guys with pace. I'd also not extend Kings deal, though — if he's willing — I'd give Moise Kean another shot.
Kieran Kinsella
263
Posted 21/03/2021 at 03:20:16
Didn't know Jay Jay Okocha was Iwobi's uncle. Crikey, what a player he was. Even under Samuel Allardyce he was fantastic: Can we ask him to step down and have his uncle fulfill his contract?
Brian Wilkinson
264
Posted 21/03/2021 at 03:20:37
To be honest Barry I do not know the full ins and out of the ffp, how it works with Champions league teams etc and spending, be good for Paul the esk to do a write up on the money side of things.
Billy Dawber
265
Posted 21/03/2021 at 03:47:03
Reading a lot of the posts on here makes me realise a number of us are realists and others are dreamers. There's nothing wrong with dreaming but, in the real world, this team will never win a trophy with the players we have who are shall we say just making the numbers up.
This summer is going to be the deciding factor as to whether or not Carlo and his crew have got what it takes to sort us out. There are alot of us who think we know who he will get rid of if at all possible and a few who would like certain players to come in if again possible.
He has the know-how for sure and with Brands we may be able to attract 3-4 decent players but will they gel and fit into the Carlo way of thinking, this is the question.
We are all waiting to see what happens for sure but just let's get over this season first and see where we end up regarding places etc. Being an Evertonian is never easy or straightforward but I suppose things will change, hopefully for the better.
Barry Williams
266
Posted 21/03/2021 at 03:50:04
Brian Wilkinson - 264
Yeah, my knowledge is rather limited on that front too to be honest Brian!
Derek Knox
267
Posted 21/03/2021 at 05:44:13
Now let's examine the evidence! A Treatment Room bulging with expensive duds, (not all btw) a few dummies ejected, and a long way from the pram, ripped up Blood Brothers Tickets, and a World Class Manager! Who plays in a Stadium like this?
I have been very disillusioned about our recent home performances, and quite often against (with all due respect) lesser opposition, who we could have/should have, beaten easily. Yesterday, we were not exactly down to bare bones, but had a few major absentees, and if I may add, playing probably the best (No, not Carlsberg) team in Europe and possibly the World at the moment.
There was none of the usual cursing from me, for under-performing prima donnas barely going through the motions, misplaced passes, and emulations of headless poultry. I felt for 84 minutes we matched everything that Man City had, and although they had us tortuously imprisoned in our own half for much of the game, we held out.
Pre-match ne'er-do-wells (oh yes, we also have a few on TW) were predicting the relatively inexperienced goalkeeper, Joao Virginia, would require Ralgex or Deep Heat for back problems, picking the ball out of the net so many times, and that was before half-time!
He would have been like a sand-bag on an extremely busy rifle range. Batman would have been proud of him, as a replacement for Boy Wonder, and even the passed Bruce Forsyth would surely have commented, "Didn't he do well?"
He has had a lot of bad luck along the way Joao, but he has risen above all that and can be proud of his 90-minute 'baptism of fire' where I must also interject that although he conceded two goals, neither were his fault. The whole team in fact, need to take a bow, for having gone toe to toe with City for 84 minutes. Okay, there were the odd misplaced passes, but nothing on the scale of what we have been subjected to.
Which beggars the question, if we could do it against City where were those collective and individual performances in previous games?
Derek Thomas
269
Posted 21/03/2021 at 07:14:12
Derek Knox @ 267; exactly what I said @229.
Kieran K. @ 243; my research tells me there is an optional, sometimes silent, 'e' at the end of some names ending in 'ing' depending on just where and how the holder of the name puts the emphasis on the last syllable(s).
Darren Hind
270
Posted 21/03/2021 at 07:18:59
Regarding Ian Edwards: I have never seen the sort of personal abuse directed at him on yesterday's Live Forum. I thought it was disgraceful and in many cases exceptionally cowardly. Some people were making no attempt to tackle the point. They were simply lining up to tackle the man... Foolish protests that it wasn't personal or that he should "grow a pair" won't wash.
Iin my opinion. the majority of ToffeeWebbers are informed, fair-minded Carlo supporters. However, there is definitely a gang on there... One which shouts down any criticism of the manager. They don't even try to counter criticism. They just want to silence it.
The guy simply pointed out that we didn't lay a glove on them. Is that even disputable???
I always see personal abuse as surrender: "I can't contest what you said, so I'll simply abuse you" ... Genius!
We can argue that we could have done things differently, or that we'd have been thrashed if we were bolder. The fact is we are out... the worst result happened anyway. Foolish abuse directed at a dissenter will not get us back in the draw for the semi-final.
Finally, a point of order re Kieran Kinsella @195:
I love that you somehow find a way to drag me into every debate. It's a magnificent obsession you have going on there... but please, enough of the lies. I did not say I was offended – that was somebody else. Although I do admit to feeling attacked by a group of very cross lambs from time to time.
Generally, I find the intelligence-insulting babble you regularly post far more offensive than any "abuse" I may have received.
"Man Utd fielded a D-team in the semi-final against us" ... "I have always had a soft spot for Sheffield because a West Ham player once caught the ball when our goalie was injured."
That's not opinion – it's just ill-informed gibberish.
Andy Walker
271
Posted 21/03/2021 at 07:19:28
Derek I agree with you. My thoughts are we have found a way to play against the better teams by sitting back, defending well and hitting them on the break. When teams we are expected to beat come to Goodison we play a different, more attacking formation and we simply don't perform in that formation (Fulham, Newcastle, Burnley etc).
We're pretty good against teams that come on to us, but when we are responsible for taking the initiative in games we aren't good enough.
I do think we looked really good defensively yesterday for 85mins of the game, we had a clear plan, the players looked confident that they knew what their roles were and seemed to relish playing in that 'come on then what have you got' style.
Danny O'Neill
272
Posted 21/03/2021 at 07:23:54
No point repeating the analysis of the match. Reading most of the above, a vast majority saw a very organised and decent performance against arguably the best club side on the planet right now. The keeper was fantastic and I personally singled out Gomes and Godfrey as our best performers on the night.
A few of us recently discussed the virtues of playing higher up the pitch. I'm not criticising the manager, as he is using the tools he has. But, last night is the perfect example. City play high up the pitch because that's where you score goals and better protect your own. We can't do that consistently right now as we would be wide open. They also retain possession for the right reason. For those who oppose tika-takka or whatever it's labelled, that's how you do it. None of this imposter possession for possession sake, genuine keep the ball possession because if I have the ball, the opposition can't harm me. If that means going back to the keeper, then go back to the keeper. BUT; when they do go forward, they do so with purpose, intent and clinical ruthlessness. Sitting deep and being organised will make you difficult to beat, but keeps you in the odd memorable moment space. Be hard to beat and defend from the front; as in higher up the pitch. That's what successful teams do consistently. But you need the right tools.
So, as disappointing as the result was, the performance was solid. No gripes from me, we nearly held out, but they deliberately stepped up a gear to finish it.
We won't start with this squad next season. We will not have to consider or debate using James and Gomes every week. This squad is only 4+ main first team squad players away from the one inherited. It has improved what went before it. With another 4-5 added in the summer, we take another step forward. The depth of squad was all to apparent in those last 15 minutes. It was almost as if Pep thought "okay Everton, well played, but I'm bored now and we need to finish this. Kev, Mahrez, go and do a couple of shuttles, tie your boot laces and take your bibs off". Stark.
Billy @265: a like that. I'd add to make it a left to right sliding scale of 4 categories: Dreamer on the left, to optimist, to realist to non-believer on the right! I will shamelessly categorise myself optimist, although some will likely beg to differ.
Ian Hollingworth
273
Posted 21/03/2021 at 08:22:22
We were defo up against it yesterday. The 9 subs City named would have all made our starting 11 and that should tell you a lot about the task we faced.
I thought we defended well and it seems Pep agrees. If I was being highly critical, then I would have to ask what Sigurdsson's contribution was – as I felt, yet again, he just coasted through the game and can be a passenger.
Jonathan Tasker
274
Posted 21/03/2021 at 08:24:13
Last night, I mostly avoided writing on the Live Forum. The consistent bullying of Ian Edwards was a new low point.
Ian was mostly pointing out that Everton didn't threaten City at all. Which was entirely true. The behaviour on there was the equivalent of kicking a man whilst they were on the floor. Shameful.
I think it's 100% certain that people on here support Everton. We aren't always going to agree but taking out your unhappiness about Everton – and maybe your life in general – with personal abuse on one or two posters on there is not acceptable.
Everton will finish between 8th and 10th. What you get with Carlo is a very expensive manager who won't make any difference to the big picture.
Bobby Mallon
275
Posted 21/03/2021 at 08:36:06
Good morning all. First and foremost, Ian Edwards I am sorry for telling you to Fuck Off on the Live Forum last night. It was wrong to revert to swearing at you. But I still stand by my words that you are very negative. But you have a right to be, it's a forum. Oh and what time are you showing your bum on the town hall steps? 😂 (only kidding).
I have just re-watched the highlights on MotD and, until the De Bruyne substitution, we were very comfortable. We had slightly less half chances throughout the game than they did. Yes, they had possession but did very little with it.
We had 10 shots, 2 on target; they had 15, 6 on target. They had 6 corners, we had 4. They had 74% possession, we had 26%. The thing that sticks out for me is we had 10 shots and created those shots with only 24% possession. We are going places as a team and Carlo is the manager to get us there, IMO.
I would love to see young Kean back here in a front 3 alongside Richarlison and Calvert-Lewin but I think he will make us a fair bit of cash to fund some transfers. A right-wingback is a must, as are two attacking midfielders in the mould of Mahrez (taking people on and getting crosses in to Richarlison and Calvert-Lewin) plus an athletic central midfielder who can push us forward and score goals. 4 players for me... who they are, I don't know... but that's what we need, IMO.
Eddie Dunn
276
Posted 21/03/2021 at 08:44:34
As the dust settles and the disappointment of a Cup exit is mitigated by the smell of grilling pig and free-range eggs, one can reflect upon that game.
It was pretty much as I expected, only I wanted us to score the first goal in the last minute of added time.
For me, Virginia was superb and Gomes looked quicker and channelled his aggression. Generally Godfrey and Mina were untroubled. On the down-side, poor Seamus looked a little lost after the first half.
Someone above asked whether Richarlison and Calvert-Lewin are a good partnership. Clearly not. Richarlison is a one-man band and when the two of them do combine, it is often Dominic who is the provider.
The supply to Calvert-Lewin's head was intermittent, but we were up against a marvellous defence. However, they did have their Number 2 keeper and I would have liked Digne to have got down that wing and ping a few more crosses in.
I can't fault the effort but the tactics were never going to work. In a cup competition, perhaps it would have been worth throwing the dice on the hour and giving the midfield an extra man for the last 30 minutes.
Man Utd showed that Man City can be flummoxed by a high press. Carlo had dropped the slow-turning Keane and, with Godfrey and Holgate, had plenty of pace in the backline. Yet we never put them under any pressure.
Now over many years of playing minnows in cup games, we have been put under the cosh for periods by teams of much lesser ability. Rotherham made life very difficult for us in an early round. I just think that the chances of the tactics working were almost zero. We only nearly got it to full time; we were tired and would have had another half-hour to hang on for penalties. Then we would still have had to win it on penalties.
I just think Carlo's tactics made us think we couldn't beat "the best team in the world". (Who had lost 2 weeks ago to Man Utd). I would rather that he had told the team that City are beatable and that we were going to go out and have a real go at them.
It was a free hit. If we had tried and been spanked by three or four, no-one would have been outraged. As it went, we didn't have time to throw caution to the wind.
I wonder how the Goodison faithful would have reacted to that performance?

Danny O'Neill
277
Posted 21/03/2021 at 08:46:06
On the "not laying a glove on them" point, I did mean to add similar but realised I'd been rambling for too long.
Although we defended for most of the game to a point that I felt comfortable and not really threatened, neither did we threaten.
At one point, I hypothetically wondered if we could go straight to penalties as it seemed our only chance of working their keeper.
Paul O'Neill
278
Posted 21/03/2021 at 08:47:47
It's not been mentioned much but where was Bernard last night? I'm not his biggest fan but he did score a superb winner against Spurs in the last round.
Bogdan Kotarlic
279
Posted 21/03/2021 at 08:55:35
I am sad that we lost this match but Man City are simply a better side than we are at the moment.

If you look at their substitutes bench, there were yesterday some great players, we don't have that depth in our squad and our first eleven is, unfortunately, inferior to City's as well.

Our boys gave everything they could, we had few half-chances before they scored their first goal; if we had converted those opportunities, we could have even won. But, generally speaking, City deserved to win 100 percent.

We should concentrate now on the Premier League and pick up as many points as possible.

I am sad because we won't win the FA Cup again but obviously we don`t play good in cups lately. Maybe we will have more luck next season.

Virginia played well; if there is something positive regarding this game, then it is his performance. Our other two keepers (Pickford and Olsen) haven`t played very well this season and maybe this young goalkeeper is the future for that position.
Kevin Dyer
280
Posted 20/03/2021 at 08:58:18
#111 Phil
Early season, Man City were not at the level they are currently. Leicester City are an outstanding counterattacking team and have consistently played this style since their title-winning season. They are also a stronger team than us.
Comparing our current team with the one that managed that 4-0 win is redundant. Ancelotti has brought in only 4 players, 2 of whom played yesterday. He is selecting tactics to fit what he has to work with band he got it 100% right imo.
We don't have the players to press high, certainly not a team like City. It likely would have resulted in a demoralising, heavy defeat, which could have a knock-on effect for the rest of the campaign.
Dave Abrahams
281
Posted 21/03/2021 at 09:00:27
Danny (277),
I think it was a game where we did better than many expected, with the injuries we are carrying and the team we were up against, so I wouldn't really have a go at our liabilities.
But I have to say, most times I see Richarlison, I realise how ordinary he is, rarely produces the class and style that many think he has; very disappointing yesterday especially when Dominic put him through with a one-on-one and he didn't have the confidence to take the defender on but tried a pass that hit the defender on the elbow. I don't know where the pass would have finished up but he should have at least tried to do something more adventurous than that feeble effort.
And I know he has scored three or four very good and valuable goals recently but he should be doing a lot more if he is the world class player he is reputed to be.
Thomas Richards
282
Posted 21/03/2021 at 09:03:48
Someone in above post asked what the Goodison faithful's response would have been to the performance.
Round of applause?
Mark Murphy
283
Posted 21/03/2021 at 09:08:24
Last season, our midfield was identified as the problem. Carlo brought in James, Doucouré and Alan. They have played together in 6 games. We won 5, drawn 1.
Carlo also brought in Godfrey. He is improving the team. We will get stronger. It won't happen overnight.
Last night, we looked good but barbless. Gomes would have been my Man of the Match if I could see past Ben Godfrey who is immense! I wouldn't swap him for pre-Pickford Virgil van Dijk!!!
Virginia is a prospect and Calvert-Lewin is the best all round footballer at the club. With service, he will be better than Harry Kane. Get decent reinforcements on the flanks and at playmaker and we'll give these big clubs a scare next season.
Re Ian Edwards, I disagree with a lot of what he says but I defend absolutely his right to say it. He's probably a massive blue and has the cojones to stick to his views. It's a forum – have a good Sunday, Ian – don't let us Happy Clappers wear you down. UTFT!
Derek Thomas
284
Posted 21/03/2021 at 09:41:36
Richard @ 282;
I think they would be roaring them on but, once the 1st goal went in on 84 mins, there would've been a mass exodus to the pub, because everybody would have known it was game, set and match.
Thomas Richards
285
Posted 21/03/2021 at 09:43:00
Thanks Thomas
Jason Li
286
Posted 21/03/2021 at 09:47:29
Most on here have played 11-a-side football, so here's my take on the attacking side...
Carlo sets the structure when we need to get back into defensive shape, which worked a treat. Also, he'll say how to attack when we break.
Remember at school or club level, even in a defensive game against a better team, the manager still wants you to go forward when you have the ball. As a NMumber 10, I might have to drop in more when defending, but when the ball comes to me the manager absolutely wants me to have an end product and not stay in the defensive shape.
When I see a full back receive the ball and they can play a wall pass and move up the line, then everyone in the team tells them to go up to the half-way line, not stay in the defensive position.
The reason we didn't attack more often when we had the ball is simple: Man City are good at stopping us going forwards and so we couldn't do it often. Not because of Carlo's tactics, just that they have physical players that close you down really quickly. City are good on the ball, and extremely good at closing you down.
As an example, no-one is knocking it forward and running into space against Walker. Or Rodri or Fernandinho are man mountains and very mobile. Most teams can't hurt City, so again not because of their tactics too. Some teams have tried to set higher up the pitch and still lost.
Having said that, our summer signings have bridged some of this gap, and this summer the recruitment team, scouts and stats people need to pull out some more Ben Godfrey-type filled quality lists of players we can bring in and coach.
Mark Murphy
287
Posted 21/03/2021 at 09:49:26
Sorry Ian - the "not" was in error – I meant you stick to your guns.
Someone mentioned £200M spent on the team. Carlo has spent £67M of which £47M was available last night: Godfrey and Allan. He's signed 4 excellent additions (5 if you include King – which I don't) of which 2 were on the pitch.
He's not infallible – I wasn't happy with the approach to West Ham, Newcastle or Fulham – but he's improving this team beyond dispute.
Clap clap clap clap etc
Rob Halligan
288
Posted 21/03/2021 at 09:57:05
One or two are mentioning the fact that Man Utd beat city a couple of weeks back, but are not saying the one big factor about that game, United were gifted a silly penalty in the first couple of minutes after a ridiculous challenge by Jesus on whoever it was. Penalty scored and United had something to hang on too. Imagine if we had scored very early last night, and had something to hang on too?
Obviously we'll never know, but we had the players to do it, as no doubt Michael Keane would have been brought on to shore up the defence even more. All hypothetical I know, but the mind does wonder a bit. I thought, like I bet most did, that we scored far too early in the derby, but it was something to hang on to.
This has definitely been an up and down season. We played some good stuff early doors, have been top of the table, been around the top six places most of the season, and do you know what, it's the current top two who have knocked us out of both cup competitions. No shame in that, even if some think differently.
The idea of a cup game is to get through, and if it means stifling the opposition, then hitting them on the break and scoring the winner then so be it. I don't buy this theory that it's best to "attack, attack, attack" and end up losing 4 or 5-0 but at least we had a go! In my opinion, Carlo set the team up exactly right. To stifle the most potent attacking team in the league, Europe and possibly the world. We fell short by six minutes!!
Europe is still very much on the cards for next season. Three of the current top four will be in the cup semi-finals and I'd wager two of them will be in the final. Man City will win the carabao cup so we are looking at league placings for a European spot dropping as low as possibly 7th.
So let the dust settle on a disappointing result, but not performance, pull our socks up and have a final big push for Europe. Do you know what, our biggest challenge left this season is: the final game away at City! Every game is a challenge obviously, but Man City is the biggest.
Christy Ring
289
Posted 21/03/2021 at 10:07:47
I thought Godfrey was immense and Gomes not far behind him. Virginia should be proud of his performance.
The difference was the bench, they brought on De Bruyne and Mahrez, we brought on Iwobi. I was surprised Davies wasn't brought on to freshen a tired midfield. But I couldn't fault the team for effort.
Regarding the Live Forum, I stopped using it because of all the negativity from the likes of Jonathan Tasker and Ian Edwards, constantly hounding our 'dinosaur manager' as he calls him, and Gomes – did he praise his performance tonight? But no-one should be insulted or bad language used.
Brian Murray
291
Posted 21/03/2021 at 10:20:09
Christy. It's been said or suggested that Davies and Keane were dropped because of the Burnley goal the other week. I hope it's true in that I don't want to hear how much of a gentleman Carlo is and how ex-players adore him. We have enough of that gushing upstairs.
We need to be ruthless and ask is Sigurdsson's and now Gomes's recent upturn in form after 4 years of nothing (injury, I know, I know) enough to keep them in the summer re build? If the answer is Yes, then another top 8 and nearly cup run is the limit.
Same with the goalie: after recent form, now Virginia may be the answer and Pickford put up for sale (with Richarlison) can generate more funds. As long as it's not the 'Everton Way' — and no-one is lined up.
Geoff Williams
293
Posted 21/03/2021 at 10:23:44
There are aspects of the Live Forum which I do find disturbing but acceptable to others. There are a couple of players I think are simply not good enough but I would never abuse them or question their integrity as footballers.
The rhetoric directed at the likes of Davies, Gomes, Bernard, Sigurdsson and Iwobi this season has been truly offensive. This type of behaviour is now being directed at fellow contributors and doesn't reflect well on ToffeeWeb.
I can't believe the nonsense espoused by some on here but the last thing I would contemplate would be to attack them. Question them, yes; challenge them, yes; but the use of certain words to attack them, never!
I do think the moderators should be more proactive in maintaining an acceptable level of debate and discussion.
Danny O'Neill
294
Posted 21/03/2021 at 10:25:51
I love Richarlison, Dave A. I love his strops and sulks as it shows desire. But I agree, he's in danger of becoming an enigma and not really performing consistently enough. Maybe with the energetic & creative midfielder and wide player we need alongside Doucouré to push us higher and supply the forwards, he benefits?
On the subject of what we need, I still think we need a ready-made top-class centre-back. I know this probably isn't a priority, but I still think we are missing something in there with the 4 we have. I'm not the manager, I don't know if playing a higher line is in his mind, but that would be me. Koulibaly from Napoli? Alongside Godfrey, plenty of pace, aggression and also a willingness to gallop forward when on.
I see there are rumours of Pickford not playing again this season. If true, the young keeper has an opportunity.
Michael Kenrick
Editorial Team
295
Posted 21/03/2021 at 10:31:50
I don't usually look closely at the Live Forum but the comments above raised my curiosity... here's just a sampling of the (illiterate!) bile posted there (condensed from multiple comments):
"Ian is a miserable git who can't wait to slag the team off... You fucking make my blood boil... always the victim are you sure your not a red shite... just loves us loosing, he really does... your a fucking cock... fuck off knobber"
That person has since briefly apologized but there are quite a few others whose intolerance of certain viewpoints certainly crosses a line.
Our old friend "negativity" seems to be the justification cited for this aggressive abusiveness but, as far as I could see, Ian Edwards was mostly just describing what he saw and contrasting that with what he would like to have seen.
What I don't understand is why he was rounded upon and abused when he had abused no-one – merely voiced an alternative viewpoint from the mainstream?
Rob Halligan
296
Posted 21/03/2021 at 10:33:50
Danny, regarding Pickford not playing again this season, I've not seen or heard it myself, but not denying what you say is true. What exactly is the injury though, that Olsen has sustained, as I don't recall him picking up any injury?
Has he been missing because of his house being burgled? Which would be an injury in itself I suppose, as your mind probably becomes "disturbed" and you are unable to concentrate. The official club website lists his injury as "Unknown".
Tony Abrahams
297
Posted 21/03/2021 at 10:34:57
My biggest wish would be for Everton to play like that every week, but only if we can find some better footballers, to really implement the fast counter-attack.
Paul Hewitt, got me thinking, but maybe it's for another thread. How can we have a weak squad when we've spent £500 million? We all know the answer: this is a collection of 4 managers, and it got me thinking about our academy. Kids have different coaches every season, and even if they go off the same programme, they will all have their own ideas.
I was hoping Brands was going to revolutionise our academy, because it can be done, but it's all about the coaching and how you teach the kids imo.
Calvert-Lewin and Richarlison don't compliment each other, but neither does the split striker role, which leaves them to far apart to build up proper combination between the pair.
I'd sooner play with Calvert-Lewin, but maybe Richarlison's movement is better, which was the case when we won at Anfield, where we played very similar to last night, only we won.
Brent Stephens
298
Posted 21/03/2021 at 10:36:17
Michael, I was one of those who went over the top at Ian and I offer my apologies. His negativity before, during and after, on all forums is striking, but no excuse for the extreme language.
Mike Connolly
299
Posted 21/03/2021 at 10:36:20
The thing that drives us Blues to negativity on here is the negativity of the team. They give you a glimpse of hope and knock you down with a sledge hammer.
Some of the games we won I think most would agree we got lucky with some of them. A positive; it's good to win when you play bad. We do get sucked in.
Someone mentioned the other week "We have three winnable games coming up." I said we would be lucky to get 3 pts from them. I'm on track: Burnley beat us. I said 9th or 10th finish; Everton will not let me down...
Rob Halligan
300
Posted 21/03/2021 at 10:36:23
For fuck's sake.... just looked on the club website and it now says Olsen has an abdominal muscle injury, same as Pickford, and is scheduled to return in April.
Derek Thomas
301
Posted 21/03/2021 at 10:36:32
Thomas Richards @ 285;
Derek Thomas asks was that a malapropism or a spoonerism... or just me not paying attention?
Paul A Smith
302
Posted 21/03/2021 at 10:39:11
Jerome, don't even go there on Calvert-Lewin. To me, the lad is what he is and he needs to be in 5th gear to score a tap-in.
On here, any kind of improvement means he's now immune from any analysis that might question his overall game.
He gives fantastic effort and holds play up well when he's isolated but you are bang on and Richarlison is the same. I love his effort too and lack of respect for opposition but his composure stinks.
How can people bang on about tactics after being outplayed? It's futile and surely them same tactics stopped us being 4 down at half-time when we were outplayed.
Our first shot on goal probably gave Man City more confidence than us. Could we have gone gung ho and frightened them? No chance. Who does?
Again, Everton are miles behind due to poor recruitment and selling our best players for 20 years. Nobody but the unreliable James has come in with the quality we lost and we have had 4 years to replace the likes of Lukaku and Barkley. We haven't even got a player that can move with the ball like Barkley in his best form.
We need a top player in almost every position to even be a threat. About 9 of them positions are still vacant...
Mike Doyle
303
Posted 21/03/2021 at 10:41:11
We've got 9 games left of the season. I expect Carlo to set us up to defend deep and counter-attack in most of them – certainly against Arsenal, Spurs, West Ham Utd & Man City.
I'd hope that against the likes of Crystal Palace, Brighton, and Sheffield Utd we might be a bit more positive – but we tend to come unstuck against these teams, so I'm not sure he will.
The exceptions may be any games that James is available for as he seems to be the only player capable of creativity.
Dave Abrahams
304
Posted 21/03/2021 at 10:42:56
Danny (294), fair enough, you are not alone in your admiration of Richarlison, and I would join the club if he started converting that desire into positive action.
Thomas Richards
305
Posted 21/03/2021 at 10:45:47
Paul A.
Dom has scored 14 goals in 25 starts.
What is it you are looking for from him?
Dave Williams
306
Posted 21/03/2021 at 10:45:55
Rob #288 what a sensible and reasoned post!
We did well without some key players and if it also helps to decide that we don't need to splash £6M on Olsen because we at long last have a good young keeper ready to come in, then so much the better.
On the Live Forum debate, it can be savage at times with unnecessary abuse, albeit I have had to bite my tongue on a number of occasions where a couple of the posters involved here have been concerned.
Ultimately it is like being at the match and having a loudmouth swearing and constantly abusing our own players. We can walk out of the ground if we want to but we stick it out because we want to watch the game. With the Live Forum, anyone can log out if they don't like it but that means that it becomes uncomfortable for other posters who are a bit more civilised in what they say.
Having to read some comments is not pleasant and is it being spoiled for some? Is it a fit and proper place for our lady members? Would I want my wife to be reading some of the posts from yesterday? Would I want my daughter to become involved in it?
I log on to keep up to date with a game if I can't watch it myself. I find it informative and amusing but would it be better if posters watched their more colourful language a little, and refrained from picking on certain others?
Surely the best way to silence the more extreme posters who seem to deliberately (and successfully) wind others up to the point of some severe abuse is to totally ignore them and refuse to get involved in debate with them?
Danny O'Neill
307
Posted 21/03/2021 at 10:48:14
I've said it previously about Klopp & Liverpool Tony. It was mentioned last night about City on the commentary. I think it was 7 or 8 different players from a previous match, but they slot in seamlessly. Clearly there is an ability reason, but it is also because they understand the system because it is probably coached, drilled and played at all levels throughout the club.
I mentioned about Liverpool. They don't necessarily have better young players than us. But they have young players who understand the system they are being asked to play in therefore slot in easily.
I do not believe there has been any joined-upness between Unsworth's U23s and the first team, so a lot of our younger players can struggle when called up.
You're right, it's not just the scattergun transfer strategy (cough) that is having to be undone here, it is 4 managers worth of "philosophy" being unpicked. This is being done, unfortunately having to use the remnants of the patchwork of tools (players) that were inherited.
Michael Kenrick
308
Posted 21/03/2021 at 10:49:01
Thank you, Brent @298. Yours was relatively mild, I admit.
Paul A Smith
309
Posted 21/03/2021 at 10:51:27
Thomas, does that mean he's perfect? I haven't said I want him shot or sacked but a lot of what hasn't happened for us has also come from his limitations.
Bamford has been involved in more goals and hasn't made the England squad so he obviously has doubters.
The manager told him not to get involved in the play and it's helped his goal return but progressively he's got to find ways of creating his own goals and he's showing no signs of it.
Them tap-ins don't come often in big games, do they? I support the club overall so, if there's a reason I believe we need to improve to beat teams, I am stating it.
Andy Crooks
310
Posted 21/03/2021 at 10:52:09
Kieran, @ 195,
What you say is not entirely accurate. Hands up, I often come on after a game (far to often I guess) and, in no uncertain terms, attack the team collectively. I do not and never have, attacked individual players using the type of personal invective that Ian Edwards describes @225.
To be fair I have, in the past, said some very mean stuff about Duncan Ferguson, which I subsequently accepted was totally unfair and unreservedly apologized for.
Anyway, for me, last night was different from an angry supporter commenting on the collective efforts of a team. You may disagree and that's fair enough.
I have always argued that ToffeeWeb is like a bar where there is plenty of robust debate. I have always argued against censorship of it and I am glad the moderators didn't intervene. We should sort it out ourselves which is what we are doing. The Live Forum is kind of like the straw and sawdust area of the pub.
I don't go on it to comment during the match due to a combination of poor keyboard skills and being wrapped in a state of nervous agitation. I sometimes look in at half-time or full-time to get others' take on the game.
When I looked last night I saw a lot of personal stuff directed at another Evertonian, including him being told to fuck off and not come back. I scrolled back wondering what in the name of God he had said to deserve this. Insulted Carlo's wife? Called Carlo a cunt?
What he had actually said was something like "We are going out because we never gave it a go". Now, I disagree with that. I thought we gave it a really good go and I was proud of our efforts. Somehow, that fairly innocuous post appeared to break the camel's back and what followed, seemed to me, to become normally moderate voices joining each other to indulge in back-slapping "let's outdo each other" bullying, to drive a fellow Blue off the site.
One moderate voice starts it off and legitimizes the rest. The Live Forum is a bar with the sharperst, wittiest most passionate customers in town. No need to pick on someone who doesn't agree. Everyone is entitled to defend and stand by what they think. I stand by what I said last night.
Brian Harrison
311
Posted 21/03/2021 at 10:54:07
Everybody put in a shift last night, and Virginia can be well pleased with his performance, made 1 terrific save from Sterling and even touched the Laporte shot onto the bar and could do nothing about the goal. City are head and shoulders above any team in the Premier League at present, all their players have a great first touch, and a great awareness. They stayed patient all through never panicked when they couldn't break us down, I think they are so used to playing teams who play 10 men behind the ball, that it doesn't faze them like it does other teams.
Last night just highlighted the gulf between ourselves and the very best team in the Premier League, so a lot of work for Carlo and his coaches to do over the next couple of years to help us bridge that gap.
I just wonder if a fully fit James might have made a difference last night, as for me we lack quality in the final third of the pitch. Richarlison works very hard and he always looks more of a threat when he has James slipping the ball through for him to run onto. There is very rarely any link-up play between him and Calvert-Lewin and I think this is the area we most need to improve if we are to hope to compete with the top 4. You have to wonder what is going on with James, when he last played we were told it was only a minor injury and would be back very soon, but hasn't played since the derby game. Plenty of rumours that he cant settle here, lets hope thats not true.
I think it will be very important that we qualify for Europe otherwise trying to attract the quality of player we need to help us progress might be hampered if we don't qualify for Europe.
Derek Moore
312
Posted 21/03/2021 at 11:07:48
In my view, and I've seen it online and in the real world as well – this unprecedented period without success in our history has its own consequences.
When we go out of anything – and it's always more prominent with the Ing-er-lund crowd when the national team get knocked out of anything – things get toxic amongst a certain element of fans very quickly.
Traditionally, the manager or the board come in for the abuse, less often the players. Last night in the Live Forum, you could almost bet it was going to end in the fans fighting among themselves. It was purely logical. We're Everton, but we're playing the hottest and one of the best resourced clubs in the world. We're undermanned, even though the owner has lost eyewatering amounts of money.
The gaffer just oversaw the end of a 20-year Anfield hoodoo and managed to keep us in this game until the very sharp end, even he couldn't realistically be blamed for the result either. We just ran into the wrong team at the wrong time; and they'll likely go on and win the thing.
There's never any shame going out to the winners in my view.
I logged on and anticipated the reaction in the Live Forum. Perhaps I should have said something; but probably not. At the end of the day, getting beat was not unexpected, and the manner of it was not particularly disappointing. But having this historic trophy drought being officially extended, as I said, it has its own effects.
The psychologists would call last night's behavior "transference". I'm with Jay Wood the entire way on this one. Gutted.
Kevin Dyer
313
Posted 21/03/2021 at 11:23:31
#202 Will, Virginia is supposedly 6'-4"? Not a chance that's accurate. Interestingly, Pickford is listed at 6'-2". Now, I can get people rounding up to the nearest inch, but I'd estimate he's maybe a little over 6 foot, so 6'-2" would be a stretch (pun intended!).
Some players appear taller than listed (always figured Lallana at more than 5'-8" and Aaron Ramsey at over 5'-9", then there's the Luke Shaw's of this world masquerading as 6'-1"! My arse!
I also had to laugh when I read Graham Souness referring to Mane as a 6-footer. 🤓
Bobby Mallon
314
Posted 21/03/2021 at 11:23:43
Tony Abrahams,
I mentioned a couple of months ago that the pairing of Calvert-Lewin and Richarlison does not seem to work. I do think Richarlison has more movement than Calvert-Lewin but his overall football mind seems not there.
There was a run of play in the first half where Richarlison received the ball near their penalty area. As he controlled it, a player ran to his left and he should have played him in but didn't; he turned back and it fizzled out. If he had, a cross would have come in and he or Calvert-Lewin could maybe have got on the end of it.
Tony Everan
315
Posted 21/03/2021 at 11:27:17
We gave it a go last night and the tactics nearly worked. We kept it as tight as we could and Yerry came very close to sneaking a goal from a set play. Man City have too much strength in depth for any of the other 19 clubs in the league and probably most of Europe, bar maybe Bayern.
Europe qualification was the stated primary ambition by Carlo. We are currently seventh with a game in hand on a few, two points off fourth if we win that.
If we finish sixth or above I will still rate this season as being a progressive one and then next season we can make further strides. We're in the mix and it's all still to play for and no teams we face now are near the quality of Manchester City.
David Connor
316
Posted 21/03/2021 at 11:36:42
Lets face it, ToffeeWebers, we were always gonna be up against it against Man City because they are the best. But there is no getting away with the fact that our last 3 managers have wasted hundreds of millions of pounds on dross footballers and, until they are shipped out, nothing will change.
Apart from maybe Doucouré, we need a new midfield. One with pace and preferably players who chip in with goals. Allan and Davies are decent squad men. Rodriquez is a top player but he is a crock. Bernard, Iwobi, Gomes and Sigurdsson need offloading asap – especially Iwobi.
Our defence is pretty solid so I think we are okay in that department. Another striker and a good wide man wouldn't go amiss.
All-in-all, we probably need another 5 players. The big problem will be offloading the shite that's been accumulated over the last 4 seasons. Not much to ask...
Robert Williams
317
Posted 21/03/2021 at 11:39:30
Tony Hill 55. 'The worry is that Man City are going to dominate everything for a long time - which will be very dull.'
Tony, If we can't do it - much rather them than the RS.
Darren Hind
318
Posted 21/03/2021 at 11:46:00
I think the general consensus is that the players gave their all last night and there is no shame in losing to a team like Man City.
I can go along with that, but it's 27 years since we won anything. Why oh why did we not try to win this?
I get the argument that, if we pushed more men forward, we would have left ourselves open to a hammering from a very good side, but this was a Dr Pepper moment: What was the worst that could happen?
We get knocked out? Doesn't matter if you lose 1-0 or 6-0 in the FA Cup
– the outcome is still the same. The journey still ends. This was (as somebody above has intimated) a free swing.
We have about 10 games to salvage something from this season. A season that has been marred by brain-numbingly boring anti-football. Most of the teams we face have less talented squads. There can be no more excuses for Zombie football. Every team we face will have had their injury problems too. They will all be feeling the effects of a long season.
I really don't want to hear any more lame excuses for a football philosophy that prohibits players getting forward in numbers. One which looks to spoil rather than create.
The cowardly approach has gotten us nowhere. Let's ditch it. Let's go out for every remaining game with the sole intention of winning them!
Derek Knox
319
Posted 21/03/2021 at 11:46:54
Kevin @ 313, are you sure Pickford wasn't wearing high heels when you measured him ? I have read on many an occasion he is 5'11" in his Basque and fishnets, so maybe 6' with his ballet pump studs on.
Rob Dolby
320
Posted 21/03/2021 at 11:49:48
Someone raised a point about the DCL and Richarleson partnership. Most have responded by pointing out both players weaknesses and even their lack of quality. Someone even advocating selling one of them to enable a rebuild!
Both players are our biggest assets. I am not one for stats but in a recent match the commentator mentioned that we have scored the most goals per chances created. Doesn't that dispell the lack of quality and highlight the lack of creativity?
I would like them to play more often up top together to have an informed opinion. It can't be easy playing infront of a midfield like ours.
Michael Kenrick
321
Posted 21/03/2021 at 11:59:17
Darren,
I just don't think Carlo is capable of playing like that. Isn't it all about that 'catenaccio' rubbish with him? — "A highly organised and effective backline defence focused on nullifying opponents' attacks and preventing goal-scoring opportunities."
I think, given the obvious limitations in our squad, it's the only way he thinks they can play. So the answer to your final wish would then be a resounding No.
Peter Dodds
322
Posted 21/03/2021 at 12:04:25
Sorry Rob at 320 but I just don't agree that Richarlison - this season anyway - is one of our greatest assets. He is a powerful fast runner, also good with his head and in defence, but his style is mostly head-down, using his power to try to run through defenders and even shoot clean through them as though he can score through sheer bludgeoning effort. He has little guile and tends to get the ball stuck under his feet or else is easily dispossessed.
If you look at the balance of the team as a whole I think we'd be more successful with a crafty skillful striker who could twist and turn, fool defenders with trickery and play in DCL. Ideally I would add this missing element, rather than reluctantly replacing Richy. But I don't think playing both Richy and DCL together as out and out strikers is working.
Stan Michaels
323
Posted 21/03/2021 at 12:13:09
Unfortunately that is the season over now. Can't fault the effort of the lads last night. They're a world class side with strength in depth. Meanwhile our squad is just not good enough.
One thing I will not excuse however is 26 years without silverware is disgusting, embarrassing and utterly unacceptable for a club like Everton. Club needs to hang their heads in shame. I'm 24 years old and I honestly cannot see us lift a trophy while I'm alive. One final in 25 years? Nil Satis Nisi optimum should nowhere near be on the crest. More like "we had a go but fell short"
Lived on the mentality of "gunfight with a knife" attitude for far too long. And it's almost surrender football. Massive summer ahead now we fuck this up we're done.
Brian Harrison
324
Posted 21/03/2021 at 12:23:11
Thomas 322
There is no perfect striker I guess but Lukaku has scored 42 goals in 62 games for Inter.
Thomas Richards
325
Posted 21/03/2021 at 12:30:58
Brian 330
Yes mate but how many of them did he scuff in?
Christy Ring
327
Posted 21/03/2021 at 12:43:06
All the criticism of Calvert-Lewin and Richarlison, where would we be in the table without them? Also Richarlison on the left, and Calvert-Lewin were a lot more potent when Rodriguez was playing. Carlo has signed four players, who are a huge improvement on our previous signings, so can we give him a chance to bring in 3/4 more top players in the summer, to bring us to the next level.
Trevor Peers
329
Posted 21/03/2021 at 12:47:37
It has been another very disappointing season with little progress being made despite a promising start; our away form has saved us from any relegation worries thankfully and the win at Anfield was pure ecstasy.
But overall the entertainment level has been very poor. Almost every team in the Premier League plays more entertaining football than us and sometimes I find it hard to watch the whole 90 minutes of some games, especially at home, and every Evertonian I know agrees with me.
We just have to improve the way we pass the ball to each other, it's basic stuff but frustratingly so often missing at Everton.
Finding the right players to improve us will be incredibly difficult, I hope we sign more good young players like Godfrey that seems to be the way forward. Players who are nearing the 30-year-old stage usually get injured easily and run out of steam about January.
Having said that, we have brought in some dreadful youngsters, eg, Iwobi. It's very important whomever is brought in is good enough technically and must have a winning mentality, that will be crucial to any future improvement.
Andrew Clare
330
Posted 21/03/2021 at 12:54:30
We all know why we are no longer contenders for honours – the failure of the club to find a major investor many years ago.
Now we have an owner with money who is playing catch-up. He has hired one of the best managers in world football who has managed some of the most exciting and successful teams in history.
The reason we are playing defensive safety first football is because Ancelotti knows full well that our playing staff has limited ability. He is doing the best he can with a team of mostly non-top-six-calibre players.
Top-six players, as we all know, play to a high-level, week-in & week-out, and that includes playing in in mid -eek European games as well. It is imperative that we qualify for Europe to attract these players. I am not sure if we will.
Danny O'Neill
331
Posted 21/03/2021 at 12:54:52
I'm all for going out to win every game. I pretty sure the manager is.
I would like to see us do more of what we done at the beginning of the season, but as many learned observers of the game pointed out, we conceded a lot (but won), and then got found out with teams starting to exploit space between our defenders and midfield. So the manager changed it.
We are unfortunately having to set up to suit the players we currently have. Credit to the manager for doing so as it has kept us in a healthy league position with a lot still to play for.
The summer is huge. With the right acquisitions, we can change from playing this current set up on more occasions. I'm not saying that we still won't have to do this in certain games to stay in it.
Eddie Dunn
333
Posted 21/03/2021 at 13:06:26
Well, I didn't get excited during last night's game. My two dogs normally bugger-off when I'm watching Everton, but the pair slept next to me, such was the lack of incident.
Like Darren, I wanted us to have a go, perhaps not until the second half, but we sat so deep, it made counter-attack more difficult. This team is capable of playing differently, at Anfield and at home to Spurs, we had short patches of lethal play.
We are instructed to play conservatively and then, when we play "lesser "sides, we are so unused to expansive play that we lose our way.
This kind of football is fine when you get the results. As Sheffield Utd have discovered, one-nil wins can easily become one-nil defeats when you are doing so much defending.

Paul A Smith
334
Posted 21/03/2021 at 13:11:04
Thomas 325 I don't understand that mate.. Lukaku like most top strikers pretty much covers every kind of goal you'd expect from a forward.
And look through his Inter goals and assists mate there is hardly a scuff involved.
He beat Chelsea on his own for us in a cup game and scored 14 in his first season at 20/21.
I don't even want to compare him to Calvert Lewin i'd just like to see Calvert Lewin assert more aggression and use his feet better to become a top striker.
Steve Brown
335
Posted 21/03/2021 at 13:11:15
It might not always be pretty to watch, but the gameplan that Ancelotti has employed against top 6 teams has proven to be effective as defined by points won. If we had played with the same discipline and intensity against any of the other quarter-finalists, there is a good chance we would have got the result.
The 'jogo bonito' may come with a more talented squad, but teams can be successful playing functional football – Tuchel has turned Chelsea around by doing exactly that with far better players than we have at our disposal.
We were 0-0 and in the game for 84 minutes and I honestly don't think that would have been the case by trying to play a more expansive game with that team and bench.
Thomas Richards
336
Posted 21/03/2021 at 13:24:24
Paul A.
Tongue in cheek mate.
Lukaku got constantly ripped on here "ah but it was a scuffed shot he scored with"

Sean Kelly
337
Posted 21/03/2021 at 13:37:17
In Carlo I trust. It takes time to change a squad without the Mansoor money. Carlo is using the tools at his disposal. As me old man once said "if yer tools are blunt then they are all hammers".
Someone said above about the young lads coming in are not schooled in first-team methods. That's Carlos fault. As the main guy his philosophy and coaching methods should be enacted through all the levels of the club. Over to you Rhino. The Charles Dickens era is well and truly over.
Dave Abrahams
338
Posted 21/03/2021 at 13:37:30
Christy (327),
Carlo was the manager when we signed, Allan, James, Doucouré and Godfrey, but he has said he wouldn't have signed Doucouré and he had no knowledge of Godfrey but was glad Brands brought him to the club.
The last two players Doucouré and Godfrey have been very good signings, not sure Allan, through injury and James, through injury and going missing, even in his good games, have been value for money, so I'd say Carlo has to be better with his homework when he brings in new players next summer.
Danny Broderick
339
Posted 21/03/2021 at 13:42:09
We can't play an open game because our attacking midfield players are all fundamentally flawed. They generally don't score enough goals or assists (Bernard, Iwobi), or go missing in open play (Sigurdsson).
Rodriguez is our best attacking midfielder, but he has had fitness issues. Until we get players in who are better options, we simply can't play an open attractive game.
Danny O'Neill
340
Posted 21/03/2021 at 13:52:19
Always a Catch-22 when you play this calibre of team Eddie (and Darren). I've often thought the same. What's the point in losing 1-0 in a cup match when 5-0 has the same outcome? Other than the obvious humiliation factor.
But I guess the counter to that is you're still in the game as we were last night as opposed to being finished after 20 minutes. Remember those high lines at Anfield in recent seasons? Beaten in half an hour only to have to resort to damage limitation. I just couldn't see where and how we were going to threaten them last night, so holding out admirably as we did for so long seemed a forlorn hope.
So I'm on the fence on this one. I see the validity of both points of view.
Thomas, the main criticisms, if I recall, were lazy and poor touch. Well, I've played with enough stroppy strikers to know a lot of them aren't the hardest grafters. Lineker was a bang average footballer. But he scored goals. If a striker is consistently bagging 20 goals a season, he's doing his job. Lukaku was. I think we've been tarnished by years of continuously trying to find the next Marcus Bent. We even eventually converted the likes of Andy Johnson and Jelavic into corner flag chasers. Who cares if they only bag 7 goals a season as long as they graft? Something Ancelotti has instructed Dominic not to do. Lukaku was having none of that!!
Paul Smith
341
Posted 21/03/2021 at 14:00:39
My overarching feeling at the final whistle last night wasn't so much disappointment at losing. We gave it a go, it was a sense of despair that Man City are going to dominate for a long time. Sort of "What the fuck's the point?" type of emotion.
Jerome Shields
342
Posted 21/03/2021 at 14:01:38
Paul #302,
The straw that broke the camel's back for me was Calvert-Lewin resorting to flicks. I do think, since the England call-up, he is not attempting to improve on his game or follow Ancelotti's coaching. He does not look like getting a shot on target, never mind scoring.
Cantona resorted to flicks in his final days with Man Utd and was gone the following season. The second commentator on HesGoal picked up on this in Calvert-Lewin's play and also on his wrong positioning due to poor effort on crosses. I thought the same thought before he mentioned it on both occasions.
In the case of Richarlison, he does have natural shooting ability, and Ma City defenders gave him special attention, to prevent him from getting a shot away. His final-third play has improved, particularly due to better passing.
Calvert-Lewin did improve and has the goal tally to prove it, but he has fallen back recently. He did see off other strikers for his position through hard work, but he needs to continue.
Richarlison does have ability, which is a good start, to build on, which he will under Ancelotti.
Tony Abrahams
343
Posted 21/03/2021 at 14:09:15
I see progress, but it hasn't been pretty. I think everyone was happy with the effort and the commitment, which should be a given, but is not always the case, so let's see how much effort the players put in, between now and the end of the season, and how many of these players Ancellotti really wants to keep?
He dropped Keane because he wanted more aggression, but probably played Gomes and Sigurdson, before Tom Davies, because they've got more quality, but I'm not sure they've got enough for what's needed.
Build the defence around Godfrey's pace, the midfield around the energy of Doucoure, and go and bring in some really energetic footballers, to go alongside the players our manager wants to keep.
Christy Ring
344
Posted 21/03/2021 at 14:18:16
Dave #338,
I agree completely, he needs to bring in attacking players with pace, especially out wide. I don't know what will happen with James in the summer, but we need to replace Sigurdsson, Delph and possibly Iwobi, but unfortunately he's on a longer contract.
Rob Halligan
345
Posted 21/03/2021 at 14:32:54
Just watched the goals again during the half time in the Chelsea game.
I honestly don't know why the referee didn't blow for a "foot up" by Mahrez on Mina. Whether there was contact or not, it still forced Mina to adjust himself to avoid any contact. Definitely a foul for dangerous play in my opinion.
Oliver went to blow then didn't. I could understand it if it was a foot up by Mina on Mahrez as no doubt the advantage would have been played.
Thomas Richards
346
Posted 21/03/2021 at 14:36:03
Agree with that Rob.
Just watched it myself.
Other way around he definitely stops play.
Also Siggy wasnt strong enough on the first goal.
Laporte just brushed him aside.
Paul A Smith
347
Posted 21/03/2021 at 14:39:24
Jerome 342 I actually didn't hold the flicks against them because if they come off and we score, theres not much better.
I do however see some substance in your point because he should probably 'make sure' in that instance and keep possession maybe?
I am all for players trying something different and the element of suprise can hurt defences but the odds of a flick coming off in attacks that are few and far between must be slim.
Our possession isn't great when the team is playing well and too often, passes are played behind the running man.
Gomes looked well switched on yesterday but I find hes ok against teams that are not going to go crazy physical on him.
City are neat even in the challenge and it suited his game but his passing lacks conviction or purpose.
His shot over the bar, where was the purpose on it? he just seemed content to make contact.
Too many players are short of what we need on the day, Fernandinho is 36 and he floated through us time after time.
Laporte was allowed by our forwards to carry the ball 50 yards and I haven't seen it mentioned. Criminal stuff from our players in a game where they tried a lot.
Tony Abrahams
348
Posted 21/03/2021 at 14:40:51
Very good point, Jerome, I agree that centre-forwards should always try and get hold of the ball, and this is something that Calvert-Lewin needs to be coached and consistently work on.
We rarely get men around Dominic though, and being asked to keep the ball, with defenders behind him and midfielders closing the space in front of him, has got to be frustrating for Dominic.
But if he kept hold of the ball, he might have won us a couple of free-kicks in dangerous positions, even though the kid worked very hard and had to scrap for nearly everything that came his way last night.
Joe McMahon
349
Posted 21/03/2021 at 15:01:11
Jerome, Eric Cantona was a joy to watch, not a prolific scorer like we need Calvert-Lewin to be, but he didn't half score some belters.
Brian Wilkinson
350
Posted 21/03/2021 at 15:04:11
I know some were saying Everton should have pushed up more and have a go, well on two occasions now we had City at one-all going into 70 mins, then even better at 0-0 up to 84 mins, on both occasions of conceeding and pushing up, Man City cut us wide open by scoring a further goal in each game.
Had we pushed up from the start in both games, that would have created space for City.
I thought Carlo got his tactics spot on in both games with City.
Same happened at Goodison v Man Utd, went two 2-1 down, we chase an equaliser and get caught with the sucker punch third goal.
Matthew Williams
351
Posted 21/03/2021 at 15:27:07
A few points I like to make...
Firstly it was another home defeat folks!.
Even Cheltenham gave City a tougher game!.
The hate levelled at Ian Edwards on the Live Forum was bordering on kopite behaviour,sad to see...sigh.
My team would've been... 4-4-1-1
Virginia
Coleman Keane Godfrey Nkounkou
Richarlison Davies Allan Digne
Bernard
Calvert-Lewin

Charles Barrow
353
Posted 21/03/2021 at 15:43:42
Result not a surprise. My main question is why don't they put in as much effort against Fulham, Burnley, Newcastle etc etc.? If they had we would be a shoo in for the Champions League!
Derek Knox
354
Posted 21/03/2021 at 16:02:41
Charles @ 354, I think most people are genuinely asking the same question, I have just had a phone conversation with David Pearl, and I believe he is right in what he is saying, that Carlo keeps changing the system of play. I know it is frustrating and maybe confusing for the players too. Yesterday with our limited numbers available it worked out almost right.
We are short of quality players which would make a vast difference, even if only a couple were added, and we had our best available the dividends would pay off and results would improve too. Though I don't think personally the Premiership is the place to try different permutations, but maybe there is another agenda, and if I am wrong, I would sure like to know what is happening.
It almost beggars belief that players can be made to look like they have only just taken up the game last week, yet a week later, they are playing like proper footballers.
Soren Moyer
355
Posted 21/03/2021 at 16:08:38
Holgate should never wear an Everton shirt again as he is just dreadful and one of the weak links. His stats are awful in every game he has played in this season. The following is taken from Sofascore for his performance against city but his previous stats have been identical so you can copy and paste those instead!!!
"Holgate did not have the best of games, losing out on four of his duels and failing to block any shots on his goal, while also recording fewer touches (36) than his own goalkeeper in Joao Virginia and losing possession of the ball no fewer than 11 times in total in the game, earning him a measly 6.2 overall rating on Sofascore, the third-lowest out of any Everton player to have set foot on the pitch."
Jerome Shields
356
Posted 21/03/2021 at 16:28:54
Tony#348
I remember Calvert Lewin coming back after the Summer in Silvas first season. He obviously had worked hard over the Summer and Niasse who seemed to have turned the corner having previously played for Silva disappointingly had not.
Calvert Lewin goal tally is the result of hard work, but he really needs to work even harder to get that Clinical dangerous sharpness, rather than being fumbled out of possession and being in the wrong position. He is working hard as you describe to get the opportunity, and maybe needs to improve his teamwork. I am beginning to see the England call up as a poison chalice for Calvert Lewin, thinking he has finally made it and not putting in the work effort he needs to. Southgate selections appears media inspired to keep him in his job, rather than progress. When hes gone it will be different.
Calvert Lewin does not have the natural ability of the hardworking Richarlison, who often gets special attention from the opposition. . King isn't up to the necessary competition that Calvert Lewin needs, being relegated to wing p!ay by Ancelotti and probably will be gone at the end of the season.
Ancelotti one touch suggestion was a attempt to get Calvert Lewin in position to score, expecting him to built on that. As Everton progress Ancelotti will expect that as a given.

John Boon
357
Posted 21/03/2021 at 16:50:04
Fortunately, and correctly so, most posts are positive in response and indicate that ToffeeWebbers are realistic in assessing the game. A fine effort, a little bad luck and acceptance that we were playing an outstanding team who can beat any team in the world.
Soren (356), A little over the top in your response to Holgate's performance. I am also not a huge fan of Holgate and he may not have the innate skills to play in the Premier League. However, yesterday we attempted to play a team game and no player deserved to be pilloried, even if it is obvious that some players were better than others. To say he should never wear the Everton shirt again along with a whole pile of !!!!!!!!! marks is a bit too much.
Just as I would be equally wrong in suggesting that you should never dare to put your suggestions on ToffeeWeb!!! Also, I sincerely hope I am proved wrong about Holgate and he turns the corner to become a fine player. To do that, he will need to wear the Everton shirt again.
Jerome Shields
358
Posted 21/03/2021 at 16:58:00
I do think the set up of Everton against City, will be the template for the remaining games of the season at Goodison.
Jason Li
359
Posted 21/03/2021 at 16:59:25
Leicester - a good model, like Borussia Dortmund - I think we are on this track after seeing Godfrey and Virginia do well. Also Richarlison and Calvert-Lewin come in this category as buy unknowns (not big names in football) and coach them. We're slowly catching up with Leicester who won the league only a few years ago.
Danny O'Neill
360
Posted 21/03/2021 at 17:17:51
Thanks Jerome. Guess I go and stock up on wine and nerve tablets!
Brian Wilkinson
361
Posted 21/03/2021 at 17:34:12
Tony Abrahams
362
Posted 21/03/2021 at 17:38:22
Expecting him to build on that, Jerome? He should have got at least one other goal last week against Burnley, but when you think about it properly, what genuine support do Richarlison or Calvert-Lewin get?
Soren Moyer
363
Posted 21/03/2021 at 18:10:13
John @358. I'm all in for not to post on TW as long as Holgate doesn't play for us again. Same goes for Iwobi by the way.
Matthew Williams
364
Posted 21/03/2021 at 18:13:22
The answer is a simple one Blues...where did we sign Ben Godfrey from?.
Lower League players are the key to all future success... the "Real" boss knew it too!
Peter Mills
365
Posted 21/03/2021 at 18:31:55
A pat on the back for Virginia, he did extremely well.
We desperately needed a first half goal, something to hold onto. Mina's header and Richarlison's overhead nearly provided it, small margins make the difference.
I'm not convinced by Mina, and thought he was poor for both goals.
I'm also not convinced by Richarlison's footballing intelligence. He scores some good goals and works hard, but the rest of his play is pretty poor.
Farewell to this season's FA Cup, it's been a blast, starting for me in September. Don't forget, whoever eventually wins the tournament won't have won as many matches in it as Marine.
Paul Niklas
366
Posted 21/03/2021 at 18:56:39
Watching Leicester City, a team that couldn't beat us, play Man Utd off the park – who hammered us twice – that is where we are.
It bothers me less that Liverpool, Man Utd and now, totally due to finances, Chelsea and Man City outperform us. In the case of the former two, they have outperformed us for 30 years.
I struggle with Leicester and Spurs, who never win anything, outperforming us. Rogers isn't buying these players at Leicester nor has he. So why or what are doing wrong? Because, to a man, Leicester are better than us.
What's wrong at this club?
Tony Abrahams
367
Posted 21/03/2021 at 19:01:46
I'd disagree that to a man that Leicester are better than us Paul, but I'd say they are a much better team going forward than Everton though.
Everton must have the least forwards in their squad, then only Rodriguez and Sigurdson, and this is something that has got to change, along with a few other positions as well.
Jerome Shields
368
Posted 21/03/2021 at 19:06:24
Tony#364
Everton final third play has been poor going back to Silva and maybe beyond. In Silva's tenure they had the poorest pass completion rate in the Premiership. I use to think that Silva thought that everyone should shoot from midfield upwards on sight of goal. If not on pass to the wing. James has improved that, but part of the problem could beb the positioning and runs of those recieving the pass and there resulting availablity for a pass. Back to goal laying of passes suits most Premier League defences. They will even turn it to their advantage by pushing up and compacting midfield.
One thing that caused City real problems was the distribution of Virginia. Man City only got the ball once all game from his Kick outs, using either foot. Any other time they got it they really had to work hard to contain the Everton player they where marking and 90 percent of the time Everton retained possession. Neither Pickford or Olsen are capable of that. In Pickford's case he is lucky to get 20 percent and Olsen is only slightly better. Virginia did not kick the ball out for a opposition throw once all game.
Our forwards should have made more of that. Everton actually had more shots on target than City. Calvert Lewin had none, as I recollect.
Danny #364
Sorry, Carlo was brought up in Italy and it will definitely be like that. He as much as said it after the Burnley match. I wasn't surprised by the tactics and glad it looked workable. At least you will now have stock in to cope.
Stan Schofield
369
Posted 21/03/2021 at 19:08:12
Oh for fuck sake, not the Leicester mantra again! They're a midtable side, like us, who at this very moment are in a run of good form. And today, Man Utd were shite.
We beat Leicester 2-0 at their place, and dominated them with ease.
Dear me, it's sad when some people keep hailing Leicester (fucking Leicester!!) as some sort of role model.
Oh, and by the way, if DCL had missed that sitter that Vardy missed, there'd be people on here proclaiming that DCL is not a natural finisher, and that Vardy would have scored. Get a grip!!!
Jim Bennings
370
Posted 21/03/2021 at 19:18:49
Paul
Leicester are a million miles ahead of us, the way they play the game is at least in keeping with the modern era, whereas our style has barely evolved in three decades, cross the ball to the big target man.
It's easy bemoaning injuries but look at other clubs, Leicester themselves are missing Maddison, Barnes and Justin right now.
Stan
Leicester are most definitely NOT a mid-table club my friend, they once were granted, but they are now an upwardly mobile club that actually believes it belongs to mix with the elite.
Thomas Richards
371
Posted 21/03/2021 at 19:21:34
Good side Leicester.
Liked thier movement off the ball.
Man in possesion had options every time.
Deserved win
Kim Vivian
372
Posted 21/03/2021 at 19:22:14
I'm starting to get a bit pissed off with "sofascore", the new god of statistics - who more and more people seem to turn to to tell them how a player has performed - in a game they've just watched for fucks sake. If you can't draw your own conclusions, don't bother watching. Stats are interesting but they do not tell a full story.
Christ knows how we knew who had a good game 20+ years ago. Oh - hang on we had eyes and a brain.

Christy Ring
373
Posted 21/03/2021 at 19:27:01
Stan#372 Completely agree about Leicester and DCL. The result for Leicester today was completely down to Solskjaer. Why would you rest 4/5 players in FA cup quarter final, and the international break now.
George McKane
374
Posted 21/03/2021 at 19:36:10
Wonder what the proposed/possible Government "takeover" of Liverpool Council with particular interest in corruption within the building trade may have on EFC/BM. Plans - Mmmmmmmmmmmm.
Stan Schofield
375
Posted 21/03/2021 at 19:37:19
Jim@371: They might believe they're a top side, but on the facts since they won the PL, they're midtable, comparable with us. That is a fact. When you believe something that does not fit the facts, it's called being delusional. Everton could equally believe they're a top side, but if they did then they too would be delusional.
Leicester are in a run of good form, and it's not sensible to extrapolate from that and exaggerate them just because you're disappointed that Everton are not currently in a run of good form.
Steavey Buckley
376
Posted 21/03/2021 at 19:45:40
Paul Niklas #367. Chelsea are also mile ahead of Everton when it comes to their academy football. They have at least 10 players from their academy who can play for the Everton first team. Chelsea also have numerous players out on loan in the premiership and the championship - it's not just about money, but good management and coaching skills for the younger and promising players.

Tony Abrahams
377
Posted 21/03/2021 at 19:47:32
Our forwards should have made more because our keeper never kicked the ball out of play for a throw-in all game Jerome?
I watched the game, it was like a footballing chess match, and I really enjoyed it even though Everton lost, but I honestly can't remember a time when DCL, should have done better, except for the flick you mentioned earlier.
Guardiola praised Everton, but said it was nine defenders and two on the counter attack, and always the long ball to Lewin, and without watching the game again, I thought DCL and Richarlison, worked very hard throughout, and I wouldn't criticise either of them for yesterday, although I thought out of the two, Richarlison could have been better in possession at times.
It's easy from the sidelines though, but not so often when you're out on the pitch, and especially when most of the best passes you receive are from your goalkeeper!
Soren Moyer
378
Posted 21/03/2021 at 19:52:18
Stan. If what you're saying is true and us beating Leicester at the start of the season makes us a better team, then barcodes should be way better than us as they did the double on us this season or Burnley is a top top team because they won easilly at GP last week!!!
Mike Connolly
379
Posted 21/03/2021 at 19:52:28
I wished we had a bit of Leicester's good form they have won the perm and will probably get to the fa cup final and give Chelsea or Man City a better game than us. 95 was our last trophy that's far too long
Tony Abrahams
380
Posted 21/03/2021 at 19:56:04
George Mc, I saw a text before saying this is going to affect the stadium and Joe Anderson is going to be re-arrested (Colin Chang's name being mentioned, why?) this week, but thought it had maybe come from a Liverpudlian mischief maker.
I'm not condoning what's happened, but look at the money these "masters who make the rules" have made just setting up companies for friends and families to benefit, just off the back of covid alone?
It looks to me as though the Tories would love to have a piece of Liverpool, the gateway to America, and a waterfront unrivalled on these shores, once the regeneration begins!
Derek Knox
381
Posted 21/03/2021 at 19:58:26
George, glad to see you as always, but had this discussion with another TW'er offline this afternoon, I believe it to be nothing but a mixture of Sour Grapes from you know, on the back of Jenrick's announcement. He can't afford to delay it longer than protocol permits, because he has been caught pant's down a couple of times, and one of them, a Property Deal in London where he had a vested interest in.
Cue the Music to 'No Hiding Place' with Chief Inspector Tom Lockhart on his case!
Thomas Richards
382
Posted 21/03/2021 at 20:04:12
A tory party conglomerate running this city?
Man the barricades
Mark Murphy
383
Posted 21/03/2021 at 20:04:37
I can name one Leicester player who would improve us.
Yes Ndidi!
X
Derek Knox
384
Posted 21/03/2021 at 20:12:22
Mark, you should Drinkwater! :-) He was hailed as being perfect for us, where is he now? Languishing in Chelsea's many reserves as far as I know!
Don't worry, I think Carlo knows who we need at the right price, that will just add another quality piece to the jig-saw!
And I don't mean resurrecting Stuart Barlow!
Rob Halligan
385
Posted 21/03/2021 at 20:22:14
Steavey #376.
You say Chelsea have at least 10 players in their academy who could get into Everton's first team. Can you provide some names please, as I'd like to Google them and maybe try and catch some footage of them playing?
You must be a really keen follower of the Chelsea academy players.
Ian Bennett
386
Posted 21/03/2021 at 20:23:59
Leicester have some real talent – Ndidi is quality. Really like a number of their players, Fofana, Barnes, Justin, Tielmans – it's a good squad that plays good footy.
Brent Stephens
387
Posted 21/03/2021 at 20:26:16
Chelsea U23s beat our U23s by one goal this season and drew the other game. Not a vast difference on the limited evidence of those results.
Stan Schofield
388
Posted 21/03/2021 at 20:32:42
Soren @378:
I didn't say we are a better team. I said that both us and Leicester City are midtable. It's as simple as that.
People making daft assertions about Leicester being something to aim for is no doubt simply a knee-jerk manifestation of Evertonian frustration that we are midtable. Aiming for another team that is also midtable is simply daft. Our aim is to be at the top, not midtable like Leicester.
Mark Murphy
389
Posted 21/03/2021 at 20:38:45
Derek - I get the pun but not even in Whiskey! Actually, especially not in Whiskey...
I'm sure Carlo knows what's needed – I'm looking forward to the next two seasons – and I wouldn't swap Carlo for Brendan.
I don't know what Gbamin brings to the table but we need an energetic playmaker in midfield. Every team seems to have one except us. James and Sigurdsson are playmakers but not dynamic.
Ndidi is the sort of player we need. Drink water? Nah – only when the ale runs out.
Danny O'Neill
390
Posted 21/03/2021 at 20:39:11
We need to get more support to the forwards. That has to come from the midfield firstly but then also from a defence that is higher up the pitch.
If we camp in our own half, the forwards are isolated. If our midfield is camped on the edge of our own box, there is a huge gap between them and the forwards. If our midfield bombs forward to surround the strikers, yet our defence remains camped, we leave an exposed pocket between midfield and defence.
We need to play as a unit; as we did last night. But if we want to be more attacking, we need to do so as a unit and play a higher line. We don't have the personnel throughout the team to that right now.
Derek Knox
391
Posted 21/03/2021 at 20:40:54
Thomas @384,
Man the barricades? All you'll need for that lot are Self Repeating Feather Dusters, and a pile of brown envelopes! 😋
Steavey Buckley
392
Posted 21/03/2021 at 20:45:43
Rob Halligan #385:
Loftus-Cheek - homegrown
Tammy Abraham – homegrown
Andreas Christensen – homegrown
Fikayo Tomori – homegrown
Mason Mount - Under-21
Callum Hudson-Odoi - Under-21
Billy Gilmour - Under-21
Reece James - Under-21
Kai Havertz - Under-21
https://www.squawka.com/en/chelsea-loanees-2020-21-season-clubs/
Everton just have one player since 2016 who has established himself in the Everton squad.
Thomas Richards
393
Posted 21/03/2021 at 20:46:19
Nanny's slipper will get some of them excited, Derek.
Rob Halligan
394
Posted 21/03/2021 at 20:50:44
Sorry Steavey, mis-read your post. I thought you meant from their current academy squad. Apologies!!
Steavey Buckley
395
Posted 21/03/2021 at 20:52:16
Brent Stephens #387,
It's not about the results that count, but how many players can get promoted to the first team.
Brent Stephens
396
Posted 21/03/2021 at 20:53:45
It is that, Steavey.
Steavey Buckley
397
Posted 21/03/2021 at 20:57:49
Rob Halligan.
The academy should be producing players for the first team – not just about spending money on transfers that certain Everton fans are getting carried away with, by believing that Chelsea is all about money. It's not. They have a huge academy programme. Man City's academy is not producing 'fruit' – they have to spend money, but Chelsea not so much.
Danny O'Neill
398
Posted 21/03/2021 at 21:03:59
A combination of both, Steavey. Buying ready-made top-class experienced players to compliment genuine potential coming from the academies. Not all that potential is locally produced; it fits the current rules for "homegrown".
Our academy is not producing right now, nor has it been for the past decade or so.
Barry Rathbone
399
Posted 21/03/2021 at 21:08:00
Don't get to watch much footy because I get bored after 10 mins of shite but watched all the Leicester win because they looked so good.
No coincidence they accompany Man City and Chelsea in the semis; on that evidence, they really are near their standard and light years ahead of us at present
Before someone whines – does that make Southampton top-notch as well? The answer is an emphatic "No" because at least one lucky knobhead team always reaches the semis.
Tony Abrahams
400
Posted 21/03/2021 at 21:16:48
Stevie @397, give it another ten years and I'd bet that Manchester City, will be doing the same.
Football is a billion-dollar industry now, and every club should be bringing their own players through, otherwise it's a total failure having academies in the first place.
Paul A Smith
401
Posted 21/03/2021 at 21:17:54
I certainly wouldn't want Everton to be compared to Leicester all the time but they have as big a chance of hitting the top level as we do. If not better.
Their recruitment has been bang-on since they came back up. God knows how many times they have been relegated but to dismiss them like nobodies is mad. They've won 3 trophies since we last won one.
Steavey, you're naming players Chelsea nicked from the continent when they were 14. Hardly "homegrown", is it? These kids will be on more money than our 18-year-olds. That's the difference. Imagine how well Chelsea look after their families after taking them away.
Steavey Buckley
402
Posted 21/03/2021 at 21:22:57
Tony Abrahams #400.
Chelsea are getting the balance right between buying players and producing their own. But strangely, both Everton and Man City are not producing quality players from their academies.
A lot has to do with scouting for young talent, then coaching them well to be good enough to 'break in' to the first team.
Rob Halligan
403
Posted 21/03/2021 at 21:29:39
Thing with Chelsea is, in my opinion anyway, is that they buy unknown youngsters for buttons, and then loan them out in the hope of selling them at a profit. Nothing wrong with that, I guess.
I read somewhere in the last year or two, that at one stage they had over 40 players out on loan. That is just insane!
I'm sure they've brought through many players from their academy and sold them at a profit. Again, nothing wrong with that, because, as Tony says, football is now a billion-dollar industry, it's no longer a sport but a business.
Paul A Smith
404
Posted 21/03/2021 at 21:30:19
The problem these big clubs with magic academies have is their bloated squads make it difficult to break into and they lose a Sancho every now and again.
Everton have to be in for these talents if they can't see an opening where they are.
Mark Murphy
405
Posted 21/03/2021 at 21:31:26
I live in West Sussex, deep in the Chelsea catchment area. I also used to coach in kids football down here. They recruit kids from all over in their hundreds from 10 years old and I've lost count of the kids and parents whose heads have been turned by "being on Chelsea's books".
The vast majority are nowhere near good enough but the dads believe the hype and think their kids are the next David Beckham cos they score hat-tricks in games against enthusiastic but crap overweight gamers and reluctant dads' projects, and pay fees for a kit and weekly training sessions at Cobham.
Thing is, any really decent prospects actually do get filtered up. It's a monster and the dads pay for it. I've met some of the Chelsea "scouts" and they know less about football than Pete Sampara or Tony Marsh... but it's a big deal for the kids – and especially their dads – to be "scouted for Chelsea".
Jay Harris
406
Posted 21/03/2021 at 21:31:27
Steavey,
Chelsea have a much bigger catchment area and are a glamour club for young kids growing up around Greater London. Most of their academy players get loaned out or sold to other Premier League clubs. They spend a fortune on bringing players in so not a good comparison.
It is only a couple of years since we won the U23 PL2, so the problem is not the academy — it is bringing those players up to Premier League standard that is the problem.
Steavey Buckley
407
Posted 21/03/2021 at 21:36:29
Rob Halligan #403,
The amount of young local players Chelsea have brought into their first team from their academy is putting Everton to shame.
Everton has produced just one player since 2016 from the academy, and he has difficulty keeping his place in the first team when other players are fit to play.
Tony Abrahams
408
Posted 21/03/2021 at 21:42:53
Steavey @402, if you read my posts, you will know I'm always advocating what you write in this post, mate!
Steavey Buckley
409
Posted 21/03/2021 at 21:42:56
Jay Harris #406,
If Chelsea's format for attracting younger talent into their academies is successful, why don't Man City and Everton follow suit?
If you go back in time to the 1960s, Everton brought at least one or two young players from the youth team into the first team every season. Now, there is none. So has local talent dried up?
Steavey Buckley
410
Posted 21/03/2021 at 21:44:24
#408. Thanks Tony.
Tony Abrahams
411
Posted 21/03/2021 at 21:54:39
I've always thought arguably the biggest club in the world, Man Utd, have always been a club who have brought loads of their own great players through. When you look at Barcelona, the greatest team they ever produced had most of its seeds grown in their academy.
I thought Brands was going to come and produce an Ajax academy at Everton; they got banned from signing players, but it's the better coaches that help make the better players... something is obviously wrong with the system somewhere?
We had 5 in the Under-20 World Cup winners side a few years ago, and only Calvert-Lewin really progressed, possibly because these players needed to be playing regular first-team football, after proving they were ready for the next stage of their development.
Having B Teams playing in the lower leagues makes a lot of sense in this respect, because 19-21 seems to be where a lot of talent gets lost nowadays... or maybe it's always been this way?
Danny O'Neill
412
Posted 21/03/2021 at 21:58:40
So much right with the latter discussion on academies on this thread and I know we've had this before.
Mark Murphy; experienced similar in my coaching experience with Hayes and then latterly Hayes & Yeading in West London. Rich catchment area for Chelsea, QPR, Fulham and Watford.
Watford in particular were (possibly still are) massively guilty of sucking every half-decent player in the area into the false dream of being on their books. The reality being they are surrounding one or two real gems they believe will make it with other good players. The majority of those lads get spat out of the system, unfortunately.
The point I made earlier, and Paul A Smith also alludes to it, is true. The "homegrown" tag is exploited. The reality is that "homegrown" just means they've been at the club and in the country from a certain age. It doesn't mean they are from Ealing, Cobham or Richmond-upon-Thames. Equally likely they come from a Paris suburb equivalent.
Bottom line, they've done better than us, but the term "homegrown" is loose.
But I totally agree (as said earlier); it's a balance between developing young potential and buying proven experience.
Tom Bowers
413
Posted 21/03/2021 at 22:00:51
Let's face it, guys, we are still streets behind the big spenders who got their big ''moneybags'' in the door years before we got ours and they have had a few years or more headstart in establishing the standard for the Premier League.
Man Utd have always been rich and way more of a lure for young prodigies or stars from abroad. Then came the Ruskie at Stamford Bridge, who has a bottomless pit of money, followed by the big Middle East conglomerates who sponsor Man City.
These three teams alone could probably field second elevens for the whole season and still finish 1st, 2nd, and 3rd.
Spurs and Arsenal still have bigger pulling power on players than Everton; Leicester are probably the only team worthy of any accolades with what they have done with so little at their disposal compared to the rest.
Everton, of course now with Moshiri, are starting to attract a few players but they don't have the depth as yet, as we have seen this season, and certainly have some players under-performing far too often.
It's hard to predict what will happen at the end of this season regarding the Everton squad but it's for certain it needs more strength, especially in midfield, where they always look second best in most games.
They could conceivably still finish 5th for what it is worth... but, whenever we say something a little optimistic, they blow it. It will seem even harder to keep our position as it is now without those missing midfielders.
Bill Gall
414
Posted 21/03/2021 at 22:08:34
What people are missing is that Chelsea were the first Premier League club to get a Billionaire owner and – for 5 or 6 years before FFP came into effect – were spending millions on world class players, and didn't have the large academy they have now. Once they started winning trophies and became one of the Sky Top-6 Darlings, that was when they started to build the whole youth system.
You can't compare Everton's academy to theirs as Everton are on the doorstep of two more of the Sky favourites; young prospects will choose them over Everton. Over the years, Everton have produced international players and youth players in their squads. Rooney was a one-off and I don't see any other clubs who have produced anyone better, and the problem is, Everton are not successful enough or, for the past number of years, stable enough for the young prospects wanting to stay.
Joe McMahon
415
Posted 21/03/2021 at 22:12:59
Bill @414,
Yes, you are correct, but they were winning things with some very good players such as Zola before Ambromovic arrived.
Man City were the team that had won nothing since the League Cup in 1976.
Steavey Buckley
416
Posted 21/03/2021 at 22:13:38
Tony. Full respect for you. You have always been a good friend of Everton FC. I often read your comments, full of good commonsense views on football.
Danny O'Neill
417
Posted 21/03/2021 at 22:18:30
Back on topic to who we played last night.
We are 5 years in to Moshiri's tenure as I understand?
Now I appreciate, these things are unpredictable and you can never compare apples and oranges. But in those 5 years, the guy has has tried, failed, tried again, but is still learning. Not that he needs some mortal like me to judge him. He's the Billionaire businessman, not me.
20 years ago, Manchester City got relegated. With our very own Joe Royle as manager. We haven't been relegated since 1951.
Sorry, but often a major rebuild takes time and perseverance. Relative success, failure and turbulence on the way.
Not something that happens in 4 months, 14 months and not even 5 years however impatient and frustrated we are with 30 years of neglect.
Christy Ring
418
Posted 21/03/2021 at 22:20:40
Steavey #392,
Kai Havertz U21 cost £78M?
Thomas Richards
419
Posted 21/03/2021 at 22:26:19
Danny O'Neill
420
Posted 21/03/2021 at 22:28:43
Admire it or despise it, Chelsea also have a habit of hoovering up young up-and-coming players then loaning them out. Lukaku is a good example, but probably the one they most definitely must be kicking themselves about is Kevin De Bruyne.
Jerome Shields
421
Posted 21/03/2021 at 22:30:28
Tony #377,
You are probably right. The way Ancelotti sets up puts emphasis on the need for exceptional technical ability to take a half chance. There are not many players available for below £80M who can do that.
John Keating
422
Posted 21/03/2021 at 22:31:16
Few teams will take chances on youngsters unless they have players on the pitch who are good enough to cover (Man City, for example) or unless they are down and out and trying everything.
The rest, in these modern times where instant success is a prerequisite, don't take chances.Long gone are the days when we'll give "promising" youngsters like Labone, Harvey or Tommy Wright a chance.
We can only hope that putting youngsters on our bench as against Man City will give them even more determination to improve and make it
Brian Wilkinson
423
Posted 21/03/2021 at 22:47:24
Following on from the youth system, in regards to Chelsea, I was reading that, since 2019, Chelsea have fielded 1 youth player in every single game they have played; not always the same player, but a youth graduate has been selected.
Apart from the Spurs cup tie, can anyone think of one of those youngsters being given more than a few minutes at the end of a game?
We see them named on the bench each week, but every time it is the older players that seem to come on. Now I know some will say it gives them first-team experience (playing in an empty stadium? I very much doubt it), so why not give these a run-out? If they are thought good enough to feature on the bench, then why not give them a bit of game time?
With the stadiums empty, they are hardly going to get the crowd on their backs for the slightest mistake. Even if it's only 20 minutes at first, give them a game.
Same happens every week: you can guarantee, if Everton go a goal down in the second half, within a minute, panic sets in and we throw a sub on straight away. It's never before they have scored; and always the same subs ending in the same result, losing the game more often than not... we never try any of the other subs.
Same players either starting every week, or coming off the bench. It's time we tried something different.
Steavey Buckley
424
Posted 21/03/2021 at 22:48:01
Everton, from 1963 to 1969, were producing the same amount of local talent from a much smaller catchment area of talent than Chelsea are producing now for their 1st team with a much larger catchment area:
Andy Rankin, Colin Harvey, Roger Kenyon, Joe Royle, Tommy Wright, John Hurst, Jimmy Husband and Alan Whittle.
But, from 2015 to 2021, Everton have produced just Tom Davies.
Danny O'Neill
425
Posted 21/03/2021 at 22:59:36
Man City have even been cautious with Foden. Look at the lad and he is only 20.
I say 'cautious': good management as opposed to throwing a player into the cauldron too early and whipping up expectation that only serves to divide opinion.
I don't think so with Foden, that is a truly talented footballer.
He's not particularly pacey. Neither is De Bruyne. Speed on the football pitch can be in the brain, not the feet.
Kieran Kinsella
426
Posted 21/03/2021 at 23:02:08
Chelsea spent a fortune on their youth setup, going back to when Frank Arnesen was there. The plan was always eventually to self-produce.
We also spent money but I'd say that's where we erred. Chelsea invested heavily in scouts and coaches; we invested heavily in buying teenagers from other teams, eg: Garbutt, Green, Gibson and Bowler. Mason Mount, by comparison, has been at Chelsea since age 11, learning the Chelsea way.
We would do better with scouting and top coaching at a young age instead of buying 16- or 17-year-olds who have already missed years of quality development and are at best rough diamonds.
Rob Dolby
427
Posted 21/03/2021 at 23:16:58
Barkley, Kenny, Lundstram, Dowell, Davies, Robinson — they have all played Premier League football from our academy recently.
Bill Gall
428
Posted 21/03/2021 at 23:26:25
Joe #415,
Yes, they were winning things but they then had the backing of Bates, who eventually sold the club to Abramovich and made a £17M profit.
Prior to that, they were still buying foreign players and, in the 1999-2000 season, they were the first English club to field 11 non-English players. So really you would have to go back to the times of Osgood and Chopper Harris to find many youth players coming in.
Danny O'Neill
429
Posted 21/03/2021 at 23:34:18
But not to great standards Rob. I watched Kenny last season and saw him today. Sadly not the standard we would want unfortunately.
It's great to see those kids craft a career in the game. They are good enough for that and it pleases me to see them do that.
Are those type of players going to take us to the next level? No. Simply and sadly no. I want our academy to feed the first team more than it is now. And be good enough to improve that first team squad.
Rob Dolby
430
Posted 21/03/2021 at 23:35:46
@428, Matthew Harding started the ball rolling at Chelsea.
Kieran Kinsella
431
Posted 21/03/2021 at 23:37:51
Our academy went downhill when Sheedy left.
Brian Wilkinson
432
Posted 21/03/2021 at 23:38:00
On another note would like to say a big thank you to Michael and Lyndon, who do a great job bringing Evertonians together on here; I hate to think of not having ToffeeWeb.
We all have differences of opinion, that's what makes this site so great, putting opinions across. And sometimes it's funny how we can go off track and add something different into the thread: one minute, we are discussing the game, then after about 200 comments, the likes of Bob Dylan, Gene Hunt, to even Harold Shipman popping up.
But that is why I love ToffeeWeb, you just do not know what is going to pop up in the thread, unlike other sites that would want you sticking to the thread, it is the random post that pops up that makes it a "Wow, where did that thought come from?" moment.
Keep up the good work, guys, and please other posters, keep your posts and banter coming – we may have a difference of opinions at times, but we are all passionate Evertonians.
Rob Dolby
433
Posted 21/03/2021 at 23:46:22
Danny, I want our academy to produce a Rooney every season but unfortunately that isn't going to happen.
The academy does okay, probably better than most, but it certainly isn't full of innovators. It's toeing the line and ticking a box, adhering to academy elite standards in this country.
I mentioned the players above as Steavey said that we have only produced Tom Davies in the last 5 years, which isn't correct.
Steavey Buckley
434
Posted 21/03/2021 at 00:06:52
Rob Dolby. There are also Everton players in the 1960s who played their first-team football in Division 1 with other clubs without playing for the Everton first team. But Ross Barkley played for the Everton first team before 2015. In fact, his debut was around the 2013-14 season when Martinez became manager.
All the Everton homegrown players I mentioned from 1963 had their Everton first team football at least over a 6-year period, and usually left Everton for various reasons in the 1970s. I have named 8 Everton players from the 1960s who consistently played for the 1st team from the youth team set-up.
Excluding Ross Barkley, who had already made his debut in previous seasons, from 2015 to 2021, the only other debutant is Tom Davies, who has regularly played for the Everton first team since 2016.
Rob Dolby
435
Posted 22/03/2021 at 01:07:13
Steavey, not sure what point you are trying to make.
In the '60s, Celtic won the European Cup with every player born within 30 miles of the city. Most teams of that era produced their own homegrown players as standard.
There are lots of reasons why the current team isn't full of academy graduates. Each team in the premier league is made up predominately of full international players. The standard is ridiculously high, there aren't many youngsters ready or able for that challenge at any club. That's why clubs use the loan system to try and improve players. That's today's standard.
Managers generally don't take chances with young kids when they can go out and buy an international for £20M and nobody bats an eyelid.
Kieran Kinsella
436
Posted 22/03/2021 at 02:02:58
Rob,
Steavey seems to have two issues:
1. We aren't producing enough talent. I agree.
Where I disagree with him is his belief that we'd produce good players merely by giving kids minutes.
Jay Harris
437
Posted 22/03/2021 at 02:04:09
Rob,
I'm with you, I can see what point Steavey is trying to make apart from knocking the club.
If we have the same debate next year, we may have Small, Branthwaite, Nkounkou, and Gordon as first-team players.
If we are using Chelsea as the example, then you would have to include Mason Holgate and Jonjoe Kenny as players that have come from the youth set-up.
As so many others have said, the Russian roubles attracted a lot of Chelsea academy players and I believe at one point they had 40 players out on loan.
Do we credit Chelsea with the career development of Lukaku, Batshuai, Bakayoko, Loftus-Cheek none of whom were regular first-team players?
We cannot undo 30 years of mismanagement and under-investment in the club but, for fuck's sake, let's give them some credit for getting some potentially top kids coming through now.
Si Cooper
438
Posted 22/03/2021 at 02:36:23
Still seeing some 'cowardly', 'negative', 'didn't lay a glove on them' characterisations of the game, and it has been asked does it matter if you lose 2-0 or 6-0?
My take on that would be, it all depends on when the goals were scored. The old adage is something like 'you can't win the game in the first 20 minutes, but you can lose it.'
To me, the only debate is when should the manager have simply said, "Let's go for win or bust now, lads"? I posted before the game that we would need to be faultless for 90 plus minutes but I made a mistake. That should have said for 120 plus minutes because of the extra time.
We had the option of 5 subs but only 3 substitution windows. I reckon the way the game panned out (we didn't need to chase things until very late on), Carlo decided to go all in on winning it in extra time. He probably planned substitutions on the basis of giving the likes of Davies and Keane a full 30 minutes to rally the troops around them.
Cowardly or just giving yourself the best chance of getting a victory against the odds? Considering how disappointed many are (to them, our season is now over and a bitter disappointment), then I can understand why the manager didn't risk being out of the game with the majority of it still to play, and played to hold on until flagging legs may have given us the opportunity for a smash and grab.
Alan J Thompson
439
Posted 22/03/2021 at 05:08:37
Steavey (#424);
While talent through the Academy hasn't completely dried up, there was a time under Dr Marsh, I believe, but during Howard's first period, when the Academy was closed as a money-saving measure and a lot of young Evertonians were lost across the park.
It wasn't until Joe Royle, and I believe at his insistence, that it was re-opened. It was also common knowledge that it was easier to get a trial under Shankly while Everton turned a lot away.
Remember the story about Lawler? Shankly asked him what he did around there and he answered that he was an apprentice and he mopped out the changing rooms and cleaned the first-team players' boots. Shankly's answer was, "Get on the bus, son, you're here to learn how to play football."
And those players you mention were sourced from Blackpool to Newcastle. Funnily enough, Rob (#435) mentions Celtic winning the European Cup with all players from within 30 miles of Glasgow.
When I returned from travelling the world in the mid '70s, I arranged to meet a friend in Manchester for a night out. My father thought I was mad going that far while I thought that it was only half-an-hour on the train.
Paul A Smith
440
Posted 22/03/2021 at 06:16:46
A few years back, Everton's academy had produced more professional players amongst the 4 divisions.
Before Barkley, James Vaughan and Anichebe played Europa League campaigns for us.
These players don't always hit the top but they went on to have careers in football. Most of Chelsea's go back abroad or are loaned out year after year.
Danny O'Neill
441
Posted 22/03/2021 at 06:38:59
I do enjoy the academy debate, so please excuse my early morning rant.
I believe English football is finally starting to produce a better quality of player than over the past decades; but slowly. Maybe someday, it will negate my scratched record argument, but that won't happen until the grassroots is fixed.
It's all fine and well having elite academies, but only a tiny percentage of English / British players will access them because of the state of the grassroots. Until then, our elite academies will continue to be flooded with imports because the product of our grassroots is simply not good enough at scale.
I was a decent player who played a decent standard but, no matter how many minutes you played me, I was never going to be that standard. That isn't the answer. If the product isn't the standard you desire, you shop elsewhere.
A good measure is not club football, but international. What has England achieved since 1966 in comparison to Germany, Italy, Spain, France and even Holland (with a quarter of the population)? England are parallel to Everton in terms of European international football.
On our own academy / youth set-up. Remember back in the '90s we saw the output of our neglect in focussing on local talent? It seemed every decent local boyhood Evertonian (Fowler, McManaman, Carragher, Owen et al), ended up across the park.
Then it changed. Our proactiveness? Or the policy of the Houllier and Benitez regimes to import youth from France & Spain, getting them in young enough to later be able to label them as "homegrown"? We seemed to get the pick of the local boys for a period.
In my humble opinion, the simple fact is, until we lay the foundations, which start way before these kids even think about trials, academies and being "on the books", our system is flawed. It hopes for the once-in-a-generation "Rooney" coming through. The vast majority of the rest are average or above-average who, yes, go on to earn a living in the beautiful professional game, but are nothing special.
Sheedy, yes; I would also add that Colin Harvey was a huge loss.
Andrew Ellams
442
Posted 22/03/2021 at 08:02:36
The lack of youth team players coming through is really a new thing. Only Kevin Ratcliffe and Gary Stevens were club products in the Kendall team of the 80s.
I made a post on another thread a few days ago that the ability of youngsters to adapt to top flight football has declined since they moved from the old Central League to the modern day academy system.
Jerome Shields
443
Posted 22/03/2021 at 08:10:02
The Academy has taken a back seat at Everton. The subs bench at the Man City game consisted of players we haven't seen for months. Brands has attempted to change things at the academy. Players are younger in the Under-23 squad and players have been bought in to bolster this squad. I still think the loaning out of young players is a wage-cutting exercise. Unsworth still prevails.
Though change has been initiated, I still get the feeling that Brands's promotion to the Board has cemented the status quo that has always existed. Unsworth seems to have been promoted and Baines's appointment was the same as usual. Moshiri's objective of changing the football culture of the Club, by his unorthodox promoting of Brands to the Board, has not worked.
Ancelotti does not seem to be buying into the Academy changes in his team selection. He was at one stage this season, but seems to have stopped. I can't see any change in this happening in the remaining fixtures.
Joe McMahon
444
Posted 22/03/2021 at 08:54:53
It's about time Unsworth managed in the lower leagues. Does he have any ambition? For some reason, he turned down Oxford. To think some wanted him to manage Everton. He is not Gerrard or even Arteta.
Andrew Ellams
445
Posted 22/03/2021 at 09:01:17
Joe, do you remember the trouble Mrs Unsworth caused when he left Everton and the North West?
Danny O'Neill
446
Posted 22/03/2021 at 09:05:18
When he signed for Aston Villa for 16 minutes Andrew?!!
Andrew Ellams
447
Posted 22/03/2021 at 09:09:50
That's the one, Danny.
Brian Murray
448
Posted 22/03/2021 at 09:09:57
Apparently he didn't rate the chippies in the Bullring!!
Rob Halligan
449
Posted 22/03/2021 at 09:13:41
Danny, 16 minutes, was it that long? I didn't think he kicked a ball for Villa, or was that West Ham?
Michael Kenrick
450
Posted 22/03/2021 at 09:14:39
I think comparisons with the youth system of the 1960s are ridiculous. Football has changed totally. But some of our fans seem to be stuck in a time warp.
Calls for a return to the days of the Central League fly in the face of 'progress' that never (if ever?) successfully turns the clock back – despite the rampant nostalgia for The Good Old Days amongst Evertonians – seem at best foolhardy.
Steavey, Ross Barkley made his debut in 2011, so under David Moyes, not Roberto Martinez. But he was held back by the ultra-conservative Moyes (who had done the same with Rooney) and it was only under Martinez that his potential was visualized (although arguably not fully realized).
The maths is remarkably simple: if you increasingly purchase and play talented international players from across the world, then there is less and less scope for young up-and-coming homegrown players from your academy. They have to be of a higher and higher standard to make the ever-increasing grade.
I find Jerome's claims on the internal function of the Academy and the club hierarchy annoying at best and extremely disingenuous at worst. Unless you have first-hand knowledge of such things, then this is just your invention, presented as fact. Sadly, you have previous form for doing this.
You say, for example, that Brands, as Director of Football, should not be on the Everton Board of Directors. Why not? Seems perfectly reasonable to me, especially as Paul The Esk has indicated the transition from a traditional "hands-off" Board to a more day-to-day Management Committee. You state his promotion "has not worked". How so? What evidence do you have for such a claim?
If you actually have some sources to back up your claims as facts, then give us your evidence. If it is just your invention, then present it as such... or, preferably, resist the temptation to post what are effectively your invented lies.

Hugh Jenkins
451
Posted 22/03/2021 at 09:15:33
Bill (428) - Osgood was not a Chelsea academy product.
He was "late" coming to professional football and was working as a bricklayer and playing part time for Windsor, when he was spotted by a Chelsea scout and went almost straight into their first team.
Christopher Timmins
452
Posted 22/03/2021 at 09:29:52
Going back to Saturday evening's tie, is it not very sad that the result was always a given? The gap between Man City and us is just so great and it will take years for us to narrow same.
It's now 26 years since we won some silverware; the longer the wait goes on, the less likely it is to happen.
When I saw the results from Spain yesterday, I noticed that the 5th placed team were hammered by the 2nd placed team, so obviously the gap between the top 4 and the rest in Spain is also huge.
Danny O'Neill
453
Posted 22/03/2021 at 09:37:13
As in 16 minutes at the club, Rob, not on the pitch! A tongue-in-cheek exaggeration obviously, but it was a bizarre episode.
Kevin Prytherch
455
Posted 22/03/2021 at 09:37:43
Regarding the academy, Comparisons with Chelsea are not brilliant. How many of their academy players would have got a chance if it weren't for their transfer ban?
Our academy has failed at the vital step of the transition from U23 to first team.
Take Kieran Dowell, for example. Two of the stand-out players in the Championship one year were Dowell and Maddison. The season following, one of these players was allowed first-team opportunities in the Premier League in a fairly risk-free position to make mistakes and learn from them. He prospered and developed as a footballer and is now one of the most coveted players in the Premier League.
The other got a few minutes in a Caraboa Cup game then was left to stagnate in the U23s until his career drifted towards the Championship.
Whilst we can't say that Dowell would have been as good as Maddison, the fact that he effectively stood still at that vital stage for his development means that we will never know how good he could have been.
The same could be said about Kenny, when he was overlooked for Martina and stood about in the U23s for a while. Had Kenny been playing for the first team instead of waiting around for the next 18 months he might have progressed further.
Unfortunately, at the time of having 5 x U20 World Cup winners, we had a succession of 3 managers who would not trust younger players at all. Their careers stalled and only Calvert-Lewin has gone onto make anything significant. Ironically, due to forced circumstances, Calvert-Lewin was also the only one who was afforded a number of games to learn and make mistakes, like the way that Davies has.
Ancelotti also seems to suffer from a complete lack of trust in younger players. Davies is always hauled off first, Nkounkou and Gordon were never given significant opportunities in times of significant injury crisis, and Kenny wasn't even played when there were no other right-backs at the club.
To put it short, we will never know how good an academy is without the opportunities for the academy players to actually play, make mistakes, and learn from them. Sadly, these opportunities have not been there for a number of years.
Dave Abrahams
464
Posted 22/03/2021 at 10:53:51
Kevin (455), Kevin regarding Maddison and Dowell, there wasn't a great deal of difference in the ability they possessed, there was a massive difference in their nature, which enabled Maddison to get where he is and Kieran still trying to get to that stage.
Maddison always had that " bit of a bastard " in his game, when he was with Norwich he had the nous and guts to go on loan with Aberdeen and roughed it up there in a tough physical league, scored the winner v Rangers in his second game, came back to Norwich and had plenty of premier league clubs sniffing round him, including Everton, while Dowell was still here,now he'll be in demand if he decides it's time to move on from there.
Kieran, did well at first with Notts Forest, did okay, at first with Sheffield Unt. not so well at Derby County, just starting again at Norwich after a long injury, hope he gets that " bit of a bastard " in his game, he will be in the same demand as James Maddison.
Brian Harrison
465
Posted 22/03/2021 at 10:58:17
Michael #450,
I think why many of my age talk about the Central League is that was the perfect grounding for young players to learn against experienced players. The Central League was used by all clubs as a way of getting injured players back to fitness, so youngsters often came up against some of the biggest names in the game.
Now, regular first-team players never play in the U23s league. I listened to a player's agent a few years back and he said that most players have it in their contracts that they only play first-team football. I agree, time moves on, and the Central league idea is dead and gone.
You said in your post that Moyes held back Rooney... What? Playing him in the first team at 16 was holding him back?
I often see many posters claiming play the kids, but the reality is, apart from Rooney and to a much much lesser degree Barkley, most of our youngsters are just not good enough.
I don't know whether it's the lack of young talent or the poor coaching but we don't seem to produce a steady stream of youngsters who are ready for first-team football. I have to admit its a long time since
I have watched the Everton youth sides, and have seen many regular watchers of these matches suggest that we have a great prospect playing for the youths but they never ever materialise into first-team players. Davies is the only one over the last 5 years who has managed to sustain his place in the first team squad.
I don't include Calvert-Lewin as Sheffield Utd coaches have to take credit for his progress and he forced his way into the first-team squad within a short period of time.
Tony Abrahams
468
Posted 22/03/2021 at 11:19:16
I disagree that reintroducing the Central League flies in the face of progress, Michael K, simply because it's competitive football.
Surely Moise Kean might have adapted to English football by playing in this type of game, rather than just training, and getting the odd 15 minutes here and there.
I agree that young footballers can learn a lot in training, especially when training with good senior professionals, but nothing prepares a player more than playing, it's where you learn the most imo.
Paul A Smith
469
Posted 22/03/2021 at 12:04:06
I think Michael and Tony both make valid points about Central Leagues and lower levels. At the end of the day, the players good enough will come through and the rest won't.
Barca have a B Team or second team and they'll know straight away who is going to be useful to them. Very rare you'll watch Barca though with 5 homegrown players in their starting 11.
A Rooney or crops of talent come around every 10 to 20 years and there are about 8 to 10 clubs waiting for that young superstar to emerge.
I could never see a Bournemouth bringing a Rooney through because Chelsea, Spurs or Arsenal will have stolen him before he's 16.
Tony Abrahams
470
Posted 22/03/2021 at 12:35:16
I've said it before but these academies being run as a business doesn't help, because they always want the best kids at 6-7-8 years of age now, and this is not productive imo.
Look at any team of 8 year olds and then look at the same age group when the kids are twelve and see how many are still there.
They massage ego's and then drop them like a stone, instead of letting the kids train with the club, and play with their mates until they are around 12-13, and then they might have a more realistic picture about these very young kids.
I'm aware this isn't possible because if they don't sign these kids somebody else will, but this massaging of kids and parents ego's, isn't right, because it becomes apparent it's also very false, in this very cut-throat environment
Stan Schofield
471
Posted 22/03/2021 at 12:45:13
Regarding the academy debate, when we brought so many young players through to the 1st team in the 60s, those youngsters came into very good (actually great) sides, where their talents could be best exploited within well-functioning set-ups.
Over the last few decades, the trouble is trying to bring youngsters into dysfunctional 1st teams. The elite clubs Chelsea, Utd and City have not had that problem, they being like we were in the 60s. So our youngsters will INEVITABLY struggle to make a big impact, barring the infrequent occurrence of a young genius like Wayne Rooney.
Until we start performing like a top side, based primarily on signing the best players, youngsters will always struggle in the 1st team. It is almost a law of Nature.
Brian Harrison
472
Posted 22/03/2021 at 12:59:35
I just think its wrong on so many levels to allow boys as young as 7/8 to be enticed into professional academies. We should go back to how things used to be, when a boy couldn't join a club until he was 15 and then signed schoolboy forms. As Tony quite rightly says they bring in these young kids who start thinking about a life in football and the wealth and luxury that could bring. Then a few years later only to have their dream destroyed.
When clubs could only sign boys at 15 at least they had matured to a level were although there would be more failures than successes, at least they would be old enough to understand what was happening. I cant see any benifits in having 8/9 year olds not being able to play with their friends or in school games.
Andrew Ellams
473
Posted 22/03/2021 at 13:08:33
Paul @ 469, the B teams of the major teams in Spain play in the lower divisions of the Spanish league so those players are playing a much more competitive level of football both physically and technically before they graduate to the top level.
Paul A Smith
474
Posted 22/03/2021 at 13:12:59
473, I get that Andrew I didn't think they were in La Liga but you don't often watch Barca or Madrid with stacks of homegrown players in their side even after they do their apprenticeship.
Paul Richardson
475
Posted 22/03/2021 at 13:22:27
Perhaps a bit patronising, but a Man City pal of mine rang me to say all City fans on various websites have said Everton have given then their hardest games of the season. All seem agreed that within one season, we will be the team to beat. I'll toast to that, but I cannot wait a season!
Thomas Richards
476
Posted 22/03/2021 at 13:41:50
Brian, 472.
Even wors, mate. Clubs take the kids into the academy at the age of 4.
Jay Wood
[BRZ]
477
Posted 22/03/2021 at 13:43:00
Michael @ 450, like you I am trying to make sense of the offerings by Steavey Buckley and Jerome Shields in this thread on the Everton academy specifically as well as other points.
I think it's a futile exercise [nice match day headline BTW Michael. A nod to 'Hitchhikers Guide to the Galaxy' or 'Star Trek maybe..?] to attempt a comparison as Steavey does to the Everton 'homegrown talent' of the 1960s and 1970s to today's environment.
For one, in the 60s and 70s we did not see one or two 'homegrown players' progress to the first team every season as Steavey claims. That's an exaggeration.
Secondly, as you point out, with the purchasing power of PL clubs and their desire to retain their PL status all clubs buy in a higher standard of 'oven-ready' players which in turn further raises the standard. The 'homegrown talent' has to be exceptional to displace them.
As another poster also recalled, Everton actually did away with it's academy in the early 1980s under HK1 as a cost-saving exercise.
I don't disagree that our academy is found wanting in progressing their intake to PL quality who can be promoted to - and retain - a place in the first XI. Whilst literally scores of ex-Everton academy players carve out a football career in many domestic and overseas leagues, you couldn't pick a starting XI that do so from the top leagues.
However, you cannot expect Marcel Brands to transform the stock of academy players he inherited into international quality players overnight. As well as re-jigging the academy and scouting system (which he has increasingly done - particularly in the last 12 months - for those who closely read Everton news), he had the considerable Gordian knot of a bloated underperforming 1st team squad on high wages and long contracts to deal with.
Just in the last 12 months his signings of Branthwaite and Nkounkou and the promise they have already shown is evidence of Brands delivering on one area many hoped he would. Buy unknown diamonds-in-the-rough cheap and polish them. There is also evidence under Brands of Everton being more ruthless in letting go academy players earlier than has often been the case.
Yet Steavey uses the loans of Branthwaite and Gordon (among others) as a stick to beat the club with.
With the 4 first team centre backs Everton has, Branthwaite would have not got a look in for the first team this season. Yes, he started well at Blackburn, playing every minute of his first 9 fixtures there, but for their last six fixtures he wasn't in the squad for two games and was an unused sub in the other four games.
Anthony Gordon at Preston is similar. In 11 possible games since joining them, he wasn't in the squad for one game, started 5 and was subbed out in all 5. He was subbed in for the final 30 minutes in the other 5 games.
That suggests the club has called it right on both, to try and give them game time. If they are not regular starters for two mid-table Championship teams, it's more than reasonable to assume they are far from ready for regular PL football.

The attrition rate from academy recruitment at ALL clubs is extremely high. And extremely exploitive if I've read the posts of Mark Murphy and Danny O'Neil correctly that parents even PAY for the 'pleasure' of having their son on Chelsea's and Watford's books.
Chelsea's hoovering up of worldwide 'talent' is well-documented, as is the absurd number of young loanees they have. Abramavich and Chelsea possibly got lucky that the transfer ban imposed on them coincided with the return of Frank Lampard as manager.
He knew the club structure. Would have known the talent pool in the academy. He was bold enough to blood some of those players and although Frank is now history, Chelsea is reaping the reward of that policy.
Who is to say that under another headline foreign manager those self-same academy players would have been given the same chance as they enjoyed under Lampard?
Timing and good fortune can be oh so critical in an academy player's development, as Kevin Prytherch demonstrates with his Dowell-Maddison comparison.
I accept Dowell doesn't have the nark in him Maddison does, but the right manager at the right time could still have groomed and established Kieran as a PL talent for Everton, IMO.
Finally Michael, I also find Jerome's positing as fact what is pure speculation on his part a tad bewlidering. Not only about the academy and Brands' role at the club, but also on Calvert-Lewin, of who he says:
'Since the England call-up, DCL is not attempting to improve on his game or follow Ancelotti's coaching...I am beginning to see the England call up as a poison chalice for DCL, thinking he has finally made it and not putting in the work effort he needs to.'
Given the numerous citings from coaches and fellow players alike, those who work with Dominic every day universally describe him as a ferociously dedicated pro, hard-working, good listener, eager to improve every aspect of his game.
I think I'll take their word on DCL over Jerome's on this one.
Paul A Smith
478
Posted 22/03/2021 at 13:51:39
Paul i'd bet my life the difference is having 200 grand a week players all through the side.
We won't be there in a year because United Chelsea and Liverpool need more 200 grand a week players and Leicester have the most potential 200 grand a week players.
I wish it'd sink in to everyone outside the elite because its the only way success is found.
Its a business, so you buy it and try to sell it for profit or your brand grows with any success and you continue to purchase real profitable assests.
Until we are in this bracket I don't expect any silverware and i've said this 20 years, its not a reaction.
Its also the best way for me to not be as devastated or down about Everton as I was in the past.
Its a mugs game now outside CL football. We just a club, a number a feeder. Drastic measures can only change that.
Barry Rathbone
479
Posted 22/03/2021 at 14:15:08
An ex pro said the best players have always and will always come from poor areas because of skills honed by street footy playing with ragamuffin balls unadulterated by coaching. Street footy has virtually disappeared from the affluent West hence imports from Africa, South America etc will continue aplenty. It's just a fact of life that you cannot coach top echelon skill into a body.
USA have been at it for years and simply cannot crack togger despite clipboard coaches coming out of their ears. Youth coaches here produce athletes, not footington players as a result
Bill Gall
480
Posted 22/03/2021 at 14:22:41
Hugh # 451
yes Osgood was "late " becoming a professional. He had actually signed papers with Arsenal that he ripped up as he didn't like the travel and preferred to stay with Windsor. I don't now if he was a scout but he was recommended to Chelsea by his uncle. He signed with Chelsea in Feb 1964 as a junior. He made his debut in December in the old league cup scoring 2 goals and after looking at his record in the reserves he started playing more for the 1st team. I seen him play a few times but what surprised me was he was only given 4 caps for England. Apparently he was quite the rebel.
Steavey Buckley
481
Posted 22/03/2021 at 14:38:37
Kieran Kinsella #436 Where I disagree with you, Everton appear, at least, statistically, on paper, tolerate failure as an occupational hazard.
Only one player from academy in 6 years has graduated to the 1st team, but he can't be sure if he has a starting place in the team.
Yet, in the 1960's when Everton won the title twice the FA cup once, beaten finalists once against fierce competition from Leeds, Liverpool, Arsenal, Spurs, Chelsea, West Ham, Manchester United, Manchester City, occasionally, Burnley, Ipswich Town, Aston Villa, West Brom and Sheffield Wednesday,
Yet, Everton did not depend on money from the John Moore's family to buy such great players like Alan Ball, Howard Kendall, Tony Kay, Roy Vernon, Alex Young and Ray Wilson (both Wilson and Ball are both World Cup winners and world class players, Everton also produced from their youth set up on average a young player every season to join the 1st team. Sometimes 2 in a good year.
Tony Abrahams
482
Posted 22/03/2021 at 14:43:27
I think it's all changing Barry, I think the yanks will get their in the end, because when it comes to sport, you can't fault their desire, but these things don't happen overnight.
The English look to be trying to change, this must be true if the ultra-professional Germans now look towards this country for young talent, and whilst I still remember the French team that won the Euro's in the eighties, with a midfield of incredible skill, I think the French teams who had success since have leaned more towards athleticism and power, rather than the finesse they were known for in the past?
The Italians have been very quiet lately, same with Brazil, and those powerful Africans haven't progressed as well as predicted, but one thing about football nowadays, is it is truly a world game.
England must be the biggest underachievers on the biggest stage though, and are often let down on a technical level, with not enough kids encouraged to love the football!
Thomas Richards
483
Posted 22/03/2021 at 14:54:32
My biggest gripe against coaches in youth football is thier approach to the "no winners or losers" slant grassroots football is following.
We need to instill the winning mentality into the kids from a young age in my opinion.
Steavey Buckley
484
Posted 22/03/2021 at 14:59:21
Jay Wood[BRZ]477"For one, in the 60s and 70s we did not see one or two 'homegrown players' progress to the first team every season as Steavey claims. That's an exaggeration."
You should take a trip down memory lane: from 1963 to 1969, Andy Rankin, Joe Royle (Everton and England), Roger Kenyon, Colin Harvey (Everton and England), John Hurst. Tommy Wright (Everton and England) Alan Whittle and Jimmy Husband all played regular football for the Everton 1st team who all joined from the youth team.
*All the above players gained a Division 1 title winners medals in the 1969-70 season.
** Both Colin Harvey and Tommy Wright gained a FA cup final's winners medal in 1966.
Michael Kenrick
485
Posted 22/03/2021 at 15:06:48
Tony, I agree with you that Moise Kean should have been given more playing time... but not in a New Central League Revamp!
The only place he should have been playing is in the Premier League... but something went seriously wrong there and I'm not convinced, in his particular case, that more playing time would have solved it. He had plenty of opportunities (8 starts and 26 sub appearances last season... maybe it was being only a sub that killed the spirit?), it was just never a good fit, for some unfathomable reason.
But on your other points, this perennial moan about football – and yes, the academies – being a business and (presumbly?) therefore no longer a sport? That is not even last century thinking – it belongs in the 19th Century, for fuck's sake. That's when some were last resisting the inevitable about footy players earning a crust, and clubs becoming business entities.
Everton Football Club Co Ltd, – see that bit... it means it's a business – established in 1892. The thing is, it is a business in the business of Sport. It's 2021: everywhere around the world, Sport is Big Business, not some amateur pastime played for the good of the soul.
The Academy is a sporting football academy, run as it obviously should be along proper professional business lines (at least I believe it is, I don't know first hand... This will henceforth be known as the Sheilds Caveat!!). If that means the cream rises to the top and all the rest eventually get ditched... well unfortunately that has to be the way it is because there is only a limited number of places available at the top of the professional sporting tree.
Honestly, I sometimes think the entitlement mentality in this country and all this wonderful EitC crap has sullied everyone's brains when it comes to this issue. We're not simply a 'sport' or a 'charity'... even though a lot of fans again want to turn some mythical clock back in this regard... we're a fucking business and have been for the last 130 years or more.
And was the Central league really that competitive? Some of us just watched Everton U23s play Arsenal. Correct me if I'm wrong but that looked pretty competitive to me. But we have people continuing to slam Unsworth & Co on here because he takes the competitive aspect so seriously, he actually wants his side to win the Premier League Title!!! And yet some people don't like that!!! I really do despair at times
No, Paul, reiterates the real issue, which is one of numbers. So many high-quality internationals coming from abroad to play in the flagship Premier League (which, by the way, has now become really boring to watch). The standard that your average homegrown scally must attain to hold a candle to that is virtually unattainable.
Brian Harrison
486
Posted 22/03/2021 at 15:08:15
Jay Wood 477
You questioned players coming through the youth set up in the 60s and 70s, this is a list of players that came through

1960s Jimmy Harris played 207 games
Brian Harris played 360 games
Derek Temple played 277 games
Brian Labone played 533 games
I am sure I have missed some but I am Sure someone will add to the 60s list
1970s Andy Rankin 106 games
Colin Harvey 386 games
Tommy Wright 374 games
Jimmy Husband 197 games
John Hurst 388 games
Terry Darracot 178 games
Roger Kenyon 308 games
Mick Lyons 462 games
George Telfer 113 games
Dave Jones 103 games
Mark Higgins 181 games
Billy Wright 198 games.
As you can see I have only included players who represented the club on over 100 times, now I am sure there will be many who came through the youth set up in those 2 decades that only played a few times.
Brian Harrison
487
Posted 22/03/2021 at 15:18:11
Steavey 484
How could I have left Joe Royle and Alan Whittle out of my list of players who came through the youth set up. I am sure there are a few more we have missed but hopefully Jay will reconsider his reply to you.
Steavey Buckley
488
Posted 22/03/2021 at 15:24:33
The full list also includes more players who joined from the Everton youth team: Some notable names mentioned.

Andy Rankin England England 11/05/1944
Gordon West England England 24/04/1943
Defender
Sandy Brown Scotland Scotland 24/03/1939
Frank D'Arcy England England 08/12/1946
Terry Darracott England England 06/12/1950
John Hurst England England 06/02/1947
Roger Kenyon England England 04/01/1949
Brian Labone England England 23/01/1940
Mick Lyons England England 12/12/1951
Keith Newton England England 23/06/1941
Arthur Styles England England 03/09/1949
Tommy Wright England England 21/10/1944
Midfielder
Alan Ball England England 12/05/1945
Billy Brindle England England 29/01/1950
Colin Harvey England England 16/11/1944
Tommy Jackson Northern Ireland Northern Ireland 03/11/1946
Howard Kendall England England 22/05/1946
Alan Whittle England England 10/03/1950
Forward
Gerald Humphreys Wales Wales 14/01/1946
Jimmy Husband England England 15/10/1947
David Johnson England England 23/10/1951
Gary Jones England England 05/01/1951
Johnny Morrissey England England 18/04/1940
Joe Royle England England 08/04/1949
Manager Harry Catterick
Steavey Buckley
489
Posted 22/03/2021 at 15:31:05
Brian Harrison: When comparing the present Everton Academy to the Everton youth teams from 1963-1969, the present Everton academy is out of their depths.
Steve Brown
490
Posted 22/03/2021 at 15:35:43
Did Johnny Morrisey and Howard Kendall join from the Everton youth team? Before my time, but I thought they were signed from Liverpool and Preston respectively.
Joe McMahon
491
Posted 22/03/2021 at 15:39:16
Michael - I've offten thought he was miffed at only mainly PL appearance as sub, then not starting after the Newcastle match when he was good. This also came after the Ferguson sub episode. He's not coming back though.
And I've wondered if thats why Richie has been below par this season, as he's seen Moise leave to play CL football with Kylian Mbappe and Neymar (who he's knows well)
Thomas Richards
492
Posted 22/03/2021 at 15:41:36
Keith Newton (?)
Alan Ball
Kieran Kinsella
493
Posted 22/03/2021 at 15:41:52
Mason Mount played 21 times for Chelsea Under 23s, the LAST of those games was when he was 17. Phil Foden played nine times for City Under 23s, the LAST of those games was when he was 17. Marcus Rashford played at the level just nine times and hasn't done so since he was 18. Jadon Sancho played at that level until he was 17.
This suggests, the good players are identifiable at 17/18 as with Davies our sole survivor of our "golden generation" having skipped that level (excluding players we bought at that age from other clubs after seeing they were identifiably good e.g. DCL, Holgate)
All the Under 18 kids who "graduate" to the under 23s at 18 seem to go nowhere thereafter except subs benches of lower league clubs. The under 23 league seems to serve no purpose other than keeping unemployment down.
Alan McGuffog
494
Posted 22/03/2021 at 15:48:34
Gordon West signed for a record fee for a keeper from Blackpool. The Cat left straight after winning league in 1963 to sign Sandy from Partick Thistle ( I think )
Jay Wood
[BRZ]
495
Posted 22/03/2021 at 15:55:37
Steavey @ 484 and Brian @ 486.
The key phrase from Steavey's own original claim is the following highlighted text:
'In the 60s and 70s we saw one or two 'homegrown players' progress to the first team every season.'
I haven't claimed NO youth players made it to the first team in the 60s and 70s. I correctly pointed out they didn't do so 'every season' as Steavey claimed.
Look at your own lists. Check out their debut seasons, or the seasons they established themselves in the first team (or partially established themselves in the first team. Some of the offered names didn't even make double figures in league games in many seasons).
There are some seasons when more than one player made it to the first team. Equally, there are 'blank' seasons when NO 'youth/academy' players made the breakthrough.
Ergo, Steavey exaggerated when claiming 'every season' 1-2 youth players made it to the first team.
It happens at all clubs. United's 'School of '92' intake is an exceptional example of en bloc academy players progressing to the first team. This example of course bridges the modern era of global academy recruitment, rather than the more parochial era of the 1960s-70s when all clubs were made up of (almost exclusively) UK and Irish players.
I repeat, IMO the playing field in that regard - the expectancy of seeing academy players progress to Everton's first team - is radically different and the comparison Steavey attempts is a redundant one.
Bill Gall
496
Posted 22/03/2021 at 16:08:35
Steve # 490 The answer is yes they were signed from other clubs. Talking about M.Kean, as we are to believe they expect him back at the club after his loan move, do you think it would have been better to loan him out to a premier league team to gain more experience, preferably to the lower positioned ones.
Brent Stephens
497
Posted 22/03/2021 at 16:09:02
S. Buckley #488 "The full list also includes more players who joined from the Everton youth team: Some notable names mentioned...
Sandy Brown Scotland Scotland 24/03/1939".
Sandy came up through our youth team??
Brent Stephens
498
Posted 22/03/2021 at 16:17:48
Stan #471 "Until we start performing like a top side, based primarily on signing the best players, youngsters will always struggle in the 1st team."
Agree, Stan.
Tony Abrahams
499
Posted 22/03/2021 at 16:19:13
Michael, you know what I'm going to say now mate. Kean, took a while to get to grips with English football, which was always likely to happen given his age and his lack of experience imo, (some will say he never adapted) and I fail to see how playing in a few competitive reserve games couldn't have helped him.
I played in the old central league Michael, I've actually got two winners medals somewhere, and some games were very competitive, and some not as competitive, but it was definitely a place for younger players to learn their trade, and help older players retain their sharpness and competitive edge, and if I was a manager, I wouldn't sign any player that refused to play for the reserve team.
I remember playing Villa, just before Christmas one year, on the evening of the Lockerbie bombing. We had a trialist playing from Martin O'Neils, Grantham Town, (probably a 7/8th division team) and he had a stormer, his name was Gary Crosby. After the game I went home for about 12 days over Christmas, and when I got back, he'd signed and then actually made his Forest debut, against Chelsea the next Saturday, and actually scored, capitalizing on a Tony Dorigo mistake.
What a fairytale story that was, but it's probably not something that would happen nowadays because of progress!
Andrew Ellams
500
Posted 22/03/2021 at 16:31:21
Steavey at 488, it's before my time but neither Howard Kendall or Alan Ball came up through the clubs youth system. Alan Ball even played in a World Cup Final before he played for Everton and Kendall became the then youngest player in an FA Cup Final whilst at Preston.
Tony Abrahams
501
Posted 22/03/2021 at 16:36:58
Sorry Michael, the rest of your points about it being a business are definitely accurate, but why the fuck me? Read my post, I'm saying that I think it's wrong treating 6-7-8 year olds as commodities, because it just dilutes the cream, and finishes loads of good talent before they're even started imo.
I gave my reasons why the clubs do this, but it's not something I agree with that's all. Football is big business, but I just think you should let kids be kids, but the clubs are terrified of missing out, and although I don't find anything wrong in it being a ruthless business, surely not before a kid reaches his teenage years?
Jay Wood
[BRZ]
502
Posted 22/03/2021 at 16:46:44
Blimey Steavey @ 488. That is a truly whacky list. Your words:
'The full list also includes more players who joined from the Everton youth team: Some notable names mentioned.'
23 players in all. Seven of them (nearly a third) were established players when we signed them:
Gordon West - signed from Blackpool for a then world record fee for a goalkeeper
Sandy Brown - signed from Falkirk having played 100+ games for them
Keith Newton - established England international
Alan Ball - World Cup winner with England, signed and sold for record UK fees at the time
Tommy Jackson signed from Glentorian having won two championship medals with them. 32 appearances in 4 seasons for Everton
Howard Kendall - signed from Preston having played 100 games for them
Johnny Morrissey - signed from 'them' (much to Shankley's annoyance)
Then we have these five chappies (which represents more than 20% of your list):
Frank D'Arcy (16 appearances in 6 seasons; 8 in 2 seasons at Tranmere)
Arthur Styles - 23 appearances in 7 seasons
Billy Brindle - 1 appearance in 3 seasons before dropping down to non-league football
Alan Whittle - 74 games in 5 seasons. His nephew Tom Davies has nearly doubled that in less time
Gerald Humphreys - 12 appearances in 5 seasons
Remind me again Steavey. What point are you trying to make?
Jerome Shields
503
Posted 22/03/2021 at 16:52:19
Michael #450
, Brands as Director of Football should have never been appointed to the Board. No other Club has a Director of Football appointed to the Board for accountability and governance reasons. Recheck Paul the Esk view.
The internal workings of the Academy have changed since the Brands appointment, according to feedback I have received from friends who actually watch Everton youth games and are acquainted with academy staff. They are not fans of Unsworth and rightly feel that his change in roles last year was a cop out by Brands intead of following through on real change and allowing a underperforming status quo to be maintained.
Michael you are simply wrong and I am not sorry for telling you so.
Dave Abrahams
504
Posted 22/03/2021 at 16:54:24
Tony (499), you haven't got two central league winners medals, I've got them and I'm keeping them, furthermore they are not medals, they are silver tankards, and I'll be on "Flog it" next month selling them!!
Lenny Jameson
505
Posted 22/03/2021 at 17:07:32
Gentlemen.
I have had it out before with Mr Internet junkie Buckley over his continual decrying of all things to do with Everton.
I have grave doubts over whether he is actually an Everton supporter. Someone who professes to have been born, brought up and live in Liverpool but admits to have never been to a match in his life, doesn't quite come across as genuine.
How any Evertonian can fail to know that we signed Ball, Kendall, Brown and Morrissey, among others doesn't ring true to me.
My advice is to treat everything he says with the contempt it deserves and believe they are the utterances of a kopite in disguise!
Chris Williams
506
Posted 22/03/2021 at 17:15:14
Jerome,
I'm curious as to why you think Brands shouldn't be on the Board for governance or accountability reason.
I've been a director on the Board of several companies, large and small over a period in excess of 20;years, and I can't think of a single reason why he should be excluded for the reasons you cite. The fact that according to you, no other club does this is irrelevant. How do you know this by the way?
There may be compelling internal reasons why Everton do this, none of which any of us are aware of.
Michael Kenrick
507
Posted 22/03/2021 at 17:20:31
Jerome,
It seems the argument about Brands based on accountability and governance is that he is not receiving the independent oversight on behalf of the shareholders that a more independent (dare I say old-fashioned) Board of Directors who meet at most once every 3 months would provide.
That's all well and good for a more traditional business where the directors are somewhat remote and are not involved in the day-to-day running of the club.
Instead, I suspect he is better able to do his job for the benefit of the major shareholder from his position on the Board. I'm more familiar with the modern approach where the key corporate officers of the business form the Board of Directors and act together more as a team. I don't have any proof that he's being more effective in this mode, but it seems you don't have any proof that he isn't, other than repeating that he should have never been appointed to the Board.
Seems you've got yourself in with an anti-Unsworth crowd who don't think he's doing a decent job – despite twice winning the PL2 title, and seeing a number of players advance through the U23s to the first-team squad. Brands sticking with him does not automatically make this a bad decision – especially if Unsworth has actually done the best job he can with he players he's had at his disposal, but – as Paul and others have said – the vast majority of them just haven't been good enough to progress on to the first team.
I think it's really hard for us to judge but I'm prepared to give both Brands and Unsworth the benefit of the doubt here. I would need proof – rather than opinion – to show that both Brands and Unsworth are not performing up to the required standard.
Kieran Kinsella
508
Posted 22/03/2021 at 17:23:38
Tony
I didn't realize you played at Forest. Crosby apart, they had a lot of good young players coming through in that era. You must have some great memories even if Dave has nicked your silverware.
Brent Stephens
509
Posted 22/03/2021 at 17:24:08
Dave #504, seriously, you must be really proud of the lad! It's only recently I became aware of his footballing history - another reason to be proud of him - he's not the boasting type (whereas you boast about not taking any money to the match, so you don't have to buy anybody a pint! - sell the mugs and treat me!).
Brent Stephens
510
Posted 22/03/2021 at 17:30:23
I'm pleased Brands IS on the board - provides him with a voice in the key decision-making body.
Chris Williams
512
Posted 22/03/2021 at 17:31:28
Michael
As a Director, he has plenty of oversight and accountability, arguably more than someone who is not a Director.
Dave Abrahams
513
Posted 22/03/2021 at 17:31:36
Brent ( 509), superstition is the reason I don't take any money to the match!!
I'm not the boasting type either but I'll give you three guesses where Tony inherited his skill from, clue — it wasn't his mam!!
Brian Harrison
514
Posted 22/03/2021 at 17:37:04
Jay 495,
I am not sure why Steavey included players that were bought and didnt come through our youth system. My point in sending the list I sent was to refute your idea that we didn't produce a lot from our youth set up in the 60s and 70s.
I think Mick Buckley was another who I missed off my original list along with Joe Royle and Alan Whittle. So adding those 3 in the 60s and 70s, and they ALL played over 100 times for our club.
I wonder in comparison how many have come through our youth system since 2000 which is a comparative time span to the eras I have quoted. My only stipulation is they must all have played at least 100 times for the club.

Thomas Richards
516
Posted 22/03/2021 at 17:41:25
What position did you play Dave?
Ive got you down as a full back
Frank Wade
517
Posted 22/03/2021 at 17:45:27
Tony #499, I always remember Gary Crosby for this cheeky goal. :-)
Link
I think the rule was changed after to 'protect' the goalkeeper's self esteem.
Steavey Buckley
518
Posted 22/03/2021 at 17:45:58
Jay Wood[BRZ]"I haven't claimed NO youth players made it to the first team in the 60s and 70s. I correctly pointed out they didn't do so 'every season' as Steavey claimed."
Sir, you have taken debuts out of context. I used the word on average. For example if 8 young players made their debuts in 8 years, it could be said on average 1 youth player made their debut every season.
Also, you have taken the 1969/70 squad list out of context. The list was to confirm all the players that came through the Everton youth set up, it was not meant to include players like Sandy Brown or Alan Ball. I thought you would have known the differences. But I was wrong. Although, we should be friends not rivals.
Jerome Shields
519
Posted 22/03/2021 at 17:46:01
Jerome Shields
520
Posted 22/03/2021 at 17:46:01
Chris#506
The small Board of Everton lacks accountablity and governance even before Brand's appointment, hence Evertons underperformance commercially. I tohave been a Director on Company Boards and have seen attempts to reduce Board size to gain more control, which inevitablity reduces accountablity, governance and performance. Reference Paul the Esk who is in favour if a larger board and more professional Director appointments.
Brands was appointed as Director of Football accountable to the Board and to work with the Manager who is also accountable to the Board. Once Brands was appointed to the Board he was 'professionally ' accountable to noone. It also put the Manager in the situation that he is accountable to the Director of Football as he is on the Board.
Silva in part paid for the debacle of the Summer transfer window before he left. Brands appeared not to be a Board Director or Director of Football during it, such was Kenwrights influence. Anyway he was not held accountable, but Silva was.
Ancelotti is tuffer than Silva is able make Brands shape up, and prevent interference. But their is still the unknown situation of when the Board has to take a tuf decision and where Brands accountablity
Iies in the scheme of things.
Like Paul the Esk I would like to see changes at Board Level in personnel and structure as a prerequisite to Everton's progression.
John Keating
521
Posted 22/03/2021 at 17:54:47
If indeed the Academy is a business surely it's a busted flush and should be dispensed with?
God knows how much it costs to run per season what with infrastructure and personnel for a return of ?
Fully agree with the disgrace of bringing little kids in with all the restrictions in their playing. They "sign" for Everton and are made up until binned after a few months. By the time they're 15-16 they've had half a dozen Clubs and out of love with footy
We ship our younger players out to lower league teams to get experience and toughen up. Why not just do it and miss out all the early crap
Jamie Crowley
522
Posted 22/03/2021 at 18:03:02
We're going to win 5 straight games and then have a ho-down with West Ham.
Chris Williams
523
Posted 22/03/2021 at 18:13:11
Again Jerome, you say the small Board of Everton lacks accountability and governance. How so?
They are each clearly responsible for specific areas, in Brands case, Football, now across the piece. In Rysantsevs, Commercial and Finance, and I also think that the CEO retains responsibility for HR, Charities and Community, which is very unusual. You need to ask yourself why this change was implemented in the first place. Arguably because of a lousy commercial performance? Arguably because it wasn't transparently accountable. Arguably to improve the aboard performance?
As a Director he is responsible to the Board, and also governed by Company Law. Collectively, they are responsible for Strategy and following it once agreed, within budget.Within this structure, and any Board no single person can go off and decide that I'm going to open a stadium! Or I'm going to sign this player. Not unless it is agreed by the Board collectively and in line with strategy. That alone is a step forward.
I agree it looks too small, and may well change as we move forward. I hope so.
But lacking accountability and governance? I'd say it's possibly increased both when compared to the mess that has gone before. It may be that Moshiri has learned a lesson.
But of course none of us know.
Jay Wood
[BRZ]
524
Posted 22/03/2021 at 18:18:40
Brian @ 514.
And I'll repeat for the THIRD TIME now what I previously said @ 477 and 495.
I have not contested that Everton failed to produce first team players from its youth ranks in the 60s and 70s. I contested Steavey's explicit claim that they did so every season.. That he was exaggerating.
Whilst there were some seasons when two or more youth players saw first team action for the first time, other seasons were blanks, with none doing so.
By your own count you have produced a list of 19 players who progressed from the youth ranks to the first team. 20 years covers the two decades of the 60s and 70s. Some of the players in your list would have made their first team debuts in the same season. Ergo, as there were some seasons when two or more youth players saw first team action for the first time, other seasons were blanks, with none doing so.
I will also repeat once again, Steavey made the claims he did as a means to negatively contrast how few in today's academy make it to the first team in comparison to a completely different era.
We are talking 50-60 years ago Brian. As I ponted out, a completely different scenario when all clubs were almost exclusively made up of UK and Irish players as opposed to the global recruitment of today.
As recently as 1992, 85% of PL players came from the UK and Ireland. Today, it is just 47%. No fewer than 63 different nationalities now play in the PL. In the 60s and 70s the percentages and number of different nationalities would, I fancy, have been in single digits.
Finally, back @ 477 I very explicitly said:
'I don't disagree that our academy is found wanting in progressing their intake to PL quality who can be promoted to - and retain - a place in the first XI. Whilst literally scores of ex-Everton academy players carve out a football career in many domestic and overseas leagues, you couldn't pick a starting XI that do so from the top leagues.'
I'm not the one negating the notion that we didn't produce first team players from the youth ranks in the 60s and 70s, or promoting the view that we are doing better now.
I am simply contesting that the (erroneous) contrast between eras Steavey attempts is not a valid one for the reasons I have clearly spelt out.
Barry Rathbone
525
Posted 22/03/2021 at 18:23:54
Tony 482
I hope the yanks do get it right and moreover become more influential in the governance of the sport. Their insistence on entertainment and capacity for innovation would be a shot in the arm for a game which has been dying on it's arse as a spectacle for years.
Personally, I can't see it. The idea of a George Best, Pele, Maradona, Cruyff etc coming from the manicured college grounds of the USA seems beyond the realms to me but who knows?
Michael Kenrick
526
Posted 22/03/2021 at 18:29:37
Chris Williams,
Thank you for commenting on the Brands issue that Jerome insists is correct.
Although I have never been a director myself, I have observed from below, and I find your explanations and observations to be bang on the money... unlike these wild and totally unsubstantiated claims that Jerome continues to make — without any evidence.
Danny O'Neill
527
Posted 22/03/2021 at 18:31:51
Some fascinating and differing views on here. Great discussion. I would like to comment on a few themes.
Central League or U23s, the gap remains between the "stiffs" and the first team regardless of what you call or label them.
Nothing much has changed but I never liked the Central League personally. Clubs still import from other clubs, more so from abroad these days. But, products of the reserves / academies often went / go onto have a career somewhere else, not at the club who's reserves / academy they came through. How often can we cite where a club has spent millions buying a player they released at 16 or 18? This can be because the club management doesn't see it in them at the time or, using the very good Dowell versus Maddison analysis earlier, some players just develop later than others.
On the academy system itself, I've been vocal before. I don't like it. It's a closed shop for the few, detached from grass roots football. Half decent kids are sucked into it and most are unceremoniously spat out and then lose belief and interest in football. From the age of 8 or 9, they live in a bubble, detached from reality. I think this actually has a negative effect and not just on the footballing side, but mentally and life in general. We produce robots and have built from the top down, not on solid foundations.
Sorry to repeat myself, but I recall my younger years in Germany as the son of a serviceman. Some of the youth teams of the professional teams used to regularly play local teams. In the area I lived, Bayer Uerdingen (then Bundesliga, now KFC Uerdingen) actually played in the local league. Yes, clearly the best, but they played and enjoyed regular football against normal teams mixed with normal players & likeminded kids. I don't know or suspect if that practice still continues, but it left an impression on me.
Best line of the thread; Dave has Tony's trophies and he's not giving them back!!!
Jay Wood
[BRZ]
528
Posted 22/03/2021 at 18:46:23
Steavey @ 518.
'[Jay] you have taken debuts out of context. I used the word on average. For example if 8 young players made their debuts in 8 years, it could be said on average 1 youth player made their debut every season.'
You did no such thing Steavey. You've appended that now for the first time in this thread.
But if you want to run with that and allow some of the names you listed as 'evidence', then in the PL era since 1993 the Everton academy has seen more than 50 players play for the first team. That 'averages' at around 2 debutants per season. Full list here:
Everton's 50 Academy Graduates
It's also only up to 2017 so you can add at least Thiery Small and Tyler Onyango.
I ask again: what is the point you are trying to make, Steavey?
Rob Halligan
529
Posted 22/03/2021 at 18:58:06
This thread is getting a tad boring now!!😴😴😴
Chris Williams
530
Posted 22/03/2021 at 19:00:18
That's fine Michael.
I try to avoid non football related topics these day to be honest. But as far as I can see there are some encouraging signs of some joined up thinking breaking out here and there.
Witness the planning Application and the process that led up to it, and the Goodison heritage plan. Also the last window where Carlo and Brands seemed to work in tandem to bring in a group of players who improved the team, cost effectively and promptly, each having an input. There are other things too, like the club's response to COVID which was just about right, especially when compared with others, not too far away.
Talk about overseas offices etc. Somebody is causing these things to happen. It looks like a plan!
I take the point about the the Academy. Could do with a bit of focus by the look of it.
But whilst Brands is accountable for this, it's not him who will be the doing the day to day stuff. We'll see how this develops I guess.
Paul A Smith
531
Posted 22/03/2021 at 19:24:58
Jerome, the more we spend at that level the better we'll do, end of story. That is not to say we won't have failed youth players but the more spent the more come through.
It is an extremely competitive market now and scouts are calling for clubs to bid for players at 11 and 12 now.
Just think about the Jermaine Pennant saga as an example of what the game has become. It's not the '60s '70s or '80s and a lot of typing has been wasted on pointless stats.
Pennant was looked at by every club with £3 million to spend (on a hype job) and he is just one of many that started to move for a silly fee at a young age. And they keep getting younger.
The Daniel James move to Man Utd opened my eyes to what has happened to football these days.
He is a player that would have been destined for the likes of us and we weren't even linked. Highly rated talent even at that level seems out of our reach now while everyone chases Man City.
We have recently taken on Scandinavian scouts (a good move in my opinion) and we are looking at lower-cost talent given the likes of Manchester United are looking at Championship level.
As Evertonians, it's a long haul we either face or jack it in, because we are way behind in terms of what we can offer kids compared to Man City and Chelsea but we are still capable of producing a top player.
Most clubs can produce a great talent and the likes of Brands knows he has to look into different, maybe smaller markets? To get in there first for players that can make it at Everton.
I don't see him taking too many risks with players under 18 though?
Michael Kenrick
532
Posted 22/03/2021 at 19:27:15
I agree, Chris. The BMD Planning Application in particular (which is more in my line of duty) was a very impressive body of work that the club and especially its directors commissioned.
Tony, apologies – the business thing on here is a bit of a trigger for me. I see it said far too often and it's simply nonsense. I do get your point about the kids but I have no personal knowledge of that part of the system and, as they say, everyone's doing it. At least they can't sign "professional" contracts until they are 17... but there must be some formal instrument tying them to one club as kids... until the fateful day arrives?
Thing is, although it's a team game, academies ultimately have to be more about what the individual brings to the game and what he can do for the team. So it becomes survival of the fittest. I know that doesn't chime so well with the heavy socialist agenda promoted quite happily by a number of posters on here.
Hang on... there's another interesting side discussion here: doesn't it make an odd contrast with these equally false claims about football being a working man's sport? Where's the social equality in the highly competitive winner-takes-all Premier League?
Thomas Richards
533
Posted 22/03/2021 at 19:33:05
Show me a good loser and I will show you a loser.
This PC bollox in youth football now is stupid in my opinion. No winners, no losers here kids. Everyone in the squad gets 10 or 15 minutes regardless of performance.
Learning the kids how to lose straight from the off.
Michael Kenrick
Editorial Team
535
Posted 22/03/2021 at 20:28:50
I don't think it's an issue of interpretation, Jerome, although there is always a bit of a challenge fixing your bizarrely incorrect grammar, strange spelling mistakes, and unique punctuation errors.
But your lack of care in such matters is paralleled nicely by your playing fast and loose with the truth and your inability to back up the numerous questionable claims you make on here with annoying regularity.
Have you provided any back-up at all beyond what your friends have told you? You seem very good at simply ignoring such direct requests or anything that challenges what you spout as being some truth that we are all supposed to accept without question.
Dave Abrahams
536
Posted 22/03/2021 at 20:29:57
Thomas (516), to be honest I never played hardly any organised football, played for my school U11 team, centre forward,funny enough the centre half was the leading goalscorer at the end of the season, Billy Knox, well known in amateur football in the 1960's, I moved to De La Salle when I was eleven and they played Rugby Union.
Like hundreds of kids growing up right after the war we played street football anywhere we could and we just loved it, couldn't get enough of it, and plenty of us knew how to play football, two footed, dribble, tackle, pass and playing for your team in street matches against other street teams you played to win at all costs and learned to be a team player, although there were plenty of fancy Dan's who played for themselves, when they played there should have been two balls on the pitch, one for " The Danny and the Dribblers" and one for the rest of us. You soon learned who the good players were and I still remember them and those thousands of games we played over seventy years ago, oh those lovely memories. I wish I could go out right now and have a good bleedin' game of footie, thanks for asking Thomas, although I bet you're sorry you did now after this post!!
Thomas Richards
537
Posted 22/03/2021 at 20:46:44
Not when you mentioned Billy Knox Dave.
A centre dash eh Dave. Good old days mate, our ma's screaming at you to gerrin and you asking five more minutes mam PLEASE.
John Boon
538
Posted 22/03/2021 at 21:02:05
Jerome (519)
AS one who rarely writes more than once on any particular topic I was intrigued with your back and forth with a number of posters.
It actually became quite boring after a while but Post (519) was by far your best response. Do more just like that. I will continue to post when I THINK I may have something useful to say. Mind you that is usually decided by those who read whatever I may have to say.
Tony Abrahams
539
Posted 22/03/2021 at 21:02:36
Some great players at Forest, then Kieran, and some not so good. I was in the second bracket, because I never made it, and looking back I should have signed for Liverpool, but I was just to much of an Evertonian to do that.
I remember that goal Frank, and I remember Clough, taking an instant liking to Crosby, was even calling him Bing, after that reserve game, and you know the score mate, because it doesn't matter in any walk of life when the gaffer likes you, things usually work out alright!
I'm sure Crosby is Nigel Clough's assistant manager, so that one game definitely changed his life.
Danny, Dave can have those Tankards mate. Even as a school kid, I used to drive my teammates crazy, until they decided they'd had enough of me and stopped me going up to pick up the cup because they used to say I was a miserable bastard.
My philosophy was mad, I broke all my older brothers medals because I was jealous because I never had none of my own when I was seven years of age, but as soon as I won my own they never bothered me anymore. The only pleasure I got was playing the game, nothing else really mattered to me after this!
Steavey Buckley
540
Posted 22/03/2021 at 21:12:41
Jay Wood [BRZ] #528
Jay, you have been informed from other contributors about the massive success of Everton's youth policy from the 1950s thru to the 1970s when Everton could field the first team including many local lads and some from the Blackpool area as well. The successful team that won the 1st Division title in the 1969-70 season contained no fewer than 7 lads who came up through the Everton youth teams plus many more who are not listed who made contributions during the 1969-70 successful season, as well. Yet, for the past 5 years, only Tom Davies has been regular for the first team after making his debut in 2016 in a team that wins nothing. That is a pitiful result compared to the 1950s thru to the 1970s successful youth teams.

Jay Wood
[BRZ]
541
Posted 22/03/2021 at 21:23:32
And you, Steavey, continue to miss my point whilst failing to make a coherent point yourself in comparing two completely different eras and scenarios.
You understand that, or you don't. You evidently don't.
Tony Abrahams
542
Posted 22/03/2021 at 21:26:28
Thomas I know what you're saying mate, but I'd get rid of all that winning and losing, because I think educating the kids is more important, and this goes out the window sometimes, because you've got "madmen" on the line, who are only interested in winning.
I was lucky growing up, I played for a manager who loved me, from age 8 until under 15's. I was the baby in that team, but there was never none of those, most horrible of shouts, "don't be having it in there" because he encouraged us all to try and play, and he learned everyone of us, the value of trying to let the ball do the work.
I agree with Barry, football is mostly dull these days. It's obviously not helped by their being no crowds, but very few players look to play one-two's anymore, especially when playing in blue.
Brent Stephens
543
Posted 22/03/2021 at 21:29:21
Yes I think the more useful yardstick to use to measure our youth development against is what happens in other clubs today, not what happened decades ago.
Danny O'Neill
544
Posted 22/03/2021 at 21:36:23
Tony don't trigger me.
"Don't be having it there"; "get rid".
You've heard me enough on here to know I shudder at those types of comments.
Youth football should be about development and performance. Not obsessed with the result. Yes there is a balance with breeding winners, but at youth level, the result isn't the be all and end all.
I'll stop there as I'll just boringly repeat myself!!
Steavey Buckley
545
Posted 22/03/2021 at 21:40:47
Brent #543 As usual I respect your comments. Successful youth teams are depended on good football management, talent scouts and good coaching. The Southampton youth teams in recent years also produced quality players many of them signed by other clubs. There just appears that the successful Everton youth policies from the 1950's thru to 1970's have disappeared never to reemerge, which are making Everton poorer not richer in the long term.
Tony Abrahams
546
Posted 22/03/2021 at 21:45:38
I think wanting to win is inside nearly every human being Danny, but I'm not sure this is so true when it comes to being educated though mate!
Looking back, I'd sooner have got beat two-one, than won ten-nil, because I never learned a thing in the easy games.
Danny O'Neill
547
Posted 22/03/2021 at 22:04:04
Very true. The Hayes & Yeading team I coached learned more in 2 seasons in a very tough West Surrey league than they did in the local one they had played in where they cantered to victory most weeks. Playing and often being beaten by tougher opposition in closer fought matches improved them as players no end.
Youth football is about development, not results.
Brian Wilkinson
549
Posted 22/03/2021 at 22:08:14
I know a few have differing views on the youngsters from a certain era, compared to now.
Where I think the problems are is back then you had a first team and a Central League team, or Everton Reserves as they were known. Any player that was not quite up to it or coming back from an injury went into the reserves.
The U23 level is just not as strong as it was back then. Bringing in either a B team, or reverting back to the reserves, could be the answer, not just for Everton, but other teams as well.
Now you have U18s and U23s. For me, if you just focus on the reserves as one, rather than different age groups, you just might get a few more youngsters making it, and pushing for a first-team place. Far better to have say 16 competing for the reserves, than say 40 for the various age groups.
Just my thought, but far too many youngsters spread out, dog eat dog, select the best, regardless of age, and get them in the reserves, and work on them.
Brent Stephens
550
Posted 22/03/2021 at 22:09:38
Okay, Steavey. I think we both respect each other's views.
Cheers mate.
Steavey Buckley
551
Posted 22/03/2021 at 22:22:22
Thanks, Brent, you're a good Blue to discuss with.
Bill Gall
552
Posted 22/03/2021 at 22:24:22
Tony @546,
I understand where you are coming from in saying you never learn a thing from easy games. In my misspent youth, I was pretty good at snooker and one day I played against a professional who let me have about 3 shots before he finished the game. After the game, he told me that to improve my game always play someone better than yourself, you will learn a lot.
What I learned was I was bloody useless as everyone was beating me.
Danny O'Neill
553
Posted 22/03/2021 at 22:31:21
What about the B team concept as in Spain, Brian? So they actually play in, hypothetically, League One, but are promotion capped. Negates the need to send a lot on loan as they are playing actual competitive league football in front of crowds.
That's the issue with both the Central League and the current U23s, in my opinion. Obviously I don't speak from experience, but it just doesn't replicate first-team experience. I would say the Central League probably stifled youth development as it was filled more with older players; the reserves??
Brian Wilkinson
554
Posted 22/03/2021 at 22:43:55
I just think personally, Danny, we have too many different age groups under the first team. If someone is doing okay in the U18s, we tend to give them game time into the U23s, rather than give them a first-team runout.
If you look at our bench, that can have say three youngsters on the bench, then either Iwobi, Bernard and the likes. Then, apart from the Spurs cup game, you know the established players come off the bench every single match; we never seem to throw one of the youngsters on.
Christy Ring
555
Posted 22/03/2021 at 23:13:04
Steavey #488,
Looking at the players you mentioned who came through the Everton youth ranks, Keith Newton?
He signed from Burnley when he was 28.
Alan Ball?? Check again, Steavey.
Barry Williams
556
Posted 22/03/2021 at 23:26:11
Danny O'Neill - 553
I remember Moyes being a big proponent of the B-side idea. To me, it makes utter sense, and instead of having an Under-23 side, we could have an Under-16/18 and and Under-21 league, but no Under-23s. At 21 plus, if good enough, you'd be playing in the B-team. Plus, it allows the club to keep a close tab on the player, and get them playing in a style that matches the first team.
Yes, it makes utter sense!
Plus, it would make more sense for players returning from injury too.
Barry Williams
557
Posted 22/03/2021 at 23:29:17
Brian Wilkinson - 549
Just read your post after I wrote mine!
Kieran Kinsella
558
Posted 23/03/2021 at 00:21:40
Christy,
Stevey overlooks how many homegrown academy talents we produced and gave debuts to in the 90s: Cadamarteri, Jeffers, Ball, Dunne, Sansom, Gough, Gerry Peyton, Mark Hughes, David Ginola and so on...
Terry White
559
Posted 23/03/2021 at 00:33:23
Jay (#502),
Sandy Brown was signed from Partick Thistle. Alex Parker and Eddie O'Hara were signed from Falkirk.
Frank Wade
560
Posted 23/03/2021 at 01:01:16
Christy #555, Keith Newton signed from Blackburn ???
Derek Thomas
561
Posted 23/03/2021 at 01:11:05
Steavey Buckley @ 540; Dave and Tony A; Uncle Tom Cobbley and everybody old enough to remember the '70s...
Interesting point about the '50s, '60s and '70s. Rack your collective brains. Wasn't there a major, major 'shake up' of the scouting system in the late '70s, aka, lots of redundancies and 'modernisings'?
I had some minor dealings with Everton scouts, about 1980. I had a peach of a player, age 20, playing in our Zingari team, a Dovecot lad, his idea of a heavy night out was 2 orange juices. Built like Vardy, the sort that even now, people (wrongly) say, needs to bulk up a bit. He got knocked back for being too old (and I suspect, a bit too slight; he was 5ft-9/10in).
How do I know this? I know because, after a trial or three, the club rep phoned me up to say they wouldn't be pursuing their interest, but if you find me a bigger 6ft, 16-year-old version, let me know.
This is the scouting system that let, boyhood blues, Owen etc, etc, slip through the net. Who is to say... let's call him 'Bernie', would have made the grade? But if your coaching net is set to 6ft tall 16-year-olds, it's no wonder the likes of Owen and MacManaman slip through.
Kieran Kinsella
562
Posted 23/03/2021 at 01:23:45
Dere,
Wasn't JP Kissock a legal dwarf? Obviously he's the most extreme example of a tiny player but, for a time at least, later on they obviously started to look at smaller players again.
Alan J Thompson
563
Posted 23/03/2021 at 05:18:39
Just a few points:
Dave (#536); You surprise me that De La Salle was a rugby school as one of the only two times I've set foot in our former ground was when Quarry Bank played them in a final around the mid '60s. The Quarry team included Joe Royle and Bob Paisley's elder son in goal but still lost 6-1.
Tony (#542); I'd be interested to hear more about youth coaching you received and if you know how that compares to that of today. Similarly, could anyone of our South America correspondents advise of their systems at youth level as Brazil, particularly, are held up as the system that produces more individual skill as opposed to the English emphasis as a team sport.
Derek (#561); I don't suppose that scout had ever been told the story of Alan Ball who was turned down by a couple of clubs because of his size and, let's be honest, was not much of a header of the ball. (Yes, Si, I jest!)
Oh, and finally, the cost of the Academy may have been offset by the sale of one product to the tune of £27M albeit I think only Dowell for £1M recently.
Mike Doyle
564
Posted 23/03/2021 at 07:33:06
Dave #536 ,
I attended De La Salle in the late '70s. The school didn't play rugby then – I didn't know it ever had. Were you there when Mike Lyons was a pupil?
Derek Thomas
565
Posted 23/03/2021 at 08:02:46
Kieran @562 –as opposed to an illegal one?
Alan @563 – even smaller and just as good: Bobby Collins... it's not the size of the dog in the fight, but the size of the fight in the dog.
Tony Abrahams
566
Posted 23/03/2021 at 08:03:07
I'd love to revolutionise the system but honestly don't know enough about what they're doing. I've said before, Jeffers and Ebbrell both went to the National School of Excellence, that was an idea the English FA came up with in the mid-eighties to try and get the best technical talent around the country and school them differently by moving away from the old-style methods of usually going for brawn over style.
I look at the players that came through that system and would say 99% of them, who surely must be a reflection of the coaching, became nothing more than methodical footballers.
Coach kids but keep it fun, start the serious stuff when the game really begins to change around the age of 14, I'd say.
Bring in an education trust, funded by first-team players (I'm sure, once the players realised the benefits, they would all give 2% of their wage to such a scheme?) and take over the schooling of these kids.
The ones that don't make it will at least be properly educated and ready to be a success in life... and this is none of my ideas!
Jerome Shields
567
Posted 23/03/2021 at 08:53:00
Tony #566
An Education Trust, as you suggest, with those aims would be the best idea. But, as was pointed out to me earlier and you have hinted, it takes a large money investment, accompanied by properly trained able coaches.
At Everton it appears we have in the main neither. It even appears that youth have been loaned out to reduce the wages bill, a throwback from a poor transfer policy, with only attempted change of the Academy on a budget.
I too would like to revolutionise the system, but don't know enough to do so. I guess there are others, with knowledge and ability, within the system that would be of the same view, but they are outnumbered by those that want to comfortably to get by.
David Hayes
568
Posted 23/03/2021 at 09:00:21
Constructing an argument by comparing two completely different basis, in two completely different eras, and then applying inaccurate data from the first to confirm the second, doesn't make sense.
The whole hypothesis formed from no actual information or knowledge from inside the first process or the latter, just guessing how each works and functions past and present.
Then a stern refusal to accommodate any conflicting facts or information, no matter how logical it is. This is not debate or reasoned opinion – it's boring at best, clickbait
Thomas Richards
569
Posted 23/03/2021 at 09:09:27
I have to disagree, Tony, on the no winners or losers, mate.
My grandsons all play, all good players. One of them is a netter, the amount of times he has been subbed when on two goals, I couldn't count. It almost becomes a race to get his hat-trick before being subbed. That in turn makes him shoot when he should pass. I can't see how a kid can learn when they know they are playing half a game every week, regardless of performance.
On the academies, the youngest of my grandsons who play is the best by a mile. He was at the academy of a top Premier League club for 18 months, doing really well. One day, he told us he wasn't going anymore because he wanted to play for his Sunday team. Just wanted to play with his mates. One of my proudest days as a grandad.
Derek Thomas
570
Posted 23/03/2021 at 09:37:05
Thomas@ 569;
He sounds like a lad with his head screwed on right... all your doing, I expect.
My grandson asked me (knowing I'm Everton mad) "Which should I play, Grandad, Aussie Rules or Soccer?" I said it was up to him, as it was the actual playing that counts, being in a team with your mates, not the shape of the ball.
He went with AFL, but goes to training in his Everton Shirt.
Dave Abrahams
571
Posted 23/03/2021 at 10:04:54
Mike (@564),
No, I wasn't there when Mick Lyons was there, I started when De La Salle was in Breckfield Road South and the school then moved to Croxteth in 1953 or 54. The PT (or PE as it is now) teacher was an English International at Rugby Union, Pat Quinn, full back. His club was New Brighton.
De La Salle started playing football in the last couple of years I was there. I played inside forward for them, that was around 1956-57.
I think the school cost £212,000 to build, a nice bit of useless information for you there, Mike, but at least it's free!!
Chris Williams
572
Posted 23/03/2021 at 10:12:08
Dave,
Pat Quinn was our rugby coach and games master at Cardinal Allen in the mid-60s.
Dave Abrahams
573
Posted 23/03/2021 at 10:23:17
Chris (#572),
Pat, erm... Mr Quinn was a good teacher and easy to talk to, never mentioned himself in regard to playing for England.
What stood out, in those days, he owned a car, he might have been the only teacher, then, who did. He used to give two or three other teachers a lift to and from school, but having a car then was very unusual!!

Brian Harrison
574
Posted 23/03/2021 at 10:37:31
When I went to school, we had a headmaster who was sports mad, which was great. I played for the school at football and cricket; Jack Welsby our head was always very encouraging. Tommy Wright who went on to play for Everton and England and Ken Mulhearn who played in goal for City were both there when I was there.
The house matches were very competitive and winning was everything as Jack always made a point of mentioning who had won the house matches at the following morning assembly.
I guess that would be frowned upon today, as its not PC to single out winners. Yes, teach kids the basics but then let them develop in whatever sport they take up. Too often the natural ability is coached out of kids. That's another reason I am against any kid under 15 being at academies.
Tom Bowers
575
Posted 23/03/2021 at 11:00:34
Brian Harrison, yes I remember Jack Welsby well. He kept up a great tradition at Stonebridge Lane and there were lots of good things he did for the kids there. I played against him when he was 60 in the boys versus teachers footie game and the boys won. He was a very fit man.
Mulhern was in my class.
Chris Williams
576
Posted 23/03/2021 at 11:01:25
Hi Dave,
I was told that he died in a car crash, a fair bit after I'd left school, by a girl he used to babysit, when she was little.
He used to put us rugby players through extensive circuit training every lunchtime, and short sprints over about 15 yards. We were bloody fit by the time we'd finished.
Rugby Saturday morning, Pub, Goodison Saturday afternoon, football at Otterspool Sunday morning. A lot of time on buses!

Dave Abrahams
577
Posted 23/03/2021 at 11:12:17
Chris (576), sorry to hear that, never knew.
You had a few lively weekends then Chris, playing rugby, watching the Blues then footie on the Sundays, that would get you fit, never mind playing the football at windswept Otterspool, Imused to go there a lot on Saturday mornings watching Tony play there for his school team, Nugent, one year they only lost one game, right through the season, in the semi final of "The Echo Cup" to me, that game was like Everton losing to Liverpool in the FA cup final, a killer!!
Barry Rathbone
578
Posted 23/03/2021 at 12:00:49
Scouting is money for old rope; anyone who has kicked a football can spot a good player in 2 seconds. It is risible nonsense to laud the aspect as a "talent". The real issue is unlocking a player's true potential and seeing beyond physique which seems a fatal flaw of selectors in this country.
I just watched a bio about Gascoigne and, even in his day, intimidation was still a mainstay of footballing development. Arthur Cox, the then Newcastle manager, twatted him across the head simply for touching the team sheet!! Gazza, being a bit empty in the skull area, just accepted it but how many young footballers have said "Fuck this for a game of soldiers" and turned to other occupations?
Michael Kenrick
Editorial Team
579
Posted 23/03/2021 at 12:15:04
Jerome (#567), let's examine some of your latest (some repeated) claims and see if we can get some backing for them:
1) "At Everton, it appears [we do not have] properly trained able coaches."
On what do you base that claim? Would having their coaching badges (or whatever is now required in the business) be sufficient for you? Perhaps, as in most professional entities, they're subject to periodic assessment of their abilities? Or are your ITK friends telling you that Everton's coaches are neither properly trained nor able as coaches?
2) "It even appears that youth have been loaned out to reduce the wages bill."
Such a ridiculous claim considering their small wages... but again, where is your evidence? How do you know this? How do you know they are not being loaned out for the very obvious purpose of their own individual footballing advancement?
3) "There are others, with knowledge and ability, within the system that would be of the same view, but they are outnumbered by those that want to comfortably get by."
So you know the views of everyone within the system? The ones holding sway just "want to comfortably get by"? That implies they have no interest in promoting the academy to be the best in the world?
What I object to is that this stuff is just so pernicious. It's all really subjective hypothesis and conspiracy-mongering presented by you on here as facts. Your insinuations are highly insulting and inflammatory toward professionals of our club, and I find that seriously disappointing when presented like this without any evidence.

Chris Williams
580
Posted 23/03/2021 at 12:29:39
Yes Dave,
She called him Uncle Pat. It was about 20 odd years ago she told me.
We played rugby at school, but occasionally one football loving teacher or other would arrange a football match with another school, and I usually got picked for that. So we had to arrange our own matches on Sunday. We played often in a park in Clubmoor. I've forgotten the name. We also played at lunchtime and after school as often as we could.
As a kid we played on the little triangle at the top of Bullens Road, where the ticket portakabins are now. There used to be a training pitch there, where the car park is now, with little floodlights so when there was a night training session there, we were able to stay out a bit later playing in the light. Pre Bellefield I guess, in the 50s. Always on Stanley Park too.
Later I played in the Business House Leagues and the lower Zingari leagues, and a pub team in Wales.
Thomas Richards
581
Posted 23/03/2021 at 12:36:04
Derek 570,
Thanks mate, he is a great kid.
I am a big believer in encouraging the kids to do what they want to do in sport, not pushing them into what you want them to do in sport.
Steavey Buckley
582
Posted 23/03/2021 at 13:48:16
Derek Thomas #561,
"Steavey Buckley @ 540; Dave and Tony A; Uncle Tom Cobbley and everybody old enough to remember the '70s..."
The youth system at Everton FC in the 1950s thru to the 1970s was magnificent due to the dedication of those who managed the youth teams, who probably received little in the way of wages.
The title-winning team of 1969-70 was mainly composed of those who came through the Everton youth teams.
Now, there is not one great footballer coming thru from the academy in the last 6 years.
So the youth system is now a failure because, without Everton younger players, there is no real local connection to the footballing communities on Merseyside.
Bill Gall
583
Posted 23/03/2021 at 13:59:36
My only interaction with the Everton youth system was in the '60s.
We had a young 16-year-old player named Norman Whitehead who was on Everton's books. Norman was a bit of a rebel off the pitch but showed his ability on the pitch. The coaches who ran the youth teams tried to change him, first by putting him in the B teams and then not playing him. He tried to get away, but whomever (I can't remember who was in charge at that time) would not let him go.
What we done was to get a reporter from the Express (the name H Potter sticks in my mind) and a father of one of our other players, Mr Early, who worked at Everton as a steward, to meet with the head of the academy. Harry Catterick was manager at that time but never bothered with anyone below the reserves.
After a discussion that involved threats of articles in the press, we got Norman released. He was playing for Skelmersdale after that, and I remember he got a trial with Rochdale. I went up with him to Rochdale and he played for the reserves and they won 3-1. they signed him on after that. I don't know much about his career after that as I moved to Canada, but he was a good player.
Jerome Shields
584
Posted 23/03/2021 at 14:27:19
Michael#579
Pulling rank isn't going to work. Your fixations are clouding your reading of my posts. You accuse me of being subjectve, I cancel that by accusing you of lacking objectivity, which appears to be your hallmarks as other posters have found out.
Steavey Buckley
585
Posted 23/03/2021 at 14:36:13
Bill I can't agree with the following statement of yours: "H.Catterick was manager at that time but never bothered with anyone below the reserves."
The title winning squad of 1969/70 season was mainly made up of home grown players and there were 7 regulars from the youth team who played for the title winning first team, who were given their chance by Harry Catterick.
Colin Harvey was given his debut at 18 years of age against Inter Milan at the San Siro stadium in the European title winners championship also by Harry Catterick.
It is virtually impossible in this day and age for any top manager to give so many youth players their chances like Harry Catterick did so when he was manager at Everton.
Joe Royle was 16 years of age when he was given his chance by Harry Catterick to play in the Everton first team.
Andy McGuffog
587
Posted 23/03/2021 at 15:07:48
Remember seeing Whitehead on TV for Rochdale. Must have been a cup match. A very tricky winger. A Norris Green lad, I think he was in the same Ranworth Square team as Joe Royle.
Tony Abrahams
588
Posted 23/03/2021 at 15:11:20
Thomas, I'm not even messing, mate. I'd advocate kids teams playing 3 halves of football, and of course everyone wants to win, so maybe one proper cup to compete for each year. I'd have two cups, one for the less advanced teams as well.
I'd have been gutted if one of my kids told me that, Thomas. I can understand why you was proud, but I'd have been gutted I hadn't protected the kid a bit better.
Hopefully your grandson keeps playing well with his mates, and goes back to the academy when he decides if and when he wants to be a professional footballer, mate. 🤞
Thomas Richards
589
Posted 23/03/2021 at 15:31:14
Hard to get the kids to switch on switch off Tony
This week its for fun, next week its serious.
You can tell my take on getting the kids into acadamies too young. Follows on that kids need to enjoy it while learning the game. I think the enjoyment is enhanced by winning.
Not sure what you mean when you say "but I'd have been gutted I hadn't protected the kid a bit better"?
Kieran Kinsella
590
Posted 23/03/2021 at 16:21:12
Steavey
You keep pushing the dial, now you're comparing the youth set up in the 1950s! Why not just go a little further and tell us how good it was when we had amateur teenage dock workers in the youth team and played at Anfield
Steavey Buckley
591
Posted 23/03/2021 at 16:36:01
Kieran
The 1960's were the golden period of Everton football now gone for good.
It was the period when Everton were called the football school of science led by the golden vision of Alex Young.
Everton also had Alan Ball 'who was here there and everywhere, Alan Ball.'
Sadly the demise of Everton as a great football club came about when Harry Catterick sold Alan Ball the fans biggest favorite to Arsenal for 200,000 pieces of silver.
Many fans for the past 60 years consider Alan Ball Everton's greatest player, who also played in the winning World cup team of 1966.
Brian Wilkinson
592
Posted 23/03/2021 at 16:48:30
Well I never knew that.
George Costigan aka Bob from Rita,Sue and Bob too among other well know drama and tv he has appeared in, is an Evertonian and runs an Everton podcast, and also on Paul the Esk pals list.
One of the best and funniest films made, even more so now with Bob the Blue up on,t moors.
Bill Gall
593
Posted 23/03/2021 at 16:52:28
Steavey A meeting with H.Catterick was requested and was refused, and the head coach of the youth teams who Mr Early talked to to get Whiteheads release stated that the responsibility was his. I believe J.Royle was in the 18 and under not the A and B youth teams, that had players younger than 16 in them.
Steavey Buckley
594
Posted 23/03/2021 at 16:55:38
Bill, Joe Royle could have played for Everton school boys before being promoted to the Everton first team at 16 years of age.
Joe McMahon
595
Posted 23/03/2021 at 17:10:40
No where else to put this but RIP another great of the game, Frank Worthington. He knew how to score, and got away with wearing white suits!
Kieran Kinsella
596
Posted 23/03/2021 at 17:17:17
Joe
Bit of a character wasn't he with his "one hump or two" innuendo. The classic northerner
Bill Gall
597
Posted 23/03/2021 at 17:55:40
Steavey Yes he could have but I don't think H,Catterick who I met on a couple of occasions, watched many schoolboy games. He relied on the coaches to inform him of any promising young players.
Paul Birmingham
598
Posted 23/03/2021 at 18:07:28
Joe@595, Ditto.
RIP Frank Worthington, I was just showing my lad the goal he scored for Bolton v Ipswich.
Classy maverick type, player who'd be good in any era.
Steve Barr
599
Posted 23/03/2021 at 18:14:39
Bill @# 583. Did a bit of digging on Wiki, love reading about such players and background and came up with the below summary on Norman's career:
Full name Norman John Whitehead
Date of birth 22 April 1948 (age 72)
Place of birth Liverpool, England
Position(s) Winger
Youth career
Skelmersdale United
Senior career*
Years Team Apps (Gls)
1967–1968 Southport 8 (0)
1968–1972 Rochdale 156 (11)
1972–1973 Rotherham 33 (2)
1973–1976 Chester 74 (8)
1976–1977 Grimsby 4 (0)
Rhyl
Total 275 (21)
* Senior club appearances and goals counted for the domestic league only

Mike Doyle
601
Posted 23/03/2021 at 18:23:10
Dave #571 ] Thanks for the De La Salle history lesson. When I was there I was surprised that they didn't play rugby given that the 2 nearest grammar schools (Cardinal Allan & St Edwards) both did. As I recall St Eddie's rugby coach at the time was former England wing Mike Slemen - which seemed pretty impressive (to me).
Mick Lyons & Rooney aside, the school has produced a few decent players over the years - from my generation Paul Jewell would achieve the highest profile, primarily as a manager ( and Phil McNulty has done very well as a sports journalist ).
Tony Abrahams
602
Posted 23/03/2021 at 18:32:49
I worded that wrong Thomas, it's just that the older I get the more I think that these kids should just be playing for fun, like you say mate.
I think the clubs should maybe set up training camps for talented kids, but there is nothing better than playing with your mates, especially at an early age, and I just think these kids are getting to much structure and not enough freedom, which makes loads fall out of love with the game before they've even started.
Darren Hind
603
Posted 23/03/2021 at 18:39:12
Frank Worthington was a proper showman.
Despite being surrounded by world class players at City, United, The shite and Us he would often illuminate "Kick off" on Friday night.
His keepy up, flick over the defenders and Volley started the program for months.
Practiced that goal a hundred times and failed. I could never quite master the volley dropping from over me shoulder....Brilliant !
RIP fella
Thomas Richards
604
Posted 23/03/2021 at 18:55:53
I agree Tony, kids should enjoy it as much as they can when they play football,especially when they first start.
My grandson enjoyed the training at the acadamy he was at. The facility was unbelievable.
After a year travelling an hour or so each way, three times a week I could see the signs.
A long day for him, we picked him up from school, snack on the way.
He trained then we drove him home.
A long day for a kid still in the early years of school.
No problem with the travelling, we worked it between us.
He started to make excuses up to not go.
The club involved asked would it help to cut his training to twice a week.We gave that a go.
Then they asked did he just want to go once a week. He gave that a go but eventually made his decision not to go anymore. We backed him 100%.
He plays with his mates now.
If he develops as I think he will the clubs will come back for him.
Plenty of time for him to enjoy his childhood.

Barry Rathbone
605
Posted 23/03/2021 at 18:56:20
Frank Worthington gone now!!!
We were spoilt in the 60s and 70s Frank was one of many huge personalities
who could actually play. Imagine Shearer, Lineker, Owen etc flicking it backwards over a centre half, turning him then volleying into the net before the ball touched the ground??
Neither can I
RIP Frank a proper footballer
Rob Dolby
606
Posted 23/03/2021 at 19:16:12
Tony 602. The Mossley hill junior football league doesn't have league tables and encourages managers not to win at all costs. It's a shame it only runs up to u11 age.
The kids play the game and want to win but win or lose its a clean slate the following week and another game of footy.
This dissuades overly competitive teams. There is nothing worse than hearing adults 'coaches' or parents screaming 'encouraging' at kids over Saturday or Sunday morning footy.
The City is booming for mini soccer but when the fascination wears off and people realise that they haven't got the next Rooney or Gerard for a son the game drops off dramatically. The City is struggling in participation when kids get to u16.
Not sure what the answer is but the silence from the county fa is deafening.
Joe McMahon
607
Posted 23/03/2021 at 19:43:09
Barry, some of the personalities with Dapper clothes in the early 70, Malcolm Alison, Mike Summerbie and or course George Best. I'm sure there was many more.
Don Alexander
608
Posted 23/03/2021 at 19:44:35
Barry (#605), I only once saw him at Goodison in the newly promoted Huddersfield team in 1971. As you say, a very gifted player, well versed, as such players had to be in those days, in dealing with the "dark arts"! RIP Frank.
Christy Ring
609
Posted 23/03/2021 at 19:52:45
Frank Worthington RIP A skillful classy footballer.
Tony Abrahams
610
Posted 23/03/2021 at 20:07:00
Thomas I let my lad go to Everton years ago when he had only just turned seven. He'd only had two matches in his life, Everton scouts were at the second one and he scored five goals in this game, simply because he could really strike the ball.
I was reluctant, he begged me to let him go, and although it was only training, he wasn't ready, and I should have put my foot down more, but I knew if I was seven, and Everton wanted me to train with them, I'd have been a nightmare if my own dad would had said no to me, and so I let him go.
I couldn't fault Everton, and an old football mate done most of the training, which I thought was good, but it's to young, and I realise now that we need to protect our kids a bit more until they get a bit older.
Looking back at my own childhood Thomas, I definitely did to much, I can remember times in my life when I trained every single night of the week, and usually played three games on a weekend, and it only stopped at under 15 level because Liverpool schoolboys wouldn't let us play for anyone else but the school team.
These academies keep the kids a lot fresher, but all that travel and it definitely stops being the same game, so let the kids have more fun before the game becomes to serious, although not everyone will agree with me I'm sure.
Rob, some of the parents watching kids games are properly round the bend mate. It's got that bad in some leagues, I've heard the parents have to book in the night before, but whilst I understand what Thomas says, I just think this win at all costs isn't always beneficial, because parents mostly just encourage the kids to get it down the fucking other end honestly.
Danny O'Neill
611
Posted 23/03/2021 at 20:10:16
Rob, that is really encouraging to hear. An initiative to promote wanting to win a game of football but not be obsessed with the result in the context of a season. As a native of south Liverpool, the mention of the Mossley Hill junior league brings a air of nostalgia to the story too! Mossley Hill themselves always had some good teams in my day. As I used to say until I was blue in the face down here in West London; who remembers who won the Harrow District U-12s league in 2009?
Youth football is not about the wins or results, it's about developing players and letting kids enjoy the game - they won't develop if they don't enjoy it. If they don't enjoy it, they are less likely to win.
I do not mean to be derogatory to those who spend their own time and money organising football for kids, I've stood there and witnessed it. But some have no place trying to "teach" the art of football. There has to be a criteria. To be a team / club, you should be mandated to have facilities to a certain standard. You need coaches who can coach, not just shout and point from the sideline yet cannot demonstrate the intent in training.
Our system needs streamlining and less clubs. I would argue that is the case professionally too, but that is another debate. Do away with the Dad culture of forming a team on the local mud-ridden park to drive their own ego. It's a complete overhaul for me; the system needs rebuilding from the bottom up.
Repetition again, take note of the continent. Better organisation, better facilities and a system that genuinely feeds the football pyramid. Professional clubs' youth teams who are far more in touch with their local football setups than the self licking, enclosed shut door establishments our elite academies have become, with young players living in a bubble far detached from reality.
Sorry, I get opinionated on this, like many on here.
Neil Copeland
612
Posted 23/03/2021 at 20:20:02
Don #608, my dad took me to that game I think, did it finish 2-2? Great character Frank Worthington.
Bill Gall
613
Posted 23/03/2021 at 20:51:59
Steve #599 He was playing for us Norgreen fc in the Liverpool and District Sunday Football League for 2 seasons and needed permission from us to play for Skemersdale, their chairman came to our house to talk to me and gave us a couple of footballs as a thank you. Other people may know better, but I heard the chairman of Skemersdale owned Crown Coach ways and was the band leader in the New Brighton Tower.
Tom Bowers
614
Posted 23/03/2021 at 20:52:36
Sad to hear about the passing of Frank Worthington.
He was a character, an entertainer likened to Gazza, Best, Marsh, McKenzie and a few others. Very few, if any like that around today simply because the game has changed. Players have to be robotic and learn how to become part of the bus when the bus get's ''parked'' which is almost every game.
I disagree with the statement about Everton no longer being a great club when Ball was sold. They bounced back in the eighties under Kendall and were as good as any Everton team in the sixties if not better.
Dave Abrahams
615
Posted 23/03/2021 at 21:02:38
Mike (601)I didn't know Phil McNulty went to De La Salle, he was always okay to talk to when he worked for The Echo, I had some lively debates with him, on the phone.
Regarding De La Salle, when they were situated in Breckfield Road South, just a bit before my time but definitely after the second World War, they were known as St. Elizabeth's and they had a very good schoolboys boxing team.
Brian Reade who writes for The Daily Mirror was also a pupil at De La Salle.
Mike Doyle
616
Posted 23/03/2021 at 21:02:49
Tony # 610 ] The son of one of my colleagues spent time at the academies of both Chelsea & Fulham. I understand that many touchline parents don't help the situation and I think that in Holland parents are banned from games below a certain age. Like most kids this lad was released from both and, though he still plays - at a much lower level - I do wonder how that combination of expectation and rejection impacts young kids like him. Not well I guess.
Thankfully my own son was never that keen on football, but had he been (and good) I'm sure I'd have tried to keep him away from the academy environment.

Dave Abrahams
617
Posted 23/03/2021 at 21:04:46
Mike (601)I didn't know Phil McNulty went to De La Salle, he was always okay to talk to when he worked for The Echo, I had some lively debates with him, on the phone.
Regarding De La Salle, when they were situated in Breckfield Road South, just a bit before my time but definitely after the second World War, they were known as St. Elizabeth's and they had a very good schoolboys boxing team.
Brian Reade who writes for The Daily Mirror was also a pupil at De La Salle.
Dave Abrahams
618
Posted 23/03/2021 at 21:13:36
Regarding Frank Worthington I think he was signing for Liverpool but failed the medical through high blood pressure, Freddie Hill also failed a medical when due to sign for Liverpool, both Frank and Freddie were Bolton players when they failed their medicals, both excellent players but had different personalities.
Danny O'Neill
619
Posted 23/03/2021 at 21:23:01
Don't start me on pitch encroaching aggressive parents with little footballing knowledge Tony. It used to frustrate me at best, disgust me most of the time.
With regards to your lad, it's a hell of a dilemma, but like you say, you can't deny the opportunity. You've commented before, but I went to Bellefield as a 12 year old. It remains one of my most memorable experiences, but also one of my most devastating. I was physically dwarfed and bullied and strayed away from football until I joined the Army at 16. I later went on to be a strapping (dare I say!!!) 6 foot half-decent centre back, but at 12 I wasn't physically developed enough to compete.
But, as you say, the club and Terry Darracott in particular really looked after me. My Dad was more obsessed with the fact they had a blue clothed pool table in the canteen - uncommon in those days!!
Agree though, set the conditions to let the kids enjoy the game and develop. Players, both ability wise and physically, develop at different stages of life. I would argue that goes on until the mid 20s for most. Remember when a young player breaking into the first team was about 22, not 17?
Don Alexander
620
Posted 23/03/2021 at 23:12:41
The opinions of folk on here who've been part of top-level assessment as mere children speaks volumes to me as to the misguided mindset now across the mentality of junior football at USMFF (and everywhere else).
To me it's sick that children can be exclusively signed on for "development" before they're sixteen, never mind 10. Yes, we all know Rooney was an exception in terms of being 16 and brilliant (and there will be just a few, a very few, others who've blossomed by then) but by now in my life I've known a few kids, genuinely brilliant and keen at 12-13, supposedly then "cossetted" until they were 17'ish, BUT DO NOT, YOUNG MAN, PLAY FOOTBALL OUTSIDE OF THIS CLUB, OR ELSE, by desperate clubs keen to get summat for nowt, until, under the remorseless pressure of endless practice doing things that are robotic, they simply pack football in, period.
In the meantime the physically fit, but intellectually thick and unimaginative lad, in the same intake as the gifted lad, gets a pro contract by merely doing precisely what the coaches demand in terms of running, ball retention and passing stats.
It's moronic to watch as a so-called entertainment but, hey-ho, for Everton Unsy and the rest develop enough players over God-knows-how-long to pay for their own salaries and, admittedly, produce a squad level player for the first team once or twice a decade.
Sigh!
PS; where's John McFarlane Snr these days? I miss his input.
Mike Doyle
621
Posted 24/03/2021 at 07:41:51
Don # 620] I'm sure you are correct. Being signed to academies at a very young age must put undue pressure to succeed on very young shoulders - but these days virtually every British player comes through that production route - with the occasional Jamie Vardy being the exception.
The only person I played with at school who went on to enjoy a long career as a pro was Dave Higgins (Tranmere) - but his early development was in school & Sunday League football. I wonder if he'd get a look in these days.
Echo your comments ref John McF Snr. Also noticed that Sam Hoare has been missing for a while. And was also wondering if - when grounds reopen - Ken Buckley may return with a "from my seat" post-Covid special?
Steve Barr
622
Posted 24/03/2021 at 13:46:34
Bill # 613, interesting you mention the New Brighton Tower (Theatre).
Back in 1931, my grandfather boxed at the Tower when the Liverpool Stadium closed. The then main Liverpool boxing promoter Johnny Best tried a few different venues while the New Stadium was being built.
Other venues back then included the Lyric Theatre on Everton Brow, the Southport Winter Gardens, Tranmere's ground and the main one, Anfield which staged many great boxing shows until the 1940s
My grandfather, Dickie Burke, boxed at them all along with the great Nel Tarleton, whose nephew Rick is also a ToffeeWeb poster!
---
Add Your Comments
In order to post a comment, you need to be logged in as a registered user of the site.
Or Sign up as a ToffeeWeb Member — it's free, takes just a few minutes and will allow you to post your comments on articles and Talking Points submissions across the site.