Ancelotti banking on return of James to bolster push for Europe
Tuesday, 23 March, 2021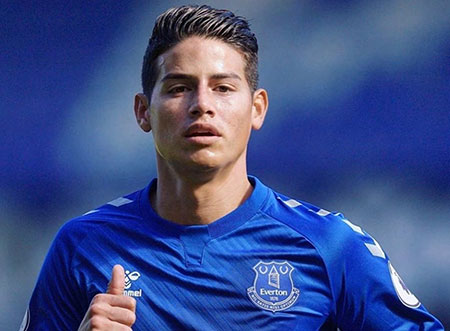 James Rodriguez hasn't featured in the starting XI since the Anfield derby but Carlo Ancelotti hopes to have him back in the team to face Crystal Palace
Carlo Ancelotti expects the current international break to be of significant benefit to his Everton squad, with fewer players on duty for their countries and the likes of James Rodriguez able to use the time to build their fitness levels.
The Blues are in need of something of a reset after losing three straight games in all competitions for the first time since November with Saturday's 2-0 loss to Manchester City in the FA Cup. Defeats in the Premier League to Chelsea and Burnley have left the club in eighth place in the table, albeit having played a game fewer than the teams above them in the chase for the European places.
Finishing in the Champions League spots appears beyond Ancelotti's men now but Europa League qualification remains within their grasp providing they can improve their form, which has yielded just 14 points from the last 33 available, starting with the visit of Crystal Palace on 5th April.
The manager hopes to have James back in the starting XI for the first time since the Merseyside derby last month as the Colombian works to recover from the latest flare-up of his calf issue. His compatriot Yerry Mina and Brazil internationals Richarlison and Allan will be at Finch Farm over the break following the CONMEBOL conferederation's decision to postpone this round of World Cup qualifiers because of the pandemic and they should be joined in first-team training by Jean-Philppe Gbamin.
The Ivorian is in what he and the club's medical staff hope is the last phase of a long road back from a serious quad muscle injury suffered in August 2019, a return was delayed further by a ruptured Achilles suffered almost a year ago.
Jordan Pickford and Robin Olsen are also undergoing a rehabilitation programmes in a bid to return after the break but there hasn't, as yet, been any indication of how long the duo are expected to remain sidelined.
"This break can help us recover some players who are out — James and, maybe, Jean-Philippe Gbamin," Ancelotti told evertontv. "We will have a more complete squad. James can put more quality in the squad, for sure, and with a good condition can help us try to reach our target.
"We are not going to lose a lot of players [to internationals] and have to be focused on those who are here.
"The physical condition of the players is good [but it is important] to have a rest because some players are a little bit tired, then prepare well for the next game. It will be a big fight for those [European positions] because a lot of teams are involved."
---
Reader Comments (56)
Note: the following content is not moderated or vetted by the site owners at the time of submission. Comments are the responsibility of the poster. Disclaimer
Kieran Kinsella
1
Posted 23/03/2021 at 16:15:23
We should build around a midfield of James Gbamin and Delph
Michael Lynch
2
Posted 23/03/2021 at 16:21:08
It's weird to think Gbamin is still only 25. It seems a lifetime ago that he last stepped onto a football pitch. He'll be like a new signing. Probably a very shit one, but a new shit one.
Bryan Houghton
3
Posted 23/03/2021 at 17:37:07
Micheal 2 - yes, he probably will be. At first. Hopefully he can become what he used to be, and able to do for us what we bought him for. Can't actually remember what any of that was tho !
Whatever happens, I hope we give him time to get match fit and enough time to settle into being a footballer again before we judge him, and I wish him the best of luck, (cos god knows he's had previous little of that over the couple of years )
Mike Keating
4
Posted 23/03/2021 at 17:56:45
I thought Pickford was a long term casualty.
Tony Everan
5
Posted 23/03/2021 at 18:19:37
Kieran , I like it ! , instead maybe we should build a new physiotherapy unit around Delph, James and Gbamin ?
Gbamin has his work cut out after almost two years out. They'll be monitoring him closely in training to see if he can get fit to the required standard. ( And also if he can remember how to play footy ).
I wish him well, it will be a remarkable achievement if he can help the team progress to the top six, and further next season.
Brendan McLaughlin
6
Posted 23/03/2021 at 18:47:11
Indeed Kieran #1
I can say with complete confidence that that we'll not lose many matches when all of that trio feature
Bill Gienapp
7
Posted 23/03/2021 at 18:51:19
Kieran (1) - I like how Ancelotti doesn't even bother to give updates on Delph anymore.
Kieran Kinsella
8
Posted 23/03/2021 at 18:58:57
Bill
It says something when you're an after thought beyond Gbamin. We're probably more likely to get an update on Danny Williamson that Delph.
Dale Self
9
Posted 23/03/2021 at 19:07:06
I like how Carlo operates. There is not much to be misinterpreted.
Darren Hind
10
Posted 23/03/2021 at 19:22:16
I'd like how Carlo operates a whole lot more if he did it in the oppositions half
Dale Self
12
Posted 23/03/2021 at 19:55:49
Misinterpreting a post on unlikely misinterpretation. You are in good form for an international break Darren.
Brendan McLaughlin
15
Posted 23/03/2021 at 20:17:52
Mike #11
Hooked, me...are you sure? Or perhaps, for you, the Hookee has become the Hooker...obviously within the strict confines of fishing analogies!
Christy Ring
16
Posted 23/03/2021 at 20:21:45
I would love to see Gbamin finally get his Everton career started after two serious injuries, would be like a new signing. I fear we have less chance with Delph, after his 600 injuries.
Brian Harrison
17
Posted 23/03/2021 at 20:23:30
I think that Carlo has taught this group how to be solid defensively, and as we all know any good side is built on a solid defence. But I agree with Darren in that he now needs to work on their attacking side, Because if we are to compete at the top end then we will have to be a lot more assertive in games.
I don't think we are good enough at present to get into the top 4, and although I personally don't like the competition he will need this team to qualify for the Europa league for a number of reasons. First to show there has been progression this season and even more important to attract the quality of player we will need to challenge for a top 4 spot. There is definitely an issue with James hopefully its getting a player who hasnt played much in the last 2 years up to fitness levels to play on a regular basis. He has a great first touch and like all top players very rarely gets dispossessed but he needs people to be alert so he can continue to lay on chances like he has already shown this season.
Danny O'Neill
18
Posted 23/03/2021 at 20:46:52
Top 4 was never realistic. In fact, it wasn't even a thought in my opinion until the post Christmas period dangled the carrot.
European qualification was always the target and one that is still within reach.
I never feel comfortable camping in our own half. I just don't like it. I know at the beginning of the season we conceded, but we scored too. Appreciate we don't yet have the squad to do both, but I long for the day we can play higher up the pitch. To do that, we need to further add to the squad and I would throw in another centre back to that equation.
Tony Abrahams
19
Posted 23/03/2021 at 20:49:29
It wouldn't surprise me to see Everton go and win the next few games Danny, maybe wishful thinking but I wouldn't write that top four off just yet mate!
Paul Kernot
20
Posted 23/03/2021 at 21:00:00
Carlo seems to be completely at odds with Brands in terms of the type of player we need e.g. Koulibaly at 29. Same for the most recent winger mentioned, whereas Brands wanted youth. Hopefully it's a case of one then the other. Experience for leadership & stability/progress, then youth to build on for future continuation.
Danny O'Neill
22
Posted 23/03/2021 at 21:04:00
Oh I'll take it and eat my underpants let alone my hat Tony! Just not what I'd have predicted at the start of the season.
Paul, I always think there is a youth and experience balance in the most, well, balanced teams.
Koulibaly or someone like him would be fantastic. 29 is the perfect age for a centre back. Ready made to compliment the potential of Godfrey.
Oliver Molloy
23
Posted 23/03/2021 at 21:10:13
I believe Ancelotti is and has been very economical with what's up regards James - all will come out in the end I predict!
John Raftery
24
Posted 23/03/2021 at 22:27:55
We have a group of young defenders and young attackers. In between we have a group of, shall we say more mature midfielders. Despite last summer's recruitment which addressed some of the midfield weaknesses, the solutions were essentially short term and if anything add to a looming issue in regard to the age profile of the midfield. What will our midfield group look like in August 2023?
Sigurdsson 33 yrs
Allan 32 yrs
James 32 yrs
Doucouré 30 yrs
Gomes 30 yrs
Bernard 30 yrs
Delph 33 yrs
Davies 25 yrs
Gbamin 27 yrs (we can but hope)
Although some of the above will no longer be with us we need to start correcting the age imbalance this summer. We need to follow the Leicester model. For example Tielemans was recruited on loan aged 21 before signing permanently in a £40m deal. Aged 23 he has a significant resale value. The same applies to James Maddison signed for £20m aged 21.
Danny Broderick
25
Posted 23/03/2021 at 22:38:02
John (24),
What a terrible collection of midfielders we've got now, never mind in 2 years time!
Hopefully Sigurdsson, Bernard and Delph at least will be moved on this summer. Iwobi and Gomes could also be available. We badly need new blood with legs. It's criminal to think we spent over £100 million on those 5 players I've just mentioned. They are all on top wages also.
Young, hungry players required...
Eddie Dunn
26
Posted 23/03/2021 at 22:59:00
Unlike our South American players, I fear the international break won't do ToffeeWebbers any good at all.

Colin Glassar
27
Posted 23/03/2021 at 23:51:33
Here we go with the old "resale value" chestnut. We need winners now, not potential. Although in a perfect world we'd have both. But if we want to catch the teams above us give me a Sergio Ramos, Koulibaly, Luca Modric, Thomas Mueller and a Robert Lewandowski and we'd win the league next season.
Danny, I think we could recoup £20-25m for those three. Throw Iwobi in and that could drop to £15m tops.
Nick Page
28
Posted 23/03/2021 at 00:01:26
Ahhh, the Leicester model, John #24. To remind, that would be the model that since 2014, a club that staved off relegation with literally a handful of games remaining, with Everton battling for a Champions League place having made some good loan deals managed to leap frog Everton, win a Premier League title and since then regularly compete for Europe (ex-Puel well, that mistake was well rectified) "model"?
Roberto Martinez told the board around April that year (or maybe before), with Leicester staring down the barrel of Championship football, that we needed at least seven new players including signing (?) the loans if we were to be competitive in Europe. Well good old Bill "The Re-Mortgage Man" Kenwright managed to miraculously sign the loans on to permanent deals - all hail The Messiah - and watch us go backwards at breakneck speed as he failed to heed his managers advice. Yet, how did a club that had just been promoted ever manage to usurp the sickening Sky 6 stranglehold on the EPL, sell half of its title winning team and still manage to play competitive football at the right end of the league table? Because 1. They have an identity, 2. They don't accept losing, 3. They are run PROFESSIONALLY and don't have some jumped up luvvy running around the place playing Chairman with all his cronies.
Just look at that list of midfielders in John's #24 post - we've been unlucky (Gbamin), naive (selling Gueye), and most of all - and this runs right through the club as there is no other explanation - complacent for far too long letting big name players come in on big money (Schneiderlin, Gomes, Sigurdsson), realise it's an easy ride and coast through games, the piss off home. It's an absolute cancer that's been killing the club slowly for years. Rooney said it best on Gary Nev's soccer box when asked about what the difference was playing for Utd and Everton.
He said, "at Utd you were expected to win". Killed me that. It's been asked a million times but what the fuck happened to Everton Football Club? I grew up watching us in the early 80's, and like my Dad before me (RIP) who went everywhere with Everton we both absolutely love(d) the club but we have to take a massive, long hard look at ourselves as fans and actually understand what it is that we want. Despite being 8th in the table we've actually been shite to watch most of the season - not the managers fault, in fact quite the opposite as Ancelotti has made some big upgrades (Doucoure, Allan, Godfrey especially) and got the best out of some players (DCL, Keane) plus added a bit of genuine quality (James). But will we be able to hang on to our best players once again (Richarlison)? In the past, Koeman (don't get me wrong I wasn't a fan) got screwed over selling Lukaku - a terrible mistake that still hasn't been rectified could Leicester have sold Vardy? - and Silva the same with Gueye just as we were looking like a team (stuffing Utd 4-0). Good teams that are well run don't just buy players, they identify what they need to build a team around and give that team the identity. Despite the millions spent we're miles away from top 6 (8th to 10th most likely) and that's not because of the playing staff on the pitch BUT because the people that run the club don't make winning a pre-requisite. Until they're gone nothing will change. So feel free to toil away with transfer A and transfer B fantasy signings - it won't change a thing as once the players come in and realise winning isn't actually the ambition we'll continue to be comfortable make weights and just tread water accepting defeats away to Chelsea and losing another home match against City despite a good show for 80 minutes. Danny's
comment #25 is absolutely correct - how bad did Burnley and Fulham's midfield make us look and how many of those players have you heard of/are on silly wages like Gomes BUT would those players actually make us any better? Not without the right structure in place and philosophy. We might be getting nearer with this manager but my God does the attitude have to change from the top of the club and that's what we all need to realise - no more getting walked over, no more accepting being in the league or getting to a QF, no more letting the print or tv media slag us off with their tacit passive aggressive disdain for Everton. Stand up and be counted. Like Alan Ball said, we are Everton.
Mike Gaynes
29
Posted 24/03/2021 at 01:57:56
Eddie #26, nah, you're right, we'll all still be pretty jaded.
Colin #27, you do realize that you've just made a powerful argument for keeping Iwobi?
Nick Page #28, "naive" selling Gueye? We made a commitment to the player, and we kept it. And do you realize how many games he has missed at PSG?
Martin Berry
30
Posted 24/03/2021 at 08:12:59
The results at home have been indefensible, so this has not given Carlo any false illusions despite excellent away results. Carlo will have been making his transfer plans and summer shake-up, he knows what is required better than any manager, having been there and done it.
I think we will have a real push for Europe and, apart from the delay to Doucouré, we should have almost a full squad to pick from.
Good progress has been made this season and I expect it to continue, I know it's hard but we need just a little more patience... success is coming.
Mal van Schaick
31
Posted 24/03/2021 at 08:39:12
The owner's vision of being in the Champions League, having a new stadium built, and raising Everton to the next level is a grand scheme, but I don't think that we have a squad good enough to take us there.
As listed in #24, some players are reaching their optimum age and younger, fresher legs may be required and better quality players to achieve the owner's vision.
A good summer transfer window with some comings and goings will indicate where we are all going with the project.
Christopher Timmins
32
Posted 24/03/2021 at 08:55:08
An absolute need to recruit younger players in the midfield sector. Reviewing the lists provided by John #24 makes depressing reading. The master plan when Brands arrived of recruiting young talent and finding a young coach who could mold them into a winning outfit is long gone.
In fairness the above project was hardly helped by the amount of deadwood recruited by the now Barcelona manager and Walsh.
Kevin Prytherch
33
Posted 24/03/2021 at 09:17:58
Master plan by Brands???
Excluding permanent sick notes and players that Ancelotti blatantly doesn't trust we have a squad that consists of
2 x goalkeepers
1 x right back
1 x left back
4 x centre backs
4 x central midfielders
5 x attacking midfielders (I've grouped Iwobi, Bernard, James, Sigurdsson and Richarlison in here)
1 x striker.
How have we managed to increase the wage bill by so much and end up with a woefully unbalanced squad?
Apart from centre back and attacking midfielders, we are one injury away from a crisis.
Derek Thomas
34
Posted 24/03/2021 at 09:59:40
Kevin @ 33; the RB is rapidly reaching his use by date. Iwobi and Bernard each have 5 decent games a season...not often the same 5 either and Siggi might reach eight a season.
I'm not convinced that Gomes isn't in the 8 games a season bracket with Siggi either.

Brian Harrison
35
Posted 24/03/2021 at 10:13:38
I see a couple of posters have mentioned Leicester and how they have turned things round in the last 6/7 years. Coincidently, yesterday I saw on Twitter Matt Chapman of BBC MotD saying he had looked at Leicester's transfers in roughly the same period that Moshiri has been in charge at Everton:
2016-17 season: Leicester sold Kante for £35M and bought Ndidi for £17M;
The following season: sold Drinkwater for £37M and bought Maguire for £13M, Ineacho for £27M.
The following season, sold Mahrez for £67M and bought Maddison for £25M, Perera for £22M and Soyunco for £21M.
Next season: sold Maguire for £87M, bought Tielemens for £45M, Perez for £33M, Praet for £19M and Justin for £6M.
This season: sold Chilwell for £50M; bought Forfana for £35M and Castagne for £24M.
The player not mentioned is Silimani, who I thought they also bought in this period, but, just leaving him to one side, they have spent £287 million but sold £276 million. During this time, they have been in the Champions League and, last season before lockdown, were in a Champions League spot... and again this season, they look like getting a Champions League place.
When you compare that to our net spend and where we have finished in the Premier League under Moshiri's time it really highlights the difference in the approach between what Leicester have achieved and how little we have achieved, and them with massively less money spent.
Dave Williams
36
Posted 24/03/2021 at 10:18:02
Can we have some perspective concerning the age of our squad?
Calvert-Lewin, Richarlison, Godfrey, Holgate, Davies, Kean and Virginia are all 24 or under. Keane, Digne, Gbamin (if he can get fit) and Pickford are hardly veterans yet and we have a few coming through like Nkounkou, Small and Onyango with Simms, Gordon and Branthwaite set to rejoin the squad after their loans. Granted, they have had their problems on loan but will hopefully learn – which was the whole point of them going.
So, while there is still deadwood to shift, the squad is not short of young players... though we are crying out for a couple in midfield.
Barry Rathbone
37
Posted 24/03/2021 at 10:21:35
Nick Page @28,
Please don't post again – my neck is hurting from vigorously nodding in agreement at every word. Best synopsis of the present enigma that is Everton Football Club I've read in a long time.
Thank you.
Dave Ganley
38
Posted 24/03/2021 at 11:44:52
Nick #28, cant disagree with that post. It does my head in that we accept defeat. We should never accept defeat no matter who it is against. A lot of the comments after Saturdays defeat was " we competed, we stayed in the game" is that the level of our competitiveness now, staying in the game?
It just doesn't hurt the players or the club, or apparently some of the fans either when we lose. No wonder we are where we are.
Colin Glassar
39
Posted 24/03/2021 at 11:50:15
Nick 28, I've been saying the same for years. Like Barry, I'm nodding in agreement to everything you say.
The malaise starts at the top. Change the manager, buy and sell players etc... but, unless you have a ruthless, ambitious, knowledgable leadership with ironclad targets, then you are going nowhere fast.
Hugh Jenkins
40
Posted 24/03/2021 at 12:38:37
Colin (39) et al. We all know the malaise that has affected EFC in the past 40 years.
What we don't know, under the current regime, is what "ironclad targets" have been set for the management – or have been set for previous managers, under Moshri?
We know that Martinez, Koeman, Allardyce and Silva have all been sacked on his watch.
We have also seen the results that said managers produced.
What we don't know is whether or not they were sacked because each of them failed to reach specific targets in the seasons in which they were in charge?
Carlo has openly said that he has told Moshri that he will deliver Champions League football for Everton.
The question now, and one none of us knows the answer to, is, on what timeline?
Is there a minimum finishing place that he must reach in this, his first full season?
Are there credits for away wins at grounds where we have consistently failed in many past years?
What is the marking system that determines that:
a) he is making progress
and
b) is reaching the set targets each season
or
c) is failing to deliver?
We don't know - so have to satisfy ourselves with our own judgement based on our own scale of success or failure.
So far, for me, Carlo is on target – but, as others have said, this summer transfer window will be a crucial one, if we are to maintain the apparent upward momentum.
Danny O'Neill
41
Posted 24/03/2021 at 12:54:46
Excellent and passionate piece,Nick @28. What you call out is what we all see: total lack of strategy being laid out at the top. I am optimistic this may be starting to happen, I'm just pissed it has taken Moshiri 5 years and 5 managers to hopefully click. With Ancellotti and the stadium there seems to be something akin to a strategy. Well, more than we've seen in decades.
I want the same blend of signing in the summer. Ready-made and experienced improvements blended with young potential. There has to be an element of "here and now" coupled with future investment.
Nice interview on the Athletic with Ben Godfrey. Many here have touted him as a future captain already. The headline,: "Seamus Coleman is the Everton leader I'd love to become". He also says "Being a leader is something I've done from a young age. That's the type of personality that I have and the responsibility I want. I enjoy setting standards, helping and driving people forward. That's the type of role and responsibility I want in the future as well".
I know they are words, words and be hollow and many of us are sick of words, but encouraging to hear from the young man.
James Marshall
42
Posted 24/03/2021 at 13:11:06
I found a £20 note on the floor of the Co-Op car park a couple of days ago – I'm willing to bet that 'score' that Gbamin will play about 60 minutes, get injured again, be out for a few weeks, come back, get injured again, ad infinitum.
Danny @41 – Godders has also said he's heartbroken the way tackling is being bled out of the game. Evertonians are going to love seeing him play.
Kim Vivian
43
Posted 24/03/2021 at 13:22:12
The laws of the game have changed; it's been so long since he last played. If Gbamin's back in training, I hope they're giving him a bit of classroom time.
Martin Reppion
44
Posted 24/03/2021 at 14:03:40
Dave #38, I'm also against being accepting of defeat.
The only man who was allowed to say 'Defeat is okay' was Nelson Mandela's chiropodist...
I'll get my coat.

Thomas Richards
45
Posted 24/03/2021 at 14:13:51
You need to get your cards after that one, Martin.
Jerome Shields
46
Posted 24/03/2021 at 15:21:54
A defensive strategy at home will need some creative flair to nick a goal, getting 3 points rather than 1.
Brent Stephens
47
Posted 24/03/2021 at 16:54:27
Corny.
Danny O'Neill
48
Posted 24/03/2021 at 18:31:25
Be careful you don't shoehorn your point of view, Martin.
Kim Vivian
49
Posted 24/03/2021 at 18:45:13
I lost £20 at the Co-Op a couple of days ago. If I send my bank details, can you wire it to me, James...
Brent Stephens
50
Posted 24/03/2021 at 18:48:38
Kim, please send me all your bank details and I'll let you have £20! Honest.
Bobby Mallon
51
Posted 24/03/2021 at 19:51:15
James Marshall, I don't think Gbamin is ever playing again.
Kunal Desai
52
Posted 24/03/2021 at 21:45:47
Moshiri needs to buy out the remaining small shareholding of Kenwright and send DBB packing, ta-ra love many thanks for all your work, but we need people at transformational levels, not hangers. I look at Peter Moores, influential at Microsoft and played an instrumental part at rebuilding those lot when Klopp came onboard.
That's the calibre of individuals which need recruiting at board level. Vison, plan, strategy, none of which the current incumbment possess.
Gaute Lie
53
Posted 24/03/2021 at 22:29:52
I don't hope Gbamin is CA's secret weapon.
Hope he will be a star at Everton, but 2 yrs with little footballing will not make him better. So reckong no games for him this season.
Hugh Jenkins
54
Posted 25/03/2021 at 08:10:40
Kunal (52).
I don't know very much about Denise Barrett-Baxendale but I do know that, when Covid-19 first hit, Everton were lauded in the press as being the only Premier League side that had a contingency in their Business Plan to deal with such an event.
So, I wouldn't say, at this stage, that she doesn't know what she is doing.
Andy Walker
55
Posted 25/03/2021 at 09:08:37
I think it's highly likely we are only trying to get Gbamin back playing in order that we can sell him (loan first probably) and reduce the extent of the financial loss he represents to us.
Martin Reppion
56
Posted 25/03/2021 at 09:19:53
On Gbamin. As I haven't seen him play, I have no idea how good he was, but my footie encyclopaedia son raved over his signing. As with so much these days, a lot of speculation occurs but we have no evidence as to how it will go. All I can do is wish the man well and hope for the best.
A full summer of training and, by the time the players meet up, Carlo will have an idea if we have a scarred has-been or a fresh new talent. Either way, he is an advert for both the old school, "get them a 5-year contract" and the "don't sign anyone on more than 3 years".
The fact that he still has 3 years to run on his deal could mean we have an expensive crock. But it also means we have time to see if he can build up his strength and confidence. Remember the Dan Gosling fiasco? Ross Barkley? We pay all the bills to get a player back to fitness and his agent pulls a fast one.
I will wait until Jean-Philippe has played before I pass judgement. I am hoping he is our man of the season next season.
Scott Robinson
57
Posted 25/03/2021 at 09:37:59
Nick @28, well said. How Leicester managed to leapfrog Everton bewilders me.
What Everton needs is a recruitment strategy that isn't based on around 'tried and failed' at one of the big clubs, to buying the Godfreys of this world. Raw, up-and-coming and lots of passion.
They also need a club captain who plays week-in & week-out, and believes in the mission.
Jerome Shields
58
Posted 25/03/2021 at 11:18:27
Brent #47
That wasn't one of them.
David Hayes
59
Posted 25/03/2021 at 12:19:03
Nick # 28.
You seem to have totally overlooked the fact that it's players and agents who control when and where they go, once they become in demand by Europe's elite. The clubs cash in accordingly, firstly to make as much profit as possible, it's a business after all. Secondly to fund replacements; the idea is to repeat the process as often as possible. At all points expanding and the means to attract business.
There are many players who are brought in to attract publicity, and increase profile. These are cash write-offs in terms of resale. The clubs aren't run solely to gratify the armchair managers like us and we always have the benefit of hindsight when critical, and will always blame individuals we perceive as letting us down, thinking we understand what clubs don't, from our armchair or stadium seats.
Jerome Shields
60
Posted 25/03/2021 at 13:54:46
Nick #28
Thats Everton in a nutshell and the root cause of all the problems. There has been some progress under Ancelotti, but even he will have to play a defensive formation at home to reverse the home form and get points to stand any chance of getting into Europe. As Ancelotti said in the Burnley post-match interview, he did not have the players with the technical ability for tactically open play.
But this creates a problem when the opposition decides to sit back defensively at Goodison, happy to get a point. It's then you need that creative final-third pass to unlock their defense. James is unfortunately the only Everton midfielder capable of such a pass. But therein lies another problem if the opposition decide to defend and target James with special attention. Against Sheffield United, Ancelotti had no recognisable striker, so Sheffield United's tactical plan of maintaining shape was more difficult to implement, players finding themselves with no-one to mark.
I would prefer a more attacking free-playing Everton, but it was just far too easy for Burnley. Hopefully Everton will get back to the set-piece standard of before Xmas which would be also an essential part of such Everton tactics.
---
Add Your Comments
In order to post a comment, you need to be logged in as a registered user of the site.
Or Sign up as a ToffeeWeb Member — it's free, takes just a few minutes and will allow you to post your comments on articles and Talking Points submissions across the site.