Calvert-Lewin bags a brace for England
England 5 - 0 San Marino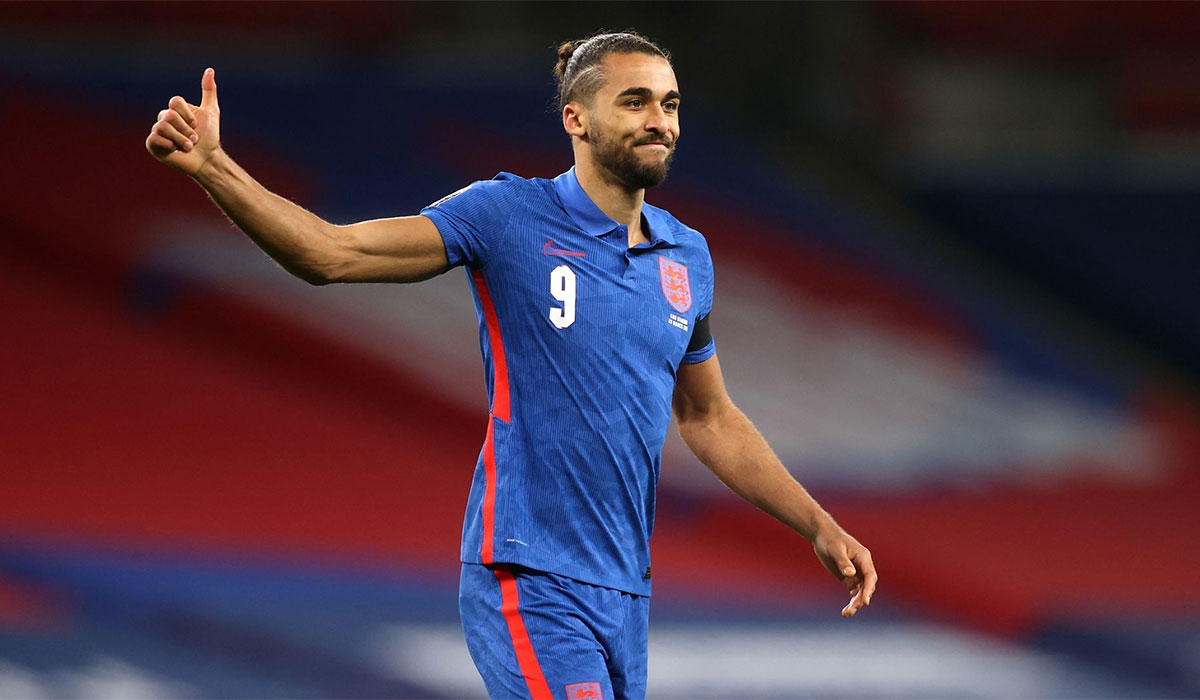 Dominic Calvert-Lewin struck twice in his first competitive outing for England as they got their 2022 World Cup qualifying campaign off to a comfortable start against San Marino.
The Everton striker played just over an hour for Gareth Southgate's side, enough time to score a goal in each half before making way for Aston Villa's Ollie Watkins.
James Ward-Prowse had got England off the mark with almost a quarter of an hour gone and Calvert-Lewin doubled the lead in the 21st minute when climbed well to head Reece James's cross into the bottom corner.
Raheem Stirling bagged the third with a deflected effort just before the interval when Southgate made some changes but Calvert-Lewin stayed on and though he squandered other chances, he scored his second goal with a routine finish from Jesse Lingard's assist less than 10 minutes into the second half.
Watkins's debut goal came seven minutes from time but not before Ben Chilwell, Mason Mount, Lingard and Ward-Prowse had seen efforts saved by Elia Benedettini in the San Marino goal.
---
Reader Comments (42)
Note: the following content is not moderated or vetted by the site owners at the time of submission. Comments are the responsibility of the poster. Disclaimer
Danny O'Neill
1
Posted 25/03/2021 at 19:51:54
Why oh why do we insist on the likes of England playing San Marino? What is the actual point?
As Dominic fluffs his lines!
Danny O'Neill
2
Posted 25/03/2021 at 20:07:36
Trademark Dominic goal!
Kevin Prytherch
3
Posted 25/03/2021 at 20:17:53
If Calvert-Lewin scores 3 more tonight, he will become Everton's 3rd highest scorer for England!!!!
Danny O'Neill
4
Posted 25/03/2021 at 20:36:35
"Everton and England have really found Calvert-Lewin's scoring touch this season". Say the commentators.
England?
I think that is down to the coaching and mentoring at Everton, not England.
Ian Godfrey
5
Posted 25/03/2021 at 20:39:19
Can't say that I'm impressed by this England team or the tactics. Have the midfield been told to ignore the simple forward pass and keep the defence in the action. There has been very little in service to DCL, one good cross and he scores, watch the difference when Kane comes on.
Andrew Ellams
7
Posted 25/03/2021 at 21:00:13
Sterling wanted the healdines tonight. DCL should get more service now that he's gone off
Rob Halligan
8
Posted 25/03/2021 at 22:10:41
Sterling had no intention of passing to anyone tonight. Was made captain and all he wanted to do was shoot, shoot shoot. DCL scored two pretty easy goals, and probably could have had another couple. Still, you've got to be in the right place to score or have the chances.
Tom Bowers
9
Posted 25/03/2021 at 22:17:00
DCL could have had a bagful if others weren't so greedy.
This was really a nothing game and a waste of time.
Teams like San Marino should play in a qualification round with all the other piss poor teams and then only one of them should move forward to the quality round.
I honestly think Accrington Stanley could have provided better opposition to England.
Danny O'Neill
10
Posted 25/03/2021 at 22:18:00
One thing you can say tonight, Dominic must have been loving the service. He could have definitely had 4 goals.
But again, this was against San Marino. Back to my point, why? Should international football not adopt more of an FA Cup style format? As in the "Premier League" et al, don't enter until the qualification and preliminary rounds are done? That could have been embarrassing tonight and of no benefit or enjoyment to anyone.
Michael Barrett
11
Posted 25/03/2021 at 22:28:21
At least our weekend wont be ruined this week with us not having a game, we will have the chance to get everyone fit for next week.
Mike Doyle
12
Posted 25/03/2021 at 22:34:56
According to BBC news San Marino are the worst side in world football. It has a population of around 30,000 (approx half the size of Bootle). and people wonder why most of us give most international football games a (very) wide berth.
Barry Rathbone
13
Posted 25/03/2021 at 22:44:21
I gave it the 10 minute test then switched to youtube vids about how to sharpen chainsaws.
A population of 30k means San Marino are a village pub team. England not getting double figures might not be a reflection of the players wages but it deffo represents the paltry gap in quality
Steavey Buckley
14
Posted 25/03/2021 at 22:53:43
Dominic Calvert-Lewin must be thinking to himself how easy it is to score goals if only Everton players can cross the ball to him.
Danny O'Neill
15
Posted 25/03/2021 at 23:24:14
If they play the equivalent of Chorley Rovers every week Steavey.
Steve Mink
16
Posted 25/03/2021 at 23:27:32
Yer lad Bellingham looks a player.
Kieran Kinsella
17
Posted 26/03/2021 at 00:34:44
Danny/Mike
Playing devils advocate, San Marino is a state so if you cut them off or have preliminaries, where do you draw the line? Is it based on population? Kazakhstan has a population six times the size of Croatia. Luxembourg has twice the population of Iceland. And yet performances defy those stats. Is it based on past performance? Norway were a joke until they faced Taylor's England. Iceland were a joke until five years ago. Austria and Hungary were the best of the best until they dropped off a cliff in the 60s. So where would the cut off be for weak teams? Didn't Michael ONeill go about two years without a win for tiny N Ireland until they qualified for the last Euros? That's the tricky bit. Do I expect San Marino to have their day? No but the similarly sized Faroes Islands are competitive with the likes of Greece who were Euro champs not that long ago
Andy Crooks
18
Posted 26/03/2021 at 00:44:36
Good point, Kieran. There was a time when the African nations were also cannon fodder. However jaundiced our view is of international football it really is a big deal to play at Wembley.
Derek Thomas
19
Posted 26/03/2021 at 00:49:31
There's going to be 48? Teams at the actual world CUP...surely FIFA, could structure the qualifiers with cut off points and have the minnows, the likes of San Marino, Scotland and Wales etc, drop down into a 'Shield' and 'Plate' competition.
Kieran Kinsella
20
Posted 26/03/2021 at 02:21:50
Derek 19
"Wales and Scotland" you're a brave man
Andy Mead
21
Posted 26/03/2021 at 02:27:39
Derek Thomas (19)
Wales minnows? Ranked 18th in the World, only lost 1 competitive fixture in last 11.Semi finalists at last Euros. Just been promoted to Nations league Division A, same as England. Used to be terrible but can mix it with the best of them now.
Danny O'Neill
22
Posted 26/03/2021 at 06:21:02
Not population Kieran, performance and qualification.
I just think it should have more of an FA Cup feel to it based on positioning and ranking.
Thats one way of skinning it but I wouldn't have an "all in" approach personally.
Then again, I'm contradicting myself as I don't really care too much for international football other than watching it because it's a game of football. Not something I get too passionate about, just an observation.
Andrew Ellams
23
Posted 26/03/2021 at 07:09:05
Africa, Asia and North/Central America all have qualifying rounds before there stronger nations enter the competition. It's about time Europe did the same.
Eddie Dunn
24
Posted 26/03/2021 at 08:14:07
on the one hand I marvelled at Rhys James' crossing and though just how Everton could do with such a weapon. I would think Dom would have another 8 or 9 goals in his tally with that service.
Like others above, I was disgusted by Sterling, who seems to have become more greedy with the armband. I would have thought it might have made him see the collective merit rather than his individual success.
Domenic showed that he can get into the right positions and he also showed that he is a little clumsy, oh and that man-bun perhaps stopped his back-header from going in!
Listened to the sour Lee Dixon sticking the boot in on DCL as soon as he missed his first chance.."Kane would have scored that" or words to that effect. Has he never seen Kane miss a sitter?
I do detect a snidey edge to many of the established pundits towards anything connected to us.
Hugh Jenkins
25
Posted 26/03/2021 at 08:46:24
Derek (19) - Your suggestion smacks of some form of FFP formula for Nations - based either on population size, or past performance.
If based on population size - then the cut off at 48 Countries would debar:-
Greece - 87th in world population - Former Euro winners
Portugal - 89th in world population - Former Euro winners
Croatia - 130th in world population - World Cup Finalists 2018
Uruguay - 134th in world population - Former W C winners - x 2
Included would be Nations that have not yet shown any inclination towards adopting Association Football as a national game e.g.
India - 2nd in world population
Indonesia - 4th in world population
Pakistan - 5th in world population
Bangladesh - 8th in world population
Also included in the top 20 are:-
Ethiopia
Philippines
Vietnam
Thailand.
It would be better, I think, to leave these matters to the "experts" at FIFA.
Paul A Smith
26
Posted 26/03/2021 at 09:48:10
I can't trust Englands set up at all. I noticed all the well loved clubs had their players rested once again last night.
No Red Shite, no United, no Spurs. All those darlings who have struggled for form get a little helping hand as usual.
No way can I throw my support at that false set up and its not like last night was the first favour either.
Mark Murphy
27
Posted 26/03/2021 at 09:55:12
Paul I understand what your saying but it could also be that they were playing San Marino so southgate didn't need the "big stars"
Have they got a bigger game coming up? I'd be surprised if he left out regular international players ( who lets be honest usually play for the "big" clubs ) if they were playing Italy or Germany in a meaningful fixture. But I'm not into the national game so could be just naive. UTFT
Derek Thomas
28
Posted 26/03/2021 at 10:09:19
Hugh, it does San Marino etc, no good at all getting hammered, not losing but hammered in every game.
Also, I think my 'plan' has more to do with cutting down on the numbers of International games and breaks.
Bobby Mallon
29
Posted 26/03/2021 at 10:25:42
There is only one thing England and Southgate should do and that's have Phil Foden as first name on the team sheet.
Bobby Mallon
30
Posted 26/03/2021 at 10:25:43
There is only one thing England and Southgate should do and that's have Phil Foden as first name on the team sheet.
Joe McMahon
31
Posted 26/03/2021 at 10:43:51
Steve@ 14 true, but he also has to be more clinical when having a rare goal scoring opportunity in PL games. I'm hoping he will be able to improve his game for one on one's and shooting. I'm sure he will though.
Hugh Jenkins
32
Posted 26/03/2021 at 10:44:09
Derek (28). Yet, generation after generation - they keep coming back for more. I am sure that, if being on the end of "good hidings", almost every time they played, deterred them in any way, then the San Marino FA would decide not to even enter the competition - after all, it's not compulsory. However, for the 11 "good men and true" (plus the substitutes), who represent them at each of these "bashings" they receive, I am sure it is still considered quite an honour to be an "international footballer having represented my country".
Who are you - or we, to deny them that?
As for "cutting down the numbers of international games and breaks", I am with you on that.
However, I would have thought enlarging the numbers of automatic qualifiers for a major completion would also automatically cut down on the number of pre-qualification games necessary thereby achieving your aim by a different means?
Paul A Smith
33
Posted 26/03/2021 at 10:50:43
Mark I did consider that but I thought, San Marino, why not rest Sterling for the big game and give a kid a go?
Considering Sterling is the first or second name on his big game list and has been ever present all season.
Then it dawned on me, City aren't liked or struggling like Liverpool an Spurs and theres nothing they'd like more than Chelsea being pipped to top 4 by them 2 clubs.
Andrew Ellams
34
Posted 26/03/2021 at 11:30:18
One thing from last night, can we sign Ward-Prowse? He can win the ball, his passing is absolute top drawer and he must be almost the number 1 set piece merchant in the PL.
Martin Berry
35
Posted 26/03/2021 at 12:18:41
I think with better decision making England and Domonic would have score alot more. Sterling and Linguard were set on scoring as many as they could for themselves rather than the team.
We have some great talent, but we have been here before and its a question of whether Southgate can get the blend the formation right and not also having to exclude talent.
Ward Prowse would be a great long term replacement for Sigurdsson but at what price.

Paul Hughes
36
Posted 26/03/2021 at 12:31:25
Did anyone notice that the goal-machine known as Davy Klaassen scored for Holland in their stuffing by Turkey? How someone as poor as that gets in an international side is beyond me.
Kevin Prytherch
37
Posted 26/03/2021 at 12:38:46
Joe 31 - he is surprisingly clinical compared to other strikers (there will be mitigating circumstances.
Kane - 17 goals 102 shots - 16.7% conversion
Salah - 17 from 87 - 19.5%
Bamford - 14 from 91 - 14.4%
Watkins - 10 from 77 - 10.3%
DCL - 14 from 64 - 22%
Chris Williams
38
Posted 26/03/2021 at 12:42:15
Paul,
That's 5 for him in 20 games for Holland. It probably helps that they play him in his best position. See Gullit's comments today.
Derek Thomas
39
Posted 26/03/2021 at 13:06:48
Hugh @ 32; you're probaby right, who am I to take away somebody's once in a lifetime big game.
Kieran Kinsella
40
Posted 26/03/2021 at 13:07:55
Mike Gaynes may get offended but Klaasen reminds me of the typical US player. Small, slow but well drilled and intelligent as a cog in a machine. If all the cogs work he's fine but if anything disrupts the machine the cogs fall to pieces.
Colin Glassar
41
Posted 26/03/2021 at 13:40:00
Stadium plans approved!!
Paul A Smith
42
Posted 26/03/2021 at 14:26:32
Commence operation Bramley Moore
Commence operation Bramley Moore
Commence operation Bramley Moore.
Some good news for Evertonians. 👍
Danny O'Neill
43
Posted 26/03/2021 at 15:13:55
There's some interesting stats on Klaassen on another thread Paul @36, but I can't for the life of me find them.
He's actually a very intelligent and good player in the right team and setting. It just didn't work for him at Everton.
---
Add Your Comments
In order to post a comment, you need to be logged in as a registered user of the site.
Or Sign up as a ToffeeWeb Member — it's free, takes just a few minutes and will allow you to post your comments on articles and Talking Points submissions across the site.