Iwobi tests positive for coronavirus while Ireland are humbled
Saturday, 27 March, 2021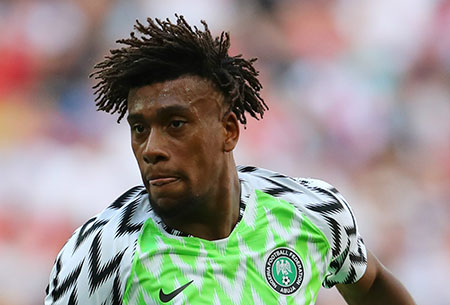 Alex Iwobi was forced to pull out of Nigeria's African Cup of Nations qualifier against Benin after testing positive for COVID-19 before Seamus Coleman's Ireland were stunned by Luxembourg.
Iwobi's infection was reportedly picked up during mandatory testing of the Super Eagles' squad prior to the match in Porto today.
Nigeria have already qualified for the AFCoN Finals and Iwobi will now undergo a period of quarantine before he can rejoin the Blues' squad for first-team training, meaning he will also miss his country's upcoming match against Lesotho on Tuesday.
Meanwhile, Seamus Coleman has described the Republic of Ireland's 1-0 home defeat by minnows Luxembourg as "a shocking and embarrassing result," one that comes in the wake of a 3-2 loss to Serbia and seriously damages their hopes of qualifying for the 2022 World Cup.
---
Reader Comments (71)
Note: the following content is not moderated or vetted by the site owners at the time of submission. Comments are the responsibility of the poster. Disclaimer
David Hallwood
1
Posted 27/03/2021 at 18:53:30
It's just about the only time you can put 'positive' next to Iwobi's name...
Barry Rathbone
2
Posted 27/03/2021 at 18:58:59
He rang Carlo saying he was feeling tired and lethargic to which Carlo replied "Had it for a year then?"
Christy Ring
4
Posted 27/03/2021 at 19:25:56
Having already qualified, it was ridiculous travelling especially in the present climate.
Eddie Dunn
5
Posted 27/03/2021 at 19:27:48
These international games are asking for trouble.
Chris Clark
6
Posted 27/03/2021 at 19:29:55
Have to agree these internationals are pointless and rather boring. CBA to watch them.
Dennis Stevens
7
Posted 27/03/2021 at 19:37:24
I hope he quickly recovers with no long lasting effects & that nobody else in the Everton squad has it.
Derek Knox
8
Posted 27/03/2021 at 20:33:44
Colin G will be gutted, probably means he'll miss a few games. 😜
Paul Birmingham
9
Posted 27/03/2021 at 20:34:14
Hopefully the rest of the Everton squad are safe, as we need a good squad for Palace.
I hope Alex makes a full recovery and finds his mojo, which he'd lost and found at the Wolves away match and has lost again.
Brent Stephens
10
Posted 27/03/2021 at 20:37:17
Yes, best of luck to Iwobi.
Martin Berry
11
Posted 27/03/2021 at 20:43:06
Get well soon, we need all our players fit and ready for the final push for a European place.

Tony Everan
12
Posted 27/03/2021 at 21:25:24
Hopefully Alex has no complications with it and comes back all guns blazing. We need all hands to the pump to get into the top 6.
Derek Knox
13
Posted 27/03/2021 at 21:48:33
Tony @ 13,
"Come back all guns blazing"? It's Covid-19 positive test he's got, not a full body and brain transplant! :-)
Neil Lawson
14
Posted 27/03/2021 at 22:16:24
He can continue to self-isolate on the pitch. Rare to see him within 2 m of an opposition defender.
Michael Barrett
15
Posted 27/03/2021 at 22:48:08
Dereck hahaha
Paul Smith
16
Posted 27/03/2021 at 23:43:28
This picture of Iwobi in his native shirt is surely airbrushed, he's worked up a sweat – can't be right.
Jerome Shields
17
Posted 28/03/2021 at 02:17:42
Iowbi was an option that Everton now don't have. He will be missed. Get well soon.
An inexperienced manager at Ireland was always going to end this way. It will be a while before Ireland are competitive at international level. . . and the pool of players is not what it use to be.
Kieran Kinsella
18
Posted 28/03/2021 at 02:42:27
Danny O'Neill & Jerome Shields,
Danny, I feel you tempted fate by knocking games against minnows ahead of Ireland vs Luxembourg. In fairness, they have the weakest squad they've had in my lifetime.
Jerome,
The optics aren't good but the team is weak. Maybe Stephen Kenny is out of his depth but think back to when Michael O'Neill took on a weak Northern Ireland team and had 2 years of misery as he bought in some youngsters and figured out how to get the best out of his journeymen.
Without being at the training ground, I don't know if Stephen Kenny knows what he's doing or not but I wouldn't pass judgement purely on results at this point. Having had a tutelage under Mick, I'm hopeful he can turn it around but, as I say, I may have misplaced faith as I don't have access to training.
I watched Czechia and I think England will have a time. They look a lot better than in qualifying with the West Ham lads and Vydra who's not great but he's good enough to do damage. I also saw Portugal get robbed with an offside/handball goal and an inverse Russian linesman call disallowing Ronaldo's strike.
On Iwobi, I'm guessing people assume he's young, he will be fine, have a joke at his expense. I get it but it's a serious illness and God forbid he gave it to his mum or his grandma — assuming his own case isn't serious — which as yet we don't know. Hope he is okay.

Andrew Ellams
19
Posted 28/03/2021 at 09:02:54
England play Poland later in the week despite one player being forced to leave the Polish squad following a positive test. How is that game still going ahead?
Tony Waring
20
Posted 28/03/2021 at 09:32:27
Good point Andrew (26).
The BBC news reported that there were 30,000 new cases in Poland yesterday. The third wave is galloping through Europe and the match should be postponed.
Jerome Shields
21
Posted 28/03/2021 at 09:40:34
Kieran #23
As you say, that's the territory that Ireland are in. Recovering from an IFA scandal and mercenary managers. I thought Trapattoni did well, but O'Neill and Keane were clowns. In O'Neill's case, I was very disappointed after being at his table at a dinner once, where he showed an outstanding inspirational knowledge of football. McCarthy did get back some respect.
I hope that Stephen Kenny can get more out of the players who are journeymen and good, but not outstanding players at best. Coleman, motivated as always, at his age, looks a step up. Maybe Brexit will allow more Irish players to get playing at the higher levels of football.
As you say, Michael O'Neill did a terrific job with Northern Ireland with limited selection and there are similar glimpses in how Ireland now play. They did have well-worked opportunities in the game. Though I think Kenny should be given more time, there is definitely a feeling of a misplaced risk, as you say.
Ian Burns
22
Posted 28/03/2021 at 09:40:43
Colin G will be wishing Iwobi well - nobody deserves to suffer even the mildest form of this virus. However, once Alex is recovered, Colin G will be back to being cat to Iwobi's mouse in Tom and Jerry!
Drew O'Neall
23
Posted 28/03/2021 at 09:43:47
He's had it since August 2019.
Colin Glassar
24
Posted 28/03/2021 at 10:37:54
Oh no, poor Iwobi.
John Cook
25
Posted 28/03/2021 at 11:33:12
Alex is one of us,we've not seen the best if him but he has been played out if position in a lot of games...better through the middle for me.
Those making light of this horrible pandemic should be ashamed of themselves I pray none of there family or friends get it.
Danny O'Neill
26
Posted 28/03/2021 at 12:42:02
Kieran, I apologise to the Irish contingent for my rain dance that seemingly aroused the international minnow gods!! As it's Sunday, I shall go and say my Hail Mary's. Wow that was a shock in terms of name, but I guess from reading here, the Irish squad isn't in that great a place right now.
On topic, both relating to international football and Covid, did anyone else watch Holland v Latvia? Interesting that spectators were present. It was a bit odd however as there seemed to be different sections with different rules / restrictions. Behind the goal, a section that appeared to have no social distancing whatsoever applied. Then other areas were people were sat in 2s and 3s with social distancing spacing between.
Almost as if they were experimenting different approaches in one game. Haven't read anything yet, so can't comment on the thinking but regardless, it was great to see and hear reasonably significant numbers of fans back in a football stadium.
Danny O'Neill
28
Posted 28/03/2021 at 15:44:39
Calvert-Lewin on the bench for England.
Colin Glassar
29
Posted 28/03/2021 at 16:17:36
What are we going to do without his goals, assists, creativity, courage, inch-perfect passing, sublime skills etc?
I fervently hope he's back by June.
Lyndon Lloyd
Editorial Team
30
Posted 28/03/2021 at 16:44:32
Note: The increasingly contentious discussion over COVID-19 and vaccines has been moved to a dedicated "sideshow" thread.
Mike Gaynes
31
Posted 28/03/2021 at 16:50:04
Colin #29, just the contribution I was expecting!
I am unable to find any news stories at all saying that he's sick or symptomatic, just that he tested positive. As we know, many times people have the virus but don't become ill. Let's hope Alex is one of those.
Danny O'Neill
32
Posted 28/03/2021 at 16:52:22
Thank you Lyndon. Right, 3rd attempt of asking. Does anyone have a view on the fans at the Holland match last night?
I suppose I should apologise to you and Michael on behalf of the collective and the original trigger post for disrupting your Sunday, causing you both to have to step in and do some admin stuff on your weekend.
Thanks for continuing to facilitate this fine site.
Brent Stephens
33
Posted 28/03/2021 at 16:57:01
Danny, I saw something on TV last week showing close contact between young people in a Dutch city. It explained that it was part of an investigation into spread of the virus and means of minimising the spread. Not quite sure on the reason. I think all were to be tested afterwards.
Anyway, possibly the same reason, testing different approaches to minimising the risk of spread.
Danny O'Neill
34
Posted 28/03/2021 at 18:02:39
That would make sense, Brent. It was great to see, even if 5,000 in the Johann Cruyff Arena is a tiny percentage of the capacity.
Colin Glassar
35
Posted 28/03/2021 at 18:25:25
Mike 31, I should've added 'back by June with another team'.
Martin Nicholls
36
Posted 28/03/2021 at 19:16:10
Nigeria manager now claiming it was a "fake test" and that they're now awaiting results of a further test.
David Duggan
37
Posted 28/03/2021 at 22:29:41
I wouldn't wish ill health on anybody but genuinely hope he has to isolate for a very long time and he doesn't pull on our shirt again. An absolute joke of a player.
Steavey Buckley
38
Posted 28/03/2021 at 23:38:06
It is irresponsible of Uefa and Fifa allowing internationals to go ahead when the world is gripped in a pandemic.
It is hard enough keeping players Covid-free where they play their club football locally where protocols are kept tightly, but asking players to jump on an aeroplane to anywhere in the world where Covid controls may be far more lax is downright stupid.
Just to remind, Covid can affect the human body for many years.
Mike Gaynes
39
Posted 29/03/2021 at 00:21:35
Too bad COVID didn't cancel the Olympic qualifiers. The US is in the process of choking away their berth for the fifth straight Games. A testimonial to just how poor MLS really is -- the whole team is made up of MLS players. Sucks.
James Flynn
40
Posted 29/03/2021 at 01:21:38
Mike Gaynes
41
Posted 29/03/2021 at 03:06:04
James, this one was just plain humiliating.
Barry Williams
42
Posted 29/03/2021 at 03:49:43
Steavey Buckley - 38
Completely agree. Watch the Whyte/Povetkin fight from last night, and look at Poevetkin from the first few seconds; he wasn't right. Had covid which cancelled the first fight.
I know numerous cases locally with people that this has happened to, to have internationals during a pandemic stinks and makes no sense, bar for those making money from it.
Alan J Thompson
43
Posted 29/03/2021 at 06:01:51
Steavey (#38); I can't think of a single reason for Fifa being the size it is or wielding the sort of power it does. At best, it should be a forum for international Football Associations to discuss matters and disseminate information. I can't imagine how it was allowed to control so much finance and to fall into the hands of so self-serving officials.
But than again, I've always had a distrust of organizations that are based where the laws and taxes favour them and without any apparent oversight.
Martin Reppion
44
Posted 29/03/2021 at 14:45:17
Alan #43
If the FA and those in Italy, Spain, Germany and France had had any balls, they would have resigned from FIFA after the farce of a 'vote' that put a World Cup in Qatar.
If the top European Leagues had said then that they would not release players for this event, and arranged their own, inviting the top American and African sides then it would have ended the corrupt monopoly in one go.
A more streamlined body could have invited the support of the other major FAs. I still hope to see it happen. There is no benefit a the moment, for instance, of England, Poland and Hungary playing 18 games against Albania, Andorra and San Marino just so they can clock up some goal difference in case they can't separate each other at the business end of the table. This is repeated through other groups. It would be better for those countries to play a second-tier tournament with play-offs against the lower teams from the top tier.
A bit of a rant I know. But why are we allowing this corrupt body to continue to run the game in such a bizarre way?
Colin Glassar
45
Posted 29/03/2021 at 15:05:26
The Suez Canal is now open for business.
I won't blame Iwobi for this but I bet, if he was a ship's captain, he'd do something like this.
Mike Gaynes
46
Posted 29/03/2021 at 15:15:40
Martin #44, because the various FAs are in their own way corrupted by their own territorial power, far too busy defending their own little duchies to even consider working together against Fifa.
The only way to bring down Fifa is financially, and from within. Like the NRA in the United States.
Alan J Thompson
47
Posted 29/03/2021 at 15:16:28
Colin (#45); It has long been said that there are only two types of ship's captains. Those that are there when you don't want them and those that aren't when you do.
However, while the Captain will take the blame as he is in charge officially, he most likely had a canal Pilot onboard. But as they say; it is an ill wind...
Danny O'Neill
48
Posted 29/03/2021 at 15:58:47
Alan J Thompson @43. Some would say you could delete Fifa, insert Brussels / EU with that description!!
James Flynn
49
Posted 29/03/2021 at 17:36:28
Mike (41) - Indeed.
Worse, was that we actually have plenty of talent in that age group.
As we Americans know, how MLS is run is its own whole discussion.
Oh well, let's hope we get to the World Cup this time.
Danny O'Neill
50
Posted 29/03/2021 at 17:42:20
Really surprised the US hasn't made a fist of this. I've expressed my admiration for the facilities previous and from what I've seen, there is talent there.
Mike, I think you have said the standard of coaching is lacking right?
Pat Kelly
51
Posted 29/03/2021 at 17:49:40
Hopefully Iwobi will be able to train with a ball soon. It'll be a treat for him.
Alan J Thompson
52
Posted 29/03/2021 at 18:39:54
Danny (#48); As the Greeks might say; beware of strangers bearing Euros.
David Connor
53
Posted 29/03/2021 at 19:23:25
Could we please keep him self isolating till the end of the season. This lad has got to be one of the worst buys in recent years. Time for him to go. Question is, is there anybody daft enough to take him off us?
Jay Harris
54
Posted 29/03/2021 at 19:40:25
I really have to say strongly I am disgusted by some of the so-called Evertonians on here. I understand Iwobi may not be your cup of tea but would you make any of those comments to his face?
No, you sit behind your keyboards, throwing out bile against a man whose only crime is that he was chosen to be part of the first-team squad. The man is a human being and deserves better.
Joe McMahon
55
Posted 29/03/2021 at 19:44:57
Jay @54 100% agree.
All those years I had to watch (IMO) the very-very poor and very limited Tony Hibbert, but I never once gave him dogs abuse, no matter how frustrating he was.
Andy Crooks
56
Posted 29/03/2021 at 20:20:40
Jay, I think some of the comments are quite funny. I actually like Iwobi. I think in the right formation he is a decent player and I predict, as the confidence of this squad grows, he will show himself to be a good signing. He has had some excellent games.
If I was Iwobi, I would find this thread amusing and inspiring.
Andy Walker
57
Posted 29/03/2021 at 20:58:55
At least he won't pass it to another Everton player.
Jonny Montford
58
Posted 29/03/2021 at 21:38:10
Thank god for that!!
Peter Fearon
59
Posted 30/03/2021 at 00:52:34
The nasty, vicious, baseless, cowardly, hateful and ignorant statements about Alex Iwobi on this thread acted as a reminder for me why I very rarely read ToffeeWeb any more after at one time being a multiple times a day avid user.
Not my favorite player by a country mile, Alex Iwobi has a potentially serious illness and deserves our sympathy and respect, not the cheap jibes from people, most of whom couldn't hit the River Mersey from the Runcorn Bridge with a ball.
I defend the right of people to post any views, but I would have expected more from my fellow Evertonians. Perhaps not as this is, after all, ToffeeWeb.
James Flynn
60
Posted 30/03/2021 at 01:03:39
Danny (50) - We could stack a first-rate side of U-23s but didn't.
I don't know the inner workings of our National Team organization. My guess is that the World Cup is the priority.
So a decision was made to keep our U-23 top talent (which we sure have) out of the Olympic team to save them for World Cup qualifying.
Michael Kenrick
Editorial Team
61
Posted 30/03/2021 at 11:20:29
Peter @59,
Sorry to hear that this thread has upset you, that it epitomises ToffeeWeb for you, and that you no longer are an avid reader.
While some of the posts are nasty, and belittle both the player and the potential seriousness of the disease, my impression (without reading them all again) was that they were typically light-hearted in the main, and reflected both the humour and diverse (and yes, the less desirable) membership of our fanbase, as well as reflecting the hugely disappointing contribution the player himself has made to our campaign this season.
You blame ToffeeWeb for this. I wonder what it is you expect us to do about it?
These posts unquestionably represent a range of views and opinions from Everton fans themselves. Do you expect us to intercept and remove ones that you are not going to like? Perhaps you can see how difficult that would be...
Or do you not want these other Evertonians to post their views at all because they upset you? The tendency today with social media is to chisel out your own bubble of the like-minded and only exchange similar views with them, isolating yourself from the great unwashed horde and their nasty, vicious, baseless, cowardly, hateful and ignorance.
Surely better to stay and challenge them directly for their baseness, than storming off, if you really feel that strongly?
Simon Dalzell
62
Posted 30/03/2021 at 11:28:11
Peter (59). Spot on. It's obviously not a joking issue, and I would like to wish Alex a speedy and full recovery. I do not agree with your ' it's ToffeeWeb after all'. I would say that's rather unfair. Generally It's a fantastic site with inevitably the odd ill advised comment. That's Humankind for you. Perhaps for the benefit of your mental health, you should stay off all together.
Chris Williams
63
Posted 30/03/2021 at 11:41:46
It seems he's now tested negative and plays tonight.
Colin Glassar
64
Posted 30/03/2021 at 12:06:56
Iwobi's test results are even more confusing than his contribution on the pitch and his "playing style".
Peter Fearon
65
Posted 30/03/2021 at 12:38:45
Michael Kendrick, I don't expect ToffeeWeb to censor what people post. I defend people's right to post vicious, hateful, spiteful trash. What I was expressing was my disappointment at reading Evertonians rejoicing that one of our own players had tested positive for a potentially serious disease. That's not light hearted banter. I seem to remember though, that you and Lyndon were concerned enough some time back to try to encourage posters to be less negative in their outlook. How's that going? ToffeeWeb's posters have been a mean spirited bunch for years. I did what any sensible person would do when they don't enjoy reading something. I stopped. ToffeeWeb is like an old girlfriend. You dump her, then get back together for a night and next morning you remember why you stopped seeing her.
Danny O'Neill
66
Posted 30/03/2021 at 12:43:14
On Iwobi the player, I often say that he confuses as much as he frustrates. We and our own players often don't really know what to expect so what chance do the opposition have? Sometimes that can actually work in our favour!
Tom Harvey
67
Posted 30/03/2021 at 12:55:47
We've got too many players (passengers) like Iwobi who we just won't miss.
If any other clubs offer anything half reasonable (half of what we paid) for him we should snatch it and run.
Ian Edwards
68
Posted 30/03/2021 at 13:26:10
I agree with Peter 65.
Far too much personal abuse on this site which in my opinion is not dealt with appropriately. I suffered a torrent of personal abusive filth on the live forum at the last home game. I reported it during the game by clicking on the report link and after the game by emailing Lyndon on an email address that he used to contact me last November. To date I have had no acknowledgement or reply to either report. Not good enough.
Danny O'Neill
69
Posted 30/03/2021 at 14:00:09
Okay, thought twice about this.
The original point raised by Peter is relating to abuse of an Everton player. Many on here criticise players and the manager alike according to their footballing views. That's welcome and what sites like this are all about; debating different views... otherwise, we may as well signpost ourselves to subsets of ToffeeWeb where we all agree with like-minded people.
The point Ian raises is slightly different as we are talking personal abuse to fellow posters because we disagree. I think we all accept debate can get heated, which is acceptable. Also that sometimes context in the written word can be taken the wrong way, were it said face-to-face.
But in both cases, it is abuse if it crosses a threshold where it becomes unacceptable, as Ian states. Unless blindingly obvious to all, the complexity is that we all have different tolerance thresholds.
I understand Peter's frustration with some of the views, although personally I don't see anything massively offensive or over the top. Perhaps ill-thought and not presented very well, but no malicious intent and more dark humour than anything.
I think Michael and the editorial team do a very good job and maintain a delicate balancing act between stepping in where appropriate and allowing discussion to flow, even when it starts getting heated and personal. Often in their own time I suspect.
We are all guilty sometimes, myself included, but the old saying of think before you speak is magnified on Internet forums in the guise of think before you write and post. Especially on that live forum, which in the emotion of the moment, can very quickly get very toxic.
That's my view or, as Ken Buckley used to say, how I see it "from my seat".
Michael Kenrick
70
Posted 30/03/2021 at 15:11:42
Ian,
I went through the Live Forum posts after the fact and removed the posting privileges for those who abused you. This will perhaps improve your experience of the next Live Forum.
Peter,
So "ToffeeWeb's posters have been a mean-spirited bunch for years"?
Sweeping generalization there, Peter. There are some really nice people on here who bend over backwards to empathize with their fellow supporters and share personal tragedy and grief. But you probably skip over those posts.
I'm sorry but you'll have to help me here if your post is to mean anything: let's have some specifics, please, as I don't know what you are classing as 'rejoicing' and really I can't see that much bile, to be honest. Name and number, please!
Ian Edwards
71
Posted 30/03/2021 at 15:22:04
Thanks Michael. 👍
Steavey Buckley
72
Posted 30/03/2021 at 15:23:27
Well done, Michael.
Martin Mason
73
Posted 30/03/2021 at 16:04:12
Good luck to Iwobi and hope it's a false with him being available soon.

---
Add Your Comments
In order to post a comment, you need to be logged in as a registered user of the site.
Or Sign up as a ToffeeWeb Member — it's free, takes just a few minutes and will allow you to post your comments on articles and Talking Points submissions across the site.