Bench duty for Everton duo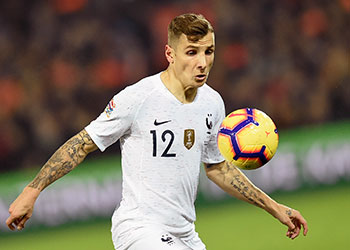 Lucas Digne and Dominic Calvert-Lewin were named on the substitutes' bench by their respective countries in World Cup qualifying this evening.
Digne was among the subs for France in Bosnia-Herzegovina while Calvert-Lewin was initially watching on as England hosted Poland.
At Wembley, England looked to be heading to a frustrating 1-1 draw but Harry Maguire struck late to hand Gareth Southgate an important winner before Calvert-Lewin was introduced in the 89th minute to help see the game out.
Digne was unused by France as they eked out a 1-0 win over the Bosnians.
Meanwhile, both Ben Godfrey and Tom Davies reportedly failed fitness tests and were ruled out of tonight's crucial England U21 match against Croatia, raising questions about their fitness for Everton's upcoming Premier League game against Crystal Palace on Monday.
Davies was subbed with 20 minutes remaining against Portugal on Sunday while Godfrey played the entire match but did receive treatment during the game. No further details on the nature of their injuries has been forthcoming.
In their absence, England failed to progress from their U21 European Championship group after a late goal by Domagoj Bradaric halved the two-goal margin Aidy Boothroyd's side needed in order to qualify.
An earlier version of this report erroneously assumed that Iceland's substitute this evening was Gylfi Sigurdsson. It was Arnór Sigurdsson.
---
Reader Comments (119)
Note: the following content is not moderated or vetted by the site owners at the time of submission. Comments are the responsibility of the poster. Disclaimer
Bill Gienapp
1
Posted 31/03/2021 at 19:14:27
Oh Jesus.
Tom Bowers
2
Posted 31/03/2021 at 19:14:29
Just as well they didn't play. The stand-ins blew it in injury time.
Hugh Jenkins
3
Posted 31/03/2021 at 19:43:35
Hopefully the fact that it was "fitness tests" they failed and not out-and-out "non-selection due to injury", will mean that they were "almost" fit enough to be selected – but not quite.
Hopefully, whatever ails them, will be cured by Monday.
Paul Birmingham
4
Posted 31/03/2021 at 20:59:01
Hopefully the international players from Everton will all return to Finch Farm, unscathed and ready for a battle with Palace, on Easter Monday.
Brent Stephens
5
Posted 31/03/2021 at 21:00:42
Stones disaster.
Tony McNulty
6
Posted 31/03/2021 at 21:02:19
Brent - he should have listened to the Park End all those years ago
Brent Stephens
7
Posted 31/03/2021 at 21:03:04
And he'd been playing much better of late.
Paul Swan
8
Posted 31/03/2021 at 21:16:43
Typical Stones. If he sticks to doing the simple he looks a player. Unfortunately when he believes he's billy big balls and showboats he gets caught out. I'm not impressed by Pope either.
Danny O'Neill
9
Posted 31/03/2021 at 21:20:14
Is it me or is Maguire a more expensive Michael Keane?
Brian Williams
10
Posted 31/03/2021 at 21:21:28
England's performance is very Evertonlike tonight. Paucity of chances created and side, side, back, back, side passing coupled with a lack of bravery and a refusal to take risks to create something.
And no changes "yet" to a team that's not performing in this second half.
Mike Gaynes
11
Posted 31/03/2021 at 21:25:20
This is the first time I've seen England in a WC qualifier in quite a while. Do they always look like this?
Also, if you're up for a laugh, check out the replay's of Unai Simon's spectacular brain fart in the Spain/Kosovo game. The clown on TW who previously suggested Simon as our next keeper should be ashamed of himself. Oh wait, it was me.
Brian Williams
12
Posted 31/03/2021 at 21:29:50
Mike, yeh they do pretty much look like this against any half decent team, shite in other words.
DCL gets two minutes?
I'd have told Southgate "Nah yer alright, I won't bother ta."
Danny O'Neill
13
Posted 31/03/2021 at 21:30:21
Then scores a goal like that!
England always overate themselves Mike. They dine off 1966 and the Premier League.
The reality is averageness. It boils down to the failings of our grass roots but I won't bore everyone with that!
Mike Gaynes
14
Posted 31/03/2021 at 21:31:14
Nice to see Dom on. 4 in 6, right?
Tony Abrahams
15
Posted 31/03/2021 at 21:32:51
Agree Danny, but I think McGuire is much more aggressive. Bad mistake by Stones, but he's still the best player I've seen this season, and although you can't make excuses for what he did, I'm sure that ball would have went straight back to the keeper if he'd have been playing for his club tonight
Kieran Kinsella
16
Posted 31/03/2021 at 21:43:18
Germany got 10 minutes of Fuehrer time and couldn't find an equalizer. Auf wiedersehen Joachim.
Danny O'Neill
17
Posted 31/03/2021 at 21:46:48
Valid point. Forget debate over his pace, Michael Keane is way too placid and nice.
Stones; had we kept hold of him, I wouldn't be rambling about the prospect of Koulibaly! Great player. Yes a mistake tonight, but to other discussion, you can only play with what is around you. As you say, with confidence in the keeper, he plays that back. That's where the space was.
Danny O'Neill
18
Posted 31/03/2021 at 21:48:31
And "Wilkommen Jurgen" Kieran?
Kieran Kinsella
19
Posted 31/03/2021 at 21:51:06
Danny
Hopefully lol followed by "Let's be 'avin you San Allardyce" at Anfield
Mike Gaynes
20
Posted 31/03/2021 at 21:51:16
North Friggin' Macedonia. That is just way too funny. And Werner was the funniest of all.
Wait, I'm wrong about that. ESPN interviewing Klinsmann. The expression on his face just put me on the floor. Looks like a Picasso portrait.
Martin Mason
21
Posted 31/03/2021 at 21:53:02
Jeez it's really painful watching England. No equaliser if Pickford was playing as his distribution is so good, it was actually a dreadful pass out from Pope that pulled Stones back into trouble. After that he did it all by himself. That is also the type of save Jordan makes for fun.
Rob Halligan
22
Posted 31/03/2021 at 21:53:10
Bingo has said he's not interested in the Germany job, but if Joachim low is given the boot and bingo is approached, I'm sure he'll take the job.
Danny O'Neill
23
Posted 31/03/2021 at 21:58:40
Poor touch from Stones, but if he had confidence in the keeper, he knocks that back to him.
Kieran Kinsella
24
Posted 31/03/2021 at 21:59:07
Rob 22
I always think it's amazing how many players and coaches insist they are "not interested" in jobs they haven't been offered. Then miraculously when an offer arrives they are "interested." Like you, I could see him hopping ship if the chance arose. Especially with Gbamin back in full training.
Ron Sear
25
Posted 31/03/2021 at 22:09:03
How many games did Everton lose when Stones did that in front of the goalkeeper instead of booting the ball into row Z? I think I lost count one season at around five. But really amusing to watch DC-L playing footsie round the corner flag at the end. Just like Everton - a game of two halves..
Danny O'Neill
26
Posted 31/03/2021 at 22:11:10
Does booting the ball into row Z retain possession and put you on the front foot?
Stones is doing well and has medals / trophies to prove otherwise.
Mike Gaynes
27
Posted 31/03/2021 at 22:21:07
Slightly off-topic, but we're reportedly in for a young Yank striker!
https://www.eurosport.co.uk/football/transfers/2020-2021/manchester-city-and-chelsea-see-romelu-lukaku-as-ideal-back-up-plan-transfer-notebook_sto8198835/story.shtml
"Everton are interested in Daryl Dike, the American forward producing great displays at Barnsley. He is on loan at Oakwell from Orlando City FC and is due to return the US in time for their new season in one month. However, he has made such an impact in his short spell in the Championship that it is not beyond realms of possibility that he is offered a move to the Premier League before long. Everton scouts have been impressed with his displays as he has turned in five goals from 11 appearances so far for the Tykes. It is believed he has a valuation of $20 million from MLS if the Toffees do decide to follow up initial interest in the 20-year-old."
Dike is a physical monster, 220 pounds with Adama Traore's muscle and blazing pace, and an aggressive runner with a nose for goal. But he's really raw, and for a player of his limited experience $20M seems extremely high.
But the potential is there. He's my pick to be the starting US striker in Qatar. So we'll see.

Tony Abrahams
28
Posted 31/03/2021 at 22:22:22
My memory is terrible but I can't remember all these mistakes that led to giving goals away Ron?
I remember the crowd going crazy when he told them to calm down, and I remember him being a great young footballer, who we got top money for, until you think that we spent the money on Keane and Mina, who are not in the same league. (Just my opinion)
Football is all about opinions, mine is that every time I've watched City play this season, that Stones just oozes class, but he gave a bad one away today, and will get a lot of stick accordingly.
Martin Mason
29
Posted 31/03/2021 at 22:24:45
Mike@27 I'm not the Martin Mason you imagine I am, I've never heard of Fiver and have never contributed there.
Ron Sear
30
Posted 31/03/2021 at 22:25:08
Danny (26) but England didn't retain possession and let in a goal and took a long time to get back on the front foot. Sometimes you have give yourself a breather and organise yourself for a throw in (God I hate the Yank spell check on ToffeeWeb that insists that in the word organise 's' should be a 'z'. change it to UK English somebody).

Tony Abrahams
31
Posted 31/03/2021 at 22:26:29
Been a lot about this all over the internet today Mike. It does seem very expensive, but he sounds like he might have a chance, and one thing most Americans do is work hard, so watch this space, as they say!
Danny O'Neill
32
Posted 31/03/2021 at 22:26:37
Interesting Mike. Nearly 16 stone and pacey. Sounds similar to Jonah Lomu from a Rugby Union angle.
Martin Mason
33
Posted 31/03/2021 at 22:27:05
Rob@22 He wouldn't take the pay cut.
Mike Gaynes
34
Posted 31/03/2021 at 22:41:16
Danny, I remember Jonah as being about 6'-5" and 260 with legs like bridge abutments. Dike isn't that. But I don't think Virgil would be trying to thump
him
in the nuts like he did James.
Martin M... OK mate.
Don Alexander
35
Posted 31/03/2021 at 22:47:12
Danny, If there's ever a 6'5" player with the power and pace of Jonah Lomu there'll be a queue from Barca to Barnsley to sign him. But a very pacy 16 stoner would be a sight to behold, as our Victor was supposed to be, years ago. Maybe the American has summat between his ears though.
Tom Bowers
36
Posted 31/03/2021 at 22:54:48
Yep, Maguire saved Southgate's blushes. If that goal hadn't gone in, late as it was, then the critics would have been all over Southgate like a bad rash.
Imagine, England's innocuous offence for 85 minutes (except for a penalty) and no substitutions made. That was a major mistake by a man who has shown he is still not the manager for England.
Okay 3 wins in 3 games but the opposition was woeful and Poland missing their best attacker made it so difficult for Southgate's crew.
Bill Watson
37
Posted 31/03/2021 at 23:25:38
Despite Stones having a great second half to the season, he always has that mistake waiting to happen. Call me old-fashioned but I think defenders should defend and not fanny about on the edge of their own penalty area.
Si Cooper
38
Posted 31/03/2021 at 00:01:11
'Showboats', 'fanny about' ... oh come on, gents. It was simply a poor touch with a player rapidly closing him down. He wasn't trying to do anything clever, and it was nothing like what the Park End berated him for.
Darren Hind
39
Posted 01/04/2021 at 04:17:54
"Stones should have listened" to the Park End panic merchants.
Perhaps if he had, he'd still be here playing soulless zombie football for the latest in a line of cowardly managers.
I thought Stones was finished with his mental health issues and, having read many quotes from Pep, I believe he was beginning to despair too. But he is back looking by far and away the classiest English defender since Bobby Moore.
"Yeah but the useless twat doesn't even know where Row Q is, never mind Row Z". "In my day, defenders bloody-well defended!"
As Stones picks up another couple of medals this season he will look back with a dewy-eyed nostalgia at the time he played in front of like so many like-minded football-loving entertainment junkies.
Stoke fans would have long since turned their backs on the football we play. Still, let's get all excited about a mistake from one of the game's true artisans. The bastard will probably only win a couple of trophies this year anyway. Then we can start buzzing about the prospect of signing Jethro Bodine from Barnsley.
The old adage "You get the team you deserve" has never rang truer. The trouble is... the rest of us get it too.
John Stones??? Pffft. Yerry Mina can control it further than this Fancy Dan prick can kick it.
Avvvviiiiitttt !!!!!
Jay Harris
40
Posted 01/04/2021 at 04:32:51
Stones is a great passer of the ball and is good on the front foot.
Defensively he is very average both in the air and in the tackle.
IMO he is benefitting from Man City's dominance in games and playing alongside Dias.
IMO Ben Godfrey is a much better centre-back.
Derek Knox
41
Posted 01/04/2021 at 05:29:38
Darren @39, you do crease me at times, mate.
Admittedly some of the 'football' served up recently has been verging on yawnfest, but to call Carlo a cowardly manager is a bit over the top. You must remember that he has inherited largely a group of mismatched and injury-prone footballers, but I can see that he is slowly turning it around and weeding out the 'sick and weak, but very well paid, misfits', and replacing them with genuine quality.
Next Transfer Window will speak volumes as to where we are going, and who with onboard. He has openly admitted he is enjoying life at Everton and wants to stay as long as is possible.
Just imagine when we get to Bramley-Moore Dock what we may look like and hopefully be the envy of the footballing world. So park the 'vertical trampoline' for a bit, sit back and enjoy. 😜
Drew O'Neall
42
Posted 01/04/2021 at 05:35:36
Mike
I watched Dike's Orlando highlights and saw a player who had good spatial awareness and consistent good quality high speed decision making, which are the two attributes I really admire in Harry Kane and the type which you cannot easily coach or build in the gym.
He has the raw physical attributes so no problems there. He works well as a target man bringing others in so I think he would work well as an understudy to Calvert-Lewin in terms of us not needing to adapt our style if we lost the latter for a few games.
I then watched his recent performances for Barnsley which was a collection of those 'every contribution in a match' videos, which certainly wasn't a highlights reel and provided a more balanced view. For Barnsley, his decision making wasn't as good when he was back to goal and surrounded and that may be a) playing in a team or a league where he is receiving the ball further from the opponent's goal and with more attention from defenders or b) a faster pace to get used to or c) just more representative of his performances generally than the highlights but the result was more misplaced passes and headers.
That said, what I would say about him is he hunts the ball which means he's always involved. He's not one of these centre forwards who goes missing. If we're camped on the edge of our box he will always give us an outball.
So in summary, the guy is young and already has the physical attributes, tick. He understands the role, he's mobile and he enjoys a battle, tick. He has potential to develop with better players and coaches around him, tick. Can he make good decisions and correctly utilise space at a higher level than the MLS, maybe.
So where would he fit in? He'd definitely be playing second string to Calvert-Lewin.
Should/Could we get him? There's a lot still to prove so I'd be looking to take him on another loan with an option to buy before his stock rises any higher. If they'd loan him to Barnsley presumably Orlando would loan him to us too.
Final question for me is: are we still playing in this market? Unquestionably a Moyes-era Everton should be taking a chance on a young prospect like this if we could get him on a loan to buy but this is Ancelotti's Everton and, more importantly, Moshiri's Everton which requires a couple more pieces of the jigsaw to become a top four side. Perhaps the best thing for Everton would be to secure an option on this guy with him spending a year on loan at a 'lower level' Premier League outfit while we tie up our valuable 21/22 squad positions only with proven European level strikers.
This is what Brands gets paid to assess and balance. For my money (coming in on the boo-boys on another thread) he makes a good job of improving that balance window by window, especially when you consider the mess he had to unpick following Koeman and Walsh.
Steve Brown
43
Posted 01/04/2021 at 06:31:19
Apparently Davies and Godfrey failed late fitness tests for the U21s. I hate international breaks.
Robert Tressell
44
Posted 01/04/2021 at 07:18:50
Good write up on Dike, Drew. Sounds like he's a bit raw for the Premier League but has mental and physical attributes to make it if he keeps developing.
I saw a rumour this morning linking us to Igor Jesus, a 20-year-old Brazilian striker playing in the UAE.
Are we still playing in this market? That's a good question. Not for first-teamers certainly. But for depth and succession planning I would hope we are.
As an aside, I notice that Villa have appointed a Head of Loans and Head of (something like) Championship Talent.
I think they are looking at how to use the Championship and lower tiers as a place to nurture their talent and a good market for players like Cash and Konsa who have done well for them.
Danny O'Neill
45
Posted 01/04/2021 at 08:09:27
As well as Watkins, Robert. I for one admittedly raised an eyebrow at the amount they splashed out on him.
Players and managers, I never like the leaning some have to preferring Premier League experience.
With regards to Dike, thanks for the assessment. He sounds very interesting prospect indeed. I wonder if, however, he will end up in the Bundesliga first? They seem to have more than a passing interest in the North American market.
Andrew Ellams
46
Posted 01/04/2021 at 08:18:25
After watching the 3 England games in the past week, I'll take Jordan Pickford over Nick Pope and Ben Godfrey over John Stones but I do like what I saw of Kalvin Phillips and James Ward-Prowse.
Robert Tressell
47
Posted 01/04/2021 at 09:01:16
Andrew, I agree re Pope. I think he looks good for Burnley in the same way Keane looked so good for Burnley. They play a simple style that suits them and gets the best out of limited players. That's fine for Burnley with their goal of survival - but is very self limiting. It's why Dyche will not be courted by big clubs (that and the comedy voice) despite doing such a brilliant job.
Pickford is a better fit for us (and England) because of the style we play.
Rob Halligan
48
Posted 01/04/2021 at 09:20:59
Did anyone see the carnage at the end of the England U21's game against Croatia, started by Curtis Jones of the RS? SSN reported the incident as Jones over reacting due to celebrations by the Croatian kids, and decided to wade into them. Though why they should celebrate I don't know, because England won, though looking at the final group table, Croatia finished second, so maybe they qualified for the knockout stages? Whatever though, Jones was shown a second yellow for his reactions just because another team celebrates at the final whistle. What's that saying "Like father like son". Seems on this occasion it's "Like players like fans", as RS fans aren't fond of losing either!!
Derek Knox
49
Posted 01/04/2021 at 09:30:06
Rob @ 48, without sounding like the Devil's Advocate here, and definitely not defending RS attitudes at all, I think all players should hate losing, but to wade into another team, or individuals, because they are celebrating for whatever bizarre reason, is both despicable and needs to be eradicated.
However as the main culprit plays for you know who, there will be little or no repercussions at all.
Tony Abrahams
50
Posted 01/04/2021 at 09:40:20
Good assessment that Drew. I bet you English football is different to MLS, so I wonder how much truth is in this rumour.
Alan J Thompson
51
Posted 01/04/2021 at 09:46:39
And if nobody else has mentioned it, we've done well with other buys from Barnsley.
Martin Mason
52
Posted 01/04/2021 at 09:52:29
Reading the likes of Darren, it's sad to see that, in the age of the Social Media Warrior, comments on any issues are now made based on total subjectivity without gratitude and without a trace of humility. There is a reason why Darren is just a fan and Carlo is a multi-millionaire and very successful manager and that is based absolutely on knowledge of the game.
I'm really surprised that Carlo doesn't know that all he needs to do for European qualification is to stop being "cowardly" (eyes rolling). I'm proud of what the club is doing now and, yes, grateful that I support such a great club that is now challenging the rich clubs.
There are problems and we don't need Darren to tell us what they are but the right staff are now in place to resolve them and we still need 3 or 4 players to get to where we need to be. We're not there yet but support is what is needed, some find that concept difficult.
Rob Halligan
53
Posted 01/04/2021 at 09:56:06
Derek # 49. Totally agree, as I always hated losing when I was playing. Never felt the urge to wade into the opposition for a good old barney though. Had enough of those during the actual game!!
Brian Harrison
54
Posted 01/04/2021 at 09:56:49
I quite enjoyed watching England and I can't say I have done that too often, but Southgate seems to be putting together a really good squad.
I have to say Declan Rice was the standout performer, I can't see West Ham keeping hold of him. I thought Mason Mount and Phil Foden also put in good performances, how nice to see so many young talented kids playing for England. Some really nice link up play and never stopped playing the right way.
Then we have Jack Grealish to come into the mix and a few others who werent there because of injury, so all looks really exciting. I think Kane looked a little tired last night and that is the only part of the squad that we lack top quality if Kane gets injured.
DCL has improved immensely this season and has proved to be clinical in the 6 yard box, but whether that ability will be enough I don't know. Also Tammy Abrahams is struggling to get game time for Chelsea and that must be a concern for Southgate as he and Dominic are the only alternatives to Kane at present.
Mads Kamp
55
Posted 01/04/2021 at 10:03:30
If I was Brands I would take a close look at the Danish national side + U21. So much talent! Catch Andreas Skov Olsen before the bigger sharks smell his scent!!!
Derek Thomas
56
Posted 01/04/2021 at 10:20:43
John Stones always has a mistake in him, especially without his high quality covering Man City teammates... Shocker.
Tony Abrahams
57
Posted 01/04/2021 at 10:36:58
I can still remember his covering, stopping a certain goal, on the line against Liverpool by a centre-metre, Derek, a covering save that ultimately won Manchester City, the league.
The arguments will "to and fro" some prefer a John Terry, some prefer a John Stones. He's got previous doing this type of thing for England, so it will be interesting to see if Southgate sticks with him, but I don't buy him getting covered, (maybe protected?) because he usually plays last man.
Gerry Quinn
58
Posted 01/04/2021 at 10:46:27
Tony, a "centre-metre" - is that what they use to measure and paint the centre circle?
Tony Abrahams
59
Posted 01/04/2021 at 11:07:16
I know they use white paint, Gerry, but I don't know what they use to measure it with though. Goal-line technology measured Stone's defending that night... very precise!
Eddie Dunn
60
Posted 01/04/2021 at 11:23:20
On England. I think they will struggle against any decent side. Sterling is a threat but greedy and Mount is easy on the eye but against a top side I think he will be nullified. Chilwell looked very good as did Rice.
I was astounded that Southgate failed to make an earlier sub. Kane looks tired and was trotting out wide(without his markers) and Foden was getting the ball too late. Walker had clearly been told to hold back and thus I only saw him hit one cross, too hard!
Stones and Maguire looked okay, and I felt for John with that poor touch. He made amends making the header for the equaliser. Kalvin Phillips is very ordinary ad no better than Tom Davies. Pope is not a patch on Pickford.
The media hype these lads up but, although they are a handful, they are not quite good enough.
Danny O'Neill
61
Posted 01/04/2021 at 11:29:23
Interesting shout Mads Kamp @55. I have no idea about the calibre of the current Danish player, but I wonder if there is something in that given Brentford's recent period of threatening promotion to the Premier League. And being decent to watch as well.
Danish manager and a more than healthy smattering of Danish players in their squad.
Christopher Timmins
62
Posted 01/04/2021 at 11:40:56
I just wish all of our players were on Bench duty over the past week and a half. The only thing the International break brings is injuries.
Ian Burns
63
Posted 01/04/2021 at 12:05:55
With apologies to Mike Gaynes but the striker Dike is the type of raw that cannot be polished, at least to the point where he becomes a quality Premier League player. I pray any links to us are just paper talk.
John Stones deserves criticism for his error last night but for me he remains the best centre back in the country and his determination to make up for his error by laying on the winner for Maguire should be applauded.
As for England - so much talent on display but the players are looking tired and as bored as we are watching them.
Derek Knox
64
Posted 01/04/2021 at 12:07:18
Danny @ 61, a lot of these Danish Managers do seem to 'bring home the bacon', excuse the pun, I thought Daniel Farke at Norwich showed great attacking flair, but their defensive frailties were their undoing. For a small Nation they do seem to produce a lot of good players. Whether Marcel Brands et al are on this lads trail is a matter for conjecture and speculation.
Tony Everan
65
Posted 01/04/2021 at 12:16:30
Derek K, 49
I had a mate who played for the Everton youth team during Howard Kendall's years. I played five a side with him regularly. He absolutely hated losing, it didn't matter that it was a mini five-a-side tournament on a Wednesday night or a summer Sunday afternoon. He would be furious, devastated and inconsolable if we lost. He didn't even want to look at any of us that he thought let the team down. We disgusted him. I think some people are born with that tunnel vision type personality trait.
Mads Kamp
66
Posted 01/04/2021 at 12:58:41
@Danny, there are better Danish players out there than the Brentford lot. Yesterday Denmark smashed Austria 4-0! In Vienna!!! As stated above, Andreas Skov Olsen is a superstar in the making. Mikkel Damsgaard is also brilliant!
@Derek. Daniel Farke is German, not Danish. Please, do not mix those two, Denmark and Germany. It's like saying Mick McCarthy is the national coach of England.
A lot of people, especially overseas, think Denmark is the capital of the Netherlands!! Tiresome...
Danny O'Neill
67
Posted 01/04/2021 at 13:06:36
I see what you've done there Derek. It reminds me of a joke one of my uncles always used to proudly roll out when we had our very first sponsor. "Everton hanfnia won August". Cue tumbleweeds!
As Mads says, you inadvertently strayed into creating a Prince Phillip style diplomatic slip of the tongue there!! Like when our American brethren rile our north of the border cousins talking about Scotland being a place in England!!
On a serious note, Denmark does have a rich history in producing high calibre players in comparison to population size. Holland I think is the one that punches most above its weight and Croatia are another. Both Denmark & Croatia have similar population sizes to Scotland, one slightly more, one slightly less.
Steve Carse
68
Posted 01/04/2021 at 13:36:44
On the subject of cool defenders, the ultimate 'I now need another pair of undies' moment for me was a game in the 70s at GP (v Leeds I think). 'Tiger' McLaughlin had stopped the ball right on our goal line (I think the ball had just hit the cross bar) and a posse of Leeds players were closing in on him at pace. Not for Tiger the simple wellie into the stands. No, he waited until one of the Leeds players was right on top of him, then casually rolled the ball under the sole of his left boot, sidestepped the opponent, and then continued to casually stroll out of the 6 yard box to complete the clearance. Made John Stones look like Glen Keeley. And the incident was under the noses of the Park End!
Danny O'Neill
69
Posted 01/04/2021 at 13:46:20
Thanks Steve. I can only hear the name Glen Keeley in the voice of Derek Hatton since the Howard's Way documentary!
Brian Hennessy
70
Posted 01/04/2021 at 13:50:51
Any unhappy England fans should spare a thought for us over here in Ireland.
We are now among the very worst teams in world football. The lack of quality is quite astounding. The fact that our FA allowed Grealish and Rice to slip through their hands only makes things worse. They both should have been given first team appearances when part of the Irish underage set-up.
Robert Tressell
71
Posted 01/04/2021 at 14:19:23
Mads, there's quite a few very young lads in the Danish league who seem to destined for bigger things. Sulemana, Francis, Daramy, Lindstrom, Slimane (who we were linked with last summer) and Feghir. That last lad, an Afghan by heritage, looks to have amazing potential. Have you seen anything of them to suggest they'd make the grade here.
David Hayes
72
Posted 01/04/2021 at 14:24:01
Derek #56.
All players make so-called mistakes all the time, when a forward misses the target or doesn't score a chance, that's a mistake, or when a pass goes astray, like happens multiple times each game, that's a mistake. Are all those players everywhere carrying a potential mistake? Yes, they are. If a striker misses an open goal does, that mean he has a mistake in him, for the rest of his career?
This phrase, attributed to certain players only, is just confirmation bias, from pundits trying to justify their pointless existence. From fans' pantomime villans. We all need villains and heroes no matter what the actual reality is.
Tom Bowers
73
Posted 01/04/2021 at 14:52:22
Brian Hennessy I do sympathize with you. Young, talented players who have the choice usually opt for the bigger team names in soccer if they feel in their own minds they have a good shot at being selected.
Ireland have had many fine players over the years but the pool to call from is so much smaller than that of England etc.
However, considering the bigger pool of players, English players when selected just never seem to raise themselves above average when playing for their country and fail miserably when up against the Germany's Belgium's and Spain's in the major competition's. They even sucked against a weak Polish team yesterday.
England, like most others will come out on top against the Moldova's, Albania's and San Marino's which mean's nothing.
Southgate just doesn't have the driving quality to get the best out of them and generally selects many players from the media mentions.
Danny O'Neill
74
Posted 01/04/2021 at 14:59:56
Stop it. I'm resisting my latest rant about the state of grassroots football in England, the UK, the British Isles in general.
Holland, Denmark, Belgium and Croatia demonstrate that population need not be an excuse or barrier.
Mike Doyle
75
Posted 01/04/2021 at 15:00:39
Danny #67,
Before the last World Cup, I read an interview with a Croatian who was involved in player development. He made the point that, because of the relatively small population, Croatia cannot afford to let players with potential slip through the net at a young age because they may be smaller or slower relative to their peers. Instead they would persevere.
I think he suggested that, had he been born in the UK, a player like Luka Modric probably wouldn't have made it to first-team level as bigger, stronger, faster boys would have been preferred. I think Denmark has a similar approach.
Not sure what the position is in Scotland, other than to observe that their leagues seem to have a large Scandinavian contingent. Perhaps Mads can confirm?
Danny O'Neill
76
Posted 01/04/2021 at 15:07:16
Add Messi to Modric Mike. I am totally convinced that if (hypothetically), an English equivalent of either player had grown up in the UK in recent times, they would have been overlooked as being "too small & lightweight".
We are embarrassing when it comes to youth development.
Still resisting. I've bored everyone enough on my views on this!
Derek Knox
77
Posted 01/04/2021 at 15:30:33
Danny @ 76, Don't be so hard on yourself. "Still resisting. I've bored everyone enough on my views on this!"
Wake me up when you've finished mate! 😜
Robert Tressell
78
Posted 01/04/2021 at 15:34:38
I'm never bored by that view, Danny. I think there's an awful lot wrong with youth football and our cultural approach to football generally. Size and physical attributes such as pace and tenacity and you can see that in spades in the players we produce. These guys overpower the undervalued artists at a young age and look much better than they really are. I also suspect that there is a huge untapped population of Asian talent in this country too.
Brian Wilkinson
79
Posted 01/04/2021 at 15:41:54
I have said it many times over the years, and will say it again, John Stones is not a centre half, well ok he is being played as a centre half, but for me there is a much better midfielder in there.
Stones always plays a much better game, when he is further up the field, supporting and passing the ball around.
He made a mistake last night, but he has been playing very well this season, admitidly, I would look half decent in that City team, but give the guy credit, he has been performing well of late.
Mike Gaynes
80
Posted 01/04/2021 at 15:56:18
Drew #42, great writeup on Dike, I concur. You've seen even more of him than I have, but my biggest question with him is whether he can create his own opportunities to score.
Ian #63, hello, mate! Delighted to see you back on the board! Where've ya been, sir? And no apologies necessary, but why do you think young Dike can't be polished into a quality player?
Dave Abrahams
81
Posted 01/04/2021 at 15:59:13
Danny. (various), Danny never stop posting about youth team professional footballers, you have good views and state them well, other people might have different views, you always respond well to people who express those different views, with no animosity on your part, carry on regardless!!
What I would urge you to do, I don't know what Derek Hatton said about Glen Keeley, good or bad, but in the thirty odd minutes of his Everton career he wasn't very good, that was because he wasn't match fit, he hadn't played all that season when he came on loan from Blackburn, he told Howard Kendall he wasn't match fit, Howard told him he'd be okay, Keeley's wife told him he wasn't ready, he wasn't, and that was down to Howard Kendall, Glen Keeley was a very good centre back and proved it over many years and games with Blackburn, Howard knew he was a very good centre back, that's why he asked for him on loan, he just wasn't match fit that day.
Robert Tressell
82
Posted 01/04/2021 at 16:08:15
Mike, perhaps Ian is haunted by a similarly built US striking disaster that Sunderland bought for big money. What was his name?
Danny O'Neill
83
Posted 01/04/2021 at 17:02:06
Thank you Dave Abrahams. It's something I feel strongly about, so I'm conscious of not repeating myself. Well not too often anyway!!
On Glen Keeley, it's not the player. In honesty I had / have no opinion on him as I didn't see enough. You make a very good point though, especially with the Stones discussion. We often judge centre backs too early at a very young age. It is a position on the pitch you won't see the best out of until they are hitting 28 or even 30. I hope we don't ruin Ben Godfrey with over expectation and frustration when he has a dip; young players do and he will. Conversely, I also hope we meet his expectations and we don't lose him as we did Stones.
Back to Keeley. No slate on the player who I have no doubt was a good centre back. It's just Derek Hatton's pronunciation of his name on that documentary that goes through me!!
Ian Pilkington
84
Posted 01/04/2021 at 17:10:17
Danny@69, Dave @81,
The only thing wrong about the otherwise excellent Howard's Way DVD was the unfathomable inclusion of Derek Hatton.
Kieran Kinsella
85
Posted 01/04/2021 at 17:17:35
Danny O'Neill,
Good comparison of Croatia and Denmark. It's ironic too because in 1992 Yugoslavia (mostly comprised of Croatian players) were the favorites to win the Euros until they were banned, then somewhat reluctantly Denmark were drafted in as last-minute replacements and won the whole thing.
Bobby Mallon
86
Posted 01/04/2021 at 17:30:04
Brian @54,
I agree. I think it's the best midfield in the last 20 years. I think England have an amazing young squad. Forwards to add to your line Rashford, Greenwood, oh and Maddison into midfield as well. I think it's just down to the manager whether we win it or not. It's the manager that's the problem, IMO.
Bobby Mallon
87
Posted 01/04/2021 at 17:34:13
On the Everton front. I think we will buy proven players in the next transfer window with the likes of koulibali being bought.
Danny O'Neill
88
Posted 01/04/2021 at 17:45:19
I'd like to see a transfer window like last summer Bobby. Bring in established, proven players blended with a couple of potentials like Nkounkou and Godfrey.
Where we are and what I assume are Ancelotti's targets, we will be focussing more on here an now. Put us on the map, get into Europe and then build on that.
Eddie Dunn
89
Posted 01/04/2021 at 17:51:44
Mike @80,
Dominic Calvert-Lewin doesn't create his own scoring opportunities, and seems to be doing okay, so perhaps the lad doesn't need to!
Ian Burns
90
Posted 01/04/2021 at 18:21:54
Mike @80,
I seldom post these days but I am still a daily reader of TW. As far as Dike is concerned, I most certainly wouldn't like to get in the way of a shot nor would I like to be the one pushing him off the ball. However, he needs space and time and although this can be improved, in my opinion, it cannot be polished enough to make it in the Premier League.
Positioning is also extremely raw but like Calvert-Lewin this can be improved but I fear not to the point where he would be an asset to EFC.
Derek Knox
91
Posted 01/04/2021 at 18:25:12
Tony Everan @ 65, sorry Tony just gone back through the posts and spotted your reply to mine, I think we are of the same mind on players 'hating to lose' and I don't think there are many fans or match goers who would feel any differently, well I hope not. As long as they have given 100%, or even a bit more and tried their utmost no-one should complain, but also appreciate their effort, even if it results in a loss to a better team on the day.
What irks me is when some players, put less than half a shift in, and almost just go through the motions, and I hate to bring it up, but are more than adequately paid. Trotting off at the final whistle having been beaten, and laughing and joking with each other and often with the opposition players too, with no signs of regret, while some kid in the stand is crying his eyes out because his beloved team lost!
Ian Pilkington @ 84, "The only thing wrong about the otherwise excellent Howard's Way DVD was the unfathomable inclusion of Derek Hatton." How many times with certain so-called 'celebrities' do we see them worming their way into everything, Jermaine Jenas, The Redknapps, how greedy are they, adverts, non-football shows etc? Furthermore who is the faceless and probably nameless idiots behind the scenes that think they are providing entertainment with these despicable limelight-seeking cretins, being thrust onto our TV screens, and into our living rooms with annoying regularity?
Danny O'Neill
92
Posted 01/04/2021 at 19:09:38
I remember that Kieran. I watched Denmark win the final on the Rotterdam to Hull ferry on what I think was my first trip home on leave from Germany. It was an overnight ferry, so a great night out as it transpired! We had to pull in and sober up in a Little Chef before driving home the next morning.
I didn't realise the Yugoslavia thing, which is ironic as a couple of years later I was in Croatia and Bosnia myself.
Danny O'Neill
93
Posted 01/04/2021 at 19:19:57
Sorry, still catching up and always like to respond. Robert @78, that is a great point to raise.
In my experience of coaching in west London, the British-Asian players are in general very technically gifted but lack the physical aspects of the game.
Definitely a pool of talent that for some reason we do not seem to tap into. It goes back to what the focus is. Pace, size, power.
Alex Gray
94
Posted 01/04/2021 at 20:58:58
Am I right in thinking Godrey and Davies both got injured on international duty?
Henrik Lyngsie
95
Posted 01/04/2021 at 21:23:13
Mike, Robert and various posts. Regarding giving the opportunities to the smaller players in Denmark. Most Danish elite clubs would claim they do not go only for the physically gifted ones. But, in reality, there is a tendency to do it.
Every year, if you look at our U17 national team, by far the most players are born January to June. And it is not because you become a more technical player from being born in the first half of the year. You just had 6 more months to grow.
There has been efforts to try to make special arrangement for the small players. Tournaments for players born in the second half of the year etc. Right now, there are efforts to match the players in the same league on physique and not by age. I think they call it Bio blending where they allow smaller players to train and play with younger players.
Moreover, the elite youth is concentrated on fewer and fewer clubs supported by the FA and the kids are moving clubs much earlier than in the past.
A number of the players from our 1986 team played youth football in small clubs. Elkjaer in FB, Jesper Olsen in Faxe etc (yes you don't know these clubs. They are small). A player like Molby would never had made it today. A slow player like him would never had made it through a modern academy. Speed is one of the first competencies they are checking on. It makes sense to look at the speed since that is a prerequisite in modern football. But unfortunately I think they look too much on general physique in elite youth players. Speed is very difficult to change, but your general physique can be developed through training.
I am watching a lot of elite youth football in Denmark and I am not too impressed about the type of players they are developing. A few years back, I was watching Benfica's U15 team. They were very impressive. Their individual technical level was amazing. You could see they were allowed to dribble, take players on, take chances in their game. No wonder that you find Portuguese talent all over.
Mike Gaynes
96
Posted 01/04/2021 at 22:15:52
Ian #90, you can disagree with me all you want, just for the sheer pleasure of seeing you post again. Come back soon and we'll share a sip of Bombay in celebration.
Robert #82, that would be Jozy Altidore, who was never half the unit that Dike is -- similar aggression but 40 pounds lighter and none of the pace. But if Dike has Altidore's work ethic (and he appears to), he'll turn out just fine.
Eddie #89, I was more referring to the ability to just free himself with a touch to get a shot in. Dom has significantly improved in this area. If Dike can learn to do the same, he becomes really dangerous, because he has a rocket-launcher right leg that DCL could never dream of:
https://www.youtube.com/watch?v=DqbpZhsvWG4 (1:34)
Danny O'Neill
97
Posted 01/04/2021 at 22:50:01
Thanks for that insight Henrik.
You touch on some very good points. I like the call about fewer clubs. If we really want to overall the youth / grass roots, it should consist of less, but better organised teams with better facilities and coaches.
Talking of players coming through in so called smaller clubs relates to my experiences in Germany; relatively big names and teams still playing in local leagues or at least playing with them, even if just in friendlies. Allow young players to experience a natural environment rather than detach them from reality and enclose them in an academy bubble.
I do have to mention Molby seeing as you did. I'm an Evertonian but my word that was some player. If ever there was an example of a midfield orchestrater, he was it. He didn't need pace, he just used his brain and ability to spread the ball and make the play. I know I should wash my mouth out with soap, but you can't deny class when you see it.
Portugal is another good call. I called Brentford with their Danish contingent earlier. Wolves with their Portugese crew have entertained the past few seasons. And Portugal were European Champions in 2016.
Kieran Kinsella
98
Posted 02/04/2021 at 03:18:52
Henrik 95
You bring back sad memories for me. A letter I'd mailed in 1986 was returned Indirizzo Sconosciuto "address unknown" after I sent a fan letter addressed to Preben Elkjaer, Verona, Italy. However, a year later I was able to get his autograph as my Dad's mate was the Russian translator at the football league versus the Rest of the world. So I finally got Elkjaer's autograph along with a few other lads named Maradona, Futre, Platini, and a fellow named Lineker who was once active in these parts.
Although I should add I already had Lineker's autograph after mailing a letter simply addressed as Gary Lineker, Barcelona, Spain. I guess the Spanish postmen were more in tune with football than their Italian counterparts
Mads Kamp
99
Posted 02/04/2021 at 08:25:37
@Henrik95, but even a pessimist like yourself must admit that there is a wave of Danish talent, also attacking talent, at the moment.
Mads Kamp
100
Posted 02/04/2021 at 08:42:13
@Kieran98, what a beautiful story! I wish my dad was a russian translator...
Henrik Lyngsie
101
Posted 02/04/2021 at 10:32:29
Mads 99.
Thanks for calling me a pessimist. I was just providing input to the discussion on allowing smaller players to develop in a small country. Agree there seems to be some interesting young players coming through. I do hope they manage to get to the top level.
And by the way the pessimist in me would still mention that we still have a Youssef Poulsen in our starting eleven. I won't call him an attacking talent nor a technically gifted player. Just a hardworking player with physical presence. Nothing wrong with that. I do respect hard work and getting the maximum out of your talent. Buy a youth development system needs to bring through also other types of more technically gifted players. I do hope Skov Olsen will make the grade.
Tony Everan
102
Posted 02/04/2021 at 14:57:03
Gbamin is back, been training for two weeks and is available for selection. Carlo said it is like having a new player and he will be involved. It will be very interesting to see how good he can perform after so long out. There's no hiding place against any Premier League team, it will be tough , but the best of luck to him.
Jay Wood
[BRZ]
103
Posted 02/04/2021 at 15:17:30
Something poetic that Gbamin is in line to make his return v Palace.
It was 18 months ago he made his debut cameo appearance as a late sub against them on the opening day of the season in a dull 0-0 draw.
It wasn't the most auspicious of performances from the lad, nor his curtailed start at home to Wolves next game.
I really really hope he gets some game time in the closing fixtures, but he has a lot to do to convince perhaps even himself that he can still play at this level and the very physical Premier League.
Andy Crooks
104
Posted 02/04/2021 at 15:27:25
Danny @97, I agree. A few years ago I went with my late father-in-law who was a red, to see a local team play Liverpool "legends". Molby was, by some distance, the fattest and slowest player on the pitch. He was also the best by miles.
Thomas Richards
105
Posted 02/04/2021 at 15:28:59
Saw enough signs to suggest he has the ability to play in the Prem.
Just whether the injury has curtailed that.
If he gets himself back match fit we have a player.
Can also play centre half
Danny O'Neill
106
Posted 02/04/2021 at 16:50:44
Looks like it could be we are about to see Jay (BRZ) and Thomas.
I hope so and that we see the player we thought we were getting. No doubt we will discuss on the headline thread that has just opened. Looks like his return is imminent.
Tony Abrahams
107
Posted 02/04/2021 at 17:05:51
Very interesting that Henrik@95, about kids being allowed to dribble. If a kid goes past four players and scores, maybe it's got nothing to do with coaching? but if a kid gets it and does exactly what he's told, then he's not upsetting the coach!
You can go round the world with most things, my favourite Everton player Peter Reid, would also probably be to slow in the modern game, with its ultra-fast pitches, and I remember when we lost to Liverpool in the 1986 cup final, Molby getting motm.
Reid said in his book that Molby was the most rattled player on the pitch for the first hour, and it was Rush who done the real damage to Everton that day, but I bet you Molby, would say even if he was rattled, his quality got him through in the end?
Run, dribble, pass and move, does a kid really need to learn anything else in his junior years?
Darren Hind
108
Posted 02/04/2021 at 18:19:27
Martin Mason,
You clearly do need to be told what our problems are. You've been watching 15 months (3 years before that) of cowardly responsibility-shirking anti-football and you haven't stopped apologising for it.
Your inability to form an opinion of your own makes you one of the least interesting posters on TW. You belong to a handful of people who may as well save themselves hundreds of posts by putting up "Carlo is above criticism".
Before you have the temerity to tell me I have no right to speak about this club since Ancelotti got the gig, try to get your head around the fact that I know more about Everton than Carlo. I have always known more about Everton than Carlo. When he's gone, I will still know more about Everton than he ever will... So does everyone else who posts on this site.
You, my friend, would empty any alehouse. You don't have an opinion. You assume that, because we are managed by some arl fella who used to win things, we should all sit in silence as he royally takes the piss with this bone-idol brand of coaching... Fat Sam was ran out of town for serving up identical shite to this and you are whining because people are criticising rather than fall to their knees in humble gratitude, like you do.
"Don't question Carlo. He is always right"? ... an empty-headed sentiment peddled only by the emptiest of heads.
Come back and tell me I have no right to critcise when you have formed an opinion of your own. I already know Carlo's...
Thomas Richards
109
Posted 02/04/2021 at 18:36:31
You belong to a handful of people who may as well save themselves hundreds of posts by putting up "Carlo is above criticism"
To be honest and fair Darren. I have read hundreds of posts from you. All with the same message.
Darren Hind
110
Posted 02/04/2021 at 18:58:46
I knew you would be on first. You always are... Just as I know who will follow you.
I could give a list of the good things I've said on these pages about Ancelotti. And I could give a very long list of the numerous criticisms I have leveled at him... But I will always give my reasons. I will never subscribe to the sort of brainwashed, fingers-in-the-ears denials you offer in response. I avoid them because it would be like debating with the Stepford Wives.
This one about Stones is totally different to the last one about him being unable to blood and develop youngsters. I have a huge variety of different points.
This fingers-in-the-ears "la, la, la" denial of every criticism I see from the same group of people simply make me glaze over.
Thomas Richards
111
Posted 02/04/2021 at 19:12:35
Am I wrong in saying you have posted hundreds of posts criticising Ancelotti?
It works both ways you know.
Kieran Kinsella
112
Posted 02/04/2021 at 19:41:55
"Try to get your head around the fact that I know more about Everton than Carlo."
So weird, it's like a little child's argument. "I have collected every Formula One panini sticker album so I know more about racing than Lewis Hamilton, ergo I am best qualified to tell him how to drive his car."
Equally absurd as "I have an opinion, you don't agree ergo you don't have an opinion, you're a sheep." Which begs the question, if any contrary opinions are not "opinions" then presumably there is only one true viewpoint, which negates the need for "opinion" in the first place as obviously it is demonstrable fact. Therefore, Darren doesn't actually have an "opinion" of his own, he is just stating obvious facts based on his large collection of sticker albums, and old copies of Shoot! So we may as well get rid of ToffeeWeb discussions and just have daily edicts of fact from the genius himself. The very same man who's own partner said he objected to Everton signing Alan Harper as he was a "red spy."
Don Alexander
113
Posted 02/04/2021 at 19:49:47
Our Dazza is beyond parody. He claims to "glaze over" re certain writers (I hope I'm still one of them) but found Martin's post at #52 (and posted nearly 36 hours ago) to have a go at, crucifying him on the basis of his opinion of what Martin meant! He then contends that Martin and all of us know more about Everton than Carlo does, but sayis nothing about Martin's opinion on CA's high level of football intelligence. He then puts his own OTT opinion into speech marks in the hope, I guess, that readers assume his victim said it. Weird, but funny!
And Martin, for the record, I recognise where you're coming from and agree with you, as many will do, especially on your balanced, final paragraph:-
"There are problems and we don't need Darren to tell us what they are but the right staff are now in place to resolve them and we still need 3 or 4 players to get to where we need to be. We're not there yet but support is what is needed, some find that concept difficult."
Happy Easter folks!
Darren Hind
114
Posted 02/04/2021 at 20:06:18
lol
3-6 here. I only need a post Florida, Southport and some army base down south and me acca...is complete
Alls that is missing is one of the "outraged" Will come and explain (Explain, not apologise for) for what we are seeing..They cant. They wont
Respects to Dave + Tony A...The likes of Peter Mills and SOOO many other open minded posters
Thomas Richards
115
Posted 02/04/2021 at 20:07:59
Do you ever wonder why?
Kieran Kinsella
116
Posted 02/04/2021 at 20:10:40
"lol 3-6 here. I only need a post Florida, Southport and some army base down south for me acca...Y"
Sad really, watching someone completely unravel into an incoherent mess.
Don Alexander
117
Posted 02/04/2021 at 22:31:40
Dazza, for the record, again, I've told you and everyone on numerous occasions that when you get round to critiquing the club, rather than attacking fellow fans, I generally agree with you.
For instance you, me, Dave A and many others have taken Boys Pen (allegedly) Bill to task repeatedly on the tsunami of shite he's delivered to us throughout his decades-long tenure.
Chill! But if you really really need to be naughty, just eat an Easter egg before Sunday! It'd be more grown-up of you.
Thomas Richards
118
Posted 02/04/2021 at 22:47:43
Darren is a great Blue, that much is obvious. Passion and fire, my type of Blue.
We all have more in common, we just have different ways of showing it.

Kieran Kinsella
119
Posted 03/04/2021 at 16:09:54
Thomas
He obsessively criticized everything about the club, seems to be fueled by anger, gets into skirmishes with Evertonians. So, if he's a great Evertonian, then Gargamel must be a great smurf.
---
Add Your Comments
In order to post a comment, you need to be logged in as a registered user of the site.
Or Sign up as a ToffeeWeb Member — it's free, takes just a few minutes and will allow you to post your comments on articles and Talking Points submissions across the site.