Gbamin 'ready to play' after long lay-off
Friday, 2 April, 2021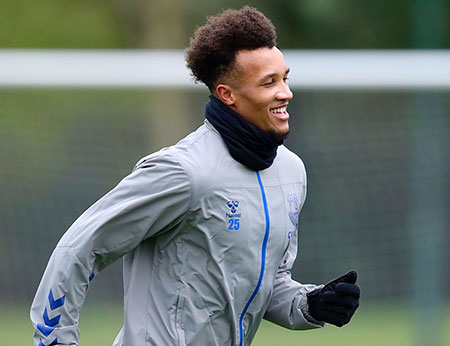 Jean-Philippe Gbamin is in the frame to make his long-awaited return to action and could be named in the Everton squad to face Crystal Palace on Monday.
The Ivorian made just two appearances for the Toffees before suffering a serious thigh injury and had his first comeback ruined by a ruptured Achilles.
Now, after 20 months of patient rehabilitation, Gbamin has been deemed fully fit by the club's medical staff and he could even play some part against the Eagles when Everton's Premier League season resumes after a 16-day hiatus for internationals.
Carlo Ancelotti began his press conference today by talking about Gbamin, who joined the club from Mainz in the summer of 2019. He confirmed the 25-year-old's availability but offered caution over expecting him to be thrown straight into action.
It's honestly one of the best moments of my working life. [Jean-Philippe's] attitude has been first class throughout and I couldn't be happier to see him training with the team and looking so good. Long may it continue.
Dan Donachie
"It's really good news, he trained this week, he trained last week. He is in a good condition.
"I think the medical staff did a fantastic job on him. He's ready to play. Of course we have to consider he didn't play for a year-and-a-half but we can say he's back.
"I don't know if he'll play on Monday but for sure he will be involved."
While Gbamin prepares to return, Ancelotti will also be able to call on Robin Olsen who is fit again after missing a month with an unspecified injury.
Everton will be without Jordan Pickford, Bernard, Fabian Delph and Abdoulaye Doucouré, however. Pickford is still recovering from the rib muscle injury he aggravated in the home defeat to Burnley last month and Doucouré is working his way back from a stress fracture in his foot.
Tom Davies and Ben Godfrey will be available despite missing the England Under-21 match against Croatia in midweek and there is every indication that James Rodriguez will play after spending the past few weeks honing his fitness so that he can play an important part in the final 10 matches of the season.
"James is in good condition," Ancelotti said. "He is motivated and his physicality is good. It's important for us to have James back at his best. At the start of the season he helped a lot, above all in front.
"We hope he will do the same, I am quite confident because I see him in training showing a good condition and attitude."
---
Reader Comments (61)
Note: the following content is not moderated or vetted by the site owners at the time of submission. Comments are the responsibility of the poster. Disclaimer
Dan Nulty
1
Posted 02/04/2021 at 16:46:50
It would be so Everton if after all this he was bloody terrible.
Darryl Ritchie
2
Posted 02/04/2021 at 16:48:27
Very good news! He may be physically fit, but it might take a bit to get the mental part right.
In any case, he will be like a new signing.
Danny O'Neill
3
Posted 02/04/2021 at 16:54:44
I'm hoping that the fact the club has persevered and also that Ancellotti has been talking this up, there is something in him. The something that we thought we were getting 18 months or so ago.
Still young enough to overcome the injuries and alongside Doucoure, Allan and Davies, gives us options.
Obviously we've not seen enough of him but maybe the enforcer we need to sit in the pocket of space while the other midfielders go and press / harry?
Alan J Thompson
4
Posted 02/04/2021 at 17:10:00
I'd really prefer that he had a couple of games at a lower level (U-23s?) before being thrown in the deep end, unless of course it's thought we'll be 3-0 up with 20 minutes to go, or for that matter 3-0 down, but let's be positive and forget all this talk of the rough and tumble of the Premier League.
Derek Knox
5
Posted 02/04/2021 at 17:20:35
Made up for the lad, who I hope is one of the missing ingredients in midfield, although as has been mentioned, he's unlikely to hit the ground running and may need a few games to get up to full match fitness, mentally and physically. He was supposed to be our midfield lynchpin, before his bad luck with injuries one after another.
Christy Ring
6
Posted 02/04/2021 at 17:24:33
Delighted to see him in the squad, hope he finally get his Everton career up and running. Considering he replaced Gueye, his physical presence will be a huge asset in midfield.
Andrew Bentley
7
Posted 02/04/2021 at 17:37:58
Think we all wish him well. Will be great to see him on the pitch again but let's not expect anything from him this season. He's missed the best part of 2 seasons and needs time to hopefully get back to where he was let alone where we all hope he will be as a player
Peter Hopkins
8
Posted 02/04/2021 at 17:44:07
Great to see the lad back to full fitness and hearing all the positivity about him from the medical team, I personally wouldn't play him but would get him involved in the first team maybe in place of one of the two sub keepers.
Don Alexander
9
Posted 02/04/2021 at 18:15:55
Alan (#4), I too think a game or two with a lower level team would be helpful. I wonder if Klopp's interested?
Stephen Brown
10
Posted 02/04/2021 at 18:17:20
He's going to get the winner v Man City on the last day to clinch 4th place! You heard it hear first !!
Good luck to him for the rest of the season! Could be the proverbial 'like a new signing'.
Andrew Ellams
11
Posted 02/04/2021 at 18:19:14
Will make sense to bring him off the bench for the rest of this season and then get a preseason under his belt before August
Darren Hind
12
Posted 02/04/2021 at 18:36:05
Barely seen him. I just want him to play a substantial part of the game, come back healthy and start to rebuild his career.
All any player really wants is to stay fit long enough to do himself justice.
I wish him well from the bottom of my heart. The guy deserves a break.
Michael Burke
13
Posted 02/04/2021 at 18:43:24
There is being fit and there is being match fit. He hadn't yet aclimitised to the Premier league in his few cameos after signing. It will take him a while to get up to speed. He must be quite resilient to overcome this huge layoff in a foreign country during a pandemic. For those who love to bash, please go easy on him!
Peter Warren
14
Posted 02/04/2021 at 18:57:49
For all the rewards it must be galling to "make it" and then have your career scuppered by injuries. Best of luck to him and let's hope he turns out to be a proper player for us.
Brent Stephens
15
Posted 02/04/2021 at 19:12:13
Yes, he's surely only going to get game time from the bench for a few games at least. His last comeback was painfully too short.
Kunal Desai
16
Posted 02/04/2021 at 19:31:25
Ease him back in gently. He'll have the summer to get up to speed and by the start of next season should be involved jostling for a starting berth.
Bill Gienapp
17
Posted 02/04/2021 at 19:35:49
I think you might be right, Danny (3). If he looked poor in training, it would be very easy for Ancelotti to simply say he isn't ready and leave it at that.
Curious if Olsen starts on Monday. Given the apparent fallout of the break-in, and the fact he's only here on loan, I half-expected we wouldn't see him again this season.
Pat Kelly
18
Posted 02/04/2021 at 19:36:18
Delph now takes over the Scarlet Pimpernel role.
Duncan McDine
19
Posted 02/04/2021 at 19:40:06
If I was him, my god I'd be bricking it, but feckin excited at the same time. I wonder what he's been like in training... difficult to imagine him getting up to full speed until next season (provided he stays healthy) but great to hear that he's ready for some game time. Good luck to the fella.
Robert Tressell
20
Posted 02/04/2021 at 19:47:25
He's a very good player but almost 2 full seasons out. It'd be an amazing recovery if he got back to playing top level football. Here's hoping
Tony Abrahams
21
Posted 02/04/2021 at 20:05:26
Pat@18, at least we knew Gbamin, had two very bad and serious injuries, but Delph, pulled his hamstring early December, and hasn't been seen or missed since.
Colin Glassar
22
Posted 02/04/2021 at 20:14:00
Has anyone checked to see if Delph has a pulse? For all we know he could've snuffed it ages ago.
Tony Abrahams
23
Posted 02/04/2021 at 20:30:42
I bet you he's still got a pulse in his fingers, when he goes the speed bank to check that his wages have been paid every month.
John Keating
24
Posted 02/04/2021 at 20:41:57
Dan at 1 nails it!
I really do hope that this lad first off gets back to playing football and secondly turns out to be at least, ifnot better, than we have or hoped
A lot of players after so many knock downs would turn their attentions elsewhere. seems Gbamnin has kept the faith
I truly hope we benefit greatly from this, we deserve it. I hope he appreciates how lucky he has been with the support from the Club
Stephen Brown
25
Posted 02/04/2021 at 20:46:17
What is Delph's actual injury?
Is there a worse signing in Everton history? I'm not sure he's ever contributed anything but despite this seems to have the mentality that he's a big time player? Perhaps this is due to the medals Kompany, Silva et al win him at Man City?
Is he even injured? Has Carlo told him not to bother? That's complete conjecture but he winds me up I'm afraid!
Give me a good trier who's a team Man any day of the week!

Jerome Shields
26
Posted 02/04/2021 at 20:58:12
It will be interesting to see Gbamin play. I think it is wise to take a clean slate approach and see what he can gradually do. Good Luck to him.
As for Delph he was a real. panic buy and was a expensive addition to deadwood.
John Keating
27
Posted 02/04/2021 at 21:16:36
Stephen
I could never understand the reasoning why we signed Delph
I heard things like experience etc but what a load of nonsense
We have to just bail him out at a loss, get him off the books and move on
A total embarrassment to the Club and another waster
Stephen Brown
28
Posted 02/04/2021 at 21:49:51
Agreed John!
Obviously we are not privy to what goes on behind the scenes but the attitude he displays really gets to me! It seems like he actually believes he's some sort of top quality player doing us a favour. The reality is his contribution is and has been zero!
I might be wrong but is he trying hard enough to shake injuries off or is he on easy street taking his 70k, 80k a week?
Pay him off and try to develop Onyanko ?! Give Gbamin a good chance!
Worst signing ever in my book
Martin Berry
29
Posted 02/04/2021 at 22:11:05
He is still only 25 and he is a real strong looking individual. You can only wish the best for the lad after two terrible injuries, we need patience and he will be eased in and sure and become a real player for us next season.
Also a word of thanks to the backroom staff who have planned the players recovery.

Danny O'Neill
30
Posted 02/04/2021 at 22:13:50
I wouldn't be surprised if Delph isn't injured.
He was signed by a former manager of Watford and came in with a big time Charlie attitude because he'd warmed the bench at Manchester City.
Carlo has likely taken one look at him and asked him who the food he thinks he is. So he's "injured"; aka not available for selection.
Danny O'Neill
31
Posted 02/04/2021 at 22:21:23
I know this is a bit liberal wishy washy millennium of me (I'm a grumpy 49 year old by the way), but the photo of him; the lad is clearly happy and enjoying his training. Great shot.
Ian Burns
32
Posted 02/04/2021 at 22:32:33
Gbamin deserves our patience. A few minutes in each game for the remainder of the season so he gets a real feel for the pace of the Premier League then he knows what he needs to aspire to for next season. It would be like having Gueye back in the side - hopefully! Wishing him nothing but the best of fortune.
Don Alexander
33
Posted 02/04/2021 at 22:50:36
Gomes has said how long the road is to "feeling" fully recovered after a horrible injury (indeed he recently said he's aware of it still compromising the performances he aspires to give). Seamus said it too, and why not?
I just hope Jean-Philippe can soon extract the max from himself. The sooner he does it the better I'll think of him, but I will be patient.
Danny O'Neill
34
Posted 02/04/2021 at 22:54:28
Definitely something us fans don't always take into account Don. Andre had a potentially horrific injury to work his way back from. The fact he did so quickly is credit to his mentality and commitment regardless of what may some may think of his ability.
Phil (Kelsall) Roberts
35
Posted 02/04/2021 at 23:04:21
Don, you beat me by 10 minutes. My thoughts entirely. Look how long it has taken Seamus and Andre to get back somewhere near their pre-injury performances - or some will say not even near that level.
For those who think Delph is the worst signing ever - I give you in terms of quality Brett Angel and in terms of fitness Danny Williamson. I would actually describe him as a gamble that hasn't paid off. What if he turned out to be Gareth Barry MkII which is what was hoped?
Danny O'Neill
36
Posted 02/04/2021 at 23:17:46
Phil, in terms of uninspiring signings I'd go back further than that. In the context of the fact we were the reigning champions of England, I give you Ian Wilson.
Jeff Armstrong
37
Posted 02/04/2021 at 23:19:10
Phill, he was never going to be the next Gareth Barry though, was he? He's been injured since he was 24, he's now 31!
He will "retire" a multi-millionaire, having played-about 250 first-team games in total, most of them averaging about 50 minutes, an absolute disgrace of a player and an insult to the kids that got left behind when this joker signed his first contract.
Colin Glassar
38
Posted 02/04/2021 at 23:41:24
Two of the worst signings ever have to be Andy van der Meyde and Darron Gibson. What a pair of jokers those two were. Add Delph to the mix and we've a trio that would make even Darren Anderton look like bloody Superman!
Kieran Kinsella
39
Posted 02/04/2021 at 23:42:43
Danny,
I still have nightmares where I see Sheedy on the subs bench with Ian Wilson wearing the Number 11 shirt!
Michael Lynch
40
Posted 02/04/2021 at 00:00:29
It's so long since he signed, I can't really remember what he's supposed to be. Defensive Midfield? Who's place will he be gunning for then? Tom Davies? André Gomes?
Danny O'Neill
41
Posted 02/04/2021 at 00:00:29
I'm not into the modern retiring of a shirt but, in that context, Kieran, should we retire the Number 11 shirt?!!
I'm biased; Sheedy is my absolute best Everton player.
Kieran Kinsella
42
Posted 03/04/2021 at 00:34:31
Danny,
If anyone is a candidate for that, it's Sheedy.
Bill Watson
43
Posted 03/04/2021 at 01:07:31
Good to see Gbamin back in the running and, hopefully, everything will go well for him.
The major surprise is Delph being injured!
Brian Wilkinson
44
Posted 03/04/2021 at 01:13:13
Don @33 a very sensible assessment on injuries to Coleman and Gomes – both could have been career-ending injuries. It is easy to say Gomes has been poor this season and Coleman not getting younger, I still feel Coleman offers something and we might get to see the Gomes pre-injury next season.
For me, we rushed Gomes back way too early; next season will be very interesting if we can get Gomes firing again, alongside a fit Gbamin, Allan and Doucouré.
I would be very patient with Gbamin and ease him back in, with little cameo roles here and there.
Derek Knox
45
Posted 03/04/2021 at 01:16:10
Bill @ 43, "The major surprise is Delph being injured!"
Rather unfortunate to say the least, I believe it happened at a Cash Machine, he went to check his Balance and, in full incredulity and elation at having got so much for doing nothing, he 'jumped for joy' and damaged something. Could be out for a while by all accounts. Kerching! :-)
Mike Gaynes
46
Posted 03/04/2021 at 01:26:46
Splendid. Wonderful. Outstanding.
You know what this means?
It means that not only has Gbamin recovered enough to return to the pitch, but that Carlo has seen enough in training to believe that his performance level could be good enough for the Premier League.
After two potentially career-ending injuries at the same time...that's extraordinary.
Good on ya, young man. We'll all be cheering.
Bill Gienapp
47
Posted 03/04/2021 at 01:35:53
Sometimes I find people's comments aimed at specific players a bit mean-spirited, but I am fully here for ALL the Delph bashing.
Eddie Dunn
48
Posted 03/04/2021 at 07:57:16
A couple of weeks of training isn't a lot. I would be very careful with the lad, perhaps a 5-minute cameo if the game is put to bed.
It's been a long road and, if the player can make a full recovery, then everyone should be congratulated. Fingers crossed.
Geoff Lambert
49
Posted 03/04/2021 at 10:22:37
Some old timers on here ha-ha cash machine to check his balance?? They have never got a phone out of their hands, checking everything every 2 minutes.
I hope I am wrong but I don't expect to much from him after nearly two years out and two career threatening injuries.
Derek Knox
50
Posted 03/04/2021 at 10:34:29
Bill G, @ 47, Careful there mate, you could get accused of being racist. :-)
Mal van Schaick
51
Posted 03/04/2021 at 10:46:33
Like having a new signing and will give us much needed strength in midfield. Good luck to him, let's hope he is a star player.
Dave Abrahams
52
Posted 03/04/2021 at 11:36:02
It might be that Ancelotti has taken a keen interest in Gbamin's injury, having had a similar injury himself as a player, which kept him out of the game for a long period, and one he wasn't expected to come back from, he did very successfully. Possibly Carlo has insured the injury be treated with caution and made sure, from his own experience, how the injury made slow but necessary treatment to ensure it's success.
Anyway the very best of luck to Gbamin hope he gets back to full fitness especially with next season in mind.
Jerome Shields
53
Posted 03/04/2021 at 11:40:23
Dave #52,
Thank you for the information. I don't think you are far from the truth in your suggestion. I am now a lot more reassured. Ancelotti's hallmark is attention to detail on the basics imo. He also will try to accommodate players in his tactical formations.
Dann #30,
I don't think that is far from the truth either. Delph is sitting on an obscene popstar contract whether he plays or not. That really was a muck-up transfer of a Summer by Everton.
Chris Hockenhull
54
Posted 03/04/2021 at 11:49:03
Danny (36). 1986. Having just missed out on the double at the wire we went and signed Paul Power. I would love to have seen this site's reaction back then to that news that summer morning. I for one can recall the reaction (and early the next year to Wayne Clarke's 'capture'). Players of the season, both of them???
Si Cooper
55
Posted 03/04/2021 at 12:24:37
I doubt he has only had a matter of weeks training or still needs easing in. I suspect he has been thoroughly run through the mill and built up through intensive personal training.
The return to team training will have been the reward, the icing on the cake, for coming through rehabilitation successfully. I also don't think he has exactly the same psychological hurdles as Seamus and André as his wasn't a bone-breaking challenge from an opponent. As long as he has healed well and built up the muscle I think he will be good to go.
He still needs to get up to match speed and prove he has the abilities we need. He can probably do that as well through some proper game time off the bench.
I suspect the manager doesn't see the need to go easy on him and wants a proper assessment of him as soon as possible.
Jim Harrison
56
Posted 04/04/2021 at 02:41:33
I hope he can be a decent player for us. He has the kind of physical presence we have needed for seasons.
Tony Everan
57
Posted 04/04/2021 at 08:12:49
It looks like Delph has graduated with honours in the art of doing next to nowt and running down a contract. He will have studied the likes of Besic and be in no hurry to move, especially if we don't fully subsidise that and it involves a small drop in wages. Man City are unassailable on the pitch, but they also played a blinder offloading a big wage earner and injury prone player like Delph onto a wealthy local sucker.
We have to hope that lessons have been learned with regards paying fees and long term massive contracts to aging players with chronic injury history. The ever increasing physical demands of the Premier League should shift policy away from these gambles. Without ruling it out completely for a no brainer.
In the main, I'd rather us be gambling on well scouted younger players bursting with desire and potential from the Championship and good European leagues, on lower wage deals and easier to find another club if they don't quite make it.
Ray Smith
58
Posted 04/04/2021 at 10:53:42
Lyndon, at the end of your post, you rightly say we have 10 games left.
Is there any indication when the rearranged fixture against Villa is likely to be?
David Hayes
59
Posted 04/04/2021 at 14:33:13
A predictable proposed step in the evolution of European elite level football. This has been going on since SKY, ect started to transform the premiership level game over 25years ago. Pumping billions into this product and gaining almost total control of it at every conciveable point. Massive and obscene played and managers wages, massive and obscene transfer fees. Scheduling and controlling fixtures, Influencing major rule changes,like VAR, all to make the product more marketable and profitable. Of course they want the most golbaly marketable brands only regardless of any compational elements to achieve the status required, They don't want random clubs like Everton, Leicester, Leeds ect and similar clubs in Europe in thier showcase product, very much second tier, in the market place. This has been steadily happening for 25years, and we as fans have chosen to be blind to it and dwell in the good old days mindset all that time.
Minik Hansen
60
Posted 04/04/2021 at 18:13:44
Well, I hope his 11 Senior games for the Ivory Coast counts for something on his way to the PL pace. They didn't qualify for the 2018 World Cup. I think he hasn't played European games for Mainz either. But that doesn't mean he won't hit the ground running here at Everton, all the best to Gbamin in blue! COYB.
David Connor
62
Posted 05/04/2021 at 14:22:01
I really hope the lad is a top midfielder. God knows we need a few. But with Everton's recent history with injured players, I would be inclined to wrap him in cotton wool and sell him to the highest bidder in the summer. Just my opinion.
---
Add Your Comments
In order to post a comment, you need to be logged in as a registered user of the site.
Or Sign up as a ToffeeWeb Member — it's free, takes just a few minutes and will allow you to post your comments on articles and Talking Points submissions across the site.