Ancelotti: The European Super League cannot happen
Friday, 2 April, 2021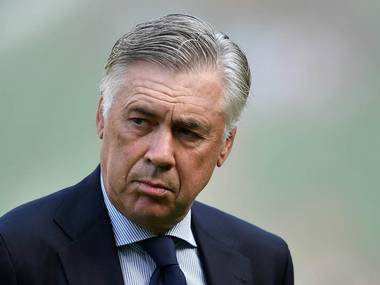 As Uefa and Europe's most powerful clubs prepare to ratify changes to the structure of the Champions League, Carlo Ancelotti has expressed his concern at the imbalance in modern football and stressed that the notion of a Continental Super League must be resisted.
The UEFA Executive Committee was due to announce the details of a planned reform of Europe's elite club competition this past week but has pushed the timing back to 19 April, effectively so that a minority of the Continent's most wealthy clubs are wrangling with the governing body over the share of commercial rights and revenue from the revamped Champions League from 2024 onwards.
The principal changes that are expected to be ratified would see the current group phase scrapped in favour of a "Swiss model" format where clubs would play 10 matches against a variety of sides and be placed in one big 36-team league table, from which the Round of 16 would be decided based on placing.
Among the proposals is the creation of two guaranteed spots for clubs of "historical significance" to the competition that would allow teams who have regularly competed in the tournament should they fail to qualify for the Champions League via domestic league placing. That is being regarded as the first step towards a European Super League, an ever-increasingly closed shop centred around the game's current "big" clubs at the expense of so-called "smaller" teams and the very competitive spirit of the sport.
As Ancelotti plots a way for Everton to finally break into the Champions League and gain a foothold on Europe's gravy train, he outlined the dangers posed by the lack of true competition at the very top of the Continent's five big leagues — the Bundlesliga, La Liga, Ligue 1 and Serie A have come to be dominated by one or two clubs in recent years and the destination of the Premier League title has been a foregone conclusion in each of the last two seasons.
"It is clear that if the national competitions lose interest and entertainment, then the concept of a Super League attracts more power," the Italian said recently in an interview with The Athletic. "For a supporter, if it got to the stage that Everton could not hope to beat Manchester City, then I am not going to watch. I would prefer to watch Manchester City against Barcelona because it would be more entertaining.
"But, for me, the Super League cannot happen. We have the Champions League. It's enough, right? The Champions League pits the best against the best already but the future of football must value the national competitions more. The schedule is really tough as it is. The players never rest.
"Now we have an international break but we have players who are going to play three games [for their countries]. They do not stop, particularly during this season. If there were fewer games, it would give a chance to smaller teams to improve their quality and have a more competitive league.
"It is true this year that the Premier League is much more competitive; ourselves, West Ham, Aston Villa and Leeds, who have all done really well. But in the end, City will win the league by 15 points or whatever it is.
"We want to be able to hope that Everton could compete, within two or three years, with the very top teams. But with football as it is at the moment, Everton cannot [consistently] compete. We need more time. It is true that the stadium is one very important point to attract more income and be more competitive."
---
Reader Comments (50)
Note: the following content is not moderated or vetted by the site owners at the time of submission. Comments are the responsibility of the poster. Disclaimer
Gavin Johnson
1
Posted 02/04/2021 at 18:51:24
Never enjoyed the Champions League. It comes nowhere near the excitement of what was the European Cup.
Lyndon Lloyd
2
Posted 02/04/2021 at 19:09:52
"
if it got to the stage that Everton could not hope to beat Manchester City...
"
Sadly, we're already there, as the last two games against them showed. I'm obviously not going to turn to Man City vs Barcelona for my entertainment instead (I rarely watch the Champions League anyway) but, as an Evertonian, the PL and FA Cup defeats to Guardiola's side were pretty depressing.
If the mooted relaxation in FFP allows us more leeway to spend then I'm hopeful we can close the gap a little but the longer we go without CL revenue, the more that gap will feel insurmountable.
Danny O'Neill
3
Posted 02/04/2021 at 19:30:01
The next stage of the Champions League, which was phase 1 of ensuring the big European clubs were virtually guaranteed a place in the premier competition. This would basically lock them into that and eradicate and potential for them to miss out due to the odd 6th or 7th place finish as has happened to Liverpool and United in recent seasons.
It can be depressing and in an age where Everton have seemingly slipped so far, it is easy to understand those who think we have simply slipped too far behind to ever recover.
As you say though Lyndon, there has to be hope and hopefully that comes from the potential realisation that FFP is actually flawed, which allows us to invest.
Using the example of Manchester City, who are rightfully called out as being light years ahead of us. 20 years ago this season they were relegated. They came back up a year or 2 later and were champions of England within 10 years of that.
We all know the Leicester story, again, on the back of almost being relegated.
I'm not an absolute dreamer and I do have a sense of realism. But those 2 clubs alone and the fact we have evolved from the big four to the top six in Sky speak should give us hope.
It does me anyway.
Pat Kelly
4
Posted 02/04/2021 at 19:41:02
We'll still have the Carabao Cup.
Ian Burns
5
Posted 02/04/2021 at 20:03:11
I do not dislike the Champions League but what I detest is the move towards ringfencing the participation of the so-called big European clubs. National leagues should be protected at all costs but that I'm afraid is an old supporter's nostalgic misplaced dream. I'm sorry Carlo but you are hoping against hope and batting on a losing wicket. The Premier League will soon be the equivalent of the FA Cup - of secondary importance. Everton FC missed the boat in 1992 when they could have been considered one of the elite. It could take many years before they regain such status. A European Super League is inevitable. Ask yourself if you were a so-called big six supporter involved in the new European League would you rather watch Barca vs Bayern or WBA vs Sheff Utd?
Thomas Richards
6
Posted 02/04/2021 at 20:06:55
Off topic lads.
Does anyone know if the youth team game is on telly
Brent Stephens
7
Posted 02/04/2021 at 20:09:34
Thomas, efc site says it's on efc.com.
Thomas Richards
8
Posted 02/04/2021 at 20:10:29
Thanks Brent.👍

Barry Rathbone
9
Posted 02/04/2021 at 20:11:23
If it happens it happens not the least bit arsed because eventually it must.
The footy that enchanted me and generations has gone the hyped up tv version for global wallahs has little relevance to dyed in the wool locals and more importantly club owners. The entire edifice rests on broadcasters recalling days gone by shoehorning references of historical passion to create faux jeopardy and disguise how many match goers are more concerned about the internet signal. Gotta be able to watch a movie or text amidst the yawn fest plodding along in front of them
Liverpool, Utd et al could move lock stock and barrel to Hong Kong, Dubai and similar "better" locations change their names to "minge rovers and fanny albion" and it wouldn't make a bit of difference to those holding levers of footballing power.
Brent Stephens
10
Posted 02/04/2021 at 20:11:36
Thomas, season ticket holders only it seems?
In-form Everton Under-18s forward Charlie Whitaker says his confidence is "through the roof" and is targeting another match-defining role in the young Blues' FA Youth Cup fourth-round tie at Manchester City on Saturday (2pm BST).
The game at City's Academy Stadium is one of two Blues fixtures being streamed live on evertonfc.com this weekend - with Everton Women's home game against Aston Villa on Sunday (1pm BST) also set to be broadcast.
Saturday's FA Youth Cup match will be available to Season Ticket and Official Members, while Sunday's WSL encounter will be free for all Digital Members. To sign up for a free Digital Membership, click here.
Tony Abrahams
11
Posted 02/04/2021 at 20:12:24
Obviously Barca v Bayern, Ian, in the champions lge, yes, but in a European super league? I'm honestly not sure.
Thomas Richards
12
Posted 02/04/2021 at 20:15:39
Looking forward to the game Brent.
Followed by City v Leicester which should be a good game
Brent Stephens
13
Posted 02/04/2021 at 20:17:55
City to do us a favour, I hope, Thomas. And Arsenal to do us a favour as well.
Colin Glassar
14
Posted 02/04/2021 at 20:19:16
Can we play in the intertoto cup instead? Everton missed the train years ago and it's going to nigh impossible to catch it now. But miracles do happen.
Ian Burns
15
Posted 02/04/2021 at 20:33:35
Hi Tony - 11 - the point I was trying to make was the ESL is inevitable and if your club is part of it Barca vs Bayern is a far more appetising game than WBA vs Sheff Utd. As EFC supporters we prefer to think the national game is far more important because we are now so far behind the big six in the eyes of the big clubs pushing for the ESL we want so much to be on the top table but I truly believe our ship has sailed - it sailed in 1992.
Tony Abrahams
16
Posted 02/04/2021 at 20:53:05
Maybe Ian, I'm not sure if it's inevitable, but what you say is probably true about us being so far behind, but I prefer to look at City 15 years ago, and then look at them now.
I honestly don't think Everton recovered from the European ban, and as much as I like watching the Champions league, because it is definitely a much higher standard, I honestly don't watch/enjoy it, until the tournament reaches the knockout stages.
Agree It's all about money, and hopefully Everton have got a very powerful money-man waiting in the shadows, but honestly, I'm not sure I'd have much time for a European Super league, even if Everton were involved.
Writing this has made me think about the debt the Spanish giants are both in, so maybe this does make a money league a certainty, who knows?
Tony Everan
17
Posted 02/04/2021 at 20:55:02
This unfettered greed winds me up no end ,
Clubs of "Historical Significance " my fucking hairy arsehole. Fuck them, if they finish fifth sixth or whatever, tough fucking shit. If over 38 games Leicester, Villa or Everton have played better they should reap their reward. The "Historically Significant" club will just have to play better fucking football the next season and become "Currently Significant " ! The greedy bastards are killing the great game, to the pits of hell with the lot of them, they are fucking shameless.
PS, to the Irish Whiskey TW connoisseurs, thanks for the heads up on the Bushmills. Enjoying a bottle of Black Bush.
Tony Abrahams
18
Posted 02/04/2021 at 21:01:55
That's why I'm not sure about a super league nowadays because of this historical significant bollocks. It's been a mostly closed shop since the formation of the champions lge, and going on about these Spanish clubs again, surely they shouldn't even be allowed to enter a tournament, whilst being in so much debt? because it makes an absolute mockery of FFP, although I maybe should have looked into the rules of FFP, before posting this?
John Keating
19
Posted 02/04/2021 at 21:43:01
Champion league is the worse thing ever happened in European football for supporters
The Champions League was something everyone could understand and admire
It's like the bloody play offs, TV orientated and supporter ignored
How can someone who finishes 3rd or 4th get promoted/win Champions league
Nonsense!
Danny O'Neill
20
Posted 02/04/2021 at 22:19:11
Had the ship sailed for Manchester City way beyond 1992? When they got relegated in 2001 they had already been to the 3rd tier of English football between 1992 and then let alone where they are now.
The ship has never sailed. It leaves the port and comes home to dock again.
Phil (Kelsall) Roberts
21
Posted 02/04/2021 at 22:54:38
Choice of Bayern v Barca or WBA v Sheff United.
Easy Decision - Do some work on my model railway or some admin for our charity.
Choice of Bayern v Barca or Everton v Any Team you care to name.
Tougher Decision. If watching Everton was not going to raise my blood pressure too much or cause me to be depressed by the end of the game, I'll watch Everton. Otherwise, I'll work on my model railway or do some admin for our charity.
What was the one about "What would you do If Liverpool/City/United/any other team were practicing in your garden?" "I'd draw the curtains"
Matthew Williams
22
Posted 03/04/2021 at 14:59:58
For me, what's more of a concern is the Baggies have just put five past Chelski at the Bridge,whereas we barely put on fucking glove on them a few weeks back!.
Ask yourselves Blues,how many Gaffers have been 3-0 up in a C.L final...only to lose it!
Methinks Mr Hind will be proven right about our Carlo,as for Monday's game...
God only knows!.
Thomas Richards
23
Posted 03/04/2021 at 15:01:52
Chelsea had eleven men against us Matthew
Matthew Williams
24
Posted 03/04/2021 at 15:11:43
Very true Thomas,but as has been seen many times over the years,10 men have found a way to win games, sadly as in the '85 Cup Final.
Thomas Richards
25
Posted 03/04/2021 at 15:16:29
A rare occasion Matthew.
In the vast majority a team having a man sent off before the half hour mark will get beat
Brian Murray
26
Posted 03/04/2021 at 15:23:37
Mathew post 22, Still too painful too watch that ac Milan collapse for me like the the 86 final I have never seen a re run amongst others. I think the truth is somewhere in between in that we have the best manager we could get however we have seen his in game and subs and overall selection shows he's far from perfect but as I say his stature especially will help getting better players so we can at long last at least get away from this siggy Gomes Davies axis which will continually let us down and end up around 7 th every year. As for his continued call giving the likes of iwobi a run when we have nkoukou or Onyango untried does point to a lack of vision to me. Let's hope we are all totally wrong eh Coyb
Rob Dolby
27
Posted 03/04/2021 at 15:47:19
Matthew 22. What type of comment is that! Of course Darren will be proven correct, every manager gets the sack at some point. It's inevitable.
Twist it the other way, how many times has Ancelotti managed a team in the cl final? More than anyone in our entire history.
We are lucky to have him at the club. Who else do people want? Maybe we can poach Pep, Klopp or Zidane as they would be able to turn the players into world beaters and we would win everything in sight!!

Alan J Thompson
28
Posted 03/04/2021 at 16:02:43
Pure greed that will be the downfall of football and I'd hate to be the man who has to decide if it will be Rangers or Celtic from Scotland.
Kieran Kinsella
29
Posted 03/04/2021 at 16:07:02
Paris have fallen under the German/Italian axis driving this but I'm sure there's a lot of resistance in Marseille. They have their eyes on England but if it's all about money we should create a grand alliance with the MLS and Russia. Pretty quickly we could win over the East European teams and the Benelux countries plus France outside of Paris. Italy will probably capitulate and join our rival federation instead and the Germany will be isolated as we close in.
Danny O'Neill
30
Posted 03/04/2021 at 16:08:59
I never like the who beat who and who scored against who comparisons. We've scored 6 goals and taken 6 points from West Brom this season. We're unbeaten and have taken 4 from Liverpool and Leicester. We've beaten and been beaten by Chelsea.
Ultimately the league tells you where you are. West Brom are 19th and still 7 points from safety with 8 games to go. A precarious position. If we beat Palace, we are 2 points off Chelsea who currently sit 4th.
Jamie Crowley
31
Posted 03/04/2021 at 17:20:23
This whole guaranteed spots based upon historical involvement or whatever it is, is just stupid and ridiculous.
The entire world is allowing the big to eat the small. Banks, corporations, and now, seemingly, footy.
In a sports competition, isn't the idea to EARN your way into a tournament through victory? Isn't the concept of if you lose you're out kind of the point?
I'm getting old, and I'm the grumpy 80 year old plus dude at the tender age of 51. The direction of society concerns me, and it's permeating sports.
And it's crap.
Two teams automatically in because of historical involvement? Just please fucking knock it off.
Mike Gaynes
32
Posted 03/04/2021 at 17:55:06
Not grumpy, Jamie. Accurate.
The "historical significance" thing is money-driven idiocy. Guess we should save spots for Steaua, Marseille, Forest, Monchengladbach and Hamburger because they were juggernauts within living memory? Geez, let's go all the way back and give Ajax and Benfica and Reims and Celtic free passes because they were so awesome just 50 or 60 years ago.
Moronic.
Alan J, that's easy. Neither.
Matthew Williams
33
Posted 03/04/2021 at 18:16:41
Rob #22,I hope me and many other doubters are proven wrong about Carlo,but eleven million nicker a year to become the back-pass kings of Europe ain't my Blues!.
Are there any Blues hopeful of a win on Monday?.
Tony Abrahams
34
Posted 03/04/2021 at 18:26:35
I'm hopeful Matthew, but then again I'm always hopeful, especially because it's the first season in years that it's actually possible that we could still qualify for the champions league.
Alan J Thompson
35
Posted 03/04/2021 at 18:27:39
Mike(#32); Probably true that it would be neither but historically they are significantly financial and that seems to be the driving factor although these days they are probably not among the top echelons. Then there might also be other neighbouring clubs with similar differences/origins which may be seen as a greater slight.
Rob Halligan
36
Posted 03/04/2021 at 18:39:17
I'm curious as to why West Brom putting five past a ten man Chelsea team for just over an hour, is such a concern for Matthew? We put five past West Brom at home, granted they were down to ten men for the second half, and also beat them away. Chelsea have taken one point off a team doomed for relegation this season.
Brent Stephens
37
Posted 03/04/2021 at 18:42:05
Matthew, team A beat team B; team B beat team C; team C beat team A. In my view individual games prove not very much. More informative is how a team performs against all others, not just one.
Rob Dolby
38
Posted 03/04/2021 at 18:53:08
Matthew 33. Everyone's entitled to an opinion. Backpass kings of the prem, most boring team we have ever had, most negative manager, most expensive manager, worst midfield, most honoured manager, etc etc.
Ancelotti will either get sacked or move on. People wanted Kendall, Ferguson, Clough and Wenger out despite winning things.
I see improvement in results and performance when everyone is fit. No doubt others see the opposite.
If we passed it forward quicker to our fantastic midfielders would that be better? Maybe miss the midfield out all together to our strikers but maybe that would upset the purists of the game?
Whatever the label we are still in with a shout of qualifying for Europe.
I have got to the stage where I really don't care about how, I care about putting points on the board.
I would love to win 5 - 4 like we did against Spurs or even the away victory against them. I would even settle for a 2-0 grind it out Derby type victory every week like we used to have under Moyes, Martinez, Koeman and Silva...oh hang on a minute they never did that did they!

Chris Williams
39
Posted 03/04/2021 at 19:04:48
Kieran Kinsella
40
Posted 03/04/2021 at 19:10:03
Ian 33
Yes I expect to win
Brian Williams
41
Posted 03/04/2021 at 19:10:43
Don't you love it when you're having a packet of crisps and you get one crisp that seems to have been "drenched" in the flavour of the pack.
One that stands out among the rest of the crisps. A crisp among crisps if you will.
Especially when it's cheese and onion.
Mike Gaynes
42
Posted 03/04/2021 at 19:12:40
Matthew #33, we'll win.
Kieran Kinsella
43
Posted 03/04/2021 at 19:14:40
Brian
It's a special moment to be savored unless it's salt and vinegar which is great in the moment but gives you tongue burn thereafter
Brian Williams
44
Posted 03/04/2021 at 19:17:44
Kieran. I thought I was alone. It's an emotional moment realising I'm not.
Jerome Shields
47
Posted 03/04/2021 at 20:07:53
A future based on the past isn't very progressive. It is anti competition. I hope on the continent that some Club takes them up on this, as Bosman did regarding transfers. To me it is this type of resistance that Ancelotti is talking about. It is heartening that such a Senior Manager is taking up such a position and it may indicate that serious resistance is possible and may already have been formulated. . .
Matthew Williams
48
Posted 03/04/2021 at 22:27:24
Rob #36,
It's all about intent for me; we just seem to show up and wing it for 90+ minutes, regardless of how many men were playing against. There's never a clear playing style, a collective swagger so to speak; our play always looks haphazard and sloppy and very easily countered.
John Maxwell
49
Posted 04/04/2021 at 01:40:58
For a team who has a good european history, finishing 8th in their own league should not give them a free ticket into the CL.
Surely this is the death of football ?... like whats the point ?
James Newcombe
50
Posted 04/04/2021 at 16:36:23
Exactly John, it's supposed to be a sport - but I've been left questioning that for almost 20 years. Didn't Clough always say that the money will kill the game?
Ian Riley
51
Posted 05/04/2021 at 20:47:27
A European Super League is purely money driven. Sadly it reflects society as a whole. Greed and selfishness go hand in hand. As the world recovers from a pandemic with loss of life and economic status, others see opportunity.
Those who leave their respective leagues lose affiliation and history is wiped from the history books. Time to protect our leagues.
Paul Kernot
52
Posted 08/04/2021 at 03:02:32
Brian #41. That's a subtle reference to the Super League right?
---
Add Your Comments
In order to post a comment, you need to be logged in as a registered user of the site.
Or Sign up as a ToffeeWeb Member — it's free, takes just a few minutes and will allow you to post your comments on articles and Talking Points submissions across the site.