Blackpool helping Simms make the step up to first-team football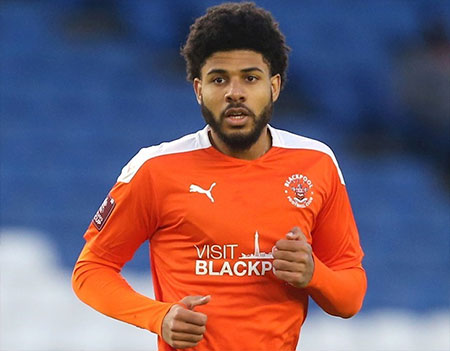 Blackpool's assistant head coach, Mike Garrit, has been speaking to the Liverpool Echo about the progress being made by Ellis Simms who is loan with the Seasiders.
The young striker got off to a flyer when he started a loan spell with Blackpool in January, scoring twice after coming on as a substitute with 20 minutes to go at Wigan Athletic on what was his League One debut.
Since then, however, he has had something of a lean spell, scoring just twice more over the next 12 games, although his more recent strike last weekend against Swindon was a cracking half-volleyed finish.
"You look at Ellis, his physique and his profile, and he's a really big boy, so I think when he first came in, I'm not sure how much he understood or realised how to use that physicality in his game, probably because he never had to do it much at U18s and U23s," " Blackpool assistant head coach Mike Garrity told the Liverpool Echo.
"We've been working with him quite a lot. He's probably annoyed by our voices! But we're just trying to keep him active and keep him moving.
"Maybe because of his age and stepping into senior football and getting thrown into the deep end, which isn't easy, sometimes he can have a tendency to drift out the game in his mind. We need to keep him concentrated.
"We've been talking to him a lot about staying in the game, staying active, staying around it, staying alive and alert. Even with his profile and his physique we don't want him to become a battering ram for us. We want to play football.
"So we're looking at ways and means to use his attributes to help us, because when he opens his legs and gets moving, he's quite pacey. So we're trying to concentrate on the strengths he possesses to use at this level.
"We want to put him in as many goal-scoring opportunities and positions as we can. Having watched a lot of his stuff at Everton, he does come alive in the box. Things seem to drop on him, and people say it's lucky, but it's not. It's being in the right place at the right time.
"They're the things we have said to him, he has to stay as alert and alive outside the box as he does inside it."
"It's lovely to go out on loan and play and do well and everything is going great, but there are also the times when it's not going great, and you're not in the team. You have to look how players respond from a mentality point of view.
"It won't always be rosy, it won't always be nice and there will be times when he's not in the team and there will be times when games don't go his way and he'll find it tough. But his loan should give him all those experiences to help him develop into a better player."
---
Reader Comments (48)
Note: the following content is not moderated or vetted by the site owners at the time of submission. Comments are the responsibility of the poster. Disclaimer
Tony Abrahams
1
Posted 09/04/2021 at 11:16:40
Looks like Everton have picked a sensible place to send Simms out on loan, because it looks like the Blackpool back room staff also seem interested in Simms development
Bobby Mallon
2
Posted 09/04/2021 at 11:35:30
I agree it sounds like they want the best for the lad.
Kevin Prytherch
3
Posted 09/04/2021 at 11:35:48
So he goes to Blackpool and doesn't know how to use his size or concentrate. Is this the pinnacle of our U23 teachings?
The sooner all the hangers on are out of the club the better. If this is the best that Unsworth, Jeffers and the rest of Bills luvvies can produce then it is pointless having an academy. The sooner they are out of the club the better. Kenwright and his contracts for former players are a joke. None of them have a bit of coaching nous between them.
We might as well shut the academy now, we will never produce anything of note. Put the money we save towards getting some experienced pros from abroad who might be able to get a game or 2.
Jerome Shields
4
Posted 09/04/2021 at 11:36:17
On reading the Blackpool Managers comments, IMO Sims is in a good place to learn. I am actually surprised at how much effort they are putting into trying to develop him.
I know when observing Premier League footballers I will always think they can do better, but there are a high standard of players who are trying to make sure they are not able to play and maybe a seasoned Manager targeting them in his match preparation coaching.
I know myself that a good team at one level , can be taken apart by a team at a higher level. I have in the past played for a very well coached young team , who gave a higher level team a thorough lesson.
Fran Mitchell
5
Posted 09/04/2021 at 11:52:04
He seems to be at a good place, and at the right level for his development. He's had some good performances, and a coupleof games he's got MOTM without scoring. Their main striker is Yates and they are in great form, heading for a playoff finish and push for promotion. So there is plenty to keep Simms on his toes and pressure to perform. If they get promoted, it would be a good chance for him to play next season in the Championship at a club where he is already adapted.
It is too soon to know where he will go. At the same age Ollie Watkins was just breaking into Exeter's team in League 2, for example. Bamford, another who was just breaking into League 1 football on loan. Callum Wilson another. So it is never too late if he has the will power to combinewith his talent.
Here's hopingfor few more goals to help push towards promotion, and another loan next season at Blackpool to continue his development.
Chris Williams
6
Posted 09/04/2021 at 12:10:06
For Simms, read Gordon, Gibson, and Branthwaite. All having a mixed time of it. Hopefully all learning and benefitting from their experiences
Robert Tressell
7
Posted 09/04/2021 at 12:21:15
What a refreshing article about the care and attention invested by the receiving club. It does sound like he's in the right place to develop. I think the terms of his loan means he's there next season too. He could yet develop into a Watkins or Bamford or Wilson but he's a long way off the Premier League right now. Like those boys, he'll need to acclimatise in the lower leagues before making the step up.
Phill Thompson
8
Posted 09/04/2021 at 12:29:20
It's a good read in the Echo. I've watched Simms since he was a clumsy but powerful 16 year old. Anybody who thinks he hasn't been coached properly by our club is talking nonsense. There's a huge difference now in his ability to hold up the ball, bring in others, create space etc. I've often said that for whatever reason he's a year or so behind the likes of Gordon in his development. But he's improving gradually every season. Blackpool have identified one of his key weaknesses, he loses concentration and drifts out of the game and are working on it. It looks like a great place for him to be, he'll certainly come back improved. I can't see him challenging for a first team place yet, but a loan next season to a Championship club will tell us more about how far he can go.
Brent Stephens
9
Posted 09/04/2021 at 12:32:12
Kevin. For me the whole point of him going out on loan is to develop strengths and assets such as his use of his size, and to work on his weaknesses such as his concentration
Phill Thompson
10
Posted 09/04/2021 at 12:36:41
Robert #7, I'm pretty sure the original loan was for the rest of this season. His contract is up in 2022, I may be wrong but it would be unusual to commit to an 18 month loan period for a young player.
Phil Smith
11
Posted 09/04/2021 at 13:15:27
Chris, you missed out Beni at Derby. Also Adeniran at Wycombe as well. He's been in and out like all the others you've mentioned. Noticed they've won 2 on the bounce since he came back into the side. Only Connolly and Pennington, who're surely too good for League 1, have been regulars.
Think Branthwaite, Simms and Gordon are the only ones coming back for next year. All the others will be shipped out this summer. Hopefully some will make it back to the Prem, like Dowell next season. At the very least they'll all be at Championship clubs, as that's their level. We won't mention Markelo...
Robert Tressell
12
Posted 09/04/2021 at 13:21:05
Must have mid-read it Phill.
Jay Wood
[BRZ]
13
Posted 09/04/2021 at 13:49:00
Brent, that is Kevin goin' fishin' again.
I think this is a great read. The loan system has its critics, but Blackpool appear to be giving the lad a good schooling and taking their pastoral care of Simms very seriously.
It must help his development that Blackpool, who started the season lethargically and were way off the top, are now in a rich vein of form and are in the promotion places to climb back to the Championship. That makes every game important so the players and the team have to be 'on' all the time.
I'm someone who watches as many academy games at all age groups as I can, and I always had a wry smile when some called for Simms to be 'given a chance' in our first team.
Ellis is way, WAY off PL class still. Personally, I don't see him making the leap to Everton's first team, but like so many academy players down the years he will have a career in the game.
The loan system may be a bit of a lottery, but this report shows it maybe isn't a totally forlorn and futile exercise.
Barry Williams
14
Posted 09/04/2021 at 14:01:47
Teenager occasionally has problems concentrating. Well there's a thing! Being an ex-teacher, I think it has taught me that teenagers have a problem focusing at times. He'll naturally become more focused with age.
Kieran Kinsella
15
Posted 09/04/2021 at 14:11:35
Similarly it sounds as though Mowbray at Blackburn is invested in improving Branthwaite. Much better than sending them off to a Warnock or Pulis
Danny O'Neill
16
Posted 09/04/2021 at 14:55:13
Refreshing but understandable. Any coach worth his salt will want to develop talent in a player so this is great to hear.
The icing on the cake is the player comes good for our own club, or in Blackpool's case, maybe they have an option negotiated for an extended loan or transfer.
The most important thing, from a youth coaching perspective, is we want to give the players to best opportunity to forge a career in the game.
Pat Kelly
17
Posted 09/04/2021 at 15:24:15
Maybe we could send them DCL and Richie to work on
Derek Knox
18
Posted 09/04/2021 at 17:28:20
I have got to agree that Blackpool seem to have Ellis's correct development first and foremost, but tempered a tad by not playing him as often as we, or the lad himself would ideally like. Seen the kid many times for the U-sides and he certainly seemed to have a keen eye for goal too. I just hope it works out for him and hopefully us too.
Having said that, I know the goal is the same size, at all levels, but as you go higher up in the echelons of the various Leagues, midfielders and defenders are quicker, and better so it is less a game of Aunt Sally, and more a Game of Chess with football boots and a ball.
I think there are an awful lot of players who seem to ' have it ' at an early age and either score for fun, defend like troopers, or show consummate skill in midfield, and we all start thinking, this guy will save us a fortune, whether it be in any of the positions, but later they seem to just peter out. Okay they will probably earn a decent enough living playing at Lower Levels, but the next Wayne Rooney is like rocking horse dung!
Pat K, you naughty boy there, some will be upset by that, but you have got a point on recent form.
John Boon
19
Posted 09/04/2021 at 17:40:50
Chris (6). I also like to follow all loanies. While age and experience are always factors the precentage of those likely to play in the Prem is so low thta even one success will be an achievement. I also read an article that indicated that most Celtic fans are NOT satisfied with Kenny.
Despite the somewhat gloomy news on loanies, Everton still need to give all young players a chance to prove their worth. I also think that we do not give enough young players the chance to have some games in the first team.
Robert Tressell
20
Posted 09/04/2021 at 18:07:52
Quite a good comparison to Simms' progress is Daryl Dike at Barnsley. Both 20, both big units (Simms is a bit taller and 6 months younger than Dike). Dike's hit the ground running at Barnsley after the MLS and scored 7 in 13 in the Championship. Simms has 4 in 13 for Blackpool (the division below). The reason I mention it is that we're linked with Dike as a player with a £10m price tag, albeit one who looks too raw just yet for the Premier League. Simms is no Dike, at the moment anyway, which means there's a long way to go for him still. Good loan next season might help bridge the gap.
Don Wright
21
Posted 09/04/2021 at 18:33:21
If Blackpool do not do anything else with the lad they need to get him to a barbers when they open on Monday I mean come on
Danny O'Neill
22
Posted 09/04/2021 at 18:43:06
I'm told that Ancelotti has been speaking up young Warrington. I was impressed with him in the U18s match against City, although acknowledge it was just one game.
Apparently they have had him train with the first team since and been showing him clips of Allan.
Seems they are impressed with him as I think a few of us were.
Phill Thompson
23
Posted 09/04/2021 at 18:52:44
Lewis Warrington making his first start for the U23s tonight v Blackburn. It looks like a 4-2-3-1 formation with Warrington/ Isaac Price as the 2 as per Youth Cup.
It's on now on the clubs YouTube channel k.o. 7 pm.
Kim Vivian
24
Posted 09/04/2021 at 18:58:25
Kim Vivian
25
Posted 09/04/2021 at 18:58:25
Don't want people to take this wrong - but what's his heading like?
Paul Birmingham
26
Posted 09/04/2021 at 19:14:49
Tony agreed, that's the way, to do it, and bar a very few players in history, most players have som rough edges that need improving.
Seems that Ellis is in capable coaches with his best interest at heart, and I think now it will be his mental strength and belief that needs to come through.
I'm sure he can achieve success and that will take loads of true grit, courage and belief.
Antony Kelly
27
Posted 09/04/2021 at 19:53:28
Listen and listen well, if they are still stuck in boys football at 20 they may find a level but not at our Club, every player that is playing tonight 20 and above forget about them they are not good enough for Everton, sorry but I am right, end off!!!
Phill Thompson
28
Posted 09/04/2021 at 20:05:58
Kim #25, I would say heading is a weakness in Simms's game given his size and build. He lacks the ability DCL had at the same age to go for the ball in the air and bully defenders. The vast majority of his goals are with his feet.
Dale Self
29
Posted 09/04/2021 at 20:09:53
What, you think he needs a haircut Kim? See you Monday.
Brent Stephens
30
Posted 09/04/2021 at 20:13:22
Fuzzy logic, Dale?
Barry Rathbone
31
Posted 09/04/2021 at 20:40:51
Si Cooper
32
Posted 09/04/2021 at 21:16:06
This seems to back-up some assessment of U23s level versus first team expressed on the Gbamin. Seems that to end up being the biggest fish in the biggest pond some do have to transition through different sized ponds rather than going straight from the smallest to the biggest. U23s isn't necessarily suitable to be used as first team training games.
Tony Abrahams
33
Posted 09/04/2021 at 21:35:33
That's exactly what I've been saying like a scratched record for years Si.
Si Cooper
34
Posted 09/04/2021 at 22:00:01
Given that Tony, why did the clubs ditch the reserve leagues completely?
I had assumed the clubs had some 'in-house' system designed to bridge the gap such as full tilt training games.
Rugby training sessions could be brutal, with players trying to prove they were ready to step-up. It didn't give you full preparation for the speed of games the next level up but it got you very close.
Jason Li
35
Posted 10/04/2021 at 09:36:48
Antony @27, yeah, I think you're right. Anything else is an outlier.
Players like Vardy, David Platt, Ian Wright who become world class players from near grass roots level (at one stage) are in the rare minority outlier. If our youth players at 20 can't show many glimmers of fantastic performances at Championship level, then it's a long development process ahead.
However, I think if Simms is in the Championship or say abroad in a top league next year, it will give us a great clue as how much he has to improve, as there are lots of good attributes to like.
We need young players who can match performance levels at 19/20/21 years old of players such as these below if we want to build a foundation of top quality young players:
Ismaïla Sarr
Dwight McNeil
Todd Cantwell
Buendia
Coleman
Godfrey
Lukaku
Lescott
Arteta
Rooney
So unfortunately, most of the youth squad who are 20/21 are I suspect going to be re-homed hopefully in a good club, say at League 1 level. Let's hope some of them do a Lundstrum and make a brief living at Premier League level one day - they all have a chance to do it if they want it more and work on getting better rather than doing anything else in their leisure time. ( It could be anything like watching how sprinters train and get faster times, running technique of sprinters, how marathon runners plan a course, how high jumpers get more lift, how judo people use their bodies - just depends on how much they want it.)

Dave Abrahams
36
Posted 10/04/2021 at 10:02:25
Jason (35), there is a fitness coach, a Scouser, who has put an extra yard of pace on Sterling, since he left Liverpool, and it shows, I think he has done something similar with Foden at Man.City, whose agent is a Scouser, amazing how much difference that extra yard of pace makes.
Jason Li
37
Posted 10/04/2021 at 10:24:42
Dave @36
That's a great insight. I've noticed many times you're a man of knowledge on local football and sport, and of course plenty of other things. I do wonder if the club could do with some more local ears at times to keep ahead.
Let's hope our staff at the club have the humility to bring in more coaches who are successful in other sports, even if they are classed as an "amateur". The main thing is, if they have the data to show some evidence and good results, then why not mix it up a bit to see in our own closed door observations on the effect of some new ideas. These boys are brilliant at 14, but not the best-of-the-best at 20. Sometimes, it's worth "stumbling" on an idea/variable that can have a significance on the effect in one of the year groups.
Also, it would make training and homework much more stimulating and interesting to get the insights from non-football coaches with winning formulas to try out and experiement with. And while doing this and the boys are trying stuff out, they might be inadvertantly improving even more.
Or we could bring in legends like Daley Thompson. Image a day where he came round and showed people how he managed his body, rest, gym ideas, improvind different areas and managing his schedule.
Tony Everan
38
Posted 10/04/2021 at 10:27:18
Sounds like Mike Garrit at Blackpool is really engaged and enthusiastic about helping Ellis to mature from an U23 boy to competing against men and the experienced skills that entails. This loan will be an education for him. Loan moves don't always work out but occasionally they can create the spark which ignites a career.
Dave Williams
39
Posted 10/04/2021 at 10:49:34
We can generalise all we like but every player is different at this sort of age and there are so many factors to come into play. Do they have a stable family to go home to, do they have decent friends who won't encourage them to go off the rails, is there a partner who will act as a distraction, do they have the discipline to eat the right food and avoid alcohol and drugs, do they have the bravery to stand up to bigger, hardened professionals who will try to bully them before the game even starts, do they have a strong will-to-win,how badly do they want to become a top class professional footballer. How mature are they both physically and mentally?
So many factors it is wrong to take a broad brush and write them all off at 20 years old. I do wonder though if as a club we build these lads up in the press - remember how Branch was supposed to be the next Michael Owen? Ledson,Walsh,Dowell were all built up as future stars only to end up having to try to fight their way back up from lower leagues. It can so easily affect them mentally when they are bigged up like this and the same is now happening with Lewis Warrington. Surely better to keep quiet til they are ready?
Tony Abrahams
40
Posted 10/04/2021 at 12:18:40
I don't know why they done away with the central league Si. Maybe it is because the first team players are to big for their boots nowadays, maybe they brought in a specific age league, to help try and develop more youngsters, and some clubs haven't properly adapted to the concept, but it's all speculation, even though it looks much better from the outside looking in, to see Everton currently playing a lot of younger players in the Under 23 league at the moment.
I like Michael Garrity, he was under 23 manager of Liverpool for a period, and after having a very bad injury whilst a young player at West Brom, he decided to pursue a career in coaching from a very early age, and this is possibly why he's very interested in helping out youngsters who he feels might have a chance.
Kevin Prytherch
41
Posted 10/04/2021 at 12:50:31
Simms seems to struggle, but then adapt, every time he moves up a level.
He struggled a bit in his first season for the U18's, then scored for fun the year after. He struggled at first when he moved up to the U23's, then started scoring regularly. He's struggled a bit when playing against men, hopefully he will follow the same trend.
Not every player is a world beater at 19, some of them learn and adapt before becoming top class players. Just ask Harry Kane.
Mike Corcoran
42
Posted 10/04/2021 at 12:58:05
Article about Lewis Warrington in the Echo. He used to come to my lads training with his older brother. https://www.liverpoolecho.co.uk/sport/football/football-news/everton-midfielder-allan-marcel-brands-20342871
Tony Abrahams
43
Posted 10/04/2021 at 12:58:10
Good post Kevin, even if I can still remember this Turkish fella, telling me the same thing about Tosun!
Danny O'Neill
44
Posted 10/04/2021 at 13:11:25
And ask about his loan to Millwall as well Kevin!! Tongue in cheek, I appreciate the jury is out on the benefits of the loan system.
You're absolutely correct though, like in any walk of life, some people learn and develop at different stages. Change of surroundings often results in a step back before moving forward again.
Robert Tressell
45
Posted 10/04/2021 at 18:12:17
Really good goal for Simms today. Making space and firing in a very good left foot finish. It's still a long way to go before he could play for a team at the top end if the Prem, but a strong finish to this season will do him no harm.
James Newcombe
46
Posted 11/04/2021 at 10:48:37
Cracking goal yesterday, hope he keeps it going!
James Flynn
47
Posted 11/04/2021 at 20:24:15
Here's a brief highlight of the Blackpool game yesterday. That our Ellis in white shirt and afro.
2 nice chances, made one. And I think that's him getting the ball forward for BP's second goal.
Justin Doone
48
Posted 12/04/2021 at 22:38:26
I've said this to many people before and I believe in the youth systems but I also see the other side.
Many league teams would be financially better off scrapping the youth teams and simply loaning 4 or 5 players each season as back up or to asses future signings.
Evertons youth success stories are few and far between in recent years. Tom Davies the only first team regular and although I'm a fan and think he's a good player, he's not top class and never will be.
We can't attract the best at any age range currently, Liverpool, the Manchester clubs and others all bring through or sell for millions a couple of players each season.
We have a lot of caching up to do both on and off the pitch. I believe we have started to address these issues but when a promising player like Small and Nkounkou see Godfrey as first choice back up as an attacking full back or wing back, whats the point in sticking around.
Godfrey has been great, possibly our best buy but our general game management has been too negative for my liking. Chasing a game Siggy, James, Gomes, can't get around the pitch quickly enough. All 3 at once is ridiculous.
I want to see more of Nkounkou, he's a proper wing back option should we want to play that formation.
---
Add Your Comments
In order to post a comment, you need to be logged in as a registered user of the site.
Or Sign up as a ToffeeWeb Member — it's free, takes just a few minutes and will allow you to post your comments on articles and Talking Points submissions across the site.