Another injury setback for Gbamin may have ended his season
Monday, 12 April, 2021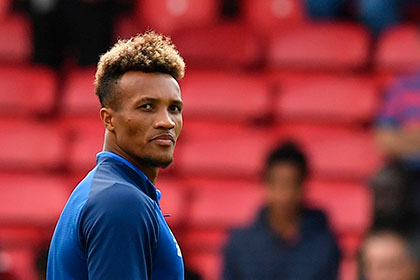 Jean-Philippe Gbamin has reportedly suffered another training ground injury and Everton fear he may not play again this season.
The Ivorian made his long-awaited return to action following a serious quadriceps injury and a ruptured Achilles in the 1-1 draw with Crystal Palace a week ago and was looking forward to building his fitness at a time when the Blues are short in midfield because of the absences of Abdoulaye Doucouré and André Gomes and Allan's own inconsistent availability.
However, Gbamin has sustained what The Athletic have described as a "freak" injury in training a year after he suffered the Achilles set-back that put paid to his first comeback attempt.
The report suggested that this latest injury is unrelated to his previous problems, both of which required surgery, and Everton have since confirmed that Gbamin suffered a "contact knee injury" and will undergo scans in London tomorrow on suspected ligament damage.
---
Reader Comments (100)
Note: the following content is not moderated or vetted by the site owners at the time of submission. Comments are the responsibility of the poster. Disclaimer
Andrew Ellams
1
Posted 12/04/2021 at 14:22:07
Sad for the guy but if this is true it's surely time to think about terminating his contract.
Chris Owens
2
Posted 12/04/2021 at 14:46:36
James McCarthy MkII.
As soon as he is fit again (if ever), wrap him in cotton wool and sell him. WTF goes on in these Finch Farm training sessions?
Gavin Johnson
3
Posted 12/04/2021 at 14:50:26
Really sad news. It doesn't look like he's ever going to play to high level again. Danny Williamson MK2
Soren Moyer
4
Posted 12/04/2021 at 14:50:37
Oh dear!!!
Dennis Stevens
5
Posted 12/04/2021 at 14:54:41
Ended his season? One of these injuries is going to end his career! Nobody will want a footballer who never gets to play any matches. He must be gutted!
Brian Murray
6
Posted 12/04/2021 at 14:57:36
Time to be a ruthless club and look long and not too hard at at least seven other terminations. Including Gomes iwobi and siggy Bernard if they are still here near end of the window. Sick of all these one game in four merchants. It's all very well saying they come in handy and they are not first choice but we are not like other clubs as in most of our first 11 can't stay fit so then we back to relying on them. Perennial 7th or 8 th year after year.
Marc Hints
7
Posted 12/04/2021 at 15:01:09
It does make you wander what goes on at FF as every year Everton get hit with bad injuries that last months.
Dave Abrahams
8
Posted 12/04/2021 at 15:03:20
Let's wait and see how serious the injury is before writing him off, good luck lad, you've come back from two bad injuries hope this one is not the same and one you can overcome, best wishes.
Pete Williams
9
Posted 12/04/2021 at 15:20:41
Did this guy smash several mirrors and then run over a dozen black cats? He join's a long list of Everton players who can't seem to survive the training ground e.g. Delph. Statements I've seen say it isn't the same quad injury as before, so I hope he can recover quicker than predicted.
I remember Martinez, who has a physio qualification, say that we don't recover our injured players in the right way. I know this is a weird season, but the club must look at things as players being injured in training is happening too often e.g. Doucouré. Palace are also getting more games out of McCarthy than we did, so maybe we are doing something wrong?
I also see that Tosun has had to have knee surgery after an injury, so that's another stack of money sat in the treatment room!
Minik Hansen
10
Posted 12/04/2021 at 15:34:36
Wonder what happened.. couldn't have been Delph, that's for sure.
Pete Williams
11
Posted 12/04/2021 at 15:40:53
Maybe Rhino joined in with the first team?
Mike Rothwell
12
Posted 12/04/2021 at 15:46:02
The ghost of Archie Knox, allegedly rents a lockup in Halewood for his Klingon cloaking device and burgeoning baseball bat collection.
Seemingly has a penchant for inflicting 'freak' injuries with a speciality for midfielder's
Only rational explanation?
Tim Greeley
13
Posted 12/04/2021 at 15:46:33
We'll always have those 12 Minutes Against Palace... hoping for the best, like a broken toe or displaced eyebrow something that will heal naturally. Just crazy, feel for him and for US!
Tony Everan
14
Posted 12/04/2021 at 15:47:50
Unbelievably bad luck, was he doing too much too soon ? After that long out he needed a preseason. There again he probably would have got injured then too.
Looks like this season now is totally dependent upon Allan staying fit. Him and Tom Davies can forge a CM partnership and all is not yet lost.
Tom Davies gets out of proportion criticism, but whatever you think of him he is nearly always available, improving and ready to fight for he cause. We are lucky to have him in the squad.
Frank Wade
15
Posted 12/04/2021 at 15:50:12
Dreadful news, especially coming so soon after his recovery, must be a killer to cope with mentally. I wonder did he just push a bit too hard in training, trying to get back to 100%. Thankfully he has the full support of the true fans who understand football.
Injuries are not confined to Everton. Look at Liverpool who lost 3 centre backs, Matip, Gomez and Van Dijk to long term injuries. See list of Premier League injuries at this site Link We are joint top on 7 with about 5 others.
Thomas Richards
16
Posted 12/04/2021 at 16:00:33
Not worth a carrot this lad.
Hopeless.
Get shut of him ASAP
Ffs lads he hasnt chosen to be injured
Luke Welch
17
Posted 12/04/2021 at 16:03:20
Whatever they do at FF it doesn't transfer onto the pitch- properly, fell over on way there..
Jerome Shields
18
Posted 12/04/2021 at 16:06:18
Pete#9
That use to be the case regarding recovery, where the theme was a soft recovery, which quite frankly some taken advantage off. Martinez's specific concern was a proliferation of soft tissue injuries.
Ancelotti placed the back up team that came with him strategically within Medical Services and was able to speed up recovery. Though old Soldier Delph seems to know a way round the system. These Ancelotti changes have mean't that Everton have been able to keep going on a limited Squad.
Gbamin was obviously a hope to be added to the Squad along with other Transfers in this Summer. Unfortunately his position could have changed now as regards a place in a future squad.
Because of problems getting suitable players to sign for Everton, risks where taken on injury prone players.
David McMullen
19
Posted 12/04/2021 at 16:08:31
Bad luck with injuries. We do get 'em.
Craig Walker
20
Posted 12/04/2021 at 16:12:17
Got to feel for the lad but this must be one of our worst signings. He should never have come on last Monday.
Phil McKeown
21
Posted 12/04/2021 at 16:18:29
Fucking joke. I've gone beyond sympathy now. Get shot.
Alex Gray
22
Posted 12/04/2021 at 16:19:22
Gutting for the lad. I honestly can't remember a season like this for injuries.
Everton showed the last time we played brighton over social media. I could be wrong but that was the last time we had a fully fit squad wasn't it and played our strongest eleven? We looked a different side!
Jim Bennings
23
Posted 12/04/2021 at 16:19:53
Sad as it is, you get players who have a whole career blighted by injury.
Fabian Delph, Darron Gibson, Danny Williamson, Big Dunc to an extent, Slaven Bilic ect ect.
Sadly it seem Gbamin has a physical problem now where his body can not take knocks, some players are lucky but some have quite a resolve, didn't Klopp have a pop at Daniel Sturridge not that long ago for being a tad weak willed?
I don't see Gbamin ever being up to the physical side of English football unfortunately.
Gary Willock
24
Posted 12/04/2021 at 16:28:20
Made of glass.
My heart bleeds for the kid, but if there's an insurance policy, it's time to cash it in. :(
Colin Glassar
25
Posted 12/04/2021 at 16:30:46
I said it on another thread, gutted for the guy but time for both sides to part ways. Not his fault I know but if his body can't take the strain pay him what he's due and he can recover, and get on with his life, somewhere else.
Kieran Kinsella
26
Posted 12/04/2021 at 16:34:15
Does anyone know what ailment Delph has that has kept him out for basically the whole season? I can't recall hearing anything except once every few months there's a "this game is too soon for him" or "maybe he'll be back next time" but nothing specific. Likewise with Bernard, presumably injured but never mentioned in pressers. Have they secretly been kidnapped by a cartel and Everton are debating on whether it's worth paying the ransom money?
Pete Williams
27
Posted 12/04/2021 at 16:37:43
Jerome#18
Thanks for the clarification, but despite the intervention you refer to quick recoveries don't seem to be very common. Ignoring Delph and Gbamin, Allan was out for ages, I think Coleman was too, James is a legend on that front, Digne missed a lot of games and Mina took ages as well.
I think we have to put most of it down to this wierd season and having an older squad that are playing too much. We really need to get in younger players like Godfrey and dump the old guys. For Gbamin I think he's just been out so long that the step up to full pace training was too much for him. Only time will tell if he's a long term sicknote, but the signs don't look good, poor lad.
David Connor
28
Posted 12/04/2021 at 16:38:58
Should have wrapped him in cotton wool and got shut in the summer. Think this lad's career could be over. Termination of his contract has to be an option surely on medical advice.

Be nice if we could do it with Delph and Tosun who is crocked yet again. Everton's luck, isn't it?
Roger Helm
29
Posted 12/04/2021 at 16:45:34
I am sure he is a nice lad and very talented and I am sorry for him, but you need a certain physical robustness to play at this level which it seems he doesn't have.
I hope he was insured so we can end his contract.
Joe McMahon
30
Posted 12/04/2021 at 16:50:46
Unbelievable. Christ if it was a car it would be scrapped. We really do need young physical
tough players that can run and stike a ball with venom as stated above more like Godfrey.
Always Everton isn't it, millions spent for injuries and lack of goals.
Trevor Peers
31
Posted 12/04/2021 at 16:53:25
Gbamin is just another example of why we are uniquely disastrous in the transfer market and have been for decades. It's hard to think of the last piece of business the blues have conducted that turned out to have a satisfactory outcome, Richarlison? Maybe.
Having one player who has massive injury problems maybe unlucky, but to buy a half a squad of players who regularly don't complete a full season smacks of total incompetence at every level through out the club. Obviously no thought is given to the fitness required to compete in the premiership when buying, as all to often the players we buy can't comp!ete a full season.
Somehow, as fans, we have just become accustomed to accepting this happening at Everton, our ability to squander £millions in the process on transfer fees and huge wages has become truly breathtaking. Moshiri must be having sleepless nights when he realises the huge amounts of money that's been wasted, I actually feel a bit sorry for the guy.
Jerome Shields
32
Posted 12/04/2021 at 16:54:08
Pete#27
You are right, but most have recovered and aleast played some part on Ancelotti 's target of European football. I do think it is more down to risks been taken on injury prone players transfers. Delph is a exceptional case , with his plain stupid contract. Agree with you regarding Gbamin.
Hugh Jenkins
33
Posted 12/04/2021 at 17:05:11
From what I have seen elsewhere he "accidentally ended up under a pile of bodies, in training".
How does that happen?
Another thing that always make me cringe when I see goal celebrations is half a dozen strapping lads jumping on the back of the gaol score.
If I was the manager I would fine any player that did that.
I know these guys are supposed to be super fit - but the human back is a fragile mechanism at best and is not designed to have half a dozen other people jump on to it, all at the same time.
As I said, as a manager I would be livid if my star striker was out next week with a slipped disc because some other players had jumped on his back to celebrate a goal last week.
They need to cut it out.
Roger Helm
34
Posted 12/04/2021 at 17:08:35
The last time we had good recruitment was when Moyes was here. Jagielka, Cahill, Fellaini, Baines, Lescott, Coleman, Pienaar, mostly bargain prices and all could play for nearly a whole season.
If we could only have afforded a goal scorer we would have been in the Champions League.
Tony Everan
35
Posted 12/04/2021 at 17:10:20
"Accidentally ended up under a pile of bodies "
What in the name of god is going on at FF ?, more players getting injured there than during full on competitive matches.
Kieran Kinsella
36
Posted 12/04/2021 at 17:13:41
Hugh/Tony
From what I heard, Gbamin dropped his 50 pence tuck money on the ground, cheapskate Delph noticed and shouted "bundle" and everyone piled on top of Gbamin
Ian Price
37
Posted 12/04/2021 at 17:16:15
That's 2 injuries sustained in training for this lad. What on earth are the coaches doing to him? Surely he should have been on a separate training plan to the others due to his previous injury history. This isn't the first time we've heard of players getting injuries in training. Makes you wonder if these players are actually less fit than they say they are. Time for this lad to look into another career
Winston Williamson
38
Posted 12/04/2021 at 17:21:02
Hugh (33): no bother there. We don't score many goals and no one in the squad are quick enough to catch DCL and Richarlison
Winston Williamson
39
Posted 12/04/2021 at 17:22:33
Can we have Moyes back? But as chief scout 😂
Brian Wilkinson
40
Posted 12/04/2021 at 17:28:45
Gavin@3, that's a bit mean, Williamson Managed to play 15 games for us
Anthony Hawkins
41
Posted 12/04/2021 at 17:32:18
Sadly Winston, I doubt West Ham will let their current manager go. He's doing well there although wouldn't want him back here.
Christy Ring
42
Posted 12/04/2021 at 17:36:09
Feel gutted for him, especially when he looked thrilled to be back against Palace. I don't think you can blame the medical team if it's a freak injury in training, and why wasn't it mentioned on the official site? Didn't he do his achilles playing head tennis? If it's another serious injury it's make or break time. I will say this, you look at Delph who is constantly injured, but why did Brands sign him, he was totally injury prone at City, and signing him was a costly mistake.
Paul Jones
43
Posted 12/04/2021 at 17:38:23
Another disastrous Director of Football signing. Given the limited playing time and lack of stellar reviews before signing does seem to be another signing were a wealthy owner has trusted the use of his wealth to third party with no acumen for football potential and the potential hazards of the buy.
Robert Williams
44
Posted 12/04/2021 at 17:40:57
I think his name say's it all 'bami' totally effin barmy!!
Brian Wilkinson
45
Posted 12/04/2021 at 17:43:06
Roger@34, you are right there, we did alright with a lot of our signings previously, we have gone backwards since we appointed directors of football.
Joe McMahon
46
Posted 12/04/2021 at 17:47:12
Roger, Barry and Lukaku in the same window with Del also
Hugh, don't worry about goal celebrations, Everton don't do goals.
Rob Halligan
47
Posted 12/04/2021 at 17:51:55
Thomas # 16. I had a real belly ache laughing at some of the shite posted on the Brighton v Everton thread yesterday. I've got another belly ache laughing at some of the shite posted on this thread.
Andy Crooks
48
Posted 12/04/2021 at 17:57:28
I am glad I logged on to get the inside info. I know nothing about the extent of this injury but apparently this lad is made of glass and not robust enough for the Premier League. Throw in the staff at Finch Farm who are so unskilled that they actually injure our players and this is what you get.
Also, instead of being ruthless and getting rid or terminating his contract we are actually going to pay an injured player and fulfill our obligations to him. I suspect we might also support him in trying to get him fit and look out for his mental health too.
What an embarrassment of a club.
Bill Hawker
49
Posted 12/04/2021 at 17:57:43
Seeing a few folks thinking that we can "terminate" his contract. Yeah, we can probably "terminate" it, for the amount remaining on it. You don't get to just terminate contracts whenever you want. I'm pretty sure Everton is obligated to him for the life of the contract. Unfortunate? Yes but that's how it works and that's the risk you take. I feel terrible for Gbamin. The player has worked hard to get back to where he can play again and then this happens. The word "unlucky" just doesn't do it justice. Fortunately, we have people in the club who'll back this guy all the way, hopefully to full rehabilitation. I wonder if this same scenario had happened to a player like Richarlision or Digne after their first years with us. How many would be asking to try and "terminate" the contract? I'm guessing I'll hear chirping crickets.
Thomas Richards
50
Posted 12/04/2021 at 17:57:49
Sorry chaps.
I must have clicked the link for the lfc site by mistake looking at some of the comments
Rob H.
A joke some of the comments on this thread
Mike Gaynes
51
Posted 12/04/2021 at 18:03:02
I've just got the belly ache, Rob... can't muster even a smile for the crap posted here.
Terminate his contract, the kid's made of glass, no thought given to fitness, must be Finch Farm, must be the coaches, can't take knocks, uniquely disastrous in the transfer market, disastrous DOF signing, always Everton, time to be ruthless.
Geez.
Gordon Crawford
52
Posted 12/04/2021 at 18:08:32
It's been reported that it's a collision injury. That's what's circulating Twitter.
Rob Halligan
53
Posted 12/04/2021 at 18:16:56
Between 2013 - 2016, he played 91 games for Lens. Between 2016 - 2019 he played 86 games for Mainz. So a total of 177 games in 6 years, at an average of 29.5 games per season. So he comes to us with a pretty decent playing career behind him, and unfortunately in his second or third game for us, he picks up a serious injury. So how the fuck is he made of glass, and how the fuck is it a bad signing by Brands? Could Brands see into the future and see Gbamin was going to get injured, but thought "Fuck it, we'll sign him anyway" Shit happens, it happens to every club.
Evertonians are supposed to be some of the most knowledgeable fans in the country. I think all the village idiots throughout England have been rounded up and dumped on ToffeeWeb.
Oliver Molloy
54
Posted 12/04/2021 at 18:24:46
I'm sure I did read that Gbamin did say that he was so full of enthusiasm to get back the medical, physio and coaches had to reign him in at times.
Could possibly be explanation as to how this "contact " knee clash happened.
Very unlucky for the player, let's hope it proves to be minor.
Don't fancy us tonight by the way, Brighton play some decent stuff and are quick.
Jonathan Tasker
55
Posted 12/04/2021 at 18:31:02
I'm not interested in what Gbamin has done in the past.
He's done absolutely nothing for Everton so is yet another in a long list of disastrous signings by the club.
If I owned the club I'd be setting up a full scale enquiry. There's something very wrong at Everton.
Thomas Richards
56
Posted 12/04/2021 at 18:34:01
Missed a trick here the Blues.
Surely this can be adapted to predict football injuries.
https://www.dailymail.co.uk/news/article-9460389/Pentagon-scientists-invent-microchip-senses-COVID-19-body-symptoms.html

Rob Halligan
57
Posted 12/04/2021 at 18:34:07
Talking of which!!!
David Pearl
58
Posted 12/04/2021 at 18:34:21
Unbelievable
Stephen Brown
59
Posted 12/04/2021 at 18:39:27
Well said Rob Halligan!
Terrible luck I'd say and he's still got my support despite everything. Unlike Delph who I'm not so sure about? What exactly is his injury?
Joe McMahon
60
Posted 12/04/2021 at 18:42:08
Rob, maybe after decades of shite some of us may be sick of it.
Our neighbours are the media darlings who win major trophies we just blast millions to finish mid table, playing awful to watch slow low scoring football.
Dale Self
61
Posted 12/04/2021 at 18:42:43
Some of the comments are certainly giving some maladjusted Yank NFL types a run for their misanthropy.
Ok. I know there are some reasonable NFL fans but you know the type being referred to here.
Brian Wilkinson
62
Posted 12/04/2021 at 18:43:15
The role of the director of football is to check out these players the Club have sourced out, to try and find some hidden gems and to negotiate between clubs on trying to strike up a deal.
It is also to help promote youngsters to come through to the first team.
Some of those players that Brands brought through, were players Carlo knew and wanted.
Before that Walsh brought through some players, our previous Managers wanted.
Can anyone tell me that in the time scale of having the two directors of football at the club, how many of those youngsters have been given an extended run in the team, ok Davies and a couple more at most.
The Manager picks the team, he has youngsters on the bench, but week after week, we never see any coming off the bench for game time.
Tonight we will have the likes of Broadhead, Nkounkou and maybe even Warrington, however you know if the likes of Iwobi, Or any of the other suspects are on the bench, you know the same will come on tonight, leaving the youngsters left on the bench without game time.
If the role of the director of football is to promote youngsters, then why not give them a run out from the bench, instead of going for the same faces, week after week coming off the bench.
Call me old fashioned but having a Manager and scouts seemed to work well, before the directors of football came in.

Rob Halligan
63
Posted 12/04/2021 at 18:43:31
Stephen, according to the official club website, Delph's injury is "A Tendon" injury. You can check all injuries on the club website by clicking on Teams in the blue band then injuries and suspensions.
Pete Williams
64
Posted 12/04/2021 at 18:47:36
Hindsight is essentially useless and foresight on injuries is impossible. Brands could not have seen this coming when he signed him. At least age is on his side and if it was a really stupid accident as some have said then he's not made of glass. He's just got dumb team mates. They should take the idiots that jumped on him out to Formby and make them run up and down sand dunes all day.
Colin Glassar
65
Posted 12/04/2021 at 18:49:26
Richard Wright was another sick note. Still can't believe he fell over the sign on the goal line and injured himself.
There was another player (not a Blue) who dropped a jar of mayonnaise on his foot and was out for months.
When players pile on top of each other in celebration I'm often amazed more aren't injured.
Jonathan Tasker
66
Posted 12/04/2021 at 18:52:11
Didn't Richard Wright also fall out of his loft ? Ffs
Darren Hind
67
Posted 12/04/2021 at 18:57:02
Shandy Andy fell off his bar stool
Kim Vivian
68
Posted 12/04/2021 at 18:57:44
I think Delph's injured tendon is the one that stretches between his ears.
Ray Roche
69
Posted 12/04/2021 at 18:57:46
I read ages ago the Ole Gunnar Solksjaer injured his knee in the stupid knee slide celebration after the 1999 Champions League victory. Allegedly his knee was never as strong afterwards. I'm fairly sure it was Gary Neville who said.
And didn't Lua Lua damage his ankle in the somersault thing he used to do?
Barry Rathbone
70
Posted 12/04/2021 at 19:00:42
Dreadful news but this is business and he certainly seems "one of those" - a perpetual accident waiting to happen. Get him off the books asap.
Jonathan Tasker
71
Posted 12/04/2021 at 19:00:55
Don't forget Stephen Morrow dropped by his Arsenal team mates after the League Cup Final
Tony Everan
72
Posted 12/04/2021 at 19:01:37
Was it Dave Beasant the Wimbledon keeper who opened the kitchen cupboard and a bottle of salad cream fell out, then as it fell he tried to trap it with his foot and was out for a couple of months. May not be completely true but funny anyway.
Brian Wilkinson
73
Posted 12/04/2021 at 19:03:25
I am in agreement with those mentioning goal celebrations, sliding on the knees, players jumping and piling on top of a goal scorer, and the most annoying taking the football top off, knowing it will end in a cheap needless booking.
Become part of goal celebrations now so here to stay.
Colin Glassar
74
Posted 12/04/2021 at 19:07:36
Well Brian, as VAR is killing any sense of excitement in the game we may as well penalise any sort of celebration to finally kill off the game.
Martin Berry
75
Posted 12/04/2021 at 19:11:57
I feel sorry for the young man. And yes its frustrating for him more so than the fans.
As for the other players on the treatment table, well non of them want to be injured and its just hard luck, they need our well wishes not complaint.
Kristian Boyce
76
Posted 12/04/2021 at 19:22:14
Is the rumour true that it was Gbamin who injured Doucouré in training?
Neil Cremin
77
Posted 12/04/2021 at 19:36:14
Just started reading this thread and lo and behold another bitter little comment. Chris What is it with you and this website and James McCarthy. Gbamin has played about four full games for Everton while James McCarthy played over 100.
Petty, prejudiced and small minded. No wonder Benitez referred to us as a small club and unless we win tonight, that where we will remain. I see Carlo is still tinkering about with team formation to find magic formula.
Christy Ring
78
Posted 12/04/2021 at 19:36:57
Rob Halligan, Gbamin has been so unlucky with injuries since he signed, but I mentioned earlier that the signing of Delph by Brands and Silva didn't make sense. I said it at the time, he was injury prone at City, and it was a huge mistake signing him, and it has proved to be a very costly mistake. Most of the fan base here are very knowledgeable.
Bjorn-Ivar Pedersen
79
Posted 12/04/2021 at 19:37:50
This boy seem to not thrive outside the treatment room.
#glassfoot#getrid#terminate and all the other things you said.
Gary Reeves
80
Posted 12/04/2021 at 19:55:06
Three or four Comments on here saying "we should sell him!" I mean WTF.. . really, seriously WTF kinda comment is that.
Anthony Jones
81
Posted 12/04/2021 at 20:02:39
Maybe he plays and trains clumsily? Thought he was shite in his original brief stint. Hopefully not.
Peter Mills
82
Posted 12/04/2021 at 20:14:21
That team is capable of winning. It doesn't necessarily have to be a defensive performance, Coleman and Digne are excellent attackers. But Sigurdsson and James will have to work.
Steve Lew
83
Posted 12/04/2021 at 20:48:46
Hate to be negative but this is again another one of those performances so far...
Si Cooper
84
Posted 12/04/2021 at 23:30:49
'Thought he was shite in his original brief stint.'
What, a couple of appearances before he'd really had time to unpack?
If this injury is through contact and unrelated to the other 2 then it could just be an unfortunate coincidence and not a major concern in itself. You do have to worry about his apparent vulnerability though.
Anthony Jones
85
Posted 12/04/2021 at 23:40:12
Yes Si. He had unpacked. He had trained. He is a professional athlete. He played shite.
Justin Doone
86
Posted 12/04/2021 at 23:40:33
Sadly some player's never full recover ie constantly break down when fit.
Some injury prone players aren't worthy the risk, James, Allan. Most are not, Delph, Alc etc.
I do not trust Mina or Gbamin to play more than half a season, so like Macca, except that and/or move them on. We need to plan to be without then.
Hywel Owen
87
Posted 12/04/2021 at 23:47:02
Bye bye Jean-Philippe
Brian Wilkinson
88
Posted 13/04/2021 at 00:09:24
Sounds like it was Digne, who landed on Gbamin knee, that caused the injury.
Peter Dodds
89
Posted 13/04/2021 at 11:18:38
What rubbish talked about Gbamin by some on here. When another player jumps all over you and lands on your knee, things like this are going to happen.
I'd rather look at Carlo's predilection for older players, who will break down more often on average – witness Allan and James. We need younger players.
Michael Lynch
90
Posted 13/04/2021 at 11:30:47
Two things: firstly, it seems Gbamin has been fantastically unlucky. But, as others have pointed out, Tom Davies - playing in a similar position - is almost always available for selection. Perhaps some players are simply more injury-prone than others.
Secondly: if we were looking to sign midfielders now, we definitely wouldn't buy Gbamin. His injury record at his current club is dreadful and, in the few minutes he has managed to play since arriving, he's shown nothing. Now it may be that, given a full season in the PL, he will turn out to be a decent player. But that doesn't look like its going to happen any time soon.
Of course we will keep him on the books, and give him all the medical help he needs. But if we don't buy a replacement for him in the summer, we are taking a massive risk.
Dave Williams
91
Posted 13/04/2021 at 11:41:09
Some strange comments on here from posters who are usually sensible. You don't show a guy the door because a colleague fell on him! He has been dreadfully unlucky and may or may not make it back as a regular in the team but for heavens sake- get rid of him???? He must be so hacked off about what has happened and we need to support him again, not ask for him to be kicked out of the club.
Bad luck happens, he has not inflicted this on himself as far as we know so let's wish him well and hope this is not too bad.
Christy Ring
92
Posted 13/04/2021 at 14:11:36
I see where Digne fell on his knee. If it's only medial damage as Carlo mentioned, dare I say it, he'll be back fully fit for preseason and probably his last chance to show us what he's capable of.
Comments that he was shite in his previous brief appearance is absolutely shocking, judging a player with 10 minutes under his belt unbelievable. Doucouré and Digne both fractured their ankles in training incidents also... are we that physical in training sessions?
Peter Gorman
93
Posted 14/04/2021 at 04:58:21
I thought this was a bad joke at first. The lad is cursed.
Couldn't have come at a worse time for us either, we need the players available now. From his perspective, how the hell do you pick yourself up after this. I'd jack it in. Hope he doesn't despair.
Chris Gordon
94
Posted 14/04/2021 at 13:32:09
This has become a farce. Time to call time on Mr gbamin I'm afraid. True he has to be the unluckiest player at the club, but unfortunately my sentiment has all but run out. Get rid on a free and remove his wages from the books.
Jay Wood
[BRZ]
95
Posted 14/04/2021 at 14:23:35
Jeesh. The compassion.
I feel a song coming on.
Jack Convery
96
Posted 14/04/2021 at 15:08:01
Reports coming in on the news feed that he won't need surgery. Maybe his luck is finally turning. Here's hoping he has a good preseason and comes out fighting for 21/22. Good Luck JP, we are all behind you.
Jay Harris
97
Posted 14/04/2021 at 15:10:58
The good news is he wont need surgery and will almost certainly have a full preseason.
The bad news is a lot of Evertonians are letting their frustration turn into cynicism towards all the players.
If we are to ever climb that mountain back to the top we need full support of whoever puts that blue shirt on.
Tony Everan
98
Posted 14/04/2021 at 17:15:43
Thankful for small mercies applies. Out for the season but doesn't need surgery. They say luck evens itself out in the long run so in that case Jean-Phillipe will be lifting a trophy 🏆 for Everton at the end next season.
All the best to him in his (latest!) recovery.

Brian Williams
99
Posted 14/04/2021 at 17:23:57
Chris#94.
He has three years left on his contract so letting him go wouldn't be free.
If the club wanted to "offload" him then he has the right to three years of his agreed salary.
Makes much more sense to persevere at the moment if only from a financial viewpoint.
Brent Stephens
100
Posted 14/04/2021 at 18:06:04
Chris #94. I think that's a really sad post. A guy (who's been injured before) this time gets injured by one of his team-mates, and you post that!
He's going nowhere!
---
Add Your Comments
In order to post a comment, you need to be logged in as a registered user of the site.
Or Sign up as a ToffeeWeb Member — it's free, takes just a few minutes and will allow you to post your comments on articles and Talking Points submissions across the site.