Tosun out for the season following knee surgery
Monday, 12 April, 2021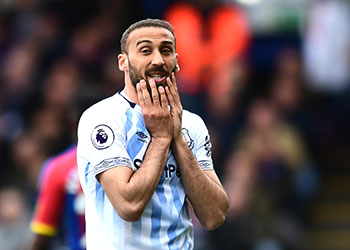 Updated
Cenk Tosun has been sidelined by another serious knee injury sustained in Besiktas's win over Buyuksehir Belediye Erzurumspor yesterday.
The Turkish international is on loan in Istanbul and was hoping to secure a permanent move back to his former club but has had to undergo surgery to repair a ruptured patella tendon which he suffered during the second half of the match.
Tosun saw a potential switch to Crystal Palace wrecked by another knee injury a year ago and had to return to Everton where he briefly featured once he had recovered before moving back to Turkey on loan.
Source: Time Turk
---
Reader Comments (32)
Note: the following content is not moderated or vetted by the site owners at the time of submission. Comments are the responsibility of the poster. Disclaimer
Jim Bennings
1
Posted 12/04/2021 at 16:24:42
How have we still got players like Tosun under contract at this club?
I wish him well on his recovery but the fella needs moving on permanently.
Maddening the amount on non-entity signings we have made for sizeable fees when you glance at some of the talent West Ham have nicked recently such as Soucek, Lingard and Bowen.
Kieran Kinsella
2
Posted 12/04/2021 at 16:31:17
If he's out six month then he'll be here when the summer window closes. His contract is up the following summer, so best base we save some wage money if we can ship out in January. Bernard and Delphs contracts expire summer 2022 also and I suspect they will also be here until the last moment.
Colin Glassar
3
Posted 12/04/2021 at 16:33:12
Moshiri needs to ask Uncle Allisher for a few bob to pay these guys off eg Tosun, Delph, Gbamin, Iwobi, Besic etc... Time to be ruthless.
Kieran Kinsella
4
Posted 12/04/2021 at 16:39:15
Colin
Besic! Another one. I keep forgetting how many crap, constantly injured or otherwise hopeless players we have. Tarashaj has to be the worst though. Even when we agreed to pay out half his contract and sent him out on loan for the duration of his contract he still managed to find a way to crawl back a few months ago.
Roger Helm
5
Posted 12/04/2021 at 16:48:44
Crikey! We are a Dad's army sick note club. Does anyone fancy adding up the capital cost and annual outlay on all these players who are always injured and/or not good enough for our first team?
Tony Abrahams
6
Posted 12/04/2021 at 16:55:21
In a nutshell Jim@1. We have had some absolutely awful players who have siphoned a lot of money out of Everton over the last few years, leaving us with a very unbalanced squad in the process.
Tosun and Walcott for over £40 million, before they've even had a days wage off our club, but hopefully after this summer, most of the deadwood will be gone🤞
Tony Everan
7
Posted 12/04/2021 at 16:58:02
I still don't know if clubs take out insurance for these injuries. The ligament injury at Palace cost us a potential 10m transfer at the time, this latest injury means we will get no fee at all for him now and end up paying wages and medical staff for a year.
I am not having a go at Cenk at all, it's just damned unlucky for him, I'd just like to know if we take the full hit for these injuries and their financial consequences. Paul the Esk, can you shed any light on this?
Alan J Thompson
8
Posted 12/04/2021 at 17:27:38
Why do people keep asking why we cannot pay them off? Is it good business or any financial advantage to pay the remainder of their contract all at once or slowly pay the same amount as per the timing in the contract with the possibility of having some of their wage paid by others if a loan can be arranged.
The signing of some of these players may not have been the best of business but the matter should not be compounded by further rash action.
Colin Glassar
9
Posted 12/04/2021 at 18:21:37
Remember guys, we are a family club. We look after our own😉
Pete Williams
10
Posted 13/04/2021 at 09:15:09
It's all very well saying ship em out, but no-one wants to buy because of the stupid wages we put them on. That means a loan to offset some or all of those wages is the next best thing to save the club money until contracts run out. Thankfully Bolasie and Besic are out of contract in June and Southampton want Walcott. Then there's the rest to deal with, but I repeat loans are better than pay offs for our finances if we can't sell.
Andy Crooks
11
Posted 13/04/2021 at 09:48:37
Ship him out? Where to? Can you imagine the outcry if someone shipped him out to us. We paid too much for him, he has been very unlucky with injury, he didn't fit what is, somewhat amusingly called, our style. The money is done, the gamble failed, we suck it up and move on. We'll soon get used to it.
Tommy Carter
12
Posted 13/04/2021 at 09:58:07
An unmitigated disaster this signing. Did anybody actually scout him or did they just pluck his name according to his stats.
His attitude has always seemed brilliant and no doubt his finishing is neat and tidy when given opportunities.
But he has no pace. Very little physical presence and naturally doesn't seem to have much of engine to get about the forward line, hustle defenders, hold the ball up and generate play from the front.
He is the kind of striker you might have found in English football getting a decent goals return in the early 90s. But in the modern Premier League this was a player woefully ill equipped for what was required.
His problems with injuries are not his fault and wish him a safe recovery to first team football elsewhere. But this signing was as expensive as it was obscure, and there's a clue in that.
Dave Abrahams
13
Posted 14/04/2021 at 14:16:21
There are quite a few players, bought since Moshiri took over the club, who got long years and very good wages on their contracts, Mr. Moshiri was given no help in how to deal with these contracts by those who brought him to the club, especially Kenwright, I've said this a few times on here, at an AGM in the Philarmonic Hall, Kenwright said " Mr. Moshiri is the man who keeps giving" not half and he was taken advantage of, he was the goose that laid the golden egg, he should have been advised much better than he was, and it continued with Walsh and Allardyce buying Tosun and Walcott with the money they were offered and the length of the contract, Walcott came for the money £5to£6M a year, ridiculous, Tosun, he must burst out laughing every time he looks at his contract and sees his monthly bank statement, you've been kidded by quite a few Mr. Moshiri and still are.
Tony Everan
14
Posted 14/04/2021 at 14:39:07
Tommy, Dave, First we got Niasse for 12m then atoned for that error by signing Tosun for 27m. You couldn't make it up, our scouting diligence has been that bad in the recent past. The club has been set back years because of it. In recent times the totally amateur planning after the loss of losing Lukaku for 80m was the worst episode.
The response to losing a 25 goal a season striker was for me one of the worst periods in the club's history for transfer dealings.
Spunking that money on the unforgettable no10 shitfest of players was incredulous, the inflated fees and insane wage deals continue to cause a prolonged drain on our reserves, it's part of the reason that leaves us short and exposed up front to this day.
Dave Abrahams
15
Posted 14/04/2021 at 15:08:21
Tony (14), yes absolutely the different players brought in for the same No. ten shirt, by different people all working for the same club but not speaking to each other about their plans, really incredible and unbelievable at the same time.
Tommy Carter
16
Posted 14/04/2021 at 19:30:48
@ Tony @ Dave
It was that bad for 3 consecutive years that it almost seems corrupt to be paying huge fees and huge wages to players who nobody else was remotely interested in for the same money.
Even Gylfi and Mike Keane. Who were we competing with for their signatures.
I know agents will do some of the heavy lifting when it comes to scouting but their job is to sell their players. Surely a premier league club doesn't take short cuts in terms of its own scouting before such heavy investment.
It is all a business after all and it would not surprise me if Sporting Directors and the likes will apply a favour to an agent in return for good will later down the line.
I. E if you take on Niasse for this money then I will make sure you are in the mix for X player on my books in the next transfer window.
Dave Abrahams
17
Posted 14/04/2021 at 19:45:27
Tommy (16), the word "corrupt" might seem a bit strong to some people but what went on in those three years has a real stench about, to me Mr. Moshiri wasn't looked after properly in my eyes, he saved Everton from going to God knows where, buying the club, paying off the debts, saving the club, and maybe himself, from paying the massive interest charges that the previous owner had gotten the club into paying, if Kenwright had looked after Everton with the financial nous that he used for his own show business interests then the club would have been a lot better off, he spent other people's money like there there was no tomorrow, knew how to look after his own better than Fagin out of "Oliver Twist". Yet Mr. Moshiri thinks the sun shines out his arse. A fool and his money is easily parted, not saying Mr. Moshiri is a fool, but I think he opened his pockets too easily and vultures jumped right in.
Thomas Richards
18
Posted 14/04/2021 at 19:50:56
Moshiri was blue bills winning lottery ticket Dave.
Picked up and squoze dry by the cheeky chappie
Tony Everan
19
Posted 14/04/2021 at 20:01:08
Dave, Tommy, Corruption or just plain amateurism who knows. I maybe naive but I think it's more likely to be the latter.
Whilst we are having a rant about it and letting of a bit of steam, one more thing.
We have the likes of Calvert-Lewin, Holgate, Davies who cost the club small change. These players have played a decent part in keeping the club on the rails throughout the rank disgrace that has gone on in those disastrous transfer years. These young lads come in for some pretty harsh criticism all to easy.
It's fair enough to criticise if they are having a bad game but look at the bigger picture and how they have contributed to the club without crippling us financially.
Amidst the often fair criticism, Evertonians should retain an undercurrent of respect and thanks for the commitment that these lads have shown in adversity. The club would be poorer and worse off without them.
Frank Wade
20
Posted 14/04/2021 at 20:12:58
Dave #1 You're in right form today. The Chairman doesn't make each and every decision himself. It certainly wasn't his decision to bring in Allardyce, a Moshiri panic move, but once in place, Allardyce was given a budget and freedom to spend it. Allardyce bought Tosun and Walcott and I've heard him laud himself for his attacking intent in doing so. My understanding is that the accounts show that the Chairman takes zero remuneration apart from sale of shares to the owner.
Dave Abrahams
21
Posted 14/04/2021 at 22:23:30
Frank (20), Frank I'm talking about a man not looking after his friend, more than a friend, a man who saved his club from financial disaster, he let other people ravage the man's pockets, where was the care and attention to the money getting spent, not just in the Allardyce period of the club,but Koeman's period in charge where bigger damage was done, I blame Kenwright for bringing for bringing Rooney back, a financial disaster, he was the chairman, why did he allow all this money to be spent without questions.
He never spent any of his own money while he was at the club, he got the into debt by borrowing off questionable people, Moshiri cleared all this up and deserved to be looked after by his chairman, he wasn't, he let down by the chairman, profited by him, twice, with more to come, Frank, you'll most probably tell me he had the right to profit from his shares, well he knows how to look after his own money very well, why didn't he give Mr. Moshiri some better advice on how to look after his. Maybe you are influenced by your friend who is a friend of Kenwright's, if I'm correct from a previous post of yours a few years ago. I apologise if I got that wrong.
Jerome Shields
22
Posted 14/04/2021 at 22:24:26
Deadwood at Everton seems like a eternal problem. Its not only a problem of getting rid off, its appears a problem of adding too in the recent pass. Worryingly it is a problem that could infect other players.
There is something wrong structurally at Everton that allows such a pattern to persist. All systems conform to a binomial distribution , the bell shape graph . In a normal distribution if the bell shape is sp!it down the middle , both sides should be the mirror image of one another. Evertons deadwood distribution is lopsided to the right , which points to structural problems throughout the Clubs management. This is why deadwood is a self perpetuating theme at Everton, and will continue until changes are made to address it a all management levels in the Club.
A mathematical fact for you all.
Bill Gall
23
Posted 14/04/2021 at 22:40:55
Dave # I don't think anyone needs to tell Moshiri how to look after his money, isn't he worth more now than when he bought his Everton shares
Bill Gall
24
Posted 14/04/2021 at 22:44:13
Deadwood at Everton sounds like the script for a movie hope the end is good as well as the movie.
Kieran Kinsella
25
Posted 14/04/2021 at 22:44:56
Dave 21
I think you make a fair point. Makes me think of Tony Fernandez feeling he was taken advantage of by Redknapp. As Bill says, Moshiri is a smart businessman but so was Randy Lerner and Ellis Short. Football is a strange beast, I'm not sure other enterprises prepare you for it
Chris Williams
26
Posted 14/04/2021 at 22:53:25
Bill,
Apparently his net worth has gone up to £2.1b, and Usmanov's has increased by £3.6b. Not sure what that means to either of them though.
I agree with Dave's view of the Chairman, although I suspect his failure was more to do with incompetence than dishonesty.
Either way the result for the club was just as bad, and has led to Brands time here being massively influenced by clearing out the bad buys one way or another.
Anyone heard about Brands new contract yet? About two months since we were told he was about to sign a new three year contract.
Don Alexander
27
Posted 14/04/2021 at 23:40:18
Throughout this century and beyond, Kenwright went on and on and on about being skint and seeking a wealthy but plausible buyer.
He failed to find anyone willing to pay his own bizarre, greedy estimate of our worth. A number of prospective buyers were invited in by him to conduct due diligence on the accounts, for up to a week. They all left within a day or two, never to return (as did viable club secretaries until Kenwright found the nodding-dog Elstone). His valuation of us was demonstrably bonkers. That means he wouldn't accept a market price because he wanted most of all to boost his own income via a sale.
He's spun us fans out for way longer than this century though and delivered, apart from in a rare reasonable season following which we were consistently embarrassed in the non-event qualifying rounds in Europe, God-awful football.
Further, to any Kenwright supporters, think what would have been the fate of his and our club if or until he found a buyer willing to accept his terms? The exorbitant purchase price bestows massive wealth on him whilst de facto reducing the ability of the new owner to spend as much on our club as might have been their initial intention.
That intention of course now having been dependant for years on advice from the smug charlatan who still occupies the chairman's seat in his "enhanced" role.
And yet folk still cast aspersions on players and managers for our ongoing mundanity as a viable trophy-winning club, avoiding mention of the actual elephant in the room.
Oh, and on Tosun, don't worry about him. He'll live an extravagant life for its remainder whilst he's based in Turkey. Every agent and bog-standard player in the world knows that, because we're the best-paying basket-case club on the planet.
Moshiri needs to change his system immediately. He needs to eradicate the Kenwright appointed staff who allegedly "Get Everton" and instead find funds this summer to seriously enable a manager who "Gets Football" to even begin to get where he said he wanted to be in three years – when he took over five long, depressing years ago.
Kevin Prytherch
28
Posted 15/04/2021 at 00:22:41
Just want to clarify in case I'm not following this
Moshiri came in and appointed a director of football to oversee transfers, something the club had never previously had.
Because the director of football spent Moshiris money lavishly, it must be Kenwright's fault.
Oh I wish we could have been sold to the Gillett and Hicks, or Ellis Short, or Randy Lerner, or Venkys, or Thaksin Shinawatra, or Carsten Yeoung
He also needs to get rid of the Kenwright appointed staff such as Davide Ancelotti, Francesco Mauri, John Hollingsworth, Mini Fulco etc.
Just checking I've got it right about why it's still all Kenwright's fault?
Dave Abrahams
29
Posted 15/04/2021 at 09:38:13
Kevin (28)zzzzzzzzzzzzzzzzzzzzzzzzzz.
Danny O'Neill
30
Posted 15/04/2021 at 09:52:15
If there is a picture to summarise Tosun's Everton career, you'd be hard pressed to find a more suitable one than selected for this thread.
Never like hearing of serious injuries to players, so I wish him well in his recovery and future career.
John Pickles
31
Posted 15/04/2021 at 10:20:59
If the injury means he'll lose a yard of pace then they'd better send him out the dressing room 5 mins before the rest, otherwise they'll be playing the first 15 mins with only 10 men.
Derek Moore
32
Posted 19/04/2021 at 15:08:39
Of all the bad business this club has done, the Turkish lamp post is definitely worth a shout near the top.
Bad decisions in retrospect are bad enough; bad decisions in real time is just madness. Allardyce was ALWAYS a stop gap, to sanction a January spending spree that yielded Tossun and Walcott was mind boggling.
I said so at the time and so did plenty of others. We said that both of these signings would prove to be either poor or outright disastrous and would limit our options for years to come.
And so it has proved. It's sagas like this have me largely convinced the club itself has systemic problems that may well make it utterly incapable of any sort of success. You hope Moshiri and his advisers have learnt a lot and have learnt it quickly, because there have been far too many transfers like this into the club since Moshiri arrived.

---
Add Your Comments
In order to post a comment, you need to be logged in as a registered user of the site.
Or Sign up as a ToffeeWeb Member — it's free, takes just a few minutes and will allow you to post your comments on articles and Talking Points submissions across the site.