Everton vs Tottenham Hotspur
Thursday, 15 April, 2021
Match Preview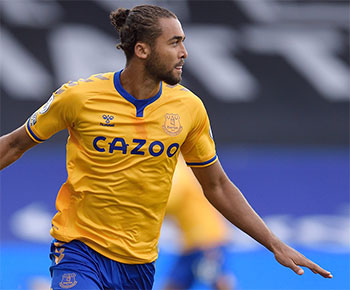 Dominic Calvert-Lewin misses a second successive game with a abductor problem
Everton will be without top scorer Dominic Calvert-Lewin for a second successive game as they face a crucial Premier League clash with Tottenham on Friday night.
The striker missed the 0-0 draw at Brighton on Monday but Carlo Ancelotti was hopeful he would be fit to face Spurs, the Blues' immediate rivals for a European place as the season heads down the final straight.
However, Calvert-Lewin continues to be troubled by an adductor problem, although he is expected to be fit for the trip to Arsenal next week along with Yerry Mina who picked up a similar problem against the Seagulls.
Jordan Pickford, Allan, Josh King and André Gomes should be available tomorrow after all four sat out Monday's game on the south coast and, assuming they are all ready and able to play at full capacity.
They will give the manager much-needed senior options after he was forced to name a massively under-strength bench against Brighton, one that featured untried 18s players and U23s regular, Nathan Broadhead, who came on in the closing minutes to make his League debut for the Toffees.
The availability of Gomes and Allan will come as particular boost as Everton struggled to name a full midfield last time out. Mason Holgate acquitted himself well in the holding role but he is not a natural midfielder and Tom Davies was over-burdened as the "legs" in the middle of the park charged with pushing the team forward.
That's a role more suited to Allan while Gomes, who tweaked a hamstring against Crystal Palace 10 days ago, will hopefully add some of the craft that was missing from the midfield when James Rodriguez wasn't on the ball.
At the back, Mina's absence could be compensated for by Holgate dropping back and Ben Godfrey continuing in a central-defensive three that would allow Lucas Digne license to push forward down the left flank.
Up front, Richarlison will be charged with leading the line solo, perhaps supplemented more closely by James if Gylfi Sigurdsson drops back to the substitutes' bench.
This Friday night match brings together two teams struggling for form, inspiration and points and without victory both Spurs and Everton can almost certainly kiss goodbye any notions of qualifying for the Champions League.
Realistically, both clubs have passed up the opportunity currently being taken by West Ham to mount a realistic top-four challenge, leaving the Europa League as the carrot for the team that can drag themselves out of their recent funk and pick up enough points to finish in fifth or sixth to secure a place in the second-tier Continental competition. The Europa Conference League remains the fall-back but there are no guarantees for either Tottenham or Everton given that Arsenal and Leeds have hit some form and closed the gap behind them.
With Jose Mourinho under mounting pressure for North Londoners' poor results and his open criticism of his players, Spurs come into the game sitting one point above the Blues in seventh place but having played a game more. A convincing 4-1 demolition of Crystal Palace a month ago was followed by derby defeat to Arsenal and a dismal exit from the Last 16 of the Europa League at the hands of Dinamo Zagreb.
They won at Aston Villa but were pegged back by Newcastle at St James's Park before being convincingly bested by Manchester United at home last time out. Though they have lost to Everton twice already this, latterly in that rollercoaster FA Cup 5th Round tie at Goodison Park that was wholly out-of-character for a mostly subdued and shot-shy Toffees outfit, Mourinho's side remains blessed with hugely talented players like Harry Kane, Giovani Lo Celso, Gareth Bale and Son Hueng-Min.
If they come to Merseyside in the right mood they will pose a stern test for Everton but, just as they did in the cup, they might also coax an energetic display out of Ancelotti's charges whose top-four hopes will remain alive with a win given that they still have a game in hand against Villa hanging out there. Failure to win, however, and it will be a nervous grind over the remaining eight games to try and secure European qualification of some description.
Kick-off: 8pm, Friday 16 April 2021 on Sky Sports
Referee: Michael Oliver
VAR: Andre Marriner
Last Time: Everton 1 - 1 Tottenham Hotspur
Predicted Line-up: Pickford, Coleman, Holgate, Keane, Godfrey, Digne, Davies, Allan, Gomes, Rodriguez, Richarlison
---
Reader Comments (178)
Note: the following content is not moderated or vetted by the site owners at the time of submission. Comments are the responsibility of the poster. Disclaimer
Dennis Stevens
1
Posted 15/04/2021 at 16:10:13
King still cup tied?
Brian Williams
2
Posted 15/04/2021 at 16:13:02
It's a league game Dennis.
Dennis Stevens
3
Posted 15/04/2021 at 16:24:45
So?
Colin Glassar
4
Posted 15/04/2021 at 16:39:06
Is anyone surprised? Our players are like China dolls.
Dale Self
5
Posted 15/04/2021 at 16:39:51
Cue the insults. DCL is obviously downing tools.
Danny O'Neill
6
Posted 15/04/2021 at 16:53:15
Clucking Bell. The season of hope that keeps giving.
I wouldn't be surprised to see Sigurdsson up top tomorrow.
Minik Hansen
7
Posted 15/04/2021 at 17:02:29
Jordan Pickford, Allan, Josh King and André Gomes back, is better than Jordan Pickford, Allan, Josh King and André Gomes injured. I won't stand aside and look hopeless come the kickoff, all the best to the players. Any team can have a bad and a good day, hope the latter will be ours. COYB.
Alan J Thompson
8
Posted 15/04/2021 at 17:02:49
Another slight strain discovered at the hotel this morning? He doesn't give much away, eh.
Jack Convery
9
Posted 15/04/2021 at 17:09:58
Momentum is everything and we are in reverse at exactly the wrong time - so EFC.
WHU bring in Lingard in January we bring in King. Lingard who hadn't done a tap at MU and suffered mental health issues, is now a cert for England in the Euros, whereas King, who lets be honest hasn't had a look in, looks like he'll have his agent looking for another club as I type - so EFC.
Personally I want the season over and done with now - its like a party that has gone on for far too long. The buffets stale, the ales off and the DJ has reverted to playing Mendelssohns Requiem for Fanny.
On the other hand if we stuff Spurs...........
Kieran Kinsella
10
Posted 15/04/2021 at 17:14:30
King is due for one of his semi annual goals
Jerome Shields
11
Posted 15/04/2021 at 17:19:20
Still think Everton will be in defensive mode with Richarlison leading the wttack. Hopefully Allan is fit to get a better grip on midfield. Doubt King will play , didn't make the bench in the last game.
the problem with King is he doesn't look that he is working to get into the right condition to play.
Neil Lawson
12
Posted 15/04/2021 at 17:27:04
Important thing is just how many fit defenders we have. Mr A will shoehorn them all into the team somehow so we can create a line across the 12 yard box that Spurs can not cross and a line across the centre line that none of our players will be permitted to cross over. Betfair offering odds on the total number of sideways and backwards passes. I was going to wager a tenner at 25-1 on one forward pass all game until my son reminded me that you don't have to pass forward any more at the kick off.
Trevor Peers
13
Posted 15/04/2021 at 17:34:36
Everton have become unwatchable. Especially if we have 1 of our only two forwards at the club missing. Only one thing to do, switch it off on Friday and do something enjoyable.
Martin Mason
14
Posted 15/04/2021 at 17:40:10
We'll be much better tomorrow. I strongly recommend playing Sigurdsson up front as that saves the damage of playing him in midfield. He can actually be quite good behind the main forward but what is Richarlison? Not a lone forward. I believe that we'll play 3 at the back again because Carlo will believe that we did OK defence wise against Brighton. Allan and Gomes back in midfield will be an improvement on what was admittedly awful. I'm up grading my forecast for the Brighton game (impossible to win) to possible draw but likely loss as we will struggle to score without DCL or replacement. What was the point of King? Bad for him, bad for us.
Thomas Richards
15
Posted 15/04/2021 at 18:13:30
Neil 12

Whats a 12 yard box?
Roger Helm
16
Posted 15/04/2021 at 18:15:01
It is ridiculous for a club like Everton to have only one recognised striker. Who is going to get the goals, given that we can't expect any from our midfield, other than James, who is probably still tired from the last game?
Our only hope tomorrow is KITANO. I only hope the club has big plans for the summer window, both incoming and outgoing.
Steven Smith
17
Posted 15/04/2021 at 18:15:57
Why did we buy King? Start him and see how he really is instead of a few minutes here and there!
Tony Everan
18
Posted 15/04/2021 at 18:19:41
So the 'small problem' was a medium sized problem. At least this will give Joshua King a chance to shine, if he's fit!
Christy Ring
19
Posted 15/04/2021 at 18:23:26
Listening to Carlo's press conference today when questioned about King playing tomorrow, I thought Carlo was very vague, and his answer more or less told me, he's not in his plans to start tomorrow. For me he's a better option upfront than Sigurdsson, and more physical.
Neil Lawson
20
Posted 15/04/2021 at 18:34:12
Thomas (15). Have you not seen that popular film, "Carlo, I shrunk the pitch" ?

Brian Williams
21
Posted 15/04/2021 at 18:37:43
Dennis#3.
So what bearing would King being cup tied have on tomorrow's league game?
Bill Gienapp
22
Posted 15/04/2021 at 18:49:18
Trevor (13) - I'm generally more positive than most, but I really dislike these weekday... well, they're evening matches for the locals, but they start at noon on my end, and they invariably spoil my lunch hour... even if we win, the lunch hour is spoiled, because I'm stressed the entire time.
Brian (21) - I eagerly await Dennis's response to this question.
Michael Boardman
23
Posted 15/04/2021 at 18:54:23
"Jordan Pickford, Allan, Josh King and André Gomes should be available tomorrow after all three sat out Monday's game."
Which one of these 4 is not considered to have sat out the game? Although I'd argue there were a few on the pitch who sat it out too.
I give up guessing anything from Carlo's pressers, and would suspect DCL will be out for much longer than just this game (has he been tapped up while playing for Engerland?)
Brian Williams
24
Posted 15/04/2021 at 18:55:19
Bill#22.
Why so mate?
I wonder if it's for the same reason as me? :-)
Michael Boardman
25
Posted 15/04/2021 at 18:57:58
I think there is a form of cynicism in Dennis' [1] comment - like it matters whether King is cup tied or not, he's unlikely to play, and certainly unlikely to start, even ahead of Brett Angell.
Brian Williams
26
Posted 15/04/2021 at 18:59:49
Michael#25.
Ahhhh I see. Far too subtle for me Michael.
Colin Glassar
27
Posted 15/04/2021 at 19:02:40
Can Iwobi play as a centre forward?
Bill Gienapp
28
Posted 15/04/2021 at 19:05:03
Brian (24) - I just thought your initial exchange was so funny --
Dennis: Is King cup-tied?
Brian: Uh, it's a league match.
Dennis: So?
I eagerly scrolled down to see the payoff and was bummed that there wasn't one, ha ha.
Dennis Stevens
29
Posted 15/04/2021 at 19:07:15
Me a cynic, Michael? That's just a vicious rumour spread about by people that know me well!
My apologies, Brian - & Bill too. I didn't expect my comment to be taken so literally as it's been a bit of a recurring theme where King is concerned due to his lack of appearances since we signed him. I did wonder whether our fee for his signature is based upon appearances.
Bill Gienapp
30
Posted 15/04/2021 at 19:14:42
Fair enough, Dennis. And you're right about King - I'd certainly like to see him start tomorrow, but suspect that he won't.
Don Wright
31
Posted 15/04/2021 at 19:20:05
Colin 27 Can Iwobi play anywere ?
Ian Burns
32
Posted 15/04/2021 at 19:38:15
Colin and Don - can Iwobi play?
Ian Burns
33
Posted 15/04/2021 at 19:40:57
Dennis 3 - I've been giggling at that response for 2 hours!
Colin Glassar
34
Posted 15/04/2021 at 19:46:46
That's a question that might never be answered, Don and Ian. I think Carlo sees him now.
James Flynn
35
Posted 15/04/2021 at 19:48:38
As hard as Dominic competes and fights game in and out, it's no surprise he wearing down.
Dennis Stevens
36
Posted 15/04/2021 at 20:17:16
Ian, if I can make one person smile in this life, that's one more than I was aiming for!
Brian Williams
37
Posted 15/04/2021 at 20:21:10
Got you Dennis. I genuinely thought (d'oh) you may have mistakenly believed tomorrow was a cup game.
Everton have given me brain damage!
Joe McMahon
38
Posted 15/04/2021 at 20:24:20
Dennis @3 that is the best responce I've seen on this site. Brought a smile, and we certianly need them.
Mark P Hughes
39
Posted 15/04/2021 at 20:25:50
Need a Centre Mid Captain and a Centre Forward. Nuff Said.
Anthony A Hughes
40
Posted 15/04/2021 at 20:30:34
How are we in the situation with only one decent striker in DCL? We have the mega guru of a Director of Football, don't we? How has he allowed this to get to this state?
I know too many questions but, at the start of the season, we were told we had a big squad that needed trimming. We don't appear to have got rid of much deadwood, as the saying goes... and now we down to the bare arse bones of a squad.
Marcel... What The Fuck?
Anthony A Hughes
41
Posted 15/04/2021 at 20:32:12
And if King is the saviour?
Jeff Armstrong
42
Posted 15/04/2021 at 20:34:56
We are safe and staying in the Premier League for next season, Ancelotti has achieved his main goal, everything above 17th is a bonus to him, obviously.
Tony McNulty
43
Posted 15/04/2021 at 20:36:43
Why announce the DCL news now, when Spurs might have otherwise been wasting time in training preparing to stop him?
Surely it would have been better keeping this news until they had to release the team sheet to Spurs?
Rob Halligan
44
Posted 15/04/2021 at 20:40:06
Tony # 43. Maybe it's kidology by Carlo. Maybe he's fit and able to play. After all, Carlo did say prior to the derby game at Analfield that DCL was fit and ready to play, but in fact only put him on the bench.
Dale Self
45
Posted 15/04/2021 at 20:42:53
Can we get an FAQ for how fucked Everton is and why? I keep seeing the same basic questions rephrased, sometimes with exclamation points, sometimes with clever digs. We could have a flowchart that shows the happy clapper vs les miserables responses at various points of contention. Fun for the whole family!
Robert Tressell
46
Posted 15/04/2021 at 20:43:16
Shame for DCL, run out of steam due to lack of support - a bit like our season generally.
Anthony A Hughes
47
Posted 15/04/2021 at 20:44:35
It could be a possible double bluff Tony, Mourinho sets up to deal with the pace and movement of Siggi only to be confronted with DCL's power in the air at kick off
Tony McNulty
48
Posted 15/04/2021 at 20:46:18
Rob - oh I get it. And Carlo's other surprise is Gbamin in goal in the first half, and as a main striker in the second.
Meanwhile Duncan spends his 90 minutes reciting fish puns to the Assistant Referee.
Brian Wilkinson
49
Posted 15/04/2021 at 20:46:19
Cheer up Lawrenson has tipped Spurs for a win.
Paul Birmingham
50
Posted 15/04/2021 at 20:50:41
Tony@43, a good point.
It will be interesting to see how Everton set up tomorrow and the shape they start with, and whom will lead the line.
Let's hope it can be like the Friday night game when Gary Naismith scored the good free kick and Everton won 3-1, in 2004.
Old and ancient memories to stoke up the fuel for a an Everton victory tomorrow night.
Well over due a good performance by Everton.
Anthony A Hughes
51
Posted 15/04/2021 at 20:52:26
I normally like to have a bottle of red or two on a Friday after a hard week at work and listen to some 80's classics. Tomorrow I'll be watching because I just can't stop myself,the pains of supporting our club
Joe McMahon
52
Posted 15/04/2021 at 21:04:55
Anthony @51, Tomorrow I would recommend Rattus Norvegicus as it was 44 years ago today released by The Stranglers. Great band and album. Will fit nicely with a bottle of Red, and watching the game with the sound off.
Dennis Stevens
53
Posted 15/04/2021 at 21:05:45
Brian #37 - Well, I suppose every match to the end of the season could be a cup final, of sorts.
Everton bad for your health??
I thought that was just the players!
Brendan McLaughlin
54
Posted 15/04/2021 at 21:08:32
Anthony A #51
I find if you drink the two bottles of red before kick-off it helps
Anthony A Hughes
55
Posted 15/04/2021 at 21:13:23
Joe thanks, sounds like sweet advice,
Brendan I hope two will be enough, I fear a bore draw with both bosses playing safe and parking the bus
Rob Halligan
56
Posted 15/04/2021 at 21:20:48
Tony # 48, very possibly!
Derek Knox
57
Posted 15/04/2021 at 21:41:31
If he has an abductor problem why didn't he ring Dyno Rod or a Plumber ? The Bader Meinhof Gang were good with abductions too ! :-)
Danny Broderick
58
Posted 15/04/2021 at 21:47:04
If King doesn't play tomorrow, there's no point having him. We have nothing to lose in playing him tomorrow. Whatever he does can't be worse than what was served up at Brighton. If he doesn't start, it will confirm to me that our Director of Football bought him and the manager never wanted him. Which doesn't bode well for this summer (and future recruitment in general).
Anthony A Hughes
59
Posted 15/04/2021 at 21:54:20
No there's no point in having King. He's a below average player who peaked at Bournmouth and had no other takers.
Is that the best Brand's can do?
There's lots of guys on ToffeeWeb who could have recommended better options than this.
Tony McNulty
60
Posted 15/04/2021 at 22:00:39
Anthony,
There's a guy who often comes on as a late sub for PSG who might have been a good option.
Oliver Molloy
61
Posted 15/04/2021 at 22:22:49
Tony,
Mosie Kean was loaned out for two, maybe three reasons.
Reason 1/His attitude wasn't the best, and Ancelotti like ALL managers wants players who are committed as part of a squad.
Reason 2/ He wanted out of the club.
Reason 3/ Good move for all concerned in terms of potential transfer fee, learning his trade.
I don't believe Kean would have got into double figures had he remained with us, he stills misses absolute sitters over there.
The French League is nowhere as tough as the premier league, one of the reasons for his 16 goal tally.
He's playing with some of the best in the world right now.
Regards another one of our MUST WIN games tomorrow night, i think the fucking wheels have coming flying off us in the last month and for me Spurs will get their own back for our win at their place.
Tony McNulty
62
Posted 15/04/2021 at 22:34:07
Oliver,
You're right of course. He didn't exactly set the world alight with us, and there appear to be some issues. I didn't like it at the time, but that RS mischief-maker in chief did make a few comments about the guy soon after he joined us.
Nonetheless, I'd rather have a highly regarded and high potential striker playing in a striker's role for us instead of, for instance Siggy, as happened a few games ago.
As for missing sitters, all strikers do at times (I guess you saw DCL in his last game).
Re. your final para, it sounds as if you are going into tomorrow's game as confident as me. But by tomorrow night I'll nonetheless as always be the wide-eyed optimist joining in the fun and games on the Live Form.
Tom Harvey
63
Posted 15/04/2021 at 22:43:41
Derek Knox @ 57
Hello Derek,
DCL and EFC's season just like the Bader Meinhof have mysteriously disappeared with a not even a whimper.
Anyway, I doubt Jose will be having any nightmares about DCL being through one 2 one with his keeper.
Neil Lawson
64
Posted 15/04/2021 at 22:54:55
Tony (60)
Don't you love how one little throw away comment is seized upon and dissected and attacked?

Brendan McLaughlin
65
Posted 15/04/2021 at 23:05:23
Neil #64
Tony has had one well argued response to which he responded quite well..."seized upon and dissected and attacked?" Don't think so!
Tony McNulty
66
Posted 15/04/2021 at 23:09:03
Neil, always good fun on TW and it's the different perspectives that make it so I guess
I think it was the Scottish philosopher David Hume who said something like: truth comes about through disagreement amongst friends

Oliver Molloy
67
Posted 15/04/2021 at 23:19:14
Yes Tony,
Maybe King will show us all a thing or two if picked!
Evertonian = forever the optimist.
And yes CL and Richarilson should be taking these chances.
Jim Bennings
68
Posted 15/04/2021 at 23:22:01
When did we last do the "double"over Spurs?
I know one good omen though, we have played them on a Friday night in April before, 2004 and beat them 3-1.
More of the same please!
Nicholas Ryan
69
Posted 15/04/2021 at 23:26:41
I'm just going to have to watch the footy tomorrow.... having finished the decorating, there's no more paint to watch drying!!
Nicholas Ryan
70
Posted 15/04/2021 at 23:31:00
I'm not usually one for conspiracy theories; but, at the moment, we have no strikers; none, zilch, nada and STILL King can't get a game. Surely, some mistake. as Private Eye used to say!
Brendan McLaughlin
71
Posted 15/04/2021 at 23:40:53
Nicholas #70
Brands, perhaps, convinced Ancelotti to take a punt on King. Carlo hasn't been persuaded...hardly the X Files?
Sean O'Hanlon
72
Posted 15/04/2021 at 00:11:02
It makes no difference if DCL is playing or not - he wouldn't receive a pass anyway - the rest of the shower couldn't pass the ball to save their lives.

But must stay positive - we should finish higher than 12th place of last season, which in my eyes is an outstanding achievement.
Jay Harris
73
Posted 16/04/2021 at 04:36:44
I'm not bothered about whether King plays or stays.
I'm bothered that 4 days after a snorefest where we didnt trouble the Brighton keeper once we now face Son and Kane together with shitface Hoijberg and we expect to win.
We are all seriously deluded but we live in the hope that our inconsistency may actually turn positive tomorrow as the pigs fly over the Mersey.
surely there is a huge slice of luck waiting for us somewhere.
Alan J Thompson
74
Posted 16/04/2021 at 04:50:04
Iwobi and Broadhead up front and move Richarlison out wide and the shock selection, only two central defenders, would it be a first, or indeed any chance?
All out attack! No, thought not.
Ajay Gopal
75
Posted 16/04/2021 at 06:59:27
I predict a 4-3-3 setup:
Pickford
Coleman Holgate Godfrey Digne
Allan Davies Gomes
James King Richarlison
SUBS: Olsen, Keane, Nkounkou, Iwobi, Siggy, Kid 1, Kid 2, Kid 3
If Allan and Gomes are fully fit, then this XI could test Spurs. Richarlison should replace the permanent scowl on his face and with a more determined, selfless demeanour that he had at the beginning of the season.
Barry Rathbone
76
Posted 16/04/2021 at 07:24:03
On the subject of Moise Kean he came on the other night and hit row z with his only shot he didn't come near to hitting the target - shocking technique.
When we signed him I watched his show reel and wasn't impressed and haven't been since. If he's the answer someone isn't asking the right question
Steve Brown
77
Posted 16/04/2021 at 07:47:34
Kean has scored 16 goals in 33 appearances for PSG this season, including 3 in the Champions League. That's why his value has increased to 40M+.
Barry Rathbone
78
Posted 16/04/2021 at 08:07:30
Steve
I do hope you're right we might find a more suitable player with 40m and we can all chuckle up our collective sleeves at getting our dough back with interest.
Jonathan Tasker
79
Posted 16/04/2021 at 08:12:39
It's inexplicable but Carlo seems to be complicit in the team downing tools for the season.
Perhaps when there's no chance of Europa League, we say a bit more effort.
Spurs at 23/20 looks like free money.
Ron Sear
80
Posted 16/04/2021 at 08:26:23
Let's make the game exiting to watch tonight, the fan who gets the right amount of the backward passes count wins - my effort is 45 (could be a bit on the low side).
Eddie Dunn
81
Posted 16/04/2021 at 08:44:42
Carlo is a poker player, does that raised eyebrow indicate a full house or a pair of deuces?
He had kidded everyone all season with his prematch interviews.
I expect to see DCL on the bench. A point will satisfy him and with our injuries a point is the best we can hope for.
King has possibly failed to impress in training. If he fails to make the starting eleven tonight then he has no future with us. I think it is a shame but at Bournemouth he did well in a team that played with a lot of tempo. Perhaps he is simply not used to toiling away closing down defenders all night. We will never know unless he gets 90 bloody minutes!
As for Moise Kean, you could stick Niasse up front with Mbappe and Neymar and he would get into double figures, so I would pray the lad gets a few more and we get top dollar as the kid ain't cut-out for the PL.
Frank Sheppard
82
Posted 16/04/2021 at 08:49:48
I am not sure that having DCL not available is the main issue.If he was available and played, he would have been very unlikely to score if our midfield continued to create so few chances. However, if we create chances, I am confident that Richy can put them away.
Robert Tressell
83
Posted 16/04/2021 at 08:56:40
I can never quite figure out why Simms, a few goals for Blackpool, is often regarded as someone who might make it with us - and Kean, top flight and champions league goals for Juve, Italy and PSG, is considered crap.
Osimhen scored about the same as Kean last season in France and was sold to Napoli for £63m.
Kean will do just fine without us unfortunately.
Andrew Clare
84
Posted 16/04/2021 at 09:11:52
I know people talk about the doom and gloom on here but there is a good reason for it - we are a mediocre mid table team. Spurs will illustrate my point tonight.
We need a revolution at Everton to get out of this funk. Maybe it's happening now and it's happening slowly but can you see it cos I can't.
Sorry to sound so peed off but I sure most of you feel the same.
Brian Harrison
85
Posted 16/04/2021 at 09:55:39
I see Dominic King in the Daily Mail is saying that Everton are willing to sell Kean to PSG and would want to recoup the money they spent on him, he also goes on to say that Ancelotti said that we wont be signing another striker in the summer. I know he is an ex Echo reporter but does he really believe we would only be looking to get our money back, with both Juventus and PSG wanting to sign for them. I think we all know that Carlo plays games with the press the thought of starting next season with only DCL and Richarlison as our main strikers is unthinkable.
The only worrying thing with this story is whenever a Moise Kean article appears in different publications for me the price attached to his possible transfer is always under £50 million. Now if you have 2 of Europe's biggest and wealthiest clubs after your player, shouldn't we be playing hard ball and not seemingly happy to get him off our books. We will need to get as much money as we can for Kean as very few of the saleable assets will bring in much money, and although FFP hasn't been rigorously applied the last 12 months the powers that be wont turn a blind eye to the likes of Everton after all we are hardly one of Europe's big clubs.
Craig Walker
86
Posted 16/04/2021 at 10:19:29
Was kind of getting used to not having my weekend ruined by the Blues with these boring and frustrating Monday matches. Can't decide whether it's best to have our weekends ruined on a Friday night but have a couple of days to try and get over it or have it ruined on Sunday just before the working week starts. Anyway, I guess I'll be on here after the match bemoaning our lack of creativity, speed, ability to shoot etc. Be good if Everton could prove me wrong for a change but this season has petered out since the derby.
Oliver Molloy
87
Posted 16/04/2021 at 10:19:38
Brian,
I reckon Kean selling price will be 5 million on top of what we paid with a decent sell on clause.
Is he worth huge money ?, only time will tell but for me he is not, he was worth a punt for us.
The other day Ferdinand was saying that Utd should go and sign CL who apparently is worth 80 million - crazy in my opinion whats Kane worth !
Eddie @ 81,
King surely has no future with us anyway , not if we are serious about CL / Europe - doesn't matter if he plays tonight or not .
Michael Lynch
88
Posted 16/04/2021 at 10:30:24
I was just watching the highlights of this season's cup tie with Spurs, and some of our goals were superb. It's like watching a different team to the one that's turned up for 90% our games this season. Brilliant flicks, sensational finishing, strong tackling, energy and enterprise was it all a dream? Maybe Spurs bring out the best in us and we'll see the same again tonight. More likely not though.
On Moise Kean - he's not very good. Still looks a lumbering kid with no footballing brain, even if he has scored a few goals for PSG. He's definitely no PL player. He might be great in a few years, but right now he's worth about ten million, so if we can get anywhere near 30 or 40 mill we should bite their hands off.
Si Cooper
89
Posted 16/04/2021 at 10:36:42
I'd have thought Kane must be worth the £150 million that Haaland is being touted for. The transfer fee mega-inflation seems to be back. I thought everyone was brassic due to the pandemic but instead it seems every club has shares in Amazon, Deliveroo and Just Eat to cash in.
Agree that King has to start to even appear to have any chance of salvaging his career, unless he is actually not near 100% fit. I am still hopeful he is about to step up and seize the opportunity. Otherwise it does seem highly unlikely that our attacking efforts will be anything more than hoping that Richy can latch on to the occasional punt upfield.
Luke Welch
90
Posted 16/04/2021 at 10:52:03
Not sure what to expect tonight, we are at home so that is already a disadvantage! The players coming back could make us harder to break down and keep the score line honest; but in the other hand, there's no creativity or goal threat there.
Think it will be a case of sucking the life out of the game and hoping for a counter. If Spurs turn on the style though we can't match them.
Christopher Timmins
91
Posted 16/04/2021 at 11:05:32
A win and we are still in the mix for European football with an outside chance of Champions League qualification. A draw and a 7th place finish is the best we can hope for. A loss and we face the possibility of Leeds and Arsenal overtaking us.
I would think that if fit and ready to go that Pickford, Allan and Gomes will come back at the expense of Olsen, Holgate and Siggy.
Hopefully, we will show a lot more ambition than Monday night. It's not a crime for a team to go out and try and entertain every now and then. Entertaining is not a dirty word!
With regards to yesterday's press conference, the manager was bluffing or we are in for more of the same next year. Kean will be sold and if we get 45 million we should take it and invest in younger and hungrier players in order to bring down the age profile of the side inject some needed pace into the team.
Andy McNabb
92
Posted 16/04/2021 at 11:15:40
Craig Walker #86. Really couldn't put it any better. They say that golf is a good walk ruined. Everton are having a similar effect on my weekends.
Colin Glassar
93
Posted 16/04/2021 at 11:18:45
Christopher, it's the hope that kills. I've given up on this season and now just hope we can salvage some sense of pride out of this season.
Martin Mason
94
Posted 16/04/2021 at 11:22:49
On the night the Brighton result seemed awful but when you look at the injuries, the 2 games in 4 days and the rotations needed to put out a fit and functioning team for both games perhaps we did very, very well. As we saw Brighton are a bloody good side the point a decent result considering. I don't believe that we'll win tonight and that once again a draw will be good. How can we be in the position that we don't have another striker?
Neil Lawson
95
Posted 16/04/2021 at 11:31:45
Just picked up on the U18 great win yesterday v Chelski.
ToffeeWeb. Give this headline coverage. A great news story at last.
Better still, put 5 or 6 of them in tonight with Pickford, Keane, Godfrey and Seamus. A team that will play for their lives. Can't remember when that last happened ( not even the Cup game v Spurs).
Andy Crooks
97
Posted 16/04/2021 at 11:40:30
I was confident that we would beat Brighton, very confident. Our performance there has fundamentally affected my views. I really hope we win(obviously) but have little confidence that we will. Also, for the first time this season, I know that a defeat will not affect my mood or weekend. I never thought I would feel not particularly bothered about a match. It seems to me to be meaningless end of season fare, which it really shouldn't be.
Neil Lawson
98
Posted 16/04/2021 at 11:44:33
Andy (96)
I suspect that you have perfectly encapsulated the mood of many of us.
It is sad and depressing.
Joe McMahon
99
Posted 16/04/2021 at 11:48:20
Martin @94 on the subject of strikers, these last few seasons have been miserable when you compare how many our neighbours have. Look at United and Rashford is often on the bench.
I never understand why over many years striking options at Everton is neglected. Which or without a DOF.
However one thing I will always thank Roberto for is bringing in Lukaku.
Len Hawkins
100
Posted 16/04/2021 at 12:05:28
The fact that we are performing better away than at home except Brighton with the increased injury list it is hard to look past a draw being a terrific result at home to Spoz (sorry I lapsed into a Scot for a second). It is hard to be anywhere near confident with the recent performances and the club Physio suffering from exhaustion.
Jonathan Tasker
101
Posted 16/04/2021 at 12:09:01
It will be interesting to see who we have in attack next season. I think the plan will be to cash in on Richarlison and Calvert-Lewin.

Sean O'Hanlon
102
Posted 16/04/2021 at 12:12:56
Everton have played 30 games, with 8 games left. The fixture list shows only 7 games to play. This must be because of the Aston Villa away game that was postponed (from 17 January). Has a date been announced for this rearranged game?
Ian Burns
103
Posted 16/04/2021 at 12:22:27
I am an optimist. I see every new game as an opportunity for 3 points or a step into the next round of any cup we are in at that point in time.
My optimism however has taken a major dive to a new low point, which started before the Crystal Palace game but that performance pushed me down the road to ruin. The Brighton game pushed me over the edge and any optimism I had left was drained when one of my recent EFC faves Coleman, thought it was a terrific point!
As for tonight? I've got me Bombay Sapphire to keep me from slitting my proverbial throat!
Martin Mason
104
Posted 16/04/2021 at 12:33:40
Ian, stay positive. As I mentioned on another thread, the point we made at Brighton was, given the injuries and the 2 games in 4 days, a very good point as SC said. Brighton are a good side and we usually lose there with a full side. A point tonight will be excellent.
Thomas Richards
105
Posted 16/04/2021 at 12:52:44
The movement of Kane and Son will trouble our centre-halves tonight. I would leave Keane out.
Martin Berry
106
Posted 16/04/2021 at 12:59:12
I am sure Carlo will have a plan to cut off the supply to Min as he supplies Kane, we did this in our first meeting and it worked; however, we are somewhat patched up and it's going to be a lot harder tonight.
A win tonight and against Arsenal will be some achievement toward Europe, even though I am an eternal optimist, I just feel we just won't have enough depth to get over the line.
Tom Harvey
107
Posted 16/04/2021 at 13:02:20
The sad thing for me is that the result for this game might already be out of our hands.
If Spurs turn up and are up for it, it doesn't matter what team or formation Ancelotti picks, we will revert to type and park the bus, with lots of slow sideways and backwards crabs in the team.
The result is dependent on Spurs, because we'll struggle to influence it, sad!
Colin Malone
108
Posted 16/04/2021 at 13:05:11
Watch. Michael Keane will be our MotM, with Allan in, to protect the defence. He won't have to go and fill the space left from a wondering Holgate and Davies.
Stan Schofield
109
Posted 16/04/2021 at 13:14:18
Jesus, reading ToffeeWeb can be more depressing that a bad result. Cashing in on Richarlison and Calvert-Lewin, and basically accepting defeat against Spurs?!!
We no longer sell our best players coming into their prime, or shouldn't be doing, otherwise we'll be staying midtable for the foreseeable future.
Forget the defeatist attitude, we've already beaten Spurs twice this season.
Rob Dolby
110
Posted 16/04/2021 at 13:20:30
Ian 103. How was your optimism levels under 11 years of Moyes!
I can't remember the last time we did the treble over Spurs.
Si Cooper
111
Posted 16/04/2021 at 13:59:26
Colin (93), seems to be a bit of a non-sequitur in there. However, I'm more intrigued by Ian's proverbial throat. Does that mean he can only speak traditional wisdom?
Andrew Ellams
112
Posted 16/04/2021 at 14:03:18
Stan, Rio Ferdinand is talking about Calvert-Lewin joining Man Utd this summer. Already tapped up?
Frank McGregor
113
Posted 16/04/2021 at 14:07:18
I would like to see the young players sitting on the bench given a full 45 minutes in the second half.
This would possibly generate a positive discussion after the game and save spending money on old end-of-career players from Europe.
Sean O'Hanlon
114
Posted 16/04/2021 at 14:27:16
Len (#100),
Have you forgotten the abysmal away defeats to Southampton and Newcastle?
Brent Stephens
115
Posted 16/04/2021 at 14:29:59
Jonathan #101:
"I think the plan will be to cash in on Richarlison and Calvert-Lewin."
And the plan is also to cancel BMD, and for Moshiri to get out of the club. Just as likely.
What do Everton plan to do with the money from the sale of Richarlison and Calvert-Lewin?
Justin Doone
116
Posted 16/04/2021 at 14:45:12
I would like to see both King and Nkounkou start.
I have no doubt King is a good Premier League striker / forward and, other than Richarlison, we have no-one else that can or will try to go forward with the ball, beat a man, or get into the box.
Richarlison hasn't been on form of late.
Nkounkou just needs game time to learn and develop. He's a talent and needs experience.
A win would be fantastic but...
Rob Hooton
117
Posted 16/04/2021 at 15:02:55
My Spurs mates are wondering if either team will venture over the half-way line, this will likely be as bad to watch as most of our games this season.
1-0 to someone borefest... please surprise me (in a good way preferably).
Jonathan Tasker
118
Posted 16/04/2021 at 15:07:49
Those of you taking issue with my view that the club plan to sell Richarlison and Calvert-Lewin, do I need to list all of the players the club has sold since Wayne Rooney to prove my point?
I don't know why the owners don't want us to succeed but all we are there for now is to make up the numbers.
As for the new ground, it's far from a fine deal as it needs to be financed and then actually built. It's at the very least four years away.
Brent Stephens
119
Posted 16/04/2021 at 15:27:11
Jonathan,
"Those of you taking issue with my view that the club plan to sell Richarlison and Calvert-Lewin, do I need to list all of the players the club has sold since Wayne Rooney to prove my point?"
No, don't list them. It wouldn't prove your point.
Jonathan Tasker
120
Posted 16/04/2021 at 15:33:41
Brent, isn't past behaviour a good indicator of likely future behaviour?
Slight difference between our current strikers and Lukaku, as an example, the current two are nowhere near as good.
I still don't rate Calvert-Lewin. He had a purple patch but he's really not very good
Tom Bowers
121
Posted 16/04/2021 at 15:35:53
No reason for any of us to expect anything more than what we have seen of late. The squad is struggling to impress and probably because they just aren't good enough.
Spurs have more big guns and will probably shade it.
Brent Stephens
122
Posted 16/04/2021 at 15:38:38
Jonathan, you're asserting that it's a fact that the club plan to sell those players. You don't know that. You can only guess.
Jay Harris
123
Posted 16/04/2021 at 15:40:32
Just read "A view from the opposition".
It seems Spurs supporters are even more defeated than us, even forecasting a 2-1 win for Everton.
Let's hope 2 of the worlds most successful managers do not produce another borefest and we come away with 3 points.
I can dream, can't I.
Ian Burns
124
Posted 16/04/2021 at 15:42:03
Rob - 110 - my optimism under Moyes was always high because my expectations were lower.
Under Carlo I expected a whole lot more especially thinking we would be putting away Newcastle; Fulham; Burnley; Crystal Palace; Brighton and RS with ease. Only one of those has come up trumps.
Ian Burns
125
Posted 16/04/2021 at 15:47:41
Si - 111 - me and wisdom in the same sentence! I must have sipped too much Bombay already!
Darren Hind
126
Posted 16/04/2021 at 16:07:44
13/5 with Sky bet? 13 to fucking 5? What sort of odds is that?
Had to apply the arl common denominator to that and, having just got up, it took a while.
Basically a tenner will get you 26 quid. Good odds? I thought they were stingy at first, but I look at how Spurs have been and think there may be an opportunity to buy 26 quid here for a tenner.
I'm on. There are a few mistakes in this Spurs team and I think we will beat them.... and I haven't even had a bevy yet!

Joe McMahon
127
Posted 16/04/2021 at 16:35:30
Good luck, Darren. Just don't put on Everton to score 4 even when a bevy is downed.
Jonathan Tasker
128
Posted 16/04/2021 at 16:37:45
My Spurs mate, Webby, is not at all confident about tonight. However, Spurs still have something to play for.
They have a stronger team out and Mourinho is already in last chance saloon. So I think they will be trying harder than us.
Andy Crooks
129
Posted 16/04/2021 at 16:52:07
Darren, 13/5 sounds okay. Will have to give it a bit of thought. We are certainly due it.
Thomas Richards
130
Posted 16/04/2021 at 16:54:54
Jonathan 128
"However, Spurs still have something to play for."
Point ahead of us having played one more game.
Have we not got something to play for?
Jay Harris
131
Posted 16/04/2021 at 16:57:49
Darren,
I hope you come up trumps.
We have been defying the bookies all season especially at home.
Let's hope for once it is in our favour.
Darren Hind
132
Posted 16/04/2021 at 16:58:55
Spurs probably have better players, but they will NOT be trying harder than us Jonathan.
Joe
Yeah. Difficult to see where our goals are coming from, but I think we will get opportunities against this lot. We need to take at least one of them.
Expecting Richie to step up to the plate tonight. We desperately need him to carry the fight.

Brian Wilkinson
133
Posted 16/04/2021 at 17:04:55
Frank @113, I would have liked to have seen Kim Wilde back in her hay day do a pole dance for me, I doubt either of us will get our wishes granted, you may however manage to get to see 5 minutes at most tonight, of our youth from the bench, if you're lucky.
Anyway I will keep banging the drum, for Nkounkou to be tried on the left of midfield, maybe, one day.
David McMullen
134
Posted 16/04/2021 at 17:06:21
I would like to see Everton win a game. And score some goals.
Rob Dolby
135
Posted 16/04/2021 at 17:19:19
Ian @124.
That's an interesting point. Moyes survived 11 years lowering expectations to an all-time low. Any away victory was seen as bonus points towards the magic 40.
Having Ancelotti as a manager has raised expectations on his past performance alone. He comes across as an extremely level headed humble person considering the success he's had.
Are we expecting too much too soon from him given the players that he has at his disposal?
Dave Abrahams
136
Posted 16/04/2021 at 17:22:37
I'd love Everton to cash in on Richarlison, I think those who want him to stay will get there wish because the way he has performed this season I can't see many clubs in for him, I could never see any top clubs, anywhere, in for him before this season. Cue for him to step up to the plate tonight Darren (132) maybe £10 on first goalscorer?
Brian Wilkinson
137
Posted 16/04/2021 at 17:23:57
Worth a punt at 13/5 Darren, either teams score they will be sitting back after the first goal, what you do not want is a 3rd min goal then sit back for 87 mins. :-)
Martin Mason
138
Posted 16/04/2021 at 17:28:46
Dave @136,
I'm really sad to hear you say that. He's had a bad spell as many in the side have had this year but otherwise he's been monumental. He'll go for sure and there'll be many who'll pay top money. Many of us will regret this deeply.
James Marshall
139
Posted 16/04/2021 at 17:30:44
We won't beat Spurs tonight, regardless of what colour specs you're wearing.
I have zero confidence in this team/squad at the moment, with or without Calvert-Lewin.
My view is that we'll be lucky if we finish in the top 10, never mind the European places.
Cue everyone shooting me down for being negative – I just don't see anything in the last few games to suggest we have it in us to challenge higher up the table now. Slow play, lack of goals, conceding silly goals, where's the reasoning behind thinking we'll win tonight? I just don't see it.
The team doesn't appear to have much of an attacking plan, we're very one-dimensional & predictable/easy to play against. I can see us getting turned over to nil tonight.
Tony Everan
140
Posted 16/04/2021 at 17:31:58
Jay 123, I can't see anything other than a borefest, I just hope the header from a set piece winner comes from us.
Prediction, Borefest,
Everton 1 Dulux FC 0
George Cumiskey
141
Posted 16/04/2021 at 17:34:05
James @ 139, I totally agree with you.
Kevin Prytherch
142
Posted 16/04/2021 at 17:35:24
Richarlison on the left hand side of a front 3 is priceless. The amount of work he puts in when played there means that we transition from a 4-3-3 in attack to a 4-4-2 in defence almost instantaneously.
It's criminal that he has not been playing this role as much of late because he gives us an extra midfielder and striker in one. He's not a centre-forward in the same way that Holgate is not a right-back and Sigurdsson is not a centre midfielder.
Even considering selling any of Digne, Godfrey, Allan, Doucouré, James, Richarlison or Calvert-Lewin would simply show us up to be the selling club that we have been.
Alan J Thompson
143
Posted 16/04/2021 at 17:37:06
It is rumoured that Gomes will be given the job of marking Son tonight but it didn't say what with.
Darren Hind
144
Posted 16/04/2021 at 17:38:08
I know what you mean about Richarlison, Dave.
I have noticed you have been unable to warm to this lad from virtually day one. That seems a little out of character for you. I suspect its his antics which grate.
I personally swing with the wind as far as he is concerned. He drives me nuts, but just when I want to write him off he comes up with the goods.
Big game for him tonight.
John Hall
146
Posted 16/04/2021 at 17:40:51
Go ahead Son, make my day! (Gomes in Dirty Harry mode) ;)
Ian Burns
147
Posted 16/04/2021 at 17:41:08
Rob 135 - yes I believe expectation from Carlo has been too high. I profess to being a big fan, I especially love his demeanour and the fact he is highly respected which you would expect to be an attraction for the better quality of player.
However, on the flip side, apart from early season, I have been disappointed with the type of football we are playing, so the optimism in me has dissipated to the point where my expectation is no more than that of the Moyes era.
Eddie Dunn
149
Posted 16/04/2021 at 17:43:31
It's high time this side gave us something to smile about. Spurs to dominate possession but Richarlison and King to score 2-1.
James Marshall
150
Posted 16/04/2021 at 17:45:07
George @ 141
It's a bad sign when people start agreeing with me on here!
David McMullen
151
Posted 16/04/2021 at 17:45:36
Alan love it.
Martin Mason
152
Posted 16/04/2021 at 17:50:01
James @139,
Like you I've posted on how weak the team's position is but, unlike you and other negative fans, I say why this is and what we need to do to recover. I also believe we won't win tonight but I understand why not just on the basis of being irrationally negative.
I desperately hope they win tonight, not because I feel irrationally positive but to help silence fans like yourself. Nothing personal and no malice meant in that, I just feel that fans like you a burden on the club not a boon to it.
Andy Walker
153
Posted 16/04/2021 at 17:50:20
Agreed Rob. Moyes did a cracking job with zero money reducing expectations and taking the pressure off our players who then over delivered by usually finishing 4th to 7th.
Arteta, Coleman, Lescott, Jagielka, Cahill, Pienaar, Baines, Stones etc etc. Those were the days.
He's doing the same now at West Ham, repeatedly playing down top 6, let alone top 4 and it's getting results once again. It's almost as if it's a deliberate ploy by him – something called reverse psychology. Way too sophisticated that though eh.
James Marshall
154
Posted 16/04/2021 at 18:00:31
Martin @152,
Yeah, to be honest I'm not always negative - in fact I'm usually pretty optimistic about football. The older I get though, and perhaps partly as a consequence of current living conditions, I've lost the will of late.
I would suggest the true burden as a supporter of Everton, is the reliance on our 'istory to keep us relevant.
Martin Mason
155
Posted 16/04/2021 at 18:06:54
Sorry James, as I said, no malice intended. Please be positive, we are well financed now and the club is being regenerated well at every level and in every aspect. Getting the right performances at first team level is difficult though and it won't happen quickly but happen it will. We are going places believe me. Did anybody who watched that wonderful U18s game come away feeling negative?
Best Wishes
Simon Dalzell
156
Posted 16/04/2021 at 18:13:26
Joe (@52).
Great shout. The Stranglers were my favourites as a teenager in the 80s (along with The Clash). The first album I ever bought was Black and White, that came with a white vinyl single of 'Walk On By'. Rattus is the best LP by a bit.
Hopefully tonight we won't be 'Hanging Around'. Winning 'Ugly' is okay. We will really be 'Down in the Sewer' if we lose again. So it's got to be Hello to Win and 'Goodbye Toulouse'.
Sorry for this twaddle, I need to get a grip on myself. COYB.
ps: I suggest turning the picture off as well as the sound.
Colin Glassar
157
Posted 16/04/2021 at 18:18:10
I read today about our expansion into the North American market which sounded really positive. At long last we have people in charge who realise our revenues are more than gate money.
Despite our football being currently dreadful we can sense (if we want to) that things are going in the right direction. BMD, USMFF, improved shirt deals, appointment of Ancellotti, saving the Liver Building, improved revenue streams, bigger international presence etc...
The building blocks are slowly being cemented in place to secure a brighter future. We just need to start winning games to put a smile back on our faces.
Martin Mason
159
Posted 16/04/2021 at 18:21:59
Carlo has been reported in the Guardian as saying that we won't be looking for a central midfielder or central defender in the Summer window. Well sense is breaking out at last. We need a right-back and forward of the right standard first.
James Marshall
160
Posted 16/04/2021 at 18:22:41
Martin@155
Yeah, largely I agree with you and I certainly agree the club as a whole is doing good things and trying to move in the right direction. I guess my ire is at recent performances, and of course there's circumstance to take into account - namely injuries which have hurt us big time since Christmas. We haven't had a settled side once from week to week, or so it seems.
As I say, my negativity is really only aimed at the the current displays we're seeing, and not the wider picture. I don't feel I'm a burden on Everton.
Rob Halligan
161
Posted 16/04/2021 at 18:46:07
Is the village idiots forum closed?
Thomas Richards
162
Posted 16/04/2021 at 18:46:41
oo arrr
Brian Murray
163
Posted 16/04/2021 at 18:48:05
Simon. Post 156. It looks like this season is dead to us and we have to look forward to somehow getting rid or phasing out at least six of these first teasers never mind the drainers in the background like Walcott bosasie etc. Highlights for me seeing Madrid through to the next round in Europe. Now that was celebrated all day and all of the night ( tenuous stranglers there ) in my house. Totally golden if you like.
Rob Halligan
164
Posted 16/04/2021 at 18:51:42
Thomas, I've just seen your reply # 130 to post # 128. Unbelievable!!
Benjamin Dyke
165
Posted 16/04/2021 at 18:54:17
I really hope we play King up front tonight and Richarlison left of a 3, with James right of a 3. With a middle 3 of Gomes, Allan, Davies and back 4 of Godfrey, Keane, Digne and Coleman. But he probably won't. Richarlison up top has been shite IMHO.
Brian Murray
166
Posted 16/04/2021 at 18:57:35
Rib post 161. I take it you don't go for the brothers in arms approach. I see it as we are all blues and sometimes the extreme on here at least highlights what we maybe thinking. However near the knuckle. The likes of Ian Edwards I'm sure is a solid blue and frustrated because we have seen us dominate in the past and seem light years away from that. Still reckon at least three more big signings the top four is there for us. Nothing special there except City. Coyb
Bobby Mallon
167
Posted 16/04/2021 at 18:58:33
COYB I'm back and refreshed great break. Now where's the live forum, Ian, Darren I'm trolling tonight 😂
Thomas Richards
168
Posted 16/04/2021 at 18:59:14
24 points to fight for Rob.
We hope for them to fight for every one of them.
Towels getting thrown in here
David McMullen
169
Posted 16/04/2021 at 19:00:33
Are we there yet?
Andrew Ellams
170
Posted 16/04/2021 at 19:01:23
Iwobi in, no King to start
Thomas Richards
171
Posted 16/04/2021 at 19:02:14
4-5-1?
Brent Stephens
172
Posted 16/04/2021 at 19:02:49
1Pickford
4Holgate
5Keane
22Godfrey
12Digne
6Allan
26Davies
19Rodríguez
17Iwobi
10G Sigurdsson
7Richarlison
Substitutes
11King
18Nkounkou
23Coleman
31Neves Virgínia
33Olsen
34Broadhead
48John
60Price
64Welch
Rob Halligan
173
Posted 16/04/2021 at 19:02:52
Brian, the amount of coaching experts, fitness experts, managerial experts, financial experts and even psychologist experts on here astonishes me, it really does. Some people out there are definitely in the wrong job. They should all be working for EFC.
Steve Lew
174
Posted 16/04/2021 at 19:03:03
Is right Brian @163...had to remind my kopite mates of there affinity and preoccupation with buses . and you're out...loved it
Colin Glassar
175
Posted 16/04/2021 at 19:03:15
I'm sure he'll cover acres of ground, Andrew. Running away from the ball.
Paul Birmingham
176
Posted 16/04/2021 at 19:08:08
Good luck with your bet Darren, I'm laying off it tonight, but I hope that Everton can turn this Spurs team over.
Two teams who are inconsistent and unpredictable.
It's for now or never tonight for me, in the quest to stay in contention for Europe.
Kim Vivian
177
Posted 16/04/2021 at 19:08:57
Everyone else enjoying this week's "hunt the forum" game?
Clive Rogers
178
Posted 16/04/2021 at 19:09:22
That is a poor team, especially attacking wise. Nothing for us tonight. King must be poor in training, never gets a start. He will be gone in summer.
Neil Lawson
179
Posted 16/04/2021 at 19:09:58
So Gomes is fit and available but not in the team or on the bench. More misinformation. King is fit but plainly considered to be shite as Iwobi preferred to him.
Who knows what sort of performance awaits us ? Ashamed to admit that not sure that I am especially bothered.
COYB. Surprise me and thousands of others too.
Darren Hind
180
Posted 16/04/2021 at 19:11:14
Fair play to you Bobby lad.
But you will get no opposition from me during the 90 minutes. You may not have noticed, but I don't criticise during the match. I've got all week to do that.
Playing time is blind loyalty time
Brian Murray
181
Posted 16/04/2021 at 19:13:07
Iwobi and siggy. It must be that time of the year ( or month ) they show up. Can't wait till the likes of them are a distant memory. Does Gomes still do his rent a hug for charity. That's the nearest he will get to being physical to Son. Oh for a Peter Reid retribution on mar wood scenario.
Christy Ring
182
Posted 16/04/2021 at 19:17:58
I knew Carlo wouldn't start King after listening to his press conference yesterday, would have started him ahead of Siggy, who is definitely no Captain. If Seamus is tired, our best player last Monday, he'd still put in a better shift.
I hope Richarlison is here next season, if he goes, in my opinion it's a step backwards.
---
Add Your Comments
In order to post a comment, you need to be logged in as a registered user of the site.
Or Sign up as a ToffeeWeb Member — it's free, takes just a few minutes and will allow you to post your comments on articles and Talking Points submissions across the site.