Ancelotti plans on Kean and Gbamin being important figures next season
Thursday, 15 April, 2021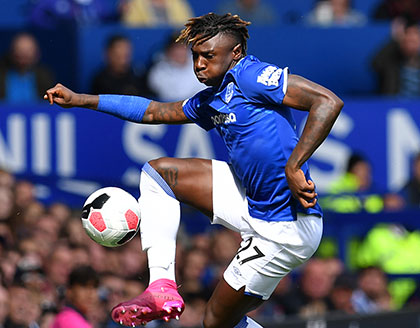 Moise Kean has had a successful season with PSG but Everton reportedly say it will take £45m to prise him away from Goodison in the summer
Carlo Ancelotti says that Everton aren't likely be in the market for either a striker or central midfielder this summer, suggesting that a fit Jean-Philippe Gbamin and the returning Moise Kean will be part of his plans unless things change.
Gbamin had his latest comeback attempt from a long-term injury lay-off wrecked by what the club described as a "freak" incident in training last weekend and he faces around eight weeks out of action.
That means he won't be involved for the remainder of this season but can set his sights on the start of the 2021-22 campaign when Everton hope he can finally prove his worth a vital member of Ancelotti's squad.
Kean, meanwhile, has had a hugely productive loan spell at Paris Saint-Germain with whom he will contest a Champions League semi-final after they knocked Bayern Munich out in midweek.
The Italian striker has expressed how much he has enjoyed his time in France and said he would be open to remaining permanently with PSG but admitted that the decision was out of his hands.
PSG are reportedly preparing to further invest in their squad, with Neymar set to be handed a new contract and Kean could be part of those plans. To that end, Everton will demand a fee of around £45m for the player they signed from Juventus in the summer of 2019.
Juve are also believed to be interested in re-signing their one-time young striking prodigy which, if true, could spark the kind of bidding war that would only benefit Everton.
Ancelotti described Kean as an important player when he spoke to the media today ahead of tomorrow's Premier League clash with Tottenham about both players.
"I don't think we are going to replace Gbamin because we are sure he has the quality and the potential that he can play," the manager said "Before I came it was a great investment from the club and we still have trust in him. Honestly, he suffered a lot of injuries but we have confidence that when he is back next season he can be of help to us.
"Honestly, we didn't have a look at the market [for strikers] for next season because we are in the fight for European positions. But I can tell you that it [a striker] will not be the position we are looking for.
"In front we are really well covered because we have Dominic Calvert-Lewin, we have Richarlison, we have in this moment Joshua King and we have Moise Kean coming back.
"I don't have to convince [Kean] to stay at Everton. This is what the [loan] papers say. He is on loan and he has to come back. If Paris Saint-Germain wants him they have to open discussions about him. We are open [to negotiations] but if nothing happens then he will be an Everton player next season and an important player."
---
Reader Comments (36)
Note: the following content is not moderated or vetted by the site owners at the time of submission. Comments are the responsibility of the poster. Disclaimer
Tony Everan
1
Posted 16/04/2021 at 07:29:57
Carlo being pragmatic in his answers, but the reality of the how the situation will likely unfold is quite different.
Moise Kean doesn't want to return, he wants to stay at PSG or return to Juventus. If PSG pay an acceptable fee he will go. King looks like he will go too. So I would say we seriously need to be scouting and sourcing replacements right now.
With regards to the midfielder, we all want Gbamin to come good but how can we build our season around him? Allan and to a lesser extent Doucoure will not play a whole season in the central midfield.
We need a massive shift in pace, goals, assists and dynamism from our midfield or we will not progress and likely to remain in our mid table quicksand.
We need some pace , quality and more goals up front from a right sided forward Sarr? , Bailey? we need a right back Aarons? without any doubt.
But above even these two absolute necessities we have to address the perpetual slowness, sideways and back passing of our midfield. It's inability drive forward with the ball and it's turgid, self defeating conservatism, lack of imagination, speed of thought and risk aversion.
Two midfielders with the qualities of Buendia, Ward-Prowse (or can Brands source even better than them two ) are needed to change the whole nature of how our midfield operates. We need that dynamism faster passing and forward drive, and goals and assists from midfield to progress.
Is this an acknowledgment that Gomes, Sigurdsson and Delph are going nowhere? And as a result of that no new faces can come in? Or is it about keeping any suitors honest?
To say we are relying on Gbamin to rescue what is the poorest functioning midfields in the Premier League and possibly in Everton's entire history is naive in the extreme.
The possibility of Gbamin being a success less than 20% in my book. There's far far too many variables , to put our eggs in that basket is sheer folly. Any success from Gbamin has to be treated as a bonus and can definitely not be relied upon.
I
Andy Mead
2
Posted 16/04/2021 at 07:43:41
Carlo just being canny. If anybody wants Kean then they will have to pay through the nose. Nothing wrong with that. PSG can afford it.
As far as Gbamin is concerned, think he is being cautious. I would love to see him succeed but 3 injuries, 2 serious in a space of 2 years is going to be hard to come back from. The lad has shown great mental strength so far though. Good luck to him. With or without him the midfield is in serious need of a shake up anyway.
Jim Harrison
3
Posted 16/04/2021 at 07:53:51
Basically we will only buy in those positions if we sell someone else
Bill Fairfield
4
Posted 16/04/2021 at 08:04:17
May not to replace Gbamin,but there's a few other midfielders that desperately need replacing before next season.
Neil Lawson
5
Posted 16/04/2021 at 08:14:23
Hopefully "being canny" is a fair analysis. Otherwise it is utterly disingenuous.
Barry Rathbone
6
Posted 16/04/2021 at 08:15:40
45m flagged as the sticker price which means he will go for circa 32m allowing us to break even on a fella not suited to us or the Prem. You can't win 'em all I guess but not a bad result all things considered
Sam Fitzsimmons
7
Posted 16/04/2021 at 08:31:49
Tony agree with all of the points you make on the need for players ins and outs. As well as pace, goals, assists and dynamism I would add heart. Our current line up must be the most passive, inert and conservative midfield in the PL.
Robert Tressell
8
Posted 16/04/2021 at 08:42:39
The truth is we need about 8 first team quality players, Kean will be gone and Gbamin may never be fit. Unfortunately we're unlikely to get more than 3 or 4 first teamers.
Martin Berry
9
Posted 16/04/2021 at 08:44:17
There is no way on earth Kean will ever put on an Everton shirt again its pure fantasy to think anything else.
The lad has issue about being here and obviously from his body language wants out, you can never ever keep a player who wants to go they always find the door.
He will be sold at the right price and Carlo is saying if you want him then you will have to pay the price.
Phil (Kelsall) Roberts
10
Posted 16/04/2021 at 09:01:06
Good afternoon gentleman. Thank you to the Press Conference.
I just want to publicly state which positions we are absolutely desperate to get cover or replacement and how much money we have to spend. I am also glad that Mr Brands will have to conduct the negotiations with the other clubs who now they realise whether we are just fishing or whether we are absolutely desperate to buy their player at almost any price. Marcel, do you want to add anything to my statement?
I am so glad that you lot are not doing the press conferences and I am also so upset that you were never the salesmen sitting on the opposite side of the desk when I was doing my buying job. And if any of you would like to play poker with me, please let me know but I need assurances that you will play by the rules you have set out above and put all your cards on the table face up.
Mick Conalty
11
Posted 16/04/2021 at 09:49:55
So Carlo is building his team around Gbamin and Kean. Don't worry lads he's just Avin a Laugh
Is'nt he, ????????

Marc Hints
12
Posted 16/04/2021 at 09:55:02
The problem is we are just starting the rebuilding work, the last two or three years was getting rid of a lot of deadwood. We still have plenty to change/get of the books and need quality signings in most positions if we really are to challenge for Europe.
I think Delph, Sigurdsson, Besic need to be moved on from Midfield, Bernard and Josh King in attack. So Midfield needs at least three players, including wing type midfielders as we never seem to have anyone out wide. Certainly need another striker too.
The other issue you have is Allan and Rodriguez are going to pick up injuries next season because of their age so you also have to have quality cover in midfield for those two.
It is still going to take two or three transfer windows to get what Carlo/Marcel wants and hopefully we can then in two years time can say we have the quality to challenge Europe
Alan J Thompson
13
Posted 16/04/2021 at 10:19:22
There are at least two major continental clubs (Juve & PSG) interested in Kean but he'll be coming back to Everton in the off, sorry, next season so don't even consider a bidding war, I mean, where do they get these ideas that we would want to sell our only reserve striker who has Champions League experience?
And Gbamin (not currently interesting any clubs) will have the important job of not being replaced in the recovery unit until somebody has seen him in some sort of action for a lengthy period of time.
All we need now is to know Mr Brands thoughts on how much they won't be fetching.
Bill Gienapp
14
Posted 16/04/2021 at 10:31:43
No one's buying this. As Andy said, it's just Carlo being canny. As much as I'd like Kean to be part of the squad moving forward, you'd have to bring him back from Paris at gunpoint. And while we're all rooting for Gbamin, it would obviously be folly to make any sort of long-range plans around him.
Si Cooper
15
Posted 16/04/2021 at 10:50:22
I read that as a stated expectation that Gbamin will be available for us next season, not that we won't necessarily be looking to bring other midfielders in.
The striker situation seems more like the position the first paragraph describes. If Kean comes back then he is another option alongside Richy, Dom and (currently) Josh King. If he gets sold and Josh King doesn't get his contract extended then the situation changes and strikers may be on the shopping list again.
Colin Glassar
16
Posted 16/04/2021 at 11:12:00
Carlo is a wily old hound. He's not going to show his cards until he has someone lined up.
Remember our surprise when he finally announced the signing of James Rodriguez and some kid called Godfrey?
Joe McMahon
17
Posted 16/04/2021 at 13:47:17
I'd love Moise Keen back but he wanted more minutes than we gave him and being taken off when he just come on at Old Trafford would have been demoralising for him in front of a global TV audience.
It's all in the past now, so let's just try and get top dollar like other clubs do and not undersell. He is a wanted player, and Rooney and Lukaku went too cheaply IMO.
Kieran Kinsella
18
Posted 16/04/2021 at 14:07:51
The minute you say you need reinforcements, the sale value of the current crop drops. Obviously a lot are shit but officially they're invaluable and we want top dollar.
Justin Doone
19
Posted 16/04/2021 at 14:24:22
Planning to include any player as an important part of the match day team or squad that have suffered reoccurring injuries is poor planning and bad management.
I agree that what is said to the press may only be for the benefit of certain players and not necessarily the plans that will be carried out.
At least that's what I'm hoping!
The season is practically over, unless we go on a 5 game winning streak (still stupidly dreaming) I'm more interested in what players we bring in and dispose of in the summer.
Having watched Kean for PSG he's a lucky boy to get so much game time.
If people thought Lukaku was raw when we signed him then Kean is about half as 'developed'. IMO he's another season or 2 away from being Premier league quality. £50M YES PLEASE!
Roll in next season..
Colin Glassar
20
Posted 16/04/2021 at 14:36:49
Joe, I think Kean's biggest problem is he prefers Turin or Paris to living in Liverpool. I imagine once he got here he never settled and didn't see himself staying for a long time.
I remember players like Desailly, Petit and, more recently, Giroud saying they would only play for London clubs for the glamour and social scene. Even Abby Clancy had a nervous breakdown when Crouchy left London to play for Stoke!!
So to some, location is everything.
Alex Gray
21
Posted 16/04/2021 at 15:40:21
Too early to take these comments seriously. Whoever we bring in though, needs to be mobile and have pace. I imagine a right-back and right-winger will be the priority looking at the squad and if he plans on using Richarlison as a striker then a left-winger is a must too.
Midfield-wise, James and Sigurdsson fill the Number 10 slot and that won't change, I think, but we need another Doucouré badly. Gbamin could be that but, as others have said, it'll be hard for him to come back.
Centre-back I'm happy with and the whole Koulibaly rumours don't make sense to me unless Financial Fair Play is scrapped and we go for the jugular.
In an ideal world I'd love Aarons, Lamptey, Leon Bailey, Bissuma, Rabiot and maybe the lad at Barnsley or Ivan Toney as an understudy to Calvert-Lewin but, whilst FFP is a thing, it'll rely on freeing up wages and selling players. Tosun being crocked again is a mare.
We could sell Walcott, Bernard, Besic, Kean, maybe Iwobi and I can see Gordon going too.
Who knows!
Pat Kelly
22
Posted 16/04/2021 at 15:41:51
We don't need any more midfielder players. We have Gbamin, Delph and Besic. What a trio to look at to. And with Kean up top we must be favourite for the title next season.
Steven Telford
23
Posted 16/04/2021 at 18:22:58
If Kean goes, use the money to go for Zaha – flair and pace.
I think it's a big pity we did not give Kean a fair crack of the whip.
Joe McMahon
25
Posted 16/04/2021 at 18:33:34
Colin G, that's a very good point. Eddie Howes wife couldn't settle in Ramsbottom ( nice area north of Manchester) when he was manager of Burnley. She wanted to go back down to Dorset.
If he did go to Celtic she ain't gonna even take to somewhere nice (but very cold) Loch Lomond.
Colin Glassar
26
Posted 16/04/2021 at 18:38:33
Joe, Desailly was once asked what was his favourite place to visit in England and he said London as he didn't really know any other towns or cities and he wasn't interested in visiting any of them to find out.
Joe McMahon
27
Posted 16/04/2021 at 18:41:11
Colin, same reply from most MP's.
Gary Willock
28
Posted 16/04/2021 at 19:50:28
Hopefully Carlo gets backed enough for us to go 4-3-1-2 next year with at least 2 for every position.
Pickford / Romero
Aarons / Kenny
Godfrey / Holgate
Keane / Mina / Branthwaite
Digne / Nkounkou
Allan / Davies
Rabiot / Loftus-Cheek / Gbamin
Doucoure / Gana / Onyango
James / Isco
DCL / Kean
Richie / Zaha
6 in too much to hope for? Probably...but 3 on free maybe, one on loan. Maybe Kean out and Toney in to help fund.
Steve Lew
29
Posted 16/04/2021 at 20:10:02
Wow Rodriguez has no pace whatsoever
Derek Knox
30
Posted 17/04/2021 at 06:36:06
With all due respect Lyndon, I hope this is either a wind up, which is pretty unknown hitherto from yourself, or a tad of misinformation. Personally if it did come from the horse's mouth, I also hope it is one of Carlos diplomatic smokescreen.
Whether Moise Keane has suddenly become the player we all thought we were getting, or as I suspect the boy has had a mixture of raw talent and opportunism. The fact (?) remains that he clearly didn't, after initial settling in, either appear or display that he wanted to be here.
I know many would say that was because he wasn't being played enough, but do we, as fans know what goes on behind the scenes in training at Finch Farm? I know also that Carlo has made some peculiar first team starting and substitution choices, but is there a reason for it, or is he doing it for some other motive?
Gbamin, who we all hope and pray has seen this third and slightly more minor injury, add to an almost unbelievable catalogue of bad luck, or again is he one of those players who seem to be more at home in the Treatment Room than on the pitch playing?
Mike Allison
31
Posted 17/04/2021 at 08:20:00
You can bet Brands has a file on every striker and midfielder in Europe.
Tom Bowers
32
Posted 17/04/2021 at 22:47:23
I still don't think Kean or Gbamin can be relied upon to play any significant role next season.
Obviously Gbamin's injury problems could be a factor yet again and Kean won't have Neymar or Mbappe alongside him when he does play. He had his chance to do his own thing here but didn't show anything of merit.
Carlo must be cash strapped if he is not going into the market as what we have is a big bunch of underachievers.
I do hope they have already made up a list of experienced people they will let go on free transfers and then we can get some youngsters into the team.
Trevor Peers
33
Posted 17/04/2021 at 23:26:51
If those comments by Ancelotti are true, they don't make any sense at all, in fact they are ridiculous. If he really thinks we can flourish with the present squad plus a totally unmotivated Kean then he's lost the plot completely and we will be lucky to avoid a relegation scrap next season.
Time will tell if these comments are his real thoughts though, but just looking at our bench last night compared to Spurs is a true state of just how bad our very bare and mediocre squad is, compared to our nearest rivals in the Premier League.
Brian Williams
34
Posted 17/04/2021 at 23:57:55
Does anybody seriously expect Ancelotti to admit that he expects Kean to leave, for fuck's sake? The minute he does that, any bargaining power he may have had disappears.
Of course he's going to say that Kean is an important part of his plans. If you can't see through that, and the reasons behind what he says, then I've got some magic beans to sell – 50% discount to Evertonians.
Brian Murray
35
Posted 18/04/2021 at 00:29:05
Mike Alison @30. If it's true Brands has a file on every player in Europe, how do we end up with Bernard, Kean, and Iwobi (granted we may make money on Kean)?
Big summer for Marcel and the owner needs to look long and hard before offering any sort of new contract. No matter how much Niagra Falls is blubbering next to him.
Lee Courtliff
36
Posted 18/04/2021 at 09:30:44
I know we should probably be aiming a bit higher, and this is probably my "Moyes Era" attitude shining through, but I'd be quite happy to spunk our transfer kitty on the Norwich lads.
That's Buendia, Cantwell and Aarons. They play great football, they move with pace and they should, in theory, boost our goals from midfield numbers.
Surely we'll get £30-odd million for Kean, the TV money and the wage bill should be drastically reduced with Besic, Tosun, etc leaving.
We might even get a few quid for Delph!!!!
Justin Doone
37
Posted 18/04/2021 at 13:38:17
If we don't strengthen the the only losers are Everton.
Most clubs from man city downwards will be looking to strengthen. Keeping the same ie staying still is taking a step backwards if all around you are improving.
Hoping 2 or 3 injury ravaged players will stay fit and take us from top 10 to challenge the top 4 is foolish. We all know it so I'm really looking forward to see what other top class players we bring in to support James.
He's always 2 steps ahead but there's no one else on or near his level so he joins in having to slow play down or playing backwards.
I'd love Hazard or similar, a player that can create, score and take on and go past a player or two.
---
Add Your Comments
In order to post a comment, you need to be logged in as a registered user of the site.
Or Sign up as a ToffeeWeb Member — it's free, takes just a few minutes and will allow you to post your comments on articles and Talking Points submissions across the site.