Ancelotti calls for more consultation from football's power brokers
Thursday, 22 April, 2021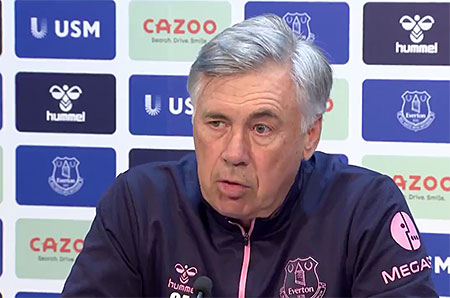 Carlo Ancelotti says the proposed Super League fell flat on its face because the clubs involved were wrong about the concept, largely as a consequence of not canvassing the supporters, managers or players over whether it would even be a good idea.
The experienced manager, who has worked at four of the clubs involved in the attempted breakaway, says that there is broad agreement that the Champions League is in need of change to make it more competitive and argued that the reforms passed by Uefa this week deliver much of what the rebel 12 were asking for.
"For every supporter of football it was a strange day, a surprise," the Italian said when he was asked about the events of this week during his press conference ahead of Everton's trip to Arsenal tomorrow. "We [have] heard about the Super League in the past few months but I was sure it was not going to happen. What can I say? They were wrong."
"The clubs were wrong because they didn't take into consideration the players, managers and supporters. They wanted to build a competition without sporting merit.
"Every one of us wants the Champions League to be more competitive. They have to open a discussion to have not only the Champions League but the Premier League more competitive. The most important part is the sporting merit.
"I think that the Super League as they proposed it is impossible but in 2024 there will be a new format for the Champions League and on there I think they can talk and find the best solution to have this competition more exciting and competitive."
He went further to suggest that there needs to be greater consultation with managers and players over fixture scheduling and kick-off times as clubs are at the mercy of broadcasters and the leagues' governing bodies in that respect with no say in the matter.
There have been loud calls for punishments to be exacted on the six Premier League clubs who were part of the plan, Arsenal being one of them, but Ancelotti wouldn't be drawn on whether the thought that was a good idea or not.
"I'm not the right person to judge and to say if they have to be punished," he said. "There are rules that have to be respected and that's it. It's not my decision. Everyone can do mistakes but I cannot say if they have to be punished or not."
---
Reader Comments (35)
Note: the following content is not moderated or vetted by the site owners at the time of submission. Comments are the responsibility of the poster. Disclaimer
Darren Hind
1
Posted 22/04/2021 at 18:35:02
I think everyone in our camp has represented us magnificently throughout this saga.

Jim Burns
2
Posted 22/04/2021 at 18:35:59
Of course they should be punished Carlo - but they won't be.
Immediate disqualification for those left in this season's European competitions and banned from all European competition for the next 2 seasons at least - with qualification for the Champions League passed to the clubs who finish in the top 4 excluding any of the 6 shits effectively opening up chances for 4 of the 14 to qualify...
- but they won't. Paper over with another bout of amnesia and around we go again.
Tony Everan
3
Posted 22/04/2021 at 18:52:53
Carlo is being diplomatic as usual, he's turned it into an art form.
Another way of interpreting it is "if they've e broken the rules, of course they should be punished".
Stan Schofield
4
Posted 22/04/2021 at 19:14:57
He effectively said that they should be punished, by referring to rules that had to be respected.
Soren Moyer
5
Posted 22/04/2021 at 19:19:50
Unfortunately that won't happen. The "no punishment needed" brigade is already out! Danny Mills even claims they haven't actually done anything wrong yet so why should they be punished at all!!!!!
Micky Norman
6
Posted 22/04/2021 at 19:30:39
What Carlo meant to say was that the 6 club owners should be stripped naked, lathered with horse linament and raced on all fours around the pitch against a nasty little Jack Russell at every home game from now on. But Carlo is too diplomatic to say that.
Dale Self
7
Posted 22/04/2021 at 19:37:30
Who is Danny Mills??????????
Danny O'Neill
8
Posted 22/04/2021 at 20:31:55
He came out weeks ago speaking out against this saying it cannot happen.
As the first post says, our club has acted with class from the onset of this week.
Carlo is saying they sleep with with the fishes. They wake up tomorrow with a horses head.
Soren Moyer
9
Posted 22/04/2021 at 20:36:13
Ex city player.
Danny O'Neill
10
Posted 22/04/2021 at 20:44:59
On a serious note. For someone who has been there with 4 of the involved clubs at the highest level and more recently with Napoli on the peripheral and now with a club trying to break in, he does make some interesting comments. Both for the need for reform and for change to make football more competitive.
Barry Rathbone
11
Posted 22/04/2021 at 20:52:00
"I'm not the right person to judge and to say if they have to be punished," he said. "There are rules that have to be respected and that's it. It's not my decision. Everyone can do mistakes but I cannot say if they have to be punished or not."
Therein lies the problem he is part of the "elite" club and won't say "yeh, they need a fucking good kicking"

Sorry Carlo you shit out there
Danny O'Neill
12
Posted 22/04/2021 at 21:25:51
Or just acknowledging what a lot of us have been saying here over the past few days and years Barry?
Let's not suddenly give the FA / Premier League and UEFA credit for the shit show they created many decades ago. Just because they have used the recent bandwagon to play victim doesn't get them off the hook in the monster they have created in my view.
I think what Carlo is saying here is that reform is needed. Football needs to stay competitive. 4 days ago, simple supporters like me had been calling for that for years.
Now whilst I admire the stance, I don't feel comfortable with the Premier League and UEFA taking the moral high ground. I'd rather clubs like Everton who came to the fore on Monday do that. And we did.
Barry Rathbone
13
Posted 22/04/2021 at 21:47:16
Danny
"I think what Carlo is saying here "
That's the problem his words should be an unequivocal call to nail the 6 not words to be interpreted. The reason the farago failed so miserably was influencers at Sky and Uefa and politicos like Johnson left no room for interpretation – the scam HAD to be stopped.
Already the backtracking has begun using the excuse of not punishing innocent fans and players, sorry, that is wrong. These people happily went along with reckless spending to achieve success and are therefore in full alignment with the owners.
The clubs need punishment just as surely as the scam needed stopping but of course it won't happen because of mealy-mouthed words from the footballing mafia of which Carlo is clearly one.
Barry Hesketh
14
Posted 22/04/2021 at 21:54:38
Barry @13
Since when has a manager of a football club, any football club, had the power to decide what punishments should be handed out to another football club? He isn't privy to the rules that may have been broken, he's only responsible for the players and how his team plays.
The rest of it is politics for the big-wigs to decide. Of course, there are managers out there who believe that they decide what the rules and regulations should be but they usually manage the clubs that wanted to break away.
I think Carlo has said as much as he ought to without causing a furore in the media.
Danny O'Neill
15
Posted 22/04/2021 at 22:00:15
If you've seen me rant over the past few days Barry, we are very much aligned in what we'd like to happen.
Carlo, like other managers has come out and said he disagreed with it. He did previously - there was an article on here where he said so a few weeks ago.
Agree with every word and sentiment of your view in that post by the way.
But, I still retain the reality this hasn't gone away. Not what I want, but this was an opening shot across the bows. The attention will now turn to revamping the Champion's League in a way different to the current UEFA proposal.
The FA and UEFA cannot play the innocent angels in my view. They are now fighting the monster they created. But maybe, just maybe, the rest of us now have a voice in that debate.
Dave Abrahams
16
Posted 22/04/2021 at 22:26:49
I think the European Cup should have a new formation planned now by football clubs in Europe by people who know the game with ideas from multiple clubs. The six clubs who have tried to take control of the future of the European Cup should be excluded from putting any input in how this competition will now operate, that will be part of how they will pay for how they tried to make this competition their own with no thought to the rest of the clubs in Europe.
They can sit back and watch how the new form of the European Cup will take place, hopefully a lot fairer than it has done the last few years, and will have to abide with the new formation and be glad to do so. If they don't like it, they can still break away and play with their own little clique of selfishness for as long as they like, but there will be no coming back.
Like it or lump it, it's up to them. I think these clubs, no matter how rich they are, need the rest of the clubs more than the rest of the clubs need them.
Andy Finigan
17
Posted 22/04/2021 at 22:30:49
Well said, Dave @16. I agree totally.

Paul Birmingham
18
Posted 22/04/2021 at 22:53:33
Hang em High, the traitor clubs must be punished proportionately and the EPL, FA, UEFA, must ensure justice is done and properly.
No football club and their board is above the laws and spirit of the game.
Danny O'Neill
19
Posted 22/04/2021 at 22:58:38
I'm straying into another debate and being overly romantic Dave.
But we reset football. From the roots up and foundations, not just fix the leaks in the roof.
If the outrage out there is genuine, it shouldn't be about because the Spanish Cartel and Italian Mafia combined to try and save Real and Juventus, dressed up as saving football. It should be that we've let ourselves get to that situation.
If we're serious, we invest in our grassroots and rebuild from the bottom up. I know I'm a dreamer on this but I'll keep dreaming!!
Hugh Jenkins
20
Posted 23/04/2021 at 08:22:13
Dave(16). I don't profess to understand the make up nor complexities of the Uefa structure. However, from what I have read over the past few days, all six EPL clubs (and the other renegade clubs) withdrew their membership of Uefa immediately prior to the announcement of the ESL.
If that is correct (and I am also assuming that since then they have not been welcomed back with open arms), they are effectively "stateless" in the footballing world.
If so, then not only do they not have a voice nor platform to have any "input" into the restructuring of any European competitions, they also have no right to participate.
I don't know where that leaves us, now, in the latter stages of this seasons European competitions?
But, if my understanding is correct, the renegade clubs shouldn't be taking any further part until they reapply to join the Uefa set up.
Martin Nicholls
21
Posted 23/04/2021 at 09:46:18
I'd go for any of the severest punishments suggested on the various threads but we know they won't be imposed. One punishment that has been imposed in the past and presumably is beyond effective challenge is a transfer ban. Why not impose such a ban (three or even five years) on each of the septic six ? Impose with immediate effect so as to prevent them taking pre-emptive action in this forthcoming close season. This would weaken them in PL (thus allowing greater competitiveness) and in Europe in both short and medium terms.
As for those who bleat about punishing innocent fans, my one word response would be "Heysel". In any event, all such "innocent fans" have already profited from years of success simply because of the unfair balance within PL and UEFA.
Paul A Smith
22
Posted 23/04/2021 at 10:42:25
I heard today Gundogan of Man City has called Champions League reform the lesser of 2 evils.
Now that is a statement that looks out for the working class game and the best line i've heard from anyone with status since this nonsense came out.
What I don't get is why we haven't said that or clubs in worse positions than us? Gundogan has actually spoken for fans of clubs like ours and with simple words hes said what Gary Neville should have said.
Soren Moyer
23
Posted 23/04/2021 at 14:30:56
Any competition which gives free-pass to any club(s) to enter it, regardless of where they finish in their respective league and solely based on their previous history in that competition, is a fucking joke and should be discarded. Unbelievable!!!
Alan J Thompson
24
Posted 23/04/2021 at 14:47:09
How to make the Champions League more exciting? Perhaps go back to only previous seasons national Champions and the holders on a knock out basis without seedings. But that isn't what it is about, is it? It's more about making more money for a few "privileged" clubs at the expense of everyone else.
Next they'll start talking about honesty, as if they know much about it.
Dave Abrahams
25
Posted 23/04/2021 at 16:53:02
Alan @24,
That way of working is too honest, open and simple to work and understand. It will never be accepted by these cheating money-grabbing bastards.
James Flynn
26
Posted 23/04/2021 at 00:00:38
The great advantage of reading the threads is some real beauts along the way. Rathbone, for instance:
"The clubs need punishment just as surely as the scam needed stopping but of course it won't happen"
First of all, stupid, when an entity is clear and open in its intent? It's not a scam.
because of mealy-mouthed words from the footballing mafia of which Carlo is clearly one.
Ancelotti, Italy, Mafia. Well, of course!
You idiot.
Kieran Kinsella
27
Posted 24/04/2021 at 03:13:23
Moyes calling for a PL II featuring Celtic and Rangers with 18 teams in each division now... few things.
Firstly, had we an 18 team Premier League last year, Moyes would be in PL2 now. Secondly, yeah of course Premier League clubs would like Rangers and Celtic to join as they're popular which means ticket sales and TV money, but above all they're shit so we could all beat them. But if we are going to add teams based on fan base and history, then why in the fuck wouldn't we add teams from our own country like Sheffield Wednesday and Sunderland? Oh because football is a meritocracy, unlike the ESL? So, in that case, Celtic and Rangers can start at the amateur level and climb their way up.
Moreover Scotland has had its own professional players longer than us so if we are to absorb them the desire to do so should come from the Particks and Queens Parks, not us picking off the heavily supported yet easy to beat teams.
Above all, I can't help but think Moyes is thinking of his next job once things go south at West Ham and he doesn't fancy the SPL so he'd rather bring the SPL to him. Well fuck him. Scotland is Scotland, England is England. We can't be hypocrites and build a superish league as a sub for a Euro one.
Gary Mortimer
28
Posted 26/04/2021 at 14:51:16
I've just had a post regarding possible punishment for the not-so-Super 6 removed by the Guardien's moderators, further reinforcing my opinion that our loveable neighbours have a lot of fans in the woodwork, working their dark magic.
I posted the following:
Nobody cared about the fans when all English teams were banned from Europe after Heysel. Players and fans of Southampton, West Ham, Sheff Wed, Oxford Utd, Coventry City, Wimbledon, Luton and Derby were all denied a rare chance of European football for things that had nothing to do with their club at all.

So I am afraid that the self proclaimed "Super-6" should be punished for this betrayal of all other English clubs. This time it was the owners of the clubs who created mayhem not the fans, but I think that they should be banned from Europe competition for a good number of years - perhaps 5 years to mirror the Heysel ban. The fans would suffer yes, but then they should take their complaints to the owners of their clubs, they are to blame for all this.
I guess I wasn't allowed to mention Heysel.
Dennis Stevens
29
Posted 26/04/2021 at 15:27:33
Aye, Gary #28 Simple fact is, it's always the supporters that suffer from the actions of the club owners & directors. On the basis of it being unfair to the supporters then no club would ever be punished for anything.
On the other hand, clubs then claim it's unfair if they are punished for the actions of a minority of supporters when a few of them misbehave. Sounds like a recipe for everybody to have a complete lack of responsibility - nobody's culpable!
Tony Everan
30
Posted 26/04/2021 at 15:37:00
Gary, What a shocker, we are in North Korea news blackout territory with this issue. I'd send an email to the Guardian's editor making a formal complaint.
This Social Media blackout is well timed too, captured the weekend headlines very nicely. An excellent campaign by the way, but why this weekend of all weekends? It's a bit of a coincidence to say the least !
It's starting to feel like nothing happened and it's business as usual.
Barry Hesketh
31
Posted 26/04/2021 at 15:50:58
Tony @30,
It hadn't crossed my mind that the social media blackout and the European super league shenanigans might be related, but whether that is the case or not, a Public Relations exercise is well underway. As Adam Jones suggests, Everton may not want to make any more public declarations about the ESL rebels as it might do Everton FC more harm than good in the long term.
The comments relating to Adam's article show that partisanship and self-interest are at the forefront of many people's minds and justifiable punishments are to some, well off the agenda.
Ian Burns
32
Posted 26/04/2021 at 15:58:08
Tony 30 - "It's starting to feel like that happened and it's business as usual".
"Business as usual" is the key phrase for Sky et al and other such media companies because they cannot afford for the ESL 6 to be punished beyond some form of affordable fine.
If I am working on something and I can't see the game on television, I follow it on the BBC website (unless it is EFC of course!). At the top of the web page it tells you how many people are following the football on this particular page and it is quite interesting. The difference in figures if it is an ESL 6 is quite staggering. You could be looking at well in excess of 200,000 but if it is a game outside the ESL 6, it can be as low as 30,000.
That is the sort of problem the media companies are up against, so "business as usual" is of paramount importance to them.
Obviously, every fair minded and sensible supporter agrees that some form of punishment (such as a points deduction) should be administered but I just can't see where the concerted pressure is going to come from to ensure such a censure will happen.
Barry Rathbone
33
Posted 26/04/2021 at 16:49:16
James Flynn 26
You speak as though proud of your idiocy.
"Scam", "farago", "conniving shite" - who cares the terminology. The point is an attempt to enrich a small group at the expense of others was made. Gary Neville said the cadre of clowns were trying to "murder English football" – these are expressions of anger and disgust, not pedantic points for blockheads like you to waffle about. Sort yourself out.
Hilariously you cannot (or will not?) recognise that leading figures in football have covertly propped up a rotten status quo for years and by any measure can be classed as a footballing "mafia". Your desperation in being literal by popping in Italian references can only be seen as some weird attempt to brag about your nob.
Not necessary – everyone can see it sticking out of your head.
Ooo!! Ya "beaut"!
Dale Self
34
Posted 26/04/2021 at 17:11:45
Anyone worried about a clean escape without consequences should note the talk of replacement owners at several of the Septic Six. This is the worst of all possible outcomes for them, unwanted attention by those who know where to look. Some of these monopolist-types forgot the appeal of the quiet life.
David Hayes
36
Posted 28/04/2021 at 01:15:33
Anyone remember the chocolate bar, Bar Six, like a kit kat type. That's sweet justice

---
Add Your Comments
In order to post a comment, you need to be logged in as a registered user of the site.
Or Sign up as a ToffeeWeb Member — it's free, takes just a few minutes and will allow you to post your comments on articles and Talking Points submissions across the site.