Allan: Everton feels like home
Thursday, 29 April, 2021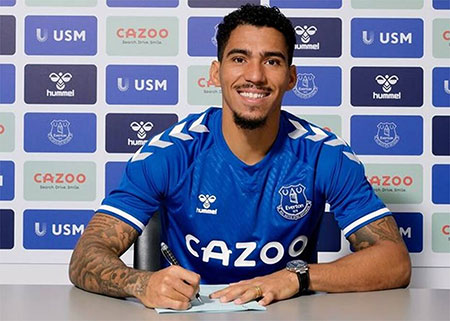 Allan says he would happy to stay with Everton beyond the terms of the three-year deal signed with the club last summer.
The Brazil international hit the ground running as a Blues player at the beginning of the season, playing an integral role in the team's flying start to the season alongside fellow new signings Abdoulaye Doucouré and James Rodriguez.
Since then he has had a couple of spells out the side through injury but returned against Tottenham the Friday before last and played the full 90 minutes of last week's win at Arsenal as well.
Now he is looking to finish the campaign strongly, with European qualification still a possibility. But beyond that, he hopes to stay at Everton for a few years to come, citing how welcoming the supporters have been and just how much the club feels like home.
"My thoughts are to remain at Everton for as long as possible," he says is this weekend's match programme for the visit of Aston Villa. "It feels good, I feel at home here.
"When you feel good and motivated to do your best on the pitch, there's no reason you would think about moving.
"It's very early to have this conversation, I know, but I'm really happy here and hope to stay for many years and leave my mark in the hearts of the fans and at the Club.
"I am really pleased with the way I was welcomed and how the supporters received me. I still haven't had that feeling of the fans in a full Goodison Park but I've received a lot of messages welcoming me and congratulating me on my first season in an Everton shirt.
"I hope to repay them on the pitch, through good performances, and to leave an important legacy at the Club."
You can order the Villa programme via this link or subscribe to the matchday programme here.
---
Reader Comments (108)
Note: the following content is not moderated or vetted by the site owners at the time of submission. Comments are the responsibility of the poster. Disclaimer
Kieran Kinsella
1
Posted 29/04/2021 at 01:47:37
Brazilian Peter Reid; we should build a golden statue of him.
John Maxwell
2
Posted 29/04/2021 at 02:46:33
Best since Reidy for sure. Needs a bit of pace around him but a real commander on the pitch.
Darren Hind
3
Posted 29/04/2021 at 03:51:18
Right up there with Philip Neville.
Nowherer near as skillful as players like Osman, Pienaar or Arteta, but I hope he can one day emulate the likes of Carsley, Mad Dog, Cahill and dear old Kevin Kilbane and reach top four.wearing a blue shirt.
He could become a legend...especially when you think, that lot are not even Brazilian
Kieran Kinsella
4
Posted 29/04/2021 at 03:56:51
Darren
Agreed, a modern day legend.
Derek Knox
5
Posted 29/04/2021 at 04:32:16
Jeez Darren, I never realised Phil Neville was Brazilian, one thing about TW it is definitely a font of new knowledge and hitherto unknown trivia. :-)
Yes glad he's settled, I think it means a lot to a player if he is happy, and therefore his family are happy too, which reflects on the pitch hopefully. Although when he came back from his recent injury spell, he did look a shadow of the player we bought, thankfully that was temporary. I think and feel we are yet to see the best of Allan, when Carlo and Marcel Brands complete the next phase of rebuilding following the Transfer Window.
More Brazilians? More Phil Neville's? The mind boggles and is racing already! Darren what have you started here?
Kieran Kinsella
6
Posted 29/04/2021 at 04:50:55
Derek
It shows how cosmopolitan the game has become. I remember Bakayoko doing an interview years ago when he was amazed Walter Smith had the foresight at the time to realize foreign players had to make an adjustment off the pitch as well as on it. Smith helped him find a home, a local mosque etc. sadly it didn't work out, but in the same kind of era we had Madar who couldn't adapt. Now we literally have players from all over the world feeling at home. That is progress at least
Mike Gaynes
7
Posted 29/04/2021 at 05:29:59
What I enjoy about Allan's game is that the obvious toughness is combined with a certain elegance. He tackles with supreme effectiveness but keeps his feet in the process. And he's so relaxed on the ball, looking for the right pass, that it's clear the game slows down for him.
I agree with DK that we will see the best of him when he's surrounded by more quality on the ball.
Paul Hewitt
8
Posted 29/04/2021 at 05:46:56
A legend. We haven't had any legends since the 80's. Takes more than a few good games make you and of them.
Mike Kehoe
9
Posted 29/04/2021 at 06:55:23
A good signing for sure, but the bar for legend status is either very low or posters are tired and emotional.
Hopefully a key part in a rebuilding process that will continue to raise the profile of the club and leave us well placed to conquer Europe when the super league six are banished to the championship.
Tony Hill
10
Posted 29/04/2021 at 06:59:36
A better player than we've seen from him so far. He looks like he's going to be fragile physically which is a worry.
Thomas Richards
11
Posted 29/04/2021 at 07:08:34
Hes out fishing again.
🎣🎣🎣
Brian Murray
12
Posted 29/04/2021 at 07:10:57
The Premier League is full of tough-tackling midfielder s who can't score like him so there's no room in the new Everton for 3 or 4 more. Definitely no Gomes Sigurdsson Davies. He's a good player but, as I say, he does a vital role. Water carrier, as Cantona used to say. Surround him with pace and we have a proper midfield for once. I hope we can keep Davies though as he's maturing and very handy to have especially with our injury record.
Dan Nulty
13
Posted 29/04/2021 at 07:18:45
Correct Thomas. What a plank
Barry Rathbone
14
Posted 29/04/2021 at 07:41:17
Another "name" who does nothing particularly special and destined to join the ranks of Schneiderlin, Klaassen, Walcott, Delph and Gomes as whipping boy in chief within 12 months.
It takes that long for the scales to fall from some eyes – mark my words!
Jim Bennings
15
Posted 29/04/2021 at 07:49:45
He'll be a better player when we have more pace on the flanks, imagine Allan in the team that had Kanchelskis on the right and Limpar on the left?
As it is there's still not much dynamic to our attack so the defensive midfield players come in for much scrutiny, I don't think Allan will ever be a headline grabber but he's done a fairly steady job when he has played (little concerned at how many games he's missed)
Also I'm not quite sure we should be mentioning the work "legend" yet, it takes a hell of a lot more than half a season of games in a team finishing above mid-table to be a legend but I suppose it's a what generation you are brought up in.
The word legend in football is defined by players like Neville Southall, been there, done it and won it.
Frank Sheppard
16
Posted 29/04/2021 at 07:53:37
We are not the silky possession team like the truly awesome Man City, so we do need a player of his type, so long may he flourish, and do a job for us, and perfect his Peter Reid impression.
Stan Schofield
18
Posted 29/04/2021 at 09:20:19
Barry@14: Yes, you're probably right that he'll have his turn at being a whipping boy, but that'll be on ToffeeWeb and doesn't necessarily reflect how good he is as a player or how well he's settled at Everton.
It's certainly a hypothesis that can be tested.
Richard Parker
19
Posted 29/04/2021 at 09:31:06
Legend is pushing it a bit. He's definitely the best we have in his role.
I'm struggling to think of an real legends at Everton since big Nev... For me the closest we got would be Dunc or Cahill, but I think 'talisman' is probably better when you compare what they did to Southall, Sharp, Ball, Kendall, Dixie, etc, etc
Would love for one of our current lot to become a bona fide legend but they are all way off at this point.
Robert Tressell
20
Posted 29/04/2021 at 09:39:39
He's a very good player but he's only played 18 gamed for us. If he ends up playing 100 games and drives us to silverware and success then he might qualify as a legend. Otherwise we're setting our legend bar very low!
Stan Schofield
21
Posted 29/04/2021 at 10:00:23
Robert @20: The 'legend' thing was started by Darren @3. He's lit the blue touch paper.
Danny O'Neill
22
Posted 29/04/2021 at 10:04:49
We've been "hooked" into the legend conversation, by a tongue-in-cheek remark. But seeing as we're here, I agree, the word legend is thrown about way too easily. Obviously there will be context in terms of what the "legend" threshold is, but it should be reserved for those who genuinely achieved special things.
Was it Joe Royle who correctly warned that Duncan risked becoming a legend before a player? Appreciate that our fans were desperate to have something to hold onto at the time, but a very wise statement.
Anyway, Allan. Very good player who has improved our midfield. Impactful when he plays as we saw against Arsenal and influences those around him with his leadership and continuous talking. Shame about the injuries and with Doucouré back and another more dynamic midfielder, plus an improving Tom Davies, I like what we are building in that area.
Danny O'Neill
23
Posted 29/04/2021 at 10:11:11
I know Stan. Quite liked it though.
Pat Kelly
24
Posted 29/04/2021 at 10:14:56
He'll be heading for 33 by the time his current contract is up. Can't see him getting another one at Everton. His injury record is unlikely to improve. If anything we may even see less of him over the next two years. Pity we didn't have him in his prime.
Rob Dolby
25
Posted 29/04/2021 at 10:17:23
He has improved our midfield when fit. I would like to think of him as an expensive sticking plaster signing.
One of the big reasons that Silva got the sack was that Gana got sold and Gbamin got injured. Ancelotti at least addressed this with Allan.
We desperately needed a player of his type, Hoiberg went to spurs meaning that we probably paid over the odds although I do think that he is a better footballer than Hoiberg.
To kick on we need to strengthen the midfield to a point were Allan has serious competition for his place.
Barry Rathbone
27
Posted 29/04/2021 at 10:39:30
Stan 18
I agree forums don't represent the mass of Evertonians upon visiting all the Everton ones there doesn't seem more than 200 people regularly giving opinion across the entire genre - but they are loud and therefore disproportionately influential.
There ya go, another hypothesis to cogitate
Jim Bennings
28
Posted 29/04/2021 at 11:07:41
I think it's just society really the way it sees things now, everything is "amazing or sensational or legend in football terms".
But legend is really a word that's bandied about too freely now a bit like "world class" when talking about players that are good but for me world class meant the likes of Pele, Diego Maradona, Johan Cruyff ect ect.
The word I'd use for many of our players during the Premier League era, like Tim Cahill, Big Dunc, Fellaini, would be "cult" players.
I'd say those fellas gained a cult status because of their playing style/appearance ect:
Colin Glassar
29
Posted 29/04/2021 at 11:51:55
He's going to be a hugely important player for us once he's got some decent players alongside him.
Once again, the "ageists" are out with their 'he's pushing 30' nonsense. Tell that to 36 years old Fernandinho who bossed the Spurs MF in the cup final, or 33 years old Cavani who runs defences ragged?
If you don't like certain players just say so. Don't use this ridiculous argument as it doesn't make sense.
Brian Williams
30
Posted 29/04/2021 at 12:00:56
Darren#3.
🤣🤣🤣
Good one Darren. Don't think you'll need your keepnet on the strength of that one though.
Ian Burns
31
Posted 29/04/2021 at 12:12:51
Legend - no chance.
Talisman - maybe.
Peter Reid comparison - maybe by the end of next season - if he stays fit.
Important player for us at this moment in time - absolutely.
Tony Everan
32
Posted 29/04/2021 at 12:58:13
We would be a lot closer to the top four, or in it, if Allan, Doucoure and James Rodriguez stayed fit. Allan has been back for the Tottenham and Arsenal games. He hasn't set he world alight but he provides some fight, tenacity and respect to our midfield. He has a confidence about him that rubs off on his teammates.
I don't think it's a total coincidence that we have taken four points from six since his return. He makes the side function a bit better, his contribution improves players around him also he makes us harder to beat. There's a few core players at Everton and he is one of them.
Dave Abrahams
33
Posted 29/04/2021 at 13:12:13
I think Allan has to be assessed as the seasons are played out, how long will he last and how many games will he play, hopefully more than he has played this season.
When he first played earlier in the season ho looked a fine player who could organise and direct the players around him, a possible future captain, then he got injured, came back, too soon possibly, and got injured again, took time to get match fit, then when he played again he didn't look like he was a 100% fit but gradually worked his back to looking like the player he was at the start of the season, staying fit is the key to Allan being a real success at The Blues, because he can become a key player for us.
Colin (29), as you say Fernandinho is great player for Manchester City at 36, but Colin he has proved it over the eight seasons in the premier league, year in, year out, he has really proved his value to City, if Allan does half as well he will have proved to be a bargain.
Martin Berry
34
Posted 29/04/2021 at 13:12:42
Very pleased to have him and glad that he feels "at home" as that is so important that he and his family are settled.
I think we will see the better of him next season, he has been very good but with experience of a Premier League season behind him he will only improve.
Additionally at £20m he looks a bargain despite his age compared with the £50+m that Arsenal and Spurs have paid for some of their midfield recruits, albeit they are younger.
Stephen Brown
35
Posted 29/04/2021 at 13:46:32
A player finished at 30 is a bit old fashioned these days! They don't down pints and eat pie and chips before games anymore.
Allan is a good signing who I hope will be even better in a settled midfield with pace around him. I look forward to watching his Everton career develop.
Danny O'Neill
36
Posted 29/04/2021 at 13:53:10
I'm in massive danger of repeating myself on multiple fronts today Stephen, but you're right.
Age is a misnomer, especially in the modern game where players look after themselves a lot better.
Also, something that has never changed is that good teams combine youth with experience. Experience comes with age. Very few teams achieve success on youth alone. Most have a blend of both as well as a blend of types of player.
Kieran Kinsella
37
Posted 29/04/2021 at 14:01:37
Colin
There's a very short lifespan for players on ToffeeWeb. Kids until 23, retired off at 29.
Kieran Kinsella
38
Posted 29/04/2021 at 14:05:43
Stephen 35
It's a good point. Look at Fergies fledglings, they were all sober and carried on into their mid to late 30s. That being said, even in the older times we had a few like Trevor Francis and Strachan working wonders at almost 40, and I guess the pioneer of healthy longevity was Stanley Matthews.
Hugh Jenkins
39
Posted 29/04/2021 at 14:45:47
It's excellent news that he is happy and feels at "home" at Everton. Any of his former teammates or his fellow Brasilian internationals who might be asked to join EFC and be giving it some thought, will obviously seek the input of those on the spot.
It is great that they are likely to be told - "Yeah - this is the place to be", rather than "No - avoid it at all costs - go somewhere else".
Brian Wilkinson
40
Posted 29/04/2021 at 15:30:57
Sean@17, I chipped in with a few Jam, rude not to, those that Dan quoted were what he might call, thats entertainment, Most of Our stockpile of number tens since then have turned out to be all mod cons, in fact most could have been shipped on to the funeral pyre, and as far as Davy Klassen goes, he was certainly no David Watts.
Allan could just be our 5 o,clock hero, or 12.30, or 5.30, or 8pm, depending on sky or bt.
However I will finish by the doubters who still think no Manager will push us onwards in the hope of glory again.
I stared a Centuary thinking this will never change, as I hesitated, time rushed onwards without me, too scared to break the spell, too small to take a fall, but the absolute luck is- love is in our hearts.
Jay Harris
42
Posted 29/04/2021 at 15:46:45
I think he brings workrate and energy to the team but his most vital contribution is that he talks his team mates into position and this facet should not be underestimated as a lot of players do not talk much these days.
Danny O'Neill
44
Posted 29/04/2021 at 16:45:03
In fairness to Darren's original comment Jay Harris, I think there are parallels to the Phil Neville likeness.
Both good enough to have played at the highest level of European football, both probably not absolute top, top drawer. But both bring qualities beyond their footballing ability. When Neville was absent, his leadership and presence were missed. I think Allan brings that to this team as well as being a very good footballer.
The Peter Reid similarities; that is down to leadership and style of play. Not because he has yet achieved half of what Reid did at Everton.
Thomas Richards
45
Posted 29/04/2021 at 16:49:59
"Right up there with Philip Neville."
That the same Phil Neville who has 6 Premier league winners medals.
3 FA cup winners medals.
1 Champions league winners medal.
59 caps for England?
Olalekan Taofik
46
Posted 29/04/2021 at 17:23:24
Allan feeling well at home, expectedly when you grant interview to your club web/TV, you always economically with words.
To me is a leader on the field not yet a legend. what do you say of my country man,Joseph Yobo,who was an evertonian for over a decade any plays for over three seasons without missing a game,he is a legend in his own right.
Let Allan and the other players secure secure top 4 for the team first.,that's the first priority now,our remaining five games are tough.
Let talk tough on the turf.
Happy Ramadan to my fellow Muslim - Evertonians.
Let crush villa on Saturday. COYB.
Kieran Kinsella
47
Posted 29/04/2021 at 17:31:35
Olalekan
Yobo was a great acquisition by Moyes. Legend? If Allan's a Legend Yobo must be a Super Legend, Sheedy a premier legend, and Dixie an Elite Platinum Plus Legend.
Darren Hind
49
Posted 29/04/2021 at 17:41:41
Funny comments above.
Point out what he should be aspiring to, using irrefutable facts by listing the players who reached top four wearing a blue shirt and you are on a wind up.... But claim a fella who has played 18 games (losing a lot of them) should have a gold statue built of him.. And nobody bats an eyelid.
Fascinating to see people so carefully avoiding a line that hasnt even been cast.
Tony Cheek
50
Posted 29/04/2021 at 17:42:02
Legend? Never! and don't buy the argument that he will be better with better players around him. Who would'nt? Tom Davies would be a better player too, probably Gomes as well. to be honest his injury rate is against him, he lacks pace and should never be mentioned in the same breath as Peter Reid. Ok, hes a fighter, but till now a poor replacement for Gane Gueye IMO. Hope he proves me wrong, but not convinced he will turn things round. yet!
Sean Callaghan
52
Posted 29/04/2021 at 17:45:16
Re Allan, I think he probably needs another season to get used to the pace of the PL. At the moment he's pretty green, but once he's used to speed he'll definitely set the house ablaze. Just for you, Brian.
Danny O'Neill
54
Posted 29/04/2021 at 17:54:16
Olalekan, I liked Yobo.
Very athletic centre back who did like to try and play. I think he maybe came to soon for many Evertonians of that generation. Me and my younger brother had very different views on him, my brother being very much in the Stubbs & Weir mould of judging a centre back. Yobo was always a liability to him. I could see a player who in a better team would excel.
You also have to remember he joined a very poor Everton team in his early 20s. A very young age for a centre back, a position I don't feel you see players hit their peak until they hit 28 - 30 years old. Younger centre backs playing behind a poor team will be exposed and ultimately take blame because they are the defenders. Just like keepers. Within reason obviously.
Brian Wilkinson
56
Posted 29/04/2021 at 17:58:38
A few are saying the best since Peter Reid, if not for his injury I would throw Joe Parkinson into the mix, had everything Joe and so unlucky to pick up an injury that would end his career.
Interesting fact, he was not signed by an Everton Manager, Kendall had just finished his 3rd spell as Manager, and Parkinson was signed before cue hot sweats, but sorry have to say it, before Mike Walker became Manager.
Tony Abrahams
58
Posted 29/04/2021 at 18:02:51
Players who reached the top 4 and then got knocked out of two European competitions at the first hurdle, absolutely embarrassing the life out of us in Bucharest.
We need a bigger and better squad, otherwise we won't improve. Other teams rotate, some clubs have more match winners on their bench, than we have out on the pitch, and certain players get rushed back and then don't get a rest, which is why we need more depth and quality to move forward, in this very physical demanding league.
Danny O'Neill
59
Posted 29/04/2021 at 18:02:57
Tom Davies is a better player Tony. For having Allan and Doucoure around him.
Legend? No. Of course not. That got thrown into the thread early on and isn't relevant to Allan.
In fairness, it has generated some interesting discussion even if it's irrelevant to Allan and the original topic.
Danny O'Neill
60
Posted 29/04/2021 at 18:14:40
It was a low moment Tony. Just when we had an opportunity, we failed to capitalise. Because we didn't build the squad. We thought what got us there (which was by a good degree of good fortune) was good enough. It wasn't.
This season, the team was improved but we always knew the squad was thin and with a few injuries we were back to what went before. Someone used the sticking plaster analogy before. Totally right.
We now have to add depth to the squad. Improving in each position. I've said it about centre back. If you get the chance you do it. And guess what? If this season's most improved player (Michael Keane) becomes surplus and back up, then so be it as the team improves and this season's good becomes next season's back up. But you don't not improve because the kid came good.
I was mortified when we brought in Dave Watson. Why do we need to replace Mountfield I questioned. I don't think I was alone. But good managers take the emotion out of it and Howard Kendall knew what he was doing.
Darren Hind
61
Posted 29/04/2021 at 18:27:16
Tony
Obviously Gravesen didn't play in that abject performance in Romania; neither did Carsley or Kilbane (late sub).
Phil Neville did though.
Danny O'Neill
66
Posted 29/04/2021 at 18:46:48
I think he is much improved Thomas. Mostly since we have played to his strengths but credit where due. Improved from previous yes but he still worries the shit out of me.
Christy Ring
71
Posted 29/04/2021 at 20:56:24
Good to see he's happy here, Allan was a great addition along with Doucoure because Carlo could see we had no physical presence in midfield. He's missed a good few games with injury, hopefully he'll play a lot more in his 2nd season in the Premier League, plenty of time to extend his stay. As for being a legend, and comparing him to Peter Reid, just a windup.
Dave Abrahams
73
Posted 29/04/2021 at 21:21:54
Danny (60),As you say Danny Dave Watson turned out to be a great signing by Kendall, the story at the time was that Watson wouldn't have been signed if Pat Van the man hadn't got that naughty illness, he was getting cursed for that, he would have been used as a centre back.
Brendan McLaughlin
74
Posted 29/04/2021 at 21:28:33
Dave #73
Pat VD Hauwe?
Danny O'Neill
75
Posted 29/04/2021 at 21:32:03
Oh Dave, now you take the conversation somewhere else. Wouldn't Pat have made a great centre back? I think so and he would have been a centre back ahead of his time.
Danny O'Neill
76
Posted 29/04/2021 at 21:35:33
Maybe Kendall had an eye for that. Remember Ratcliffe started life as a left back too.
Tony Abrahams
77
Posted 29/04/2021 at 21:37:19
Yeh Darren, he came straight in and got the arm-band, and although he was a good professional, I never thought he was proper captain material though.
I wasn't that fussed on Carsley, (I like watching midfielders who want the ball) and Kilbane was also honest but just average imo, but so was that Everton team that came fourth, although it did bring in a new age, and that new age has not only been shite, it's not the Everton we know or yearn for.
I don't want a manager who is not used to working with lesser players, I want better players who can take Everton back to where they belong!
Tony Abrahams
78
Posted 29/04/2021 at 21:48:01
It's interesting what Ancellotti's said about Davies, Danny, and it sounds like Carlo is very honest with his players, and only tells lies to the press!
I think Everton were skint when they came 4th, and that's why they never pushed on, but another thing that is often overlooked is they lost a proper caption in Stubbs, and that team really struggled, until he returned.
Christy Ring
79
Posted 29/04/2021 at 21:54:54
Tony #77 Agree Kilbane was an honest pro, but more like a left wing back than a winger, as for Carsley he was like the Ronseal add, does what it says on the tin, did all the dirty work, but can't forget his winner against the redshite.
Thomas Richards
80
Posted 29/04/2021 at 21:58:10
Loved everyone of them Joe Parky one of my favourites. Remember the tanking he gave Ince and Keane like it was yesterday.
Guaranteed 100% off all of them.
Tony Abrahams
81
Posted 29/04/2021 at 22:03:46
Definitely Christy, and probably my favourite ever team celebration, on a day when their spirit shone through, mate!
Brian Wilkinson
83
Posted 29/04/2021 at 22:05:56
I may be wrong, but my understanding on signing Dave Watson, was down to Derek Mountfield suffering a fit a few weeks beforehand, he confided in Kendall, and Kendall assured Mountfield it would not affect Kendall's selection, a few weeks later Watson was signed and Mountfield was let go.
Quite possibly Pat may have been used as a centre half, not heard anything on that line.
Like I say could be other reasons as well, but Mountfield, spoke about it A while back and thinks that's is why we signed a centre half.
Dave Abrahams
84
Posted 29/04/2021 at 22:18:14
Brian (83), yes I've heard that story as well, so it could have been a combination of the the two, him and Pat Van den Hauwe, although we did get a very good fee for Mountfield and he played plenty of games for Villa and Woves after he left Everton.
Christy Ring
85
Posted 29/04/2021 at 22:20:44
Thomas #81,
Parky was my favourites at the time, and if I'm not mistaken was on the verge of an England call-up, only 26 when he got the career-ending injury. I remember reading that big Joe kept playing him when he was carrying the injury?
Brian Wilkinson
86
Posted 29/04/2021 at 22:23:37
Could be a combination of both, this is what Mountfield had to say about it when he opened up about his illness, a couple of years back.
A couple of months after Mountfield suffered his seizure, Everton signed Dave Watson for a then club record £900,000 from Norwich City.
The former Liverpool youth player went on to take his fellow Scouser Mountfield's place in the side and was a fixture in the team for over a decade, going on to make 528 appearances and becoming the Blues last trophy-winning captain to date when he skippered the side in the 1995 FA Cup final.
I will never know if that was the reason Watson was signed, but I know my time at Everton was over, I was then moved on to Villa.
Jerome Shields
87
Posted 29/04/2021 at 00:00:09
Allan is a good player, but at 30 with injuries a extension to his contract would have to be carefully considered.
Michael Barrett
91
Posted 30/04/2021 at 07:28:27
He is in the comfort zone, he is bound to be happy happy our club doesn't have to produce.
Robert Tressell
92
Posted 30/04/2021 at 08:54:15
Having a player like Aarons at right-back and (I hope) a player like Bailey or Neres at right-wing would give our midfield a greater opportunity to shine. Better movement, more pace, more passing options across the pitch. Hopefully, with those sorts of players in the team, Allan will really shine. Might even see more from the likes of Gomes and (the probably underrated) Sigurdsson too.
Danny O'Neill
93
Posted 30/04/2021 at 09:13:18
Sigurdsson continues to be an enigma Robert, but without doubt, in the number 10 role and with runners in front of him, he creates and scores chances. The Tottenham match summed that up.
The key is what you say; the midfield needs runners and movement. We saw that against Arsenal. Time and again, James and Gomes looking up and seeing nothing. Allan having to be patient until a forward option was on for the pass that ultimately led to the goal.
Clive Rogers
94
Posted 30/04/2021 at 10:12:16
Brian, 83, as from my memory I thought that Mountfield stayed at Everton for quite a while after Watson arrived, I have just checked up and Watson was signed in 1986 and Mountfield left in '88. It always was a little mystifying at the time though. Both great players for us. Surprisingly, Mountfield only played 106 games for us but got 19 goals.
Geoff Lambert
95
Posted 30/04/2021 at 10:22:48
I think this legend thing was started by our own Leg End Dazza Nudd
Tony Everan
96
Posted 30/04/2021 at 11:08:48
Invented rumour ? Coutinho coming for 35m and the club is looking for a house for him as we speak.
Rob Halligan
97
Posted 30/04/2021 at 11:10:58
Looking forward to the responses to that one, Tony. I saw the same rumour as well!
Craig Walker
98
Posted 30/04/2021 at 11:36:18
I've seen the rumours. If he could recover his form for the RS, he'd be a great signing. I haven't really followed his career since but he seems to have gone backwards. He's 10 times the player that Iwobi will ever be though.
Thomas Richards
99
Posted 30/04/2021 at 12:00:11
Rob,
Another neighbour for you
Paul Hewitt
100
Posted 30/04/2021 at 12:21:23
Terrible signing if true.
Kieran Kinsella
101
Posted 30/04/2021 at 12:49:58
Rob/Tony
One headline actually reads "Coutinho set to become Iwobi teammate."

Tony Everan
102
Posted 30/04/2021 at 13:26:33
Kieran, could be that Barca are after Iwobi ?!
Other news, Doucoure is training again on his own. It would be a boost if we could get him back for the West Ham match a week on Sunday. If we are near full strength going into the last five games we can really put in a strong finish.
Rob Halligan
103
Posted 30/04/2021 at 14:59:45
Talking of "homes", the away game at Villa has now been confirmed as Thursday 13th May
Fans also allowed back in for the final home game against Wolves.
Danny O'Neill
104
Posted 30/04/2021 at 15:04:09
I see there will be / are / has been 3000 spectators allowed to attend an event at Bramley Moore Dock today.
Rob Halligan
105
Posted 30/04/2021 at 15:08:31
I believe so Danny. There is also a concert at Sefton park tomorrow when 5000 can attend without masks. Sefton park is less than two miles from me, so I think I'll be giving around that area a miss for a few days.
Jay Wood
[BRZ]
106
Posted 30/04/2021 at 15:09:31
Just seen that meself, Rob.
Makes for a busy schedule that week. A WHU at 4.30pm on Sunday 9th. A Villa at 8pm on Thursday 13th. H Wolves currently listed for Saturday 15th but now with a TBC against it - to be confirmed. Getting pushed back to a Sunday or Monday game due to fitting in the Villa game on Thursday?
What about you getting to see the Wolves game, Rob? Weren't you denied seeing the Blues having won a ticket to attend when a new lockdown was enforced?
Any idea yet on the club's plan for who is elligible to attend the final home game?
** Opps! Own self-edit update. I overlooked the home fixture on Sunday 16th v the Blades. The Wolves game will be mid-week before closing out the season away to City on Sunday 23rd.
Rob Halligan
107
Posted 30/04/2021 at 15:20:09
Jay, I received a phone call from the club a good few after the man city game, which I was due to attend, was called off. They said that if / when fans would be able to attend games again this season, then I would be guaranteed a ticket. I guess the same will apply to the other fans due to attend that game. No definite news on how many people fan attend, but the red echo say the club hope for more than the 2K who attended earlier in the season. These two events over this weekend might give us an idea in the next few days if both go off smoothly.
Mike Doyle
108
Posted 30/04/2021 at 15:25:28
Rob # 105] Not surprised you are giving Sefton Park a miss - always had you down as a (more up market) Calderstones Park kind of a guy!
Rob Halligan
109
Posted 30/04/2021 at 15:30:04
Mike, Calderstones is literally a stones throw from me, and it's where I tend to walk the dog. Either there, Reynolds park, Allerton Towers or Clarkes Gardens. Plenty of green spaces for the middle of a city. Also walk across Allerton golf course some days.
Kieran Kinsella
110
Posted 30/04/2021 at 15:39:27
We've had 8 day breaks between the last several games and the EPL decide to cram five of our games into the last two weeks! So which one of the five can James manage his twice monthly 90 minutes in?
Mike Doyle
111
Posted 30/04/2021 at 15:45:17
Rob, when back in Liverpool Calderstones Park is always my top choice of location if going for a run. Never understood why Sefton Park is so poplar- always thought it looked a bit run down.
The Calderstones/Woolton area has always been one of the nicest parts of the city (in my view) - and the Childwall Abbey pub a favourite hostelry from my youth.
Danny O'Neill
112
Posted 30/04/2021 at 15:46:20
Great part of the city for green spaces Rob. I loved living in Woolton.
Danny O'Neill
113
Posted 30/04/2021 at 16:00:24
Fond memories. As my mum looked after my son, his first memories are of St Christopher's in Speke (where I was christened), but used to love taking him to Camp Hill. His very first school was Much Woolton. Wonderful part of our wonderful city.
Rob Halligan
114
Posted 30/04/2021 at 16:10:12
Nice pub, the Childwall abbey, Mike. Decent sized beer garden as well. Forgot about camp hill Danny. Somewhere else within walking distance for me. Near to my senior school, Hillfoot Hey, which is now a housing estate!!
Jay Wood
[BRZ]
115
Posted 30/04/2021 at 16:24:39
Rob (and others). I've just noticed on the official club site the following informative page:
Return of Fans - Wolves Ballot FAQs
Worth checking out for those hoping to attend.
This looks a key one for your circumstances:
I was successful in the West Ham United or Manchester City ballot. Can I change my group size?
No. Your previous successful application will be retained. No changes will be allowed. If people from your original application can no longer attend, you do not need to select a match ticket for them.
Paul Smith
116
Posted 30/04/2021 at 16:51:18
Rob - I went to school in Woolton and fished and played tennis at Caldies Park. I remember during the unemployed 80's my arl fella used to take me to play golf at Allerton and with his UB40 he could get concessions - they were the days or not.
Btw has anybody been invited to the end of season supporters club awards on Zoom next Tuesday ?
Michael Lynch
117
Posted 30/04/2021 at 17:05:19
Interesting that the club are not restricting the ballot to local fans this time - so there's hope for us out-of-towners! Will definitely be putting my name in the hat, I've had both jabs now so I'm happy to take the risk. Anyway, I reckon there's more chance of food poisoning from the pies than there is of catching Covid at the match.
Thomas Richards
118
Posted 30/04/2021 at 17:29:06
Mike.
Sefton Park is the peoples park.
Give it a go.
Buskers, two cafes a complete diversity of people.
Or go to Caldys for a larrtay if thats your bag
Rob Halligan
119
Posted 30/04/2021 at 17:32:06
6500 fans will be allowed for the wolves game.
Michael Lynch
120
Posted 30/04/2021 at 17:44:02
Ah bollocks, I was hoping it would be more than 6,500.
Brent Stephens
121
Posted 30/04/2021 at 17:46:18
Rob, you should get into the Wolves game, as you had a ticket for the City game originally??
I'll enter my name again but almost certainly won't get one as I was lucky for the Chelsea game.
Rob Halligan
122
Posted 30/04/2021 at 18:01:03
Yeah Brent. Should receive an e mail from the club on Monday to confirm.
Andrew Ellams
123
Posted 30/04/2021 at 18:01:47
Danny small world, I was christened in St Christopher's too.
Brian Wilkinson
124
Posted 30/04/2021 at 20:45:28
Still talk that up to 300 away fans can attend as well, or was it 500? Awaiting premier leagues club feedback to see if it can be Manageable.
Big yes from me for Coutinho.
Dale Self
125
Posted 30/04/2021 at 23:18:36
Carlo cranking up the motivational comments for Richy. Let's hope this works, I think he will respond positively. And okay, he isn't a legend yet but I still like the golden statue idea for Allan.
Paul A Smith
126
Posted 30/04/2021 at 23:18:58
Coutinho Brian? Surely this squad needs more pace? Hes also missed loads of football since he left England.
I know James is slow but can we keep buying slow players with no physical presence?
Danny O'Neill
127
Posted 01/05/2021 at 09:15:14
Parents were married there Andrew as were my sister and red loving brother-in-law!
Hillfoot Hey. I remember that. As you say, now a housing estate across the road from Asda!!
Rob Halligan
128
Posted 01/05/2021 at 10:17:52
So it looks like up to 500 away fans will be allowed to attend the final away game for each club. Thing is, how would any Everton fans, for arguments sake, who wont be able to attend a game all season, feel if they cannot attend the clubs final home game yet some wolves fans will be there? Also what about travel for the away fans? Normally we would go to Manchester by train, will that still be permitted, or if we have to go by coach will coaches only be at 50% capacity?
Brian Murray
129
Posted 06/05/2021 at 13:47:40
I wonder if klopp has had his jabs. One flush on the jaw I'd volunteer
Rob Halligan
130
Posted 06/05/2021 at 14:06:56
Post # 128 is all irrelevant!! No away fans a!lowed. Talking shite again. 😁😁😁
---
Add Your Comments
In order to post a comment, you need to be logged in as a registered user of the site.
Or Sign up as a ToffeeWeb Member — it's free, takes just a few minutes and will allow you to post your comments on articles and Talking Points submissions across the site.