Ancelotti critical of Everton's spirit and work-rate
Saturday, 1 May, 2021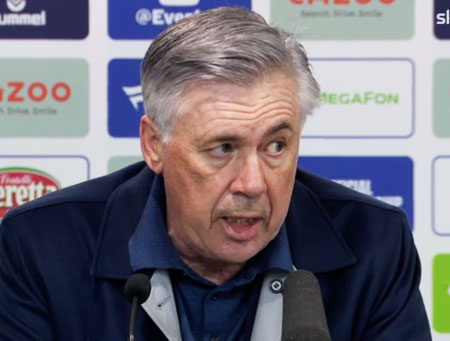 Carlo Ancelotti was more forceful than usual in his criticism of Everton's performance after yet another home defeat, this time to Aston Villa.
Anwar El Ghazi struck an 80th-minute winner that condemned the Blues to their seventh home defeat of the Premier League season after Dominic Calvert-Lewin had helped Everton recover from a poor start by cancelling out Ollie Watkins's opener.
With the match finely balanced in the second half, the hosts had the chance to go for the jugular and secure three points that would have moved them into the top six for the time being but they lacked drive and inspiration for much of the contest.
"I think that the start of the game was really bad — no concentration, a lot of passes wrong, no balance when we attack," Ancelotti said openly in his post-match press conference.
"We had opportunities but also we conceded a lot and at the end of the day we deserved to lose.
"It's difficult to say why we've had this kind of home run. It seems that when we play at home, we are more comfortable, we are less worried compared with how we are when we play away.
"But this is the reality and we are still in the fight [for Europe] for what we [have done] away, not for what we [have done] at home. It's a completely different team and attitude.
"We had some individual mistakes but the team spirit and the team work was not good enough."
Earlier in his pitch-side interview, Ancelotti brushed off the notion that losing James Rodriguez to injury in the warm-up was a major factor, saying:
"[James's] absence was important but I think [the team's] attitude was wrong from the beginning. We didn't start the game as well as this kind of game demands because It was an important game and it could have been an important result.
"We lost a big opportunity to stay in the fight. We're still in the fight but with less possibility and with more difficulties.
"[Mason] Holgate made a mistake for the goal but played well against Arsenal. He made a mistake and needs to be more focused to avoid this."
---
Reader Comments (163)
Note: the following content is not moderated or vetted by the site owners at the time of submission. Comments are the responsibility of the poster. Disclaimer
Lee Howard
1
Posted 01/05/2021 at 23:49:33
So many players just don't care enough, the amount of times Gomes and Digne passed backwards must be a record for a prem game...
Steve Carse
2
Posted 01/05/2021 at 23:53:39
I hope Ancelotti is implicitly taking some of the blame here since he seems to be saying that he doesn't know the cure for the ongoing dreadful performances.
Lee Howard
3
Posted 01/05/2021 at 00:02:40
Every team that comes to Goodison are way more positive. When Allan picks up the ball he is always looking to drive forward. We really need someone who looks forward and passes, not sideways or backwards. Why was Keene not playing? He can at least pick a decent ball.
Ian Riley
4
Posted 01/05/2021 at 00:08:28
The league is poor this season!!! Why? Everton are in 8th position!! Carlo must act and sell some of the players, its that simple or he goes. Forget the cost of sacking a manager. The lack of desire and hunger to perform is shameful and that comes from the top!
The players and manager must feel very lucky. No crowd and these performances week in week out. Something has to change before the start of next season!!
Matthew Williams
5
Posted 02/05/2021 at 00:39:15
Our Italian genius has lined his pockets enough,time to go and retire from the game for good.
Karl Masters
6
Posted 02/05/2021 at 00:57:30
They would have been buried under cushions raining down from the Top Balcony in days gone by!
We need a crowd in not only to intimidate the opposition, but to put a rocket up the arses of many of these complacent players we have!
They don't want it enough.
Kenny Smith
7
Posted 02/05/2021 at 01:08:17
Good game for the neutral..Unfortunately I'm not a fucking neutral.
Delphi on for Gomes and Bernard on for Iwobi. That says it all. 4 players who need to move on getting a game today. Add to that Josh King, what's the point in playing him ?
Our squad is wafer thin. Too many players that aren't good enough or have had their day. If Keane's fit he plays end of, Holgate is a liability.
Tonight was a disaster
Karl Masters
8
Posted 02/05/2021 at 01:29:01
We are only any good, it seems, at playing deep and on the break. That seems to be the only way we can score as well as set pieces.
Works well away from home, but no good at Goodison. A home crowd won't stand for all these negative sideways short passes and backward thinking.
Next season we won't win anything like 10 away league games so he needs to find answers to this problem now!
Steve Carter
9
Posted 02/05/2021 at 03:06:32
Isn't it his job to ensure "spirit and work-rate"?
Peter Fearon
10
Posted 02/05/2021 at 03:32:22
I am disappointed that Carlo was not asked more questions about Sicknote James. It is becoming very obvious that he doesn't want to play. The Premier League is too physical for him; the northern climes too inclement. He is absent for every other game with the same tight calf he had in Madrid. When he does grace us with his presence his contribution is often de minimis. Even Carlo said the so-called injury today was trivial and that he merely "was uncomfortable." Next month Colombia hosts Copa America and has World Cup qualifiers. Does anyone suppose James will not play in any of those because he is "not comfortable?" It may be time to admit an unpalatable truth. As wonderful as it is to have a world class marquee star, as beautiful as his footwork and vision can be, he is only likely to make cameo appearances and have about as much impact on our progress as Fabian Delph.
Kieran Kinsella
11
Posted 02/05/2021 at 04:41:44
Peter Fearon
Whilst I think James is a fantastic player, I'd also love to give the skiving git a damn good hiding. I'm not advocating for the days when Smith loaded up Ball who was injured with tranquilizers, but James makes Sturridge look like a tough guy. Seems like a complete wimpy prima donna. I'd sooner have a Cahill or a Soucek than a latter-day Futre or Radiciou cowardly wimp. Shape up or ship him off to the beach football summer league.
Just noticed too — some cheeky fucker changed Sturridge's Wikipedia page to "former football player". May as well do that for James, pitiful whinge bag.
Frank Sheppard
12
Posted 02/05/2021 at 06:45:05
Got to question Carlo's team selection again, as well as his inability to motivate.
Strange and disappointing. Another awful result from a poor mid-table side.
Derek Powell
13
Posted 02/05/2021 at 06:57:33
Shite — no other word for it, Carlo.
Derek Thomas
14
Posted 02/05/2021 at 07:32:09
It's getting worse. Ancelotti stumbled on a system – The 4 Amigos, 'The Wall', call it what you will across the back – and it worked! We got some decent results with limited resources against good teams and, on the whole, the 11 selected seemed, for a while, to buy into the 'us vs them' mindset. We looked (and were) hard to beat.
How many have we thrown away at home, 6? and it's not as if we were playing Man City every other week either, Burnley, West Ham, Leeds, Newcastle, Fulham... Now Villa.
Even draws not losses and we would be laughing... and probably in a false position too - we're dogshit poor and getting worse.
Duncan McDine
15
Posted 02/05/2021 at 07:58:23
Can't disagree with that Derek (14). Digne and Coleman returning to fitness (and into the team) has strangely seen us fall apart. The back 4 brick wall wasn't pretty, but it took a lot to break us down, but we now look like a shambles.
Neil Lawson
16
Posted 02/05/2021 at 08:00:34
The manager had all of his defensive options open to him. He chose the starting line up and the tactics. He had options in midfield.
Yes, the loss of James was disappointing but, even at that stage, he had options. He made the decisions.
Defensively we were shambolic and were lucky to be level at half time. Where were the obvious changes to address our shortcomings? Why was the manager incapable or unprepared to change the personnel and tactics?
From my perspective, the moment the same 11 players emerged for the second half, what remaining faith I had in the manager disappeared. The second half was truly predictable. My phone very nearly disappeared through the TV screen when Delph began to warm up.
Yes, criticise the players for yet another horribly poor showing. But start the inspection and review with the manager who seems to be incapable of actually doing what his role requires of him. My WhatsApp conversations with my 2 sons prior to kick-off and throughout the game evidenced all the above. If I can see it from my armchair and relying on my years of experience watching my beloved team, and the truly horrible experiences this season, then why on earth can't he?
Jim Bennings
17
Posted 02/05/2021 at 08:04:16
Shite again, may as well just copy and paste that headline after every home match.
Look, I think I'm becoming used to it now: we are a pretty rubbish side with pretty one-paced crab-like rubbishy players.
I never really looked at our squad and saw enough quality or hunger and desire to challenge 4th place, so frankly I'm not fussed.
Our squad is thrown together by a mishmash of pedestrian players that we are constantly told are international class, like Gomes, Sigurdsson, Richarlison etc but I fail to see it.
Our manager is very pragmatic even with limited options he seems unable to develop a cohesive unit that can put a meaningful passing move together.
Also personally I think the football now is as bad as it was under Fat Sam.
Dave Abrahams
18
Posted 02/05/2021 at 08:40:37
Putting it all on to the players doesn't wash, Carlo. Accept plenty of the blame is on yourself for this depressing, drab, dreary football – all played at a snail's pace.
Your two South American signings have been poor value for money as well as being patently unfit. Allan looked like a 50-year-old chasing the ball. Same as James – when he plays. Chasing and running after the ball is a big part of the game... they can't do it, Carlo.
All the while, a young lad, who you heaped praise on early this week, was left sitting on the bench, while Sigurdsson, Delph, and Gomes once again proved to all of us what we already know – they are past their sell-by dates, and we are stuck with them until their contracts are up.
Carlo, you've had it very easy from Evertonians, mostly because we are not there to show our disapproval. But we are watching and taking it in, the players are not doing, not good enough... are you, Carlo? It's time to start earning your huge wage and shaking this squad up on and off the field.
Geoff Williams
19
Posted 02/05/2021 at 08:48:58
I am tired of people saying Anceĺotti is a world class manager because he isn't – he may once have been but he now comes across as a bumbling buffoon.
Look at Chelsea pre and post Lampard, same players but what a difference in performance. They now have a manager who has a vision and has a style of play where everyone has a defined role. A good coach/manager improves players, makes difficult decisions, drops players who fail to perform.
I would say Anceĺotti is a lazy predictable manager because we all know beforehand what substitutions will take place.
Robert Tressell
20
Posted 02/05/2021 at 08:52:16
I've tended to say that we'll be better when there are better players available to Ancelotti. Whilst that is true, we are now managing to consistently punch below our weight at home and, in the process, serve up a lousy spectacle. 8 home defeats is unacceptable and Carlo needs to find a way to stop the rot. Personnel, tactics – whatever. It's got to be better.
And on a separate note, Villa have built a squad very well. We're lacking what they've got plenty of – square pegs in square holes around the pitch, aggression and personality. Forget the likes of Coutinho and Isco this summer. I'd happily forego some of the silky skills to get a bit more heart, drive and legs into that team.
Alan McGuffog
21
Posted 02/05/2021 at 08:52:21
Shame he's such a nice guy because he has to go. It's his job to inspire and motivate. Fair enough, the team are a shower of shite, but, he's paid to improve them. He has failed to do so and there is nothing on the horizon to suggest that things will change.
Time to shake the club up from top to bottom. Every player available for a move if the price is right.
Take a long hard look at our Academy. Get rid of this "family" club ethos ffs.
Forget about Bramley-Moore Dock for now. Take a punt on a young British manager for a change.
God Almighty... anything rather than accept continuing and continual mediocrity, without question.
Tony Everan
22
Posted 02/05/2021 at 08:54:25
Our most solid and resolute performances have been with the back four of Holgate, Keane, Mina & Godfrey.
Our best central midfielders have been Allan and Doucouré. With Doucouré out he has to be replaced by Davies who has been next best.
Sigurdsson is a no 10, full stop, he should not be deployed in any other position or it's asking for failure.
Same with James, he's a no10, we cannot play both together without damaging the teams balance. It's one or the other.
Richarlison is best on the left, Premier League centre.
Then we come to the right-sided midfielder/forward. A nightmare. I'd rather have Coleman than Iwobi there and that is a damning statement for Iwobi. Even Bolasie or Walcott would have contributed more from that position this season!
Anthony Gordon is very young, but we would be doing no worse if he had been blooded properly into the team since Christmas. Anyway, we all know, and Carlo too that this is one of the key positions to sort out in the summer window.
We still have too many players on massive contracts that we need to find clubs for. The club is still waist-deep in quicksand with these players. Most of these players contribute no goals, no assists, no tenacity, no pace, no real desire, and are regularly injured.
Brands has to do much better rebalancing in the summer, replacing slow , flat players with players with energy and desire — and it's far from easy.
Stephen Brown
23
Posted 02/05/2021 at 08:57:45
I couldn't agree more, Tony. The players are not good enough to able to switch positions.
Andrew Ellams
24
Posted 02/05/2021 at 09:01:06
A manager blaming the players for a lack of heart and desire is a manager running out of ideas.
If you don't think you can take the team forwards, walk away now.
Jim Bennings
25
Posted 02/05/2021 at 09:03:27
Regarding the Carlo Ancelotti argument, we knew when we brought him to the club that he was a manager that didn't necessarily have a set way of playing.
At all of the clubs he's been at, he's had world class talent (proper world class talent not what we proclaim like Allan and Gomes ect).
Those players have self managed at the likes of Chelsea, Real Madrid, AC Milan.
We can't give him players that Man City have, we can't sign Kevin de Bruyne or Bruno Fernandes, we can't sign Salah or James Maddison, they wouldn't come and we could not afford them.
So what we are left with is a manager that is, at 62 years old, completely out of his comfort zone and clueless as to what to do with a seriously limited group.
We slagged off the likes of Moyes but what he had a canny ability for was putting together a limited budget to sign hungry players that at least played to a pattern and in the main fought for a top 6 place.
With Martinez, it was inevitable that failure would arrive but for 15 months even he had a pattern and clear way of playing even if it did frustrate.
But with Carlo it's like giving a man that can't drive a bloody Ferrari (Carlo being the Ferrari).
He's been a high maintenance appointment, high standing in the game but sadly it's looking more and more like a Mourinho to Spurs, a Benitez to Newcastle job.
Perhaps what we needed was a hungrier manager that had experience working with a crop of limited players but could get everything from them.
Ian Riley
26
Posted 02/05/2021 at 09:22:00
The question needs to be asked. Who is the next Everton manager?
I believe, once the fans are back at Goodison Park, Carlo will be gone within months. Nothing will change because he believes in this group of players.
Those who question Moyes's or Allardyce's style of football cannot question the desire and work rate they demanded. Some of you have questions about Carlo's tactics, subs etc, but I believe he changing the players to install more fight, movement, motivation. That's a massive worry if the case and only one outcome for Carlo.
It may take big Dunc to have a word with his boss and say "Look, Boss, when the fans are back they won't tolerate this crap." If true and Carlo believes we only need two players, then – unless he can motivate his players more – I see no different next season.
Oh yes, please Sky or BT stop showing us on television. I can't watch anymore of the dross served up. Rather watch a Championship match!!
Rob Dolby
27
Posted 02/05/2021 at 09:23:30
No complaints about the result. Villa deserved the win. Villa have looked toothless without Grealish but, as usual, we didn't turn up at home, gifting them the first goal and got caught wide open for a quality strike which won the game.
I thought that we were the better team in the 2nd half. We created half-chances around the edge of the box but didn't have the quality.
Villa got a similar opportunity on the edge of our box and scored a great goal. We have 2 players in our entire squad that can finish like that, Rodriguez and Sigurdsson. The rest of them can't kick a ball straight.
Keane, Mina and Davies should have all started last night.
As the season goes on, we look worse each game. I can't see where the next win is coming from. There isn't any spark to our play. No will to win.
Godfrey and Holgate may be quicker than Keane and Mina but they are nowhere near the same footballers.
For the rest of the season, I would play the 4 centre-backs. Digne and Coleman as left and right midfielders with Davies and Allan as centre-midfielders. Calvert-Lewin and Richarlison up top. I am fed up of watching our midfield get battered week after week.
This is a big summer for the club – and for Ancelotti.
Tony Abrahams
28
Posted 02/05/2021 at 09:34:38
I agree that we were a lot more solid when we played four centre-backs across the back four, but it's this system of playing with two up front which is killing this team, and if a man of Ancellotti's experience doesn't know this, then we have got serious problems.
Other than the start of the season and Spurs in the cup, then every time Everton have moved away from playing a defensive game first they have been beaten, and mostly by the teams who are lower than us in the table.
I thought we had a good spell at the start of the second half but Villa just dropped an extra man back into midfield, started to outnumber us, and that was the end of Everton once again.
Jerome Shields
29
Posted 02/05/2021 at 09:41:25
No matter what manager Everton have, we end up with most of the players putting in a performance like that where motivation or spirit and workrate are poor. As soon as I look at the Premier League table over this past 20 years where 3 points will have Everton challenging for a European place, it always ends with a result like that. I call it the two results and a loss midtable pattern, invented by Everton.
Before the game started, the warning signs were there with Richarlison in head-down mode as Everton lined up. It became more obvious from the start of play when Everton, in defensive mode, were like a sieve on every Villa attack.
Gomes in particularly with his poor passing could have been thought to be playing for Villa. There is no doubt he was showing his weakness when being pressed. Holgate was in dreamland. Villa, attacking on both the right and left, were finding players in open space with passes. Coleman was bypassed and Holgate was off the pace covering Digne.
Barkley had free rein and looked as if he was on a training ground. Going forward, Iowbi was peripheral, joined by Sigurdsson in the second half. Attack-wise, Richarlison still had his head down. Calvert-Lewin has benefited from his break with being in the correct position most of the time, but his lack of shooting ability was clearly exposed. Ancelotti must have known what he had on the bench would not change things, so substitutions were delayed; he was right.
This is all as a result of the culture that exists at the club. They all thought they had arrived when they beat Arsenal. No delayed gratification existed for the job in hand to challenge for a European place. . . which is typical of Everton Football Club. I wouldn't be surprised that they attempt to down tools at Finch Farm in remaining matches, trying to get Ancelotti the sack, as they have done with previous managers. Typically trying to get the manager the blame for their lack of motivation, spirit and workrate.
We all have been here for years. I notice the word 'surprise' has not been used in any posts.
Pickford played well, but had too many saves to make. he was all over his area trying to defend as well.
Aston Villa deserved to win by more than one goal.
Neil Lawson
30
Posted 02/05/2021 at 09:43:59
We are a small sample only, but not many voices wading in to support our manager! Yes, there are underlying reasons and problems but it is for those reasons that you employ an effective manager in whatever walk of life requires one.
What frustrates me most about our current incumbent is his unwillingness to be bold and innovative and his continuing insistence in shoehorning in the overpaid, overrated and underperforming squad members.
So many of us are mystified why Tom Davies is now overlooked despite becoming one of the more effective and committed players and having been lauded by the Manager. He is flawed but his recent performances have been a whole heap better than most around him and surely to goodness justify his inclusion if and until his levels drop or someone else better can oust him. Shame he is not foreign. He would be a shoo-in.
Stephen Brown
31
Posted 02/05/2021 at 09:45:55
Carlo has to take the lions share of the blame for recent performances but there's no point sacking him now. Surely he has the experience and CV to be given some time? The summer transfer business is huge!
Who replaces him? If they don't work miracles in a year, do they get sacked too?
There's no quick fix to decades of mismanagement at every level. He's not a stupid man and surely can see this level of performance is not good enough and has to be addressed. He has to be given more time to rectify it.
Bobby Mallon
32
Posted 02/05/2021 at 09:46:25
Jim Bennings @25.
I have been Carlo's biggest fan this season and I have defended him to the hilt. But bringing on Delph last night, not starting Tom Davies, and not taking Holgate off at half-time was a dereliction of his job.
For the first time since his appointment, I am now questioning his ability in making sound judgment calls. But those players, especially James and Holgate, should hang their heads in shame this morning.
Everyone and their cat can see we cannot play out from the back... so don't do it!!! I would rather we lost possession in their 18-yard area through not winning a header from a goal kick, than loose possession in our 18-yard box.
As for James, that lad is made of glass and I don't care how talented he is, if he's not playing, he's no use to us... and he's always bloody injured.
Thomas Richards
33
Posted 02/05/2021 at 09:51:07
He is only saying what gets said a hundred times a day on TW. The players are not good enough.
He is not blameless of course, but he is correct.

Danny O'Neill
34
Posted 02/05/2021 at 09:56:45
Many have disagreed with me and I too have said it isn't a priority, but a centre back is becoming an increasing priority. Previously I said if we have the chance, go and do it. The last 2 home fixtures alone tell me our current centre backs cost us goals and points.
Rob Dolby
35
Posted 02/05/2021 at 09:59:14
Missing fans is a big factor in our home form along with most of the league.
We the fans are the 12th Man. A crowd can lift performances. It can also impact performance.
Generally our home form is better than most whilst our away form in the Premier Leagueis terrible. This season, it has turned on its head.
Winning 10 away games would give our travelling army of fans their best season since we last won the league. The standard of football overall in the league this year has been poor, Man City being the exception due to their squad size.
Playing a season during a global pandemic has been a welcome distraction though the offerings at most of the games is below standard. A game played nearly every day of the week has blunted the spectacle.
The lack of fans and pandemic are outside factors that has impacted the game league wide not just ourselves. Hopefully we will be allowed back in next season. Our home form will improve and our away form plummet.
Back to the game itself. I feel like I am picking on Iwobi but he is the one that should be at Preston on loan whilst Gordon learns his trade here.
Earlier in the season, we hit on a defensive formula that yielded results. We should stick with it until we buy better players.
Man City are walking away with the Premier League, most of the time they play without a striker. That's how important it is to win the midfield battle. I would take almost any other teams midfielders over ours.
Chris Williams
36
Posted 02/05/2021 at 10:11:57
Rob,
All teams are affected by lack of home crowds as you have said, but we are an exaggerated case.
We are 4th in the 'away league', and 15th in the 'home league ', by some way the worst disparity in the league.
Andrew Clare
37
Posted 02/05/2021 at 10:17:06
Without blaming anyone, it's quite clear that, despite all of the spending since Moshiri arrived, all of the changes in personnel and managers hired and fired, we have made no progress at all.
We are all hoping that things will 'click' just like they did for Howard Kendall's team in 1983-84. What do we do?
Jerome Shields
38
Posted 02/05/2021 at 10:19:58
The players that played well where Pickford (top of the list), Godfrey, Allan, Calvert-Lewin (with limited ability), Digne (eventually knackered trying to cover part of Holgate's job). The rest varied from not being arsed, to well below par.
Definitely, Aston Villa should have won by more in comparison.
Expect two transfers in and little change at Finch Farm. Future Planning consisted of one spin of the Z-Cars record. Hopefully Ancelotti may be able to manoeuver some changes by himself. Anyone who exoects any different does not know Everton.
Alan Johnson
39
Posted 02/05/2021 at 10:20:02
Sad to say it but we need a different type of manager. Someone who will fire up the players arse if they pass sideways or backward. Someone with passion and commitment. Big Dunc?
Iv'e lost faith with Carlo.
Thomas Richards
40
Posted 02/05/2021 at 10:26:52
Panic.
The only thing that will stop us developing.
The same panic we have shown historically.
Jerome Shields
41
Posted 02/05/2021 at 10:31:24
Alan #39,
Would not last a season. Ask Big Dunc, he knows.
Danny O'Neill
42
Posted 02/05/2021 at 10:32:08
We held our nerve in December 1983. Looking at the league table we are nowhere near as in dire straights as some had us believe back then.
It was a poor performance and poor result. This is a 3- or 4-year deal to fix years of neglect that we are 16 months into.
Kevin Molloy
43
Posted 02/05/2021 at 10:52:25
The alarm bells are now ringing loudly. We've been whacked by too many poor teams with nothing to play for. We stink of complacency.
Everton is a club 'full of love', 'Everton feels like home, I want to stay longer' — all this garbage.
You could see in the opening 5 minutes that we didn't have a pattern of play when we had the ball. The midfielder would look up, see nothing, and turn backwards. That's down to the coaching.
And if the rumours are true, and he brings in Coutinho and Aguero, I'm not sure I'll bother watching next season, cos lessons clearly aren't being learned.
Tony Everan
44
Posted 02/05/2021 at 11:08:35
Jerome @29
I noticed that lining up in the tunnel. The body language was not quite right at all. Looked like a bunch of pensioners waiting for a 10 minute late bus. (Albeit in nice shiny trackies.)
Then Allan came out and looked a bit more up for it, saying something like 'Come on, lads!'
Dave Williams
45
Posted 02/05/2021 at 11:09:13
Great summary from Dave #18.
The players and the manager have to take responsibility. The manager is pathetic for criticising players for a lack of effort and motivation because it is part of his job to send them out motivated and prepared to fight.
As we all know, this is a bunch of passive individuals who in the main are not up for a fight or giving maximum collective effort at all, apart from the odd occasion. James really doesn't seem to fancy it a lot of the time though I would not include Allan in this criticism yet as he needs to play with a decent player alongside him so we can see if he still has it.
The glaring lack of pace and athleticism in the squad is alarming and it really does beg the question as to why this has not been addressed. The English game has moved on over the last few years and players are now required to have pace, strength and stamina together with a fighting spirit which separates the great from the good. A skilful player lacking one of these attributes is going to struggle and we have James, Sigurdsson, Gomes, Bernard, Delph, Keane and Iwobi who all fall into this category – basically half a team. To bring on Delph instead of Tom Davies really does ask questions of the manager: What did Carlo think Delph was going to achieve?
Okay, we are 8th but we could so easily have been anything down to around 14th to 16th on performances. This squad is weak both mentally and physically and Carlo's aversion to younger players is a worry. We need some guys in their early twenties who are physically strong athletes, not some 28-30 year olds whose best days are gone and will not be able to compete physically in this league.
We can all see the problems – we may view certain players differently but we can all see the basic problems. The physically fragile players have to be ditched as do the ones who don't really care that much. I know it's difficult to shift them but that is not a reason to play them in the first team.
Give us a squad to be proud of, who want to win as much as we fans do, not a bunch of wimps who only play when they fancy it.

Andrew Ellams
46
Posted 02/05/2021 at 11:27:17
If Brands or Ancelotti think Coutinho and Aguero are the answer to what we have witnessed too many times this season, then both should walk tomorrow.
Dave Lynch
47
Posted 02/05/2021 at 11:27:25
Since Big Joe Royle, we have had a constant stream of failures – and I include Moyes in that.
Ancelotti cannot be put in that bracket unless he fails next season. I honestly think most of the damage was done by Koeman, his tactics and recruitment were terrible. I hope Ancelotti can turn this mess around as we deserve better.
Koeman appears to have turned Barcelona into the Spanish Everton in a very short time.
Scott Robinson
48
Posted 02/05/2021 at 11:31:29
@ Tony 22. On the combination of James and Sigurdsson, the best game we saw at home was with Tottenham and they played really well together – some lovely stuff.
So I'm really not sure about that one.
Thomas Richards
49
Posted 02/05/2021 at 11:51:09
Sigurdsson is the ONLY player in the squad on the same wavelength as James.
Steve Guy
50
Posted 02/05/2021 at 11:57:05
This summer is going to be a make or break for Carlo's project. They need to give him the players he wants. He's being asked to produce an upward looking team from the misfits he's inherited from previous managers.
In truth it may take the next two summers to really sort it out but the Club need to back one of the worlds great managers; if they don't we will not get another manager of his calibre willing to take on the challenge of our basket case of a Club.
Last night was horrendous for all the reasons others have mentioned. Players like Holgate are legends in their own lunchtime and he looks like he thinks he's Beckenbauer reincarnated but he's a Champoinship player imo. Last nights error (which he actually repeated later in the game so proving he doesn't learn) was not the first time he's done it this season (in fact he missed the first few months having done precisely this in the pre season friendly). Why he is in ahead of Mina, God only knows.
Any hopes of a Europa placing were extinguished last night despite what Carlo says. I'd bin some of these players now for the rest of the season and let a few of the young lads have a run.
Whilst I'm on it, what the hell has Josh King done that precludes him from meaningful game time? Richarlison is having a poor season and was awful last night, so King certainly could have done no worse and it might have given Richarlison the kick up the backside I think he needs.
Doucouré is a massive player for us and it's no coincidence we've only won one game with him missing as without him there is a vacuum of pace in our midfield. Allan did his best last night to be progressive with the ball but it's difficult when you are playing within a team of tortoises and crabs.
The season can't end soon enough for me which is a sad sad thing to admit. Hopefully we can be back in the stadIum next season to provide this bunch of sloths with some much needed urgency and backbone.
Neil Lawson
51
Posted 02/05/2021 at 12:40:50
Dave Williams 45.
"Aversion to young players". That has a certain resonance. What age was Ancellotti when he was given his chance ? I am betting it wasn't 23 or older.
Clearly the answer to our current malaise is to pay ridiculous salaries to over the hill foreign journeymen out to supplement their pension ( That said, I would exclude Aguero from that group but he will need a frontal lobotomy before agreeing to join us ).
Just what is the point of the U23's ( and younger) if the players are never given a chance ?
We need more Godfreys and young Colemans mixed with the likes of Doucouré, Digne and DCL. I would suggest that we could buy at least 3 with the proceeds of the sale of Richarlison who would not be sadly missed.
And yes, I am a sad and embittered old curmudgeon who remembers the good ( and bad) old days and sorely misses them. If I never see another pass out from the goalie to a defender in the box it will not be a day too soon.
Martin Berry
52
Posted 02/05/2021 at 12:43:03
Teams with inferior players come to Everton and get a result, they achieve this through hard work and organisation, they have a game plan it seems, additionally they give it a go.
We seem to change the team and formation every week, added to the inability to find a man with a pass or look to try and win the game, we play far to safe, only only seem able to score through a set piece or over the top counter.
Over to you Carlo, motivate, organise and have a plan, thats what Managers are paid to do.
Barry Rathbone
53
Posted 02/05/2021 at 12:56:16
No urgency from top to bottom at the club something I hoped Carlo might change with a thorough clean out of playing personnel but he did next to fuck all last summer and now the chickens are coming home to roost. It will be the same this summer with more peripheral tinkering leading to a repeat of mind numbing midtable dross and his sacking by xmas.
The only fella who got it and realised the playing side needed disinfecting as a matter of urgency was Martinez but without real money it inevitably went tits up. Since Roberto the reincarnation of Moyes has taken many forms now we're on the Italian version.
Lovely fella is Carlo but he's finished here
Tom Bowers
54
Posted 02/05/2021 at 12:59:24
Whilst it was nice to win the first four games and be top I think most of us knew the team was not playing that impressively and then when they got so lucky in the first RS game the house of cards came tumbling down.
After that many knew the weaknesses that were making Everton a mid-table team but Carlo has stumbled along without really improving things.
DCL is still finding the net but Richie has been a big disappointment and the Joshua King move was just a waste of time.
James is also becoming an expensive failure despite the obvious talent he has and the other ''offensive'' midfielders have generally been a bust apart from Doucoure who had played some really good games before getting injured.
The rest of the midfield are just not up to snuff and if Carlo keeps them, then next season will be more of the same disappointments.
At the back Holgate is a liability even before yesterday's howler and the others just can't seem to keep it together as a tight unit.
All in all a pretty dismal season despite the fact they may still creep into Europe for whatever it 's worth but there not good enough to a make a bold show in that competition anyway.
Some may point to injuries being partly to blame but almost all the Prem. teams have had their share so that's not a valid excuse.
A lot has to be done by the powers to be to change this situation and Carlo has had his ''apprenticeship'' season so next season we shall see what he has left to offer if anything.
Barry Hesketh
55
Posted 02/05/2021 at 13:11:20
Martin @52
I'm not sure that we can claim that the reason for Everton losing games to teams below us is that those teams had 'inferior' players working harder than our 'superior' players.
It's becoming more obvious every week that our players aren't superior in any way to the players in the teams that have triumphed at Goodison this season or indeed last season.
What these teams have shown is that they are able to pass and move, work harder as a unit and have the mental determination to carry out the managers' wishes for the whole game.
Meanwhile, our lot, seem dazed and confused, many of them are arrogant enough to believe that they don't have to work hard, particularly at Goodison and if the manager has given them specific instructions they seem to do their own thing or lazily go through the motions doing the bare minimum with little conviction.
Despite all of those points gained on the road, with some impressive points gained at places we hardly ever win, our current total, is akin to having taken 4 points off each of the sides outside of the 'Super League Six'.
Carlo can point to having the same number of points, with five games remaining, as last season's final total, whilst that is true, this season has felt like a poor one.
Despite breaking many hoodoos, and winning so many points on the road. It seems that the manager and the team has missed a golden opportunity which may not come around again anytime soon.
Pat Kelly
56
Posted 02/05/2021 at 13:18:57
Carlo the game has passed you by. The Premiership is no place for your style of football and your washed up old buddies.
Mike Connolly
57
Posted 02/05/2021 at 13:22:11
Some of the players won't know what has hit them once the fans our back. They have been on easy street the past year, even affording themselves a laugh and a joke with the opposition after getting beat. I did say prior to the Burnley game that we won't win another game this season. I'm glad I was wrong when we beat Arsenal. The team is giving us nothing to hang onto, like many I cant wait for next season
John Kavanagh
58
Posted 02/05/2021 at 13:33:01
So Carlo - the team's attitude is wrong from the off and your solution is Delph? Delph's only quality is making Schneiderlin look like a footballer in comparison.
James is a luxury player who will only turn out when it's 70 degrees and sunny. The sort of player who you can throw on as an entertainment when you're 3 nil up - if you're Manchester City.
The limits on squad numbers mean that you can only afford to have one such player in any squad otherwise you will struggle in the EPL. However, we also have Siggy, Delph and Gomes, not forgetting our Brazilian fart in a bottle Bernard.
Add into the mix Richarlison's collapse in form and Iwobi and any team would struggle big style. Who the f**k scouted Iwobi? Was it Stevie Wonder and Alex's mam? There's not even the qualities expected of a League 2 player in him.
We could have got Maddison for less than half the money spent on Sigurdsson - a number of posters on TW were keen for us to sign him before Leicester made their move.
We need 10 more Godfreys - young ambitious players who want to play for Everton and not just pick up a fat wad every week. Adding more ageing sick notes whose clubs are desperate to offload them is just pouring petrol onto the flames of squad apathy and indifference slowly burning our once great club to ashes.
Mark Evans
59
Posted 02/05/2021 at 13:40:57
Something seriously wrong with this group of players if, once again, their spirit & work rate is lacking. I'd have thought that was a given for a professional footballer. A chance to go 5th & they can't even raise themselves. Can't imagine the likes of Kay, Gabriel or Reid not being able to motivate themselves. The summer clearance job looks like it's getting bigger.
Kim Vivian
60
Posted 02/05/2021 at 14:02:17
I can't think of any other reason for playing Delph for the odd 15min cameo than to show any potential suitors for him that he actually does exist, and isn't injured.
He does nothing particularly for us - good or bad - so at least some other club may think they have a spot for him come summer. One can only hope.
Jerome Shields
61
Posted 02/05/2021 at 14:34:41
Tony#44
Was watching on hesgoal, only got a glimpse of them in the tunnel, took a while to work out that it was Everton. Your observations doing surprise me. Only noticed Richarlison as they lined up, none of them looked enthusiastic. Like myself outside a Exam hall knowing that I could have prepared better.
Mark Ryan
62
Posted 02/05/2021 at 15:05:31
I'll sum up how I feel about my team. I am sometimes comforted to know that we have a world class manager but I worry that he is now past his best. He's showing signs of being clueless when it comes to trying to motivate this team. He cannot see beyond bring Iwobi, Bernard or Delph on to change the game when we are struggling. These players are just about good enough for the championship and so are Gomes and Holgate. Our problem is huge. Remove Carlo and the likes of James, Richarlison, Allan and Mina will walk to another club. We either invest heavily in players that are world class and keep Carlo or we start from scratch with a new Boss and young hungry players and we ditch this ethos of using "has beens" like Aguero. I see we are linked with him now. That just about sums us up and there will be some who would say "he'll be an improvement on what we have". We enter next season with a vast amount of underperformers and with many players in the twilight of their careers. I'd truly love Carlo to succeed but alas I feel his best years are behind him too. Worrying times, as always
Pat Waine
63
Posted 02/05/2021 at 15:46:48
Last night was a joke and unfortunately Carlo has to take some of the blame.Keane had to play in my book. Holgate has been a disaster. no pace always looking to pass back and was caught with his normal turn to pass back routine. Holgate has not been good all year but people were making excuses that he was out of place at full back.I don't agree with carlo that he was good against Arsenal, Carlo was wrong about Iwobi too. It wasnt the teams fault when Iwobi had opportunity after opportunity one on one and didnt take the full back on. all our attacks were slowed down by him coming in accross field and allowing momentum to fizzle out. we really lack pace in the middle all in that quarter are too slow,. going forward into next year we have a difficulty Do we put all our money on carlo and hope for the best. 8th or 9th place in the league will not represent a good season particularly given the start we had. We were outplayed by some very ordinary clubs. Rotherham who look like they will face relegation outplayed us in Goodison. I just hope that we can get out of this mess and I hope that DUNC is not seen as any alternative.
Tony Everan
64
Posted 02/05/2021 at 15:52:02
Jerome 61, I only got a couple of seconds glimpse on BT but it left that impression on me, that they weren't fired up, properly motivated and ready for battle. May have felt differently about it if we had won.
Jerome Shields
65
Posted 02/05/2021 at 18:00:31
Tony#64
I am sure Ancelotti did his job in the dressing room before they came out. The attitude and motivation must have been determined at Finch Farm during the time there since the Arsenal match. It lead to players being poorly prepared and it showed in their many of there faces prior to the match.
It is a theme of the modern game that even experienced Managers with clear tactics can find difficulty in consistently motivating their players. At Everton we see it happen often against lower League opposition, after a international break and after miletones such as beating Arsenal at the Emirates.
Maybe it is because many at Everton are comfortable as they are and have little interest in progressing. Many here think a cleanout of the Squad will changes this, even a new Manager. Most fans who have supported Everton over years know that it goes deeper than that and is not a quick solution. There have only been piecemeal attempts to change, but decisions are still being made to maintain the comfortable status quo.
Bill Rodgers
66
Posted 02/05/2021 at 19:43:00
The manager cannot tell us why his team perform with such a lack of commitment and intensity.Whatever goes on at Finch Farm does not breed hard work and passion. We have players who would prefer to be elsewhere, those who will have a day off for a knock and too many youngsters who give the ball away for fun but don't seem to mind, Ancelotti has little to do with the coaching and the motivation - he is a figurehead.
The enduring feature of EFC is that we expect a quick fix. We kid ourselves every time - even AVFC have built from the basics, have a system and only play those who have pride. We have absolutely none of that.
Geoff Williams
67
Posted 02/05/2021 at 20:30:50
I find it hard to understand how some still have blind faith in Ancelotti's to be a success at Everton
Anthony Hawkins
68
Posted 02/05/2021 at 21:13:49
There's something internal within the hierarchy of Goodison that is wrong. Too familiar that's stopping significant progress. It can't be that many managers have got the team performing well but then the performances dipped. Is there something where the club, for whatever reason don't want the team above a certain league position? Seems madness a squad refuses to win very winnable games to go into 4th or 6th.
Tony Twist
69
Posted 02/05/2021 at 21:18:39
I admit I was wrong. Hard to say but true. I wanted anyone but Moyes as our new manager and was all for Carlo to take over though was worried at the time of the rumours that he took it easy with the players. I was anti Moyes rejoining us as manager even though I was very proud of the club, manager and team back in the Moyes era. I am not proud at all of the people in place now. Of course the problem is mainly down to the players we have but that is also why Carlo is the problem. With him as manager and him bringing in some of his old players and some experienced pros, in the twilight of their careers, you are just delaying the inevitable. Carlo is just trying to hide his limitations. We tried this quick fix but it has failed. It should be young, up and coming stars joining Everton from now on, chosen by Brands and if, so call one of the best managers in Europe, Carlo, can't get a tune out of them, it's over. The training is second rate also as any professional footballer should be able to complete a forward pass and find one of his team mates in a forward position. The fact that they fail at this, game after game, means that the training staff are not influencing the players. Brands, Carlo and his team (including Big Dunc) need to do so much better.
Will Mabon
70
Posted 02/05/2021 at 21:46:50
Tony, I wonder at the dynamic behind the scenes - so much that we're not party to of course. Duncan is quieter, reserved and in the background on match day now, compared with earlier when he seemed to consult with Ancelotti much more during the game.
A lot of the training seen on film shows Dunc in the mix but I wonder if it's mostly Ancelotti Jr.'s baby now.
Talking of training/coaching, watch again the first Villa goal when Holgate lost the ball. Happens quickly in real time and we have the benefit of hindsight and replays etc. Holgate's fault, but watch Gomes.
Rob Dolby
71
Posted 02/05/2021 at 22:04:54
Geoff 67. It's not blind faith in the manager. It's just showing patience with a guy who has a successful track record.
He isn't Mike Walker. We aren't getting relegated this season. We aren't the worst team in the Premier League.
Hyperthetical question: If Ancelotti gets the sack or walks away from the job tomorrow and Pep Guardiola is appointed, how long do you think it would take Pep to turn us into a Europa League team, then a Champions League team, then title winners?
Would patience run out after 18 months because we would still have Allan, Gomes, Mina, Bernard, etc etc?
Thomas Richards
72
Posted 02/05/2021 at 22:25:41
If you back the manager's long-term plan, you are a happy clapper, a fanboy, or you are displaying blind loyalty.
Could it not be put down to a decision taken after consideration?
Jerome Shields
73
Posted 02/05/2021 at 22:46:29
Geoff#67
It is not blind faith. It's the reality that a Experienced and Tested Manager does not change a deep seated Culture that produces poor motivation and work rate, just as up and coming Managers where not in the past and maybe even added to the problem.
What this tells use is that no matter who the Manager is they will have the same problem with this unchanging Culture. My worry is that Brands has become a part of this Culture and the sustaining off it.
IMO changing the Manager will not make one iota of difference. This time next season we would have this very same thread.
The only chance is that Ancelotti manages to get Everton into the European Conference League at least, which means that Everton would have extra games right into the second half if next season. This would break the routine of a easy second half of the season where in the past as this season Finch Farm with less games seems to go down a gear in preparation. Of course all involved are getting there wages, which few of them are worth as we can testify for years, in the second half of successive seasons.
Finishing in the Top 4 is the ultimate goal, but to stay there a team has to be able to aleast be able to play in two or more competitions. The next thing that will happen is a Everton player will be wheeled out to say it has being a long and exhausting season for players. Give me a break you have really only been in one competition you lazy pack of @#%&+*.
Ancelotti is trying to get into European to introduce new dynamics into Everton and break the existing Culture of poor motivation and work rate mould. The Extra money of a higher League position and Europe would really help Ancelotti.
Of course there is resistance to this change in dynamic, because it gives more power to the Manager and will result in bigger demands and work for the same wages for those involved. They do not want to get into Europe. How many times have there been reports of wanting to get into Europe from anyone else other than Ancelotti? None.
Ian Riley
74
Posted 02/05/2021 at 23:45:56
I think we are missing something here. I want Carlo to be successful at Everton, like many other fans. I don't think it's ability but desire by some of the players. I see no urgency to win the ball or pass and move.
Success in any walk of life comes with hard work. You only get out what you put in. No, we are not going to win every game but what I want to say to my fellow fan is "We couldn't have worked any harder!" "Ability beat us – not workrate!"
The manager needs to look at himself and his coaching staff and reflect on the messages they send out to the players. This is not the first time Carlo has questioned the workrate of his team. If certain players don't feel motivated at this club, then move on. Top teams win with hard work first. Get this right and we will have the foundation to build on!
Jay Harris
75
Posted 02/05/2021 at 02:45:47
It's been obvious for years that our MF wasn't up to it and we let Gana go and replaced him with a sick note.
Carlo tried to address this with Allan Foucoure and Rodriguez but we have hardly had them playing together.
Add that to Richies loss of form and we can see where our problems are.
We do not have the quality of players that Chelsea, the RS and Spurs have let alone Arsenal who are having an even worse season than us.
All those people wanting Carlo gone are not being realistic.
Let's get the squad overhauled and then see how we go.
I know how frustrating we are now but the answers are in the transfer market not the squad.
Robert Tressell
76
Posted 03/05/2021 at 08:29:11
Rob @ 71. That's a very good point. The track record to success in the Premier League is to have the most money and buy the best players. Not many clubs have bucked that trend. The same goes for Top 4 places.
Managers who have genuinely punched above their spending power are fairly few and far between. Pochettino, Moyes, Rodgers and a few others. Dyche is doing it now season after season.
What most good managers do is finish at or around the level of investment (transfers and wage bill). Managers get sacked when they fall below that level. Not many managers propel teams up the table beyond their level of investment, beating of teams with much more expensive squads in the process.
But every player should at least play with heart and be able to pass to a team mate? Yes, but in truth you could say the same thing to Newcastle, Arsenal, Fulham etc. Unfortunately players with heart who can find a forward pass are a rare commodity who soon get bought by richer clubs.
But we pay Ancelotti a fortune, we can expect more? Yes, but if Newcastle got in Mourinho now and gave him £15m a season without investing more than about £60m into the squad where will they finish?
I think there are different ways to approach squad building than accept it is solely about money. That involves a different way of going about things to most other clubs. Something along the lines of what Leicester are doing - and Leipzig too.
For those who disagree, that's fine, but what those people are really saying is that it can't be done. Without proper money we've got the same glass ceiling we had when Moyes was here.

Eddie Dunn
77
Posted 03/05/2021 at 08:33:50
I think James downed tools when Mina wasn't on the teamsheet. The guy has really let us down with bogus "injuries" that wouldn't stop any of the other lads from playing. He needs to be moved on in the summer.
Perhaps Carlo secretly knows Europa Conference League football would stretch this squad even further, so is happy to swerve it. I hope he is giving Gomes, Delph and even Sigurdsson some game time merely to convince some sap to buy them. If not, the manager has no idea.
Perhaps his years away from the Premier League have resulted in him thinking Delph is still the steady player for Aston Villa or the Mancs. Davies should have started, and not to bring him on was incredible.
Big Dunc is sat there like a lemon, he must be as frustrated as the rest of us. Is he actually learning anything from the great one?
Nothing will happen regarding Carlo. The club will see 8th as decent and we shall have to hope for some inspired signings. If we see more Euro has-beens rolling-up for easy money, then we are fucked. Can Brands find some hungry young lads willing to sweat blood?
Tony Everan
78
Posted 03/05/2021 at 08:36:03
I'm no blind, lovesick apologist for Ancelotti, but now's not the time to be pulling any triggers.
He's had one full season, one real transfer window. He needs another to shift the balance away from the past.
In his favour are the away wins, and the league position is still, even now, an unlikely platform to achieve a top six finish.
To his detriment this is the worst non-football I have seen Everton play for 40 years, since some dirty nights in the very early eighties, when I trudged to the match not to expect a win but just to support, with hope of a better future.
The scales of opinion are now in equilibrium. There's totally valid arguments both ways.
I am still coming down on the side of trust for him to get it right, helped with this summer's watershed of a window.
The reasons are the players that Carlo and Brands brought in last Summer. Doucoure, Allan, Godfrey and Rodriguez. A better class of player.
This next window with the Brands influence of bringing in three or four younger more "Godfrey type " to the essential positions of right sided forward, attacking dynamic midfielder (2) and a right back. This can change things.
Then I think that this team will be truly forged in Carlo Ancelotti's name.
Then he can reap the glory or suffer the consequences of his decisions and managerial contribution.
I am praying it's the former.
Steve Shave
79
Posted 03/05/2021 at 08:47:26
Sacking the manager is not the answer. The rot and decay in our club started long ago and was well established before Carlo Magnifico walked through the door. Something is wrong at the very heart of our club and it is reflected in the attitudes of our players on the pitch. Give the club stability, give Carlo 3 seasons to turn it around. No I have not been overwhelmed by his performances as manager (despite hm being cool as) yes he has made glaring mistakes but trucking in another manager for another paper-over-the-cracks false dawn will not work. I as always will take responsibility for previous views aired on here - I can get swept up in the Carlo 'love in' at times, so what? I like our manager and want to believe in him, I want to believe he will change the fortunes of our club and I am not going to cry for his sacking just because the season turned out to be dull as ditchwater. However, this is one seriously important summer for our club and I hope they have their ducks lined up and some plans for some of the shite currently on our books.
Neil Lawson
81
Posted 03/05/2021 at 09:19:19
According to the Manager, Godfrey and Holgate were selected because of how well they played at Arsenal. Fair enough you may think. Performance should bring reward.
Tom Davies has been left out and overlooked, despite consistently being one of our best performers when recently selected to start, and replaced by those whose recent performances have not been up to par or proven. The very obvious contradiction and inconsistency is of note and of concern and I would love to hear an explanation.
It does appear to call into question what many of us would judge as effective management.

Tony Abrahams
82
Posted 03/05/2021 at 09:28:45
Let's sack the manager until we can find ourselves another one season wonder, and then when this manager gets found out, then we can always just go and sack him.
Twenty six years without a trophy, four managers in the last five seasons, a disastrous recruitment policy when we came into some money, a club that had basically lost its way.
I know we are talking about the first team, but the bigger picture must surely come into view here. Players getting big and long contracts at cost little Everton, and once something becomes to cosy, it definitely takes time to change things around, especially in this modern game where the players have all the power.
I was reading that Everton intend to start fast-tracking the younger players now, and again although it's below the first team, it's hopefully the beginning of getting rid of the comfort zone that exists at finch-farm.
The manager has his faults, but his biggest asset appears to be his calmness, and that's what's needed right now.
The players looked unmotivated before the game? We had just had to replace Rodriguez, with Iwobi, and everyone can see that Alex Iwobi, has got very little heart, desire, belief or motivation, and never seems relaxed in possession of the football, so basically a player just going through the motions? (So why fucking play him then? I agree!)

Dave Abrahams
83
Posted 03/05/2021 at 09:48:36
One poster, yesterday, intrigued me by suggesting it was Carlo's son who coached the players while Carlo looked on. Sounds a bit ridiculous, until you see them perform on match days. All the while, Duncan Ferguson, supposedly one of the lead coaches, is sat on the line, hardly considered when making a comment; used, apparently, to signify the substitutes getting brought on.
If there is any truth that Ancelotti (Jnr) is indeed doing most of the coaching, then it is a very expensive apprenticeship, paid for by Everton through Mr Moshiri.
I wouldn't have thought it likely except for the fact that very strange things have happened in the last few years at Finch Farm... and it is Everton, isn't it!!
Ian Jones
84
Posted 03/05/2021 at 09:55:30
Dave, I have had a thought for some while that Davide Ancelotti might be learning on the job, and may become Carlo's successor one day with Carlo going upstairs at some stage. I doubt he's running the show at the moment.
In today's world, it's unusual for managers to stay in jobs for a few years so for Carlo to hope be at the new stadium as manager is maybe pushing his luck, but could see him there in some capacity.
Clive Rogers
85
Posted 03/05/2021 at 10:13:57
The posters saying that Carlo should go should say which manager they think should replace him. Sacking a manager is easy, finding a better replacement is the hard part.
Clive Rogers
86
Posted 03/05/2021 at 10:21:59
Davide Ancelotti is a Uefa qualified coach and was an assistant coach at Napoli from 2018 before moving to us.
Dave Abrahams
87
Posted 03/05/2021 at 10:44:38
Clive (85), I think the debate is solely about whether a manager is good enough to manage the team or not, asking who they think should replace him is only going to bring more arguments about how good the replacement is.
Carlo is either good enough or not, time will tell.
Barry Rathbone
88
Posted 03/05/2021 at 11:00:14
The game is now about sacking managers and only when a successful one turns up does it stop.
The days of "building" teams over several seasons are long gone I just don't get how people keep ignoring the evidence of clubs everywhere operating this way. The elite teams do it more than any even though they appoint from the upper echelon.
And fans proffering names to succeed is a parlour game a pointless exercise having no bearing on the performance of the present incumbent. What we can say is what we feel is necessary which, in my opinion, is a street savvy motivator who can inspire the ordinary to be extraordinary and be courageous.
But the likelihood is that man is presently an unknown as per Wenger pre Arsenal. One can only hope Brands is secretly scouring the planet for him.
CA will get this summer but I am reconciled to the idea he lacks the urgency and understanding of what MUST be done.
Thomas Richards
89
Posted 03/05/2021 at 11:10:39
Clive @85.
I agree. Every poster who refuses to name their choice of new manager have no problem at all with offering names of who our new forward, midfielder or defender should be. What is the difference?
Barry Rathbone
90
Posted 03/05/2021 at 11:17:41
Thomas @89,
That's simply not true. Most just say the player isn't up to it, with proposed alternatives seldom figuring in the same sentence.
Thomas Richards
91
Posted 03/05/2021 at 11:42:20
The hundred names a week that are suggested must have slipped by you, Barry.
Clive Rogers
92
Posted 03/05/2021 at 11:46:13
I would struggle to name a manager who I think would be better than Carlo and who would come to us. Spurs are considering Martinez. Good luck with that.
Clive Rogers
93
Posted 03/05/2021 at 11:57:42
Changing the subject, Richarlison looks jaded. He has already played more than 200 top class games including 100 for us. He missed a summer break completely when he moved to Watford. Then he played in the Brazil team that won the Copa America just before he came to us. Then had a reduced break last summer. Now he wants to play in both the Copa America and the Olympics this summer. No way should this be allowed.
Tony Abrahams
94
Posted 03/05/2021 at 12:05:37
He was doing alright at the start of the season Clive, (without scoring goals) but he starts every season well, (possibly because it's a little bit warmer?) and he then went to play for Brazil, when he was injured, and has never got back to the same level since then imo.
He loves playing for his country, so if he's denied the chance to represent them this summer, we will probably have a very unhappy player, but this summer is also very important for Everton, so maybe something might give?
Rob Halligan
95
Posted 03/05/2021 at 12:07:09
Clive, you're spot on about Richarlison, it's one or the other. Whichever tournament is the latter, I think it's the Olympics, the final is one week before the new season starts. He won't have a pre season and no doubt will want a few weeks break. It's unlucky but he simply cannot play in both, and if it were down to me, I'd say it's the Olympics you're missing out on.
Geoff Williams
96
Posted 03/05/2021 at 12:14:34
It is time for Ancelotti to be more accountable for the performances of the team during his tenure. He appears to be getting an easy ride compared to previous managers.
Neil Lawson
97
Posted 03/05/2021 at 12:15:47
The team will be no poorer for dropping him now and for the rest of the season.
Neil Lawson
98
Posted 03/05/2021 at 12:17:16
Richarlison that is, not Ancellotti, but maybe both 🤔
Barry Rathbone
99
Posted 03/05/2021 at 12:20:08
Thomas 91
People offer opinion on players they like us to buy which is a completely different idea to saying criticism of Davies, Gomes, Siggy, Pickford, Keane, Mina, Richarlison, DCL etc MUST come with a proposed alternative. Which was your actual point.
You would benefit from understanding REAL football opinion just doesn't work that way
By the same token the idea that critique of CA has to come with a named alternative is equally mindless. In fact it appears a shithouse diversion from the desperate to subvert criticism of our illustrious eye brow raiser.
Brent Stephens
100
Posted 03/05/2021 at 12:43:00
Neil #97 "The team will be no poorer for dropping him now and for the rest of the season."
I assume you mean Richie. I actually share the sentiment. But when I think about it, I'm not really sure who we'd slot in and how, given the shallowness of our squad.
On a related point, a couple of times Richie was head down advancing towards goal against Villa (and in other games), with his path blocked by one or two defenders, and didn't see, or ignored, the opportunity to play in a team-mate out wide in more space. The ability to see the wider picture as well as what's at your feet and immediately in front of you is what seems to separate James from Richie - the number of times James releases a deft short pass or a longer raking pass, while under pressure and having only just received the ball, is really impressive.
Danny O'Neill
101
Posted 03/05/2021 at 12:47:57
The difference between a player who slows the game down in his mind and sees space but then makes a quick decision Brent and one who relies mostly on physical pace.
Pace isn't always in the feet. Always nice to have a combination of both in a team and squad.
I tend to agree. He's been out of sorts, kind of hit and miss but with the squad we have now, I don't see us not starting if Richarlison is fit. What options are there?
Centre back (Koulibaly), Right Back (Aarons seems a popular choice), Attacking Midfielder (Sabitzer please) and forward. On the latter, do we give Kean another go?
Brent Stephens
102
Posted 03/05/2021 at 12:56:00
Danny "a player who slows the game down in his mind and sees space but then makes a quick decision".
I think that's a wonderful expression of it, Danny - slowing the game down in your own mind.
Dave Abrahams
103
Posted 03/05/2021 at 12:56:04
Tony (94), Richarlison is like that every season since he came from Brazil, he has never, although it's only four seasons, had a consistent season. Yes he does need a rest, nobody can play for nearly two full seasons without a break, will it freshen him up, yes undoubtedly, will it improve him, I'll be surprised if it does, he still does the same silly mistakes in his good spells, he hasn't really got a football brain, passing when he should be shooting and shooting when he should be passing, finding space off the ball, looking for a team mate in a better position. My hope for him is to have a long break and come to us and have great spell for us with plenty of goals and get a great price for him while he's hot, no one knows how players will turn out, but he's twenty four now, I don't see him getting any better in the future than he is now, but I've been wrong dozens of times before.
Danny O'Neill
104
Posted 03/05/2021 at 13:10:01
I think that's what holds Richarlison back, Dave. What you're touching on is consistency. Good players give us glimpses and flashes of what they have in their back pocket. Great players do it consistently.
To date, Richarlison is frustratingly inconsistent, so he is proving to be a good player, but not a great one.
Darren Hind
106
Posted 03/05/2021 at 13:32:25
Barry @99
I wouldn't disagree with any of that.
Brent Stephens
107
Posted 03/05/2021 at 13:49:19
Dave #103 "he has never, although it's only four seasons, had a consistent season."
And I think this one has been his "least best", Dave. Including his disciplinary record – he's had fewer yellows!
Dave Abrahams
108
Posted 03/05/2021 at 13:51:30
Brent (107), you see, he's not even trying to get booked!!
Barry Rathbone
109
Posted 03/05/2021 at 13:57:07
Thomas 105
Delighted you abandoned your ill-considered bluster it really was indefensible nonsense even allowing for your notorious issues. But if you need further help with basic reason, please don't hesitate.
Darren 106
Many thanks.
Brent Stephens
110
Posted 03/05/2021 at 13:58:27
Dave, I'd put Richarlison on the bench for a few games – with a roll-on part.
Dave Abrahams
112
Posted 03/05/2021 at 14:07:27
Brent (110), I don't think we'd like to see that, with him shouting throughout the game, until he came on. " I'll scream and I'll scream and I'll scream" in Brazilian of course, which I presume would sound much worse... maybe Jay Wood could put me straight on that.
Soren Moyer
113
Posted 03/05/2021 at 17:49:08
Clive #92
Spurs will appoint Benitez when this season is over.
Danny O'Neill
114
Posted 03/05/2021 at 17:53:49
Interesting shout Soren!
Jim Marray
115
Posted 03/05/2021 at 18:25:19
When Moshiri arrived, my big fear was he would race out and try to sign the big-name players and star-studded managers so he could compete in a game of Football Trumps against the likes of Man City and Chelsea. While it has not panned out quite that way (Allardyce!!!), he has shown a complete lack of understanding about what it needs to build a football club.
If you are owned by Dubai, you can afford to buy 11 top names and 11 squad players while paying top dollar to bring in the #1 coach to bring you trophies. While you are a billionaire with limited cash in the pocket, you need to do things differently.
You need to pick a manager who enthuses your players and knows how to get them to do what you want. You need to bring in mid-priced players who your coaches can work on to bring out that extra bit of performance from to turn them into stars.
Moshiri has no strategy, like Kenwright, he is the 10-year-old fan who wants Messi and Neymar and M'Bappe but doesn't think about balance and team spirit and supporting players and then finds himself with a crap squad with some big names and limited abilities to pass to each other or move the ball quicker than old Granny pace.
How I long to see Southall to Reid to Stevens to Gray to back of the net agai; instead, I get Pickford to Keane to Mina to Gomes to Digne to Gomes, to Keane to Mina ad infinitum.
Barry Hesketh
117
Posted 03/05/2021 at 18:38:58
Jim @115
Pickford to Keane to Mina to Gomes to Digne to Gomes, to Keane to Mina – is that from an actual game? If so, it must be Everton's best pass completion move of the season.
David Pearl
118
Posted 03/05/2021 at 18:54:01
Ancelotti hung the players out to dry. Who was it that chose to play Holgate left of the pairing? Who chose to play Siggy on the left and asked him to run up and down that side when we have Richy and Bernard both more comfortable in doing that? Who picked the team, chose the tactics and didn't know what to do, didn't even try to change anything when we were being taken the piss out of?
Anyone just seen Sam Allardyce making a sub in the first half when he saw his shape wasn't working. Our genius sat on his hands and did fuck all for an hour. I don't even care if they just conceded. He tried!!
We have no other choice but to stick with him... but he has chosen to write off this season because he has wanted to try a different formation every single fucking week.
During the game time forums we always see posters picking on the same players. Delph? He played quite well, settled us down a bit but it was too late. We should be controlling the game from the off and it's impossible without a style and formation to build the play around. The only player I will pick out is Iwobi.
I'm done with this season, just like our manager has been. We needed to win at all costs, no matter what. He has had all year to fix this. It's like winning the lottery getting these manager positions in the Premier League. I could do a better job.
Neil Lawson
119
Posted 03/05/2021 at 20:18:19
Jim. That's 7 completed passes. Plainly the work on the training ground is beginning to kick in. Onwards and upwards ( but never forwards)
Steven Smith
120
Posted 04/05/2021 at 13:04:51
I seriously wonder what the fuck is going on at the training ground. Either fuck-all, or he is working them hard. It's A for me!
Minik Hansen
121
Posted 04/05/2021 at 14:39:46
Like Benitez to Newcastle? Please, give it a break, there's a way different cooperation inside the building here, with Brands on board and the funds from Moshiri and the soon come to fruition sale of Kean. Noone can predict the summer, but I believe more towards the good way of what they'll bring in to move the club forward long term, there's some good reason to think that, one being the new stadium.
Tony Abrahams
122
Posted 04/05/2021 at 14:48:55
I think that's where Benitez will end up Minik, once the Saudi's, takeover the Geordies, and there will then be another club with loads of money.
Minik Hansen
123
Posted 04/05/2021 at 15:23:53
Tony I guess Benitez can come back to Newcastle, but my point was for Jim's #25 "He's [Carlo Ancelotti] been a high maintenance appointment, high standing in the game but sadly it's looking more and more like a Mourinho to Spurs, a Benitez to Newcastle job."
Steve Brown
124
Posted 04/05/2021 at 16:09:48
Barry @ 105, of course supporters can say a player is not up to it but not propose an alternative that we should buy to replace them. The is because we have a squad that includes other players in that position and the option to play different formations.
If a manager is judged as not up to it, there is no mitigation other than to sack him and hire a replacement. Hence why Thomas always demands the name of a better replacment for Ancelotti when posters on here advocate firing him. Of course, the real reason why these posters are reticent to offer a name is that their candidates would be met with derision.
My respectful suggestion is that you lhink with more clarity before you post.
William Cartwright
125
Posted 04/05/2021 at 16:17:18
I believe Carlo genuinely loves the Club and is trying various permutations, playing the long game to understand the psyche of the players as individuals and how they cope in the team setting, to see where we can get to with the staff we have, who may figure - or not- in his plans, and some new (young?) blood.
Europe next season. . . . . Very unlikely, and honestly, I don't think it will be missed. I would rather have a season focussed on the League and Cups with more growth and build-up to be in parallel with Bramley Moor Dock :-
G'KEEPER:Pickford - He has turned a corner and should go from strength to strength. Olsen + Virginia all OK.
R'WING BACK: New face likely. Does anyone know how Jonjoe has fared performance-wise lately?
C'BACKS: Mix and match from the existing crew, plus Koulinally?
L'WING BACK: Digne
MIDFIELD: Allan, Docoure, Davies, Siggy?, James + Another?
ATTACK: DCL, Richy, + Another.. . . . . . ? and Kean back in the fold would be interesting but that ship might have sailed. . . . .
SUBS? We should look out for a utility player (Remember Sandy Brown. . . !)
The above plus more inputs from the Finch Farm lads and I think we will see a new season with departures being as important as new faces.
I suspect Carlo's quiet approach is a smokescreen for a very thoughtful approach to man-management. He may see more urgency, more new faces, and departures than I have suggested.
That is the best 'spin' I can put on an awful season.
PS: Hats off to Moyes. Got to admit he has had a great season with West Ham and next week will be a very interesting game to see exactly where both clubs are going, at least in the short term. . . .

I
Thomas Richards
126
Posted 04/05/2021 at 16:34:43
Steve,
He's on the wind up.
The masters apprentice.
Barry Rathbone
127
Posted 04/05/2021 at 17:50:48
Steve Brown 124
"If a manager is judged as not up to it, there is no mitigation other than to sack him and hire a replacement. Hence why Thomas always demands the name of a better replacment"
The latter part of your post has no bearing on the first. If the incumbent is not up to it naming a successor makes not a shred of difference to the fact and people are allowed to say as much. This isn't North Korea.
" the real reason why these posters are reticent to offer a name is that their candidates would be met with derision."
You hang yourself with your own petard. Of course this is a consideration those so pained by their inability to put up argument for the incumbent will vent against someone giving factual criticism because that's just the way they are.
"Clarity"is important but does not supplant reasoned thinking which leads me to respectively suggest you read your musings several times before hitting the "enter" key. You really did nail yourself here - better luck next time.
Thomas Richards
128
Posted 04/05/2021 at 18:08:17
"You hang yourself with your own petard."
My petard is probably just about long enough to accomplish that
Matthew Williams
129
Posted 04/05/2021 at 18:31:10
The clues were there, folks... Our genius Gaffer admitted that he'd never heard of Ben Godfrey???
I still remember last season's 1-0 away win at Norwich,Godfrey played in it for the Canaries!!!.
27 back passes to Pickford in that game... I wonder if that's a Premier League record?.
Darren Hind
130
Posted 04/05/2021 at 19:00:34
"Of course the real reason posters are reticent to offer a name is that their candidate would be met with derision"
Laugh out loud funny on several levels.
Mathew
Not strictly true....I heard Carlo was confident that he would have been able to pick Godfrey out in a police line up...All he would have need was 2-3 guesses
Rob Halligan
131
Posted 04/05/2021 at 19:09:27
As you say Matthew, we won 1-0. So hey, pass back as much as we like as far as I'm concerned.
Thomas Richards
132
Posted 04/05/2021 at 19:30:48
Beat me too it Rob
Andy Crooks
133
Posted 04/05/2021 at 19:36:27
Way back in the later days of Moyes those who called for his removal were very often asked to name a replacement. It struck me then as utterly absurd and it still does.
Why on earth should a supporter who feels that Carlo Ancelotti should go be asked who his replacement might be. He is either up to the job or not.
Right now I think he is the right man but if it looked really grim I would not be moderating my views to include who I think should replace him. I think we are committed to the Carlo project to such an extent that only total calamity would make starting again worth contemplating.
Like many I have doubts which magnify after each home horror show. However, our first choice team, on their game offer something that keeps me just about patient.
I pondered on another thread what the road map to disillusionment would look like. I guess it will mirror the map to success right up to a certain point:
The transfer window.
New players settling in.
We will know by then; unless of course injuries, suspensions and pure Everton bad luck become the new excuse.

Matthew Williams
134
Posted 04/05/2021 at 19:37:57
Indeed Rob,but we we're lucky to win that one as our football was still fucking dire.
What if Mosh says to Carlo...there's no more dosh for transfers, improve what you have,after all your supposed to be a world class manager.
Earn your fucking wages!.
Len Hawkins
135
Posted 04/05/2021 at 19:38:48
From what I have read we are signing Koulibaly Trippier Rabiot Bale Aguero some 6'7" Pole (no a Pole from Poland) Freeman Hardy Willis Stead Simpson Cobley and Hall.
Thomas Richards
136
Posted 04/05/2021 at 19:40:13
Currant bun Len?
Rob Halligan
137
Posted 04/05/2021 at 19:40:44
And what if Mosh says to Carlo, "Here's £100M, go and buy who you like"?
Rob Halligan
138
Posted 04/05/2021 at 19:42:40
Thomas, the red echo is running the Gareth Bale rumour.
Thomas Richards
139
Posted 04/05/2021 at 19:43:52
Rob,
I hope they have got the first four right mate
Barry Hesketh
140
Posted 04/05/2021 at 19:44:15
Len @
Freeman, Hardy, Willis would be a shoe-in for our midfield. We don't need Bale when we've so many Bail-outs, Uncle Tom Cobley and Hall are well past their sell by date.
Rob Halligan
141
Posted 04/05/2021 at 19:47:43
I've always liked Kieran Trippier. A decent right back, but might not go down too well with some on this site as he's 31 in September. So probably too old!!
Rob Dolby
142
Posted 04/05/2021 at 19:50:00
Matthew 129. What do you think Brands is at the club for?
I get that people don't like or want Ancelotti anywhere near the club. Too old, last big pay day, can't manage average players, dinosaur tactics, busted flush is my favourite.
Is 18 months the correct amount of time to say without doubt that he should go?
if for arguments sake we sacked him tomorrow and took a gamble on the next Brian Clough or Alex Ferguson do you reasonably think that 18 months is enough for a new manager to weave his magic whilst still managing Gomes, Iwobi, Davies, Sigurdsson, Kean, Keane, Bernard, Holdgate.
Dale Self
143
Posted 04/05/2021 at 19:50:52
Nevermind, edited myself out.
Thomas Richards
144
Posted 04/05/2021 at 19:52:18
31 Trippier?
Give that one a miss.
He will be on a zimmer frame next year
Rob Halligan
145
Posted 04/05/2021 at 19:56:00
Rob # 142. If I remember rightly, hadn't Alex Ferguson been at man Utd for 3 or 4 years, and was one game away from being sacked? In fact He was so close to getting the boot until I think Mark Robins scored a late equaliser or winning goal against Notts Forest in the cup. That saved him, and, as they say the rest is history!!
Rob Halligan
146
Posted 04/05/2021 at 19:57:44
Probably right, Thomas. Will end up "Tripping" over himself. (Just before Derek Knox says it!!)
Dave Abrahams
147
Posted 04/05/2021 at 20:02:09
Len. (135), Len, you left Brown Brothers and Taylor out, what a brilliant foot balling half back line they were!!
Matthew Williams
148
Posted 04/05/2021 at 20:10:44
Rob #142,I'd still chance it Rob to be honest because the road were currently on I believe will just lead our club to go thirty years without a trophy.
Rob #137,He'd probably still waste it on foreign has-beens or crocks... although Tony at Brentford looks very promising.
Brent Stephens
149
Posted 04/05/2021 at 20:15:12
Belling and Lee - for aerial supremacy.
Anthony A Hughes
150
Posted 04/05/2021 at 21:26:27
So we get a new manager, (any names gratefully received). Is he going get this bunch of second rate squad players playing attractive football?
Will he make Siggii or Gomes more mobile, will he turn Davies into a goal scoring, chance creating midfield general?
Will he stop Richie sulking? What could anyone do with Iwobi?
Without an absolute shite load of money being spent then we will continue to be light years away from the likes of City and PSG playing tonight.

Neil Lawson
151
Posted 04/05/2021 at 22:11:49
Just watched the last 20mins of Shittee and read the posts from about 120 onwards. Both were entertaining diversions.
It was terrifying watching Shitee. Terrifying because the gulf in class, ability and tactics twixt them and us is genuinely terrifying. That is 3 terrifyings ( well 4 with that one ). Would be happy if we could improve enough to reduce it to 2. Not going to happen.
Rob Dolby
152
Posted 04/05/2021 at 22:23:45
Matthew 148
I get all the concerns but not long ago we gave Moyes 11 years without a sniff of winning at Spurs, Arsenal and the shite nevermind a trophy.
I do think 18 months is too soon. If we where in the bottom 3 Moshiri will give him the boot. Regardless of how bad the football has been at times. I do see improvement especially in resolve and pragmatism.
Neil Lawson
153
Posted 04/05/2021 at 22:36:10
"Regardless of how bad the football has been at times ".
That can never be disregarded.
A tactically well organised defensive display can be recognised even if dull provided it produces results. What is never acceptable is the dross we have had to suffer throughout much of the season when we were not sent out to be defensive.
Barry Rathbone
154
Posted 04/05/2021 at 22:44:37
Rob 152
Unique circumstances during the Moyes years it was the only era in our history when existence supplanted ambition so he got away with a decade that averaged 7th to 8th without ever challenging in any meaningful way. Once Martinez shook the old lady to the core and the memory was jolted there was no turning back just a shame Mosh arrived too late to properly fund his first season revolution
No manager will enjoy the excuse fest that allowed Moyes the freedom of merely staying in the division at this club again. It's why CA is presently being questioned
Rob Dolby
155
Posted 04/05/2021 at 22:47:14
Neil 153. "The dross we have had to suffer" We have suffered dross for the past 30 years not just the last 18 months.
Rob Dolby
156
Posted 04/05/2021 at 23:02:53
Barry 154. Questioning the manager is part of the deal with every supporter at every club. Kendal mk1 would question your first statement when he was having to pay for the milk at bellefield.
We aren't entitled to win stuff. We have fallen so far behind the top clubs in spending, paying wages and competing.
The money Moshiri has ploughed in is a drop in the ocean compared to Chelsea and City. If Moshiri wants to seriously compete we would have broken our transfer record year on year. We bought Sigurdsson for 45m 3 years ago. City buy substitute full backs for 50m. That is the size of the job Ancelotti has.
Danny O'Neill
157
Posted 04/05/2021 at 23:08:25
Barry Rathbone @154. Say no more. Good summary.
Don Alexander
158
Posted 05/05/2021 at 01:48:39
Dazza (#130) as you're the doyen of, ahem, "Laugh out loud funny posts on several levels" on TW I suggest you too easily lower the bar to try to include others. Barry Rathbone isn't even close to you in terms of spiteful absurdity, bless him.
Trust me, on TW you're a one-off, thankfully.
David Cash
159
Posted 05/05/2021 at 09:38:06
I don't think we are surprised that we ran out of steam in our challenge for CL football. Our squad is wafer thin.
I think Carlo is entitled to expect Brands to boost the squad with a better standard of player in the summer.we have to be patient.
Don Alexander
Nice to see your obsession is still more important to you than football chat. No wonder he mocks you.
I look at your malicious attacks on junior coaches who's roles you cant begin to explain and ask myself is there anyone more vindictive poster on this site.
I don't think so.

Mal van Schaick
160
Posted 06/05/2021 at 07:50:17
He should look at himself in the mirror and ask himself about that team selection and tactics (if there were any?).
This squad will win diddly squat.
Tony Abrahams
161
Posted 06/05/2021 at 08:41:45
Neil@153, that last sentence is the most apt and also the most worrying thing about our current team, and this definitely includes the manager.
It's the chicken and the egg question that Neil, some players are obviously not good enough, but the hole in the middle of the pitch is that big sometimes, and that is very worrying at "any level" of football, and definitely not acceptable at professional level.
Christine Foster
162
Posted 06/05/2021 at 09:45:07
Anthony Hughes *150 - spot on. Replace Ancelloti with whoever you want.. anyone.. you still have the same mixed bag of ineffective players who have seen off several managers because THEY did not perform. They are STILL not performing consistently and individual responsibility is absent.
Ancelotti has juggled formations, sometimes effectively other times not, why? because he is trying to get the best out of what he has and THEY are letting him down and us down.
Just how long is it going to take to change is the real question. We need 25 quality players. We have at best 6. Go figure.
Christine Foster
163
Posted 06/05/2021 at 09:45:08
Anthony Hughes *150 - spot on. Replace Ancelloti with whoever you want.. anyone.. you still have the same mixed bag of ineffective players who have seen off several managers because THEY did not perform. They are STILL not performing consistently and individual responsibility is absent.
Ancelotti has juggled formations, sometimes effectively other times not, why? because he is trying to get the best out of what he has and THEY are letting him down and us down.
Just how long is it going to take to change is the real question. We need 25 quality players. We have at best 6. Go figure.
Christine Foster
164
Posted 06/05/2021 at 09:53:49
In my frustration, I hit the send button twice...
Ancelotti has to carry the can, it's his job, he has made some oddball choices in team selections but if he isn't happy with certain players he has to go with what HE sees fit. It's not yet his team and it's sodding frustrating to watch the schoolboy mistakes from highly paid so called footballers.
We prayed for a manager who knows his stuff and got one, now we have to pray for players who are a cut above what we have. We have been buying in the bargain basements too long to be successful or consistent.

Brian Harrison
165
Posted 06/05/2021 at 10:29:25
I think its worth remembering that a lot of this group of players have quite happily seen a couple of managers sacked and I guess they wont lose any sleep if we were to get rid of another. I read some posters saying Carlo is against promoting young players, well he has given Small, Branthwate and Onyango a start, but the real question is what is our academy producing, and the answer is very little.
Is Carlo exempt from criticism absolutely not, I think he chops and changes the team and the formation too often, as many have said he has taken over a poor squad of players and has brought in better players in Allan, Doucoure, James and Godfrey. I think its quite obvious he didnt want King and this is the problem when you appoint a DOF, the question is who buys the players. So I hope that when this summers transfer window opens then its Carlo who has to select who we buy. I think I would only be upset if Godfrey left but as for the rest I think there are very few I would genuinely miss seeing in a blue shirt.
Tony Abrahams
166
Posted 06/05/2021 at 10:34:48
That last paragraph is so true Christine, unfortunately. It's going to take a lot of pain, or a lot of money, and even then I'm kidding myself by writing "OR" instead of "AND"
Steve Brown
167
Posted 06/05/2021 at 11:19:09
Barry @ 127, watching you strain to prove your have an elevated level of reasoning to other posters is comedy gold. But you seem to have a good sense of humour with it, so keep reaching for that Thesaurus!
As for the other one, he is like the dog hanging round round the dinner table trying to be noticed. But no-one pays any attention anymore no matter how often he yaps.
---
Add Your Comments
In order to post a comment, you need to be logged in as a registered user of the site.
Or Sign up as a ToffeeWeb Member — it's free, takes just a few minutes and will allow you to post your comments on articles and Talking Points submissions across the site.