Ancelotti 'frustrated' by Everton's erratic form
Tuesday, 4 May, 2021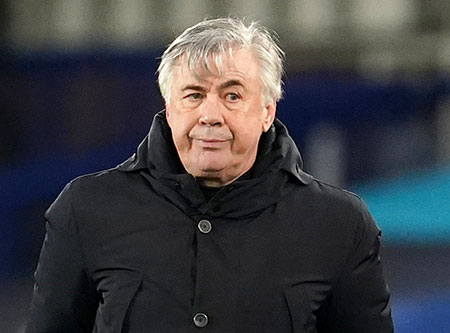 Carlo Ancelotti has expressed his annoyance with his players' apparent lack of focus and their inability to produce at Goodison Park anything close to their away form.
Following on from his comments after Saturday's 2-1 home defeat to Aston Villa, perhaps his most outspoken criticism of his team since becoming Everton manager in December 2019, the Italian expressed his frustration in quotes published on the club's official website this week.
The loss to Dean Smith's Villans was Everton's seventh at home since the turn of the year and it's left the club facing an uphill task to qualify for Europe this season.
"Th[e] team [is] up and down," Ancelotti said in an unusually forthright piece on evertonfc.com. "We had good performances and fantastic results away. At home, maybe we are more comfortable and miss a little bit of concentration and a little bit of focus.
"I am frustrated because the game [against Villa] was not good. We didn't start well, we didn't show the attitude and spirit this kind of game needed.
"It was a vital game, an important game for us to keep fighting for Europe and we lost this opportunity.
"Fortunately for us, it is not the last opportunity, we have five more opportunities but we have to show a different attitude at the beginning.
"At the beginning we conceded a lot of opportunities because we didn't have balance, we missed easy passes and lost a lot of duels.
"Honestly, I am frustrated."
Ancelotti will take his charges to London on Sunday to face a West Ham side managed by former Everton boss, David Moyes, and sitting just outside the Champions League places that were within the Toffees' reach until recent results at Goodison wrecked their chances.
A win would pull them within three points of the Hammers with four games to play.
---
Reader Comments (243)
Note: the following content is not moderated or vetted by the site owners at the time of submission. Comments are the responsibility of the poster. Disclaimer
Dan Parker
1
Posted 04/05/2021 at 00:01:56
The appointment of our next captain when Seamus hangs his boots up is crucial. We need someone to rally the troops and read the riot act on the pitch if necessary. I don't buy this rotating captain nonsense
Rob Young
2
Posted 05/05/2021 at 00:36:21
Stop playing Gomes, stop playing Iwobi.
He thinks he's frustrated kin hell
Mike Keating
3
Posted 05/05/2021 at 00:39:41
He's frustrated - what about the fans?
Some of Carlo's selections and substitutions have been exasperating.
God knows what they get up to in training but on the pitch top professionals (internationals mainly) can't string two passes together and constantly give the ball away.
Sort it out mate - that's your bleeding job!
Alun Jones
4
Posted 05/05/2021 at 01:14:54
I am sure he is frustrated. We all are. Despite this I have enjoyed this season more than most recently. Wherever we finish we at least have been in the mix for a while which is a novelty for us in recent times. However good CA might be he can only work with what he has got and mentally I think this squad is not equipped to go on the sort of run needed at the business end of a season.
Derek Moore
5
Posted 05/05/2021 at 02:03:36
The frustration of a lot of fans is growing as well, and indeed has me a little bit worried. For various reasons posters as diverse as Christy Ring, Kieran Kinsella, Tony Hill and Jamie Crowley have all had enough of Everton for right now, after that Villa game.
The away form and beating a few teams on hoodoo grounds has clearly not been enough to keep us all convinced. I've often thought that Evertonians generally possessed almost bottomless patience - both a strength and a weakness at times. That the well of patience is actually starting to run dry just makes this upcoming summer and buying period even more important in my mind. For a good chunk of Evertonians it seems the negative football will only be overlooked if it achieves top five results, and the Villa game was a reality check in that regard. We're nowhere.
I hope he corrects me if I'm wrong about it, but I believe I share Jamies biggest complaint about the 20/21 Everton football team. Too many of the players are quite simply incapable of seizing an opportunity, large or small and consequently this group is incapable of really going anywhere substantive.
The players are bottlers. Whether it's a cup game against a big team, or a league tie against someone in the lower half with a chance to point us at the top four. Whether Koeman or Silva or Allardyce or Ancellotti is in charge has made no difference to the low ceiling this group seems to possess. There have been twenty or more opportunities to take a step forward as a group, to cement progress, to set down a marker, to make a statement, to demonstrate some commitment, to repay the fans.
It's always one step forward and three back though, and it always will be.
For once, I don't really get the negative talk about the manager. Ancelotti is clearly and obviously not a bottler. For me one of his most endearing traits is his sheer experience "been there, done that". The way we played at Anfield this season was I thought a testament to that. Ancelotti isn't overawed or intimidated by the RS at all, it's literally just another game. That quality alone is gold dust at this club.
My issue is paying the money we're paying this manager to manage a group that is clearly very limited. I mentioned it in another thread, it'd be like paying a Formula One pit crew to service your Vauxhall Vectra.
For me the fact we were in the European mix for so long with our goal difference is a testament to the job Ancelotti has done. He carried this bag of shit as far as anyone could or would.
The question is, what happens now? Without serious changes to this group of personnel this all just feels a bit pointless. Running it back - as our American cousins would say - with this playing group has my eyes glazing over in boredom already. You don't need Ancelotti to finish mid table in this league, a point borne out by West Ham and Villas leagues positions for a start.
Brands has a new contract and one summer to put some life back into this zombie football club. Extracting a big wedge for Kean and bringing in some pace to the club is absolutely essential or there'll be plenty more Evertonians drifting away.
It's a strange one. I predicted we'd finish between sixth and eighth which still seems likely. But after the hot start, and some really nice away wins this season actually feels more like an opportunity lost than an inevitable outcome.
The club feels very much like it is at an important crossroads. For once I'm starting to think this fanbase doesn't have a thousand false dawns left in it. Everton need to get relevant and very quickly or it will likely never happen.
Derek Knox
6
Posted 05/05/2021 at 05:25:16
Mike K & Derek M, two really good posts there lads, which I think pretty much sums up all of our pent up frustrations. It almost beggars belief as you both allude to, how can expensive, and ridiculously well paid players be so inept for 90 minutes?
Either something is lost between translation at Finch Farm and on the pitch, especially at Goodison Park. Although again, how can passing to each other be such a difficult thing, but then appear to be okay or vice versa, and that is in the same game?
While I can totally share frustrations I can't see what is being achieved by hanging the ' TW boots up for a while, or permanently ' even! They are only deluding themselves, the guilty players are not going to say, " Oh shit these guys have had enough on TW, we must start playing more consistently ". Half probably don't know, or care, that TW exists, let alone influence their ineptitude and attitudes.
Dan Nulty
7
Posted 05/05/2021 at 06:55:37
I'm glad he shares our frustration. As said above, a lot of our players just aren't strong enough mentally. The best example I can give on this is Iwobi. Tweeting that he was looking forward to playing for Nigeria so he can play in his best position, Carlo asked about it next press conference saying Iwobi has never said to him he wasn't happy, nor has he told him what his best position he thought he was. Surely as a player you know you aren't playing well, if you aren't strong enough to go see a nice guy like Carlo and ask him to give you a go in a certain position and you resort to twitter to do so, it says a lot about how weak a person you actually are.
Ajay Gopal
8
Posted 05/05/2021 at 07:10:27
Ancelotti needs to read out the riot act to the players - to the squad as a whole, and to individual players - one by one. Richarlison, Calvert-Lewin, James, Siggy - heck, no one should be spared. Even Godfrey and Pickford, while being the only decently good players recently, should also be told to step up. Nobody should be allowed in their comfort zones.
For the next game against West Ham, I would go:
Pickford
Holgate Keane Mina Godfrey
Davies Allan Digne
James Calvert-Lewin King
Richarlison and, to an extent, Calvert-Lewin have been disappointing this season. They have scored goals, and we would have been really up the creek if these 2 lads had not been available, but they haven't really stepped it up in their footballing intelligence. Of course, our midfield is still a huge weakness, but I am sure that will be addressed in the summer. It is the lack of goals that has me genuinely worried for next season.
Neil Lawson
9
Posted 05/05/2021 at 07:15:30
If he is so frustrated, then demonstrate it by dropping the overpaid underperformers and grafting in some of the hard working talented youngsters. We would get right behind them and it certainly could not be any worse than it is now. Be a manager in name and deed.
Ken Kneale
10
Posted 05/05/2021 at 07:34:09
Mike K and Derek Moore - very sound posts. Despite our combined years of exasperation with Everton, somehow this season has continued to frustrate - the crossroads described by the above posters was there and we have sadly taken the wrong turn.
I very much hope this out of character public comment by the manager is a signal of his intention to be ruthless with the squad and impose if he can a winning mentality at the club - I was struck by a post on another TW thread where it suggested the Director of Football also being on the board was a negative to the manager and somehow undermined his ability to influence those above as well as his players - I do hope Marcel Brands is supporting Carlo to the hilt behind the scenes if that is the case and not simply being a coat hanger for a nice suit.
Bill Fairfield
11
Posted 05/05/2021 at 07:57:53
If we are debating whether the likes of Davies instead of Gomes and vice versa should be in the team next season,there'll be even more frustration.
Eddie Dunn
12
Posted 05/05/2021 at 08:07:21
Some very good points made above but may I add that Carlo(who is also culpable for the home results) mentions that they feel too "comfortable" at home, and therein lies part of the problem. This group (with a few notable exceptions) find themselves under little pressure for their places, suffer no loss of income for their failures and are treated like royalty at work, when training and on the pitch. There is a complacency that has been clear on many occasions, especially when playing so-called "inferior" opposition.
They have raised their game against the big boys, especially away from home, which shows that there is quality in this side but they are lacking the mentality to produce the required standard every week.
Let's remember the core of this squad have let down successive managers. When players get fed-up, they down tools. Gone are the days when you could stick them in the central league for six month(more's the pity).
The maddening fact is, that they have had incentives to perform well, there has been so many great chances to secure a top four berth. If they were mired in 13 th and free from danger, I could see why they could relax but this has been the most frustrating of seasons which we may look back on and think why on earth didn't we make the most of it? No crowds, lots of away wins and nice winnable fixtures at home.
I think Carlo will improve us next season but to do so he needs four new faces to add energy, fight and hunger to this squad providing more competition for the midfield and strikers, who have had an easy ride for too long.
Martin Berry
13
Posted 05/05/2021 at 08:14:52
I hope I am wrong, but I can see an ex Manager putting the nail into the coffin of any of our current Managers Europe ambitions after the weekend, and after our dismal home form do we deserve European competition anyway ?
It will be interesting to see how we cope against West Ham as you now a David Moyes team is always hard working,super fit and organised, and this is something that we don't seems to be, I ask the question" what is going on in training ?".
I watch City last night who mesmerized a very good PSG side, as they swarmed over the opposition, sometimes having as many as four players around the opposition when winning back the ball, I know we cannot compete yet with their skill level but the fitness and running of the ball was incredible, this is what Moyes is doing at West ham.

Tony Abrahams
14
Posted 05/05/2021 at 08:21:11
I thought that was a good post Derek M, but like Mike K says, everyone is frustrated and it's up to the manager to sort it out.
Normally I'd feel we had missed a massive opportunity, but I remember coming 4th and getting knocked out of two European competitions at the first hurdle because we just weren't ready, and that is why I'm not honestly not that bothered right now.
I keep saying that this summer will tell me a lot about the direction in which Everton are going, and the more I think about the physical payback footballers might get from playing such a condensed season, I've come to "my own" conclusion that it would be better not to play European football next season.
Robert Tressell
15
Posted 05/05/2021 at 08:39:38
The strange thing is that Ancelotti would be very much at home at City or PSG with the sorts of players they have. Moyes would not. However, for our present stage of development you could make a good case for saying Moyes is a better fit. We don't have great players - so to compete we need to be fitter and more committed than the opposition.
Moyes has done an excellent job at West Ham this season. Ancelotti has shown signs that he can do an excellent job at Everton but probably gets a generous B for his efforts (since the output roughly matches the level of investment in the squad).
With quality players Ancelotti can take Everton beyond where Moyes can take West Ham. It all comes down to whether he is given more quality to work with.
Tony Everan
16
Posted 05/05/2021 at 09:01:25
I know it's been said before but does the quality of the backroom team match the quality of the manager?
There is no doubts about the success and CV of Carlo Ancelotti, he is close to peerless. He is respected throughout the game. Furthermore he is a grounded and wonderful gentleman too, how can any mere mortal criticise him?
I haven't got a clue what goes on in training or the wider condition of players. Or the extensive nutrition and health programmes.
A few posters have questioned it before over the months, and alluded to the disquiet about the quality of training at some previous clubs. Who knows the truth of it, if there's any ?
What I'm trying to say is it all about the quality of the playing staff ?, and that's it. Or are there other factors that could be improved? Is Carlo being hard enough and critical enough of his own son? , and the blue icon Duncan Ferguson ? Are the players responding well to the training team or is there quiet revolt to it?
Most of the performances I have watched point to it being a multi-faceted problem.
I think Carlo should not be just frustrated with his players, he should be frustrated with himself and his team too.
There is plenty of room for improvement on all fronts.
Frank Kearns
17
Posted 05/05/2021 at 09:05:19
If we haven't got quality players, why did we buy them, promote from the academy etc? The only manager who's got them fired up is Duncan. The players should be made to realise, that once their contracts are up, they will be unemployed, and for the majority, unemployable. As it is, they're on easy street and don't care.
Dave Abrahams
18
Posted 05/05/2021 at 09:10:22
In criticising the players many faults, Carlo sounds like a patient grandad tut tutting at his grandchildren's misbehaviour, Carlo you are the manager of a multi million business, show them who is the boss, some serious finger pointing instead of the tut tutting, don't let the season end on a whimper, start doing it in the last five games, you are testing a lot of fans patience, show them you know how to motivate even average players into giving a lot more and get them out of the moods you describe them in.
Hugh Jenkins
19
Posted 05/05/2021 at 09:11:01
For someone like Carlo Ancelott, who clearly can control his pitchside emotions, to publicly come out and say what he has just said, is tantamount to him stripping off the veneer even further and saying " a lot of these players are useless, idle, pricks and, if I have my way, won't be here next season".
I fully understand the frustrations shown on this and other threads.
However, CA sees the players in training, picks his matchday team from the players avaialble and sets them up tactically according to how he sees the oppostion team.
Once the player are out of the tunnel, it is mostly out of CA's hands, how matter go from there.
This interview, which for CA amounts to an "outburst", clearly shows that he is as frustrated as we are with the application and attitude of many of his current first team squad.
As has already been said - it has to change this summer - or, rather than him being sacked, I think he will walk.
That, i fear, would be the ultimate judgement on how rotten the internal machinations at EFC have become.

Paul O'Neill
20
Posted 05/05/2021 at 09:23:02
AJ at #8 It's totally unbelievable that Carlo will not play that team. Makes so much sense. Two points though:
Maybe Carlo wants out? If Jose Mourinho can get circa £10m after being fired by Spurs and offered a new job with Roma days later, it is almost in a mangers financial interest to fail!
James. maybe Carlo is the only manager soft enough to facilitate his petulance. That's why he is here.

Rob Halligan
21
Posted 05/05/2021 at 09:30:47
Tony # 16. Carlo's back room staff have followed him from club to club, country to country, and haven't done too badly wherever they have been, so it's clearly not the "Quality" of the back room staff. Wherever they have been they have been working with quality players and no doubt have been easy to work with. Our current squad clearly lack quality and therefore Carlo and his staff are unable to "get a tune" out of a lot of them. On any given day, a bang average player can have a good game, we have seen this a good few times this season, but it's doing it consistently.
Which leads me onto Franks post # 17. Carlo inherited the majority of this squad, so he's stuck with the deadwood, well those still left here. A few have been shipped out and there are at least three who's contract is up next month and will definitely be gone. Names we are being linked, such as Aguero (won't happen), Gareth Bale (won't happen) shows the pulling power of Carlo. Carlo is trying to build a squad for today, not the future. If he can build a squad in the next two or three years capable of competing at the very top of the premier league and in Europe, and hopefully win a cup or two, then it will make it much easier to pass the baton on to the next manager and better quality players will be keen to join us. Patience and time is what's required, not the usual chopping and changing every other year which is getting us absolutely nowhere.
Dave Williams
22
Posted 05/05/2021 at 09:57:00
Inconsistent team selection is part of the problem, never having a settled back four and having to play substandard players in midfield. A refusal to give a young lad a chance,who could run around and press opponents rather than allow them to run past. A baffling inability to find our own men with simple forward passes, a pitiful failure to move positively off the ball to crate space and a propensity to lose the ball quickly on the odd occasion that we run at the opposition. It all drives me bonkers.
We have a very small squad in terms of decent players. Injuries to Allan,James( is he bothered really??) and Doucoure have hindered us and the poor form of Richi has been a huge factor.
We need a good window to bring in some athletes and eject some deadbeats but please, not Gareth Bale!!
Rob Halligan
23
Posted 05/05/2021 at 10:06:20
Dave, so you wouldn't have Gareth Bales pace or his goals? This season he has scored thirteen goals in twenty eight games (all competitions). The only stumbling block for us, if he were interested in joining us, would be his wages.
Ah, I get it, he's too old!!
Rob Dolby
24
Posted 05/05/2021 at 10:07:44
Derek 5. Great post.
We are all frustrated and looking towards the summer for a good transfer window which will indicate one way or other Moshiri's intentions.
To complicate things further the euro championships are being held which normally means early or very late transfers as players and agents want to showcase themselves during the championships.
After watching West Ham the other night. If we field the same team as on Saturday we will get stuffed. They have an energy and momentum to their play that we just don't have.
Both teams need the win. A draw will only help out the super 6 in trying to get European footy.
Andrew Ellams
25
Posted 05/05/2021 at 10:19:25
Rob, Bale's heart just doesn't seem to be in it anymore. That's why I'd swerve that one.
We need to be building for the future and the likes of Bale, Aguero and Coutinho as well are not that.
Brian Harrison
26
Posted 05/05/2021 at 10:22:51
Rob 21
As you say chopping and changing has got us nowhere and I know you were talking about managers, but my concern with Carlo is the constant changing of players and formations. All the top teams seem to have a settled back 4 except maybe City although in the important games Guardiola sticks with his best back 4. To ask top players to change styles is easy as top players can play anywhere, but asking mostly journeymen players to do this is a different kettle of fish altogether. I think most weeks none of us know which team or what formation we will be playing.
Now I know this season for many clubs has been hard, most hit with a long list of injuries and still having to cope with a full fixture list that started later than normal and with no pre season.
So next year I would hope that Carlo has a settled back 4 and a settled midfield barring injuries. I think our lack of decent attacking options have cost us this season, DCL started brilliantly but has struggled of late and Richarlison has had his poorest season since being here. But other than King who Carlo doesnt seem to fancy both DCL and Richarlison if fit are automatic starters, and given the lack of competition its not surprising.
This summer will be pivotal for both Carlo and Everton, yet another season were some of the top teams just havent performed and had opened the door for a possible Champions league spot. When I look at West Hams squad compared to ours, and were they are just underlines what a missed opportunity this season has been, and we cant say we havent had the chance to break into the top 4.
Brian Murray
27
Posted 05/05/2021 at 10:29:03
Very handy having that default notion that this is the worst squad he has ever inherited. It's the basic team selection and game management that's been woefull and cost us an unacceptable amount of points. Not asking too much to get them super fit at least. Said before and say it again we are so passive and nice as a club it's unfortunate Carlo is the same. Unless this summer shows a different side to him.
Dan Nulty
28
Posted 05/05/2021 at 10:32:52
I do think Bale improves us but I'd be tempted by a short term contract with one year extension only.
Having said that, I am pretty sure Carlo and Bale's agent have had issues in the past when his agent complained to Perez that Carlo was playing Bale on the wing instead of up front. I can't see this happening, especially if going to cost us money.
We need to be incredibly shrewd this summer but I'd be wanting to speak to these players first mad check how hungry and mentally strong they are before spending any money on them.
Jim Bennings
29
Posted 05/05/2021 at 10:33:44
How can you question what Carlo Ancelotti has achieved in his managerial career?
Well we can't but that doesn't really bear too much relevance about whether he will succeed or not as an Everton manager.
Let's face it, we are a club that doesn't win trophies anymore, you can count on one hand the managers that have had success at Everton in the last 100 years.
We sometimes got on our high horse with regards to David Moyes 11 years of failure with no trophy, but who's been successful in that department since?
We harbour players that don't possess any real hunger or drive, coupled with the fact that they are not quite good enough to get over the line and win anything.
The likes of Coleman wants to win something but age is catching up with him and he's falling into the category over the next year also of no longer being good enough, same with our signing from Napoli, Allan.
The likes of Gomes and Siggy, comfort zone players, Gomes clearly couldn't handle criticism at Barcelona and you don't win trophies with a weak mentality.
Delph, another comfort zone player, moved here for one last pay day, offers nothing.
James, great player and I love him, but again he's not the future and the amount of games he misses is becoming absurd.
Davies, Holgate, Calvert-Lewin, Keane, all effort players yes but again not really that good enough when you glance at players standards in sides above us, and yes DCL has improved in the six yard box this year but he's still got too many weak area's to be classed as a striker opponents would fear.
Iwobi is a shambles of a player, offers nothing in any position.
Richarlison our supposed talisman, hmm far too erratic, too inconsistent and in this league you can't get away with that when it happens so often.
True Ancelotti has not helped things, I don't think he will escape any criticism because he's started to concern me with an overly pragmatic approach and a reluctance to try and change players that aren't performing.
I'll reiterate what I said on Monday, unless you give Ancelotti what he's had at all the other clubs he's been at, which is 11 world class players and a further 8 squad players that are all very very good players, then expecting Carlo to put an average bunch together and produce better results is fruitless because he's not that manager we need if that's the case.

Rennie Smith
30
Posted 05/05/2021 at 10:35:11
You say we'll get stuffed Rob but I can easily see us beating the Hammers, just to make this season a little crazier.
A few posts calling the players out as bottlers. I don't think that's the case, I think some just don't have the mentality or intelligence to stay focused every game. Bottling to me is crapping themselves before kick-off and just losing their heads, I think it's the other way round for some who think it will be a walk in park.
Take Holgate for example, a player who has the talent and I'd love to see him fulfill his potential, but sometimes his attitude stinks and it clouds his judgment at the crucial moments. Sports psychology is all about tunnel vision, making simple, clear, single decisions that become robotic after a time. Players like Iwobi seem to have fairground music playing in their heads and just make things up as they go along.
I completely believe in Carlo and what he's building. I'm glad his frustration is becoming so strong that it becomes public, he's usually very reserved when making statements. That generally means changes will happen, but I doubt if it will be in the last few games, more like in the Summer transfer window.
Barry Hesketh
31
Posted 05/05/2021 at 10:42:01
The fact that Ancelotti's quotes are made on the club's official website speaks volumes. Normally, that is a platform full of well-worn platitudes and a place to read positive things about all things Everton.
Whether Carlo was asked by his superiors to make a public statement to address a growing number of supporters' concerns, or whether Carlo himself thought it necessary to quietly rebuke his players in public, we'll probably never know.
What we will find out in the next five games is how his players react, will they take Carlo's criticism on board and react by running harder and being more focussed or will they revert to their tried and tested method of sulking their way through the final few matches.
It's unfortunate that Carlo has waited so long to declare dissatisfaction with his charges because, since the turn of the year, collectively the players haven't produced anywhere near the levels of performance that they are capable of.
Another unfortunate element of the timing is that going to West Ham on Sunday is possibly going to be the toughest assignment of the season so far, given the Hammers seem to have the bit between their teeth and Everton is yet again on the crest of a slump.
It does seem that this squad for quite some time under many managers has the ability to work hard in training and do all the things necessary to gain a first-team place but for some reason which has us all perplexed cannot produce any sort of consistency within a game, never mind in a run of games.
Whatever, transpires in the next month, the fact remains that Carlo is the manager of Everton Football Club and as always the buck stops with him, it is in the interests of all concerned that Carlo finds the answers to many of the issues that beset his team, if he can't then the club will have no alternative than to examine its options in the face of a growing disquiet amongst the fan-base.
That disquiet will be quelled if the fans can see that the players are focussed and show determination in every game they play, that doesn't mean the team has to win every time they take to the pitch, but it does mean that they have to be competing for every ball, and are willing to work harder then they have for much of 2021.
Thomas Richards
32
Posted 05/05/2021 at 10:48:13
Probably the biggest insult you can give to a professional footballer.
"you showed no spirit, no desire"
In effect, they wanted it more than you.

Christopher Timmins
33
Posted 05/05/2021 at 10:50:24
I see where Bale has been linked to us. Do we really need to be considering another 30+ player? His best days are behind him and of course he has had injury problems.
Brands was not employed to fill the squad with 30+ players, then again he was employed before Carlo and there has to be a question mark over his role since Carlo's appointment. Allan and James were not his choices last summer and we were linked to Doucoure from when Marco Silva was first appointed. He takes the credit for Godfrey. Let's hope he can find one or two more like him in the next window, certainly he could do worse than to keep shopping at Norwich.
We have top billing on Sunday, let's hope for a much improved performance. I note the team selected by AJ#8, apart from Coleman for Holgate it seems the best we can go with at present. A draw is of little use on Sunday so hopefully we will start on the front foot and try and win the game and not send the viewers to sleep.
Barry Rathbone
34
Posted 05/05/2021 at 11:10:13
I suspect the phone conversations with Mosh are getting shorter and Carlo has read the runes.
Public admission of the team as "ploperton united" could be the first step in his survival (if he shapes up this summer) or pure desperation as he knows prem managers only average about 2 yrs on the job.
Potentially he has a few months left so it's do or die time at the OK coral.
Derek Moore
35
Posted 05/05/2021 at 11:18:53
Maybe bottlers is too strong a word. Perhaps it's a simple fear of success the players have? A concentration issue? Some sort of curse on the whole club? (maybe not)
But whatever you term it, there have been so so many opportunities over the years for this group to step forward and be counted - of which the disaster the other day was just the latest and most egregious - and they have not been taken. It's not a coincdence, or misfortune or anything else. When it comes to the ultimate crunch they are sadly just lacking.
I, for one, have seen enough. This group as presently constructed is incapable of real sustained success; I know that because I've watched them for years. It's not the gaffers fault, we've tried that. It's not the owners fault. It's not even the fans faults, these fuckers were even lucky enough to play without even being accountable to the supporters.
For me it's a big chunk of the playing group. No more and no less.

The sheer law of averages suggests one of those opportunities should have been seized if this group was capable of doing so.
I honestly believe hand on heart this group, for numerous reasons, is playing to it's ceiling. I just don't think that ceiling is very high, and I think Ancelotti has both demonstrated and tacitly admitted much the same.

Thomas Richards
36
Posted 05/05/2021 at 11:28:29
* Corral
Brian Williams
37
Posted 05/05/2021 at 11:50:47
I think Ancelotti was given a brief to have us further up the league "immediately" and to be regular European qualifiers by the time the new stadium was built.
He himself has admitted "I'm not here to develop young players" and has gone about the first task by bringing in "ready made" players to improve the first team.
I know I may take some stick over what's about to come in this post but I've been supportive of Ancelotti right through the season and mainly kept my counsel rather than jumping in after a lost game sort of thing. Though I have ranted after some of the losses.
I believe he's got it wrong
. There, I've said it.
With regard to the players he's brought in, who, if what is generally accepted is true, is James and Allan. Doucoure and Godfrey being Brands buys?
James is undoubtedly a special player with sublime skill and vision at times. At other times he's a spectator, and although he's scored some great goals and made some great assists I don't think we're a good enough side to accommodate a luxury player, especially one with his fragility. We may well have benefited more from a lesser player who is more involved in each game and is involved in more games overall.
Allan has generally been decent but not really more than that. He breaks up play well but lacks what we need all over the park and that's pace. Another IMO at the wrong end of the age scale.
Doucoure for me has been the best buy of the three and adds a touch of dynamism that we lack.
Personally I'd have preferred this season to have bought younger, hungrier, aggressive players to develop and have around for the foreseeable future and not just for a season or two at most.
The sort of players who, although maybe less well known, have run our midfield ragged on numerous occasions this season. Players of so called lesser teams.
We play the slowest, most tedious, football of any team in the premiership at times and the rumoured addition of Bale and Aguero is NOT in my humble opinion, the answer.
Rip up the script and rewrite it please Carlo because we'd all prefer to watch Line of Duty rather than the Walking Dead.

Oh, and kill off a fair number of the present cast members!
Pete Williams
38
Posted 05/05/2021 at 11:53:52
I'm glad to hear he's frustrated, but he shouldn't need to say it. This team must be driving him nuts. He's improved some players and occasionally got performances out of the rest, but there's little consistency. He hasn't helped with some wierd team selections though. Why King gets so little game time and Iwobi so much is really baffling. Essentially this season is a write off, so time to look to the future.
Key things are talent level in the squad is too low, attitude is lacking in some and there are too many older/slow players. This is what Brands needs to sort out in the summer. My worry is they'll go for big name short term fixes like Aguero. Aim should be to get younger players with talent and workrate, not old has beens and never weres.
I'd suggest players like McNeil at Burnley, Ward-Prowse at Southampton or Kalvin Philips at Leeds. They are all already good, have the right attitude and have room to improve. I hope that is the approach we take and not the short termist stupidity we've seen so much of in recent years.
Derek Knox
39
Posted 05/05/2021 at 11:55:54
Interesting reading, a lot of the posts are all basically saying the same thing, we need to jettison half of those masquerading as Footballers, and give un ultimatums to the remainder. Oh wait a minute, they are on these contracts where you can't do that without mutual agreement!
They know full well they were lucky landing one of the plum jobs, signing for Everton, even if they play crap, (and most have too) and are not even picked, their Bank Balance is Kerching'ing). What other professsions have that sort of long term Security and lengths of Contract? I can't think of one.
I know they say it is a short career, but unless they are serious gamblers, drinkers or Columbian Marching Powder snorters or whatever, I don't think many end up on Skid Row, and have enough behind them to Invest a decent Business or Venture. Again not many others share that potential 'Golden Handshake' at a relatively young age!
Dave Abrahams
40
Posted 05/05/2021 at 12:03:45
Brian (37), I don't know why you would expect stick over that sensible and rational post,every one has their opinions on how Carlo has done, and they all count, I'm not one of Carlo's biggest fans and fully understand the poor squad he inherited but I also think he could have done better,but he certainly has to improve the attitude of the squad and definitely get them to concentrate and focus more throughout the games as Derek (35) says, that's just for starters.
Tony Everan
41
Posted 05/05/2021 at 12:37:38
Better news. Carlo says that Doucoure is back for the West Ham match, adds a 'maybe' though, so he's not 100% certain.
Him and James starting along with Allan getting up to full fitness will make us look more like a football team again.
John Keating
42
Posted 05/05/2021 at 12:39:34
A definite frustrating season and one we will regret
We have had so many opportunities with games in hand to break into the top 4-5 and missed them all.
Some performances especially early doors were good, some have been dire and some have been a disgrace
Ancelotti has made mistakes in tactics, team selection and substitutions without doubt.
However, a bit in his defence, although we have sometimes wondered why he has played so and so instead of so and so, we have found out later there were injuries or illness we didn't know about.
Holgate and Godfrey took stick, quite rightly, after Villa but in a way I see why that pairing was picked for that particular game.
Yes, Ancelotti needs criticised, however, in my opinion the biggest culprits this season have been the players
Without exception, the players have been inconsistent and have executed basic skills abysmally. They, like the management, need to have a really good look at themselves.
Neil Lawson
43
Posted 05/05/2021 at 12:42:27
A lot of worthwhile and sensible comment above. What is mooted opens a myriad of issues for debate and discussion as to why we have been, and remain,so poor.
Money is one and a crucial one. Don't forget that a player being paid a meagre £20,000 a week is earning 1 million pounds per year.
Hence, I am with those who would much prefer to see younger, hungrier footballers determined to improve and to be as successful as they can. I would also prefer to support a team that is giving 100% all over the pitch and week in week out, and not just when it suits. I would forego expectation of success for the hope that my team might, through good management and tactics, hard work and commitment, a degree of skill and enterprise be able to compete in every game always with the belief that they can win ( even if they are beaten by a better team on the day)
Brent Stephens
44
Posted 05/05/2021 at 12:47:25
Dave #40 don't know if you got my message??
Tony Abrahams
45
Posted 05/05/2021 at 12:50:01
Stop it Thomas, we could do without the six-shooters coming out!
Alex Gray
46
Posted 05/05/2021 at 13:36:29
The whole King transfer confuses me. It's clear we don't want him but whenever he comes on he's looked useful, certainly more so than Richarlison as of late.
I can't forgive bringing delph on at 1-1 though. Awful call. Hopefully Doucoure is fit for West Ham. It's no surprise we've been awful without him.
Brian Wilkinson
47
Posted 05/05/2021 at 13:48:32
Some posters are right with the comfort zone for some players, some players who have outlasted our last 4 Managers in charge, players who will put in a show for the new Managers for a few weeks, before slipping back into their comfort zone, who will once in a while, put in a stand out performance to think wow, will divide posters into told you so, then they fall right back into their comfort zone.
I would not put it down to bottlers, I believe it is more of a case of try and not give the ball away, do not try anything that might even risk the chance of an opponent taking the ball off you, pass it back if needed, but no matter what I am not even going to try and go past a player, that is the mentality of most of our team, only Tom Davies from midfield at leasts does try and take a player on.
Like other posters have said they have hit a comfort zone, they will still pick a weeks wage up, every week, whether they are in the starting 11, or have a spot on the bench.
Starting from the next home game, I would give the away team the home dressing room, and make some of our slackers change in the portacabin, on the car park.
Anyone who thinks Siggy should have his contract extended, think again, we need to shift the likes of him, Gomes, Delph, Iwobi, and others out, once and for all.
Barry Williams
48
Posted 05/05/2021 at 13:52:24
Well, if it is an attitude issue, and as many on here seem to think, and a pace issue (which I agree with 100%), then a change is needed - not just tinkering with the usual players.
Firstly - if Doucoure is still out - get Davies in. At least he drives forward, is committed and is the only local boy we have at the moment! That makes difference to moi!
Here's a bit of a strange idea - play Nkounkou - give the lad a chance. Have him as a wide left attacking player in front of Digne. Many a millenniums ago Coleman learnt his trade in front of Hibbert and maybe Neville too if I recall correctly. It get's the lad used to the league without the spotlight on his defensive failings, and new young players often have an immediate effect ala. Davies/Lookman against Man City, and more recently Anthony Gordon. It would add drive, pace and a bit of an unknown quantity to the team. And some ENERTAINMENT!
Drop Richarlison - make it known that no one has a guaranteed place. Put him on the bench, bring him on fresh with something to prove. King could take his place, he brings pace and might have something to prove to potential buyers, or even Everton themselves!
And only 1 of Gomes, Sigurdsson or James in the team.
Easy this management lark!
Jay Wood
[BRZ]
49
Posted 05/05/2021 at 13:56:01
The enigma that is Everton.
This team for me continues to be best summed up by our away game to Fulham at the end of November. The definitive game of two halves.
The first half slick, incisive, free-flowing football in which Dom scored two and Doucoure a header to put us 3-1 up at the interval. James in full flow. Digne, Richy and Iwobi causing havoc down the flanks. Dom deadly. Fulham were lucky it wasn't 5 or 6.
Second half, all that evaporated. Fulham missed a penalty. Pulled it back to 3-2 and we regrouped just enough to see the game out.
I said at the time we the fans and Carlo the manager cannot yet fully trust this team. They have continued to prove it throughout the season.
I don't buy into the theories that the players and the collective haven't got the stomach for the fight or the ability to compete at the sharp end of the league. Why? Because all season they HAVE been competing for a top 4-6 place and in many games they HAVE shown bottle.
Just one game ago - away to Arsenal - it wasn't pretty, but they got the job done. To that sort of victory I can add:
H and A to Spurs (in all 3 games)
H and A to Liverpool
H and A to Leicester
H and A to Arsenal
H to Chelsea
A Palace
A to Sheff Utd
A to Wolves
A to Leeds
A to WBA
14 PL games (more than a third of our season) plus a thrilling cup tie in which we dug deep and fully merited the 12 wins and 3 draws those games returned. That's without counting some of the dazzling high scoring games at the start of the season. Pretty much every one of those performances and wins were widely praised and appreciated on here and beyond.
A considerable body of evidence then that the team DOES have it in them to 'tough it out'.
What is noticeable in that list of fighting performances is the absence of many home games. It's because they have done it so many times this very season that the too frequent capitulations at home frustrates so much. Virtually every home game since December has been a gilt-edged opportunity to truly, but truly, consolidate our position in that top 4-6 band. And we have blown pretty much every single one of them.
When Carlo joined us in December 2019 we went 10 home games until the final home game of the season - the 3-1 loss to Bournemouth when the players had their flip-flops on - before he oversaw his first home defeat at Everton.
That our home record since the Yuletide 1-0 home loss to WHU now reads P 10 W 1 (1-0 v the Saints) D 3 L 6 is bewlidering, when in the same time our away form reads P 8 W 5 D 2 L 1.
We all know the team lacks pace. Many acknowledge the need for more snide in the team. There are many nominations for who hasn't performed at expected levels at different times this season.
Does anyone seriously think Carlo and his staff are not aware of those same issues?
This summer transfer window will be an interesting watch. Transfer rumours are already cranking up. Who we sign and who we move on will be very informative as to who holds most sway at Everton in the market and if the 'project' remains one of evolution or revolution.
Robert Tressell
50
Posted 05/05/2021 at 14:16:18
Jay that's a good observation. We used to bottle the big games but we've done unusually well this season. Trouble is we're somehow managing to bottle it (or fail in some other way) against mediocre and poor sides.
There might be merit in playing Nkounkou, in change of formation etc. But I think this misses the point.
Koeman failed because he had a weird squad and failed to replace Lukaku. Silva failed because he lost Zouma and Gbamin (his Gueye replacement) got injured. Ancelotti's Everton tailed off when the injuries hit and we have been essentially playing last year's crap midfield.
The problem is we have only a few very good players and if any are missing the replacements are not good enough.
So Ancelotti has plenty of failings but nothing will change until the playing squad is better.
Jerome Shields
51
Posted 05/05/2021 at 14:24:40
Ancelotti is just piling the pressure on the Backroom staff and any Players who are not pulling their weight in the preparation and training prior to the matches.
He has taken the decision after the Palace match to set the Everton team up to grind out draws, with the hope of nicking a win. This requires application from the players, which he is not getting from a number of players, as was the case against Villa.
Jay Wood
[BRZ]
52
Posted 05/05/2021 at 14:31:37
Therein lies the enigma and frustration, Robert.
In the season we are dishing out to the better teams and have a vastly improved away record - indeed, our best ever in the PL era - we blow an opportunity against lesser teams at home.
It has long been the inverse. Solid home form. Poor to mediocre away. Efficient at taking points off teams in the lower two-thirds of the league. Woeful against top third teams. Weird.
Jerome Shields
53
Posted 05/05/2021 at 14:42:44
Jay#52
The key to a Top 4 finish for Arsenal under Wenger was to consistently gain points against lesser teams. Everton have for the past twenty years never consistently gained points against lesser teams. This has partly been achieved this season away from home, but not at home.
In a season where Everton have beaten Liverpool and Arsenal away from home we should be really talking about challenging Man City for the Premiership Title.
Soren Moyer
54
Posted 05/05/2021 at 14:43:39
I think what CA really wants to say is that the fans should be prepared for Everton to sink even further down the table! Nice try Carlo lol.
Barry Williams
55
Posted 05/05/2021 at 14:49:38
Jay Wood [BRZ] 52
It has been a weird season altogether really. A lot of teams seem to be having erratic home form; Everton just seem to be more pronounced in the weirdness. It certainly doesn't reflect an inferiority complex - anything but. However, Ancelotti has suggested players being too comfortable at home. Strange indeed.
Maybe being on the road and spending a night away from homes gees the players up during these times of lockdowns. It would present at least a semblance of a break from a possible groundhog day situation!
Where's Freud when you need him?
Barry Hesketh
56
Posted 05/05/2021 at 14:56:12
Perhaps this revelation in today's Echo explains some of the reasons why the team's form, particularly at Goodison has been largely unsatisfactory to us the watching public but perhaps not to those who measure every item of data related to the players?
Having worked with the boss at Real Madrid, PSG, Bayern Munich and Napoli - Francesco Mauri took over as Head of Conditioning at Goodison Park.
"This year I did a study on the metabolic power of the central defensive units to try to understand if this data correlated with the type of game we had prepared, and indeed it did.

"After an initial period in which we played 4-3-3, we changed the game system and decided to adopt a more defensive attitude, playing lower, and we saw that in these games our central defenders expressed very low metabolic power compared to those in which we had a more aggressive attitude."
Paul Richardson
57
Posted 05/05/2021 at 15:03:04
I think another factor is statistics. Players are aware their passing ratio etc is monitored and publicised, so don't want to take risks. That doesn't over-ride the points made above, but I think it is an influence on some of them. Of course I can't prove it, I just feel it is there, which is what makes us such a cautious team overall. As others have said, when we "go" for it, we're not bad (nowhere near good enough for top four, but top eight, yes) but we don't do that often enough.
Mike Gaynes
58
Posted 05/05/2021 at 15:06:35
Paul, have you ever heard a player mention his "passing ratio" or other analytics in an interview? What makes you think they change the way they play because of those statistics?
Bill Gall
59
Posted 05/05/2021 at 15:07:36
I am glad he is frustrated as we all are, but the difference between the supporters and the manager is he should be able to do something about it; we as supporters can not.
We may have a poor squad and the problem from last season in midfield was partly solved with the 4 new signings. Yes, we have had injuries this season but it is inexcusable for any Premier League player to not be able to pass to another player over 10 yards and show some desire to play for the Everton shirt. The major problem with a number of players is consistency, in they show flashes of what they can provide and then revert to below average.
I think it was Alec Ferguson who once said that you can play well with one or sometimes two players off-form but anymore than that, you will loose, and that is our problem. We have one player playing bad and it creeps through the team like a disease.
My opinion on Ancelotti is he seems to leave the substitutions to late, and leaves a player who is way below the form expected of him, on to long.
Everton's position in the league is remarkable considering our form since the start of January and really should be at least 6/8 points better off giving the opposition we gave points away to.
I am glad Ancelotti is frustrated but talking about it is easy – solving the frustration is what he is paid to do.
Eddie Dunn
60
Posted 05/05/2021 at 15:13:34
Jay,
We all know they have turned it on at times but, since Xmas, they have failed to string performances together. Take Sigurdsson for example: he played his socks off against Spurs (to prove a point, no doubt). Yet he has personified the lack of focus in so many other games.
In elite sports, small percentages are the difference between winning and losing and, if our lot are just not quite on it... they lose. They need to be on the money more often.
I hold the coaches equally to blame, but if these guys can't be arsed when Champions League footy has been the prize, then what else can the manager do to motivate them?

Pat Kelly
61
Posted 05/05/2021 at 15:14:34
I haven't read Ancelotti's post on the Everton website, just what's quoted above. He has certainly taken the gloves off " maybe we are more comfortable and miss a little bit of concentration and a little bit of focus". But sure not to worry he says they've five more opportunities ! Anyone still wondering why the players can't be arsed ? Five more chances left.
And what does he mean by five more opportunities. To do what ? Just take one opportunity and qualify for Europe. A little bit of concentration and a little bit of focus and all will be fine. We're so close.
Jay Wood
[BRZ]
62
Posted 05/05/2021 at 15:16:48
Jerome @ 52.
I keep my own personal records of Everton's PL performances going back nearly 30 years. In those records in the league table either side of each team I put our home result before their name, the away result after it.
w in green for a win. d in yellow for a draw. l in red for a loss. It is easy for me to see at a glance in the final table how we performed against all clubs every season.
I can categorically tell you that you are wrong in your claim that 'Everton have for the past twenty years never consistently gained points against lesser teams.'
Nearly every season is as I stated. Few, even zero wins v top third sides. Much healthier returns v the lower two-thirds. Outlier seasons are rare.
Even in the 3 managers season of Koeman-Unsworth-Allardyce in 2017-18 when Everton finished 8th. Against the 7 sides that finished above us - the soiled six plus Burnley (yes! Burnley. They doubled us that season), we didn't win a single game in 14 fixtures. Managed just four draws.
Of the 12 teams below us - 24 games - we had just 5 losses, all of them away from home, winning 10 and drawing 2 of our home games.
Your presumption is wrong, Jerome.
Tom Bowers
63
Posted 05/05/2021 at 15:29:01
I do agree with some that it has been a funny old season with many home teams coming up short and doing much better away. Everton, however, are the only team we are concerned with and, although they have gotten good results away, they have never really impressed as a top team. The only real decent performance was the first one against Spurs and maybe the Anfield one.
We all maybe thought after that first game that Carlo had arrived and there was the chance we may have a squad that will do things – duh!
So many games away that they won were nothing to shout about and even the cup games against dross like Rotherham and Sheffield Wednesday were very poor.
I think Everton lack a real leader, a driving force, especially in midfield, that can kick-start the offence. The woeful, slow buildup from Everton at the back is easy pickings for teams who press well and even the likes of Villa and Brighton do that well. If Everton use a long ball, it falls down because Calvert-Lewin and Richarlison often fail to control quick enough to hold the ball up.
Doucouré was great on occasions as was James but Gomes, Davies and Sigurdsson are off the pace too often. Other fringe midfielders are just not worth mentioning.
Without a new, class midfielder and attacker next season it will be just more of the same old crap.
Seamus has had his best days and I don't rate him as a captain but Holgate should be let go.
Jay Wood
[BRZ]
64
Posted 05/05/2021 at 15:34:20
Tom. This:
'The only real decent performance was the first one against Spurs and maybe the Anfield one. So many games away that they won were nothing to shout about.'
From my earlier list, I heartily disagree with your assessment.
Brian Wilkinson
65
Posted 05/05/2021 at 15:46:58
Barry@48, behave, how dare you post a sensible post, few of us have been calling for Nkounkou given a try on the left of midfield, last I heard by some, he is nowhere near ready, he must be absolutely shite if these players are keeping him out of the team.
I can only go off what I have seen in the cup games, against lower teams, but he seems strong, can take a player on, and put a decent cross in, sometimes you need to try a plan b.
Again if Doucoure misses the game, has to start with Davies, he is the only one who is prepared to take a player on.
Jay@49, if you want snide in the team, let besic earn his corn and give him a couple of runs from the bench, he will certainly put a tackle in,soften them up.
Barry Williams
66
Posted 05/05/2021 at 15:57:19
Brian Wilkinson - 65
Apologies Brian, I must be getting more sensible in my old age. I will try to be less so in future posts.
As said, he can cross a ball, is quick, and youngsters are often fearless and eager to please. The only guy putting in decent crosses on a consistent basis is Digne - so why not!?
Martin Mason
67
Posted 05/05/2021 at 15:59:31
But Carlo isn't free of blame. We have lost at times, and especially last Saturday, when the players just couldn't play the system that they were trying to play. In that case the buck stops with him.
Jay Wood
[BRZ]
68
Posted 05/05/2021 at 16:11:20
Brian @ 65.
You praise Barry for a sensible post, then close your own by suggesting we play Besic. Not a good look.
There is a reason he has not featured for Everton in the PL since August 2017.
There is a reason he has been loaned out 3 times in the intervening seasons - twice to Middlesborough, once to Sheffield United.
There is a reason nobody has taken him on loan this season.
Snide alone is not enough. He is crap.
Clive Rogers
69
Posted 05/05/2021 at 16:32:21
Jay, correct. Last season at Sheffield Utd he figured in the first nine games for them, but after that was never picked in a match day squad for the remainder of the season. They had seen enough and realised he was not up to it.
Dave Abrahams
70
Posted 05/05/2021 at 16:35:54
Barry (56),
I'm not trying to be funny, but what was the conclusion of that coaches look at the way we were playing with the two different systems?
To me, it sounds like the less we did, the worse we were – is that what he found?
Brian Wilkinson
71
Posted 05/05/2021 at 16:36:14
Sheff Utd wanted to keep him, but had to let him return, due to the Panademic.
In regards to Boro, they loaned him for a second season.
He had a lot of hamstring injuries at Everton, that blighted his game time, but still managed to be Everton's player of the Month, on his return, before further injury.
I would not go as far as to say Besic is crap, just never been given a run, after he returned from injury. When Allan and Doucouré are out of the team, he is the only one who will put a tackle in (along with Davies).
Playing him in defence, like we did during his final appearances, was not the answer; the rest of our midfield is too soft.
Dave Abrahams
72
Posted 05/05/2021 at 16:38:40
Brent (44), no... never got your message, is it important?
Alan J Thompson
73
Posted 05/05/2021 at 16:42:53
We all seem to be concentrating on how to string two passes together when we rarely have enough players forward to take a pass or make any sort of movement to create space. We usually end up, as we seem to have done for most of our recent managers, playing the out ball to Digne and, when he's playing, Coleman.
What happened to what used to be known as "Scouse football" (a phrase picked up from a couple of associates who played with West Brom and Bury) of the 5-yard pass and move game until something better appeared? Somebody was pulled out of position, or a 1-on-1 was set up. It doesn't need the speed of Usain Bolt but does require almost consistent movement – in short, an engine room of a midfield.
Jerome Shields
74
Posted 05/05/2021 at 16:44:16
Jay #62,
You are right: I made an assumption. Thank you for the information to prove otherwise. I was going by statistics I had seen in relation to Wegner's tenure which proved that was the reason Arsenal had been able to consistently achieved a Top 4 place, though not to challenge for a Top 2 place, after early years success. I had therefore assumed that the opposite was the case in Everton's failure to achieve the same.
Everton have been erratic before Ancelotti.
Clive Rogers
75
Posted 05/05/2021 at 16:45:36
Comments stating that the players are not determined enough and need greater motivation are wide of the mark. They are just not good enough, that is the problem.
Take Iwobi, for instance. It is obvious to me he is trying his heart out to make an impression, but his net effect on the game is nil as he can't shoot, cross or pick a final pass.
Sigurdsson apparently is covering 7 miles per game, but when tracking back he never gets a tackle in. He just can't tackle.
Our two strikers can't be faulted for effort, but have no interaction. Very rarely does one pass to the other. The are just not the right combination.
Barry Hesketh
76
Posted 05/05/2021 at 16:50:21
Dave @70,
It seemed to me, and I'm far from certain, that the fitness bloke seemed to be saying there was an improvement by the centre-backs in whatever metric he was measuring? It may also explain why Mina and Keane are left out of the starting eleven on occasion. But seriously I have no idea what significance his data has on the team or the centre back pairing in particular.
Like, most fans, I can only go on the evidence of my own eyes, and so far this season, I'm at a loss to explain the up-and-down nature of Everton's performances. Sorry I couldn't be of more help.
Jay Wood
[BRZ]
77
Posted 05/05/2021 at 16:51:29
Sorry, Brian. You're kidding yourself.
Besic was Player of the Month in January 2016. Do you know how many times he played for Everton in the PL in the FIVE YEARS since then?
Eight. 350 minutes. Not even equal to 4 x 90 minutes.
Including custodians Everton has had eight different managers in that time. Not one of them wanted him around.
He's crap. Accept it.
Brent Stephens
78
Posted 05/05/2021 at 16:57:31
Dave #72. Nothing important. It's just that I had an idea you might like and I asked Lyndon if you could email me. Maybe Lyndon hasn't got your up-to-date contact details??
If you want to contact Lyndon with details of how I could contact you, he could pass them to me:
lyndon@ToffeeWeb.com
Or just contact ToffeeWeb - details at bottom of ToffeeWeb homepage.

Dale Self
79
Posted 05/05/2021 at 17:03:06
Disclaimer: this is an attempted piece of football analysis by your Retarded American Football Friend.
The problem is of many dimensions but starts with the attempt to win games with a slow squad by reducing the exposure to transitions. Pep alluded to this being a concern for him in the interview for the first leg vs PSG, it is a thing coaches consider. Once seeing some success at being able to get some points on minimum physical expenditure (which was also a small squad consideration) Pickford lost form and the bottom fell out.
At that point, you had a scramble for tactics with whoever happened to be available to play, which gave Carlo a chance to steal a few more points with some clever set-ups. Without having the regulars to get back into form, we were inevitably going to have all of our outball options suffocated in midfield due to lack of pace. Given the constraint of the squad, Everton have been erratic but hardly calamitous as some would characterize.
Here, I think you see Carlo starting to get at their professionalism and we may see some talk about training. Maybe there is an expectation of seasoned veterans that is being communicated here but, at a minimum, it seems to be an issue that will be addressed in pre-season. He seems to be laying out his take on what went wrong, that along with Seamus' interview gives me the impression that some players were expected to come thru and are now being informed of that.
Thomas Richards
80
Posted 05/05/2021 at 17:07:55
Expect a letter by return Brent.
Via pigeon post 😁
Mike Gaynes
81
Posted 05/05/2021 at 17:10:52
Dale, who told you that you could assume my title as Retarded American?
Brent Stephens
82
Posted 05/05/2021 at 17:10:57
Thomas- or man with forked stick?!
Bobby Mallon
83
Posted 05/05/2021 at 17:30:13
Does anybody know how many players are out of contract at the end of this season?
Richard Lyons
85
Posted 05/05/2021 at 17:33:32
Clive #75, that's spot on - the team is not good enough and it's as simple as that.
Barry Hesketh
86
Posted 05/05/2021 at 17:36:59
Bobby @83
I know that Besic's contract ends this June, as I looked it up on TWs Editors very useful [Players] section.
Tony Everan
87
Posted 05/05/2021 at 17:52:38
Bobby...some selected players ;
Besic, Walcott, Bolaise, Sandro – Big earners, who may still be getting subsidised, will be gone for good next month.
Another year for Sigurdsson, Tosun, Delph, Bernard ... Four more huge earners.
Another 3 years for Gomes, think he got a 5-year contract. Iwobi another 3 years as well.
I think they are still deciding about whether to give Gylfi another contract.
Don Alexander
88
Posted 05/05/2021 at 17:53:53
The quotes yesterday from Francesco Mauri, our Head of Conditioning (and I don't think he means hair do's) are gobbledy-gook to me;
"This year I did a study on the metabolic power of the central defensive units to try to understand if this data correlated with the type of game we had prepared, and indeed it did.
"After an initial period in which we played 4-3-3, we changed the game system and decided to adopt a more defensive attitude, playing lower, and we saw that in these games our central defenders expressed very low metabolic power compared to those in which we had a more aggressive attitude."
OK Francesco, for those of us thicko's more attuned on here to mega-bollox, just what does your discovery of the expression of the metabolic power betwixt when we played 4-3-3 to when we played lower (with less aggression - "less" becoming regularly "absent" at home IMHO) mean in terms of what we have to endure at our home please?
Grazie.
Tony Everan
89
Posted 05/05/2021 at 18:11:41
Don,
Maybe it is to do with hair. There is some fine, top four standard haircuts on the field.
How about a "Head of Passing", a "Head of Controlling a Football", a "Head of Don't give the Ball away to the Opposition Striker when Chewing Gum", a "Head of Closing Opponents Down" or a "Head of Midfield Attacking"???
Sounds like the fine detail is well developed, shame about the basics.
Jack Convery
90
Posted 05/05/2021 at 18:15:07
You can't make a silk purse from a sows ear.
If you're not a pigeon don't eat corn
Rome wasn't burnt in a day
Don't try hang gliding in a cross wind
Turkeys would never vote for Xmas
Expect to be disappointed if you trust EFC
Jerome Shields
91
Posted 05/05/2021 at 18:22:45
Don #88,
It seems to me he means to be saying when Everton stood around defending, players used less energy when pushing forward, which is common sense really. I don't really know why or for what purpose he would have to study metabolic power to find that out, since increasing their metabolic power while standing around would mean that they could only go one way. . . . ie, take-off.

Barry Hesketh
93
Posted 05/05/2021 at 18:28:30
Jerome @92
I think you're right, but a simple "less is more" statement would have sufficed from Mauri. I also think that comparing ordinary mortals to Christian Ronaldo is a bit of a stretch too.
Looking deeper into Mauri's interview produces a link to a Cristiano Ronaldo quote, and how he managed to bring to Everton and a way to change their centre-backs in particular.

He added: "'Too much water kills the plant'. Yes, it was a phrase he [Ronaldo] used to say to the staff when he thought the load was too important that day.

"This sentence by Cristiano confirmed what we thought about the performance model of football, that is to rely more on intensity and less on volume.

"There are players, like Cristiano, who have an important physicality, but if you look at the volume data (GPS distances) you will realise how often they are very low compared to other players. Yet in the game he is often more than performing.
Dave Abrahams
94
Posted 05/05/2021 at 18:32:38
Barry (76), thanks for replying, like you I'm none the wiser, except Everton fans think Michael Keane plays better when we defend deep, we certainly concede less goals, but the goals scored dry up.
I'm old fashioned and stats and such bore me to tears, but I do know when a player has a good game or a poor one, it's just another old fashioned idea of using your eyes or if they make you cheer or swear when they are on the tv.
Tony Everan
95
Posted 05/05/2021 at 18:42:01
Dave, I've been swearing a lot, sometimes now when the footy isn't even on.
Barry Hesketh
96
Posted 05/05/2021 at 18:47:31
Tony and Dave,
Perhaps, Everton should have a Director of 'Fume' at Goodison and an App that measures the fume of Evertonians at the match and watching on TV.
Jean Le-Messurer the Director of Fume has concluded that the fans and viewers seem to be asleep for most of the match but when Carlo starts using his substitutes, the vexometer reaches unprecedented levels, the club is doing everything in its power to keep the fans onside, however, getting rid of the lazy gits in the squad is no easy task!
Dave Abrahams
97
Posted 05/05/2021 at 18:55:56
Tony (95), I can help you with the swearing even when there is no footy on the box, if you are an RC the church is hearing confessions from May 17th, even for venal sins like swearing, if Boris Johnson is on the box when you swear it's not a sin it's compulsory.
Barry, that would be a full time job with plenty of overtime.
Chris Williams
98
Posted 05/05/2021 at 19:05:22
Dave,
If you swear at Boris you are granted Plenary Indulgences. Do it twice and you go straight to Heaven, avoiding Purgatory.
Given my swearing at him, I'm guaranteed Sainthood!
Dave Abrahams
99
Posted 05/05/2021 at 19:08:41
Chris (98), didn't know that Chris, what do get if you butt the tv when the bastard's on?
Chris Williams
100
Posted 05/05/2021 at 19:10:23
Dave,
That's the 11th Commandment. It's compulsory. If you do it habitually they make you Pope!
The local elections looking a bit dodgy tomorrow. Give the telly a good butting tonight, and excommunicate the bastard!
Dave Abrahams
101
Posted 05/05/2021 at 19:15:40
Brent(78) Take no notice of Thomas (80), the pigeon's sick at the moment.
Seriously I'm not ignoring you, I've tried to get in touch with Lyndon to give you my Email address but I really am illiterate when it comes to simple things like that,when my grandson comes I'll get him to help me out, but he's Tony's son, so he might not be much use either. It's a hard life Brent isn't it!!
Brent Stephens
102
Posted 05/05/2021 at 19:19:07
Sons, Dave, who'd 'ave 'em! Especially that Tony lad. I pity you!
Bobby Mallon
103
Posted 05/05/2021 at 19:19:15
God, we are stuck with a lot of shite.
Brian Wilkinson
104
Posted 05/05/2021 at 19:22:37
Sorry Brian. You're kidding yourself.
Besic was Player of the Month in January 2016. Do you know how many times he played for Everton in the PL in the FIVE YEARS since then?
Eight. 350 minutes. Not even equal to 4 x 90 minutes.
Including custodians Everton has had eight different managers in that time. Not one of them want him around.
He's crap. Accept it.
That's looks interesting reading to your point Jay.
Yet in the time frame you mention, From August up until March 2016-2017 he was out injured, then in the 2018-2019 season, he was loaned out to Boro in the January window where he made 15 appearances for them, with Boro then extending his loan the next season, where Besic played a further 37 games for them.
On his return to Everton Sheff utd requested a loan for the player, where he made a further 9 appearances, only for his loan to be cut short, due to the Panademic, since then he has not had a sniff in an Everton shirt.
So yes 8 games for Everton in five years does add to your weight, until you take the injuries and loans at other clubs.
In the next breath then how can you base on someone being crap, who has only played 8 games.
You can honestly say hand on heart, Gomes, Iwobi, Siggy, are far superior players to Besic, not that I am saying Besic should be kept, far from it, but what I am saying is, we are paying his wages, the other players mentioned in large parts have been disappointing, so why not at worst, give Besic some bench time, something different from the bench, for a change.
If you can come to the conclusion to someone being crap after 8 appearances in 5 years, then on your basis, Gbamin must be shite, he has only made a handful of appearances, same with Branthwaite, sent out onloan, not their fault that injuries and loans out have hampered their chances of playing for Everton, but it is no different with Besic, he has just not played enough games for Everton.
You can only make more appearances for Everton if you are not out injured, or not loaned out to another club.
We will never know with Besic, but the short time before his injury, I thought he had a bit more about him, than some of these slackers in midfield.
I see the value in trying something different, fair play if you think the guy is crap
Dave Abrahams
105
Posted 05/05/2021 at 19:23:38
Chris (100), there must be a few million Popes in the world Chris.
Thanks for reminding me about the local elections tomorrow, along with votes for new Lord Mayor, Merseyside Mayor, Police Commissioner, although I'm not really bothered about the last three to be honest.
Paul Birmingham
106
Posted 05/05/2021 at 19:25:31
Hopefully this is tending to the end of season, summary.
Frustration for the management team and the pergatory of Evertonians.
The agonies and a few shots of welcome Hope topping up the wells of hope have made this a very frustrating season.
The frustrations of preventative self inflicted mistakes on the park has been the Achilles heel of this Everton squad.
Carlo and his staff know that they've got some serial lazy gets, whom are taking the proverbial, to record highs, even by Everton's recent standards.
Getting the squad balance and getting players whom genuinely want to play for and respect Everton is key.
The dilemma is now can Everton make the cut for a Euro campaign?
All to play for and West Ham, which in days gone by was Evertons best London away ground for results, in recent times, needs to name sure this Sunday they get the win which is needed.
Moyes will want to stick one on Everton, I hope Everton smash West Ham, on the park, and to do so, I hope the players selected give their all.
If Seamus starts this is the game he must control as a captain of his team for 96 minutes.
No more excuses, Everton's erratic form means they can win this game.
The whole team, must be solid, focused and believe, no more Sunday morning ale house mistakes.
Belief is everything, let's hope so.
Tony Abrahams
107
Posted 05/05/2021 at 19:26:14
I don't want your pity, Brent, because I've just got to get on with things unfortunately mate!
I always thought there could be a player in Besic, but if ever a player has royally took the piss, I don't think many have done it more blatantly than this Mo Besic, who appears to be everything that is wrong with the modern game.
Chris Williams
108
Posted 05/05/2021 at 19:27:17
Brent Stephens
109
Posted 05/05/2021 at 19:29:39
Dads eh, Tony. Who'd 'ave 'em!!!
Eddie Dunn
110
Posted 05/05/2021 at 19:31:04
Clive @75,
Good point on the front two, it is clear that usually neither manages to find the other.
However on the motivation versus just not good enough question, they have played games where they have done well...at Anfield, at Leicester for example. So it can't be that they are just crap players, they are just crap as often as they are decent.
Sigurdsson v Spurs is the perfect example. He was brilliant and took a super penalty and finished with such aplomb for his second. He was motivated.
Thomas Richards
111
Posted 05/05/2021 at 19:31:15
Dave,
Do you want to borrow my pigeon?
Dave Abrahams
112
Posted 05/05/2021 at 19:33:04
Brent (102), re Tony (107), See what you've done now, you just can't keep it to yourself, can you?
Bobby Mallon
113
Posted 05/05/2021 at 19:33:06
Tom Bowers, I disagree. Leicester, Leeds and Man Utd were all great away performances by us.
Dave Abrahams
114
Posted 05/05/2021 at 19:35:50
Thomas (111), Thomas don't you bleedin' start, I'm off to read a book!!
Bobby Mallon
115
Posted 05/05/2021 at 19:36:11
Don @88.
He means when we play with a back four that sits back, they don't run as much because they are slow. When we play a higher line, they have to run more and expend more energy.
Thomas Richards
116
Posted 05/05/2021 at 19:38:24
https://www.britannica.com/biography/Walter-Pidgeon
Good book Dave
Tony Abrahams
117
Posted 05/05/2021 at 19:44:23
He might be deaf Brent, but he can still read yerknow!
Barry Williams
118
Posted 05/05/2021 at 19:54:38
Brian Wilkinson - 104
Besic is a bit of a mystery to me Brian. We registered him in the squad, had a spate of injuries, 2 goalkeepers on a bench of kids, with space to spare, and he wasn't even considered then. Is he actually at Finch Farm? He doesn't play for the under 23s and as far as I know, he isn't injured!
As said, a weird one and a mystery!
Brent Stephens
119
Posted 05/05/2021 at 20:00:48
Respect for yer father, Tony!
Brian Wilkinson
120
Posted 05/05/2021 at 20:02:28
This is what the Sheff utd fans had to say, who managed to see Besic play football.
However, with the global pandemic taking its toll on all things football related, it seems United have made the decision not to extend the Everton man's loan.
It comes as a bit of a shame for Besic. He's predominantly liked by Blades fans, who have been quick to point out his work-rate and aggression as key factors of his performances for the club.
It's no surprise, then, to see plenty of Unitedites reacting on Twitter to the news that Besic has left the club.
Always gave 110% and work rate and tackling unquestionable.
Big mystery to me as well Barry.
Jay Wood
[BRZ]
121
Posted 05/05/2021 at 20:39:41
Brian, you continue to peddle a myth.
Earlier, you portrayed Besic's second loan spell to 'Boro as something virtuous, as evidence of being wanted.
This overlooks the FACT that Everton wanted rid. As they have done for four years now. A deal and fee was in place. The player's terms agreed. It collapsed at the midnight hour on transfer deadline day because of a disagreement on the fee his agent would receive.
Boro signed him on loan a few weeks later just before the window for such deals closed. He did not impress as much the second time around and Boro did not take up the option to sign him having had two seasons to look at him.
At the Blades, he was again signed on loan on transfer deadline day. The following is a complete record of his playing time with them last season:
The only time he got 90 minutes for them was in 2 FA Cup and 2 League Cup ties when typically PL managers play weakened teams.
In the 29 PL games he was available for selection with them, he was not in the squad for 5 of them, an unused sub in 14 games, started but never completed just 2 games and got on the pitch as sub for 7 games. His nine PL appearances for the Blades amounted to just 245 minutes. 150 minutes of that time in the 2 games he started. Less than 3 x 90 minutes in total in 29 possible appearances.
Like Boro, the Blades showed no interest in either a permanent transfer or even another loan.
There is nothing weird nor mysterious that Besic wasn't selected even with the recent injury crisis which saw multiple academy players aged 16-19 on our first team bench.
He's crap, hasn't had a 'present' with Everton for four years and most definitely doesn't have a future.
Dave Abrahams
122
Posted 05/05/2021 at 21:51:46
Thomas (116), back again, Chelsea just scored their second, tie over.
I've read that Walter Pidgeon biography, dies in the end doesn't he !!
Brian Wilkinson
123
Posted 05/05/2021 at 21:52:59
No question he does not have a future at Everton Besic.
Not even saying the player is a must, however still not had enough game time and could certainly have been a sub, instead of naming one less sub and two goalkeepers.
Has he got the right temperament, or showing up as not up to scratch in training, if that is the case, then Iwobi, Siggy and Gomes must be showing up as world beaters on the training pitch.
Still not had enough games in an Everton shirt for me to say he is crap
He will be one of the first players snapped up, when we release some who have contracts ending in the summer, that you can be sure of.
We both have differing opinions so I will leave it at that.
Derek Moore
124
Posted 05/05/2021 at 21:57:13
We have scored eleven goals in our last twelve league games. With the door to Europe as open as it's going to get we managed to take
fifteen
points from a possible thirty six - incredibly, including a very rare win at Anfield and a first ever league win at the Emirates.
For the last third of the season basically we've been generally bang average, and worst of all, we've been so when the opportunities were brightest and the stars actually somewhat aligned our way. (If I live another fifty years I doubt I'll see us win a game at Arsenal again like we did the other week - home pen disallowed by an inch and a GK OG FFS).
In fact if you take the hot start away we'd be battling the mighty Wolves for twelfth or so. That puts it into perspective a little bit.
The away wins painted over the cracks somewhat; the great start gave us a buffer that we've now entirely frittered away. Realistically, we should have pissed it in to a champions league spot. Now there's a small chance we'll see Moyes of all people claim it. Our chance is all but mathematically gone now.
During an entire third of a season when it really mattered this lot blew it. Looking at it in hindsight and a little more objectively, you have to be honest and say we were nowhere really. Yet again.
Sadly, it wasn't "close but no cigar". It was really more like "not good enough, never good enough."
Or even "fool me once, shame on you. Fool me for the thousandth time and you know you're an Evertonian".
Ancelotti took this group further and deeper than any of his predecesors did, and indeed there's still I suppose a mathematical chance of Europe. I've given him the credit for this, I think he got close to as much out of these jokers as anyone would have.
But that's the problem, and one most everyone here on the thread has agreed with. The jokers we have.
Without big changes to the squad I can see the start of next season resembling the last twelve league games output. And with crowds back at the grounds things could go very very toxic very very quickly. Things surely must change at the end of the season.

It's up to Brands now to somehow, someway get this club moving again. This is an enormous summer, complicated as somone noted above by the Euros. If this chance to move forward gets wasted it wuld take a fucking new super league to make us relevant again. That's how high the stakes are IMO.
More Godfreys needed Marcel, just about all over the park. Hope he has a long list of targets and one hundred million in a directors loan. But this is Everton. As high as the stakes are, it's hard to allow my expectations to rise. In fact, I'm apprehensive AF.
Another Walsh style disaster of a spending spree and we are fucked for probably fifteen years or more. (Taking into account the BMD debts going on the books). But this is Everton of course, so what could possibly go wrong?????





Thomas Richards
125
Posted 05/05/2021 at 22:01:10
😂😂
Tony Everan
126
Posted 05/05/2021 at 22:10:59
Derek, I have to agree that the away wins will disappear faster than the home wins will recover. The quality and standard of the football we are playing will dictate that.
However, the season is ending and Carlo has seen enough. There is no way on gods earth a man like Ancelotti will be wanting to start next season in the same vein, with the usual suspects only to choose from.
I think he will lay it on the line to Moshiri that he needs three or four top quality young players or he is off. He'll likely be offered a very good Job on the continent somewhere over the summer and may well take it.
Jay Wood
[BRZ]
127
Posted 05/05/2021 at 22:20:16
Brian, this:
'Has he got the right temperament, or showing up as not up to scratch in training?'
All those training videos we see every week. Ever seen Besic training with the first team under Carlo?
How many non-appearances for Everton in the last FOUR YEARS do you need to 'see' before understanding there is a reason he doesn't 'get a chance'?
Justin Doone
128
Posted 05/05/2021 at 22:34:10
Carlo is not the only frustrated Evertonian. I'm frustrated he considers Delph worthy of coming on.
I actually felt in the second half Gomes and Iwobi played some of their best football of the season / long time.
Wining the ball back, holding off challenges, stringing a few good passes together and moving the ball forward (mostly).
King looked lively, a few good touches and created a couple of chances. He's too good not to start but I'm guesting the lack of opportunities stems from his strange short term contract situation.
Put it another way, he does more in the attacking 3rd than Iwobi and Bernard put together.
Frustrated yes, stupid no. Carlo has my backing.
Jerome Shields
129
Posted 05/05/2021 at 22:37:59
Barry#93
It seems to me that if Mauri was speaking italian he would simply say in his further deliberations the Italian equivalent of 'Quality rather than Quantity'. I have come to conclusion that Mauri has a problem with Simple English.
Easy reference your Mauri quote:
He added: "'Too much water kills the plant'. Yes, it was a phrase he [Ronaldo] used to say to the staff when he thought the load was too important that day.
"This sentence by Cristiano confirmed what we thought about the performance model of football, that is to rely more on intensity and less on volume.
"There are players, like Cristiano, who have an important physicality, but if you look at the volume data (GPS distances) you will realise how often they are very low compared to other players. Yet in the game he is often more than performing.
Justin Doone
130
Posted 05/05/2021 at 22:39:17
I can't believe it's turned into a Besic conversation.
His injury about 7 years ago ended his potentially good Everton career.
He lost his pace, never recovered his fitness and plays like a hatchet man from the 70's.
A shame, but he's simply not good enough for the Premier league and needs moving on.
Mark Cranney
131
Posted 05/05/2021 at 22:53:19
Type or paste your comment here. PLEASE capitalise initial letters of proper names and use proper grammar. No txt-speak; all-lowercase posts are likely to be deleted
Jay Wood
[BRZ]
132
Posted 05/05/2021 at 23:01:20
Tony @ 126, this:
'the away wins will disappear faster than the home wins will recover. The quality and standard of the football we are playing will dictate that.'
Not if we contine to replicate both the doggedness and the quality we displayed in the wins at Spurs, Liverpool, Leicester, Arsenal, Palace, Sheff Utd, Wolves, Leeds, WBA and Fulham that you wish to dismiss out of hand. All fully merited.
And on what evidence do you make the presumption Carlo will be off in the summer with an offer from the continent when everything he says suggests the contrary, that he is looking to stay at Everton BEYOND his current contract?
Mark Cranney
133
Posted 05/05/2021 at 23:06:38
Figures don't lie
Forwards 21 goals 15/6
Midfield 15 goals 6/6/2/1
Defense 7 goals 3/2/1
Forwards need to be around the 15 plus in my eyes... only DCL pulling his weight
Midfield must be around the 10 plus
Only 6 apiece from James and sigi poor
Defense we have some height yet fail to target big aerial figures.
Look it's been yet again interesting season and fans do make a massive difference, but some players will move on and hopefully we will bring in more Carlo like players. Goal scoring players can't win every game 1 nil and hope they score an og when we are playing bad.
Dark have been our dreams of late but I keep believing on that ray of light.
John Boon
134
Posted 05/05/2021 at 23:15:09
In responding to Michael Kenrick's latest report I had indicated that supporting Everton faithfully and NEVER giving up is really admitting that you have a disease. I realize that I have the disease and that I have had it for over seventy years. I had indicated that there were a number of symptoms such as Extreme anxiety that lasts for the entire season, but becomes even more erratic, insane and leads to anger and frustration for 90+ minutes every week.
I did also indicate that it also leads to those afflicted by "Evertonianism"to become delusional. Having read Michael's latest article and ALL the posts, I now have absolute proof that such a brave statement regarding many well meaning, intelligent Evertonians is TRUE
(1)Rennie (30) "Holgate has all the skills ". I am sure you mean in regards to swimming, ice skating, cooking, or falling over. but surely not "Football"
(2)Robert(50) "Silva failed because he lost Zouma and Gbami got injured". Silva failed because he was a lousy coach and the only thing he lost was his coaching brain
(3)Barry(53)..."Where is Freud when you need him?", Do you mean the "Proffesor" or did he play right or left back for some team in the German League?
(4)The many many many Evertonians who have become so delusional to the point that they even take time to bother mentioning "Besic's" name in ANY post. Dave Hickson is more relevant to the discussion and worth far more time in regards to importance to Everton. In fact so am I, and I merely supported them.
(5)I myself am delusional to the point of supporting Everton
YES I have the disease in its most severe form. But having watched Man C and Chelsea over the last two days I can be as sincere as I am able to be by admitting that we would have to sign at least 14 players to get anywhere near them. I KNOW we did beat Chelsea but By far the BEST and most sensible post was by Thomas (125). Just try to find what is MOST irritating about Everton and just SMILE because you are irrational, delusional and just a plain DAFT EVERTONIAN
Brian Wilkinson
135
Posted 05/05/2021 at 23:15:45
Right let's move on from Besic, in other news no away fans will be able to attend any of the remaining matches this season, confirmed by the Premier league.
So that should give Everton 10,000 for their final home game, crazy how the crucible was able to have a full house for the snooker, and that was indoors as well, might be pushing it for 20,000 but sure 15,000 could have been possible, for our final home game.
Still all being well, we could be up and running, with a full Goodison, for the new season.
Robert Miller
136
Posted 06/05/2021 at 00:29:02
Our midfield is the biggest problem.
All the more frustrating since we've blown a gazillion on no.10's.
No-one creatively controlling forward play but also no-one in first line of defence.
Is it just me or does anyone else really wish we had a Tommy Gravesen in the middle of the park making his presence felt on everyone else on the pitch.
Don Alexander
137
Posted 05/05/2021 at 00:59:10
There's speculation above, again, and rightly, on just why the current squad have managed to make such a cock-up of CL/Europa qualification in this strange season.
The last time this happened was in Bobby Brown Shoes' first season.
I said then, and I say now, that the football world of agents and their slightly less than top-notch players is to me incestuous. They all want the best possible return from their contract and lil' ol' us, who well-know our 'istory is way above the likes of Leicester, West Ham, Spurs and others, are identified as paying the topp-est dollar for nearly-men that top teams have no interest in.
Thus they've signed for us/the Teary One on exorbitant contracts they know they'll never better, and if a season ever arrives where European qualification MIGHT mean their contract might not be renewed they understandably, but selfishly, look after number one and to hell with the club and its fans.
The very last thing they want is European qualification where more money might allow better players to be signed in their place.
It's been the nature of football since every Premier League player becomes a millionaire every season his contract exists. The agent says, "We're on a right little earner lad, but I've had no enquiries for you, so just do us both a favour and spin it out without jeopardising the gravy-train!"
Their attitude is mega-bollox and deplorable (and "metabolics"/pass completion/miles run are all irrelevant in this selfish mind-set).
Hopefully Mr Brands agrees and is given the funds this summer by Mr Moshiri to actually begin to instigate, with sales and signings, the latter's five-year old ambition to have delivered European football to us within three years, albeit now two years too late, and counting.
I ain't holding my breath though.
Brian Murray
138
Posted 06/05/2021 at 01:37:44
Din 137, Said many times no wonder ex and currant players hang on for dear life here. Case in point Luke garbutt just married a scouse girl I half know. Says he's set up for life for hardly kicking a ball. I hate this club as much as it's in me not to turn away because of what it does to you. I would even settle for getting rid of the likes of siggy gomes iwobi Bernard and starting from scratch even if we struggle to replace all of them. That's an ideal world ( my world ) Just choca we have to put up with ex players managers sons or brother now great servants getting jobs for life probably because it's so much easier than actually getting proper qualified people here. Let's hope I have it completely wrong and we are on the cusp of a great summer and beyond. I fear this is all a bit too much for Carlo. No wonder renowned firefighter Trevor birch walked out after two minutes. Baicalyjust Fck off Everton and try even acting like pros
Brian Murray
139
Posted 06/05/2021 at 01:44:56
John boon post 134. No amount of morphine would take away the pain and shite these have put us through year after year. Do you know and Nevada desert type areas for a shallow grave ( goodfellas) As I stalk goodison car park with chloroform soaked hanky hoping to bump into the emotional one, Just joking lads ! Sort of.
John Boon
140
Posted 06/05/2021 at 02:29:37
Brian (138)
You don't need the Nevada Desert. Your own backyard is a far more handy bet. Hopefull you will have some close relatives or friends to help you with your decision. BUT the best therapy is a win at West Ham. This gives you a few more days to accept that you have the fully developed "Everton" disease.
Don't be too hard on yourself. You are not alone as at least 60,000 people are similarly affected. If you are really confused just look at the picture of Uncle Carlo at the top of this article. He is obviously completely bewildered and in urgent need of care. Remember even though he has coached all around the World he was never ready to deal with 39,000 anxiety ridden, very hostile, angry scousers every other week. I would not be surprised if he was writing to all those "HELP" columns in the Dailies.
PS. If you do decide to go to the extreme, be it the Nevada Desert or your back yard could I have your season ticket for 2021-22 ? You could have even your name engraved on the seat.
Kieran Kinsella
141
Posted 06/05/2021 at 03:27:34
Derek Knox/John Boon/Derek Moore/Brian Wilkinson
You're right I don't imagine Sig reads ToffeeWeb but I've good reason to believe Michael Ball does. As far as my break from ToffeeWeb..: as John Boon rightly said, easier said than done. A few other folks posted about leaving so to be clear. I love Everton and always will. I love ToffeeWeb and have religiously checked it for 20 years. I liked Gerry Ring and Sean Kelly as posters but I'm unsure what they meant about the "clique" on here. Above all, after a few days away I'm delighted that Brian Wilkinson with reasonable points about Besic is now viewed as "controversial." My issue was I was getting tired of having to defend my credentials to dare to offer an opinion to some other fans. Lyndon and Michael do and have done a fantastic job offering this forum for 25 years. I also look forward to attending a ToffeeWeb get together and meeting the Abrahams, John McFarlane, Mike Gaynes (maybe), my Tayside brethren Derek Knox, Colin Glassar, Brian Williams, Dale Self, Rob Halligan, Brent, Thomas, Danny O'Neill, even the miser Tony Marsh, and although I cannot make the golf meet up from Kansas City sadly. But next time
Brian Murray
142
Posted 06/05/2021 at 04:08:12
John boon. 140 jeez kidda would you like to jump in my grave faster. I'd hate to leave a bevy unattended with you about 🤩, Imagine if you had a season ticket this year would you still be so kind sitting through shutting up shop or trying to against the mighty saints or whoever. As kid in the 70 s I didn't think twice not going, same with the 80s and didn't really grasp that them crowd changed our complete landscape in 85. As for the 90s and beyond I'm forever putting on the black cap and slamming the wooden hammer down on it all. Can't quite do it. Did t know the hms titanic had so many life boats. Still clinging on just. Repeat just in case.
John Boon
143
Posted 06/05/2021 at 05:37:20
Brian (142) All in humour. I agree it could be considered as a little dark, but the intent is not to harm. I try to hide my sincere disappointment with present day Everton with humour. Sometimes it may not be seen like that by the recipients who may see my take on Everton's plight as mean and vicious.
Not in any way really. I just have to think that supporting Everton is in many ways ridiculous and I myself must also be "NUTS" for following such a totally unpredictable team. I assure you I get just as angry as any staunch, long lasting Evertonian. However I can see the idiotic side of my own irritation. WHY should a football team have such an affect on my life ?
My own long suffering wife, who is NOT a football supporter in any way,probably aids me in recognizing that Everton play far too much of a role in my life. However I know, as previously mentioned, that I have a disease that is ridiculous, but also incurable and will be with me for ever..
You were the one who indicated that you were considering a self burial in the Nevada Desert. I was merely looking for other options. Why not the Sandhills near Ainsdale ? Much closer. AND... once more look at the bewilderment on Ancelotti"s face. Of late surely he may be thinking of similar options, and he lives close to Ainsdale.
I sign off with a smile on my face, not a smirk, and a sincere apology to all Evertonians who don't think there is anything to laugh about. Brian I withdraw my request for your season ticket, but a bevy sounds far better. You buy the first SIX and we will go from there.
Brian Murray
144
Posted 06/05/2021 at 06:54:35
Ha ha John I knew I had you sussed now don't go setting off the fire alarm when it's your round. Id love to sign off and say see you at the san siro or Wembley. Might have to settle for the brick oak Winslow, delete where appropriate! Anyway let's hope uefa at least show some teeth and so them shiesters next derby is v tranmere. Now that's a happy dying mans last request eh. Not that I'm I'll touch wood
Tony Abrahams
145
Posted 06/05/2021 at 08:59:03
A chloroform soaked hanky for the teary one Brian? Who's paying yer mate? because after all the suffering we've had to put up with because of "our saviour" I can't believe you're prepared to be so easy on him.
I'm still waiting to see if he gets a stand named after him at BMD, or to see if he's ring-fenced a little plot for a statue, because that's our problem Brian, we are way to nice, even when we want to murder someone!
Tony Everan
146
Posted 06/05/2021 at 09:04:59
Jay 132
They were dogged away wins, but I don't have much confidence at all that they would be replicated next season without serious improvements. I think Carlo will lay it on the line with Moshiri that he needs three or four quality reinforcements, without which the 'project' will be severely destabilised. I think if he feels if he cannot strengthen as he would like he may well consider alternative jobs rather than going through the motions and flogging a dead horse. I don't think he is a man motivated entirely by money. I think he desperately wants to succeed here and needs to be given the tools necessary to do that.
Brian Murray
147
Posted 06/05/2021 at 09:11:50
Tony 145, ehh I've been banned on here because of last curtain Larry before so was trying to be diplomatic. Didn't mention I'm a builder and under my patio tells a lot about me !
Martin Mason
148
Posted 06/05/2021 at 09:18:23
Watching the European cup games this week I'd say that City and Chelsea are not within our reach at the moment but are in a different league. Can even 3 good buys change this? I doubt it.
Christopher Timmins
149
Posted 06/05/2021 at 09:22:24
Last night's Champions League game showed how a team full on players on the wrong side of thirty just got washed away by a younger, fitter and more aggressive team.
We need energy and creativity in the midfield sector and pace on the right. If we must add another 30 something to the squad let it be Sergio as back up to DCL.
Bobby Mallon
150
Posted 06/05/2021 at 09:27:13
Martin, those clubs are catchable, getting the right playing staff is the key. Those clubs have a different mentality. Do you think they would still have Gbamin on their books or be dithering about giving sigi a deal. No they would have got rid as there is no sentimentality at those clubs. If we have any hope of getting close to them it's not recruiting the bales of this world, it's getting the Havertz Werner's pulisics of this world. We need to start being ruthless.
Jerome Shields
151
Posted 06/05/2021 at 09:29:39
Jay#62
The fact that Everton seem to not perform well against lesser teams i. e miss the chance of position gaining points, every season. There could be a correlation when trends are compared wiith with Wegners Arsenal. The reason this season for Everton not being in tbe Top 4 is because of not performing against lesser teams. It's common sense really. In analysing results it is better to do comparative analysis to identify trends.
Ref my post#129
Rather than saying Mauri has Problems with Simple English I should have said Problems expressing himself in Simple English. Like most of us.
Bobby Mallon
152
Posted 06/05/2021 at 09:30:10
And by the way. I've said before. Gbamin will not play football again he's crocked and that's that. If we are waiting for him to drive our midfield then we don't deserve to be in the top 4.
John Cook
153
Posted 06/05/2021 at 09:33:44
After reading all the comments above,most of which I agree with,I can't get the enthusiasm up for the remaining games.
I was going to put my name forward in the ballot for the Wolves game but after Villa I can't be arsed.
A season that started out with so much promise is,in typical Everton way,fizzling out.Europe? You can stick it,would sooner see a hard working team in progress fighting for every ball and playing attractive football.
Roll on next season,we,as ever,live in hope. UTFT !
Martin Mason
154
Posted 06/05/2021 at 09:34:28
I hope so Bobby, it was just seeing how they can play compared to what we're serving up now. And to see such wonderful young talent as Phil Foden and Mason Mount and realise that we have nothing in the same league or even on the same planet. I'm not sure that Carlo understands the importance of youth in the big picture going mainly for experience.
Bobby Mallon
155
Posted 06/05/2021 at 09:40:58
John cook do it put your name forward you will love it, don't miss out
Rob Dolby
156
Posted 06/05/2021 at 09:47:18
Martin 154. If we had a Foden or Mount in our youth system they would be playing.
Gordon is our equivalent, hopefully he can come back from his loan similar to what Mount did at Derby and push for a place.
Bobby Mallon
157
Posted 06/05/2021 at 09:49:34
Martin, I know what you mean. The two you have mentioned are great players as are Grealish, Maddison etc. But are they anymore gifted than Gordon or when he was here Dowell. Are they getting the plaudits because they play regular for the first team?
Dave Abrahams
158
Posted 06/05/2021 at 10:13:18
John Boon and Brian Murray, both great fans and the fact that you can both laugh at yourselves over being long suffering Evertonians is brilliant, I'm a long time served Evertonian 100% nut case, but like you two and many more Bluenose nutters I keep getting back up off the canvas, caught on the ropes and going the distance bruised battered and bewildered, and coming out for more.
One day it will all end and we will start winning consistently and the curse because because we have to moan about.
Carry on with your posts they brighten my day.
Tony Abrahams
159
Posted 06/05/2021 at 10:36:28
Stop talking yourself out of the job Brian!
Dave Abrahams
160
Posted 06/05/2021 at 10:44:00
Above post (158), sorry next to last line should read. One day it will all end and we will start winning consistently and then curse because we will have nothing to moan about.
My cauliflower ear affects me sometimes when I'm posting.
Thomas Richards
161
Posted 06/05/2021 at 11:46:39
We had a mate who boxed, not very good but a massive heart. He would get up no matter how many times he got chinned. The lads christened him as the boxer with the cauliflower arse.
Cruel but true
Thomas Richards
162
Posted 06/05/2021 at 11:47:19
We had a mate who boxed, not very good but a massive heart. He would get up no matter how many times he got chinned. The lads christened him as the boxer with the cauliflower arse.
Cruel but true
Paul Hewitt
163
Posted 06/05/2021 at 11:50:26
Bobby @ 152. When did you become a physio?
Bobby Mallon
164
Posted 06/05/2021 at 11:56:43
Paul I'm not a physio. But I just feel IMO that the two devastating injuries especially the knee one will not allow him to play top flight football again. This is the second time he's come back and broke down, we'll see
Bobby Mallon
165
Posted 06/05/2021 at 12:08:41
I have just found a pontins league team sheet Everton v Birmingham that I took down from the changing room door when I went on a Goodison tour. This is the team
J o toole
C Lane
M Ball
E Barret
J O'conner
C Thomsen
M Quayle
G Mc Cann
P Jevons
N Barmby
T Grant : Subs C Regan, M O brien A Eaton.
Bobby Mallon
166
Posted 06/05/2021 at 12:09:43
Would that team survive in the league today.
Neil Lawson
167
Posted 06/05/2021 at 12:51:02
From Mo Besic to Tommy Gravesen. Peter Reid ? Jimmy Gabriel ? Leaving Besic out of the argument ( I couldn't stand the abuse), where is our nasty snidey, combative and creative midfielder? Alan Ball anyone ? What wouldn't we give for any one of the above ( not Mo ) at the mo. Both Grealish and Maddison have that edge. There have to be others like them out there up for a challenge and desperate to play at a higher level. Mr Brands, please find us at least one and a winger who can dribble and cross a ball without checking back inside first.

Brent Stephens
168
Posted 06/05/2021 at 13:03:55
Bobby "...team sheet Everton v Birmingham that I took down from the changing room door when I went on a Goodison tour."
Thieving sod. I bet you've still got the door in your shed.
Ian Burns
169
Posted 06/05/2021 at 13:18:22
For all you good TWers bemoaning the fact your are Evertonians suffering with the accompanying mental anguish issues every season (that's me since 1959), think about a well known personality from some years back.
He said he felt guilty because he wanted to murder his father for the mental abuse he had suffered at his hands. His father took him to watch Fulham as a 7 year old and he had caught the bug from that moment on. If the judge had also been a Fulham supporter he would have understood and let him off with a fine!
Brian Murray
170
Posted 06/05/2021 at 13:24:33
A pre requisite of all top managers is to check out the mentality and or lifestyle of a player before signing them, Maybe that's why the likes of Frank worthington Stan Bowles etc never got to a big club. Same with le tissier int that his mental strength was lacking to make the jump from cozy saints. Despite his ability. We have an overload of snowflakes from rent a hug Andre to the silent man r Keane. Even jags a top player much too quiet to be a leader / captain. Look at the baines mirallas penalty debacle. A string skipper would of just stepped in and sorted it. End of. We are all crying out for a nasty streak in at least one of our midfield as well.
Michael Connelly
171
Posted 06/05/2021 at 13:50:23
Haven't read too many of the comments above, but my take is that we were shit at the back end of last season, and brought in 4 key players in the summer: Doucoure, Allan, James, and Godfrey. Take Doucoure and James out of the side, and we are only marginally better than the end of last season, which is marginally better than shit.
Jay Wood
[BRZ]
172
Posted 06/05/2021 at 14:04:34
Jerome @ 151.
Don't quite understand why you've revisted my earlier post after you had already acknowledged that you were wrong in your historical presumption (based on guess work, not fact) that Everton has fared badly for the last 20 years against 'lesser' opposition.
I'm not the one that needs reminding that THIS season it is our results against lesser teams that is having a negative impact on our league position. It's something I recognized months ago. I even penned a detailed article (Everton's Double Dichotomy) with a 'comparative analysis to identify trends' (your words, Jerome).
The most obvious dichotomy was our excellent away form compared to our poor home form. But the second dichotomy was how, unusually for Everton, we were doing well against the soiled six but relatively poorly v lesser teams. The inverse of our historical norm.
I compared all our results, home and away in two different mini-leagues. Our results v the soiled six. The soiled six and our results v the bottom six teams. Interestingly, the findings still hold true nearly 3 months on.
In the first group, as to be expected, only City has performed better than Everton in games v the soiled six. In the second group, all other teams have been considerably more efficient than Everton in garnering points from the bottom six teams with one exception. Liverpool has a poorer record than Everton against the basement dwellers.
I repeat what I told you yesterday Jerome. Typically in the near 30 years of PL football Everton has been very efficient in taking points off teams in the lower two-thirds of the league (Moyes was a master at it), but very poor at taking points off teams in the top third (Moyes was a disaster at it, save for the occassional home win).
Thus the exasperation that in a season when we have our best ever away record and one of our best points return v the soiled six in the PL era we our performing well below our historical norm v the lesser teams.
I know this Jerome because unlike yourself I took the trouble to do the 'comparative analysis to identify trends' and not rely on baseless presumptions as you did.
Barry Rathbone
173
Posted 06/05/2021 at 14:07:43
Simplistic nonsense to be calling out for tough guy tactics PSG descended to that level against City and had men sent off in both ties. They looked truly horrendous over the piece no more than a fuckin' ale house team.
The game has evolved since Phil Neville let alone Peter Reid antics once tacitly ignored now result in cards and bans and quite rightly so.
Better technicians not "leave a foot in" merchants is what the modern game requires. Leadership does not equate to thuggery
Jay Wood
[BRZ]
174
Posted 06/05/2021 at 14:34:06
Tony @ 146.
I'm struggling with your logic Tony. Having earlier said 'away wins [next season] will disappear faster than the home wins will recover [because] the quality and standard of the football we are playing will dictate that.', you now (grudgingly, it seems) concede 'they were dogged away wins.'
Putting aside the implication that away victories were ONLY achieved by our doggedness (they weren't. There was some very fine football and astute tactics that has contributed to our best ever PL away form this season also), isn't 'doggedness' one of the sub-themes in this threads some posters are claiming this squad doesn't have?
If so, then you are agreeing with me that in this very season the squad HAS shown 'bottle', 'fighting spirit', 'doggedness' which all teams need to be successful before being aesthetically pleasing. Because without the first, the second is superfluous.
This is an aspect of TWers I don't care for. The denigration and devaluing of hard-earned and totally merited victories. There is more than plenty to chew over and be exasperated about in our wasteful defeats this season without adding to that pessimism in downgrading the many fine wins and performances we have achieved.
Impressively, you've taken it a step further and already projected such revisionism into next season's results. And more. Contrived a scenario in which Carlo will walk, contrary to everything he has said publicly.
Sorry Tony, but I find your observations nonsensical.
Tony Abrahams
175
Posted 06/05/2021 at 15:02:31
Brian @170, I remember reading Alan Mullery's book when I was a lot younger, and he was delighted because he thought he was getting followed, and because of this thought he was getting a job at Everton.
He said Everton were known for using private detectives in those days, to properly check out how a person lived, and he was absolutely devastated when it turned out to be the TV programme this is your life, because he was convinced he was going to Everton.
John Raftery
176
Posted 06/05/2021 at 15:55:51
Michael (171) A concise, accurate summary of where we are.
Tom Bowers
177
Posted 06/05/2021 at 16:51:37
Michael (171) Right on the money !!
We need to purge all the deadbeats and either blood some of our eager youngsters or bring in some ''class'' additions otherwise next season will be no different than this.
Man.City should be a yardstick by which clubs should measure themselves by but then they don't all have the financial mega millions.
However, they can unearth gems. Just look at Foden.
Jerome Shields
178
Posted 06/05/2021 at 16:58:46
Jay#174
Whilst you may be right in your comparative analysis regarding Everton v lesser teams, there are still un clarified reasons why Everton have consistently failed to get into the Top 4. To consistently achieve a mid table finish, Everton have to have a midtable pattern in their results, which you say has little to do with their results against lesser teams.
That pattern appears to be two results either win or draw and a loss. This conforms to what many of us experience after Everton have two results which leaves them in the position that a win or even a draw will help them into the Top 4, only to find that they fail to do so. Before the Villa game I did look at the Premiership Table to see what the effects of a result would have on Everton's Table position. After pass experience I feared for the worse and this was realised during the game against Villa. Can you spot such a pattern in your analysis?
Steavey Buckley
179
Posted 06/05/2021 at 17:33:21
"Ancelotti 'frustrated' by Everton's erratic form." Everton's erratic form is matched by Ancelotti's frustrating erratic team selections and substitutions.
Martin Mason
180
Posted 06/05/2021 at 17:38:19
As a top team we'd typically need 3 decent buys a season to just tread water. To take the next step up we need 2 or 3 more but of a higher standard than the ones we bought to just stay the same and that means better than the likes of Doucoure, Gomes and a league above Iwobi. My prediction is that Carlo wont see the end of next season unless we make three key buys this summer and Aguero isn't the answer, terrible buy. Past his best and looking for a pension. I'd take a punt on Shaqiri for the RHS position, he could be an inspired signing with his place in the team guaranteed?
Tony Abrahams
181
Posted 06/05/2021 at 18:58:54
I disagree, Martin, and not because I don't think Shaqiri isn't talented, but because he's happy to be a bit-part player at Liverpool, meaning he's just as happy when he doesn't have to play football every week.
Mark Murphy
182
Posted 06/05/2021 at 19:30:06
"Aguero isn't the answer, terrible buy. Past his best."
It almost certainly won't happen but I'm saving this...
Derek Moore
183
Posted 06/05/2021 at 19:30:34
For my part, I was looking at the season in totality. As a whole. As a body of work. One swallow does not a summer make.
We've had some very fine away wins as some posters have repeatedly noted... but equally we've now won one league game in seven attempts. Two calendar months and counting. During this run, we've failed to turn over Villa, Palace, Burnley and Brighton. So a real murderer's row of fixtures to boot.
This run of form was at the very moment the battle for European qualification really started to intensify. The players, as a group, collectively wilted and, with five games left, the Champions League dream is very much over. From an outsider's perspective... you'd say Everton bottled it. Wouldn't you? Why wouldn't you?
With the stakes even moderately raised, the very fine football and astute tactics have only been notable by their scarcity. Frankly, the players have either not put in a performance or, even more fucking maddeningly, put a performance in and not got 3 points the balance of play probably merited. The Everton level of consistency: None.
It was this logical basis – on the back, mind you, of years of personal observation of underachievement by most of this playing group – that had me labeling the squad "bottlers". It was the group being unable, once again, despite the hot start, despite the away form, despite the legendary gaffer in the dugout – it was this squad seeing the doors of opportunity open and slamming them shut as quickly as they possibly could over this last third of the season that had me calling them out.
And I stand by all of that. I've seen them enough – fuckers couldn't win a raffle with every ticket in the draw.
Simply not enough doggedness or commitment or belief or guts or whatever you want to term it. Not enough when it mattered. That's the story of the Premier League season funnily enough. The reasons? Assign your own, the outcome is the same.
I'm far more concerned about the changes that need to be made. I thought we were far beyond the stage of debating about whether they are required or not? Anyone still at that stage would be truly nonsensical.
Brent Stephens
184
Posted 06/05/2021 at 19:35:06
Mark #182 - was it you who posted that poser about Line of Duty and the "Live by the Sword, Die by the Sword..." article?
What was the answer? Dunbar's relative? Andrea??
Mike Keating
185
Posted 06/05/2021 at 19:42:10
Brent @ 168 - I agree and as AC 12 are in the process of being disbanded get Ted Hastings on the case - there's more to that shed door than meets the eye!
Thomas Richards
186
Posted 06/05/2021 at 19:42:31
Impressed with the Roma captain, Pellegrini this season.
Made him skipper at 24 years of age.
Contract up next season.

Robert Tressell
188
Posted 06/05/2021 at 19:46:14
Martin @180.
We probably need more than 3 players to lift us above the ranks of contender for 6th – dark horse for 4th. If we just get 3 and one of them is Aguero, then we might not see much of him. He plays very few games these days – just 10 so far in the Premier League this season with just 2 goals. Not ideal when Allan and Rodriguez also miss a lot of games.
As for Shaqiri, he's got plenty of talent but never really delivered on his early promise. There's plenty of younger, hungrier Shaqiris out there – Olise, Faivre etc. There's a reason Leicester are doing so well and it's not through buying players like Aguero and Shaqiri.
Jay Wood
[BRZ]
189
Posted 06/05/2021 at 19:55:00
Jerome @ 178 this:
'There are still unclarified reasons why Everton have consistently failed to get into the Top 4. To consistently achieve a mid table finish, Everton have to have a midtable pattern in their results, which you say has little to do with their results against lesser teams.'
Two things:
1) I have made no such claim that Everton's league positon 'has little to do with their results against lesser teams.' That's a complete invention on your part.
2) Given the near 30-year data there is an obvious identifiable reason why Everton fail to get into the top 4. Our results v lower two-thirds team in the main puts us at the top of that pile. What determines our finishing position say from 8th upwards are our results against the top third teams.
And again, historically, they take more points off us than we take off them. The double jeopardy of that of course is that each of those teams have for the most part gained-6 points against our 1 or zero points in the two games against them each season. Multiply that by 6 teams and you have right there the identifiable reason why we barely get to the fringes of a top 6 finish, never mind top 4. This is borne out by the fact that our average finishing position in the PL era is 8-9th.
That is also why there is so much frustration this season because in the completed fixtures against the top third sides we have performed well. 6 points from Arsenal. Four points from Liverpool, Spurs and Leicester, equality 3 points from Chelsea. Only 1 point v United. Nil v City. That sequence of results has put us in closer touching distance of them all than is historically the case.
Where we've blown this improvement is in our home form in particular v lower two-thirds teams, as already stated, or we WOULD be ahead of four of them - Arsenal, Spurs, Liverpool and Chelsea, but not the Manchester clubs.
Brent Stephens
190
Posted 06/05/2021 at 20:00:44
Mike #185 - I think it's an open and shut case!
Andy Crooks
191
Posted 06/05/2021 at 20:25:04
Jay,
I actually think that the frustration this season is harder to bear than consistent mediocrity. To me, it was within touching distance. This really could have been our year and I am at a loss to explain why it hasn't happened. Neither our fine wins nor appalling defeats have been down to luck. We have pretty much got what we deserved and it is, to me, inexplicable.
I have tried to look at what went right away from home and compare it to Villa, Newcastle, Fulham, Burnley etc. The very best I can come up with is a lack of urgency and intent. Frankly, I'm not even sure about that.
I like a good moan about attitude as much as anyone but cold analysis tells me that lack of effort isn't the case. Nor are any of our players shite. There is something indefinable (to me anyway) that makes it look like that.
There is a great article to be written about this season, about the chance that was missed, and why. I wouldn't know where to start.

Mark Murphy
192
Posted 06/05/2021 at 20:36:05
Brent, it was me but that wasn't the answer, no.
I asked what the link was between that Article - written by The Esk - and L.O.D. and said you'd wet yourselves when you got it.
The answer is

Revealed in series 7..
Mark Murphy
193
Posted 06/05/2021 at 20:44:21
Sorry couldn't resist it.
I so said even Rita, Sue and Bob as well would get it
The link is the bloke who played the "senile" (or is he?) Incontinent Dodgy copper Fairbanks is George Costigan who is a big blue and does an Everton podcast with his brother, Andy, and his mate, Paul, who uses the pen name The Esk.
Dale Self
194
Posted 06/05/2021 at 20:48:23
Alright then it's settled, Kieran is back (I like KC by the way, great BBQ and decent pizza on damn near every block it seemed). Good thing, I just got my second shot and plan on making it until Everton play decent football AND win. Until that happens reading some disgruntled rants will have to do. UTFT!!!!!
Brent Stephens
195
Posted 06/05/2021 at 20:49:15
Mark #193 - Rita, Sue and Bob - based on Andrea Dunbar's work - hence my wild stab at the (Adrian) Dunbar link (though there was no family relationship, I think).
Jerome Shields
196
Posted 06/05/2021 at 21:06:52
Jay#189
Thank you for your analysis. I am now clearer on the reasons for Everton's position and failure to challenge.
I also find it frustrating that having beat Liverpool and Arsenal away and had results against Liecester and Chelsea, that Everton are not challenging City.
I was disappointed by the performance against City
At home a total capulation IMO. The other performance was better performance , ecept for a defensive error. I know one of these performances was in the Cup , unlike others I thought that Man City had weaknesses, and fancy Chelsea to beat theminthe Champions League final.
Jason Li
197
Posted 06/05/2021 at 21:11:48
Having had a bit of time to reflect, yes frustrating to lose winnable games, but not terrible either when looking at the table.
West Ham is an anomly... an outlier which happens in our fantastic league and it's great to see. That's why we don't need a Super League. Take out WH, and we have caught up the Sky 6 in one season. Thinking back to the Bournemouth game last season and now we are here fighting with the Sky 6 and winning big games away is absolute uncategorical progress.
I think buy 1 outstanding player and 2 very good players and no more for this summer for the first team. 1 has to be outstanding and gettable like Saint-Maximin at Newcastle. Whoever the outstanding player is with a fit Rodriguez or a predatory DCL would change us a bit more from last summers transfers. With a very good new right back who can get up and support, we will look like a Carlo Ancelotti team next season, the ones we used to watch in the Champions League. The man needs a variety of good tools to do his job properly.
We do have some legs in the team like DCL, Digne is a good Premier League athlete, Godfrey is lightening, Doucoure is very quick too. So 3 more better players for the squad will make a huge difference for next season. Here's hoping anyways.
Jay Wood
[BRZ]
198
Posted 06/05/2021 at 22:02:00
Andy @ 191.
'Neither our fine wins nor appalling defeats have been down to luck.'
Agree with that sentiment 100%. I said exactly the same thing weeks ago and no result since then has changed that view.
Our victories have been fully merited, as have our defeats.
Laurie Hartley
199
Posted 06/05/2021 at 22:32:07
Jason LI # 197 - Adame Traore should be the first name on your list of 3.
Kieran Kinsella
200
Posted 06/05/2021 at 22:36:44
Dale
Let me know when you're in KC again — I'm outnumbered by RS fans
Don Alexander
201
Posted 06/05/2021 at 22:48:39
Keiron bloody Kinsella (#141), you've no idea how offended I am not to be included on your guest-list!
If it's got to the stage where a die-hard TW'er who thinks another die-hard TW'er is an occasional twat is reason enough not to have a pint with him/her it's a sad day!
Slainte!!!
Jason Li
203
Posted 06/05/2021 at 23:19:06
Laurie Hartley @ 199
Traore is a very good choice. If we signed him, not many will complain at the time of signing. I'd love to see Traore, DCL and Godfrey springing together in a counter attack that went say 50 yards full pelt. Or anything remotely like this next season.
Yes, I'll take a confident Traore vs Robinson at Anfield. That will do me.
Dale Self
204
Posted 06/05/2021 at 23:20:46
Absolutely Kieran! I'm about due for my once every decade visit to Oklahoma and will surely need to get out for a day or two. I think that would be worth the drive. If I see Don on the side of the road I'm stopping and bringing him with me.
Just came back to add what a great sports city Kansas City is from what I could tell over a couple of summers. Knowledgeable but hard, they are a fantastic group to be around. Frank Ganz i think was the wizard back then while Mackovic rode along. Special teams that won games outright was on the menu and KC fans were electric in their stadium. Just a fantastic crowd with impeccable manners but an intense desire to dispose of the opposing team.
Dale Self
205
Posted 06/05/2021 at 23:47:17
Oh yeah, a couple of decent jazz bars in KC as I fuzzily recall as well.
Kieran Kinsella
206
Posted 07/05/2021 at 00:28:11
Don
You've an open ended invite any time so we can both bash Bill for old times sake. Never think you're a twat mate. I reckon you'd be great company for a beer
Kieran Kinsella
207
Posted 07/05/2021 at 00:30:40
Dale
Yeah they love sport. I've been lucky since I moved here they won MLS MLB and NFL. Through work I've been lucky enough to meet a lot of the players and to a man they're salt of the earth types
Mike Gaynes
208
Posted 07/05/2021 at 03:52:59
Kieran #141...
Whattya mean... "maybe"??
Kieran Kinsella
209
Posted 07/05/2021 at 03:59:18
Mike lol you've been scarce on these parts of late but obviously you're on THE LIST
Brian Murray
210
Posted 07/05/2021 at 06:09:38
Jason post 197. You say that West Ham managed by that Luvvys favourite loser is an anomaly. Is that the same as Leicester or arsenal winning a trophy, Its never us whose an anomaly and do something worthwhile or unexpected because most of this first team cack themselves when they even get close to anyone above them or half a chance of winning something. So 3 players will not transform efc with this same nice guy jobs for the Boys bad tactics and subs policy. Will need a lot more than a signing or 3. Not saying start again I'd just love us to be super fit at the very least and have a plan b and c. Plan a we know about. Contain the mighty saints etc and nick a goal then back into this shell again. Or took cozily under the glass ceiling
Jimmy Salt
211
Posted 07/05/2021 at 07:33:05
He's frustrated??
Mike Gaynes
212
Posted 07/05/2021 at 07:52:07
Kieran, glad to hear it.
I've been scarce due to a house hunt and massive two-week packing job (moving on Monday) and the sudden loss of someone close.
I'll be back as soon as we get internet service at our new place and I get my brain functioning again. Save my seat.
Jason Li
213
Posted 07/05/2021 at 08:08:30
Brian @ 210
I understand where you're coming from, and it makes sense.
My view is that the margins can be very slim but a team playing well can still be beaten in a game. Fulham and Brighton are examples of teams that play and match most teams but cannot score chances when they have big moments. Man Utd do have periods of sloppiness, but have Fernandes who is outstanding that scores 2 in 15 minutes and the game is over.
What I'm saying, is that based on the table positions as our factual guide, we are not far away from the top 4. If we get in a game changer, one outstanding individual to complement what we have like a Fernandes, it may add 15 goals to this team. Plus 2 other very good players to help strengthen where our 2 other weaknesses or positions are over a season, and it will make a huge difference from where we are - which factually based on the table is amongst the big 6 currently with a handful of games to go.
It's never us consistently challenging for trophies (realistically in the last 30 years) is so true and the pain is almost insufferable as it goes on and on. But that realistically is because of too many examples of bad recruitment, and then average to good Premier League managers. I've decided it's in this order because Chelsea recruit well and swap out managers that under perform. So do City recently. But having a firing Aguero or a Zola ensures you are top 4 even if you have a terrible manager.
I think we are getting both parts of the equation right:
fantastic recruitment (primary goal as our constant) + fantastic manager = progress in all competitions over time.
But hey, this is a good debate as we need to call out where the club can improve and which direction we should be going. There's too many good loyal fans let down too many times, but we are definitely factually getting better.
George McKane
214
Posted 07/05/2021 at 08:32:02
From my view of seeing the games it is the "turn off moment" - - that second when a player or group of players just turn off - - lose concentration - - take their eye off the throw in - - the free-kick - - the pass - - or just casually pass a poor ball - - and moments - - seconds - - later catastrophe - - a goal or penalty or corner or free-kick - - we see it every game - - I cannot understand the lack of 90 minutes of total concentration and energy - - that is what they are trained to do - - who's fault is that - - well I am not in the know enough to know - - does the Manager allow it - - turn a blind eye to it - - are the players just not tuned in - - I make theatre with excluded young people and I tell them - - strongly - - the moment you make eye contact - - or smile ever so slightly even slightly - - at your parents/friends in the audience you have broken the magic - - it's hard work - - I am still for Ancelotti and of course for Everton - - but he and they have to show some sign soon that they are aware of these faults and are willing and actually going to do something about it - - frustration for me is the biggest tension - - the feeling of "not being able to do anything" about a situation - - it is something that I do not accept in my work or my life if I can help it - - I have made my living - - by my wits/thoughts/visions for 40 years now - - Come on Carlo - - Come on Everton - - We Love You - - and We want to Celebrate -- not always complain - - dance with joy - - some good things this Season Liverpool/Spurs/Aresenal hoodoos - - but know your bread and butter games as well - - my sincerest cosmic greetings to all Blues and TWebbers.
Martin Mason
215
Posted 07/05/2021 at 08:42:27
Robert@188 Sorry I wasn't very clear, I meant 3 players to stand still plus 3 better ones to step up. 3 isn't enough as you say.
Sorry about how I phrased my comment on Aguero above, he is a superb player and would be an incredible buy for the short term. I just see him as a poor buy for our long term needs.
Martin Mason
216
Posted 07/05/2021 at 09:09:07
I'll include Bale in the bad buy category. There's press rumours that he is on the radar.
Rob Dolby
217
Posted 07/05/2021 at 09:58:05
Martin. If Bale is fit he is one of the best players on the planet. I would take him in a heart beat.
However that isn't our problem. We need a few players like Bissouma from Brighton, strong,quick and breaks up play. Until we get some legs in the team we are very predictable and surrender the midfield.
Tony Abrahams
218
Posted 07/05/2021 at 10:39:34
Very good post that George, and I think you strike on something that could open another debate. Is it because the players are not good enough to concentrate for long periods, or is it because they don't enjoy or understand the tactics?
Are they genuinely good enough to play 4-4-2, the way we have been? I'd say no, the results say no, but Ancelotti persists, and he knows more than any of us.
I think how bad we were at Brighton on the Monday, I know we had a couple of injuries but we were truly awful, then I think about how much better we were against Spurs just four nights later, when only two defensive mistakes cost us three points, whilst also not forgetting a few missed gilt-edged chances.
Was it that Spurs players had given up on Mourinho, Because those two performances were like night and day?
When Everton play with concentration, they can still produce some very good football, but when they don't they look very poorly coached, often getting overrun in the middle of the park. So that's the dilemma it seems we currently have.
Dave Abrahams
219
Posted 07/05/2021 at 11:12:45
Carlo said he was disappointed with the slow start against Villa, it's taken him quite a while to figure that one out, they have been slow starting both half's of games in many games this season going back to the early part of the season, the Derby game was a prime example, the second half versus Fulham away, Burnley away, but now he's got that sorted he can start looking at a few more problems, it's a shame there are only five games left!!
Tony Everan
220
Posted 07/05/2021 at 11:27:59
Bale is a great player ; an upgrade on Sigurdsson, possibly James, and a different class altogether than Iwobi. And I agree unless there is outgoings he is not a priority at all .
As has been said many times now, we need energy and dynamism injected into the side. If anyone watched Chelsea on Wednesday against Real Madrid, just copy and paste some of that for us. Use it as a 'blue'print of what we should be aiming to do as a football club.
Everton's future has to be built on this supercharged, controlled and fair aggression in every match. This has to be coupled with it being deployed by the most talented and resilient players as possible available. I think Ben Godfrey comes into this category. We need to be looking at signing players in other positions with his attributes.
Throwing more ex-galacticos on the way down into the mix and hoping for their quality to shine through will not work in the 2021 / 22 version of the Premier League.
Neil Lawson
221
Posted 07/05/2021 at 11:38:43
Disappointed with the slow start, the slower middle and the stalling finish.
No point recharging the batteries. Just get some new batteries as required.
Andy Crooks
222
Posted 07/05/2021 at 11:39:22
I would be astonished if we were interested in Bale or he in us. I would love it, though. Players like Bale make football worth watching.
Thomas Richards
223
Posted 07/05/2021 at 13:19:04
We have come far as a club if we are doubting signing Bale.
A player of his quality and some don't want him?
Barry Rathbone
224
Posted 07/05/2021 at 13:53:41
Bale is undoubted quality but as fragile as James both are a joy to watch when fit but if they can't get on the pitch what is the point?
Stan Schofield
225
Posted 07/05/2021 at 13:58:39
It amazes me that any Evertonian can think that we SHOULD be competing near the top of the league at the moment, and be critical of our not doing so.
There's no point in saying we should aim to be like Chelsea, because they've spent vast sums compared with us. With our expenditure, we tend to sign players who are not quite at the top level, or who are at the top level but are injury-prone like James.
It's disappointing that we can't play well in any consistent way, but it's not surprising. We need increased strength-in-depth in the squad, and until we get that we cannot realistically EXPECT to be doing better. Those who habitually complain about the performances need a reality check.
And before anyone cites Leicester or West Ham, forget such nonsense. They are midtable teams who happen to be on unusually good form this season, which is very unlikely to be sustainable unless they too have vastly increased expenditures on players. This is the reality for midtable teams trying to be consistently near the top of the table.
Thomas Richards
226
Posted 07/05/2021 at 14:00:28
Spot on Stan.
Kieran Kinsella
227
Posted 07/05/2021 at 14:08:07
George
The concentration was a big issue under Silva too and is a massive problem at Arsenal. It's infuriating to watch
Dave Abrahams
228
Posted 07/05/2021 at 14:12:21
Barry (225), yes Barry James is a joy to watch for some of the time he is on the pitch,when he is fit, at other times he is an handicap when he is on the pitch, this latest injury was nothing serious according to Carlo, but it was a only a precaution that were not taking the risk against Villa, it's looking more like they shouldn't have taken the risk in signing him, they did know it was a big risk.
Rob Halligan
229
Posted 07/05/2021 at 14:24:58
Stan # 226. West Ham will be next season's Sheffield united. I don't actually think they will be relegated, but if, as expected, they are in Europe, it won't be the Champions league though, playing Thursday, Sunday will affect them badly. Look at Leicester when they won the league in 2015/16. The following year they finished twelfth, a whooping 49 points behind Chelsea who won the league in 2016/17. They just couldn't cope with the additional games of the champions league, and West Ham will be the same with the Europa league.
Rumours that West Ham need to sell before they can buy, with names such as Declan Rice and Soucek possibly being moved on to raise funds to buy. How true this is I don't know, but I just don't see West Ham being near the top again next season. Just my opinion though.
Derek Wadeson
230
Posted 07/05/2021 at 14:25:58
Stan Schofield 226. Thank you for a voice of reason.
Peter Warren
231
Posted 07/05/2021 at 14:31:06
I suspect Leicester with their manager will be challenging for top 4 next season. Rodgers seems an excellent manager and unless he leaves I see no reason for them to drop off.
Clive Rogers
232
Posted 07/05/2021 at 14:35:28
Kieran, 227, Arsenal were mentioned and another PL club in the article I saw, but you are probably right about raising a fee.
Robert Tressell
233
Posted 07/05/2021 at 14:45:18
Agree that West Ham have probably peaked this season but Leicester are really building something if they can keep Rodgers and replace Vardy.
Given likely budgetary constraints whoever we buy, there will be 5 clubs at least better equipped to finish in the top 4.
There will also be competition from Spurs, Arsenal and Villa (and West Ham) for the top 6 so the challenge to climb up the table is considerable.
Kieran Kinsella
234
Posted 07/05/2021 at 14:57:41
Robert
I was thinking Leicester would drop off post-Vardy but Iheanacho has suddenly stepped up. I saw him years back for Man City U23s and he looked like a rising star. He struggled at first at Leicester but now is fulfilling his potential.
Christopher Timmins
235
Posted 07/05/2021 at 15:05:40
Rob#231
West Ham will be the Everton of the Moyes era. Indeed, they may achieve better things given the financial difficulties we had in the period when Moyes was at the helm at Goodison Park.
They are off loading their over priced "stars" of the past couple of years, indeed, they were prepared to take a hit on Haller to get him off the books. I think they still have to offload the Ukrainian and Anderson but after that they are not stuck with too many other duds. Unfortunately, it may take us a bit longer to offload ours.
The significant advantage we have over them is with respect to our owners financial clout and over time that may make a significant difference and help us to achieve a top 4 finish.
As you know we play them on Sunday, our manager has not got a standout record against the said Mr. Moyes but hopefully things will change by 6.20pm on Sunday evening.
Robert Tressell
236
Posted 07/05/2021 at 15:07:35
Leicester also, like us apparently, looking at Ivan Toney and a few foreign strikers. They'll manage even if they can never quite find a perfect replacement for Vardy.
Barry Hesketh
237
Posted 07/05/2021 at 15:10:17
Everton should have been in contention for at least a top-six finish this season, given the great start that we had and the number of points we have taken from the 'super six' clubs.
I realise that Everton could still end up qualifying for Europe, but I personally think that the style of play we have employed since the turn of the year is the biggest criticism to be levelled at Carlo, I don't like Everton being on the back foot for large parts of most games and it has never suited the club to employ that style of play for any prolonged period.
It looks as if we will have to endure more of the same because the only consistently creative player in the squad is often missing due to many mysterious injuries.
Glad that Doucoure is back and available for Sunday, but disappointed that James is out. The frustration continues.

Bill Gall
238
Posted 07/05/2021 at 15:39:00
With the covid 19 problem and no spectators at the grounds, this season has had a number of inconsistencies with clubs, and Everton being one of the worst ones. I think they have blown one of the best chances we had of making the top 4. and are now in a position they deserve, but the supporters expected better.
Who do you blame ? . The manager has to be the first one looked at but has had a number of injuries to key players, but then so has other clubs and they have managed. The players have to look at themselves and ask am I playing to the best of my abilities, and there are some who are not. The major problem is our squad depth and the quality of replacements for injured players. So all combined there is a problem the question is how do you solve it ? Fire the manager, give the players an ultimatum to play better, or spend more money to improve the squad.
I would be looking at the second and third option. The first option, remind the manager that results matter not reputations, and hope he has players lined up to improve the team.
Dale Self
239
Posted 07/05/2021 at 16:50:18
George and Tony, the concentration lapses come from the lineup turnover in my opinion. Simply not enough games in a row with the same two next to you on your line. That and some exhaustion from the up and down performances that spread thru the squad like a virus and no real general to settle it all down.
On Bale, I'd take him. He has not been overly used so his age is not the risk it might seem. Exactly the kind of player that Dom and Richie would benefit from in terms of space.
And Mike, we've missed you but the timing of your distractions was actually lightening your load. Maybe Doucoure turns it around.
Martin Mason
240
Posted 07/05/2021 at 16:55:36
Just read a good interview with Guardiola who said that his dream is to have a team where every player is a midfield player as comfortable going forward as backward and not fixed into one fixed role such as defender or attacker. City play without real forwards but 2 false 9's who drop back into midfield and defenders like Stones who can slip into midfield and be very comfortable on the ball. We could become a superb side like that if we just had any decent midfield players.
Danny O'Neill
241
Posted 08/05/2021 at 07:06:45
It would indeed be great to put names to some of the faces, Kieran; hopefully not too far away.
Been away for a few days so browsing through, a couple of comments.
As frustrating as it is that Top 4 became a realistic opportunity, it was never our target. Not this season. I have always maintained I will judge at the end of the season, not in October. We're nearly there and frustration / missed opportunity will undoubtedly be a theme. However, we could still hit our target, which was more Top 6. With 15 points to play for, much is still in our hands.
Dale; very valid point about rotation and familiarity. But, Martin's last point is a reminder that when you have strength in depth and quality players who can come in and play the system, it can work. For the top teams, it's how the modern game rolls. We have a good first 11 when all are available. We have a very average squad. That's the difference and part of the reason for what will likely be a frustrated season of missed opportunity, even if we finish 6th, which in September is probably what most of us would have viewed as a good return (I won't call 6th success as it's not).
Barry Robson
242
Posted 08/05/2021 at 19:06:54
100 % agree with the post 226 by Stan Schofield Absolutely spot on assessment of the current situation.
I believe we will improve the quality of our squad window by window and increase our ability to challenge for silverware in a progressive manner initially via FA cup or league cup.
Stephen Vincent
243
Posted 08/05/2021 at 19:59:08
Jay Brazil # (various). There are lies, damn lies and statistics.(Disraeli) You can make them say virtually any thing you want.
How about points per game haul so far this season = 1.12 the worst in our entire history, inexcusable.
Tony Abrahams
244
Posted 08/05/2021 at 20:10:33
Is that for games at Goodison Pk, Stephen? If it is, it just shows you that people will write any old shite, when talking about Everton, being better, without having pressure coming from their very demanding fans!
Stephen Vincent
245
Posted 08/05/2021 at 21:27:30
Yes sorry Tony just games at GP.
Don Alexander
246
Posted 08/05/2021 at 21:59:40
Keiron, I'm well aware of KC's great history (especially re Jazz) but the nearest I got was a trip to the Wisconsin State Fair. The Kansas City Marching Jazz Band were out of this world! Other bands were very good, but those lads were inspired.
Martin Mason
247
Posted 09/05/2021 at 19:40:40
Stephen @243,
Playing without crowds in a pandemic in the Premier League is something that we haven't seen before in our history... so points per game is irrelevant – only final position. History just ain't what it used to be.
---
Add Your Comments
In order to post a comment, you need to be logged in as a registered user of the site.
Or Sign up as a ToffeeWeb Member — it's free, takes just a few minutes and will allow you to post your comments on articles and Talking Points submissions across the site.