Everton vs Sheffield United
Sunday, 16 May, 2021
Match Preview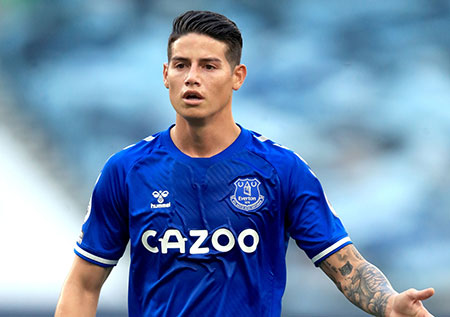 James Rodriguez has been declared fit by Carlo Ancelotti and could play for the first time since his start against Arsenal three weeks ago
Everton are back at Goodison Park for the penultimate time this season knowing that a dramatic improvement in their home form could yet carry them into Europe.
In what looks likely to be the last match played inside an empty Old Lady before 6,500 Evertonians are welcomed back on Wednesday, the Blues take on the bottom club, Sheffield United, searching for their first win on their own turf since they triumphed over Southampton on 1 March.
That was the only time in 2021 that Everton have won at Goodison in the Premier League but back-to-back victories in the next four days should put them in a strong position heading into their final match at Manchester City on 23 May.
Given that abysmal home record, it would seem like a tall order for Carlo Ancelotti's men but they could not have asked for more favourable fixtures — against a Blades team already relegated and a Wolves side with nothing to play for but pride and their places in Nuno Espirito Santo's squad next season.
Sheffield United, still operating under the temporary stewardship of Paul Heckingbottom following the sacking of Chris Wilder, have won just five League games all season and just one in their last nine. They have been thumped 5-0 by Leicester, 3-0 by Arsenal and 4-0 by Tottenham in the past couple of months, scorelines that should be the yardstick by which Everton measure themselves for this fixture.
But, again, there is nothing routine about Everton at home at the moment and it will be a measure of the players' attitude and confidence how they perform against the side that will begin the day nine points adrift of West Bromwich Albion at the bottom of the division.
The good news for a team that was crying out for inspiration and creativity during the goalless draw the Villa Park on Thursday is that James Rodriguez has been declared fit to play. That was the story prior to the home game with Aston Villa a fortnight ago, of course, but this time Ancelotti expects him to make it past the warm-up.
With his compatriot, Yerry Mina, unlikely to feature, the Colombian could be the only change to the XI that started last time out, replacing Gylfi Sigurdsson who was disappointing against Villa. That would mean the continuation of the three-man central defensive unit of Ben Godfrey, Michael Keane and Mason Holgate, with Seamus Coleman and Lucas Digne as wingbacks.
The expectation is that James will be able to make the difference for a Toffees side that has been tentative and toothless going forward in his absence.
The Blades, who have scored just six times in 16 League games since they surprised Manchester United at Old Trafford in January, will be without Sander Berge, Oliver Burke and Ethan Ampadu who are all sidelined by injury.
Kick-off: 7:00pm, Sunday 16 May 2021 on BT Sport 1
Referee: Jon Moss
VAR: Simon Hooper
Last Time: Everton 0 - 2 Sheffield United
Predicted Line-up: Pickford, Coleman, Holgate, Keane, Godfrey, Digne, Allan, Doucouré, Rodriguez, Richarlison, Calvert-Lewin
---
Reader Comments (121)
Note: the following content is not moderated or vetted by the site owners at the time of submission. Comments are the responsibility of the poster. Disclaimer
Jim Bennings
1
Posted 16/05/2021 at 06:42:53
Come on, Carlo, let the shackles off and just set the team up on the front foot, no more of this ultra caution in the home games.
If we can't beat a relegated bottom-placed team at home, then we won't beat anyone!
Bill Gienapp
2
Posted 16/05/2021 at 06:52:30
I think just about every fan on here is resigned to the seemingly inevitable notion of European qualification being ended by a home defeat to an already relegated side that's been dead last all season. Everyone's already expecting it, so, like... don't freakin' let it happen Everton!
Dave Evans
3
Posted 16/05/2021 at 07:08:21
Will we make a late, dramatic surge to the finish or stumble on the last two from home and fall flat on our arse at the last?
Richard Lyons
4
Posted 16/05/2021 at 07:14:29
Dave #3, I think we're all expecting the latter.
Mike Hayes
5
Posted 16/05/2021 at 07:14:36
Let's just hope the Everton that turns up isn't the one that makes teams like Sheffield United look like Real Madrid.
Martin Berry
7
Posted 16/05/2021 at 08:36:18
I can only hope that we are set up to win the game as opposed to not losing it.
Neil Lawson
8
Posted 16/05/2021 at 08:39:46
Lyndon's suggested line-up is probably correct, but just how negative is that? Sheffield Utd are the poorest team in the Premier League and score very few goals. Surely Ancelotti should have the nouse and courage to set up to attack them?
We do not need 5 defenders. We do not need a surly and badly misfiring Brazilian who cannot pass, dribble or shoot straight, and who has trouble standing up.
Surprise us, Carlo. Pick a team stripped of the overpaid and useless underperformers and put out 11 players who really do want to win and set us up to win well. Don't ignore the talented youngsters who might make a difference.
Recent results suggest to stick to type is to fail. I for one do not want a turgid miserable 1-0 with 2 shots on target and hundreds of backwards passes.
Trevor Peers
9
Posted 16/05/2021 at 08:40:29
Richarlison has been mostly abysmal this season in front of goal. Surely it's now time to give King a full game and bench the irritating Richarlison, who is itching to leave in the summer by all accounts; otherwise, what kind of decision was it to sign King in the first place?
It would be nice to see some free-flowing football today but I just can't see it under the present manager who seems to be obsessed with defending. There has to be a change in his tactics at home next season or questions will be asked about Carlo's suitability to take us forward.

Paul Birmingham
10
Posted 16/05/2021 at 08:49:06
Get the win that keeps faint hopes of Europe alive into the Wolves game.
No excuses are acceptable for not beating Sheffield United, but this is the type of game Everton have struggled with over the last couple of seasons.
A goalfest is a very rare event at Goodson this season, aside from West Brom in the league and Spurs in the cup, but it would be good to get a few to help the goal difference.
Win and play with style — let's hope so!

Christopher Timmins
11
Posted 16/05/2021 at 08:49:13
We are playing the worst team in the Premier League; if we can't dominate and win with a bit of comfort, then it's a poor outlook and will shine a light on the lack of creativity in our squad.
A game that won't stop the Nation.
Andrew McLawrence
12
Posted 16/05/2021 at 08:50:28
Read this morning that Carlo is apparently on Real Madrids radar this summer. So after the inevitable loss to Sheffield United later today, failure to get into Europe, and perhaps Carlo buggering off, we can look forward to a cluster feck over next few weeks.
Mal van Schaick
13
Posted 16/05/2021 at 08:59:54
I am expecting a four nil win. We are overdue a big win an this can be the game where it all comes together. DCL hat trick.
Martin Nicholls
14
Posted 16/05/2021 at 09:00:18
What a miserable bunch we've turned into! Negative fans complaining about negative tactics.
I might be in a minority on here but I am always optimistic and expect us to win - why bother, otherwise?
Come on you Blues - prove your miserable fans wrong!
Sorry Mal - don't mean you!
Rob Dolby
15
Posted 16/05/2021 at 09:01:07
Neil 8, pick your team and formation for tonight. Showcasing those youngsters that you mention.
At this stage of the season I don't care much about the performance but more about the result. 3 games left and we still have something to play for which is more than we have for a few years.
Jim Bennings
16
Posted 16/05/2021 at 09:01:35
Our lack of goals could be the difference between finishing above West Ham and Spurs come next Sunday.
That's why goal difference is also a huge factor and why I also say that we need to be scoring 60 goals.
Somehow we need to find more goals in this side between now and August unless we make some attacking signings that make a significant impact but given our record on signing attacking players I'm not holding my breath.
Paul Goodchild
17
Posted 16/05/2021 at 09:32:46
I thought Gomes played well when he came on against Villa. I would play him instead of Sigurddson and James instead of Holgate in a 4-3-3 formation and then, apart from Godfrey for Mina, that will be the same team that started the season so well, winning the first 4 league games this season.
Rob Halligan
18
Posted 16/05/2021 at 09:36:22
Martin # 14. And it's taken you how long exactly to realise that?
Post # 12 just about sums it up for me...........the inevitable loss, really? Jeez, how fucking miserable can someone be? Like Mal, I'm fully expecting a 4-0 or 5-0 win today.
Martin Nicholls
19
Posted 16/05/2021 at 09:40:58
Rob - always known it but never voiced it before!
Got to say, I'm very much like you!
Joe McMahon
20
Posted 16/05/2021 at 09:42:39
Jim, don't count your chickens, as you know we have lost at home to Fulham, Burnley and Newcastle.
I hope James doesn't get injured in the warm up.
Barry Hesketh
21
Posted 16/05/2021 at 09:43:18
Dominic Calvert-Lewin alluded to it during the week when he remarked that it was nice to prove the 'dads' wrong about him and his abilities as an Everton striker. Meanwhile, we have various posts around the site extolling the virtues of less glamourous clubs that are doing things better than Everton at the moment.
Guess what? At any given time in the history of the game, there have been smaller clubs who have done things better than Everton and other famous clubs for periods of time – Ipswich and Burnley during the late sixties, Nottingham Forest, Ipswich, and Derby during the seventies, right up to the modern-day Leicester City.
I admit these last 8 years have been difficult to fathom and endure, and it would seem that we have failed to make progress on many fronts, perhaps, even regressed on the playing side, but what did we expect following 20 years of neglect? The timing of Moshiri's investment was about 5 years too late, and the club couldn't handle the influx of money as it had no idea what to do with it after so long having to cut its cloth according to its means.
But as negative as I am and have been, I never imagined there would come a day when many Evertonians were countenancing their side being unable to defeat a relegated side, not just being unable to beat that team, but likely to lose to it.
The managers and players will come and go, some good some not so good, but if the supporters continue to 'revel' in this 'woe is me' attitude, we might never get out of this nightmare. Faith and hope are elements that are in short supply in every walk of life but surely in what is, after all, a mere distraction from life's tribulations, we can be a little more optimistic about our club and its fortunes?
This cycle of negativity that engulfs the club from time to time is becoming an addiction to some and I'm not sure that it is helpful to the broader Everton community or the club itself.
Bill Gienapp
22
Posted 16/05/2021 at 09:43:36
Neil (8) – "Don't ignore the talented youngsters who might make a difference."
No snark intended – I genuinely have no idea who you're referring to, other than possibly Nkounkou?
Rob Halligan
23
Posted 16/05/2021 at 09:47:16
Martin, if all the miserable sods were removed from this site, there would be about six of us left!
Thomas Richards
24
Posted 16/05/2021 at 09:47:47
Bill,
Me neither. It is a stick often used against Ancelotti.
Neil, can you post the team you would like to see selected please.
Rob Halligan
25
Posted 16/05/2021 at 09:55:01
Thomas, you're asking the impossible.
Neil Lawson
26
Posted 16/05/2021 at 10:20:59
I have been challenged about the "youngsters".
I have never posted a suggested team given that Ancelotti will do what Ancelotti wants and it seems likely to be a pointless exercise (pun intended!). However, we have an U23 and U18 set-up designed to develop and promote young players.
I read on TW and elsewhere about the outstanding performance of various young players and their prospects for the future. Box-to-box midfielders, young strikers banging in goals etc. Looking around the other 17 clubs, none of them appear to fear giving youth a chance to make a difference. The young full-back playing for Leicester yesterday, for example.
I would really like to see something fresh that may make a difference, not just the recirculation of repeated failures. Being a true curmudgeon also, I won't be unhappy if we do not get into Europe – if only because it may mean that we have to reassess our transfer targets and to find more Godfreys and not more Allans.
Expecting more bullets!!
Pat Kelly
27
Posted 16/05/2021 at 10:23:25
Isn't the kickoff at 7.00 not 7.30 ? Or is 7.30 when we start to play ?
Neil Copeland
28
Posted 16/05/2021 at 10:24:31
Come on blues, good win today and set us up nicely for a great atmosphere on Wednesday.
Let's put The Blades to the sword....I'll get my coat
UTFT!
Dave Bowen
30
Posted 16/05/2021 at 10:29:23
I'd definitely bench sulky-bollocks Richarlison & give King a go, but we all know Carlo won't do that.
Michael Kenrick
31
Posted 16/05/2021 at 10:34:28
Pat @ 27, you are correct. Well spotted. Thank you.
Kick-off is 7:00 pm, not 7:30.
Derek Taylor
32
Posted 16/05/2021 at 10:39:48
Barry @21; in my first season of 'Everton awareness', (1946-47) I recall that Grimsby, Charlton and Brentford were all in Division One and the latter team – although to be relegated later – beat Blues at Goodison 2-0. Charlton managed a 4-1 win against us whilst we failed to beat Grimsby home or away!
Not much changes as nonedescripts Liverpool won the League and we were 10th!
Brian Harrison
33
Posted 16/05/2021 at 10:48:36
While we have stopped leaking goals from corners and dead ball situations, and overall have improved defensively, our main problem and has been for a few seasons is our lack of goals. But when you look at the poor goal return from midfield and our forwards, then it's not difficult to see were we need to improve.
I see there seems to be a lot of speculation that Zidane will quit Real Madrid and that Carlo is very much in the frame to take over. While Carlo seems to like it here, if this rumour is true then I cant see Carlo turning down that opportunity. Hopefully this won't happen as I dread to think of where we would go should that happen.
But let's hope this doesn't happen and Carlo stays and buys the attacking players we need to be able to play more on the front foot than we have for many games this season. Obviously Carlo has thought we would take more points with this squad by adopting a more pragmatic approach, but I think with fans back next year they will demand we play with more attacking intent.
Let's hope we can finish the season with 3 wins, I know it's Man City away on the last day but I am sure Guardiola will be resting many of his key players before the Champions League Final, so picking up a win at City might not be as far fetched as it would be in normal circumstances.
Rob Hooton
34
Posted 16/05/2021 at 11:12:08
Would love us to win and for the players to give their all and entertain us in the process. We are well overdue this but I won't hold my breath.
Kunal Desai
35
Posted 16/05/2021 at 11:16:32
Quite simply this game is win or bust, if you can't beat Sheff.Utd we don't deserve European qualification.
2 goals scored and 17 shipped in since Wilder left.
Pull your fingers out of your arses and show the fight that you players want european football.
Ian Edwards
36
Posted 16/05/2021 at 11:16:49
Sheffield United's League away record this season is:
W 1
D 1
L 15
If we don't win today, there are no excuses for Roy Cropper. He must go.
Barry Rathbone
37
Posted 16/05/2021 at 11:23:52
Every season sees at least one crew as absolutely abysmal it's Sheff Utd this year meaning it should be impossible for us not to win although it will be dire
Tony Abrahams
39
Posted 16/05/2021 at 11:35:56
Have you not thought that you sound a little bit like Roy Cropper, Ian?
Tony Everan
40
Posted 16/05/2021 at 11:41:14
I think we will win, but unfortunately I think this will be another slog.
I don't think Carlo is about to take the brakes off and attack with gay abandon. It will be cautious and relying on Digne or James to get the class cross in at some point that Dominic can finish off.
Everton 1-0 Sheffield Utd
Ian Horan
41
Posted 16/05/2021 at 11:41:43
A moral high-ground post here, Ian Edwards. You have previously been unhappy with name -calling on the Live Form yet you are happy to name-call Carlo Ancelotti as "Roy Cropper" a character who is on the autistic spectrum.
I personally find that comparing anybody to a person on the spectrum as unacceptable. But you seem to think it's appropriate. Why not talk about team selections or offer alternatives like team selection, suitable manager, even factual claims would be a good start.
Thomas Richards
42
Posted 16/05/2021 at 11:47:47
Ian,
I've backed you in the past. Don't get on whingeing if posters call you names. Play by the sword...
Mark Frere
43
Posted 16/05/2021 at 11:52:47
Martin and Rob:
People are entitled to adopt a defeatist attitude if they choose. This season hasn't given us any cause to think otherwise.
How many promising situations have we put ourselves in only to fail miserably at home to the likes of Fulham and Newcastle? We've had so many glorious opportunities to challenge the Top 4... but – just when we think we are building a bit of momentum – a horror-show is just around the corner where we've been out-worked and played off the park by inferior opposition.
The football we've played as a spectacle, has been atrocious. Personally, I just haven't got much confidence in this group of players.
George McKane
44
Posted 16/05/2021 at 11:55:26
It's Sunday morning - - bright light coming through my writing room window - - quick look out and the sky is definitely Blue with some light cloud over The River Mersey - - I can hear birds chirping away - - sitting her surrounded on each wall by posters, postcards/photos - - Art and Poetry - - Vincent Van Gogh - - Le Chat Noir - - La Dolce Vita - - Chagall - - Michelangelo - - Leonardo - - Wordsworth - - Klimt - - Dickens (remember the old 60's joke - - do you like Dickens - - don't know haven't been to one) - - King Arthur - - The Buddha - - sunflowers - - photos of my work - - places I have been and alongside me - - to my right - - Everton - - me and my family and friends at Goodison - - my Cup full of Pens with "George of Yellow House Everton and Proud " on it (a present from someone) - - little "snowshaker" with Goodison inside - - it says: "The Home Of The Blues" - - EFC Notepaper - - two tin players stand on my desk - - one in Blue the other in the Gold Kit - - I have my music on - - I surround myself by things that lift me - - I am listening to The Loving spoonful right now - -"Do You believe in magic" - - got to haven't we - - I surround myself with things that inspire me - - lift me - - raise me above the mediocrity - - take me on a daily ride up and onto The Astral:
"What a day for a daydream
What a day for a daydreamin' boy
And I'm lost in a daydream"
I am the Master of my own moods - my own destiny - - my life - - I choose who I am and what I do - - this is something the great Victor Frankl tell us - - whatever the circumstances and situation it is how "we choose" to live - - that is what makes us who we are - - and I chose to be an Evertonian many many years ago - - we all know that sometimes it can be tough - - hang on a minute or so - - just listening to The Impressions - - It's Alright: Just floating off to The Mardi or maybe Reeces on a Monday Soul Night or the CI on Sunday - - got on my Saxone Ox Blood Como's on - - polished and shining - - shot green silk suit - - black silk hankie in the top pocket - - 1 inch lapels - - 3 button - - centre split at the back - - pink or maybe yellow Ben Sherman button down - - meeting Mary Walsh - - she was a great dancer - - really cool - - - - "were going to move it slow when lights are low - - now listen to the beat - - kinda catch your feet - - now you got soul and everybody knows it's gotta be Alright" - - Mmmm - - OK back with you now - - all of this just to say:
"Well, we all shine on
Like the moon and the stars and the sun
Well, we all shine on
Like the moon and the stars and the sun
Well, we all shine on
Like the moon and the stars and the sun
Yeah, we all shine on
Like the moon and the stars and the sun
Yeah, we all shine on"
Being a Blue can be tough sometimes but I (we) have no alternatives - - We Are What We Are - - in the last few years' - - for sometime now - - I have given up worrying/thinking - - even watching - - about what other teams or fans are and do - - I am Blue - - Through and Through - - of course all that sounds lovely and dreamy but I still get mad and moan and whinge but overall - - Blue - - 2nd team - - none - - Blue and Blue and Love it:
"Honey, you do me wrong but still I'm crazy about you
Stay away too long and I can't do without you
Every chance you get you seem to hurt me more and more
But each hurt makes my love stronger than before
I know flowers go through rain
But how can love go through pain?
Ain't that peculiar?
A peculiar-arity"
Ain't that peculiar, baby?
Peculiar as can be
- - my daughter (herself a match going Blue for 40 years') and my grandson (25 years' a matchgoer) have just told me that we have tickets together for Wednesday - - and that coincides with a visit to The Dark House before and after the game for the first time in 15/16 months - - pity the whole gang cannot be there - -but we shall see and I will stop for a moment on Wednesday and raise my consciousness to think of all friends who cannot be there - - for some that have gone and for all my Fellow TW'ers - - I can recall that sometime in August and September I wasn't sure that I would ever see another Everton Game or write or read a TW Article or see my dearest family and friends - - "Don't it always seem to go
That you don't know what you got 'til it's gone" - - or nearly.
So Come On Carlo and Players - - give us something - - show us your intentions - - we have Hearts Bursting With Blue Blood Pumping through our veins - - we want to love you - - I have been disappointed with the latest performances but personally believe that Ancelotti deserves some more time - - not forever and unchallenged - - but let's see:
"Up in the morning, up in the morning out on the road
And my head is aching and my hands are cold
And I'm looking for the silver lining, silver lining in the clouds
And I'm searching for, searching for The Philosopher's Stone
And it's a hard road, it's a hard road daddy-o
When my job is turning lead into gold"
I am going to spend the afternoon in thought and contemplation - - some drawing - - reading - - and then watch the game believing of course that this is the game that changes things - - maybe a bit too late - - but nevertheless - - still full of hope - - I have just looked from my front window - - across The River - - The City spread before me - - all under a Blue Sky.
I am sending Blue Cosmic Grooves Out of my window - - up int The Astral - - stop for a moment - - look up and grab some - - it's for you:
"When by my solitary hearth I sit,
When no fair dreams before my 'mind's eye' flit,
And the bare heath of life presents no bloom;
Sweet Hope, ethereal balm upon me shed,
And wave thy silver pinions o'er my head …"
Sent with a firm handshake - - your friend - - George.

Ian Edwards
45
Posted 16/05/2021 at 11:59:28
Ian Horan. I was unaware that the character was on the autistic spectrum. I just assumed he was a boring grey man. I apologise for any offence.
I'm happy to accept some "return of serves" from other posters. However, there is a line. Foul-mouthed pile-ons cross the line.
Brian Murray
46
Posted 16/05/2021 at 12:03:30
Ian Edwards. You are a blue who is as choca as the rest of us so I doubt it's just personal against the manager. We all see his selections and subs are sometimes woeful but maybe all is not what it seems (a bit like Hayley re Roy Cropper, if you like).
Coyb – here's to a great window. Forget this season.,
Brian Murray
47
Posted 16/05/2021 at 12:14:34
Blaming you tonight, Ian, if we come a cropper!
John McFarlane Snr
48
Posted 16/05/2021 at 12:18:30
Hi George [44] yours is an inspirational post in a mainly depressive situation, have a great night at the Dark House and the match.
Brian Murray
49
Posted 16/05/2021 at 12:22:08
George. Have you got friends in high places? Is the Dark House open tonight for our game?
George McKane
50
Posted 16/05/2021 at 12:26:09
Sorry Brian - - meant for Wednesday's game - - did you get ticket - - come down to The Dark House if you did - -will be in before and after the game. Cosmic Grooves All The Way - -especially to you Brian and thanks to John McF - - hope you are well mate.
John McFarlane Snr
51
Posted 16/05/2021 at 12:31:37
Hi again George [50] I'm alright thanks, unlike some on this site, "I can't complain"
Brian Murray
52
Posted 16/05/2021 at 12:32:45
Self-employed trucker, me, George, so probably got work and have to take it if offered. (Too many chicks still in the nest with their mouths open! All adults, allegedly.)
Gutted I can't make Wednesday but one of my lads taking the baton, so all's good eh! Enjoy.
Len Hawkins
53
Posted 16/05/2021 at 12:35:20
Win 4-0 and our goal difference is equal to West Ham so it would be better if a 5 or 6 -0 could be the target even more if possible. But after the home defeats suffered this season it would be a surprise but a nice one hopefully.
Roy Cropper who's he, I first thought Roy of the Rovers but wasn't he Roy Race?
Jay Wood
[BRZ]
54
Posted 16/05/2021 at 12:35:46
Picking up a sub-theme in this thread, together with similar declarations on other match day threads in recent weeks, I for one do not welcome the end of the season.
Why? Because no matter what, however well or badly Everton is playing or positioned in the table, watching them is always - always, always, always - one of THE highlights of my week. It has been this way for 55+ years now.
I count the days of the closed season to when I can watch Everton kick a ball in anger again at the start of the following season. I really don't care for the weeks devoid of any Everton game.
I simply can't relate to posters who claim that they aren't even going to watch if 'x' is in the starting line up. That they will walk the dog rather than watch the game, etc. I can relate many a tale of the extremes I have gone to on my travels to watch Everton on a live broadcast or tune in to a short wave radio with a dodgy reception.
I genuinely, but genuinely, view each and every match we play with the belief that we are going to win it. Deluded maybe, but therein lies the difference in mindset displayed across the broad spectrum of TW.
I am an eternal optimist about all things Everton, football, life.
OK. The actual match, performance, result may make you despondent. But why compound that despondency even before a ball is kicked in pessimistically declaring Armageddon?
I wonder at times how representative of the match-attending fans (remember them..?) TW is. Because every week pre-match there seems to be a race to the bottom from some contributors. Who can be more scathing and dismissive of all things Everton.
Give me the likes of George's inspirational 'Nothin' But Blue Skies' pre-match positivity and streams of consciousness; Rob Halligan's enthusiasm and pining so see his beloved Blues live again.
They more truly represent my own emotions about our club than the constantly doom-filled protestations of a few on here. And for that I'm grateful to them.
Laurie Hartley
55
Posted 16/05/2021 at 12:39:01
Brian # 33 - My gut feeling is that Carlo would knock Real back and stay with us.
George # 44 - caught those grooves here in Korumburra. – "I am going to spend the afternoon in thought and contemplation". May give that a go tomorrow arvo.
Up the Blues!!!
George McKane
56
Posted 16/05/2021 at 12:39:40
Really pleasant - heartfelt - Blueblooded - thoughts and words Jay - I am just doing my ironing - not my fave - so to be ready for a True Blue afternoon and evening - cosmic Blue grooves floating over to you.
Danny O'Neill
57
Posted 16/05/2021 at 12:45:41
I get that some disapprove of the manager and would rather someone else was at the helm... but Roy Cropper? I guess that is some sort of personal insult although I don't get the connection.
Jay (BRZ), you speak for me. The last day of the season and the dreaded summer months is the worst part of the year for me as I pine for August to come along as quickly as possible.
I too have tuned in on dodgy radio reception in very remote parts of the world at godforsaken hours to listen to and / or watch Everton. I may get as frustrated and annoyed as anyone with the result or performance, but I always look forward to Everton and football.
Neil Lawson
58
Posted 16/05/2021 at 12:46:57
Jay. A truest of true blues. We should all aspire to be like you and to share your unrelenting and undiminished passion for our club.
We also should all join together to implore our team to give us at least one great and encouraging performance because, if watching them truly is the highlight of the week, you and so many others deserve so much better.
Like you, I can not ever choose not to watch, but it is currently somewhat miserable and depressing.
David Cooper
59
Posted 16/05/2021 at 12:47:20
Thanks, George, for lifting my blue spirits! It's just turned 7 am here, 3,000 miles away in Mississauga, Ontario, Canada! Been getting up early these days as the sun wakes me up earlier and earlier! This really is the best time of the day!
It will be a long wait till 7 pm your time, 2 pm here but, despite how disappointing the last game was, there is always the hope that we will be much better in the next game! We can only hope!
Disappointed to read so much negativity and constant abuse of Richarlison. He is a hard guy to read but we are better with him than without him. All he needs is a goal but then don't we all!
Here's hoping that we score early and then improve our appalling goal difference.
COYBs!
Barry Thompson
60
Posted 16/05/2021 at 13:00:18
When did we sign our new striker, Gay Abandon?
Peter Dodds
61
Posted 16/05/2021 at 13:05:56
Brighton did us a service yesterday by drawing with West Ham. A win will see us level on points but we're currently 6 behind on Goal Difference, so a big win today is needed to see that narrow considerably.
Then we might be able to go all out vs Wolves in an attempt to surpass West Ham's advantage here, because they've still got an easier run-in than us. I just have a horrible feeling that Goal Difference is going to be the deciding factor between winter Thursday nights at home or somewhere in Eastern Europe.
I think 4-0 tonight is the minimum we need, 4-3-3, Richarlison to get a couple and then be handed the ball for a penalty to get his hat-trick.
Bobby Mallon
62
Posted 16/05/2021 at 13:35:36
We are boring to watch. This team needs to play:
Pickford
Coleman
Godfrey
Keane
Digne
Doucouré
Allan
James
King
Calvert-Lewin
Richarlison
Just fucking go for it. Give King 60 mins, for fuck's sake... we need goals, Carlo!
Benjamin Dyke
63
Posted 16/05/2021 at 13:39:07
Is it true that, if Villa fail to win today, our lowest position would be 10th? It will no doubt be higher but, after 40 points, that is surely (sadly) our next target! It is for me anyway... plus a good cup run.
My expectations have become a little more conservative lately.
John Boon
64
Posted 16/05/2021 at 13:40:15
Like David Cooper (59). I have also woken to the sunshine 3,000 miles away in Niagara Falls. A sight alone to stir any aching heart and great to see some early optimism from Blues around the world and at home on Merseyside.
And George (44), I will make no attempt to match your poetic genius and scouseness but I will share in your Blue vision. (aka Alex Young, who could light up any dismal room or world). In difficult times for those in "Blue" there are challenges. Yes, but minor ones compared to Covid and his vicious offshoots.
Frustration is always a factor in being an Evertonian for just the last 25 years. I am one of those fortunate and old enough to have experienced the "Highs" of the sixties and eighties.
At times, I have ranted, raved and showed my own frustration at the indignity of losing to some team from the lower depths of the Premier League. However, I have also been around long enough to experience the extreme lows of "relegation".
Once a Blue, always a Blue, despite idle threats to never ever watch another game. For all thse true Evertonians who made such a threat after the Fulham game (just an example), I bet you will be watching today. You just do not have any other option.
Tony Everan
65
Posted 16/05/2021 at 13:40:32
I'd like to see it too, Bobby, that team would give us some entertainment.
John, Niagra Falls may inspire some of our more negative TW members in a slightly different way.
Stephen Vincent
66
Posted 16/05/2021 at 13:42:28
Games like this always take me back to 1975, Billy Bingham made Carlo Ancelotti seem positively attack-minded.
We lost twice to Carlisle, who finished rock bottom, conceding 3 goals on each occasion. Had we won those 2 games, we would have beaten Derby to the title.
I think we also lost to Sheffield Utd at Goodison Park, having been 2-0 up.
Mind you, the current Sheffield Utd have no-one of the caliber of Tony Currie. So 3-0 for me.
Rob Halligan
67
Posted 16/05/2021 at 13:45:19
Benjamin, as it stands, Villa are losing 3-2, so yes you're right, but even a draw would mean they could only finish level on points, albeit they have a slightly better goal difference.
David Cooper
68
Posted 16/05/2021 at 13:53:23
John #64, I would love to talk to you via the phone or email! I too remember the 60s and 80s! Would be great to chat about times now and then!
George Cumiskey
69
Posted 16/05/2021 at 13:56:06
Bobby Mallon – exactly right!
Benjamin Dyke
70
Posted 16/05/2021 at 13:57:39
True, Bobby... I don't think we'll see it, sadly.
We are the back-foot champions at the momemt.
Danny O'Neill
71
Posted 16/05/2021 at 13:58:14
I do like Ontario. I spent time in Kingston. Fantastic city.
Dale Self
72
Posted 16/05/2021 at 13:59:53
Right on, Jay. Good words.
John Boon
73
Posted 16/05/2021 at 14:10:36
David (68),
Simple: 9057324353 after the game. Far too tense before.
JB
John Raftery
74
Posted 16/05/2021 at 14:11:54
We are well overdue a comfortable win. Today, we should get it, providing of course the players don't go on to the pitch thinking the same. Virtually every Premier League game since October has been a slog with no margins for error. That is because of the limitations of the squad but we are now guaranteed a top-half finish which is an improvement on last season.
Everton 4 Sheffield United 0.
Jerome Shields
75
Posted 16/05/2021 at 14:19:17
Just remembered the last time on reading the result. That was a nightmare Have to beat them to stand any chance. Hopefully James will play; we need that creative pass to unlock them. Godfrey was not able to get far enough forward in the last game.
Good Luck, Everton. Travelling again. . . Car radio.
Bill Gall
76
Posted 16/05/2021 at 14:34:19
We should, and I hope we do, have a comfortable win today to get on level points with West Ham. The annoying thing is we need 7 goals to overtake them on goal difference and that has been our problem: scoring goals. Apart from Calvert-Lewin, the rest of the team are just not contributing.
The two problems are lack of form from recognized scorers, and tactics. You may be able to get over one of the problems but the two combined is why we struggle.
The manager is the key to the problems as he can change tactics if they are not working and drop players who are below standard, instead of playing them every game in the hope they improve.
I really should have said there are three problem areas: the third is the poor squad depth.
Brian Murray
77
Posted 16/05/2021 at 14:43:28
Steve Vincent post 66. Yes remember it well v blades. Going great until dai the drop decided to get in on the act. Two Up
And a cracker from David small man ( tragedy broken leg never really recovered). Binghams robots as the press called us was so so close. Hence the phrase Everton that. As latchford said we was only a decent goalie away twice from being champions in 75 and 78
Neil Lawson
78
Posted 16/05/2021 at 14:50:39
Bill 76.
A fourth one. A surfeit of bang average/poor players.
A fifth one anyone ?
George McKane
79
Posted 16/05/2021 at 14:51:06
Goodness me - remember the SU 2 - 3 game - Currie was incredible - I heard the Catterick was on his way to sign him when he had the heart attack - also remember the Carlisle games - Eaaarrrggghhhh.
James Head
80
Posted 16/05/2021 at 14:58:41
Steve Vincent #66, I was at that game at Goodison and we did lose 2-3 to Carlisle after being 2-0 up, today the Premierships two worst teams to watch from a footballing point of view, Everton v Sheff Utd, make sure the milks in the fridge, walk the dog, clean your shed, watch paint dry, you'll enjoy it more!
Robert Workman
81
Posted 16/05/2021 at 15:03:13
Like George, with his Lovin' Spoonful feelgood music in my former home of New Brighton, the sun is shining too here in Vienna.
This is one game for which I am not apprehensive. I believe that it will go one of two ways. We score early, maybe twice, and have a comfortable game. Alternatively it becomes a nervous 1-0. I do not expect Sheffield United to score, or come away with anything from the game.
I repeat what I have said before that, if we do not achieve a European position, it will be as a direct result of not beating Spurs, when they had virtually given up at 2-1. At that stage of the season it was a more significant result than any of the unexpected home defeats.
George McKane
82
Posted 16/05/2021 at 15:07:33
Hi Robert - nice coincidence - love Vienna - some of my favourite writers/artists/thinkers - I may be going to do some theatre there in August for around 3-4 weeks.
Robert Williams
83
Posted 16/05/2021 at 15:11:56
JR 74 - We need at least a 6 - 0 but will probably manage a 1 - 1 draw!!
Danny O'Neill
84
Posted 16/05/2021 at 15:13:41
Vienna is up there with London and Paris George in terms of arts, architecture and culture. A former seat of a royal dynasty and it still reflects. Wonderful city. I hope I get there next season for footballing reasons associated with Everton!
Dave Abrahams
85
Posted 16/05/2021 at 15:20:15
George (44), George, glad you're in a good mood this sunny morning, mind you you're never down for long, I hope you enjoy Wednesday night with two of your clan and I hope The Blues add another victory on Wednesday to the one we get today, shaking your hand back with you George, very best wishes.
Jay (54), Jay, no team in the world whether good, bad or indifferent play every week of the year, they all have to have a break, you just have to wait like the rest of us, I know some find it harder than others, you're one of them, you are also an " Ultra Blue" tend to find it very hard to criticise our players, Brian Labone would have been proud of you, I had many conversations with Brian, and no matter how bad we, and certain players had performed he would never have a go at them, loads of times I would put words in his mouth about how poor so and so had played but he wouldn't use them, even when I repeated them, he would smile but wouldn't agree with me, even if he agreed with me in his head.
Jay the season is finishing later than usual and it might start earlier next season, that might be some consolation to you, to add to the Angel who lives with you every day, I hope you are both doing fine.
Dave Abrahams
86
Posted 16/05/2021 at 15:25:54
Danny (84), Danny, lovely city, spent a few hours there one day, loved it, very expensive though Danny, cost one euro to have a hit and a miss, I hung on 'til I found a pub!!
David Cooper
87
Posted 16/05/2021 at 15:28:39
John #73 You're on! Let's hope we have something good to talk about!
Simon Dalzell
88
Posted 16/05/2021 at 15:28:54
Martin (14). We are only miserable because of the miserable, turgid crap we have witnessed. This is FACT, and cannot be 'proved wrong' by an odd decent one. Very patronising. We have been dreadful to watch most of the season.
Will Mabon
89
Posted 16/05/2021 at 15:30:47
Danny/Dave, I was there years back, but so long ago now that the image has gone and it means nothing to me.
Mark Murphy
90
Posted 16/05/2021 at 15:32:05
" Do you like Dickens? - Don't know, never been to one!"
Coffee - spluttering keyboard brilliance!
God bless you George - enjoy the game!
UTFT!

Gary Willock
91
Posted 16/05/2021 at 15:42:57
See if that "free scoring" team from the start of the years still in there Carlo.
4-2-3-1
Pickford
Coleman Godfrey Keane Digne
Allan Doucoure
James Gomes Richie
DCL
Sean O'Hanlon
92
Posted 16/05/2021 at 15:49:05
Martin (#14), Rob (18),
I really can't blame people for being pessimistic about today's game, after the horror shows that have been dished up at home this season.
We are 12th in the table in the 'goals for' column – which in reality, is equivalent to being a further point behind our nearest rivals. We'll never catch Liverpool, Spurs or West Ham with regards to goal difference, so let's forget that.
We won't win at Man City, when they'll be parading their Premier League trophy. So the best we can hope for is 62 points. Looking at the fixtures for the other 3, no chance of getting above them.
Hopefully we'll finish 8th, but potentially, Arsenal and Leeds could finish above us.
I pray today's game is not the humiliation of the season. Would love to see a hat-full of goals!
Martin Nicholls
93
Posted 16/05/2021 at 15:49:44
Simon#88 - I'm as miserable as the next man about repeated poor results and performances and have been for my 60 years of matching going. However, like Jay, Rob, George and I believe most others, I still look forward to our games with undiminished optimism. If others wish to wallow and drown in a sea of misery and pre-match pessimism, I of course accept their prerogative to do so - I'm not trying to prove anyone wrong but as I've said though, I personally don't understand what such people get out of following Everton.
Lets just hope the mood of misery prior to the game has been lifted after it!
PS - you sound like a certain manager of our rivals with your use of "FACT" to emphasise your point! Only joking!
Thomas Richards
94
Posted 16/05/2021 at 15:57:28
", I personally don't understand what such people get out of following Everton"
Angst and misery Martin?
Derek Moore
95
Posted 16/05/2021 at 16:00:01
I tip my hat to Jay Wood (#54). A really profound and insightful post.
The depth of passion I feel for this football club is vast and enormous. I grew up in Wavertree, and went the match as a kid with my Dad and his Dad. My granddad assured me his own granddad was a blue, so by my lousy scouse maths that makes me at least a fifth generation Evertonian.
But what I feel is obviously and quite simply nothing to the breadth of feeling others have, as so brilliantly demonstrated in that post. It's like comparing a thimble of water to the great lakes really.
I've spent almost all of the last twenty five years living here in New Zealand or across the ditch in Australia. Most blues don't need to be reminded how brutal the time differences are - it's Monday morning here now! But let me tell you the one thing worse than watching Everton play like shite and get slaughtered is doing it at four in the morning when you have work at seven. And yes, even in NZ and Oz there are plastic RS fans aplenty. They couldn't find the UK if I passed them a globe, but it doesn't stop them piling on every derby day. (except the last one, you fucking dancer!)
I've put in the hours, I've felt the pain, smashed phones when we lost big games, spent the money, bought the t shirt. Paid my dues?
Yet I must confess that watching Everton is very seldom the highlight of any week for me, with a massive exception for this years derby at the tin mine. The pandemic obviously changed our world in ways we can't even begin to quantify, and one casualty was admittedly my own passion for watching professional sports. But even prior to that I had long had the sense that I might love Everton, but she sure doesn't love me back.
In light of the events upending our world, a football club that hasn't won a jelly bean in a quarter of century nor looks like doing so any time soon either sort of shrunk in importance to me. In light of our privileged position in regards to the virus here in New Zealand I am making a determined effort to go out and, you know, do stuff. That Robin Williams movie, Dead Poets Society quote. Seize the day.
And of course, I'm far from the only one to have this perspective change. And equally there's many more whose views have not changed. But this is my experience, for better or worse.
I guess I just feel that I what I fell in love with -and my forefathers did - has evolved and changed so much and so quickly that in some ways it's not even recognizable. Yet alone comparable.
My own son has also yet to be entranced by this modern version of Everton. Without even the memories of when it was different, like I have, I'm not sure he'll ever even end up with the fumes of passion I'm coasting on.
I ended up getting involved in a park game a few weeks ago - rarer than you might think here in NZ! - and had an absolute blast. Loads of fun. Dribbling past kids, seeing them try their stepovers and dragbacks and flicks and tricks - that's the real joy of football, the game itself.

It made me conclude all this bolt on shit: to wit - gold bentleys, six figure a week salaries, VAR, the champions league, the Glazers, Sky, BT, Souness, the Red Shite, the breakway super league - all that shit actually does absolutely nothing, nothing at all to improve my enjoyment of the actual game of football itself. Two teams, a ball, put it in the goal or don't. Football.
In fact, for me, it rather does the opposite. I'm getting more divorced from professional football and by extension Everton by the year. These fuckers - agents, pundits, managers, players, the lot - owe everything to the game itself, but just take and take from it. It's actually...disturbing.
I actually have a significant birthday this week. This will be the last time I get to watch Everton this side of forty! And obviously a landmark like that makes you consider your own actions and role in the world a little bit more than you might normally allow yourself to.
I'm hoping and expecting to see them see round of my thirties with a rousing and comfortable victory 2-0, hitting the post three or four times most likely.
But whether they do or they don't, it won't be the highlight of my week. As I started by saying it's obvious that my own level of feelings for the club does not even remotely compare to what Jay and other posters here feel.
I don't aim to ruin others passion and love for the game through my own lack thereof. I can see definitely see how that would, does and likely will continue to happen and I apologize for that.
To Jay, Rob, George and anyone else whose passions run as deep may I just pay my respects. I'm not lying when I say I'm jealous of you gentleman having that breadth of feeling, of feeling almost touched by the club itself. Nothing can give you that feeling and it's like nothing else when you're feeling it.

Every flock has it's true believers and it's lip service merchants. I'm much closer to the latter than the former sadly. If I do interrupt any posters here enjoyment of Everton, I'm sorry - I am not doing that from a position of maliciousness and nor would I.
Anyway, off to get bladdered and watch Everton as a thirty something one last time. My best wishes to all of you, heathen or true blue believer.

Derek Knox
96
Posted 16/05/2021 at 16:00:35
Dave @ 86, Yes I too have been to Vienna on several occasions either driving through or by Air on way to Budapest (had friends there) that I visited quite often with my ex-wife and kids too. Like you say, arm and a leg prices in the Centre of Vienna. Hope you said Goodnight when you left !
Even Rigsby named his cat after the City ! 😜😂
Jay Wood
[BRZ]
98
Posted 16/05/2021 at 16:07:44
Dave @ 85, just being mentioned in the same sentence as 'The Last of the Great Corinthians'?
I won't just take that all day long, I'll take that with immense pride to me grave!
I must correct you on one thing. I can and do criticize the manager, individual players, the team, the tactics.
What I don't do is hold absolute opinions on any of the above which I won't budge on. I take (in comparison to some) the seemingly novel approach of judging all on a game by game basis.
I'm not given to predicting failings before a ball is kicked in anger, or in-game applying confirmation bias and 'seeing' only the failings (real or imagined) of whoever or whatever and never the 'good' in the same.
Clean sheet for all every single game for me. And I'm not talking about not conceding, although that is always nice.
PS thanks as always for asking about the missus. Appreciated. In these troubled times THE biggest highlight of my week is that she survives another week in the frontline without catching this damn plague. I hope you and yours are keeping safe and well too Dave. Any chance of reviving your Monday night sessions any time soon fellah..?
Brian Williams
99
Posted 16/05/2021 at 16:10:06
Martin#93.
Hiya Martin. When you say "I don't see what etc"
It won't just be with regard to supporting Everton that they're like that.
You'll probably find they're miserable fuckers generally.
I actually think "some" of the posts/comments made are done so with the specific intentions of drawing attention to themselves, pissing others off so that they feel as miserble as the poster, and to start an argument.
There are indeed some strange fuckers about.

How's that fine young Evertonian grandson of yours by the way?
Danny O'Neill
100
Posted 16/05/2021 at 16:17:46
Will @89 I see what you done there!!
Derek Moore . see you next week then!!
Paul Birmingham
101
Posted 16/05/2021 at 16:23:38
6 -0, 7-0, to Everton, and smash our goal difference today.
I still reckon, there's plenty of twists left in the re:sing EPL fixtures, for all the teams.
Now Everton are reliant on Spurs and West Ham loosing at least one game each and getting a draw or ideally, both of them loosing their last 2 games.
Let's get the win and by as many goals as possible.
Steve Croston
102
Posted 16/05/2021 at 16:26:14
In our quest for European footy next year, has there been a better time to hit some home form?
Therefore, I fully expect a narrow win, with us making Sheff Utd look like Brazil for at least 50% of the game, before getting the winner via a set piece. You know the script by now guys!
Joe McMahon
103
Posted 16/05/2021 at 16:31:19
Our Goal difference will haunt us, even if we do win the next 2 games. I read of this site yesterday that because Leicester won a defensive cup final, that they were a defence mid table team like us.
Well they are currently 3rd with a Goal difference of 21. Yes I was mystified by that post.
Mike Gaynes
104
Posted 16/05/2021 at 16:35:05
Jay #54 and Martin #93, me too. Summers are sad for me because there are no games coming up.
Brian #99, surely you jest. All TWers are pure of heart and thought, are they not?
Dave #85, you're not gonna believe this but last night I dreamed about you and Tony and that conversation outside Anfield. What a day that was, no matter the result.
Dave Abrahams
105
Posted 16/05/2021 at 16:35:35
Jay (98), yes you've all had it really tough in Brazil since this terrible virus has changed the whole world in it's thinking, and I think it will be a quite a while before we get anywhere near it was the way before this all began.
Yes all my family are fine, came through it all okay and the vaccine has given most people a lot of hope that it will begin to start a revival in the way we think.
As for the Monday nights starting again, they will soon, but we're I could get through six or seven pints and be still reasonably sober, if I have three or four at the moment I'll be out of the game, I think, so I will have to work at it to regain my former drinking level, and sadly the gang lost an absolute beaut just before the lockdown began, another is eighty six and struggling, that leaves five and we are not getting any younger but we will be arguing with each other very soon hopefully, and the beaut who passed on was a Bluenose, leaving me to argue the toss over football with five Rednoses who haven't seen their team? since St. John and Roger Hunt retired!!
Dave Abrahams
106
Posted 16/05/2021 at 16:39:57
Above post (105), at the end should have read: four Rednoses not five. And I haven't even smelt a bevvy today!!
Mike Gaynes
107
Posted 16/05/2021 at 16:48:46
Geez, I didn't know Robson-Kanu was even still around. Nice goal for an old guy.
Sean O'Hanlon
108
Posted 16/05/2021 at 16:49:43
Jay (#54),
There are many on here who are just as loyal to their club, but they also want to be entertained, and watch good football. The days of Roy Vernon, the great Alex Young, the Trinity: Ball, Harvey and Kendall, and the wonderful team in the '80's, are long since gone. Remember we were once called 'The School of Science'?
I'd love to see Everton play good football again. I cannot blame people for refusing to watch Everton this season. Some of their performances have been dire. I watched Leeds yesterday thump Burnley - and I thought, it would be great if Everton could play like that.
For me, Ancelotti is not the man for the job. I know many on here were salivating when he was selected as our manager. We'll finish 8th, 9th or 10th in the table.
I'll be criticised for this, but I would pick Duncan Ferguson for manager. When he was in charge for a while, it was the first time I saw the team play with spirit and passion.
Loyalty can be blind, and if watching Everton, at this moment in time, is your highlight of the week, you must have to endure a pretty awful week.
Jay Wood
[BRZ]
109
Posted 16/05/2021 at 16:50:38
Dave, sounds as if you need to get some out-of-season, in-house 'training' in for when the real thing and your Monday night sessions KO again!
Send your Tony down the offie to get your training equipment in!
Health!
Brian Murray
110
Posted 16/05/2021 at 16:50:57
Derek Knox post 96, I also had trouble with the 11 plus like Rupert rigsby, Beautiful city Vienna, bern there a few times, couldn't live there unless got six numbers up. Very expensive.
Brian Murray
111
Posted 16/05/2021 at 16:55:54
Dave post 106 fair play to you sitting and listening to kopites half the night. You could boil an egg by the time I've had enough of em. Think I'm getting worse as I get older. Tried city centre bev yesterday. Despite token gazebo still ended up like gene Kelly friggin soaked! Here's to a great summer window. Gave up on this seasons squad to be honest. Coyb
Nicolas Piñon
112
Posted 16/05/2021 at 17:01:12
No games in this season have been so easy pressurewize as the one today.
Sheffield already down, playing just for the honor of their shirt, but probably will have their players a little bit less motivated than when the league started, or at least that's what I expect.
We must show we are a serious team once again at home please!!!
NSNO COYB!!

Ian Edwards
113
Posted 16/05/2021 at 17:04:19
Gary Willock 91. It's that formation with 2 DMs and basically one up front that is responsible for our dreadful home record. We don't need 2 DMs at home to Sheff Utd. I would go for:
Pickford
Coleman Keane Godfrey Digne
Allan
Rodriguez Richarlison Sigurdsson
Calvert-Lewin King
Danny O'Neill
114
Posted 16/05/2021 at 17:09:22
Slight tweak on that Ian.
I'd go for Mina alongside Godfrey if he's fit??
Then a 3 of Davies, Doucoure and Allan with Richarlison, James and Rodriguez in front of them.
As always, let's see what poker face Carlo serves up!
Martin Mason
115
Posted 16/05/2021 at 17:15:21
Good luck tonight and hoping for an inspired performance from James to give us the additional pleasure of a good performance. SU aren't mugs though and could prove to be a difficult nut to crack.
Martin Mason
116
Posted 16/05/2021 at 17:20:19
Jay@54 Agreed
Sean@108 We all want the same thing in terms of performance but we don't yet have the squad to deliver it. In the meantime we can try to maintain positivity.
Nicolas Piñon
117
Posted 16/05/2021 at 17:34:54
About the months of the year when Everton doesn't play, I hugely miss the games really. At least this year (fingers crossed) we'll have Copa America here in South America and the Euros in Europe to be distracted with at least. But what can make it interesting to pass quicker that of the year will be Carlo's search of players for the new season.
Because although this season probably we expected to be higher in the table (I talk for myself but thinking what many may too) I firmly believe on Ancelotti's ambition and that he'll make whatever he can to develop this squad, after this first complete season at the club.
So I think it will be an interesting period; more than previous ones. I'll probably anyway miss the match days cause when I get here some time before games to drop my team or read messages it reminds me of the blue wave of people around Goodison. And that was adrenalin 300% and the best feelings football has given me in my short life. But I'm sure it'll be a pretty interesting summer to be an Evertonian.
Tom Bowers
118
Posted 16/05/2021 at 17:37:21
Frankly I think it will be another borefest and with luck another 1-0 if we do win. Goodison has been a graveyard for a long time this season in more ways than one.
The quicker the season is over the better and then we will see if Carlo has any real intentions of making something of this team before next season.
David McMullen
119
Posted 16/05/2021 at 17:39:13
As much as I'd love us to do the right thing and smash Sheff Utd, do we have that mentality in the team? Maybe with a return to the sort of team we had at the start of the season we might score a few.
Mike Gaynes
120
Posted 16/05/2021 at 17:42:57
David, we haven't scored more than two goals in a game since February. Don't get your hopes up.
Derek Taylor
121
Posted 16/05/2021 at 17:49:27
Lose tonight and my fears of 'a ninth spot' finish will come nearer to reality. I think we read here sometime ago that our expenditure had us in eighth place so anything lower shows Ancelotti in bad odour.
No miracle worker he, particularly as his football style echoes that of Allardyce rather than 'boring' Moyes !
Dave Abrahams
122
Posted 16/05/2021 at 17:58:09
Mike (104), That dream, I bleedin' knew it, it's about that £50 I borrowed off you isn't it, thought I'd gotten away with it !!
Sean O'Hanlon
123
Posted 16/05/2021 at 18:01:36
Martin (#116),
I agree with you: at the moment, we cannot deliver a decent performance worth watching. I'd love to be positive if I could witness a modicum of spirit and passion in our performance, as it would make a defeat a lot easier to swallow.
Rob Hooton
124
Posted 16/05/2021 at 18:04:55
Derek Moore, great post and Happy birthday for tomorrow!
Paul Jones
125
Posted 16/05/2021 at 18:14:33
I do remember the "Bingham Robots" era of football and agree with Bob Latchford that a decent goalkeeper would have made a measurable difference. I believe Billy Bingham was quoted as he thought we decent enough to win the league without buying Peter Shilton who was linked with us in that era. History would prove his judgement fatal.
---
Add Your Comments
In order to post a comment, you need to be logged in as a registered user of the site.
Or Sign up as a ToffeeWeb Member — it's free, takes just a few minutes and will allow you to post your comments on articles and Talking Points submissions across the site.