Ancelotti: We should be embarrassed
Sunday, 16 May, 2021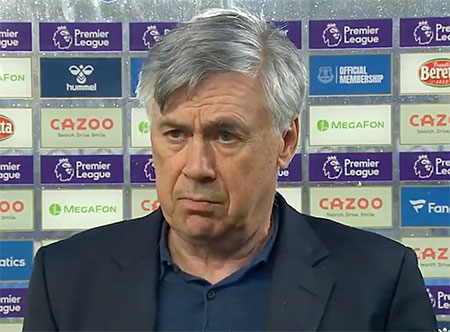 Carlo Ancelotti says that both he and his players need to take responsibility for what he says was Everton's worst performance yet at home this season.
With a place in the Europa League still within their grasp if results elsewhere go their way over the last two or three matches of the season, the Blues knew they had to beat already-relegated Sheffield United this evening but Ancelotti's charges wilted once again in the face of a must-win situation, falling to a horrible 1-0 defeat.
Though Allan, Richarlison and Dominic Calvert-Lewin forced good saves from Aaron Ramsdale, in the end all that was needed to overcome an Everton team that was, on paper, practically at full strength was a seventh-minute goal by Daniel Jebbison, a teenager who has spent the season playing in the sixth tier of English football.
"I don't have a lot of things to say," Ancelotti told BT Sport after the game. "We played really bad. We were not in the game from the beginning to the end.
"We have to be a little bit embarrassed because the performance was really bad. It was a great opportunity to get the result to stay in the fight for Europe [and] we lost a great opportunity and that's it.
"To a certain point I am little bit surprised but at home we've [been putting in] these kinds of performances, [although] not as bad as tonight.
"I have to take responsibility for this and also the players have to take responsibility."
Asked if he felt having fans back in the ground on Wednesday when the Blues take on Wolves would made a difference, Ancelotti said:
"I hope so. Maybe they can wake us up so that we can show them a different performance. I think that this team this season [has been two]-faced — really good away; really bad at home.
It could be easy to forget but I don't want to forget because it was so bad. So I'm really disappointed; I'm really angry.
Carlo Ancelotti
"We have to analyse [it] if we don't qualify for Europe. To qualify would be a step forward [because] we have improved from last season but now we have to improve for next season."
Ancelotti expressed similar thoughts to evertontv, saying: "I am embarrassed as manager of this team. Nothing was good. The attitude was bad; the start to the game was bad; the quality of play was terrible and so I have to take responsibility but I am not alone. The players also have to take responsibility.
"It's really difficult to explain because in two of our away games we played [well]. We won against Arsenal; it was a good performance against Aston Villa.
"I advised the players to pay attention for this game; to be careful because it's not easy and it will be difficult. We have to be ready when the difficulties come [but] we were not ready and we were not ready from the beginning.
Asked if he thought the team reacts in the right way to conceding the first goal, the manager said: "Yes, we struggled to react because we didn't have an idea in play. We had two or three opportunities in the first half but they were casual opportunities.
"We were not good with the ball; we were a little worried with the ball; we didn't have confidence with the ball and we were not compact defensively.
"It could be easy to forget but I don't want to forget because it was so bad. So I'm really disappointed; I'm really angry. Most of the time, I'm happy with my players but tonight I have to say to them that I wake up because this is not the way we can play. We have to play differently."
---
Reader Comments (147)
Note: the following content is not moderated or vetted by the site owners at the time of submission. Comments are the responsibility of the poster. Disclaimer
Tom Harvey
1
Posted 16/05/2021 at 23:04:20
Bringing on Gomes and not playing Davies and King from the start.... yes, he has to take his share of the blame.
I fear the modern game is beyond him now.

Brent Stephens
2
Posted 16/05/2021 at 23:08:23
Who would you not have started, to make way for King? And what has King shown to date to say he's better than them?
Colin Glassar
3
Posted 16/05/2021 at 23:09:26
At least we've avoided the European Charity League for the poor, or whatever it's called.
Kieran Kinsella
4
Posted 16/05/2021 at 23:13:40
Tom,
King was injured but he's also crap. I assume there's not a direct Italian translation for the cuss word he planned to use so he said he's "a little bit" embarrassed. Sadly the players won't be as they were here last season for Wolves and Bournemouth, and they were here for the season ender under the same manager.
Jim Bennings
5
Posted 16/05/2021 at 23:16:04
"I'm embarrassed to be manager of this team"
Finally some proper cutting words from the manager.
These overpaid fucks have stolen a living for too long, many of them have shafted four managers and downed tools under previous incumbents.
Tonight, they've been outshone by a team with limitations but bucket loads of pride in the shirt and the history of their club. We were shagged off tonight by true Sheffield steel, how many of our players have any steel in them?
Tom Harvey
6
Posted 16/05/2021 at 23:18:00
He's no worse than Richarlison or Calvert-Lewin at the moment and would have been worth a try. Calvert-Lewin and Richarlison would also have been given a jolt by this (if they care).
Kieran Kinsella
7
Posted 16/05/2021 at 23:20:08
To paraphrase Kevin Keega:n "We're down, but we're NOT fighting!"
Tom Harvey
8
Posted 16/05/2021 at 23:23:05
Colin @ 3,
I'm with you on that one.
We needed that early season Europa (losers/second chance) League like Dolly Parton needs a breast augmentation.
Brent Stephens
9
Posted 16/05/2021 at 23:26:49
King has done nothing and is crap.
Jerome Shields
10
Posted 16/05/2021 at 23:27:33
Do not expect this squad to turn up for the next two games. Finch Farm has closed down for the Holidays. The last thing they or some of the players are interested is European Football and they will make sure they don't qualify.
What Ancelotti does not realise, whilst he is embarrassed, most of them are not. They where out to embarrass him and put him under pressure.
There are deep problems at Everton and they have been there for years. Other Managers have got the same treatment.
Sheffield United have more pride and would never conduct themselves in this way. Congradulations on the well-deserved win. Good Luck in the Championship, at least you will not face a team of players like Everton.
Mark Andersson
11
Posted 16/05/2021 at 23:31:40
I think the players didn't want Europe... all that travel and extra work.
They would rather be home counting their money and playing video games...
Kieran Kinsella
12
Posted 16/05/2021 at 23:32:51
Carl can send a message by recalling Besic for Wolves. Then again... would anyone know who he was?
Tom Harvey
13
Posted 16/05/2021 at 23:33:35
Brent,
You're entitled to your opinion.
Has Davies done nothing? Is he crap? He can't get a game either?
Gomes is brilliant and does lots, he can have a game! Richarilson, same as Gomes, looks lethal, he can have a game!
Joe Corgan
14
Posted 16/05/2021 at 23:34:27
Strong words from Ancelotti and absolutely on the mark, although there wasn't anything said about what he plans to do about it.
It's one thing to be shit and identify what needs doing, but quite another to shrug your shoulders and keep doing the same thing.
"Buy better players" will be the call, but the fact is that our players, almost to a man, don't seem motivated, hungry or tactically drilled. Buying better players won't fix any of those issues.
Ancelotti's comments that our performances away from home have been good are just dead wrong. Our performances home and away haven't been great for most of the season. Yes, we've had some good results – especially against the teams that come out and attack – but we won with a real freak of a goal at Arsenal and we failed to beat Villa, who weren't even in the Premier League a couple of seasons ago.
Ancelotti needs to recognise, if he hasn't already, that there's something fundamentally wrong with the setup and it's not a simple case of our players not being good enough. They all need to be fitter, work harder and, for god's sake, they need to learn how to create chances.
Ian Riley
15
Posted 16/05/2021 at 23:35:45
Well, after calming down... thanks, Mr Ancelotti.
Top 10 place and good cup runs. That's all this squad is good enough for. No hunger, no desire, no fight and a "can't be arsed" mentality on the pitch.
I say we have over-achieved this season. I have saved a few thousand pounds not having to watch this lot in the flesh. More naps when on the television. Only positives from me!!
Thanks again, Carlo and all the players. Successful season. Well... for Everton anyway!!!
Mike Doyle
16
Posted 16/05/2021 at 23:39:12
Kieran #12,
Wwith our luck, Besic would have a clause in his contract granting him another 4-year extension if selected before the season ends.
Jay Wood
[BRZ]
17
Posted 16/05/2021 at 23:45:46
I'm not surprised by this statement. It was embarrassing.
I'm not one to indulge in the mystical art of body reading some engage in, based on the few seconds the live transmission fleetingly lingers on the manager in game. Carlo's deadpan expression in all situations remains the same any way, so he is never an easy read.
But one scene did give an insight to the embarrassment he expressed post-match. No histronics. No shouting. No arm-waving. I don't think he even took his hands out of his raincoat pockets.
When Ben Godfrey stepped forward in the 2nd half and blasted a wayward shot from distance high, wide and not at all handsome, you could see Carlo softly mouth the word 'Why?' 3-4 times, staring black-eyed at the player as he made his way back into position.
Conversations with the players before the Wolves game on Wednesday would make for an interesting listen.
Don Alexander
18
Posted 16/05/2021 at 23:55:16
I've been saying for 5 years that the players really, actively, don't want Europe because Europe attracts better players than the shysters infesting Finch Farm, stuffed full as it is with ex-player poser "coaches" tattooing themselves silly as they hoodwink us into believing they "get" Everton, that fantasy concept having been devised and implemented by the biggest boardroom shyster of all time.
If Farhad Fookin' Moshiri still can't see that I've no idea at all what he's about as he spunks £hundreds-and-hundreds-of-millions up the wall year after year.
It's about you, Farhad, and the people you've employed for five sickening years, you muppet.
Will Mabon
19
Posted 16/05/2021 at 00:07:40
A theme of branding King as crap since almost the start by some.
If true, one might be left to wonder at the roles of an esteemed Director of Football, world class manager, and the club's scouting network, in bringing such a player into the club and squad, at even any small cost.
Jack Convery
20
Posted 16/05/2021 at 00:11:21
If I was Godfrey, I would tell Carlo why – "It's because ir's a waste of fuckin' time playing it forward so I may as well have a go!"
Something rotten is happening in the dressing room that's not good. Over the past 5 or 6 seasons, Everton players have at times decided, whether on mass or in a small clique, that they no longer want to play for the manager. It happened to Martinez, Koeman, Silva... and now Carlo.
Maybe they are scared of being removed from their comfort zone. Whatever it is, it must be got rid of before next season starts.
Instead of saying we need a right-back, centre-half, midfielder, winger and striker, we should be saying we want players with character, a will to win, passion, a never-say-die attitude... and, most of all, mental strength to tough it out when needed. Oh, and someone who will tell our half-hearted heroes to Fuck Off or grow a pair.
Everton is like a pair of old comfy slippers. Time they were thrown out too.
Ben King
21
Posted 17/05/2021 at 00:25:52
Here's the difference:
Liverpool will find any way to win a game that they need to win: even if it's the bloody keeper scoring the 95th min winner.
Meanwhile, we find any way to lose a game that we need to win: even if it's a teenager scoring the winner for a team ALREADY RELEGATED!!!
Honestly, supporting this club brings me no joy.
Will Mabon
22
Posted 17/05/2021 at 00:26:10
Jay, it was an ugly shot for sure and you wouldn't want to see a series of them too often. However, I don't like the idea of players feeling uneasy at shooting from viable positions as an option of play. Does this perhaps explain our team's reluctance to shoot for most of the season?
Carlo generally handles the press work well. I have to say though, that part about the building of different squads for Europe or Premier League alone was cringeworthy: like we're some finely-honed racecar, requiring just subtle changes in set-up for a different track.
Might want to address why we get battered at home by crap teams first.
Will Mabon
23
Posted 17/05/2021 at 00:27:44
Jack @ 20,
Another potential member of the something-in-the-fabric club, I see. Would you like one of our free welcome packs?
Pete Clarke
24
Posted 17/05/2021 at 00:31:10
The biggest problem we have is right at the top.
I'm sick of saying it but I'll say it again. Moshiri needs to get rid of that lingering smell that's been around Goodison for decades. We all know who that is!
He then needs to sit down with Ancelotti and Brands and explain to them that the supporters of this once great club expect to be both entertained and happy that we are challenging at the top and, if this cannot be displayed, then heads will roll.
Unfortunately in my opinion, Moshiri is pretty clueless as far as football and entertainment goes; he seems to like the cause of that lingering smell around Goodison and he is in so much awe of Ancelotti and his past record that I personally doubt he would confront him on football matters.
We may have won a few away games in this crazy season, but lots of teams have had equally surprising results. The big issue is the shockingly poor zombie-style football that Ancelotti's team have consistently produced.
It has been by far the worst in the league and that has to come down to the manager. A top class manager will get the very best out of the players at his disposal. They are all internationals after all.
But hey, who's gonna tell Ancelotti what he needs to do when he is such a well decorated coach???
James Kirrane
25
Posted 17/05/2021 at 00:47:37
One word to sum up this team - Dogshite. The great Carlo - Dogshite. How a team supposedly aiming for a European place can play so badly against the worst team in the league is incredible. The players are stealing a living. Get rid of every single one of them and start from scratch. Pitiful.
Kieran Kinsella
26
Posted 17/05/2021 at 01:56:59
Weirdly apt, I just watched an episode of The Avengers (Diana Rigg show).
A man in his pyjamas finds himself on the pitch in Wembley stadium, devoid of fans, but with canned crowd noise playing. He quickly loses the plot and dies of fear. So basically it's a rerun of the Sheffield Utd game.
Kieran Kinsella
27
Posted 17/05/2021 at 02:01:55
Will,
King's record at Blackburn was 1 in every 11, he got 1 goal in 18 appearances at Hull, and averaged about 1 in every 4½ games at Bournemouth – including scoring once in the last year.
He's about to turn 30 and he's barely past the 50-goal mark for his club career. So I do think he's crap and I do wonder why the hell Brands signed him.
Andy Mead
28
Posted 17/05/2021 at 02:08:55
Any other manager and there would be calls for his head. Too defensive. Back 5 at home to Sheffield Utd? Carlo may have done it all elsewhere, but that home form is sacking material.
Will Mabon
29
Posted 17/05/2021 at 02:26:25
He's not the most prolific scorer, Keiran, that's true. I imagined Carlo & Brands saw some usable facet of his game when he came in, but what? We've barely seen him enough to label him as anything really, or crap for that matter.
Maybe he's swung the lead a bit, maybe he can't hit the fitness, who knows. A strange one.
Kieran Kinsella
30
Posted 17/05/2021 at 03:27:13
Will
On the bright side, Tosun will be fit again soon.
Ben Attwood
31
Posted 17/05/2021 at 05:07:17
Embarrassing but not surprising considering other home defeats.
The focus over the summer needs to be the midfield. We are out fought too many times. If you lose the midfield battle you will always struggle. There is a serious lack of control, pace and creativity.
There needs to be a better transfer strategy. We need younger, fitter, hungrier players. For too long we have paid top dollar for substandard players. Pickford was part of the relegated Sunderland team. Sigurdsson the best player of a soon to be relegated Swansea team. Doucoure went down with Watford. The list goes on.
Pete Clarke
32
Posted 17/05/2021 at 05:13:55
The players are clearly not being trained properly and do not understand whatever it is that the manager is trying to tell them.
Bielsa does it through an interpreter and the Leeds players seem to do OK. That with a team that came up from the championship !

Our players are lost with no cohesion and seemingly have this inability to do the basics. What goes on at Finch Farm?

Richarlison is a disgrace. You would think he was still in Brazil and somebody has stolen his kite ! He needs to be told to act like a grown man and stay on his feet.

There's so many players that are out of form that Only Pickford is free of criticism. Who would have thought that ?

Time for the owner and Ancelotti to have a talk about what's going on and what will be done to change it all because I would rather watch cricket than the shit we play.
Derek Powell
33
Posted 17/05/2021 at 05:46:52
A little bit embarrassed it was absolutely disgraceful from start to finish no fight no guts no urgency no leadership no idea you should all be totally ashamed
Jim Bennings
34
Posted 17/05/2021 at 06:47:48
I think back to something Carlo said when he first took over the job at Everton.
"I don't want to change anything"
Instantly he'd been programmed what to say and do by Blue Bill and the Everton in-house cronies.
Well Carlo, we all wanted you to change absolutely everything when you took the job because that's what this club has been crying out for for many years, a complete radical overhaul.
But no, let's just keep all the old furniture in place as it's been untouched for decades now, keep Unsie in the youth set-up despite rarely every producing any kid that look good enough to get near the first team.
Keep Big Dunc as coach despite him actually being coach to four doomed managers.
So it seems the plan has worked, Carlo says he wanted to change nothing to rock the little Everton family.
Well he's right, nothing has changed since Big Sam was here, the football is even more dire and that's with supposedly better players!
All is rosy though because everything is happy in Funny Farm.
Dan Nulty
35
Posted 17/05/2021 at 07:18:06
Amazed some fans complaining King wasn't selected.
1. He was injured.
2. Did you see him come on against Villa? He jogged, didn't press, looked completely disinterested.
3. He was injured.
4. He was injured.
Glad Carlo was angry, I hope he had some strong words for the players because if they serve that shit up in front of fans against Wokves or next season they will know about it.
If Moshiri wasn't aware we need to sign 5 or 6 top quality players to get to where he wants to be.
Richard Lyons
36
Posted 17/05/2021 at 07:23:26
So, it seems you can make a sow's ear out of a silk purse... (Not that there was ever that much silk in this squad...)
I now doubt whether Ancelotti is the right man to take us forwards from mid-table mediocrity, and I'm worried that the rot has actually set in... he'll be sacked by Christmas, with us in a relegation dog-fight, and certain people begging for the return of BFS...
Ian Bennett
37
Posted 17/05/2021 at 07:30:55
Not surprised at all. This is the same side that lost to Liverpool U18s.
We have no identity, no style of play, and haven't for years. We have managed to spend £500m on Europe's misfits with a Top 20 wage bill to boot. If we top anything, it's being the worst value team in the world.
Congratulations boys.
Stephen Brown
38
Posted 17/05/2021 at 07:37:28
We all suggest signing 4,5,6 players?! I'm not sure who would want to come here?
Embarrassing is the correct word. Can't wait for the season to end. It feels like I say this every year!
Ralph Basnett
39
Posted 17/05/2021 at 07:39:15
massive summer for Carlo and Everton.
To go:
Coleman
Holgate
Keane
James
Sigurdsson
Bernard
Iwobi
DCL
Richarlison
To come in:
anyone one who has the passion, heart and is fit for more than twenty minutes and wants to play for Everton!!!!

Ken Kneale
40
Posted 17/05/2021 at 07:41:22
I think we can all be glad this was not a Wimbledon style relegation battle - I cannot even begin to imagine what this shower would have done.
I am afraid the manager has to take a look at himself - he entered sleepy hollow called Everton - kept virtually all in place that has gone before and bizarrely expected things to turn out differently. In most other areas of life, that is called madness.
Had these performances and results come under any other manager in the last 30 years, their own performance in terms of personnel choice, coaching, motivation and ability to do the job would have been questioned - Carlo now needs to show his mettle not say how lovely life is in Crosby and Finch Farm.
Barry Rathbone
41
Posted 17/05/2021 at 07:44:33
The warning signs were there last summer when he didn't make the requisite wholesale changes and incomings he has overseen are largely not up to it this regime now has the signs of yet another disaster

I imagine all concerned are praying the Madrid rumours are true so operation "save face" can kick in
George McKane
42
Posted 17/05/2021 at 07:50:29
For anyone in any form of charge or management at EFC - indeed if there is any such person - I would like to put the following points to them and ask them for their opinions and what they intend to do about them:
- why do teams with the worse scoring/away/home/ losing records seem to always break such records against EFC
- why do the media seemingly have few good words to say about us
- why do so many decisions go against us WHU and Villa this week alone
- why are we such an easy touch for all above
- why do we continue to pick players who have not performed well
- where is our leadership
- what our our footballing policies/ style
- why do we never learn
- why do we continue to buy poor players who seemingly come because we are a nice " family"
- why do we seem so unfit
- why do we seem to be year's behind almost every other team in football
- why do never seem prepared
- why do we take our tremendous and loyal fans for granted.
Thomas Richards
43
Posted 17/05/2021 at 08:00:28
He is getting more vocal in his criticism as the end of the season approaches.
Less games left to upset the weak minded amongst our squad. We have plenty of them in the squad make no mistake.
He doesnt escape criticism either, he has a poor, unbalanced squad but he should not be allowing what we watched last night.
The worse display of the season.
I wouldnt give some of them a chance to respond on Wednesday, it wont happen.Too many "nice people" in our squad.
Jerome Shields
44
Posted 17/05/2021 at 08:11:38
Ken#40
They would have won by a margin. The objective is to stay in the Premiership. Thats way the comfortable status quo can be maintained. The uncertainty of what position will result in qualification for the European Conference League, produces performances like that, since enough players and backroom staff don't want to be in any European Competition. Your might get a win and loss or visa versa in the next two game. But they may have it in for the Manager and lose both.
There is not way that Sheffield United are capable of playing Everton of the pitch otherwise.
Ralp#39
Two to three signing at most. Anceotti won't have the power for that. It will. be difficult to get good players to join Everton. They will smell a rat.
Geoff Williams
45
Posted 17/05/2021 at 08:12:39
Ancelloti is the problem not the solution. That applies to both Senior and Junior, who is the main coach.
Nick Page
47
Posted 17/05/2021 at 08:13:18
George, A. it sits in the board room playing Chairman. See Gordon Clegg (big actor).
Martin Berry
48
Posted 17/05/2021 at 08:19:44
Posters say the players are not good enough, of some players this is true but we have some top players - internationals yet far inferior teams with journeymen come to Goodison and get a result, nine teams including four in the bottom five.
I ask why is this, is it not down to their better game plan organisation and fitness the latter seems very apparent with us being out run/overrun at times. The team has no recognized way of playing and with the Managers changes and tactics confusing the players.
Its been boring defensive football all season, more interested in defending than trying to win a game, a typical Italian trait where you try and pinch a win.
I really like Carlo as a person but he is fast souring his bolognese with the fans.
I put our problems firmly down to the Manager as I really wonder what is going on in training, I am sure this has not been lost on Farhad.

Mark Dunford
49
Posted 17/05/2021 at 08:25:11
No surprise if Carlo makes trenchant criticism when the team underperforms so consistently and the transfer window is about to open. We need half a team - left sided centre half, left sided midfield player, right back, right winger as well as cover or options for centre forward. King was given the possibility to take the latter role but has failed. Whether we get players these in these positions is a moot point but - for me - it seems to be what we need. Everyone has largely overlapping lists of exits.
Ian Hollingworth
50
Posted 17/05/2021 at 08:26:00
So this group of spineless, less than average ability bottlers are looking to get yet another manager sacked.

Andrew Clare
51
Posted 17/05/2021 at 08:26:08
Whatever we say about the players we have they still remain top professional footballers who play at the highest level and are quite capable of winning against any team in the EPL.
So what's problem then? It has to be organisation and motivation. Mentality as well which comes with motivation.
Who's department is responsible - the coaching staff and ultimately the manager.
When away from Goodison we do look organised and motivated. How do you figure that out?

Colin Glassar
52
Posted 17/05/2021 at 08:27:25
Well, I'm embarrassed Carlo. I have to work today with a cricket loving, football hating man from Sheffield who will taking the piss big time!
We have become a small, insignificant provincial team over the last 30 years. We are the butt of everyone's jokes from the media to the man from Sheffield. We are sneered at, laughed at, and even worse, we are pitied by other fans.
To see Everton players totally outplayed, and outclassed, by the worst team in the league . can it get any worse?
Tony Abrahams
53
Posted 17/05/2021 at 08:34:25
A sensible thread considering we not only lost, but the players were also an absolute disgrace to the shirt. Something is lost in translation, nobody breaks rank and tries to do anything different, and why Richarlison is kept up front, when it is clear as day that we lack width, is my biggest worry when trying to analyse Ancellotti.
I heard two players were arguing, and Gomes, stepped in and told the younger player, to show some respect to his older professional teammate. I hope it's true because the younger player apparently told Gomes, to shut up and stay out of it considering he goes missing where it counts every other week,
Richard Parker
54
Posted 17/05/2021 at 08:40:37
Can I say that Carlo has done a good job? Not really. He hasn't lived up to expectations... looks like he'll 'achieve' the same finish as Allardyce.
Do I want a knee-jerk reaction and sack him, to replace him with christ-knows who? Hell no. He is a world class manager and I would like to give him time to mould the squad as he wants it.
This season started with so much optimism and we beat so many teams that we've struggled against for years... decades in some cases. We showed glimpses at the start of the season but ultimately were found lacking.
We have definitely improved the starting XI with Allan, James, Godfrey and Doucoure... but we haven't got the right set of players yet. The stats show that we're lacking in attack but looking through the squad there are no options. Those calling for King... he has really looked a level below the others and they've been poor for months.
I would certainly want Carlo to oversee another year or 2 despite shortcomings this year. Hopefully a good summer again will see us balance out the squad and we'll push on with the fans back next season.
We've been through manager after manager since Moyes and that has got us nowhere. Sacking Carlo now would be ridiculous despite the misery that we've been seeing on the pitch.
Alan Johnson
55
Posted 17/05/2021 at 09:03:27
Jack #20 agree entirely
You got it spot on

Kevin Molloy
56
Posted 17/05/2021 at 09:06:38
for me this isn't on the players. Footy is all about the manager. He had his first choice midfield out last night, they were his players, bought and paid for, and they were shocking. Worse than that, the style of play was one I recognised from games home and away for the last six months. Player gets the ball, looks up, sees nothing, turns, and plays backwards. And repeat. So if he's embarrassed about last night, he also needs to be embarrassed about much of the season.
Given we've all seen this tripe for months, how is Carlo handling it? is he in turmoil, plotting til late into the night at Finch Farm to find out what the fuck is going wrong?
don't bet on it. 'Everton is a club full of love' he said recently. This is a guy with his slippers on i'm afraid. I don't think he's got the hunger any more sadly. I hope I'm wrong, but if we get linked with a load of players aged 28 and over in the summer, I think we can be confident next season will be just like this one.
Ian Burns
57
Posted 17/05/2021 at 09:16:37
I would have brought on Farhad Moshiri during last night's game so he can see close up that nobody cares. He would see close up how many of his expensive misfits have no idea what their function/role is other than to see if there is a sideways or backward option. He would see how unfit they are, blowing out of every orifice trying to stay with the bottom team in the league.
Then he might realise why threads like this appear far too often on TW.
Anthony Murphy
58
Posted 17/05/2021 at 09:27:55
There's been a recurring theme for years at the club of bottling it when the door of progression is opened. We never seem to take the opportunity to move up and move on. We buckle, we go hiding. I thought Ancelloti would reverse that trend and chip away at our weak mentality, and I still hope he might, but evidence suggests deeper rooted problems exist that can't be fixed by one man alone.
I do wonder what is Moshiri's motivation and how does this impact on the whole club? Is his ambition to sell The club for a profit once BMD is in place as a stable, progressive club or is it to win silverware? I look at Chelsea and although I dislike the club, they do have an owner who is motivated to win at all costs.
The problem is one of motivation. Is Carlo motivated enough given he has nothing to prove? Is Moshiri motivated to win silverware and therefore hold Brands and Carlo to account?
Although we've served up a pile of shit all season at home, I hope last night proves to be a turning point of sorts, but I won't hold my breath.
Nick Page
59
Posted 17/05/2021 at 09:51:27
Anthony, " I look at Chelsea and although I dislike the club, they do have an owner who is motivated to win at all costs."
We have an investor who IS NOT running the club nor making said demands.
I honestly don't know what it takes for the masses to wake up and realise the only constant through all the drudgery is Kenwright and his cronies. We're more like a charity now with a football club attached; what we are certainly not is a professional football club. If you want real change you would demand a new board and an owner that is more involved as an owner rather than a benefactor. The man at the helm even banned protests, and dropped AGM's due to the dictatorial paranoia over his position of power. And what the hell does Baxendale know about running a business like a PL football club, especially one with (apparently) aspirations to compete with Europe's elite. It's absolutely laughable yet the joke is on us, the proles. Managers come, managers go but nothing has changed and the club is the absolute embodiment of its Chairman - soft, clueless, won't upset anyone as happy to be here and make up the numbers. Won't challenge the FA or the refs, similarly the media. We're a joke.
Bobby Mallon
60
Posted 17/05/2021 at 09:53:55
Will Mabon and Kieran Kinsella. Spot on about King. The only thing the king transfer did was stop the progress of one of our young strikers.
Ralph Basnett
61
Posted 17/05/2021 at 10:01:14
Have to agree with Nick at 59, the one constant is Blue Bill.
Is he our Director of Football hence getting other teams cast offs?
we want to copy more successful clubs but our purchases don't reflect that:
Siggi - failed at Spuds.
James - finished at Real.
Richarlison - big fish in a small pond with Watford.
Digne - failed at Barca.
Iwobi- panic buy who wasn't playing at Arse.

The only way we are going to move forward is buying big mercenaries or introducing loads of kids to see who wants it!!!!
Lucky enough (some may say) to get a ticket for the last game against Wolves, I pity you.
Bobby Mallon
62
Posted 17/05/2021 at 10:05:13
Colin@52 it's been worse. We got beat by Liverpool's under 21s in the cup. Now that was bad
Mike Doyle
63
Posted 17/05/2021 at 10:11:13
The thing that surprises me is that Moshiri, given how much he has invested to date, hasn't at least brought in an external specialist - someone like David Dein (who knows what co-owning and running a successful club involves) - to conduct a root-and-branch review of how the club is structured and advise on remedial action.
The net effect of having a new/wealthy owner and spending lots of money on inadequate players is that we seem to have gone steadily backwards since Moyes was manager.
Pat Kelly
64
Posted 17/05/2021 at 10:17:57
Ancelotti "we were not ready from the beginning". Who is being paid handsomely to get the team ready and failing repeatedly ? But in fairness he is "a little bit embarrassed". Any Club with ambition to do better than mid table for the foreseeable future would show him the door.
Nick Page
65
Posted 17/05/2021 at 10:22:06
Mike, a David Dein would be a great start but you would have to uproot the entire old boys network in the club and split off EiTC as a separate entity that still retains the name. Have to upset a few people.
I don't like to copy anyone on the football side as we should have enough to be innovative (we have zero currently and most of the innovation is channeled into off pitch/non-football activities) but the likes of Leicester, Atletico M, RB Leipzig are the sort of clubs that have broken the glass ceiling by doing it differently (and executing well).
Ken Kneale
66
Posted 17/05/2021 at 10:23:54
Mike - we went backwards with Moyes as manager - by standing still when others invested - it is simply our rate of going backwards has now increased relative to other clubs - no longer considered elite we are no just a mid table makeweight at best to anyone who has grown up in the last 30 years.
It beggars belief with our history to say such a thing. Until the owner is shaken out of his lethargy in terms of letting a sub standard boardroom run the club into the ground and realises he has to be or appoint someone who is a move and shaker, he will just keep pouring vast amounts of money into a bottomless pit.
The club is in a truly shameful situation - the job is already looking beyond the current manager - it may be that he is shackled by those I mention in the previous paragraph and his DoF - what on earth is that man on saying or doing at board level when he presides over the dross we saw last night.
A tough summer of decision making lies ahead for all at this sick club
Bobby Mallon
67
Posted 17/05/2021 at 10:25:05
Everton's problem is we do not have a style of play. Pep has a style of play and his players buy into that. Klopp also and Tuchel so does Rogers and Bielsa. We don't and Haven't for yrs. Martinez 1st season was a joy to watch then he went all tippy tappy shite but recruited the wrong players.
Barry Hesketh
68
Posted 17/05/2021 at 10:28:54
"We don't have players of strong personality with the ball, strong quality with the ball," he said.

"We are a team with defined characteristics, we are strong without the ball and direct. I think one of the technical reasons of this home run is this.

"When we try to build up from the back we have some more difficulties because we play slow. We don't have the confidence with the ball compared to the confidence that we have without the ball.

"At home we have to try and play more attacking football but it doesn't work as well as direct attacking or counter-attack in the away games.

"It is really difficult to explain but I have to find a solution for this."

Ancelotti added: "Maybe, for next season, we need to try and have, for sure, a better squad."
Most of us would agree that many of our players are full of flaws when trying to break teams down at Goodison, and they are best suited to a backs-to-the-wall game plan which is more suited for the away fixtures, but surely following 18 months in charge some of these issues would have been addressed by Carlo?
The club should realise that buying a ready-made team is impossible even if it could be afforded, somebody has to grasp the nettle and start to impose their will, else we'll go through the whole charade many more times, which will eventually result in a drop to the lower division.

David Pearl
69
Posted 17/05/2021 at 10:30:43
Nick Page, oh please explakn how Bill Kenwright can be blamed for the last 5 years of transfers, or the way the manager picks and sets up the team. Go on
There was a huge hole between our defence and our midfield last night as Allan and Doucoure went wondering, being told to press. Was that BKs fault? Never playing a left midfielder in front of Digne. Even when Bernard came on it was to be... well l'm not sure. Not being a possesion side but still trying to play though the middle instead of using the channels. Letting 2 forwards and a right back go at the start of the season. 3 if you count Gordon, which is hard to do.
Thinking back, when BK had more involvement the signings were better. You can list them all, l'm sure.
THE BUCK STOPS WITH THE MANAGER. ALL SEASON TO FIND A WAY TO WIN AT HOME. FAILED
David Pearl
70
Posted 17/05/2021 at 10:30:45
Nick Page, oh please explakn how Bill Kenwright can be blamed for the last 5 years of transfers, or the way the manager picks and sets up the team. Go on
There was a huge hole between our defence and our midfield last night as Allan and Doucoure went wondering, being told to press. Was that BKs fault? Never playing a left midfielder in front of Digne. Even when Bernard came on it was to be... well l'm not sure. Not being a possesion side but still trying to play though the middle instead of using the channels. Letting 2 forwards and a right back go at the start of the season. 3 if you count Gordon, which is hard to do.
Thinking back, when BK had more involvement the signings were better. You can list them all, l'm sure.
THE BUCK STOPS WITH THE MANAGER. ALL SEASON TO FIND A WAY TO WIN AT HOME. FAILED
Derek Taylor
71
Posted 17/05/2021 at 10:35:46
Half a dozen seasons finishing top half will see us settled nicely into Bramley Moore and Young Davide replacing his Dad at the helm.
Unsy and Big Dunc will continue with Kenwright's promise of a job for life with Bainesy, Shay and Jags to augment their coaching skills.
Forget last night, Everton's future is secure, believe me.
Tony Abrahams
72
Posted 17/05/2021 at 10:36:05
Pat@64, that was a long post for you mate, but can you elaborate why?
Ken@66 that first line is open to debate, but I'd be on your side of the argument, because the more you think about it, the more you realise that it was during this era that Everton stopped existing to really go and try to win.
Best of the rest? How embarrassing for a club like Everton, and although Ancellotti should be doing better entertainment wise, it's funny that the only winner the club have had in 25 years, is the man getting most of the stick.
Robert Tressell
73
Posted 17/05/2021 at 10:39:19
We have seen a marked improvement in Pickford since Olsen came in to provide competition and also a breather for when Pickford was out of form and low on confidence.
If we had options, Richarlison (a very good player) would be on the bench right now. DCL too would be rotated. The trouble is we have absolutely nothing. We need about 3 players of varying styles to shake things up. I've said all season that if we had Sarr and Bailey on the flanks and a player like Firminho working pockets of space it might even make our midfield look better. As people on this thread rightly say, it's the run that makes the pass. As it is we have such little movement it must be murder playing in midfield.
Nick Page
74
Posted 17/05/2021 at 10:46:11
David Pearl please explain why Bill brought Rooney back to the club? And then please go and stick your head back in the sand, there's a good lad.
Tony Abrahams
75
Posted 17/05/2021 at 10:52:04
You can see there is something rotten amongst our squad, and you only have to look at some of the players faces to realise this. Some of them don't look bothered, and it's plain to see that some of them are not good enough.
A mishmash of mismanagement, has lead to a lot of instability, a lack of quality, and a real lack of belief, so let's sack the manager after 18 months? Because this club is about winning Carlo, and maybe someone like Moyes, might be better for the time being!
Nick Page
76
Posted 17/05/2021 at 10:59:03
Speaking of Rooney, have any of you seen his Soccer Box with Neville? When he talks about the difference between Man Utd and Everton? That he got a massive shock after an early Utd game they had drawn and he thought it was ok and got a roasting from the other players telling him it was win or nothing? It sums up this Everton, under this leadership very well indeed.
Andrew Ellams
77
Posted 17/05/2021 at 11:07:51
David Pearl.
We have our marvelous benefactor Mr Moshiri, the one and only Carlo Ancelotti and the globally revered Marcel Brands bringing in the superstars.
Who else could be blamed when it doesn't go right? Has to be Bill 'Chairman in name only' Kenwright. Doesn't it?
Nick Page
78
Posted 17/05/2021 at 11:08:28
Tony: " You can see there is something rotten amongst our squad, and you only have to look at some of the players faces to realise this".
It's amazing how this "infects" every player we bring in recently. Schneiderlin fell apart. Gomes has gone. We're paying over 20m for these players, something happens and they become so bad we can't even get rid of them and have to wait for their contracts to run down. Doucoure is half the player he was at Watford.
It's dire. What happens to them? It can't be the managers as we've had 5 now in a few years and it keeps happening! It's like they get here and realise the only ambition is to stay in the league and they just drop off. People used to blame the fans getting on their backs but you can see now that is not the case. It's the club, the way it's run - it's easy street. No consequences.
Ray Smith
79
Posted 17/05/2021 at 11:25:18
Ken Kneale 66
I've read your post 3 times.
First time I thought you had a hangover from yesterday!
Second time you have summed us up succinctly.
Third time I have to totally agree with you 100%
George Carroll
80
Posted 17/05/2021 at 11:27:07
I was cursing the fact I only had Sky but I decided that I would enjoy my dinner, a couple glasses of wine, and then turn on ToffeeWeb to see how many we were winning by.
When I clicked on, my immediate reaction was "It's a mistake!" How wrong I was...
I agree there is something wrong at Everton. Have the players downed tools, unhappy with the style of play? Or have they decided they want a coach or trainer with a coherent plan of play?
Certainly we do not have, in my opinion, the coaches who would be sought after by other clubs. Was Ferguson a clever skilful player? Not what I saw – when he wasn't injured. Had anyone heard of the manager's son?Then we have the ex-Everton players all given coaching roles or hospitality greeters roles...
Then we have our charity CEO running a business; we need to split the charity arm from the football. The owner allowing Bill Kenwright to stay on as Chairman is crazy – his past track record is one of broken promises and mediocrity.
Pass the bottle!
David Pearl
81
Posted 17/05/2021 at 11:31:05
Nick Page, lve just pulled me head out the sand thanks. Rooney finished the season our top scorer. So whats your point now? Did he buy Klaasen and Cuco Martina and the rest of the flops? Unbelieveable go play with your train set
Barry Hesketh
82
Posted 17/05/2021 at 11:36:18
A tweet from an Evertonian posted yesterday sums it all up.

3 goals at home against Leeds, West Ham, Newcastle, Fulham, Burnley, Crystal Palace, Aston Villa, & Sheff Utd.
Another states that Everton has only scored 2 goals in the second half at Goodison since the October derby.
If both those stats are true, which they probably are then that's not a lack of ability or lack of fight, that's appalling and would not be accepted by any other club.
Barry Hesketh
83
Posted 17/05/2021 at 11:36:18
A tweet from an Evertonian posted yesterday sums it all up.

3 goals at home against Leeds, West Ham, Newcastle, Fulham, Burnley, Crystal Palace, Aston Villa, & Sheff Utd.
Another states that Everton has only scored 2 goals in the second half at Goodison since the October derby.
If both those stats are true, which they probably are then that's not a lack of ability or lack of fight, that's appalling and would not be accepted by any other club.
Clive Rogers
84
Posted 17/05/2021 at 11:40:22
Isn't it symptomatic that Allan has come to the club and said that he feels at home here! He is a player whose best years are behind him, is 31 next season and is struggling with the pace of the premier league. He sees EFC as a final resting place for his last few seasons before retirement.
Danny O'Neill
85
Posted 17/05/2021 at 11:43:15
I can only try to think positively despite what I watched last night.
We have an owner who is investing. An owner who is going to provide us with a stadium to be proud of and a platform on which to perform at the highest level.
He has made mistakes in his early years, but hopefully he has learned from them.
He has brought in a manager who knows how to win but one who has inherited a disjointed squad largely due to previous transfer non-strategy and decades of being a club who's players accept mediocracy.
I don't usually swear a lot on here, but that is going to take a while to un-fuck. I am still hurting over last night as we missed an opportunity through bottling it when it mattered. We can argue that previous games won would have seen us more comfortable; I don't dispute that. But in football, it's what you do over the course of the season. Given the position at kick off, we had an opportunity last night and we choked.
Again.
The culture and mentality has to change. I believe this manager has started that but my word he has a job on his hands.
Richard Parker
86
Posted 17/05/2021 at 11:52:45
His first half season Ancelotti clearly identified midfield as the area of the team in urgent need of overhaul and bought a whole new midfield.
I guess he figured defence was OK at that point and brought in Godfrey, Nkounkou and Olsen to shore the back-line up... Godfrey who turned out to, unexpectedly, be our best buy of the window.
Now, I would assume that the problem area that he has identified and is working to fix is up-front. Richarlison has had a shocker this season, DCL started so well but has faded with the rest of the team. Then we have Bernard, King, Iwobi as our errrrm "options".
I disagree with the 'lack of a style of play' claims. It looks to me like Carlo has had to be pragmatic over the style and impose a limited style because we just don't have the front-line to play the way he wants. Time and again, we try to play out from the back but the 2 or 3 attackers just aren't good enough... you can see that there are no options, no movement, so we rely on Digne and Seamus to bomb forward.
We desperately need some pace and quality going forwards to take some pressure off the defence and midfield...
Mike Doyle
87
Posted 17/05/2021 at 11:57:30
Nick # 65] I don't disgree. While EiTC is a plainly worthy endeavour - one that other clubs should probably follow - it seems to me that it provides a (convenient?) distraction from the football side.
Ken # 66] We were going backwards, or at least treading water. However as we had little money in the club at least there was a commercial excuse for it - and the squad did have balance.
In Moyes final home game in May 2013 we beat West Ham 2-0. That side included a midfield of Ozzie, Pienar, Fellaini & Mirallas (who scored both goals). I'd suggest that these 4 were better than the equivalents who represented us yesterday.- and offered more of a threat than our collection on non-scoring midfielders.
Our bench that day was a mix of defenders, midfielders and forwards - such as Hibbo, Barklay, Naismith & Jelavic. Hardly world-beaters but at least it provided a range of options.
Yesterday we didn't have another forward on the bench (I don't consider Iwobi to be a forward and haven't a clue what Bernard is supposed to be).
Thomas Richards
88
Posted 17/05/2021 at 11:58:57
Danny,
Very good post. I always try to take something positive out of every game, something that we can strive to improve.
I can't take anything from last night's game. The lowest point of the season, without doubt.
Tony Abrahams
89
Posted 17/05/2021 at 11:59:59
You don't even after look after that train-set Nick, just make sure it's wheels keep turning and hopefully it'll make you an absolute fortune mate!
Ancellotti's tactics have left a lot to be desired at Goodison Pk, and have definitely contributed to our poor form, because sounding like a cracked record, but whenever Everton play an open game, they are seen to be badly lacking.
We don't have enough pace, desire, heart & soul or quality, and playing two forwards without natural width, is something I find very hard to fathom.
I think that there must be an acceptance somewhere in Finch/Farm that these players are not wanted by the manager, otherwise even if we got rid of Ancellotti, does anyone genuinely believe this squad are in a false position in the table, with a manager that's holding us back?
Danny O'Neill
90
Posted 17/05/2021 at 12:07:45
Ancelotti deserves the summer Tony.
I think he tried to play with width last night, but we didn't have control of the midfield to enable us to get the ball to the wide players.
One thing I was critical of last night, and I'm never one to knee jerk in a game, especially at 1 - 0, but you could see it wasn't working very early on.
The manager, in my opinion, was at fault for not changing the system and the tactics quick enough.
I'm not defending him, he's at fault as much as the players, but maybe it's because of the players we have?
Nick Page
91
Posted 17/05/2021 at 12:10:57
David #81, you might have taken your head out of the sand but it's still clearly buried halfway up your arse if you think £160k/wk Rooney was a success that season finishing top scorer with a paltry 11 goals. LOL. If you're too thick to join up the dots then that's your problem and I honestly feel sorry for you.
Steve Shave
92
Posted 17/05/2021 at 12:12:03
I haven't read too many comments above, I have been trying to put the game out of my mind to be honest, shocking, shameful and powder puff bullshit. Carlo is right, we should be embarrassed, if the players aren't then it really is bad. Something has been rotten in Denmark for a long time, Carlo will now have some sense of this even if he has no idea how to fix it. I like Carlo, I have been a Carlo 'happy clapper' as some would describe and have felt very lucky to have him here. Any calls for his head are nonsensical at this juncture in my view, despite the season ending the way it has. He needs another couple of windows. However, I wouldn't cry myself to sleep if Real Madrid snatched him and gave us compensation either. If that happened who on earth would replace him? We've hardly got a good track record in this dept post Moyes have we? Aside from big names who wouldn't touch us with a barge pole everyone else is just a risk in my eyes. Eddie Howe anyone? ;)
Mark Andrews
93
Posted 17/05/2021 at 12:14:36
At least we can stop talking about the hope of getting back to European football, an ambition that was, with our abject form, dead, a dozen games ago.
I struggle to understand why an expensively assembled squad can be so threadbare, shallow and fragile.
That was our strongest lineup last night and we were humiliated by one of the worst teams ever to play in the Premier League era.
I wonder if over-confidence, combined with lack of talent is a problem with the entire squad? Do they believe they are an awful lot better than what they clearly are and that simply turning up is enough against the 'lesser' teams?
We've had almost 4 decades of mediocrity to suffer at this club and it doesn't look like coming to an end anytime soon.
Pack your flip-flops and sunglasses boys, the beach is calling. Reward your bang average talent with yet another holiday, paid for by people who can't afford such lavish lifestyles but are passionate to pay for yours.
Danny O'Neill
94
Posted 17/05/2021 at 12:14:58
Sorry Tony, but you mention desire.
I can always eventually stomach being defeated. Both as an Evertonian and as a player.
But only in the knowledge my team or I gave everything. You can accept being outplayed or beaten by a team that is simply better. But being outfought is not something I associate with being on a football pitch.
Danny O'Neill
95
Posted 17/05/2021 at 12:18:44
I'm probably contradicting myself and all over the place Mark Andrews so let's put it down to my Evertonian hormones given how I feel right now!!
Despite my criticism, what you call out is a key point. Our strongest team, but playing at the end of the season. We have a good team. But a weak squad. The result; the best team (on paper) is hanging out by the end of the season.
The successful teams don't just have a good first 11. They have a squad that carries them through the business end of the season. That's our next challenge. Depth of squad.
Tony Abrahams
96
Posted 17/05/2021 at 12:26:44
Exactly Danny, but you already know that If you don't stand up on a football pitch, then it's rare that you get anything out of the game.
When Coleman slipped over near the end you could see it on his face imo. He looked hurt and embarrassed, and looked to be biting his teeth, resigned to the fact, that not enough players are good enough or really care?
Derek Moore
97
Posted 17/05/2021 at 12:32:01
We took all six points from our first two home games.
We have taken six points at Goodison since New Years day. A mind boggling PL 11 W1 D3 L7 F8 A17 home form line, including just one clean sheet.
This really must be addressed as a matter of some urgency.
Danny O'Neill
98
Posted 17/05/2021 at 12:32:52
Every player has to win their personal battle Tony. I'm a purist, considered myself a football playing centre back, but you win your battles on the pitch. You have to compete. Too many of our players were outfought last night and you could see the mentality within the first 10 minutes.
I'm so disappointed today. Everton missing yet another opportunity in a season of missed opportunity. And my only European tour looking like I'll be going to watch the already relegated Schalke (Konigsblauen - Royal Blues) play in Bundesliga 2 next season.
And I started with so much optimism!!! The game that keeps giving!!
Tom Bowers
99
Posted 17/05/2021 at 12:42:39
Another one like that Carlo and I think you should resign and several top-paid players should have their contracts terminated.
Shambolic may be too light a word to describe this and many games at Goodison this year. Even some of the wins they scraped out away were not worth any glowing report.
What could have been a break out season has been a huge disappointment to every loyal Evertonian.
John Boswell
100
Posted 17/05/2021 at 12:43:11
Danny @95 agreed. I wrote on the live forum that Everton is the club that I support with my heart and soul and I believe that the players have looked jaded for some weeks now. With a good break and a better pre-season this group will start afresh next season and play in a manner that we all dream of.
My expectation is that several members of our current best 11 will find themselves on the bench following the acquisition of several new, dynamic, pacy players with goals in them. We will have depth in our match day squad and next season will see our beloved Everton mount a serious challenge to the establishment at the top of the league.
COYB.
Danny O'Neill
101
Posted 17/05/2021 at 12:51:06
I'm down today John, but I share your sentiment and did so when I spoke of playing in Europe in previous weeks.
Others feared because they looked at the squad we have.
My point was that we don't start next season with this squad. A lot of those who do remain become back up rather than regular staters.
Tony Abrahams
102
Posted 17/05/2021 at 12:51:37
I never learned what bravery was, Danny, until I started my apprenticeship. Coming from Liverpool, it was all about working hard and getting stuck in, which are definitely brilliant attributes, but then I watched and listened, and realised that real bravery is about wanting to play, and making sure you try your hardest to do this.
Everton's players lack belief, bravery and ability; otherwise, they wouldn't be constantly looking to just pass the ball to Rodriguez, unless it was the right thing to do.
With two forwards on the pitch, then surely they should be the focal point? But the most painful thing about last night was that it looked like we were playing without strikers by the time the game ended.
Matthew Williams
103
Posted 17/05/2021 at 12:51:49
Mr Moshiri... please sack Carlo.
We are an utter shambles from top to bottom.
Barry Hesketh
104
Posted 17/05/2021 at 12:53:50
There's nothing in this piece that we didn't already know but, it is a gentle reminder that what was happening over 12 months ago; hasn't changed, even with four additions to the squad.
Anyone with a simple solution to this problem should write to Mr Moshiri c/o Everton Football Club.
Danny O'Neill
105
Posted 17/05/2021 at 12:57:03
Bravery comes naturally, Tony, as you say. It's not something that is taught. From a footballing perspective, my knees and ankles tell me that on a daily basis!
The strikers were so isolated last night as we placidly and compliantly stroked it around as if we were in a training match on Finch Farm.
Tony Abrahams
106
Posted 17/05/2021 at 13:03:57
I wish I was on an aeroplane going somewhere nice and flying at 'altitude', but what Barry has just posted sums it up better than anything, because nothing will change until our attitude changes!
Danny O'Neill
107
Posted 17/05/2021 at 13:12:11
Sobering, Barry, and I wish I wasn't sober right now.
Shows that this squad is systematically flawed.
Four players was a start but it's going to take further reiterations of 4 players plus to turn this squad around.
Per Stumo
108
Posted 17/05/2021 at 13:17:45
Brent @2:
The point is that Richarlison has been shit for weeks and adding that to his "I'm a victim" attitude he should have been benched several matches ago. King, for all his faults, would be the natural replacement, since we don't have another striker outside of the U23s. I for one wouldn't be surprised if King did alright, given a few full matches instead of 5 minutes at the end.
Gomes, Allan, James. Is there a slower midfield in any team in the league system? It's freaky when Allan is the fastest of a trio in midfield because he is not fast. At all.
Pat Kelly
109
Posted 17/05/2021 at 13:18:39
Tony #72,
If the guy getting £10M a year or whatever it is, admits we were not ready from the beginning you have to question whether he has learned anything from all the previous embarrassments at home.
Maybe his chief assistant, oh yes his son, has to take some blame too but I didn't see him getting any criticism. As for Carlo's buddies, James and Allan, they're not fit for the Premier League.
Carlo has an illustrious past... and is still living there.
Joe McMahon
110
Posted 17/05/2021 at 13:22:07
Pat, I fully agree. It's like going to see Bob Dylan now and expecting him to be as good as he was in the 70s.
Thomas Richards
111
Posted 17/05/2021 at 13:33:46
For all you managers, heads of companies, CEOs etc: As you got older and got more experienced, did you get better or worse at your job?
Ian Horan
112
Posted 17/05/2021 at 13:44:47
I agree with so much of whats being said. I have moved from backing Carlo to asking What the fuck is happening to our club???
Sadly, Moshiri ain't going to risk it getting a new manager, Ancelotti is his guarantee of staying in the Premier League until the new stadium is built. He will then sell up and probably try to buy Arsenal with Usmanov.
I live Everton FC but I am starting to dispise the money-grabbing, bone-idle lazy, lacking professionalism of the players
Paul Birmingham
113
Posted 17/05/2021 at 13:47:15
I've always been a "glass half-full" and make the best of every day, as life as good as it is, with the course of life springs natural events and nasty surprises. But with Everton, I said some years ago, for me, it's now a thimble rather than a glass.
This is now almost empty, and all the Holy Water in church can't steer this club onto a consistent path and road to success. This season, bar a miracle, will see another road into oblivion for EFC and it's long suffering supporters.
I've said before, I get more peace of mind and less aggro fishing than watching and supporting Everton.
In life, typically at work, you can be too loyal...
With Everton, it's in our blood and we will all bleed and die a Blue, but what a price it has become these days.
There's another season with not much hope on the horizon.

Ken Kneale
114
Posted 17/05/2021 at 13:56:26
Thomas,
My experience and talking to friend's in some high places is that many good executives and managers recognise when they are in post it is time to move on and do so to allow orderly transition and seamless business transfer. A smaller proportion hang on too long and when retired, acknowledge they should have gone sooner as time waits for no man and everyone has a sell-by date. Finally, some hang on for grim death, afraid of losing power, influence and their perceived status. Generally their business is in poor health compared to the former categories.
I will let TW readers decide which category Messrs Kenwright, Brands, Barrett-Baxendale, Unsworth, Ferguson et al sit.
As for the manager, he by his own acknowledgement seems very comfortable at Everton despite having brought little so far to the table in terms of levels of football, competitive league placement or extended cup runs. Again, talking to many successful executives, they refer to the motto – "The way to feel safe is never to feel secure" – I think over the analysis of this season, Mr Moshiri may do well to recycle that phrase to him as a reminder that a glorious past is not a predictor of a glorious future.
Barry Rathbone
115
Posted 17/05/2021 at 14:01:27
Trouble is, if Ancelotti's penchant for aged and infirm players continues, Moshiri is about to waste more loot in the summer and next season becomes a write off before a ball is kicked.
I've said this or similar every year since Moyes sidled off but only Martinez understood it. Pity Moshiri knows fuck all about footy he could have salvaged Bobby's revolution but he doesn't, so he didn't.
He's thrown so much money down the drain, he's looking at caravans in Talacre rather than holidays in Monaco these days. Lots of rain in North Wales, y' know!
Christopher Timmins
116
Posted 17/05/2021 at 14:25:23
I know that things are looking bleak at present but we have to stick with Carlo for the next year and give him the chance to improve things both results and performance wise.
I believe that he came to this club to improve things and not to top up his pension.
I know it's not easy but we need to keep our nerve and hope that the summer brings better recruitmen. It must be clear to all decision makers at the club what the issues are with the current squad.
Ian Horan
117
Posted 17/05/2021 at 14:34:16
When we had 4 games to go, quarter-finalist in the two domestic cups only knocked out by the top 2 teams in the league, you could say Carlo has performed miracles, but the quality of the play is unpalatable.
Should he stay or should he go? Ultimately Moshiri will protect his substantial investment. Carlo is here for a while...
Derek Taylor
118
Posted 17/05/2021 at 14:48:34
Why should money be a factor in deciding whether or not to let Carlo go? Moshiri seems to have so much to get rid of, he wouldn't notice the odd £20M or so.
Of course, what he will do is to give the old boy up to Xmas to turn things round and then do 'a mutual consent' axing if no improvement occurs.
ps: 'Top half' will be regarded as acceptable given the commitment to the Bramley-Moore Dock project.
Tony Abrahams
119
Posted 17/05/2021 at 14:54:43
Sound, Pat, I can't disagree with the most concerning thought, which is Ancellotti learning anything?
The other week, loads were saying that Carlo, doesn't listen to Duncan, but I saw them deep in conversation near the end of the first half, and then they came out for the second half having switched to a 4-4-2, with the two slowest players in our squad occupying the wide positions!
He obviously doesn't fancy many of the current squad, so "again" let's see what the summer brings?
Thomas Richards
120
Posted 17/05/2021 at 14:58:21
Each as entitled to thier opinion as the next man, regardless of what that opinion is.
Are some of the lads who are advocating sacking him buying into a change of manager after one full season?
Im not talking solely about Ancelotti, it is a general point. So, 10 different managers in the next 10 seasons if it doesn't work out in the first season?
Kunal Desai
121
Posted 17/05/2021 at 15:11:17
The club's a care home, retirement home – whatever you want to call it. Pick up a massive final pay cheque, one last hurrah.
It reminds me of when I used to work for Trasport for London years ago, dinosaur mentality with no innovation. I wanted to progress and not pick up a decent wage. That's what Everton are.
You have Ferguson, Ebbrell, Unsworth, Stuart at the club – get rid of these hangers, been there decades, offering zero tangible input, including the chairman. The whole place needs a clean sweep.
Ray Robinson
122
Posted 17/05/2021 at 15:17:42
I agree, Christopher #116. Unless the club's Premier League status is in jeopardy, he has to be given an opportunity to transform the team with a major transplant of pace and energy.
Too many players remain from previous managers who are not up to it either physically or mentally, and who cannot be whipped into shape due to attitude and / or physical limitations, whatever the training regimen or whoever the manager.
That said, I do not want a suplus of more experienced players who are in decline and playing out their careers which, effectively only applies a sticking plaster. That's where Brands has to step up.
Andrew Bentley
123
Posted 17/05/2021 at 15:22:04
As a fan, I'm embarrassed. Lost to a relegated club through a 17-year-old goal scorer, and they looked by far and away the better team and the most likely to score when it went near our box.
The abuse/"banter" we get from mates for shit like this is insufferable at times. I spent most of the night apologising to my 3 lads who are all blues because of me – genuinely considering ringing the NSPCC to turn myself in as them being Everton fans is one of the cruellest things I've done as a parent! (I jest, but you get my point).
A lot of the points have already been covered above, but the biggest frustration is that we have quality players, but we don't have a quality team. The blend and balance is all wrong.
We don't have players that compliment each other – gone are the days of the left-back & left-winger or right-back & right-winger partnerships where they interlinked brilliantly and seemed unplayable. I dream of the Baines & Pienaar era! At times Digne & Richarlison looked like it but not seen anything for months. Coleman & James at the start of the season were a joy to watch but now its awful.
Our front 2 – Calvert-Lewin & Richarlison – they don't work as a pair. Full stop. I'd love to know whether they actually get on or not as they never seem to combine well or work together as successful partnerships do.
Midfield – Allan & Doucoure do okay as a pair but its the component parts around them (nothing left, nothing on the right) that means it doesn't work as a cohesive unit. And as much as I love James as a footballer with the ball at his feet, I don't want him touching the ball anywhere near the halfway line and boy can he not tackle – never seen anyone flick a leg as a tackle so much as him!
There is a lot of work to do on this "team" for the future - but as well as getting better players in and shifting some of the other deadwood out, I also want to see players bought in that give us an identity as a team and are round pegs in round holes that make the team a cohesive unit.
We need wide players with pace who can beat a man, breakdown teams and get crosses in for the likes of Calvert-Lewin to thrive on. Give us a right-back who can attack and defend to balance the team out. We need more in CM as a box to box carrier of the ball - again to break through the lines of teams and help breakdown teams set up to defend.
But honestly, I will just settle for 11 players who bleed for the club in every game. I'm done with some of our "star" players as they don't run themselves into the ground every game. Look at Leeds, look at West Ham, Leicester. Forget the Super League "Big 6", we are being shown up by teams all around us as they know what it means to turn up as a team.
Len Hawkins
124
Posted 17/05/2021 at 15:42:14
The trouble getting out of Europe is now eclipsed by trying to get back in, the Johnny Foreigners look down on English teams and the Champions League final consisting of two English teams will only infuriate them further, starting with the European Championships with everything going against English teams. Next season could be the watershed for our clubs involved in European competitions and we might be better off out of it.
As for last night, I reached the Popeye stage "I've had about as much as I can stand an I can't stands no more" and turned the laptop off.
Gutless, Spineless, Hopeless, Amateurish, Uninterested, Not an ounce of Pride towards the club and it's supporters, feel free to add the many more criticisms I can't think of at present.
The only saving grace last night was the empty terraces because, had there been a full house, it would have been murder and could have finished the weak willed players off completely. I could probably name three players who I would keep the rest as far as I am concerned can take their fortunes and clear off to lottery wins elsewhere.
No team is too big to fall, as has been shown in the past, but if this club went down I wouldn't back them to come back up with the current attitude being allowed to fester by the very people who should be putting a stop to it. I wish Usmanov would show his hand and get involved and be ruthless with the losers about the place from the Board down.
The ex-player network is obviously not working and that is down to one man who should have gone years ago but no he wants more.
What a club. What a Leader. Not one word of apology from Tiny Tears or Moshiri.
Danny O'Neill
125
Posted 17/05/2021 at 15:57:25
I need to go to confession as I'm swearing again and doing what will be the death of me. Getting hopeful about my greatest love (don't tell the wife or the dogs).
The dust is settling. As much as I try, I can't hate them. Your first love, no matter what they do to you or how they treat you, you go back for more.
We are going to finish 7th or 8th. Disappointing, yes but we finished 7th in 1984. The first step in Ancelotti's reign. Let's see where he takes us next season.
I said I would judge this season at the end. I still will. I think I know what that judgement will be, but I'll hold out until we beat Wolves and Man City.
Kevin O'Regan
126
Posted 17/05/2021 at 16:28:03
I would line them all up in front of Big Nev, Dunc, Tim Cahill, Joe Royle and Peter Reid for a staring match.
Absolute shite, the lot of them. And there are no easy solutions – change the manager, get back the fans, change the team, even the board... those things are not the problem and not the solution.
It's a virus of 'I don't give a damm' which is crippling this club. NSNO, my arse. We are afraid to attack Sheffield Utd at home, with a 5-man defence and no-one wants the ball.
Away from home, we play on the counter mostly and get away with it... but when we are expected to take the game to others, we are clueless, and crap and void of any confidence, brazenness and pride.
I'm changing over to bloody gymnastics or lawn bowls or something. Absolutley disgusted.
Dave Abrahams
127
Posted 17/05/2021 at 16:39:07
If I was going to the game on Wednesday night I would welcome the team onto the field waving a white hankie, in fact I would make that a white sheet, I know it won't happen but I would love for the 6,000 attending to do exactly that, no cheering, just utter silence and waving white hankies, the boos can come later after another non performance.
Thomas Richards
128
Posted 17/05/2021 at 16:41:04
They deserve it, Dave.

Barry Hesketh
129
Posted 17/05/2021 at 16:48:30
Dave @ 127,
A former Echo reporter said in his report of yesterday's match that Goodison may be the only venue to fail to sell out its reduced capacity of circa 6,500 on Wednesday. Of course, he is a Kopite and was probably joking.
Brian Harrison
130
Posted 17/05/2021 at 17:12:22
I would love to be inside Finch Farm watching what goes on in training because, whatever it is it's turned us into a very poor side to watch. Our passing is and has been very poor all season, we don't seem to have a method for working the ball from the back to the front.
Digne and Holgate look to pass back more than they look to play the ball forward, but that might in part be to the lack of movement in front of them. Our only plan of attack is play the ball wide and get Digne or Coleman to play it into the 6 yard box and hope that Calvert-Lewin or Richarlison can get on the end of it.
Our goal difference is the worst of the top 10 and its not because we are leaking loads of goals its because we don't score enough. I don't think our front 2 are good enough, Richarlison has completely lost his way, or maybe just wants away, and Calvert-Lewin while very willing and is good in the 6-yard box he is far to limited to lead the line.
All of our midfield are too pedestrian and if you play Iwobi or Bernard out wide then they create next to nothing and score every Preston Guild.
The problem is that 2 or 3 players of the type we can buy wont change this team. Carlo has to get on that training ground and make this team have a set up that allows us to attack in numbers, whereas if its not a corner or free kick you are unlikely to see more than 2 of our players in the box. Again this is bound to happen when the midfield is so slow it can't get up the field quick enough to join the forwards.
Maybe Carlo needs to go and hire Paul Clement who he had when successful at Real, because either Duncan or his son Davide are not experienced enough to make the changes that are necessary.
Ferguson changed his assistant every couple of years at Man Utd as he knew players get used to the same coaches, so by changing his assistants it was a different voice and a slightly different approach. As the only other alternative is that Carlo gets sacked; but can we hope to progress as a club if you change managers every couple of years?
Will Mabon
131
Posted 17/05/2021 at 17:57:30
Dan @ 35,
Thanks for asking on the Live Forum last week – someone had a small road accident, things turned out okay.
Andrew Bentley
133
Posted 17/05/2021 at 19:22:52
Anyone going to the game on Wednesday, please take a big flag with "We demand more, we expect more – Nil Satis Nisi Optimium"
They need to understand how pissed off all of us are.
The best opportunity in a decade... plus, due to a Covid disrupted season, to try and get back into the Champions League or Europa League and our jokers go and blow it.
Joe McMahon
134
Posted 17/05/2021 at 19:29:50
Brian @130, great post Sir!
Brian Williams
135
Posted 17/05/2021 at 19:33:00
I'd have gladly done that, Andrew, as I was successful in the ballot and was set to go on Wednesday but I'm afraid, after yesterday's debacle I emailed the club and asked them to cancel my ticket and add the cost to my season ticket refund.
If the players can't be arsed, neither can I! Fucked if I'm wasting about 4 hours of my life and a few quid to boot.
And the fact that I feel like that and have done what I've done has upset me almost as much as yesterday's horror show.
Mike Doyle
136
Posted 17/05/2021 at 19:36:43
Dave #127,
White hankie!!! Shame on you, Dave. Surely you mean throw the cushions (the accepted way of showing displeasure back in the 70s).
In other news, I see our former left back, Michael Ball, describing yesterday's players as "bottlers" on the Red Echo website.
I recall Kevin Ratcliffe saying that after he left Everton he still enjoyed winning, but losing wasn't quite as hard to take. Pity that sort of attitude wasn't in evidence yesterday.
Dave Abrahams
137
Posted 17/05/2021 at 20:04:05
Mike (136),
Are you nuts? You've got to pay for the cushion!! Come on Mike, pay to insult them?
Neil Copeland
138
Posted 17/05/2021 at 20:16:35
It's not over until the fat lady sings. Therefore, until it is mathematically impossible for us to finish in a European qualifying position, I will give my heart and soul to the team.
So, on Wednesday, I will show them, as I always have done, what a victory means to supporters. Then, assuming the players respond, I will pray for some divine intervention during the later kick off games.
UTFT!
Andrew Bentley
139
Posted 17/05/2021 at 21:23:29
Can't blame you, Brian. Why should we all bother after that tripe the other night!
Mike Doyle
140
Posted 17/05/2021 at 21:35:42
Dave #137,
Apologies for the oversight. From my '70s vantage point in The Paddock, I could see them raining down, but wasn't aware you had to pay for them.
Rob Halligan will be there on Wednesday and I suspect he's got a pallet load of them in his garage. If you are going, too perhaps you could drop him a line. (I'll be watching – more in hope than expectation.)
Will Mabon
141
Posted 17/05/2021 at 21:43:15
Cushions were 10p at the start, then 20, 30, ending at 50p, as I remember it.
Told this before – one of the sellers in Upper Bullens one game had a handwritten sign stuck up behind him, "Missiles 50p".
Cushion and a Golden Goal, you couldn't go wrong.
Tony Abrahams
142
Posted 17/05/2021 at 21:51:03
Don't be upset by what you've done, Brian W, because that's exactly what we all should be doing mate. We've put up with a lot of shite over the years but, when there is a lack of pride, a lack of fight, and a lack of effort, then I personally think you've made the right call.
Dave Abrahams
143
Posted 17/05/2021 at 21:55:35
Mike (140),
Yes, those cushions had to paid for. Not sure how much they cost, I never bought any, but I helped a lot of old fellas by throwing their cushions for them!! "Always respect and help the elderly" was my motto, reaping the benefit of that motto in my later years.
Not going to the game myself. Goodison hasn't been open because of the virus, you can no longer go and pay for your season ticket with cash at the ground, so I give my money to my grandson and he pays for mine and his own with his bank card. But, for some reason, the club wouldn't allow him to put both our names forward for the allocation to go to the game. I think the same rules will apply for next season so I'll try and sort something out for then.
I would have gone to the game because it's only 5 minutes by bus to the ground. I even had my hankie washed and ironed!!
Tony Everan
146
Posted 17/05/2021 at 22:11:59
Brian @130, Excellent post, and one to take seriously in our quest for long-term improvement.
None of us know for sure what goes on but I think you are very close to the bone with the reasoned speculation you make. I don't know if Clement is the right man or not to act as Carlo's tsar on the training ground. But him or someone of great reputation could be a very sound investment to bring better structure and practices to training. Duncan and Davide would be spitting feathers, but who cares if it brings improvement?
We may be off the scent with this but I don't think so. I think that that experienced professionalism on the training ground could help us perform more like a homogenous team working as a unit on matchdays.
Leighton Cooper
148
Posted 17/05/2021 at 22:34:07
I am just so fed up with this club. Liverpool, Arsenal, Tottenham, all having their worst season in years; Chelsea up and down too... What better opportunity to finish in the Top 4? What more motivation could these players possibly need to qualify for the Champions League? – the same level that players spout off about wanting to play in.
One last push, lads... business end of the season and we are in the promised land.
But no: 2 wins in 10 (one thanks to a keeper throwing one in), mostly against opposition in the lower half of the table with even less to play for. These players are a disgrace: spineless, gutless, most not fit to wear the shirt. It's got beyond boring now, same old shite every season, all we do is simply exist in the Premier League.
James Flynn
149
Posted 17/05/2021 at 23:37:42
We have a manager who, player and manager, knows what a genuinely competitive team looks and feels like.
Straight down the middle of the pitch, we can't compete.
Sick of Moyes references these years later? Me too. Yet, at a minimum, the midfield was a battleground when he was here.
Now, fucking Sean Dyche sends his team out to attack us for 90 minutes. Straight down the middle of the pitch. And it was the correct approach to take.
Cristobal Aguirre
150
Posted 18/05/2021 at 05:45:35
Our best performance in the last 5 years was Everton 3 Chelsea 1. The manager was Ferguson!!!
Jamie Crowley
151
Posted 18/05/2021 at 14:25:24
Asked if he felt having fans back in the ground on Wednesday when the Blues take on Wolves would made a difference, Ancelotti said:
"I hope so. Maybe they can wake us up so that we can show them a different performance."
So, as most are aware, I can't be there when Freedom rings and your populace is actually allowed to attend the games. But, when you're able, please do me a favor: Yell, scream, demand better. If I were a season ticket holder, I'd be livid right now (hell, I am anyhow) and I'd be very, very vocal about that anger and displeasure.
Jump all the fuck over them. This nonsense about "getting behind the team" doesn't apply presently. It's like having a child: Sometimes, they need a damn good spanking.
In this case, Everton need the Mum Crowley treatment with the wooden spoon!
Unacceptable. If they look lethargic, let 'em know about it!
Still pissed off.
Ajay Gopal
152
Posted 19/05/2021 at 11:07:21
Brian (130), that is an excellent post. I wanted to post something similar about Carlo needing to freshen up things with his coaching staff. I wanted to suggest someone like Greame Potter or Eddie Howe, with the idea that they have an opportunity to become Carlo's successor when he decides that he wants to move on - hopefully after he has won us a bit of silverware. Carlo's son, Davide may be a great coach, but I am just uncomfortable (and have been from Day 1) about close family members working together in a professional environment. It just doesn't seem right to me.
---
Add Your Comments
In order to post a comment, you need to be logged in as a registered user of the site.
Or Sign up as a ToffeeWeb Member — it's free, takes just a few minutes and will allow you to post your comments on articles and Talking Points submissions across the site.