James ruled out again
Friday, 21 May, 2021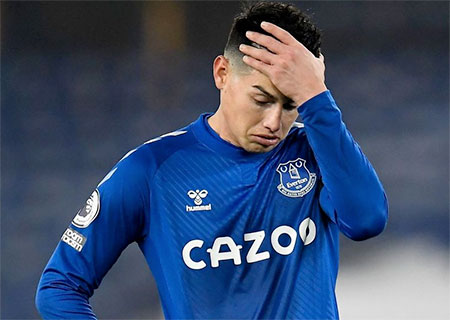 Everton will be without James Rodriguez and Seamus Coleman when they travel to the Etihad Stadium on Sunday to face Manchester City in the final game of the season.
The Toffees know that a surprise victory on a ground where they haven't won for a decade will see them grab the Europa Conference League qualification spot if Tottenham don't win at Leicester. A draw for Carlo Ancelotti's side will be enough if Spurs lose and Arsenal don't beat Brighton at the Emirates.
Rodriguez was withdrawn from contention for Wednesday's win over Wolves and is ruled out this time because of his ongoing calf issues.
Coleman had to come off in the second half with an injury so Ancelotti will need to make changes to his right flank against the newly-crowned Champions.
"James Rodriguez is unfortunately not available for this game," Ancelotti said in his press conference today. "He has not recovered from the problem with his calf. Unfortunately he did not finish the season well.
[In] the last period he was not fit. He had a little problem where he didn't have the possibility to play regularly. To say that James was focused on the Copa America before — no.
"Now he will be focused to prepare for the Copa America with his national team. I hope to have him back next season at his best.
"I think the Copa America is in his mind now [his season is over] but he was really disappointed not to be able to help the team in the final part of the season. But he has to be ready for the start of next season and to try to avoid the problem that he's had.
"Also, Coleman had a problem during the game against Wolves and will not be available for the game but he will support the team as a captain."
---
Reader Comments (153)
Note: the following content is not moderated or vetted by the site owners at the time of submission. Comments are the responsibility of the poster. Disclaimer
John Raftery
1
Posted 21/05/2021 at 17:42:03
One game a week for Seamus, next season. For James unless someone can sort out the root cause of his calf problem it may be one game per month.
Mike Gaynes
2
Posted 21/05/2021 at 17:46:07
Arggh.
Kieran Kinsella
3
Posted 21/05/2021 at 17:52:33
We will miss his tenacity and work rate.
Brent Stephens
4
Posted 21/05/2021 at 17:53:17
So Iwobi to start?!
Mark Andrews
5
Posted 21/05/2021 at 17:56:14
I'm fatigued reading about sick note Jim.
Dale Self
6
Posted 21/05/2021 at 17:58:43
Ouch, the Anderton thing is starting to stick after this much time out. Apologies to whoever I contested that with.
Roger Helm
7
Posted 21/05/2021 at 18:00:53
If James missed the last game because of fatigue, how do they know he will still be fatigued on Sunday? Sometimes fishy going on.
Anyway we can still get into Europe provided other results go our way, and we win by seven clear goals.
Jerome Shields
8
Posted 21/05/2021 at 18:18:18
Colman has looked off pace this past two game, must have been carrying a injury. Holgate at right back then. wo
James seems to have a permanent problem. The Co!umbians will be thinking he want to Summer off, so as to be ready for Everton's next season, whilst Everton will be hoping he recovers for next season.
A decision over his contract could end the whole lot.

Brian Wilkinson
9
Posted 21/05/2021 at 18:23:20
You can bet he plays every single game, in the Copa America, in the summer.
David Cash
10
Posted 21/05/2021 at 18:23:37
Wonderful talent when his stars are aligned, BUT.
A bitter disappointment. As Allan is.
Carlos next intake needs to be better. I hope he looks to the future this time around. Going back seldom works
David Pearl
11
Posted 21/05/2021 at 18:28:24
I thought Seamus played really well this past month.
As for James... ??? Pffft l wonder how many games he will miss for Colombia?
I have often complained at the ever-changing formation from Carlo but how is that possible when he can't count of his players.
I would rather play Bernard ahead of lwobi, and deffo ahead of any diamond or 4-3-3. Also Allan should stay in the hole and protect the back four.
Likely to be a hard slog on Sunday if we play with no width and allow our full-backs to be exposed. Come on Carlo, get it right.
Soren Moyer
12
Posted 21/05/2021 at 18:30:31
We are so bad that no one tries to update the league table to the right anymore lol.
John Raftery
13
Posted 21/05/2021 at 18:38:19
Brian (9) I will be very surprised if James does play every game. I remember he had problems with his calf in the 2018 World Cup, missing the last 16 game against England. If he continues to have problems in the summer that will not bode well for next season.
Tom Bowers
14
Posted 21/05/2021 at 18:43:50
It;s been a long suffering season for most of us Blues fans and one would think we would be used to it by now.
I for one don't think we will miss Seamus or James as quite honestly even if City put out their second team they will still beat Everton unless we can put up a rearguard action which has seen us scrape quite a few wins away from home this season.
Either way I think we will miss the Euro placings again and that's another thing I won't miss.
Bobby Mallon
15
Posted 21/05/2021 at 18:48:10
Just get rid
Tony Everan
16
Posted 21/05/2021 at 19:02:12
I think he's had enough of slogging it out in the cold rain in the mid table premier league, getting kicked out of the game for half the time and the other half having teammates who are not on the same wavelength. I'd be more surprised if he was back for next season than if he wasn't.
It's a shame because a fully fit James is pure class and could probably ride out the dirty treatment. The trouble is he's never going to be fully fit over here and because of that he needs a less demanding environment.
We'll miss Seamus more I thought he was tremendous against Wolves . He set the tone for the team from the first minute and continued to enjoy putting in the maximum effort. He is not as quick or effective as he was in his twenties offensively but all the desire is still there , I will always love the player for it.
Steve Brown
17
Posted 21/05/2021 at 19:04:06
The most talented player at the club by a country mile. We just need to get him fully fit.
Derek Taylor
18
Posted 21/05/2021 at 19:08:05
Ending the calamity of a season on a low note, I'm afraid. My days of match attendance are over - age and bad health win 2-0 !
Because we expected so much, Carlo has been a huge disappointment just going through the motions for a £Million a month. I'm beginning to feel sorry for the owners who have been taken for a ride. But good luck with BMD project !
Kevin Prytherch
19
Posted 21/05/2021 at 19:13:56
A lot of foreign players take a season to acclimatise to England and the pace of the premier league.
I'm willing to see what he produces next season.
Neil Lawson
20
Posted 21/05/2021 at 19:15:52
Quite honestly, I really don't think it matters who is currently injured or not. There is no single outfield player whose absence from the pitch, on present form, makes a significant difference. Unless, that is, we are judging the margins between poor and very poor.
My hope on Sunday is at least for a combative and spirited performance whoever plays and then for some dry weather next week. Best to set low expectations.

Derek Taylor
21
Posted 21/05/2021 at 19:19:23
There will always be a few who bank on 'next season' showing an improvement, Kevin. But it never comes about. This is Everton, you know !
Pat Kelly
22
Posted 21/05/2021 at 19:45:29
Time for Ancelotti to admit James was a mistake. For what James is being paid there must be players who could do a decent job and turn up every week and not just once a month. If Ancelotti thinks James contribution next season will be any better he's deluding himself or us.
Derek Taylor
23
Posted 21/05/2021 at 20:23:57
Paul, there have always been scoungers in the game who have exceptional skills but no motivation. We all know that if Carlo had to meet the bill, James would never have had sight of Goodison let alone a two year contract.
The real truth is that too many of signings since Moyes walked out have merely been here to take the piss. I'm sure Carlo can find a few more we haven't yet heard of although Brands will have a few in his notebook, to fill the gaps !
Dale Self
24
Posted 21/05/2021 at 20:33:02
Who's Paul? Anyway, Ancelotti bought himself plenty of time and space to decide if he wishes to extend James opportunity at Everton. There is no pressure on Carlo whatsoever so everyone can just wait to see what wisdom the old man arrives at. And oh damn, please with the Great Moyest misstatements->Drenthe, end of argument.
Joe McMahon
25
Posted 21/05/2021 at 20:33:03
Steve @17, it ain't gonna happen. If anyone could get him fit, he wouldn't be at Everton, just like Saha, and even to an extent Darren Gibson. If these guys were fit they would stay at the CL clubs that were selling them.
I'd like to hope Ben Godfrey is the blue print for all future signings, tenacious with ability and drive.
Brian Williams
26
Posted 21/05/2021 at 20:49:37
James, IMO, was a risk worth taking but certainly not a risk that needs to be extended beyond his present contract.
Doesn't play enough to warrant it no matter what he very occasionally does.
He's had a couple of weeks rest and he's still fatigued?

David Currie
27
Posted 21/05/2021 at 21:11:06
Brian 26 Good post, Agree we need to move him on better for the club and player. He did give us some great moments and a pity he could not stay fit.
Darryl Ritchie
28
Posted 21/05/2021 at 21:24:07
I think Coleman will be missed more than James. He's been playing "out of position", on the left wing the last few games, and has been running his ass off. Leading by example.
Is he back next season? If not, would hate for to miss out on his final match.
Kunal Desai
29
Posted 21/05/2021 at 21:30:57
Bringing James into the club as a squad player would have be a better move, not as a regular.
His injury record speaks for itself. I said earlier in the season he is not a player to start games and play 65/70 minutes, instead he'd be more effective coming of the bench fof 20 odd minutes.
Sadly we don't have any first team creative players to replace and instead we've thrusted him into the first team and into a league which he has no experience of given his injury record which has probably contributed further to his injuries this season.
He can get away with 90 minutes in the Bundesliga and La Liga, just not in the Premier League i'm afraid.
Brian Wilkinson
30
Posted 21/05/2021 at 21:32:07
James will play in the Copa America, then be shagged for the start of the new season, great player as he is we cannot have players play a game then out for three.
Agree with other posters, his fitness has been an issue for years now, f we can bring someone in, who can play more regular, then we need to look at that possibility, we all know he is an exceptional talent, cannot question that, but one game a Month is not ideal.
Kieran Kinsella
31
Posted 21/05/2021 at 21:42:23
Kunai
I'm torn on James. Having worked with many skivers my emotional inclination is like Bobby Mallon's "get rid." But then calmer voices like Colin Glassar will remind me he's our only creative player and he has played 20 times or so with a good number of assists.
Derek Knox
32
Posted 21/05/2021 at 21:52:12
Love James, and his silky skills, but what use is he to us if rarely fit ? Or is he really injured ? Many questions= insufficient answers !
Kunal Desai
33
Posted 21/05/2021 at 21:52:40
Kieran, I hope he still is here next season, undoubtedly he has talent, but he's a squad player at best. He needs to be managed alot more sensibly given his injury record. We need two creative players that go straight into the first team and James isn't one of them.
Ben King
34
Posted 21/05/2021 at 21:56:15
Basically we just can't rely on our players.
And that's the problem with James. A fully fit, fully functioning James would get into most Evertonian's first XI. But he's not fully fit and never will be.
So is it worth keeping the gold dust player that can only play maybe half the matches and we have to build our entire shape around him only to have to change our entire shape next match when he doesn't play? I'd rather a more reliable alternative personally.
If we want to achieve anything in this league then we need consistent performances and consistent results. That means we need players to turn up consistently and players we can rely on.
Thomas Richards
35
Posted 21/05/2021 at 22:12:11
"So is it worth keeping the gold dust player"
Yes
One million percent
Billy Dawber
36
Posted 21/05/2021 at 22:50:57
Some people on here are fools, why should we keep a player who can't be arsed playing when it is cold or raining or doesn't fancy getting his kit dirty. FFS get rid now. We are suppose to be building a team for the future, well I don't see him or about 6 others being the future. There as to be a serious look at the squad in the summer and stop fking about bringing has been money grabbing garbage into our team. Enough is enough, now is the time to get it sorted if you please Everton. NSNO.
Anthony Murphy
37
Posted 21/05/2021 at 22:56:20
What do you reckon the others make of him? I reckon they think he's a diva who gets special treatment.

Andrew James
38
Posted 21/05/2021 at 23:21:32
Shame because him picking a few passes or a well executed shot could be the difference against the Champions.
Instead it'll be us playing deep for long periods and our forwards feeding off scraps.
In regards to James in general, we can't sustain having a player who plays once a month or subs himself. Our squad isn't big enough.
Mike Gaynes
39
Posted 21/05/2021 at 23:24:12
Billy #36, yep, you're absolutely right. Some people on here are fools. I know who my top nominee would be.
Anthony #37, any evidence to support your "reckoning"? Do you have the slightest idea what the other players think of him? Or is that just what YOU would think?
No, Pat #22, James was NOT a mistake. Yes, he only played about half the available minutes, and we all wish he'd played more. But when he did play, he was brilliant. He scored/created 15 goals in 26 appearances (not "once a month"), and most of those goals could not possibly have been pulled off by somebody else meeting your description of "decent". He was the key player in the hot start that wound up saving our season. He was MOTM in those brilliant draws against the RS and MU, and his superb pass won us a Derby at Anfield, which is worth a ton of "gold dust" by itself.
I don't care if he played part time. I don't care if he plays part time next season either. He must stay. Must. Keep. Him.
Robert Williams
40
Posted 21/05/2021 at 23:24:59
I can't but return to Carlo's comments about 'those that are unhappy can leave'.
I wonder who he was referring to? James perhaps and probably Richie!!
Can't think that ANY of the other mob are UNHAPPY, after all they show little and are more than happy to get a healthy return for sod all effort - happy as pigs in shit I would say - far from unhappy!!
David Connor
41
Posted 21/05/2021 at 23:28:16
Does the lad really want to play for us? Debatable for me. Is he a class player? Without a doubt. Is he a crock? Definitely.
Get shut... But get rid of the other crocks first, please.
Brian Williams
42
Posted 21/05/2021 at 23:31:35
Anthony#37.
Well I know for a fact Andre Gomes fucking hates him because he's been relegated to second best hair in the squad now!
Alex Short
43
Posted 21/05/2021 at 23:32:01
I just wish Godfrey when he goes on one of those runs would keep on going into the penalty area and try and get us a pen, he's unstoppable, but he always stops short of the box and gives it to someone else. Why!!! One of the stars of the season.
Kieran Kinsella
44
Posted 21/05/2021 at 23:32:58
Robert
Carlo today said to ignore rumors about James being unhappy. He said he's committed but is on his way back to Colombia today. Now that last part irked me a little, I'd have liked to have seen him show some solidarity and at least hang around until Sunday. But that seems to not be the way of the modern player.
Kieran Kinsella
45
Posted 21/05/2021 at 23:35:56
Ben
"Fully fit fully functioning he'd get in MOST Evertonian's teams." Who are the minority vote who'd leave the fully fit James out? Wait wait don't tell me, is it Steavie Buckley so Broadhead can play?
Ian Pilkington
46
Posted 21/05/2021 at 23:58:21
Mike@39
Fully agree with your comments.
James when fully fit would get into any Everton team I've seen in the last 60 years,
but will he be up and running to play from the start of next season?
Colombia appear to be favourites to finish 2nd to Brazil in the North Zone (4 matches)
with potentially another 3 matches concluding with the final on 11th July.
Derek Thomas
47
Posted 21/05/2021 at 00:04:57
Copa cancelled in Colombia, Argentina to host the lot -–so far.
I'd like to think Rodriguez will be back fitter after a rest...but he was much the same at his previous clubs by all accounts.
If it won't respond to rest and, as I'm led to believe, these things aren't really operable...Maybe a pre-season regime will help. But I don't think Everton do that sort of thing now.
And that's before I even start on 'Fatigue'
If we have to pay him Brewsters for10(?) games a season then Brands and Ancelotti should chip in for his wages.
How much longer are we going to be a soft pension provider for over the hill sick notes.
I can still drop a ball on a sixpence from 40yds...if the grandson runs and fetches it back for me...and it's not raining - gis a job as they say
Andrew James
48
Posted 22/05/2021 at 00:07:29
Keeping James is not crucial. If we retain him given his injury record, we basically block the progression of another right sided player or play without any threat down there for three games in four.
I like him but the no-shows are a tiresome joke now. I hope Brands is in the market for a right sided attacker of quality.
Matt Stapleton
49
Posted 22/05/2021 at 00:10:48
Bit of perspective please guys, one of the most expensive purchases ever when he went to Madrid, golden ball winner, and more importantly has put us on the map in south america, something that is hugely important to us as a brand and not to mention attracting other players... we either tell future prospects you will have James playing in front of you or Iwobi.
The guys a superstar and worth well more to Everton than the weekly wage we pay him.
Oh and one small other detail, he's actually not that bad a player.
Whoever doesn't want him has no sense of the big picture here.
Paul Hewitt
50
Posted 22/05/2021 at 00:14:05
The guys a fraud, can't be arsed. Everton are an easy meal ticket for him. Fuck him off.
Brian Williams
51
Posted 22/05/2021 at 00:16:30
Whoever doesn't want him has no sense of the big picture here.
Matt, I'd say there's a fair argument that the reverse is actually true.
Anthony Murphy
52
Posted 22/05/2021 at 00:20:13
No Mike obviously no evidence mate as I know none of the players or what they think of James, but I 'reckon' some might see his as a bit of a diva given he tends to behave that way at times does he not. Is that so wrong?
Jerome Shields
53
Posted 22/05/2021 at 00:26:08
I think James will benifit from a rest, getting back home and a preseason. Everton are going out of their way to work with him. A extention to his contract for another year is almost certain imo.
Andrew James
54
Posted 22/05/2021 at 00:31:25
Anthony
I see that when he delivers on the pitch, they love him. However, I've been in work situations when you love it when the best guy is doing well yet when they go missing, questions are raised as are doubts.
I would be surprised if his team mates aren't posing the question "when you can be that good, why can't we have more of you?"
It's not sustainable.
Matt Stapleton
55
Posted 22/05/2021 at 00:32:19
@Paul 50, an easy meal ticket the guy could get an easy meal ticket anywhere he wanted.
@Brian 51,
Don't get me wrong, I know where you're all coming from, and from a playing point of view you have a fair argument, however from a value to Everton football club as a whole I believe he's an asset, and one that actually isn't costing as much as some have.
I live in Mexico and I see the pull the guy has in south america from here, hes Hollywood and I for one am glad he's with us.

Andrew James
56
Posted 22/05/2021 at 00:35:02
Jerome
Agree about the pre-season as we bought Doucoure, Allan and James just before the season began so none of them could have had a normal pre-season because of re-start and they were with different clubs where prep was not ours and their futures were unsure.
Doucoure was in a pre season at Watford which entails probably not knowing who your coach might be from Monday to Friday...
Kieran Kinsella
57
Posted 22/05/2021 at 00:52:15
Jerome
I wouldn't extend his contract at this point. He has a year left and he's talking about retiring. See how he does up until Christmas then discuss.
Bob Parrington
58
Posted 22/05/2021 at 01:04:22
There appears a lot more wrong with our squad than just the regular absence of James. Watching a replay of the game vs Wolves, there seemed plenty of energy. However, for much of the game we looked like chickens running around with their heads cut-off.
Wolves just found (created) so much more space than Everton with players moving in to positions to receive a pass regularly with options for the passer. For much of the game we didn't seem able to string two passes together. Maybe I am being hard but it has seemed to be like this just about the whole season.
Comment has been made that we play better without the ball than with the ball. If that means moving off the ball to a suitable position to create a pass option then I can't agree with this. There again, why do we look so bad with the ball - is it because fewer options or none are available to the player with the ball to make a pass? . which would indicate that we are worse off the ball.
Confusing? Yes.
IMO, in terms of incoming transfers, we need at least one player who has complete composure to command and control plus some additional pacey, energetic players with
the attributes mentioned earlier.
Mike Gaynes
59
Posted 22/05/2021 at 01:28:58
I'd like to nominate #50 for the TW post of the day. What insight. What cogency. What wit.
Meanwhile, back to rationality... we got the guy for nothing. I've never seen a published account of his salary, but even if he's the highest-paid guy on the club, so what? We're paying Bernard and Gomes a combined quarter-million a week for one-tenth of James' production. And if he plays 34 games next season instead of 26, just think what an impact he could have. Worth the gamble? Of course he is, just from a playing perspective. And what he does for Everton's worldwide profile is priceless. We couldn't buy that kind of PR.
I do agree with Kieran, however... no reason to address a new contract at this point. Time enough to do that in midseason if he's fit.
Kieran Kinsella
60
Posted 22/05/2021 at 01:29:50
Bob Parrington
It's a fair point. I assume Carlo meant "off the ball" defensively because as you say "off the ball" offensively is probably our most glaring weakness.
Terry Nolan
61
Posted 22/05/2021 at 01:49:29
Enough is enough just get rid of him he don't have the heart to play week in week out starting to be a pain in the arse!!!
Andrew James
62
Posted 22/05/2021 at 02:12:18
Mike Gaynes
I wouldn't get too know-it-all if I were you. I've read many a post from you that has backfired.
Tom Davies a "retard" was a gem; now he's one of our most reliable midfielders. Some very questionable remarks about Calvert-Lewin as well.
If there's a brief prevailing wind, you'll go with it. Or insult those who don't.
The fans above who object to James have every right to because they pay for season tickets and witness a player subbing himself and rarely playing with a big Instagram presence. Like you, I know he's a really great player but, for what we need, he's not fit for purpose.
A player not showing up very often on a lot of money is an anathema to many of our fans – and no wonder. It doesn't mean they don't know a good player, it just means they have been sold a pup and they know it.
You make the strong point he did it against the better teams (which is why I wish he was available for Man City) but for another campaign with Watford, Newcastle, Palace, Norwich, West Ham, Leeds, Saints and all, I cannot see him much more than a luxury player.
I'd rather we bought a right-sided player to unlock those sides and tackle back.
Barry Williams
63
Posted 22/05/2021 at 02:13:58
I think a lot of the posters on here have valid points, even though they may be polar opposites. It will be interesting to see how many games James plays in the Copa America, and what happens when he comes back.
Of course, he has undoubted talent. But how best to use it? He obviously needs legs around him, something that Everton have not always had the luxury of this season. He has a good goal and assist rate, but the team is also having to play a certain way to accommodate James at times; this is where the inadequacies of the squad come to the fore.
Me (being an expert and all that) thinks that a lot depends on who Everton sign this summer and how they'll set up next season as to how James will be used. If we play a traditional Number 10, then methinks it should be a position that is shared between both James and Sigurdsson in some sort of rotation, based on who is the freshest, fittest etc.
If Everton go for a speedy winger or two, what then? One up front and James behind the striker? Should he be played on the right-hand side or not? Does that depend on who is the regular right back?
For me, he plays if others are in the team to do his running and covering. He covers more than he is credited with, but it is not really his forte. James should be treated as a player that can be switched with others either starting games, or coming off the bench.
As for getting rid, well, it depends – on a commercial level, if he is attracting a lot of interest in Everton, thus more revenue, then fine. But commercial interests should never trump the sporting outcome.
I have my doubts about a lot of the players and commitments to the cause. James is just one of a number of them. Hopefully my doubts are unfounded and wide of the mark.
Just an aside. Delph has been given a lot of stick and virtually no support on this site and from many Evertonians – maybe quite rightly, but as a lesser player there definitely seems less support for his lack of game time. So I guess it is more about quality than attitude and availability? And yes, Delph has built a rod for his own back at times!
Geoff Lambert
64
Posted 22/05/2021 at 02:20:15
If I see him play 10 games next season, it will be worth my season ticket price. We've not had a talent at this club like him in decades.
Carthorses like Calvert-Lewin, Sigurdsson, Bernard and Iwobi can come and go every year but are not worth a toss.
Kieran Kinsella
65
Posted 22/05/2021 at 02:44:44
Andrew 62
"If there's a brief prevailing wind, you'll go with it. Or insult those who don't."
I think that's unfair mate. Mike is not one to follow the crowd. He has his own opinions and isn't one to "pile on." He articulates his points well too. I often (but not always) agree with him but I think you're being a bit unfair in your characterization.
With that being said, I think you, Brian Williams, and a lot of others bring up valid conflicting points on this thread. I'm finding myself agreeing with everyone except the few who say "he's a fraud" or whatever without explaining the overall rationale.
Just imagine if Iwobi had played instead of him 25 times this season. What would that have done to our season? We'd be closer to relegation than Europe. But I get the concerns and frustrations, especially at the business end of the season. But you have to look at the 38 games in totality, not just a spell that's great or terrible.
Kieran Kinsella
66
Posted 22/05/2021 at 03:09:22
Andrew,
Also, on the "Tom is a retard" thing that someone else brought up the other day — about 2 years after it was said. My niece / Goddaughter has Downs syndrome. When I read it, I cringed. Because, having interacted enough on here to get the gauge of the man, I knew he meant it in a way that was contrary to how it would be interpreted.
Rightly or wrongly, it was for decades used in the context of someone making foolish decisions. In recent times, there's been more sensitivity to how it might be construed. I'm sensitive to that having had my eyes opened with some nastiness from people to my lovely niece.
But I don't think for one second it was used on ToffeeWeb in a way that was intended to offend or allude to people with disabilities. It was unfortunate, it was old-fashioned but I don't think there was ill-intent and I don't think we need to keep mentioning it.
Billy Dawber
67
Posted 22/05/2021 at 03:13:49
No-one is questioning his talent, the fact of the matter is he lets the team down by not playing and that sucks if you have paid to watch these so-called stars.
I am all for watching his brilliance when it happens but feel we are being cheated for whatever reason in seeing him, week-in & week-out doing what he does best. The only answer to me is, if he is not going to be an asset to the team by playing, then get rid sooner rather than later.
Sorry if this upsets some of you experts but this team needs stability and players who can perform every game – not only when it suits them. If we are to challenge for anything, then we need players to give their all for the whole season – just like they used to!
Kieran Kinsella
68
Posted 22/05/2021 at 03:18:56
Billy Dawber,
I get your point. He hasn't exactly had the impact say Cantona had on Leeds. But he's here, he has a year left, only Sigurdsson produced anything from the midfield apart from him. If he hadn't been here, where would we be?
Can we get someone better this summer? If so, great; I'm all for upgrades but, as of now, looking at who we've got, there are maybe 15 others I'd sooner ship out.
Mike Gaynes
69
Posted 22/05/2021 at 03:40:28
Kieran and Andrew, I don't recall the particular Tom Davies comment you reference, nor am I aware of having been called on it -- either at the time or more recently -- but I unreservedly apologize for the use of that word, as well as for the belatedness of the apology.
Andrew, I'll let Kieran speak for me on the "prevailing wind" criticism -- as usual, he says it better than I could -- but I challenge you on the "insult" comment. I do not. I needle, I satirize (as I did with posts 36 and 50 above), and I occasionally ask if it's a nice day on whatever planet the poster is orbiting. But I challenge you to find any instances in my 15 years on this site when I called another poster an insulting name.
I do not remember saying anything "questionable" about DCL. Care to elaborate?
As for my posts backfiring, you betcha. It comes from having opinions and expressing them clearly while being fallible. I was quite happy when we signed Schneiderlin, for example (to be fair, I was right for the first four months). And I was unimpressed with the Michael Keane signing (happy to be proven so wrong this season). I'm not the least bit afraid to look foolish. Happens all the time.
But if you think I'm too much of a know-it-all and that irritates you, I have a solution. There's a little thingie in the middle of your mouse that you can use to scroll past posts that don't interest you. I use it occasionally. Works well.
Finally, to circle back to James, I think in the final analysis it's an academic argument, because it seems certain that he'll be here next season. And I still predict that he'll give us lots of reasons to be happy about that. Hopefully more often than this season.
Kieran Kinsella
70
Posted 22/05/2021 at 03:52:11
Mike 69
On backfiring, I was 100 percent on board with Walter Smith. I was also on board with Mike Walker, Joe Royle, Howard Kendall III and no one since until Carlo. God I hope my judgement has improved over the years.
Steve Brown
71
Posted 22/05/2021 at 05:34:36
In a midfield devoid of creativity, it makes zero sense to get rid of a player who has contributed 14 goals and assists, simply because he "only" managed 26 games. Gomes, Bernard and Sigurdsson all earn more and contribute far less.
When James has played, he has been committed and added fluency and variation to our play. Everton fans have always valued effort, but that has on occasion led to us lauding donkeys like Stracqualursi instead of thoroughbreds like James. I am happy for him to get a few games with Colombia before we get him back fit and ready to go.
Hopefully, we can use the close season to sign more players who should actually be on the same pitch as him.
Brian Murray
72
Posted 22/05/2021 at 07:08:52
Kieran,
We still get an ignoramus like Glenn Hoddle coming out with daft comments although it cost him his England job. Here's to us turning up for once on Sunday. If not, have a great summer. Especially Mr brands!!!
Dave Evans
73
Posted 22/05/2021 at 07:20:25
Steve,
I think your last line nails it.
Jerome Shields
74
Posted 22/05/2021 at 07:33:56
Kieran #57,
I think so many posters were saying "Get rid of", I assumed that his contract was for a year. Therefore he is staying: away early to Colombian for some heat and rest; do his bit of international football in the limelight and a productive pre-season.
Just goes to show: never assume, because when you do, you make an ass-u-me.
Andrew #56,
We could be right about pre-season, but it did occur to me that I assumed that the good start this season was because of a good pre-season at Everton. The problem being that pre-season preparation at Everton prior to that was often attacked by posters, including myself, as holiday camps with a break in Europe.
Hopefully Ancelotti's pre-season contributed to the good season start and it will help the players you mention. Ancelotti does not appear to have much faith in warm weather breaks, dismissing them as not necessary. Europe is viewed more as a competition break from the Premier League now.
Eddie Dunn
75
Posted 22/05/2021 at 08:38:46
On James,
As frustrating as it has been seeing him sub himself or feel fatigued, I'm with Mike Gaynes. The lad is a superb player, has a problem with his calf that probably can't be cured. I can live with that. I just have to rerun his passes and goals in my head. That win at Anfield...
The two Colombians are very proud of their country, which is still in the throes of the pandemic. We all seemed to like the idea of South American interest in Everton; well, those two remaining in their National line-up is part of the deal. We want happy players.
If James manages the problem and plays lots of games in a short time, then I will have less sympathy if he refuses to do the same for us. Let's just see.
Tony Everan
76
Posted 22/05/2021 at 08:47:31
When considering whether to call time on James Rodriguez we should also don our business heads.
Some over-the-top comments I'm sure are borne out of sheer frustration that we have a world class player who doesn't play enough.
But we need to consider what James is worth to us in terms of exposure and raising the profile of Everton to much wider markets. In short, we need to make James's stay here work for us.
If he wants to stay for another year, good, but that doesn't mean we have to build a team around him. Use him as a trump card for certain games or as an ultimate game-changing sub. Manage his game time for our advantage, for the benefit his fitness and the enjoyment of his football.
In short, James being at the club can be a major benefit to us if he only plays half the games.
The key will be getting that right-sided forward or winger to bring assists and goals so we are not reliant on James as a core player.
Danny O'Neill
77
Posted 22/05/2021 at 09:18:56
Never understand the cold and wet argument. It was cold and wet in February when he was instrumental in us winning our first derby at Anfield in 214 years (that's what it felt like).
If you've ever been to Munich in the winter (I have regularly), it's way colder than here. He spent 2 seasons there.
Down to expectation for me. The player is an incredible talent but he's never playing 90 minutes of every game or every game every season. How many players do in the modern game? Do City fans bemoan Aguero because he doesn't play every game? Set that expectation and you'll appreciate his talent. His contract won't be extended but if we use him and his exceptional talent as a footballer as part of a squad we will benefit from him being an Everton player.
Michael Kenrick
Editorial Team
78
Posted 22/05/2021 at 09:20:18
Kieran,
Your sensitivity on a personal level is understandable, although the words in our language are used to convey meaning in context. This battle to demonize some of them in the name of identity politics must be resisted for the sake of our language and culture.
In that vein, I don't know if this helps but, to set the record straight, "retard" was not the word Mike Gaynes used to describe the astounding incompetence of Tom Davies for his part in what Lyndon described as "an act of self-sabotage".
As for Andrew James, who was the one who inserted "retard" into the original thread, and clearly won't let it go in order to sustain his unending attacks on other supporters, sorry but I'm not tolerating that.
Derek Taylor
79
Posted 22/05/2021 at 09:43:42
At least if we get into the revised Eurothursday competition, management will have something to blame for any shortcomings in our Premier League performances – tiredness!
And blame it they will because there is little chance that our esteemed manager will see it as an opportunity to blood any youngsters as other clubs do – particularly if those showing most promise are forever out on loan.
Danny O'Neill
80
Posted 22/05/2021 at 09:49:25
Any manager or club will blood youngsters.
If they are good enough.
City with Foden. But who else?
Liverpool with Alexander Arnold.
In the main though, I see the successful clubs bringing players in from elsewhere.
You can afford to blood youngsters once you're there, not when you're trying to get there. Especially if they are not the standard you need. Get into Europe and we attract a different calibre of player. In my opinion.
I agree though, but it's a different grass roots debate.
Mick Conalty
81
Posted 22/05/2021 at 09:49:50
The picture of James at the front of this thread... He looks more like Richarlison.
For God's sake, bleeding well cheer up, the pair of you!
Colin Glassar
82
Posted 22/05/2021 at 09:50:54
Late to this thread but I don't understand this. "Fatigued and injured" Rodriguez won't play against Man City but has been allowed to return to Colombia to play in a gruelling Copa America, in boiling weather, on substandard pitches, with poor medical facilities?
This is bizarre but knowing how much it means to South American players to represent their country, understandable.
Mark my words, James will be running around like a spring chicken in Argentina, no calf or testicular problems will stop him. Will he return "fatigued and injured" is the question?
David Cash
83
Posted 22/05/2021 at 09:55:35
Bobby 15 - You might want to give it a bit more thought.
Brian 26 -Spot on.
Anthony 37 - A very good question
Andrew 63 - Yep.
I think those of us who advocate moving James on do so with the certain knowledge that he is capable of making absolute mugs of us. He's just so frustrating.
Danny O'Neill
84
Posted 22/05/2021 at 10:08:25
Put better players in front of him and give him more options when he looks up to play forward (as he always does), we get more out of him when he does play.
And get that defence higher up the pitch. But that requires a change at the back too.
Darren Hind
85
Posted 22/05/2021 at 10:16:57
Mike Gaynes did NOT use the word 'retard'.
I remember the incident well. It was one of my first visits to the Live Forum.
He incensed a few (me included) when he screamed "fucking moron" at Tom, but he did not stoop to using the word 'retard'.
I think Mike was most definitely playing to a ready-made audience. 20-year-old Tom was already being hammered before he crossed the white line as a late sub. His "moronic" act of "astounding incompetence" was to give away a free-kick miles from goal which 11 players had the opportunity to defend Newcastle scored.
When he is not deserting his post, Allan gives away free kicks such as this with alarming regularity. He's about 29 (I think) which means he is a moron.
Still it gives people the chance to make up ridiculous stats like "He's made the most tackles in the Premier League".
Tony Abrahams
86
Posted 22/05/2021 at 10:24:04
He's either fatigued because he can't build up no momentum because of constant little injury problems, or fatigued because he's been playing in such a very limited attacking team, and my own guess is that it's a combination of the two.
Thomas Richards
87
Posted 22/05/2021 at 10:32:59
Not many clubs' fans who have struggled to make an impact on the trophy front (26 years) would be screaming to get rid of a player like James.
Best pure footballer we have had since an 18-year-old Rooney, imo.
Brian Harrison
88
Posted 22/05/2021 at 10:48:54
I think it will be interesting to see how many games he plays for his country in the Copa America tournament. They normally play twice a week in these competitions which is something that James has been unable to do since being here. I don't think I have ever heard of a player missing a game through being fatigued before, unless something was lost in translation maybe.
This calf problem seems to have dogged James for a few years now and I am sure Real Madrid would have sent him to the best specialists around to try and cure this problem. So maybe it's something he has to live with. The question is: Can Everton live with the situation?
At every press conference, Carlo is always asked about James's fitness and the answers have varied from a slight strain or fatigued, but he assures everybody he will be fit for the next game – only to find he isn't even in the squad.
Colin Glassar
89
Posted 22/05/2021 at 10:50:28
Rodriguez is a brilliant player and I'm certainly not advocating his sale but I do think we have the right to know just exactly what is wrong with him.
For too many years we've carried "injured" players, eg, Andy van der Meyde (we now know he was never injured), Gibson (drunk, mainly), Hibbert (fishing), Walcott (image problems?), Iwobi (just a shite player), etc.
Let's get serious, Everton, and tell us what's really going on!
Alex Kociuba
90
Posted 22/05/2021 at 11:19:32
Hibbert missed games because of fishing?!
Graham Mockford
91
Posted 22/05/2021 at 11:21:43
I think that so many got carried away with Rodriguez after a few decent performances just shows how much dross we've been served up in the last few years.
I even remember someone claiming he's the best Premier League player we've ever had. Not even in the Top 20 on the basis of what I've seen so far. Sure, he has ability but he's failed to show up in games where you would expect him to dominate, he's undoubtedly injury-prone, and he also seems to be prone to sides getting physical with him.
I suspect it's the end of the road for him.
Paul Birmingham
92
Posted 22/05/2021 at 11:26:51
As many have said, the club should be upfront and honest about James's fitness.
He's another enigma, absolutely the best passing player and showing the most vision and chance taker Everton has had for decades.
But the frustration is total.
Is it psychological, playing amongst several ale-house players, or genuinely has his desire to play football waned, after years of consistent injury?
Brazil 2014, a great World Cup, but it's a long time ago.
Considering James's impact at that tournament and the hype afterwards, another player who's never reached the projected heights of greatness in football is Mario Goethe. He has almost disappeared altogether.
But the club needs to tell us as, without doubt, Everton need a playmaker with a good engine for next season.
James at best will be an impact squad player next season, in my view, as his fitness is now questionable and the stats this season prove that.
Yep, if there's a miracle cure, hopefully Everton find it, as he's a brilliant player on his day.

Gary Willock
93
Posted 22/05/2021 at 11:46:38
Tony @76 hits the nail on the head; we must consider the commercial value of James as part of the overall picture too.
The billboards around the world last year. The new International office with Jurgen Mainka. His 100 MILLION followers (8th biggest sportsman in the world!!).
Personally, if he plays half the games at his full ability, helps champion the club around the world, and – most importantly – helps us attract other quality Copa American players here, then it's not even a debate on whether he's worth indulging.
We just need more quality in the squad so he's a genuine bonus – not a missed necessity.
Derek Taylor
94
Posted 22/05/2021 at 11:48:43
I can never remember Hibbo asking to be taken off because he was fatigued?
As for the fishing...??
Matt Hunter
95
Posted 22/05/2021 at 12:13:03
Some of the fans on here don't deserve to watch a decent footballer.
Let's see... James won us the game at Tottenham, we hadn't won there in eons. He was responsible for us getting a point a Man Utd. It was his defence-splitting pass that allowed us to get in front at Anfield. Not to mention his brilliant goal against Leicester helping us get a point.
Over the last 30 years, I've watched some absolute dross playing for this club; James is pure class. We haven't had someone who can pick a pass like him in years. Even against Sheffield Utd, he made two gilt-edged chances only for the two up front to miss them.
Iwobi is fit for every single game and hasn't contributed anything in two seasons. I'll take 20 games of James over 2,500 games of Iwobi and players like him who we seem to stockpile.
Ian Burns
96
Posted 22/05/2021 at 12:19:36
Apart from some of the more insulting posts, this has been a great thread with totally opposing views on whether or not James has value to the club or more importantly the team.
Mike Gaynes makes an excellent point with regards to his value.
For me, playing him out on the right-wing exposes our right flank which in the modern game requires a player such as hard-working Richarlison when he plays out on the left.
Playing off the striker, where he can be replaced when a more defensive tactic is required, might prolong his playing days and would be worth the additional season.
Robert Williams
97
Posted 22/05/2021 at 12:32:53
I think Gary @93 has something there when he says 'helps us attract other quality Copa American players here'.
I just wonder whether this 'fatigue/no show' is all part of a bigger picture – I wonder whether his imminent trip 'home' is part of a bigger picture?
I wonder whether he has in fact been charged with going back home, presenting himself for the Copa America, and mainly attracting other targeted players here for Ancelotti?
I've always had a conspiracy mentality. I do hope his tenure as an Evertonian does conspire to make us a better club – one way or another!!
Tony Abrahams
98
Posted 22/05/2021 at 12:38:15
FA Cup final Derek,T, the biggest game of his career, and not just for Hibbert, but most of the squad.
Maybe it was because Moyes got his tactics wrong? I blamed Fellaini not working hard enough for his team, but the sun supposedly fatigued Hibbert, I'm sure that was the story at the time.
Graham Mockford
99
Posted 22/05/2021 at 12:39:16
Matt,
It's not a question of whether he's better than Iwobi, he quite clearly is. The question is: If we are serious about being a Champions League team, will he be part of that? I certainly don't see him starting in any of the current Top 4 sides.
He is capable of genuine moments of class, more so than any player in the squad. But he is also fragile, prone to go missing in games and liable to be physically targeted.
Jim Bennings
100
Posted 22/05/2021 at 12:43:50
Apparently by the end we could find a "plaice" for Hibbo in the team so he just "slinked" off with his fishing rod.
Anyway back to J-Rod
Damn, what a player... but what a bloody crock too. It all seemed to kick off in October when he was debollocked in the derby by one of the knuckle-draggers.
Ever since he's been about as resilient as a kite in a hurricane.
If we could have got him on that pitch 35 times, then I've no doubt at all that he's a player that would hit double figures... but sadly that's unlikely to ever happen, the Premier League is too demanding.
I'd say keep him one more year (providing he's okay with staying here... which I'm not convinced about) – just don't expect him to ever be a regular or push through the pain barriers.
Graham Mockford
101
Posted 22/05/2021 at 12:46:25
Tony,
To be fair, it was 105 C at pitch-side. I was fucked just watching.
Thomas Richards
102
Posted 22/05/2021 at 12:47:11
Tony @98
That and the formation Moyes picked on a blazing hot day.
Played Leon Osman in front of Hibbert as protection against Cole and Malouda.
Steve Brown
103
Posted 22/05/2021 at 12:57:01
Gary @ 93 and Tony @ 76, spot on. The guy is a branding phenomenon as well as a brilliant player.
The marketing launch for his signing reached 400 million people.
Interesting article on how he is helping us grow our fan base in Latin America. Liverpool and Man Utd make millions from marketing in Asia, so recruiting from South America gives Everton the opportunity to leap ahead of them in a massive geo-location where they are not so strong.
Ray Said
104
Posted 22/05/2021 at 12:59:22
My view is that lots of great creative players over the years have proven to be a bit fragile and have needed careful nurturing in training and game selection so they are fit for the 'big' games when they are likely to be the only one with the skill and vision to unlock top quality defences. It should not be beyond the wit of a top manager to manage him this way.
Yes, it may cause a bit of an issue with the other players if they see someone getting what could be viewed as 'special' treatment but most players have the sense to know a special player when they see one and would be happy if he makes the team better-except the player that has to drop out for him!
A must-keep player for me.
Mick O'Malley
105
Posted 22/05/2021 at 13:12:21
Bet he plays all Colombia's games at the Copa America.
Brian Williams
106
Posted 22/05/2021 at 13:14:29
Matt @55,
I agree with you on the extra worldwide exposure James has brought us and as I said in another post he was definitely a risk worth taking. My point was just that I don't think we should be rushing to extend his contract.
He's here next season so the club should see how that goes IMO. I think worlwide interest will wane if he's seen to be continuing to play for a mid-table Premier League club.
If his presence here can help us attract other players to get us near the top, then I'm all for that. But I do think he's a luxury we can't afford... as a mid table club, if you know what I mean, because – at the end of the day – it's success on the pitch which has to come first and foremost for us to progress.
Tom Bowers
107
Posted 22/05/2021 at 13:14:36
All clubs have injuries which blight their season and Everton, like Liverpool, have had their share. I see Klopp is having sour grapes yet again because Man City won the title.
However, some of the top clubs can get by because they have strength in depth much superior, as City do.
James is becoming an enigma. Obviously has great skil and vision but is an inconsistent luxury Everton can't afford.
He, like many others at the club, have not had enough decent games to warrant another season but contracts are contracts and Everton may have to bite the bullet with these underachievers for another season.
Danny O'Neill
108
Posted 22/05/2021 at 13:18:21
Conspiracy theorist paranoia, but I suspected Chelsea got wind of our team selection that day. Or they cottoned on to it very quickly as the right side was definitely our weak point.
Also, and I know football is a game of mistakes, but Lescott allowing one of the best forwards of his day a 10- to 15-yard run onto a cross for the equaliser as he jumped from a static, standing position rather than marking tight and tracking the run. Because he was defending deep in our own box even though the ball and the Chelsea forward he was up against weren't there.
Deep sitting defenders wait for trouble and then try to stop it from a standing position. Familiar ring.
Colin Glassar
109
Posted 22/05/2021 at 13:44:47
Ah, Mario Goethe what a lad he was, Paul B. His marking Faust out of the game against Bayern Munich was the stuff of legends.
And yes, Hibbert was caught fishing a few times in the Mersey when he was off sick. Four-eyed Mersey mackerel was his favourite catch (pollution and all that).
Steve Brown
110
Posted 22/05/2021 at 13:53:22
Danny, we played them at Stamford Bridge before the final and totally bossed the game, despite the 0-0 result. Baines and Pienaar were superb down the left, so I have always thought that Hiddink decided to focus their play on our right side in the final.
As Thomas said, Cole and Malouda up against Osman and Hibbert made it even easier.
Mike Gaynes
111
Posted 22/05/2021 at 14:20:21
Michael #78, many thanks. I was actually pretty sure I had never used that word, because I never do, but I didn't want to dispute my friend Kieran under the circumstances. My recollection was that I used the language Darren described at #85 (is that also offensive in a mental health context?). I very much appreciate your going back and checking.
Darren #85, thank you also -- your effort is appreciated as well. However, your recollection of the game incident is incomplete. Tom's stupid foul gifted a free kick that was the only chance for a game-tying score -- there was no time to advance the ball into our area otherwise -- and then he was the player who failed to properly defend the free kick. It was the dual blunder than infuriated me, not just the foul. Also, to the best of my recollection, the only one incensed was you. I recall no other objections to my ire towards Tom, although I may be mistaken because I was seeing nothing but red at that point.
Andrew James, your accusation of my using that particular word was false. You have also failed to support your accusations that I made "questionable" remarks about Dominic and that I insulted other posters here. Your integrity has now been called into question by the moderator and by me. Care to comment?
Back to James... Tony, great post at #76, and also Danny at #77. You've reflected my views on that issue.
Matt Hunter at #95, great summary of James's work, but I disagree with your comment about the skeptics here not deserving him -- we ALL deserve to see quality football, and the frustration about not seeing his quality as often as we'd like doesn't make anybody undeserving.
Colin #89, we'd all like to know what's wrong with a player who's not on the pitch, but I don't think we have the "right" even if we've paid for a ticket or bet on the game. IMO an athlete's right to keep their health information confidential vastly outweighs our desire to have it. The have little enough privacy in a social media world.
Dave Abrahams
112
Posted 22/05/2021 at 15:02:00
Mike (111),
I beg to differ with your view that we don't have the right to know about a player's fitness when that fitness has fans scratching their heads.
James went off the field before the game began v Aston Villa with an injury that was described as a little niggle which didn't feel right (to James) by Carlo; he has played about an hour since, which makes it 60 minutes in six games, the two latest games he has missed being described as tired and then fatigue.
That seems most unusual to me, never heard of those circumstances before, so until I hear different, I repeat what I've said before: I think he's taken the piss out of the club, and Carlo, since he was the man who brought him here and had belief in him that he could do a good job for the club.
Some think he has; I beg to differ again. I think he has come for an easy ride for £4M a year – or, in his case, 50% of the year... if that.
Will Mabon
113
Posted 22/05/2021 at 15:09:41
I'm left wondering how James managed to play the first six games of the season consecutively, two full appearances and only subbed late in the others. This after an apparently less than ideal pre-season.
To my eyes, he has rarely looked as involved or committed in later games. Genius moments and contributions for sure - but nothing like the same player as early on.
One of my favourites to watch for many years but I'm not so sure of his intentions now.
Mike G - I have to disagree re. the relevant playing injuries privacy point. He's a professional sportsman. Sexual diseases as an example would be a private health matter. As to the social media aspect; anyone with a following of 100 million plus is not someone focused on their privacy.
Barry Hesketh
114
Posted 22/05/2021 at 15:12:28
Will @ 113,
Perhaps that clash with Virgil van Dijk at Goodison was more damaging than first thought?
Will Mabon
115
Posted 22/05/2021 at 15:31:34
Barry, you might be right, and it may have been hinted at more recently by Carlo too ("Private issue" or however he phrased it). Though I have been kicked/knocked in the plums too many times, it never strained my calf or left me fatigued months later, nor suddenly returned in a warm-up.
I'm pretty sure calf strain wouldn't be being used as a cover for nut trouble and I doubt he'd still be running around playing football with such unaddressed problems.
Maybe the warm weather in Argentina will help his ball(s).
Mike Gaynes
116
Posted 22/05/2021 at 15:35:49
Dave and Will, I think you're talking "moral" right... my reference was to the legal privacy rights of the athlete, which I presume is similar in the UK to the US. I assume league and club policies have an impact on injury reporting as well. But the simple fact is that if the athlete doesn't want to share the details, we're not going to hear them.
Keane's foot horror a couple of years ago is a good example of that. He didn't reveal the ulceration until the following season. Did we have the "right" to know why he was "turning like an oil tanker" at the time? He didn't think so. And so we didn't hear about it.
Anyway, Will, I can't disagree that James' intensity slackened as the season went on. But my guess is it was injury-related rather than what Dave describes as "taking the piss out of the club", an expression I've not heard before but which I assume is a Merseyside metaphor for laziness.
Mike Gaynes
117
Posted 22/05/2021 at 15:41:53
Barry #114 and Will #115, if I had a gonad injury, I certainly wouldn't want it spread around the papers. (Of course in my case it would be barely a niggle.)
Don't know if it's true, but it's certainly true that he missed the Barcodes game two weeks later with a "groin injury"... and it's also true he didn't have a goal or assist for three months after Van Dickhead did him up.
Kevin Molloy
118
Posted 22/05/2021 at 16:08:39
The most difficult job in football is providing the cutting edge. This lad does that nearly every time he gets on the pitch. We picked him up on a free transfer.
We've got so many bums stealing a living at Finch Farm, but jeez he's not. He's world class.
Will Mabon
119
Posted 22/05/2021 at 16:18:05
Mike, I wouldn't have a clue of any legal/contractual areas around the handling of players' injury information. I've never heard it mentioned or cited that I remember. I have frequently heard of players failing fitness tests prior to a potential club transfer and later not heard specifics of why; don't know if that works differently.
The Michael Keane one is interesting. I can't believe it possible he could hide that from the club - which if so would imply a decision by all to keep it under wraps and work around it. Which then would all seem very dodgy (and dangerous) indeed.
"Horror" is the right word. I'm not sure we heard the truth there.
Billy Roberts
120
Posted 22/05/2021 at 16:22:50
Mike @116,
Your confusion of "taking the piss" has really made me laugh today... Until. I tried to give you a translation?
"Taking the rise"??? Again no idea what that means.
"Pulling a fast one" – is that any clearer? Not really I imagine because I have no idea how these strange English expressions come about?
Just thought I'd lighten the tone for you as I don't like to see a well respected TW contributor getting involved in spurious shite said on the Live Forum etc.
If your friends Dave + Tony A take you for a top meal and a few bevvys, then both say they have left their wallets at home... ?? They are definitely "taking the piss". I hope this helps!

Will Mabon
121
Posted 22/05/2021 at 16:23:03
Kevin - no doubting the class. Can almost bring a tear to your eye at times. If only it was all wrapped up in a rugged chassis...
Darren Hind
122
Posted 22/05/2021 at 16:27:25
My recollection of that goal is absolutely complete. I find the claim that Tom Davies failed to defend the Newcastle free kick rather ridiculous. The ball went miles over his head. Even after he jumped it was still a couple of feet over his head.
I think if I had been bigging Mina up all game, I may have been tempted to look for a scapegoat too. Quite what he thought he could do from behind the goal when he slid on his arse, trying to block a ball that was already past him, is anybody's guess
Mike Gaynes
123
Posted 22/05/2021 at 16:34:32
Billy #120... "pulling a fast one" I know. Got it, thanks. My cluelessness on UK and Merseyside expressions is a regular source of entertainment here. I only wish there were video of my conversations with Rob Halligan. Comedy gold.
As for Dave and Tony, when next we share a meal and bevvys, they are most definitely welcome to take the piss. See, I used it!
Kieran Kinsella
124
Posted 22/05/2021 at 16:37:25
Mike,
Sorry; I was evidently duped by Andrew's original insertion of that word, replying to your actual comments.
Thomas Richards
125
Posted 22/05/2021 at 16:39:58
Mike @111,
Nobody, except one poster, posted against your take on Tom's culpability in the goal for a simple reason: You were 100% correct in your summation.
Tom was at fault by conceding a foolish free kick, allowing thier centre-halves into our box. He made his mistake worse by running under the header. Very poor.
Kieran Kinsella
126
Posted 22/05/2021 at 16:43:09
Dave Abrahams
I get your point. But, as Mike says, they are privacy issues. If someone has say VD, they may not want the world to know. But they could solve this as they did in the old days when players were on drugs, hungover or whatever by saying he "picked up a knock" in training.
Billy Roberts
127
Posted 22/05/2021 at 16:45:57
Mike @123, they will definitely "stitch you up like a kipper" now!
David Cash
128
Posted 22/05/2021 at 16:50:02
Thomas,
You keep forgetting yourself. You didn't even post back then.
There where lots of people who disputed Mike's claims that Davies failed to defend the free-kick. It's still on YouTube. Have a look. Come back and let us know how far you think the free-kick went over his head.
And perhaps you can say why one of our centre-halves did not attack a floated free-kick from the half-way line?
I love how you recall so many debates you were not part of.
Dave Abrahams
129
Posted 22/05/2021 at 16:53:39
Will (119),
I've got agree with you over that Michael Keane injury from a couple of years ago, I think that would come under the heading of 'Tall Stories' – he was wearing a boot two sizes bigger than he usually wore, was on antibiotics for weeks...
Maybe there are antibiotics that don't make you sleepy but I get them every so often and they slow me right down. Mind you, maybe that might have explained Michael's playing at the time, which makes me think he is still on them.
With one boot bigger than the other, wouldn't he trip himself up every so often? Anyway, it wanted some believing to me, especially the part that no-one at the club was aware of any of this.
Dave Abrahams
131
Posted 22/05/2021 at 16:59:14
Kieran (126),
With all due respect, the player with VD might not want the world to know about it but it gets around, and every supporter and his dog knew about the Everton player who had it. He was a Championship-winning player with the Blues as well, but my lips are sealed.
Kieran Kinsella
132
Posted 22/05/2021 at 17:05:22
Dave Abrahams,
I set myself up. I should have known with your years of Everton involvement that you'd have encountered such a scandal. Well now you have to tell us the rest, lol.
Billy Roberts
133
Posted 22/05/2021 at 17:19:03
David @128,
You are aware that there are lots of "viewers" of TW who don't actually post anything... ever? Then there are the likes of yourself and I who pop in and out? And the TW fans who really enjoy reading it but wait a while for their debut?
By the way, I have no opinion on that Newcastle game (regarding Tom Davies) except it was a complete calamity of seeing a game out by all on that pitch, that day.
Dave Abrahams
135
Posted 22/05/2021 at 17:28:09
Kieran (132),
He was a relatively modern player. I'm surprised you don't know who he is, it's a true injury but my lips are sealed as I said. We signed him from ...
[Teasing you now, Kieran!!]
Danny O'Neill
136
Posted 22/05/2021 at 17:37:16
Personally everyone, I enjoy coming on here to give opinion and thought. First and foremost on Everton; my true footballing love. After that football in general; my love of football.
I've agreed and disagreed with many but that's what forums like this are for. I've upset and apologised to some, but that's debate, right?
The beauty of this site is Evertonians both arguing and agreeing about Everton. And discussing the beautiful game.
John Keating
137
Posted 22/05/2021 at 17:37:36
Is James a good player? For sure.
Skill that we are desperately short of? Most definitely.
Can we afford him in the team on the basis of this season? No.
Very few teams can compete in this league without every single player performing at 100%. If not, they soon get found out.
This squad, as a group, have let the supporters, the club and themselves down, badly this season. Yes, we have had individuals such as Godfrey and Calvert-Lewin, even Pickford, surprising us and possibly themselves... but, as a squad – shite!
We need every player to be 100% committed; seems to me a few, including James, aren't. Give me a committed Tom Davis than a half-arsed James Rodriguez every time.
I remember Frank Lampard being interviewed when Chelsea were winning everything and he played every game every season, or near enough. He said fatigue never came in to it. They all relished every game and all wanted to play every game. Difference between winners and losers.
Brendan McLaughlin
138
Posted 22/05/2021 at 17:40:35
Dave #135,
If I've got this right, the player concerned "middle" initials were co-incidentally "VD?"

Kieran Kinsella
139
Posted 22/05/2021 at 17:42:53
Brendan,
Sounds like a right psycho...
David Cash
140
Posted 22/05/2021 at 17:44:30
Yes, Billy,
I do realise there are lots of people who don't post for a while after registering with TW. I guess there will be some who don't post at all.
But there is only one who regularly takes up trivial arguments from years ago and, no skin off my nose, but he keeps forgetting himself.
Thomas Richards
141
Posted 22/05/2021 at 17:45:07
The player struck down with a Brian Close unfortunately passed it on to the daughter of a well-known Liverpool family member. Fun and games followed.
Casho,
If its me you are referring to, I'm flattered but you're talking foolishly again.
Can you expand on the poster who forgets himself please?
Mike Gaynes
142
Posted 22/05/2021 at 17:47:33
Darren and David, yep, that long free-kick went over Tom's head that day. Directly to the guy
he was supposed to be marking
... if he hadn't been wandering around like a 5-year-old jumping for a party balloon. That, combined with the pointless foul, added up to one of the dumbest, most amateurish game-wrecking plays I have ever seen from an Everton player -- especially given that he was fresh on the pitch to help his tiring mates protect a late lead.
It would never happen today -- Tom is an exponentially more mature and solid player now than he was 2 years ago -- but that's what happened that day.
Kieran #124, no apology necessary.
Billy #127, I burst out laughing at that one too! Kipper??
Dave #135, you're teasing me too! C'mon, mate, spill.
Thomas Richards
143
Posted 22/05/2021 at 17:53:23
Mike,
I saw it, you saw it, many thousands of Blues saw it. Two cock-ups by Tom.
David reckons many people came on defending Tom? Definitely not the way I recall ToffeeWebbers reaction.
Put the posts up, Casho.

Dave Williams
144
Posted 22/05/2021 at 18:26:13
James doesn't want to know. We have an important game tomorrow – is he going to support his teammates? No, he has flown back to Colombia.
He has fabulous ability but flatters to deceive, living off his reputation gained over a few games at the 2014 World Cup. Real didn't want him, neither did Bayern, which says everything really. The hope was that he would want to go out on a high with us but these strange injuries, including fatigue from someone who has rarely played a full game, do not indicate to me that he is interested.
Why hasn't he done the professional thing and got himself properly match fit? Why has he looked so keen to desert his mates half way through a game by trudging off when the going is tough?
It's a shame and I have enjoyed his highlights with us but he ain't interested and we can't afford a passenger in an already sub-standard midfield.
I can't see any way he will be here come July.
Darren Hind
145
Posted 22/05/2021 at 18:30:36
I think it's because you have played the game, Casho.
You don't defend a last-minute free-kick from the half-way line by standing on your own goalie's toes and inviting the drop down. You hold a high line and keep it. Not drop back before the kick is taken, inviting every opponent into your box.
There are 11 Everton players defending against 8 Newcastle players. Mike's claim that the player who got on the end of the punt was the guy Davies should have been marking is just his way of excusing the lighthouses he had been defending.
What were the other 10 doing? Everyone in the ground could see the punt was going over Tom's head.
There were players far more guilty of not defending that punt than the smallest, youngest most inexperienced player... In fact, there was about 8 of them.
The entire defence stood and watched it ping around our area. Blaiming the late substitute, whose only crime was he wasn't two foot taller, says more about the finger-pointers than it does about the youngster.

Thomas Richards
146
Posted 22/05/2021 at 18:34:31
Nobody else on ToffeeWeb has ever played football?
Keep going...
Kieran Kinsella
147
Posted 22/05/2021 at 18:38:55
That Davies error really is the root of our psychological problems at home. Something like that leaves teammates shell-shocked and creates doubt that takes a long time to heal. It explains a lot.
It's a shame people want to relitigate it and remind the lad of his darkest hour. He is honest enough to know what he did and it probably haunts him.
Jay Wood
[BRZ]
148
Posted 22/05/2021 at 19:30:46
Goodness me. The revisionists are out in force over different threads this weekend.
First, the 2009 Cup Final 2-1 loss to Chelsea. Everton had a magnificent cup run to the final. The spine of the team was devastated with injuries to Jaielka, Arteta and Yakubu (and Anichebe).
We got off to a flier with the quickest ever Cup Final goal by Saha. England's best referee at the time (allegedly) Howard Webb booked Hibbert on 8 minutes for a nothing foul. Webb had done the same to Hibbert a couple of weeks earlier v Villa in the league at Villa Park. Moyes was carefully nursing Tony back to match fitness. It was a sweltering hot day and, with such an early booking, Hibbo had to tread carefully.
Ten minutes after that inocuous booking Fellani was absolutely clattered near the half way touchline and the offending Chelsea player didn't even get a talking to, never mind a booking.
Yes, the cross from their equalising goal before half-time came from Hibbo's flank. So let's blame Tony rather than Yobo or Lescott who parted like the Red Sea to give the known threat Drogba all the time in the world to score.
1-1 at half-time and Hibbert was withdrawn. As if it needs to be said, Everton were never losing with the lad on the pitch.
Everton did not capitulate in the 2nd half. Indeed, before Lampard got their winner, Saha missed a glorious heading chance to restore our lead.
We brought on Lars Jacobsen for Hibbo (Lars also recovering from injury), the 21-year-old James Vaughan for Saha, and 19-year-old Dan Gosling for Osman.
Chelsea, by contrast, had the luxury of replacing Michael Essien for the then German captain, Michael Ballack.
It was not a case of Moyes bottling it in a big game. Our playing resources were so depleted and it proved a bridge too far on the day against one of the finest teams in the country.
Secondly, the 2-2 home draw with Newcastle last season. This thread is evidence of how entrenched some are and how selective their recall.
We absoutely pounded them that night. Some continue to pedal the myth that Carlo went all defensive for the final 30 minutes after going 2-0 up on 54 minutes.
Did he bollocks. Chance after chance after chance continued to be created. Calvert-Lewin header. Mina header. Bernard shot. Walcott shot. Holgate chance. The barcodes keeper was playing out of his skin to keep them in it. Newcastle were so under the cosh Bruce took off his centre forward and replaced him with another centre-back.
Moise Keane, by now blowing out of his arse, was replaced by Seamus Coleman on 71 minutes, Bernard for Tom Davies on 83 minutes, Niasse for Walcott on 88 minutes without compromising our attacking threat. Newcastle's first shot on target in the whole game came after 80 minutes.
Their second shot on goal – at 90+4 mins – came from a corner Everton had unnecessarily conceded with some poor interchange in our left defensive corner between Digne and Davies, resulting in Holgate clearing up but conceding a corner. Newcastle pulled one back when cooler defending would have snuffed it out.
From the re-start, all Everton had to do was pass it back to Pickford and waste away the closing seconds to ensure the win.
But no. For some inexplicable reason the ball was passed back to the experienced Delph who simply hoofed it not even into touch and not very deep into Newcastle territory. A cheap and unnecessary turnover off the ball.
Tom Davies conceded a foul in the centre circle, 50 yards from our goal. Of course Newcastle were going to load our box and lump it forward into the mixer. Yes, the ball flew over Tom's head. So do orbiting satellites. Twizzle and his amazing extending limbs Tom ain't.
Calm heads did not abound. Both centre-backs, Mina and Holgate, put in sliding tackles which literally saw them off the pitch behind the touchline. Newcastle got off one powerful effort that Pickford defended, but in doing so knocking him backwards behind the goal line. The follow-up shot hit Pickford again, but it was clearly over the line. Newcastle scored with 2 of their 3 shots on target at 90+4 and 90+5 mins.
It wasn't dinosaur defensive tacts by Carlo or the imbecility of Tom Davies that cost us the win that night. It was in-game management by far more experienced and senior players than Tom who should have known – and done – better.
Tony Abrahams
149
Posted 22/05/2021 at 20:01:40
I wasn't blaming Hibbert, Jay, but I need to watch that game again because I always felt it was Fellaini who never put the necessary work in during that sweltering first half.
I can't remember Fellaini getting clattered, I just thought as the free man in midfield, he never done enough to help Osman to stop Chelsea getting out down their left way to easily.
I just remember Ashley Cole getting a proper cob-on with Timmy Cahill, who swoped positions with Fellaini at half-time, and made it a much more even second half, until Saha missed a good headed chance; this seemed to spark a very good Chelsea side into another gear.
I agree about the heat, Graham, us English are not cut out for hot weather, another reason why our kids should only play summer football until their teenage years!!
Billy R, I wouldn't be taking the piss, mate, I've never used a wallet in my life!
Dave Abrahams
150
Posted 22/05/2021 at 21:29:44
Going back to that FA Cup Final v Chelsea, I thought Tony Hibbert being on a yellow card was the main reason he never came back on for the second half.
I didn't know Gosling came on, thanks Jay (148), but I'm sure Rodwell was on the bench and I wanted him to come on for Fellaini who, apart from supplying Saha with the pass to score in the early seconds of the game, had done next to nothing.
Rodwell, young and alert then, could have supplied the extra energy that could have won the game for us, because we were as good as Chelsea on the day. Giving the players who were missing, we never had the strength from the bench that Chelsea had, although Rodwell might have added that extra push...
Opinions eh!! We've got hundreds on ToffeeWeb, long may they continue.
Jay Wood
[BRZ]
151
Posted 22/05/2021 at 22:09:17
Dave, I felt sorry for Rodwell that day. He'd had a good season and had contributed to the cup run, but lost out in the subs 'cos Moyes needed a goal.
It's well known the starting XI had lost its spine due to injury weeks before the final, but this was our bench for our biggest day out since beating Man Utd in the Cup Final in 1995:
Carlo Nash
Lars Jacobsen
Segundo Castillo
Jack Rodwell (18)
Dan Gosling (19)
James Vaughan (20)
Jose Baxter (17)
I would guess there was barely 50 first team appearances for Everton between the whole lot of them. Jacobsen came on at half-time for Hibbo. Shortly after going 2-1 down on 72 minutes and looking for a goal the best Moyes could do from the bench was switch in Vaughan for Saha on 75 minutes and Gosling for Osman on 82 minutes. 'Gowan, Dan and repeat your last-minute extra-time goal that knocked out Liverpool.'
There is plenty to criticize Moyes for in his 11 years at Everton. That day at Wembley and the cards he was dealt is not one of them, IMO.
Stephen Brown
152
Posted 22/05/2021 at 22:18:06
James posting pictures of himself flying back to Colombia is probably not great PR! Not bothered watching his teammates tomorrow?
Kunal Desai
153
Posted 22/05/2021 at 22:25:15
Doesn't looked too 'fatigued' to me – going by his latest social media post.

Kieran Kinsella
154
Posted 22/05/2021 at 23:02:12
Stephen & Kunai,
I bet we don't get an Instagram snap of Seamus on the P&O ferry going to Dublin.
Brian Wilkinson
155
Posted 23/05/2021 at 14:55:11
No Kieran, you can bet your life and sole, Coleman will be at the Etihad, trying to give his team mates morale support.
---
Add Your Comments
In order to post a comment, you need to be logged in as a registered user of the site.
Or Sign up as a ToffeeWeb Member — it's free, takes just a few minutes and will allow you to post your comments on articles and Talking Points submissions across the site.