Ancelotti expects further progress next season with James on board
Saturday, 22 May, 2021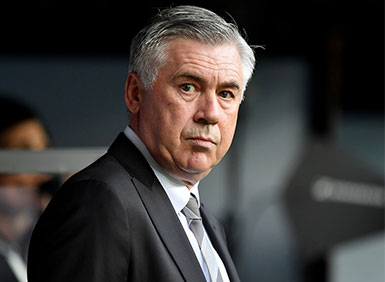 Carlo Ancelotti says that 2020-21 has been a good season for Everton regardless of what happens on Sunday and he is predicting that his team will be up there competing among the top places again next season.
The Blues go into the final day of the season with hopes of qualifying for the Europa Conference League still alive thanks to Wednesday's home win over Wolves. An unlikely but not impossible victory at Manchester City and a failure to win on Tottenham's part at Leicester would be enough to secure seventh place and Europe for Everton; even a draw at the Etihad Stadium would be enough providing Spurs lose and Arsenal fail to beat to Brighton.
Everton were in second place on Boxing Day and still had a clear path to the Champions League if they could maintain their stunning away form and pick up enough points at home where results nosedived after the New Year. Defeats at Goodison Park to West Ham, Newcastle, Fulham, Burnley, Aston Villa and Sheffield United ultimately cost them a shot at the top four and then the top six.
Nevertheless, Ancelotti is content with the progress made by the club during his first full season in charge in what was a campaign disrupted by the COVID-19 pandemic and the congested fixture calendar it brought about.
"It is a good season considering it was a difficult season for everyone," Ancelotti said. "The team has improved and from this base, the team is going to improve next season for sure. We will be more competitive next season, I am sure of this.
"I still believe we are on the right way to fight and compete for the first positions in the Premier League, considering what happened this season.
"We didn't know what would happen with the signings but we were really more and more competitive at the beginning of the season. This season confirmed the fact that we were really competitive, above all against the strongest teams in the competition, against United, Liverpool, Chelsea.
"We got results from those games and that gave confidence to me and to the club for the future. We will put more quality in the squad and we will play more attractive football."
One component that Ancelotti hopes will be able to help again in that regard is James Rodriguez who will miss the season finale against City and is already on his way to Colombia to begin preparations for this summer's Copa America.
James has only played in one of the last six games for the Toffees and his no-show against Sheffield United last Sunday for what his manager described as "fatigue" has led to inevitable speculation about his future.
Ancelotti dismissed murmurings about Rodriguez being unsettled and insisted that the former Real Madrid star was both upset about missing out on the season run-in and committed to helping Everton succeed next season.
"He is totally committed because at the beginning he had a strong desire to come to show his quality," Ancelotti said.
"He was able to show his quality at the beginning. He had problems and for this reason is really sad and really disappointed for this part of the season where he was not able to help the team.
"I hope he will be able to show his quality for the national team and I hope he will be back next season without this kind of problem he had in the final part.
"He is completely committed. Don't listen [to rumours]. He is really committed, and he is really sad (not to be playing)."
---
Reader Comments (54)
Note: the following content is not moderated or vetted by the site owners at the time of submission. Comments are the responsibility of the poster. Disclaimer
James Kirrane
1
Posted 22/05/2021 at 02:19:35
'It is a good season.' This just sums up the expectations at Everton FC.
Despicable home form, losses to Sheffield United, Newcastle and Fulham amongst countless others. Derisory football being served up week-on-week and Carlo is happy.
There was the odd highlight, particularly the away win at Liverpool, although at the time they were losing to every team, and the fortuitous win at Arsenal. However, overall a very disappointing season.
The opportunity was there to win a Champions League place, but Carlo would be very happy with the European Conference League. This kind of attitude makes make despair. Whatever happened to Nils satis nisi optimum?? Unfortunately, at Everton, second-rate is acceptable.
Pat Kelly
2
Posted 22/05/2021 at 10:01:29
I'm beginning to feel sad for James who's sad but really committed on his way home while the rest of the team are still playing.
Did I mention he's really committed?
Tony Abrahams
3
Posted 22/05/2021 at 10:08:47
Twice Pat
Kevin Prytherch
4
Posted 22/05/2021 at 10:18:12
James @1 – fully agree.
Carlo's selections and tactics against inferior opposition have cost us the chance of playing in the Champions League. It might be a good season in terms of points compared to other seasons, but it's an opportunity lost.
Darren Hind
5
Posted 22/05/2021 at 10:40:03
James and Kevin. Get paid.
I can accept not qualifying for Champions League football, but I cant accept not even going for it.
I don't think I will ever get my head around the fact that we pay a man £11M a year to ruin games.
Tony Abrahams
6
Posted 22/05/2021 at 10:40:49
I've been thinking about this, Kevin, since the Wolves game and – without wanting to bring Moyes into the argument – I think our ex-manager might have got us into the Champions League this season, after stumbling on our defensive displays.
Why has such an experienced manager like Ancelotti constantly moved away from a system that was working for his team?
It was making me think that he was acting a bit "Dolly", but he's been around the block too many times for this to be the case, and also proven many times throughout his career, that the only limitation he doesn't have, is limitation itself.
I'm making a great case for Carlo, because I'm trying to look into the mind of a man who has seen and done most things and also because I've also been perplexed by many of his decisions.
After one of the constant arguments on this website over Ancelotti, I googled his time at Milan, and was intrigued to read that, after his first season in charge there, the fans were moaning about the negative football being played, so I'm just praying history repeats itself again.🤞
Danny O'Neill
7
Posted 22/05/2021 at 11:11:27
I get that Tony and also don't want to enter the Moyes debate as it's the past, but it's a fair call.
The difference, even before the Lingard loan deal, which looks inspired by the way, is West Ham had better attacking players than us.
Our manager inherited a team / squad that was weak on the front foot. The priority was to fix midfield. We've done that to a degree.
Antonio, when he wants to be, can be unplayable; just hasn't done it enough in the past but has turned it on this season. If we ignore the managers, both who inherited their squads, on paper, West Ham look more dangerous from an attacking perspective than Everton.
He knows that, hence his recent calling out, I would suggest. Big summer for Carlo as even the likes of me will be seriously questioning, given he is calling it out himself now.
Thomas Richards
8
Posted 22/05/2021 at 11:20:25
Here we go with the wages. Again.
Could never understand the jealousy over what another man earns.
David Pearl
9
Posted 22/05/2021 at 12:21:17
Perhaps with 4 top signings in key positions, Carlo might stick with a formation and system that works so the players can grow into their roles.
And yes, for the money he is on, plus reputation, l am disappointed. Regardless of the injuries we have had.
Ian Bennett
10
Posted 22/05/2021 at 12:42:25
We will finish where the squad deserves to be. Mid-table mediocrity. Yes, we beat a couple of the better teams, but the inferiority complex remains when we need to be on the front foot.
Give away cheap goals – and no goal threat from Iwobi, Davies, Allan, Bernard, Gomes, King, Delph, Doucouré. A recipe for also-rans.
For me, the players need to look at themselves. Far too many go missing when it matters. No manager could do much better with this lot.
Jim Bennings
11
Posted 22/05/2021 at 12:47:53
It's been a season that has brought about some shock results; us winning at Arsenal, Liverpool and Tottenham is something I didn't think I'd ever be witness to.
However, the season, outside of the away form, has been shit – let's be honest.
Good away record, great!
Terrible home form and terrible scoring record, with pretty shite football on display for the best part of it.
Big changes needed; otherwise, look forward to another season of mid-table and no trophy.
Bobby Mallon
12
Posted 22/05/2021 at 13:14:16
Ian Bennett, where do you think Everton should be finishing?
We are a mid-table team and have been for years. But changing the manager year after year does not help. All it does is make him give the players (who have put us into mid-table) another go to see if he can get a tune out of them. When really they should be let go.
Now we have an A-class manager who we need to give money to to spend on his team. 4 more additions in the summer, that will be great (all with Godfrey's attitude). Sell a few or loan the ones we don't want.
Carlo is the man for the job – not the bloody Swansea managers we have. We've been down that road. I don't care how much he's on in wages, Carlo is the manager for us.
Mike Keating
13
Posted 22/05/2021 at 13:51:46
Is anyone seriously excited by a shot at the Europa Conference League? It's a footy equivalent of the Eurovision Song Contest – a platform for failures.
Danny O'Neill
14
Posted 22/05/2021 at 13:58:06
Agree Bobby, regardless of opinions of the manager (and I'm with you), we can't keep changing manager.
Mike Keating. Shamelessly yes and I've been consistent with that. I've listened to managers and pundits (usually English survival experts) describe Europa League as a distraction. That mentality (not yours I hasten to add), means you just want to exist in the Premier League.
I want a Eurpoean Tour. I'm pissed off that it looks unlikely we get that next season unless my accumulator comes in!!
Mike Keating
15
Posted 22/05/2021 at 14:08:49
Danny - I'll probably eat humble pie when we look to be in with a chance of winning the damn thing only to draw Panathinaikos in the semis!
With regards your European Tour, you'll be saddened to learn that Lichtenstein don't feature.
Jim Bennings
16
Posted 22/05/2021 at 14:12:36
Bobby,
If we all took that attitude though we'd never be anywhere.
Leicester haven't said: "Where do you think Leicester should finish, we were in the Championship 7 years ago"
We should be striving for Cups every year!!!
Mark Frere
17
Posted 22/05/2021 at 14:14:39
Tony@6,
There is no need to bring Moyes into this debate. He had 11 years here and failed every time to get us into the Champions League, with sometimes, superior squads to what Carlo has now.
The ginger one deployed negative tactics away at the top teams - his record was abysmal. Remember the "knives to gunfight" comments? He was hardly renowned for his free-flowing attacking football. Remember all the humiliating defeats to lower league opposition in the cups and defeat to the Romanian minnows?
Moyes built some very competitive squads and did some very good things here... but he stayed 2-3 years too long IMO. Your theory that Moyes, with this squad, would somehow achieve Top 4 is baseless and a little silly.
My major gripe with Ancelotti this season is the standard of football as a spectacle. Clearly (to me anyway), there's been very little work in training, on the basic fundamentals like passing and movement. You only have to watch teams like Leeds Utd and Brighton to see that they've worked for hours on that side of the game in training.
It's not that they've got better players than us – it's that they've been well drilled and passing and movement has become second nature to them.
The inability for us to switch to a more flamboyant style of football against weaker opposition is what has cost us this season. Ancellotti should share some of the blame for that. Sure he's shown some good tactical nous against the top teams where we've ground out some good results... but the football has been turgid.
Let's see if Carlo can deliver on his promise of playing more attacking football with better players next season. I think he deserves one more season at least.
Danny O'Neill
18
Posted 22/05/2021 at 14:15:13
I've lived in Germany, spent much time in Austria but never been to Liechtenstein, Mike. It's on my radar!!
Rob Halligan
19
Posted 22/05/2021 at 14:24:55
Ah, here we go again. We don't want this new European competition?
Why the fuck not? What is the point in plodding along merrily all season if there is nothing to aim for? If we qualify (a mighty big ask, mind), then we will have deserved to qualify. People say we've blown a great chance of next season's Champions League, and I fully agree with that, but so have Leicester by the looks of it, and West Ham, Spurs and probably Arsenal. They will all think they have blown a great chance of Champions League football.
We play 38 high-intensity Premier League games in the toughest league in the world, so this new European competition should not be all that difficult; after all, it has been introduced to give the smaller European countries a crack at European football. I reckon there will be around six clubs that will seriously fancy their chances of winning it, and whichever English team is in it will fancy their chances of going all the way. There will be nowhere near the high-intensity of a Premier League game involved, until perhaps the semi-finals.
Again, whichever English team is in it should be able to play their U23s and still progress to the later stages. A few top class signings in the summer to strengthen the squad will certainly help in Europe, and, if we don't make Europe, then a big push for the Top 4 or Top 6 next season.
So come on, let's try thinking positive (Ha ha ha, as if) for a change and cheer the team on tomorrow.
Mike Keating
20
Posted 22/05/2021 at 14:46:26
Okay, Danny and Rob – you've talked me into taking tomorrow's game seriously.
At least I'll know who to blame.
Danny O'Neill
21
Posted 22/05/2021 at 14:53:36
I stand ready to be blamed Mike!
I'm poised. I have many Eurostar and British Airways vouchers saved up. Come on Everton, let me use them next season!!
Bobby Mallon
22
Posted 22/05/2021 at 16:02:28
Jim @16,
I'm taking the attitude that, if we get rid of Ancelotti, we will still finish mid-table, like we have done for a while now. Keep him and we will be challenging for Europe and the Champions League very soon.
Bobby Mallon
23
Posted 22/05/2021 at 16:15:18
Oh how I want European football next season. I would love us to beat Man City and get it.
I'm with you, Rob Halligan, what's the point of football if it's just to survive?
Marc Hints
24
Posted 22/05/2021 at 16:55:57
I'm sorry but if we start next season with only three players signed, as Ancelotti is saying, and keeping the likes of Iwobi, Delph, Sigurdsson, Bernard... then next season, let's all just stop thinking we are a Top 4 team and finally all of us accept the club is not ambitious and it's okay to finish mid-table.

Paul Birmingham
25
Posted 22/05/2021 at 18:24:15
I reckon it will be harder to get the players needed without the chance of European football.
Frank Sheppard
26
Posted 22/05/2021 at 19:06:42
Carlo trying to put a positive spin on things, which is understandable. But, if we finish 10th, that is a terribly poor return, and no amount of spin should detract from that.
Tony Abrahams
27
Posted 22/05/2021 at 20:35:17
Mark @17,
I brought Moyes into the debate for a totally different reason. Moyes might have qualified for the Champions League by sticking with his best formation.
I used Moyes because he was the best example of a manager with limitations that I could think of, and that's why I prefer the spoken word rather than the written word, if I'm being honest mate.
Steve Carter
28
Posted 22/05/2021 at 00:15:53
Further to that, Tony, Mark [17]:
1. Moyes did, as Tony points out, get us into Champions League qualification. Something no subsequent manager has achieved.
2. To suggest that "sometimes [Moyes had] superior squads to what Carlo has now" is laughable. Yes, he had a number of players who would walk into today's side (Cahill, Baines, Jagielka, Arteta, Yakubu, etc.) but (a) they were acquired for a song within the means of his shoestring budget (and without the assistance of a "Director of Football") and (b) they were diamonds in the middle of a lot of rough.
Danny O'Neill
29
Posted 23/05/2021 at 00:35:00
Always the peril of the written word, Tony. And why, if we were all sat in a pub, most of these conversations would have so much much more context and not be taken to heart but be discussed equally as passionately.
Still great debate and exchange of views though!
David Currie
30
Posted 23/05/2021 at 00:39:48
The season will go down as a missed opportunity to geTop 4, our away results have been very good. I think Carlo should have rolled the dice more in our home games and gone for it more.
I think he should have played Richarlison wide left in more games. We need a central and wide right midfielder, a striker and a right-back.
Big season for Carlo as he has to get the team playing more attractive football, especially at Goodison.
Danny O'Neill
31
Posted 23/05/2021 at 00:43:26
The difference, Steve, has to be that qualifying for Europe is one thing; changing and preparing the squad to compete in Europe is another.
We embarrassed ourselves that season because we didn't prepare for it.
I'm not going to blame Moyes as he done a great job that season. Admittedly he was assisted by Liverpool's consistent failure to overtake us as we limped over the line but he done his job.
There is a valid argument about resources but, having qualified for the Champions League, where was the investment and improvement in the squad? And I mean to be able to compete at that level. Not a direct question to you, Steve, one I'm asking myself more than anything. And to reiterate, at the time, not Moyes's fault.
If we qualify for Europe tomorrow, or even if it's next year, we have to invest and improve the squad, not just think the one that somehow got you over the line will suddenly realistically compete.
Mal van Schaick
32
Posted 23/05/2021 at 08:33:12
If the owner and the manager can't see what is needed to improve the squad and challenge for the Top 4, in terms of quality of the squad and especially midfield and quality forwards, then I cannot see us making progress until there is yet another clear-out and rebuild.
Martin Berry
33
Posted 23/05/2021 at 08:46:38
Our home form has been appalling and indefensible... so where Carlo is coming, from I have no idea.
Tony Abrahams
34
Posted 23/05/2021 at 10:07:46
That's exactly right, Danny, mate. It's easy to get misinterpreted, and it's something I achieve on a regular basis, meaning things I haven't actually said, can come across as baseless and also a bit silly!
I suppose it's my own fault for bringing David Moyes into the debate, which then stops people trying to understand what I was actually meaning. The pubs are back open now, so maybe I can buy you a pint somewhere next season, Danny, because if there is one thing I've really missed is getting off the train at Euston, going to watch Everton in the smoke!
Mark Frere
35
Posted 23/05/2021 at 10:18:34
Steve Carter:
Moyes did indeed have us finishing 4th but we didn't beat villarreal (who were an excellent side) to get into the Champions League proper. I said Champions League, not 4th!
It's maybe a bit silly to compare our squad we have now to the ones Moyes had as there's much more money in the game now – all clubs have bigger budgets now... including us. There's also an elite 6 (the Big 6) now which wasn't the case in much of Moyes's reign. Bolton pushed us close for 4th.
I still maintain Moyes had some superior squads to what Carlo has now though... especially compared to the competition from other teams at the time. The 2008-09 squad was excellent... it had leaders, intelligent players and goal-scorers:
Howard, Ruddy
Baines, Jagielka, Lescott, Yobo, Neville, Hibbert
Arteta, Pienaar, Osman, Fellaini, Cahill, Rodwell, Gosling
Yakubu, Saha, Anichebe, Vaughan
I think that's a decent bunch, Steve, that could've maybe achieved better than it did. In many ways, it's superior to what Carlo has now. There was also the 2012-13 squad with the likes of Mirallas and Coleman at their peak. That team played the most attractive football of Moyes's reign. Still no Champions League or trophies to show for it though.
You said: "without the assistance of a director of football".
Well Moyes did much better than Walsh (what a disaster that guy was!) and Brands to some extent in player recruitment. The amount of money spunked away on dross since the Moyes days is scary.
Colin Glassar
36
Posted 23/05/2021 at 10:25:24
Is there any way we could exorcise our former ginger haired manager from these pages?
Every single thread comes back to him in some form or other. He's gone. He's never coming back. Get over him!!!
If you want to compare Ancellotti to former managers compare him to Howard or Harry – not some loser from Glasgow who won fuck all but is still considered to be some sort of Moyesiah!
Admire him. Love him. Yearn for him all you want... but he ain't coming back, EVER!!
Tony Everan
37
Posted 23/05/2021 at 10:38:57
Colin, I was thinking the same.
I fear that, until we finish 4th or higher or win a trophy, this ginger phantom will be slamming doors, creaking floorboards and fluttering curtains on windless days. The halls of Everton need an overdue exorcism.
Vijay Nair
38
Posted 23/05/2021 at 10:40:13
Thank you Colin;
Colin Glassar
39
Posted 23/05/2021 at 10:41:47
Tony, it's like Heathcliffe calling out for Cathy but in reverse.
Barry Rathbone
40
Posted 23/05/2021 at 11:06:14
Colin 36
I disliked Moyes for many years I thought he was a cowardly charlatan who perfected a wounded man of dignity act to deal with criticism and it worked like a charm. Nonetheless, together with blue bill, he feathered his own nest at the expense of the club financially and it's traditions whilst never getting near to winning anything.
However, fans of a certain age saw avoidance of relegation scraps and "jam tomorrow" scenarios should money become available as the equivalent of a trophy. Until we ACTUALLY win something their devotion to the guy will remain even if I and perhaps you think it totally misplaced.
Colin Glassar
41
Posted 23/05/2021 at 11:50:44
Agreed Barry R. Despite appreciating, and acknowledging, Moyes's work to keep us in the top flight and making us, a few times, "best of the rest" I don't get this unrequited love affair with him!
He ran, he scarpered, he bolted, he vamoosed at the first opportunity and never looked back. Not only that, he thought it unfair that little Everton should deny Bainsey and Felli the opportunity to play at a Big Club. Peoples Club my arse!!
As you rightly said, he was more interested in getting bigger contracts than forcing Daddy Bill to buy the players we needed for a final push. He never sorted out the right side of the team unlike Bainaar on the left, and he only started playing Bainsey on the left due to injuries (same goes for Coleman).
There was one January window when we entered the transfer window in the top 6 but failed to get the necessary reinforcements and later faded away but, if memory serves me well, the Moyesiah got a pay increase up to £4m per annum!! So much for miracles on a tight budget.
So yes, I appreciate his efforts to turn the club around and stabilise it into a competitive side but that does not give the revisionists the right to claim that we spent 10-11 years in a football paradise! Well, they have the right to say whatever they want but it's still wrong.
So thank you David and please, piss off once and for all.
Danny O'Neill
42
Posted 23/05/2021 at 11:54:31
I'll take you up on that offer Tony!
Tony Abrahams
43
Posted 23/05/2021 at 12:14:57
It was my fault for bringing Moyes into the argument and I'm sorry.
My point was that a limited manager would not try and change something that was working, ie, Moyes, but a top level manager might be aware that playing a certain way can only take him so far.
That's what I'm hoping Ancellotti had already decided, considering he's told us he's played so many matches in a certain way, and we have been reasonably successful, but in the other 15 games, when our system hasn't been so rigid, we have only won two of them?
The system was awful, definitely not flamboyant: too much space between the lines, often leaving a big hole in the middle of the park, and two upfront even though we had no width.
Ancellotti, is either past his sell by date (muttered by a few), or he's "hopefully" looking at the bigger picture, maybe prepared to have some short-term pain, for long-term gain? That's what I was trying to say, and Moyes just seemed the best example (because he's someone we are all aware of) – and for which I'm genuinely sorry!
Colin Glassar
44
Posted 23/05/2021 at 13:18:06
Sorry Tony, I wasn't referring to you but the devoted followers who can't move on. Of course we are going to compare managers and their records, tactics etc... it's only natural.
My gripe is with the historical whitewashing that goes on. Like I said, he did many good things and he made many mistakes, like all managers do.
Danny O'Neill
45
Posted 23/05/2021 at 13:30:00
No apology needed Tony.
As Colin says, we're always going to discuss and compare managers past and present.
Agree with Colin, Moyes done some good things, particularly the first part of his reign when he turned us around. He just couldn't take us further when we were knocking on the door. Some would argue that was down to the situation he and the club were in at the time. I would differ, but it's all opinion at the end of the day.
Even Howard Kendall Mark 1 didn't get it right to start with and it took him a couple of years. Or windows as we would call them now. Because he was sorting out his squad.
Back to Carlo. He still has time for me despite the disappointment in a lot of the performances we've been subject to.
I look forward to that pint and forgot to mention I will obviously return the compliment!

Mark Frere
46
Posted 23/05/2021 at 14:06:46
Tony@43
When Carlo wanted to play in a more expansive style of football from let's say, the December period when we were rigid with 4 centre backs, which achieved plenty of good results, he should have made sure we were a much more cohesive passing unit.
Does CA and his coaching staff even practice (coach) this particular skill-set in training? Or do they just coach in tactics and formations and expect our players to take care of the rest? I'm yet to see any evidence to the contrary! When the onus has been on us to play a more expansive style, the players look like strangers! We're lucky if we can string 3 forward passes together.
We clearly need better players... but I won't subscribe to the notion that its purely down to the current crop of players not being good enough to pass and move the ball better.
P.S. My apologies for not initially understanding the relevance of your Moyes reference in post 6.

Tony Abrahams
47
Posted 23/05/2021 at 15:03:21
That's the bit I didn't get Mark, because I thought playing four central midfield players, right across our midfield, left us very narrow, and I've also never understood teams that don't play without width.
I started looking a bit deeper thinking if a limited manager can play to his teams strengths, then why can't a seasoned veteran, and like most people are saying, we will find out next season, when hopefully a much better system, starts taking shape.
Ian Riley
48
Posted 23/05/2021 at 00:03:08
I think fans go back to David Moyes is time at Everton for reasons of stability and success. Yes success!! After hundreds of millions spent and manager after manager we are not close to 4th spot let alone the top.
Right, back to our current manager. I think his interview post match was very interesting. A good season? Give me better players and we may improve on mid table more like. I like Mr Ancelotti, a top manager but we must give him the tools to let him succeed. Four top quality players is needed. One more season with quality players and top four here we come. One more season like this and sorry Mr Ancelotti its bye bye. We must work harder and we will do better next season.
Have a good and safe summer all! Keep the faith!
Dermot O'Brien
49
Posted 24/05/2021 at 13:13:27
Further progress?
Dan Nulty
50
Posted 24/05/2021 at 15:41:44
Any chance we could pick up a cut-price Hazard?! Surely be worth a punt if he can get back to somewhere near his best. Left foot coming off the right-wing is what we would need.
Soren Moyer
51
Posted 24/05/2021 at 17:27:34
"Further progress"!!! Joke of the year lol.
Moyes mkII? No thank you. That boat has sailed long ago.
Ted Donnelly
52
Posted 24/05/2021 at 21:14:42
You'd like to think that, having been around the block a few times, Ancelotti has a wealth of experience and knows what he's on about.
The players he was left with obviously aren't good enough so I think he was very limited as to how they could carry out his plans... so much so that he may have had no choice other than to play the way he did, because of the inadequacy of the players.
Given an amount of money to spend, I think he should be at least given a couple of seasons. If not, then what's the solution? Start again?
Matthew Williams
53
Posted 24/05/2021 at 23:11:08
Ta-ta to the both of yer.
Fucking bottle jobs.
Lev Vellene
54
Posted 25/05/2021 at 18:09:36
I just wonder very much about this one thing: How is it that even the oldest football manager games could put in the (then hidden) injury proneness stat, and that this one obvious stat/fact (to most football fans) is still on the blind side of every manager ever???
James is injury prone. He will NEVER play more than half the games in a season, or if he does, he will be anonymous for half of even those he actually plays.
Is 'Reality Denial' a key requirement for becoming a manager anywhere? Or just at Everton in particular?
---
Add Your Comments
In order to post a comment, you need to be logged in as a registered user of the site.
Or Sign up as a ToffeeWeb Member — it's free, takes just a few minutes and will allow you to post your comments on articles and Talking Points submissions across the site.