Godfrey included in provisional England squad
Tuesday, 25 May, 2021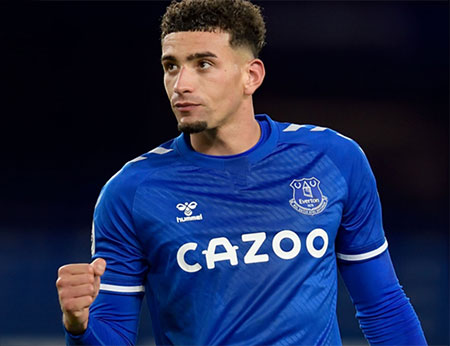 Ben Godfrey has been recognised for his stellar debut season at Everton by being named in Gareth Southgate's provisional squad for Euro 2020.
Godfrey has been a revelation for the Blues since joining from Norwich City for £20m last summer, displaying versatility and tenacity to emerge as the club's most reliable centre-half.
Southgate has spent plenty of time at Goodison Park this year running the rule over Everton's English players and has been impressed with Godfrey to the extent that he might give the young defender his first international call-up.
The provisional England squad will get honed down before the final group is announced but it is a tremendous reflection of Godfrey's rapid progress for him to be considered.
Jordan Pickford and Dominic Calvert-Lewin are the other Blues players selected and are shoo-ins for the final squad when it is revealed. There was no place in the 33-man extended squad for Michael Keane.
---
Reader Comments (68)
Note: the following content is not moderated or vetted by the site owners at the time of submission. Comments are the responsibility of the poster. Disclaimer
Fran Mitchell
1
Posted 25/05/2021 at 13:17:03
Congratulations to Ben Godfrey for his call-up. Much deserved.
He has to be the benchmark for all future signings. Potential, pace, and the right attitude.
A team of 11 Ben Godfreys wouldn't give up like we had from March.
Brent Stephens
2
Posted 25/05/2021 at 13:30:16
Excellent news re Godfrey. Well deserved. Our man of the season.
Alan McGuffog
3
Posted 25/05/2021 at 13:33:38
His first step on the route to a "big" club?
Steve Brown
4
Posted 25/05/2021 at 13:40:33
I know Michael Keane isn't everyone's favourite, but picking Tyrone Mings ahead of him!
Kieran Kinsella
5
Posted 25/05/2021 at 14:01:33
Spain squad announced without a single Real Madrid player. Ramos coming back off injury not included. Given they were 2nd in the league, am I the only one thinking politics played a part? It's good for me because I don't support Spain but it is a bit weird.
Mal van Schaick
6
Posted 25/05/2021 at 14:35:05
Deserves his place based upon his consistent Everton form. My Everton Player of the Season.
Brian Williams
7
Posted 25/05/2021 at 14:37:31
Well done, Ben. First call up of many, I reckon!
Dennis Stevens
8
Posted 25/05/2021 at 14:37:53
Keane will be gutted!
Danny O'Neill
9
Posted 25/05/2021 at 14:42:27
Delighted for Ben. Tremendous personal achievement and I hope from a personal footballer perspective, he makes the final squad.
Bitter and paranoid Evertonian in me. Would rather he'd have missed out and not get drawn into the England setup!!
Congratulations Ben. Well deserved and good luck.
Soren Moyer
10
Posted 25/05/2021 at 14:52:49
His worth is tripled already.
Alan McGuffog
11
Posted 25/05/2021 at 14:54:41
And imagine all those little whispers in his shell-like from his England colleagues...
Kevin Molloy
12
Posted 25/05/2021 at 15:14:18
He's going to be sold for more money than we paid for him. How weird is that?
Michael Lynch
13
Posted 25/05/2021 at 15:19:38
I guess he won't make the final cut, but to be picked for the provisional squad is still recognition for a fantastic breakthrough season. When he signed, I assumed he'd be on the bench most of 20/21, getting a few games when injuries ruled out the first choices. In the end he's probably been our most consistent and effective player, and has shown that he is possibly the squad member who "gets" the club the most - alongside Seamus of course.
Mark Ryan
14
Posted 25/05/2021 at 15:20:36
Some odd selections all round. On current form I would have Danny Ings even at Dominics expense. I think Dom looks burnt out whereas Ings seems to be peaking right now. Traore from Wolves is picked for Spain ? No place for Maddison but he's take Grealish who surely not at full fitness having only had some scant playing time. What do I know ? well done to Ben, on effort and pace alone, he deserves his pick, well done young man
Paul Hewitt
15
Posted 25/05/2021 at 15:39:29
If only the rest of the Everton squad had his desire to win matches.
Martin Berry
16
Posted 25/05/2021 at 15:50:18
He has more pace at centre-back than any other in the squad and can also cover at left and right-back... what is not to like?
Ben thoroughly deserves his chance, and if it is not his turn in June, then it's only a matter of time. Let's just hope he is still playing in an Everton shirt.
Thomas Richards
17
Posted 25/05/2021 at 16:01:13
Brands is up £20 million on the Godfrey signing already.
Great piece of business.
Kieran Kinsella
18
Posted 25/05/2021 at 16:13:57
Mark
Southgate seems to value the journey through the various under age England teams into the international set up. The likes of DCL and Ward Prowse have forged that path. Ings did also, but after 2015, he had injuries etc sort of dropped off the map for a few years, so I think he has suffered a bit with that continuity being broken. He's also 29 now, and considering none of DCL, Watkins or Ings are likely to start, I imagine he's seeing participation as part of the development of the younger duo, whereas Ings is already at his peak.
Tony Everan
19
Posted 25/05/2021 at 16:36:49
I think both Calvert-Lewin and Godfrey will make the cut, well done and good luck to them.
Don Wright
20
Posted 25/05/2021 at 16:36:51
When was the last time we had more blues in the England squad than the other lot that shall not be named ?
Peter Mills
21
Posted 25/05/2021 at 16:45:20
Well deserved, it's been a pleasure watching him this season.
Andrew Keatley
22
Posted 25/05/2021 at 16:56:08
Excellent recognition for Godfrey, whose pace, tenacity and versatility are likely to have given him the edge over Keane, Dier, Tarkowski and Dunk (who are probably seen as too similar to players like Coady and Maguire).
England have an exciting group of young players, but I do not doubt that Southgate will revert to type and pick his big club favourites (like the out of form Raheem Sterling and the hit and miss Marcus Rashford) over any players with slightly smaller reputations and parent clubs, no matter what happens. I'd love to see him let Grealish off the leash and see what happens, but I think Southgate is just too rigid and timid for that.
Kevin O'Regan
23
Posted 25/05/2021 at 17:03:56
Feel a bit sorry for Keane to be honest. His season was a big improvement on last one when he was involved with England. Seems strange especially with Maguire injured.
Good for Godfrey though.
Matthew Williams
24
Posted 25/05/2021 at 17:06:08
A worthy addition,from a young player thrown in at the deep end of this shit show of a season.
Congrats Ben...I really hope you make the final cut,you deserve your chance to shine on the international stage.
Tom Bowers
25
Posted 25/05/2021 at 17:16:30
I think it is a tremendous achievement in his breakout season with a team that has rarely performed well but he can only get better with better players.
Chance are he may not be in the final squad. It may come down to who will still be fully fit after the Euro finals.
Keane is unlucky as he has improved after a shaky start and DCL has done well too.
Frankly though it's hard to see England progressing beyond the Semis.
Alan Johnson
26
Posted 25/05/2021 at 17:17:14
Well done Ben, you earned it
Hope he doesn't get his head turned. The Wilfried Zaha rumour getting picked up by lots of journalists?
Peter Gorman
27
Posted 25/05/2021 at 17:35:30
His form has dipped lately, like the rest of the dross we employ but can't fault Godfrey for his attitude and his forthright views at Old Trafford are more of a seasonal highlight than the win at Anfield (because let's face it, who cares when the shyte managed to end the season in 3rd anyhow).
Doubt he'll make the final cut but hope he takes some satisfaction from his obvious progress. Well done.
Geoff Williams
28
Posted 25/05/2021 at 17:45:23
Ancelloti is culpable in Keane's omission from the squad. Chopping and changing at the back hasn't helped him as a traditional centre-half whereas Godfrey's versatility proved to be his selling point.
Mark Hulme
29
Posted 25/05/2021 at 17:45:49
Well done, Ben.
Thomas Richards
30
Posted 25/05/2021 at 17:48:13
Geoff @23,
Keane was culpable in Keane's omission from the squad.
Hes not very good.
Dale Self
31
Posted 25/05/2021 at 17:59:10
Yay for that guy! Right the fuck on young man, keep it going and avoid social media.
Tony Abrahams
32
Posted 25/05/2021 at 17:59:24
I'd take Mings right now and pair him with Godfrey next season. More pace equals a higher line, which I'm sure is going to be very high up on the list of things Ancelotti needs from Brands.
Jay Harris
33
Posted 25/05/2021 at 17:59:29
Keane has the concentration of a donkey and cant face up to opponents attacking him.
His only daving grace is he is a good header of the ball and can pass long.
How many mistakes at the back has he been involved in.
No wonder Southgate binned him. We should be doing the same.
In the meantime congrats to young Ben a real up and coming defender.
Frank Sheppard
34
Posted 25/05/2021 at 18:22:19
Well done, pleased for him. Shame about Keane, especially as White and Mings are in before him.
Dan Nulty
35
Posted 25/05/2021 at 18:23:56
Will be interesting to see if this impacts Holgate's performances and demeanour. Not been happy with the way he struts about as if he is Maldini but making mistakes whereas Godfrey just gets on with it.
Reward for solid performances and his versatility, speed and aggression.
Dan Nulty
36
Posted 25/05/2021 at 18:25:28
Not sure why Keane is getting commiserations... his performances have led to this and nothing else. The dribble out against Man City sealed his fate, if he had any goodwill with Southgate left.
Graham Mockford
37
Posted 25/05/2021 at 18:26:13
One of the positives of the season, I suspect he won't be in the final 26 unless there are injuries but it's great recognition nonetheless.
I think the interesting thing will be which position he ends up playing. Myself, I see him as a right-back who can also comfortably play in a three, as opposed to a classic centre-back.
In many ways, he is a similar player to Kyle Walker. Quick, aggressive but will end up being a better defender. I think Southgate sees him as his natural successor.
Graham Mockford
38
Posted 25/05/2021 at 18:38:45
Also, the statistics show we had a much better record when Mina played:
W13 D5 L4. 7 clean sheets.
Bill Gienapp
39
Posted 25/05/2021 at 19:11:13
Well deserved... Godfrey's about the only player who's enjoyed a universal approval rating from the Everton faithful this entire season.
Sucks for Keane, but his form dipped down the stretch and Godfrey's a better, more versatile player.
Andrew Keatley
40
Posted 25/05/2021 at 19:14:43
Dan (35),
Watching Holgate's decline has been one of the most painful aspects of this season, with the Man City game being the nadir. His half-hearted attempts to get back into position, or to make himself available to receive the ball when a team-mate was in possession, smacked of someone who is more than happy to go through the motions and pass the buck.
With the right attitude, then I think he could be an excellent Premier League central defender, but lately he looks more like a shirker of responsibility than a leader – whereas Godfrey looks a colossus by comparison.
David Currie
41
Posted 25/05/2021 at 19:19:29
Well done, Southgate, for picking Ben and dropping the awful Eric Dier.
Keane is not good enough for England or Everton as next season we need to play a higher line. Get the defence up and the midfield closer to the strikers. Keane can't play in that system so we need to sell him.
Colin Glassar
42
Posted 25/05/2021 at 19:23:15
This kid is going to be a star. Him and Koulibaly together, would be The Dream Team.
Will Mabon
43
Posted 25/05/2021 at 19:26:37
Interesting that he's earned this on the back of having no run in a fixed position on the field, in his first Everton season. A measure of his versatility that I'm sure has assisted in this selection.
If he keeps improving as he is, and we as a team don't...
Danny O'Neill
44
Posted 25/05/2021 at 19:27:15
Don't mention the K word Colin. Been saying it for some time. Put Ben alongside someone like him (preferably him) and that would be such a good pairing. Youth, experience, pace ability and power all combined.
Colin Glassar
45
Posted 25/05/2021 at 19:36:19
Sorry, Danny, but those two together would be like Ferdinand and Vidic, Lawro and Hansen, Ratcliffe and Mountfield, Chiellini and Bonucci, Puyol and Marquez etc.
Will Mabon
46
Posted 25/05/2021 at 19:37:31
Danny, remember in Koeman's time when we were in for "K" @ £40 million? Then a couple of the usual suspects were mentioned too; then nothing happened. Then mentions a time or two of £80 million more recently.
Somehow he's remained and not been taken by one of the "Bigger" teams. Unusual.
Graham Mockford
47
Posted 25/05/2021 at 19:41:40
Colin that's such a TW post. He's had a good season, he is showing potential but, in all likelihood, he'll be getting pelters on the Forum sometime in November.
Personally, I'd buy another centre-back, Koulibaly is a good shout but I'd play him in a three with Mina, or at right-back in a four.
Colin Glassar
48
Posted 25/05/2021 at 19:46:08
Sad but true, Graham. I love this kid's attitude but you're right, a couple of mistakes and he'll be a TW pariah!
I also think Mina is our best centre-back but I don't think his body can stand an entire season.
Graham Mockford
49
Posted 25/05/2021 at 19:48:00
And whilst I just go and look for my tin helmet, I think Dunk would be a cracking signing. In his prime at 29, strong, fearless, a leader on the pitch and a menace at set-pieces. He's definitely a better player than many of his contemporaries such as Keane, Tarkowski, Coady.
And you wouldn't have to spend silly money.
Colin Glassar
50
Posted 25/05/2021 at 20:00:34
In his prime at 29, Graham? Are you insane? He's almost a pensioner to some on here! Surely we should be looking at 8 year olds with potential and resale value. Please, no more 16 year old oldies.
Tom Harvey
51
Posted 25/05/2021 at 20:02:33
I'm happy for the lad and boy does he deserve it.
Selfishly I would rather he had slipped under the the radar for this one, his first season with us, he's had a long hard one both emotionally and physically. A fully rested Ben Godfrey with all the confidence he's gained this season will be spectacular next season.
Anyway let's hope he has a good tournemant.
Shaun Laycock
52
Posted 25/05/2021 at 20:06:40
11 Ben Godfreys will do for me.

Robert Tressell
53
Posted 25/05/2021 at 20:08:40
I think Leicester were quoted about £45 / £50m for Dunk as a potential Maguire replacement. Must be kicking themselves they wasted £35m on 20 year old rolls royce of a player Fofana.
Graham Mockford
54
Posted 25/05/2021 at 20:20:59
Robert
You do realise it is possible they could both be good players.
Fofana had played less than 20 games of top flight football when he was signed so he was a definite punt at the cost. Sure he's another that has had a good season and we'll see how good he turns out.
Any transfer policy is going to be a balance of potential and proven ability. I think Dunk is the right type especially when it appears the team is crying out for some leadership

Kieran Kinsella
55
Posted 25/05/2021 at 20:22:27
Geoff,
He chopped and changed the centre-backs because Keane and Holgate kept playing badly.
Keane seems like a nice lad, he's very good on his day, but he's not good enough or consistent enough.
Mike Gaynes
56
Posted 25/05/2021 at 20:24:22
A well-earned and well-deserved honor for our 2022-23 club captain (I predict).
Graham #38, great post. I had the impression that we were at our most successful with Mina in there, but I didn't confirm it with research, and you did. Well in.
Jay #33, he's no donkey. He had an outstanding season, marred by a couple of clangers and the City blunder. He was our most consistent CB this season, and he had to be with Mina having injury problems and Holgate having brain problems.
Robert Tressell
57
Posted 25/05/2021 at 20:50:30
They're both good players Graham, but one is destined for the Champions League and one is not. I could see the point of buying Koulibaly - but Dunk? I can't understand the logic of trying to crack the top 4 through buying expensive players who aren't good enough for the top 4.
Graham Mockford
58
Posted 25/05/2021 at 21:07:21
Robert
Well I'm not sure I'd agree he's not good enough. I would argue what we are really short of is on field leadership. The type of player who doesn't shrink when the going gets tough and can inspire those around him.
Of course quality is essential and we definitely need more of that but we also need more toughness. Every time I've seen Dunk I've seen that in him.
Robert Tressell
59
Posted 25/05/2021 at 21:46:22
The trouble is, it's our recent history of paying top dollar for players like Dunk that's made it so easy for WHU, Villa and Leeds to catch us up in our fruitless pursuit of the top 4. They've been getting their Dunk standard players on the cheap from the Championship and abroad.
Robert Tressell
60
Posted 25/05/2021 at 21:59:43
Graham - apologies for labouring this by the way. I'm just fed up of how we've managed to waste so much money getting nowhere. I know we all are.
Graham Mockford
61
Posted 25/05/2021 at 22:01:00
Robert
Got to disagree. We have undoubtedly bought some turkeys domestically Walcott, Iwobi, Bolasie spring to mind but our record abroad is even worse. Besic, Ramires, Klaasen, Tosun etc.
For me it comes down to the type of player. I'm not sure any of the above would be described as having much backbone. That's the type of player we need. I'd even take Ramos for a year, sometimes you need to change the culture of a side not just the playing style.
Paul Birmingham
62
Posted 25/05/2021 at 22:22:32
Well done Ben Godfrey well earned and deserved.
If his enthusiasm and effort could be cloned into the Everton squad, the team would always have a chance in trying to win the match.
Let's see if he makes the final cut.
Michael Keane will never be Ruud Krol, and can have no complaints what so ever, in not making the squad.
Jason Leung
63
Posted 25/05/2021 at 23:22:18
Congrats to Ben Godfrey, hopefully he makes the final cut.
He should have been player of the season for me. DCL player of the season. Just wow.
Jamie Crowley
64
Posted 26/05/2021 at 04:40:38
The "Fuck Off" at the corner flag this season against Man U cemented my adoration for this kid.
Tireless competitor.
Congrats to him, he's earned this call up.
Danny O'Neill
65
Posted 26/05/2021 at 08:34:01
Dropped off this one for a while, so coming back in.
Graham, a back 3 of Godfrey, Mina and Koulibaly is a great shout in my opinion.
I just suspect if we sign a centre back (and I think we need to), then we sell one. Unfortunately I think the only one we get a good return on is Mina, who I would keep over Keane given the choice.
Anthony Dove
66
Posted 26/05/2021 at 09:03:08
Delighted for Godfrey. Sorry for Keane. It certainly hasn't helped that Carlo rarely keeps the same
defence for a whole game let alone a run of
matches.
Jim Bennings
67
Posted 26/05/2021 at 10:20:57
Keane is a far better defender when paired with Mina but the way Southgate sees it is Yerry Mina doesn't play for England.
As for Holgate, fella shouldn't be anywhere near the Everton team next season let alone England, he's 25 but still plays the game likes a wet behind the ears kid.
Congratulations Ben Godfrey, most athletic Everton defender since Joleon Lescott and Sylvain Distin.
Phil Gardner
68
Posted 27/05/2021 at 12:39:13
I think Carlo should make this lad Captain next season. He's one of the few players with a real fight in him and that, sadly, is what we've been lacking for years now.
---
Add Your Comments
In order to post a comment, you need to be logged in as a registered user of the site.
Or Sign up as a ToffeeWeb Member — it's free, takes just a few minutes and will allow you to post your comments on articles and Talking Points submissions across the site.