King one of five confirmed departures
Friday, 4 June, 2021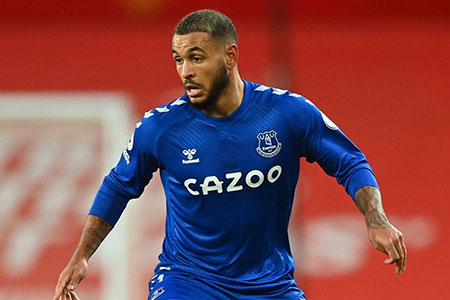 Everton won't be taking up any option to retain Josh King beyond his initial six-month term and he joins Muhamed Besic, Yannick Bolasie and Theo Walcott in being released from the first-team squad this month.
Meanwhile, Robin Olsen will return to Roma after his season-long loan at Goodison Park came to an end, although the Liverpool Echo report that the Swede is hopeful of securing a permanent deal with the Toffees.
King failed to make a start for the Blues after signing from Bournemouth during the winter transfer window but made 10 appearances off the bench.
Walcott ended his three-year stint at Goodison Park last month by signing a contract with Southampton, the club where he began his career and spent 2020-21 on loan.
Bolasie and Besic have had loan spells of their own over the past few years having long been surplus to requirements.
At U23 level, Josh Bowler and Bobby Carroll have joined the list of players whose departures had already been revealed but Nathan Broadhead, Ryan Astley and Joe Anderson have all been offered new terms and the club has taken the option to extend Kyle John's deal for another year.
In the U18s group, Daniel Lowey, Jack McIntyre and Dylan Thompson have been released but Liam Higgins extends his scholarship for another 12 months.
---
Reader Comments (88)
Note: the following content is not moderated or vetted by the site owners at the time of submission. Comments are the responsibility of the poster. Disclaimer
David Pearl
1
Posted 04/06/2021 at 12:04:06
Josh King has been released. Not doubt he will score against us in a few months then.
Marc Hints
2
Posted 04/06/2021 at 12:17:07
Unfortunately David we still have three players who will steal a living for the next 12 months, Cenk, Delph and Bernard!
Steve Mink
3
Posted 04/06/2021 at 13:03:18
Of those three, only Delph stealing a living. Tosun works his socks off but is not good enough. Bernard would be great in a different league.
Phil Smith
4
Posted 04/06/2021 at 13:43:29
Don't get it. Broadhead gets a new deal but Bowler doesn't? I know which one I'd rather have.
I guess Bolasie is on too much and King didn't want to stay - and why would he? Hardly having a sniff in a team crying out for his sort of pace and movement up top.
Who makes these decisions?
Ian Horan
5
Posted 04/06/2021 at 14:25:09
Walcott 150k, Bolaisse 85k, Besic 40k and King 42k 300k aweek off the wage bill Olseb gone as well now the sales Delph, Iwobi, Davies, Holgate, Kean and probably James and Richi.
Phillip Mark
6
Posted 04/06/2021 at 14:29:11
Appoint Big Dunc and Rhino as manager and assistant and that frees up a huge wad for Brands to go into the sweet shop and actually buy us some midfielders who can run. That'll do for me
Dave Abrahams
7
Posted 04/06/2021 at 15:10:39
Ian (5), what a waste of money King was, not his fault as he wasn't selected, but it was rumoured, on here, that Everton paid a £2M loan fee on top of those wages, so nearly £2.5M for five months and about two and a half hours playing time. I ask again, on here: Has Mr. Moshiri got any friends in the club?
Mal van Schaick
8
Posted 04/06/2021 at 15:11:35
I hope it is the start of a midfield clear out and this time a rebuild with players who will achieve the owners ambitions of the top four and Champions league.
Pat Kelly
9
Posted 04/06/2021 at 15:18:10
That puts Tosun in the frame for next season... It just gets better and better.
Steve Mink
10
Posted 04/06/2021 at 15:18:58
Sorry to see Olsen go. Worry Pickford will go backwards without a credible challenger.
Mark Taylor
11
Posted 04/06/2021 at 15:20:45
Can't believe we're letting Bolasie slip through our fingers...
Brian Wilkinson
12
Posted 04/06/2021 at 15:27:40
I think with letting Olsen leave, could now see Everton go for Romero on a free, only thing I can come up with.
Tony Everan
13
Posted 04/06/2021 at 15:34:45
Walcott, 150,000 per week ? and we're still paying him 75,000 per week until June 30th. What a ball and chain his huge wages have been.
I think we can possibly add Sandro Ramirez to that list, he was on 65 000 per week until June 30th 2021 . I'd be surprised if FC Huesca was paying all that.
Mark Ryan
14
Posted 04/06/2021 at 15:37:12
Sell ? strong words indeed
We'd be lucky to give Delph away. One of the worst ever appointments on every level. Shocking why we ever looked at him
Bernard, nice chap, give him away
Iwobi ? if you can find someone looking for a headless chicken then he's your man
Holgate ? a massive kick up the proverbial and if he sulks, give him away too
Rob Halligan
15
Posted 04/06/2021 at 15:40:12
Tony, Everton offloaded Sandro permanently last October to Huesca on a free transfer.
Tony Everan
16
Posted 04/06/2021 at 15:56:22
Yes Rob, I am wondering whether there was a wage settlement with him or an ongoing payment of a part of it to get him off the books and out. It's a massive wage for little Huesca. He's their highest earner now , on 30k per week and I'm doubting he's willingly taken a 35k pay cut.
Darren Hind
17
Posted 04/06/2021 at 16:02:54
Some people have been stating with certainty that half of the squad from last season will not start the next.
It was always a foolish notion. Many will kick again now the specter of football in a straight jacket has been removed.
We obviously need to bring in quality, Hopefully better than the likes of Allan, but I am convinced these players will improve at least three places under a manager who is interested in playing the game.
I will be surprised if James is here next season
Mike Gaynes
21
Posted 04/06/2021 at 16:18:17
Ian #6 and Tony #13, we weren't paying Theo £150,000/week. It was £100K/week.
Bolasie was on £75K. Per Spotrac. Still too much but not as bad as portrayed.
Phil #4, if you saw anything from King that indicated he deserved to be playing more, you're a keener observer than I am. He showed me nothing.
Paul Tran
22
Posted 04/06/2021 at 16:29:33
Olsen was Ancelotti's man. I suspect we'll replace him with Romero this summer. I predict Allan & James will be off, possibly Richarlison as well. I'm optimistic about next season, more so if we recruit a decent manager.
Jay Harris
23
Posted 04/06/2021 at 16:32:12
Mike,
It was reported from Walcott that he was on 150k a week and took a 50% pay cut to 75k a week to be able to go to Southampton.
Whichever figure is true it is a really bad indictment on the way the club has been run. Money does not buy you success good management does
Brian Williams
24
Posted 04/06/2021 at 16:32:40
I'd be happy enough to see Allan and James gone. With regard to Richi I'd like us to keep him and play to his strengths.
He's a very, very good player that's lost his way a bit. With the right manager he'll come good again.
Chris Corn
25
Posted 04/06/2021 at 16:35:14
Darren, we were three places better off under Koeman in his first season but you still described it as 'zombie football.' I agree with a fair amount of what you say by the way. Particularly with regards to Allan. Don't really know what he does in all honesty other than struggle to keep up with people in a foot race.
However I was sceptical regarding Gana Gueye as I felt he was far too wasteful in possession but I was in a minority there as well.
Terry White
26
Posted 04/06/2021 at 16:40:06
I am unsure what Virginia did wrong in his performance in the Man. City cup tie to not even be considered on TW as the back-up to Pickford. Why do we need Romero, or anyone else for that matter? Virginia is 21 and is surely not going to get much better going out on loan again unless it is considered that he needs more game time? That did not work out too well at Reading.
Kieran Kinsella
27
Posted 04/06/2021 at 16:46:45
Brian
I see Rich staying just because I don't think anyone has the kind of money that Everton would demand were he to leave. James is already talking of retiring. I wouldn't be surprised if he like Carlo has some kind of clause allowing him to disappear on a free if "certain clubs" come calling.
I haven't seen anyone say "half the squad" will be gone although I think most of us aspire to that dream. The toughest to sell will be the big wage earners on long contracts e.g. Gomes and Iwobi. We might get lucky and find someone to take Bernard or Delph on a free despite their massive wages.
On the goalie front, maybe Brands feels Viriginia is ready to compete for number 1? The thing about Romero is he is on big wages, also with a world cup on the horizon will he want to be a number 2?
Joe McMahon
28
Posted 04/06/2021 at 17:01:08
Chris @25, please remember in his first season Koeman (who I didn't warm to) did have the beneifit of Lukaku. In that last season (the last with us). He scored something like 25 league goals. That's the most in a season since Lineker and (for perspective) more league goals than Greame Sharp ever scored in a season. Carlo, Allardyce or Silva did not have the benefit of such a striker.
Koeman & Walsh nearly finished us financially and the bad new is Mosh was agreeing on paying for it all (and still is).
Allen Rodgers
29
Posted 04/06/2021 at 17:05:12
The forgotten man Besic looked like becoming a cult hero when he came but vanished into oblivion. Going home considerably richer though !
Paul A Smith
30
Posted 04/06/2021 at 17:15:28
Joe we paid Walcott to help keep us up. It was never ideal but we looked doomed and a couple of high wages ie Walcott and Tosun was what Moshiri had to do to keep his premiership millions coming in.
Finishing 8th eventually got Moshiri more than he was expecting.
Chris Corn you were right about Gueye his passing was dreadful but his intensity was fantastic.
This is good news about King and the others we just need the likes of Delph, Bernard and Iwobi off the books now because their wages can go towards actual productivity.
Dan Brierley
31
Posted 04/06/2021 at 17:35:14
Some absolute rubbish being posted on here. No wonder many of you are so upset about how Everton is run, if you think we are paying those amounts. We are only paying a fraction of the costs that are mentioned. All contracts are tiered, meaning to get the full amount you have the meet the conditions, most of which relate to games played. Players on loan, also have a high proportion of their wages paid by the club they are at. You'd think that some people on here are paying the wages themselves. Seems some will find any excuse to have a go at our club, really annoys me.
Danny Broderick
32
Posted 04/06/2021 at 17:43:29
Most of us agreed at the end of last season that we needed at least 3 first team players, which for me was at least 2 attacking/wide midfielders and a right back. Possibly a back up striker also? Well we might need a couple more now also, because the squad is looking really thin now and we haven't sold anyone yet!
We probably haven't got a massive transfer budget this summer. The new manager (or Brands?) is going to have to work some magic to balance out this squad now and replace some of our outgoing players.
We probably need to bring in 5/6 players, either that or we will go into next season with a weak squad. This is obviously why Ancelotti bailed out on us. It is going to be a summer of fighting fires and patching up our squad. Unless the club can conjure up some magic, I don't fancy a top half finish next season.
John Kavanagh
33
Posted 04/06/2021 at 17:50:21
Mark Ryan@14 A certain Col. Sanders might be interested in taking on our headless chicken, but other than that even an alehouse side would give Iwobi a swerve. We'll just have to give him Niasse's locker and grin and bear it.
Dale Self
34
Posted 04/06/2021 at 17:56:57
Nice post Dan 31! Still haven't done my homework on the financial side of things but that is coming. Hope to see your contributions on Paul the Esk's and Robert Tressell's stuff.
Rob Halligan
35
Posted 04/06/2021 at 18:00:29
Tony # 16, I would be very surprised, and really shocked, if we were still contributing towards an ex players salary,despite letting him leave on a free transfer. Would seem a very strange set up indeed if that were the case. If Huesca cannot afford to pay his wages then why take him in the first place? Definitely not something I've ever heard of before?
Paul A Smith
36
Posted 04/06/2021 at 18:02:33
Dan I can't believe how much people can't wait for Paul the Esks take on things.
I have never known anyone with so many predictions that don't happen. He was famous on Twitter for it when I was on that shitesite
Thomas Richards
37
Posted 04/06/2021 at 18:12:05
"but I am convinced these players will improve at least three places under a manager who is interested in playing the game"
Sticking your neck out there Darren given there was three points difference between 10th and 7th
Dale Self
38
Posted 04/06/2021 at 18:13:34
Cmon Paul, write something up and present it before you go banging on others' offerings.
Tom Bowers
39
Posted 04/06/2021 at 18:30:57
Well, it's a start but what about some of the others ?
Would have liked to have seen King stay on for a year simply because we don't have cover for DCL unless they have something else in mind like a new Moise Kean ???? or a new signing.
I agree that neither Kean or Tosun have really fitted the bill and aren't likely to. The same can be said for Delph and Bernard. Arguably there could be a few others but we shall see what a new gaffer will make of them during the close season.
Paul A Smith
40
Posted 04/06/2021 at 18:32:19
Dale if someones offerings never mean anything what do you expect. If people see prediction after prediction and they never come true its hardly suprising it becomes laughable.
You just do what you feel and read along if you want. I put my "offerings" above on team affairs with no predictions or in the know bollocks.
People around all clubs get stories second and third hand and think its gospel.
Let me tell you 100%, years back Gerrards brother and cousins who I played football with told me Steven had shared with them that Lampard and Ferdinand were done deals to Liverpool when they left West Ham.
I learnt my lesson then. These lads are closer to Gerrard than anyone and they still all got fed nonsense.
Jim Jennings
41
Posted 04/06/2021 at 18:33:04
Re #37
I don't think I've ever seen a post from Darren Hind which wasn't met with a trite question or response from this poster, which never fails to miss the point.
Thomas Richards
42
Posted 04/06/2021 at 18:35:38
Barry Hesketh
43
Posted 04/06/2021 at 18:38:53
I haven't checked the figures but one punter reckons that the players that Everton has just released cost a combined total of £55M. Another punter says that since Moshiri came in, Everton has sold or released 27 of the 52 players they've signed since 2016, only four of those 27 have made a profit. 15 of them have left for nothing.
To think we still have so much more deadwood to remove!
Dale Self
44
Posted 04/06/2021 at 18:39:47
Paul, I'm really not at all certain I want this but for the sake of TW integrity can you specifically cite where you've received such offerings in an article so that I can see for myself if it is complete crap as you imply? If you are rhetorically saying you don't like something, fine, you should just take the other side and give some evidence or reason for doing so. Saying it means nothing to you says that you can't make out the meaning of the offering to me.
Jim Jennings
45
Posted 04/06/2021 at 18:46:12
Thomas #42,
So then who do you think should be our next under 23 manager?
Thomas Richards
46
Posted 04/06/2021 at 18:50:20
You?
Darren Hind
47
Posted 04/06/2021 at 18:58:28
Its just an obssession. That's all
I even know what he'll say
Paul A Smith
48
Posted 04/06/2021 at 19:01:18
Dale seriously what are you looking for here? I spoke of the predictions on Twitter from the In the Know character and blatently said I am not on there anymore.
Mainly because of nonsense like that. Twitter and Articles doesn't really add up and you come up with I can't relay the offerings back to you.
Why would I when I clearly said he was famous for predictions that didn't come true on a site I no longer own a profile for.
Do your homework and believe me someone will tell you the man was famous on twitter for his offerings that I now can't take seriously for that reason.
Thomas Richards
49
Posted 04/06/2021 at 19:04:38
😂😂😂
Its a start.
Usually blanked.
Dale Self
50
Posted 04/06/2021 at 19:07:58
Paul, not really investigating this, I just thought your statements about an author were a bit over the top and was looking for a specific article or something. I'm fairly comfortable on my takes of the author's work but wanted to see if there was anything in the charges you've made.
Disclaimer: I don't use twitter and am reluctant to engage that as serious discourse. I much prefer a written article or some other long form writing. That is my hangup.
Tony Everan
51
Posted 04/06/2021 at 19:26:38
Barry 43, We should buy a log burner, at least we'd save some cash on heating bills.
Barry Thompson
52
Posted 04/06/2021 at 19:30:11
Sorry Ed's sat on my phone. Won't comment as may be accused of talking out of my arse.
Kieran Kinsella
53
Posted 04/06/2021 at 19:35:16
Paul A
In fairness, making predictions or leaking "news" even if you are "in the know" is treacherous business. I recall Muller being at Goodison for his unveiling, and yet he never joined the club. Or there was Manny Fernandes who signed, then snuck out of it.
Personally, I believe nothing until every T has been crossed and I has been dotted. But I enjoy reading rumors, some based on what seemed to be accurate at the time, others based on mischief and fancy.
Dale Self
54
Posted 04/06/2021 at 19:36:01
Care to make that six? Real Madrid are in for Richy.
Colin Glassar
55
Posted 04/06/2021 at 19:38:26
Gone, and already forgotten.
Stuart Sharp
56
Posted 04/06/2021 at 19:50:55
Was really hoping all 5 were Iwobi.
Barry Hesketh
57
Posted 04/06/2021 at 19:54:56
I tried to buy an Iwobi but they're out of stock at Amazon
Brent Stephens
58
Posted 04/06/2021 at 20:11:22
"We obviously need to bring in quality,"
Yes, yes, yes!!
David Pearl
59
Posted 04/06/2021 at 20:27:43
Barry, don't worry l will put on eBay. No reserve.
Seb Niemand
60
Posted 04/06/2021 at 22:17:31
It'd be good if we could keep Olsen. A very presentable player.
Vijay Nair
61
Posted 05/06/2021 at 07:23:03
With these 5 gone, we now have only 27 senior players in the squad. And that's including the youngsters, Gibson, Branthwaite, Simms, Gordon and Nkounkou.
More of this squad could possibly be moved on before the season start out of Kenny, Mina, Holgate, Delph, Gomes, Bernard, Tosun and Iwobi. Plus Richy, Allan and James might want to go on their own accord.
I seriously doubt that just three to four signings will be enough.

Jamal Paktongko
62
Posted 05/06/2021 at 07:34:03
Big mistake letting this dude go
He showed a lot of promise.
He should have been offered another year to prove himself
Danny Baily
63
Posted 05/06/2021 at 07:58:54
Some good players been released by other clubs. If we had a manager in place we could capitalise!
Rob Young
64
Posted 05/06/2021 at 08:02:03
I reckon Nkounkou has enough to be involved a kit by a braver manager then the one just left.
I can see him and Digne combining on the left.
Derek Knox
65
Posted 05/06/2021 at 11:35:30
I sort of feel a bit sorry for Josh King, well as much as you can for someone on £35/40K a week. The lad didn't ask to come, he was brought in initially as cover up front, but in all fairness to the lad he hardly got a sniff under Carlo (the Rotter).
Why oh why, he wasn't brought on in games in which it didn't look like Richie or DCL would score, to freshen things up is beyond me, and I would imagine most of us. Okay he was no World Beater but he did have decent pace and scored when he first came on in an Everton shirt, only to have it disallowed for offside. Then that was pretty much it for him.
Think it would have been worth keeping him for another year, at £35/40K he was lower down the Weekly Financial Drain than some of the others. Besides, how can they make such an early decision with no Manager in place ? The new man (?) might have wanted him in his squad!
Barry @ 57, I think Colin Glassar has bought all the Iwobi's, being his number one fan. :-)
Ajay Gopal
66
Posted 05/06/2021 at 11:48:47
Yes, Derek (65), and didn't he have a decisive role in the last minute equaliser against Man U? That was his 1st or 2nd game for Everton. He also had a couple of good chances - again in the last couple of minutes (Aston Villa? and Spurs?) - one he made the GK push the ball into Richarlison's path, who blazed over when it would have been easier to score and the other I think he hit the inside of the upright and the rebound fell into the GK's hands. I think if he had been given a few more minutes, he might contributed more goals than DCL and Richy, whose goals really dried up in the last 10 games of the season.
David Cooper
67
Posted 05/06/2021 at 15:40:39
With Carlo's proven appreciation of Richi (allowing him to play as a central striker) and just for good measure Richi pops up and scores the first goal for Brazil in their World Cup qualifier, I have a feeling that Richi will be one of Carlo's early purchases, if RM have any money left in their coffers. Would it not have made good sense to offer josh a new contract?
Phil Smith
68
Posted 05/06/2021 at 18:05:37
Speaking of players released, did you see Palace's list? It's an entire team (22 players), including:
Scott Dann, Nathaniel Clyne, James McCarthy (obvs), Mamadou Sakho, Andros Townsend, Patrick Van Aanholt, Joel Ward and Wayne Hennessey.
I know injuries have ravaged some of them but I'd take Townsend and Van Aanholt for nowt.
Ajay Gopal
69
Posted 05/06/2021 at 18:09:25
Wow, Phil, if that is accurate, the new Crystal Palace manager, whoever he is has a serious team building job on his hands. Plus, Zaha wants to move out. Early contenders for relegation?
Chris Corn
70
Posted 05/06/2021 at 18:17:37
Townsend was saying on Talksport they wanted to wait and see who the new manager is before handing contracts out so some of them may be retained.
Brian Williams
71
Posted 05/06/2021 at 18:34:28
Would it not have made good sense to offer josh a new contract?
In a word mate, no!
Barry Rathbone
72
Posted 05/06/2021 at 18:35:51
Only 2 occasions I can recall wholesale change of a club's playing squad occurring
Bill Shankly taking over at Liverpool
Tommy Docherty reinventing Utd in the old second division
Both clubs never looked back - keep an eye on Palace
Steve Ferns
73
Posted 05/06/2021 at 18:40:09
Barry, if they had a manager in place, say someone up and coming like potter and then did this, sure, watch out.
No manager and lost half the side and most of the reserves, no mate, they're going down.
Marc Hints
74
Posted 05/06/2021 at 20:58:35
Think Villa are ahead of us now, just signed a great player in midfield, 33 million. That's a great midfield they have now.
Ian Horan
75
Posted 05/06/2021 at 21:14:05
Could Villas signing paving the way for Grealish sale
Paul A Smith
76
Posted 05/06/2021 at 21:45:33
Dale 50 and Kieran 53 fair enough lads. I try to avoid the rumours that can't get confirmation or a maths lesson of ifs and buts from the business matters blog.
Kieran Kinsella
77
Posted 05/06/2021 at 21:55:18
Palace is interesting because 3 or 4 years ago they were buying similar type players to Stoke. Eg journeymen, and injury prones from bigger clubs. Hedging against relegation Palace gave them all short term deals. Now they're all out of contract. Stoke have them all long term deals and having been relegated their subs bench is bloated with 33/34 year olds on premiership wages who are hindering their attempts at a rebuild as they can't shift them.
Don Alexander
78
Posted 05/06/2021 at 22:12:48
Phillip Mark (#6), by nominating those two I assume you're hugely impressed by Arkwright and Granville - manager and deputy supreme.
https://i.pinimg.com/originals/41/ab/5e/41ab5e8c31b4225d01f20011062eecc6.jpg

Vijay Nair
79
Posted 05/06/2021 at 23:27:57
Looks like we don't have much of a connection to Sheffield Utd anymore.. They've released Jags, Rodwell and John Lundstram!
Justin Doone
80
Posted 05/06/2021 at 23:46:47
King is a good Premier league player. Certainly with no obvious incomings we could do with his or a similar type of pacey forward.
We initially should have signed him for a year and a half and I agree he should have started a few games and I'm at a loss about the whole strange transfer that benefited everyone apart from Everton.
If Brands doesn't improve the first team with some top class players then we need a manager who can get the most out of the current players. (Not a positive thought!)
Brands, go get some players signed ASAP!
Mark Andersson
81
Posted 06/06/2021 at 00:15:01
Never mind Palace for a certain relegation battle Everton will be battling along side them...
Justin Doone
82
Posted 06/06/2021 at 00:36:13
Roy Hodgson anyone?
I'm sorry, but we could do a lot worse like Southgate, oh God no.
Derek Knox
83
Posted 06/06/2021 at 11:54:20
We all know that good players don't grow on trees, but we have definitely overspent on players we got from lava trees (shit) see what I did there? Seriously the Manager and player recruitment from here on in, has to be right!
There are that many names being bandied about, I know a lot is mischievous journo space filling, and wild speculation, but surely something has to happen this next week, to prepare for the pre-season, and get some sort of game and team plan for the start of the season.
Colin Malone
84
Posted 06/06/2021 at 12:00:49
Where is the young talent, coming through the system? The top four clubs have large amounts of young talent. Who have we got? Zilch.
Eliss Simms quoted, he has learned more at Blackpool than his time at Everton. What the fuck is going on?
Derek Knox
85
Posted 06/06/2021 at 12:30:37
Colin @ 84, " Ellis Simms quoted, he has learned more at Blackpool than his time at Everton. What the fuck is going on? "
Sadly, that was off the laughing man at the fairground! :-)
Andrew Grey
86
Posted 06/06/2021 at 12:36:50
Colin (84)
Ellis Simms learnt more at Blackpool because he was playing first team football alongside 'Men'
That was part of what he said. Not a slur on Everton's set up, just that the loan was doing him good being pitted against experienced players in a first team environment, something he couldn't get at Goodison.
Marc Hints
87
Posted 06/06/2021 at 17:12:00
Colin
You got that wrong, he was merely saying that playing week in week out with big experienced defenders that he learnt a lot. There is a massive gap between U23 football and proper league football
Kieran Kinsella
88
Posted 07/06/2021 at 01:30:10
Josh King on Twitter "I've left the biggest club on Merseyside." Good lad. Carlo rightly or wrongly never gave him a chance but he obviously understands the fans and the heritage. Best of luck to him
Don Alexander
89
Posted 07/06/2021 at 03:30:34
Ellis Simms has clearly had the chance to play against experienced players older than him. More pertinently he's been coached by an ex-Anfield coach and he waxes lyrical about such an experience.
The Blackpool manager, for our peculiar neighbours eventually, after six years doing a Jeffers/Ebbrell job for them, held the same role as Unsworth before seeking and winning the Blackpool managers job.
He's seven years younger than Ferguson, and five younger than Unsworth. In addition his coaching qualifications were reportedly in the top twenty in the world when he qualified, according to UEFA.
In further addition his "career" as a player is ludicrously paltry - in fact it's close to non-existent.
Still, at least the bloke has had the balls to test himself as a manager eh? Unlike the Bill Brigade endlessly employed at Cold Comfort (for us fans) Finch Farm.
Colin Malone
90
Posted 07/06/2021 at 12:40:54
What boils down to, no one is coming through. Citeh, Man U, Chelsea. Everton are way way behind.
Michael Boardman
91
Posted 07/06/2021 at 19:55:46
Josh King is a Manc, so he hates them as much as us. Where the hell did they get the action shot of him in an Everton shirt from? Must have been during a stag night or something
---
Add Your Comments
In order to post a comment, you need to be logged in as a registered user of the site.
Or Sign up as a ToffeeWeb Member — it's free, takes just a few minutes and will allow you to post your comments on articles and Talking Points submissions across the site.