Good results for South American duo in qualifiers
Wednesday, 9 June, 2021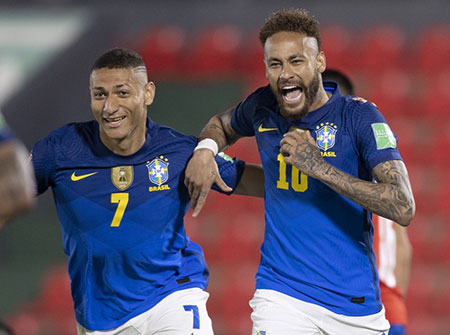 Richarlison and Yerry Mina were in World Cup-qualifying action last night as Brazil beat Paraguay and Colombia grabbed what could prove to be an important draw in Argentina.
Richarlison played 81 minutes as the Seleçao scored goals at either end of the game through Neymar and Lucas Paquetá to maintain their 100% record in CONMBEOL qualifying.
Argentina began the day four points off Brazil in second place in the table and were on course for victory after roaring into an early 2-0 lead through Cristian Romero and Leandro Paredes.
However, Colombia, with Mina playing the full game, hit back six minutes into the second half through Luis Muriel's 51st-minute penalty and then Miguel Borja fired home a dramatic stoppage-time equaliser to earn a point.
It moves Los Cafeteros into fifth place, level on points with Uruguay.
---
Reader Comments (36)
Note: the following content is not moderated or vetted by the site owners at the time of submission. Comments are the responsibility of the poster. Disclaimer
Paul Jones
1
Posted 09/06/2021 at 06:53:15
Weird seeing Richarlison actually smiling in that photo. Even when he scores for us he just adopts scowl V.2. I was starting to wonder if he'd lost all his teeth!
Des Farren
2
Posted 09/06/2021 at 09:33:37
He may very well think there is not that much to smile about at Everton, Paul.
Matthew Johnson
3
Posted 09/06/2021 at 09:59:47
Haha – it's not just me then, Paul, who notices that, Richarlison could score four goals for Everton and still look like someone run over his cat.
Len Hawkins
5
Posted 09/06/2021 at 10:38:10
I don't think he has cracked a smile in an Everton shirt he usually has a face like a burst welly.
Jon Harding
6
Posted 09/06/2021 at 12:49:50
Is this headline supposed to be funny? I instantly thought they both had Covid! Until I read the bye-line below.
Jay Wood
[BRZ]
7
Posted 09/06/2021 at 12:56:57
Richy played well in both qualifiers, scoring on Friday v Ecuador, having a goal (correctly) disallowed on the stroke of half-time for a marginal offside last night. Brazil in total control of the group now.
Of more interest a very serious threat to the staging of the Copa America has been avoided. On Friday, post-match Brazilian captain Casimiro said that the entire squad - players, manager, technical staff - 100% had concerns at the viability of staging Copa America at this time.
None of them had been consulted before President Bolsonaro and the Brazilian football federation, CBF, unilaterally announced that Brazil would host the competition. 'Case closed' as Bolsonaro haughtily said.
After Argentina said they couldn't host it at this time due to their CV-19 situation, this decision was taken even though Brazil's CV-19 numbers remain the worst in the region and that in the four cities games will be played, occupancy of ICUs is above 70% due to the pandemic. Above 90% in two of the cities. Typically, 2,000+ people a DAY continue to die from CV-19 in Brazil.
Yesterday the Brazil squad said they will meet their obligations to play in the Copa America, but it was for the pride of the shirt and not as an endorsement of any political shenanigans some are using it as.
Oh! And change the record on Richy's 'smacked arse' look. It's his game face. He always wears it such is his intensity and concentration on the pitch. He has beamed with joy plenty of times wearing the blue shirt of Everton.
Dennis Stevens
8
Posted 09/06/2021 at 13:09:39
Well, I'm pleased that he never smiles when he's being subbed. I do prefer footballers who actually want to be out there on the pitch.
Matthew Williams
9
Posted 09/06/2021 at 13:47:30
Sorry folks,but I couldn't care less,one of them never is fit enough to play a least a handful of games on the bounce and the other is greedy,petulant and goes to ground far to often.
Sell 'em both!.
Mark Andersson
10
Posted 09/06/2021 at 14:54:33
As for the happy Brazilian striker he has out grown Everton.. way too good for this mid table average club.
Danny O'Neill
11
Posted 09/06/2021 at 15:02:40
Two things here.
Firstly, I don't get the issue with his "sulky" look, It's how he plays and I've seen many like him. I've also seen him beam with joy when he scores for Everton.
Secondly, don't underestimate how much it means for the South Americans to represent their country. Now I know you can say that about any country or continent but we generally come from a club first football culture. These lads don't.
Mike Gaynes
12
Posted 09/06/2021 at 15:22:08
" one of them never is fit enough to play a least a handful of games on the bounce "

Crap.
Starting last September, Mina played in 24 of a possible 27 games, league and cup. The three he sat out were coach's decisions/squad rotation. Not injury.
On Feb. 17 he yanked that calf against City, then had groin/adductor issues, and missed about half the remaining games.
Yerry also started the 2019-20 season by playing in 29 of a possible 31 games. No injuries there either.
So yes, he's had muscle injuries late in both seasons. But "never fit"? Not hardly.
Ian Bennett
13
Posted 09/06/2021 at 15:22:23
Spot on. Our squad has bigger issues than Richarlison's smile.
A complete lack of skill, stamina, pace, mental toughness and passing ability are higher on my moan list.
A smiling Iwobi or a miserable Richarlison - no contest
Phil (Kelsall) Roberts
14
Posted 09/06/2021 at 15:32:59
John #6 - my thoughts entirely
Thomas Richards
15
Posted 09/06/2021 at 15:40:09
If the big money is in for Richarlison, I would take it.
Mina is second-best centre-half at the club. Sell Keane and Holgate first.
Iain Latchford
16
Posted 09/06/2021 at 15:59:32
To be honest I don't think our problems lie in central defence (or goal).
Billy Roberts
17
Posted 09/06/2021 at 16:46:13
Mark@10,
Strange remarks for an Evertonian?
Richarlison scoring for Brazil is always a win-win in my eyes. I don't understand this obsession with his "match" face? Who friggin cares?
Some people saying he's greedy? I wish we had a greedy bastard like Owen, Henry, or Shearer…? His form is the only sensible criticism.
Dale Self
18
Posted 09/06/2021 at 16:54:37
An Everton player impresses and the first five responses all have a dig without much substance. Let's not let the manager search direct some frustration toward the players. Richy served us as well as he could without much service and stayed around when he wanted a transfer last season.
Matthew Williams
19
Posted 09/06/2021 at 17:09:07
Jeez...it seems some Blues are easily please by this pair.
We plod on.
Chad Schofield
20
Posted 09/06/2021 at 17:14:14
Worrying that the headline automatically had me thinking they'd tested positive for Covid.
Worrying more Jay's insight into Copa
Thomas Richards
21
Posted 09/06/2021 at 17:21:01
Bolsonaro sounds like a charming chap.
Right up there with Pinochet and Thatcher.
No concern for the people living in the poverty stricken favelas, all good as long as the showpiece is on.
Peter Mills
22
Posted 09/06/2021 at 17:36:27
Mike G, I know you are a Mina fan; Jay, you have probably watched him a fair amount.
Do you still rate him? Is he fit for purpose for the EPL? To me, there always looks to be a mistake in him and he's, shall we say, erratic.
Happy to receive contrary views.
Bobby Mallon
23
Posted 09/06/2021 at 18:07:30
hoping that was sarcasm. If not then Richarlison should have shot us into Europe with plenty of goals with amazing skills. Alas he fucking gave up plenty of times (he wasn't the only one BTW) as for the Brazil team saying they will play for the shirt. What a crock of shit, they should boycott the fucking tournament, end of. Tell the prime minister up yours when thousands are dying daily and he has done fuck all to help.
Thomas Richards
24
Posted 09/06/2021 at 18:13:09
"What a crock of shit, they should boycott the fucking tournament end of. Tell the prime minister up yours when thousands are dying daily and he has done fuck all to help"
Like that Bobby. Good post
Bobby Mallon
25
Posted 09/06/2021 at 18:13:58
Dale self@18 Richy served us as well as he could without much service and stayed around when he wanted a transfer last season.
He's contracted to us ffs and he didn't do much to help himself get a move. This is not a richy bash by me just the truth. All the team where well below par but richy more so. As our best attacking player he let himself and the team down ONLY IMO
Dale Self
26
Posted 09/06/2021 at 18:21:58
I get it Bobby. He was a massive disappointment for us last season and yes he and James bid Carlo the Rat a farewell but he's at least tried to fulfill his side of the contract and failed to some extent (debatable). He's not doing us is all I'm saying.
Lyndon Lloyd
Editorial Team
27
Posted 09/06/2021 at 18:39:28
John (6): "
Is this headline supposed to be funny? I instantly thought they both had Covid! Until I read the bye-line below.
"
The thought honestly didn't occur to me until I saw it in the list of articles on NewsNow and it dawned on me that it might be misconstrued. Apologies for any panic it might have caused!
Jay Wood
[BRZ]
28
Posted 09/06/2021 at 19:26:26
If only it was that simple, Bobby, to tell the Prez 'up yours' and refuse to play in the Copa America.
I have long held the belief as this pandemic goes on...and on...and on...that many sports people across many sports have been used as sacrificial lambs to a degree.
Whereas many more industries have furloughed staff or allowed them to 'post it in' and work from home, professional footballers as an example have been expected to 'get on with it', criss-cross their home nations and continental borders, all the while constantly monitored under their governing bodies and the public eye.
I have seen growing evidence as all competitions progressed of diminishing quality and energy levels as a result.
Isolation and mental health issues that induces in relation to the pandemic is of growing concern. Globally, tens of thousands of footballers driven by the demands of TV football broadcastings rights have for more than a year now been expected to 'get on with it' whilst entire nations are advised to lock down.
Last month Argentina giant River Plate played a Libertadores cup game - the South American equal of the European Cup - with 20 players ruled out due to testing positive for CV-19. That included FOUR goalkeepers. The ruling body CONMEBOL insisted the game was played. River Plate fielded the bare 11 players without a single player on the bench. Their goalkeeper was a midfield player. Incredibly, they won 2-1.
Another Argentina team arrived for a game here in Brazil. 11 tested positive for CV-19 and weren't even allowed out of the airport where they slept the night on the floor before flying home next day.
Just yesterday, Brazil's Health Minister in defending the staging of the Copa America in Brazil starting this weekend said that in the last year only one player has tested positive for the virus. The true number is 300+. One trainer died. Some months on have yet to fully recover and play or train again.
On the opening day of last season a Serie A game was called off with the away team already out on the pitch because late test results of the home team showed 18 players testing positive. There have been 8-10 examples here in Brazil of the virus running through clubs and laying low 15-25 players at a time.
The Brazilian national team has expressed their disatisfaction at both CONMEBOL and the Brazilian govt for agreeing to stage the Copa America at this time. The Brazilian public in the main sympathize with them, but in the political and corporate game being played out they are relatively small cogs in the machine.
They really are as they say in Portuguese 'Entre a espada e a parede' - between the sword and the wall on this one and they have my sympathy.
Jay Wood
[BRZ]
29
Posted 09/06/2021 at 19:34:21
Peter @ 22, re: Mina.
I saw a lot of him before he joined Barcelona when, together with Gabriel Jesus, he was a standout player for that year's champions, Palmeiras. Jesus left for City, Mina for Barca.
Mina was an absolute monster in defence and attack. Very pivotal in their title win. He looked a proper footballer on the ball and bringing it out from the back.
Whilst Brazilian football is more technical and played at a different tempo to the Premier League so that has to be taken into consideration, only occassionally have I seen him hit the same heights in the Blue of Everton.
I don't think he is as forlorn as some paint him, but nor do I think he is as impressive as I saw him with Palmeiras or as some describe him here on ToffeeWeb.
Robert Tressell
30
Posted 09/06/2021 at 19:57:36
Jay - Mina is a bit like a few of our players. Good but only in the right system. Potter and Santo typically play 3 (or 5) at the back and I think that would suit Mina (and Holgate). He's not quite nimble enough to play a back 4 unless very deep. For what it's worth, I think the easiest way to sort out our first 11 is by switching to a back 3 (or 5) as it allows more of the players we already have to play in preferred positions.
Finsl point: I'd rather see us sign players like Mina direct from South America in future. I think we'd view him as a steal had we signed him from Palmeiras. Instead, we view him as a bit mediocre having signed him from Barca off the back of performances for Colombia.
Bobby Mallon
31
Posted 09/06/2021 at 21:18:02
Jay 28 thanks for that info.
Peter Mills
32
Posted 09/06/2021 at 21:48:36
Jay#29, thanks very much for your thoughts, although my question seems banal in view of your post #28.
May you and your family be safe.
Danny O'Neill
33
Posted 10/06/2021 at 08:56:24
I like Mina and have done from when I first watched him.
I hope we keep as he is one of those we have, that if surrounded better players, he could be great for us.
Mark Murphy
34
Posted 10/06/2021 at 09:07:52
I'd have Mina and Godfrey as our first choice centre backs anyday. I was hoping Holgate would grow into the role (and maybe he will if played in there for a stretch) but Minas sliding blocks have saved many goal bound shots this season. I'm a fan.
Len Hawkins
35
Posted 10/06/2021 at 09:55:04
I humbly beg forgiveness for making light of his face like a robbers dog. I realise that the difference between an extra quid for a draw and two quid for a win has players seriously wondering how they will manage.
I remember World Cup Winners Ray Wilson and Alan Ball laughing and joking with opponents but then they were great players; can someone point out which Everton player is currently in the 'Great' column of footballers???
One thing I hate is the modern trait of playing like ballet dancers and going to ground for a "tarts" challenge; unfortunately, the sullen one is an exponent of this and is obviously sussed by referees to the extent that when he does get fouled it is ignored most of the time.
Once again I apologise for having the audacity to criticise our free scoring Brazilian; in future, I will put the despondent look on his kipper down to the kit man leaving the stud nails protruding through the sole of his boots.
Dave Abrahams
36
Posted 10/06/2021 at 10:09:14
Len (35), maybe it's an age thing Len, but that's the way I see Richarlison, twenty four going on seven, like a spoiled brat. You are also spot on, in my opinion, with the referee's ignoring genuine fouls on him because of his, 'boy who cried wolf attitude'. The hype about this player and his belief in it, is far greater than any talent he has.
Bobby Mallon
37
Posted 10/06/2021 at 21:05:14
Len 35 😂😂😂
---
Add Your Comments
In order to post a comment, you need to be logged in as a registered user of the site.
Or Sign up as a ToffeeWeb Member — it's free, takes just a few minutes and will allow you to post your comments on articles and Talking Points submissions across the site.