Benitez set to be confirmed as new Everton manager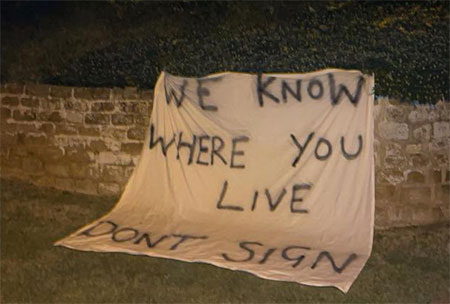 Updated Rafael Benitez is expected to be unveiled as the latest incumbent of the Everton manager's job tomorrow after journalists were briefed this evening that the Spaniard has completed negotiations on a three-year deal.
The saga of his potential appointment has dragged on for over a fortnight, with much repetition of the myriad of reasons for and against his appointment but the existence of a large faction who remain strongly opposed has been represented by banners outside Goodison Park and, now, in Caldy where Benitez lives with his family.
That most recent spray-painted bed sheet warning the former Liverpool manager that "we know where you live" — ironically, it was left outside the wrong house — has caused outrage and disgust among the Everton fanbase and prompted an investigation by the local authorities seeking to find out the responsible party.
Jason Burt of the Telegraph and Dominic King of the Mail tweeted on Tuesday evening that formalities have been concluded on Benitez's contract and that he will be announced on Wednesday.
Benitez remains a divisive appointment with many resenting him for his infamous "small club" jibe when he was manager of Liverpool, and asserting that, combined with concerns about the style of play he will bring to Goodison Park, disqualifies him from the Goodison hotseat.
However, a number of sources have claimed that he is the choice of owner Farhad Moshiri or even his long-time business partner and increasingly key Everton sponsor, Alisher Usmanov, going so far as to claim that Director of Football, Marcel Brands, has been outflanked by the decision.
---
Reader Comments (698)
Note: the following content is not moderated or vetted by the site owners at the time of submission. Comments are the responsibility of the poster. Disclaimer
Hugh Jenkins
1
Posted 26/06/2021 at 16:18:16
According to an article just uploaded by Phil McNullty on the BBC, Benitez is almost certain to be announced as our new manager by Monday.
Bobby Mallon
2
Posted 28/06/2021 at 09:13:04
Well, I don't know about Benitez signing – have you seen the banner outside his house. Now that is wrong.
Jim Bennings
3
Posted 28/06/2021 at 09:26:39
Bobby
It's quite embarrassing really and it's shown our support up in a poor light much like knobhead behaviour from Kopites over the years.
Sad times but it's the brain-dead culture of people today isn't it.
Brian Murray
4
Posted 28/06/2021 at 09:29:28
Bit below the Lonsdale outside his house. The club are not listening so this is the outcome. Chelsea had banners abusing him and that's with a winning team and club. We light years away from that mentality
Danny O'Neill
5
Posted 28/06/2021 at 09:48:30
Sadly every club and their support base has idiots who take so called passion too far.
If I recall, wasn't Steve McMahon's car doused in blue paint outside his house when there was talk of him going directly from Everton to Liverpool in the early 80s? He went to Villa instead, but it only delayed the inevitable. If that was a deciding factor that is.
Brian Murray
6
Posted 28/06/2021 at 09:52:45
Surely his family must be asking him is it all worth it. Thick skinned or not.
Brian Harrison
7
Posted 28/06/2021 at 09:59:43
Definitely shouldn't have put a banner outside his house, the ones now hanging on the gates at Goodison are far more appropriate. One banner says Money over morals Benitez not welcome, another says listen to the fans no to Rafa. Sadly they will have no effect on who the Uzbeki gangster or his mate the accountant hire, so far out of touch with the fanbase. Mind this pair have a track record of ignoring the fans when they appointed Allardyce, lets hope Benitez reign lasts as long as Allardyce.
Barry Hesketh
8
Posted 28/06/2021 at 10:00:46
Brian,
It's a lose-lose situation, if the club is serious about appointing him and then pull the plug because some idiots think that it's okay to threaten his family, the idiots appear to have won. If Benitez decides that taking the job is not worth the hassle, the club is managerless a week before the players return. Whichever way it pans out, it's been an ill-thought-out process and the club looks – to put it kindly – pretty silly.
I'm still hoping that some other manager is appointed for the sake of Everton FC and for the Spaniard, it's only football, but some people take it far too seriously. It's a pity they don't show the same 'passion' for more important things, that have real consequences for many people.
Brian Murray
9
Posted 28/06/2021 at 10:12:28
Barry. I'm not saying mob rule should have its own way, I'm just saying on a personal level his wife etc will be asking the question.
I'm more interested in why Brands can't or won't try and sign anyone and why we need a manager to do it. I know players want to know who they are playing for but his job is at least to do the groundwork and have the moves far down the line or doesn't a Director of Football do that?
Another shit show of a summer. As things stand now, Moshiri is banking on there being three worse teams in the Premier League. We might not be so lucky this season in that respect.
Joe McMahon
10
Posted 28/06/2021 at 10:27:51
I agree Brian, the one outside his house is threatening. I always loathed many kopites for their neanderthal knuckle-dragging vile behaviour, and it's really no different to a section of Blues (Bitter Blues).
This does nothing but damage the image of Everton FC, and no doubt as i'ts outside the family home, the police will be informed.
Jim Lloyd
11
Posted 28/06/2021 at 10:29:42
Barry Hesketh, well said.
It's pathetic. Where do such people stop? That some so called Blues can intimidate his family just beggars belief.
Your point about if the club pull the plug, or Rafa Benitez decides to say forget it, then the cretins have won. That leaves the club, exactly, where?
Any other manager on the supposed list, would think long and hard before taking the Everton Manager's job on; and would likely say, sod that!
All those saying that Ferguson should be given the job. Do they expect another manager (of their choice) to rush in and save our bacon if Ferguson proves to be not up to a managerial job?
As for the criticisms pointed at Moshiri (and maybe Usmanov) I just think where we'd be if Moshiri had not got involved with the club.
Many other rich Benefactors just queueing up to pour money into our club?
It is also worth considering that before Moshiri came in, we were in a situation where Moyes had left and if good old Chairman Kenwright kept the "cosy club" feeling going and we could all be cosy Evertonians, but quite likely be in the Championship.

Raymond Fox
12
Posted 28/06/2021 at 10:35:41
I see I'm not alone in deploring bad-mouthing individual managers.
It's football for god's sake! Okay, it is important to us because we identify with the club but it shouldn't take too high a priority in our lives.
That's only my view so feel free to do as you wish.
It seems to me that some climb on the bandwagon and think, the more that they insult whoever is the current scapegoat, the more they appear an avid supporter.
Colin Glassar
13
Posted 28/06/2021 at 10:43:58
This is disgusting behaviour. I have disliked past managers, players and our chairman but it has never occurred to me to threaten them, or their families, with filth like this.
I don't know if it's so-called Evertonians or koppites who have done this but we have to admit, both sides have some scumbag followers who have no sense of shame.
I hope the police find these fucking morons and get them under some anti-terror law. The club need to take a stand and do it now,
James Marshall
14
Posted 28/06/2021 at 11:08:16
People not going to the game, or putting banners outside the blokes house are acting like 12-year-olds. It's embarrassing.
We are a small club in the modern era, so what? My Dad's bigger than your Dad. People need to grow up and get a grip on reality.
Paul Hewitt
15
Posted 28/06/2021 at 11:10:28
Well, if I was Benitez, I would say "Sod it, I don't need the hassle".
You think Usmanov will be happy either? It was him who wanted Benitez. If I was him I wouldn't put another penny in the club.
Mark Ryan
16
Posted 28/06/2021 at 11:12:27
Those supporting the hanging of banners anywhere are idiots.
I didn't think it would take long for some moronic supporters from our club to do this but alas I feel the club are partly to blame. They have clearly let this appointment sit on the back burner thinking "If we let the furore die down, then it will be okay." All it has done is allow some cretins the time to spell out a pathetic and childish banner and hang it during the dead of night.
I hope he now tells them to shove it and we'll end up with Duncan who will last 6 games. Nobody will then want to sign, nobody will want to manage us and why? Because we appear to have dithering owners who seem intent on listening to the scum minority and bowing down to them and the childish, cowardly gestures.
Do yourself a favour, Rafa, and walk away; we are a small club, with small-minded fans. We have become a joke of a club and are supported by a small number of idiots who know nothing about managing, nothing about supporting, and know less about being decent human beings. A sad day to be an Evertonian.
Ian Horan
17
Posted 28/06/2021 at 11:27:44
Disgraceful turn of events on Benitez, fans now left banners outside his house in Caldy with "We know where you live" we are becoming like RS fans no shame of our actions. Its sickening to see blues behave like this. I am as bitter or passionate a blue as anyone but this is shameful and classless, especially the underlying threat on one of we know where you live.
Barry Robson
18
Posted 28/06/2021 at 11:32:53
The small club comment was in my view a response to the tactics employed by Moyes at the Anfield derby.
We parked the bus and barely crossed the half-way line. If I remember correctly, Moyes and Kenwright reacted to the goalless draw as though had won the game.
The club isn't small but the mentality of Moyes and Kenwright was.
Michael Kenrick
19
Posted 28/06/2021 at 11:33:57
Does look a bit like the other banners but you have to wonder as this seems to have appeared first on a bastard kopite website... or is it from Twatter?
Mark Ryan
20
Posted 28/06/2021 at 11:37:28
Good, sign him up before the scum element of our fanbase ruin our chances. Sign him up and move forward, for God's sake. The more we dither around the worse state we'll be in.
Everyone grow up and give the man a chance to lift us out of this nightmare period of our club.
He's got my support.
Adrian Evans
21
Posted 28/06/2021 at 11:38:13
If Rafa is prepared to come to the Dark Side, in Shite supporters eyes... Come to Everton, to bring success then we, the decent supporters (who are 99.9% of us) should back him.
We should get behind him more than any other manager in our history.
Look what he is going to do, to himself, with his family. They are Red.
But he is coming to us.
Why? Football, Liverpool Football, he's given the Reds success, Now he wants to try to bring success to us. No easy task, we ain't as good, big as we think are we.
So let's get behind those who are trying to bring success, unsuccessfully so far. Also Benitez. A suppporter of 60 years, 100 years if ya count my old man. Mate who played for us 76.?? Son from 9 to 17 now a world class golfer. Brother.
So 200 odd years of Blue years.
I'll back him, also stand outside his house and say so.
But who knows if he's coming?
Barry Robson
22
Posted 28/06/2021 at 11:38:16
I'm not saying Evertonians are not responsible for this. However I also wouldn't be surprised if it was RS trying to make us look bad?
After all whenever their fans behave badly its usually Evertonians, Chelsea fans or mancs that get the blame.
Ian Burns
23
Posted 28/06/2021 at 11:50:25
A genuine Evertonian couldn't possibly have made this appointment at this moment in time, if for no other reason it splits the fan base down the middle if the poll on TW is something to go by. So that rules out any Kenwright involvement in this decision.
It has all the hallmarks of a Moshiri gamble or instruction from his Russian paymaster.
That however, does not give the scum element of our support the right to put the banner outside Benitez home, it should be his castle no matter what the circumstances.
I am very much against this appointment but I'm getting to the point where I am thinking, let's get the appointment over with and start to concentrate on who is going to be in our line-up against Southampton.
Dave Williams
24
Posted 28/06/2021 at 11:50:53
Mindless morons whether red or blue without a brain cell between them.
If it's going to happen, it needs to be announced quickly to get rid of the speculation and let the man show what he can do for us. If he does a good job, does it really matter where he has worked before? Surely the majority are sufficiently bright to realise someone like him might actually give the club the hard edge it needs to become competitive?
Peter Brogan
25
Posted 28/06/2021 at 11:51:31
Get Rafa in now……. We had Sammy Lee in our dug out for one. I think the media have stirred this up way too much and also the club have dragged this out far too long. Rafa has my support lets get him in and start concentrating on getting some players!!!!!
John Pickles
26
Posted 28/06/2021 at 11:51:38
My only surprise is that these neanderthals managed to spell all the words correctly, even the one with 5 letters.
Len Hawkins
27
Posted 28/06/2021 at 11:56:45
I am no Benitez fan but, if he gets the job, then, just like Allardyce, I will hope for success.
There is one very important thing for Evertonians to consider before draping banners here, there and everywhere: The man who we would give our eye teeth to come onside is Usmanov – he has ploughed lots and lots of money into this club and he could take this personally and walk. And I think Everton would crumble... unless Tiny Tears can find another mug.
Jim Marray
28
Posted 28/06/2021 at 12:01:25
Benitez wasn't on my list of preferred managers but, then again, bar Koeman, I knew none of the others since Moyes would deliver. Koeman was one I thought might be able to do something, but yet another failure.
Benitez plays pragmatic football, someone on here has already said, but with our current squad, pragmatic football is about the best we can hope for with the occasional jewel courtesy of Rodriguez in which ever 5 games he plays.
If Benitez is appointed, then I'll back him till he too shows he can't do the job. Although, if rumours are right, we might get some coaches who can actually teach our players some of the more difficult skills, eg, pass to a bloke in the same shirt, ball control and hopefully some clinical finishing skills.
Jerome Shields
29
Posted 28/06/2021 at 12:02:10
He is going to be Manager of Everton, a Football Club. If it was a farm, there would be livestock grazing the grass and being fed in the sheds.
It is really down to the impact Benitez will have on the Everton team, who finished a miserable 10th last season and have been miserable for sometime.
A lot of Evertonians and so-called fans, plus idiots they would not be caught dead with, need to get down off their high horses or donkeys and push for and support good football.
Jamal Paktongko
30
Posted 28/06/2021 at 12:03:32
Benitez is the right choice by a country mile.
He knows Merseyside football
He knows what it takes to.win more than Ancellotti.
He will get us results.
We have been appointing politically correct managers since Moyes left and look where it has brought us?
Jack squat.
We need someone who knows what it takes to win and what it takes.
More importantly, we need someone outside the box.
None of them.fancy European managers who thrives on humongous transfer funds.
The Old Spanish Waiter has proven it with the Barcodes that, even with limited funds, he can still.deliver some results.
Ray Smith
31
Posted 28/06/2021 at 12:05:22
There is an element in society today that think it's clever to anonymously make remarks and gestures regarding any matter they as lemmings find controversial.
I find their cowardly behaviour pathetic, and wouldn't mind betting that they would run a mile if confronted.
They are not true Evertonians.
By all means make your feelings known, using the English language in its right context to put your point across.
I think Usmanov is actually now running the show from the shadows, and his mate Moshiri is his puppet.
We are in a right old mess.
Dither, dither, dither.
Jerome Shields
32
Posted 28/06/2021 at 12:06:13
Jamal #29,
Glad you posted after me. No Comment. You get it so right everytime.
Rob Dolby
33
Posted 28/06/2021 at 12:09:43
Jamal & Jerome,
If he was that good, other clubs would have stepped in. Nobody else wants him. We are appointing a yesterday's man.
Give it 18 months and we will be looking for another manager. I just hope we stay in the division with him. My fear is the fans turn against him early and it impacts the players.
Paul Niklas
34
Posted 28/06/2021 at 12:12:15
I pray for this appointment and for his success. No doubt this is a quality manager – like the last one who achieved nothing – so let's give him a chance. The board will be forced to back him even more to shut the idiots up.
I have said it on here before and some don't like it but these lunatics leaving banners near this man's home put the club and the real support to shame. I will say it again: these are the same that marched under the banners of the Blue Union and represent those that think ownership of clubs don't have all the decision-making power which they undoubtedly and deservedly do.
The 'small club' comment is something these idiots would be delighted about if an Everton manager had said it about Liverpool. He is the type of manager that will create an "us vs the rest" mentality at the club and hopefully he has negotiated everyone, from Duncan down, out of the club for no achievements whatsoever.
In Rafa I Now Trust... and so should all of us. Because, if you're a real club supporter, you have no choice.
Steve Brown
35
Posted 28/06/2021 at 12:13:37
Benitez is the right choice by a country mile.
He knows Merseyside football - he hasn't managed on Merseyside for over a decade.
He knows what it takes to.win more than Ancellotti - suggest you check out their respective honours list as managers
He will get us results - where did he last "get results".
None of them.fancy European managers who thrives on humongous transfer funds - erm, perhaps get an atlas out Jamal and look up Spain.
Jerome Shields
36
Posted 28/06/2021 at 12:18:46
Rob #32,
You are not on the right wavelength.
Benitez will last longer than 18 months. He has backing , which is determined and most importantly controls the finances.
Where Everton is at the end of it, is a different matter.
John Kavanagh
37
Posted 28/06/2021 at 12:20:50
A divisive appointment that's split the fan base in two right from the outset. Whilst I am opposed to Benitez (the Iberian Allardyce), I am sickened by the actions of those targeting his home. Protests and banners are fine, but there's a time a place for this, not the man's home. I hope the police soon know where these 'fans' live and pay them a visit in the dead of night. Simply not Everton that. If identified they should be banned for life.
If the appointment is made, then we will have no option but to give Benitez a chance. The acid test will be whether he and Brands can work together to genuinely improve the squad by the deadline and get rid of (or at least sideline) the wasters.
I'll give Benitez until November. Personally, I'd always favored giving Dunc the chance by giving him the job until November and then making an appointment if it didn't work out. By then there might be other better candidates available that all Evertonians could get behind, even if they didn't personally agree with the Board's choice. A house divided will never stand.
My biggest nightmare is a group of RS festooned with tinny badges rattling like the chains of Marley's ghost unfurling a monster banner at that place with 'Agent Beneathus, Mission accomplished' on it.
Phil Gardner
38
Posted 28/06/2021 at 12:25:20
Disgraceful behaviour by whoever was responsible for the 'banner' outside the man's house. Love him or hate him,you have to say that if he takes this position he has some balls and that is to be admired. It's also something that has been lacking at this club for sometime now. Get behind the man if he comes.
Steve Brown
39
Posted 28/06/2021 at 12:26:21
Those who put the banner outside his house are moronic idiots - if true. That picture could have been taken anywhere or photoshopped.
The reality is that many Evertonians are vehemently against this appointment - noting those on here who disagree. It is up to Moshiri if he chooses to ignore the feedback or listen to it. It has parallels for me with the announcement of the Super League by six clubs who thought they could ignore their fans.
We all know how that turned out and I think Moshiri is about to go through a similar awakening in the next 6 months.
Paul Niklas
40
Posted 28/06/2021 at 12:30:42
https://dai.ly/xnn8j9
The same old every time, they actually breed this type of idiot I am convinced.
Let's get them out of this club and ensure they know they are not welcome as supporters.
Jim Lloyd
41
Posted 28/06/2021 at 12:31:14
What a good response and a lot of excellent posts. Before this post I tried to give my thoughts about why Rafa Benitez was chosen, if that was what happened. I thought they'd have picked the best available manager to this bloody hard job, with Everton Football club left adrift with ancellotti going.
If it was Rafa Benitez I'd have backed him, because it was the clubs choice. After this intimidation of his family, by all to typical moronic behaviour, he's my choice as well now.
I hope he gets the job and shows those arrogant tossers, that Evertonians don't want to see intimidation, especially iof innocent family members. How could they do it??? Leave that to the Koppites.
If you come, good luck Rafa, pull this club out of the mire it's in.

Paul Smith
42
Posted 28/06/2021 at 12:37:14
There is more pro Benitez sentiment on this thread than any I've read so the wronguns have managed to give the fella some momentum. Ironic hey. Let's get it done.
Bob Skelton
43
Posted 28/06/2021 at 12:39:07
God our reaction to the proposed appointment of Benitez shows how we really have become small and spiteful. I personally do not think he will be a good manager for us but for footballing reasons. His current record is poor and he smacks of someone looking for a good payday from a clueless owner.
His previous comments about us being a little club, unfortunately have a ring of truth about them. The 80's were a long time ago.
I have always supported Everton, the club, and want us to do well so we need to pull together.
Personally if I was Benitez I wouldn't even contemplate the job, for all of the tea in China, I suspect he has enough brass to get by on so he doesn't need the vitriol he's currently getting and will continue to get.
Hope it works out well for my club whichever way it goes, let's go from a small club with some small minded fans to a winning football team we can all cheer on!
Colin Glassar
44
Posted 28/06/2021 at 12:40:15
Just get it over with. The longer it goes on the more the division amongst fans deepen.
Anthony Murphy
45
Posted 28/06/2021 at 12:41:08
Ironic. Those taking offence and making their feelings known about Benítez for calling us a small club are carrying out the very behaviour you associate with one.
Kevin Molloy
46
Posted 28/06/2021 at 12:42:03
Len makes a good point in my view. We are now completely beholden to Moshiri and Usmanov. If at any point they become disillusioned, we all know we won't get anyone interested in buying the club at a price that would enable them to get their money back. Therefore they may be tempted to just have a fire sale, sell the assets and dump. And if they did that. Everton would be gone.
And I'll bet we find out this interminable delay is all kenwright's doing, trying to choreograph 'the bad news' so that it's swallowed up with the daft arse England game. just get on with it, you knobheads.
Dave Lynch
47
Posted 28/06/2021 at 12:42:12
If that is real and apparently it is as police are investigating it then I truly fucking despair.
What type of human being covertly threatens a man and his family for wanting to manage a football team?
I wouldn't blame him if he walked away and we get what we deserve in another proven journeyman who will deliver the sum total of fuckall.
The "Peoples Club" my fucking arse.
Danny O'Neill
48
Posted 28/06/2021 at 12:42:21
Here We Go — as our trademark 80s song says!
Pat Kelly
49
Posted 28/06/2021 at 12:46:34
Ancelotti's home was burgled while his daughter was home reportedly, not saying it was anything to do with fans but probably a factor in his early exit.
Benitez is now being threatened not to sign. So much for sport. If it is to be Benitez, just get on and announce it instead of letting it fester this long and allowing the vacuum to be filled by scumbags threatening him to try and stop it.

Bill Gall
50
Posted 28/06/2021 at 12:47:57
Who is signing the manager – the club or the supporters? If the hierarchy in the club because of this sort of reaction to a man's family, decide not to hire Benitez, then mob rule has won, and any manager hired must have the permission from some braindead morons.
This is beneath any genuine Everton supporters and, to me, this action will more or less make Benitez our manager, as these money men are not gentlemen and will not allow a minority to change their minds.
Congratulations to whoever thought this banner would change the club's decision – you have just got Benitez hired.
Derek Knox
51
Posted 28/06/2021 at 12:48:05
Having read all the posts, I am in total agreement that the new Banners are totally Out of Order, I am not an advocate of him getting the job, as I was against Allardyce, Koeman, Silva etc, but personal abuse of this kind is not acceptable. You are all assuming of course that it was a Blue who did it!
I just wish the Club would make a decision, whoever is pulling the strings, one way or another so we can all get on with reluctantly backing him, or welcoming someone else who may be totally off the radar at the moment. Pre-Season allegedly starts on Friday, so surely we need a Coach or a Manager to oversee all that.
Then there are the Transfers which again were allegedly, almost agreed upon, (Dumfries and Nunes etc,) what player is going to sign unless they know who they are to be playing under or for, and what style of Football does he employ?
I am also equally concerned that Usmanov, who has NO OFFICIAL Capacity at the Club yet allegedly is dictating what we should do, or who we should have as Manager/Coach. What is the point of having a Board, as ineffectual as they are, if they are all going to jump through hoops when Usmanov plays puppeteer?
Paul Niklas
52
Posted 28/06/2021 at 12:49:40
Copy this into your Browser to see the same idiots as before. They shame this club. https://dai.ly/xnn8j9
Alan J Thompson
53
Posted 28/06/2021 at 12:54:37
I've not seen these banners placed outside his home and I can't agree with whatever they say but it should be aimed at those who would appoint him as that's where the real blame will lie.
As for his remark about Everton. Well, I'm old enough to remember when we mixed with the other lot on a friendly basis. I still remember being at Wembley for the, as it was, Charity Shield and having to get up a small (near waist height) walled incline when a hand came out with the remark; "I'll help you, Mate" and looked up to see a red & white scarf and after a "Ta, Lah" both went our ways. But remarks like Benitez's just added to the bitterness that now seems more prevalent. So a little less of this, does it make any difference, it did.
Brian Murray
54
Posted 28/06/2021 at 13:01:06
Not deflecting anything away from the ones who left the banner however it is the result of next to no pr since Alan Myers left plus indicative of the boardroom which we all know too well. Just a bit of savvy was needed. Ie we are after a proven man with experience and can only offer stability until bmd or in so many words ( ok they wouldn't be as blunt or doom and gloom as that ) or we want an innovative coach who likes to play on the front foot with pace and pressing. Either way we could probably accept instead of this mushroom usual stance. Kept in dark. We already know about the shite part. He usually hovering next to him.
Colin Malone
55
Posted 28/06/2021 at 13:09:40
What Usmanov wants, Usmanov gets as far as I'm concerned. Now that's one person we don't want to see walk away.
Kim Vivian
56
Posted 28/06/2021 at 13:14:16
Whoever gets the hot seat - and it looks like Rafa - I hope with all my heart that they do really well - which, in the case of Benitez would be putting one on the RS to boot. I really don't care about comments years and 8 (yes EIGHT) managers or caretaker managers ago - I care about Everton.
If any knuckle dragger wants to start with the personal insults and threats, I suggest they start with Usamov (seeing as he's supposedly a noise in the background) and see how it goes.
Good luck with that...
Ed Fitzgerald
57
Posted 28/06/2021 at 13:19:56
Bill
It's hardly mob rule is it? A few dickheads place a
banner near his home (which is more of castle
than a house). It's deplorable because it involves the mans family.
Somehow I'm sure Benitez will find the motivation to sign the contract perhaps the million a month will lessen the angst he might be feeling about taking the job.
The sanctimonious tone taken by some posters who support his appointment is more than bloody irritating. His pending appointment has certainly created an ever greater schism amongst our supporters and it will be interesting to see how the different factions react on the 14th of August when he is paraded at Goodison.
Christopher Timmins
58
Posted 28/06/2021 at 13:26:37
Banners or no banners the man is going to be appointed and it's time to move on. If you can't support the team because you don't like the manager, well go and find another one to support.
Kim Vivian
59
Posted 28/06/2021 at 13:27:47
Off the topic of banners and abuse, I have said before, but do wonder if Rafa might have any inflence in perhaps persuading Rodriguez to stay having worked together in the past at Real.
Kevin Molloy
60
Posted 28/06/2021 at 13:28:58
Ed
I'm not sure what the value of the contract has to do with the reprehensible behaviour of Everton fans. And the banner outside his house, it didn't say 'Dear Mr Benitez, please don't sign the contract' it said 'we know where you live'.
Neil Cremin
61
Posted 28/06/2021 at 13:29:16
Haven't seen the banners so no comment except where is our pride. Obviously still strong based on the condemnation on this thread.
Two comments
1. You can interpret the poll in a number of ways but one would be only 25% of fans would be gutted. This put paid to the claim that the majority of fans are against the appointment. For clarity, I was between disappointed (because I would have preferred Nuno) and satisfied (because he will be a safe pair of hands which is what we need right now)
2. If after all the abuse, Rafa takes the job, then maybe it will be an inspired appointment, anybody who would willingly risk subjecting themselves to that sort of abuse will surely give it his all just to prove the detractors wrong
We wait and hope Rafa for your success with our club.
Marc Hints
62
Posted 28/06/2021 at 13:31:30
Well it looks like Rafa is going to be the next manager so I for one will get behind him. My opinion is he is a good manager that will bring back an playing identity to the club and will lay good foundations. He knows what he is doing. Anyway just my opinion.
Mal van Schaick
63
Posted 28/06/2021 at 13:34:23
It's the board and the owners choice, having used an interview process with candidates.

If he is appointed and brings success, none of us could complain. If he fails to achieve what the board and owners require, then it's another one out of the door
.
Either way any manager has the task of rebuilding the midfield by getting rid of dead wood and we desperately need two other strikers.

Rob Dolby
64
Posted 28/06/2021 at 13:36:11
Jerome. 36.
Did the previous 5 managers not have the same backing?
Time will tell.
Barry Hesketh
65
Posted 28/06/2021 at 13:36:13
All this talk of banners reminded me of a cheesy pop hit of the early 70s.
Jimmy Hogan
66
Posted 28/06/2021 at 13:38:42
If this is true I'm terribly disappointed. In the same way that Fat Sam's brand of football is out of date, so is Benitez's. I fear we will fall even further behind the like of City, Liverpool and Chelsea and I predict another 18 month appointment, ending in acrimony with my club hurtling ever backwards, Groundhog Day style.
Brian Williams
67
Posted 28/06/2021 at 13:40:37
Barry#65.
Cheesy? Bannerman? How very daaaaaaaaaaaaare you!
James Hughes
68
Posted 28/06/2021 at 13:40:51
Can't understand this hyperbole about Rafa being a great manager and will be able to sort out this once great club, get the players motivated yada yada yada.
He is not a great manager and hasn't been for a while and LOTS of people seem to be conveniently ignoring the fact. His record at Mordor was average and his amazing success was not actually that amazing. First Season and a CL winner, and this just opinion not fact, He had Houllier's team and Carlo Fantistco disappeared in the second half. Probably too busy blowing on his latte. After that an F.A. cup and then argument's with the owners and little else.
This alleged ability to shake things up, re-structure and get us on the right track is wishfull thinking. His track record on transfers is appalling, he did not improve Inter Milan or Real Madrid. His record across the park (apologies for using them again) was appalling 64 players in 6 years. TEN players every season most of whom were shite
Just in case anyone was doubting my position on his appointment, I think it would be the biggest slap in the face this club could give the this fan. I will remain a blue but t would be hard to get behind him.
Barry Rathbone
69
Posted 28/06/2021 at 13:41:16
Hypocritical the "banner" outrage this forum has a link to a poll titled
"Fat Spanish Gobsh Yay/Nay??"
with one option being
"No. Drown the fat knobhead in Bramley Moore dock"
.
One of many reasons that the forum of hate - Grandoldteam - shouldn't be associated with TW
Ed Fitzgerald
70
Posted 28/06/2021 at 13:41:49
Kevin
Did you bother to read my post? I said their action was deplorable. You don't think that the money on offer is influencing his decision ? Cmon get real he pissed off to China to double his money with 6 million on the table at Newcastle (a club whose fans he was supposed to love)
Brian Williams
71
Posted 28/06/2021 at 13:46:44
Benitez is on to a winner either way, some might say:
He does well, wins over the fans and gets a longer contract.
Or... He bombs, gets the sack, and laughs all the way to the bank while the RedShite laugh with him, at us.
Rennie Smith
72
Posted 28/06/2021 at 13:49:17
Devasted in this appointment, probably the worst pick I could think of. Not just for his obvious connections, mainly for his recent record. He's no different to a Steve Bruce-type for me, and what happens if he doesn't start winning straight away? He'll be hammered and sacked by Christmas.
"So Rafa, why did you take this job?"
"It's half-an-hour from my house, mate."
I hope Big Dunc twats him after a couple of weeks.
Derek Taylor
73
Posted 28/06/2021 at 13:50:25
Sounds like I have just a few hours left to be an Evertonian. I don't like Moshiri, Usmanov, Kenwright and all our managers since Moyes.
I certainly don't like the ignorance of those who suffer us to put up with Benitez and see today's news of the slobs in our ranks as a sign that we are now bereft of all dignity.
Goodbye and best forgotten!
Neil Cremin
75
Posted 28/06/2021 at 13:55:50
I think that all those who post against the appointment of Rafa should also nail their colours to the mast and state who they want. Please be real and pick those who are available and refrain from wishful thinking.
Danny O'Neill
76
Posted 28/06/2021 at 13:59:39
I do hope you're right about Dumfries Derek Knox @51. I don't know too much about Nunes, but if it's the attacking midfielder we need, then it would be vice my Sabitzer shout.
Just get the manager appointment made and let's move forward.
I've said elsewhere, the TW poll suggests a Brexit style split down the middle, so much more divisive that I originally thought. I'm resigned to it happening even though I don't want it; Danny @ disappointed in the poll by the way.
If it's true and the transfers are being lined up, then surely this means we're seeing Brands take control as a DoF should. The manager the becomes more of a head coach in the continental manner. I'm happy with that model, because if implemented in the way it should be, it works. Which leads to a glaring concern with this appointment. Putting the name and the history to one side, isn't Benitez someone who likes to control?
There could be trouble and turbulence ahead. Again.
Danny O'Neill
77
Posted 28/06/2021 at 14:02:37
Not fair, Neil!! Anyone can be available, as we saw with Carlo!!
I've said mine many a time throughout these past weeks across many pages. But not where the club seems to be thinking.
Seems they want to continue with project Carlo and are going for similar.
Steven Pendleton
78
Posted 28/06/2021 at 14:03:19
Rapped our owners don't follow the small-mindedness of some of our supporters. Loyalty is just a word nowadays. Times have changed and we need to move with it.
He knows his shit and is a winner. Let's get behind him and he may surprise us.
John Raftery
79
Posted 28/06/2021 at 14:03:56
The behaviour of some of our so-called fans is disgusting. These imbeciles should be condemned by the club's hierarchy who must now show some leadership in communicating their unequivocal support for the new manager.
From the outset, I thought Benítez was the best candidate among the names listed. I never expected the decision-makers to have the bottle to appoint him because their track record so far has suggested a strong inclination to blow with the wind of supporter opinion. In that respect, this departure from their usual approach is to be welcomed.
Nuno was third on my list. He was a decent candidate but there were enough doubters on here to suggest his honeymoon period would be brief if or when things started to go awry. Benítez will not have a honeymoon period. I hope against hope he will be given a fair chance by supporters to turn our unbalanced squad into a consistent outfit.
Loading discontent on to one man will not only undermine the club but also give this squad another shield behind which to hide. Some of them have seen off more managers and interim managers than we have won trophies in the last half-century. It will need a tough character to take us forward. I hope Benítez is that character.
Rennie Smith
80
Posted 28/06/2021 at 14:04:18
Neil @75, anyone?
Pete Gunby
81
Posted 28/06/2021 at 14:04:48
If Shankly rose from the dead and announced he'd like the challenge of managing Everton, I'd be all for it. I'd take Dalgliesh also.
If my kids needed a heart transplant, I'd grab the first healthy one available. If Benitez can manage our slow, uninspired floundering ship, let him do it.

Brian Murray
82
Posted 28/06/2021 at 14:06:45
So easy and crafty for the kopites (and media) to say "See, I told you we are all alike as scousers and or working class and it's what we do."
Nah, not having it. A few tasteless banners are not the same as their behaviour bricking team coaches and everything else they airbrush. Not making light of it by the way.
Karl Meighan
83
Posted 28/06/2021 at 14:07:28
I would rather we got someone else other than Benitez but, if he gets the job, it will either go two ways. He will be welcome if his team gets results and wins games, or it will turn toxic if we lose three or four games quickly.
I prefer and hope we win games and improve and hope he is given the same chance as any other manager would be.
Let's face it, we have tried many since Moyes; it's about time someone stuck around and did the job they are well paid to do and got us to where we want to be.
Andrew Clare
84
Posted 28/06/2021 at 14:14:36
To me Benitez is just as good if not better than a lot of the managers we have been linked with.
Anyone who manages our once great club will always get my backing.
I don't want to see hate anywhere. We are talking about another human being here who like all of us is just trying to have a good life and look after his family.
Get a grip.

Mark Murphy
85
Posted 28/06/2021 at 14:15:36
Tell you what -if Benitez does take on the job no-one can doubt the size of his cojones!!
Jay Harris
86
Posted 28/06/2021 at 14:16:35
After over 60 years of watching the Blues with highs and lows along the way I have reached an all time low.
From John Moores who was the "Peoples" chairman who truly was NSNO to a deceitful bit part actor, an Iranian accountant and a Russian oligarch who know no more about football than any of us leaves me with a sour taste and totally disenchanted with all things Everton.
They may be worth a lot of money but the way the club is being run is nothing short of a shambles.
Make the F'in decision, sell it to the supporters and get on with it FFS.
Kevin Molloy
87
Posted 28/06/2021 at 14:16:46
Ed
yes, you seemed to be suggesting that cos he was going to be paid well and lived in a big house that that lessened in some way this grim episode, whereas to my mind it was completely irrelevant.
Benjamin Dyke
88
Posted 28/06/2021 at 14:17:29
The stupidity of placing such a banner with a threat if it is true will actually backfire and probably do the trick of getting people to start sympathising with Benitez.
I honestly trust the board to do the best they can in recruiting the next manager. All these names that get thrown around that we want but we will never know whether they were ever an option.
We would all love a manager that hits the ground running and wins the first 10 games but I'd settle for performances that are solid and seem to hint at an idea, a spirit, an identity.
I have no idea whether Rafa can achieve that but if he gets the job I'll support him.
David Pearl
89
Posted 28/06/2021 at 14:23:19
Give him a chance? He's as good as anyone out there? Really.
Get ready for some defensive boring park the bus crap. If you thought Allardyce football was bad... you aint seen nothing yet.
Danny O'Neill
90
Posted 28/06/2021 at 14:23:41
Hopefully this works for everyone who's interested in reading it.
Trevor Bode
91
Posted 28/06/2021 at 14:25:48
Firstly,anyone making abusive comments about RB is totally out of order.
Its not the Everton way Let's keep our dignity. The issue is : apart from the Liverpool connection, which is bad enough,is he the right man to take the Blues up into the next level? I would say defiinately not! He did nothing at Newcastle, his record being even worse than Steve Bruce; would you want him in charge? He, RB.went off to China to line his pockets a man on the way down after years of unemployment . And his style of play is boring,methodic,pragmatic.
If Moshiri is true to his word in furthering and improving our team he should strongly consider Roberto Mancini, who has all the.attributes the Blues need. Yet if he sticks on RB it will all end in tears and we will be back to square one. again.
Mark Taylor
92
Posted 28/06/2021 at 14:26:12
I oppose appointing Benitez but targeting his family is way beyond the pale.
In any case, unless this puts him off, which it might do given what his wife might say, it is pretty obvious the opinion of the fanbase is of zero importance in this choice, no matter how much we complain, what will happen will happen.
It reminds me of that line from Hitchhikers Guide to the Galaxy endlessly repeated by the Vogons, to their captives:
"Resistance is useless"
Is it possible that Usmanov is in fact a Vogon?
Jim Lloyd
93
Posted 28/06/2021 at 14:33:33
Anyone care to name a manager who would do the job?
Paul Smith
94
Posted 28/06/2021 at 14:33:56
Brave decision this and fortune favours and all that. I would have preferred Brendan when he was courted by the Foxes but we missed the boat there. I want to win - fuck how or who with - let's just get it done. It makes sense to me.
Steve Carse
95
Posted 28/06/2021 at 14:45:15
James (68), spot on.
If Benitez had never been at Liverpool but had mirrored his success there at some other club the guy would never have been anywhere near a long list for the Everton job never mind be standing at 20/1 on to get it. How we've ended up in this position is unfathomable. After Allardyce then Ancelotti I was just looking forward to us procuring an ambitious, attack minded manager, someone whose style of play would cement a relationship with supporters deprived not only of success but of entertainment. What we've got is the total opposite.
HK will be turning in his grave.
Soren Moyer
96
Posted 28/06/2021 at 14:45:53
Threatening him is despicable. Even if he was a kopite.
Derek Thomas
97
Posted 28/06/2021 at 14:47:45
Danny @ 90..."he wants to manage Everton for the right reasons" - yeah, millions of right reasons.
John Chambers
98
Posted 28/06/2021 at 14:48:29
This type of behaviour is not new. I'm sure a lot of the older contributors will remember Howard Kendall's garage being painted with obscenities before he turned things around in his first spell in charge.
Benitez would not have been my choice but if/when he is appointed I will still support the club and I will still be going to Goodson (c19 permitting) to support the team.
If Benitez can replicate Kendall's success after the abuse he received I'm sure everyone will say they backed him all the way, a bit like the number of Moyes supporters seems to have exponentially risen over the last few days
Roger Helm
99
Posted 28/06/2021 at 14:49:15
In any very large groups of people there will always be a few wrong'uns, and football seems to attract many of them. It is best just to ignore them, like a bad smell. At least we don't have thousands of them, like some clubs not a million miles away.
The Benitez appointment for me would be just a bit meh. I mean, I could have come up with this myself. It's not very original, and he does seem past his best-before date. I didn't mind his small club jibe, that was just banter. The reaction by some Evertonians seems to suggest it touched a nerve, though.
Anyway, if he is appointed, I would support him. I wouldn't have any choice, would I?
William Cox
100
Posted 28/06/2021 at 14:50:17
Rafa would not have been my first choice but if he gets appointed then we should get behind him and give him a chance and support the lads on the pitch. We have all said things in the past that we have regretted in the heat of the moment or that have been taken out of context
David Baxter
101
Posted 28/06/2021 at 14:51:08
This"We know where you live' banner is disgusting.Rafa Benitez has a wife and two daughters in his home.Imagine how they are feeling right now.
Anthony Flack
102
Posted 28/06/2021 at 14:52:56
Too busy to elaborate at length.
No matter how emotional and committed one is, this is unacceptable and reflects really poorly on the supporters.
Anyone who has experienced this sort of nasty intimidation themselves will understand
Mark Ryan
103
Posted 28/06/2021 at 14:54:46
Will the club just get it done or move on. Editor, can you not just tell them we'll have him BUT what's the kitty for players like. I'd fear for anyone given our current squad. Get it done and get some quality through the door
Bill Gall
104
Posted 28/06/2021 at 14:54:58
The Problem with this mess is neither the board or the supporters have any patience with managerial hiring and it appears they want instant success. The sad thing about the whole debacle is the one that steadied the ship was the one most disliked and that was S.A.
I do not now who the club has tried to get but it seems the only 2 that were interested was the x Wolves manager, who's excessive demands the club could not agree on, whatever they were ? and Benitez.
We need a manager who is going to stay for more than 2 seasons and the supporters to back them whoever it is.
We may not like the small club remark, but there is a minority who are acting like small children.
Kim Vivian
105
Posted 28/06/2021 at 14:56:52
Danny/90 - Paywall unfortunately.
Jerome Shields
106
Posted 28/06/2021 at 14:57:28
Rob#64
I do think they are more determined this time. They seem to be taking on the Everton Establishment, where before they tried to work with it
I don't agree with their selection process and the lack of Football knowledge involved could be their undoing, but in a longer time frame. They could be lucky though, for a change. They all need to be on the same page.

Regarding Jamal comment, I should have known better.
Derek Knox
107
Posted 28/06/2021 at 14:57:37
Mark @ 92, " "Resistance is useless"
" Is it possible that Usmanov is in fact a Vogon? "
I would say no, but he bears a very strong resemblance to Jabba The Hut!
Different show I know, but you started it! :-)
Paul Davies
108
Posted 28/06/2021 at 14:57:41
The marmite manager. You'll either love him or hate him. If he gets the job he'll be the manager of Everton football club so he'll get my support. As for the banners, grow up.
Paul Smith
109
Posted 28/06/2021 at 14:57:44
Jim Lloyd @93 they can't. Spurs and Palace have beaten us to the attack minded, up and coming young genius manager's people are wanting.
Michael Lynch
110
Posted 28/06/2021 at 14:58:44
Read it and weep: Big Sam quoted in the Echo - "if you call me a defensive-minded coach then Rafa's exactly the same as I am"
David Baxter
111
Posted 28/06/2021 at 14:59:46
I hope Benitez tells our owners to "shove it " and we will be left with Pardew or Pulis
Kim Vivian
112
Posted 28/06/2021 at 15:02:35
For those prepared to nail their colours to the mast - take your pick: 1st choice and 2nd choice - one from each group:
Football Managers Out Of Work 2020/21
The A-Listers
ANTONIO CONTE
ZINEDINE ZIDANE
LUCIEN FAVRE
RALF RANGNICK
ERNESTO VALVERDE
ANDREA PIRLO
PAULO FONSECA
RUDI GARCIA
VITOR PEREIRA
B-listers, Premier League Contenders
ROY HODGSON
NUNO ESPIRITO SANTO
RAFA BENITEZ
CHRIS WILDER
FRANK LAMPARD
EDDIE HOWE
MARCO SILVA
BRUNO LABBADIA
EUSEBIO DI FRANCESCO
PATRICK VIERA
Danny O'Neill
113
Posted 28/06/2021 at 15:07:21
Jim@93; who I want or who would take the job? I fear I've repeated myself so many times on the many threads that everyone has read it many times!
Derek@97. O'Keefe's words, not O'Neill's!!!
Mark Ryan
114
Posted 28/06/2021 at 15:12:45
Kim,
I'll nail my colours to the mast and say how on earth do you make FAVRE an A lister and PIRLO too? An A lister footballing God yes but an A lister manager, behave
I'll take Benitez. He seemingly wants the job where nobody else does
Kim Vivian
115
Posted 28/06/2021 at 15:18:14
Mark - Fair comment...I should have said - it's not my list (I copied and pasted). For what it's worth from that list I would go Conte (in my dreams) and have to pass on list B but there's worse on there than Rafa.
Richard Nelson
116
Posted 28/06/2021 at 15:19:28
...you cant change the past...you can only affect the future..just get on with it & give Rafa the job...!
Joe McMahon
117
Posted 28/06/2021 at 15:20:47
Kim, for what it's worth:
A - Conte (no way would he come to a club with no CL exposure)
B- Lampard
But being realistic, like Mark i'd 'll take Benitez, if he still wants it.
As long as it wasn't Moyes, Unsworth or Dunc (reasons for not wanting Dunc i've already stated)
Simon Dalzell
118
Posted 28/06/2021 at 15:22:44
Adrian (21) Perfect words. Nothing to add. Good on you. An example to all.
Tim Locke
119
Posted 28/06/2021 at 15:24:17
We have said it when a great player leaves the club, 'the club is bigger than any player, manager or board member'. The way we talk about Benitez makes him sound bigger than the club which isn't right.
I might not agree with everyone who works for the club, but when they cross the white line I back them. I stand - when allowed - and shout and call my team home.
I shout so we win, yes I clap the odd top pass, but what gets my ass off my seat is the chance the ball hits the net and when it does I shout all the more and hug anyone - covid rules allowing - I can. I watch and cheer to win. So all this talk about style of play, of is history matters not. Chelsea fans kicked up the same fuss and bagged third and a European title. If that's what a manager who might not be my first choice brings, then bring it on.
Raymond Fox
120
Posted 28/06/2021 at 15:27:53
It wont matter if we get Jesus as manager, if we don't sign a team of top 4 quality players I fear we will still finish 6-10th.
Tony Abrahams
121
Posted 28/06/2021 at 15:32:59
Jerome@36, I'm a bit concerned that Benítez, might not get backed early on, and they might wait to see how he approaches the job, before giving him the same kind of money as his predecessors.
It doesn't make sense because he's already got his back against the wall, but it does make sense, if people have begun to see the errors they committed when they first came on board, and if this is the approach taken although it will feel painful, I'm just hoping for a more professional, and more committed Everton, and it's why I agree with John Rafferty@79, when he talks about the players, who hopefully won't have another shield that absolves them from blame, but makes them start giving everything to the cause, instead.
Martin Reppion
122
Posted 28/06/2021 at 15:33:10
Oh how I have changed.
My first reaction 3 weeks ago was 'Not the Fat Spanish Waiter.'
But if the Denmark v Finland game taught us anything, it is that this is ONLY football.
I really wanted the next manager to be Duncan Ferguson, but I wanted him taking over a side that had won a trophy and played 2 years in Europe.
Carlo's surprise and hurried departure meant that the dream succession wasn't going to happen. We need a medium term fix. If the best on offer, and by best I mean an experienced respected manager, who will be able to attract players who can buy into the club ethos and help us to win, is Benitez, then so be it. But he must work with Evertonians. And that means Duncan as number 2.
He must have a clear strategy to keep the club moving up the table.
And it would help if he started by saying something honest about 'that' jibe. Such as it was the sort of banter you use to a rival in football.
Whatever, whoever, I want it sorted and I want to see the signings so I can start getting excited about next year.
(But he still looks like a fat Spanish waiter).
Jimmy Hogan
123
Posted 28/06/2021 at 15:34:09
Neil #75 and Jim #93, I heard yesterday from someone with football connections that Mancini wanted £15 million a year. It would seem that, even for us spendthrifts, that was out of the question. He's the one for me though.
Tom Bowers
124
Posted 28/06/2021 at 15:36:04
The mind boggles at the diversity of comments as to what will happen next season.
Those who oppose an ex-red at any cost will have red faces if he does a better job than recent predecessors and those in favor will have been proved correct in saying it doesn't matter where he has been before.
I remember quite a few ex-red players who did great things for Everton like Morrissey and Sheedy.
Rafa's credentials are second to none compared to many so why not give him the same chance as Ancellotti or Koeman.
C.O.Y.B.
Mike Gaynes
125
Posted 28/06/2021 at 15:36:25
I have strongly opposed Rafa's appointment.
That piece of shit banner has turned me 180 degrees into a committed Rafa supporter.
Mr. Benitez, as one banner target to another (my wife's ethnicity was insulted in this way by a neighbor), I hereby applaud your impending appointment and encourage you to shove that banner down the offender's throat in the best possible way.
Win lots of games.
I'll be here cheering you on. And hopefully over there soon to do so personally.
Derek Powell
126
Posted 28/06/2021 at 15:39:43
All this appointment will do will divide the fan base and bring discord to the team its a recipe for a disaster and one we should not swallow so easily imo
Joe Digney
127
Posted 28/06/2021 at 15:40:20
Now there's welcome banners up outside goodison apparently.
How about no banners from either side of the Benitez spectrum, let's just get him in (as it's clearly going to be him) let him get on with it and we'll judge him off results.
He was far from my first choice but personally the anger has passed about the idea of him coming in with it being drip fed through the media for over a week, I think there's only so long you can hold anger before it just gets too taxing, now I'm watching with real intrigue to see how he handles the baptism of fire that awaits.
COYB
John Boon
128
Posted 28/06/2021 at 15:47:33
Being a football supporter of ANY team is an idiotic pursuit. A pastime that defies belief. However I have been sucked in far too long to ever change my colours or my team. I am NOT a Benitez fan by any means but "NO" man will ever be able to make me turn away from the club that will always mean so much to me. I have an incurable inane "Disease" brought about by my long gone dear DAD who took me to a Football game many years ago.COYB Whatever happens in the next few days will be one more step in an Evertonian's life. NUTS EH???
Jamie Crowley
129
Posted 28/06/2021 at 15:49:41
I hate Rafa - in a strictly footballing, sport, non-reality type of way. As far as I know, he's a swimming guy whom everyone likes on a personal level.
The banner is simply ridiculous, uncalled for, and frankly embarrassing.
Oppose the appointment. Oppose Rafa as manager. This kind of threatening banner crosses any sane human being's line.
Still hope the guy isn't named manager. It's a brain-dead appointment.
If he is indeed named manager later this week, it'll be official. We're no longer a "big" club, no matter what the history says. Mid-table, irrelevancy awaits us under Rafa, and his appointment will set us back to the point where we most likely won't recover before I die. Opinion, that last bit, but it's my opinion.
I don't think I can ever get behind this appointment. 1000 bedsheets painted by a retard won't change that.
Mark Taylor
130
Posted 28/06/2021 at 15:50:45
Kim 112
I have the nails and colours but I'm not 100% convinced the mast is stable. Why only out of work managers?
If pushed, I'd go for Favre from the A list. I like Ranginck but he is a Brands replacement in my view and needs a manager under him. I'd actually pick Conte because he is young and a winner but he is not realistic and if we are dipping into that pool, give me Simeone whose time at Atletico would be a great template for us.
The B list is a struggle, I'd take Nuno over Rafa, but could Galtier not be on this list? He might even be my number 1 (realistic) option. Otherwise I'd take Lampard over Howe and Potter over both.
Rob Young
131
Posted 28/06/2021 at 16:04:23
What time this Monday are those journalists convinced it will happen?
Or have they already held their hand up again for actually knowing F A ?
Surely it will be Martinez, that would be a 100% Brands appointment.
Then again, if that was true then they should have come out and sqaushed the Spanish One's rumors to keep everybody save.
Colin Malone
132
Posted 28/06/2021 at 16:06:08
Kim @112
How did you come to your A and B list? Pirlo more successful than Benitez? Apart from Benitez and Zidane who won trophies, the rest are unemployed unsuccessful coaches.
Daniel A Johnson
133
Posted 28/06/2021 at 16:08:23
Deplorable banner.
But cause and effect.
The upper echelons of the board are refusing to listen to the fans. We have got to this stage due to Moshiri yet again going all Captain Ahab on us.
They are deaf and blind to the negative ground swell of public opinion from the fans. Any owner who ignores the fans does so at his own risk.
Brands should just resign.
Bill Gall
134
Posted 28/06/2021 at 16:10:08
Kim
Nice list, the question I have is why haven't Tottenham or Palace not got any one from the A or B list.? is it because their demands are not willing to be met by the clubs or after an interview considered not the right person for the club.
We can all pick a name from the list's but surely as Director of Football, Brands will have had these names on file, and approached those who he believed would be interested.
We all cringed when we heard what Ancelotti was supposed to be getting paid, and there are rumors that Conte wanted more. We have to get a manager that wants the position and does not demand an outrageous fee protected by clauses that he can leave if anything better comes up.
The only vitriol Benitez is getting is over a saying, my own personnel feelings is I did not want him because of the style of play he uses, but like to think he is adaptable to change.. Then I still remember that saying ( a leopard never changes its spots ) but then Benitez is not a leopard.
Brian Wilkinson
135
Posted 28/06/2021 at 16:11:04
I have read most of the above posts and most in general believe it to be an Evertonian.
Sounds far fetched, but how do we know it is not a fan from another club, with such high esteem, surely a few would not want Rafa to join their local rivals.
Someone touched on Steve McMahon and his Car, so how do we know for sure it is someone not wanting Rafa being the Everton manager, and at the same time, shining a bad light on our fans, nothing is too low from a certain element of their support.
Like I say nothing would suprise me the limits they will stoop to, if it puts Everton in a bad light.
If it is one of our own, they should be ashamed of themselves, well out of order.
I was not a fan of Benitez, but after the managers linked, I think he is probs the best option available, and will get my full support, if and when he takes the Managers job.
Bill Hawker
136
Posted 28/06/2021 at 16:11:25
We've got some real whoppers as supporters. Idiots.
IF Benitez is named manager, he WILL get my full 100% support. I want one thing and one thing only, and that's to see Everton win matches and make progression towards a European place. I don't give a rat's ass what he said about us in the past. I don't care that he managed Liverpool. I don't care what he's done or not done lately. I DON'T CARE.
I want to see Everton succeed. Nothing less. I WILL give him the chance to make that happen. End of.
Jay Hughes
137
Posted 28/06/2021 at 16:12:47
This appointment makes no sense. Why bring in a manager who will definitely not be accepted by those who actually go to the match.
It's nothing to do with him being an ex RS manager that I don't want him, it's more to do with him being shite. He missed relegation in China by a play off and his style Of play is excruciating.
I was gutted when the RS sacked him as he was slowly strangling them. At the end of his reign they were as bad as can remember them for 40 years.
He's 61 FFS not exactly an up and coming manager.
Anyway, big Duncan will be in charge by Christmas and Rafa will be back waiting on tables much to the disappointment of the many RS fans following TW.
Kim Vivian
138
Posted 28/06/2021 at 16:16:52
Colin - as I said to Mark - it's not actually my list. I copy/pasted it and didn't study it particularly forensically before posting. It's not a league table of past success and results, simply someone's perception of the current available potential. Reasonably logical in my view. Galtier was a notable absence although I'm not sure he's actually out of work right now - or maybe the list is a little out of date.
Conor McCourt
139
Posted 28/06/2021 at 16:17:38
I still am hoping we get a last minute reprieve, even a stay of execution. I'm clinging to the notion that ain't over til the fat lady (waiter) sings(signs).
Steve Brown
140
Posted 28/06/2021 at 16:17:41
Benitez is not the right candidate, but he is not to blame for his own hiring decision. The real focus of fan discontent should be the board. They are sophisticated enough to comprehend the divisiveness of the appointment but plan to proceed.
Therefore, they should be the target of any fan discontent in the future.
Jamie Crowley
141
Posted 28/06/2021 at 16:20:27
If I were Marcel Brands, and I didn't want this appointment, what would I do?
I've read a few posts over the last few weeks that mention Rafa likes total control. Again if I'm Mr. Brands, I can't implement my vision for the Club if the new manager wants control.
An appointment I don't favor, a man who will decrease my responsibilities and marginalize my influence being placed into a position of power, seemingly superceding me?
I'm off. Like a shot, fast as fuck, I'm out the door. The owners just sent a message of how much they trust me, and what they think of my work and influence.
Jim Lloyd
142
Posted 28/06/2021 at 16:26:16
It is almost certain, I'd say certain, that every available manager who is on both of those lists, has been discussed. How many would just not bother with us at all?
Don't know; but my guess is that after Ancellotti fled from us, I'd think think most of the top managers would swerve us.
Any of the A list who might consider us, would want to look at the job they'd be faced with. If any were left after that, they'd want to know what funds were to be made available for players; and what conditions would they be expected to work within. eg backroom staff, choice of players and the position of Duncan Ferguson, and what the club's expectations are.
It looks like Nuno had laid down those same conditions re his own staff coming in and an agreement couldn't be reached. Of the rest in the B list it looks like, for one reason or another, the powers that be, have decided the best manager to take Everton through, yet another decidely Rocky patch, is going to Benitez.
If Brands has been involved; and they have come up with Benitez as the best available, thne a popularity contest from supporters, doesn't really compare, so let the club get on with what has been, no doubt about it, hard decision to make.
Pete Clarke
143
Posted 28/06/2021 at 16:27:51
Those banners with the garbage written on them were probably done by a few uneducated teenagers.
Who amongst us hasn't called out some obscenity at Goodison towards a player, manager or official ? Same thing isn't it ?
Make no mistake about it but Rafa Benitez is washed up and his best days are well and truly behind him. He had the core of the Argentinian team in Valencia 20 years ago. What's he gonna do with our bunch of tossers ? What has he done in the last few years to even be considered for the job ???
He thought it funny to call us a small club a few years ago and reveled in it with all of those Kopites. Nobody else wants him now so he has seen an opportunity to top up his pension whilst he takes the piss out of us once more.
There are a few on here going on about the banners being disgusting and this that the other. They are indeed. What would the fans of other clubs do in this scenario? There would be riots and that's part of the problem with us. Just too nice.
The decision to appoint this man has been made by seemingly educated people but it is equally as stupid as the decision to make those banners. The big difference is that the kids who made the banners actually support us ( every club has them ) but the men who own us don't give a fuck about us.
Iain Latchford
144
Posted 28/06/2021 at 16:30:03
Benitez is no fool, and knows exactly what he is letting himself in for. If the football and results are poor he'll be under instant pressure, and potentially out of job before he even gets going. It's in his best interests to give 100%, expect the same from the players, and cull anyone who isn't giving their all. Maybe all this will work in our favour. He has to get it right, and quickly.
Julian Exshaw
145
Posted 28/06/2021 at 16:34:45
This poster, aside from being a thorough disgrace, is counterproductive anyway. It will make Moshiri even more determined to appoint him. Even worse, it does very little for what has always made us a great club. Disastrous and shameful in equal measure.
Andy Crooks
146
Posted 28/06/2021 at 16:34:50
Mike@ 125. The banner is the work of cowards who sneak about in the dark. Sadly, there are a few about who resort to this when they feel powerless. Fortunately, the majority of Blues will have contempt for them.
It doesn't make me want Rafa any more than before but he must believe that he has something to offer if he is ready to walk into this. Let's bring it on and see what he can do.
Richard Jones
147
Posted 28/06/2021 at 16:36:47
I've never been so disgusted with the club and Bemused by our fan base, Rafa was right we are a small club !! We've been turned into a small club by those that run it and our generation of fans have let it happen.. We've been bullshitted and cajoled into taking this shit for years, and reading these comments on here we deserve what we get if we accept this appointment. Ive never been so ashamed to be an Evertonian!!
Brent Stephens
148
Posted 28/06/2021 at 16:38:52
If it's Benitez, I'm not sure why it's taking so long, given that both the club and the new coach would want to get on with players out, players in, and getting new training regimes and tactics in place.
Waiting on a coach currently occupied in the Euros to see the end of their involvement there??
Will Mabon
149
Posted 28/06/2021 at 16:41:57
Well, there was always the possibility that this could turn into a soap opera. Next: Benitez in suspected affair with Hancock's wife.
James Marshall
150
Posted 28/06/2021 at 16:42:49
According to the ever reliable, and totally *ahem* impartial BBC, the banner was left outside the wrong house. Hahahaha!
Brent Stephens
151
Posted 28/06/2021 at 16:43:26
Julian #145 " This poster, aside from being a thorough disgrace, is counterproductive anyway."
I might call you many things, Julian, but you're not quite "a thorough disgrace"!
Paul Niklas
152
Posted 28/06/2021 at 16:46:20
https://dai.ly/xnn8j9
Open and see the same people who have been doing this for years started by the BLUE Union. They are not supporters they are the Local scum bags probably no older than 18 bred by similar minded parents.
Kristian Boyce
153
Posted 28/06/2021 at 16:47:00
Idiotic banner that has gone too far. Unfortunately, I can see the protest and the supposed boardroom split on the hiring playing into Rafa's advantage. It's been well documented that in previous positions he's played up to boardroom battles and is known to take advantage of situations. I can see the very same happening within our club.
I don't know what it is with our club and the hiring of dislikable characters/managers. Fat Sam, Koeman and now Rafa. We're a glutton for punishment.
Simon Bell
154
Posted 28/06/2021 at 16:47:58
Pete Clarke @ 144. You genuinely believe the men who own us don't give a fuck about us?? Seriously?!
If I had billions in the bank I wouldn't think, do you know what I'm going to buy a club I couldn't care less about, build them a new stadium, lose millions of pounds in the process and then just drop them - that would be fun!
Seriously, I get Rafa isn't an appointment all fans are happy with (myself included), however I'm more willing to give him a shot after all the crap he knows he's walking into and he still wants to come.
We've had some shite recently and despite the "Aura" Ancelotti had, the football was terrible to watch. At this moment in time I couldn't care less if they hired Joe or Jane Bloggs off the street as long as they got us playing good football and giving games a go. It's been far too long since we had something serious to cheer about.

Don Alexander
155
Posted 28/06/2021 at 16:50:54
Jamie (#141), or does Brands do what he sees so many other people at every level of the club do and just sit back, not give a stuff, take the money and wait for some other mug to sort the mess out?
Will Mabon
156
Posted 28/06/2021 at 16:54:53
Simon, I'd guess Pete is essentially saying that many owners are not football fans that have supported the club since childhood. Things are viewed differently.
I'm sure they do give more than a fuck about the club but in basically a business performance sense. To think they'd genuinely care deeply about the personal feelings of fans, or Everton's long history and such, would be naive.
Mark Taylor
157
Posted 28/06/2021 at 17:02:27
I'd like to think I'm not myopic, more realistic, but I don't buy the idea that Everton is not an attractive proposition for all but the very top managers, albeit some work might be needed to present it to be so.
First off we are in the EPL, always have been, never relegated. This is the biggest, most glamorous, richest league in the world, the latter by a big distance. One might argue no manager can truly claim to have acquired greatness if they can't crack it. Only the German league comes close in terms of competitiveness, and even then a little way behind.
Granted we don't have CL status but that is a lot harder to achieve here than any other league. What we do have is an ambitious, albeit somewhat naive owner, possibly accompanied by an even richer individual in the background to bankroll things. Meanwhile, those glamour clubs of Europe like Real, Barca and Juve are close to skint. At least with us you get stability and a proper transfer budget.
We have history, a bigger support base than most clubs elsewhere in Europe and the promise of a new ground. We are coming off a period of relative failure, but that itself is an opportunity, easier to be seen to succeed than try to emulate Pep at City. We don't expect trophies so anyone winning one will get cult status.
So come on Mr Simeone, why hang around in a broken league, come and do for us what you did for Atletico and give the entitled neighbour a serious poke in the eye, you know you love doing that.
(OK the last bit is a pipedream)
James Flynn
158
Posted 28/06/2021 at 17:04:22
Finally. Get this over with. More important business. We need a talent/pace combo infusion pronto.
What players has Brands lined up and which ones will sign with us this window?
John Keating
159
Posted 28/06/2021 at 17:06:08
Paul
I've never seen that video or heard of the group that produced it.
The only thing I can say is that it's a load of f...ing rubbish!!!!
To insinuate me and loads of other supporters are not Evertonians, not matchgoing Blues is just a load of piss.
Try not to remember how many Blue Union members and supporters spoke up at the inquiry into the Tescodome.
Not real supporters???
Absolute shite
Dale Self
160
Posted 28/06/2021 at 17:06:28
The club's hierarchy probably intends well to shake up the system but to make this kind of move for Benitez and not be shepherding the process with some mic action or continual press is irresponsible at best. The fact that they would wait and put it all on a candidate like Rafa kind of tells us why they need a Rafa. This group doesn't really know football but need football success of some sort to complete their project. Given that it may be an ironic twist that he may be the best candidate given they don't or won't trust Brands.
Will Mabon
161
Posted 28/06/2021 at 17:07:00
"
talent/pace combo infusion
"
I like it, James.
Julian Exshaw
162
Posted 28/06/2021 at 17:07:18
@Brent 151. Haha, I guess it could have been interpreted that way mate. :)
Ian Burns
163
Posted 28/06/2021 at 17:08:16
Mike - 125 - I agree with you 100% and I feel for you with regards to the insult to your wife's ethnicity.
These insults have also turned my thinking into the polar opposite and I get the feeling you and I are not alone in switching votes on the appointment.
If it's Rafa then so be it - bring it on and let's get some sort of stability as well as a decent line up for Southampton in only a few sort weeks time.
Pete Clarke
164
Posted 28/06/2021 at 17:08:19
Simon.
OK. I'll put it another way. They haven't got a clue what they are doing as far as football goes and they must be pig ignorant to push ahead with this unless they are deaf. ( no offense to anyone )
Moshiri has put loads of money into the club but I guarantee you he comes out on top financially because that's his proper job and he will be doing his numbers.
Having a football club is a game to these rich fuckers.

Brent Stephens
165
Posted 28/06/2021 at 17:14:23
Julian #162. Posts can easily be misinterpreted. I had a visit from the RSPCA and police because I asked on social media how best to cut the heads off ponies. I meant to say "peonies", the flowers!
True story! Well, maybe not.
Bill Gall
166
Posted 28/06/2021 at 17:16:28
No matter who we get as manager, it is who he can bring in on a transfer, and how will he manage the usual problem, getting rid of the deadwood as they are called.
The general consensus, is we need right back, a quicker experienced scoring midfielder and a quick attacking right scoring winger, so lets get someone in soon and start these negotiations.
Tony Abrahams
167
Posted 28/06/2021 at 17:17:17
If you know your history Paul N, you will know that Everton have always had a lot of militant supporters. I agree with Peter C, maybe fans of other clubs would riot, and maybe our fans have gone soft? We went soft when we fell for Bill The Bullshitter imo Paul, because how a man who told lies about ringfenced money, then had Wyeness tell us we couldn't take up the Bestway site, because they would have to build a few bridges to access the stadium, so they tried to take us to Kirkby instead, has survived this long is beyond me.
If I'm still alive when Everton move into the Bramley Moore stadium, I will raise more than a few glasses to The Blue Union, and shiver at the thought of why any Evertonian, could have even considered taking us to Kirkby, which showed me that Kenwright has never been worthy of Everton, because he was nothing but a small minded owner, who took the piss out of our once famous motto, because he was simply a pauper, who couldn't let go.
Derek Knox
168
Posted 28/06/2021 at 17:17:18
Brent @ 165, I bet you played with a Horse's Chestnuts too, when you were at school. :-)
Steve Brown
169
Posted 28/06/2021 at 17:18:09
Paul @ 152, even by your own low standards that is an outrageous post.
Brent Stephens
170
Posted 28/06/2021 at 17:18:34
Mike #125 fine post
Jamie Crowley
171
Posted 28/06/2021 at 17:19:29
Don @ 155 -
He's on the Board, so probably! Ride out the storm while collecting a massive paycheck - the Everton Way!
My God, how has it come to this? Seriously, what in the holy hell is the thought process behind this appointment?
I'm in denial. I'll believe it when I see it because I can't, for the life of me, figure out what the Board is thinking bringing in Rafa. I've seen some stupid shit in my time, and frankly I've done some seriously stupid shit, but this takes the cake.
Brent Stephens
172
Posted 28/06/2021 at 17:19:49
They were always too hot for me, Derek.
Jamie Crowley
173
Posted 28/06/2021 at 17:23:09
Have we gone from pillaring Rafa and the Club via this appointment, to fondling a horse's balls?
You see the following statement written, but never more so than now is it applicable:
Only on TW!
Dale Self
174
Posted 28/06/2021 at 17:32:04
Well he's not the dog's bollocks!
Mike Gaynes
175
Posted 28/06/2021 at 17:34:19
Brent, Ian, Andy, thanks. Just a visceral reaction. (In contrast to my usual cool detachment. Hah.)
On a more practical note, the transfer window is open, and we need players, so it's time to put a manager in place and get to shopping.
And DK, Brent and Jamie... thanks so much for a mental image that will take me all day to expunge.
Colin Malone
176
Posted 28/06/2021 at 17:36:18
Kim @ 138.
Okay. Sorry.
Brian Harrison
177
Posted 28/06/2021 at 17:36:35
Benitez was hired on a short term basis by Chelsea, after making not very complimentary comments about them. They won the Europa league and finished 3rd in the league, but the Chelsea fans didn't forget his comments and let him know their thoughts at most matches. He asked them to stop making banners about him and singing derogatory songs about him, they didn't, in the end Abramovich sacked him as he knew the fans would never take to him despite him winning a trophy. That was 9 years ago since then he has done nothing and seeing nobody wanted him decided to move to that hot bed of football, China were his team lost more games than he won.
As Simon Jordan the ex crystal Palace owner said of the possibility of Everton hiring Benitez as a really bad move. He said the only project Benitez is interested in is the Benitez project. Does nobody question why if he is jsuch a stand out candidate why no other club has approached him in the last few years. I think most have decided his best days are behind him and football has moved on since he was successful. Even Allardyce was quoted this morning as saying if they thought I was a defensive coach then what do they think Benitez is. Many of our ex players have come out and said he isn't the right appointment which includes Southall, Gray and even Hutchinson says its a mistake.
For those who now suggest because of a few idiots putting up a disgraceful banner near his home, have now made them 100% behind Benitez, surely the most bizarre approach, so your against him but if someone puts
a banner near his home that most fans find abhorrent then that's a reason to know support him.
Ian Horan
178
Posted 28/06/2021 at 17:36:37
Still can't believe people get hung up on "small club" comment. Taking a knife to a gun fight is just as bad!!! Since late 90s we have had a small club, cottage industry mentality. The small club mentality has been fueled by Kenwrights obsession with EITC, it does do great work, but lets be fair here we haven't had a team or approach to go toe to toe with the supposed big 6 for some time. Just maybe Benitez wants to prove a point. Apart from Joe Royle in 95 no fucker has won anything, maybe taking one of the devils own will give us the luck, edge or streetwise approach to be a winning football team
Mike Gaynes
179
Posted 28/06/2021 at 17:42:28
Brian #177, yes, for me it is.
Paul Niklas
180
Posted 28/06/2021 at 17:43:27
Steve Brown. What is so outrageous about the truth. You know its the truth. Only a scumbag would do it and in the main scumbags are bred by Scumbags. So if you think thats low then fair enough I have seen the type that do this and you wouldn't have them round for fucking tea. They are a tiny minority and will probably be in jail in the next few years but when they tarnish the name of my club it needs to be said.
Also anyone believing the Blue Union were some form of fucking saviours are as misguided as Joe Anderson and his morals. (Socialists)
Jamie Crowley
181
Posted 28/06/2021 at 17:45:24
Brian Harrison @177 -
I had the exact same reaction to Mike's comments as you. Why would idiots hanging a banner change your position on getting behind Rafa? I was befuddled by the usually intelligent and sure Mike Gaynes.
He's posted it was a visceral reaction. Completely understandable in my opinion. It's a disgusting banner, so if the reaction to it is emotional, quick, and full of disgust, that's pretty understandable in my opinion again.
Not speaking for Mike, just sayin'.
Dale Self
182
Posted 28/06/2021 at 17:48:38
Yay the socialist angle made it in on this topic.
Jamie Crowley
183
Posted 28/06/2021 at 17:49:35
Wait a second, refresh brought new posts.
Mike @ 179 -
Are you saying that this banner has turned your position to one of support for Rafa?
A banner make you do a total 180?
I'm not interrogating you, but if you can explain your position it would be interesting?
For me, a banner posted by fools simply would never change my position to get behind Rafa. It doesn't change the fanbase ire or his body of work / CV which I find lacking, never mind his boring as shit football that will be on display surely.
Andy Crooks
184
Posted 28/06/2021 at 17:50:29
Paul, have a cup of tea and a fig roll. Honestly, it works
wonders. Also, The Blue Union were not as you portray them. Nor do scumbags necessarily produce scimbags. There is always more to stuff than one thinks.
Kim Vivian
185
Posted 28/06/2021 at 17:50:45
Colin - no worries. No offence taken.
Barry Rathbone
186
Posted 28/06/2021 at 17:52:47
My brother, who lives around the corner from the Benitez household, told me years ago Mrs Benitez loves her home so much nothing will make her move. It is a fabulous place with views over the estuary and she has become fully immersed in the local community via business and charitable ventures.
A few ne'er do wells won't affect her or Rafa good blues around her will make sure of that.
Mick O'Malley
187
Posted 28/06/2021 at 17:53:24
Jamie@ 129 Totally agree with you
Mark Ryan
188
Posted 28/06/2021 at 17:57:26
Mikes U turn is nowt to do with the banners really, his real motive is to put a stop to you negative lot boring us all to death, anything but moaning will do ta
Mike I'll let you fight this battle but Jesus H "His football is shit, he's that, he's this" boring !!!!
Sign him up before this lot let rigor mortis set in
Si Cooper
189
Posted 28/06/2021 at 17:57:27
"Rafa's credentials are second to none compared to many" - er, that isn't really the way 'second to none' is supposed to work. I could apply that comment to myself but it doesn't make me a valid candidate.
Anyway, I had become fairly resigned to his appointment and was consoling myself with the idea that he would have to be massively backed by the club because if he isn't an instant and prolonged success the crowd would rapidly be on his back.
This banner changes things (no matter who created it) as now, if appointed, he has to be backed by all fair-minded Evertonians (until he does prove incapable of doing the job).
Jamie Crowley
190
Posted 28/06/2021 at 18:00:32
Mark Ryan -
Be prepared to be bored out of your wits with my continual stream of negativity, bile, and shite, for the foreseeable future, if Rafa is hired!
You can always skip my posts. I won't be able to help myself.
Apologies in advance and cheers.
Robert Tressell
191
Posted 28/06/2021 at 18:00:49
I'm proud to come from a long line of scumbags but we've never defaced any bedsheets or threatened people. We're more your honourable pickpocket end of the spectrum.
Mike Gaynes
192
Posted 28/06/2021 at 18:01:01
Jamie #183, yes, as I stated in my post #125.
Jamie Crowley
193
Posted 28/06/2021 at 18:02:43
Mike -
If I paint a bedsheet that says, "Republicans in the great state of Washington, we know where you live!"
Will you come over to the only acceptable "red" side?
😉
David Pearl
194
Posted 28/06/2021 at 18:06:07
Barry 186
Thank goodness Mrs Benitez does a lot of charity work for those poor souls that live in Caldy. What a shithole it is. I used to live in Heswall and would swerve Caldy all day long. Okay, that was just to swerve running into Rafa but still.
I have resigned myself to his appointment now. But FFS appoint him already and lets move forward with fingers and toes crossed that it works and we play attractive football. Not bloody likely but whatever.
I can't get my head around Moshiri or Usmanov. Did they have anything to do with allowing Sanchez to leave for peanuts or giving Ozil a £350 grand a week contract? I wonder.
Conor McCourt
195
Posted 28/06/2021 at 18:06:29
Now we know what the delay over the weekend has been about. Mr Moshiri and his boss Usmanov were busy with their felt tips and bedsheets me thinks. Genius.
Paul Melling
196
Posted 28/06/2021 at 18:06:30
The abuse being levelled at Rafa Benitez is disgusting and goes against everything that Everton Football Club stands for. We are EVERTON, we are a decent, honest and honourable club. This vile abuse is not like us and hopefully is purely confined to a very small number of idiots that quite frankly don't deserve to be called Evertonians. By all means have opinions both for and against and even protest if necessary, but do not tarnish the image of the club and the vast majority of decent Blues.
Kristian Boyce
197
Posted 28/06/2021 at 18:08:44
Jamie, I can help you with that answer. They all are on the east side of the state, literally all of them.
Pete Clarke
198
Posted 28/06/2021 at 18:09:25
It may not even be true and I'm hoping it's all just a load of shit due to bad press that Rafa will be our new manager. It just cannot be !
However, if it is true and we accept this then we are just accepting mediocrity again. I suppose it will fit in with the mediocre board, players and coaching staff and when we finally move into The new downgraded stadium in the BMD in 2033 we can then change our name to Mediocre FC.


Mark Ryan
199
Posted 28/06/2021 at 18:09:32
Jamie at 190, no offence taken, keep em coming
Barry Rathbone
200
Posted 28/06/2021 at 18:12:52
David Pearl 194
Odd how you conclude her charity work must be "for poor souls in Caldy" I suspect it's very likely not
Dennis Stevens
201
Posted 28/06/2021 at 18:14:00
Kim #112 I don't think your lists are very good - I'd still prefer Potter.
Jamie Crowley
202
Posted 28/06/2021 at 18:14:43
Paul Melling -
By all means have opinions both for and against and even protest if necessary, but do not tarnish the image of the club and the vast majority of decent Blues.
Do you mean the vile banner threatening a man painted by idiots, or a post on this thread?
If a post on this thread, which post is tarnishing the image of Everton Football Club?
Mick O'Malley
203
Posted 28/06/2021 at 18:14:44
Andy@ 184 we'll said, he seems to have a bee in his bonnet and has been repeating that Blue Union nonsense for a while, what that's got to do with excepting Rafa Benitez is anyone's guess
Mike Gaynes
204
Posted 28/06/2021 at 18:17:02
Jamie #193, the red side is always unacceptable, in any and all circumstances and venues... be it the RS, Red China, Red Square, or your benighted political party. ;-))
However, you of all people should understand a visceral reaction. Your opposition to Rafa is, first and foremost, based on your visceral reaction to his 2008 comments. You still write about it with raw emotion.
Anyway, to be clear, I had no intention of backing him. I will now.
Kim Vivian
205
Posted 28/06/2021 at 18:17:23
Is he out of work and available, Dennis?
Dennis Stevens
206
Posted 28/06/2021 at 18:21:11
Is that the prime consideration when seeking to appoint a new manager?
What next - he doesn't live near enough?
Jamie Crowley
207
Posted 28/06/2021 at 18:21:42
Mike -
Being the king of visceral reactions, I do indeed understand!
I think, upon reflection, it would not make me change a position on Rafa.
Either way. You're entitled to do whatever you want, obviously!
I just can't get behind the man.
Cheers.
Mike Gaynes
208
Posted 28/06/2021 at 18:21:47
Dennis #201, that list was of unemployed and available managers. Potter is neither. He's signed at Brighton through June 2025.
Derek Knox
209
Posted 28/06/2021 at 18:23:27
Can I please correct some of the misconceptions in these posts, they were NOT Bedsheets, they were old Usmanov shirts with the Collars and Sleeves removed! :-)
David Pearl
210
Posted 28/06/2021 at 18:27:50
Barry 200.
I was just joking. Caldy is one of the most beautiful villages in the area.
Mike, l get you are naturally protective of people. The banners are out of order. I'm sure the Caldy neighbourhood angels will be on high alert now.
I just don't understand the hold up. Just announce it and lets all move on. I'm sick of it. Not many Evertonians want him but what can we do but support our team... even if we are witnessing a slow motion train wreck being driven by Moshiri
Neil Cremin
211
Posted 28/06/2021 at 18:27:54
I must say the thread here is encouraging and a credit to our club
Thanks Kim for displaying the options.
From A list I would only consider Favre but would also consider Galtier (between jobs) both are risks as they are new to PL and we all saw what happened to De Boer
All the rest probably would want to buy success and run like Carlo when they fail.
Of the B list my preference was Nuno but his appointment at Palace, us and Spurs seems to be stalled on his back room staff demands.
Hence Benitez is best of the rest and possibly better than Nuno but more divisive to fanbase.
Make the decision along with some tasty transfers and move on
Dennis Stevens
212
Posted 28/06/2021 at 18:27:57
Mike, that might be why I said that I didn't think the lists were very good.
Mike Gaynes
213
Posted 28/06/2021 at 18:29:19
Jamie #207, I understand your reflection, but if you'd lived for months with a racist banner across the street from your house, displayed by the elected local Republican leader and targeting your pacifist and entirely apolitical wife, you would definitely fucking feel entirely fucking differently. About banners and maybe other things too.
So, if he's named, go Rafa. Win games.
Ian Horan
214
Posted 28/06/2021 at 18:30:04
None of us on ToffeeWeb have spunked over 500 million and got fuck all for it, I think we need to remember Moshiri and Usmanov will want a safety net to protect their investment. We have got nowhere near UCL. Maybe this the new strategy, build BMD then get out of dodge city and back to London...
Jamie Crowley
215
Posted 28/06/2021 at 18:32:28
If it was directed at me, it wouldn't bother me, Mike. But whatever happened to you and your wife personally, I will say it's abhorrent and if I lived near you I'd have walked over, poured gasoline on that banner, and lit the fucker on fire for you, no matter what the consequences.
Some people just hate. It's what they do. Pond scum.
Kim Vivian
216
Posted 28/06/2021 at 18:32:35
Dennis - Perhaps it should have included Potter (and a few others) but then it would be a different list would it not?
Mike Gaynes
217
Posted 28/06/2021 at 18:33:14
Dennis #212, got it, but we'd have to buy Potter out of his contract, and the last time we went out and purchased a manager it didn't turn out very well. Personally I prefer one that we don't have to buy... or beg.
Kieran Kinsella
218
Posted 28/06/2021 at 18:35:35
I Suspect the culprit is a left handed hotel worker, maybe a porter, someone in the maintenance department who has access to the linen closets. Probably a first shift worker.
Dennis Stevens
219
Posted 28/06/2021 at 18:39:32
Indeed, Kim it would - it'd be a better list, imo. However, I'm not requesting that you change your list, merely commenting on it & expressing my own personal preference (not from the list).
Mike, I don't think the issues we've had with recent managers are related to whether we bought out their contract or whether they were readily available, & I doubt it would be a factor in future.
Benitez won't be any better or worse for being available - he'll be Benitez.
James Flynn
220
Posted 28/06/2021 at 18:41:04
Will (161) - Thanks.
I'm hoping Brands has been thinking along the same lines and with the manager signed, starts bringing in those types of players so we can all say "I like it."
Fingers crossed.
Brian Williams
221
Posted 28/06/2021 at 18:42:40
David#194.
for those poor souls that live in Caldy. What a shithole it is. 
I'm sure the Caldy millionaires would disagree. 🤣🤣🤣
Mike Gaynes
222
Posted 28/06/2021 at 18:43:30
Can't argue that, Dennis. He won't, and he will.
Brian Wilkinson
223
Posted 28/06/2021 at 18:45:30
Kieran@218, I have never met you, but I have built up an image of you wearing a mackintosh, smoking a cigarette, then saying just one more question.
If you are from a younger generation, then Columbo will go right over your head.
Derek Knox
224
Posted 28/06/2021 at 18:47:46
Kieran @ 218, Aha, you are without doubt a scholar of Homes (no shit Sherlock !) but rather more about Borstal Holmes! :-)
John Skelly
225
Posted 28/06/2021 at 18:50:20
I for one would accept him this old idea of club loyalty is way past it's sell by date, I hope he is a success charging forward to our new stadium.
Brian Murray
226
Posted 28/06/2021 at 19:04:51
Mick post 203. At least the blue union boys try or tried to force the main problem out of the club. You seen the power of villagers and pitchforks at the piggery over the park. We just grumble meekly and wonder why we are so badly run with no plan b or strategy.
Kim Vivian
227
Posted 28/06/2021 at 19:05:16
Irrelevant so far as the list goes but regarding Potter - I followed him as soon as he started making waves in Sweden particularly in respect of his team bonding reputation so was not surprised when he appeared on the radar of a few English (Welsh) clubs.
He seems to have done a pretty good job keeping Brighton up despite his low win percentage but by achieving a high pecentage of single pointers, whilst also being reasonably entertaining, so one can agree his credentials seem pretty good.
If we were in a stronger position squad wise I think he would be a good consideration but right now it would be a big risk and pretty expensive to buy him out of contract at Brighton (with 4 years to go).
I'm sure he will have been considered but I can understand why our board at this time have perhaps swerved him. Benitez is clearly the more pragmatic option but pragmatism is what we need right now to keep us safe and attempt to provide a foundation of sorts on which to build.
Derek Knox
228
Posted 28/06/2021 at 19:19:50
I wonder if the Croatian Player with a Time Bomb tattooed on his neck will have inspired the Board to all get similar Body Art as a reminder of their ditherings!
Kim Vivian
229
Posted 28/06/2021 at 19:24:36
Sky Sp news: Swansea have completed the signing of goalkeeper Nico Defreitas-Hansen from Everton on a free transfer, subject to international clearance.
!!!! Who ??
Jerome Shields
230
Posted 28/06/2021 at 19:26:23
Tony#79
This Management recruitment process had resistance as part of it from the start with obviously Kenwright favourites mentioned from the start and Big Name Managers being Moshiris favourites. There differences prolonging the process and being played out in the Media. Even Big Nev gave us the Stalwarts view on Benitez.
After Nuno set out his radical change conditions Benitez came into the frame, with his leave it to me approach. I have always thought that the public pronouncements of Anchelotti, would have manifested as a few home truths by Anchelitti for the benefit of Moshiri, behind the scenes and they would have a determined part in the recruitment process. Anchelotti was very much a Moshiri/Usmanov and Benitz was always going to find favour with them as, a Big Name who was tuffer and nastier than Anchelotti, able to push forward the Anchelotti plan.
The whipped up emotions has resulted in partisan protest, now even with mob incited acts.
John #79 as you say is right regarding the danger to players attitude. They have been used against Managers before and imo been willing participants.
I know where you are coming from regards the Transfer Budget and your motives are right. But I do not expect a big change from previous Summer Transfer Windows with a attempt to move deadwood and then Moshiri realising funds in the second week of August.
I expect Benitez to start head on. A meeting with Big Dunc is already been talked about regarding his role. Benitez will make it clear what he wants and Big Dunc position in that. He will name his team early, not like Anchelotti. Being a Big Name Manager he will be expected to talk to the Big Name players. He will want to improve on the existing Anchelotti plan on the training ground and add his players in the Transfer Window. It will be a shock to system at Finch Farm where probably little has been done since Anchelotti left.
This is the way I see it playing out and continuing in the same vein, throughout the season. The problem is the resistance will be still there below the surface, because the Everton Establishment do not want Benitez and Moshiri/Usmanov cannot parachute a Manager in hoping to change a whole organisation, that needs change from Top to Bottom.
Benitez has taken on a Tuf job and think expect he will be determinedly back by Moshiri and Usmanov. He is their Man.
Jay Hughes
231
Posted 28/06/2021 at 19:29:18
People need to get over themselves about those "threatening" banners. If they knew where he lives they'd have put them in the right place FFS.
How many of us on TW haven't ruined a few bedsheets in our time?
If I hung my bedsheets on the wall Outside my house they'd cause more offence than those in Caldy.

Christy Ring
232
Posted 28/06/2021 at 19:34:03
Targeting his wife and family, totally shocking and definetly not a true Everton fan. If Benitez is the choice, why the huge hold up, not my choice, but appoint him, start sorting out the squad, the longer it goes on, the more divided it's going to get.
Tony Everan
233
Posted 28/06/2021 at 19:35:15
Whether you want Benitez as manager or not I bet 99% of Evertonians will be disgusted by this threatening banner.
I just hope that Benitez and our Club's owners understand that.
Don Wright
234
Posted 28/06/2021 at 19:40:39
Why does every man and his dog put this down to a blue it could be someone from the dark side wanting to make us look bad or some darksider not wanting the FSW to ruin his legendary status jury is out until proven guilty.
Phil Wood
235
Posted 28/06/2021 at 19:56:57
Absolutely disgusting and unacceptable behaviour by whoever did this and shame on the people who denigrate Our Club by the vile banners and postings on other sites.
If Rafa is named as Manager then I will give him the same support I would give any Everton Manager.
If it is true then Welcome Rafa and Good Luck!
Derek Knox
236
Posted 28/06/2021 at 19:58:42
Jay @ 231, I can wholeheartedly recommend Imodium, it even works while you sleep ! ;-)
John Charles
237
Posted 28/06/2021 at 20:22:04
The banner, whilst abhorrent doesn't make Benitez a good manager or a good choice for us. Not sure how these are being conflated by some. Crap banner
Crap manager
Brent Stephens
238
Posted 28/06/2021 at 20:28:33
Kim #229 - U16?
Mike Gaynes
239
Posted 28/06/2021 at 20:32:15
Kim and Brent...
Reserve keeper for the U23s this season. Three appearances.
Chris Hockenhull
240
Posted 28/06/2021 at 20:41:00
237= Crap Fans sunbeam. Lest not forget
Chris Hockenhull
241
Posted 28/06/2021 at 20:44:18
234. As Steven Stills wrote…"Paranoia Runs Deep@😜😜
Paul Hewitt
242
Posted 28/06/2021 at 20:47:48
Will Benitez be appointed in time for the Southampton game?
Ron Sear
243
Posted 28/06/2021 at 20:50:27
I suppose we will always have to deal with the one percent of 'fans' simply do not understand how to behave in a half way decent way to other people. Personally I'm quite happy with Benitez giving it a try but if you think it's heated now just wait for the first Derby. What will the score have to be to bring Everton fans onside?
Mark Taylor
244
Posted 28/06/2021 at 20:51:31
I think I have it, this is a smokescreen and when the announcement comes that Big Sam is having a second go, like HK before him, we will all be too exhausted and supine to complain.
Tony Abrahams
245
Posted 28/06/2021 at 20:52:24
They had an Evertonian student from over the water responsible for the fireworks display at the liver buildings, those reds, even though the kid was at home in bed, so I'd put absolutely nothing past "some of them" if I'm being honest!
Peter Mills
246
Posted 28/06/2021 at 20:54:23
Chris#241, he also wrote "Love the one you're with".
We may have to learn to do so!
Brian Murray
247
Posted 28/06/2021 at 20:54:26
Ron post 243. One of his ghost goals will do as a winner in the derby. Aka champ league semi.
Bill Gall
248
Posted 28/06/2021 at 20:55:16
Another manager to look at. Scott Parker left Fulham by mutual consent, does he now something we don't ?
Neil Copeland
249
Posted 28/06/2021 at 21:11:06
Bill#248, he is going to Bournemouth according to recent press reports
Neil Copeland
250
Posted 28/06/2021 at 21:11:50
Paul #242, is that the home or away game?
Sean Kelly
251
Posted 28/06/2021 at 21:42:15
Benitez is not my choice but the top managers won't come here unless bribed. I don't care who put the banners up. They don't represent me. Putting them outside his gaff is appalling. Muppets.
I hope the moderators pull them up on their grammar and spelling. FFS.
The board need to shit or get off the pot as the longer this saga goes on the opposition will be doing their business and showing us up again. Typical Everton fucking around.
Kevin Prytherch
252
Posted 28/06/2021 at 21:48:25
Maybe it's all a ploy so we can appoint Ferguson as interim manager. Then we can see if he's up for the job without ever actually appointing him.
Howard Don
253
Posted 28/06/2021 at 21:58:49
Banner hangers are a disgrace to the Club. Benitez wasn't my first choice, but he's a top manager, he's still ambitious and, more importantly, love it or hate it, he's going to be the manager of Everton Football Club.
I got my first season ticket in 1962-63 season, never failed to support anyone playing for or managing my club, and I ain't going to start now. Time to get behind the new guy.
Dan Nulty
254
Posted 28/06/2021 at 22:03:37
They need to just get this done. Albeit I'm still hoping we've lined up Mancini.
John Beesley
255
Posted 28/06/2021 at 22:06:20
I do not know where people get off calling this man a good manager. That is why Liverpool sacked him, Inter Milan sacked him, Chelsea did not want him and he pissed off to China on Newcastle. But most of all this fat ex Kopite who called us a small club from inside our old ground is going to become our manager, this is a disgrace. I don't give two fucks about this Moshiries money anymore and wish he would just piss off for even suggesting that this man becomes our manager. How much lower can Everton sink, I am not giving my season ticket up but I am going to the first match if he is hired and for the first time in my life booing when he walks out and leaving Goodison before kick off and selling my tickets on Stub Hub and will not be returning until this fat prick is sacked.
A very very sad episode in the history of Everton and just like Vincent Tan made Cardiff wear red you have got to be careful with these shithead disrespectful billionaire owners,
Brian Wilkinson
256
Posted 28/06/2021 at 22:06:35
Tony@245, my thoughts as well, got to be a few Reds not wanting Rafa at Everton, throw in the making Everton fans look bad, and it's a win win for them.
Sean O'Hanlon
257
Posted 28/06/2021 at 22:07:46
Dreadful state of affairs.
The club is about to implode.
Anthony Dove
258
Posted 28/06/2021 at 22:20:38
Hope the club will at least have the decency to
announce the appointment before tomorrow's
deadline for season ticket renewal. If it is announced tomorrow I wouldn't renew if you
put me in the rack. If I have to renew in the
remote hope that it won't happen, I unfortunately
have no no doubt that there will be plenty of
people willing to take the ticket off me.
Everton FC 1878-2021.

John Chambers
259
Posted 28/06/2021 at 22:22:54
Wonder what chance the announcement will be tomorrow when nearly all the press focus will be on England v Germany?
Dave Evans
260
Posted 28/06/2021 at 22:36:29
I'll tell you what a small club does, it fanny's about for a couple of weeks negotiating a contract with an interviewee.
We should set out the terms and conditions for the vacancy. If the prospective manager doesn't agree to the basis of them within a couple of days, we move on to another candidate who will.
The continuing delay and silence shows a total disregard for an increasingly confused and embittered fan base.
The board rooms current behaviour has an equivalence in that of slow, cut-back, ticky-tacky football.
And it's just as exasperating.
Allan Board
261
Posted 28/06/2021 at 22:56:56
Not sure I understand why this is taking so long to be announced. If it's Benitez, then just get on with it!
I reckon they are waiting for one or two managers to exit the Euros myself. I hope I am right as I think Benitez would be a catastrophe; nothing to do with him managing Liverpool – I just think he has had his time and much too negative anyway.
Club management is very different to international and these guys all have egos, which are massaged regularly at club level, so I wouldn't discount Martinez or my preferred (always has been) choice: Mancini.
I suppose it depends on the real intentions of the owners: success on the pitch or massive profit from selling up when the new stadium is built at Bramley-Moore Dock and the area regenerated.
It just seems they don't want a manager who takes no shit from anyone, including owners – but they are invariably the winning managers. We will see soon enough.
Paul A Smith
262
Posted 28/06/2021 at 23:00:29
Club undermining the majority of hardcore fans again. Pundits and imposters like Alan Myers doing their best to undermine Evertonians with their little brainwashing subtle hints towards supporting this clown.
This is beyond disrespect to our fans, it's beyond embarrassing. A massive lover of Liverpool in charge of Everton, dictating to legends and coaching staff.
This feels worse than when Barmby went to them rats.
Neil Cremin
263
Posted 28/06/2021 at 23:03:48
Classic example of expansive football, great going forward but very poorly organised in defence.
Winning 3-1 with 15 minutes to go... and out. We had that with Martinez and ended up bottom of the league. With Carlo, we had a woeful defensive record, hence all our losses.
Having a manager who builds a team based on sound defence will do me fine.
Paul A Smith
264
Posted 28/06/2021 at 23:09:56
Brian @177, spot on. Today's virtue signalling makes me want to vomit sometimes.
I'm not being funny (and I couldn't do something like that) but this is what happens when the club disrespects its own fans by trying to install a Liverpool legend as manager.
Everybody behaves differently and there is no doubt we have a section of supporters who will take things to a dodgy level. How it turns people's thoughts, I can only think it's really to justify letting the board take the piss with this ridiculous idea.
Ian Riley
265
Posted 28/06/2021 at 23:36:29
I support Everton FC and really couldn't care less who the manager is.
If it is Rafa? Welcome and good luck. This complete crap that he was Liverpool's manager and can't manage Everton? Results will determine his fate and nothing else – just like every other manager.
After the past year of living through a pandemic, surely life itself is more important and Rafa as our manager is trivial. The banners don't represent the club or me and the 99.9% of fans. Remember we support Everton FC!!
Si Cooper
266
Posted 28/06/2021 at 23:38:32
Paul A and Brian (177),
I don't think you get general human nature if you don't think such reprehensible behaviour can cause a change in sympathy towards someone.
For instance, it suggests that Benítez is whole-hearted in his desire to come and do a decent job as Everton manager. Why else would he put his family at risk of the fallout if he stinks the place out? That is enough to weaken the idea that it is just another payday or that 'Agent Rafa' has been activated.
I also think that most supporters would ultimately decide that supporting the club is paramount – irrespective of who the manager is. And now, some who might have been inclined to show dissent will be more inclined to bite their tongues lest they get lumped in with those who are threatening actual reprisals. That isn't 'virtue signalling'; that is just recognition that decent folk don't want to be associated with out-and-out scum.
John Boon
267
Posted 28/06/2021 at 23:59:36
Supporters are just plain frustrated that it is taking so long to make a decision. Whatever it is, it will not be accepted by all. Just do it.
Derek Thomas
268
Posted 29/06/2021 at 00:21:06
I said nothing would happen until the end of June; the club don't like paying staff to sit on the beach in June.
The 'bad news' will be buried in all the England v Germany hype.
We get to pay a semi-retired manager millions to maybe get 7th on a good day... and he is semi-retired – he's already taken the easy China money option.
I'm going to take a lot of convincing.
Dwayne Perkins
269
Posted 28/06/2021 at 00:31:40
Paul A, bang on the money.
Whilst I don't agree with targeting him at home, our board need to know how some, if not most, of the fans feel about this appointment, should it happen.
For far too long, Everton fans have been told to stop behaving like kopites when we disagree or protest at what our club does or doesn't do. The last time the shite marched, I think was due to increased ticket prices and then the Super League: the tickets were dropped to their original price, and they dropped out of the Super League. Which club is more effective at getting change? You tell me...
So, before fans start accusing me of being a Kopite, I've been going to the match since I was 8. I'm 53 now, with 2 season tickets. I've introduced my son into the club; he has only experienced disappointment. For once, I want the fans to kickoff and let the club know Rafa isn't the answer and neither is big Dunc.
For me, a wholesale clear-out of the backroom staff, Kenwright and the Old Boy network – otherwise, nothing will change. Carlo I think realised this, which is why he's no longer our manager.
Mediocrity, season after season, regardless of who is in charge or who we sign. If our fans want to kickoff, they've earned the right. More than 38,000 paying fans go to the game who have a voice, it's high time the board were reminded of that because, for far too long, we haven't made our feelings known and, until we do, we will always be in the shadow of other clubs. Leicester City… for fuck's sake, have done more than we have, sad as it is to say. Someone please tell me why?
Phillip Warrington
270
Posted 29/06/2021 at 00:34:37
I think we should be thankful for any manager who has won trophies and who wants to manage Everton FC. Let's be honest, Everton FC and Moshiri have become the biggest joke in world football.
Ian McAvoy
271
Posted 29/06/2021 at 00:58:11
Every club has a fringe of extreme fucktards that are all mouth, no trousers. If he is appointed manager, we need to get behind him and support the club.
Not my first choice but I am an Evertonian and support the team – no matter how good or shite they are. I've seen both versions.
Laurie Hartley
272
Posted 29/06/2021 at 01:20:00
Andy #184 – "There is always more to stuff than one thinks". Love it, Andy. ;)
Si Cooper
273
Posted 29/06/2021 at 02:05:13
"Whilst I don't agree with targeting him at home, our board need to know how some, if not most, of the fans feel about this appointment, should it happen."
Dwayne, have you been living under a rock (as the saying goes)?
The whole story is that the board are aware of this, which is why it is not already a done and dusted deal.
One final question: Do you think it is important whether it is 'some' or 'most' of the fans?
Albert Perkins
274
Posted 29/06/2021 at 02:35:07
I'm whole-heartedly in agreement that this threatening smack talk is out of order. However, this has been created by the appallingly low level of conversation between political parties, both in the USA with Trump and in the UK with Boris and Brexit. Hate talk has become normalized and this is one of the outcomes.

Kieran Kinsella
275
Posted 29/06/2021 at 03:27:53
Mike Gaynes,
I haven't had the same 180 on Rafa as you but I'm fortunate that I don't have a personal precedent in my life that would inevitably make me feel exactly how you feel now. So respect to you, mate, for as always sticking to your principles and building on your life lessons for the greater good.
I deplore what happened to the man. I just think he's a poor choice but at the end of the day, he's one face in the crowd and I support Everton as opposed to any individual.
I know, being honest that at the first sign of trouble I'm pre-disposed to react negatively to Rafa. I hate the Fat Spanish Waiter term as I suspect many on here are fatter than the man and it's kind of juvenile. But I totally respect and understand your view, Mike.
Lester Yip
276
Posted 29/06/2021 at 05:16:14
I personally do not have much negative feeling about the appointment of Benitez if it's true. But I can see some fans really dislike his appointment.
If this is the case, I will be surprised the club ignore this altogether and press on. You'll already be on the back foot dealing with the fans unrest before anything. It would be a huge mistake.
Therefore, I still think he's just a smokescreen.
Frank Wolfe
277
Posted 29/06/2021 at 06:10:15
If Benitez is appointed, then I will support him fully and hope he proves these gobshites wrong.
The club was left in a really difficult position with Ancelotti resigning so suddenly - The Euros being on doesn't help either. We need an experienced pragmatic manager who players will respect and Rafa Benitoez fits the bill. Not really time to cast our net wider or take a chance with someone unknown.
IMHO, there is no way that you could appoint Big Dunc at this stage. He's had a good apprenticeship under a couple of managers but, if he really wants to be a manager, then he needs to cut his teeth with a lower division club first. Having said that, I do hope he stays on with the club for now for the sake of stability.
Danny O'Neill
278
Posted 29/06/2021 at 06:19:56
Well, if we are to believe some of the recent media rumours, today is the day. Part of me does think the longer this drags on, it too, like Nuno "on the verge", might not happen. Has the club got cold feet? Has Rafa? Have both?
At least it gives me the opportunity to let my head run away with unrealistic thoughts for a period. So, how does this work out from here?
1. It is Rafa and they announce it as we are on our 4th drink during the England v Germany match. The "gutted" are put out of their misery. The "disappointed" Danny's are left disappointed. The "satisfied" and "made up" will probably be okay but no doubt a few will take a reflective gulp or dry baulk at what lies ahead now that it's real!!
2. It doesn't happen either for what I say in my opening or, that all along we've been talking to one of the Euros coaches. Please don't be Southgate.
3. The club has been reading my ToffeeWeb posts and I've planted some options in their mind that they have been pursuing.
4. No-one wants us and we have to make an embarrassing and scrambling fall-back appointment of Duncan Ferguson. That's not a dig at Duncan by the way. No, I wouldn't want him as manager. It would just be a bit of an embarrassing scenario given how long this has rumbled on. Surely if Duncan was their man, he'd have been appointed straight away.
Anyway, in the real world, the dogs need walking. I'll talk them through the different scenarios and see what they think.
Si Miles
279
Posted 29/06/2021 at 06:34:45
The supporters that did this are no doubt deadbeats. I can picture them now: Mountain bikes, black Nike, black trackies and stinking of weed. Bellends.
Alan J Thompson
280
Posted 29/06/2021 at 07:32:55
I can see a movie in this: Bill Kenwright Films presents – A True Blueblood, about the hero from a modest background rising to save the love of his life, from the brink of bankruptcy to the heartbreak of selling England's greatest talent and forming a consortium fighting off foreign take-overs during Brexit to build it and, with the right manager and a couple of results, they will come! Boardroom battles against the enemy within.
Probably Richard Gere as the younger hero and Robert Redford at a later age, Jenny Seagrove as the charitable CEO and Orsen Welles as the evil Johnny Foreigner. Filmed entirely on location at an aging dock, similar football ground and iconic building.
Quick, somebody, whip out and get Bill a couple more pencils before he stops saving us money by naming the new manager on the 1st of the month.
Bill Fairfield
281
Posted 29/06/2021 at 07:47:00
The only thing that matters is what's happening on the pitch. If Benitez can improve on the absolute garbage of the last few seasons, then good luck to him.
Brian Murray
282
Posted 29/06/2021 at 07:47:59
Alan. With all this drama it's not really like Bill to make a song and dance about it! Sorry couldn't resist.
Fellow poster Lester Yip I think reckons we are waiting for Mancini and this is all smoke and mirrors. Now that would be a blockbuster with a happy ending.
Mark Murphy
283
Posted 29/06/2021 at 07:51:48
Si - you sound like my dad.
Kim Vivian
284
Posted 29/06/2021 at 08:16:35
I don't know if he's available, able or willing but I wouldn't mind seeing Jurgen Klinsmann in the frame for consideration.

Kevin O'Regan
285
Posted 29/06/2021 at 08:26:32
The Banner is disgraceful – and embarrassing for this once-proud club. Same as any form of discrimination, threats or abuse – it has no place at our club.
Protest if you want, but do it without the threats or abuse.
@ Kim Vivian (284) – forget Jurgen... he was found out a long time ago. Not up to the task.
Paul A Smith
286
Posted 29/06/2021 at 08:35:44
Si Miles – how snobbish and from the stories I have heard, it's a pathetic guess.
Si Cooper – what a load of shit. The change of heart is total social media bandwagon behaviour. Nobody is going to kill him – it's football fans, not ISIS.
The general human nature, turn it in, you would think we have requested he be harmed, the way you are going on.
I haven't got an issue with anyone condemning this act but to change your mind because of it...
Jim Lloyd
287
Posted 29/06/2021 at 08:37:34
Kim Vivian (227) good post.
Danny, I hope your early morning walk has eased your mind and your companions have given you good counsel.
Alan, Kenwright will not only be looking at producing an epic film on Broadway, he'll be wanting to produce a blockbuster play for the West End Luvvies to be entertained.
I'll be supporting Benitez if he is chosen. I think he's been looked at by the board with their full knowledge of the potential reaction from a number of us.
Spurs and Crystal Palace have both been looking for a new manager, and as far as I know still are. I can understand the anxiety from some fans, maybe most of us (including me!), for the club to get a move on in naming the next manager. However, Spurs sacked their manager in April and still haven't got a new manager. They have a guaranteed European competition for next season and a brand new stadium to attract a new manager, yet they're still managerless Crystal Palace? I guess Roy Hodgson told them well before the end of the season that he would be leaving (I see him as an Honourable man).
So Our club, is in a much more desperate position. It's understandable that they want to get the best manager (that will come) who's available and it's taking time to process. No wonder!
But I think think that Ancellotti bailing out for whatever reason, has totally fucked up the club's plans for transfers, both for recruitment and seeing the dross shifted from the squad as soon as possible.
Not only that aspect though, is it? We are hoping to see the building of a new home for Everton in a couple of years and the above plans have gone out of the window, as the previous manager's reputation in Europe to attract players was part of the plan... knackered now thanks to Ancellotti pissing off. (I think he's gone because he saw how bad we were and the enormity of the task he was facing, him... getting his house broken into might have been a factor as well.) For whatever reason, he's gone.
So the club is face with rebuilding a recruitment and redundancy policy to get better players into the squad, either buying in or from the Under-23s or both.
We need to provide an alternative strategy with (hopefully) Brands and a new manager attracting the best players we can. Difficult now that Ancellotti's gone. Brands and Benitez looks like the best option available to us for attracting players from throughout Europe, now that Nuno seems to have disagreed with the board over something.
I think the popularity chart of picking favourite managers is interesting but none of us knows all the factors going on within the club in picking a new manager. For my part, I see the criticisms of the Owner (and maybe Usmanov as well) and wonder. I wonder where'd we'd be if Moshiri had not come in and poured hundreds of millions into the club, and Usmanov not poured 10s of millions into the club (up to now).
Well, I remember Kenwright in charge and that was the dimmest 20 odd year period (enlived a bit by Moyesey at times) that I've seen in 60-odd years in watching my club. 'If' is the word, but if Moshiri and (maybe Usmanov) hadn't come into the club with hundreds of millions, we wouldn't be in this position now.
We'd probably be in the Championship. So, if Benitez is coming to the club, I'll give him my support.
As for the antics of those so-called supporters: disgusting and counter-productive.
Colin Glassar
288
Posted 29/06/2021 at 08:45:25
Guys, it's time to stop the naming of your/our preferred choices for manager. Benitez might be appointed manager today (4:55 pm?). Not many people want him but it's who we are stuck with for the foreseeable future.
Derek Knox
289
Posted 29/06/2021 at 08:51:12
Bah! Humbug. :-)
Kim Vivian
290
Posted 29/06/2021 at 08:54:18
That's my pub quiz team, Derek - Bar Humbugs - didn't realise we had such esteemed support.

Gary Hart
291
Posted 29/06/2021 at 08:56:21
The poor grammar, punctuation and misuse of apostrophes on some of these banners is shocking!
Barry Hesketh
292
Posted 29/06/2021 at 08:58:55
I think we might have to wait until 1 July before the appointment of Benitez is formally confirmed, possibly due to some accounting rules or FFP, or even maybe because some clause in Ancelotti's contract stipulated a time frame before we could replace him. I wouldn't be building my hopes up that the club will suddenly appoint someone other than Benitez.

Andrew Bentley
293
Posted 29/06/2021 at 09:07:03
The club will be aware of the general ill feeling towards this potential appointment (probably a little understatement!) and so let's hope that they plan to make this more palatable by investing heavily in the playing squad to give us a fighting chance of doing something this season.
If there's little to no investment, then they would basically be hanging Benítez out to dry before a ball is kicked.
I'm not a fan of Benítez as I think his time is done, like many of that era (eg, Mourinho). But if the choice is him with significant investment in the team then I'd take it, as we need to make a decision and get moving ahead of the season starting – and most other managers I'd prefer aren't an option at the moment.
Kim Vivian
294
Posted 29/06/2021 at 09:16:22
Andrew,
I think significant investment in the playing squad is a pre-requisite, whoever we get. Whether we see that perceived level of investment remains to be seen. It could just be that the board are basing their decision on who they predict might get the best results using the existing toolbox, with maybe a couple of new bits from Aldi.
Michael Lynch
295
Posted 29/06/2021 at 09:17:08
The banner is pathetic, but let's get a sense of proportion: it's a handful of bellends embarrassing themselves and our club – it's not a huge crowd pelting a coach with bricks, or setting fire to the Liver Buildings, or pissing and shitting their way across the city when we're supposed to be in lockdown.
Whoever did it should be ashamed of themselves, but it's a tiny minority of a tiny minority of fans.
Paul Hewitt
296
Posted 29/06/2021 at 09:24:15
Wonder how closer he is to signing today?
Nicholas Ryan
297
Posted 29/06/2021 at 09:38:03
Unlike those who created this banner and then put it outside the wrong house (Jesus Christ!), Snr Benitez appears to have some balls.
I for one, don't care about his previous Liverpool FC connections; my worry is whether he's 'yesterday's man'. He clearly think's he isn't; let him prove it.
If at Christmas we're in a European slot, he'll do for me; if we're in a relegation slot, he can go.
If anyone thinks these views make me not a 'proper' Evertonian, I've attended [just about] every home game since 1975; dozens of away games (some of the early ones with Rob Halligan); I've been there when we won the League, I've been there when we won the FA Cup, and I was there when we won a European trophy.
ps: A friend who is a life-long Newcastle fan has just told me: "I'd have him back in a heartbeat."
Paul Melling
298
Posted 29/06/2021 at 09:43:22
Jamie #202: certainly not on this site.
Derek Knox
299
Posted 29/06/2021 at 09:52:08
Gary @ 291, their geography is appalling too, apparently it was emblazoned on the wrong property! I would recommend Evening Classes for the individuals concerned, but they are probably out involved in nefarious activities, and would miss them.
Jim Lloyd
300
Posted 29/06/2021 at 09:53:30
A tiny minority? It is; but Bell Ends or are they Nasties, who knows?
The banners outside the ground, the writings on the walls round here... Yep, no big problem... but it gives the press a whale of a time. We've still got a "Silva Out" in one of the streets leading up to Goodison Road. (You never know, it might come in handy if he's signed again.)
But that banner supposedly outside his house wasn't a matter of numbers, it was a matter of intimidating an innocent family.
As for the "Always the victims, never to blame" – Michael Lynch is spot on. No retribution for the intimidation of the the Man City players going up Arkles Lane. No headlines in the press either.
Gerard Pauls
301
Posted 29/06/2021 at 09:56:16
I suspect that the appointment of Benitez will happen today under the radar of Innggeerrrland playing to hopefully lesson the noise of disgruntled and angry Evertonians. I wouldn't be at all surprised that the delay in the appointment was to finalise one, maybe two transfer announcements to 'sweeeten the anger' of the fans.
One newspaper today says Benitez has signed a 3-year deal – no financial detail given but it must be in the region of £6 million a year to make him take over at Everton.
Anyway you look at it, Benitez is thick-skinned and will ignore any bile directed at him... he's on a sure=fire winner: bring any sort of success, he wins... makes a total bollocks of it all and he gets sacked. Ching-Ching – another £15-18 million in the bank to go with his Chinese fortune. Tough being a Premier League manager??
John Cook
302
Posted 29/06/2021 at 10:12:01
Regardless of what salary or other personal conditions Benitez is getting, he knows the City and the rivalry and one thing you have to say about him is he's got balls!
Mark Ryan
303
Posted 29/06/2021 at 10:36:04
He's not putting his family's safety and comfortable lifestyle on the line to simply be sacked and take the cheque. I believe he feels he has plenty of work to do and relishes the challenge of moving us ahead of Liverpool, especially with the prospect of having a new stadium.
I'm sure he wants to know "what will my footballing legacy be?" and I really hope it doesn't fizzle out for him and become about some stained bedsheets. I think he has the talent to bring us success.
I, like us all, want Everton to succeed and he might just be the right man at the right time to do this... NSNO
Si Miles
304
Posted 29/06/2021 at 10:37:03
Mark @238 🤣🤣🤣
Steve Tissington
305
Posted 29/06/2021 at 10:38:21
Agree, Gerard, it's the perfect opportunity to announce today, probably pre-match some time. Then when the England result is taking everyone's attention...
Paul A Smith
306
Posted 29/06/2021 at 10:41:12
Our own fans suggesting it will be announced today under the radar of the England game. Some even suggesting before kick-off.
Doesn't this just show what an ignorant, pathetic club we are and what we have come to expect?
We become less Everton on a daily basis.
Mick O'Malley
307
Posted 29/06/2021 at 10:42:08
Paul A Smith,
I couldn't agree more, the banners are shameful but I won't change my mind on him becoming our manager.
I'm gutted, I don't want him anywhere near Goodison Park.
Alan J Thompson
308
Posted 29/06/2021 at 10:44:22
£6M a year! Somebody has to be joking.
How about £20k a week with a bonus scheme to a max £50k pw and the club has an option to terminate without compensation if we spend 4 weeks below 11th place or don't advance beyond 2 rounds of any cup competition, and on a season-by-season rolling contract.
It's not as though he has to uproot the family to a part of the world they may not fancy.
Brian Harrison
309
Posted 29/06/2021 at 10:46:45
I think this appointment will raise many questions, the first being what is the point of Marcel Brands as reports suggest this appointment is solely at the door of Moshiri and Usmano?
The other question has to be what is the point of having Duncan Ferguson as an assistant coach for the 5th time, surely if he has any ambition at all of managing this club he needs to manage a club, just like Neil Critchley left coaching Liverpool U23s to manage Blackpool, and a good job he is doing as well.
The one big change that has happened in the past 12 months is the lowering of the average age of our U23 squad. Seeing Brands has been here a couple of years and not done this I guess this must have been down to Ancelotti. Having 21 year olds playing in this group shows that the U23 system is not up to scratch, most of the top sides their U23 sides are filled with 18-year-olds.
Our lack of producing good young players for the first team is very poor, apart from Tom Davies we don't have any players who have been brought through our academy system for years. Calvert-Lewin was poached from Sheffield Utd so we cant include him in this process.
The problem is that the longest any manager has lasted under Moshiri's stewardship has been 18 months, so hardly time to build a decent first team squad never mind overseeing the massive job of starting from scratch and producing an academy that works properly.
Seems the main criteria of Moshiri and Usmanov is try and keep Everton in the Premier League till the new stadium is built at Bramley-Moore Dock then they can sell up and recoup their losses and maybe even make a profit which is their main goal. Usmanov has said he will always be an Arsenal fan but Kronke has blocked him ever owning that club, so he decides to put his puppet Moshiri in charge of Everton.
In Moshiri's own words, when he took over the ownership of the club, he stated that he thought it would only take up 5% of his time and, as he has said, he is having to spend more time than he anticipated. So, if someone thinks they only intend to spend 5% of their time looking after a Premier League club, it hardly smacks of 100% commitment.
Now many will say "But they have pumped in £100s of millions" – which is absolutely true, but they can't afford for Everton to drop out the top tier; otherwise, their plans go up in smoke and we become another Sunderland, great stadium but little else.
Paul A Smith
310
Posted 29/06/2021 at 10:53:15
Mick @307, I am too mate. This club is rotten for even thinking about it and if Moshiri thinks the banner was bad, he'd better hope his ridiculous choice has 6 wins from his first 10 games.
This is the start of ridiculous debate and can you imagine if he's called 'Agent Benitez' at some point because he's not doing so well? You will see fireworks then.
John @302. We know mate. Dough balls he's got, a whole oven full.
Karl Meighan
311
Posted 29/06/2021 at 11:10:27
The manager can set the team up organise, have everybody pulling in the right direction and hopefully give confidence. He can't play for them and it would be a great achievement if he could transform our squad of players into a Top 6 side overnight.
Give me somebody who will steadily improve us, stick around, and get every ounce of effort out of what we do have.
Ian Pilkington
312
Posted 29/06/2021 at 11:14:52
I first visited Goodison Park shortly after John Moores took over, returning the glory days to the club after 14 years of incompetence at board level, excluding World War 2.
We have now had 25 years of incompetence, Kenwright's sole achievement being the avoidance of relegation.
Moshiri (and presumably Usmanov) have made several mistakes but we are otherwise extremely fortunate to have such wealthy backers.
The "real Everton" with Kenwright or someone similar with an "up-and-coming" manager in the Championship? Or Moshiri and Usmanov with Benitez? Absolutely no contest.
Andrew Ellams
313
Posted 29/06/2021 at 11:16:25
Disgraceful as those banners and whoever produced them are, I'm stunned at how many people are now prepared to give Benitez the sympathy vote on the back of them. The reason seems to be that, if we don't back him now, we look like the bus smashers across the park.
Guess what, you can condemn mindless thugs and still detest the idea of that man coming into this club.
Paul A Smith
314
Posted 29/06/2021 at 11:24:43
Ian, why have you just made a load of nonsense up to suit your dislike of Kenwright?
On the subject of maturity and lunatics, I can't believe some allow their own agenda to cloud their own judgement.
Kenwright, for all his clown-like persona, has chosen Moyes and Martinez as his last 2 managers. Moshiri has had Koeman, Allardyce, Silva, and Ancelotti.
Who chose best? If your are going to let your agenda choose, you still won't find much difference in quality from Moshiri's choices.
I think these type of agendas hold us back a bit with all the other reasons because it always appears to be a waste of time gossiping about Kenwright (with anger and bitterness in mind).

Ian Horan
315
Posted 29/06/2021 at 11:29:55
I am amazed that some TWers are aghast at Benitez supposed salary. If it's £6M, so what!!! That figure appears low across other clubs' managers.
I think we all need to step away from the anger, witch hunt and name-calling. Benitez will probably be an employee of Everton, so what? He is a safe appointment in football terms and that is what Moshiri needs and wants. To be clear, he isn't my choice either but slating what has he won? Since 2005, the Premier League has been awash with oligarchs and oil money. There is only 3 domestic competitions in England that can be won, with the exception of Leicester and a Spurs League Cup win, the same group of teams have shared the trophies, so critism of him on that score is unreasonable.
For clarity, Benitez wasn't sacked at Newcastle, he actually walked away from the contract offered him as Ashley confirmed the transfer pot was miniscule. In China, it was a mutual agreement to tear up his contract as the league was suspended due to the pandemic.
Everton, in many years we have won 1 FA Cup and that was actually 26 years ago. Just maybe it's time for an unpalatable truth. We all love Everton but we aren't the top draw for elite managers that we believe we should be; we don't have a central London location, we don't have a sexy sparkling new stadium, and our squad is at best dysfunctional and awful. So who in their right mind would take the job?
We are in a potential marriage of convenience situation, Benitez wants the gig, he lives local but, more importantly, we need stability and the realisation we ain't a European Elite Club...
Rob Dolby
316
Posted 29/06/2021 at 11:35:08
Ian 312. You make a very good point.
As Evertonians, we all want what is best for the club.
In my job I know my limitations. I know who is better suited to achieve certain goals. I also know my strengths and how my contributions can make a difference.
Kenwright can't be asking questions of himself or his performance. His tenure is the worst in the club's history. Some of the worst decisions in our history have been made with him at the helm.
It's time for him to step aside. He would walk away making more money out of the club than his actual business.
He needs to let someone else have a go. He is making himself look like anything other than a proper Evertonian. His ego is bigger than his support of the blues.
Time to go, Bill.
Barry Hesketh
317
Posted 29/06/2021 at 11:46:27
Andrew @313,
Perhaps the sympathy arises for Benitez because many people from the city are usually generous of spirit and quite often defend those who are unfairly targeted, regardless of which club in the city they support or represent. Of course, it's not mutually exclusive that the banners can be condemned and not be in favour of Benitez.
I don't want Benitez, never did, but once he's appointed, he becomes the manager of Everton Football Club and, for the sake of the club, I'll wish him well. Who has done the most damage to Everton's reputation, the mindless moronic few who emblazoned sheets with vile and sinister messages or the Spaniard who once said we were a small club?
If anybody should be reviled in connection with the Everton manager's job, it should be Carlo Ancelotti. He said he wanted to be in the hot-seat when the new stadium at Bramley-Moore Dock opened, he said he loved the club and the city, whilst he condemned the European Super League, but his move to Real Madrid proved him to be untruthful and disingenuous.
Benitez, if appointed, should be judged on his actions at Goodison and on the results he obtains with the team. We don't have to like his personality or his past, but surely we can be graceful enough to give him a chance to give it a go. If he gets it badly wrong, he'll take the flak – and rightly so.
Danny O'Neill
318
Posted 29/06/2021 at 11:50:05
Also Ian Horan @315, for those who concern themselves at what the owners are willing to pay, you can view it as a near 50% saving if we believe what Ancelotti was reportedly on? Anyway, I don't. That's the owner's and the money men's decision, not mine, so I don't concern myself with it. I'll worry about my own mortgage payments and bills when it comes to money.
I spoke to another very good Newcastle supporting friend earlier. He too, like another I spoke to, would bite our arms off to have Benitez back and with regards to the protests / banners, he told me it was tame compared to the stick Bruce has been getting. And he is a native Geordie right?? I guess this may only be the start and it could go toxic quickly if things don't go well early doors.
To reiterate, in poll terms, I'm "disappointed Danny", but it's always interesting to get an external perspective.
Andrew Ellams
319
Posted 29/06/2021 at 11:52:45
Barry,
I was firmly in the "Carlo Out" camp from about March last season, when it was clear he had no idea how to fix things. But Benitez is a very bad idea from the start and I'm expecting a hostile atmosphere at Goodison to have a negative impact on the pitch.
Richard Mason
320
Posted 29/06/2021 at 11:59:35
Firstly, I don't condone the banners. Especially the threatening ones. Evertonians are better than that and it's not what's needed.
As much as I am disappointed with Benitez, I think we need to just get on with it now. It's our team, our club, and we all want what's best for it.
He has won trophies, he has Premier League experience, and there are worse candidates out there, to be honest.
Let's just get behind whatever decision is made and support our club in the coming season.
Si Cooper
321
Posted 29/06/2021 at 12:10:17
Paul A Smith, for the record, I haven't changed my mind. I don't want him simply because I think he's unlikely to succeed and if (when) he does fail, the fallout will be particularly toxic because of his history.
However, unlike you, I am neither particularly surprised nor outraged that some people are saying that they will now swallow their misgivings and show outward support for him if he is appointed because they very much want to distance themselves from these threatening messages.
It is not that most people will have completely changed their minds; it is just that the sense of 'fair play' has been shaken for many, and so naturally any of them who were pretty ambivalent before will have shifted into the 'everyone gets a fair crack' category.
Perhaps what you are upset about is the fact that there weren't a lot more 'hardcore' fans who are utterly opposed to Benítez being appointed in the first place?
Kevin Davies
322
Posted 29/06/2021 at 12:32:43
As a lifelong Evertonian of 64 years, I totally understand the uproar that this appointment is making. I have lived through that era and hated them all, Emlyn Hughes etc.

And we have had some terrible luck in the past. We had so many false dawns with teams and managers, but put that in the past and `I know my history...'

It is time to move on, look forward, and get behind our club — irrespective of who is the manager, because the club will be there when we're all gone.

Benitez can't be any worse than the other managers we have had recently...
Tony Mace
323
Posted 29/06/2021 at 12:35:21
Don #234,
Spot on
Too many on here ready to make assumptions with no evidence whatsoever.
I was born an Evertonian and have been going to the match regularly for the last 50 years. I won't be going back until Benitez gone. Not because of the link with Liverpool FC. (I would have welcomed Brendan Rodgers.) I don't believe Benitez is currently up to the task and the way he has been appointed with no concern for the views of the fans, combined with the huge risk involved, leaves me feeling totally disenfranchised.
Not to mention VAR, the Gobshite Media love-in and the general lack of motivation in the Everton squad – we need a strong manager and strong vociferous captain (not blaming this on Benitez, of course).
The risk is that this appointment goes totally belly-up, leaving the fans split, with Usmanov & Moshiri cutting their losses, leaving our Premier League status and the new stadium at Bramley-Moore Dock as a distant memory.
Rob Birks
324
Posted 29/06/2021 at 12:42:28
Here's a thought.
With all this dilly-dallying to appoint a new manager, maybe, just maybe, he is the manager of a Euro 2020 team still in the competition?? Not Southgate!

Derek Knox
325
Posted 29/06/2021 at 12:45:31
I am with all those in the "No To Benitez" camp – and not because of his previous employers, or his 'small club' comments either. I would have loved to get Brendan Rogers when he left Celtic or Shankly or Paisley, going back further in time.
It is a job at the end of the day, like boycotting a particular brand of razor blades because someone else has bought them out. A poor analogy perhaps but the best I could think of at the time of writing.
No! It is because of his lack of success since basically leaving Liverpool. I know it could be argued that he won something at Chelsea where again he was a very unpopular choice, but he took over an established team of expensive Internationals, he didn't build that team!
Again at Napoli, he won Coppa Italia and Super Coppa Italia with a similar scenario; he didn't build, it was already there on a plate for him!
Apart from a few individuals at Everton, we need an overhaul of personnel in the main, but how do you get rid of expensive misfits on ridiculous contracts? For all those promoting Benitez, pray tell me what he will provide in terms of tactics and team building and entertaining too in the process? Oh you hadn't looked that far ahead!
Justin Doone
326
Posted 29/06/2021 at 12:46:58
Booooohh..
Simply not good enough in my opinion.
If we want mid-table then at least save some money and give it to someone else who costs less, demands less and tries to play decent football whilst giving the kids a chance.
If it's to try and challenge the top 6 and not be concerned about the style of football or fans opinions we should have kept Sam.
If nothing else Moshiri should be made to play football manager so he at least understands some basic footballing concepts.
Then either trust Brands or bring in someone with genuine football intelligence. How about Wenger as manager, coach, footballing director or general advisor.
Mick O'Malley
327
Posted 29/06/2021 at 12:47:03
Well, for everyone saying, "Let's just get behind him cos who else is there?" – I'm sorry, I just can't. I just don't see him doing a good job with our shitbag squad. To me, it's a lazy appointment with no ambition; another whose best days are behind him.
Imagine the Liverpool fans if they go 1-0 up in a derby, the stick will be relentless, and if a couple of bed sheets with naughty words on upsets people, then imagine the shit he'll take if we find ourselves around the bottom 6 come the New Year.
To be honest, I think I preferred it when we were skint before Bill blagged Moshiri.
Rob Young
328
Posted 29/06/2021 at 12:58:36
Rob #324,
I thought the same but, if that was true, surely the club should have come out and squashed the Spanish One's rumours.
They don't have to react to any link in the papers but this one has been here for a few weeks now, has gotten completely out of hand and clearly is getting people very upset and possibly in danger.
They could easily have stopped this nonsense, as could the Spanish camp, if it wasn't true. Therefore, it must be true. (Although no level of irresponsibility in football surprises me anymore.)
Justin Doone
329
Posted 29/06/2021 at 12:58:36
The 'not toobad', 'could do worse' and general, 'get behind anyone' comments are understandable.
But the whole point is to get the best for Everton. Someone to believe in, unite players, fans and the whole club.
Rafa is obviously NOT going to do that, it's starting off on the wrong foot. Move on to the next target.
Danny O'Neill
330
Posted 29/06/2021 at 13:01:28
It hasn't happened yet.
Does Mancini still have a house in Cheshire? Does Joachim Low want to rent from Klopp or take advice from a German compatriot on life on Merseyside?
I think I'm clinging again.
It's happening.
Geoff Williams
331
Posted 29/06/2021 at 13:09:59
Surely the appointment of Benitez is a slap in the face of Brands and makes his position at the club untenable.
No-one will convince me that Benitez is a good fit for Everton. The longer Moshiri has been in charge of the club, the greater has been my disillusionment with his ability to create a successful club.
Julian Exshaw
332
Posted 29/06/2021 at 13:10:43
Derek Knox @325. Totally agree.
Derek Knox
333
Posted 29/06/2021 at 13:12:34
Danny @ 330, be careful of those cling-ons, there's only so much a Biological Wash can eradicate! :-)
Paul A Smith
334
Posted 29/06/2021 at 13:12:49
Si stop kidding yourself. Polls were at 90% against him a week ago. I think the hardcore section of fans have made it quite clear.
Paul Hewitt
335
Posted 29/06/2021 at 13:18:04
So, if people think Benitez isn't good enough, then why didn't the same people protest when Martinez, Allardyce, and Silva were appointed? They deffo weren't good enough.
Rob Young
336
Posted 29/06/2021 at 13:23:34
Allardyce definitely wasn't welcomed with open arms and crowd reactions during games helped send him packing very quickly.
Silva and Martinez is easy to say now in hindsight.
Dave Abrahams
337
Posted 29/06/2021 at 13:24:51
Mick (327),
"I just can't see him doing a good job with our shitbag squad" – very true, Mick. That's what worries me much more than who will be appointed manager, whether it be Benitez or if we were allowed to pick and get the best manager in the world. The squad, at the moment, is very, very poor, so whoever gets the nod to manage it has a very difficult time ahead of him. Not so much "In Rafa we Trust" – more: "God help him and us!"
Ian Horan
338
Posted 29/06/2021 at 13:50:20
Paul @334, 90% against Benitez??
I thought ToffeeWeb poll was 44% against!! Certainly nowhere near 90%
Jerome Shields
339
Posted 29/06/2021 at 13:58:08
Dave #337,
It will be even more difficult if players jump on the anti bandwagon. Big Nev's anti-Benitez announcement reflects where the stalwarts are, but more concerning is reports that the 'loyal hardworking staff' do not want to work for Benitez, though resignations have not been mentioned, as you would expect.
Neil Cremin
340
Posted 29/06/2021 at 13:59:56
Paul,
I saw no poll that was 90% of fans were against Benitez.
Tony Abrahams
341
Posted 29/06/2021 at 14:04:41
I've often wondered if Moshiri was just a patsy ever since he uttered that sentence about only wanting to spend 5% of his time on something that he'd spent around 33% of his fortune on, Brian H.
Maybe the man who just keeps on giving has now had orders from his boss to start slowly getting rid of the king of the blaggers, or maybe that's just my wishful thinking, even though the appointment of Benitez makes me think that they've finally stopped listening to Bill Kenwright.
I'd disagree that Ancelotti had anything to do with Everton, other than the first team though, Brian. I'd argue this is the work of Marcel Brands, who has hopefully made everyone at Finch Farm realise that the Under-23s only real purpose should be trying to develop players who, with good coaching, might eventually be good enough for Everton's first team.
Paul Hewitt
342
Posted 29/06/2021 at 14:18:55
When he wins us the Premier League this season, and the Champions League next season, the doubters are going to look silly.
Dave Abrahams
343
Posted 29/06/2021 at 14:25:23
Jerome (339), is Mr. Brands at Finch Farm most days? If so, he must be in a position to see all the training routines and how the players train and react to the different coaches, see how the different coaches perform at all levels: first team, U23s, U18s etc? He must have an opinion on each section of those groups and give valuable advice to any responsible person on the board to react to this advice. The hard part might be finding a responsible board member, even though he is on the board himself!!
Possibly Benitez might be the first manager in the last 5 or 6 years to be interested enough to find out and try and fix the obvious mess himself. I wouldn't ask the coaches remaining at Finch Farm to see their coaching badges, but watch them perform instead – that might tell him a lot about their ability, and he may act accordingly.
Tony Abrahams
344
Posted 29/06/2021 at 14:30:11
Listening to The Blood Of Eden, and the words of Gabriel, remind me of the way Evertonians are feeling right now.
"Is that a dagger or a crucifix I see", as I'm sure even the non religious, will be saying a prayer for Everton, such is our despair right now?
My own view is that Everton have somehow got something cancerous inside our football club right now, but I hope I'm wrong, and it's just been that we've got too many people on Easy Street.
If it is a cancer, then it's probable that Benitez will just add to our problems. But, if it's the other, then who knows? Maybe he might even be what we've needed for a very long time, such is the belligerence of the man?
It's no good having a firefighter with a bomb strapped to his body, though, which is how I currently view this appointment, when I read what a lot of Evertonians are saying about Benitez being appointed right now.
Chris Corn
345
Posted 29/06/2021 at 14:30:27
I don't want him. Purely because, as an Evertonian of near 50 years, I am a catastrophist by default.
Think worst-case scenario, as many have on here, and it will inevitably happen. I can't put up a defense for him whatsoever and I dread the appointment. It's just destined to end in disaster. Worrying times indeed.
Mark Ryan
346
Posted 29/06/2021 at 14:40:10
Or unlike Silva, Allardyce, Koeman (all alleged world beaters who might do a really good job) and the future is bright, Chris.
Jay Harris
347
Posted 29/06/2021 at 14:40:35
Tony,
"It's no good having a firefighter with a bomb strapped to his body."
That's the best analogy I've read of a potential Benitez appointment.
If we can't do better than this with the plethora of managers out there, then I fear for the future of our club with these clowns in charge.
Steve Brown
348
Posted 29/06/2021 at 14:42:43
Paul @ 334, you exaggerated a bit.
Here is the verbatim quote from the Echo poll published last week:
"One of the queries simply centred around whether fans would like to see Benitez become the club's manager or not, and those who responded were damning in their verdict.
From over 2,200 answers, 72.4% of those who took part did not want to see the former Liverpool boss in charge at Goodison."
Tony Abrahams
349
Posted 29/06/2021 at 14:47:08
I've come to the conclusion that we are all gonna die one day anyway, Chris, and when I think deeply, I always come to the conclusion that nothing will ever get better if you don't believe it will, mate.
I'm sure you know what I'm going to say, but catastrophic is going through the motions imo, having an owner who robbed Peter to pay Paul, and even tried to take us to fucking Kirkby on a freebie, as I look back through the years, and remember what my club used to exist for.
Usmanov obviously doesn't know, or doesn't give a fuck about our true feelings, but I heard one of our directors got on the phone to apologise for his abruptness, explaining that it was because he's only interested in winners, something every Evertonian, has long forgotten about, because Kenwright's only goal was to not let fucking go, and how we've suffered, becoming plucky little Everton, in the process.
Marc Hints
350
Posted 29/06/2021 at 14:51:22
Time is getting on and we still don't have a manager and not one quality player signed. Players back in for training next Monday.
Maybe Everton are going to leave it late to announce a new manager, then that will be their excuse as to why we couldn't sign any players as time ran out. If they don't sort this quickly, we will become a relegation team.
Bill Gall
351
Posted 29/06/2021 at 14:53:19
I support Everton FC. I don't support any individual. For the last 60 years, I have seen some good managers and some bad managers. I didn't support them; I supported Everton FC.
Any manager hired is only as good as the players he has to work with. I will wait until I see what he can do with the squad, either good or bad, before I will pass judgement on him. But I will still support Everton FC.
I live in Canada now but was a season ticket holder before I left, and that meant I supported Everton FC before the season started. I am not passing judgement on any person who writes up and says they will not attend any games, that is their prerogative, but to me they are not supporting Everton FC – they are protesting against one employee.
We are Evertonians who unfortunately were born to suffer, and that is what makes us better than other supporters who join other clubs because they are more successful.
Do not let the appointment of one man cloud your judgement of something that is above an individual, and that is Everton FC.

John Keating
352
Posted 29/06/2021 at 14:54:16
Some players are signed because they have great potential and unfortunately, for whatever reason, they don't fulfill it.
Some players are great, they get signed and, for whatever, style, tactics, they don't produce the goods. Same with managers. We've had great managers on past and on paper, but who've not produced the goods.
The present top managers need the back-up (ie, cash) to back them up – though there will always be a maverick who defies the odds. Same with Benitez or Ferguson or Pep. They will come here and bring success or failure. We have no say in the matter.
The only thing we can do with whoever it is is to support him until it goes tits up. Everton will always be here, we will always be here. Players and managers won't.
Mark Ryan
353
Posted 29/06/2021 at 14:55:23
So 74% of 2,200 say No to a manager who has won silverware with different clubs and who has lifted the Champions League, The Uefa Cup, League Cups, Super Cups etc?
Take away the Liverpool connections; people say he plays boring football. He's also fat... he said this, he said that...
People are liars. They need to get over his red connection and stop slagging him ad infinitum and back a man who is clearly a winner and who wants to manage us.
Or just continue to say "What has he won recently?" "He's Allardyce Mk 2" etc.
Mark my words, he'll lift this club out of the doldrums – provided people give him a chance.

Kevin Molloy
354
Posted 29/06/2021 at 15:03:10
I really don't get this "If we can't do better than Benitez" line. It seems to imply he's not very good, and that there are loads of other better managers out there and we are just being criminally lazy in appointing the chap around the corner.
The Geordies literally could not believe their luck when they got him. An A-List manager was prepared to help them out and actually stayed with them to bring them back up. He did that cos he wants to stay in this country, and cos he's a gobby sod, most of the big clubs won't go near him. But his coaching skills are reflected in the honours list.
Now, David Moyes is a good manager, we probably appreciate that more having seen the last few years. But Google 'David Moyes honours', and have a look at the list. Then Google 'Rafa Benitez honours" – and see whether we think he's any good?
'Cos, before he went to Newcastle for personal reasons, it was trophies all the way.
Mike Gwyer
355
Posted 29/06/2021 at 15:18:57
Mark Ryan #353,
I don't really give a fuck what cups Rafa has won. For me, Rafa is nothing more than a total twat and I can easily see him singing YNWA with his red chums and talking about the good old days when he managed a Champions League winning side.
Good, fuck off back there.
Keith Birmingham
356
Posted 29/06/2021 at 15:19:05
Why is everyone assuming that the warning flag was the work of Evertonians... I suspect it's the work of Liverpool supporters, concerned that he could deliver where Ancelotti failed.
Michael Kenrick
357
Posted 29/06/2021 at 15:24:21
No worries... the latest (from Sunderland?) is that he's going to be snapped up by Fenerbahçe.
Jerome Shields
358
Posted 29/06/2021 at 15:25:25
Dave#343
Though I have mentioned Brands as being involved in Transfers, which appears peppered over every search for New Manager Information, I have a feeling I am getting carried away this year, with the early transfer speculation I normally avoid, but can't due to the protacted Manager search. I am just hoping/ wishing a right back and pacey midfielder may pop up early, to give Benitez a chance.
But even if I had the fertile imagination that Michael Kenrick credits me with I can not come up with the Finch Farm scene you describe. Brands in more likely trying to make himself important and relevant regarding the New Manager appointment. My vision of Finch Farm is afternoon sunbathing, smoking behind the shed and relaxing out of the sun in the morning allowing proper digestion of a Big Fry up. There will be little regret that Anchelotti has gone or no excitement for the New Arrival, with unrepeatable infamy type conversations the order of the day. (They have got it in for me)
They will have done little since Anchelotti has left, but will look busy when Benitez Security Detail drives in. A surprise visit is out due to mugging considerations on the way.
Benitez is going to have to meet the situation head on. I would suggest he put a helmet on and watch Rollerball for advice.
Marc Hints
359
Posted 29/06/2021 at 15:31:11
On another note can you believe it that DCL has been left out of the squad altogether for tonight's game so England have no cover for Harry Kane who has been playing crap!
Will Mabon
360
Posted 29/06/2021 at 15:33:24
Marc, we don't know if there's a fitness issue - but even if there isn't, yes, I can believe it...
Michael Kenrick
361
Posted 29/06/2021 at 15:34:57
Jerome, have you ever considered the persistent damage your special level of poison engenders?
People may not particularly want to believe the shit you spout but, like shit, it sticks:
They're all on easy street.
There's a cancer running through the club.
There are factions left, right and centre.
All the ex-Everton players who are coaches are incompetent.
Etc, etc etc.
You never have any evidence for the utter shit you post. I would shut you down because you've proven time and agian, over and above all else, that you do not provide any value whatsoever.
Marc Hints
362
Posted 29/06/2021 at 15:35:17
Will @360
I have just read that he is bitterly disappointed and other members are a bit baffled by his omission from the squad.
Mike Gaynes
363
Posted 29/06/2021 at 15:38:40
Kim #284, Klinsmann? The Mike Walker of the US national team? Absolutely not.
After his vapid pregame team talks, the captains would meet on the pitch during warmups to plan what we were really going to do. Klinsmann had zero tactical acumen and would change lineups almost randomly. He once put out a back four for a WC qualifier that had never even practiced together. He was a chaotic dilettante.
The only thing he could teach our players is how to dive for penalties, and VAR has reduced the value of that skill set.
Dave Abrahams
364
Posted 29/06/2021 at 15:43:50
Jerome (358), thanks for your reply, once Benitez knows what he is up against, I think he is strong enough to start acting back, it might help if the players get the message they are here to work and earn their wages right through the week at Finch Farm and be fit enough to play for ninety minutes or more on match days even though it will be a shock to their bodies for quite a lot of them.
Mr. Brands might welcome a manager who isn't just going through the motions but will be trying to earn an extension to whatever contract he gets, he might even slowly, very slowly, change the minds of many Everton fans who don't want him here. It's also more than possible that I'm a very naive fan, but at least I'll be giving the new manager a chance before he has started.
Kevin Molloy
365
Posted 29/06/2021 at 15:44:12
he's starting to get a bit of a gob on him, DCL. He's been giving a fair few interviews since he went away, and now this. if he's not in the squad, then he needs to improve. He shouldn't be releasing statements saying he's deeply disappointed on the eve of this game.
John Burns
366
Posted 29/06/2021 at 15:48:35
Big Dunc has no managerial experience. Therefore, that should immediately rule him out from being a contender. This is too big a job for a first time appointment and this is too desperate a moment for Everton Football Club.
No one knows if he will be a good manager. Three games as as stand in manager only proves he was good as a stand in manager for those three games. It's not enough evidence to justify a permanent position.
Howard Kendall first cut his teeth at Blackburn before coming to us, and even then it wasn't all smooth sailing. Duncan desperately needs experience elsewhere. He needs to prove himself as a successful manager at another club before being considered as a future Everton Manager. Sentimentality can't come into it.
Martin Mason
367
Posted 29/06/2021 at 15:52:23
If it is going to be Benitez then so be it, this is the decision of the people who own the club and put all of the money into the club. We fans need to accept this now and support the new manager because the alternative is disaster. He will have the hardest job imaginable especially in the first few months and season. A split in the fan base and poison from some fans will make his job impossible. We're bigger and better than that surely?
Mike Gaynes
368
Posted 29/06/2021 at 15:52:28
Kevin #365, I've seen no public statement from Dom. Have you?
This is the tweet from The Athletic describing his disappointment, but there's no quote from the player:
https://twitter.com/GregOK/status/1409874546044383242
Tony Abrahams
369
Posted 29/06/2021 at 15:56:08
It was me who talked about a cancer (wrong horrible word maybe) running through the club Michael, and I say this because I think this usually happens when you have different fractions, and that's exactly how Everton feels to me right now mate.
Too many people trade off being Evertonians imo, but I could be wrong because I was training at Everton when Colin Harvey, was in charge and also when he was sacked, and although all the fans were giving Terry Darrocotte and Mike Lyons a lot of stick at the time, Lyons was nowhere near the first team squad then, although when I look back now, I do think Everton was a lot nicer environment than what I'd been used to at Forest, (way to nice) but that was possibly because of Clough's acid tongue.
Kevin Molloy
370
Posted 29/06/2021 at 16:01:06
Mike
fair enough, yes noted.
Brian Williams
371
Posted 29/06/2021 at 16:02:28
If DCL's not injured and HAS been left out it's a total fuckup IMO. Rashford's been really poor, as has Kane, and to leave out your only out and out centre forward (if he's not injured) makes no sense at all to me.
Maybe it's because (allegedly) "he's started to get a bit of a gob on him", also known as fulfilling his media duties as and when instructed to do so by the England management team.
Brian Murray
372
Posted 29/06/2021 at 16:06:10
Alright tony. hope you and all can see beyond this latest blinkered appointment if it's going through. Ok the big c was too strong but let's say we have long term COVID ( charlatan) that brings on ineptitude and effects the tear ducts at the drop of a hat. White nelly still in the room really needs to do one so we can move on. If that day comes il be 3 sheets to the wind celebrating. Not writing on any.
Neil Lawson
373
Posted 29/06/2021 at 16:13:12
Looks like Southgate has morphed into Ancellotti. Such a depressing team selection. Going to watch the tennis. At least something interesting happens.
FSW ? Laughing all the way to the bank and at us. Expect him to be named just after England knocked out in the hope no one will notice. unless, hope on hope, they offer him the England job which will become vacant at about 7pm.
Paul Hewitt
374
Posted 29/06/2021 at 16:14:35
What a gobshite Southgate is, to drop DCL for no reason is pathetic. Why would you treat a young lad like that. He must be devastated.
Andy Crooks
375
Posted 29/06/2021 at 16:21:47
Chris Corn @ 345, at last a blue after my own heart. Watching Everton is rarely about pleasure for me. It is about anxiety, tension and gloom That's probably why I was chosen as a Blue. I swear, that wonderful Easter Sunday when I was at a sunny Goodison park with the amazing Abrahams family. Four nil up against Manchester United and I was fretting about how many minutes would be added on.
Of course disaster lies ahead. Where's the fun in serenity?
Brian Williams
376
Posted 29/06/2021 at 16:37:06
Andy. You'd thankfully recovered in the pub afterwards!
Tony Abrahams
377
Posted 29/06/2021 at 16:47:17
You hid that well Andy, especially because it's probably the easiest game we've had at Goodison in the last five seasons mate!
Brian M, I don't see Benitez as a blinkered appointment mate. I see it as divisive and dangerous, but if it's true that Everton spoke to a lot of candidates, I'd guess that he was probably the person who impressed Usmanov the most, otherwise he wouldn't be going for him?
Maybe he's secretly wanted the Everton job, maybe he impressed because he actually knew quite a bit about our club, and might have even suggested things that might already be happening?
All speculation on my part, although I did here that in the meeting in which Usmanov told Bill Kenwright to be quiet, that word got back that this big Uzbek, is only interested in winners.
This means it might have been blinkered Brian, because out of all the names thrown into the managers hat, I'm not sure they interviewed many real winners, and this is possibly why a lot of us didn't really know who we wanted?
Paul A Smith
378
Posted 29/06/2021 at 17:23:15
The same lame interview where Benitez gave his pathetic small club reasoning was the same interview he said he loves Liverpool. Everyone leaves that bit out.
Enough said.
Paul A Smith
379
Posted 29/06/2021 at 18:00:24
And apologies if wrong about the numbers but I was sure one of the fan sites said 90%. I could very well be wrong lads, 72% will do though, thats a clear majority.
Marc Hints
381
Posted 29/06/2021 at 18:27:14
It's official Rafa Benitez has signed a three year deal
Gary Smith
382
Posted 29/06/2021 at 18:31:56
Betting closed……looks like it's done.
Disaster. Only hope now is he proves us all wrong.
Joe McMahon
383
Posted 29/06/2021 at 18:35:46
Yup Dominic King has confirmed. I suppose welcome Rafa.
Stephen Vincent
384
Posted 29/06/2021 at 19:00:22
Hold the back pages - Joachim Lowe is available.
Robert Williams
385
Posted 29/06/2021 at 19:05:01
It's official, disgusted, let down, I'm out.
Bye bye TW bye bye Everton - can't be assed.
Neil Lawson
386
Posted 29/06/2021 at 19:06:39
Being effectively announced as everyone focused on England win. That is truly shitty and confirms the contempt in which we are all held. Are we really that stupid ?
Can only increase the outrage and backlash. Disgraceful. Disgusted.
Brent Stephens
387
Posted 29/06/2021 at 19:07:25
Where is it official??
Neil Copeland
388
Posted 29/06/2021 at 19:08:50
It's the club we support and he is now part of it whether we like it or not. Welcome Rafa show us what you are made of.
Brent Stephens
389
Posted 29/06/2021 at 19:09:16
WHERE has it been announced officially?
Brent Stephens
390
Posted 29/06/2021 at 19:10:16
Are you guys just repeating gossip? WHERE is it official?
Stephen Vincent
391
Posted 29/06/2021 at 19:11:13
Have we seen him with a red and white scarf 🤔 oops sorry.
Kim Vivian
392
Posted 29/06/2021 at 19:11:29
As many predicted it has been officially leaked to conveniently coincide with the end of the England game.
Will Mabon
393
Posted 29/06/2021 at 19:11:46
Hold the back pages 2 - Frank De Browline available.
Jay Woods [LAT]
394
Posted 29/06/2021 at 19:12:24
I couldn't care less what he said about Everton in the heat of the moment after a frustrating 0-0 draw; the only metric that matters is can he turn things round? I'm sure while Peter Reid was a young Liverpool supporter there were times he spoke ill of EFC too; same could be surmised of Dave Watson, Peter Beardsley and Don Hutchinson.
Kim Vivian
395
Posted 29/06/2021 at 19:13:08
SSN :-
18:44
BENITEZ SET FOR EVERTON JOB
While there is no confirmation from Everton, Rafa Benitez is the club's new manager.
The finer details of the contract have been ironed out and he will become Carlo Ancelotti's successor.
Everton are expected to confirm the appointment tomorrow.
We understand the former Liverpool Manager has agreed a three-year deal at Goodison Park
Brent Stephens
396
Posted 29/06/2021 at 19:13:43
Kim "As many predicted it has been officially leaked to conveniently coincide with the end of the England game."
God, now we'll never know he's been appointed!
Stephen Vincent
397
Posted 29/06/2021 at 19:18:10
Jay, but non of them said it on live TV, non of them have a 20ft banner with their face on it passed up and down the side of Mount Doom for the orcs and goblins to worship.
Mike Doyle
398
Posted 29/06/2021 at 19:18:49
Brent. Alan Myers has posted (Twitter) that Rafa will be appointed tomorrow. He's probably the most reliable source on this stuff so I expect it's true.
Brent Stephens
399
Posted 29/06/2021 at 19:19:37
Thanks, Mike.
Brent Stephens
400
Posted 29/06/2021 at 19:20:57
As it's Wednesday tomorrow, we won't notice the official announcement!
Matthew Williams
401
Posted 29/06/2021 at 19:22:35
Myself...I won't be watching (even highlights).
I won't be listening (on Radio Merseyside).
I'll just be checking the full time scores.
My footy fix will for this season consist of Championship highlights on Quest and the Welsh Premier League on S4C.
I'm so fucking angry with my beloved club right now...I honestly believe that ONLY the unthinkable will be only way of this mess and we can finally be rid of the fraudsters that inhabit our boardroom that have brought us nothing but empty words and shame.
NSNO...MY ARSE
Derek Knox
402
Posted 29/06/2021 at 19:24:14
Absolutely Gutted if it's true, just don't want him or his boring brand of turgid football anywhere near us.
Brent Stephens
403
Posted 29/06/2021 at 19:24:14
Matthew, why the interest in Everton's FT scores?!
Marc Hints
404
Posted 29/06/2021 at 19:25:19
Well I for one will just forget the past and look to the future and get behind Rafa
Bill Hawker
405
Posted 29/06/2021 at 19:28:09
Don't let the door hit you on the way out.
Julian Exshaw
406
Posted 29/06/2021 at 19:29:25
While I would never let one individual stop me from supporting Everton, this is the news I never wanted to hear. Just the pits!!
Bill Gall
407
Posted 29/06/2021 at 19:31:25
Mathew you can go on and on about the appointment but as much as I don't approve of B.K. I still think that if anyone would be against the Hiring of Benitez it is him.
B.K. always said he wanted someone with money to buy into Everton and he got his wish, unfortunately he has got people that don't bother with fools.
Derek Knox
408
Posted 29/06/2021 at 19:32:11
I'll Get Behind Rafa! At the PierHead with an outgoing Tide !
Rob Dolby
409
Posted 29/06/2021 at 19:33:45
Never a dull moment.
We all know mid table mediocrity and no cups beckon next season regardless of who manages us.
Now that we have "Rafa" we can all have something to get het up about besides the football.
The usual pain points of shit midfield, slow players, Sigurdsson's transfer fee and "the deadwood" can all take 2nd stage to our new manager.
Welcome aboard for the next 18 months anyhow!
Neil Copeland
410
Posted 29/06/2021 at 19:37:10
Derek#408, is that after you have taken your foot off his head? 😄
Soren Moyer
411
Posted 29/06/2021 at 19:37:50
If we are top of the league after 1st 10 games and playing high energy footy I might forgive him! This is Everton. Expect the unexpected!!! He is OUR FSW now.
So, will he be in charge of the catering or what!!?
Dale Self
412
Posted 29/06/2021 at 19:38:06
Yeah DK and on his walk to the pier I'll give him a slap on the back, with a heavy rock
Mike Gaynes
413
Posted 29/06/2021 at 19:39:03
Farewell, Matthew.
Kim Vivian
414
Posted 29/06/2021 at 19:39:04
If he's our new manager then I'm right with him from day 1...
...How day 180 looks will remain to be seen.
Derek Knox
415
Posted 29/06/2021 at 19:43:12
Neil, could I claim an Assist ?
Joe Corgan
416
Posted 29/06/2021 at 19:43:34
Matthew if you're cutting yourself off from all things Everton, dya want me to give you a ring the day he leaves? Just to let you know like.
Neil Copeland
417
Posted 29/06/2021 at 19:50:24
Derek #415, I think VAR would intervene and decide no foul play so your assist would stand
Jon Harding
418
Posted 29/06/2021 at 19:51:25
A good day to bury bad news
Brendan McLaughlin
419
Posted 29/06/2021 at 19:51:48
If true...welcome Rafa! Hope I come to love you over the next few years as much as I loathed you over the previous fifteen. Fickle...me?
Joe McMahon
420
Posted 29/06/2021 at 19:51:48
Jay@394, and the late Gary Abblet.
No point in getting hot and bothered about Rafa, we had Moyes for 11 years. We haven't been a force for over 30, we all want CL football, but until the deadwood midfielders on high salaries come to end of contracts we are knackered. The damage was done by Koeman/Walsh.
Brent Stephens
421
Posted 29/06/2021 at 19:52:39
Matthew, you will be sorely missed. Until you post on Live Forum (though obviously not watching the match or the scores).
Paul Smith
422
Posted 29/06/2021 at 19:52:52
Happy with this. The Telegraph reckon Moyes was first choice.
Barry Rathbone
423
Posted 29/06/2021 at 19:54:19
Not a great appointment for me and I've had to enrol at amateur dramatics to improve my fury and angst face (just not feeling it at the mo) but progress is
a bit slow - DeNiro I am not.
Hopefully have it nailed preseason but meanwhile anyone got some old bedsheets spare? No need for paint I've got loads of spray cans in the shed and is "twat" spelt with a capital or lower case "t"
Derek Knox
424
Posted 29/06/2021 at 19:54:34
Neil, Hope he gets swept away with a Shoal of Garston Trout! :-)
Brent Stephens
425
Posted 29/06/2021 at 19:55:35
It's amazing the way nobody will notice the news about Rafa, the way it's been buried. I guess some archaeologist in years to come will discover it. We're so blind, us fans.
Barry Hesketh
426
Posted 29/06/2021 at 19:57:03
This made me chuckle "Wirral man gets job at Merseyside sports firm":
Neil Copeland
427
Posted 29/06/2021 at 19:58:24
Derek, he would be in deep shit then!
Paul Hewitt
428
Posted 29/06/2021 at 20:01:35
Well, I'm made up. Someone who will take no messing. The players have had it too easy over the years. They won't take the piss out of Rafa.
Alan McGuffog
429
Posted 29/06/2021 at 20:02:29
Ours is not to reason why, ours is to turn up and suffer.
How many vowed never to go again after the sales of Bobby Collins, Alan Ball, Lineker etc? Life goes on.
If he's our new coach, then we get behind him.
And to those worrying about the RS taking the piss, here's some news: they have been for the best part of 50 years.
Vamonos azules!
Pat Kelly
430
Posted 29/06/2021 at 20:06:02
So it's to be Benitez. There won't be a bedsheet to be had anywhere.
Brian Murray
431
Posted 29/06/2021 at 20:06:22
If he insists on proper professional people alongside him and especially in the boardroom then he can have a hall pass till Xmas. Doubt it will get that far with this team. He really needs to hit the ground with transfers in and out quickly or these 3 worse teams we will bank on might not happen this year.
Colin Glassar
432
Posted 29/06/2021 at 20:08:06
Signed, sealed, delivered, he's ours - for better or worse.
Jamie Crowley
433
Posted 29/06/2021 at 20:12:14
Not on the official site yet!!! Holding out here in America, stubbornly.
Tony Abrahams
434
Posted 29/06/2021 at 20:15:39
Brendan Mc, says it best for me. I would have been one of those people who would have definitely stopped going to Goodison if we'd appointed Benitez a few years ago, but hopefully he can turn our once big club right around and make us win again. 🤞
Ray Robinson
435
Posted 29/06/2021 at 20:16:24
Well, not what I wanted, but now it's happened, let's just get on with buying some decent players because no manager will get a different tune out of some of this current squad.
Barry Robson
436
Posted 29/06/2021 at 20:17:01
Rafa is our gaffer!!!!!!
Like it or not?
Brendan McLaughlin
437
Posted 29/06/2021 at 20:18:49
Sorry Jamie #433,
Benitez to be confirmed but some positive news... Everton's commercial arm about to launch a new range of "street" (ghetto for you?) bed linen.
Tony Everan
438
Posted 29/06/2021 at 20:19:38
Everton make me feel like Cool Hand Luke when he got into that fight. The club just punches the living daylights out of me and I keep getting up and asking for more.
Sod's law, that just when we think everything is lost the club will have a resurgence under Benitez and start to perform well. Rafa the Red will transform into Benni the Blue before our disbelieving eyes.
Mike Gaynes
439
Posted 29/06/2021 at 20:20:35
Benni the Blue??
Jay Harris
440
Posted 29/06/2021 at 20:21:06
No point, Jamie, it's happening.
Maybe it will form the basis of one of Bill's shows, a comedy/tragedy – after all, he has turned us into a pathetic laughing stock while he counts the millions he has stashed behind his sofa.
Tony Abrahams
441
Posted 29/06/2021 at 20:22:29
It's got a good ring to it "Benni The Blue", Tony, got me thinking of when I was a little kid and used to get up early in the school holidays to watch Topcat!
Dale Self
442
Posted 29/06/2021 at 20:25:42
I'm not getting the "If he can do this or that" scenarios. This is a dude who was willing to ride with The Mike Ashley and didn't succeed with whatever that project's aims were.
Now, with a dysfunctional squad and some desperate owners who have stadium stimulation syndrome, the guy who took the boat to Shanghai at that time may not be the sturdy sailor to right this ship .
Jay Evans
443
Posted 29/06/2021 at 20:32:28
A sad, pathetic appointment in the ever-increasingly sad, pathetic history of our once-great club.
Welcome to Everton, you kopite. You are exactly 1 game away from the home crowd turning on you - if they haven't already.
Just so many negatives I don't know where to begin:
1) The arrogance of the board in making such an appointment.
2) The waste of time in having a so called Director of Football.
3) The washed up, negative, boring manager now expected to inspire those around him.
4) The sly timing of the briefing to the journalists tonight.
5) Being absolutely buzzed off by our loveable neighbours when this goes tits up. Which it will.
6) Paying the useless dinosaur off before his 3 years (fuck me, why did we agree to 3 years!) are up. Happy retirement Rafa.
I predict a riot.
I will be raising a glass to Duncan tonight. At least we all know what the powers that be at our club think of the big man now.
They must do to appoint this has-been instead. 💩
Derek Knox
444
Posted 29/06/2021 at 20:41:45
Paul H @ 428, Well that's about the only thing I think I agree with you about. "The players have had it too easy over the years."
I still don't think he's the one to do the whole package, but I will gladly concede defeat if he proves me wrong! :-)
Matthew Johnson
445
Posted 29/06/2021 at 20:50:46
All we can do now is get behind him.
If we do well then he'll become a blue legend and will create years of stability, as he won't be off at the first offer.
If he does badly, well everyone that didn't approve can say "I told you so," and we start over again looking for a half-decent manager that wants to manage us.
James Flynn
446
Posted 29/06/2021 at 20:51:36
We'll see what happens.
Now, let's get to signing talent. Soon.
Chris Henry
447
Posted 29/06/2021 at 20:53:28
Even sir Carlo of Ancelottiville can't shine up a shite to be a diamond. Whoever takes the job, I would sincerely like to wish him the best of luck….
This new season is a great opportunity for us all to start afresh. At the end of the day, Rafa will not be here for life, but Everton will always be. NSNO
Rob Morris
448
Posted 29/06/2021 at 20:53:34
To think Martinez was our 14th managerial appointment in 125 years; the way Moshiri is going, we will have had 14 managers in 10 years.
Pete Clarke
449
Posted 29/06/2021 at 20:55:50
There is not one single positive to this. He has just recently failed in China and before that he failed at Newcastle. Just let that sink in for a moment.
There's no superstar players here to bail him out on the pitch so, at best, we are going to be scrambling wins to maintain mid-table mediocrity.

I always hated the derby for various obvious reasons but now I dread the thought of the snide abuse after their agent puts 11 men behind the ball at Goodison against them and proves what a small club we are.

Klopp will show our board what good management is. I have been calling for Kenwright to leave us for many a year but this seems like Moshiri's own twisted way of getting rid of him for us.

How fucking low can this club go? We have made some shocking decisions as a football club but this tops them all. As a supporter, you generally look past all of the crap going on at the club and just focus on the team getting results but it's going to be very difficult to ignore this if the results go pear-shaped early on.

Absolutely gutted with this and may need a very long walk through the Simpson Desert or somewhere to come to terms with it.

David Israel
450
Posted 29/06/2021 at 20:56:26
Let's get this over and done with, like the good people of Hartlepool electing a Tory.
I even have a hunch old FSW will do well with us.
He would not have been my first choice - or second, or third - but the field kept dwindling. And he certainly wants to prove a point, as he clearly does not need the money.
Let's give the man a chance - more than that, let's give ourselves one!
COYB!
Jamie Crowley
451
Posted 29/06/2021 at 21:00:50
FACT! The small club is hiring a failed, washed up manager.
FACT! There was zero vision with this appointment.
FACT! Mr. Brands has been castrated in his duties.
FACT! Mid-table glory awaits us.
FACT! The fanbase will get toxic.
Tom Harvey
452
Posted 29/06/2021 at 21:02:07
Benitez has done nothing in the last 7 years, absolutely zilcho, he's spent and the club is about to literally drag him out of the nothingness he's currently in and declared him our saviour?
Forget the "small club" thing. Can't we do any better than his recent record?
This appointment is a dull one, almost a lazy choice that stinks of survival and not progress.
Will Mabon
453
Posted 29/06/2021 at 21:03:03
If it's true, and whether announced tonight or tomorrow, you just know the "Positive" effect of the England score will have figured in a disgusting, oily PR discussion re. the timing.
PR is worse than treason.
Danny Broderick
454
Posted 29/06/2021 at 21:04:16
This is my lowest ebb as an Everton fan. I never lost the faith completely under any previous manager. I fully supported Kendall (1 & 2) and Harvey. I was only a teenager when we had Mike Walker but I backed him. I backed them all - Royle, Kendall (3), Smith, Moyes, Martinez, Koeman, Unsworth. I was underwhelmed with Allardyce, but I remained neutral and didn't actively call for his head. I was then behind Silva, Fergie and Ancelotti.
I just don't think I can get behind this. Part of me is hoping he will sort out our underperforming midfielders and bomb them out and it will all work out. But I just can't get away from the fact that this is a toxic appointment. We are a toxic club at the best of times. The knives come out for all the managers, they were even being sharpened for Ancelotti, and he had our best win percentage since Kendall mark 1! That's just the club we have become.
10 games in, if we've lost a couple of games, there'll be calls for his head and we'll be back to square one again. I think I'm done with Everton.
Jamie Crowley
455
Posted 29/06/2021 at 21:06:56
If I call us a 'small club' in the next three years, please, please bear this in mind:
You're just taking me out of context.
Alan Johnson
456
Posted 29/06/2021 at 21:06:57
That's me done. I've had enough, can't take anymore. I'll always be a blue but fed up with the way the club's going. By the way, I'm not giving my season tickets to anyone, sons or daughters or nephews – I wouldn't want to bring anyone else pain. I've demanded a full refund.
Mike Gaynes
457
Posted 29/06/2021 at 21:08:16
Nah, Jamie, I'll wait 14 years and then bring it up.
Christy Ring
458
Posted 29/06/2021 at 21:08:43
If it happens tomorrow, let it be and move forward, and if he brings in the right players, who knows?
Not a fan, but I definitely don't want him to fail> If it works, I'll be delighted, EFC comes first. We were hopeful over previous managers, and it turned to despair, so when we least expect it, could he prove everyone wrong?
Jamie Crowley
459
Posted 29/06/2021 at 21:08:54
Sure Mike, you do that.
Darren Hind
460
Posted 29/06/2021 at 21:11:22
I wonder how long it'll be before somebody comes on and tells us we are lucky to have him?
Jamie Crowley
461
Posted 29/06/2021 at 21:11:41
Is Ronald McDonald available? I hear he's good with the kids.
We need more youth through the system.
Or did we just sign the guy who likes the double quarter pounder with cheese, large fry, and a bed-pan sized soda?
Can you tell the anger is bubbling up in me?
Tom Harvey
462
Posted 29/06/2021 at 21:11:46
Just wait until the first poor run of results he hits, he won't get any of the "kindness" and "understanding" Big Sam was given.
Dave Williams
463
Posted 29/06/2021 at 21:14:39
Danny #454,
The club is bigger than any individual. Stick with it 0either he will be sacked within 18 months or (please God) he will really show us what he is made of and we will all be happy!
Everton FC will be around long after he has gone.
Andrew Brookfield
464
Posted 29/06/2021 at 21:16:35
Moyes - out!
Martinez - out!
Kenwright - out
Koeman - out!
Walsh - out!
Allardyce - Out!
Silva - Out!
Ancelloti - out!
Benitez - out!
We're a horrible fan base and that really depresses me. A bit of stability with any of those managers and we'd be in a better position. Silva with Brands would have done for me. Alas, we'll be on a new manager in a year, no doubt.

Rob Morris
465
Posted 29/06/2021 at 21:17:09
He will get no honeymoon period usually afforded a new manager.
He will need to hit the ground running, imagine the atmosphere if he doesn't get a win in his first 3 or 4 games.
Andy Crooks
466
Posted 29/06/2021 at 21:19:18
It would be nice if someone could find the silver lining here. I've had a think about it but this is the best I can do:
Imagine waiting on news that is likely to be bad, waiting and waiting... considering every possible outcome. When it comes, it is a relief... we look for a. silver lining. And I've found it.
Better to be in the middle of shit than waiting to take the plunge.
We're in it now, the only way is out.
Let's see what you can do, Rafa. Nothing could be worse than the shite that Ancelotti served up in the last few months.
Kunal Desai
467
Posted 29/06/2021 at 21:19:25
This tells you everything you need to know about those in power now, they have no dignity or pride and self-respect. All this bullshit talk of a 'project'. All nonsense I'm afraid. They've made mugs out of the fanbase.
Just hope the ground can get built and these fools sell up quick enough, but I fear things will probably get a lot worse before that stadium arrives. Plenty more horrendous decision-making will be evident, just like the last six seasons.
What an owner!
Paul Hewitt
468
Posted 29/06/2021 at 21:22:10
Maybe, just maybe, he's the manager that can turn this club around.
Tony Abrahams
469
Posted 29/06/2021 at 21:22:47
It's incredible to think that Duncan Ferguson has outlived everyone bar Kenwright on that list Andrew, and still they won't give him the job.
Joe McMahon
470
Posted 29/06/2021 at 21:24:16
Darren, very true. However we have never played even in the Champions League group stages and, as you know, have won nothing for 26 years. So It's hard to admit but, yes, we do have a manager that at least people have heard of and has (yes albeit not since 2013) won trophies.
Leeds Utd are currently a lot more appealing set up than Everton. Over the decades, we have sunk to even lower depths, the rot set in a while back.
Neil Cremin
471
Posted 29/06/2021 at 21:27:44
For all those ABB's, and are looking for a big name manager, Frank De Boer is available

Andrew Brookfield
472
Posted 29/06/2021 at 21:31:29
Frank DeBoer (insert crying emoji)
Dave Abrahams
473
Posted 29/06/2021 at 21:32:21
Andrew (464),
You are saying we are a horrible fan base for wanting managers out yet you are predicting Benitez will be gone in 12 months before he has even clocked on. At least give him time to get his coat off, have a cup of tea, and begin the job.
Neil Lawson
474
Posted 29/06/2021 at 21:32:30
What a miserable lot you all are. Look for the positives. In a couple of years, we will have bragging rights to the best ground in the Championship and, once my wounds have had time to heal, I should be able to get tickets to watch them at Plymouth and at the 2 Bristols.
There is always a bright side of life.

Colin Quinney
475
Posted 29/06/2021 at 21:38:56
Can you imagine what the derby will be like with all the RS chanting his name? This is like the Ulster Unionists appointing Gerry Adams as their new leader.
Brendan McLaughlin
476
Posted 29/06/2021 at 21:42:02
Andy #466,
"Better to be in the middle of shit than waiting to take the plunge"
Not quite as evocative as Wordsworth's "I wandered lonely as a cloud"... but effective nonetheless!
Paul A Smith
477
Posted 29/06/2021 at 21:42:33
This is a stain I'll never shift. It feels horrific to me. I can't bare red shites. We're making a lover of the Red Shite our manager.
A has-been lover of the shite.
Conor McCourt
478
Posted 29/06/2021 at 21:42:48
Christy "and if he brings in the right players, who knows". That's one of the worst things about him buddy, he's absolutely atrocious in the transfer market. He buys players for the here and now in much the same way as Allardyce wanted Tosun. These players won't be bought for the good of the club but the good of Benitez and then we will be lumbered with them.
Grant Rorrison
479
Posted 29/06/2021 at 21:44:13
Over-rated manager, immediately hated by the supporters for what he represents. What could possibly go wrong? Great decision.
Oliver Molloy
480
Posted 29/06/2021 at 21:50:29
Just cannot get my head around this. My opinion is this will go fucking belly-up big-time and Everton will look even more of a club on a road to nowhere with owners and a board who just haven't got a clue.
The headline something like "What were they thinking in appointing Benitez?" awaits.
The press conference (if there is one) will be interesting, as will the derby if he is still about!
It has to be that none of the other candidates wants the fucking job — that's me consoling myself with this appointment.
Jamie Sweet
481
Posted 29/06/2021 at 21:52:01
An appointment made, you can only presume, by people who don't truly understand football. For me, it's about as tone-deaf as the Super 6 debacle.
Having said that, if this is what we've got then he'll get my support. I'm prepared to give him 6 months to prove me wrong.
And who knows, if he's done knee slides in front of the Kop after giving them a battering by the end of the season, then I could still be won over.
But it will take no less than knee slides in front of the Kop.
Kevin Molloy
482
Posted 29/06/2021 at 21:52:32
Unlike a lot of online Evertonians, I welcome this appointment. I think he is by far the best candidate for the job, from an admittedly dreadful field. You only have to look at the pickle Spurs and Palace are in to realise we ain't exactly spoilt for choice.
There is a lot of opposition to this, obviously from a historical standpoint. But I think this is a world away from appointing someone like Steven Gerrard (who it is obvious loathes Everton, and perhaps with good reason). Whereas I don't think Rafa loathes Everton at all.
In fact, I think he really likes scousers, and nothing would please him more than to send us up the table and improve upon what has – let us not forget – been a truly dire season.
I think the concerns as to which camp he is now in will be washed away once he goes up against Klopp. I can see them really rubbing each other up the wrong way, and once he starts having his little digs on our behalf, we'll be away.
I've absolutely no concerns about the football style, I think it will be good enough. Let's face it, Sam Allardyce never won the Champions League, did he? There is a difference.
Paul A Smith
483
Posted 29/06/2021 at 21:53:18
The players will have seen the banners. They know fans feelings and this is just a bad atmosphere waiting to happen.
Imposters like that Clown Ballague have pushed this and debated with disgruntled fans for days.
Moshiri can do one for me now. I'll never forgive this. The arrogance from the board is horrible for me and I can't support a kopite legend, regardless of how anyone else feels about that.

Geoff Williams
484
Posted 29/06/2021 at 21:53:32
This whole fiasco of appointing a manager has tainted the image of Everton in the eyes of many of its fans.
I am struggling to generate any enthusiasm for the new season and regret renewing my season ticket.
If Benitez is seen by the hierarchy as the way forward, then God help us.
Alan McGuffog
485
Posted 29/06/2021 at 21:56:42
Quite astute of the club to settle for a 53,000 capacity at BMD, considering so.many people are now finished with Everton for good. Plus in the unlikely event of our getting to a cup final I'll have as many tickets as I want.
Stephen Vincent
486
Posted 29/06/2021 at 21:58:32
Let's face it, Kevin, Allardyce never disrespected us nor has he ever had his name chanted from the kop.
Lynne Jennings
487
Posted 29/06/2021 at 21:59:37
Well my season tickets are being put back on reserve tomorrow and it breaks my heart but enough is enough. I have 2 very nice seats in Main Stand, for those of you who think we 'just have to get behind him'. I don't know why we are so accepting as a fan base when we see reactions from RS Chelsea etc.. against their boards.
Until today, I was hoping this would just be a bad dream. I will always be an Evertonian, just not one who goes to Goodison until he has gone. 'Once Everton has touched you' is so true and that is why I am at a loss to understand why the Board is agreeing to this.
I no longer want the long letters from DBB telling us season ticket holders how much they value our support. Yeh, right...
Brendan McLaughlin
488
Posted 29/06/2021 at 22:00:22
Jamie#481
High bar...I'll settle for the battering. He can do the knee slides in the privacy of the dressing room.
Daniel A Johnson
490
Posted 29/06/2021 at 22:01:29
Oh well that's that then.
I also better go and collect my bedsheets and get them back the mrs hit the roof when she couldn't find them in the cupboard.
Roger Helm
491
Posted 29/06/2021 at 22:04:38
As Nick Hornby pointed out in Fever Pitch, the natural state of the football fan is that of bitter disappointment. So let's embrace it.
Players and managers aren't fans, they couldn't really care less which club they are at, so long as they are at a club. They are all trying to succeed, so don't stress about him being a former RS manager, I'm sure he will do his best.
Will it be enough? Well, his predecessors didn't exactly set the world alight, so he doesn't have a very high bar to beat.
The club is us, and we will be around (hopefully) long after the present board, management and players are gone. We will always have someone new to complain about.
Conor McCourt
492
Posted 29/06/2021 at 22:08:34
True Kevin
Allardyce was a horrible self serving individual with no respect for our fan base who played dire methodical prehistoric football who never had any success
Benitez conversely is a horrible self serving individual with no respect for our fan base who plays dire methodical prehistoric football who had success at the start of the century.
David Pearl
493
Posted 29/06/2021 at 22:09:06
Lynne,
Thats a good point. I await the email to explain this Moshiri appointment.
Oliver Molloy
494
Posted 29/06/2021 at 22:10:17
Kevin @ 482.
I am curious as to what your thinking is when you said this, particularly the last four words.
"But I think this is a world away from appointing someone like Steven Gerrard (who it is obvious loathes Everton, and perhaps with good reason)."

Kevin Molloy
495
Posted 29/06/2021 at 22:12:34
The crowd chanting that he wasn't the father of his daughter, Oliver. Pretty low stuff.
Alan McGuffog
496
Posted 29/06/2021 at 22:16:06
Nicely put Roger. A relative of mine, all duffle coat and varsity scarf, was at the Free Trade Hall in 1965 when Dylan suffered dogs abuse for going " electric". Judas...they yelled at him. Dylan that is.
This relative was never going to have owt to do with his hero, ever again. Never missed a Dylan tour since or failed to buy an album.
We're all blue noses and we'll fall in line. We may not like the fella but it's all out of our hands, practically and, importantly, emotionally.
Kevin Molloy
497
Posted 29/06/2021 at 22:17:52
Conor
I think we will better be able to judge the two after a season. And let's see who Benitez signs, I don't think we are going to see Theo equivalents. I'm expecting hungry younger players who can knock it around a bit.
David Pearl
499
Posted 29/06/2021 at 22:26:40
It should be Brands buying the players. They get 4-year contracts.
Not a manager who will only be here for less than half of that. Which is the reason we are in this mess.
Oliver Molloy
500
Posted 29/06/2021 at 22:28:15
Kevin,
No can not accept that, football bullshit chanting has been going on for 100 years in the stands, never mind the pitch with all types of wind ups going on player to player.
"pretty low" is his two footed challenge on Naysmith - I despise him.
Steve Cleary
501
Posted 29/06/2021 at 22:32:46
To be honest, I'd have taken this when we got Martinez.
Conor McCourt
502
Posted 29/06/2021 at 22:32:48
Why do you think that Kevin? Have you been speaking to him? Considering in three years he never purchased a player at Newcastle under the age of 24 except for Murphy and Yedlin and they were hardly youngsters. I think this is highly fanciful conjecture.
Steve Cleary
503
Posted 29/06/2021 at 22:37:09
To be honest I'd have taken this when we got Martinez. Not now wrong time
Mike Gwyer
504
Posted 29/06/2021 at 22:40:33
Alan #496
Blue noses falling into line.. you really think so.
In 55 years being a blue I've not seen anything as disgraceful as this managerial appointment.
For me, Blue noses will never chant Rafa's name. Not Ever.
On match day Goodison is going to be one toxic stadium. The Southampton game, for our Rafa, is already a must win game.
Sye Turner
505
Posted 29/06/2021 at 22:45:30
I went to my first game 59 years ago with my orange box to stand on so I could watch the game over the wall in the enclosure.
I never thought to this day that I would contemplate not going to watch the mighty blues, but that day has come. I am ashamed of the people running this club and feel sorry for the next generation of fans who will not know what it was like to be a super blue.
Mark Ryan
506
Posted 29/06/2021 at 22:46:03
Stop moaning like a bunch of school kids and go and support another club, you're just really fucking boring.
The club is bigger than any individual and always will be and and it will get news fans too so don't keep threatening to leave just go and sulk elsewhere. If you just want to moan go and sit in the park and feed the ducks, the club doesn't need you
Craig Harrison
507
Posted 29/06/2021 at 22:49:12
Palace seem to be getting Viera as manager and spurs maybe Klinsmann. If thats all that is available Benitez dosnt seem so bad.
Oliver Molloy
508
Posted 29/06/2021 at 22:53:54
You happy with Benitez then Mark ?
Alan McGuffog
509
Posted 29/06/2021 at 22:54:18
Mike...I doubt if we'll ever love the guy of chant his name but we will get behind him to an extent.
Remember the Blue Union fol de rol, with the clown and his cake ? And then the applause that BPB got from the crowd.
I respect all the views on TW but we are only a small part of the overall support base.
Gary Smith
510
Posted 29/06/2021 at 22:54:35
I intend to go the game, cheer the players, go nuts when we score…..but boo the hell of the FSW, and join in the kopites are gobshites songs that I hope will be ringing out for the whole 90.
What a kick in the gonads this is for the fans. I'd rather do a Leeds for the next 10 years than have my club run by this man for 10 games.
Bill Fairfield
512
Posted 29/06/2021 at 22:58:32
Lots of understandable frustration.Now let's get behind the team when the season starts.
Paul A Smith
513
Posted 29/06/2021 at 22:59:53
Mark why don't you do one. The negatives are legitimate from a large section of our support. I suggest if you can't get behind your own supporters over a Kopite legend you go and support them.
Rob Dolby
514
Posted 29/06/2021 at 23:01:13
Wonder what the odds of Ferguson becoming manager before Christmas are.
Gary Smith
515
Posted 29/06/2021 at 23:01:32
I intend to go the game, cheer the players, go nuts when we score…..but boo the hell of the FSW, and join in the kopites are gobshites songs that I hope will be ringing out for the whole 90.
What a kick in the gonads this is for the fans. I'd rather do a Leeds for the next 10 years than have my club run by this man for 10 games.
Tom Harvey
516
Posted 29/06/2021 at 23:02:44
Kevin Molloy @ 495
It bounced off him, he went home had a look at all his winners medals, his online bank account to see it had grown by another digit and smiled.
Footballers have been taking stick like that since the stone age, it's our prerogative and their duty to be thick skinned.
John Raftery
517
Posted 29/06/2021 at 23:06:17
I believe this is the best appointment we could have made in our current circumstances. The Board could ill afford to take a chance on any of the current flavour of the month options. For me the only realistic candidates were Rafa and Nuno. Rafa is the better qualified to deliver improved results with a very limited squad. Reshaping and improving that squad will obviously be an early priority.
Tom Harvey
518
Posted 29/06/2021 at 23:06:38
Mark Ryan @ 506
I can't wait for your chorus of "Oh Rafa we love you, oh yes we do".
You'll be part of very select group, maybe even a soloist, are you up for it?
Brendan McLaughlin
519
Posted 29/06/2021 at 23:06:51
Sye#505
I'm only 5 foot 6...if you are'nt for using that orange box
Paul Birmingham
520
Posted 29/06/2021 at 23:08:15
As an Evertonian, and over the years, come what may, I'd take a structured start rather than a last dip resort. Lol.
This will be a telling time in EFC history? But.
But and at the fallout, let's bring it on.. Everton is bigger and will last and for some we will smash it.
What's Our Name?

Kim Vivian
521
Posted 29/06/2021 at 23:10:08
I think we have to remember that whoever may have got the job, available or not - Conte/Simeone/Pepe/Klopp/Micky Mouse - they would all have to start with the excuse of a squad that has evolved over the past few seasons. And that's assuming we still have Richy, DCL, Pickford etc (James looks like he's gone although I am hopeful that his previous with Rafa could lead to him staying) all who are likely to be in the sights of the circling vultures over the next few weeks.
If Rafa gets 2 or 3 wins out of his first 5 games it will be a miracle so guys - please don't expect him to "hit the ground running". I for one will be right behind him (how can I not be), and wish him all the luck and support in the world while he gets his teeth into the job of getting our misfiring squad in tune.
I know it doesn't quite look right but : Good Luck Rafa Benitez, Evertonian.
Paul Smith
522
Posted 29/06/2021 at 23:10:19
Maybe the club needs a clear out and not just hangers on and players. Some fans as well by the gist of these boards.
Moshiri has balls but is also guilty of poor judgment at times. Two of his other managerial acquisitions are managing arguably the two biggest club sides in the world so I don't think you can charge him with not having aspirations to win.
This appointment is totally different than that B of Fat Sam (contentious as well) this guy has actually won stuff, now his best days might be behind him but I'll give him ago and I don't give a fuck about his past comments or who he managed before.
Anyone giving away their season tickets I could do with one and maybe some of those on that waiting list will take one off yer hands.
Peter Brogan
523
Posted 29/06/2021 at 23:10:28
Looking forward to talking about players coming and going from now on. Rafa to be in tomorrow and put a stop to the media tripe about board division. Let's look forward and not back.
Neil Copeland
524
Posted 29/06/2021 at 23:13:36
I'm fascinated as to how this will pan out and really looking forward to seeing a few new faces amongst the playing staff and then to the new season. Not being able to attend the games for over a season (apart from Wolves) is a huge factor of course but nevertheless I can't wait to see what happens in our latest saga.
Tom Harvey
525
Posted 29/06/2021 at 23:17:02
The players, those who might join the club and those at the club have seen our reaction to Rafa and know there's trouble ahead, Richarlison now looking of the exits, there'll be others.
Why the fuck would they make such an appointment, it's self sabotage.
Daniel A Johnson
526
Posted 29/06/2021 at 23:17:37
The fact that Palace have ended up with Viera and Spurs with their 1 billion stadium are still managerless shows that it's slim pickings.
I'm still gutted Silva didn't work out but welcome Mr Benitez I just hope for all concerned you hit the ground running.
Paul Birmingham
527
Posted 29/06/2021 at 23:18:03
The Everton way.. Let's see what happens.
But hopefully the Everton lawyers have done their due diligence.
No more Italian jobs. It can only get better.
Il keep my views to myself.
Brendan McLaughlin
528
Posted 29/06/2021 at 23:19:22
Actually the polling on TW was quite favourable for Rafa. He got 20 odd per cent on the "Who do you want as manager" poll second only to the French guy. And in the Benitez as Manager poll only 30% indicated that they would be "gutted" if he got the gig. Hell David Moyes would have struggled to get that level of support back in the day.
Soren Moyer
529
Posted 29/06/2021 at 23:20:42
Lol. I had no idea William Edward Barclay was our manager before managing them. Just let FSW serve us now that he's been hired for some reason.
Mike Gaynes
530
Posted 29/06/2021 at 23:22:08
John #517, I've been wondering when you would weigh in on this... and you surprised me. Especially with your belief that Rafa is better qualified than Nuno under the circumstances. But I always value your opinion.
Paul Birmingham
531
Posted 29/06/2021 at 23:22:20
As an Evertonian, and over the years, come what may, I'd take a structured start rather than a last dip resort. Lol.
This will be a telling time in EFC history? But.
But and at the fallout, let's bring it on.. Everton is bigger and will last and for some we will smash it, soon.
What's Our Name?

Vijay Nair
532
Posted 29/06/2021 at 23:22:45
At the end of the day, players/managers/staff will come and go, but it is Everton Football Club we all love and support.
Love him or loathe him, let's just get behind whomever is representing our Everton.
Tom Harvey
533
Posted 29/06/2021 at 23:29:44
If we thump the dark side in front of the Kop and Benitez does cartwheels in front of it before giving them a two fingered salute, then I might warm a little bit to him.
But I'm not expecting any stunning victories in front of the Kop under him, we must moderate our expectations, after all we're only a small club!
John Raftery
534
Posted 29/06/2021 at 23:30:08
Hi Mike (530) I also commented in post 79.
Allan Board
535
Posted 29/06/2021 at 23:38:17
This is mad. Can't wait for the Saints game though, should be a somewhat interesting piece of theatre!
Think this means Bill Kenwright is done and no longer relevant. Usmanov now moving in and he won't do history, or give a shit what anyone thinks, it's just business and money to him. There is no room for sentiment with him, so buckle up and pray by some miracle this crazy scheme works out on the pitch or things will turn ugly quickly for Moshiri.
Still support Everton though and always will, they are my team-thanks to Big Bob and his hat trick v Coventry 26th Nov 1977,my 1st time at Goodison on my 10th birthday. Wonderful day.
Don't fall out over this Blue noses, that's what the wankers in the press will want.
Unreal and surreal in equal amounts.
Laurie Hartley
536
Posted 29/06/2021 at 23:38:48
Well after reading through this and the other 187* thread all I can say is that Carlo Ancelloti has gotten off lightly out of all this. He had me bluffed big time.
He left Moshiri, the players and us in the lurch and he is the real villain in what has happened in the last three months. His explanation to us "an unexpected opportunity has arisen". Big club - little club??
My initial reaction when Benitez came into the frame was that it left me feeling depressed but if he gets appointed I am going to put behind me the fact that he is an ex Liverpool manager and hope for the best from him.
I have made a decision to look forward to the excitement of the transfer window and the start of the new season.
Up the Blues!!
Brendan McLaughlin
537
Posted 29/06/2021 at 23:41:14
Tom #533
I'm thinking if Rafa does cartwheels anywhere...we'll probably be looking for our sixth (?) permanent manager in six (?) years.
Joe Corgan
538
Posted 29/06/2021 at 23:43:14
The Kop used to sing "Ra Ra Ra Rafa Benitez, Ra Ra Ra Rafa Benitez, Xabi Alonso, Garcia and Nunez" to the tune of La Bamba.
We don't have any Spanish players so can I propose "Ra Ra Ra Rafa Benitez, Ra Ra Ra Rafa Benitez, Richardson, Calvert-Lewin and Gomes?"
Night night.
Matthew Williams
539
Posted 29/06/2021 at 23:44:55
Let's see, firstly...
The Florida Cup...Forth
The Premier League...Eleventh.
League Cup...Third round exit.
F.A Cup...Fourth round exit.
I'll be checking the final scores to see if am proven sadly right.
I'll ALWAYS love my club,but sadly atm,all I feel is hate.
Sorry folks,but this would be an all-time low point in our history.
Jerome Shields
540
Posted 29/06/2021 at 23:52:24
Good Luck Rafa you are going to need it.
John Atkins
541
Posted 29/06/2021 at 23:53:27
Some of the posts on here are embarrassing- get a fucking grip will yer
Don Alexander
542
Posted 29/06/2021 at 23:55:51
The way Moshiri has behaved since he was conned by U-No-Who reminds me a bit of the way I used to behave when I started to go to disco's.
I wasn't as flush as him but I didn't mind spending in a bid to win the object of my desire (for only the one night in my case, not three years minimum with me to pay a fortune for a permanent floppy throughout).
Anyway, there were times I desperately bedded the sort of lass who in the morning scorned a shave before she went to work as a riveter at Fords Halewood.
I only did it twice though, so I now wonder if there's a vacancy on the board for someone who knows when to stop splashing out on hopeless fantasies everyone else, and I mean EVERYONE else, leaves well alone?
Si Cooper
543
Posted 29/06/2021 at 23:56:55
Well the club will have to back him big style because he won't get any honeymoon period.
If he ends up impressing me as much as Peter Beardsley did then I'll have to accept it was a good appointment. Unfortunately, I really doubt he will be that good for our club.
John Raftery
544
Posted 29/06/2021 at 00:03:57
I expect Rafa will be greeted with a round of boos and cat-calls on the opening day. Having experienced that at Chelsea he will get over it and so eventually will we. In any event the notion of the manager as a hero to be worshipped in the stands is a touch quaint in the modern era when most appointments are fleeting, lasting around eighteen months.
Benítez has the experience and confidence, some would say arrogance, to ignore all the local noise about his arrival and focus on making the maximum impact on the things within his control. His reputation is that of a hard worker, someone who will try his utmost to make a difference. There are no guarantees of success, of course, but I doubt his tenure will end in abject failure.
Brendan McLaughlin
545
Posted 30/06/2021 at 00:09:35
Don#542
Did you end up a billionaire as well?
Phil Wood
546
Posted 29/06/2021 at 00:12:13
Great! Someone's made a decision.
Looking forward to next season.
Not too bothered about what somebody said a few years ago.
Life is too short. Worse things happen everyday. Grown men and women stressing out. It's laughable.
Get a life.
Richard Jones
547
Posted 30/06/2021 at 00:28:19
Mark 506 your a disgrace, just because your not as passionate or partisan as some of us... Christ he's not even apologized for what he said or even said hed love to manage us, just that he lives in the area and he's a professional, have you not got any dignity man ?
Barry Hesketh
548
Posted 30/06/2021 at 00:43:55
John @ 544
There will be some catcalls and boos from certain sections of the stands, at the first game at Goodison, but I'm not sure that the sentiments expressed on here and other sites are a true reflection of the 30,000 regular attendees at Goodison.
Many of my pals go the game out of habit, tradition, community, etc., and they don't usually fret about the manager, unless he's producing bad football or his team is unmotivated.
The crowd responds to what the players do or don't do out on the pitch, and the Everton fanbase has never really 'worshipped' any manager, even Howard or Harry, certainly not during their days in charge, they received deserved plaudits when they did well and brick-bats when they didn't.
The other lot over the park are the ones who tend to go overboard about their managers much more than any other club in England. I suppose that's one of the reasons that Benitez's association with them is a thorn in the side of so many Blues on here and elsewhere, personally, I don't give a monkey's about that, grown men who truly think that a football manager should be treated as a god-like being or the devil incarnate is a bit of a mystery to me.
The game is and always will be about the players and what they do and how they perform, obviously, a manager can influence that with his tactics and his motivational skills, but like Ancelotti claimed they are not magicians, just mere mortals doing their jobs to the best of their abilities, if they fail they move on and are replaced. If they succeed they get the plaudits and will be remembered fondly by the supporters, but giving them godlike status is not something I feel the need to do, and I suspect quite a few Evertonians would agree.
Good luck Mr. Benitez, I think you may need it, not due to the negative reactions of some Evertonians to your appointment but because the squad needs a major overhaul and you won't have much time to make the necessary changes to fix it.
If Benitez can get the players to put in the hard yards and make them competitive that'll do for a start, if the same uninspired football continues for the remainder of this calendar year, then Duncan [assuming he's retained on the staff] will be celebrating the New Year as the new Everton manager and Mr. Moshiri will have to pay a few bob in compensation and Mr. Benitez can enjoy the New Year a bit richer than he was last year.
I was going to say it'll be fun to see what happens but I don't think there will be much fun to be had.
Si Cooper
549
Posted 30/06/2021 at 00:53:02
Barry, pretty sure all Evertonians want to be able to love their managers as it's only going to happen if they are successful.
We haven't had a successful manager for so long we have forgotten how that bond feels. Of course managers (and players) come and go but that doesn't mean we don't want to approach each new appointment as the next real deal.
Steve Oshaugh
550
Posted 30/06/2021 at 00:53:47
I can't say I'm thrilled that Benitez seems to be our manager. I couldn't care less if he managed Liverpool previously though...I would happily have either Klopp or Rodgers in charge from a footballing perspective. I do wonder if he is yesterdays man though- hopefully not. As for his comments. well the overwhelming commentary on this site at the time after games against the big six but against Liverpool in particular was echoing exactly what he said... he wasn't wrong at all.. we were playing like a small club and parking the bus without having a crack.
He seems to be as good as we can get at the moment. The fact that Nuno has been shopped around at least 3 clubs without anyone being convinced this summer should send alarm bells ringing. Under Benitez we will at the very least be tactically sound and solid
Peter Thistle
551
Posted 30/06/2021 at 01:37:27
I didn't know we were in the market for a fat spanish waiter.
Don Alexander
552
Posted 30/06/2021 at 01:53:22
Hickson and Xavier are the only Everton players in my lifetime that I can remember being directly sold to "them".
Morrissey, Sheedy, Barmby and Ablett are the only ones I can recall being directly bought by us from "them", the latter two in the twilight of their careers, as was and remains Kenwright's want. But they were good.
Otherwise I can't recall even a tea-lady having served both clubs, never mind a manager or coach.
The entrenched division between us and "them" should be obvious to Stevie Wonder, never mind our current owner or his dysfunctional boardroom, still chaired by serial-failure Bill.
I'm 66.
If whoever is actually in charge of Everton has any ambition to keep loyal fans on board after appointing the FSW he/she/it needs to move heaven and earth in the transfer market right now to give us even a modicum of hope, and then prosper beyond.
Not to do so will show contempt for us fans whose growing disinterest in the club, which I believe is real, even though match-day revenue is classified as insignificant by successful Premier League clubs, might soon come to bite billionaires overseas on the arse.
....... only in a small way though - no doubt rectifiable by another mega-bung by/to Putin.
.
Kieran Kinsella
553
Posted 30/06/2021 at 02:24:28
Rafa has the appeal of used toilet paper but if your ass is burning you'll take what you can get.
Jamie Crowley
554
Posted 30/06/2021 at 02:27:08
People on these pages whom I've vehemently disagreed with are on the same page as myself presently.
People I've never seen post are signing up or making their voices heard on TW as to how unhappy they are with this appointment.
This appointment, in my time (short, but gaining some degree of enough sampling to be legitimate in a distance-bastardized way), has by far garnered the most vitriolic reaction and bile from the fanbase.
This appointment is dogshit. It's embarrassing, it lacks any indication to succeed, but rather to coast and survive, and it's crossed a line with its ties to the enemy.
An enemy who is in my opinion the bitterest of rivals of any other rivalry I'm aware of in sport! Sans the Red Sox and Yankees but even that isn't near as "local" or meaningful for the participants, as the cities are 200 miles apart.
The overwhelming majority of posts are negative.
This brain dead, idiotic appointment has just, straightforwardly, popped the fan base in the back door - and yes, I mean that in the worst of ways, use your imagination.
Jamie Crowley
555
Posted 30/06/2021 at 02:35:25
One more venting for the peace of my soul.
Tonight I told my 12-year-old son Rafa would be appointed as manager tomorrow.
This is a 12-year-old Yank, who knows every single player and their number, watches probably 80% or so of the games with his old man, and would impress anyone on this site with his Everton knowledge and his unbridled love of the club.
When I told him Rafa would be appointed, he just looked at me blankly, his shoulders slumped, and he said, "What?"
Disbelief. We'd talked about the rumors, but in the Crowley house, no-one ever believed it would come to fruition.
My boy looked disgusted and gutted, all in one body and facial expression. If he was allowed to utter, "What the fuck?" he would have.
My 12-year-old realizes how fucking disgraceful and disgusting this appointment is. Why can't the Board?
Pete Clarke
556
Posted 30/06/2021 at 02:45:22
Our club do have history for letting us down. This however, has taken us to new depths of nothingness. This is a direct challenge from the owners to all Evertonians and if the first game goes badly then it's going to be nasty.
I have been of the thought that there must be a manager out there to drag some kind of football ability from our current crop of crap players but, if they decide not to work for him, then we will be relegation candidates early on. (Can you hear the laughter from the kop?)
If he can get these players going, then he gets my respect but I won't hold my breath given what I saw at Newcastle. Ancelotti did leave us in the lurch indeed but the board have fucked up on every single level with this one.
Dale Self
557
Posted 30/06/2021 at 03:04:53
Before we start with the minimizing of some good fans' misery let's remember HOW this is being done and that no presser or anything has been communicated about how we got HERE. Now add Rafa.
Do you get that?
I'm not attacking Rafa but management with a few cheap shots just for fun. The whole routine of 'get real' and 'get a life' is some low rent provocation given the circumstances.
You want him or you're okay with him? Fine. However that complacency isn't just riding with a coach who is limited with a misfit squad. No, this is a difference in kind. You are supporting a serious mishandling of a crisis just to get past it or get to the stadium without too much you know, protesty stuff.
Get real? Fucking come on man, I've got a good Everton life and I'm showing pride in it.
Matt Muzi
558
Posted 30/06/2021 at 04:39:14
I just wonder what was said in all these interviews and talks he's held with the board?

Danny O'Neill
559
Posted 30/06/2021 at 04:46:11
Peter Beardsley as well Don. I liked watching Beardsley even though he played in a poor Everton team.
I'm disappointed with the Benitez appointment, but I'm going to play Devils advocate with myself as much as anyone else. I appreciate it wasn't the hot seat, but many of us were foaming at the mouth with Sammy Lee in the dugout. I wonder if the City fans concern themselves with Brian Kidd's United background? He's been a big part of their success and noone ever seems to mention his United roots.
My bar is high for Everton. Modern fans would call me unrealistic bordering on mad, but I expect us to eventually be challenging for the title and Europe again in my lifetime. I guess I was brought up on that expectation, but also had an all too brief taste of it first hand. So I expect it just as much as I want it.
Devil's advocate moment again though. If we talk mismanagement (and I don't deny - I totally agree), in my lifetime only 3 of the current top flight clubs have not been relegated.
Everton is one of them. Now, admittedly, by the skin of our teeth on 2 occasions, but we have never endured what Leeds, Newcastle, City, Leicester, Wolves, West Ham, Villa, etc etc have had to. Even United got relegated in my early years. I remember Tottenham's first game back in the top flight around 1977/78 when they got trounced 7-0 by Liverpool. Chelsea seemed a bit bouncy in the 80s.
On that basis, many more clubs, including some real big hitters, have been way more mismanaged over the years. But that was then. Now is now. Like all of those mismanaged clubs though, 30 years of mismanagement is unfortunately going to take more than 5 years to fix, as frustrating as that is.
Like everyone, I expect more of Everton and I wanted a much more ambitious approach to the the managerial appointment. In the aftershock of Ancelotti departing, it could have been an opportunity to reset & rethink our strategy. However, with the seemingly inevitable on the cards, it would appear the leadership are going for more of the same. But having lost the Jaguar, we're replacing it with a Skoda. In property terms, downsizing from a detached to an apartment.
Alan J Thompson
560
Posted 30/06/2021 at 04:47:19
I wonder if this might see a public break in the Board and if any of them have the guts to stand up and say it was his decision. So much for all this "consult and listen to the fans" garbage!
Steve Brown
561
Posted 30/06/2021 at 05:03:21
Joe @ 538, I think having a Rafa song to the tune of 'La Bamba' is a cracking idea.
Here is my submission:
"Oh Fat Spanish Waiter, oh Fat Spanish Waiter, you are total crap so it's adios later."
His first 12 games in charge will be tense. I suggest Big Dunc gets his match dossier ready for Man City away on 20th November as he may in charge by then.
Steve Brown
562
Posted 30/06/2021 at 05:08:52
Sometimes I try to imagine what various TW posters do for a living. Reading Mark @ 506 and Phil @ 546, I was racking my brains.... but then I got it! Of course, they are a pair of merchant bankers!
John Boon
563
Posted 30/06/2021 at 05:10:00
While it is such an unpopular choice, I support Everton and No appointment will be enough to change my allegiance to the team I love. I will try to stay positive. Sometimes that is viewed as conceding and accepting a very unpopular appointment. Really we don't have much choice. I will never boycott my team and realistically I want the appointment to work now it is confirmed.
One positve is the fact that Benitez has to succeed more than any manager we have ever appointed. I look to the early season games and he just has to have a good start or the fans will turn on him far more than what he may be experiencing now.
I hope he is given sufficient funds to make a significant change because what he is inheriting is a poor team who have been playing dog's arse football for most of the 2020-21 season. I think it is naive and utterly ridiculous to hope he fails just to be able to say "See, I told you". Nobody should give up their Evertonianism for one very suspect appointment. I just cannot do anything other than to wish him the best of luck!
Danny O'Neill
564
Posted 30/06/2021 at 05:19:47
I can understand it being unpopular, John. I can understand the discomfort; I feel it myself and my younger brother (Moyes era) is in utter dismay.
But it doesn't change allegiance. It can't. It's simply not possible to give up you're Evertonianism or stop loving Everton. That's unconditional for fools like me. 'Non-negotiable' as I've often told my West Midlands wife.
We (well, the vast majority) will be there wanting the team to win come season start, regardless of who the manager is.
The dogs are in for a long walk and talk this morning.
Danny O'Neill
565
Posted 30/06/2021 at 05:26:17
Depends how comfortable they all are Alan @560.
If, as we have been led to believe, and there has been a split on this then let's see if those opposed are willing to live by their principles.
Or alternatively, say their piece, swallow their pride, turn to the right and march on – to coin a military term.
Mark Wynne
566
Posted 30/06/2021 at 05:37:27
My problem, no matter your individual views, is the lack of goodwill in the bank. What sort of season gets the fans onside? How many bad or indifferent results before we see a plane over Goodison with "Rafa Out!" trailing behind it?
Let's say we get to the derby behind our neighbours, what about the "Well done, Agent Rafa" banners? Using Ancelotti as an example, if Liverpool came calling (I know it's a stretch), who thinks Benitez wouldn't ditch us quicker than a second-hand face-mask to go back across Stanley Park?
We only have to look back to Allardyce to see how toxic the relationship with the fans can become and arguably Fat Sam didn't start the job with this level of hostility. I don't see how it can ever work personally. We would need trophies and probably the league title to get people on side and there can't be many people out there who think that is realistic.
I can only hope there is a plan with huge signings in the pipeline, because if I was to bump into Moshiri in the street, I would have to ask: "Are you on crack?"
Derek Powell
567
Posted 30/06/2021 at 07:09:54
All this will do is divide the fan base and bring discord to the team till he's sacked,. kenwrong brands and morashi have made us the laughing stock of the footballing world thats me done after 60 years of loving the blues.
Pete Clarke
568
Posted 30/06/2021 at 07:16:24
Just a thought but have the board been looking at the frail opposition to this appointment and decided that apart from a few banners put up by kids there's nobody really making a fuss ! Just look at what happened with the Europe Super League. Now that was opposition and did the job.

I doubt any of the board read ToffeeWeb so how else would they know ?
Derek Knox
569
Posted 30/06/2021 at 07:19:17
There is one Ray of Hope the TW Golf Day on 27th August if you haven't signed up already still time and places left. See General Forum News. At least a chance to take your mind off all this not so good news, and enjoy a chance to meet many well known names.
Michael Kenrick
570
Posted 30/06/2021 at 07:40:23
Don (#552),
Not that it matters but Barmby joined us from Middlesbrough and then became a traitor 4 years later, after Euro 2000, where we believed he had been tapped up by the Liverpool players.
The anger expressed against him at the time was immense. It seemed less just a year later when Xavier was the deserter. I guess we didn't like him as much!

Stephen Brown
571
Posted 30/06/2021 at 07:41:11
If it's Benitez then I supposed we have to get behind him!
If he has any sense he mentions Dave Hickson, Peter Beardsley and Gary Abblet in his first press conference!
Stephen Brown
572
Posted 30/06/2021 at 07:42:52
Apologies I hadn't read the thread !!
Old news on Hickson, Beardsley and Ablett
Jerome Shields
573
Posted 30/06/2021 at 07:52:26
Michael#361
Thank for your comments.
There are reasons why Everton are in mid table mediocrity. Many of them unpalatable. Benitez is the result of the owner or owners trying the break the mould in the hope of changes this. Of course he does have experience and qualification regarding the team, but not the experience , qualification or control or access to finance to turn a whole Premier League Football Club around. This is all obvious.
Benitez will encounter resistance from the start and those responsible for previous performances and got away with it, when Numerous Managers haven't, will not want someone coming in to question their performances.
At Everton these people are well established in their seemingly secure jobs and will have developed a false set of arrogance as a result. There are numerous reports on this regime over the years giving observers a idea of what actually goes on. There is no job description or black and white reasons for it. They are grey areas that people in everyway of life experience themselves daily and recognise as a result.
The result is performance mediocrity, it isn't good management, work practice or attitude. If you are interested in Everton progressing you call it out for what it is and support the lone voices that do the same. , Often with resistance and call for evidence in the absence of alternative explainations. There is nothing pleasant about it as Benitez knows as he faces into trying to deal with it.
Anchelotti was a attempt to break the mould, but inevitability came up short, since he did not, like Benitez, have the necessary qualifications. Benitez is the adapting of a harder approach by the Owner/Owners and good luck to the owners with that. But this is only part of the package needed to turn Everton around.
All jobs look great when advertised with job description to match. Alot of the job will be as described, but like all challenging jobs it will be how the blood and guts part is dealt with determine the performance. Often it is avoided. Whether you like it or not there is a lot of blood and guts to deal with at Everton. Live is not all happiness, sadness is also part of it.
Good luck Rafa.
Alternative posts help make Toffeeweb.
Vijay Nair
574
Posted 30/06/2021 at 07:53:20
Don (552) I think you mean Beardsley, not Barmby, coming to us from Liverpool.
Nick Barmby actually went the other way. At the time it looked as if he was instigating the move, but it looks like the club were keen to flog him off.
https://www.acrosstheparkpodcast.co.uk/post/exclusive-alan-myers-nick-barmby-didn-t-want-to-leave-everton
Kim Vivian
575
Posted 30/06/2021 at 08:02:27
Danny 559- if you want reliability, go for the Skoda over the Jaguar every time, mate.
Is this an accurate metaphor? Time will tell
Barry Thompson
576
Posted 30/06/2021 at 08:04:13
David Johnson. - Steve McMahon
Derek Knox
577
Posted 30/06/2021 at 08:04:48
With reference to players crossing over from the Dark Side, no mention has been made of Alan Harper, the utility player, a bargain at £60K I think it was back then. As an aside I used to live in Aigburth, South Liverpool, and regularly used to see and chat with Alan and Billy Liddell on the way to my work as they both used the same Newsagent as myself, two good guys btw!
Pete Clarke
578
Posted 30/06/2021 at 08:09:38
This has a lot less to do with his actual connection to the Red side than the fact that his past 2 jobs were a joke for a so called top manager. What other clubs were after him ?
He's become a mercenary drifter and that's not want we need. We need a manager with ambition, one to put us back where we want the club to be and one who can get his players to entertain or at least do the basics. If Ancelotti could not do it then what chance has he got ?
We could end up paying a fortune to a washed up ex red to take us down.
Bill Kenwright brought these people in but I think even he is worried about his beloved club right now.

Mick O'Malley
579
Posted 30/06/2021 at 08:11:48
Paul A Smith@483 I'm with you, I hate RS and can never except him, I am absolutely gutted, Moshiri can do one for me as I've said before I preferred it when we were skint, bar the stadium Moshirihas been a disaster with his managerial appointments
Paul A Smith
580
Posted 30/06/2021 at 08:18:36
This feels like more weak Everton mentality. Need a manager so get someone that was successful at Liverpool 20 years ago.
He won the FA cup and the luckiest champions league win in 6 years there. Nearly 20 years ago.
Hugh Jenkins
581
Posted 30/06/2021 at 08:22:48
To state the obvious, football has changed significantly since it was a localised passtime for the working man to enjoy on a Saturday afternoon.
We all have to come to terms with the fact that only fans have any loyalty nowadays, to specific football clubs.
Not, players, not managers, not owners.
If the MD of ICI is sacked, and then takes the same job at Fords, does the workforce revolt? Do the customers,dedicated to the brand, decide that they will never buy that product again, or write letters of complaint to the board?
No!
Regrettably, nowadays, football clubs should be viewed in the same way.
We, the fans, can be loyal to "our" club, but we cannot expect the same from the "hired hands".
That is all a football manger or football player is, these days - a hired hand.
So the expectation that they should be "loyal" to one club or "play for the shirt", is sadly, an anachronism of a time since passed.
For that reason, I don't think it matters, who manages Everton, or where they worked before, as long as they do a damned good job whilst they are here.
If, after 26 years, Benitiez were to deliver silverware, would we then care that he had also done it elsewhere?

Alan McGuffog
582
Posted 30/06/2021 at 08:25:16
Love it Mick remember that comedy sketch, " what have the Romans ever done for us ". Your comment recalled it. Besides a state of the art, £500 million, iconic stadium on the banks of the river what has he done ?
Kim Vivian
583
Posted 30/06/2021 at 08:28:04
Jerome - to retain a semblance more credibility, please start getting Ancelottis's name right. I will read to the end then.
Danny O'Neill
584
Posted 30/06/2021 at 08:29:46
Paul A Smith,
Rather than a reset, re-think and re-adjust, I can only assume (as I don't know), that they (the board, the owners) think that with Benitez they are getting more of where they hoped they were going with Ancelotti before he caught them off guard.
A name in the game and one that has won some stuff in the past. Oh, and he has a house on the Wirral to make it a convenient match.
It seems they are opting for more of what they see as the same to fit what I assume is their strategy. Only it is an even more out of date model for those who thought Ancelotti was yesterday's man. And that's before we go into his past history with our neighbours.
Charles Barrow
585
Posted 30/06/2021 at 08:39:44
This is a mistake, not just because of his RS connections but because he's yesterday's man - I don't think he has the skills to turn round a dysfunctional squad and club. Moshiri has done the stupid thing and just gone for someone he's heard of.
But if he's Everton's manager then I support him and if he's successful winning a few trophies (the only gauge of success) then fantastic - with the bonus of pissing off Red's fans. But if he starts losing games then all hell will break out and make things for the club a hell of a lot worse. I'm not optimistic but hope I'm proved wrong,
Derek Knox
586
Posted 30/06/2021 at 08:42:05
Paul A @ 580, my sentiments entirely there, I fail to see how a period with a mixture of luck and success nearly 20 years ago, is expected to be a Phoenix and re-invent both the Club and himself, from the ashes! Like I have said many a time forget who the ex employer was, as Hugh #581 so succinctly made a very apt analogy, but have a close look at what he HAS done since then apart from inflating his already bloated Bank Account.
A house on the Wirral? More like Castle Benitez!
Paul McCoy
587
Posted 30/06/2021 at 08:49:41
I don't care about the RS connection, Benitez is completely the wrong man for this job. He's wrong for the same reasons that Ancelotti didn't work out. Set in his ways, will want a blank chequebook and has a poor record of bringing youth through.
Moshiri has fucked us again.
Dan Nulty
588
Posted 30/06/2021 at 08:52:10
Do you know what, some of us might not be happy about it but surely at some point, whether by luck or judgement, we have to get one of these appointments right?
It could be this one, whilst skeptical, I hope he proves us all wrong.
Paul A Smith
589
Posted 30/06/2021 at 09:11:12
Danny I agree and one thing that must be evident from my posts on here is how often I moan about thre clubs true intentions.
This is something I have discussed in person with a group of fans for a long time now.
Ancelotti was brought to steady the ship and although it wasn't a successful season and he wasn't pulling any trees up, he was likeable. Players and pundits like him. Massive in todays spoilt sport.
This appointment wreaks. It seems the only backing it has is from fans that don't pay anymore or haven't lived in the city and seen what fat Rafa means to them lot.
This is where the club want to be though. 7th is the ambition going into Bramley Moore and miles more profitable than where the club was when Clown Moshiri bought it.
Mark my words 7th is a happy place for a businessman in control of Everton. Thats the ambition and its happening just like we discussed it.
We hit them safe places every season and Moshiri has bought a Goldmine. The premier league is one of the last growing markets and we are being mugged as fans while it happens.
Tony Shelby
590
Posted 30/06/2021 at 09:14:07
I'm not sure Moshiri and the rest of the board have a clue when it comes to appointing a manager.
We seem to be chasing "names" rather than emerging talent.
Are we starting to sense that this is about stabilising Everton FC during a period of transition and maximising its sale value once the stadium is completed rather than focusing on what happens on the pitch?
If this project takes any longer I'll be too old to enjoy the frigging outcome!

Peter Mills
591
Posted 30/06/2021 at 09:17:03
I renewed my season ticket yesterday. It felt slightly more palatable to bite that bullet prior to the confirmation of his appointment than after.
Brendan McLaughlin
592
Posted 30/06/2021 at 09:25:03
Jerome#573
There are numerous reports on this regime over the years giving observers a idea of what actually goes on.
Any chance you could post links to even a few of these "numerous reports"? Got a feeling you won't.
Benjamin Dyke
593
Posted 30/06/2021 at 09:35:57
If Rafa does a good job then to me that's even better because of his Red links! It will get right up them. And that's enough for me. A lot of prejudice here against the guy when he hasn't even started. I'm pleased his family live on the Wirral well after he left Liverpool. It's genuine. Not that cheap Ancelotti love for Crosby that he gives up when seeing an old flame. We need stability. We need slow Moyes like progress to get to the new stadium and re launch. He's a good fit in my opinion. I want us to be hard to beat again. Last season we sleep walked to many embarrassing home defeats against lesser teams and Ancelotti was supposedly a master of defence. We know nothing about these exotic names like Gaultier, Rangnick and how they'd do here. Even Pellegrini said he's not interested. And Potter. Our choice was Moyes, Howe and maybe Nuno. My choice was Nuno but I understand what the owners see in RB as a coach and organiser. I don't care about his past.
I appreciate many others don't think like me but I wanted to add a bit of balance
COYB
Barry Hesketh
594
Posted 30/06/2021 at 09:41:11
Benitez's first press conference, underneath his freshly ironed shirt, there's a hint of red showing through, and below his breast pocket, if you look close enough, the outline of a Liver Bird can be seen.
Interviewer: "Do you think that you will be hamstrung by the reaction of the Everton supporters?"
RB: "No not at all, I have faced the wrath of supporters at previous clubs and I won't let it affect me"
Interviewer: "What do you hope to achieve at Everton?"
RB: "I believe in the project, I have the ear of the owner and we are in agreement, a club of this size should be where they belonged many years ago, It's my job to get them back in the championship, sorry Champions League, Benitez's face turns red as he smirks about his gaffe.
Interviewer: "Will you try and keep hold of the likes of Pickford, Calvert-Lewin, and Richarlison if they feel they have to leave Everton to improve their chances of silverware"
RB: "Silverware isn't the only measure of success, it's about ensuring the club are kept on an even keel, financially. That means that sometimes players will leave and players will arrive, it's a facht that for clubs like Everton and Newcastle, it's almost impossible to compete for the trophies, but with the fans onside there is a slight chance, but realistically, the club has to cut its cloth accordingly.
Interviewer: "Have you any signings in mind during the summer? "
RB: "I have many targets in my mind, but some of them will not please the fans, but I have to be pragmatic and realistic, to make sure I get those players who will improve the chances of taking Everton to a place I feel they belong, surely the fans will see the merit of seeing new teams playing at their ground and those sturdy away fans can enjoy some exotic trips to places they have not been to for league fixtures since the 1950s.
The rest of the interview consists of his reminiscences about his glorious time spent over the park, and the wonderful players he was in charge of, three hours later the interview ends.
Paul A Smith
595
Posted 30/06/2021 at 09:50:20
All these comments about how Liverpool fans will feel. Fuck them. Fuck the weak mentality.
This is about how thousands of Evertonians feel. I couldn't care if Liverpool fans do end up gutted its still a poor move from Everton.
Any player that wants to do his own thing on the pitch or go against the waiter in any way, knows they have thousands of fans on the same page.
Potential disaster.
Brian Murray
596
Posted 30/06/2021 at 09:55:28
Barry. You forgot to add it's also quite a handy venue from over the water on my way to the lfcstadium tours that my family love. When bmd rises from the ashes( like the real scouse club ) it would be tarnished if he was still in charge on the first day. Thankfully that will never happen because a managers shelf life these days is two years tops. Especially him with his best days well gone hence his slow boat to China.
Mick O'Malley
597
Posted 30/06/2021 at 09:56:22
Alan @ 582 Made up with the stadium when it's eventually done, not so pleased with the succession of shite mangers and players we've signed under him on lengthy well-paid contracts.
Rob Young
598
Posted 30/06/2021 at 09:58:01
It's very hard to love the club today.

Paul Hewitt
599
Posted 30/06/2021 at 10:00:43
I've never known so many fans wanting a manager to fail just so they can say " I told you so".
Andy Duff
600
Posted 30/06/2021 at 10:02:38
Reading this thread it brings home how the Kubler Ross Change Curve can be applied to everything in life. Any change you are faced with, you go through a change curve:
SHOCK - surprise this is even happening (no way Rafa will ever be considered)
DENIAL- disbelief looking for evidence this isn't true (look at the odds, that source is unreliable)
FRUSTRATION - Realising it will happen, things will be different, anger annoyance (bedsheets, giving up season tickets)
DEPRESSION - low mood lacking energy resigned to the fact its happening (realising you've no choice, you'll probably go the game still but not bothered)
EXPERIMENT - starting to see what positives there might be, becoming more used to the idea
DECISION - you have accepted it, you're going to cheer on the team and give him a chance
INTEGRATION - fully accepted, chanting his name after we've just beat the RS 5-0 and won our 3rd trophy of the season...
I'm probably moving towards Decision, I'm going to go give him a chance and hope he delivers, but I have gone through every phase in this curve.
So, when we are all fighting on here about it, just see it as Blues on different parts of the Change Curve. Some might never progress past Frustraition and never accept this. Some will given time.
I also think Everton are fully aware of the impact of this change and are applying change management principles, hence the strategic leaking of information to get people used to it more quickly.
Kevin Fitzsimons
601
Posted 30/06/2021 at 10:05:01
And for that reason, I am out. I don't condone or agree with th threats, but the guy wants a local job and lost the local job he really wanted...
I have lived in Australia for 11 years and still called myself a True Blue... This is the same nonsense that wanted the European Super League... Soccer is dead; Long Live Capitalism.
I get more joy from my daughter playing netball. I'll await the Benitez apology for calling us a small club and then delete ToffeeWeb from my browsing history and just view it in Incognito mode lest somebody find out I still care.
Dave Abrahams
602
Posted 30/06/2021 at 10:05:43
Don (552) Jimmy Payne/ Tony McNamara swop deal 1956, I think it just makes it in your lifetime.
James Roberts
603
Posted 30/06/2021 at 10:06:37
Benjamin #593 - Second those comments. I'm happy to give the guy a chance.
Brian Murray
604
Posted 30/06/2021 at 10:12:54
The FA Cup semi-final v Man Utd, less than a week after a derby mauling, and I have never seen such a toxic atmosphere, especially at Wembley. Our fans fighting with each other which only quelled a bit when we equalised. Not saying Goodison will go like that but it's still a vivid and sad memory. Just before Martinez was sacked, as I recall.
Alan J Thompson
605
Posted 30/06/2021 at 10:13:22
The irony is that a couple (or three?) absentee owners (well Directors anyway, London & Monaco) after appointing managers (and other Directors) from all over the continent seem to be hiring, sort of, a local.
I think I can feel the blood draining.
Derek Knox
606
Posted 30/06/2021 at 10:20:55
Paul @ 599, I do wish you would remove your tongue from Rafa's sphincter!
Do a Lloyd Grossman and examine the evidence! I genuinely don't believe there is some sort of Voodoo Doll Skullduggery going on amongst those who find his appointment both distasteful and totally the wrong one for Everton Football Club after a succession of bad choices.
Now here we are again with the tail wagging the dog: neither the Board nor Brands seem to have been involved in making this decision, which looks to be based on distant history rather than from a footballing perspective, and on what will actually benefit our once magnificent club.
Jabba The Hut is dictating from afar, and he has technically no recognisable position at EFC, yet is over-ruling everyone, tell me that is fair, or has any logic in it? Like I said before I will gladly concede defeat if he turns out to be a success, like he was at Newcastle eh! Oh and getting back to the Lloyd Grossman reference, his was 'Through The Keyhole' not through an Anal Orifice!
Dave Abrahams
607
Posted 30/06/2021 at 10:25:24
James (603),
I put my name on that list a few days ago, as did quite a few other fans, although some have reservations about his appointment. Every new manager who signs in comes with reservations, there are no guarantees of success.
One of the worst to come in was Howard Kendall third time around, in my opinion. I certainly didn't want him and got on Radio Merseyside to say so so. That certainly was a very poor appointment because of his illness; we escaped relegation in the last game of his ill-judged reign.
Dave Abrahams
608
Posted 30/06/2021 at 10:32:05
Derek (606),
If you put £500,000 into a business, then I think you have a say, a big say in who manages that business. However he goes about it, it's his money that has gone into the club.
James Head
609
Posted 30/06/2021 at 10:33:58
Dark times at Titanic FC.
Clueless front-man, Moshiri, the captain of this doomed venture; spineless yes-men on the useless board, a bloated squad of over-paid average players, the iceberg looms large.
I've witnessed the work of every manager since 1970, and have been witness to the vitriol that has poured from the terraces towards players and managers, but it will be nothing in comparison to what is to come when this next disastrous appointment begins to unravel; a dinosaur manger for a dinosaur of a football club.
Derek Knox
610
Posted 30/06/2021 at 10:37:53
Dave @ 608,
You mean like the Conservative Party, make a large donation and rules will be bent to accommodate, and favours will come your way?
You seem to be missing the point, what is the point of having a Board, if they are being over-ruled, manipulated and dictated to from afar?
Tony Shelby
611
Posted 30/06/2021 at 10:39:20
Look, I'll get behind the manager
at first
.
Not doing so seems a bit pointless really and maybe Benitez is the perfect choice. We'll soon find out.
But...
...if we're in the shit at Christmas and/or playing the sort of turgid bollocks that other ex-Newcastle-managing twat, Allardyce, gave us, then I will be screaming at the top of my lungs for him to go and for the board to get their bastard act together.
Dave Williams
612
Posted 30/06/2021 at 10:40:49
Get in there, Rafa, and ram the doubters' words down all our throats.
We now have a stubborn, determined man in charge with a lot to prove – he will cut through the crap quickly and we might just end up with a decent team.
Andrew Clare
613
Posted 30/06/2021 at 10:42:16
Let's face it, Premier League clubs are just a great opportunity to launder money. The main objective is to keep their status as Premier League clubs. Benitez will do.
The super rich agents that are neighbours of Moshiri and other billionaires in Monaco will continue to assist in washing Usmanov's (and the like's) ill-gotten gains.
Meanwhile, the fans are left to bicker about trivia such as managerial appointments and player signings. The club we supported ceased to exist a long time ago. Only money matters. Greed is has destroyed football and is destroying the world.
Pete Clarke
614
Posted 30/06/2021 at 10:46:15
The jokes are flying in via the iPhone. Benitez Dancing to an Everton song. Comparing his Everton tattoo with Ferguson.

What have these fuckers done? I feel very little towards Rafa but my dislike for Moshiri right now is growing fast.

Andy Duff
615
Posted 30/06/2021 at 10:51:14
One thing I'll say about this. We all sing "we don't care what the RS say... "
This is obviously not true as some can't see past it.
He's not my first choice, as I've already paid for the 3 season tickets in this family, I've no choice but to go so I'm now resigned to it.
I just hope he is a success. If he is, imagine how more upsetting it will be to the bitters over the park.
Mark Ryan
616
Posted 30/06/2021 at 10:52:10
Good to hear that he was met this morning by Dunc, Bainesy and Unsy.
I hope he kicks em all up the arse and galvanises the club – for fuck's sake, someone needs to. It's now down to him to prove the moaners and groaners wrong and get us back on track. He can start with some quality signings.

Paul A Smith
617
Posted 30/06/2021 at 11:10:51
Mark what utter nonsense you talk. Met by Dunc Baines and Unsy, so what. Who was you expecting?
Galvanise.
A hated rednose to galvanise this already fed up club. Fingers and toes crossed ey.
Kunal Desai
618
Posted 30/06/2021 at 11:16:50
Quality signings? Don't think so. The clubs a mess, who really wants to sign for a club that has gone through a succession of managers, and would play for a manager who has done nothing in the game for over 10 years.
We'll bring in some more average rubbish i'm afraid. No progressive or hungry players are coming to this shitshow to finish midtable or lower.
Annika Herbert
619
Posted 30/06/2021 at 11:18:33
Failed at Inter Milan, failed at Napoli, won cups with an inherited squad at Chelsea, failed at Real Madrid, failed at Newcastle and did nothing in China. This is the man some people think will bring success to Everton?
I just can't see this appointment being anything other than a complete disaster. Not looking forward to the new season with any optimism whatsoever.
Benitez is here to further line his pockets with the easy money available from the gift known as Everton. Let the misery commence!
Michael Connelly
620
Posted 30/06/2021 at 11:20:15
No doubt we'll get a "this is clearly a big club" comment in Rafa's first press conference.
David Pearl
621
Posted 30/06/2021 at 11:24:08
Yada yada yada
He is here now. I wont cheer him. I wont boo him. I will support the team.
Signings should be down to Brands so if things do go downhil the replacement can carry on being a coach.
A few top signings in the next month and his job gets easier. If we get off to a good start we will soften towards him. If he gets off to a bad start... then he will be gone by November and Moshiri can write his severance cheque for £20 odd million.
Paul Hewitt
622
Posted 30/06/2021 at 11:25:41
Failed at Napoli. He won them their last trophy.
Brian Murray
623
Posted 30/06/2021 at 11:28:49
Unusual a big blacked out van ( is it armoured?) on arrival. Maybe it's conti or galteri after all. Sorry just woke from a nice dream. Let the small club rise again. If we do I hope his fans don't wreck if for us again. Coyb.
Mark Ryan
624
Posted 30/06/2021 at 11:30:07
Paul at 617 my point being that I believe ( you clearly don't ) that we need some continuity moving forward and I still believe that having Evertonians involved in the coaching staff is important and so I think it's good that he has retained those staff rather than have a clear out which is part and parcel of why this appointment has taken so long.
You're so busy trying to stamp your foot through the floor like Rumplestiltskin that you cannot see the wood for the trees. I suggest you try some deep breathing. Chill out. Its football, nobody's dying here
Brian Murray
625
Posted 30/06/2021 at 11:33:21
Dave @612.
If he will cut through the crap, I expect the Chairman will be gone by end of the week.
Brian Murray
626
Posted 30/06/2021 at 11:35:26
Mark Ryan. You say it's important for continuity (means 'lazy') to have ex-Blues still on payroll? For fuck's sake, give me strength.
Annika Herbert
627
Posted 30/06/2021 at 11:36:37
Paul @ 622 and there lowest league position for years, following several seasons of being considered title challengers.
He was sacked from Napoli for a reason
James Marshall
628
Posted 30/06/2021 at 11:37:18
So the lyrics to the song are entirely incorrect, because clearly we DO care what the red shite say!
Honestly, it's pretty funny the reaction people are having to this appointment.
Isn't he the first ever RS manager to come to Everton? We're normally so excited and proud of all our 'firsts' aren't we?
You can't have it both ways :-)
Tony Abrahams
629
Posted 30/06/2021 at 11:37:19
I wonder how many trophies Benitez has won since 1996? In all this time, my club have been in one cup final, doing things the Everton way.
Brian Murray
630
Posted 30/06/2021 at 11:44:02
If he, with the help of Brands, gets Bernard, Sigurdsson and Gomes off the payroll, he's already manager of the year.
Danny O'Neill
631
Posted 30/06/2021 at 11:44:21
I don't like to conspiracy theorise Brian, but if Benitez is announced, then there could well be movement at the top? There does seem to have been disagreement and division on this.
I just don't know if that would be Kenwright as this must be against his will? Or Brands? Surely there will be conflict of character ahead with Benitez the controller and Brands? But then Brands recently got elevated Board level responsibilities didn't he?
See, I'm all questions and know nothing!
Maybe it's Rangnick after all.
I'll give myself 18 minutes and then I can have a medicinal drink to calm myself.
Brian Murray
632
Posted 30/06/2021 at 11:52:47
Why didn't he just stick to the catering section in the Echo in his job hunt? Another sad day and sorry episode. Prove us wrong, man... well.
Brent Stephens
633
Posted 30/06/2021 at 11:57:37
Detest the guy, for his comments about us. And not sure his recent record is that great. BUT who are all the other potential managers we're looking at who (a) have recent success (not a few interim-manager games) and (b) would even consider us? "No answer" came the stern reply. I'm not going to call us a little club – let's just say we're not big enough to attract a top manager, who has recent success, and who wouldn't divide the fans! That's reality.
So, never wanted him here. But he is here. I can't change it. Breathe and / or vent on ToffeeWeb. But let's not forget that on ToffeeWeb we don't speak for all Everton fans – our views don't necessarily reflect their views. If it's to be believed, apparently over 40% of Everton fans out there would be okay with Rafa – doesn't make it right; doesn't make it wrong; doesn't make me feel any better about him. But our forum doesn't necessarily reflect general opinion.
So I'm going to try to breathe calmly and try to accept it. Let's now hope we get the player signings we desperately need. I'll still be going to all home and away games, Covid permitting. And I'll never be booing the guy while a game is on.
Barry Hesketh
634
Posted 30/06/2021 at 11:58:16
The Esk, tweeted either yesterday or the day before that there would be some changes at the club, but said they weren't related to the appointment of Benitez.
My guess is that Brands will become the new Chairman of Everton FC, obviously, I have no evidence to support this, but it's the only logical outcome I can come up with for Brands remaining at the club, given his supposed lack of input in choosing Ancelotti's successor.
Danny O'Neill
635
Posted 30/06/2021 at 11:58:45
If it is him Tony, he has to be allowed to do things his way. Not the Everton way. Whatever that means these days.
Since we last won a trophy, he has won 2 x La Liga titles, a UEFA Cup, the Champions League (some call it jammy, but it's on his CV - he was also a runner up), the FA Cup, UEFA Super Cup, Supercoppa Italiana x 2, the FIFA Club World Cup, the Europa League, Coppa Italia & the EFL Championship.
Some may snub that last one, but many also laud the Leeds manager.
Yes, it may have been a while since he won a trophy, but it wasn't 1995.
And don't forget people, I'm "disappointed" in the poll. The owners are clearly going for someone they view as being suited to their Ancelotti model.
Fran Mitchell
636
Posted 30/06/2021 at 11:59:13
I don't think this is the correct appointment, like many/most.
But I am not bothered about the Liverpool connection. I have no personal gripe against him, nor anyone in football...who has the time?
So I truly hope he proves us wrong and shows he is still an elite manager. And pray that he employs a better style and of play that I believe he will employ.
I hope to god I'm wrong.
Tony Abrahams
637
Posted 30/06/2021 at 12:00:39
Brian @625, if that happens, get your kid, and I will meet yers for a three-day bender, mate.
And I'll pay for everything, no expense will be spared!
Joe McMahon
638
Posted 30/06/2021 at 12:02:20
Tony @629 a very sobering and accurate post.
Phil (Kelsall) Roberts
639
Posted 30/06/2021 at 12:04:41
Barry #634 - or maybe how to spin it as a positive that he is leaving because he seems to be bypassed by everybody else who does not know as much as he does about football.
David Nicholls
640
Posted 30/06/2021 at 12:05:33
I have no qualms with the Liverpool FC connection. A lot of water has passed under the bridge since the 'small club' comment.
The lack of recent success is more of a concern. In Darren H's recent article, he likened a past-his-best manager to a punch-drunk boxer. In the case of boxers, there is the obvious physical toll taken on the body. With management, it can only be mental and the question would be if they still have fire in their belly.
Hopefully in Rafa's case, the controversy surrounding his appointment will give him some added motivation. All things considered, I'm okay with this move.
Barry Hesketh
641
Posted 30/06/2021 at 12:07:27
When host White told Carragher that Benitez is expected to be officially appointed on Wednesday via talkSPORT [11:12am], the ex-Liverpool defender laughed a lot and then said: "It's one of those ones where I sit back with the popcorn and watch it all unfold."
I thought that Jamie Carragher was a big advocate for Benitez getting the Everton job? Wasn't he telling all and sundry that his former boss was the best man for the job?

Paul A Smith
642
Posted 30/06/2021 at 12:18:40
Why are people acting like there is no such word as refund? Just admit you don't mind the club mugging you.
Its absolute fucked this fanbase, sadly.
This club makes an idiot of us on a regular basis. The "ask and we listen"bullshit over the stadium.
Fans ask for 61878 seats. Club laughs it off then thanks fans for getting involved.
I have been a door mat far too long.

Steve Brown
643
Posted 30/06/2021 at 12:19:17
Of course Carragher was an advocate of hiring Benitez, he supports Liverpool. He can now sit back and laugh his ass off thinking "Mission accomplished! I can't believe the mugs fell for it."
Tony Abrahams
644
Posted 30/06/2021 at 12:23:31
But Carragher lives in this city Barry, and everyone can feel the anger of a lot of Evertonians right now. I just hope he buys the biggest box of popcorn in the pictures, and goes on to watch one of those epic ten out of ten movies, which goes through every emotion, before finishing with the happiest ending in the world!
We've been getting mugged off for years imo, but most of us still we go the game. Steve B, if you was a player and you won the Champions league, with the squad Benitez had, I honestly think the last thing you would be thinking is any team that takes him as manager, are being mugs.
David Nicholls
645
Posted 30/06/2021 at 12:27:28
Ha ha, Farhad was clearly convinced by Carragher. 😀
Seriously though, I still think Carragher has a massive soft spot for us. His eyes light up at the subject of Everton on Sky.
Dave Evans
646
Posted 30/06/2021 at 12:43:17
It seems with all the apparent fan resignations, there will be tumble weeds floating down the steps of The Park End come Christmas.
Another thing. If posts on here get really toxic after a new manager loses a few games, how will someone know?
Conor McCourt
647
Posted 30/06/2021 at 12:54:10
Tony/Danny I would ask you how many trophies he has won with the eighth best squad in the division? If Manuel from faulty towers had been managing some of the clubs he's managed he would have a few trophies in his cabinet, mind you we have had a few Manuel's managing us over the years.
The prerequisite for any manager to achieve anything for us is overachievement. This is a manager who hasn't overachieved once in his last six jobs, indeed he has brought the majority to their lowest ebb (Inter,Real,Dalian).
No offence but it's a ridiculous comparison between Benitez and Everton which only highlights how difficult it is for us to compete for trophies and ironically the last two managers who gave us a chance were Moyes and Martinez who both have terrific records of overachieving at various times in their careers. Not since Valencia and arguably our neighbours have we seen this from Rafa.
John Wilson
648
Posted 30/06/2021 at 12:54:20
It's just making emotional decisions. Rafa looks like the new manager. He is a proven winner. Winning mentality, a proper coach – not a fake, like Quiet Leadership Ancelotti.
Dave McDowell
649
Posted 30/06/2021 at 12:54:51
So it's looking like it's a done deal so once officially confirmed can we finally put the sheet protests to bed.
Don't worry I'll see myself out.
Steve Brown
650
Posted 30/06/2021 at 13:07:59
Yep Carragher loves us.
Paul Tran
651
Posted 30/06/2021 at 13:08:27
If it is him, I'll be underwhelmed.
Given that he lives on The Wirral and will be hearing all the abuse, part of me admires him for taking the job on, which shows a level of stubbornness and bloody-mindedness that will be a pre-requisite for any successful manager we have.
Handsome is as handsome does for me.
Soren Moyer
652
Posted 30/06/2021 at 13:13:21
Calm down, fellas. There is still a chance we won't sign him! He is having a medical at Finch Farm!!!
Barry Hesketh
653
Posted 30/06/2021 at 13:14:04
Yes Steve @650, I've never understood why some Evertonians believe that he's anything other than a fully-fledged member of the cult who has little or no time for Everton, apart from his infrequent head-patting duties.
Barry Hesketh
654
Posted 30/06/2021 at 13:18:55
Soren @652
It's more likely that he's checking out the menu at the infamous Finch Farm canteen.
According to some reports: "When it comes to preventing injuries, Paco de Miguel has a very simple theory. "The closer a player is to peak physical fitness, the higher risk of injury there is".

That is why Benítez's right-hand man prefers to have his players at around 85% of their peak fitness levels.
85% fitness? I can see a player revolt, they'll never be able to get to that level in one pre-season. :)
Ron Sear
655
Posted 30/06/2021 at 13:21:11
Okay, Rafael, you have to thrash Liverpool 6-0 on the first derby, and that's the absolute minimum requirement to make the average ToffeeWebber happy.
Steavey Buckley
656
Posted 30/06/2021 at 13:23:07
Most teams that Benitez managed were able to knock the ball about with confidence. Under the last world class manager, Everton were at times painful passing the ball about with any confidence..
Martin Coughlin
657
Posted 30/06/2021 at 13:28:36
Seriously. A huge lot of you need to out your dummies back in, or better still... grow up! Some of the comments are ridiculous.
It is the same in any industry, you are judged by your CV and competency. Obviously Benitez holds some credence in this regard and, like it or not, like at Chelsea, the board & owner will make decisions, based upon who they feel is the best or most equipped manager, regardless of whether it's popular or not. I, for one, prefer this approach to who romantically would have preferred to have Ferguson etc.
If Benitez is our manager, then traits he has previously shown, such as sorting out defences and petulance, will be useful, as we suffered from that. He also generally engendered teams with some characters, which we lack.
Hopefully with a favourable start to the fixtures, and support from the fans, we can move forward. People really do need to get over themselves. Same type of fans booing after 5 minutes in our biggest game for a while against Dynamo Kiev when we dared do a back pass, to make themselves feel important. That type of fan takes us backwards and limits us. Let's get behind a new era.
Adrian Evans
658
Posted 30/06/2021 at 13:28:37
If it happens,has happened and he is paraded tomoz as our new manager.!!!
First, we gotta get behind him. Keep our gobs shut, give him,his teams,squad as much as we can.
Bug Duncan No 2, hell put him straight about the sort of football we want at Goodison???
Hope, he knows this is the last chance he will get to put 10 years of achieving Nowt.
They "sacked him"after what he won for them.
Lets hope he wants to have it over them, WIN for us, live as a Blue in Meseyside for the rest of his life.
Last job, give us what we crave and lots of it.
Here we go again, lets hope this time its 7 th time lucky Farhad, well Alisher.
I ll take all the success he can bring us.
He can set up any way he likes away, to get the points.
At Goddison hes going to have to play a different way to get us behind the team and him.
But if hes ours, then hes Blue thats that.Until hes gone.
Come on you Blues and we got 100 years in.
Brian Murray
659
Posted 30/06/2021 at 13:32:13
Tony post 637. Our tony has a habit of setting off the fire alarm in the boozer when it's his round 😂arms shorter than blightys number one ☝️, maybe Tarantino can make a kill bill volume 3 ?
Tom Harvey
660
Posted 30/06/2021 at 13:33:37
Mark Ryan @ 616
EFC has just employed a true "Professional" who wasn't interested in working in Europe where he would be tested, he preferred China where it's easy and the money is easy.
Incidentaly he couldn't get these Chinese nothings to do anything in a nothing league.
Having a go at Dunc, Bainsey and Unsy?
Ancelotti couldn't give a fuck during his time with us, If it was just him and his so,n at Finch farm we'd be in the Championship by now. The one thing Moshiri has got right is keeping the old boys with heart around.
We've just hired another "Professional", but in his recent history took Newcastle down, he was just 1 point off safety with 9 games to go and still took them down. He hasn't achieved anything in the last 7 years and now he's our saviour!
You haven't got a clue, Mark.
Bill Rodgers
661
Posted 30/06/2021 at 13:34:01
The only bad news is that he will feel obliged to be diplomatic and keep the dinosaurs at Finch Farm. Just think : manager after manager, millions after millions,players after players - the only constant is FF ineptitude.
Brian Murray
662
Posted 30/06/2021 at 13:35:38
Barry @634. Now that would be a game changer for this club and I'm convinced we would really go from strength to strength.
Andy Crooks
663
Posted 30/06/2021 at 13:38:14
Paul A @ 642, as one of the fucked fanbase who quite likes being mugged and has no clue what " refund" means, please give me some advice. What are you doing to end your many years of being a doormat? Do the club know your plans?
I think you are on to something here. If there is one thing to make the club think again, it is a disgruntled Blue coming on to a website and berating fellow fans for being so much easier to gull than he.
Kevin Prytherch
664
Posted 30/06/2021 at 13:41:11
It's an easy team to play for
It's a pain the the arse to support
And it you know your history, it's enough to make you depressssseeed
We blatantly care what the red shite say
And we take their managers
And we always know that when there is a shit show
That the Everton board is there.
Everton.
Andrew Clare
665
Posted 30/06/2021 at 13:50:53
Bill 661,
It all helps with the money laundering.
Mark Ryan
666
Posted 30/06/2021 at 14:02:24
Tom @ 660 you're right, I haven't got clue what the fuck you're on about
Dave Williams
667
Posted 30/06/2021 at 14:04:27
Brent #633 well said. A perfect illustration of how true fans should react to this news. He is now our employee and he will like nothing more than to be successful. We need to accept him and support our club and cut out the hysterics.
Jay Harris
668
Posted 30/06/2021 at 14:14:33
Now that the dastardly deed has been done and our dysfunctional board appear to have made a monumental cockup I will put my feeling about this appointment on hold and wait with baited breath for Mark and co to tell us "We told you so" which I will love because it will mean EFC is successful however I cant stand anyone telling us how we should behave so can we please park that one.
Rennie Smith
669
Posted 30/06/2021 at 14:15:26
Martin@657 - I'll get behind the team no matter who's in charge, but don't expect an open arms reception for the manager. And you say get over yourselves, I may be living in the past but why should we give up the decent values of a "People's Club"? Do we have to accept that's just the way it is? Sorry, but some values are worth fighting for.
You could say he's got balls of steel to take the job knowing the backlash, but I'm sure the millions he'll get when he gets the push at Christmas will soften the blow.

Andrew Bradshaw
670
Posted 30/06/2021 at 14:20:27
Putting aside all the vitriol over his past connections and looking at what he has done these past few years, most would agree, sod all. However, remember the last washed up dinosaur to take over a club from a popular manager(fans and players) and be dismissed by everyone? Ranieri - that worked out ok. Can lightning strike twice? Who knows, but you never know. Just a thought.
Danny O'Neill
671
Posted 30/06/2021 at 14:20:54
I personally think they should ban that song Kevin. Not your version but the one they play. I'm all for reflecting on our proud history, but it sometimes holds us back. I'm increasingly disliking the "if yer know yer history" line. Let's look forward.
I give more than a shit about Everton. I'm fiercely passionate about Everton. I've put Everton above family and I'm not particularly proud to admit that, but I have. If that's the criteria, make me manager tomorrow. But I'd fail within weeks.
Conor @647. Not my preference. I have very different views on who I would have liked the club to have gone for. I was just pointing out the probable future manager's past successes. It reads better than most who have managed us in recent decades. Agree or not, that seems to be the path the owner(s) are choosing.
I'll reiterate. Benitez is not my preference. I'm just trying to debate the subject. And just because I can see it through the lens of the owner's thought process doesn't mean I agree with it.
But if / when it happens. I'll still be there wanting us to win on the first day of the season.
More than I can say for watching England in a London pub last night. Awful experience. But I should have know better.
Brent Stephens
672
Posted 30/06/2021 at 14:28:39
Soren #652 "Calm down, fellas. There is still a chance we won't sign him! He is having a medical at Finch Farm!!!"
Soren, also on a light-hearted note - as it's a Finch Farm medical, he'll probably pass it!
Michael Kenrick
673
Posted 30/06/2021 at 14:29:54
Spinning this out must be a deliberate PR ploy by the club. What do they gain from it?
Yes, they can have some nice video and articles put together professionally under minimal time pressure for posting on the Everton website and social media outlets. Presumably scheduling a press conference involves certain logistical constraints but is timed to get the highest profile for the impending news. We're still waiting...
The metrics for that profile, and performance accolades for those involved pulling the strings, must revolve around mentions on the primary news media sources, knowing that releasing snippets here and there, and having pet jurnos bounce them out to the baying click-bait mob, is some form of quantifiable success... a 'coup' for Everton Football Club? Getting the most mentions every hour?
Not really. They made the real decision weeks ago. Let's say they really did leak this in dribs and drabs so they could gauge the response of the fans. Well, our polls have been pretty consistent throughout, showing roughly the same proportions with less than 1,000 votes as they are now, with almost 7,000 respondents.
But Paul the Esk used to exasperate about Everton not "managing the message"... is this drawn-out agony really what he wanted to see?

Mick O'Malley
674
Posted 30/06/2021 at 14:30:47
Andre@613 Well said, my love of football is decreasing season by season, I despise the Premier League and the notion that finishing top 4 for Cl qualification is a success, bollocks to that I'd sooner win a domestic cup and finish mid table than qualify for the top 4 cup. The disdain fans are held in with ticket prices and match times that make it impossible for fans to get home from away matches is a disgrace, as we've just seen last season football is absolutely garbage without fans, Saturday kickoffs at 3pm are a rarity now, where's my time machine so I can set it for the 80s!
Tony Everan
675
Posted 30/06/2021 at 14:31:16
Benitez is in the building, but so was Olivier Giroud There's still a widget of hope !
Anyway, I am in the camp that I support Everton. Managers and players come and go, Everton and it's true fans stay.
I wish Benitez good luck. I'll get behind him and the team, please give us some organisation and improvement.
Top 6 and a cup for starters and all but a few will be won over.
Christine Foster
676
Posted 30/06/2021 at 14:32:07
I wish I could be pleased with this but truth is I'm not, I am saddened and disheartened but not surprised. I had hoped the whole thing would fall flat on its face but alas not. Today will be the culmination of an owner who listened to the idiots that got us where we are, then decided to stop listening to anyone because they either couldn't trust the chairman or the Dof.. Just what the situation at board level is anyone's guess.
I have said it before, no matter what he does, he is tainted, not his fault but it's the way it is. I am deflated.. not angry, not happy, an interesting time awaits. Who knows it might work!
Jamie Crowley
677
Posted 30/06/2021 at 14:35:32
It's 9:33 a.m. here, and I've just woke and gotten my cup of coffee to start my day.
Logged on to TW wincing in anticipation of the TW home page telling me it's official.
Not yet! Hope survives someone sees the light in the 11th hour and calls this off. It's 3:33 in Blighty. Surely the announcement would come during working hours? Does this mean we have 1.5 hours to go until the Rafa appointment implodes?
No. But a guy can dream, right?
Will Mabon
678
Posted 30/06/2021 at 14:41:26
Jamie, that coffee isn't working yet - it was 2.33.
Craig Harrison
679
Posted 30/06/2021 at 14:44:58
What chances a player signing will be announced at the same time as our new manager? Some sort of swap, james for bale.
Will Mabon
680
Posted 30/06/2021 at 14:47:16
Craig, I see you have the gist of how PR works.
Jamie Crowley
681
Posted 30/06/2021 at 14:51:16
Will -
Thought the time difference was 6 hours? Well, that gives the whole saga another agonizing hour to pan out.
Brent Stephens
682
Posted 30/06/2021 at 14:52:40
I thought we were told on here that the announcement would be made to coincide with the England win yesterday, so nobody would notice. Oh, to be in the know, eh!
And, so nobody would notice! God, there are some bollocks being posted... nobody would notice?!
Will Mabon
683
Posted 30/06/2021 at 14:55:02
Five against Eastern, Jamie. You're Florida aren't you?
I'm guessing at four or five o'clock here, if it's to be announced today.
"Can't wait".
Brent Stephens
684
Posted 30/06/2021 at 14:57:19
Craig #679 "What chances a player signing will be announced at the same time as our new manager? Some sort of swap, James for Bale."
Craig, you're not stupid enough to swallow that, so why do you think others would be?! Just like the idea of the announcement being made to coincide with the England win.
I know, I know, it's all meant in jest!
Will Mabon
685
Posted 30/06/2021 at 14:58:52
No, Brent - to capitalize on the
feel good
wave the day after!
But come on, Man, we all know how PR is.
Joe Hurst
686
Posted 30/06/2021 at 14:59:20
…as long as we don't end up winning things on 'the Lottery of penalties', like "that lot" (the squatters of L4)!
Looking back at their trophy haul of the 21st century, nearly everything has been won on pens… for me, it's less of a TRUE victory 😌
Will Mabon
687
Posted 30/06/2021 at 15:00:27
James for Bale! So crazy, but never impossible in this world.
Jamie Crowley
688
Posted 30/06/2021 at 15:01:06
Will, FL, EST here. Five hours duly noted.
Two more hours to dodge the incoming nuclear bomb.
Steve Brown
689
Posted 30/06/2021 at 15:02:37
Craig @ 679, that was the plan. Unfortunately, there was a typo on the buysheet and Eveerton have just realised they are about to announce the signing of Gareth Hale.
Joe Hurst
690
Posted 30/06/2021 at 15:06:14
No, for lunch they've asked for some Kale…
Tony Abrahams
691
Posted 30/06/2021 at 15:09:58
You find it a ridiculous comparison Conor, and that's fair enough mate, but I find it incredible that people are writing off a man who has won almost everything, since Everton last won a major honour.
I've read you go on about Martinez, you said Portugal would have won at a canter the other night if Roberto, had been managing them instead of Belgium, and again that's fair enough, even if I thought that it was both a ridiculous comparison, and also a very juvenile thing to say.
Mick O'Malley
692
Posted 30/06/2021 at 15:15:58
We've now got Everton fans turning on each other on social media, fans who won't have him are being told they aren't proper Everton fans cos you support the club not the manager and that if they won't get behind him you're not a proper blue and you're not welcome at Goodison, so I canimagine that there is going to be quite a bit of animosity at Goodison if it starts going tits up, that's one of the reasons why this isn't a good fit
Brent Stephens
693
Posted 30/06/2021 at 15:16:44
Ah, of course, Will (#686)! It's all far too subtle for me! And I don't understand what proportional representation has to do with it!
Steve Brown
694
Posted 30/06/2021 at 15:17:54
Announced.
Pat Kelly
695
Posted 30/06/2021 at 15:19:18
Why the rush?
Brian Murray
696
Posted 30/06/2021 at 15:19:49
Mick, things can escalate quickly, seen it first hand at that FA Cup semi-final v Man Utd just after a derby humiliation. Fans fight with each other. Should've stayed on his slow boat to China. No way will he steer us to the Bramley-Moore Dock unveiling. He's not good enough, albeit shelf life is a lot less these days for most.
Nick Page
697
Posted 30/06/2021 at 15:20:24
Dragging the arse out of this one….jeez. So Everton it's untrue. Hope Rafa brings a new PR team with him, fucks sake.
Nick Page
698
Posted 30/06/2021 at 15:20:56
Haha what timing :-)
Neil Lawson
699
Posted 30/06/2021 at 15:25:34
C'mon Tiverton.
They have a really good manager and are entertaining to watch with a fully committed family of supporters.
Chalk and cheese.
( although FSW could serve the cheese)
Joe Hurst
700
Posted 30/06/2021 at 15:27:04
Tony Abrahams
701
Posted 30/06/2021 at 15:28:31
It's definitely the main reason imo Mick, and it's only going to turn an already angry fan base even angrier, and could also result into a very scary scenario, once people get back to going the game again.
My own view is that I didn't have a clue who I wanted to get the job, but taking away Benitez's Liverpool connections (which is very easy for me to do) I'm glad we've got a horrible little belligerent manager.
The other thing I look for in an Everton manager is pragmatism, because I feel this is one of the main ingredients I seen from the two managers who've actually brought a trophy to Everton, in my match going lifetime.
Tom Harvey
702
Posted 30/06/2021 at 15:35:24
Mark Ryan @ 666
" Tom @ 660 you're right, I haven't got clue what the fuck you're on about "
And that's because you haven't got a clue!
Dave Abrahams
703
Posted 30/06/2021 at 15:47:45
Derek (610)Derek the present board have had their say for the last five years and we can all see the result of that, the man who has put the money up for that time has had enough and is having a go himself, I think he is more than entitled to that, let's see how he gets on, one result is he's told Billy Boy to sit down and listen, can't be any harm in that, unless Billy Boy takes the huff and sells the rest of his shares and leaves Everton forever, that would leave a lot of people tears, wouldn't it?
---
Add Your Comments
In order to post a comment, you need to be logged in as a registered user of the site.
Or Sign up as a ToffeeWeb Member — it's free, takes just a few minutes and will allow you to post your comments on articles and Talking Points submissions across the site.