King: Ancelotti lied to me
Monday, 28 June, 2021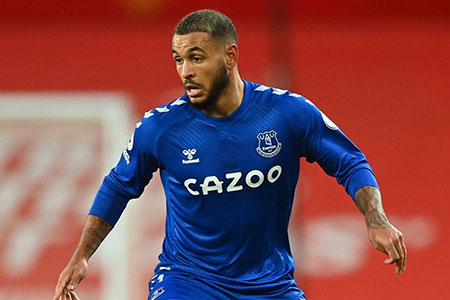 Josh King has expressed his disappointment at what he says were broken promises from Carlo Ancelotti when he signed for Everton in the winter transfer window.
The 29-year-old was brought in from Bournemouth on a short-term contract to provide attacking support for Dominic Calvert-Lewin after the Blues' ranks had been left short in October with the departure of Moise Kean on a season long loan to Paris Saint-Germain but he left Goodison last month having failed to make a start.
King had to be content with a handful of substitute's appearances and though he won a vital free-kick at Old Trafford that led to a stoppage-time equaliser in a 3-3 draw against Manchester United and he hit the post away at West Ham, he didn't manage a goal in his few months with Everton.
King says that while has no regrets about taking the opportunity to return to the Premier League after being relegated with Bournemouth a year ago, he feels hugely let down by Ancelotti.
"I do not regret that I went to Everton," he told Dagbladet in his native Norway. "I did not get the chance, not a single start. Had I got a start and not performed, I would have understood it. I was told that I would get to play, but it was not delivered.
"Do not trust coaches who promise you things and say you will get the chance, that you will start. He lied to me, but there are not many honest people who work in football. I had no relationship with Carlo Ancelotti."
King has been linked with moves to a couple of other English clubs as well as in Turkey but he is currently without a club for 2021-22.
---
Reader Comments (61)
Note: the following content is not moderated or vetted by the site owners at the time of submission. Comments are the responsibility of the poster. Disclaimer
Bill Gienapp
1
Posted 28/06/2021 at 19:09:32
Odds were it was always just going to be a short-term move to bolster squad depth... but it's lame that he wasn't even given a chance when DCL was hurt.
Derek Knox
2
Posted 28/06/2021 at 19:26:44
I feel exactly the same as Bill, but the lad wasn't given a fair deal at all, I just hope we don't regret not extending his contract for another 12 or 18 months.
Michael Boardman
3
Posted 28/06/2021 at 19:27:43
Wasn't the only one the "Quiet leader" lied to. Do not trust coaches who say a season is a success while finishing 10th in the most open top flight season since Preston played Notts County 28 times in a two horse race (while counting their cool hard cash amongst their family members and entourage).

Pat Kelly
4
Posted 28/06/2021 at 19:28:08
Ancelotti screwed everyone at Everton.
Rob Dolby
5
Posted 28/06/2021 at 19:30:45
He has spoilt his chances of a reunion with the old gaffer at Madrid with those comments.
Wonder if any of the European super powers will swoop for a player of his calibre? Maybe Rafa can turn him into a diamond.
Dale Self
6
Posted 28/06/2021 at 19:31:39
Let's be careful about the post-mortem rollout of anti-Carlo analyses. There are some stuffed suits (at least regarding football) who would love to show you some shiny objects while they demonstrate some valid displays of what Carlo may have despised.
No one challenged Carlo's stance at the time. This is a bit late but I suppose he deserves to be heard.
David Pearl
7
Posted 28/06/2021 at 19:36:04
Pissed on us all didn't he Josh.
I thought he was a good pick up at the time. Now l have no opinion because l have no evidence to back it up. Carlo did a pretty crap job in the end didn't he.
Chris Gordon
8
Posted 28/06/2021 at 19:36:05
He lied to us all lad.
Tony Everan
9
Posted 28/06/2021 at 19:42:53
Bet you he fucking hated Crosby too.
Colin Glassar
10
Posted 28/06/2021 at 19:44:02
Sour grapes. King is a poor player, end of.
Barry Robson
11
Posted 28/06/2021 at 19:52:31
Is right Chris Gordon!!!!!
Conor McCourt
12
Posted 28/06/2021 at 20:06:59
Don't worry Josh!!! I reckon he's not a liar just a wind up merchant. It was when he described Allan as a World Class defensive midfielder I knew he knew he a bigger leg puller than Kevin Prytherch.
Mike Gaynes
13
Posted 28/06/2021 at 20:08:28
There are only two possible reasons why King didn't get a start from Carlo:
1. He didn't earn one, either in his sub appearances or on the training ground.
2. Carlo lied. In other words, one of the world's most renowned managers went out of his way to mislead a visibly overweight player who -- even at his career peak -- averaged ten goals per Prem season. Ten.
Which is more likely?
Gee, that's a tough one. Lemme ponder that for a while.
Tony McNulty
14
Posted 28/06/2021 at 20:14:05
He was treated very poorly.
He looked like an astute signing as back-up to the main strike force and as an impact substitute able to play a variety of forward roles.
He was never given a chance.
It's not as if Carlo himself lit any fires for his last ten games in charge.
Robert Tressell
15
Posted 28/06/2021 at 20:14:35
I think Ancelotti was probably telling the club he didn't want to work with a load of crap and needed some quality. I don't care what he said to King.
Darren Hind
16
Posted 28/06/2021 at 20:29:07
Barry Rathbone
17
Posted 28/06/2021 at 20:29:28
Fantastic flannel merchant Carlo and deffo didn't give King a chance. But in retrospect did he ever say anything of substance or truth?
Part of me still likes him for his ruthless brass neck in legging it asap with pockets of Mosh's loot as fans knelt before him in craven gratitude. Don't think he even gave a token "thanks"
The best cad since Terry Thomas.
Does anyone know the Italian equivalent of "what a shower" ?
Anthony Murphy
18
Posted 28/06/2021 at 20:30:32
So who signed King?
Dale Self
19
Posted 28/06/2021 at 20:30:56
Ritardato maximo
Michael Boardman
20
Posted 28/06/2021 at 20:38:26
Mike, while you are pondering, have a thought why this world renowned manager signed this overweight player? Assuming of course Josh's recollection of events are verum, which of course, are open to ridicule or debate. Don Carlo though does have form
Mike Gaynes
21
Posted 28/06/2021 at 20:39:49
Anthony and Michael, sometimes a guy seems like a good choice until you see him up close.
Most of my online dates certainly felt that way.
Kevin Molloy
22
Posted 28/06/2021 at 20:40:24
Bayern Munich had his number, I remember reading their accusations that he was just taking the piss, but there are none so blind as those who will not see
Michael Boardman
23
Posted 28/06/2021 at 20:40:37
Barry, I saaaaaayyyyyyyy, Dingus-Dongius
Paul Hewitt
24
Posted 28/06/2021 at 20:48:52
Carlo lied to everyone.

Mark Murphy
25
Posted 28/06/2021 at 20:53:05
He didn't "hit the post at West Ham" their defender handled it to keep it out.
I still don't understand why Var didn't check that.
Phil (Kelsall) Roberts
26
Posted 28/06/2021 at 22:24:03
Mark - because we are Everton not Liverpool
Don Alexander
27
Posted 28/06/2021 at 23:07:17
The correspondent @ 16 strongly infers Ancelotti is a liar, and presumably never to be trusted.
Is this the same correspondent who days ago sought support for his own eulogy to Duncan Ferguson when he wrote the following:
"Carlo Ancelotti has made no secret of the respect and admiration he has for Ferguson. There were even reports that he has asked Duncan to join him in Madrid. Recently, Michael Ball reported hearing Carlo's reaction just after he joined us, regarding the influence Ferguson has on the crowd... He simply said "Wow!"
Well I never!
I've no opinion on Josh King but his signing was typical of the screwball antics of those supposedly in charge of the club.
Darren Hind
28
Posted 28/06/2021 at 23:17:25
Give up your obsession, Alexander – you are beginning to look absolutely pathetic.
A 4-word post out of 27 others has you whipped into a frenzy yet again.
What an absolute mug you are.

Tom Bowers
29
Posted 28/06/2021 at 23:17:43
It is somewhat confusing that King didn't get more time – especially when others playing poorly were kept in the pitch.
It's water under the bridge now but I was very disappointed with some of Ancelotti's decisions and non-decisions during a season that fell apart.
Here's hoping Rafa can do the right things.
Seb Niemand
30
Posted 28/06/2021 at 23:19:45
Oh, "Wah, Wah, Wah!"
How about: "I thought I was good enough to play for Everton, but it turns out I wasn't!''
Sometimes, Mr King, it isn't everybody's fault but your own.
David Pearl
31
Posted 28/06/2021 at 23:24:29
Jeez... get a grip, boys!
Will Mabon
32
Posted 28/06/2021 at 23:30:05
Seb, sorry, but if a Premier League club signed a player that was patently not good enough, that was the club's fault.
Truth is, King – whilst not being a world class player – has a reasonable history at the upper levels that is well known. We're not talking of a risky one from a foreign league here.
In the absence of an injury problem, of which we've heard nothing, it appears to be a divisive signing within the club, or a falling-out that we don't know of. He was notably under-utilized.
Brent Stephens
33
Posted 28/06/2021 at 23:36:46
Josh King: "I was told that I would get to play, but it was not delivered." He did get to play...
Everton were happy to have him in the squad, to give us options up front, not to score more goals. So, a strange signing but I think he might have misunderstood the amount of game time he'd get.
Don Alexander
34
Posted 28/06/2021 at 00:06:39
Dazza, I write all of my posts with a smile on my face because I like the site and nearly all the people using it. But when you go volte-face within two days in expressing your opinions (or 'unarguable facts', as you misguidedly call them) on Ancelotti's credibility, it's surely reasonable to point it out, isn't it?
It's precisely what you do, repeatedly, after all.
By the way, your 4-word post on this thread (unlike your article of two days ago) is a good habit for you to acquire, I suggest! :)
Derek Thomas
35
Posted 29/06/2021 at 00:07:17
All-in-all, he has a point. I still think he's better than we saw.
Ian Horan
36
Posted 29/06/2021 at 00:48:33
Have a look on the training clips on YouTube: King's shooting was wank!! Shanked a lot and often didn't even work our keepers.
David Ellis
37
Posted 29/06/2021 at 04:41:18
Nothing to see here.
People take out of conversations what they want to hear. He wanted to hear Ancelotti saying he'd definitely start. Obviously any "promise" for him to start must be conditional on form. And the lad wasn't on good enough form to get a start.

Bobby Mallon
38
Posted 29/06/2021 at 06:08:13
David Ellis, he was not given any playing time.
Vijay Nair
39
Posted 29/06/2021 at 07:57:28
Not sure why he's complaining... at least he had a locker!
Steve Shave
40
Posted 29/06/2021 at 08:33:57
Ha ha, Darren, you must love all this!!!
Ian Burns
41
Posted 29/06/2021 at 08:52:14
Haha Vijay - good point!
Stan Schofield
42
Posted 29/06/2021 at 09:41:18
What a bag of shite this thread is. Someone claims that someone else has lied, and some others, who don't like the fact that the alleged liar left us in 10th place then went somewhere else, also call him a liar.
You don't know what went on, but it won't stop you making stuff up. No wonder the media is so full of shite, people lap it up and pander to it. Grow up, act your age, not your shoe size.
Kevin Prytherch
43
Posted 29/06/2021 at 09:53:27
Stan - what if you have really big feet?
Barry Rathbone
44
Posted 29/06/2021 at 09:57:25
Michael Boardman @23,
I did chuckle at that, nice one!
Mick O'Malley
45
Posted 29/06/2021 at 10:31:19
Good riddance to Carlo and that toe curling embarrassing "Carlo Fantastico " banner, I never wanted him here to begin with but I thought he was a gentleman and a man of his word as he always spoke well and because of his reputation as a top class manager, but he turned out to be a busted flush who seemed to lose interest, the break in at his home was also probably among the reasons he left, yet another charlatan and waste of money manager employed by Farhad Moshiri
Shane Corcoran
46
Posted 29/06/2021 at 12:07:05
Don, I think he implied; you inferred, presumably.
Anyway, non-story. King played as he was allegedly promised. The reason he didn't play more should be obvious.
Karl Meighan
47
Posted 29/06/2021 at 12:22:28
It's okay saying he didn't get a chance but who would have picked him before Calvert-Lewin or Richarlison? Even with them two struggling, he ain't getting a start before them and he showed nothing to make Ancelotti think differently.
Justin Doone
48
Posted 29/06/2021 at 12:29:38
If Carlo had told him he would be in the starting 11, I could understand... but this doesn't appear to be the case.
A disappointed player who wanted to be given more of a chance. Understandable, I also hoped he would be given a start but, for some reason, it didn't happen.
Not so much broken promises, more a misunderstanding and sense of frustration. He's a good forward but I don't think he has the work ethic of Dom and Rich to displace either.
Paul Melling
49
Posted 29/06/2021 at 13:16:19
As I heard it, King needed a "pre-season" fitness programme when he arrived at Everton because he was nowhere near Premier League match fit. It is consequently very difficult during the latter part of a season for a player to reach the level of fitness required to start games in the Premier League.
This raises the questions about why he was so unfit in the first place and also why his lack of fitness wasn't picked up during his medical? There could be a good player in Josh King... but now we will never know.
Mark Ryan
50
Posted 29/06/2021 at 13:32:13
So Carlo didn't want him because, when given the opportunity to play him, he didn't, so presumably Brands signed him. What Josh King says holds true. Carlo then basically shuns the lad even when Calvert-Lewin was injured.
Duncan Ferguson therefore had zero influence over Carlo as first-team coach because he was never played and/or Ferguson didn't rate him either. Ergo, neither Carlo or Dunc wanted him but Brands goes ahead and signs him. It's a fuck-up.
Carlo has gone but Dunc is still here and will presumably still have no influence over the incoming manager. It's still a fuck-up.
IMO, we should have given King a better chance, he was worth the punt. I hope Brands's relationship with the new manager is improved
Keith Birmingham
52
Posted 29/06/2021 at 15:12:36
Like he lied to EFC about giving us a long-term commitment.
Matthew Williams
53
Posted 29/06/2021 at 18:58:32
Cashflo lied to all of us Josh.
The man was a fucking has-been leetch.
Darren Hind
54
Posted 29/06/2021 at 21:08:34
Did he wake you up to tell you that, it was only a change of plan.
Dream up, dream up, let me fill your cup, with the promise of a man.
Wonder if anybody has time to explain to Don the difference between... Na, didnt think so.
You could be here all night.
John Birch
55
Posted 29/06/2021 at 21:46:14
So Rafa Benitez is going to be our next manager. Let's forget about past comments and his connection with Liverpool. Give the man a chance; get behind him and the team, our great Everton, and hopefully he will bring success where others have failed and been huge disappointments. Even the great Carlo Ancelotti could not do it. Come on you Blues
Eddie Dunn
56
Posted 30/06/2021 at 11:44:35
Of course it wasn't so black and white. Carlo probably told him he would "play" but was unimpressed with his condition and/or his training.
I think he was under used especially when our forward line was struggling, but Carlo made some weird subs.
At the end of the day it's just another strange snapshot of a disfunctional club.
Andrew Keatley
57
Posted 30/06/2021 at 12:07:24
It's always a two-way street. I'd imagine that any manager who signs a player must hope that the player will contribute and prove their worth. In the few sub appearances he made Josh King looked a long way short of the levels of fitness and form that we were hoping for. No player should be on a promise when it comes to Premier League starts; they have to meet their end of the bargain, and King seemed to fall noticeably short.
Andrew Keatley
58
Posted 30/06/2021 at 12:12:15
Also, Lyndon, not sure if the title of this post was knowingly done but (minus the colon) "King Ancelotti Lied To Me" made me chuckle.
Danny O'Neill
59
Posted 30/06/2021 at 12:15:01
I refrained from this one as I don't know too much about Josh King.
"Lie" is always as strong accusation. In football, no-one is guaranteed a start in my experience, from playing, coaching and observing as a supporter.
It smacks a bit of sour grapes in my opinion.
I'll be honest, I know we needed back up and cover, but this seemed an odd signing. But then it was that. Back up and cover if needed on a temporary basis.
I don't know what guarantees (if any) the lad was given. But he's surely been around the professional game more than me to understand how that works?
Jim Johnson
60
Posted 02/07/2021 at 08:22:27
The proof of the pudding is in the eating.
This applies in all cases, especially with the recent appointment of Rafael Benitez.
Also a good reference is the famous quote from the late Donald Rumsfeld; "There are the known knowns, the unknown knowns, the known unknowns and the unknown unknowns.
Job done.
Jerome Shields
61
Posted 05/07/2021 at 07:53:52
IMO he was out of shape when he arrived and took a long time to get in any type of shape. He did not look particularly sharp when he did come on. Which throws up the question why he was brought in.
Everton where interested the previous season, before he played in the Championship. They bought in Kean instead. King's time in the Champions had seen him drift down. It appears to be an all-round lazy bit of transfer work.
He needs to knuckle down and put in some work, instead of blaming anyone, if he wants to resurrect his career.
Robert Tressell
62
Posted 05/07/2021 at 09:13:39
He was a fairly ordinary player who got into a good rhythm at Bournemouth for a few seasons and possibly looked better than he actually is. A bit like some of the good performances we're seeing from ordinary players at the Euros. It flatters them a bit when they slot right into a team structure and have a clear, simple role they can do well - but ask something more or different from them and they get found out.
I don't think he was ever really more than emergency cover - and the emergency never happened.
We should be able to do better over summer (although I've said that before and been disappointed)
---
Add Your Comments
In order to post a comment, you need to be logged in as a registered user of the site.
Or Sign up as a ToffeeWeb Member — it's free, takes just a few minutes and will allow you to post your comments on articles and Talking Points submissions across the site.