Pickford brilliance helps England topple Germany
Tuesday, 29 June, 2021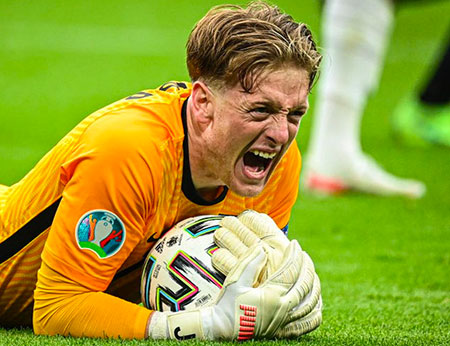 Jordan Pickford was one of the stars of the show as England triumphed over Germany in a knockout game for the first time since 1996, winning this Round of 16 game 2-0 at Wembley.
Raheem Sterling scored his third goal of the competition and Harry Kane notched the first of his career in the European Championships but it was the platform provided by Pickford's brilliance that made the win possible.
A fairly even first-half had ended goalless but it needed Pickford to make a good save to deny Timo Werner when the Chelsea man seemed certain to score and then pull of a spectacular reflex stop to tip Kai Havertz's crisp volley over the crossbar.
Thomas Muller should have levelled the game at 1-1 when he was put clean through following an awful pass by Sterling but Pickford raced off his line to close the angle and the forward slid his shot past the post to preserve the Everton keeper's fourth clean sheet of the tournament.
England progress to the last eight and a date in Rome where they will face the winner of tonight's clash between Sweden and Ukraine.
There was disappointment for Dominic Calvert-Lewin, however, who was left bemused at his omission from the matchday squad. The Everton striker had had high hopes of being involved from the start in one of the group games, particularly once it was clear that Gareth Southgate's men were guaranteed to advance, but thus far he has only had a few minutes as a substitute in the opener against Croatia.
According to sources, Calvert-Lewin is said to be bitterly disappointed while those close to the player are baffled by the decision.
In the second game of the day, Sweden play Ukraine at Hampden Park to determine England's opponents in Rome on Saturday; kick-off is at 20h00 BST with live coverage on BBC One in the UK.
---
Reader Comments (79)
Note: the following content is not moderated or vetted by the site owners at the time of submission. Comments are the responsibility of the poster. Disclaimer
Dave Abrahams
1
Posted 29/06/2021 at 15:52:46
What are the odds on tonight's game v Germany, I have convinced myself that Kane will score tonight and England will win, my only interest is who will win and what the odds are although I would love it if England and Germany produce a game that is anything like we've seen in the last couple of days. Any advice on the odds, not my comments in this post.
Graham Mockford
2
Posted 29/06/2021 at 16:02:49
DCL not even on the subs bench. Seems baffling to leave your only back-up centre-forward out of the squad.
John Keating
3
Posted 29/06/2021 at 16:07:07
We've talked about Everton's negativity in a league campaign. Here we are in a knock-out situation and this is the setup.
Hope I'm wrong but that is a shit set up from Southgate. It's like we know we'll lose but not's get embarrassed. Our next manager based on tactics?
Andrew Keatley
4
Posted 29/06/2021 at 16:07:25
Graham - Couldn't agree more.
Paul Birmingham
5
Posted 29/06/2021 at 16:11:25
I'm only bothered about Everton and I do feel for DCL, not getting a place in today's squad.
I wonder what Southgates descision is based on. But it's ultra defensive and suggests a grinding game.
So much for flair and attacking the opposition with our better attacking players.
Barry Hesketh
6
Posted 29/06/2021 at 16:14:46
I wonder if DCL got dropped because he gave a bit back to a journalist who asked him a silly question the other day? Surely not, surely all decisions are made for footballing reasons?
Stand by for a goalless 120 minutes and a penalty shoot-out defeat for England. Pity for DCL because he can take a decent penalty too.

David Pearl
7
Posted 29/06/2021 at 16:15:08
John, l don't mind the set-up. The 3 centre-backs with Walker worked well at the world cup. The thing I'm not sure about is Saka and Sterling a bit samey. Grealish would add something different. Hopefully the wing backs can feed Kane.
Apart from that, to leave Dom out the squad is pretty poor.
I don't think today can come close to yesterdays games. I'm thinking 1-0 England. However, I think I read that Germany have won 5 and drawn 2 of the last 7 games at Wembley.
Danny O'Neill
8
Posted 29/06/2021 at 16:22:14
Wish me luck. I'm entering the cauldron of a London pub to watch England v Germany.
John Keating
9
Posted 29/06/2021 at 16:22:48
Thing is, David, if Kane continues to produce nothing there doesn't to be a change. Grealish supplying DCL to me is obvious but not to Southgate.
As Sterling has scored our ONLY 2 goals, Southgate can't seem to drop him. It's a must win competition now and that team just looks so defensive and negative. Hope I'm wrong.
Mike Gaynes
10
Posted 29/06/2021 at 16:24:40
Danny, if you're not out within an hour after the final whistle, we're coming in after ya.
Robert Tressell
11
Posted 29/06/2021 at 16:27:25
Bit depressing that we have so much flair for once but it's all on the bench.
Looks like we're geared up to defend and then get balls over the top and into channels for Sterling and Saka.
Also bizarre not to at least have DCL in the squad as an option, especially given Kane looks like he'd lose a 50-m dash with Rodriguez at the moment.
It allows all of the pundits to agree that DCL must leave Everton to progress his career at least.
Soren Moyer
12
Posted 29/06/2021 at 16:28:33
Gareth Southgate is clueless. Let's hope he is NOT the one our owner has in mind to hire as our next coach!!! I'd rather have FSW instead of him tbh.
Fran Mitchell
13
Posted 29/06/2021 at 16:43:25
That's a shocking decision.
So there is no alternative attacking force on the bench. If recent games have shown us anything, it is the value of strikers of who get a goal with their head, especially when games get to that frantic final 15 minutes.
Not to even be on the bench is a shocking decision. Especially with Kane being so out of sort.s
Neil Lawson
14
Posted 29/06/2021 at 16:43:39
Tennis is on BBC2. Suggest you turn over to 1 at 6.55 to see if anyone has scored ( or passed the ball forwards). Hope Jordan has a great game. Otherwise, Southgate has done a terrific job of draining us of hope or real interest.
DCL must be devastated. Foden, Grealish et al, too. Disenchantment Utd methinks.
Dave Abrahams
15
Posted 29/06/2021 at 16:44:07
Soren, he's not really clueless, he's made my mind up to back on the draw with that line-up but also not to back Kane to score, although he's a nap to do so now I haven't backed him!!
David Pearl
16
Posted 29/06/2021 at 16:44:09
John, l agree. Most teams have gone for it but Southgate is going safety first. Germans look dangerous down their left so l get his thinking. This is what happens though when you constantly go into each tournament not knowing your best team and making it up as he goes along.
Saying that... l think we have a good chance. Even if history doesn't.
David Pearl
17
Posted 29/06/2021 at 16:46:01
Over to the live forum...
Ed Prytherch
18
Posted 29/06/2021 at 16:52:44
It is already a great day for British sport with Mark Cavendish's amazing stage win in the Tour today. The Manx Missile strikes again. Hopefully this is a good omen for the English football team.
Michael Kenrick
19
Posted 29/06/2021 at 16:55:35
Well, no bafflement for me. He's shown us in the dreadful second half of our season that he's just not good enough. Not that these other England players are that much better.
Sorry but the lad just can't shoot.
Brian Murray
20
Posted 29/06/2021 at 17:02:28
German fans with some sort of human rights banners, anyone enlighten us on that?
Times change eh. As bad as kopites airbrushing history although different level altogether!
Dave Williams
21
Posted 29/06/2021 at 17:08:54
Michael- he scored a load of goals and ran defences ragged at times. Lots of great strikers couldn't shoot from distance- Lineker and Rush for starters.
Chris Leyland
22
Posted 29/06/2021 at 17:15:18
It's a shithouse kitap line up with zero creativity in the centre midfield
Kieran Kinsella
23
Posted 29/06/2021 at 17:17:35
Remember in Euro 92 Lineker didn't score in the first three games. Kane is following the same path so we need to follow Turnip head and sub on Alan Smith.
Barry Rathbone
24
Posted 29/06/2021 at 17:22:08
The Germans really are a shadow of their former selves. If England can't beat this lot at Wembley, the national side should be banned from all future tournaments.
Kevin Prytherch
25
Posted 29/06/2021 at 17:22:36
Leaving out DCL is madness. He is the only other centre forward we have in the squad, Rashford is not a centre forward.
Instead we have 2 keepers on the bench and 2 centre backs to join the 3 already on the pitch.
Is Carlo in charge?
Kieran Kinsella
26
Posted 29/06/2021 at 17:24:59
Kevin
They are required to have all three keepers in the match day 23.
Kevin Prytherch
27
Posted 29/06/2021 at 17:28:12
Didn't know that one….
Still no centre forward on the bench though.
Robert Tressell
28
Posted 29/06/2021 at 17:29:10
Is Kane playing?
Joe McMahon
29
Posted 29/06/2021 at 17:42:12
Robert, I've just got in. It's baffling DCL not even being on the bench. What was the point of him being in the squad? It's like Walcott with Erikson.
Will Mabon
30
Posted 29/06/2021 at 17:59:20
Not as bad as I was prepared for but there's still time. DCL has done more than Kane.
Kane looked like a donkey with that last chance, which I've not seen from him before.
As said above, Germany looking ordinary so there may be hope.
Robert Tressell
31
Posted 29/06/2021 at 18:12:59
Kane just doesn't look remotely fit at this tournament. I think we'd be much better with Rashford.
John Keating
32
Posted 29/06/2021 at 18:29:30
There's no excuse for Southgate. He has the players in the squad to have well finished this and the other games. He is a defender and that's his mentality: David Moyes Mk 2.
Bill Gienapp
33
Posted 29/06/2021 at 18:30:21
Michael (3) - that may be true, but he certainly *can* score with his head, and he's pretty good at finishing off opportunities in the box. Seems like you'd at least want an option like that on the bench when you've scored two goals all tournament.
Tom Bowers
34
Posted 29/06/2021 at 18:41:09
Will the penny finally drop for Southgate that Grealish has to be a starter.
How can he have Trippier in as an extra full-back (average at that) ahead of the wonderfully creative Grealish.
Will Mabon
35
Posted 29/06/2021 at 18:56:43
The FA have announced an inquiry to begin immediately after the tournament, to discover why England were unable to lose to Germany.
Roger Helm
36
Posted 29/06/2021 at 19:04:36
Hennink Wehn, a German comedian who has lived here for years, says how nice it is to live in a country where such joy is produced by reaching a quarter-final.
John Keating
37
Posted 29/06/2021 at 19:11:09
I have to admit I was dreading the starting line up, especially leaving out DCL to change things
Give Southgate his due he played and picked a team to do the Germans

Brent Stephens
38
Posted 29/06/2021 at 19:12:09
Roger #11 - he's such a funny guy.
Barry Hesketh
39
Posted 29/06/2021 at 19:13:58
Beware if Sweden gets through in the next game, they are always difficult opponents for England in tournament football. I do wish the pundits would stop with this Pickford plays well and is calmer for England but less so for Everton, that may have been true last year at times but not this year.

Tony Abrahams
40
Posted 29/06/2021 at 19:18:09
Pickford has started to really mature and also looks like he's lost a little bit of weight, which has made him sharper.
Harry Kane, played like Calvert-Lewin did in the latter part of last season imo, because of how little support he got maybe, with England having so few forward thinking players on the pitch?
Watching England, was like watching an old Rafa Benitez team, when he used to be successful. Defensively strong, disciplined, and cautious, but not very easy on the eye.
Tournament football is about winning and getting through to the next round, so we'll done England, who must surely never have a better chance of winning a major tournament now.
Jay Harris
41
Posted 29/06/2021 at 19:20:53
Let's give Pickford his due. His saves and overall game enabled England to win this game.
Four consecutive clean sheets is no mean feat.
John Cook
42
Posted 29/06/2021 at 19:23:32
Just heard Harry Maguire say he thinks Jordon best keeper in the world.
Now call me cynical but I wouldn't be surprised if we get a call from Man U or a transfer request,can't help it being a blue.
Chris Leyland
43
Posted 29/06/2021 at 19:25:29
Pickford was our best player 2nd half of the season. He seems to have matured and had an Aurora of calmness about him; not something you'd have expected. That said, if awntland do win it, I can only assume that the tournament will be awarded to Holland instead due to his challenge on Saint Virg
Barry Hesketh
44
Posted 29/06/2021 at 19:29:28
John @17
I think that's an inevitability, it's one of the major issues that Everton has and can't seem to escape, as soon a player with any ability proves himself with the club, the vultures come swooping for them. We all hoped that would stop when Moshiri's millions arrived and we could build a team, but it is seemingly impossible to do. If Everton take two United cast-offs plus cash for Pickford or any other Everton player, it'll mean nothing at all has changed for the better with the influx of money into Everton.
John Cook
45
Posted 29/06/2021 at 19:39:00
Couldn't agree more Barry,watch this space.
Mike Gaynes
46
Posted 29/06/2021 at 19:41:28
John Cook, I despise Maguire a little less now. He also said this:
"Jordan has been magnificent every time he's put the shirt on, and he was again today, he was magnificent."
John Keating
47
Posted 29/06/2021 at 19:42:23
We were talking about players of the season.
Quite rightly Godfrey seemed to be all the rage, however, I thought Pickford
If Ancelotti did one thing right it was bringing in Olsen and putting pressure on Pickford
From a liability at the start if the season he transformed to a calculated concentrated organiser at the back
A massive well done to him and a great achievement for Everton and England
After this he will be subject to transfer speculation
Kim Vivian
48
Posted 29/06/2021 at 19:45:25
Pickford compared to Neuer totally eclipsed him. Especially with his distribution which seems to get better with every game.
Will Mabon
49
Posted 29/06/2021 at 19:45:43
John/Barry, I was waiting for someone to post about this. It's an ever-present concern in supporting this club. We are right in the "Pluck" zone.
Jamie Crowley
50
Posted 29/06/2021 at 20:11:07
John Keating @22 -
If Ancelotti did one thing right it was bringing in Olsen and putting pressure on Pickford
Brilliant comment, couldn't agree more! Spot, spot on.
Colin Glassar
51
Posted 29/06/2021 at 20:12:39
I agree John. Ancellotti dropping Pickford for a few games was a career changing move for the lad. He hasn't been the same since.
Michael Kenrick
52
Posted 29/06/2021 at 20:12:50
Sweden and Ukraine... That man Yarmolenko playing but hard to get into this game, for some reason.
Christy Ring
53
Posted 29/06/2021 at 20:24:09
Couldn't believe Calvert-Lewin not making the bench, Rashford the only striker and not a No 9. You can say Southgate got his tactics right, with seven defensive players in the team, and no Gundogan for Germany,
Duncan McDine
54
Posted 29/06/2021 at 20:31:06
Pickford was brilliant. Sterling was very good. The rest of the England team were poor.
The worst German team I've ever seen and England have an easy route to the final, so no excuses!
Derek Knox
55
Posted 29/06/2021 at 20:46:12
Is the Headline Picture when Pickford was told Rafa has got the job? :-)
Brian Hennessy
56
Posted 29/06/2021 at 20:50:36
Congrats to all Evertonian England fans from an Irish toffee. Great win and great performance from Pickford.
Justin Doone
57
Posted 29/06/2021 at 20:54:46
The win was better than the performance against a good German team.
A scrappy game at times, especially in the second half but England's deserved it.
Grealish and Shaw helped create both goals. Sterling gets in lots of good positions but he's a 1 in 4 in converting that into something constructive.
Pickford made a couple of good saves. Good, consistent distribution which isn't something he's done for Everton this season.
Dave Abrahams
58
Posted 29/06/2021 at 20:59:21
I think the means justified the ends with Southgate's selection and England deserved the victory because they were slightly less boring than a poor German team and took their chances when they arrived,
Germany wasted their two good chances and Pickford saved England with two terrific saves.
Dale Self
59
Posted 29/06/2021 at 21:26:14
Looks like the bar is open in that UKR-SWE match
Graham Mockford
60
Posted 29/06/2021 at 21:42:50
Fair dos to Jordan. After the Leicester home game, I had lost confidence in him. Since then, for 6 months, he has been magnificent both club and country. In fact, I can only remember one mistake, the penalty against Chelsea and tbf he made four or five great saves that night.
The best keeper in the tournament by a mile.
Simon Dalzell
61
Posted 29/06/2021 at 22:37:11
Brilliant to see our lad doing well. Kane's goal didn't justify him staying on. So lethargic. He lumbered around getting nowhere near positions to even close down. Saka may end up a superstar, but should not start. Massive potential, but his passing is pretty awful. Especially with the likes of Mount and Foden on the bench. Grealish must start, but probably wont. There were outstanding performances from just about all, albeit against a poor team.
Tom Bowers
62
Posted 29/06/2021 at 22:46:10
Another victory and not yet conceded although Muller should have scored as we all know and probably would have in his prime.
As I said before the tournament started Southgate has probably the the most talented pool of English players to pick from for many years and if they don't win it all he should be fired.
He has picked some players who are quite average as starters at this level and has ridden his luck with the defense doing better than expected so it needs the offense to start firing better which will happen if he gets it through his thick skull that Grealish has to start.
Jack Convery
63
Posted 29/06/2021 at 22:50:40
Well done Jordan Pickford another stella performance. Just shows what a good man manager Carlo was by his handling of Pickford last season.
Mike Keating
64
Posted 29/06/2021 at 23:21:44
So tonight's the time to bury bad news - Northwest Tonight have Rafa signed up.
Bill Gall
65
Posted 29/06/2021 at 23:33:32
We will soon now how good Pickford is when you will start reading on Sky that Utd, and Tottenham have put in bids for him. Even Kevin Kilbane has started to change his mind about Pickford being an accident just waiting to happen. Hope he keeps this form up next season.
Kieran Kinsella
70
Posted 30/06/2021 at 02:19:34
Cheeky fuckers in Der Bild (The German equivalent of The Sun) lamenting the fact they won't win Euro 2020 in "our stadium Wembley which we've owned since 1966."
I will say that Toni Kroos as the successor to Matthaus, Moeller, Ballack and Co never really had the charisma or the dynamism to be the German maestro for me. Good player, yes, but those guys would take the game by the scruff of the neck, especially against England, while old Toni adopts the hands-on-hips glum look.
I've always liked Muller. He's kind of an arrogant fucker but in an inoffensive way. He's a winner and he knows he is but he also seems like a decent laugh. When he missed, I knew the gods had intervened because, 99 times out of a 100, that is the "Kuntz" moment and things go downhill.
Anyway, back to Everton players. Pickford, as he was for us past Christmas, was brilliant. Confident, calm, and unbeatable. Calvert-Lewin missing out? Yeah kind of odd not to have a striker on the bench in a knockout game. But, then again, France won 1998 without a proper striker. I think Gareth felt we had an abundance of goals on our bench among our attacking midfielders. The fact we won means I'm not going to second guess him on this occasion.
Danny O'Neill
71
Posted 30/06/2021 at 03:50:00
Restless night for me so I'm up before the dogs. Today I'm waiting for them to take me out!
England got that right. When I saw the line up I thought they would do what they done. Allow Germany early possession but grow into the game, which is how I saw it. Germany are not the team they were 5 years ago.
Pickford was great again, he really is in good form this year, for club and Country. Muller could & should have levelled, but for me England deserved that.
Reflecting on my pre-tournament thoughts:
France: favourites - out
Italy: close 2nd favourite - in
Belgium: possibly a tournament too late but still strong and have De Bruyne - in
Germany: Transitional team but never write them off - out
England: Have a chance and now they have a very favourable quarter final draw. In
Denmark: My dark horse tip. Even without Christiansen, they're in the mix.
One of Belguim or Italy fall next round.
Watch the documentary on Kroos. He is a great player. Not blessed with pace, and doesn't do anything particularly special; keeps it simple. He's always been an orchestra. Spraying passes and spreading play. To do that, he needs the players and runners around and in front of him to get the most out of him. On a lesser pedestal, we could say that about a few Everton players.
You're right though Kieran, not one to grab the game by the scruff of its neck. It goes back to this German side being a bit of a shadow from when he shined in 2014. Kroos didn't have the same options he had then.
Neil Tyrrell
72
Posted 30/06/2021 at 05:28:51
Work afternoon shift so just watching the match now on TSN in Canada. Kevin Kilbane in the pre-game going on (not for the first time in the tournament) about Pickford being England's "weak link, an accident waiting to happen." Yep the same Pickford that has yet to concede a single goal.
Kilbane is so fucking stupid it beggars belief. You'd like to think that to qualify as a football analyst, actually watching some football in the last 6 months would be a prerequisite. He's even making Stephen "Quality" Caldwell sound like a genius, relatively. Unbelievable these dickheads get paid for their opinions.
Neil Tyrrell
73
Posted 30/06/2021 at 06:57:17
Then there's Peter Drury fawning over a shot of Beckham in the stands: "No greater patriot than him". Yeah right. Football announcers really are an absolute joke.
Mike Corcoran
74
Posted 30/06/2021 at 10:41:05
Kane looked totally spaced out last night, probably got 24-hour agent babble and grief from Levy. I'm pretty sure Grealish was aiming for Sterling at the back post but Kane woke up and managed to bundle it in.
Southgate is treating the tournament like a chess game but, if Italy make the final with England, I think England will get banged.
Mick O'Malley
75
Posted 30/06/2021 at 13:00:04
I was never Jordan's biggest fan but since Olsen came in he has been fantastic, those 2 saves last night were every bit as important as the goals, let's hope none of the England players are down his ear about moving to a CL club, we'll played Jordan Pickford, England and Everton's undisputed number 1👏👏
Alan McGuffog
76
Posted 30/06/2021 at 13:20:04
Mick..afraid its inevitable. If we progress the media shitebags will be on about his " deserving" to move to a Sky club.
Ray Smith
77
Posted 30/06/2021 at 14:04:36
Can someone explain to me how Southgate dropped DCL and put 2 goalkeepers on the bench?
Unless DCL is carrying a knock or niggle, it's beyond me!
Roger Helm
78
Posted 30/06/2021 at 14:07:21
I suppose it helps to play with better defenders, with the defensive line outside the penalty area, which must make him calmer. He has always been a good shot stopper though.
Kevin Prytherch
79
Posted 30/06/2021 at 14:29:48
Ray 77 - I asked the same question, they have to include 2 keepers in the 23 man squad.
However, some of the other subs, like having Coady - who was never going to play, or having 3 central midfielders in Mount, Henderson and Bellingham on the bench without having a back up striker (I don't count Rashford as he is more of a wide forward) was baffling.

Mick O'Malley
80
Posted 30/06/2021 at 14:50:34
Alan I know,I remember being dead proud of us having 5 players in the 86 World Cup squad, watching them playing well and then Lineker pissing of to Barca when it was over, let's hope our current England players havnt got anyone down there ear about moving to a"bigger club".
Ray Smith
81
Posted 30/06/2021 at 14:55:50
Kevin 79
I totally agree with your comments.
All the time Kane is fit, even semi-fit DCL will never start, but to not even make the bench, as you say, baffling.
Brian Wilkinson
82
Posted 30/06/2021 at 15:26:25
Pickford was undroppable, even early doors, Carlo would pick Olsen and say Pickford will definitely start the next game, further down the line, Olsen got a run of games with Pickfords injury, what changed was Pickford was not going to walk straight back in the team.
This got Pickford to raise his game, rid the demons in his head, and whatever he did, while he was out of the first team, he has looked a completely different goalkeeper, more relaxed and assured and certainly been almost faultless since the Anfield Derby.
A lot of us said he is an excellent goalkeeper and if he could sort his head out, the rest would fall into place.
So whatever happened, the time Pickford was out, whether it was down to someone speaking to Pickford, or Olsens fine performances, Pickford has certainly raised his game.
Robert Workman
83
Posted 02/07/2021 at 07:36:34
England won in spite of Southgate. The Germans were a poor team. That was evident from their performances in the group stage. Yet he picked 5 defenders and 2 defensive midfield players. He clearly felt that, having overloaded his squad with right backs, he had to play 2 of them in the most important game so far.
It almost backfired on him, as Pickford had to make two great saves to keep the score at 0-0.
He finally brought on England's most creative player after 70 minutes and within 4 minutes we scored. What a surprise! Then we scored again soon after. Another surprise!
Calvert-Lewin has scored over 20 goals this season, yet he was not included amongst the large number of substitutes. Southgate selected yet more defenders and young midfielders. What would have happened if Kane had been injured? He doesn't look fully fit and is clearly off his game, otherwise he would have scored with the earlier chance with a flick of his left foot, rather than miscontrolling the ball. Rashford, nice guy though he is, has had a poor season. He was the only striking option from the bench.
Can anyone enlighten me as to what Rice does on a football field? He cannot tackle, and only passes the ball sideways or backwards. He contributes even less than Henderson who, apparently, came on the field during the last few minutes. Presumably he was disguised as the Invisible Man!
So England now move on to play the mighty Ukraine. This is a team that were absolutely woeful against my local team, Austria. It was only because the vastly overrated Arnautovic missed 2 sitters that they qualified for the knockout stage on goal difference. They only beat Sweden in the 120th minute, largely because Sweden had a player sent off for trying to break a Ukraine players leg. Presumably Southgate will adopt another defensive formation, bring on Grealish after the regulation 70 minutes and hope to nick a goal. Calvert-Lewin may as well back his bags and go on holiday!
---
Add Your Comments
In order to post a comment, you need to be logged in as a registered user of the site.
Or Sign up as a ToffeeWeb Member — it's free, takes just a few minutes and will allow you to post your comments on articles and Talking Points submissions across the site.