Benitez finally announced as Ancelotti's successor at Everton
Wednesday, 30 June, 2021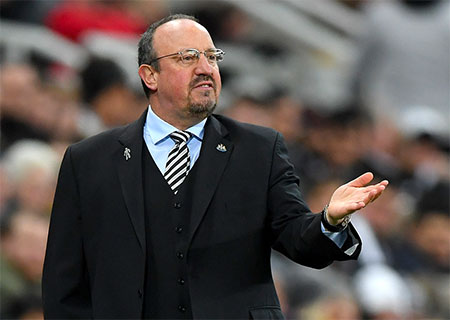 Everton have finally confirmed Rafael Benitez as the club's new manager, a little over four weeks after Carlo Ancelotti abruptly left Goodison Park for Real Madrid.
Rafa Benitez arrived at Everton's Finch Farm training ground this morning ahead of the official confirmation that a deal has been finalized with the club, despite a vociferous outcry from a significant section of the fanbase who continue to react with shock and horror as to how he could be the new Everton manager.
In a curious twist of fate, the Spaniard becomes the Italian's immediate successor for the second time in his career — Benitez replaced Ancelotti at the Bernabeu in 2015 — and the Blues' fifth manager in as many years starting with Ronald Koeman's much-vaunted appointment in June 2016.
He signs a three-year contract with Everton and becomes the first man in the modern era to have managed both Merseyside clubs, having coached Liverpool between 2004 and 2010. He is expected to bring fitness coach and long-time associate Paco De Miguel with him to the club while Duncan Ferguson, Leighton Baines and goalkeeping coach Alan Kelly remain in their existing roles.
"I am delighted to be joining Everton," Benitez said when his arrival was confirmed. "Throughout this process I have been greatly impressed by the ambition shown by the senior representatives at the Club and their desire to bring success to this historic club.
"I believe this is a club that is going places. I'm determined to play a big part in helping this great club achieve its ambitions."
Everton's majority shareholder, Farhad Moshiri, said of the appointment: "Rafa impressed us greatly with his knowledge and experience but, above all, the passion and hunger he showed to join our Club.
"We are appointing Rafa because we believe he will bring success to our Club and to Evertonians. To put it simply - we need to be competing at the top-end of the league and to be winning trophies. Rafa is a proven winner with huge experience in coaching internationally and we have secured the best man to achieve that for us."
Club Chairman, Bill Kenwright, said: "Rafa Benitez is joining Everton Football Club at an exciting time. On behalf of the Board of Directors I wish him well in achieving success for our football club - success our supporters long for and deserve."
Because of that long association with the Reds and comments he once made about the Blues after a Merseyside derby in 2007, Benitez's imminent arrival has been a contentious one for a section of the Everton fanbase, with banners protesting the Board of Directors' decision appearing outside Goodison in recent days and one reprehensible one left near his Caldy home with a threatening message warning him not to sign on with the Toffees.
Everton's majority shareholder, Farhad Moshiri, is reported to have pushed through the appointment despite the protests, believing that Benitez is the best of the available candidates to bring success to the Blue half of Merseyside. The former Wolves boss, Nuno Espirito Santo, was said at one stage to be close to agreeing to come on board but negotiations with the Portuguese ultimately collapsed.
Benitez had an unremarkable, injury-affected playing career between 1978 and 1986 before he moved into management in 1993 with Real Madrid's B team. Spells at Valladolid, Osasuna, Extremadura and Tenerife followed before he joined Valencia and he emerged as a noteworthy coach by twice winning La Liga while also guiding Los Murciélagos to a Uefa Cup triumph in 2004.
Those achievements caught the attention of Liverpool who hired him to replace Gérard Houllier and in his time across Stanley Park he would win the FA Cup and reach two Champions League finals, winning the first in 2005 by beating Ancelotti's AC Milan in Instanbul.
The 2009-10 season was regarded by the Reds as a campaign of decline and Benitez left Liverpool in the summer when he was picked up by Inter Milan to replace Jose Mourinho but, while he won the Supercoppa Italiana and the FIFA World Club Cup, he was dismissed just six months into the job as the reigning Serie A Champions slumped to 6th place under his stewardship.
Two years later, he was named interim manager at Chelsea where he ignored supporter discontent at his appointment to guide the Londoners to a Europa League triumph 6 months later.
Benitez returned to Italy to take the reins at Napoli where he won the Coppa Italia before a brief tenure at Real Madrid, where he managed James Rodriguez, was followed by 3 years at Newcastle United. Brought in late in the 2015-16 season, he was unable to keep the Magpies in the Premier League but he remained with the club and secured an immediate return to the top flight.
His final season on Tyneside was a middling one, dominated by reports of a testy relationship with owner Mike Ashley and disagreements over transfer policy. Though he was loved by Newcastle's fans, his contract was allowed to expire in 2019 and he took up the invitation to try his hand in China with Dalian Professional, an assignment that was curtailed by the Covid-19 pandemic and Benitez's desire to return to his family on Merseyside.
---
Reader Comments (483)
Note: the following content is not moderated or vetted by the site owners at the time of submission. Comments are the responsibility of the poster. Disclaimer
Raymond Fox
1
Posted 30/06/2021 at 14:50:41
What Benitez doesn't know about football and the Premier League isn't worth knowing. How successful he is at this club depends on the tools he is given. Give him some more Top 4 quality players and maybe then we will get some success.
Does it really matter who the manager is? I couldn't care less as long as the results are good. How those results are gained doesn't interest me either, it's the results that matter most.
All this dissent towards Benitez has a negative effect on the club when they need all the help they can get.
David Pearl
2
Posted 30/06/2021 at 15:20:38
Right then, it's done. Now let's support the team.
Brands must get to work on recruiting some players that can hit the ground running so he has the best possible chance of success. We don't need another change this season.

Rudy Chinchilla
4
Posted 30/06/2021 at 15:22:08
I don't like Benitez's style, let alone the fact that he's an ex Red. But what's done is done and I think we all have to admit it would be one hell of a story of he manages to bring us some success.
Kunal Desai
5
Posted 30/06/2021 at 15:22:11
Welcome to the 'small club'.
Mick O'Malley
6
Posted 30/06/2021 at 15:22:32
Rafa with a blue and white scarf above his head and a big smile on his chops, that's got to piss kopites off big time!
Paul Smith
7
Posted 30/06/2021 at 15:23:30
Good stuff. Hard nosed decision that was forced on us by Carlo letting us down. Should be an interesting opening to the season.
Steve Brown
8
Posted 30/06/2021 at 15:24:04
Actually made my skin crawl watching the announcement clip!
Chris Jones (Burton on Trent)
9
Posted 30/06/2021 at 15:25:44
The BBC quotes him as saying:
"I am delighted to be joining Everton. I believe this is a club that is going places. I'm determined to play a big part in helping this great club achieve its ambitions."
Fair enough for me. I'll give him a chance. I wish him every success at our "great club".
Peter Roberts
10
Posted 30/06/2021 at 15:26:19
Not my personal preference, and he will need to work hard to get the fans onside because of what has been said in the past.
That being said, if he builds on what Ancelotti was building and helps us to compete at the higher end then nobody will quite frankly care.
Winston Williamson
11
Posted 30/06/2021 at 15:27:38
Well, I've had a little time out to digest the inevitable appointment of a once hated cretin.
I'm going to ignore the ridicule, the old comments, the fact he had those knuckleheads cheering at a euro win, and his previously dull football.
He's getting a fresh slate. However, I expect steady progress, as I would any manager, plus a good style of play. Anything less and I'll give him shit, just like the previous clown managers we had!
It's new players we have to concentrate on now. And not Newcastle level players!
Joey Brown
12
Posted 30/06/2021 at 15:27:59
I wonder what it would take to turn some fans around. Personally if he can bring us any kind of success or forward momentum fine by me. He was our biggest rivals manager when he made the jab at us, who cares! Maybe we actually win some silverware with him and prove we aren't a small club.
If he produces boring, safe football. Keeps us mid table all season and all the transfers are baffling, then I'll complain. Until then he will get a chance from me at least.
Steve Brown
13
Posted 30/06/2021 at 15:28:05
I thought about it carefully over a long period and decided I want him out.
Danny O'Neill
14
Posted 30/06/2021 at 15:28:08
Link
Done. Here we go as they say.
Martin Reppion
15
Posted 30/06/2021 at 15:28:26
Open the wallet.
Buy some pace.
Lets get behind the club.
Our recent managers have come with fanfares and left in a blaze of mediocrity.
As our expectations here will be tempered by recent history and the connection to the dark side I am going for the 'Things can only get better' approach.
We will need o hit the ground running because there will be no honeymoon period. But he must know that.
So its 'come on you blues', and order the paella. The waiter is here.
Jamie Crowley
16
Posted 30/06/2021 at 15:28:39
Alright Rafa, prove me wrong.
Good luck. I hope you're successful.
But if you're not, I'm sure I'm not alone is saying you'll hear about it.
Loudly.
Eugene Ruane
17
Posted 30/06/2021 at 15:28:56
.
This whole 'Rafa' business is just such an Everton..um..'thing' (?).
I mean you have to admit it's pretty incredible that out of aaaaaaaaaaall the professional managers and coaches in world football, only one has publicly, angrily and deliberately insulted Everton Football Club and yet Everton Football Club (seem to) have decided this is the only man for the job (and if that wasn't strange enough, these insults were thrown while he was manager of Everton's oldest and most bitter rivals).
Guessing there's comedy to be had imagining whoever made this decision making others..
"Well after much consideration, we think we've made the right choice to run the children's nursery, so let me introduce Herod...King Herod."
Etc blah.
Denis Richardson
18
Posted 30/06/2021 at 15:29:16
It's done, I hope the majority can focus on the future and give the guy a fighting chance. He's certainly better than fat Sam and would struggle to be worse than him or Silva.
Personally, I'm hoping he can improve things. So many false dawns over the years for me means whoever the appointment I would have found it hard to get too excited. Ancelloti was a massive appointment and look how that ended.
Lets get a few decent new faces in, have some sort of preseason with the Euros and then hit the ground running in August.
I'm happy with the appointment overall but will wait and see how things go before judging. At least its done now so we can move on to who we're signing and selling.
Brave decision and I hope people can at least be adult about it. End of the day it's football not life. Whether Everton win, lose or draw is going to have no impact on putting food on the table or paying your mortgage!
Brian Murray
19
Posted 30/06/2021 at 15:33:17
I'm more exited by the suggestion of a change behind the scenes, Marcel for chairman now that would get me in Wetherspoons pronto
Mike Jones
20
Posted 30/06/2021 at 15:33:44
The Red Echo reported yesterday that the small print of the contract was agreed last night. That rag never misses a cute trick.
Barry Hesketh
21
Posted 30/06/2021 at 15:34:38
If he can put Liverpool beneath us in the table, he'll have done a great deal to win the supporters over, but can he do that in his first season, unlikely.
Jay Hughes
22
Posted 30/06/2021 at 15:35:15
Madness. Utter madness!
Gone by the new year and Replaced by the Wonderful Stevie G 🤬

Jamie Crowley
23
Posted 30/06/2021 at 15:36:03
"Well after much consideration, we think we've made the right choice to run the children's nursery, so let me introduce Herod...King Herod."
THAT is HILARIOUS Eugene.
TYVM for brightening my rather shitty day.
Bill Gall
24
Posted 30/06/2021 at 15:36:51
All I am reading about Benitez is, failed at this club, failed at another club, and on and on.
If not winning the league or a trophy is a failure, then every manager at Everton since Joe Royle won the FA Cup in 1994 has been a failure, yet some supporters still mentioned a couple of the past failures for the manager's position today.
We needed someone to get this club back on track on the football side of things. From whom the club talked to (and none of us can be 100% sure who they talked to), Benitez is their choice.
We may not like what is supposed to be his favorite style of play, but style and tactics have changed over the years, and a professional manager, the same as a professional footballer, should be able to adapt.
Let us forget his previous clubs and hope that he can turn Everton FC around, with sometimes reluctant support.
James Flynn
25
Posted 30/06/2021 at 15:36:51
It's July tomorrow.
Who has Brands been lining up for the last year and how soon will we see them?
Paul Hewitt
26
Posted 30/06/2021 at 15:36:54
Welcome to Everton Rafa. Hope you prove the doubters wrong.
Will Mabon
27
Posted 30/06/2021 at 15:38:32
"...helping this great (but small) club...".
Denis Richardson
28
Posted 30/06/2021 at 15:39:15
Joe 13 - winning the derby would make it hard I think for any to still be against him, assuming we have a decent start to the season. That will be a massive game 30th Nov.
Tough first game away to Utd however but then 6 games against non top 6 sides on the bounce. No easy games in the league but a decent opportunity to get some early points on the board and build momentum.
If we're top 6 come derby time and we win I'm not sure too many will be shouting loudly for him to go. Big ask but he's chosen to take it on so we'll see what happens.
Interesting appointment nonetheless and he's certainly not afraid of a tough task which is a good sign imo.
Daniel A Johnson
29
Posted 30/06/2021 at 15:39:26
Good luck Rafa and while your at it duo San Miguel and some chips please
Chop chop
Tom Harvey
30
Posted 30/06/2021 at 15:40:54
It's horrible tasting Paella for breakfast, lunch and tea from now on, endless spoon after spoon of it!
Les Newsham
31
Posted 30/06/2021 at 15:41:32
Not sure if my lacklustre feeling is due to it being Rafa or due to it being our 5th managerial contract in 5yrs.
Either way, onwards and please upwards.
Ciarán McGlone
32
Posted 30/06/2021 at 15:42:34
Beyond stupidity.
I'm frankly done with this club and it's two bit mentality.
Moshiri is a utter clown.
Ian Jones
33
Posted 30/06/2021 at 15:42:37
With Duncan Ferguson and Alan Kelly also involved..
Rafa believes we are a club that is going places. Bramley Dock springs to mind...so he's not wrong.
Am indifferent to this appointment but obviously will back the manager, team and club.
Chris Langton
34
Posted 30/06/2021 at 15:43:10
If you genuinely love Everton you will wish Rafa the best of luck as that means the team we love will be doing well.

Brian Murray
35
Posted 30/06/2021 at 15:43:39
Is he still a kopite ! Nah that's paella in the sky talk. He's a blue so he's here so good luck lad. Il fold my sheets away till Xmas
Michael Barrett
36
Posted 30/06/2021 at 15:44:46
No words are needed below.
Charles Barrow
37
Posted 30/06/2021 at 15:44:50
As Jamie said, prove us doubters wrong!
If he does, I for one will be delighted as that'll mean he's actually won something for us and pissed off the RS.
In the short term I'll support him 100%, and but by
Christ I fear the worst for the club if he turns out to be garbage and we remain mid table mediocrity. Suppose much turns on Brands and summer targets.
Tom Harvey
38
Posted 30/06/2021 at 15:44:53
Tres cervezas por favor and straighten your red dicky bow if you want a tip!
John Chambers
39
Posted 30/06/2021 at 15:45:49
Would never have been on my list of possible managers but now he has been appointed we have to get behind him and the team
Ray Smith
40
Posted 30/06/2021 at 15:46:03
To all you doubters, it's done.
Read Dennis Richardson's post 18.
Then reflect.
Chris Leyland
41
Posted 30/06/2021 at 15:46:35
Think I'm going to try something radical and revolutionary and see what he's like in the role rather than condemning him before he's even started. I know this means that I can't then be one of those on here who will say "I said from day 1 that I didn't want him" as they do every manager.
Kieran Kinsella
42
Posted 30/06/2021 at 15:46:52
Eugene brilliant! haha.
Steve Brown
43
Posted 30/06/2021 at 15:49:53
Come on, it will kind of entertaining to watch this play out to its natural grisly conclusion.
Mike Gaynes
44
Posted 30/06/2021 at 15:50:17
Glad the small stuff is out of the way. Now let's get some players.
Gary Smith
45
Posted 30/06/2021 at 15:50:21
Well I guess the hand me down manager for next 2-3 years beats a hand me down stadium for ever……
Ray Smith
46
Posted 30/06/2021 at 15:50:44
Cairan 31
Take your blinkers off.
If your done with this club, goodbye.
Will Mabon
47
Posted 30/06/2021 at 15:50:46
Steve, it will hold the attention, that's for sure.
David Pearl
48
Posted 30/06/2021 at 15:51:37
Must admit the picture of him wearing an Everton scarf made me laugh
Paul Hewitt
49
Posted 30/06/2021 at 15:52:46
Dennis#18. The most sensible post on this subject to date.
Kieran Kinsella
50
Posted 30/06/2021 at 15:54:01
Preseason training starts on Monday. How much do you want to bet James won't be there due to some nonsense or other? Extended fatigue break. Post national career grief counselling. Lost passport. If Rafa wants to make an impression his first day should be like the new recruit session in Full Metal Jacket.
Neil Lawson
51
Posted 30/06/2021 at 15:54:27
Ridiculous appointment for so many reasons. I was going to pen a passionate farewell to TW but apathy has struck, so just a simple goodbye from me. Good luck to you all.

Colin Malone
52
Posted 30/06/2021 at 15:55:01
Nothing personnel, just strictly business.
http://j.mp/1uunTSY
Robert Miller
53
Posted 30/06/2021 at 15:55:19
If we win trophies and are consistently qualifying for Europe I frankly don't care who's in charge.
Years of achieving three parts of nothing is wearing thin.
This club needs to re-develop a winning culture from top to bottom. I hope Benitez will be a part of that.

Howard Don
54
Posted 30/06/2021 at 15:55:41
I never believed Ancelotti would stick around; Benitez will, given half a chance and some money to build on the current squad. He will improve us and the football couldn't be any more dire than we had in the first half of 2021.
New season, new manager... almost certainly some new players, time to get behind the team and him.
Mike Dolan
55
Posted 30/06/2021 at 15:57:41
Great article Lyndon. Personally I couldn't care less if who we has one trophies for another team even if that is Liverpool. As long as he comes in and gives his best for Everton.
Re. Our previous managers. Surely you have to view them in context of the team that they inherited. Martinez for instance inherited a team that was about to go into a total tailspin with players in their twi-light years and our best young players being sold. He did not carry the gravitas and heft of a great manager but in a way he helped stabilize the ship. He was in over his head but not a disaster.
Koeman was the only total disaster at every level. He set us back at least three years. Most of us were very happy with his appointment initially though so at this moment it might be good to reflect on that. Like WTF do we know.
Allardyce actually achieved what he set out to do which was keep us in the Prem. It was soul sucking to watch but he did that.
Marco had us playing well until the Prem caught up with his naive tactics and the wheels fell off. Marco is a good guy but like Dunc is a coach and not a manager. With Dunc his handling of Moise Kean was Koemanesque horrible and will cost us millions at some point.
The squad that Raffa inherits is a lot better than its league position indicates. There where a lot of games last season lost by one goal, a slew of injuries but going into the last month of the season we did have a viable chance of cracking the top four. If we can fix the right side of the team I would expect to finish in the top four. And finishing in that top four next season is how we should measure Raffa because this summer is the final one of our rebuilding.
I wish him good luck and a happy end to his career as King of Europe with Everton. COYB
Danny O'Neill
56
Posted 30/06/2021 at 15:58:23
It's happened. I was never in the "gutter" group, just the disappointed one. I can see, if not agree, where the leadership is going with this.
It's happened. I still support Everton.
Nothing much has changed. To repeat my post season analysis. We need better players. Regardless of manager, get better players. Do it on the pitch and many won't care who the manager is.
Barry Rathbone
57
Posted 30/06/2021 at 15:59:14
First challenge failed.
He needed to kill the toxic "small club" jibe but feebly blustered about history
Benn Chambers
59
Posted 30/06/2021 at 15:59:51
Right. So that's it then. Done. At least all the uncertainty is over. I'd expect his first signings to arrive quickly.
Was he my preference? Absolutely not. Will I back him? To the hilt and back while he manages my team. I support Everton. Simple as.
Holiday time is over for the lazy bastards in the squad now. Don't press? Don't play. Don't run? Don't play. He's not the type to allow players to manage themselves like Carlo. He's a control freak and that's what some of these useless overpaid shithouses need.
Can't see him tolerating Rodriguez playing 1 game in 3 or him shitting himself and hiding after a bad tackle. Can't see him tolerating Richarlison's strops. The unfit, mediocre, stay in 2nd gear Everton is over. If the players don't like it or wanna go, don't let the door hit them on the arse on the way out. I'm sick of this Everton squad and have been since Martinez's second season. I'm not fond or attached to a single one of them bar Godfrey and Doucoure. Some aren't good enough and some just aren't Everton.
I can't wait to see Rafa's Everton. Will it be pretty? Possible not and everything will start with the foundations and a clean sheet.
I've watched every style of footy since Moyes left and none of them have won us a single thing. The only style I'm arsed about now is a winning style.
Welcome, Rafa. Over to you, mate. Win us something and you'll be a god on both sides of the city of Liverpool.
COYB.
Will Mabon
60
Posted 30/06/2021 at 16:02:10
Neil - don't go. There's a thousand ways this could go, with something for all. You won't find this stuff on your TV.
Joking aside - it's your club, Man. I'm pretty pissed over it, but Everton is here for ever. Ride it out.
Derek Powell
61
Posted 30/06/2021 at 16:02:59
thats it I am done stuck with it for sixty years but this has pushed me over the edge just a small club
Michael Fox
63
Posted 30/06/2021 at 16:03:51
55 years I have been supporting this club and now I feel as if I've been stabbed in the back. I just can't believe this crap, so I'm going to sleep, somebody wake me when this nightmare is over. He better beat the RS.
Dave Abrahams
64
Posted 30/06/2021 at 16:04:34
Welcome to Everton Raff, you've took on a job and a half there lad, do your best and show us what you are made of, wishing you loads of luck, you'll need it with this squad as most of us realise, I hope you do well enough to earn another contract, you'll have well turned the tide if you do that.
Mal van Schaick
65
Posted 30/06/2021 at 16:05:19
He's appointed now, so we need to get behind him and as #52Robert says, if he wins trophies, brings success then all the past doesn't matter.
Good luck Rafa.
Will Mabon
66
Posted 30/06/2021 at 16:05:19
Barry, that is too much of a hot potato for even the most human of PR teams. I'd be stunned if it got mentioned.
Ian Carter
67
Posted 30/06/2021 at 16:06:15
Like many have said, he wasn't anyone's first choice but what's done is done. Now it's time to back him and the club and go from here. First priority is having a strong window. Which means getting rid of some players as much as it does bringing some good ones in. If he's given the right players then he can succeed.
But no point in getting upset now. We might see progression and a higher table finish. maybe even some silverware. If we do, we should be satisfied.
However, if we continue to see the same mid-table, backwards passing, drab football, with no results, then we can complain and be upset. But we won't know what we are for a few months, so until then, COYB!
Kieran Kinsella
68
Posted 30/06/2021 at 16:07:42
If he wins anything they'll put a red asterisk by it.
Kieran Kinsella
69
Posted 30/06/2021 at 16:07:42
If he wins anything they'll put a red asterisk by it.
James Marshall
70
Posted 30/06/2021 at 16:08:04
Let's look at it the other way round - maybe this will actually taint and annoy RS fans.
"How could he?" Kinda thing.
Also, who cares anyway. It doesn't mean shit.
Benn Chambers
71
Posted 30/06/2021 at 16:08:59
I have to laugh at people threatening it's the end and they won't watch us l now and won't support us and won't go the game and won't contribute to ToffeeWeb.
YES YOU WILL. YOU WILL. You know you will. You're annoyed, we get it. Go and get a beer out the fridge and give your heads a wobble.
Tomorrow is a new day and you'll still be an Evertonian wether you like it or not.
Ian Horan
72
Posted 30/06/2021 at 16:09:28
I struggle to comprehend the ignorance of our supporters at times, whimsically ordering food, oh how we laughed not!! We blues claim to be classy? Stereotyping Rafa, yet Stereotyping Scouse draws condemnation from all quarters. Benitez is employed to be manager of Everton, he isn't a fan nor a true blue ( Kenwrights true blue credentials have won us everything, not!), however Rafa is a professional well respected in the game. He also demands work ethic, a number of our players egos will take a battering. There will be nowhere to hide for a lack of application and effort, he also calls out the establishment, officials when his teams are unfairly treated. I am happy to give him my full support, I support Everton F C not one individual... up the Rafalution!!!!
Alexander Murphy
73
Posted 30/06/2021 at 16:09:52
Overheard conversation.
"Hiya Duncan, first off, I have a dead-wood list regarding the squad; can I have yours ?
Next up, of the youngsters, who are on your list for a bigger opportunity.
Now then Big Man, who's on your go get these lads list ?
Finally Big Dunc, could you possibly let go of my throat now please ?"
James Stewart
74
Posted 30/06/2021 at 16:11:06
Solid choice and you have to admire the balls of the man. Having a manager who wants to be here is a welcome change!
Good luck Rafa and COYB!
Barry Hesketh
75
Posted 30/06/2021 at 16:12:01
I can only assume that Marcel Brands is out there searching for new first-team players, as he doesn't appear in the photo at Finch Farm with Denise Barret-Baxendale featured with Benitez, Duncan, et al

Jim Potter
76
Posted 30/06/2021 at 16:12:11
100% didn't want this.
100% behind him.
He's Everton manager and I love Everton.
Come on you Fat Waiter, never mind silver service, serve us up some silverware.
Kevin Molloy
77
Posted 30/06/2021 at 16:12:57
I remember being appalled with the way Chelsea's fans constantly sang' eff off Benitez' when he was the manager. Just dreadful, I'm sure there are lots of Everton fans not too happy at the moment, but once the season starts we will all be behind the team. After the treacle we've been drenched in this last 18 months by Mr Slick I actually enjoyed Rafa's interview. He said at one point 'I am a coach'. I think there is little chance that Rafa's kids will be in charge of training, I think he will want to take those sessions himself. I think he's genuine, and will try his damndest to get us up the table. I also think he will be a breath of desperately needed cold air at Finch Farm.
Tony McNulty
78
Posted 30/06/2021 at 16:13:22
I guess we'll get used to it eventually.
There is one huge problem though.
I have heard he has a dog called "Red." Now Red must be feeling a little vulnerable just now. What are the options:
1. Red goes to the pound immediately.
2. Red gets taught to answer to another name (Big Dunc's pigeon training should be useful here - I suggest hitting Red with a "small club" until he responds appropriately).
3. Red gets a suitable re-name (e.g. Fred?)
4. Red gets put down.
Those are my initial suggestions. I am sure some on here will be able to do better.
Danny O'Neill
79
Posted 30/06/2021 at 16:14:50
Michael, my 49 years can't match your 55, but I guarantee, when my dogs wake me up tomorrow morning (or me them as has been the case of late), the first thing you, me and them will be thinking of will be Everton.
He's the manager. Just like the previous ones, give him the tools (the players) he needs to do the job.
Who knows. Despite his history across the park, maybe he has something to prove to them. Regardless, that's the past and whether he was my choice or not, he is the manager of Everton Football Club now.
Barry Hesketh
80
Posted 30/06/2021 at 16:15:35
Easy enough solution Tony @77 just give red a surname that rhymes with fight.
Kevin Molloy
81
Posted 30/06/2021 at 16:15:41
Red will soon be Fred I suspect Tony.
Mike Kehoe
82
Posted 30/06/2021 at 16:15:47
An appointment that confirms the identity of the club, something that has been missing for years.
A joke.
Personally, I preferred us when we were skint; at least we had some integrity.
Safe hands until the sale.
I hate football.
Will Mabon
83
Posted 30/06/2021 at 16:16:13
Tony! An innocent dog, how could you...
Terence Connell
84
Posted 30/06/2021 at 16:17:44
Well I suppose it's like the vicar giving you holy communion! Good luck Rafa ! He might actually unEverton Everton.
Robert Tressell
85
Posted 30/06/2021 at 16:19:09
Inevitable, done - more interested in squad rebuild now. Hope that is quick and effective.
Dave Williams
86
Posted 30/06/2021 at 16:19:35
Just seen his first interview.
I have to say I like him.
Go boy- show em what you can do!
Ray Robinson
87
Posted 30/06/2021 at 16:22:20
Like so many before me have said I didn't want him but now he's here, he'll get my support. Some wanted Rhino as manager previously - well now we've got a rhino-skinned version.
Will Mabon
88
Posted 30/06/2021 at 16:22:56
Mike, I know where you're coming from. For part of the Moyes era and certainly after Martinez' first season, I was quite proud of where we were
without
the easy money influx.
Call me old fashioned, I harboured a dream that we may gradually build to compete against the trend, having Lukaku and things going well. Water under the bridge, forever.
The 90 mins on the pitch is as ever - of the rest of it, there's much to dislike.
James Marshall
89
Posted 30/06/2021 at 16:23:20
Will Rafa cut the ribbon at the new gaff then?
James Flynn
90
Posted 30/06/2021 at 16:23:56
Kevin (76) - "I also think he will be a breath of desperately needed cold air at Finch Farm."
Nice one.
John Pickles
91
Posted 30/06/2021 at 16:27:59
I would have preferred Galtier, but at least it wasn't Martinez. He's here so I'm behind him, just hope his recruitment contains more Sterlings than Aquilanis.
John Davies
92
Posted 30/06/2021 at 16:28:55
He cannot be any worse than the ones that have followed Moses. In lots of ways he is showing lots of balls taking the job on. Let's get behind him, and give him a chance.
Alexander Murphy
93
Posted 30/06/2021 at 16:29:13
Dear Rafael, welcome to Everton, start by learning Our history.
Plenty to make you proud, some of it may tempt you to feel bitter.
Don't.
Use it instead to fuel our drive to success.
Welcome to Everton
Rafa Bluenitez
Brian Williams
94
Posted 30/06/2021 at 16:30:35
I really didn't want him but have to admit he spoke well (some might say who wouldn't for that money?).
One thing I did pick up on was his reply when asked about Ferguson's position.
He "appeared" to circle around it and the feeling I got was that Ferguson won't be his assistant manager.
John. There's been a lot that have followed since Moses was around!!
Brent Stephens
95
Posted 30/06/2021 at 16:31:08
Didn't want him but I he's here and I'm over it. I'm actually now really excited again - about new signings (surely we must, our squad is so limited); about him getting a tune out of the rest of the squad who stay; about getting to the game again.
Stephen Vincent
96
Posted 30/06/2021 at 16:31:19
Got to be honest felt physically sick when I saw him with blue and white around his chins.
Some hard thinking for me over next 24 hours.
Craig Walker
97
Posted 30/06/2021 at 16:31:26
He's here now. He gets my backing. If he does well then I'll praise him to the hilt. If he doesn't perform, I'll give him as much stick as any other manager. I just hope, at the very least, he gets us playing with a bit of pride and makes Goodison a fortress again.
I'm hopeful he doesn't give players like Iwobi and Delph another chance to show what they can do because over 40,000 of us know what these chancers can do and we will achieve nothing with the likes of them around.
Matt Mackey
98
Posted 30/06/2021 at 16:31:27
Peter Roberts @10,
Remind me, Peter, what exactly was Ancelotti building towards besides a house built on sand?
Mark Murphy
99
Posted 30/06/2021 at 16:31:55
John - what, ALL of them??

Dave Abrahams
100
Posted 30/06/2021 at 16:33:25
Tony (77), Tony the dog's full name is Red Adair, he will be a big help to Raff, who has took on a fire fighting job with Everton!!
Luke Welch
101
Posted 30/06/2021 at 16:33:25
Rafa the Gafa is in! Going to be an interesting season.
Dan Nulty
102
Posted 30/06/2021 at 16:35:36
Fingers crossed this goes far better than many of us expect! Welcome to Everton.
Brent Stephens
103
Posted 30/06/2021 at 16:37:22
Rafa HAS just explained the "small club" comment. He's today quoted in the Echo as saying that he compared Everton's play to the beautiful subtlety of a chip or bunker shot in golf - hence the "small club" comment.
Iain Latchford
104
Posted 30/06/2021 at 16:39:27
I thought he came across very well in the interview. Basically saying it doesn't matter club he is at, he wants to win. Seems very driven. I think he'll have the players screwed down, which works for me.
Steve Brown
105
Posted 30/06/2021 at 16:42:00
Interesting first interview for Benitez. He said the word 'Everton' 2 times in 8 mins 39 seconds. He mainly said 'I', 'Me' and 'Real Madrid' which probably a good summary of how he sees himself and the job.
Gaute Lie
106
Posted 30/06/2021 at 16:43:10
Welcome!
Do your best and do your magic, then we will be ok-
Pat Kelly
107
Posted 30/06/2021 at 16:48:40
So what if he used Liverpool as a stepping stone to get the Everton job?
Do your best, Rafa, and give us football to enjoy.
Pete Clarke
108
Posted 30/06/2021 at 16:49:30
I am going to apologize to my son for forcing him to be an Everton supporter.
What an embarrassing excuse of a football club we have become.
Nothing against Benitez. He's had a great career and has done well for himself and now he is using his smarts by conning a few million out of a man who is very rich but very stupid.
Johnny Lydon of the Sex Pistols said something to the audience many years ago that sums up my feelings on being a blue right now.
"Ever get the feeling your being cheated "
Andrew Keatley
109
Posted 30/06/2021 at 16:55:56
Not who I was hoping we would get, but also not someone I was dreading coming in. While the connection with the other lot (and his comments while there) will obviously still rankle with some Rafa is here and hopefully he is able to come to love the club and vice versa. If he can improve us and even win something here then that will be doubly difficult for them to stomach. Fingers crossed for that.
Neil Cremin
110
Posted 30/06/2021 at 16:58:52
Thankfully appointment finally made. Brave decision to take on the job and equally brave appointment.
Will need to hit the ground running to silence the ABB brigade but remember how high the bar was set by the great Carlo (10th with a negative goal difference)
I would be very confident that Rafa would improve on that position even with the existing squad so who knows what he may achieve with some additions and removal of the uncommitted

Ian Edwards
111
Posted 30/06/2021 at 17:01:55
So we have a new Manager. Not my choice but could have been worse. I'll get behind him as I do with every new Manager. Let's hope he succeeds which means we"ll be happy fans. If not we'll be back to square one. He needs to clear that midfield out as a first priority. If he doesn't he'll fail.
Jack Convery
112
Posted 30/06/2021 at 17:02:24
Before getting my coat I posted this on another thread - A tune for the St End.
OH RAFAs OUR GAFA !!! to the tune used for that not so world class Belgium Kevin Mirallas and adopted by the City fans for the truly world class Kevin De Bruyne.
Now I will get my coat !
Some great lines on here so far - The Herod one gets my vote as best so far, with an honourable mention for the Dogs surname rhyming with fight.
PS: BKs quote was a ringing endorsement - not.
Gavin Johnson
113
Posted 30/06/2021 at 17:03:43
I was impressed by what Rafa had to say in his first interview. I think he will give 100%, and as he's known to be ruthless so he might give the squad the kick up the arse he needs.
Apparently his wage isn't like Carlo's and is heavily incentivised so he can't be beaten with the stick that he's just here for a huge wage.
He's not the manager I wanted but I really hope he isn't booed when we return to Goodison. We need to get behind the team.
Rennie Smith
114
Posted 30/06/2021 at 17:06:40
I would love nothing more to be proven wrong, but it makes me physically sick to see him with that treasured scarf around his neck.
Matthew Williams
115
Posted 30/06/2021 at 17:09:08
It's official... our club is run by a bunch of fucking idiots.
It's not so much the "small club" slur (which is bad enough), but the man's style of football... dull, slow and bland to the extreme. He's another reactive gaffer, like-for-like subs on 70 minutes, dull as fuck footy which will have the faithful fuming in the stands and just bore the neutrals ridged. It'll be like Cashflow Carlo never left!.
I imagine we've already got "last shown on MotD" down to a tee already, a truly soul-destroying appointment... how low can we possibly go from here?
2021… read 1951, folks!
David Milner
116
Posted 30/06/2021 at 17:11:51
Would not have been my choice either but then I am only a supporter for 65 years & do not pay his wages.
He came over well in his presentation & said the right things i.e. Winning.
If Rafa is Moshiri's choice then so be it. If we finish in the top six then Moshiri will be proved right.
Now lets get rid of the dead wood & sign some exciting young talent.
James Stewart
117
Posted 30/06/2021 at 17:13:27
@105
Rubbish. Highly impressive interview and clearly impressed Moshiri with his knowledge and vision.
Benitez wants to be here a lot more than any of our previous managers since Moyes!
Andrew McLawrence
118
Posted 30/06/2021 at 17:15:30
Only place we are going is the Championship. Dull as dishwater style combined with this under performing squad will be awful. Unless of course he brings in 6 or 7 new faces with pace and mobility in which case he's a hero
Mike Gaynes
119
Posted 30/06/2021 at 17:15:59
I love short, direct posts with a touch of irony that say something a little different in a situation like this.
So here's to Benn #71, Jim #76, Kevin #77, Dave #100, Pat #107 and Andrew #109 for your cogent comments.
John #92, my people were the ones who followed the original Moses, and wound up on the only real estate in the Middle East with no oil under it. Everton has likewise been a dry hole for years now. So let's hope this leadership takes us in a better direction.
James Newcombe
120
Posted 30/06/2021 at 17:16:30
1995. I still can't quite believe this is happening, but if it takes Rafa Benitez to sort this club out, then so be it!
Tony Shelby
121
Posted 30/06/2021 at 17:18:11
I'll give him the first 4 games.
If we haven't got at least 8 points then he can fuck off back to Caldy.
Andy Crooks
122
Posted 30/06/2021 at 17:19:36
Serenity is shite. Everton don't do it which is why we are all addicted. Frankly, though I don't like the choice, I feel a million more times animated than I would if Carlo was here to suck the very life out of our club.
Ian Burns
123
Posted 30/06/2021 at 17:20:01
Like the majority posting here, he was not my choice for manager but, now he is here, Rafa, the club and the players will get my full support.
I must admit, it took a few seconds for me to take in his picture with the blue scarf wrapped around his neck…
Hey ho, away we go! Come on, Rafa, give it your very best shot and good luck.
Matthew Salem
124
Posted 30/06/2021 at 17:20:07
Welcome, Rafa.
I used to say a lot of bad things about him, but the past is the past. I fully support him!
Tony Twist
125
Posted 30/06/2021 at 17:23:08
Welcome, Rafa.
As far as I am concerned, it is a clean slate and I desperately hope he gets off to a great start because I for one am sick of the way things have been going with this club. If he can assemble a team that wins matches regularly and puts us in for a shout for Europe every year and wins us a cup or two, it will be a good foundation for big Dunc to take over at the new stadium.
I don't see it as a short-term thing, why would it be if he wins things? I just hope he is successful and starts to really appreciate the club and the supporters.
Mike Gaynes
126
Posted 30/06/2021 at 17:23:59
Ian #123, I had the same reaction. Sort of an incongruous visual image, isn't it?
Comment posted under Rafa's interview: "Newcastle fan here, and while I can understand a lot of your fans concerns and reservations about him, he'll go far with a club like yours whose owner backs him. Top top bloke, and while you can't expect exciting football, he WILL get you results. Best of luck (apart from when you's play us of course!)"
Alan J Thompson
127
Posted 30/06/2021 at 17:24:01
The "Gutted" one appointed by the gutless ones.
If he does fail, then the entire Board must go with him.
Anthony Flack
128
Posted 30/06/2021 at 17:24:46
The photo reminds me of one morning on my paper round in the early 80s when the football magazine Shoot spoofed Ian Rush in an Everton kit…. I fell for it for a few seconds.
Back in those days, life was easier: no internet, no social media, no cameras everywhere… and the Echo and Daily Post told the truth.
But the photo of Rafa looks wrong!
Anyway, welcome and good luck.
Thomas Windsor
129
Posted 30/06/2021 at 17:24:50
What's done is done. Not my first choice but we just have to get behind the team as, with that squad, he's going to need all the help he can get.
Barry Shearer
130
Posted 30/06/2021 at 17:25:14
Wow... Welcome. Rafa has my full support.
I remember the good old days of the 80s. I want those days again and I hope he can bring them to us. Please support him. Get behind the team. We cannot have a divide between us.
Tim Welsh
131
Posted 30/06/2021 at 17:27:30
Well, that's going to be six easy points for Liverpool next season.
Prove me wrong, Benitez.
Phil Smith
132
Posted 30/06/2021 at 17:29:42
Small club indeed...
*slaps own face
Dave McDowell
133
Posted 30/06/2021 at 17:31:57
Just for devilment let's go further down the rabbit hole.
Two seasons in:
Mr. Benitez has done a great job, first season got us to a Final (lost to City) and into Europa League via 5th place.
Second season we win the Europa League plus finish close 2nd in Prem to City.
Season three, Klopp leaves RS, burnout, offered Germany job, whatever.
RS offer Mr. Benitez his old job.
Round like a circle in a spiral, like a wheel within a wheel
Never ending or beginning on an ever spinning reel!
John Graham
134
Posted 30/06/2021 at 17:34:11
I didn't want it to happen… but now it has, I would like to welcome Rafa Benítez to our club.
I just hope he surprises us all with a great 3 years and more. COYB
Francis van Lierop
135
Posted 30/06/2021 at 17:35:28
I voted for 'disappointed', when given the choice about his possible appointment.
I hope he does well for all our sakes, and he has my backing. With some acquired pace this summer, he'll need to drill some consistency into the under-achievers. This I think he can do.
John Kavanagh
136
Posted 30/06/2021 at 17:39:44
Most of our appointments (and signings) have turned out to be very unpleasant surprises, so I'm hoping that this one turns out to be a pleasant surprise against all expectations.
Still having big problems seeing him with our scarf on though. It just doesn't look right - like seeing Arnold Schwarzenegger in drag or Iwobi in an Everton shirt.
As for Brands not being in the photos, the Club's line is that he is quarantining after traveling abroad on business. Let's hope it was completing talks on some decent signings in time for August.
Bobby Mallon
137
Posted 30/06/2021 at 17:43:50
For what it's worth, he's here… so he gets my full support – just like Carlo did.
Martin Mason
138
Posted 30/06/2021 at 17:46:27
He has the hardest job in football management, the real poisoned chalice because of Everton fans, some dripping poison, who will never give him a chance.
I welcome him and hope that he does well, especially if he can show Ancelotti up for the mercenary snake that he undoubtedly is.
It could be an inspired appointment and the board may well support him with new assets, I sincerely hope so and I wish him the very best.
Neil Copeland
139
Posted 30/06/2021 at 17:47:49
His picture with the scarf made me smile, probably the irony of it. Interviewed well, I thought, and clearly wants to be here, which is a big plus – remember Ronald?
So, welcome, Rafa, and good luck, looking forward to you sorting us out and Brands bringing in some new talent.
Mike Gaynes
140
Posted 30/06/2021 at 17:48:31
I would just like to point out that Benitez is casual friends with Lionel Messi.
Who will be a free agent in five hours.
Just sayin'.
Eugene Ruane
141
Posted 30/06/2021 at 17:49:51
.
One of the (many!) reasons this was, imo, a dumb decision was that 'our' new manager simply won't be allowed the same time any other manager would get to 'get things right'.
No one was really hoping for the Brighton feller or Nuno thingy, but had we got either of them, they'd have been given a lot more time than the permanently blushing Spaniard will get.
Time from who?
Us.
The supporters, particularly STH.
I saw my first game in 1966 and though no expert in..um..'crowdology' (?) I'm familiar enough with Everton crowds and their moods to know the following..
First game Benitez will be introduced and most will applaud...but not in the (much warmer) way they'd have applauded LITERALLY anyone else.
It'll be more 'see, I applauded him, I'm not a seething ball of rage like some are suggesting' (nb: but it'll be the kind of applause one might get from someone trying to disguise the fact they're a seething ball of rage).
After that things can only really go one of two ways, 1) Benitiez' side wins first 10 games on the bounce and the derby and he has to be sent to the stand for chinning Klopp - result, hero (ish)
Or 2) He wins 3, draws 2, loses 5 - result, muttermuttermutter.
The chances of 2) are very high, the chances of 1) practically nil and if we get the latter, it's guaranteed that before 10 games are played, the first loud (probably sweary) rumbings will have been heard.
I'd like to think there might be some way that the next 6 months could be free of seething rage, supporter division, vitriol, snarling, message-planes overhead, tennis balls and all that shizzle but I'm a realist and I just can't see it (there were heads practically exploding next to me towards the end of Martinez reign and he didn't slag Everton).
As I say, I think it was, above all, a dumb move and one that definitely let the club's supporters know (certainly those gullible to think otherwise) that the club really doesn't give a flying shite what they/we/you think.
Vamos los Toffieros!
Mike Dolan
142
Posted 30/06/2021 at 17:51:37
I feel as up for this coming season today as I did at the dreadful end of last season.
Right-back, right-midfielder, right-winger and we get 4th.
Welcome, Rafa – you're not beneath us.
Dale Self
143
Posted 30/06/2021 at 17:52:58
Snapping my fingers in approval to that Eugene!
That last paragraph is the punchline and if we don't honestly get a discussion about how we got here we are the joke.
Geoff Williams
144
Posted 30/06/2021 at 17:57:43
The only way Moshiri has any chance of coming out of this fiasco with any credibility is to back Benitez with BIG money.
Roberto Cecere
145
Posted 30/06/2021 at 17:58:32
Welcome Rafa if the fans get behind you I believe he is a good fit let's hope we come out fighting
Simon Dalzell
146
Posted 30/06/2021 at 17:59:59
Welcome to our magnificent club and good luck. Anyone still mentioning ' small club ' needs to grow up. ( There are plenty of you. ) Very sad people living in very small worlds.
David Hallwood
147
Posted 30/06/2021 at 18:01:22
Lot's of pragmatism on show in the posts; did I want Rafa? No. But hey ho he's here so he gets my backing.
We're all guilty of failing to differentiate between supporting a team and hired help, and footballers, managers, coaches etc fall into the latter.
He said what he said in a fit a pique when he was hired by someone else, and now I expect him to work like a b****** to make us successful, as he's getting top dollar to achieve it.
Dale Self
148
Posted 30/06/2021 at 18:03:10
Fully grown ol' boy. Enough with the smalltime insults.
Lee Paige
149
Posted 30/06/2021 at 18:05:38
Hope he takes control of Brands abysmal spending on a lot of junk. Hopefully, he shows a number of our overpaid players the door. He wasn't my choice, but I think he doesn't put up with people not pulling their weight.
Simon Dalzell
150
Posted 30/06/2021 at 18:05:54
Ol boy. Weird.
Brent Stephens
151
Posted 30/06/2021 at 18:08:04
Within reason, I wouldn't want the club to appoint somebody who they thought was not the best person available to "do the job" just because the fans wouldn't like it. They've clearly chosen the best one available, as they see it, despite many fans views; and they surely realise the flack they'll take if Rafa doesn't deliver (whatever that means). I respect that.
Whether he is in fact the best available to do the job is another matter. But in the club's view...
Dale Self
152
Posted 30/06/2021 at 18:08:07
It's an adult response to childish provocation Simon. You're welcome. Let's stay on point and have a discussion or it gets like this.
John Skelly
153
Posted 30/06/2021 at 18:08:50
Welcome Rafa I know there is no loyalty in football anymore as proved by our last manager but onwards and sideways coyb.
Steve Shave
154
Posted 30/06/2021 at 18:09:56
Underwhelmed, apathetic in my repeated disappointment with our club. However, he is here and we MUST get behind him and the team. Rafa you have my support and backing, just hope you can deal with our toxic fans. Anyone who can succeed in the worlds biggest basket case of a club aka Valencia, might, just might, have a chance here. I hope so. COYB.
Brent Stephens
155
Posted 30/06/2021 at 18:12:32
And Rafa won't have the disadvantage (or partial excuse) that Carlo had - i.e. a first transfer window, mid-season, when typically little is available.
Jamie Crowley
156
Posted 30/06/2021 at 18:18:04
It absolutely is a middle finger to supporters in my opinion. The Board had to know the vitriolic reception this would get. Or at least the polite "golf clap" reaction from those who do indeed love the Club and want it succeed - so thereby having no real choice but to golf clap, as to outwardly hope for Rafa's appointment to fail would equate to Everton being in great danger.
My question is this:
How in the hell did he actually even secure an interview?
Like, what was the mindset? What has he done in the last 8 or so years to warrant consideration?
The cold hard fact is we've hired a red that's insulted us, who hasn't done shit as a manager in a near decade. And we're hoping this guy can turn our fortunes?
What evidence is there to garner such hope?
And again, why was this man even considered for the job???
Tom Bowers
157
Posted 30/06/2021 at 18:23:04
Football is just a business like any other and people can change employers just as clubs can fire you when the want.
It's all down to money and success so why are some of us getting pissed.
I cannot see that Rafa can possibly be any worse than the well-paid dross we have had over the last decade.
God knows what they shelved out on Marco Silva, Martinez, Koeman and Ancelotti but, if Rafa can do something more than they did then, it won't be half bad.
No matter who they got there would be no guarantees even many of the players they have had have been miserable failures.
I suppose we have to be optimistic at the start of every new season so let's see how this pans out before we all get frustrated too much.
Just a thought but wouldn't it be nice to see the look on RS fans' faces if Rafa gets a victory at Anfield.
Jamie Crowley
158
Posted 30/06/2021 at 18:23:32
You live next door to a landscaper. One night, around 8 pm, you see him shitting on your lawn. Like some dog, crouched down, he just piles a heaping dump in your front yard.
He then looks at you and says, "You're small. Do something about it!"
Fourteen years later, your lawn, for whatever reason, looks kind of gash. Despite all the landscapers online or in the phone book, what do you do?
Ask the neighbor to clean up your lawn.

Remember the old milk advertisements? Did you have those in England and points beyond?
Got Pride?
Soren Moyer
159
Posted 30/06/2021 at 18:24:39
Bon apétit!
Christian Konttorp
160
Posted 30/06/2021 at 18:27:46
I have come to the conclusion that; As long as the club develops step by step in the right and long-term direction, I give a shit in who is the manager.
Club comes first. Pronto!
Jason Li
161
Posted 30/06/2021 at 18:28:27
He forgot to mention that while at Mordor he kept casting an envious eye on the Everton manager's job, but never saw an opening, even while winning trophies to get our attention, he still couldn't persuade us. Now he's here, he's finally living the dream.
The main thing is that he is a proven winner, no doubt. Stranger things can happen like a world class German striker missing when through on goal and Pickford becoming the player every Evertonian will be screaming don't sell when the massive clubs come sniffing.
Anyway, new payroll month tomorrow so let's see some transfer action happen.
Phil Wood
162
Posted 30/06/2021 at 18:28:43
Carlo delivered nothing when we were expecting great things. So who is to say Rafa cannot do the reverse and give us great things when many expect nothing.
I have been lucky and seen some great Everton sides and winning many trophies. The last 20 odd years have been very hard on everyone supporting the Club. I am prepared to give the new Manager the benefit of the doubt and support him.
We have had so many false dawns and recently some terrible Managers that I can honestly say you cannot tell who will be a success.
I don't like to hear fans taking the news so badly that they want to give up on supporting the Club or maybe not going to the game anymore. Just try and ride your disappointment out and give it a chance.
I know emotions are running high and we all say things that are over the top. Yes even some Managers making "small" jibes but that is what people do and say in life.
I hope not too many are turned away by this and keep on supporting the Club they love.
We are now seeing that modern day Premier League owners are business people and do what they want to do. These people do not become billionaires by bowing to others feelings. They are ruthless. They will come and go but "hopefully" the fans will stay. They are only caretakers. Don't lose your love of the Club because of actions you don't or cannot approve of.
Trying to remain sane and not wind up other fans who have different opinions.

Jon Lamb
163
Posted 30/06/2021 at 18:29:52
Personally, I think he's a great appointment. He won the reds a European Cup, got them back on the big stage, where they belonged... where we haven't been for years, so I'm not going to be bitter.
C'mon, Rafa!
Jamie Crowley
164
Posted 30/06/2021 at 18:31:18
Christian -
This "Club comes first" argument I see levied at every turn is silly.
There's not a single person on TW, or any Everton fan on earth, who hopes for the Club to do poorly just because they made an absolutely terrible and shitty managerial appointment.
Of course the Club comes first. What's the point of being a fan?
That doesn't mean you back the guy who shit in your front yard though! And if you had half a brain, you'd never consider him for the job!
Peter Jansson
165
Posted 30/06/2021 at 18:32:28
The only thing we can do is support Benitez. If I succeeds we will all be happy :-).
Michael Lynch
166
Posted 30/06/2021 at 18:34:30
Allardyce, Rafa, two cheeks of the same arse, but I guess at least Rafa has won a few trophies.
Personally, I wouldn't have either of them, but it won't stop me going to the match and cheering on the team.
Brent Stephens
167
Posted 30/06/2021 at 18:35:33
Jamie, but now we HAVE appointed him, don't you want him to succeed? And if you do, don't you then back him? I can't see what "not backing him" would actually mean.
Bill Gienapp
168
Posted 30/06/2021 at 18:36:35
Benitez doesn't really set my teeth on edge, the way he does with most Everton fans - he just feels like an uninspired appointment. If he were still an elite manager, I'd applaud Moshiri's ruthlessness - shades of Abramovich in terms of prioritizing winning above all else. But it seems bizarre, to say the least, to practically flaunt the ire of the fanbase for the sake of a man who, by all accounts, has been in clear decline this past decade.
From an objective standpoint, I'm fascinated to see how this plays out. There's certainly a chance we get off to a poor start and the whole situation turns toxic... more likely, we'll just hover around 8th, play boring football, and more-or-less tread water.
But who knows? There's something to be said for going into a season with muted enthusiasm and expectations... by far the most disgruntled and pessimistic fanbase going into last season was West Ham's. You just never know.
Christian Konttorp
169
Posted 30/06/2021 at 18:37:44
#164 Jamie.
Where the heck do I say I consider him in my thoughts of candidates?
All I say is that I, in the end, gives a shit who manage our club. If it is someones grandma, Benitez or Potter.. as long as we get results in right direction. All I care about is that the club progress.
Jamie Crowley
170
Posted 30/06/2021 at 18:38:21
I do not think you have to "support" Rafa Benitez. In fact, I believe you can perpetually be against his hiring, harbor anger and negative feelings about his appointment, while supporting the Club.
I hope he's successful. I want Everton to be successful.
But I will never back this guy. He's there, for a time, and I will outlast this fucker. I'll be here long, long after he's gone, and I'll never, ever be able to justify how the fuck this guy became manager of Everton Football Club.
The anger bubbles up.
Mike Gaynes
171
Posted 30/06/2021 at 18:40:06
Superb post as always, Eugene #141, and I certainly can't disagree with much of that.
I would point out, however, that the Manager In window at Goodison wasn't exactly chockablock with eager applicants. I don't remember seeing any photos of long lines or resume-stuffed mailboxes.
And I would posit that, however dumb you think this hire might be (and you're clear on that), the one thing dumber they could have done would be to schlep into the transfer window with no manager and no prospects.
As to the club not really caring what we think, I have a sneaking suspicion that most of us had come to that conclusion quite a long time ago.
And hey, at least we can congratulate Mr. Moshiri on a more concise and less chaotic managerial hiring process than Spurs'. A faint victory, to be sure, but we'll take what we can get at this point. Mazel tov, Farhad.
Jamie Crowley
172
Posted 30/06/2021 at 18:41:12
Christian -
By "you" I was referring to anyone. More correctly should have phrased:
That doesn't mean ONE backS the guy who shit in your front yard though! And if ONE had half a brain, you'd never consider him for the job!
That was an all-encompassing thought, not a personal directed statement towards you! Sorry for the confusion.
Soren Moyer
173
Posted 30/06/2021 at 18:41:25
At least there is no mention of the "exiting project" as we all know by now there ain't any! Now, lets get rid of the deadwood and bring in some energetic, young players otherwise the footy could get worse than it was under the last charlatan in charge.
Dale Self
174
Posted 30/06/2021 at 18:44:20
Freudian slip there Soren? The last five years of Everton has been an 'exiting project'.
Danny Baily
175
Posted 30/06/2021 at 18:44:43
My only concern is that the 'agent Rafa' script writes itself.
Having said that, should be a good enough appointment to keep us up comfortably.
John Beesley
176
Posted 30/06/2021 at 18:45:42
Yes, I have finished with Everton, Toffee Web and the Echo until this fat c**t is sacked. I am now going to do some decent things with my life until this sad episode in Everton's history is over, this is just an utter disgrace we have all the Gobshites laughing there heads off at us, I feel ashamed to be a blue, fuck off Moshiri, goodbye.
Eddie Dunn
177
Posted 30/06/2021 at 18:46:50
Moshiri is a complete football dunce. He clearly has not a clue about the gsme or EFC fanbase. He is ringfencing his investment and we will have to endure more of the dross served up by the great Don Carlo.
I will hope for Rafa to hit the ground running. He needs 4 new faces to stand any chance of top 6.
But if results don't go our way, he and Mosh can expect brick bats.
At least I won't get over excited at the dawn of an new era.
Mike Gaynes
178
Posted 30/06/2021 at 18:48:24
Jamie #158, overstate much?
"You're small" equals shitting on your lawn?
If you intend to be here "long, long after he's gone" you'd better control your blood pressure before you blow a gasket.
Brent Stephens
179
Posted 30/06/2021 at 18:49:46
John #176 - oh, you've gone. Ah well.
Christian Konttorp
180
Posted 30/06/2021 at 18:49:54
#172 Jamie
Then is everything all right ;) But, I do still don't care of who manage. I just hope we don't need to appoint another one in near furture. We need something longterm with progress now.
Kim Vivian
181
Posted 30/06/2021 at 18:50:28
Has anyone noticed how quiet Darren is and how vociferous Jamie has become?
Hmmm...
Anyone seen them in a room together?
Darren Hind
182
Posted 30/06/2021 at 18:51:00
Good to see John @176 has taken this awful news so well.
I feel his anger. Totally justified
Kim Vivian
183
Posted 30/06/2021 at 18:52:13
Ha-haa - Darren. Apologies mate!
Michael Lynch
184
Posted 30/06/2021 at 18:52:48
Having now watched the interview, it's interesting the way Rafa talks about Marcel Brands, and about player recruitment. Unless I'm misunderstanding his slightly fractured English, he has only "spoken" to Marcel, so I guess Brands was not part of the interviewing/decision making process around appointing a manager. He then said he had no problem working with a director of football, as he's done it before. Again, my impression was that Brands was not hugely important in Rafa's mind.
He also seemed to suggest that he has already got a list of player he wants, again pointing to a diminishing of Brands in the pyramid of power at the club as far as Rafa is concerned.
His comments about Ferguson also pointed to a diminished role for Big Dunc - he simply referred to him as someone who understood the club and fans, and who could learn from Rafa and his team.
He's cold blooded alright - not a bad thing necessarily - but his initial comments were about being able to stay in the city with his family, and that was clearly a huge influence on his desire for the job. Other than that, it was all workaday stuff about how he always gave his club everything, whoever that club was.
So - absolutely no sentimentality, pure pragmatism about getting a job back in the PL near to his family home, and he sounds like he has complete power with very little to worry him from Brands and Ferguson, who keep their jobs but with limited influence.
Hey, I might be reading it wrong, and if I'm reading it right then it's not necessarily a bad thing, but I'd be interested to know if anyone else saw the interview the way I did.
John Boswell
185
Posted 30/06/2021 at 18:53:12
Welcome to Everton Rafa, you have been handed a mighty task. Along with all true blues I wish you success in your endeavours and condemn the ugly messages that were draped at Goodison and near your home.
I have faith that you are up to the task, I truly hope that you will enjoy the full backing of the board and especially the DOF.
Brace yourself for the Goodison roar in August when your Team takes to the field.
COYB.
Jamie Crowley
186
Posted 30/06/2021 at 18:54:53
Brent @ 167 -
Jamie, but now we HAVE appointed him, don't you want him to succeed? And if you do, don't you then back him? I can't see what "not backing him" would actually mean.
I want Rafa to succeed because I want Everton to succeed. But, in my opinion, that doesn't mean by backing Everton I back Rafa. Yes, the two are intertwined, but they are wholly separate entities. It's perfectly logical to want the collective to succeed while not appreciating every element that makes up the collective.
Brent, the thing for me is there's really no footballing reason to have hired this fella. And, what's more, is it's embarrassing!
We're all trying to slap some lipstick on the pig, justifying us swallowing our pride at hiring a douchebag who publicly insulted us and doesn't even come close to playing the type of football most of us crave, never mind having managed the eternal foe. But here we are, forced, to "support" this underwhelming, insulting managerial appointment.
My biggest beef is that this embarrassment makes us a joke, and we exhibited an alarming lack of pride in my opinion. Alarming.
People can have a different opinion. But quite honestly, I always thought Everton a proper, "old fashioned" club to be proud of.
We just tucked our tail between our legs and hired, again, the guy that shit in our lawn.
REALLY???
Dale Self
187
Posted 30/06/2021 at 18:55:29
Complacency is complicity at this point. It is the underlying structure that produced this choice that should be the focus but some would rather comment on others' lives or something of that nature.
This may be the relationship for you, no effort no reward and certainly no feedback required.
Darren Hind
188
Posted 30/06/2021 at 18:55:40
spooky Kim.
Crowley wears Arl Yakubu shrts and I wear quality Garments. If you see us in the same room together. You'll soon tell us apart
Tony Shelby
189
Posted 30/06/2021 at 18:57:27
Maybe we're the new Cardiff City and we'll wake up tomorrow to find that our home kit is now red.
Gordon White
190
Posted 30/06/2021 at 18:57:48
Welcome to Everton Rafa. I hope you can bring us some success and football worth watching.
Jamie Crowley
191
Posted 30/06/2021 at 18:59:09
Kim -
If Darren and I were ever in a room together, we'd both awake in a stupor.
The drinks would flow like the Nile. Or the Mersey.
Gavin McGarvey
192
Posted 30/06/2021 at 18:59:12
I imagine I'm not the only one feeling a little underwhelmed at this appointment. He did a decent job at Liverpool I suppose but his sides were dull. Still, he offers experience, and will set us up correctly, not make too many mistakes etc..., but it's difficult to imagine him turning things around even if he is heavily backed.
Regarding his reception from the fans, well, he made his own bed there. I imagine the fans will enjoy shouting at him angrily than applauding him. On that basis, you'd imagine we're in for an interesting but slightly disastrous few months. I can't help but think of that Damned United book about Brian Clough's time at Leeds.
Ian Burns
193
Posted 30/06/2021 at 19:00:34
Brent - 179 - brilliant - that made me laugh out loud!
Brent Stephens
194
Posted 30/06/2021 at 19:00:52
Jamie, you and I probably share the same feelings about the appointment; and I guess I'm not really sure what you mean by not backing him. What I mean by backing him is that I want my club to succeed so I want him to succeed; I back my club so I back him. I won't do anything during a match that would convey to him or the players any negative feelings.
Maybe we're actually on the same page, mate! I'm just not vitriolic about it.
Tom Harvey
195
Posted 30/06/2021 at 19:03:02
Altogether now!!!
He's bald
He's fat
Will always be a Rat ....
Brent Stephens
196
Posted 30/06/2021 at 19:04:14
Tom #195 - don't worry about Delph - he'll be gone soon.
Tony Everan
197
Posted 30/06/2021 at 19:04:24
I saw the picture on the BBC site with his blue tie and Everton scarf on. It made me laugh out loud. It just doesn't look right!
I'll support Everton no matter what, so I'll give him a chance… like all the other failed managers we've hired. I wish him good luck and hope he is successful with us. He will need every ounce of his peak ability, and then some, for this job, along with some clever transfer business before the season starts.
Jamie Crowley
198
Posted 30/06/2021 at 19:05:56
Brent, plainly:
I am vitriolic. I don't like our managerial appointment whatsoever.
But look on the bright side! I'm not leaving! 😂
Sean Roe
199
Posted 30/06/2021 at 19:06:16
I just hope he plays Iwobi in his best position.
Jamie Crowley
200
Posted 30/06/2021 at 19:07:22
Tom Harvey brilliant. Hahahaha!
Colin Glassar
201
Posted 30/06/2021 at 19:07:32
Car park attendant, Sean?
John Zapa
202
Posted 30/06/2021 at 19:08:06
If he doesn't win at least 3 out of the first 5 games, he will be in serious trouble, possibly an irrecoverable situation.
Anthony Jones
203
Posted 30/06/2021 at 19:08:21
How many times will he say "mentality" in interviews next season?
Well, I am not certain. However, I am now certain that Mosh is mental.
Ian Burns
205
Posted 30/06/2021 at 19:10:02
Somebody mentions Iwobi and Colin is in quicker than a rat up a spout - great stuff.
Tony McNulty
207
Posted 30/06/2021 at 19:12:24
Anthony (128) You sparked a memory (this is for older readers).
We once signed a player called Ernie Hunt (I think from Wolves). He was a midfielder but we decided to play him as the main striker. He wasn't the worst player ever to don a blue shirt, but then again neither was he Ronaldinho.
On the day it happened, a mischievous headline writer came up with, "Everton sign Hunt." At the time the Dark Side had a certain Roger of the same surname.
One of my RS cousins lost it completely and came screaming into the house that, "Shankly was mad."
Subsequently Blues' Fans would sing (rather unmemorably, although I remember), "Ernie is better than Roger, and so say all of us, and so say etc. etc."
Not my most interesting ever tale, but it's that sort of day.
Gerry Quinn
208
Posted 30/06/2021 at 19:13:04
I have been bored stiff, worried and totally pissed off with most Everton performances/games over the last few years up to the point that I have not wanted to watch them live online any more - hence the silence on TW. I am sorry, but they just frustrate the living hell out of me - and I have avoided them like the plague.
I pray that Rafa is the one who can really get me back interested to the point that I can join in and watch them again,,,.
Please, please, Rafa, I want to support Everton the way that I used to - with fun and with some sort of confidence in winning games properly
Colin Glassar
209
Posted 30/06/2021 at 19:13:19
Michael 184, Brands has been castrated. He's become a eunuch. Let's see if he accepts being a China doll on the Moshiri mantelpiece. He's been blindsided and only has one option left.
Mike Gaynes
210
Posted 30/06/2021 at 19:13:34
Sean #199, that would be down the road at Tranmere, right?
Oops, dang, you're right Ian, there was absolutely no point in trying to strike first ahead of Colin on that one. He is the Iwobi Cobra.
Tom Harvey
212
Posted 30/06/2021 at 19:15:06
Had a look at his first club video.
He kept talking about the fans of the city, couldn't bring himself to leave out his beloved Kopites from the conversation. Eventually he put the two words together Everton + fans, it must have choked him, he looked like he'd just gargled turps when he said it.
Jerome Shields
213
Posted 30/06/2021 at 19:15:41
Got it wrong Tony, no XXXL team shirt, No Brands. Actually quite up front, Finch Farm, key staff and Denise Chief Executive prominent. Moshiri giving a Statement and Benitez interview covering all bases and saying he is already working with Brands.
Sound as if he means business and seems to have wanted the job, with a big emphasis on competing. Going to set standard from the start and try to improve player performance, like Ancelotti. Already talking about his own backroom team input.
Sean Roe
214
Posted 30/06/2021 at 19:15:56
I suppose he could be shoehorned Colin, I'm not overly confident it would bring out the best in him, it is a specialised position after all.

Jim Potter
215
Posted 30/06/2021 at 19:16:50
Why are all those people who are no longer supporting Everton lingering on TW?
Please leave the site - as it's for Everton supporters.
We get it. He's an ex Liverpool manager.
But, he's now Everton manager. Distasteful to many. Also, got it.
It's like you're leaving a suicide note saying "I really am going to do this" - but desperately wanting everyone to beg you not to.
Jamie Crowley
216
Posted 30/06/2021 at 19:17:41
Brent -
An analogy, and a TW one at that, to help clarify.
Colin Glassar "rats it up the pipe" when Iwobi is mentioned. He simply hates Iwobi, doesn't want him in Blue, and would cheer wildly at his departure. But he supports Everton through the Valley of Death and wants the best for them.
Now the cut-and-paste trick:
Jamie Crowley "rats it up the pipe" when Rafa is mentioned. He simply hates Rafa, doesn't want him in Blue, and would cheer wildly at his departure. But he supports Everton through the Valley of Death and wants the best for them.
Brent Stephens
217
Posted 30/06/2021 at 19:19:58
You rat, Jamie.
Dale Self
218
Posted 30/06/2021 at 19:21:14
That was bold, Jamie.
Tom Harvey
219
Posted 30/06/2021 at 19:23:45
Jamie @ 216
Definitely a rat up the right pipe though!! The blue pipe!
Mike Gaynes
220
Posted 30/06/2021 at 19:23:56
Jim #215, they're just trying to give us time to position the net before they jump.
Not me... I'm going to enjoy the SPLAT on the pavement.
Is that sick enough for this thread?
James Flynn
221
Posted 30/06/2021 at 19:23:58
Jim (215) - Good question.
Colin Glassar
222
Posted 30/06/2021 at 19:25:47
Rats, Jamie!! Nah, I don't hate Iwobi. I think he's a shit player, one of the worst I've ever seen in a blue shirt, to be honest, but I don't hate him. He's probably a nice lad. I just don't want to see him ever again disgrace the Royal Blue.
Iwobi Out!!!
Mike Gaynes
223
Posted 30/06/2021 at 19:26:05
Jamie #216, creative use of the cut-and-paste concept. Mazel tov.
And now if anyone calls you a rat, you must take it as a compliment.
Brian Harrison
224
Posted 30/06/2021 at 19:28:10
I think most of us know that this wont end well, and as if managing a team isn't hard enough but to appoint someone who is universally disliked makes no sense. I said a few days ago I would be interested to see who would be there to introduce him to the press, well not surprising Kenwright wasn't there as I am sure he has told Moshiri/Usmanov this wasn't a good idea. But I at least thought the man who has been the biggest driver in bringing him to the club would be there, but no sign of Moshiri. I thought well surely Brands as DOF will be there but apparently he is self isolating, which could of course be true, but Benitez comments today were hardly that of a manager and a DOF who are on the same wavelength. He said of Brands we have spoken he is a professional and I am a professional so we will make it work. So the only people to herald this new beginning were Sarvar Ismailov, Usmanovs nephew who is responsible for the financing of the womans team and DBB, as well as Ferguson and Unsworth.
So it looks like the Chairman is against the move as seems is the DOF, and this move has already alienated at least half the fanbase, so a club completely disunited, how can there possibly be a successful outcome.

Jamie Crowley
225
Posted 30/06/2021 at 19:28:45
Colin -
I know you don't hate Iwobe on a personal level, same as I can't hate Rafa personally - I've never met him!
Cheers.
- The Rat
Geoff Lambert
226
Posted 30/06/2021 at 19:31:21
I think we might just get a couple of big signings in early this season, just to appease the fan base.
I'm hoping so.
Pete Cross
227
Posted 30/06/2021 at 19:33:16
Trying to work out a way I can back the team but not Benítez!
Ian Burns
228
Posted 30/06/2021 at 19:34:18
Brian - 224 - I fear you have read the situation perfectly. Nobody around to welcome Rafa on board - just sticking a scarf around his neck and being told to get on with it.
Are there a couple of resignations up the spout somewhere?
Mark Andersson
229
Posted 30/06/2021 at 19:37:42
Welcome Rafa... and good luck. I once met Bill Shankley in a little cafe in Old Swan. He was a decent man as I believe Rafa is too.
Back then the rivalry on Merseyside was passionate with good humor and no bitterness.
If it takes a ex Liverpool manager to put us back at the top then it can only be good for the city and both sets of fans..
John McFarlane Snr
230
Posted 30/06/2021 at 19:37:47
Hi all, I was undecided to enter this debate but in the end I gave in to temptation. I find it unfair to condemn anyone before they have been seen to be a failure, it's my opinion that the appointment of any manager, or the signing of any player, can be the best or the worst decision a club can make, but that can only be determined over a period of time. Regarding the association that players or managers have with a rival club, I would point out that if Manchester United had taken the same view as some of the posters on this thread, there would never have been the "Busby Babes" etc, because Matt Busby had played played for both Manchester City and Liverpool. I tend to accept things that that I have no control over, whatever is happening on the pitch is paramount to me, and I believe that attending games and supporting the team is all that matters. Apologies if that seems a bit simplistic but that's the way I see things.
Jim Potter
231
Posted 30/06/2021 at 19:38:19
Mike #220. Looks like "the back of the net" will be bulging.
Christine Foster
232
Posted 30/06/2021 at 19:42:25
God to St Peter: "Had another run in with the devil last month, he was laughing at me! Said his Klapp and Co deal has now been bettered by his infiltration of that St Domingo order!"
St Peter: "He has a point, ever since that idiot of a Pope said purgatory didn't exist, we don't pose a threat anymore!"
God: " No purgatory?, what could I do? I had to show people I still hold the power, it's why This Everton project came to be it's purgatory on Earth! Perfect!"
St Peter: "Yes, but you still need to get one up on the Devil, you need some irony, some pain, not for eternity, just small cuts, you know the sort of thing"
God: "Good point, hmm.. wait, we need to twist the knife a little, make the devil squirm, use one of his own against him! Yes, that's it! "
St Peter: "I though the boys pen one would make an eternal impact down there, but your right, it's no longer good enough to be just patronising. It really needs to be a bit more painful for the devils spawn, and what better way than to use the devils own to head up purgatory for us! But what about all those souls already in purgatory, what do you call them, Evertonians ? "
God: "Perfect. There is a Spanish guy who fits the bill, one of the devils contracts.. Let's make purgatory mean something again!"
St. Peter:"Yes our very own place on Earth! A smack in the eye to the devil, living proof that purgatory exists and at last it will have a home for all to see in the devils back yard, to put all those lost souls in the dock awaiting redemption! "
God: "Yes but the irony too! We can just make them all Evertonians! We can give purgatory a home too! What's that place called, Bramley Moore Dock, excellent..that Spanish guy, what's his name, he will make those Evertonians suffer, and twist the knife in the devils back. Yes..Make it so!"

Bill Gienapp
233
Posted 30/06/2021 at 19:42:40
Jim (215) - "It's like you're leaving a suicide note saying "I really am going to do this" - but desperately wanting everyone to beg you not to."
That made me laugh out loud. And also - very true!
Matt Hunter
234
Posted 30/06/2021 at 19:46:53
I don't want to offend anyone but I feel that if you took a poll of season ticket holders 99% would despise this appointment, I know I do. I already got a text from some long time season ticket holders (20 plus years) who are not renewing and I myself am going to consider giving up my season ticket which I got at the start of with Walter Smith era.
We have become a joke of a football club with no identity going from one thing to the next. I don't really understand what he has achieved of any note in the past ten years. Listening to his interview were he used the term "i" 30 times but couldn't force himself to get the word Everton out was telling.
As for him being some kind of tactical genius, I remember being at one match when Big Sam's Everton literally couldn't string more than 3 passes together (I was in my seat counting as the passing broke down over and over again) this was the infamous "I don't pass the ball" comment. I remember thinking during that match how truly clueless Mr Benitez was.
In truth he had players like Gerrard, Hypia, Alonso and Garica and he still managed to finish 5th behind Everton. Later he had world class players like Torres but anyone who remembers his other trophy win (the Fa Cup) against West Ham will remember that Liverpool stole it as they got outplayed.
My friend is an Inter Milan fan and in Milan they refer to him as the "pig" as he managed to singlehandedly dismantle the only team in Italian football history to win the treble within a few months.
I'm truly sickened mixed with genuine sadness. I've suffered a lot supporting this football club over the years, I went to school in Liverpool during the 90's and I've witnessed embarrassing results like losing 4-0 at home to Bolton or 3-0 at home to Tranmere but I tell you that even during those days I felt a connection to the identity of the club. I really think that lost now.
Darren Hind
235
Posted 30/06/2021 at 19:49:34
Had to read it twice Christine.
But the penny dropped..eventually.

Jamie Crowley
236
Posted 30/06/2021 at 19:49:49
Christine -
MPGA!
Make Purgatory Great Again! Someone start embroidering some caps!
Bril.
Robert Tressell
237
Posted 30/06/2021 at 19:51:25
There's a lot of talk of this not ending in a successful outcome. I wonder what is meant by that. We have finished in the top 4 twice since we won our last title. If that is the objective then I agree success is unlikely in Rafa's 3 year stint. As would have been the case with Ancelotti.
If we improve the home form, score more goals and look competitive for the Europa League spots I think most will start accepting Rafa. He could really use a bit of support in the transfer market though, with ideally 4 very good circa £30m to £40m players recruited.
Anything short of that and we'll still see a lot of the players who got Silva sacked.
Very disappointed in the appointment but it's not Rafa's fault that the club knocked on his door. It's time for Brands and Moshiri now to deliver something that allows Benitez to be something other than our next in a line of scapegoat managers. Let's see how the squad shapes up now.
Dale Self
238
Posted 30/06/2021 at 19:52:43
Cmon Jamie, don't split the opposition. geez.
Christine Foster
239
Posted 30/06/2021 at 19:54:17
I think it's called gallows humour.. grew up with it. Majored in it no less.. has a certain subtlety in its own way, oh wait, it might have been sarcasm. Always get confused.still wondering why I am still in purgatory and how I got here. Thank you God.
Tony Abrahams
240
Posted 30/06/2021 at 19:55:39
I understand everything you're saying Matt, but I'm on the other side of the fence mate. I honestly haven't had a connection to Everton's real identity since Bill Kenwright came on board, and he's a man who traded off being a true Evertonian, which is something I've genuinely never been able to truly believe.
Steve Ferns
241
Posted 30/06/2021 at 19:55:46
Absolutely gutted. It's like we've learnt nothing from the last five appointments. We keep going for the "name" (with the exception of Silva) so Moshiri can keep his desire to have a "Hollywood" manager. None of them have worked. All were managers, only Silva was an actual coach. We need a coach. We need to follow the Spurs or Leicester route to breaking into the top 6. That's not by spending a fortune, it's by doing hard work on the training ground and having a few astute signings to supplement what we already have.
Instead, we're following the Koeman, Allardyce, and Ancelotti route of getting a non-coaching manager in. I welcomed Carlo despite my reservations. I hoped he would hire the recently sacked (as Swansea manager) Paul Clement to be his main coach once more. Instead, he followed Koeman and kept it in the family. His son and Duncan repeatedly showed that, working under his instruction at least, they were incapable of setting the side up, and coaching the players to beat the low block.
Now Rafa is a better coach, but he's a tactical coach only. He relies on specialist coaches. The most famous of them was pako ayestaran, with whom he won his only league titles and the champions league at Liverpool. They fell out and pako became (unsuccessfully) a manager.
Rafa was an amazing tactician. No argument about that. He was one of the pioneers of 4231 and perfected it better than anyone. I always go to the Liverpool Champions League midfield to explain the roles, particularly mascherano and Alonso in the double pivot. But this was 15 years ago. Guardiola and co overcame those tactics. Maybe Rafa did evolve, but he only became more defensive and more counter attacking.
Apparently he doesn't have a style or system. Why does his teams still line up predominantly in a 4231 then? By far and away his most used system. His style is, as always, counter attacking. People made similar claims about Carlo having no set style, but he quickly reverted to a defensive setup and played on the counter. Benitez is exactly the same. Tactically, like Carlo, he's still good, but he's a long way from the tactician he was in 2005.
The next thing that made Benitez world class was his analysis. He was a pioneer of video analysis. No one watched tape like Rafa. Few still do. The thing is, nearly every club has a team of analysts doing just that. You don't need the manager to do it, he can just get the highlights.
Rafa was world class, but football caught up and overtook him. He's yesterday's man for me. He's not won a trophy since he was 55, and he's 61 now. He's not won a league title in a very long time, and the champions league success was 16 years ago. All he's got in the last 10 years is a cup with Napoli and a Europe league with the reigning European champions.
His real recent record is a losing season in China. Dreadful season on any metric. Then the last two seasons at Newcastle where he got exactly the same points 45 and 44 as Bruce managed in the two seasons after him. So in each of the least three seasons, Rafa has lost more games than he's won. He also oversaw, with mitigating circumstances, the relegation of Newcastle. Where's that winning mentality then?
My main issue, is as it was for Koeman, Ancelotti and allardyce. Simply, we need a coach. We need someone to work with the players. None of this, the players know what to do in the attacking third, because they clearly don't. No concentrating on defence, because it's our attacking movement that's causing a real problem. If we were more effective in attack, then it would be less panic and less tension and less errors at the back.
Enough with these chequebook managers, leaving disjointed squads. We need a head coach with an attitude like Maurizio Sarri, who called the transfer market "the refuge of the weak". He also said to just give him the players and he will coach. Sure, we've gaps in the squad, but if the coaching philosophy, setup and tactics remained similar even when the manager left, then it's easier to spend more wisely and build a squad that meshes together. Instead we have a disjointed squad, with many players who make each other's flaws worse, instead of covering them up and playing to each other's strengths.
So back to Carlo, and back to backing him and hoping that he brings in Paul Clements. One can take a similar approach with Rafa. He needs proper coaches. He had one that was very highly rated by the name of Ian Cathro. He left Newcastle and became the Hearts manager. He was a failure and a laughing stock - look up "laptop manager". But there is no one who denies his coaching ability. Last year or so, he's been working for his mate Nuno Espírito Santo (they did their badges together). He left Wolves with Nuno. If Rafa means business, then he needs Cathro on board. If Rafa is really going to do an Ancelotti and leaves it to his son (seeing him on the official video worries me!) and Duncan, then you are a fool if you expect better than last seasons performance, even with better players. This squad needs coaching. If Rafa brings in Cathro and the usual suspects, then maybe it might work. I doubt it, but you have to have some positivity, even if you are managed by yesterday's man who is a hero to the kop.
Anthony Murphy
242
Posted 30/06/2021 at 19:55:50
Some very measured words from Brands this evening. He's isolating at the mo conveniently
Jamie Crowley
243
Posted 30/06/2021 at 19:56:33
Look on the bright side, Christine.
You're not frying in hell.
Hope springs, even with Rafa leading the charge.
Barry Hesketh
244
Posted 30/06/2021 at 19:57:42
Christine @ 232
Very apt, and almost certainly true. Everton often reminds me of the TV series 'The Good Place", where Michael the architect (Ted Danson) tries to convince the newly arrived that they are in the Good place, when all the while the place is full of demons in disguise and it is actually the bad place.
"Come on, you know how this works. You fail and then you try something else. And you fail again and again, and you fail a thousand times, and you keep trying because maybe the 1,001st idea might work. Now, I'm gonna and try to find our 1,001st idea." – Michael, The Good Place 4×02
"In football, trying to run out the clock and hoping for the best never works. It's called "prevent defense." You don't take any chances and just try and hold on to your lead. But prevent defense just PREVENTS you from winning! It's always better to try something." – Jason Mendoza, The Good Place 4×07
"We do nothing. We hope that our early successes make up for the embarrassing mess we've become. Like Facebook. Or America." – Eleanor Shellstrop, The Good Place 4×07

Darren Hind
245
Posted 30/06/2021 at 20:01:08
Sounds like an overly Catholic education Christine.
I'm guessing St Anthony's senior girls for the street wisdom, but will edge me bets on Mary help of Christians
Steavey Buckley
246
Posted 30/06/2021 at 20:01:24
Rafa the new gaffa.
Michael Lynch
247
Posted 30/06/2021 at 20:02:03
The Mirror seem to be running with Rafa edging out Brands as an influence, as I suggested above.
https://www.mirror.co.uk/sport/football/news/everton-rafa-benitez-marcel-brands-24432557
Like Steve Ferns, I have a bad feeling about this one, though he puts it a lot more eloquently and eruditely than I can.
Jamie Crowley
248
Posted 30/06/2021 at 20:03:28
St. Jude, Patron Saint of Lost Causes, pray for us.
Marc Hints
249
Posted 30/06/2021 at 20:04:10
Michael
Marcel Brands has been abroad on business and is self isolsting
Howard Sykes
250
Posted 30/06/2021 at 20:04:58
We had our fun moaning. Now it's COYB.

Tony Everan
251
Posted 30/06/2021 at 20:06:38
Steve 241, Nail on the head with that excellent post. More focus and a spotlight should be shone on the quality of the coaching set up Benitez constructs, it's crucial and fundamental to improving us.
David Cooper
252
Posted 30/06/2021 at 20:06:56
Christine - surely this must be the beginning of the Spanish Inquisition! NOOO not the Spanish Inquisition! AAGH!
Ian Burns
253
Posted 30/06/2021 at 20:07:06
Hang on guys - still reading Steve Ferns post!
Christine Foster
254
Posted 30/06/2021 at 20:09:30
Darren, I still have the dents in my knees from kneeling on the benches for so many hours in St Anthonys masses. Latterly went to All Souls in Collingwood street because the priest was an Evertonian and his Sunday sermons were fire and brimstone.. He was just laying the ground work for my introduction into purgatory..
David Cooper
255
Posted 30/06/2021 at 20:12:28
Surely if Marco Silva was an outstanding coach we would not have been so friggin terrible?
Jay Harris
256
Posted 30/06/2021 at 20:12:42
Steve,
As usual a very good analysis well researched and on point.
Every successful manager needs a good coach and Duncan while being passionate and a good motivator is not a great coach.
Even HK who was arguably our greatest manager wasn't that successful until he brought Colin Harvey alongside him.
Even though I have no time for Benitez I really want this to work for the sake of the club.
Christine Foster
257
Posted 30/06/2021 at 20:13:46
Barry, never seen it but sounds very much like the minutes of EL board meetings!
David, I did wonder about the Spanish inquisition link, but that's just another tool..
Christine Foster
258
Posted 30/06/2021 at 20:18:11
God, what a thing to start the day with..too early for a drink, only 7.20am..best get up and stumble around in the dark a bit.. best get used to that.
Darren Hind
259
Posted 30/06/2021 at 20:20:06
Haha Christine I should have known
You were sent straight down the middle.
but at least you've got options. You'll have been introduced to Limbo as well as purgatory.- I`m still trying to figure out the difference
Post more often girl
LB Whitehead
260
Posted 30/06/2021 at 20:20:53
He managed the RS - "so what"
He called us a small club - "we are"
He has won more than we can ever dream off
He wants the job
He has a fantastic CV
He will clear out some of the losers
He knows the city
He knows the passion of the fans
He wont suffer fools

After watching the complete and utter dross served up last season by "Carlo Fantastico"

I think we should thank our lucky stars that horrible Italian jumped ship.
And give Rafa a fair chance - I for one will.
Andy Walker
261
Posted 30/06/2021 at 20:24:35
Looks like the end of Brands to me. Can't say I'm bothered, he's been passing the buck for a couple of years. Rafa now has the power.
Steve Ferns
262
Posted 30/06/2021 at 20:25:08
David, clearly it takes more than coaching ability. Discounting the fact that Silva lost his equilibrium with the departure of his right hand man, Joao Pedro Sosusa, at the end of the first season, it might be that Silva lacked the managerial ability. Or maybe he's just not as good a coach as I believed? Just because we had one head coach and it failed doesn't mean we shouldn't try it again.
Going back to an earlier point, by keeping the philosophy the same, that it's the way the team is set up and plays, sacking the head coach and appointing another would be a lot cheaper as the next guy wouldn't need to spend another boat load of cash. We keep going from one extreme to another: Martinez to Koeman to Allardyce to Silva to Ancelotti. There was no similarities there. Squad overhauls were required. If we shifted from Silva to Fonseca, for example, then Fonseca might have got a lot better results with exactly the same players, perhaps just replacing zouma and gueye (who was never really replaced by Gbamin).
Kieran Kinsella
263
Posted 30/06/2021 at 20:25:23
Kenwright already undermining Rafa with a lukewarm comment that is in stark contrast to his usual hyperbole. Brands and Rafa both carefully explaining how they hope to work effectively while neither says anything directly positive about the other. 2 or 3 people saying their goodbyes to ToffeeWeb. It's gone to Hell in a handbasket and it's only been a few hours.

Jack Convery
264
Posted 30/06/2021 at 20:25:57
Darren Hind - Mary Help of Christians ! Wow that takes me back to a wonderful summer !!
Dale Self
265
Posted 30/06/2021 at 20:26:08
and the show goes on.
Pat Kelly
266
Posted 30/06/2021 at 20:26:50
Spurs have appointed Nuno. Who runs that outfit now ? Mendes ? Think we dodged a bullet there.
David Pearl
267
Posted 30/06/2021 at 20:28:48
Steve 241,
Its been a while!
And yes, l agree completely. We need a coach. So now it depends on who he brings onboard. I thought the players effort was there last season but... well, the shape? If you can call it that.
I would actually say that the current squad suit the 4231 system so much more than 433. Trouble there is we have too many samey centre mids.
Hope we get Nunes in and have a busy week coming in the transfer market.
And Nuno confirmed at Spurs!
Colin Glassar
268
Posted 30/06/2021 at 20:32:01
Absolutely Pat. I've always thought the setup at Wolves was dodgy - people trafficking? Glad none of them ended up at Goodison tbh. Nuno is even more boring than Rafa and is too fond of hugging for my liking.
Jack Convery
269
Posted 30/06/2021 at 20:37:00
FACT : HE SOLD XABI ALONSO !!!!!! Replaced him with an Italian midfielder, whose name even the RS have forgotten.
Andrew Bradshaw
270
Posted 30/06/2021 at 20:38:53
Spurs hire Nuno on a 2 year contract. Why do we always give a minimum of 3?
Steve Ferns
271
Posted 30/06/2021 at 20:42:39
David, don't get carried away with Nunes. He plays for Sporting, which is my Portuguese club. He reminds me of Mikel Arteta when he first came.
Remember Mikel was a defensive midfielder. Only he didn't have the physique for PL football in that role without acclimatisation. So Moyes played him wide from the second season and he found a role, coming inside from the wing.
Nunes is a lot bigger than Arteta. But he's a bit of a wimp. He's also a slow starter and always struggles and takes his time to find his feet.
When he does, you'll see a player who can carry the ball quickly through the middle and turn defence into attack. He'll never be a tackler, much as he does alright at it in Portugal. His passing can be quite sidewards. He's got one assist. His shooting is not great. But it's that speed snd dribbling forwards from deep that's set him apart. So I can really see him being shunted wide.
David Cooper
272
Posted 30/06/2021 at 20:42:49
So what are you saying Steve? Of course we need a good coach or variety of coaches? Benítez does not look like a "tracksuit coach". I doubt he even owns one. So it will be very interesting to see when the video clips come out of pre-season training who is on the grass at FF! I would love to see Benítez wearing his 3 piece suit waistcoat and all! If it's good enough for Gareth Southgate, then why not!
Maybe Rafa will follow the rugby model and have a coach for every position! Or maybe big Dunc will run the practices? I really hope Rafa or whatever we decide to call him does not lose his equilibrium or he may never get back to his feet.
Maybe he will just employ the KISS principle!
Kevin Molloy
273
Posted 30/06/2021 at 20:44:27
Andrew I think 2 years sends everyone the message 'this guy is just temporary' which is v unhelpful, especially when you are dealing with a gobshite squad like ours.
Jack, he bought Alonso too remember. Ten million I think whilst we were blowing 7 on James Beattie. And he was wrestling with the issue of how do you fit Gerrard into the middle when he is so indisciplined. To my mind, he hit upon his perfect foil, Gareth Barry, but the little imp MON wouldn't let him go and left RB's relationship with Alonso in the bin.
Martin Coughlin
274
Posted 30/06/2021 at 20:45:09
Welcome Benitez.
I like your fight talk
Need to instill that into this team asap, as well some much needed tactic intelligence when it comes to defending and offensive set pieces.
Let's get behind the team, which needs some investment.
People stating they have supported club 30,40,50+ and will leave. Good. We don't need childish fickle fans.
Onwards and upwards
NSNO
Dave Abrahams
275
Posted 30/06/2021 at 20:48:04
Steve (271),from your last paragraph is Nunes any relation to Iwobi, he sounds remarkably like him from your description.
Mike Gaynes
276
Posted 30/06/2021 at 20:48:32
Steve #241, helluvan analysis. Well done. I have no doubt that Rafa failed so completely in China because he
couldn't
coach in a way his Chinese-speaking players would understand. My footy spy there told me his team mostly looked confused. I do disagree with the Sarri philosophy about the transfer window -- ultimately the team with the most top players usually wins, and we haven't had top players for a long time -- but who knows, maybe this tactician can find a way to make our disparate pieces work better together. Personally, I think we need five really good signings this summer more than we need ANY manager, no matter who.
Barry #244, hilarious. I thought I was the only one who watched that series. Nicely chosen quotes. And I particularly appreciated it because Christine's well-received scenario went completely over my head (being unfamiliar with one of the characters and all of the terminology!).
John Sr. #230, I've been hoping we would hear from you.
Paul A Smith
277
Posted 30/06/2021 at 20:48:45
Comparing what he bought at Liverpool to what he might buy here is pointless.
They operate with a bigger drawer unfortunately. We would never have got Salah for 35 million had we been the only team with that money.
He'd just wait for a champions league side, its much harder for us.
In a plus note its good to see Darren Hind can now have more mutual discussions on here now. Hes took some negative replies lately but he's on par with most posters on this one.
Ian Riley
278
Posted 30/06/2021 at 20:48:48
Really pleased we got rafa. Best choice for me. I think youngsters will get an opportunity as well. Just buying players won't lead to success, young and local lads need to be believed in. Rafa will do that.
Time will tell with our new manager as all our previous managers have found out. Let's stop the negativity. Remember we want Everton fc to succeed. Remember every family has disagreements but we all come together for a common cause. It's not an overnight plan but small blocks to build success.
Welcome Rafa to a special club. Do us proud and we will one day call you one of us!
Steve Ferns
279
Posted 30/06/2021 at 20:49:09
David Cooper, we didn't have good coaches under Koeman or Ancelotti. Having a big name meant nothing without quality on the training ground.
Rafa will be on the training videos. He's, apparently, a very good tactical coach. He'll lead those drills and work on that
My concern, on a coaching level, is that we keep Duncan and Kelly, and deny Rafa his usual coaches. Bear in mind, he's shed the best of them since his Real Madrid days. If Rafa really is pulling out all the stops, and is giving it everything, then he persuades Ian Cathro to come here instead of going to Spurs with Nuno.
Paul Birmingham
280
Posted 30/06/2021 at 20:49:31
The cup of preseason optimism Is full but the club must realise that mediocrity and stifling ultra defensive football can't be tolerated.
Lessons learnt from last season, we shall see.
I'd like to see whom he's bringing in as the specialist coaches, and if he has any impact on the U23s.p and the player development system.
Hope eternal.
Bjorn-Ivar Pedersen
281
Posted 30/06/2021 at 20:49:51
See you guys in 18 month or so.
Martin Coughlin
282
Posted 30/06/2021 at 20:51:21
Jack 269.
Interesting you forget that he bought Xabi Alonso from Real Sociedad
Interesting you forget that he chose Liverpool over Madrid first time around, why. Because of Benitez
Let's not all that get in the way of good yarn hey.
Reading all these comments, are really school boy bully, dummy out stuff.
Let's stop looking under rocks, it just means your belly lays on the ground..
Mike Gaynes
283
Posted 30/06/2021 at 20:53:53
Steve #271, obrigada for the review on Nunes. I've seen only glimpses, but the impression I got was blinding speed on the dribble. Is that correct?
Certainly seems like a better, cheaper, younger investment than Rabiot, another player in the same position with whom we've been repeatedly connected -- and whom I do not want us to buy.
Pat Kelly
284
Posted 30/06/2021 at 20:57:47
Rafa's appointment, assuming it survives the first six months, could well see some behind the scenes departures. Kenwright, Brands and Ferguson may all have their noses out of joint with this appointment. Interesting times ahead not just on the field.
Christy Ring
285
Posted 30/06/2021 at 21:01:20
We have to give him a chance, couldn't fault his interview. Let's be honest there was no stand out candidates, alot of bashing for taking so long, but look at Spurs, everyone they interviewed turned them down. I know a lot on here say they're finished because of his comments and connection to the redshite, but for me, look at the pressure on him, but still wanted the job, he's not a local, so it was never personal, give him a chance.
Steve Ferns
286
Posted 30/06/2021 at 21:01:26
Blinding is an overstatement Mike. He's quick though. He plays box to box in Portugal. I don't believe he'll be able to in the PL. I don't think he'll be up to the rough and tumble as whilst he's about 6'2", he's not grown into his body. His defensive game is alright in Portugal but is likely to be below par in England. His passing ain't that bad, he hits a good switch, but his lack of final ball is a concern, but as a box to box player that's not his main obligation.
As for Iwobi, he doesn't play defensive midfield. If it works, it's because Nunes is alongside Doucoure and Allan in a 3, is racing onto loose balls and getting us up the pitch before the opposition can recover. He's great at getting it wide to feet if we have a player as sharp on the right as Richarlison can be on the left.
Colin Glassar
287
Posted 30/06/2021 at 21:08:10
Bill Cosby is now available. Just saying
Tony Abrahams
288
Posted 30/06/2021 at 21:09:25
I'm just as interested in who he can get rid of right now. If he can offload Iwobi, people might even start giving him a 5% chance, they might even up it to 10% if he can get rid of Sigurdson, but I agree with Paul A, because it's harder for Everton, and especially at the minute, because it's not as if we've got a very big squad, and with Benitez liking to rotate his players, he might just also have to go and sign a few that might be best described as squad fillers?
Kevin Molloy
289
Posted 30/06/2021 at 21:10:13
I didn't think it was possible but from Steve's description we may have found our Alex Iwobi, before we've shipped out the original.
edit- Ditto Dave. so many trigger words 'big lad but bit of a wimp', 'not much of a passer' and 'shipped out to the wing'.
Colin Glassar
290
Posted 30/06/2021 at 21:11:41
Tony, if he can get rid of Iwobi and replace him with saint maxima (Newcastle) then I'll personally anoint him, Saint Rafa!!
Anthony Dove
291
Posted 30/06/2021 at 21:11:51
RIP Everton FC 1878-2021
James Head
292
Posted 30/06/2021 at 21:13:35
"welcome rafa to a special club", special needs club you meant?
Has-been manager for a has-been joke of a club.
Five games in, same old clueless crab like shithouse football, the crowd will turn.
Sack the board, they're spineless puppets, joke of a club that is doomed to repeat the same mistakes over and over.

Pete Gunby
293
Posted 30/06/2021 at 21:17:56
Never realized there were so many thin skinned snowflake Evertonians. So our biggest rival manager said some irritating comment about us- who cares. It's a psychological battle and is a tool to be used. Now he is our manager let's see what he can do- no worse than the last 'saviour' is my bet.
Brian Murray
294
Posted 30/06/2021 at 21:19:12
Colin post 290. As we painfully still find out. These duds hang on for dear life to our gravy train so no one. Even siggy won't jump ship until the bitter end. Think the bed sheets should be for that idiot Walsh and his mate Koeman.
Tony Abrahams
295
Posted 30/06/2021 at 21:20:16
One that jumps out at me is Andros Townsend, Colin. Not the best, but definitely decent when he wants to be, and he's been on sky saying he's a free agent from midnight, meaning he won't cost a penny, and he's also played for Benitez at Newcastle, but I can just imagine the screams if he became Rafa's (fucknhell I never thought I'd ever call him by his first name) first signing!
Dave Abrahams
296
Posted 30/06/2021 at 21:22:31
Tony (207), Strangely " Ernie " Hunts first name was Roger, Ernie was a nick name.
Steve Ferns
297
Posted 30/06/2021 at 21:22:39
It's harsh to compare the lad Nunes to Iwobi. He plays in Gomes' position. I said he might end up wide for the same reason Arteta did, that he might be a bit young and not acclimatised, so a defensive manager like Moyes would use his pace, technical ability and dribbling ability to move him wide. He doesn't want to play there though. He's a better passer than Iwobi, and most of his best passing is deep, shifting it wide.
Iakovos Iasonidis
298
Posted 30/06/2021 at 21:24:47
It will be interesting to see, so surreal! I will obviously support him and I hope he is backed up with transfers. Get rid of the remaining deadwood is again the first job though. We will walk the walk together as it seems, good luck to all of us!
Jamie Crowley
299
Posted 30/06/2021 at 21:26:26
Pete Gunby -
Never realized there were so many thin skinned snowflake Evertonians?
A manager, who managed 'them', insults us, and instead of showing some backbone and pride, and speaking out against the appointment, we get a shrug of the shoulders and the, "Oh well, he's here now, guess I'll just get behind him."
Sheep. BAAAAAAAA. Fall in line now nice little fans, nothing to see here, disregard the past and all its insults, all together now.
Snowflakes indeed!
Tom Harvey
300
Posted 30/06/2021 at 21:35:25
Here's our first Rafa chant (for sure):
"Shot through the heart, and Rafael is to blame, he gives Everton a bad name"
Got this from Donegal Blue over on Grand Old Team.
Dave Abrahams
301
Posted 30/06/2021 at 21:36:02
Christine (254) there was a very good actor who came from around Scotland Road, Tom Bell, he played Jack McVitie in the story about the Kray twins, he went to either St. Anthony's or All Souls, he was a bit of a naughty boy so you might him there in purgatory.
David McMullen
302
Posted 30/06/2021 at 21:39:25
Up the Rafarites.
Didn't know Tom Bell was from Scottie. Obviously lots of famous people, my family from Scottie St Anthony's and Sylvesters. Dad's relatives at the Tonk and Throstles.
Frank Wade
303
Posted 30/06/2021 at 21:41:01
No worries lad, this new manager is a tactical genius and I quote from Wikipedia, pure Gospel I'm sure !!! His calm demeanour and tactical changes at half time of the 2005 UEFA Champions League Final were said to give players belief they could battle back from 3–0 down, although he had to correct his plans when it was pointed out to him his new formation would require 12 players on the pitch.
David Cooper
304
Posted 30/06/2021 at 21:41:26
Steve - I find it very hard to believe that neither Koeman and Ancellotti had poor coaches when they were in charge of EFC? What do you or I mean when we talk about coaches of a professional sport team? Do we expect them to be improving the technical ability of players like Ancellotti improved DCL ability to score goals or do we expect them to out fox the opposing coach/manager with tactical ploys to negate their strengths? I really don't think much of the tactical stuff is done on the grass but getting players to watch game videos of players they are going to be facing and then preparing the mentally and tactically to make the right in game decisions.
I really don't know what to expect from Rafa. Maybe we will be even harder to beat if he builds on what Carlo started by playing 7 defensively minded players in front of Pickford. Like Carlo and most others I think he will set us up based on what talent he has. I will be impressed if he can get Richi and DCL to play/work together. We shall see!
Eugene Ruane
305
Posted 30/06/2021 at 21:42:59
.
Just an observation.
A few times since it was first suggested Benitez might end up as Everton manager, those backing the decision and/or trying to 'sell' him, mentioned (as well as talking about his football credentials) that he was 'decent' and a 'family man'.
Since I'm neither married and I don't have any children (I know of), I resent the implication that I might be considered slightly more decent if I was married and I'd spawned a few ankle-biters.
Well I'll mention a name and say no more on the subject.
Fritzl.
Justin Doone
306
Posted 30/06/2021 at 21:46:14
Well played Rafa.
I hope our non-football knowing owner loves traveling because he's voluntered to be taken for another ride.
If Rafa can make our squad half as cunning as himself, things may not turn out as bad as I fear.
I expect nothing else other than death, taxes and falling out.
Brands, what is the point of having him?
Pat Kelly
307
Posted 30/06/2021 at 21:50:00
Eugene, is that Fritzl the Austrian keeper ?
Craig Walker
308
Posted 30/06/2021 at 21:58:45
I stayed with Everton when we appointed a manager who was doing dodgy deals in Dubai whilst managing the national team. That was the lowest point of my time as a Blue. I gave Rooney a chance when he came back after he broke our hearts. Peter Beardsley was one of the best signings we made. Gary Abblett was in our last cup-winning team. Don Hutchinson did well for us and was one of our best players during some poor seasons. Sheedy, Watson, Reid all had connections to the RS.
I didn't like Rafa's "small club" comment but, in hindsight, he was right. We took knives to gunfights to all the top teams away from home.
I ain't walking away. I'll back him and support him. If we play poorly and he continually makes mistakes then I'll berate him on TW. Same as any of our managers.
COYB
Tony McNulty
309
Posted 30/06/2021 at 22:00:21
Dave (296) Wasn't aware of that. Interesting. I remember he was quoted after his first game saying it was so strange playing furthest up front.
He did score a smashing goal once in the Park End. He was back to goal, to the right of the penalty as a recall, and he leaned forward so an approaching ball landed on the back of his neck. He then shot his head backwards and the ball went over everyone and into the goal to everyone's surprise, bar his own, apparently.
Like others, my attention now turns to the transfer market. We desperately need to do some decent deals, both in and out.
Robert Tressell
310
Posted 30/06/2021 at 22:00:49
I expect we'll switch between 4321 (ish) and 5221 (ish) under Rafa. With the former, Matteus Nunes probably joins Allan + Gomes / Doucoure as the third centre mid player to drive the ball up the pitch while the others sit. With the latter he probably drops out in favour of a third CB. The most critical signing is the (ideally left footed) right winger / forward followed by a RB / RWB. These signings will make the formation work. Hopefully we'll see good ones and soon.
Steve F, like you, I'd rather have had a coach. I know you liked Silva and that didn't end so well - but on reflection I think he was a good coach hung out to dry by awful transfer activity (and back luck with Gbamin). Bit too inexperienced to cope when things got bad and at that point he had to go, but I expect he could slot in well at a more progressive / strategically focussed club.
Chris Jones [NZ]
311
Posted 30/06/2021 at 22:00:51
Like many of you, I didn't want him but more for football reasons than history. But it's done.
This year is my half-century of being a Blue and I'll be one whoever the manager is. End of.
Can we now get into the silly transfer rumours properly please?
Tom Harvey
312
Posted 30/06/2021 at 22:01:19
Justin @ 306
"Brands, what is the point of having him?"
Yes indeed!
And I will add where was he today at our saviours grand unveiling, only a very awkward looking Ms Dynamite from the top brass to welcome the one with the red halo.
No Brands? Surely it's his job to be at the gates waiting for Rafa, keen to talk shop with him about the future?
No Bill Kenwright? Remember when we signed Martinez, he was like a very proud father being handed his newly born son.
No Moshiri? If I'm not wrong he came to the unveiling of his previously chosen managers.
Me thinks cracks are starting to appear at EFC HQ?
Eugene Ruane
313
Posted 30/06/2021 at 22:06:53
Pat #307 - No, I'm talking about the feller who made the mistake of appearing on the Austrian version of MTV Cribs.
Tony Abrahams
314
Posted 30/06/2021 at 22:13:50
If you can't take it don't give it, is how I view people who take offence when getting a bit of stick back.
The fat Spanish waiter, was always given unmerciful stick from Evertonians, and when he gave a bit back, it really upset us.
I hated him at one stage of my life, and it was because he came across as anything but decent, but he showed his true professional personality at Chelsea, when he just got on with his job, in really difficult circumstances, (it was all his own making again…I know) which showed he had loads of courage, and an unbelievable attitude, which even made me have a grudging respect for the man, for the way he just got on with that job.
Each to his own, but I'm more happy than sad, that we've got a horrible little fucker, who fights his corner and looks like he hates losing, in charge of Everton, even though I'm also worried for obvious reasons, and because it's also the biggest decision I've witnessed at Everton, in my lifetime, and the people wanting Rafa Benitez seem to be in a very small minority.
Dale Self
315
Posted 30/06/2021 at 22:17:26
Hey for all you TWers wanting Everton to up the appeal to the Americans here is the headline you've been waiting for,
"Liverpool legend Benitez becomes Everton boss"
Yeah, let it sink in for a second or two. Good times.
(soccernet)
Andrea Jacobs
316
Posted 30/06/2021 at 22:20:28
As Steve Ferns has said above, this is a hysterically disastrous appointment on a purely footballing level alone.
I'm also on board with the angry and disillusioned comments because this is clearly the most aggressively bad decision in the history of any Everton ownership.

It's bewilderingly shit.
Paul Tran
317
Posted 30/06/2021 at 22:23:55
We get Rafa, Spurs get Nuno. That suggests to me that the manager grapevine is saying 'don't go to either unless you get an enormous salary and payoff '
I don't do this hysteria & self-flagellation. I'll judge him on what I see on the pitch.
Frank Wade
318
Posted 30/06/2021 at 22:29:30
Steve #297, great to read your tactical analyses again. Good point on the need for good skilled coaches. Who knows, we may have one already in Leighton Baines. Chelsea have a coach Anthony Barry who was in our Youth setup until he was 18 and had a mediocre lower league career. He was kept on when Tuchel arrived and highly praised by him, so a glowing playing career is not a pre-requisite.
You say Nunes plays in Gomes' position and describe him as He'll never be a tackler, much as he does alright at it in Portugal. His passing can be quite sidewards. He's got one assist. His shooting is not great. Are you sure he's not Gomes ? Sounds like him, apart from the Pace, haha.
I agree we need badly pace in the team, but hopefully with a few more key midfield attributes. I was lauding a few of Pogba's defence splitting passes the other night. Would love to see more of that type of passing and not the sideways and backwards stuff we've seen recently.
Christine, thanks for Purgatory story and particularly the explanation of All Souls preparation for purgatory, a great foundation for a life with the Blues.
Mike Gaynes
319
Posted 30/06/2021 at 22:34:44
Dale #315, I was hoping nobody else saw that shit. And ESPN is usually pretty good. Argh.
Tony #295, I forgot Townsend existed. So did the scoresheet. Two goals in two years. Yeah, I think you can imagine the reaction if he's Rafa's first signing.
PT #317, if you don't do hysteria and flagellation, it must be a looooong winter up there. ;-))
Jamie Crowley
320
Posted 30/06/2021 at 22:41:47
Dale,
If it wasn't so disgusting and tragic, it would be hilarious.
Even ESPN having a dig. Good times indeed.
Tony Abrahams
321
Posted 30/06/2021 at 22:42:18
It's been sinking in for ten days Dale, and it's probably why my own personal feelings towards this appointment are not as bad as many.
The past is in the past, and it's something that can never be changed, especially by people who live in the past!
I can still vaguely remember Everton winning cups though, and that's still my biggest wish when I look to our future, as I remember that Liverpool reject,(sorry sheeds!) Kevin Sheedy scoring that beautiful goal in Rotterdam, and the memories of absolute joy come flooding back….SINGING JUST LIKE THE TEAM THATS GONNA WIN THE FUCKING LOT, WE SHALL NOT BE MOVED (you had to be there!)
Jamie Crowley
322
Posted 30/06/2021 at 22:42:53
Yeah, let it sink in for a second or two. Good times.
I'm sorry, but that line really is hilarious. Dale, you made me laugh - heartily! Well played.
Danny O'Neill
323
Posted 30/06/2021 at 22:52:54
"We wanted a manager with experience of managing at the highest level, who has a strong track record of delivering success, who can work within our structure and who fully buys into our vision for the future".
Extract from Moshiri's statement on the appointment of Benitez. It seemed apparent as this one gathered momentum, that they wanted more of the Ancelotti theme. The name in the game and the previous success. That's where they were going with this all along.
Dale Self
324
Posted 30/06/2021 at 22:54:35
Keep it going Jamie. Your fighting spirit is giving me something to work with too.
And Danny, 'within our structure' is the tell.
This is a business fix not a football solution.
Nicholas Ryan
325
Posted 30/06/2021 at 22:57:58
As I've said on several threads; It's very simple - he'll either win football matches, or he won't: nothing else matters.
Kevin Molloy
326
Posted 30/06/2021 at 23:01:43
I've just watched the Gaffer calling us a small club, and it's much worse than I thought, insofar as I don't even think he meant to offend. He was asked about how lots of teams come just to defend, and he agreed saying yes, it 's difficult the small clubs just all get behind the ball and don't give you space.
Tony Abrahams
327
Posted 30/06/2021 at 23:02:43
I think it's a load of pony, Danny, because it doesn't look like Brand's was even consulted, and I also think Duncan, is part of the furniture, rather than in high demand, but maybe I'm just being cynical.
He definitely knew what he was saying Kevin, because he's made a great career for himself often using those very same tactics that he couldn't overcome.
Soren Moyer
328
Posted 30/06/2021 at 23:03:31
Colin, 287. Laughing out loud! Yes he's been released from jail today lol.
Tony, 288, Don't forget Gomes and Delph (and perhaps Holgate too). So his popularity might increase even further 😄.
Colin Glassar
329
Posted 30/06/2021 at 23:04:39
Marco Silva new Fulham manager. Good luck, Marco.
Sukhdev Sohal
330
Posted 30/06/2021 at 23:05:09
Hi guys, haven't been on here in months. I'd just like to say first off all I'm not scouse so I don't have as much hate towards Liverpool when I'm bringing across the points. In my opinion, Rafa is a similar manager to Ancelotti. A champions league winning manager from the 2000s who has his team incredibly well organised and then builds from there. Does he still have it though, and can he get more out of his players than Carlo did? If it goes well we'll need a great start because the first 6 games ate very winnable. That'll help us gain momentum and remove as much toxicity from Goodison as possible. Ideally we'd go for Favre or Galtier, but the transition between Carlo and Rafa won't be as large as it would be for the previous two, and it'd be even longer for someone like Potter (who I do rate).
John Keating
331
Posted 30/06/2021 at 23:06:55
I know it is usually the "done" thing when signing someone, however, on this particular occasion I think it might have been more diplomatic and NOT have Benitez holding up the scarf in front of our badge
Dale Self
332
Posted 30/06/2021 at 23:12:17
Tony, Michael Lynch had the same rough impression which is consistent with my read of various interviews making the rounds. Hell, fourfourtwo does an article which basically has Everton as background wallpaper. I don't think it even got to Everton, it was all a Rafa review.
Update: fourfourtwo just changed their article. I suspect they were getting some feedback. Like I said it treated Everton as a stop off on Rafa's journeys.
You may be okay with Rafa and want others to stop complaining but watch the coverage, this is not enhancing Everton's reputation in any way.
Tony Abrahams
333
Posted 30/06/2021 at 23:14:39
I do think he will get rid of a few Soren, and I was also being very conservative by only giving him 5% for getting rid of Iwobi, but that's because I think he'll bring in a couple of players he has worked with before, which is something most managers do?
Mike Price
334
Posted 30/06/2021 at 23:19:18
I'm pleased we've got him, he's not a company man and if ever a club needed a clear out of the 'jobs for the boys' culture, this is it.
He's a mercenary winner and now he's our manager, I think he's our best chance to make some serious progress for years.
People clammering for nostalgia hires, like Ferguson, Cahill, Baines etc, etc are what is wrong with this club and, ironically, what people slate Kenwright for! We are the worst run club in world football, we give ridiculous contracts, we turn assets into liabilities and our outlay to return is beyond incompetent.
It's embarrassing that lots of our support base continually refer back to that comment he made; which if you listen to it actually made sense at the time…going on about it makes us look like a small club when we all know we're a world class institution. I've always thought our fan base was a cut above but some of the reaction to this is ignorant, small minded and shameful.
Daniel A Johnson
335
Posted 30/06/2021 at 23:29:27
Colin 329
I agree good luck Marco Silva at Fulham.
Shame it didn't work out for him here as he was the kind of manager we needed.
Bad luck, injuries and not being able to sign Zouma and getting lumbered with Iwobi was his downfall.
Paul Jones
336
Posted 30/06/2021 at 23:31:13
My concern with Benitez is that like Ancelloti, Allardyce, Mourinho is that his methods maybe from a previous era and the game has moved on without him. Has manged clubs like Liverpool and Newcastle where the fans hated the owner(s). Also had relative success at Valencia a very dysfunctional club. I have suggested before in our current circumstances would seem a good candidate.
The current owners are in the process of investing heavily in the club with the proposed ground move, so given his track record seems to be a sensible choice too secure the necessary continued premiership status. Just have to hope that when his job is done not followed by the next Silva whose agent has the ownerships ear.
Danny O'Neill
337
Posted 30/06/2021 at 23:32:01
Many texts from red cousins today. Mostly they were genuinely curious as to my thoughts, rather than being hostile or taking the piss.
I've just watched the interview with Benitez. I found it interesting and there were some intriguing takeaways.
He plays a lot to his knowledge and understanding of the city, the passion of the people and the scousers.
He talks a lot about being competitive and having a winning mentality. You want to play nice football but you have to compete first and work hard to win is how he describes it. Work hard first, then play well.
Emphasises he is a coach. He wants the tools (good players) but will also try to improve what he has. Reading between the lines, I picked up he is a details person, hence the tactician references above.
He refers to Everton's away versus home form last season and stressed the importance of the crowd getting behind the team. Not him necessarily; the team. He knows what he's walking into. That's stating the obvious. Of course he does. But arguably, he's been there before with a resentful Chelsea fan base.
It seems him and Brands have already been talking. Benitez seems to know who the players / targets are already and may well give opinion / advice as you would expect. I still don't know what this means for Brands, but I'm going to hang my hat on him having his board status elevated. Chairman?
I know he's clearly going to say the right things, but I did pick up on his professionalism. He has to be to take this job. If he was as emotional as me, he wouldn't as I couldn't sell programmes or pies at Anfield. To that end, I have little concern over his commitment to the job. Although that was a rather awkward glance at the badge on the scarf around his neck!!
It's not what I would have chosen, but it fits the owner's methodology. It's almost like a business continuity plan in the aftershock of Ancelotti departing.
At least me and the dogs can move onto transfer targets in the morning now this is done.
Pete Gunby
338
Posted 30/06/2021 at 23:36:47
Jamie Crowley- he is not my choice of a manager. That being said, I said on another thread that I would have Shankley, Paisley, or Dagliesh if I thought they would make us better. (I don't think anyone can do that without some quality player infusion ) The shock and horror of a Liverpool manager saying mean things about us is comical. It's just my opinion - sorry you are So easily offended
Neil Cremin
339
Posted 30/06/2021 at 23:44:45
Well said Danny
Dan Parker
340
Posted 30/06/2021 at 23:58:45
Everton has a habit of dashing your hope and optimism but, personally, I think Rafa is a good manager, taking the emotion of the Anfield connection aside. I have friends who adored him at Newcastle and he did a good job there in very difficult circumstances.
The question is whether fans will have much patience. It's good he's in before pre-season and I think the better appointment than Nuno at Spurs. I don't have great hopes for next season but will back the manager and hope he's a big success.
Andy Crooks
341
Posted 30/06/2021 at 00:04:46
Eugene, I am married with children. I am not a decent family man. Since, however, that seems to give me a wee bit of status, may I say that this appointment is disappointing.

Bob Parrington
342
Posted 30/06/2021 at 00:15:50
Eugene. I've never seen you so positive in a manager appointment! Helped my day here in Oz off to a great start, with a belly laugh.
Although it was not the choice I (or many of us) would have hoped for, somehow, in a strange way, I have a gut feel that this might work for us.
Obviously the guy has balls, which is something we didn't witness with a few of the rapid-fired managers. He has plenty of experience, including in the Premier League. The board knows he is not a popular choice but decided still to proceed. So they must see something in him -- maybe determination to win?
Numero uno on the scale, of course, is Uncle Bill's 36-word statement. Unhappy when you read between the lines. Clearly not impressed is our Billy K. This has to be a good thing, doesn't it!
Let's hope the fan base suck it up and give Rafa and the team the support that's needed to make the club successful again.
Bill Gienapp
343
Posted 01/07/2021 at 00:29:04
Colin (329) - I'll be very curious to see how Silva does with Fulham in the Championship, and am glad he's getting another shot in English football.
People seem to remember him as an abject failure, but there was a lot to like about his first season. It just completely went off the rails the next year.
Derek Thomas
344
Posted 01/07/2021 at 00:30:56
Mr Burns...sorry Mr Moshiri, in another of his now trademark, off the Wall decisions. Has appointed Mr H. Simpson, oops again, Mr Benitez to the position of Safety Officer...damn predictive txt...Manager.
Mr Smithers, aka, Mr Brands has, at the moment - no comment, or in my opinion no point at all in being there.
We need a Coach is one cry, maybe we need better players for this coach too, also we might need better coaches for the players.
The Chinese(?) curse of... May you live in interesting times...is rampant at the Country Rd Casuals...(soon, hopefully, to become The Regents Rd Ramblers)
I don't see an extended honeymoon period or a long reign for the Squire of Caldy.
But no doubt many of the usual suspects and probably some new ones, will still be there. It's enough to make a cat laugh.
Teddy Bertin
345
Posted 01/07/2021 at 00:55:52
If there's one thing I know about Everton, he'll be shocked by the huge amount of support that he will get in his opening game to a full Goodison.
If there's another thing I know about Everton, he'll be shocked how quickly the fans turn on him after a couple of 1-0 losses and 0-0 draws. No matter how much good work he does with the squad.
Don Alexander
346
Posted 01/07/2021 at 01:30:01
Having been a blue ever since my owd fella took me to see us play Stanley Matthews' Stoke City at Goodison (and that's my 6- or 7-year-old memory, so spare me the record books), I know I've enjoyed a few years of success only twice ever since.
I know I've endured way more years of anger, disappointment and frustration too.
Right now I'm experiencing shame for the very first time as a result of the appointment of this Kopite shithouse as manager, still with Ferguson and all the other Kenwright clan as so-called coaches in tow.
Mike Gaynes
347
Posted 01/07/2021 at 01:43:05
Teddy #345, I'll be much more interested in how the fans treat him after a few boring, sour 1-0 victories.
Phil Gardner
348
Posted 01/07/2021 at 02:05:33
Benitez has balls the size of spacehoppers. He doesn't need the money so he's come to do a job. He's living local so he won't want to fuck this up. He's ruthless and very demanding of his players.
I'll say it again, the man's got balls and that is precisely what this club has lacked since 1995. Back him with all you have got Blues.
Clive Mitchell
349
Posted 01/07/2021 at 02:08:32
I've not commented on ToffeeWeb for years. I've read loads of the posts on this thread. I have so much respect for my fellow Evertonians, I can understand where almost everyone is coming from.
So I'll go to the game whenever I can, I don't think I could ever give up my season ticket.
There is nothing positive about this appointment.
Tony Cawson
350
Posted 01/07/2021 at 02:09:45
Okay, it's done. Time to stop being childish and remember how shit we've been since the '80s.
It's the horrible red fans, well the majority, that makes my skin crawl, not the actual employees, or former, players, eg, Aldridge, Gerrard, Hughes, Thompson.
I know many a decent red, and Rafa has the bollocks to make this work. Either way, the kangaroo board continues to walk the tightrope, but didn't see Carlo jumping ship. Anyway, let's get a fucking grip and support the man.
Tony Cawson
351
Posted 01/07/2021 at 03:10:26
Apologies, I just read that back.
I mean I hate Aldridge, Gerrard, Thompson, Hughes etc, and their nauseating fans.
The cold hard truth seems to be that nobody wanted the job more than Rafa, so I'd love to know who everyone else wanted, and who wanted the gig themselves.
Kristian Boyce
352
Posted 01/07/2021 at 03:17:50
Two things that jumped out to me from all the interviews.
Firstly, the very un-Kenwright welcome message. Sounds like his secretary was asked to put together something instead of his normal gushing theatrical statements. Also, Benitez's quote about him and Brands being both professionals and they'll get together soon to look at transfers/team rebuilding. It was slightly an odd comment when bringing up the potential working dynamic.
Rumours about Rafa not being Bill's or Brands's choice and Benítez's history of falling out with club hierarchy could pose issues in the future. It will be interesting to see these first couple of transfer windows if there's going to be any sort of power struggle on the direction of the club.
Bill Watson
353
Posted 01/07/2021 at 04:10:40
I saw a bloke on the local news who said he went to all the games home and away but that's him finished. How childish! Grow up.
Managers and players come and go. Most of them, despite all the badge kissing nonsense, are mercenaries with little, or no, allegiance to the club. Even our most successful manager walked out on the club when the opportunity arose!
I'll judge Benitez on his record on the pitch. His past shows he doesn't take any shit from players (and executives). Maybe that's just what our bunch of under-achievers needs!
Steve Brown
354
Posted 01/07/2021 at 04:19:59
Think we should get the terms of reference ready for when the inevitable disagreements kick in - I think most are still in the shocked into weary silence phase.
As a designated Ancelotti 'happy clapper', I think we will need a different title for those pro-Benitez supporters. Let's be honest, there is nothing happy about him as he is a real grind master. So we need something different.
Was wondering if 'Riff Rafas' might work?

Jack Convery
355
Posted 01/07/2021 at 04:30:08
"It's really Messy at Goodison."
Is that a misprint or is the ex-Barca free agent on his way to us?
Ernie Baywood
356
Posted 01/07/2021 at 05:04:07
Negatives: He's one of them and it shits me that we had to stoop to that. There was no-one of similar standing without that history?
Positives: That lot will be more wound up than we are. I think. I know they'll take the piss, but they feel it I'm sure.
Reality: He's just another manager. Quite an experienced one. We've had loads. It might work, it might not. He'll say things ahead of the first derby and every Evertonian will say "Yes, he gets us" because he's a manager and knows how to deal with people.
And we'll have some amount of success or failure and do it all again at some as yet undetermined point in time.
Hopefully we get to watch some good football and enjoy some wins. It's all that matters really.
Ernie Baywood
357
Posted 01/07/2021 at 05:08:17
Oh and I don't think I ever really disliked Benitez. He was one of them, but always seemed a decent sort of football bloke. John the milkman agrees.
Jerome Shields
358
Posted 01/07/2021 at 05:23:49
Steve #241,
I see Benitez as a continuation of Ancelotti, defencive-minded, improving players, building from the back, bringing in players to bring up the tactical and technical level, and tactically astute. I am not surprised he was top of the selection list. The days of an up-and-coming manager are gone at Everton.
You right about coaching. There is no way that the individual coaching was good or consistent under Ancelotti. Attempts were made but players quickly drifted. This was especially so in attack.
The fact that Ancelotti did not achieve this is put down to effort and motivation. Benitez is Ancelotti with a big stick. This is the selection criteria that Moshiri and his mate used.
Benitez in his interview talks if 'us'. It is critical who 'us' is. Hopefully Benitez has not burned all his bridges with his better coaches. Unsworth and Fergusion were dressed for work at Finch Farm, so they are recognised as being Everton polish on proceedings.
I just hope that Benitez can come up with some of that Valencia sparkle, which seems so long ago. They were, imo, the most Everton-like side he managed.
Mike Gaynes
359
Posted 01/07/2021 at 05:39:51
Jack #355, what the hell are we gonna do with a 34-year-old midfielder who won't pressure the ball or get back on defense? Besides, we've accepted too many Barca rejects already.
Peter Brogan
360
Posted 01/07/2021 at 05:41:07
Rafa was always the best option on the market, no doubt, for where we are as a club. All these ex-players coming out stating he needs a strong start (doesn't every manager) ……our current group of players need to deliver.
I sense with some of our ex-players and Bill they would've preferred Moyes but, for me, you should never look back. Rafa is a winner and a top coach. Let him walk the walk, as he stated in his first interview.
Paul Ward
361
Posted 01/07/2021 at 05:50:27
The Benitez signing has proved once and for all, we are a small club. I feel our club has treated us no differently than the big 6 did to their fans. They have been aware of the hatred and protests but ignored us.
To add to our insignificance, any future investors will have the caveat of not only keeping Kenwright as chairman but also to guarantee Big Dunc a job for life.
David Pearl
362
Posted 01/07/2021 at 06:07:02
Sukhdev @330,
That's a really good point you make about the jump in styles being less from Carlo to Rafa.
The change from Martinez to Koeman was huge.
So this time it is less to rip up and start again. Unfortunately, l think a lot of us needed a more exciting style of play. We shall see…
Daniel Lim
363
Posted 01/07/2021 at 06:18:54
What caught my eyes in the article is that Blue Bill was very reserved with his comment. So I guess he didn't agree with the appointment but the decision was made by Moshiri or whoever behind him.
Danny O'Neill
364
Posted 01/07/2021 at 06:30:48
As much I had other preferences, that's clearly been the club strategy from the onset, David Pearl & Jerome. As soon as this emerged and became inevitable, that's what I kept calling out; business continuity as I referred to it above.
Wait. Could this mean we have a strategy? Many might not like it, but if they wanted to follow suit and have minimal disruption, they have a plan in mind?
Depends how you look at it. Either the owner does, backed by Usmanov's blessing (or mafioasa style silent nods that equate to direction) and that is in conflict with Brands and / or Kenwright?
Or is it only Kenwright who is now isolated, with Brands continuing to go out and recruit the players? I can still see conflict ahead with Benitez and a DoF, despite his words. But then he's been brought in with the understanding. And if I recall, Brands's statement was much more personal and upbeat that Bill's, who, as someone said, seems to have gone for a cry in the park and asked his PA to chuck a few words together.
I'm clearly speculating & gossiping. I know nothing, as they say.
Anyway, players. Where are the players? Just give me a few rumours to speculate on! It would just be like the Everton rollercoaster to wheel out free agent Messi having dropped this one on a now divided fan base! We'd rejoice in the name only to come back down to earth with the realisation his wages have just eaten our transfer budget for the next 2 years!
Anyway, back to the real world. Show me the players.
Neil Cremin
365
Posted 01/07/2021 at 06:38:37
Well said, Danny.
David Pearl
366
Posted 01/07/2021 at 06:47:28
Danny, what's a strategy?
Rafa seemed to deflect the question of him working with a Directir of Football. Moshiri is either brave or stupid.
As you say, show me the players. Then we can dream of a good solid season. That's if l can get some sleep.
Derek Knox
367
Posted 01/07/2021 at 06:51:46
Totally off topic here, but I spoke to Ray Roche last night, or tried to. Ray has been in hospital with pneumonia, and was released yesterday, but he sounded terrible and could hardly speak. He said he may have to go back in again, such was his discomfort and difficulty in breathing normally.
I'm sure all on ToffeeWeb, and especially those who know Ray personally or have met him at the TW Get-Togethers, wish him a speedy recovery.
I know Ray very well and have played golf with him on several occasions, but he is as staunch an Evertonian, and Season Ticket Holder, as one could imagine and we usually talk on a weekly basis about what is, or isn't happening at our once magnificent club.
Brian Murray
369
Posted 01/07/2021 at 06:54:53
I hope Bill Kenwright hasn't had his nose put out of joint too much and he's thinking his position is somehow untenable. How could we live without his ventures, eg, King's Dock (money ring-fenced), Walton Hall, numerous sure-fire hits like Walter Smith, and also his brilliant portrayal of Everton as 'plucky' with the help of his ginger mate.
Please Bill, Moshiri would be lost without your input and your quick fixes to get an in-house CEO and coaches that 'get' Everton. Coyb.
Brent Stephens
370
Posted 01/07/2021 at 06:59:07
Daniel #363:
"What caught my eyes in the article is that Blue Bill was very reserved with his comment. So I guess he didn't agree with the appointment but the decision was made by Moshiri or whoever behind him."
The other possibility is that our theatrical Bill is just as much behind the appointment as Moshiri but is playing to the audience – ie, he damn well knows this will go down badly with most if not all of the Everton fans, so he's playing to both galleries, perhaps. That whispered aside to a fellow actor that the audience is meant to hear but not the other actors.
Brent Stephens
371
Posted 01/07/2021 at 07:01:18
Derek #367 - when you next speak to Ray, tell him I hope he's feeling "chipper" soon.
Danny O'Neill
372
Posted 01/07/2021 at 07:15:09
David, what's sleep?!!
Derek, as like many, I've no doubt exchanged views and comment with Ray over the years. Please pass on my sincere best. Glad he's out of hospital and recovers well soon.
Come on Everton, give Ray a tonic with those players we need. The manager is now the manager. Let's go and get those players.
Steve Shave
373
Posted 01/07/2021 at 07:21:59
Get well soon, Ray!
I have woken feeling more optimistic about the appointment this morning, an air of resignation too, perhaps… but I have turned my attentions to getting behind Rafa and the appointment.
I just watched the full interview on YouTube – he speaks well, though I cringed when he was asked about Dunc's role: he struggled to hide (IMO) how that decision was thrust upon him. I love Dunc and would have been behind his appointment but surely this has to be the last time we can do this with an incoming manager.
That said, if Rafa doesn't work out and is sacked midway through a season, we are in a perfect position of handing the reigns to Dunc and let him see what he can do over a longer period, so from that perspective it makes sense. He will have his own ideas and has been diligently learning (we hope) from some very knowledgeable football mentors.
I desperately want Rafa to succeed and I want us Blues to get behind him; we need a toxic atmosphere at Goodison like a kick in the nuts! Three good signings and a solid pre-season behind us, Pickford returning as a national hero (providing he keeps this up), Calvert-Lewin hungry, Mina coming back off an excellent Copa America for Colombia, Godfrey looking to kick on… maybe we can start strongly?
Others have mentioned Rafa's strictness and low tolerance for poor effort – let's hope so, let's hope he puts a rocket up a few arses down there at Finch Farm. Let's go!
Dan Nulty
374
Posted 01/07/2021 at 07:25:39
Get well soon, Ray.
For me, we now need to concentrate on getting as much business done early as we can. A positive transfer window and with our opening run of fixtures, we've got a great opportunity to get off to another good start.
Derek Knox
375
Posted 01/07/2021 at 07:27:32
Brian and Brent and others, nothing that Bill Kenwright does or doesn't do would surprise me while all the time playing the Boys Pen Bill and Lifelong Evertonian card to boot. As Brent says, as an actor, he knows how to play to the audience via the vultures that are the media.
I think he knows that his days are numbered; we had the "He may have to step down due to deteriorating health" shit – that was how long ago? In fact, this Benitez appointment could be a blessing in disguise, where all the rats come scurrying out of their comfy hiding holes and cushy jobs.
I am not saying he is to be hailed as a Saviour, more of a caustic soda that will flush things out! Maybe that's been needed for a while now, though I think we could have achieved that without resorting to such drastic measures and especially with this largely unpopular appointment.
Jerome Shields
376
Posted 01/07/2021 at 07:58:22
Derek #367,
Best Wishes and a speedy recovery for Ray. At least he is getting the care he needs and will turn the corner.

Mick O'Malley
377
Posted 01/07/2021 at 08:00:25
All fans are welcome, fickle or not. No-one is a better Blue than anyone else.
If fans can't stomach Benitez, then they have every right to say so. If other fans wanna kiss his arse, that's up to them… but all fans are welcome.
I'll give him a chance… but I'm not happy about it.
Allan Board
378
Posted 01/07/2021 at 08:09:22
You just know the owner will stiff him over transfers, he will have to sell first, so he is behind the 8-ball already.
It's quite ironic really, because he will get the same treatment he got at Newcastle from Ashley, pleading poverty and be forced to make do. Then he will lose interest in 12 to 18 months time, realise he's been had, and bugger off. The only difference is Everton's PR machine are more subtle at it.
I actually wish him all the luck going and if, by some football miracle, he pulls this off, the shite will be apoplectic!
Moshiri has pulled the pin on a grenade and thrown it in the middle of all this, walked off, praying it goes off at Anfield. A masterstroke if it comes off, but shit, where does it leave Everton if it doesn't?
Tony Williams
379
Posted 01/07/2021 at 08:09:40
It's not the connection with them I am concerned about, it's what he really thinks of us. I personally don't think he is interested in Everton one bit.
Over the last few years, all we have endured is negativity and garbage. Is it going to be any different now with his style of play?

Jerome Shields
380
Posted 01/07/2021 at 08:19:33
It is becoming clearer that there are two camps at Everton regarding the Benitez appointment. Benitez talks of what the owner wants and refers to 'us' in describing taking the football forward at Everton. It follows there is a 'them', who are seen as having to be got on side, if possible.
It's interesting that Unsworth and Ferguson are put forward to meet and greet the new manager at Finch Farm, introduced by the Chief Executive. Also interesting is no Brands and Ancelotti photo call alone with an Everton scarf and no inscribed Everton shirt.
Iain Latchford
381
Posted 01/07/2021 at 08:21:56
It's important to remember that as of today he has the same group of players to work with who have failed the last 4/5 managers. Yes, we all want to see improvement, but it would be unfair to kick off the minute we have a couple of poor results. Hopefully, they can make a few quality signings during the summer, as we know the current squad isn't good enough, whoever the manager is.
Tony Abrahams
382
Posted 01/07/2021 at 08:25:32
Not really that important, Dale, but show me where I've said I want people to stop complaining. I'm not bothered about the coverage in the press either, I'm more interested in what Everton do out on the football pitch. Football is a results business, and only when we start getting good results will people begin to take us seriously.
Chris Williams
383
Posted 01/07/2021 at 08:27:11
Jerome,
Brands is in quarantine after being abroad on club business
Gary Smith
384
Posted 01/07/2021 at 08:27:58
Comparing Moshiri spending to Mike Ashley is about the biggest 'ToffeeWeb' comment I've seen. Negative drivel beyond the pale.
Also, Tony @379 I don't think many manager are "interested" in the club they manage. 9/10 of them, at any club, are only interested in their own career and glory. Even Moyes was scorned as soon as he was out of the door.
I think he did okay saying he works hard and gives his all. I still think he's the wrong man, but I do believe what he says there.
A trophy or success with us would put the icing on the cake for him as a great manager. He needs to go out with a bang to be remembered as a top one, and we are likely the last stop. Fingers crossed he wants it bad.
Paul Smith
385
Posted 01/07/2021 at 08:42:16
Chris don't, you'll destroy a good conspiracy story.
Danny O'Neill
386
Posted 01/07/2021 at 08:53:41
Absolutely about the pitch; it's why we need to focus on the team and get better players, just as we did following last season's disappointment. Regardless of manager, that hasn't changed.
Allan @378, your apoplectic comment made me chuckle. It also gave me a tongue in cheek thought.
"2024-25 and Rafael Benitez's Everton are crowned Premier League Champions in their first season at their stunning new Bramley Moore Dock Stadium. 40 years to the day after they last won a top flight title".
That would be so Everton. Benitez achieves something at Everton he never managed to do so with those who worshiped him for Istanbul. I promise, I'm not on the sauce yet!!!
Derek Moore
387
Posted 01/07/2021 at 08:57:06
Think this will work out about as well or worse than the rest of the Moshiri era managerial appointments to be honest.
This appointment sadly doesn't even have my good will or best wishes to accompany it. Benitez is almost as much of a football mercenary as Allardyce, and we saw how well that worked out.
Uninspired, lazy and somewhat insulting manager hire is my summation. Par for this course sadly.
Dave Abrahams
388
Posted 01/07/2021 at 08:58:23
Derek (367), thanks for your post about Ray Roche, I hope you recover well Ray and get over this illness quickly and get back posting on here soon, very best wishes.
Mike Gaynes
389
Posted 01/07/2021 at 09:05:28
DK, thanks so much for the update on our buddy Ray Roche.
And Ray old man, glad you're out of the hospital, and best wishes for a complete and swift recovery. And remember, you don't need a voice to type your witticisms here! Looking forward to seeing you back on your keyboard quick-like!
Rob Young
390
Posted 01/07/2021 at 09:09:46
yesterday I felt that at least we had a manager so let's get on with it and buy some players. I didn't watch or listen to any of the interviews. I avoided any of the articles.
But this morning Dominic King has me pissed off already, some of the comments on this side make my blood boil already.
I realise I can't do it, I must take a step or two back. Maybe next week when pre-season starts I'll be back or with the first friendlies. We'll talk about the players and match and new kit etc. again. For now, I'm just too tired of this football club.

Pete Clarke
391
Posted 01/07/2021 at 09:12:54
Rafa is the manager now and in reality his appointment is a lot less about him than it is about the people who run the club.
For a start, Benitez style of football is not getting us off our seats. We will be scrapping it out closer to the bottom and he will just point the finger at the players similar to what Ancelotti did with his left eyebrow.
He is going to need big players in the team to get us playing well and none of those big players will want neither him nor us.
That takes me to Moshiri. I imagine he has had a chat with Usmanov about this and they would have known the stir it would cause so why push on with it ?
I reckon Benitez has a contract with a few clauses in it to protect from big money pay outs and they see him as a steady hand for a season of two. Benitez may well see this as his last chance at the top end.
The reason there are no big demonstrations against this appointment is that for years on end now we have slowly had our expectations lowered by the club with A lot of crap managers and players to a point where we are the same as Newcastle, Crystal Palace etc.

Barry Gibbs
392
Posted 01/07/2021 at 09:15:00
Benitez = £15 Million a year (More than Anchelotti)😂
Rodriguez = Mercenary
Sigurdsson = Overpaid, average footballer
Moshiri = Clown - more money than sense
This will not end well. Benitez does not play attractive or attacking football. There is absolutely no way the majority of fans will be happy with what happens next year.
He either has to win a trophy, finish no lower than 6th or play very good football. Sadly I don't think any of those will happen.
Julian Exshaw
393
Posted 01/07/2021 at 09:27:58
Alright, time to accept and move on. I can't wait for the new season, some new signings and a new start. If Rafa gets Goodison rocking again, fair enough. Nil Satis
James Marshall
394
Posted 01/07/2021 at 09:28:27
It's just a job, they're all just jobs. I don't see what all the fuss is about - everyone getting whipped up into a frenzy because he managed Liverpool 11 years ago.
If Liverpool offered me the job as manager, I would take it. I bet the money is decent.
Brian Murray
395
Posted 01/07/2021 at 09:35:47
Danny 386, before I secure a season ticket right up until that year can you let me know if anyone even on a generator is influencing and getting listened to while clinging on their position for dear life. Il let you fill in the blanks
Ian Burns
396
Posted 01/07/2021 at 09:38:12
Mr Ray Roche - get better soon Ray, wishing you the best and look forward to your next post - please not on Benitez though, as that won't help your progress!
Pat Kelly
397
Posted 01/07/2021 at 09:52:54
Well it didn't take Rafa long to show who's in charge of signings. He has reportedly dispatched Brands to China with the following list of players he wants to sign :
Ho Lee Fook (can hear the chanting already)
Won Hung Lo ( just recovering from surgery)
Goh Wong Wei ( yet to save a penalty)
Mee Chin Yu ( the new Dunc)
Interesting times indeed.
David Pearl
398
Posted 01/07/2021 at 09:53:16
Benitez is on £6-£7M a year.
Brands was in isolation after returning from Holland 'on business'
What should have happened is we offered a contract to Rafa. Unsworth and Dunc approach from either side to welcome him. Then BK jumps out "aarrrrrggghhj ya bastard fuck off, like your getting this job"
My money is on Bill writing those bedsheets. It will all come out once the bizzys clear the cctv
Ian Burns
399
Posted 01/07/2021 at 09:56:13
Sam Hoare
400
Posted 01/07/2021 at 09:57:43
I will not judge Benitez at Everton till Benitez has had a decent chunk of time at Everton.
But I am worried. Since 2016 Benitez has a win rate of about 39%, and that includes a season in the Championship with an expensive Newcastle team.
The continuity of mediocrity seems assured. But maybe an ex-Liverpool legend turning us around would be very 'Everton that' in a strange way.
Clive Mitchell
401
Posted 01/07/2021 at 10:03:48
James, 394 - I understand your thought, but I don't think the frenzy is because he managed Liverpool 11 years ago. It's that there is nothing positive about this appointment.
Anyone who witnessed Mr Benitez's 'successful' period at Newcastle must be dreading the stories we'll all soon be reading about behind-the-scenes defensive obsession. It brings to my mind the lowest point in my Everton support – watching a bemused Huddersfield Town staring at us from 60 yards away as Allardyce's Everton set up with back four on the 18-yard line and midfield 4 yards in front of them.
We could have tried something positive – like Graham Potter. But not this. You always get surprised in football, but I'll be amazed if I end up feeling positive before he's gone.
Pete Clarke
402
Posted 01/07/2021 at 10:17:29
Funny story.
A few years ago, my brother's lad was about 12 and he played Saturday and Sunday football around Huyton. His mam got approached by a guy who said to her he was a scout for Everton and he had to let her know that they were watching him. He told her not to let the kid know for a few weeks and they would be in touch.
Our kid is a red and so is his son. Anyway, his mam eventually tells him that Everton have had a scout watching him. He tells his mam to get stuffed, that he wouldn't play for Everton, but his mam grabbed hold of him and said "You will play for them if they're paying me good money!"
He's labouring on a site down Kensington today!


Alan J Thompson
403
Posted 01/07/2021 at 10:17:59
The absence of the Chairman and the Director of Football at the new manager's introduction doesn't bode well for the future and some on here have questioned Brands's position and Benitez's attitude towards him. We could see more disillusion off the pitch than on with both affecting each other.
RB: "Mr Brands, here is a list of players I want."
MB: "I'll get right on that."
A week later…
RB: "How did you go with that list?"
MB: "Not well, two of them didn't want to come and the others were beyond the budget and FFP."
RB: "Not good enough, I'll speak to the Board about this!"
MB: "I've already run it past the Chairman and he agrees with me but we have got you this pair."
RB: "Get me on a flight to Monaco!"
MB: "Not sure that's a good idea with this pandemic but there is a Board meeting next month, would you like me to pass on your comments? But there is the problem of the window closing."
Brian Harrison
404
Posted 01/07/2021 at 10:20:53
I hear from some that he was the best we could have got, so can someone enlighten me as to what he has done over the last 10 years to make him the best we could have got?
Since he left Liverpool, every club he has managed he has not done as well as the previous manager, even at Chelsea, where he won the Europa League, the previous manager won the Champions League.
Spurs at least spoke to Conte, who had just won the Italian league. Sadly, we didn't. Another proven winner we didn't interview.
Galtier, whose record at turning clubs around and also recently winning the French league… again not interviewed.
So can we stop pedalling the line that he is the best we could have got. He certainly doesn't provide unity amongst the fans – and seemingly not with some members of the board either.
Barry Hesketh
405
Posted 01/07/2021 at 10:21:10
Some observations from the Everton legend that is Neville Southall:
I just hope that when Evertonians walk into the ground for the first home game of the season, they just rejoice in being back watching football. We can't have anybody going there and wishing him bad. We need a positive atmosphere. He has a three-year contract so, whether fans like it or not, they have to get behind him.
Kim Vivian
406
Posted 01/07/2021 at 10:52:40
Paul 385 - My thoughts exactly. Reading, when I can manage it, Jeromes posts there seems to be this underlying alternative agenda going on.
No doubt Covid is all NWO to keep us in check.
Paul A Smith
407
Posted 01/07/2021 at 10:52:50
Has anyone actually said they don't want him to do well? I bet one or two have and the holier than thou "just support the club" preachers have made it their own advice line.
Anyone suggesting not going the game anymore being childish is just an ignorant doormat. Maybe you are ok with the club treating you like nothing and being a mug but others are entitled to feel aggrieved.
Remember the stadium jargon just over a year ago? Fans voted for 61878, got rejected and told thanks for your input blah blah,, we want fans to be part of it blah blah.
The only thing fans wanted got spewed and maybe with genuine reason but on went Moshiri's band of muggers telling you all you played a big part haha.
Absolute full of shit this club and it will continue because they know how gullible the majority are.
People listening to Guilamme or whatever his name is(the blagger) now. What has this game come to when dicks like him and Jim White are actually famous.🙈
Michael Kenrick
408
Posted 01/07/2021 at 10:56:04
I thought that article by Guillem Balague was worth a read – I added the link @399.
As a Spanish speaker, he provides what I believe to be the clearest explanation I've seen of the "small club" jibe that, to be honest, was an exact encapsulation of the very worst that Moyes did for us in terms of negative football.
Of course, it won't appease the rabid. But they probably refuse to accept it was Moyes who made us a small club, and he revelled in it. What was shocking to me is how many of the fanbase did exactly what is being requested now and got behind his "plucky little Everton' crap. The standing ovation the Goodison faithful gave him when he finally left us was for me sickening to the core.
So we now have another pragmatic and defensive exponent of dour football to thrill us every weekend? That indeed is a chilling prospect – far more concerning to me than his Liverpool heritage. The call being made by many is to "get behind the man", some even coming out with the garbage we heard all season long under the dreadful Ancelotti, that we can't judge him too quickly and must give him time.
Well, sorry, but Everton play the game on a match-by-match basis, one game at a time. That's how I've always looked at things and how I always will, Benitez himself has even provided us with the required metric:
"I will try to win every single game, and it doesn't matter who the opponents are, or the rivals. It is something you have to do, it is your nature, that you have to try to do your best."
That is the standard by which he should be judged, week on week. Yes, the apologists will be out in force, saying how impossible it is to do that. But if you're are going to be a winner at football, then it is exactly the mentality you need. And if he can produce that, mainly through defensive pragmatism, then I will be forced to temper my personal desire to see good football, to be entertained by the so-called beautiful game.
Tony Everan
409
Posted 01/07/2021 at 11:02:25
Positives are that this whole manager appointment circus is now out of the way. I'm looking forward now to see who he signs over the next 8 weeks and the coaching appointments as this will see him sink or swim.
As Big Neville has said, we need a positive atmosphere and some positive vibes. He says he is going to fight for his club and there was a genuine intent in his delivery of that statement, so I'll give him a chance to prove he can bring improvement, stability and give us an upward trajectory. Top 6 and a cup is a good, fair target for him initially.
Best wishes to Ray Roche, get well soon, mate.
Paul A Smith
410
Posted 01/07/2021 at 11:07:16
Michael, I think you are correct about Moyes but sack trying to explain about the explanation.
It just happened to be us he spoke them words of, he'd just dropped 2 points when Liverpool fans had banked a win against little Everton. He just happened to be out of work when he gave his pathetic explanation, and total imposters like that Spanish reporter have done all they can to untwist his words.
I think most people can judge for themselves when a dummy spitter starts to talk.
I really enjoyed walking out of Goodison on Moyes's last game while the mugs I speak of above snarled at me and our group during their passionate round of applause for another man full of shit and speaking for the good of himself.
Brent Stephens
411
Posted 01/07/2021 at 11:12:20
Michael, thanks for the link @399 to the Guillem Balague piece. This really seems to put a totally different slant on the "small club" comment. A comment lost in translation and not at all the way we all seem to have "interpreted" it.
This almost deserves a separate article
- it might (!) avoid a whole lot more frothing.
"Fifteen years ago, he made the mistake of referring to the Toffees as "a small club", although it was a phrase that was somewhat lost in translation. He misused a Spanish expression that refers to a "small team" when they do not want the ball, defend in their own box and kick the ball away. It was not something meant in a disrespectful way towards the club, but about their style. But, quite understandably, it has stuck in the mind of fans."
Si Cooper
412
Posted 01/07/2021 at 11:15:32
Which 'gullible' ones are you talking about? Anyone who actually thinks the guy(s) electing to put huge amounts of their own money into the club are mainly going to rely on the fans' wishes when it comes to making decisions?
Best wishes to Ray Roche.
Tony Abrahams
413
Posted 01/07/2021 at 11:18:34
The bit that stood out to me in that interview was when I read the words, that every player has a job to do in both defence and attack, and it being all about balance, which definitely equates to sheer pragmatism.
Plucky Moyes came across as pragmatic, but then I remember the words his caption said were spoken at half time against Liverpool at Wembley in an FA Cup semi final. We knew Liverpool were going to throw the kitchen sink at us, whilst failing to add, so we decided to play on the back foot.
Evertonians have been brainwashed for years imo though. Kenwright never had the money to take us forward, but he had the secret of how to kid the masses and stay in charge, so I have to agree with Paul A, about people being gullible, but add that it's been going since Agent Johnson left our club, in the black.
Best wishes to Ray Roche, especially because I usually enjoy his posts.
Mike Kehoe
414
Posted 01/07/2021 at 11:24:59
Piece in the Echo about Kenwright's unveiling statement being less than enthusiastic:
'Very odd' - Alan Stubbs notices Bill Kenwright change as Rafa Benitez joins Everton
Rafa must be shitting it, he probably realises that careful manipulation of pronouns is a typical gangster move, most notably the notorious yardies. Careful, Rafa, Bill Kenwright is a theatrical impresario and he will fuck you up. You have been warned.
Tony Abrahams
415
Posted 01/07/2021 at 11:28:15
Only people who actually think Everton are a small club would be bothered by that remark, imo. Of course the Liverpudlians loved it, just like we loved it when Moyes said Everton are the people's club. These are things that have been added to Mersey folklore, and in an era when the times were definitely changing.
He was fuming, he's a very bad loser, so hopefully the little bastard hasn't mellowed now he's in charge of our club.
Paul Hewitt
416
Posted 01/07/2021 at 11:45:21
So Rafa called us a small club. The names I've heard Everton fans call other teams' players is unprintable. I bet a few on here have done the same (I know I have). They just can't handle it when it is against them.
Jim Lloyd
417
Posted 01/07/2021 at 11:46:30
I don't think we applauded this "plucky little Everton crap", Michael.
I never liked the thought of Kenwright running our club; but he did: we were stuck with him and, in my view, Moyes did a reasonable job in keeping us around the Top 8 for most of the time. Sometimes the football was exciting; but all too rarely.
The standing ovation, I can only speak for myself, was a gesture of partly, "You'd done okay, and what Kenwright had asked for" – but I was glad to see him go. I certainly wasn't going to boo him.
I booed him, however, when he came back as manager of Man Utd, after his comments about he'd let players from Everton go elsewhere for a better career. And I booed him for trying to get a couple of players of ours on the cheap. His comments like trying to get away from Old Trafford with our lives; and "knife to a gunfight" shite.
Also, Michael, I think we know that we play the game on a match-by-match basis and Benitez has said he "plays to win every one", and "to play your best every week." That's a lot diferent from me, at least, expecting him to win every one.
I think it depends on our players and resoources on the bench, compared to our team and resources on the bench.
But, if you're saying you expect to see him attempt to win every game with Kevin Keegan free-flowing attacking football, then I think we will likely be disappointed.
I think there have to be tactics and a strategy to suit the players we have available. If they go out trying to win every week, it depends how they go about it, and we can only judge that as you saw, game by game.
The better the players we get, the more chance we have to win a game, but it is also important not to lose a game, I would have thought.
Paul A Smith (407),
What are you on about, this "holier than Thou", "just support the club preachers" twaddle? There's enough of my mates and myself who are neutral about the appointment or who think he's the best we could get, for me to say that he's a manager with support. How much… we wait and see.
There's been enough posts on here to indicate they don't want him at the club, can't wait for him to fail, to indicate they don't like the appointment and are prepared to show it, either outside the ground or inside it.
If enough of those who don't want him at the club start booing from the start and carry it on match by match, it will undoubtedly have an effect on the players.
In my view, we have a part to play, for good or bad. You've accused Evertonians of being sanctimonious, holier than thou, and preachers for saying "just support the club." It's nothing to do with that.
My view is that I've seen managers come and go since Johnny Carey came... and went; some I've liked; some I thought weren't good enough… one I hated, but didn't boo him. I thought Carey was a better manager than Catterick, but Catterick did reasonably well, I just hated him, mainly for his treatment of Alex Young. Never booed him though.
So, when you say that anyone who says support the team, support the manager and support the club, I'd say they're not preachers, they fear for the consequences of a toxic atmosphere which has been all too prevalent at Goodison Park recently.
Nicholas Ryan
418
Posted 01/07/2021 at 11:50:11
Without making any comment, I think that the article in the Football section of the BBC Sport website this morning, by respected footie journalist Guillem Ballague, is required reading for all Blues.
Michael Kenrick
419
Posted 01/07/2021 at 11:50:49
Paul A, you're beyond redemption.
Your rabid hatred cannot be assuaged.
End of.
Danny O'Neill
420
Posted 01/07/2021 at 11:54:13
Thanks for that link Michael. I don't get over excited about that comment. Frustration at the time, local rivalry and also a second language thing. A few factors in the mix there for it to be taken out of context. I know when I speak German I often use words that can sound overly formal or be taken in a different context as it's not my native language regardless of how well or bad I speak it.
I won't go with your game by game basis Michael, not in terms of judging the manager. But I agree in judging each game every week in terms of team performance. But they're individual games. A manager's success or failure should be judged over time unless it is going obviously wrong in a Mike Walker kind of way. Kendall would not have made it to 1984 and Moyes would never have done 11 years on that ticket.
We're not a small club Tony. We never have been and won't be. Not in my blue tinted eyes anyway. Admittedly we've behaved like one and and rested on our laurels, but we are not a small club. Moyes, the manager who in classic Moyes style, talked his current club out of a Champion's League position last season played a big part in that by dampening a generation's ambition. He told the supporters of the champions who had grown up on Alex Ferguson's dynasty that they aspire to be like their city neighbours. He didn't like expectation and that rubbed off on the players and the fans.
Anyway, if I take anything from yesterday's interview, as uncomfortable as I was with the appointment, he's talking about competing and being competitive. That's a good start for me.
Andy Crooks
421
Posted 01/07/2021 at 11:59:17
Ray Roche, hope you are reading this thread. Take care mate. This will pass.
You really need to get fit to take on the bandit Derek Knox in August. Heard he already has his name inscribed on the trophy!
See you again in the Excelsior soon and we will laugh about this. Take care.
Shane Corcoran
422
Posted 01/07/2021 at 11:59:34
Good article, Nicholas, but as ever with Balague he includes or omits information to suit his argument. You can't mention promotion with Newcastle without acknowledging relegation.
Barry Hesketh
423
Posted 01/07/2021 at 12:06:13
I think labelling people 'gullible' is a bit extreme. Perhaps people are guilty of being overly optimistic, even when the evidence suggests they should be otherwise. The optimism that some feel is only there because they so want their club to be successful and for their team to make them proud.
Those that describe fans as being 'gullible' seem to forget that, in truth, the 'gullible' are merely powerless. "Sack the board", some will cry – well, there's little chance of that happening – unless the owners want to carry out a "night of the long knives" event for their own reasons. "Get out of our club" shouts for the owner are also never going to have any effect, until and unless the said owner wants to sell up to a new owner, who will probably behave in the same way as the previous one.
If fans had the power to change things, they would. Some rightly opposed the move to Kirkby and they were successful in doing so, although it could be argued that, if Everton FC had have had the finances in place, the authorities may have given planning permission, and then we would in all likelihood now be playing in Kirkby.
The audience of any event can choose to give bad reviews or good reviews on whichever event they have attended; they can also choose to attend or not attend the next event if they feel that the previous event was substandard. No matter how the audience views the fayre on offer, they have no power to dictate who funds the event, who directs it, who manages it, or who takes part in it.
Like it or not, that is also the limit of a football fan's power, despite being so emotionally attached to the club that they support.
Fans blaming each other for the position that the club finds itself in is futile and will prove to be counter-productive to what we all want Everton to be, namely, successful. I don't like the term 'toxic', because it invokes an image of an angry out-of-control mob, which is not what concerned and unhappy Evertonians should be described as.
Any suggested call to arms will likely fall on deaf ears, not because supporters don't care or are easily pleased… but mainly because they are wise enough to realise that they have limited power to force any changes that will truly affect the situation.
Tony Shelby
424
Posted 01/07/2021 at 12:12:15
It's easy to understand the reasoning behind every reaction to Benitez's signing.
He managed our arch enemy and called us a "small club". Never mind the second language excuse, that shit stays with you and quite rightly so. He shouldn't come near the club, should he?
But…
…He's also an experienced manager, possibly the most experienced and successful available. He also loves the city and is somehow prepared to manage us despite the understandably vocal objections from a significant portion of Evertonians and the fact that he will get zero honeymoon period. Maybe this swings things in his favour?
Part of me feels sick to the stomach every time I see that GoCompare-esque photo of him wearing an Everton scarf but there is a bit of me that wonders whether this is a genius appointment. Maybe he'll give us three years of gradual improvement before passing the reins to a less divisive manager that can continue the upward trend.
We'll soon find out I guess. Let's hope it's not a fucking train wreck like most things Everton related. That in itself would be a bonus.
Danny O'Neill
425
Posted 01/07/2021 at 12:14:46
Jim Lloyd @417. I only abused one manager, but in a football sense.
I didn't want Allardyce, didn't like him being there and was glad when he was gone. But I wanted Everton to win, just like we all do and will continue to do so.
I was unfortunate enough to be at the Emirates in the match we went about 4 - 0 down after something like 25 minutes that season. My mate who knows an Arsenal youth coach got us tickets right behind the dugout. As in the very first row behind the bench.
If the scoreline and performance wasn't enough, I lost it when I watched Jonjoe Kenny patiently looking up for options in a typical right back position between our box and the centre circle. Allardyce screamed at him to get it forward.
Kenny obliged and aimlessly hit it forward resulting in an inevitable goal kick for Arsenal as it harmlessly rolled out of play.
He got a proper telling off from the manager for carrying out said instruction and was asked "what the fuck was that"?
I couldn't contain myself, and being so close, informed Sam that it was what he just got told to do. Okay, it was a bit more colourful than that. I think he was surprised to hear an Evertonian so close to him as I got a glance, but then his thick skin shrugged it off.
Benitez is here now. He's the manager. I'll judge him on how his, and our team performs.
Your Go Compare quote genuinely made me laugh out loud Tony Shelby!!!
Jack Convery
426
Posted 01/07/2021 at 12:14:47
Can't wait for the Christmas Photo of our new manager standing by a Blue Xmas Tree - with Red cocking his leg.
Mrs B - Look you. I'm fed up of you managing all over the world. Get a job nearby. I'm sure Tranmere would have you.
Mr B - Is that you Mr Moshiri? Can I be your manager ?
Mr M - just a minute - (to Usmanov ). Its RB he wants to be our manager. What shall I tell him ?
Mr U. Tell him the jobs his.
Mr M - What about the fans. F*ck the Fans. I want to be in the ESL when it finally gets going.
Mr M - what about BK ?
Mr U - who ?
Paul A Smith
427
Posted 01/07/2021 at 12:22:30
Shane 422 thanks for being streetwise enough to see through that blaggers shite.
I mean how many years has this fella had to give this story? Since he wanted the Waiter to get the job hes managed to work out what the Waiter really meant. Its fucking laughable.
How anyone takes this fella serious I will never know. Imagine wanting to click that link when you've known for years what he meant.
There was nothing more certain that scores of aggrieved fans would be turning on themselves and looking for reasons to accept him now its done.
For 15 years its been set in stone what the Waiter meant, now hes manager we might have been wrong. Haha laughable shite.

Mark Ryan
428
Posted 01/07/2021 at 12:22:58
Journalists will be sharpening their knives. You can read the negativity in McNultys piece to day. He even takes time out to mention that the person who put the sheet near to Benitez's home got that wrong too, taking some pleasure from having a sly dig at that individual.
Everyone being interviewed is saying " HE MUST GET OFF TO A FLYER" otherwise the fans will get on his back. What they actually mean is the press will go for him until he is suffering like a wounded animal. They are all waiting like vultures to pounce and how they 'd love Everton to fall flat on its face.
I won't subscribe to that anti Everton hysteria and I'll support my club, Benitez included. He's on a hiding to nothing apparently.
I'm hoping we can ram it back down the journos throats and prove everyone wrong, many of us included.
There is something wrong at the very top of our club but I'm hoping Moshiri will back Benitez with some decent signings and not allow the press and the nay-sayers to win this one. It's about time we came out of the doldrums. I'm staying positive and give Benitez my full support. Here's to some quality signings and clearing out the dead wood
Paul A Smith
429
Posted 01/07/2021 at 12:27:11
You would say that, Michael. Being that gullible, I fully expected you to pay homage to football imposters.
Sorry for not being sycophantic to your words.
Andy Crooks
430
Posted 01/07/2021 at 12:36:30
Paul A, you still on here? Thought you had enough of being a doormat and had enough of the gullible fan base.
Si Cooper
431
Posted 01/07/2021 at 12:43:02
Mark (428),
Do you think the likes of Phil Jagielka or Kevin Campbell have an anti-EFC agenda?
It is just a simple truth. He is not a popular choice and many will not be happy unless it becomes clear that he was the best choice at this point.
Paul A Smith
432
Posted 01/07/2021 at 13:09:10
Andy, I am okay with how I feel. If you're not, keep worrying.
As long as I see through shite, I don't feel like a doormat. I am willing to back any manager but also willing to stand by fans.
I would stand by all my mates if they don't want to go again but I can't change anything alone.
I don't say anything like a shithouse online that I wouldn't say to anybody's face either. I thought football fans understand the reactions and frustrations of others.
Jim Wilson
433
Posted 01/07/2021 at 13:34:33
I didn't want Benitez on the grounds that he likes to play the back 3 or 5 formation and because he continually keeps making unnecessary changes to the team, which is exactly why we have struggled in the last few seasons.
A settled team is paramount for team development which seems to be something most managers are unaware of.
But, if Benitez does well, it will be a good decision and it should annoy the Red Shite far more than us.
Paul A Smith
434
Posted 01/07/2021 at 13:41:25
Anyways good luck for the new season whatever your choices or tolerance are.
Danny O'Neill
435
Posted 01/07/2021 at 13:45:31
From what I've read on these pages, I think we're all being more tolerant of different views than I've seen on less devisive issues. This one has us pretty much split down the middle, which surprised me.
But I think everyone is letting each other give rationale opinion as well as emotionally vent without getting too personal.
I don't think anyone should ever post what they're not prepared to say to someone's face. You're in keyboard warrior space then, or shithouse territory to use the Liverpool vernacular as Paul A Smith puts it.
Okay, in the written word, more so than in the spoken, context can get lost and some of us aren't as good as writing as others. It works the other way around in those who can speak better than they write. I always try to see what point others are trying to get across.
Emotional times. Let's give each other time out and space!!
Bill Watson
436
Posted 01/07/2021 at 13:53:13
Derek #367,
Next time you speak to Ray, please pass on my best wishes for a full and speedy recovery.
Top bloke, both on here and in person!
James Head
437
Posted 01/07/2021 at 14:13:17
Emlyn Hughes said Everton were tragic; he was of course wrong – it's a comedy rather than a tragedy, we're the clowns of the Premier League… fortunes spent on average, heartless, mercenary players and fortunes paid to failing managers.
As if Sam Allardyce and Sammy Lee wasn't a big enough stain on the once-proud history of this club, we now have a dinosaur of a manager being appointed on the command of the latent owner with the muppets and puppets who are chairman and board conspicuous in their silence.
Let's not be distracted by the red herring that Rafa once managed Liverpool FC and that he "insulted" little Everton; the bottom line is that his style of football is outdated and reactionary. He is not a progressive hands-on coach and is another boring manager who favours a cautious, defensive-minded approach to games. His appointment stinks of panic and desperation and I personally can't see any positives coming from it.
Pete Clarke
438
Posted 01/07/2021 at 14:20:55
As mentioned on previous posts and this needs to be clear: Benitez is not to blame for this shit-show. He is an absolute shocking choice to be our manager and should not have even been on the list. I also think he's a cheeky bastard for even applying for the job and is actually showing a traitor side of himself towards the Red Shite by doing so.
However, what the owner has done is totally arrogant or ignorant, whichever is worse. He has put a man in charge who simply has to start well because, if he doesn't then, Goodison will be toxic and Benitez is wrongly gonna take the brunt of the vitriol when it should be aimed at Moshiri. I hope it is aimed at him because he can't just do what he wants and ignore us as Kenwright did for years. (Hopefully Bill is feeling the pain too now.)
I think we're all hurting, some like myself cannot yet accept it but he's here now and I will be happy if there are no calls for Benitez's head early on because it should mean we're getting results and we avoid any bad scenes.

Barry Jones
439
Posted 01/07/2021 at 14:22:03
I love Everton so I am 100% behind him to succeed. I also think Rafa has shown some courage in this too. It will be extremely interesting to say the least.
John Keating
440
Posted 01/07/2021 at 14:41:23
Have to say I'm totally ambivalent to this. Not my personal choice, though I have to say it shows both Moshiri and Benitez have bigger balls than most of us!
As usual, I am more than happy to give Benitez time and wish him every success. I just wish he and his media mates would not be excusing what he said about us, the bullshit "lost in translation" is pathetic! He knows and we know what he said and in what context.
Wish I had his balls! Time will tell.

Andrea Jacobs
441
Posted 01/07/2021 at 14:53:06
All the 'for' comments seem to be along the lines of "Oh, well, let's see what happens, get behind the team" etc. Whereas the 'against' faction, to my mind, have clear, cogent points about why this is a disaster and a piss-take.
This is going to be the bitterest end to any managerial reign in the history of association football. When he swans off to the Wirral in 18 months with £X millions in his pockets after being sacked for playing shite football, while blaming everyone but himself.
As people have said on this thread, the grand delusional cojones on this guy are quite a sight to behold. It's not just another job, sport and games are not simply a business. The emotional aspect of this cannot be under-played.
He is starting off 'in the red' so to speak, his style of play can only ever push us 'into the black', ie, a state of mind-numbing depression. And he'll never push through 'into the blue'.
This appointment has failed before it even begins. It sets a new record for the incompetent owner. My only hope is, his hiring policy cannot reach a lower point than this… but I'm open to being wrong.
I do not understand this idea of providing stability for the Club while they build the stadium; the only thing that will produce is tedium. Isn't providing stability just an excuse for finishing 11th in the Premier League?
Oh, well, let's wait and see, got to get behind the team now, and give this manager a fair crack to impress us.
Jim Rafter
442
Posted 01/07/2021 at 15:05:02
Benitez has toured the world and managed large and small. His family's fondness for the NorthWest should not be underestimated. I suspect Benitez would be hoping Everton will be his last job.
He turned down two more years in China at £10M a year. I don't give a shite about his LFC connections…. it's a Sheedy thing. I'm excited!
Alan J Thompson
443
Posted 01/07/2021 at 15:15:14
So some bloke in the pub shouts at the top of his voice that every bloke in your street has slept with your wife.
Now some time later he's moving in with her and says that what he really meant was that she was so good looking that they would have wanted to not that they did, but if you let bygones be bygones he'll have a pint with you.
I think we all know what the answer to that would be without any help from his mates.
Stephen Vincent
444
Posted 01/07/2021 at 15:23:37
The last time I felt like this was when I was waiting for my decree absolute and hoping the that there would be a last minute change of heart from someone I loved.
That went badly as well.
Thought about this long and hard and no matter how much I want to agree with the very reasonable and persuasive posts I just cannot. This is a betrayal of everything Everton.
The man is a failure and a fraud, that he has conned his way into our owners good books makes us no better than Manure and the Glazers or the shite and FSG. Moshiri has shown himself to be a total football failure and I cannot believe that I believed he was the perfect owner that Buffallo Bill portrayed him to be. For all his many many faults and transgressions I think BK is as secretly disgusted by this appointment as I am.
So when you see the empty seat in the Lower Bullens close to where it joins the Gladwys Street think of me.
I am sure that I will be resuming that seat in 18 months at the latest.
I have had that season ticket since 1968, in the Paddock and then the seat. My first game was September 1959, Sheffield Wednesday lost 4-2 and its a love affair that has lasted all of 61 years.
I have spent countless £1,000s over the years following the love of my life across the UK, Europe and the US but I have never felt so betrayed.
I have been beaten up in Leeds, Leicester, Milan and Sittard. I have endured ridicule from the RS (crazy horse, Everton are tragic) but have never felt so estranged from the club.
So forgive my small mindedness but this is the straw that has broken this particular blue camel's back.
Stephen Vincent
445
Posted 01/07/2021 at 15:28:05
Incidentally, if any one wishes to discuss my decision they will be able to find me on the terraces of Marine, pint in hand.
Ray Roche
446
Posted 01/07/2021 at 15:36:27
Briefly, can I make a heartfelt thank you to all ToffeeWebbers who expressed concern and sent their Best Wishes on hearing of my ailment.
It was very much appreciated. After 9/10 hours sleep last night I feel better than I have for days.
And then Rafa signed.

Once again, Thank You ToffeeWebbers
James Marshall
447
Posted 01/07/2021 at 15:37:52
I don't understand why anyone is surprised - Moshiri wanted 'Hollywood' Ancelotti and he'd look a right mug if he then went to someone like Graham Potter - much as he's admired by many, he isn't exactly a 'name' in the football world.
Moshiri (and Uncle Alisher) both want big names to make us look like we're a bigger fish than we really are. And let's face it we're probably say a Perch, or perhaps a Tench in the waters of football these days, with an eye on becoming a massive Carp.
Not only that but Benitez lives locally, is available and apparently very well respected and well connected in the football world. All this is up against what? The ire of a few people on the Internet with an 11 year old gripe against the bloke?
In many ways it makes sense in my view. And that's not to knock anyone who isn't happy about it - we're all entitled to an opinion and there's no right or wrong here.
Ian Hanes
448
Posted 01/07/2021 at 15:57:15
Stephen Vincent (444), I'm just going through the same experience (divorce) and you put a smile on my face for the first time in ages fella!
Cheers!
Bill Gall
449
Posted 01/07/2021 at 15:57:46
First of all we needed a new manager. According to the owner of the club they had a number of possibles who they talked to, but in his opinion Benitez gave the most positives on the way he believed to advance the club from junior to senior levels. After talking to the rest of the board he was given enough backing to hire Benitez.
I always said that although I disliked B.K. for his mistakes, I believed he would be the one person who would listen to the supporters anger and be against hiring Benitez. Unfortunately Moshiri and his not so silent friend, decided that they will say who is hired.
Agree or disagree he is now the manager of Everton and I believe the first number of signings will determine if he and Brands are on the same page.
The common believe last season was that the major weakness last season appeared to be down the right hand side, in fullback, midfield and a right winger who could score as well as provide scoring opportunities to others.
Benitez was not my choice but as others have said, I support Everton. F.C and will support the players and manager.
There has been a lot of talk about Benitez's style of playing, but over the years style and tactics in the modern game have changed, and as a professional manager as well as professional footballers he will have to change, and reading about him he appears to have the knowledge to adapt.
I have no evidence who Everton talked to and most of the other names mentioned was guesswork from journalist,s. Moshiri is taking a big gamble in this hiring, but like many of us who don't mind the odd gamble sometimes it pays off, hoping this one was worth the odds.
Michael Connelly
450
Posted 01/07/2021 at 16:15:45
Love the general angst towards Moshiri (and/or his pal USM) on the Benitez appointment. Maybe lift the heads slightly, try to be a bit more long-sighted, and who knows, you might even see the new stadium he's building for us in distance.
Mike Gaynes
451
Posted 01/07/2021 at 16:35:36
Ray #446, mazel tov, welcome back and thanks for the update... and, as always, the chuckle.
To those digesting the Balague article, here's another, different-tasting course from Andy Hunter at the Guardian -- more about the owner than the new manager, but equally thought-provoking:
Rafael Benítez is a gamble that could expose Everton's wider fragility

(Michael, feel free to clean up this link):
https://www.theguardian.com/football/2021/jul/01/rafael-benitez-is-a-gamble-that-could-expose-evertons-wider-fragility?utm_term=a6a327e5da545e272dead77f65142584&utm_campaign=TheFiver&utm_source=esp&utm_medium=Email&CMP=fiver_email
Mark Ryan
452
Posted 01/07/2021 at 17:02:22
Spot on Michael at 450, talk about biting the hand that feeds you !!
Jay Harris
453
Posted 01/07/2021 at 17:14:49
Ray,
May I add my best wishes for a speedy recovery and try to avoid ToffeeWeb for a few days as emotions are all over the place and it will not do your health any good.
The whole farce has certainly affected me but I do think its a good thing that we are finally seeing a bit of steel put behind a long overdue revolution at the club.
He wasnt my choice and I wouldnt have even put him on the list but in terms of a dysfunctional board he has the steel to stand up to the board which is something previous managers have lacked and he will certainly not suffer fools gladly on the playing or coaching staff so I am prepared to wait and see.
Jim Wilson
454
Posted 01/07/2021 at 17:20:04
What I cannot get my head around is that Moyes was a shit house and got a standing ovation from the supporters when he fucked off to Manu.
He was planning his exit while still at Everton, he talked Everton down every chance he got (hence the small club tag), he caused the embarrassing Anfield win drought and yet was dubbed a hero.
Anything Benitez did or said was when he was not at Everton. So judge him for what he says and achieves while at Everton and nothing else.
I remember how Benitez behaved over Rhys Jones. He was a gentleman.
If you don't want to support Everton now that's your choice but shut the fuck up.
Andy Walker
455
Posted 01/07/2021 at 17:24:29
Jim, Moyes didn't talk down Everton at every chance and he wasn't dubbed a hero. Other than that spot on.
Jim Wilson
456
Posted 01/07/2021 at 17:32:56
Andy - You are right. Not every chance he got but he was a shit house
Kevin Molloy
457
Posted 01/07/2021 at 17:39:37
I think it's undeniable Moyes did talk Everton down. But, I can't from his perspective say that I blame him. if you go into a job where you are literally given no money to spend other than what you generate yourself through spotting bargains and developing them, and you keep Everton in the top 7 for ten years, he's entitled to say to the world 'and with no backing'. From his perspective, trips to OT were a knife to a gunfight, comparing what SAF could draw upon resources wise compared with what we had here. Everton was just a job to him, but one which he put heart and soul into (for the sake mainly of his own career admittedly, but still). You can say he led us up the garden path, but to be fair, he couldn't have known he would defo get that job, and wouldn't you want to find out if it was on before you penned another deal. No, he did a good job here, not a great job, we've seen great and there's a massive difference. Rafa did a great job at Liverpool, let's hope he can do something similar here. I don't see why not.
Derek Knox
458
Posted 01/07/2021 at 17:56:29
Mike G @ 451, Thanks for clearing things up in your welfare message to Ray !
I always thought Mazel Tov, was high ranking female who worked for MOSSAD, one of those that was a 'tough as nails sort' but still exuded a great degree of femininity, and raised the Tostesterone levels, even in the Impotent! :-)
Dale Self
459
Posted 01/07/2021 at 18:00:51
Hey Derek, were you the one that went off about some outpost in africa when I mentioned unusual missionary position? it must have been you.
And thanks for the link Mike, the hits just keep on coming to Everton's reputation. I'm sure talk in the papers was entirely anticipated and desired by the owners.
Biting the hand that feeds you???
This is more like the dude who sticks his dick up the bottom of a popcorn bucket and asks people if they would like some popcorn.
The stadium is a good thing. The owners' football acumen is a bad thing. And Rafa is a professional and an okay guy.
Andy Crooks
461
Posted 01/07/2021 at 18:10:47
Paul A @ 432. Fair comment.
Jim Wilson
462
Posted 01/07/2021 at 18:19:35
Kevin @ 457
The main money generated was the Rooney sale. Moyes didn't spot Rooney but he made sure Rooney wanted to leave.
Moyes then blew all the money from the sale of Rooney.
John Cook
463
Posted 01/07/2021 at 18:38:31
The main problem Benitez has with this poor excuse for a squad is their conditioning.They are a lazy shower of bastards and I have never seen such a poor team fitness wise.This has gotten worse each season since Moyes left.Not a great manager for me Mousey but he always had the team in prime condition for the start of the season.I read once he got them out of the comfort of Finch farm and had them running up and down the sand hills at Ainsdale.
Benitez,no matter what squad or new signings he has needs to get that fitness into this sorry bunch.Talking to a couple of red notes,who believe it or not,actually no a bit about football said that Benitez always had the side in top physical condition and his side kick Paco is the main man for this,they were actually guuted when Benitez left that Paco went with him as they seen a marked reduction in the reds fitness levels.We were a joke last year starting off great for a half dozen games them they were all fucked and picked up injuries through not being prepared in the first instance.I think it was one of the reasons Ancelotti changed tactics as this shower couldn't stand the pace.Lokk at James all right,he was injured a clue of times but was blowing through his arse at the end and that was in the tunnel.Get them fit Rafa !
John Boon
464
Posted 01/07/2021 at 18:40:33
Most of the time the "I told you so " attitude is meaningless. Supporfters of any team haver the right to change their minds regarding hirings or firings. At the onset of Ancelotti's appointment to Everton I was excited and supportive. I was proved wrong. In fact I would go as far as to say that his moving to Real Madrid may prove to have been a Blessing.
Far from being a dynaminc leader I think he was out of his depth at Everton. By the end of the season he just didn't seem to be able to know what to do or say. His final after game interviews depicted a very confused manager. I will be very surprised if he is a success at Real Madrid with their very high expectations
However Everton decided on Benitez who is about the same age, has had success in the past, and promises what he knows will appeal to supporters. This time I am far more suspicious of our new manager. I don't really care what he did at Liverpool or said about Everton. I just think that every Evertonian has every right to be concerned. I don't go along with those who want to rip up their season tickets or say they will never watch Everton again.If I did that I would only be punishing myself.
Therefore I sincerely hope I am proved wrong. I do not care who the manager is I will support MY team for as long as I am around. I want Benitez to succeed and it may take a little time before I refer To him as "Raffa". BUT if he is to fail I promise never to say, "See I told you so". I have often been wrong,particularly backing Horses, so I do hope RA...sorry Benitez proves me wrong.COYB

Ian Riley
465
Posted 01/07/2021 at 19:18:04
Rafa is the best qualified manager for this club in all were talked about or interviewed. The "small club" comment was directed at our style of football. Hold on and a draw will be a win mentality. Negativity breeds negativity! Those fans leaving Everton, giving season tickets up, bye and all the best. Please don't go to matches negative. Rafa was manager of Liverpool, so what? He made a comment about our style of football. He was right and we know it. Our owner is trying with all his heart and money to make our club great again. Yes mistakes made but he continues to try and that is good enough for me.
If Rafa won the double next season it won't please certain fans. Life is for going forward not stuck in reverse. The past is the past and if Rafa can bring a positive style of football and competitiveness that's good enough for me.
Derek Knox
466
Posted 01/07/2021 at 19:26:07
Dale @ 459, Having visited Africa on many an occasion both as Naval Personnel and as a Civilian on holiday. I have been to some outlandish places not in your average Tourist Holiday Brochures, so have a reasonable understanding of the Country, but would never profess to being an expert!
Missionaries are not always whiter than white, even the black ones, and their positions may even claim a slot in The Kama Sutra, but make it look like a Jane Fonda Exercise Work Out! :-)
Now don't get me started on the ' Politics '!
Dale Self
467
Posted 01/07/2021 at 19:35:01
I knew it was you!
Steven Kendrew
468
Posted 01/07/2021 at 19:54:51
I guffawed in public at this, Colin Glassar #287.
Brilliant!
"Bill Cosby is now available. Just saying…"
As for Rafa, I found him laughable when he was the Gobshites manager but I've mellowed a bit since. I'll support him and the club but my gut tells me it's just wrong, however good we think he is. And don't go on about players who have played for both. That's simply not the same thing.
As soon as we win anything, the shite will simply say it was won the Gobshite way. This appointment could turn out to be quite a burden to carry, I'm afraid.
Neil Tyrrell
469
Posted 01/07/2021 at 19:55:00
Voted 'disappointed' in the poll a couple of weeks ago but I'm far from gutted. Spurs hiring Nuno probably exemplifies the choices available for hire better than anything I could say. Like many have already said you've got to admire Benitez pure brass taking this on, surely he knows it won't be easy. If he means what he said about setting out to win every match then it's a good start. Enough of the Koeman Allardyce Carlo Moyes shite of trying to 'win' 0-0 with zero attempts on target. I can take losing as long as we at least tried to win.
Sorry about those jumping ship even as I understand their frustration. The world needs more Evertonians, not less. In that vein I'll add my best wishes to Ray Roche to get well soon.
Mike Gaynes
470
Posted 01/07/2021 at 19:57:19
DK #458, you've been watching Beautiful Spy or Atomic Blonde or SALT on late night TV again, haven't you?
Tony Abrahams
471
Posted 01/07/2021 at 20:17:28
Just when I think I've been through every emotion, I read that even Bill Kenwright will be disgusted Wow!
Alan Corken
472
Posted 01/07/2021 at 21:39:19
So he called Everton a small club, let's face it at the time he wasnt far off the mark, we were and to many still are a club whose ambition was/is to beat RS or at least not to lose to them. Look back on the postings here and see what blues fans call other clubs and most notably the vehemence they direct toward the club they support. Yet who cares? It's what fans do, because it is only a bloody game. So cmon let's give the Redshite Cunt a chance
Do you see what I did there?
Gary Smith
473
Posted 01/07/2021 at 21:40:33
Reports online we've gone in with a full fat £50m offer for Ben White. A sub 6ft, right footed centre half.
We have Mina, Keane, Godfrey and Holgate who are ALL more comfortable on the right cb too. Even if we're about to splash £200m this would be a horrendous waste of money.
Hopefully just some bullshit from Brighton to blag Kroenke into splashing out the full £50m.
Christy Ring
474
Posted 01/07/2021 at 22:44:01
Out of all the managers we wanted or were linked with, I believe he's the best choice. A lot of fans on here are disgusted because of his comment about the small club jibe, which for me coming from a foreign manager, I took it with a pinch of salt, and because of his redshite link. I thought Brendan Rodgers would have been a great choice, we were never going to get him, but would you be disgusted also, just because of his link?
Andy Crooks
475
Posted 01/07/2021 at 22:58:40
Ian Riley @ 465 " bye and all the best", Have a re- read at your post. Consider for just a minute, no more, the feelings of those good Blues who are prepared to give up their season tickets Then, wind your fucking neck in.
Ian Riley
476
Posted 01/07/2021 at 23:50:58
Andy#475 I do have feelings and respect for those fellow blues giving up season tickets because of their own reasons. Its about choice. I support and want the club to be successful who ever is in charge. If Rafa is successful then what? What if? Top 5 next season? A cup win? Fans have their reasons but really giving your season ticket up due to choice of manager? Again its about choice and principal and I respect that.
Remember premiere league clubs have waiting lists for tickets. Its one out and one in. Giving a season ticket up is fine but not so easy to get it back. If my comment came across as crass then I'm sorry to you and all fellow blues.
Steven Pendleton
478
Posted 02/07/2021 at 11:41:01
I'm with you, Ian Riley. Some of our supporters are too precious. Times have changed. Our club needs to move with the times or get left behind.
For some to give up their season tickets due to this decision is bewildering but their choice.
My dad is 74 and has been a lifelong Evertonian. Born and bred in Liverpool and been in Aussieland since he was 17. He goes on and on about Alex Young, Brian Labone and others like I know what he's talking about!!! Haha.
Obviously me and my brother had no choice but to be blue and at times I curse him for it. He thinks it's an astute appointment and that's good enough for me.
Roger Helm
479
Posted 02/07/2021 at 18:18:13
Years of being called a fat Spanish waiter and he comes back with a little dig at us, to be followed ever since by squeals of horror from thin-skinned Evertonians. Not a good look, tbh, no wonder they call us bitters.
If you can't take it, don't dish it out.
Whatever, he's our manager, so let's support him. At least he is a known quantity and not a wild card that may be good or may be a disaster.
Steve Clay
480
Posted 02/07/2021 at 21:07:38
Agree in general. Didn't want him but he is here and I love Everton. He is the boss of my team so has my support. Blame my dad for inflicting the curse of Everton on me, hasn't stopped me trying to infect my offspring. Teaches them about life.
Michael Barrett
481
Posted 02/07/2021 at 21:32:35
Any one watching Italy v Belgium wow if only we had players like these, remember we called lukaku a lazy bastard and couldn't trap a bag of cement, oh to have him back.
Martin Mason
482
Posted 02/07/2021 at 21:50:51
I'm very happy to see the mature and positive posts from most on here. I believe the club see Rafa as a temporary feature and that eventually DF will be Head Coach to replace him. This is a plan and not necessarily a bad one. Rafa could be the perfect fit at the right time? FFS we could do with that bit of fortune that normally by-passes us. I'm an Everton supporter since the 1950's and I support what they are doing.
Sean O'Hanlon
483
Posted 03/07/2021 at 00:20:35
This is an insult to the city, to Everton Football Club, and most importantly, to the fans.
But this is one fan you cannot insult any further.
Nicolas Piñon
484
Posted 03/07/2021 at 05:57:57
I'm very surprised about Benitez signing. But just knowing Goodison will be crowded again is a beautiful thing to think, so I once again say: COYB!!
Neil Carter
485
Posted 03/07/2021 at 08:19:56
I'm finally glad the manager situation is sorted. Rafa is as good as anyone out there. The job's on to win us over. He knows that results speak to us, so we'll see.
With hindsight, he's more suited to a team-building project than Ancelotti who's really only been a tinkerer of quality teams set up for him, since he was at Milan. Rafa has experience and success in the Premier League with more than one season compared to his predecessor.
Easy target: to beat Ancelotti's home record – if he does this and maintains the away record, it could be interesting. He needs investment – much more than Ancelotti got, from what we saw. Do a Newcastle on him and he will give you Newcastle results.
For now, back him to succeed; let's see who he signs and how it starts.
Mr Moshiri, you chose him; it's up to you now to back him.
Jem Bir
486
Posted 03/07/2021 at 11:57:02
Michael Kenrick at @408 has slammed the nail on the head.
I'm an Evertonian, I have always been, and I've followed them through thick and thin, and will continue to do that.
Michael McLoughlin
487
Posted 03/07/2021 at 12:23:03
I like most Evertonians baulked at the possibility of Rafa becoming our new manager and did so on the blind hatred of the Reds across the park and everything that was related to them. I like other blues didn't like the fact that he called our club a small club and the fact that he was pretty successful at beating us and at winning trophies. On the day Liverpool won in istanbul I was out drinking watching the final and crowing like buggery to my Liverpool supporting mate at half time, only to be humbled just over an hour and a half later.
To be honest I never really looked into Rafa Benitez strengths or his weaknesses. His knowledge of football or his background related to football. I knew nothing about him except that he was a fat spanish waiter who managed the redshite.
Once he was announced as Everton Manager I started to look into Rafa and started to hear a different story of competence, research, player improvement, tactical genius and an overall decent human being.
After listening and reading about Rafa, I'm finding he is a total football man who not only knows about on the field processes but understands what the fans need and also how a football club should be run. It is my feeling that he will not only change the team at Everton but the way of thinking as a club. Hopefully change our mental approach and change us from a club who seems to accept mediocrity to a club with a winning mentality.
I personally think he is going to be massive for the club and wish him well. COYB

Brian Murray
488
Posted 03/07/2021 at 12:49:52
allardyce was an unnecessary stain on our history. As for this fella. If he acts fast this summer he has a big chance. It's also up to Dunc ( the light shade in the corner ) to tell him straight that most of this first team need to be gone. Easier said than done I know otherwise it's rinse and repeat no matter who's in the dugout. A thousand posts like this so why have no managers sussed the obvious. No pace and so on
Danny O'Neill
489
Posted 03/07/2021 at 13:07:36
I think you sum that up well Michael @487. Many, myself included were & still are uncomfortable with it. But his credentials speak for themselves if we look beyond the association with Liverpool and frustrated comments made after a Derby when he was Liverpool manager.
Some will justifiably point to the fact he is yesterday's man and categorise him in that sense as they did Ancelotti. Fair enough. Probably what he has over Ancelotti is that he has inherited shite in the past and done a fairly decent job under constrained conditions. The Newcastle friends I speak to would have taken him back yesterday, let alone tomorrow. Some were convinced Everton wouldn't happen and that he was waiting for their takeover to go through and return.
Hopefully, having made such a controversial and potentially fan dividing decision, the owner, having already spanked millions on averageness, understands he has to lick his wounds, back his man and do the same again. Just spend wisely this time. It's not always what you spend, it's how you spend it. We spoke about Leipzig on another thread.
To Brian's point. We need better players. I feel like I'm starting to use that in a Boris Johnson "let's get Brexit done" slogan kind of way. But it is so obvious. 4 new signings and one for the future improved us last year when all were fit and for a period. But we need more than that.
Rob Morris
490
Posted 04/07/2021 at 12:29:29
Michael @487 spot on mate, couldn't agree more, I felt the same as you, anyone but Rafa, but once appointed, like you, I did some reading and research and am now almost hopeful. Everton does that to you a lot though.
Jim Harrison
491
Posted 04/07/2021 at 13:19:32
Micheal #487,
I too have listened to a few interviews and read some articles.
The one on Toffee TV with the Spanish football journalist was particularly notable.
I think, for the short term, I am becoming quite comfortable with the appointment.
Bogdan Kotarlic
492
Posted 05/07/2021 at 11:40:31
I am 100 percent against Benitez as Everton manager. The man is a Liverpool fan, he has made some nasty comments about Everton in the past and as such person, I don`t want him in our club.
Get rid of Benitez as soon as possible, I (and I am not the only one) don`t want him to be Everton manager. Mister Benitez, you are not welcomed in our club, go now or we will make you go very soon!
---
Add Your Comments
In order to post a comment, you need to be logged in as a registered user of the site.
Or Sign up as a ToffeeWeb Member — it's free, takes just a few minutes and will allow you to post your comments on articles and Talking Points submissions across the site.