Column
Everton's Ownership and Leadership, Part II: The Cost of Poor Recruitment
In this the second part, a focus on the club's finances from a different perspective – why have Everton not developed to the extent the investment made in us might warrant?
Paul The Esk

14/11/2021
56

comments | Jump to last
In this the second part of the Everton Ownership and Leadership series, I wanted to focus on our finances but in a slightly different way than normal. I want to try and show why we have not developed to the extent the investment made in us might warrant.
I wanted to try and look at the finances through an investor's eyes. An investor who buys half the asset initially then injects significant sums along the way before ultimately owning more than 90% of the club.
When an investor buys a business, what is it he or she is buying? They are buying the assets and liabilities of the business. In non-accounting terms, the assets are the means of generating income through the provision of products and services; the liabilities are the existing, previous and sometimes future outstanding costs in creating those products or services.
Buying a business in the condition Everton were in 2016, it was clear that this was a business starved of capital (in absolute terms and certainly relative to its competitors) over a substantial period. As a result of the lack of investment by the previous owners, this was a development opportunity – arguably the last great development opportunity of a former giant in the Premier League. It was deficient in terms of capital – £54 million in debt, a negative balance sheet, poor facilities – but also deficient in human capital on and off the pitch.
Article continues below video content
In order to make good the development opportunity, investment in the following was required:
Improve the balance sheet – reduce debt and provide working capital.
Fixed assets – to realise the maximum commercial and shareholder value, a move to a new stadium was a must. Further investment in training and other ancillary services was likely to be essential too.
Intangible assets – the playing squad required significant investment in order to be more successful on the pitch, to generate more revenue from higher performance attainment and regular European qualification.
Football management – through a repositioning of the club, more ambitious targets, the availability of more funds, and the likely recruitment of better players, investment in up-grading the football management would be viewed as essential.
Build a better academy – to create a greenhouse from which fledgling talent could be developed to first-team level or sold to other clubs as a source of revenue, and provide evidence of our success in developing talent, thereby making recruitment for better young talent easier.
Invest in business management – almost every new owner or investor takes the view that a new direction for management is required, particularly within a development opportunity.
What has Moshiri achieved?
Most financial analysts would start with the profit and loss account. Indeed, football's financial regulations (Uefa's Financial Fair Play and the Premier League's Profitability and Sustainability rules) look at the relationship between spending and legitimate income.
For completeness, the record to date is (including my own forecast for year ending June 2021). There are mitigating factors which we will return to.
| | | | | | | |
| --- | --- | --- | --- | --- | --- | --- |
| £'000s | 2016 | 2017 | 2018 | 2019 | 2020 | 2021 |
| Profit or loss  | ‑24,348 | 30,660 | ‑13,021 | ‑111,868 | ‑139,800 | ‑86,000 |
2021* forecast
Moshiri improved the club's balance sheet by a significant injection of cash, initially as loans but now, more recently, being converted into equity. In total, Moshiri has invested a minimum of £450 million (excluding payments relating to the new stadium at Bramley-Moore Dock for current construction work) to meet losses, pay off initial debt and costs of investment in fixed and intangible assets (players).
As a result of his improving the balance sheet and committing to fund a significant proportion of the cost of the new stadium, he has enabled the project to become a reality. The caveat might be that the poor footballing performance, poor player and management selections, a later than originally intended start to the build, and inflationary costs in construction will all impact the development, increase the cost of funding, and require more capital from the owner – or a combination of the three.
Financially (including estimates for 2021), here's an analysis of the revenue we have generated including 2015-16, the financial year Moshiri arrived, the cost of generating that revenue, and how it has been funded: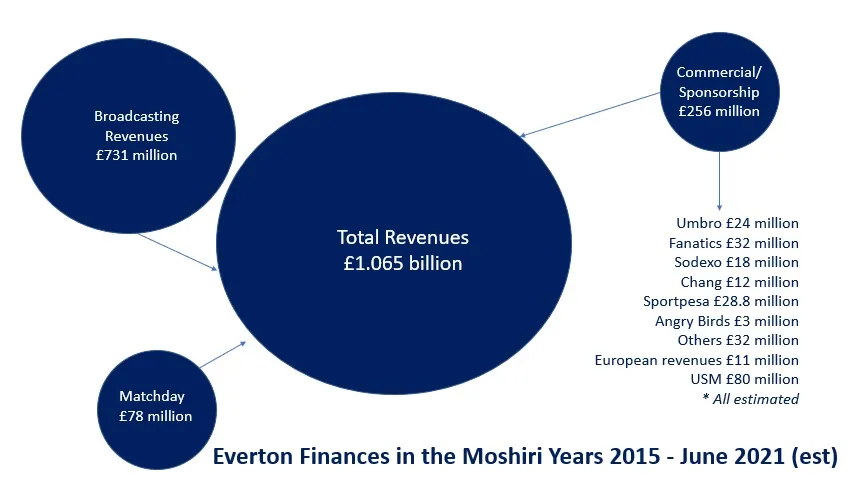 Costs of funding the above: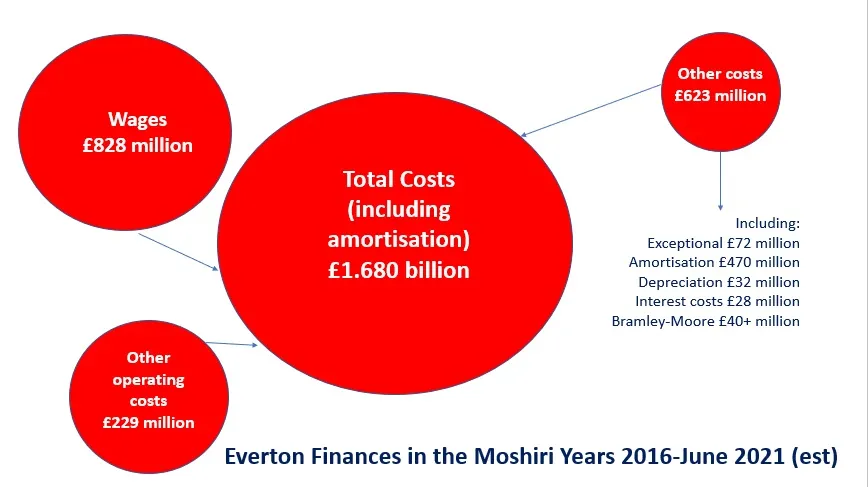 How the losses have been funded:
The increase in funding over and beyond the losses strengthen the balance sheet. Player trading significantly reduces the gap between expenditure and income. However, it was one of Moshiri's first claims on arriving at the club that he wished to retain the best talent.
In mitigation to the scale of losses, Covid-19 would be unlikely to be in anyone's contingency plan and impacted the business significantly, resulting by my estimate in aggregated costs of more than £76 million.
Recruitment
The final four elements of an investor's likely strategy (invest in players, invest in team management including director of football, invest in academy staff, invest in business management) are all dependent on your and your leadership team's ability to recruit successfully.
The greatest single weakness of Moshiri's tenure is his ability to recruit successfully. The failure has been twofold. One is the areas in which recruitment needs to be made (both on and off the pitch) and then most obviously the selections made.
The result of poor selection is obvious. It has two impacts which become apparent over time. Poor selection leads to poor performance. Poor performance reduces revenue. Correcting poor recruitment decisions carries large costs financially and reputationally, those costs increase with each successive iteration. At the very worst, poor recruitment just creates enormous liabilities which then reduce your ability to make corrections. This is the position we find ourselves in today. Hemmed in by regulation and previous losses, combined with being unable to unwind existing player liabilities easily and in extremely tough post-Covid market conditions.
Why has it been executed so badly?
The mystery is why this element of the investor's role has been executed so badly by Farhad Moshiri. Every element of the recruitment and retention process has been flawed. Football ultimately is a people business. You succeed or fail on the quality of your recruitment and retention. Five permanent managers, two directors of football, flawed director recruitment (like Harris) and the failure to significantly upgrade the board, executive management and academy leadership are evidence of this.
Whilst there has been no hesitation to fire under-performing managers and staff on the first-team footballing side, there has been an entirely different approach elsewhere in the business with key board and executive positions remaining unchanged or, where change has occurred, resulted with the appointment of an internal candidate or the relatively swift removal of an external candidate in Harris.
Moshiri has financial elegance, and to be fair his methods of providing capital, conversion to equity, and his timings of such have been exemplary; he knows how to structure his affairs. The relationship with USM is a classic example of how to exploit a "friendly" partner and shouldn't be overlooked.
But recruitment of staff, and indeed recruitment of partners is an enormous problem for the club. Until Moshiri starts making better recruitment decisions at the top of the business, then we can't realistically expect much to change as a club.
Competition is increasing, not decreasing
Worryingly, this corporate inertia is set against a background of other clubs attracting new investors and new boardroom talent. There is a significant shift in the ownership model and dynamics, with a change of ownership allowing greater competition, a new wave of capital, and ideas to enter Premier League boardrooms.
In the last couple of years:
Manchester City have brought new investors in;
Leeds United, Crystal Palace and Wolverhampton Wanderers have welcomed minority stakes;
West Ham United only this week introduced a very successful investor and entrepreneur to their board, having bought a 27% stake;
Aston Villa, although possibly caught in a situation similar to ourselves, have significant new investors and of course, there is the unknown potential of the Saudi fuelled Newcastle United;
Clubs such Brighton & Hove Albion and Brentford have a modern, fresh, analytical style of managing their clubs – a style which is producing results significantly beyond the historic levels those clubs operated at.
All of this on top of the established Top 6 enjoying massive financial advantages through superior commercial performance but, most significantly, year-on-year European revenues.
More investment in capital and management required
If we consider Everton's challenges as a result of the last almost 6 years to be football development, balancing the books, ie, getting back to a sustainable break-even or better position through a more highly performing football team and the funding of the stadium, it's clear that Moshiri from the investor's perspective has to understand that relying on how he has managed this so far and who he chooses to execute this on his behalf is not going to produce different results (unless one is relying on luck).
As a matter of priority, he has to sort his recruitment strategy out, to bring the talent the business so desperately needs.
The financial results displayed above, the performance of the footballing operations, the performance of the commercial operations demonstrate the need for personnel change is absolute. In addition, in a post-Covid world, our competitors are recapitalising and recruiting new talent to their boardrooms.
I spoke about how we needed changes from a governance perspective in Part I; we need changes in recruitment and personnel at board and executive levels if we want to be competitive once more. The costs (competitively and financially) of getting recruitment wrong are plain to see and are wholly unsustainable.
From an investment perspective the challenges today are even greater than in 2015-16; competition is greater and our ability to redevelop a second time is reduced by the poor execution at the first attempt.
Next time, we'll look at how the Director of Football model has worked – or not – to date, and what can improve it?

Follow @theesk
Share article:
Reader Comments (56)
Note: the following content is not moderated or vetted by the site owners at the time of submission. Comments are the responsibility of the poster. Disclaimer
Paul [The Esk]
1
Posted 14/11/2021 at 22:20:41
Forgive my many articles on such similar subjects, but in the absence of professional media scrutiny it falls upon us fans to present reality, or at least something much closer to that espoused by the club and particularly local media.
Thanks for you forbearance
Paul Hewitt
2
Posted 14/11/2021 at 22:44:46
All this shows me, is how much of a disaster Moshiri has been.
Don Alexander
3
Posted 14/11/2021 at 22:53:44
Another well-written piece from an honest, informed perspective, Paul, thanks.
That said, with those credentials, don't be expecting a call for help from Farhad Moshiri any time soon.
Phillip Warrington
4
Posted 15/11/2021 at 01:29:32
The thing I don't get: one year we had 4 players in a successful U21 England squad and 3 or 4 in a successful U19 England squad and yet none of them have been regularly starting in the first team or being sold for big money – unlike their teammates in the same England squad.
Which means they either get disheartened by lack of opportunity in the first team for young players or our academy training and development is very bad.
Jay Harris
5
Posted 15/11/2021 at 04:00:11
It's time for a bit of creative accounting, methinks.
Now let me pose a scenario for the more knowledgeable among us.
Let's say PSG wants to let Gueye go and, for argument's sake, they value him at €25M. Let's say Usmanov agrees a sponsorship deal with PSG for €25M and they agree to let Everton take over the balance of his contract, totally unconnected to the sponsorship deal (nudge, nudge)... All done at different months, let's say.
Would it work, could it work?
Why can't we take Denise Barrett-Baxendale's salary and expenses and Kenwright's expenses and call them charitable donations to EitC. and have EitC as a separate organization?
For that matter, have the academy run as a separate corporate entity.
Any more cognac-influenced ideas from other Blues?
Christine Foster
6
Posted 15/11/2021 at 07:57:54
As the owner, everything is ultimately Moshiri's responsibility, whether or not he actually made each and every individual call. The blame (or kudos) lies with him.
One thing the article misses is actually who has made the decisions in the club that have resulted in the mess we are in. Never was this more obvious during Koeman's tenure which resulted in no less than 5 No 10s on our books.
I think he has backed every manager appointed, and in Ancelotti, he believed in him to deliver at least a Europa League place in his first full season. This may well have ensured less of an impact in FFP.
When Ancelotti walked, he truly left Moshiri in deep kaka... but it was the previous years' mismanagement, recruitment of players and managers that did the damage.
He may well be an astute millionaire but he is clueless with respect to running a club; hence why he kept Blue Bill in charge. Eventual desperation in seeing his money thrown away must have led to increased personal involvement in decision-making, further adding to the mess.
With Benitez in charge, he has a shrewd operator, but he hasn't come close to sorting the club management out as yet. He either acts to do so or he will sell because it cannot continue to burn money.
Tony Abrahams
7
Posted 15/11/2021 at 08:01:30
I find myself to be a bit ignorant sometimes because it's hard for me to read a lot of things that might be that little bit harder to digest. But I'm going to have to try and change because what the Esk has just written in post #1 is possibly the most accurate thing I've ever read since I started visiting this fantastic website.
Ken Kneale
8
Posted 15/11/2021 at 08:37:13
Paul, no need for your apology – your articles are highly informative, very relevant, and place in context to people like me how the club should operate and the really strange dichotomy as to how they are.
It is truly baffling to me (and clearly many of us) how such a rich man is so profligate with his money and how he allows the previous failed regime of Kenwright and Co not just to stay in charge but to deepen their tentacles within the club by appointments across a broad spectrum of business and footballing activity.
As I have said before, I implore you to send each and every article to those charged with running Everton FC. Sadly, as Don says, don't expect a call anytime soon.
Paul [The Esk]
9
Posted 15/11/2021 at 09:51:40
Christine #6, I try to cover that in the next piece on the Director of Football model.
One anecdote though is that, in May 2019, I was getting the train from Lime Street to Euston. I bumped into two now former directors of the club and invited myself to sit with them for the 2-hour journey. We chatted about many things most of which will remain private but I will share this:
I asked them what happened in the summer of 2017 when, as you say, we cornered the market for Number 10s? Their answer was "collectively we took our eye off the ball, several people were negotiating and signing players without the knowledge of all of us. Money would appear in the club's accounts (from Moshiri) and was spent."
We had no strategy, we had no plan, we had no process. As I said in Part 1, our lack of governance has cost us dearly.
Martin Nicholls
10
Posted 15/11/2021 at 09:53:31
Paul rightly refers to Moshiri's early pledge to retain our best players (at the time, Stones, Barkley, Lukaku and Deulofeu). Had he kept to that pledge and then charged management with building a team around that nucleus, we'd be in a far better state both on and off the pitch than we are now. A simple strategy that would have worked by delivering European football, and the income and exposure that brings.
Paul [The Esk]
11
Posted 15/11/2021 at 09:54:10
#8 thanks Ken. Yes, the club do see all my articles!
Ian Horan
12
Posted 15/11/2021 at 10:49:00
Paul, many thanks for your articles. I find them educational and quite frightening in equal measure. Educational for myself and frightening for what I perceive as incompetence or maybe mismanagement of our beloved club.
Joe Digney
13
Posted 15/11/2021 at 12:30:29
Another great article Paul, helps me to understand just how poorly our club has been ran when it should of been one of the most exciting and promising periods of our modern existence.
Also loving the weekly podcast episodes, the 3 of you really delve into some great topics of conversation.
Mike Owen
14
Posted 15/11/2021 at 15:15:17
That's a very impressive piece of work, Paul, which must have taken you quite some time.
Regards the point you make at the top of the comments section, I'd class your well-researched and well thought-out contributions as a public (Evertonian) service.
Three points:
1) I like the way you illustrate the greater competition we face, as other clubs beef themselves up to be more of a force.
2) You say Moshiri has invested a minimum of £450 million in Everton. This is often stated when people comment on us, but I wish more prominence was given to the money the club has received during this same time from the sales of players, such as Lukaku, Stones etc.
You have totted up player trading profits to be £215 million. I would like to see this figure getting the same prominence.
3) ​You say: "to realise the maximum commercial and shareholder value, a move to a new stadium was a must".
I'm unsure what is meant by maximum shareholder value. I'd be pleased if you could explain.
But regards maximum commercial value, if you mean greater matchday revenues etc, I am not convinced.
​The need for this – more revenue from the corporate wining and dining at games – used to be one of the main arguments for new grounds. But I don't think it stands up any more, as isn't that now a much smaller percentage of the increasingly large monies that Premier League clubs receive from broadcasting deals? And doesn't our proposed new stadium have a relatively small number of corporate boxes?
Finally, I would have loved to have seen this:
"I bumped into two now former directors of the club and invited myself to sit with them for the 2-hour journey."
Invited myself, haha!
Tom Bowers
15
Posted 15/11/2021 at 15:24:58
The buck stops at the top.
We all have opinions about, woulda, coulda, shoulda but how can we be sure that someone different to Moshiri would have the club rubbing shoulders with Man City, Chelsea or Liverpool?
Many clubs have decent investment and yet don't do any better than Everton. There are a select few clubs who will dominate and we Evertonians would like us to be one of those clubs but some are leaders and the rest are followers.
It is all business at the end of the day and, as long as the major shareholders are happy, then screw what the fans feel and have to put up with on the field.
They have all the television revenue and merchandise sales and, as long as that is coming in, the club will not get worried.
Their main concern will now be the new stadium and all the revenue it will generate down the line etc. You can be sure season tickets will cost a packet amongst other things.
Sadly, the product on the field is, for the most part, pretty dismal with all the backward and sideways passing which applies to all clubs these days but, like other ''entertainment'' industries, many people will pay to watch or listen to mediocrity.
Paul [The Esk]
16
Posted 15/11/2021 at 16:25:17
#14 Mike, regarding maximising shareholder value, the stadium will certainly add to the value of the club from a "How much is the club worth?" perspective, thereby giving Moshiri a return on his investment.
Moshiri is an investor at the end of the day, he's not a benefactor. Converting his loans into equity at £3,000 a share was a shrewd move (and he can convert another £100 million worth of loans at the same price should he choose to).
Given West Ham have been valued at around £600 million in the past week, it wouldn't be too outrageous to see Everton's value after the new stadium is built at Bramley-Moore Dock to be north of £750 million, providing a significant return for Moshiri if he decided to dispose of the club at that time.
ps: I agree that the stadium itself might add £25 million a year to our revenues... welcome, but not wholly significant.
Stu Darlington
17
Posted 15/11/2021 at 16:27:59
I am not as familiar with the number-crunching as you are, Paul, but if your conclusions are anywhere near accurate, as I am sure they are, we, as a club, are facing a pretty daunting future.
My first question would be: Is there any indication that changes in the decision-making process are imminent? We all know that this is in Moshiri's remit alone.
My other concern is what about the fans' role in all this? We are the lifeblood of the club, major stakeholders without whom the club would not exist, and yet we have absolutely no share in the ownership or control of what goes on.
Goodison has 38,000+ for every home game, plus thousands of others all around the world. We are being taken for mugs, the attitude being that true Evertonians will always turn up, whatever dross they are being served up.
The arrogance of these people is unbelievable. I really hope fan power rises up and bites them sometime soon but I'm not holding my breathe, looking at how long Ashley hung on at Newcastle!
Mike Gaynes
18
Posted 15/11/2021 at 16:33:35
Paul, again a highly informative piece, filled with valuable data for those of us outside the UK media circle who are generally unable to follow the financial machinations of Premier League ownership. Your expertise in this area is much appreciated.
One question, however:
"Poor performance reduces revenue."
How?
I'm not aware that there are more empty seats in Goodison when the side isn't playing well, or that teams lower in the table collect less TV royalties. Please elucidate.
Paul [The Esk]
19
Posted 15/11/2021 at 16:49:43
Mike #18,
Every League position is worth ±£2 million pa in terms of Premier League prize money. So if you budget for 7th and finish 12th, that costs you a minimum of £10 million in lost revenue.
Then there is missing out on Europe. Given the plan was to be qualifying for the Champions League by the end of Koeman's 3rd year, our failure to do so costs us anything from £40 - 75+ million a year and reduces our commercial revenues.

Paul [The Esk]
20
Posted 15/11/2021 at 16:52:16
#17 Stu. I am not aware of any changes sadly.
What can fans do? Be more aware, question the board and the executive? Demand answers from Moshiri as to why he's not making the changes necessary at the top of the business?
Barry Hesketh
21
Posted 15/11/2021 at 16:58:50
I think Mike in his post above, hits on a critical point, poor performances on the field, don't really hit the coffers, there'll still be mostly full-houses at Goodison and the TV revenue won't be that hard hit, although merit places may impact the club to a greater degree. It might also have financial implications for the value of players that Everton wishes to sell, but even if it does they'll go out and buy a replacement at a similar value. The board is perhaps not as incentivised to create a winning team as the fans are, and perhaps that is where most of the angst and dissatisfaction stems from?
As many believe, Rafa's brief is a simple one, keep the club in the Premier League until BMD is opened and the club's movers and shakers will be happy. Although Rafa's salary has been put anywhere between £6m and £12m according to some reports.
I notice there is another TV deal being negotiated by the Premier League with the USA as reported by the Mail via the Financial Times. Which is good news for clubs such as Everton? but perhaps, not so good for match-going Evertonians?
Premier League football clubs are set for a huge American pay-day with CBS, ESPN and NBC fighting it out to secure the league's TV rights for a whopping $2billion.

There were concerns during the coronavirus pandemic that the appeal of English football in the United States may have been diluted, but it is now being reported that the latest sale of TV rights could double what was previously negotiated in 2015.

The Financial Times write that there are just three broadcasters left vying for the prize, with second-round bids due by November 18 as Disney's ESPN, Comcast's NBC and ViacomCBS fight it out.
Mike Gaynes
22
Posted 15/11/2021 at 18:21:48
Paul #19, thanks for the quick response.
Appreciate the informative clarity on the prize money for table position. (Looks like the injuries to Calvert-Lewin, Doucouré and Mina have cost us about £12 million so far, eh?)
However, I would question your characterization of missing Europe as "reducing revenue" or costing us anything. We haven't been to Europe in years. Missing out is certainly a lost opportunity to increase revenues, but it doesn't reduce them per se. And I strongly doubt that anyone in Everton's top management has been delusional enough to budget for those speculative revenues.
Barry #21, great catch on that story -- no coverage from any US sports news outlets yet. But I'm not surprised by that $2 billion number -- NBCSN's audience ratings and response have been outstanding, and they've increased their local audience events around the country for Premier League Mornings. ESPN has been carrying the US National Team games (men and women) and CBS has done unexpectedly well with its Euro coverage. I was startled to see the Spain vs Sweden World Cup qualifier airing yesterday on ABC against two NFL games. So clearly the American networks have finally figured out that there's gold in them thar soccer balls.
Paul [The Esk]
23
Posted 15/11/2021 at 18:40:48
Mike, appreciate it is not lost income but I have no doubt we budgeted for and spend accordingly on the belief we would have regular European football. That at least provides a logical explanation for the amount we have spent if not on whom it has been spent. :)
Jay Wood
[BRZ]
24
Posted 15/11/2021 at 23:11:14
Paul, in your list of things Moshiri needed to do to make good on his investment you list 'Fixed assets' with the description
'to realise the maximum commercial and shareholder value, a move to a new stadium was a must. Further investment in training and other ancillary services was likely to be essential too.'
How does this square to the first thread of your latest series of eassays in which you stated you believe that Moshiri is open to selling Everton before the new stadium at Bramley-Moore Dock is completed? As I queried then, that would surely be a losing investment strategy.
You have long been critical of the stadium design as lacking in many more corporate boxes than is planned. This ignores that the club intends to implement and expand on the lucrative hospitality packages already operating at Goodison Park.
There are no fewer than nine different suites with differently priced packages which potentially at BMD will attract numbers in their 1000s, rather than 100s. Such a strategy will appeal to a wider audience and be more accessible as well as generate greater income than the more limited corporate lounges that you have expressed a preference for. The new Spurs stadium follows this very model.
The packages offer a full day match experience within the stadium, ensuring the club pocket match-goers hard-earned rather than the third part eateries and hostelries.
Do you still stand by your earlier claim that Moshiri has been so spooked by events that he is willing to sell the club (at an inevitable loss to his overall investment) before the BMD stadium is completed?
Derek Thomas
25
Posted 15/11/2021 at 00:17:35
Eso, detailed as always, and - not your fault - mostly over my head as always.
What would be (in your opinion) with BMD finished, debt converted to equity, his break-even price?
Given the recent sale of 27% of West Ham, my back of beermat calculations come out to £1.4 - £1.6 Billion...comprised of 100,000 shares up from a notional 35,000.
And I Would hazard a guess that it wouldn't be a really truely break-even price as all his 'loses' would be offset against other business profits... or he's not worthy of the title 'Billionaire Accountant'.
What I'm worried about is that he 'sees his financial arse' so to speak and bails out, selling us for a notional tenner just to get rid... though that does beg the question, who would buy us?
Then all that sound stable Moshiri backed debt becomes EFC's millstone debt.
Maybe an alternative title should be, "Ch'i 'hu nan hsia pei" - "He who rides a tiger is afraid to dismount."
It could be that having an ex rs FSW of dubious capability as a manager is the least of our problems...A s always with The Ev – more questions than answers.
Danny O'Neill
26
Posted 16/11/2021 at 02:15:11
Great stuff as always Paul and Michael K should delete post number 1. How dare you apologise! I was reading this post on my travels and waited for the jet lag to go before responding. Man City at 8am Sunday, so I can keep the US gang company!!
Like many, we certainly can't knock Moshiri for a lack of personal investment and we finally have a new stadium in flight. I like the 6 categories you put up. Now if I'm reading correctly. I do glaze over with to much financial detail so please excuse if I've misunderstood, but he's got a 3 out of 6 so far??
The crucial "must do better" (much, much better) are Football Management, Intangible Assets and Build a Better Academy. They are all linked together by the poor decisions or lack of real changes made in recruitment and appointments on and off the pitch. He trusted people with his money and they went on a reckless shopping spree. Yes, ultimately, it all comes back on him, but these are areas he needs to fix and change strategy. As you say, as a matter of priority. Thanks for sharing the former Directors conversation. That kind of confirms what many suspected that summer.
On that note, Martin @10. You've only just gone and given me my one and only opportunity to play the "I have it on good authority" game that I never can because I rarely, if ever, have!!! Thanks mate!!
A colleague of mine at the time had it through a very, very good connection of his. Sorry, but I really can't reveal who as there's a bit of sensitivity there, but very close to Moshiri. The owner did pull the stops out to keep Lukaku. I saw the messages between him and his friend (who I didn't know personally) and he showed me a few pictures. Essentially, Moshiri & Lukaku agreed that the player would give us another season to see where we were (Europe), as he was looking to leave earlier. Someone will probably stamp on my chips now and say that's common knowledge. But like Paul's revelation, even though we suspect it, it's interesting to hear it first hand or see it in writing from a reliable source. Well, there's the end of my extremely short insider knowledge career!!!
As the eternal optimist when it comes to Everton. He hasn't failed just yet.
The Director of Football article is wetting my appetite already, although I'll probably get repetitive in my responses!!!
Eddie Ng
27
Posted 16/11/2021 at 04:40:59
Very nice article, Paul.
However, this also illustrates the fundamentals of human beings, ie, every individual, no matter how successful, has his weakness and Moshiri is no different.
Perhaps one thing which did not (explicitly) mention on Moshiri's weakness was that, while he was a guru in capital investments, he failed to recognize (or was unwilling to accept) that he was not a man-manager.
He might know how a "theoretical good structure" for corporate governance was pivotal in making the business successful (thus introducing DoF) but, in practice, he seemed to have no ideas on how to create this "good" structure, not having any ideas on how to "implement" the established structure.
To describe it using corporate governance theory, the owner and the whole management don't seem to have any ideas on "institutional activism" that would cause fundamental changes from within the club, and relied on external stakeholders (eg, fans) continuously trying hard to make some "noises" so as to boost, at least, marginal changes...
Perhaps Moshiri should also learn how to make better use of stakeholders (not necessarily within the organization) to catalyze fundamental changes within the club.
Paul [The Esk]
28
Posted 16/11/2021 at 09:14:26
Jay. Happy to answer your question.
From an investor perspective, if funding is proving difficult to obtain at terms Moshiri is willing to accept, the option of selling the club still exists. By converting loans to equity at low values, he could still at least generate a small but positive return. Clearly, if he has the third party funding to build the stadium, the return on his investment would be greater by selling after completion.
Re the new stadium at Bramley-Moore Dock, I have made two observations consistently:
One is that the uplift in capacity is small relative to the cost. We will have perhaps the 8th or 9th largest stadium in the Premier League. Is that the limit of our ambitions?
Secondly, that the ratio of premium seating to general admission will be lower than that of all the Big 6. The impact of that is that the average yield per seat will be lower, thereby reducing the increase in future matchday incomes.
For clarification, I never claimed Moshiri was "spooked by events". Like all good investors, he will always evaluate whether he should add to, remain neutral, or dispose of an investment at any given time or market conditions.
Laurie Hartley
29
Posted 16/11/2021 at 10:09:38
Paul # 28 - thanks for the article - to be honest every time I look at them numbers it upsets me. Heaven knows what he thinks about it.
Anyway it seems you feel that if the right offer came along you think he would consider selling it perhaps. How much do you think the "right offer" might be?
By the way - I think there would be buyers.
Jimmy Salt
30
Posted 16/11/2021 at 11:49:30
COPQ who's looking at it though?
Mark Taylor
31
Posted 16/11/2021 at 12:22:23
As always, Paul's articles are fascinating and alarming in equal measure.
The question the above raises for me is how an investor determines what level of investment can be sustained, relative to the overall size of the cake that is being fought over and what a realistic slice amounts to for the investor. While this cake has potential to grow further, maybe much of the growth is already baked in, certainly for UK broadcast revenues. And the bigger slices, Champions League entry, are basically fixed at 4 per year.
Given as Paul says, there are lots of new, rich owners, presumably all trying to target one of those 4 places, my assumption would be that a very large proportion of owners are going to find their investment plans seriously misaligned with their likely value creation. Right now, we seem to be firmly in that category.
On top of all this, you face the risk that the cake could simply be taken away entirely and a new one baked in which your club is not an ingredient.
I can't think of too many business sectors which would be comfortable with a certainty of failure, for a sizeable number of participants, implied by that. Is football inherently a 'boom and bust' sector?
Jay Wood
[BRZ]
32
Posted 16/11/2021 at 14:57:03
Paul, you get no arguments from me on the dysfunctional management structure that has long been in place at Everton. This pre-dates Farhad Moshiri. That he has failed to address this is a bad mark against him.
All his missteps and wasteful largesse are self-evident. Such is the cynicism amongst the fan base that a populist dialogue circulates that everything under his tenure has been a total shitfest.
It hasn't. And the single biggest uptick Moshiri is deserving of is his pursuit of a new stadium for the club, something you list as an essential in your opening post.
The research, the canvassing, the compilation and the presentation of the planning application – including the 'heritage' project for Goodison Park – were world class. Hugely impressive to this Blue, as it was to the City Council and Central Government. Oh! As was his excellent response to the Super Six scheme.
You, Paul, have consistently nit-picked over the new stadium project at Bramley-Moore Dock. In your reply to me, you repeat some of your perceived negatives.
You say 'the uplift in capacity is small relative to the cost.' The uplift is 14k, from 39k at Goodison to just shy of 53k at BMD. A far from 'small' increase of 33%. You describe this as 'lacking ambition', placing us as having only the '8th or 9th largest stadium in the Premier League'.
Here is a list of 2019-20 stadium capacities:
Premier League Stadium Capacities
Only Man Utd exceeds a 70k capacity. Three clubs – Spurs, Arsenal and West Ham Utd (nb:- all London-based clubs) – barely nudge over the 60k capacity. The latter is not a stadium specifically built for or dedicated to football and never hits capacity attendance anyway.
The next three in the list are Man City 55k, Liverpool 53k and Newcastle Utd 52k. Again, the Man City ground was custom-built to house the Commonwealth Games before being converted to a football stadium. That lot is a hotch-potch of loft conversions to a 100-year-old stadium. Ask the away fans what they think of St James Park.
Looking down the list, Goodison currently sits behind Aston Villa with 42k capacity and Chelsea 41k. Ergo, once the new stadium at Bramley-Moore Dock is completed we have 10k larger capacity over those rival clubs – 25% more match-day spectators than both of them.
The state-of-the-art new build – its appearance, location and capacity – doesn't look too shabby alongside the majority of those 'more ambitious' clubs, does it?
You again mention your oft-repeated snipe at Everton having so few executive boxes in the new stadium at Bramley-Moore Dock in comparison to our peers (from memory, I believe it is 12-15) which fails to recognize Spurs have done exactly the same as is already the case at Goodison Park and will be greatly multiplied at BMD: that is, offering different whole matchday experiences at different price scales (seat + suite) to many more 100s of supporters, rather than the more limited executive box experience available to only a few dozen. To me, you repeatedly fail to calculate this into future matchday revenue at BMD.
I remain intrigued to know on what basis you agreed with Christine Foster in your first post in this latest series of articles from you, when she said 'I firmly believe the club is quietly up for sale, that Moshiri has said no more money.' Your reply was 'Christine, yes I buy the theory that a new owner at a suitable price would be attractive to Moshiri, although I suspect the price would be a significant barrier.'

A number of points here:
1) The only story in the public domain supporting this claim was the extremely dubious one from the authorative voice (cough!) of Richard Keys about a mate being offered to buy Everton, back in September;
2) A month earlier, Everton had already broken ground at BMD. If, as Keys and you are claiming, Paul, Moshiri is open to selling the club, why would he sanction the commencement of building work and unnecessarily expose himself to even greater financial risk?
3) Your own answer @ 28 to my earlier query acknowledges that only under certain conditions could Farhad Moshiri expect a small return on his Everton investment should he bail out now.
Now maybe he has had enough, as you and others speculate. But there is absolutely nothing in the public domain indicating that is the case. Indeed, the rehiring of Dan Meis rather suggests the contrary. That Moshiri intends to ride this out.
The news from Stateside, that the US broadcasters are in a billion-dollar bunfight to secure Premier League broadcasting rights further bolsters Moshiri's resolve whilst also making a nonsense of another claim you have repeatedly made in recent months, that revenue from Premier League broadcasting rights have peaked and it is likely clubs will continue to receive diminishing returns from such revenue.
All the indicators suggest otherwise.
Mike Gaynes
33
Posted 16/11/2021 at 15:56:24
Remarkably, there is apparently STILL no US news coverage of the $2+ billion bidding war between the US networks for Premier League TV rights. The Financial Times article that dropped Sunday remains the only definitive report I have seen. Can't wait to see who wins and how much money will be coming to the Premier League clubs under the new deal. We sure can use it.
Money aside, I did read one bit of speculation that CBS and ESPN may be combining for their bid, rather than competing. But even together they can't offer as many potential channels as NBC, and I will be rooting for the outfit that can show the most games. And that certainly appears to be NBC.
Fox Sports apparently dropped out of the competition despite doing a fine job with its Euro coverage (I do so love Kate Abdo!) Fox's NFL and college football commitments just take up too much airtime for them to compete with the others.
Derek Moore
34
Posted 16/11/2021 at 16:56:50
There are conflicting reports on the value of the upcoming US Premier League TV rights deal. A TVRev article from a week ago, for example, cites a perhaps 50% increase in the annual value; other articles in the financial press have been a little more bullish.
Regardless, even a tripling of value in the rights isn't perhaps as earth-shattering as it seems. The annual rights payment is presently around US$150 million – of course then divided equally among the 20 Premier League teams. Thats around £6 million per year per team.
If the TVRev number of 50% is closer to being correct than the more bullish views, £3 million extra each year is not likely to motivate a man like Moshiri much one way or the other. The final announcement BTW, is expected in two days.
I'm sure Paul the Esk will also point out that, as all 20 teams receive the same total moneys from international media rights, that enhanced TV deals actually provide no competitive advantage for Everton over our direct rivals. It's these direct rivals who are leaving us very much behind.
The stadium project is obviously subject to an enormous number of variables, one of which is the general economic conditions of the world as it is funded and constructed.
Those economic conditions, quite flatly, are rather less than ideal to be commencing the build stage of an enormous infrastructure project.
The world's four biggest individual economies have all posted their highest inflation figures in more than two decades; developing and second-world countries have started raising interest rates (the Brazilian fellow could have pointed out that official rates have soared from 2% in January to 7.75% now there so far this year), and we are certainly now far closer to interest rate rises and the end of the cheap money boom than we are to the start in the first world.
Ultimately, if economic conditions deteriorate further that may affect the fundamental assumptions that underpin the entire project. Soaring construction costs or debt finance costs – or even the future potential of them – could be a very real reason for Moshiri to be quietly working on unloading the club altogether. Rather than this being an argument against Moshiri departing, I see this as at least as forceful evidence for a potential impending departure.
PS - Mike G, it was the lack of a Fox proprietary streaming service that scuppered their bid. Without their own streaming, and with the cord-cutting trends, it simply didn't make sense to be in the Premier League rights mix.
Bill Gall
35
Posted 16/11/2021 at 17:11:49
Mike #33,
I read that another provider, Dazn, that's the one I use, is looking to buy BT Sports, giving them the Premier League.
It's come a long way from when I first moved to Saskatchewan in 1976, then I could not even get a result in the paper.
It took until about 1994 before I got to see any games and then it was just who Man Utd were playing.
Jerome Shields
36
Posted 17/11/2021 at 20:21:58
Paul,
Keep the articles coming, they are a guide to the reality that is Everton and give all on ToffeeWeb a standard guiding reference for their posts and their differing opinions.
In my experience, and I was often told by my father, who was on football club committees and boards – a football club that wins cups has a winning Committee or Board as well as a winning team.
Everton have not won anything for over 20 years because of this and won't win anything until this changes.
Moshiri has failed to identify this as necessary, or has thought mistakingly he could directly provide the know-how himself. This has cost him a lot of money and the need to invest more money, as Paul has identified.
This has suited the previous failed regime, who believed that money would improve their deficient management skills, even preempted by new job titles.
Benitez has stated the obvious of a 5-10% improvement in all departments, but is confined to his remit. The other departments of the club need the same, including the board. This would result in a lot of changes in personnel, since the existing personnel are, in the main, not up to what is required.
Benitez is the first in his tenure to identify the problem early enough to do something. This should be a start in the right direction at last. . .
Jim Lloyd
37
Posted 17/11/2021 at 22:10:16
To me, Moshiri has saved our bacon when we were drifting into obscurity under Captain Catastrophe. We'd lost the King's Dock, purely through his arrogance and unwillingness to step down as Chairman.
He kidded us all when he fought off Paul Gregg's bid to takeover, by finding a "True Blue" who came from some god-foresaken place in the east and we found out that all we had to do was let the cheque (in the post) clear and we were heading to the brave new world, with Captain Catastrophe steering the good ship Everton into a star-studded future. Why, we even had Rambo introduced to the crowd... (I was not sure whether he was supposed to be a new player, or what!)
The way I see it, Mr Moshiri was looking to invest in a club after Arsenal's major player rebuffed his and Usmanov's bid to join their Board. Moshiri flogged his shares to Usmanov and went to have a talk with his "good friend" Captain Catastrophe. A bit like "Come into my parlour," said the spider to the fly!
"I've got a club that could suit you just fine, just sign right here and I'll use all my football nous, with your dosh; and Bang! We're up with the big boys in no time!"
Now I might be doing our glorious Chairman a grave disservice here, and for that I'm truly sorry. But in my, perhaps, Liverpool 4 limited educational background, I can't help but think that Moshiri's biggest mistake was listening to Captain Catastrophe.
Moshiri could have just relaxed and enjoyed his wealth; but I think he wanted to prove that he could make a success of Everton FC. In order to bring his wealth into the club, I feel certain that the Chairman had some sort of an agreement, in writing (in order to protect the club from rash moves by the naive major shareholder), stating that he would remain Chairman with powers.
It might be right that, as major shareholder and owner of the club, that he carries the blame for our failure to get into the European spots. It wasn't for the want of trying, but lack of control of certain bods that led us down to the state we are in now.
No-one can tell what Moshiri and Usmanov are planning and nobody knows what the future will bring, so to say he intends to sell the club doesn't ring right to me. I think he wants to make a success of Everton FC and intends carrying on trying to do so.
I also think that he, along with Usmanov, chose Rafa Benitez after extensive talks and I think those talks included Benitez's view of what is wrong with Everton and how would he go about putting it right. I think the reviews that he is undertaking on behalf of Moshiri, will extend to all the football-related areas, including the roles of various people on the board, sticking their oars in on recruitment.
The finance side, I haven't a clue; but even I can see that our retail side was awful and I can remember sitting in the upper Bullens every match and looking at the advert, in pride of place, selling Wiiliy Wong's Pukka Pies, or some such international giant!
So all what's gone on over the last (well, longer than) 20-odd years we've been going slowly into a torpid slumber. That is until Moshiri came along and we started to dream.
Well, we've had them dashed many a time... but I think now there is the beginnings of Moshiri (and is it Usmanov as well? I think so) taking control. They have got a strong manager in, and I think we are beginning to see the battle for the soul of our club.
If that's the case, and I hope it is, for what it's worth, I back Moshiri and Benitez. I also believe we will have our stadium; and that Moshiri will be at the opening of our new home.
Barry Hesketh
38
Posted 17/11/2021 at 23:01:02
Jim @37,
The scary thing is that Moshiri, despite his largesse (apart from the stadium) has accelerated our descent into obscurity, which is some feat given the previous owner's panache for failure.

Jim Lloyd
39
Posted 17/11/2021 at 23:12:22
I'm not so sure, Barry. We were up Shit Creek before he came along and, once Moyes went, we were further up it, in my view.
I think he's to blame for a number of things but I don't think he's accelerated our descent. A bit like that Yank who owned Aston Villa, only he didn't have Kenwright to help him. I think he's realised his mistakes and has taken steps to turn this ship around.
Was it Paul who said he was talking with a couple of previous board members, who told him about the number of people who were involved in buying players? Surely that's the role of the DoF. And as Moshiri isn't on the board, I can only point to the CEO and Chairman.
Still, we'll have to see how things pan out but, in my view, he got Benitez, much against the will of Captain Catastrophe and Benitez has a role to, basically, start from the ground up, which I would have thought the DoF should have been doing for years.
Barry Hesketh
40
Posted 17/11/2021 at 23:22:46
Jim @39,
I think the only winner from Moshiri buying the club has been his friend, Mr Kenwright. I don't expect Usmanov to do as much as some might expect, in relation to Everton matters.
We keep dreaming that somebody will arrest the slide so we can begin a slow rise back up the ladder, but I fear there is nobody at the club today who is capable of that and, with our restricted spending power, it will be an achievement to remain in mid-table.
Jerome Shields
41
Posted 17/11/2021 at 23:33:31
Jim #37,
I agree that Moshiri will not sell Everton in the immediate future. I also think that Kenwright has an agreement in place and this suited Moshiri, the reason belongs to the mystery world of offshore.
Everton would have been in real difficulty if Moshiri had not come along, because Koeman would have been the manager after Martinez anyway and an unrecoverable mess would have sufficed, with no bailout available.
It is interesting that you have extended Benitez improvement of all departments remit beyond what I thought. But, on reflection, you could be right that tangible connections on the Board could come under pressure, which are not covered by any Kenwright agreement. Brands does come to mind, but I think he is more a pawn than a player. It will be interesting to read Paul's take on his role. The new Director of the Academy may find his role a poisoned chalice.

Jim Lloyd
42
Posted 17/11/2021 at 23:46:55
I think it will this year, Barry; and probably as long as this massive overspend takes to get to within the limits. But the overspend will go, sooner, hopefully, than later.
I totally agree with you that it's Kenwright who's like the Cheshire cat (just hope he smiles and disappears right up his own jacksie) and sees his own dreams getting to a climax, him opening the new stadium he promised after he'd lost us the King's Dock.
People have to believe the way they see it; and there's bugger all we can do but go and support the team. We can say our piece but it's at the ground that gives us the only influence we have.
As I said earlier, I think Moshiri and Usmanov have backed Benitez in spite of opposition from Kenwright, and, I think from the Blond Bombshell. I think we have to await events, but I go with the view that Benitez is our best hope by far, for sorting out the mess that, I agree with you, we're in.
Your point that you don't see Usmanov doing as much as some might expect. Well, I can't say what others expect, but I expect him to back Benitez, and I think he will play a massive part in the regeneration of the North end, including our new ground. If I was being cynical, I'd say he would because he'll make a load money, like the Duke of Westminster did with Liverpool One.
But I'm not a cynic in this case; I am optimistic and looking forward to getting to see the back of Kenwright and us in our new ground.
Jim Lloyd
43
Posted 17/11/2021 at 23:56:01
Jerome (41),
That's an interesting post you've written. I never even thought about offshore things.
So you think that Koeman would have been chosen anyway? That's interesting as well. It makes you wonder how much influence Kenwright has been having in all aspects of recruitment... rather more than Brands, maybe?
I think you've made a very good point regarding the new Director of the Academy!
Brian Murray
44
Posted 18/11/2021 at 00:07:46
This club's ability to go forward is totally beyond Benitez, or any manager, with what's lurking in the corridors. They can gag or suppress fans as much as they like but, if we carry on just making up the numbers this season and the next, Moshiri will have to act or wake up and demand better professional people. Just a matter of when. Clock's ticking on you, Billy Boy.
Don Alexander
45
Posted 18/11/2021 at 00:50:42
For decades now, the most ardent club appointee to public view has been The Toffee Lady. Her credentials as a club rep massively outweigh Kenwright's and the board's.
As a financier, allegedly, Moshiri has long since needed, for his and the Everton fans' sakes, to extract his head from whatever receptacle he chose to insert it in six desperate years ago, and just simply stop behaving as a total numpty.
Or is he from the same bizarrely absurd, shyster school of "leadership" that Boris Fucking Johnson graduated from?
Brian Murray
46
Posted 18/11/2021 at 03:50:08
I honestly think being a Blue is very much down the line before his ego and or greed. Look at Keegan when he was national boss. Loves his country but, for the good of it, he stood down and knew he wasn't enough.
Barry Hesketh
47
Posted 18/11/2021 at 22:13:03
According to Sam Wallace in The Telegraph:
The Premier League has struck a record £1.9 billion deal for 6 years of its United States live rights, starting next season, eclipsing the previous deal by almost double in one of its most significant post-Covid contracts.
The agreement with NBC Sports, the current rights holder in the US market, sees a major uplift from the previous deal which was worth around £1 billion for the six-year cycle that ends with the completion of this season, demonstrating the strength of the Premier League in the US. The Premier League has forged a strong partnership with NBC whose high production values it regards as integral to the spread of the game in a key growth market where live rights for all 380 matches in the league season are available.
Jerome Shields
49
Posted 19/11/2021 at 15:50:28
The perception is that there have been no attempts at change in personnel in the internal club management but below is an announcement from 2018:
'The 'Everton Leadership team' was unveiled by the Premier League club's new chief executive, Professor Denise Barrett-Baxendale, in a move geared towards achieving Everton's long-term ambitions on and off the field.
Grant Ingles is set to re-join Everton in July to take up the role of finance director. He will return after a short stint with the club's cross-city rivals Liverpool, where he is currently head of finance.
Alan McTavish has been promoted to become Everton's commercial director, and both he and Ingles will form part of the new commercial and financial team structure headed by Sasha Ryazantsev, who recently took on the role of chief finance and commercial officer.
Club secretary David Harrison is to be promoted to the position of director of football operations, while Peter Shaw will join Everton as director of operations. Richard Kenyon, who has been at Everton since 2014, will take on an expanded role as director of marketing, communications and community.
Finally, Joel Waldron becomes Everton's academy director; Paul McNicholas has been named director of risk and governance; and Kim Healey has been appointed as the club's people director.
The club is still looking to fill one remaining position on the leadership team, with the recruitment process for a stadium development director currently underway.
"I am really pleased to be able to confirm what is an incredibly talented and ambitious team, " said Barrett-Baxendale. "The qualities of those people already present in the team are what we are looking for in the individual we will appoint to the remaining position.
"As a club, it is imperative that we move forward and grow – and I firmly believe this team will give us the opportunity to do that. This is a very experienced, very committed and very able team – a group of people who will be working hard each and every day to make sure we deliver on our club standard of 'nothing but the best is good enough'. "
There have been appointments since then.
All very well intentioned, but totally ineffective. Leading us all to think nothing has been done????
My conclusion from this is our Chief Executive has to go and those who were responsible for the change with her as well.
Robert Williams
50
Posted 19/11/2021 at 17:08:45
Thanks, Paul, a couple of brilliant articles (1 & 2) concerning the malaise at our beloved Everton.
Thanks also to all the regulars for their intelligent contributions to this debate and another thanks to Paul for engaging with those individuals.
Paul has a further article in the series to come – the DoF – and no doubt another to conclude his remedy to get us out of this mess we find ourselves in. That final episode cannot come soon enough for me and I look forward to reading the final outcome – something that reads like a who-dun-it.
I wonder who the culprit will be!!?
Allan Board
51
Posted 19/11/2021 at 17:12:13
Incompetent leaders equals an incompetent product. It's always been the same in any industry and will never change.
Keep Benitez and his chosen staff, we need Moshiri's money for now, but ditch the rest of the football staff and I mean ALL of them.
It's shambolic leadership and mates rates that has got EFC to where it currently slumbers.
How much more disrespectful does this dinosaur club have to be to its fan base before it gets a blanket boycott?
John Boon
52
Posted 19/11/2021 at 22:42:10
The extreme downturn came with the arrival of Koeman. This was when the real and idiotic spending on very average players seemed to begin.
I remember being delighted that we were able to sign players and fill in any weak spots. We had every chance to really make inroads. Unfortunately we made poor signings and on top of that we continued to repeat this tactic for every season since.
We are now backed into a corner. Financial advantages have vanished and we are now unable to sign players who are likely to make a difference.
At the present time, Moshiri's money is unavailable due to our poor management and useless signings of players and managers. We have a long long way to go.
Jerome Shields
53
Posted 20/11/2021 at 09:03:13
Goal Setting
Set Specific Goals. Your goal must be clear and well defined. .
Set Measurable Goals. Include precise amounts, dates, and so on in your goals so you can measure your degree of success. .
Set Attainable Goals. Make sure that it's possible to achieve the goals you set. .
Set Relevant Goals. .
Set Time-Bound Goals.

It is the lack of the above is the key factor. It's all very well employing people, but Everton need to know what they want them to do and achieve. Above all there has to be accountability and a plan.
Even in my post#49 The Chief Executive is talking in terms of 'to have'. The sequence should be :'to be', 'to do 'and then 'to have'. It is clear that herself and those involved in the selection progress are cut from the same cloth, as those who thought they could buy players with available monies and have success. What happens in reality is that the level of competent of those in the organisation bring everyone down to their unaccountable level of competence, including incoming players.
The Chief Executive thought that by having a structure with great sounding titles would result in success. What happened in reality was the Staff took the titles and wages increase and carried to as before. e. g Unsworth took the title of Director of the Academy and the wage increase, but kept his job as Under 23 Manager. In reality he is still the Under 23 Manager who more have to listen to, on a higher wages, with the same level of competence as before, with no accountability.
This is probably the same throughout the organisation.
Benitez is trying to introduce targets and accountability.

Jerome Shields
54
Posted 20/11/2021 at 09:19:31
Jim #43,
I now think that Unsworth will go as Under 23 Manager or onto the Board of Everton. The recent appointment of Joel Waldron from Chief Operating Officer at the Academy to Head of Academy recruitment shows these type of incompetent promotions are still going on. Waldron, the son of a former sacked Head of Academy Recruitment, was given a job as Academy Coordinator at 21 and was promoted to Head of the Academy recruitment at 27. Then moved to Academy Chief Operating Officer at 28 and now is Head of Academy Recruitment at 29. I suppose his Dad could give him some ideas who how to do the job????
I think Waldron could have, unconfirmed, an HND in Sports Management. But anyway he has made remarkable progress straight out of college.

Michael Kenrick
55
Posted 19/11/2021 at 11:22:56
So we have spiralled down (again?) to the simple conclusion: they are all incompetent and all must go.
Clear-out, clean sweep, new broom... it sounds so simple.
It is so simple for aggrieved fans whipped into a frenzy of believing every analysis that condemns the board, the CEO, the directors, the club management, the Academy coaches – no part of the club escapes getting it in the neck.
But actually replacing them – not just replacing them... but replacing them with better. With competence. How is that gonna be done? Who is going to oversee it? The Fans??? I don't think so.
I'm sorry but these apparently serious suggestions, bourne out of understandable frustration, are simply unworkable. Perhaps after Paul has torn the DoF to shreds, he could come up with a realistic workable plan for implementing his changes, including who is actually going to make it happen?
In the meantime... When does this fan boycott start? Sign me up!
Jerome Shields
56
Posted 20/11/2021 at 16:55:01
55# Academy Director @27. Moved aside for Unsworth to Chief Operating Officer. then to Head of Academy Recruitment reporting to Gretar Steinsson, the club's Head of Recruitment and Development and Brands Director of Football.
Jerome Shields
57
Posted 21/11/2021 at 00:21:29
Michael #55,
Unfortunately you are right and there will not be necessary sweeping changes. There have been changes anyway, largely ineffective in delivering and it does look like effectiveness is agenda on the horizon.
Maybe Benitez has a plan to get the 5-10% Improvement in all areas within his remit. It is the only possible show in town that might realistically deliver.
---
Add Your Comments
In order to post a comment, you need to be logged in as a registered user of the site.
Or Sign up as a ToffeeWeb Member — it's free, takes just a few minutes and will allow you to post your comments on articles and Talking Points submissions across the site.
---
---
© ToffeeWeb