Column
O Guerreiro
Committed and loyal, talented and misunderstood outside of Goodison Park, Richarlison has cemented himself in the hearts of Evertonians, especially this season when he rose to the fore as the warrior who scored many of the goals that assured the Blues' Premier League safety
Lyndon Lloyd

16/06/2022
189

comments | Jump to last
It was difficult to truly know what Everton were getting when they signed Richarlison from Watford four years ago amid the acrimony over Farhad Moshiri's luring of Marco Silva away from Vicarage Road and the ensuing legal squabbles. The former Fluminese forward had enjoyed an impressive start to life in what would be his only season with the Hornets but went off the boil in alarming fashion in tandem with Silva's tenure there that would end abruptly in January 2018.
As a result, there were question marks over his temperament and despite scoring 48 goals in the Premier League, cementing himself as Everton's most important outfield player and maturing in demonstrable fashion, those doubts persist among outside observers who refuse to properly assess the player he has become at Goodison Park or give him his due.
Perhaps that is because, in many ways, Richarlison defies easy pigeon-holding. He scores in one of every three games for Everton, possesses great aerial ability and can poach goals in the box with the best of them but he isn't really an out-and-out centre-forward (even though that is his favoured position).
Possessing skill but not always a skilful player, he isn't a natural winger either. His best attributes are often his sheer desire, his determination and a knack for being in the right place at the right time, coupled with the ability to surprise defenders and goalkeepers alike with early shots that find the far corner of the goal with regularity.
Article continues below video content
In all of those senses, he is, perhaps, a very un-Brazilian Brazil international —albeit symptomatic of the diversification over time of that nation's playing talent and style — but it explains why even though he would surely excel on the Continent, he has adapted so well to the rigours of the Premier League. Strong enough to ride tackles, a threat from crosses and set-pieces, and pacy without being renowned for his speed, he seems almost tailor-made for the English game.
Layered on top of that is his drive and loyalty, two more qualities that have made him such a valuable player. His love of his home country and turning out in the yellow and blue of the Seleçao trump everything, of course, but Everton have come to occupy a huge part of Richarlison's heart since he arrived at Goodison Park.
It's a love that is reciprocated by Everton fans for whom "R7" has been a warrior, particularly this past season where his goals and unfailing commitment to the Blues' cause and vital goals down the home stretch of the Premier League campaign were crucial to the club's survival.
Feted with his own song, one he has been known to sing himself in Instagram videos and the opening two lyrics from which — "He's Brazilian" — he had tattooed down his neck last year, Richarlison is the quintessential fan favourite at Goodison Park. Not least because of all those aforementioned qualities he possesses and the way he almost took the burden of Everton's parlous state in 2021-22 onto his own shoulders.
It was Richarlison who regularly engaged with supporters on social media, begging them to keep the faith and to keep bringing the noise to Goodison to drive the players on. He boldly promised that the team would get themselves out of the mess they had got themselves into under the uninspired and near-disastrous managerial tenure of Rafael Benitez, even when under the Spaniard's successor, Frank Lampard, Everton fell five points adrift of safety and were staring into the abyss.
It was a promise he kept with the help of the six goals he scored in the final 10 games as the Toffees achieved safety with a game to spare. One of the most important, a solitary strike against Chelsea brought about by his tenacious closing down of Cesar Azpilicueta, yielded perhaps the most iconic image of a season that produced a few of them — Richarlison, defiance etched on his face, brandishing a "flare" with blue smoke billowing behind him as he celebrated making the breakthrough against the reigning European champions.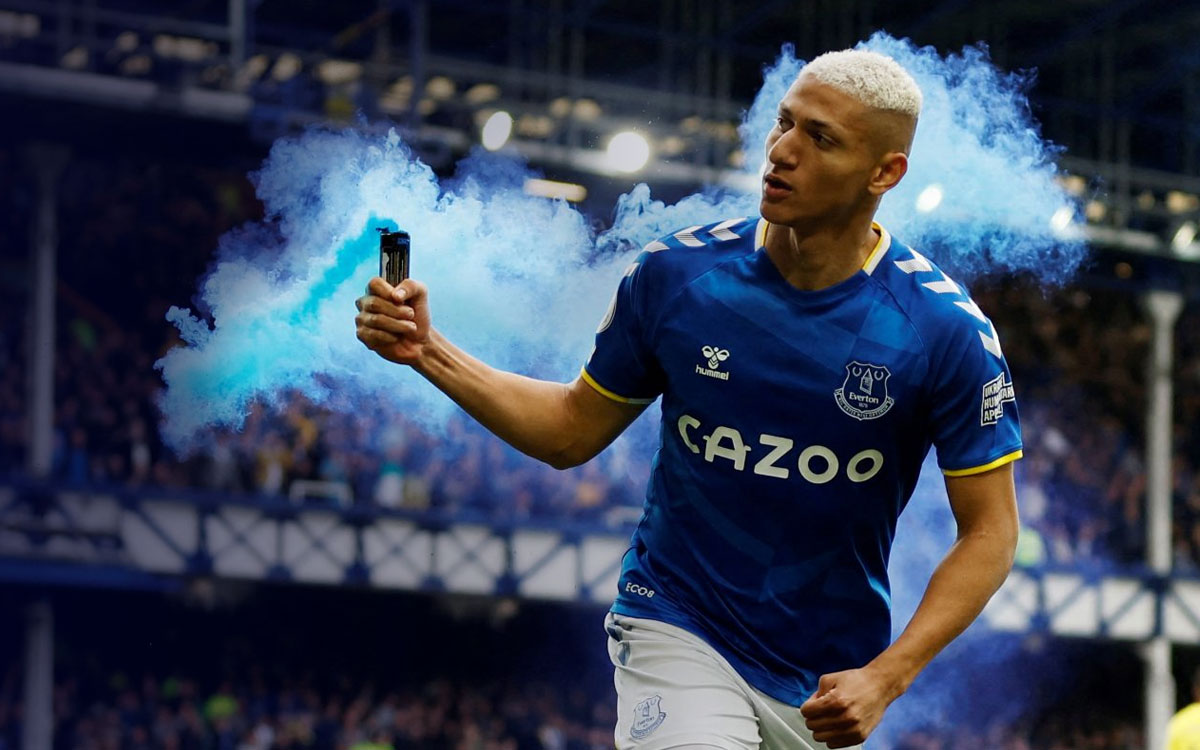 It was classic Richarlison, all business and focus, rarely smiling, even when experiencing the greatest thrill in football — scoring a winning goal. It belies his playful demeanour off the pitch but it's emblematic of a man who knows how close he came to never making it. To being condemned to a life of poverty and, perhaps, a slide into gang life in Nova Vencia where he once been threatened as a teenager with a gun held to his head.
The circumstances behind his fateful 2014 trial in Belo Horizonte are now the stuff of legend for those who revere him. With borrowed football boots but no money for a return bus ticket, he made the 370-plus mile journey from his home town for a trial at America Mineiro that was, essentially, the last chance saloon for his career. Had it not worked in his favour, he would have been stranded and, in terms of professional football, his dreams over.
Within two years he would sign for Fluminese; another year on Silva brought him to England as a raw 20-year-old for the not-insignificant sum of £11m. 11 months after that, he was at Goodison Park having followed his "professor" to Everton and while Silva's time as manager didn't work out, the acquisition of Richarlison was easily his most important contribution.
Silva's sacking left many wondering how his young protege would react but, in typical fashion, Richarlison just got on with it, giving his all for Everton and gradually forming a treasured bond with the club and its supporters. It was such that when it came to the potentially thorny issue of his international commitments last summer that the club acquiesced to his request to represent Brazil at both the Copa America and the Tokyo Olympics, with the latter meaning he would miss all of pre-season and arrive back in England almost on the eve of the 2021-22 season.
By way of honouring the pledge to stay one more year he had made to Carlo Ancelotti before the Italian deserted Goodison a year ago, Richarlison repaid Everton by returning to training just days before the season-opener with no rest from his summer exertions, started the game against Southampton and scored the goal that sparked the Toffees' comeback from a goal down to win 3-1.
10 months on, Richarlison is faced with a decision he must make in order to play Champions League football. He had endeared himself further to Evertonians by expressing his fervent desire to achieve that goal at Everton but a season of marked regression on the pitch and a financial straitjacket restricting the club from being able to match his ambition by signing the required talent to play alongside him, means the Blues are as far away from realising their European dream as ever.
For that reason, coupled with the brutal reality that Everton need to sell one of their most bankable stars, Richarlison could well leave this summer but he would surely do so with the blessing and well-wishes of every Evertonian. He routinely left everything out on the pitch, sometimes played through the pain barrier battling for the Blue cause and is one of the big reasons why this famous old club will kick off a new season this August still in the top flight.
That's not to say, of course, that he won't be sorely missed or break a few thousand hearts by leaving, especially if it's to another English club. Few players get to form the kind of relationship with Everton's fans that the kid from Brazil has done but he forged it in the best way possible — by giving his all for the shirt and delivering when it mattered.

Follow @EFCLyndon
Share article:
Reader Comments (189)
Note: the following content is not moderated or vetted by the site owners at the time of submission. Comments are the responsibility of the poster. Disclaimer
Dave White
1
Posted 17/06/2022 at 00:08:49
Brought a tear to my eye this, beautifully written and spot on.
My spurs supporting mate doesn't see Richy's appeal, probably because the high level stats don't reflect his unbelievable dedication and work rate. And my worry is that because of this perception we won't get his true value.
And (sadly) I agree, couldn't blame him if he goes, but I will be very sad to see it.
Mike Gaynes
2
Posted 17/06/2022 at 00:09:27
This is a superbly-written piece of work, Lyndon. 10 out of 10.
Lee Howard
3
Posted 17/06/2022 at 00:29:09
Awesome read, the article you refer to is worth a read on the BBC.
I would rather they sold DCL and not Richie... Sell DCL, buy some hungry kids as strikers.
Paul Birmingham
4
Posted 17/06/2022 at 00:33:43
In real time, he gave his all, and at the same time the EFC Board, open to question, and all views are welcome, as we are Evertonians.
But Richarlison and Pickford, kept EFC, in this League last season.
I hope he goes abroad, if he's agreed to be sold, but I still hold on for a car boot sale of deadwood, and supplement incoming transfer funds, for the Everton rebuild.
Michael Keane, and Tark, at CBSs no way ?
But I'll be pissed off, if Richarlison, goes, as he plays for the shirt, yes not always on his feet, but he gives his all, for Evertonians.
In truth every player should have the same virtues, playing for EFC.
As it is, it looks a very unclear preseason in terms of the club, stability, as it stands, until, EFC, makes a statement, and I really hope the rumours are rumours, as going to a set up, similar to the Stallone era, of involvement, Planet Hollywood Restaurants etc, and that time, is going no where, for EFC, in 2022.
But let's see, what the club and media, publish.
Surely lessons learnt?
UTFT!

Paul Kernot
5
Posted 17/06/2022 at 01:53:50
When ever it looks like a player is leaving, we debate on here their merits and what they're worth. $51mil to Spurs - never! He's worth at least $65mil. It's huge testament to Richie that, as well as the above, there's at least as many comments saying how much we'll miss him if he goes and how hard he'll be to replace.
Jack Convery
6
Posted 17/06/2022 at 03:19:17
I will definitely miss Richarlson, the player, the goal scorer, the workaholic but most of all Richarlson the man. His achievement to become Brazils Centre Forward is amazing, given everything he had to put up with during his childhood and teenage years. To escape that environment and succeed in his chosen profession is a testament to his bravery, tenacity and passion as a human being. He will always, in my mind any way, be a Brazilian 1st and a Blue, a close 2nd. He got us and we got him. His ankles after most matches, must have been bloodied and bruised, yet he kept going and gave his all for us, for Everton FC.
Whoever he goes to, will get a great player. I just hope he doesn't go to Spurs, as I can't see were he fits in there with Kane, Son and Kulashevski. I'd hate to see him as, a bench warmer and bit part player. That would be a total waste of his talent.
Good Luck Richy. Just remember we would love you to stay.
Kieran Kinsella
7
Posted 17/06/2022 at 03:56:00
Lyndon
Very well put. He's a divisive player in a sense with fans (Derek Knox) and detractors. But you homed in on his key attribute: heart, which is why he's more loved by so many relative to past players of similar ability and output. He was a key figure in the n our survival maybe along with Pickford just one of two who made a difference.
If money was no object then I'd keep him long term a la Hibbert. But if we stay as we are another relegation battle is on the horizon bearing in mind we're weaker than we were with out of contract departures. I hope then that he or DCL go for an inflated price and Lampard and Kev do something no one has done since Moyes the summer Rooney left — improve us while making a profit.
Tony Hill
8
Posted 17/06/2022 at 06:56:26
A fine piece. You're right about those last goals for us, they were crucial obviously.
A strange player, I can't readily think of anyone similar down the years. I hope he does very well in a better team.
Garry Martin
9
Posted 17/06/2022 at 07:48:32
Love this player, his appetite, commitment, running, skill and desire are rare in modern players.
Will be sadely missed if he leaves, however, I for one, will always welcome him back as an opposing player.
David Bromwell
10
Posted 17/06/2022 at 07:51:21
Lovely words Lyndon, I hope Richie gets to reading them himself as it is a fine testimonial. There is a huge amount of romance surrounding supporting Everton and because of his efforts last season Richarlison will forever be remembered as a hero.
Bernie Quinn
11
Posted 17/06/2022 at 07:52:04
Lyndon, a great article as been said already. I really enjoy your writing.
Eddie Dunn
12
Posted 17/06/2022 at 08:09:40
Nicely written piece Lyndon -you sum his contribution up so well.
What a transformation after he was falling to the ground far too easily in his early days here.
One can only wish him well if he does go. A lad who always gave 100%.
Danny O'Neill
13
Posted 17/06/2022 at 08:14:54
I know some question his ability, but you cannot doubt his commitment, desire and contribution. One that kept Everton in the top flight of English football. His reaction in the changing room scenes after the Palace match was fantastic.
I love the guy. His frowning and frustration? It's because he cares. And I'd be pissed if I was being targeted and blatantly getting lumps kicked out of me with little protection from the officials. If that was Mo Salad; just don't start me.
He just wants to play football, literally all of the time. And he has a bond with Everton that will never be broken regardless of what happens this summer.
If he goes, I hope it's to the continent as I wouldn't like to see him play for another Premier League team. Not that he wouldn't be welcome back - he always will be.
I've posted before, but there's a great YouTube clip of him and Mina at a local school dancing with the kids. He's passionate, he cares. I don't know him, but he strikes me as a humble person who is grateful for the fate he was afforded. Not your stereotypical modern footballer. If he does go, it's a shame, because I think Lampard is a good match for him to be mentored under.
I often look on in surprise when people criticise foreign players and South Americans in particular. Not tough enough. Won't like it when it's cold. Rainy nights in Stoke etc.
These lads come from tougher backgrounds than we can imagine and real, extreme poverty than we can't imagine.
For me, he'll always have a place in our hearts. And I know we will always have one in his.
Mark Ryan
14
Posted 17/06/2022 at 08:46:39
I'd sooner come second in the league year on year with a team full of triers, characters, players who engage with the fans than win it with a team full of faceless no marks who play mercenary football.
Supporting Everton to me is more about just winning and losing football matches. I want our players to look like they enjoy playing for Everton. I want players to engage with the fans, I want to see them visiting Alder Hey at Christmas and I want to see them Parade their toddlers at the season end and smile. I want them to be blue. Richarlison is all of those things and it will be a very sad day when we sell him
Roy Johnstone
15
Posted 17/06/2022 at 09:15:32
I remember being in the top balcony when Iwobi scored against the barcodes in the 100th minute and seeing Richarlison run to the celebration in seconds. He loves us, we love him. he will go with my very best wishes, but I will be gutted. Not perfect, but a special man.
Brian Williams
16
Posted 17/06/2022 at 09:19:52
He's been slated on here many a time which sadly shows, IMHO, that we don't always have the most knowledgeable of fans like it's often quoted.
He didn't/doesn't seem to fit the profile some Evertonians expect and want and didn't/doesn't sometimes behave the way they expect and want.
The failing, again IMHO, is on the part of those people not Richi's.
The lad is an absolute star, with his own personality that he hopefully won't change to suit others expectations.
If you want affirmation of him as a player you only have to experience how much the rs hate him, and I mean hate.
They hate him because they fear him.
I'll be gutted when he's gone and he'll be a huge loss I think will be impossible to replace even if the club spend all of what we get for him.
Robert Tressell
17
Posted 17/06/2022 at 09:21:52
Great article. Enjoyed reading it. It's a shame we didn't kick on from the Silva season when we finished 8th and surround him with better players.
I still view him a modern forward rather than a striker or left winger.
Playing high up the pitch in a fluid front three he could score lots of goals. His attitude, determination, work rate and skill will be an asset to any team in world football.
For us, he's done one for the team tracking back down the left flank but it's not done him any favours.
And I don't see much of a partnership with DCL either. They don't really suit each other's game.
I'd love him to stay but this is almost certainly the summer when he moves on.

Peter Carpenter
18
Posted 17/06/2022 at 09:22:29
In a team of no ego, 100% effort every time, no superstar bullshit, play through pain, run through walls players, he would be first pick.
Great if he stays, good luck to him if he goes (please not an English team).
I even love his sulks when he's subbed.
Tony Everan
19
Posted 17/06/2022 at 09:24:01
At £65M, Real Madrid, Chelsea, or PSG (hopefully abroad and surely he won't go to Spurs) will be getting a no-brainer bargain. It's not a gamble at that price, he's a 25-year-old Brazil regular, an influential player and an amazingly resilient athlete who will be better still in a top team with a proper midfield and defence behind him. At Everton it's almost 50/50 defensive/ attack responsiblities, at one of those three clubs it will shift to 75/25. His goal ratio will improve further.
We've been blessed to have him, he's been a much needed conduit to restoring pride as an Evertonian. He's defiant and has a never say die attitude, and really I think that those attributes are what perfectly coincide with what it means to be an Evertonian.
There's not many players who go with best wishes and continued love of supporters. Richie is in that esteemed group. Wherever he goes I will be supporting him too, and hoping he does well. Unless he is playing us that is, in the 2023-24 Champions League.
Sorry, I'll get my coat.
Barry Rathbone
20
Posted 17/06/2022 at 09:40:29
He's one of our better players but too often devotees feel that equates to being a great player especially if they feel he
"gives it a go"
- it really doesn't.
With the exception of Rooney he is destined to join the list from this parish who become bit part players at "proper" football clubs he has too many flaws to be a genuinely top player.
Brian Harrison
21
Posted 17/06/2022 at 09:43:58
Lyndon I think without doubt your finest piece, encapsulates what most fans think of Richarlison. I think the closest Everton player I have seen to Richarlison was Dave Hickson, he like Richarlison carried Everton for years.
Should Richarlison leave as seems likely I would have liked him to go abroad as seeing him at Goodison in another teams strip just wont seem right.
I know some have a go about sometimes going down to easy, but I was listening to Tim Vickery a journalist who lives and works in Brazil, and he said the generation that grew up playing futsal is the reason why so many Brazilians go down easy.
I genuinely believe without Richarlison we would have been relegated, and for that we will always be indebted him for that. Lyndon also talks about Richarlison the man, I have read so many stories of his kindness to young Blues fans. either giving away his boots to a boy who waved walking past his house, or the many gestures he has made to all the fans. He may not have been the most talented player I have seen in a Blue shirt, but for sheer commitment to the cause then he was right up there. I would love him to stay but I can also understand his desire to want to play Champions league football. He is Brazils current Centre Forward and I can think of another who played in that position for Brazil who didnt play in the Champions league.
So if he goes I wish him all the luck in the world.
Laurie Hartley
22
Posted 17/06/2022 at 09:44:34
Viva Richy!
Peter Mills
23
Posted 17/06/2022 at 09:47:06
A great piece, Lyndon.
Richarlison certainly won me over. I will admit that he frustrated me at times with his droopy shoulders and unhappy face, but it turns out they were signs of frustration rather than disinterest. He stepped up to the plate when we really needed it, and we will always be grateful to him for the memories he provided for us.
I suspect he will leave because of that fierce ambition within him. If so, I hope it is to Real Madrid, where we would probably never have to see him play against us, the manager would be good for him, and he might just continue to torment this season's Champions League losing finalists.
Brent Stephens
24
Posted 17/06/2022 at 09:49:50
Woke up a wee bit down. But reading this has lifted my spirits.
There was only one game last season where I suspecyed Richarlison wasn't as bothered as he normally is. Normally a 90-minute guy, playing wherever he's asked, to do whatever job he's asked.
The falling-over antics detract from the actual physical punishment the guy takes. A bit of rolling over and he's up and at 'em again. Never wants to come off.
Do we have anybody else who covers so much ground? From penalty box to penalty box before you can sing "Oh, we hate Bill Shankly and we hate St John...".
I wish we could keep him.
Rick Tarleton
25
Posted 17/06/2022 at 09:51:57
I think you're spot on here, Lyndon. It's Richarlison's warrior character that is his greatest asset. He is by the highest standards a very average finisher, often missing quite straight-forward chances, but scoring more sensational goals.
But he never gives up, whatever, you say about him, he doesn't disappear from games. He's constantly running and chasing, even his theatrical diving, which so annoys opposition teams and fans, is part of that desire.
I think he epitomises the new breed of South American players, think Luis Suarez, they give their all, including cheating, diving, theatricals, but they are beloved by their own supporters.
If he goes, he will be missed undoubtedly; he isn't a great player or a particularly gifted one, but he is a warrior and Calvert-Lewin could learn a lot from him.
Dave Abrahams
26
Posted 17/06/2022 at 09:53:36
Barry (20),
Not many would agree with you; I'm one of them that do. I suppose that makes us fans that are not very knowledgable about football players like Richarlison.
Joe McMahon
27
Posted 17/06/2022 at 09:58:39
I agree that the influential media and the average football fan don't see what he truly brings to the team.
He's been my favourite player for a long, long time. You don't become a Brazil regular for nothing. For me (with Grealish worth £100M) he's worth £90M. An awesome player that we as fans and the team will miss.
Kevin Prytherch
28
Posted 17/06/2022 at 10:14:22
Despite all the rumours, I hope that Richarlison looks to the World Cup and thinks he will have a better chance of playing if he's a leading player at Everton instead of a bit-part player elsewhere.
Brent Stephens
29
Posted 17/06/2022 at 10:25:24
"He has too many flaws to be a genuinely top player."
That might stop him from breaking into the Brazil national side as well.
I guess it depends what you mean by a "genuinely" top player.
Steve Guy
30
Posted 17/06/2022 at 10:28:32
I will have a heavy heart the day he leaves and the green god of envy for the Club and supporters he goes to. "What if?" will also feature heavily in my thoughts……
Mal van Schaick
31
Posted 17/06/2022 at 10:39:06
Excellent article, that touches the loyalty and passion bases.
I think Richarlison would stay, and until the proposed takeover is either done or dead in the water, I would not even consider selling him. Why would anyone want to sell their excellent Brazilian goal scorer? Quirks aside!
Irrespective of our current financial status, there is always a ways and means. Top six clubs must be massaging the figures for FFP rules, and therefore, we should not be alone in having the books forensically examined.
If the takeover goes ahead and we keep our best players and add other quality players to them, then it can only mean a better league position at least. This can be partially funded by getting the dross off our books.
Mark McDonald
32
Posted 17/06/2022 at 10:45:41
I hate the way the so-called expert commentators and pundits talk about Richarlison. They know nothing about his personality.
I love watching our training sessions. He is always laughing, joking especially with Yerry and Allan and in the past with Bernard. This is a side the media do not see. They only see his game-face.
I hope he stays. (I'd rather see Calvert-Lewin go.) I hope he has a good World Cup v Serbia, Switzerland and Cameroon but, if he goes, I hope he joins Carlo at Real Madrid.
Viva Richie!
Christine Foster
33
Posted 17/06/2022 at 10:55:50
Great article, Lyndon, if he does go you have written a wonderful tribute piece.
To those who seek to diminish his worth to the club, I ask, would we find anyone better given our situation? Of course not.
Is he a fabulous footballer who makes you drool with his skill? Rarely, it's true… but if we had 5 such players, we would be playing in Europe next season.
He is Brazilian. He is ours. He is as proud of us as we are of him. He rarely goes missing, and always pops up in the right places when we attack.
He has a love for Everton, for its fans. He deserves his chance at the top clubs in Europe. If he goes, he goes with the applause of every Blue, thanks to, for without him we would have been lost.
Any replacement will find his boots very big. I wish he would stay, because after the World Cup, he will have the pick of the best clubs to parade a World Cup Winners medal at. Hang in there, Richy, just another season..
Jon Harding
34
Posted 17/06/2022 at 11:49:14
Another Richarlison article?!
Excellent – any opportunity to eulogise our great Brazilian.
The BBC piece from a month or so ago should be essential reading for all Blues, and indeed football fans generally. He is without doubt a top bloke.
And the fact other teams' fans don't like him is reason enough for us to adore him (although cutting down on the theatrics just a little bit wouldn't hurt).
He's surely in the Everton tradition of great players in poor teams dragging the club along by sheer force of will and personality. Names like Cahill, Lyons and Hickson spring to mind.
What's he worth? Over £100M to us because otherwise our fixture list for next season would be looking very different indeed.
Please let O Guerreiro stay a little longer.
Tchau!
Alan J Thompson
35
Posted 17/06/2022 at 12:01:06
Richarlison is a player I would like to see finish the best days of his career at Everton and maybe more a Jimmy Husband than an Alex Young type.
These days, it seems that once a player enters the last 2 years of his contract, then the talk is of recovering any value his transfer would have which seems a must for a club in Everton's financial position, if not just a matter of course given the money in the game these days.
Have Everton offered him a new, improved contract or would that be seen as forcing the issue and if not should anything be read into that? We live in interesting times.
Sam Hoare
36
Posted 17/06/2022 at 12:17:19
Great article. And a great player.
It's a shame we could not build a better team and squad around him.
He is one of our few players who would get consistent minutes at most of the clubs above us.
I'll be sad to see him go but this summer, with a big rebuild needed, feels the right time for me and in some ways I think he would be easier to replace than (a fit) Calvert-Lewin.
£60M minimum and he goes with our thanks.
Danny O'Neill
37
Posted 17/06/2022 at 12:37:04
Changing track slightly, but on the theatrics and going down too easy side, I think young Anthony Gordon needs to be careful.
I don't buy it to be honest. If you're a quick and tricky player moving at pace in the modern game, the slightest brush will send you tumbling. It's hardly as if either go down as dramatically as though they've been shot by the sniper that seems to shoot Salah on a weekly basis. But then us and officials have never been a good match, whereas that lot seem to have some sort of agreement in place.
Like Richarlison, Gordon gets targeted and kicked on a regular basis. And like Richarlison, he is being ignored by officials because he is perhaps developing a reputation?
As others have alluded to, it's a complement. It's respect. If they fear you, it means they respect you and target you.
Maybe Anthony gets off lightly from us because he is one of us? But so is Richarlison now. For life wherever he may go.
Andy Meighan
38
Posted 17/06/2022 at 12:43:21
Barry 20. So what are these flaws that genuinely stop him being a top player? All I see is phenomenal work rate allied to no little skill, a genuine passion for the club, and a desire to leave everything on the pitch.
He gets booted up and down the park every game but gets up, dusts himself down, and carries on. Doesn't help when you've got pundits like Spit the Dog calling him out.
If we had 6 or 7 more with his heart, we wouldn't have had to go through the nightmare of the last couple of months of the season.
Him and Pickford single-handedly kept us up. And for that, if he does go, he'll go with everyone's blessing. Just hope it's not Spurs.
John Raftery
39
Posted 17/06/2022 at 13:07:31
When we signed Richarlison, I had some doubts about the wisdom of paying so much for a player who had failed to score in the final 5 months of the previous season. Those doubts were removed during his first game at Molineux when he scored both goals in a 2-2 draw.
In many respects, he has carried the team over the last four seasons, always giving 100% and scoring some vital goals. He has also been one of the best tacklers in the team.
I wish him well.
Raymond Fox
40
Posted 17/06/2022 at 13:25:53
We would all like him to stay, I presume, but he will leave, I fear, to a better side.
That's one reason why we are stuck with the never clubs, if they're Top 6 class, they're off and who can blame them?
The way the Premier League is now structured, we are in a straight jacket, the usual Top 6 clubs have too much of an advantage over the rest of us.
It might have been best if they had buggered off and formed their Super League.
Joe McMahon
41
Posted 17/06/2022 at 14:21:25
Raymond, to add to that, Everton are probably the only club trying to qualify for the "Holy" Champions League for the entire 30 years of its existence and have been unsuccessful. Yes, we came very close, but it was still a no.
Which comes first, Everton qualifying for group stages, winning the League Cup, or Liverpool being relegated?
Jerome Shields
42
Posted 17/06/2022 at 14:23:34
There is no doubt that he was one of the main reasons Everton survived the relegation dogfight.
Christine Foster
43
Posted 17/06/2022 at 14:32:43
Reading the article and subsequent comments made me pause and think.
For many of us have great expectations of the world class players we should buy, of the rising stars who command a fortune and are destined for the top clubs. We are no longer at the top table, if we have or develop a star, we cannot keep them. We are resigned to it.
That is the biggest condemnation of the club I love. It is the legacy of one man, one whose love for the club fueled his ego as he fiddled while Rome burnt.
Now, as sharks circle, trying to take a bite out of our club, a player of international standing contemplates leaving the club to better his career.
It's come to this once more. No longer can Kenwright wring his hands and blame a lack of funding, opportunity wasted, a price to be paid. But it won't be the board, it will be the fans, it will be the sale of our better players to make up for the sheer bloody-minded incompetence of those running the club.
Replaced with free transfers, or loans once more. Our hopes squandered as we blithely accept the probable transfer of one of the very, very few, who gave all he had for the club.
One cannot blame him; no, that responsibility lies somewhere else...
Kevin Molloy
44
Posted 17/06/2022 at 14:47:48
Great summary, Lyndon.
The biggest surprise about this? After Watford's bite, we'll make about £10-15M profit. Moyes wouldn't have got out of bed for that, and this is on our best signing arguably.
His personality is why we will all regret his leaving, his attitude. But he's not kicked on the way we thought; he doesn't do assists, he's not prolific.
The real fear in his leaving is we blow the money on dross, like we usually do.
Kevin Molloy
45
Posted 17/06/2022 at 15:03:57
Just a further point on the above. Our struggle of the last few years does mean surely we have to look again at Moyes's reign. Most would say it was a good tenure, but from here it now looks absolutely outstanding.
To never be given a transfer budget, and to build a team worth well over a £100million, and to have that club as ordered as it was, is a huge testimony to his managerial talent (without discussing at all the style of footy).
Given we've subsequently spent half a billion to be put in an immeasurably worse position shows very clearly the value he brought, to the Teary One above all. No wonder he was always greasing up to him.
Robert Williams
46
Posted 17/06/2022 at 15:21:18
Lyndon,
I wasn't aware that Richarlison was into 'pigeon-holding'. I always thought that was the big fellow's domain... Still, I could be wrong!!
Danny O'Neill
48
Posted 17/06/2022 at 15:53:31
We are not stuck. We are not a never club. We are Everton.
We will break free from that straight-jacket, Raymond.
Moyes did have a decent tenure, Kevin. I get what you're saying in the context of what just happened, but just good. Good enough in his early years at the time, but not good enough for my club over time. For me, looking back, a period where we accepted mediocrity as success.
We are better than that. We are Everton and Everton expects better. I do and always will.
Call me a fool, but then you could have said that about Manchester City fans 20 years ago when they were in the 3rd tier of English football expecting more.
Pete Clarke
49
Posted 17/06/2022 at 15:55:37
I spent a couple of years in Brazil a few years ago, so I had the privilege to see quite a few top class games at Morumbi in São Paolo and the Maracana in Rio. A 16-year-old Ronaldinho was on the bench for Gremio in one game I went to but unfortunately I did not see him play.
For me, though, the best football to watch was either on the beach, the gravel pitches scattered all over the cities, and also the indoor futsal. These places are where the kids learn their silky skills and it is truly remarkable how many of them are comfortable with the ball even at a young age.
Control of the ball seems effortless and yet, even there in that football mad world, the game is changing slowly to a more workmanlike defense-orientated type of football we have been watching in the UK for many years.
I think it started in the Dunga era where players of his ilk where preferred to the more flamboyant players for the national team as they realized winning was more important than entertaining. I think Richarlison is a product of this kind of player emerging in Brazil and other South American countries.
I read a great story in a sports journal called Lance. My girlfriend worked there so I got a free copy every day. Anyway, this story went on to say that there was so much corruption in Brazilian football that a lot of average players were getting called up to national level.
At that time, for a Brazilian player to go overseas and play football, they had to have been involved at some national level for a certain period of time. Inevitably this allowed the players to become noticed by foreign teams as well as obviously giving them hope to get out of poverty and earn some money for their families.
It was stated that there were 1,460 Brazilian players playing professional football worldwide although most of them were certainly not at a great level and playing in places like Iceland, Russia etc and also in very small places like Cyprus and even the Faro Islands.
Most of these players came from tough upbringings in the favelas (shanty towns) but even so, this would have been uncomfortable for any Brazilian who was used to constant sunshine if nothing else.
However, they loved playing football, hoped to be picked up by bigger clubs and most of all their wages were sent home to keep their families going.
The corruption side of it was that these players went overseas for inflated fees and this money was shared amongst managers, coaches and football executives throughout the Brazilian game. Nothing new about corruption in Brazil as I've witnessed that first hand.
Back to our Richarlison. He has infuriated me sometimes with his theatrics. I know I would despise him if he were doing this against us and it has been mentioned about our own Kirkdale boy, Anthony Gordon, throwing himself around. I really hate this behavior and hope Frank Lampard gets onto him about it or anyone else for that matter.
So Richarlison has gone beyond his duty in rescuing us from certain relegation. He's not perfect with his dribbling and passing but he makes up for that with his sheer effort, goals and assists.
I personally would not allow him to leave because given our restrictions right now he is in fact irreplaceable. We need two top players close to him to allow him to flourish. If we have not improved next season, then give him his wish. Without his goals and teamwork, though, we will go down.
He's a bit of a loner I think but he certainly has mental toughness to have got this far in life, so we have to love him for that.
Well I'm nearly 58 and I've got that iconic photo of him with the flare on my phone so – whether he leaves or not – that's staying because I love it.

Steve Brown
50
Posted 17/06/2022 at 16:08:50
The price for any club wanting to buy Richarlison will not be £51 million.
His valuation by the club will be far higher, and if no club matches it, then he will be wearing an Everton shirt next season.
Kevin Molloy
51
Posted 17/06/2022 at 16:22:05
Likewise, Danny, I see what you are saying. And yes the Moyes era was one with lots of angst attached.
I suppose I am calling for greater understanding for the circumstances under which he operated. Not having any money except what you generate by selling players is a hell of a thing if you're competing in the Premier League. You can see where he dug out that "knife to a gunfight" reference from.
We can see now how easy it is to burn through serious money, Let's not also forget when we are trying to excuse Moshiri that he burnt right through that golden legacy. Not only did he waste some of his mate's dosh, he also went through the Lukaku, Barkley, Stones golden axis like a dose of salts. And he did it so carelessly.
It took Moyes 13 years to build up a valuable squad, he went through it in 18 months.
Robert Tressell
52
Posted 17/06/2022 at 16:45:26
I don't think we're a never club either, Danny.
But to outperform our financial position it will take:
- a proper recruitment strategy (such as buying players like Richarlison at source in Brazil rather than paying a hefty Premier League premium).
- an outstanding academy that delivers a decent conveyor belt of talent to the first team.
If we get this right then our moment will come.
Danny O'Neill
53
Posted 17/06/2022 at 16:49:48
Pete, one statement in your post sticks out for me.
"Comfortable with the ball."
That says it all. They are taught to like and want the football. Care for it, not be afraid of it.
In this country, we have too much emphasis on "get rid" and too many young players who are taught to fear the football. The hot potato that needs to be passed on quickly to be someone else's problem. "Rabbits in headlights" springs to mind.
Kevin, you'll have to excuse me. I always play Devil's Advocate with Moyes and have many debates with my Moyes generation brother. For the record, I genuinely appreciated the job he did in the earlier part of his reign, but I also look at how he played down expectation and convinced a generation that average was good enough. The lost generation.
I'm no Moyes basher, but it's a Moyes tactic. He's done it at West Ham. Once the chance of Champion's League qualification was on, he bottled it and talked it down. That attitude must surely resonate through the squad? It's like he's afraid of success unless it happens by chance.
Post 50 years old, I may be approaching the 'old fool' category, but I expect Everton to challenge and win things. That belief will never go away, regardless of who tells me it's unrealistic. We can and we will.
Him and Kenwright were made for each other and played off each other. Keep the natives happy with their lot. In hindsight, obviously.
But what I don't want to happen is that fantastic young fanbase I stood amongst lose the passion and faith they demonstrated last season.
When I was their age, it was easy as we took 2 and nearly a 3rd league title as well as an FA Cup and European trophy.
Those kids showed more passion and belief in the most difficult of circumstances. I'm not going play down their expectation, I'll talk it up. They should expect Everton to challenge. I have the same expectation now as I did then.
But as Mrs Danny says, I'm still Danny aged 7 when it comes to Everton!!
Dave Lynch
54
Posted 17/06/2022 at 16:54:54
I've said it here many times... Moyes was a surrender monkey. He was negative and dour, that must have transferred to the players also.
He tried to dismantle his own "legacy". Also when at Man Utd, he tried to steal Baines and Fellaini for next to nothing.
I'll never forgive and forget his answer to the journalist who asked him: "What does it mean to be Man Utd manager?"
His reply: "It means I can go out and finally try to win a match" or words to that effect.
If Richarlison was playing for him then, he would have turned him into a headless-chicken channel-runner, that I'm convinced of.
Brian Murray
55
Posted 17/06/2022 at 17:02:25
I always thought it an age thing with Evertonians under 40 who never had expectations except the odd cup run and maybe Top 6. It obviously suited Dithering Dave, and his sidekick in the stands embraced that idea.
Me personally, I couldn't stand him but, once again, my idea of Everton FC is different to a lot of happy clappers who, I suppose – after the last five managers – crave for a Moyes-type of 'success'. Not me.
Mike Gaynes
56
Posted 17/06/2022 at 17:16:55
Pete #49, that's a great post.
Your comment about Richarlison being a "loner" (I assume you mean on the pitch, since he's obviously immensely popular with his teammates in training and the locker room) brings out an interesting mystery.
Up front we have two players who both give relentless effort to overcome certain skill limitations, yet they don't play together particularly well. Richarlison and Calvert-Lewin rarely set each other up for goals or work off each other to create openings. Why not? It's certainly not a lack of desire or commitment -- perhaps it's just that their differing styles don't mesh well. Or perhaps it's been the lack of a quality #10 to help them link. Either way, they tend to be unconnected up top -- "loner" is a good word for each.
If those two ever develop a working relationship like Kane and Son, for example, who each know where the other is at all times without looking, they could be a potent strike force. I hope we have the chance to find out this season with a healthy Dom and a still-Blue Richie working together for 30-35 games. Could be fun.
Dave Lynch
57
Posted 17/06/2022 at 17:22:35
Mike @56.
If you are suggesting Calvert-Lewin gives relentless effort, then I'm sorry my mate, you must be watching a different player to the one I'm watching.
Stu Darlington
58
Posted 17/06/2022 at 17:30:29
I fully endorse all the positive comments on here about the lad. I would wish him well if he is determined to go, but would love him to stay for one more season.
If we can't get the right money for him, I think we should keep him. After all, he still has 2 years to run on his contract. If we could surround him with a few more quality players over the summer, we would be nobody's pushovers next season.
I know we are in the last chance saloon regarding money but who knows, another good season from him and his value could go up even further. My big worry is we sell him cheaply and can't replace him… Shades of Lukaku.
I know he's not prolific but who's out there who could replace him for what we can afford to pay? Especially with his work ethic, enthusiasm, and love for the club?
I don't think he will go to Spurs. He is likely only going to be a squad player there and will need to be playing regularly to guarantee being selected for the World Cup. Chelsea… maybe, as they are now sniffing around.
But please, Everton, if he has to go, sell him for what he is worth or not at all.
Robert Tressell
59
Posted 17/06/2022 at 17:37:05
Mike, I also think Calvert-Lewin and Richarlison are not an ideal partnership.
I think it's because Richarlison is just not a winger. He's really a striker who starts from a left-wing position.
I think Calvert-Lewin needs wingers or playmakers to supply crosses (or supply the full-backs to supply crosses).
I think Richarlison needs more technical, fluid forwards alongside him who will drop deep and wide (rather than stay put as Calvert-Lewin does) to create space and play passes to find his runs from wide into the centre.
I dare say they could work as a partnership with a quality Number 10 and a quality right-wing forward or playmaker.
But that is probably one for the past now as I strongly expect Richarlison will leave.
If Calvert-Lewin stays, the team needs to be organised to deliver crosses – with Alli getting into the box to support him.
Mike Gaynes
60
Posted 17/06/2022 at 17:49:15
Dave #57, I see a player who is one of the world's most dominant forwards in the air -- he wins everything.
Dom won 15 aerial duels against Palace. 15. Lost zero. That's insane.
And he's not a radio tower like Ibra or Crouch or Bas Dost -- he's only 6'2". So he wins on pure effort, not height.
I also see that when he's healthy, which we never saw after the first four games of the season, he also covers a tremendous amount of ground.
Dale Self
61
Posted 17/06/2022 at 17:55:21
Definitely my favorite player of this era. While I may have some issues with his attempts to draw fouls, and at times he seemed frustrated with the setup, I never ever felt he was giving up on us and throwing it in.
He always deserved a better pairing up front that could create the kind of space he needs to work an angle for a shot. Richarlison could be forgiven for never really developing his passing play since the play in the final third was always disjointed and relied on individual breakthroughs.
One player I truly will cheer, no matter which club he ends up serving. That does not require a lot of sacrifice on my part because I believe he would try to avoid the Ushiteds and 'Stool FCs of the world.
I will pigeon dance for him when I see him score!
Well done, Lyndon.
Denis Richardson
62
Posted 17/06/2022 at 17:57:05
Great article and spot on.
It's interesting talking to friends who support other clubs, they generally think £51M is a mad price, as in its far too high!
As mentioned above, many likely only see the headline stats and don't fully appreciate (if at all) the sheer commitment he gives on the pitch and the nuisance factor for the opposition side.
You know you'll get 120% every game and he'll pop up with a goal here and there, keep the defence occupied, and provide an out ball when needed, just a few examples.
Will be gutted when (not 'if', in my view) he leaves but will wish him all the best. I just hope it's not to Spurs, he deserves better.
With the club for sale, I wonder if that will have an effect on any major sales?
Mike Gaynes
64
Posted 17/06/2022 at 18:01:25
Robert #59, Calvert-Lewin has a nice ability to lay the ball off, as we saw with Iwobi's dramatic game-winner, and Richarlison has the ability to play some nice passes into space, although he rarely assists on goals. It's always been a mystery to me why they can't find each other's runs.
If they both stay -- which as you point out is highly doubtful at this point -- I would expect that Iwobi might be the full-time playmaker next season. But you're right, Dom desperately needs a supporting forward in the box; of our current roster, Dele is the obvious choice.
However, I'm still standing on my outlier position that Richarlison stays with us until January. I think he will be very cautious about moving now to a top club where he might not be a regular starter -- and would therefore risk his starting job with Brazil at the World Cup, which is his #1 priority. He knows Tite will not start someone who isn't playing every game in his league.
I still predict he'll bang in a few goals in Qatar, maybe hoist the trophy, and then come back and hand in his transfer request. I'm probably wrong, but I can't talk myself out of it.
Shane Corcoran
65
Posted 17/06/2022 at 18:19:35
Really nice piece, Lyndon.
Richarlison had really grown on me. Initially his moaning, diving and low pain threshold annoyed me but I don't think we see as much of that as we used to.
All the positives outlined above resonate with me and I fully understand why fans of other clubs wouldn't necessarily see them.
I think the gap he leaves will be huge and I'd worry greatly for our attempts to replace him.
Terry Farrell
66
Posted 17/06/2022 at 18:38:56
I've said it many times – he is one of my all-time favourite players and I'm an old git of 61.
If you need to ask why it's a nonsense – I don't want Spurs palming us off with two Grade B players in Moura and Winks whilst they sign an A-Star player on the cheap.
Robert Tressell
67
Posted 17/06/2022 at 18:39:18
Mike, it honestly wouldn't surprise me if Richarlison ends up top scorer at the World Cup.
The thing with Calvert-Lewin and Richarlison might just be that they've often played in a poor side together – and miles apart while Richarlison acts as auxiliary left-back.
They might well hit it off in a good team.
Soren Moyer
68
Posted 17/06/2022 at 18:42:16
Thanks for the article, Lyndon.
Why not try to sell Calvert-Lewin instead!? He is replaceable but not Richarlison. Certainly not with Emmanuel Dennis!!
Also hearing that right-back Fabien Centonze of relegated Metz is now available for just £2.5 million! Now that is the sort of signings we should go for.
Danny O'Neill
69
Posted 17/06/2022 at 19:12:50
Funnily enough, I had that conversation with my poor suffering wife over breakfast this morning, Robert. I know, between the lady and the dogs, my family have to endure my often frantic ramblings!
I've mentioned it on these pages previously. Richarlison has played in a poor and underperforming team and stood out. Surround him with better players and he will excel, in my opinion. And at 25, he will get even better. His best days are ahead.
Calvert-Lewin is an interesting one. He needs supply and clearly missed Digne. Give him the supply and you get goals like that winner against Palace.
But he's an in-the-box striker. Not a Harry Kane, who can do all of that but then weigh in with 20- or 30-yard strikes. You won't get that from Dominic.
No two players are the same, but Kane is the closest thing I've seen to Graeme Sharp in terms of being an all-round striker.
Stephen Vincent
70
Posted 17/06/2022 at 19:35:31
Before I get shot down, I am just playing Devil's Advocate here. Richarlison will go and Calvert-Lewin will stay, for no other reason than funds are tight and we don't necessarily need to replace Richarlison as we have Gordon, Gray, Iwobi, Townsend and maybe Dobbin who can all play in pretty much the same position.
Lose Calvert-Lewin and we have no-one to replace him other than Rondon (God forbid) and possibly Simms.
If we keep Calvert-Lewin, surplus funds raised from the sale of Richarlison can be invested in that stellar midfielder we all crave.
I would love to keep them both but that is not going to happen.
Brilliant article, Lyndon, thanks.
Stephen Vincent
71
Posted 17/06/2022 at 19:52:38
Soren, why do we need another right-back even at €2.5M? I assume he will want wages.
Fran Mitchell
72
Posted 17/06/2022 at 19:53:48
Richarlison has been great, he's a true footballer. He works hard, does what he has to do, and he wants to win. But he also wants to have fun.
I love following his social media, he seems so much more down-to-earth and friendly than most professional footballers come across. I lived in Brasil a fair while, and he comes across as your average Brazilian lad.
There was a video recently of him playing with his mates at a big standard astro-turf pitch, drinking 'litrões' of Skol (1-L bottles of the most bog-standard popular lager) in plastic cups, commonly drank in poor, lower-middle-class neighborhoods as it is cheap. Just singing and having a laugh with his mates, just days after scoring for Brazil.
He could have been on a yacht, in the most expensive holiday resorts around… but no, he was drinking Skol, playing footy with his mates, and visiting his family.
The way he is perceived outside is totally unfair and false.
He will be sorely missed, I think he was our Kevin Campbell this season; his form towards the end of the season saved us.
However, he deserves better, and also, he is more easily replaceable than Calvert-Lewin, who is an old-school goalscorer, not as talented, but scoring goals is a premium and Calvert-Lewin, when fit and firing, will score.
Wide forwards however, there are plenty around as, while Richy will be missed, we could possibly invest in a Gibbs-White, Brennan Johnson, Lewis-Potter or someone from abroad for half or less of the fee we receive.
Calvert-Lewin however, we replace with whom?
Barry Rathbone
73
Posted 17/06/2022 at 20:22:33
Dave @26,
The thing with posting on here is generally it's an echo chamber with contrary opinions likely to ruffle feathers and invoke indignant posturing. Not a concern to me but understandably not for everyone.
I would venture our minority view maybe in part due to that as I know several blues who don't quite get the "Richarlison thing". Also, criticism of a eulogy is akin to shooting puppies.
On other club forums, the opinion regarding his ability isn't that complimentary and remarks about him being a Brazilian international mere hapless pap as their national side died years ago.
We'll find out when he ships out.

Tony Abrahams
74
Posted 17/06/2022 at 20:30:38
A great article, Lyndon, which has brought about many sensible and thoughtful posts. I love Richarlison for his sheer will, but I'm not sure how good of a player he his. Even after him playing for us for four seasons, until he plays with better players, and in a better team, then I'm not sure if I will ever know.
I hope he stays, because I love his relentless style; sometimes, I think this attribute is very underestimated, especially in the very physical Premier League. If he does go, it will be with my blessing, because he's never shirked his responsibility whilst playing for Everton.
That picture with the flare is the most iconic Everton picture I've seen since Dave Watson lifted up the FA Cup, imo, and was definitely the icing on the cake of a very special day that belonged to Evertonians.
Terry Farrell
75
Posted 17/06/2022 at 20:36:36
Barry & Dave,
Football is about opinions and yours differ from mine – forget 'shooting puppies'.
He's 25; you've seen him for the last 4 years, and you are happy to see him go. I will wager that he will go on to be a star for Brazil and his next club and he will be sorely missed at Everton.
Robert Tressell
76
Posted 17/06/2022 at 20:52:50
Fran #72,
I tell my 8-year-old son that playing football with his mates will be one of the best things he ever does. Richarlison has the right idea.
Maybe Dele Alli and a few others who have lost their love should have a kick around in a park. And then a litre of Skol and a bit of a laugh.
John Chambers
77
Posted 17/06/2022 at 20:53:30
I would like nothing more than to see Richarlison turning out in his blue Number 7 shirt at Goodison on 6 August – except perhaps him turning out in the shirt in the new stadium at Bramley-Moore Dock in August 2024.
Being realistic, that is not going to happen. Whatever his feelings for Everton – and in my opinion nobody was more committed or gave more than Richarlison to keep us in the Premier League last season, and he does "get" Everton – he has to move on to progress his career.
Personally, he will go with my best wishes for what he gave to the club last season.
Tom Bowers
78
Posted 17/06/2022 at 20:54:07
We didn't see the best of Richarlison last season for many reasons and the fact that it was a season of turmoil on the field with the form of many players sub-standard and injuries to others.
However, I agree – the goals he did score were so vitally important to the end result – Premier League survival.
We had nobody else and still don't. He is not perfect – much like Lukaku – but can be an asset with the right support.
It remains to be seen what happens next but hopefully the powers to be and Lampard will get it right with the set-up and squad for next season.

Barry Rathbone
79
Posted 17/06/2022 at 21:01:58
Terry @75,
He may well be missed here because our recruitment is so unremittingly dreadful. As for being a star for Brazil, that doesn't come with the same cache it used to (if it happens).
We shall see…
Jonathan Tasker
80
Posted 17/06/2022 at 21:26:04
Very good player.
I expect he will be sold to Spurs or Newcastle.
He'll get a fantastic reception when he plays at Goodison – even if he scores against Everton.
The crowd knows he has done a very good job in difficult circumstances.
Robert Williams
81
Posted 17/06/2022 at 21:33:01
Christine @43.
True words, well said.
Gary Jones
82
Posted 17/06/2022 at 21:41:34
Maybe time we took a leaf out of the top teams and ask the star players who they want us to buy to make them stay.
Dennis apparently favours us over West Ham due to his mate Iwobi… so, outside of the unachievable "Neymar", who does Richarlison fancy us getting to make him stay???
Got to be a better strategy than allowing Kenwright and Joorabchian to pick them at least.
Robert Williams
83
Posted 17/06/2022 at 21:45:24
JT @80,
Can someone please explain why he would want to go to Spurs or Newcastle?
More money? – I don't think so. Better opportunities – don't think so. Better teams? Perhaps… but let's see what Lampard manages to pull from the hat.
Better Clubs – no way he is at the best club he will ever play for. Unless the big Spanish clubs come in for him last minute, he will still be here next season.
Ben King
84
Posted 17/06/2022 at 21:46:19
Super article as always, Lyndon.
Richarlison is easily our most recognisable player and guarantees 10+ goals a season. However, he deserves a Champions League opportunity and we need the dosh.
It'd be ideal if he left now for £75M rather than transfer deadline day for £50M. I feel like we need to sell to buy and we have few saleable assets.
If we don't replace Richarlison, well, we could be looking at relegation again as there's not many goals in our squad and we are leaky at the back. Something needs to change and Richarlison leaving for a good fee could be the 2nd time he saves us.
Fran Mitchell
85
Posted 17/06/2022 at 22:12:48
Gary, I see to remember Lukaku pushing for us to sign Bolasie.
I think it's the job of scouts, not players, to identify who we should sign. And if the scouts aren't doing well enough in that, then that's something that should be resolved.
Brendan McLaughlin
86
Posted 17/06/2022 at 22:13:31
A wonderful player – on his day, "sublime" – who deserves a crack with a Champions League team... if he doesn't stay, I hope he gets the team he merits!
Jim Jennings
87
Posted 17/06/2022 at 22:58:51
More a cult hero than a great player; as Barry rightly says, getting in the Brazil side these days doesn't equate to the latter.
He will nonetheless be missed and the problem is not so much selling him but the shiver it sends up my spine thinking about how the jokers who run the club will reinvest the cash.
If they shell out £30M(-ish) on mediocrity like Dwight McNeil, then get another Townsend or Gray type, it's going to be a long season ahead.
Mike Gaynes
88
Posted 17/06/2022 at 23:07:41
Barry #73, Brazil's
"national side died years ago"???
They're ranked #1 in the world. In World Cup qualifying, they went 14-3-0 with a goal differential of 40-5.
Over their last 35 competition matches since the last World Cup, they've lost exactly once -- 1-0 to Argentina in the Copa America Final.
Every national team on earth wishes they could be that dead.
Now, obviously they are not the star-studded collection of years past -- guys like Fred, Lucas Paqueta and Richarlison himself wouldn't have gotten close to the celebrated 11s of yore -- but they're the winningest team on the planet right now.
David Thomas
89
Posted 17/06/2022 at 23:23:48
Dave 26,
I'm intrigued by the what type of Everton team you would like to see moving forward.
You don't seem bothered about Richarlison leaving but you wanted Kenny to stay.
If Richarlison was born a stone's throw away from the ground, would that have changed your mind?
David Thomas
90
Posted 17/06/2022 at 23:33:54
Since Lampard has been in charge, I think Richarlison has scored about 33% of the league goals that we have scored. In my opinion, that is a pretty significant contribution.
Then again, what do I know? Let's get rid because the players who are better than Richarlison will be queuing up to join us this summer.
Don Alexander
91
Posted 17/06/2022 at 23:57:16
Whatever Richarlison's wishes might be for next season, they pale into insignificance given the parlous state our present hierarchy have reduced us to.
Next season, as a direct consequence of such gross, years-long ineptitude, we will struggle to avoid relegation, again.
Richarlison is mid-20s, a consistent goalscorer in the Premier League whilst having only ever played for crap teams, and yet he is regularly selected by Brazil where he consistently scores and plays well.
Every realistically aspiring team on the planet will know just how financially fucked-up our current hierarchy have let us become. They'll view him as a bargain acquisition, like no other player of such proven status.
Maybe Dobbin can step up because no £50 million striker is ever going to view present-day Everton as a go-to club.
Pete Clarke
92
Posted 17/06/2022 at 00:26:11
Fran #72,
Off thread slightly but there is a huge class system in Brazil between the haves and have-nots, as you will know. There are two things that bring them all together, though, and that's the beach and football.
I lived in a town called Cabo Frio where Leandro had a small hotel. Romario had a pub / nightclub, and greatest of all was that Socrates was the coach for a local team.
I was out one night with a few Brazilian lads I knew and one who was a player under Socrates. We just happened to pass a bar when my mate spotted Socrates at a table with some friends and there was a game being shown on a small TV on the wall.
Well, he was at a table but it was a little circular thing made of tin. He was actually sat on the floor with a ciggy in one hand and sipping Skol lager from a plastic white cup from his other hand whilst dressed in raggedy shorts and tee-shirt. There's an iconic photo I've got stuck in my head which typifies Brazil.
I did manage to say hello and shook the hand of a legend (RIP).
Sadly, most modern-day footballers are millionaires who could not really give a toss about the supporters as they drive around in their big flash cars. Richarlison, on the other hand, seems a very down-to-earth kid and deserves his rewards.
Rob Dolby
93
Posted 17/06/2022 at 00:30:43
Having had a season ticket for 44 years, I can honestly say Richarlison is up there with the best of them.
People don't appreciate that football has moved on from the halcyon days of the '60s and '80s. It's a different game now.
The pace, athleticism, technique in the Premier League is the best ever. Coupled with adhering himself to the fans. Richarlison is the best player we have had since Cahill. Only Rooney comes close and we didn't have him too long.
He will undoubtedly move on but it's been a pleasure to watch a Brazilian No 9 in his prime.
Nobody is bigger than the club. Players come and go… but we the fans are the X-factor. The 12th man last season made me so proud to be a Blue. Brought tingles through my spine and tears to my eyes.
Coyb.
James Flynn
94
Posted 17/06/2022 at 00:46:16
We should just keep him.
Going by his various comments about the club, he doesn't appear to want away.
Extend his contract, give him the pay raise he's certainly earned.
Any transfer money, which we'll have to share with Watford, is hardly going to move us clear in FFP. And then, we will have to replace him.
So, give him his raise and keep him. There must be other ways to cut costs.
Add some pace and tenacity to the midfield. In the entirety of the professional football world, we can't find one player to fill that role?
Tony Hill
95
Posted 18/06/2022 at 01:11:15
Pete @92, indeed.
"When I feed the poor, they call me a saint, but when I ask why the poor are hungry, they call me a communist." — Dom Helder Camara.
Laurie Hartley
96
Posted 18/06/2022 at 09:40:46
Don #91,
"Next season, as a direct consequence of such gross, years-long ineptitude, we will struggle to avoid relegation, again." – Oh no we won't.
Dave Abrahams
97
Posted 18/06/2022 at 09:58:07
David (89),
I'd like to see an Everton team that played with an attacking plan which would stem from a good solid centre midfield. Remember when we had one of those, not too long ago, with Barry and McCarthy.
Regarding Richarlison: yes, I'm not too bothered if he goes as long as the fee we receive is spent on improving the team. I just don't see him the same way the majority on here see him. A vastly overrated player is what I see and I think a good proportion of neutral fans see him that way as well.
He hasn't improved at all since he came here from Watford and all the praise he has received for his end-of-the-season goals is fine with me as long as he is criticised for the plenty of good chances he missed since Lampard came – chances that should have been converted and should have stopped the worry and anxiety that we all had carry until the Palace game when we all shared the relief that came with that win.
It doesn't matter where Richarlison came from, I see the same player. Yes, he tackles and stops the opposition coming forward as many times as he loses the ball too easily when he is attacking and puts the opposition on the attack.
Yes, I wanted Jonjoe Kenny to stay and try and prove there is a good defender there but I think he has made the right decision to move away for his own good and that of his family who had to listen to Everton fans give him dogs abuse too often.
One fan didn't know how lucky he was when a member of Jonjoe's family had to be persuaded to leave that fan alone and walk away, that was in the game at Burnley where the whole team was culpable along with the manager for that defeat.
Joe McMahon
98
Posted 18/06/2022 at 10:08:19
Dave @97,
Neutral fans don't see his quality because he plays for Everton. It's the same mentality that means it requires an inquest on the rare occasions Pickford doesn't keep a clean sheet for England. I'm sure Lee Dixon and countless others will agree with you.
Richarlison and Pickford kept us up this season.
Dave Abrahams
99
Posted 18/06/2022 at 10:24:16
Joe (98),
I think genuine neutral fans see all top class players as footballers no matter who they play for. I know I do and applaud them for their skills, Richarliosn is not a top class player – no matter who he plays for – Everton or Brazil. I could say Everton fans see him through blue-tinted glasses.
Richarlison and Pickford helped to keep us up but, along with the other players, they made more mistakes than Benitez and Lampard did – some players more than others. We were a very poor squad and, over 38 games, we proved how poor we were.
Terry Farrell
100
Posted 18/06/2022 at 10:30:32
Dave,
Richarlison is an A-star player. From now on, we must only buy or loan young players who have the potential to become Grade A players – not established Grade B players who will not take our club forward and are on top wages!!
For example, get players like Connor Gallagher – not Moura or Winks!
David Thomas
101
Posted 18/06/2022 at 11:30:07
Dave,
Richarlison is the type of player we need to be keeping and Kenny is certainly not the type of player we need moving forward.
Richarlison is not a top top player but he's certainly our best player by a country mile so I can't see the benefit of letting him go unless we would be able to attract better but unfortunately we haven't got the finances or pulling power to do so.
Maybe some people want to see a team full of players like Kenny and Davies but I certainly don't.
Tony Abrahams
102
Posted 18/06/2022 at 11:41:32
It looks great on paper that, Terry, and it's something I'd love to see happen mate, but we definitely need midfield reinforcements. I'd personally take Winks in a heartbeat.
He was looking like a very good player under Pochettino, and he seems to have fallen out of favour under the more defensively disciplined managers Spurs have employed since then.
Michael Kenrick
103
Posted 18/06/2022 at 11:51:03
Steve Brown
104
Posted 18/06/2022 at 11:52:49
Tony A, I agree Winks could be a useful acquisition but it depends on the pattern of play and the price. I am still waiting for a sign of what our playing style will be and how that will impact our recruitment.
Think we'd all agree that we have to get value out of the players we sign in future. They must have re-sale value.
Tony Abrahams
105
Posted 18/06/2022 at 11:59:30
If I was managing Everton, Steve, then not every player would have to have re-sale value mate. I do believe that this has got to be a massive part of our club's policy moving forward.
I also think we need some players for the "here and now", like Tarkowski, especially when you analyze the overall quality of our current squad.
Dave Abrahams
106
Posted 18/06/2022 at 12:09:05
Terry (100),
You see Richarlison as an A-star player – I presume you mean a top class player. I see him differently; it's just a matter of opinion.
But you are correct in saying we should be trying to sign players with the potential to became top class players and not the many mediocre type players who have received top-class wages.
Connor Gallagher looks like one of those but when he moves I doubt he will have to move out of London.
Dave (101),
I don't think Richarlison is our best player by a country mile, a fit Calvert-Lewin would give him a run for that title. Again just my opinion. I think if he moves, there will not be much difference in the fee we receive for them.
I doubt if any fan wants to see a team full of players like Jonjoe Kenny and Tom Davies but they could well as part of a squad.
I think every Everton fan knows that we are lagging behind not only the Top 4 or Top 6 clubs but even the top half and it will be hard to get back to where we once were. Hopefully we will get the whole club sorted out soon and begin that climb back to success and silverware.
Brian Harrison
107
Posted 18/06/2022 at 12:11:49
This squad has proved over a season it's not good enough. If we are planning to sell our best and most influential player, ie, Richarlison, then it looks like another season fighting off relegation. Even those who don't think Richarlison is all that good, he was by far (along with Pickford) the main reason we avoided relegation.
Talk of Winks or Moura or Dennis as possible buys, so 2 Spurs players who can't get into their side and a player who wasn't very good for Watford. How is that going to make us more competitive?
I accept because of our financial position and where we finished last season means it's hard to attract decent players. But have we not learned anything over the past 10 years, buying players who can't get a place in their current side should be a big No.
We end up putting them on 4-year contracts offer them more than any club outside the Top 6 can afford, and when we find out why they couldn't command a 1st team spot in their old side, it's too late.
Just like so many others, they will stay till the last day of their contracts and we will be left asking why did we sign them and pay them so much???
Peter Warren
108
Posted 18/06/2022 at 12:14:52
I would sign Winks immediately if I had a chance, he's really good.
Brian Williams
109
Posted 18/06/2022 at 12:22:03
On the subject of transfers, have those who shouted loudly on here about Moise Kean not getting a fair crack of the whip maintained that view?
Juventus now wanting rid before his loan has been completed Seems to have had a fair crack of the whip there.
Ben Howard
110
Posted 18/06/2022 at 12:28:25
Outside of Everton Football Club, few appreciate the qualities Richarlison possesses. Friends who support other clubs repeat the one-dimensional drivel spouted by pundits and the media: sulky, diver, worst Brazilian international ever, etc. It's so boring.
Stay here Richy, where you are loved.
Robert Tressell
111
Posted 18/06/2022 at 12:52:52
Winks is a prime example of the poor value of the Premier League.
He is neat and tidy but that is about it. There are countless players of that mediocre standard across world football who would be a fraction of the price.
There are also plenty who'd be cheaper and have the potential to be a cut above Winks – genuine Champions League quality.
I'd rather go for them.
Brian Murray
112
Posted 18/06/2022 at 13:21:36
Peter @108.
None of our midfield can make a killer or even a forward pass. Not consistently anyway. None of them can shoot, never mind get into double figures. None of them can break up play and travel quickly up the field.
If Winks can do any of that then fair enough. Please elaborate why he is very good?
David Graves
113
Posted 18/06/2022 at 13:27:46
Winks has 2 goals and 3 assists in 128 Premier League games.
What would he add to a team that has little creativity from midfield?
Ian Bennett
114
Posted 18/06/2022 at 13:32:19
If we want a non-physical, bang-average footballer that offers little in assists, goals or defensive shield, to add to a poor midfield, then he will fit in a treat.
Winks, Allan, and Gomes. That should frighten the Premier League...
Christy Ring
115
Posted 18/06/2022 at 13:37:29
Fabulous piece of writing, Lyndon.
I for one am a massive fan of Richarlison, and for some of the posters who don't rate him, you are entitled to your opinion, but you will definitely see what we're missing if and when he's gone, unfortunately.
What really pisses me off is the fans on here complaining from Day One of his supposed theatrics and diving. He is targeted in every game he plays, and opposition fans boo him because they'd love to have him in their team.
Against Liverpool, they constantly kicked him off the field, as most teams did. Remember the horrendous Tarkowski assault and no card, nothing new there.
Without him, we'd be playing Championship football this season. He is a class act on and off the field and gave his all for us.
For those who believe he can't play with Calvert-Lewin, remember back on our few good days, when Richarlison, Calvert-Lewin and Rodriguez were our front three, how dangerous they were together?
I hope he stays; if not, £65M is the least we should accept.
Christine Foster
116
Posted 18/06/2022 at 13:45:32
Christy, your last paragraph did it for me, for too short a time we had a classroom in the School of Science once more.
Individually, one was past his best, one knew where the goal was, and one where the ball was going to be. It rarely happens when the mix blends like a melody.
Break the three up, and I will never forgive Benitez for that, and the magic left the building... two players left looking for the inspiration that was replaced with graft.
Alan McGuffog
117
Posted 18/06/2022 at 13:57:29
It's a strange thing, Christy, and illustrates neatly the role of the media in moulding opinions.
I've two mates who are Spurs fans, they don't know each other. Both are underwhelmed at the prospect of Richarlison going to The Lane, both citing diving, cheating etc. And both say they'd prefer Calvert-Lewin.
Football supporters, eh!
Brian Murray
118
Posted 18/06/2022 at 14:02:31
Gamesmanship or, if there's slight contact, read Salah. Diving and cheating, read Richarlison. That's the red media for you. Ah well, stand your ground, Blues, at least over a price and time limit.
Shane Corcoran
119
Posted 18/06/2022 at 14:14:44
Christy, it may piss you off and all that other stuff you said may have an element of truth to it.
But I find it completely bizarre that you can't see both sides of it. He jumped on the ground, rolled around and moaned. He doesn't do it as much as he once did.
This is not an exercise in comparing him to Salah or anyone else. It's a simple unbiased assessment of a player.
It doesn't mean he doesn't have all the other good parts to his game or character.
It seems very simple to me but these things always seem to boil back to the media and Liverpool FC.
Dave Abrahams
120
Posted 18/06/2022 at 14:16:45
Alan (117),
Maybe a lot of referees take notice of the media or just talk among themselves because they take little notice of Richarlison when he is lying on the floor and let the game progress.
Sometimes he has been fouled, sometimes he hasn't... and Everton are the losers when he has been fouled and nothing awarded because of the boy who cried "Wolf" too often.
Brian Murray
121
Posted 18/06/2022 at 14:23:54
By the way psg and jive and probably everyone won't be fooled in taking our dreadlock holiday fella for 28 million so maybe he will have to come back and prove them all wrong.
Chris Leyland
122
Posted 18/06/2022 at 14:43:02
Brian - Juve have an obligation but him as part of the deal so he won't be back any time soon.
Barry Rathbone
123
Posted 18/06/2022 at 14:50:21
Brian 109,
Moise Kean advocates will always find an excuse for him. Personally I was suspicious from his YouTube show reel – his touch wasn't great and his striking of the ball clumsy. Yes, he had pace and strength but he was never going to be as effective as Rom with similar issues.
Couldn't believe how crap he was when he actually played for us. No wonder PSG binned him off... how he got there in the first place was a mystery.
File under "over-hyped failure".
Brian Murray
124
Posted 18/06/2022 at 15:05:12
YouTube highlights never lie – remember hot shot Niasse. (Joke!)
If Juve are obligated, then about time we acted like Levy and gave them a deadline etc. Failing that, he has to come back here.
Reminds me of slim Jim Pearson. Don't ask if you don't remember. I won't add to your mental scars.
Mike Gaynes
125
Posted 18/06/2022 at 15:19:02
Dave my man, I generally share your overall opinion of Richi -- he's good but not great -- but as much as he is exalted by some here, I wouldn't call him overrated. I think the majority of Blues see him as the rest of the league sees him, and that's not as a top-class star.
I also wouldn't say he hasn't improved since Watford -- he still turns the ball over, but today he is much less likely to do it in bad positions that trigger counterattacks. He has also improved in the falling-down-rolling-around department. But most of all, his drive has value. He doesn't miss many games, but when he does, we don't win. That drive is what we'll miss the most when he goes.
And with regards to blue-tinted glasses, I would gently suggest that you might have donned a pair when you gazed back at the memory of a Macca/Barry midfield. It was a brilliant partnership -- for one season. The next two, not so much.
Brian Williams
126
Posted 18/06/2022 at 15:56:44
Brian#124.
Brian, Juve have an "obligation to buy" after Kean's second season on loan there for around 28 million Euros I think it is.
It's not a case of them not wanting to buy him, it's in the contract that they have to unless Everton offer more preferable terms, which I certainly hope we don't. The deal was a two year loan with an obligation to buy after the second year.
One things for sure he won't be back here this coming season, thankfully.

Ian Bennett
127
Posted 18/06/2022 at 16:03:34
Juve don't want him. But will have to pay his wages, 2nd year of loan fee and an obligation to buy at the end of this season at a fixed fee.
If they can buy, and immediately sell they will avoid it.
Stay firm, this is down to trying to get a deal done at the best terms. They know we need the money, so they'll be offering a discount to our original deal agreed.
Brian Williams
128
Posted 18/06/2022 at 16:05:05
They'll be "after" a discount you mean Ian, I think?
We're the only ones who could offer the discount, surely.
Stephen Vincent
129
Posted 18/06/2022 at 16:15:04
Brian #107, Lucas Moura played 45 times for Spurs last season. Not bad for someone who can't get in the team.
I wouldn't have him because he will be 30 soon and has no resale value. I suspect that Richy replaced him in the Brazil team, but he is not what we should be looking for.
Tony Abrahams
130
Posted 18/06/2022 at 16:17:40
Shane, I agree with your assessment of Richarlison, but I also think it's fair to say that Liverpool have got way to many friends in the media, and what Brian M says has definitely got some merit. Listening to the news after the champions league final, I honestly thought the game had been postponed, because nobody in the media wanted to talk about football.
David Thomas
131
Posted 18/06/2022 at 16:42:04
Kenny and Davies are nowhere near good enough to be in a squad that is successful.
No club with any real ambition to improve themselves and one day compete again would consider those two to be the level needed.
Tom Davies is 24 in a couple of weeks and has been involved in approx 140 premier league games and scored 6 goals and made 5 assists. What from those stats would suggest he would be useful for any half decent squad.
JonJoe Kenny is 26 next birthday and never been considered to be good enough to be a regular starter in any managers team at Everton.
These are exactly the type of players that quality wise we need to move on from or we will continue to be perennial losers.
There is a lot of players we could get rid of at Everton as there are many not good enough but the bloke who in my opinion played the biggest part in this club still being a top division team would be the last one I would consider letting go.
I think people have to realise there is a reason why a manager like Conte who is a born winner would be looking at Richarlison.
Tom Bowers
132
Posted 18/06/2022 at 17:03:03
It is all a bit of a lottery getting players and moving others out.
The manager's needs and what he can get are restricted at the moment and certainly Everton have players they need to move out, if only to free up some wages to entice some better players.
The quality of some players we need may be beyond what we can afford compared to the moneybags at Anfield and The Etihad. These clubs have the pick of the cream because they can pay the big fees and wages to entice them.
Richarlison has been a good buy for Everton but too many others have been a big let-down in recent seasons when a lot more was expected.
I think Lampard will do well just to improve the results next season, if only to be more competitive with those teams outside the Top 5 or 6.
Christy Ring
133
Posted 18/06/2022 at 17:42:15
Shane #119, I never compared him to Salah, and totally disagree regarding media and Liverpool. Lampard got fined for his comments, Klopp said Tierney was the only referee he didn't trust, not even questioned by the FA?
Liverpool totally loved by media, and for Carragher to single out Richarlison on Sky was completely wrong, but we know where his loyalty lies, if you think back to the derby and Everton getting slated by Souness on Sky for not letting Liverpool play, unreal.
Shane Corcoran
134
Posted 18/06/2022 at 19:10:22
Christy and Tony, my point is that we, the ToffeeWeb contributors, spend far too much time obsessing with the media, Liverpool FC and, in my opinion, the crazy paranoia that everyone is out to get us.
I took a few weeks off from the site after getting bogged down arguing the conspiracy stuff but it's never ending.
Terry Farrell
135
Posted 18/06/2022 at 19:27:48
Thanks for the back-up on Winks and Co. He ain't good enough, has no pace, and also is injury-prone. Daniel Levy will treat us as mugs and use him as a makeweight to take Richarlison on the cheap.
How can any player in his mid-twenties who still can't get into a Top 6 team take us forward? I accept we have to take the odd player with no sell-on but we need to change our approach and bring in pace, youth and potential.
Tony Hill
136
Posted 18/06/2022 at 19:33:38
Levy has got Bissouma at a bargain price. A fantastic deal. Tottenham, with or without Richarlison, are starting to look formidable. Conte is a superb manager and they have a serious chance.
Joe McMahon
137
Posted 18/06/2022 at 19:48:46
Tony, I'm amazed Man Utd didn't move for Conte. Instead, they kept persisting with OGS.
Tony Hill
138
Posted 18/06/2022 at 20:28:31
Agreed, Joe, a massive mistake by them.
Graeme Beresford
139
Posted 18/06/2022 at 22:28:55
Great piece, I think you spoke for everyone.
The more everything drags on, the more I'm thinking, "Sod it, keep Richarlison, keep Calvert-Lewin, and crack on." Get another one or two in on free transfers and a couple of loans, and try our best to keep everyone fit next season. Don't play the likes of Mina or Calvert-Lewin in cup games.
We have to remember the best starting 11 hardly played with each other last season. When they did towards the end of the season, we looked so much better. Sod it, keep the best players. Patterson should come through next season. And what about all of the good youngsters…. Surely it's time we have a good go.
Stephen Vincent
140
Posted 18/06/2022 at 23:29:25
David #131,
The problem is that we have no serious money and, whilst Tom Davies may not be of the required standard, he is what we have and we are not going to improve on him anytime soon. In fact we are not in Europe, the club is in turmoil, no-one is 100% certain that we will not suffer FFP penalties, we may be on the verge of a takeover.
I mean seriously, we will struggle to improve the first team let alone worry about the squad. Who of any quality will want to join us?
At least with Tom you get 100%. Kenny has gone, departed with dignity and is no longer our problem.
Ben King
141
Posted 19/06/2022 at 13:57:11
Graeme #139,
How can we keep them if they want to go and/or we need the money for FFP or to reinforce elsewhere on the pitch???
Richarlison could double his wages and compete for honours by moving… Why on god's earth would he want to stay? Because he has a bond with the fans????
If you think that's worth the marginal £100k extra he'd get a week plus silverware… .sorry mate… you're incredibly naive.
Raymond Fox
142
Posted 19/06/2022 at 14:30:15
Who knows what will happen between now and our first Premier League game of the new season?
Will our squad be even as strong as last season? Hard to say, but I'd say it's far from certain at this time.
As usual, everything is up in the air. Good old Everton.
Graeme Beresford
143
Posted 19/06/2022 at 23:05:14
Ben King @ 141
If you think a player having a two year contract remaining can somehow just leave the club, you are naive.
The club hold all the cards with Richarlison. If he stays and has a fantastic World Cup then he potentially goes for even more money in the January transfer window. But, if he stays and we someone keep everyone fit and just somehow begin to play and win football games then he just might end up staying and signing a new contract.
The reality is we don't have to sell in regards to FFP, we are about to get the wage bill down by about 300k a week with Tosun, Delph, Sigurdsson and Kenny leaving. I know we are close to FFP but if reports are correct the FA are happy with us and nothing more should happen with it.
We prob have to sell to reinforce. But do we? What about the free's and loans available to strengthen the squad? I will begin, Lingaard free, Erickson free, Gallagher loan, Colwill loan, Barkley loan or small fee, even Zinchecho… there's no reason we can't offer City a loan for him. Everyone of those players will give us a bit of what we need, depth and ability. Lingaard will require high wages but I won't have for a second that he's no better then our current crop. He simply is. He's someone who can get the ball in midfield and run forward, same with Gallagher and same with Barkley. Although Ross would be my very very last choice. Even Belotti on a free would be a great transfer. There's plenty out there. It's just attracting them and on the right wages.
Charles Brewer
144
Posted 21/06/2022 at 17:45:21
During the Covid season (the one which wasn't really won by anyone), Ancelotti got DCL playing very well and took Everton to the top of the Premiership.
Then, around December something happened and it all went to pieces.
The following season with Benitez, who, for all we like to abuse him, is a pretty successful manager, had a disastrous run with terrible performances all round. Frank Lampard didn't get a "new manager bounce" but managed, with the crowd, to get sufficient out of the players to survive.
Apart from Rodriguez (which is, I admit a pretty big "apart from") it was the same team as had been in the top three of four for half the previous season (and, as the newspaper cutting on my wall still says caused the headline "Anfield in Ruins Liverpool 0 Everton 2").
What happened behind the scenes we do not and probably never will know. What we do know is that the players, their Champions League winning manager collapsed. What we saw was a dispirited, inept, unengaged rabble who barely moved, couldn't pass, dribble shoot or run and who were ignominiously defeated in match after match.
The only two players whose heads never dropped were Pickford and Richarlison. They played better and better as the problems got bigger and bigger, something which finally infected Iwobi (which is marvellous) and, sometimes, the rest of the team.
Richarlison actually is a very good footballer, whose goalscoring skills aren't the best, but, as Lyndon noted, are exercised often enough to keep his season's scores respectable, But his attitude - which is the exact opposite of Pogba or Rashford or, to a large degree Lukaku, is superb, and his ability to inspire by committed example the Iwobis and Gordons, and, I hope, Simms and Dobbins and Davies may be just what we need to turn arount the mess of the post-Moyes era.
Richarlison, despite his perma-scowl, I think loves playing here loves the crowd, and is now inspiring - for the same reason - the same affection which surrounded Duncan Ferguson at his most loved and inspirational.
As a footballer, he's probably worth £60 or £70 million given the prices that are going round today. To Everton, however, I suspect he is worth a great deal more.
The Redshite press and shitty BBC have created the myths of Richarlison's diving (which is no worse than any other front player in the Premiership, and he certainly does get kicked from whistle to whistle) and Pickford's injury to van der Turd, which I suspect was the result of the disgusting player assaulting Pickford incompetently.
Unfortunately, as in so many things nowadays, there is a deeply stupid public willing to accept complete lies and imbecilic narratives.
Personally, I hope Richarlison stays, and then want to renew his contract because we've finished third or fourth in the Premiership and won the FA Cup next year (which of course will be nothing compared with the RS's failure to win anything as usual except maybe Cruft's Agility Prize for Innovative Use of Athsma Medicines).
Will Mabon
145
Posted 21/06/2022 at 17:58:02
Good post, Charles.
One thing that is often forgotten while condemning Benitez, and I'm not a fan of him myself - we actually made a pretty good start to the season. Whilst not exactly as with Ancelotti, it was encouraging.
What was most similar, was the fall-off in about the same time frame as the previous season, for no obvious reason. There have been some very mysterious forces pervading this club.
Brian Murray
146
Posted 21/06/2022 at 20:46:11
Not sure if this is a relevant thread to say that Chelsea have finally agreed to let Lukaku go out on loan. Time for our rebuilding now hopefully.
Kevin Molloy
147
Posted 21/06/2022 at 00:00:46
So Liverpool will probably end up making more of a profit on Minamino than we do on Richarlison. Buy high, sell as low as hell. We're unstoppable sometimes.
Don Alexander
148
Posted 22/06/2022 at 00:44:01
Brian (#146) if you're inferring that we might re-engage Lukaku I'd suggest he'd be more likely to willingly wear someone else's kack-filled skiddies than re-join a club with our (sadly eternal) chairman still in post to the tune of 95% of the time.
Unless the latter offers him a Mbappe-style contract of course, and then we can forever whinge about how one of Europe's finest goal-scorers ended up looking like The Stracq – whilst his contract bled us hollow for seasons to come.
It's the Everton way under the gross ineptitude we're saddled with from Monaco, and the pillocks he still entrusts in the boardroom.
Brian Murray
149
Posted 22/06/2022 at 02:12:45
Don post 146.
No. Obviously, or maybe I didn't make myself clear. I was referring to Inter taking Lukaku and so making Chelsea move their arse into gear with a decent Richarlison bid so we can ask about Broja and/or Gallagher if that's the strategy and thinking we going for.
As for behind the scenes, you're preaching to the converted. We all know the buffoon forever holding us back from being professional until the penny drops with the owner. Or a new regime soon as.
Danny O'Neill
151
Posted 22/06/2022 at 06:38:17
I liked that Charles @144.
He cares. That shows through in his frustration. He deserves to play in a better team. I just wish that is or could be Everton.
He's a fighter who worries the opposition. We don't have many of them.
And whatever happens, you can see he loves Everton and the supporters. And not in a token Sky era kiss the next badge kind of way.
He's been touched. Some would say cursed. I would say blessed.
Rick Tarleton
152
Posted 22/06/2022 at 08:08:11
I think an interesting comparison is between Richarlison and Lukaku. The former never stops running, sometimes almost without any realistic hope, but he chases and chivvies and is a player the opposition can never forget. He's not as fast as you'd like such a player to be, he isn't always a clinical finisher, but he always tries and he cares.
Lukaku is the player who during one season at Everton finished bottom of the stats for the player who ran least per game. He's a clinical finisher, a beast on the ball, but I can't recall him making a dummy run to open up space for another player. Time after time Barkley would break from midfield and Richarlison would have made a run which occupied a defender or two and space may have helped Barkley or whoever to head realistically towards goal. If Lukaku couldn't see a chance for himself he stayed still.
I suggest that Lukaku's subsequent record at United and Chelsea reinforce my point. Richarlison, though less gifted in many ways is above all a trier, a charge no-one ever made about Lukaku.
Lee Courtliff
153
Posted 22/06/2022 at 08:33:16
I see West Ham have spent on a centre-back, Aguerd or something like that. No bid for Michael Keane coming from them now.
Christopher Timmins
154
Posted 22/06/2022 at 08:55:55
Richarlison will be missed should he move, nothing more to be said.
Mike Doyle
155
Posted 22/06/2022 at 09:18:08
Rick #152,
While I totally agree with you that Richarlison is a trier, I would argue that they have different skill sets.
Lukaku is best suited to a counter-attacking team that gets the ball to him when he is somewhere between the halfway line and 18-yard box, giving him space to turn and attack.
In contrast, he's probably not best suited to teams that are always on the front foot and encamped around the opposition penalty area. I think Mourinho made this point when Chelsea first sold him – and a couple of Chelsea fans I know were surprised to see them buy him back.
In teams like Chelsea and Man City who play this way, smaller, more mobile on-the-move players (Foden, Aguero etc) are more effective. On this basis Richarlison's style would probably be a better fit for Chelsea – while Lukaku's style is more suited to, dare I say it, Everton! No chance of a swap I suppose…
Dave Abrahams
156
Posted 22/06/2022 at 09:40:39
Charles (144),
Very good and interesting post I agree with most of it, just not that part "Richarlison is a very good footballer".
I don't think he has a very good football brain but that is down to opinions and a lot more Everton fans would agree with you and not me, but thanks for your post.
Danny O'Neill
157
Posted 22/06/2022 at 09:49:40
You know I like Richarlison, Dave Abrahams, but I'll agree with you. I also wouldn't rate him as a brilliant footballer. Not in the technical sense.
Commitment, desire and hard working. Effective too. We may sing the song but he's not the stereotypical Brazilian I grew up watching.
I love him though!
Brian Murray
158
Posted 22/06/2022 at 10:00:36
We know Richarlison is relentless and works and chases back more than most forwards these days but if – and I say 'if' – we get one or two pacy strong midfielders, we won't miss the protection he gives us.
A bit like Gbamin was supposed to do but it looks like flogging a dead horse with him… but you never know. Or Onyango may be the player if we struggle to get anyone. Sounds desperate but leave it to Kevin Thelwell and Frank Lampard.
Joe McMahon
159
Posted 22/06/2022 at 10:17:58
The media criticising him for 10 goals. It was at least 13 Premiier League goals. 2 goals were given to Calvert-Lewin and Gordon as it hit them on the way in. His nose was offside against Arsenal so VAR took it off. If that was Salah all goals would have stood and given to him.
The team will miss him when he's gone. Grealish (so far) in a Man City shirt hasn't done enough for £100M. Richie is worth more than £70M.
Brian Wilkinson
160
Posted 22/06/2022 at 10:38:08
I personally think in time Richarlison will become the new Duncan McKenzie, his legend status will grow with every passing year, a bit like the fisherman tale and how much bigger his fish got, with each different Person, he told the tale.
I liked both Richarlison and McKenzie, both had skill, but only my opinion, I thought both were at times selfish and showboaters, both with the world at their feet, but neither world beaters.
Richarlison has the heart and desire and the never give up attitude, no one can take that away from him, at the same time, he goes down to easy, trying to justify with other players elsewhere and fooling the ref, does not cut it with me,far too many times he goes down and every time holding his forehead, something that Gordon has now picked up on and starting to follow suit.
At times they have gone down after being clattered, but a case of cry wolf is now allowing these other teams to kick the shit out of them, because they know they will get away with it.
It now brings me to my final points, Richarlison promised us one more season and he obliged that, the player now wants to try elsewhere which is fair enough, even if we did not need to sell one of our players, he would have still wanted his move, I think out of Richarlison and Calvert-Lewin, Richarlison is the one we could slot other players into, whereas Calvert-Lewin is the better option to keep hold of, due to our lack of other options at the club.
No doubting the player has given us 4 good seasons and I wish the guy all the very best, what we must do going forward is invest wisely, sort the academy out, which is looking at last to be a priority, above all else give Lampard the time to rebuild our club, if that means selling Richarlison to start our next journey then so be it.
Time will tell if we did the right thing, however in this case I feel Everton had no option, they gave Richarlison a gentleman's agreement last season, now he wants his step up and no matter what happens, it is out of Evertons hands, unless they go back on their agreement.
I have yet to hear Richarlison come out and say, I want to stay at Everton, and that my friends is why we will sacrifice Richarlison, instead of Calvert-Lewin.
Dave Abrahams
161
Posted 22/06/2022 at 10:40:10
Danny (157),
Fair enough. I also like parts of Richarlison's game but I also see his faults. He has quite a few but I appreciate how much he will be missed by the bulk of the fans on here. Maybe I'll miss him when he is gone.
I certainly missed Wayne Rooney… but I knew I would, like most Evertonians. Funny we qualified for the qualifying round of the Champions League the season he went. I think we would have gone a lot further if he had stayed although we might have gone bankrupt if he hadn't have been sold.
Brian Wilkinson
162
Posted 22/06/2022 at 11:04:21
If we could somehow get Puisic and Gallagher in part of the deal for Richarlison, I am all for it.
Brian Murray
163
Posted 22/06/2022 at 11:11:24
I'd hate to get the likes of Christian Pulisic just to get him off Chelsea's wage bill when he offers no more than the rest. Can he hit a killer pass? I don't know his stats etc.
Stick to Broja and or Gallagher or the full £60 million or more. With Lukaku gone, will that hurry the deal up so we can get busy?
Brian Wilkinson
164
Posted 22/06/2022 at 11:21:17
Pulisic is still only 23, Brian, so plenty of years ahead of him. Some of our overseas American friends might be able to shed more light on his international performances.
Sounds like he is quick, can pick a pass out, and link up well with teammates. He could be an option, if Chelsea are still sniffing at Sterling. I'd be surprised if Chelsea allow him to leave though; however, they still have Werner, so a small opportunity to nip in at the right time.
We could take one if not both as part of the deal, or take one on loan and the other filling the part-exchange, at least then it would give us some wriggle room on FFP until next season.
Brian Wilkinson
165
Posted 22/06/2022 at 11:59:37
Pulasic is strong with both feet, tends to use his right foot more, but comfortable hitting a ball with his left peg as well, also decent enough with heading a ball as well, seems to have the overall strength in all departments and will certainly chip in with goals,.
Like I say though, will be a big suprise if Chelsea allow him to leave.
Eddie Dunn
166
Posted 22/06/2022 at 12:26:36
Pulisic is versatile so I would not expect Chelsea to let him go. More likely that Werner will be shipped out.
Gallagher is the lad I want and as for Broja, I can only see us getting him if Domenic goes to Arsenal or elsewhere.
I just hope we can conclude business in time for preseason.
Robert Tressell
167
Posted 22/06/2022 at 12:29:29
There is an interesting Tifo football video on why swap deals are very rare. Worth a watch.
I'd expect we might get a Chelsea player on loan (with option to buy possibly) as part of the Richarlison deal - but not as a makeweight (unless it is someone a good distance from their first team like Ampadu or Kennedy).
I'd be surprised if Chelsea were really willing to let any of Broja, Gallagher or Pulisic go for anything other than a pretty big fee.
Brian Murray
168
Posted 22/06/2022 at 12:33:04
These daft harry winks rumours not going away. Is he really an upgrade on gomes who we can't give away. Cmon Mr Thelwell don't start like the last two idiots.
Brian Murray
169
Posted 22/06/2022 at 12:44:43
Robert. I reckon todays players are hyped up so much by their agents ( leeches ) that they think they are too precious to be a makeweight in any deal. But of a coincidence it's rare since the obscene wages began.
Robert Tressell
170
Posted 22/06/2022 at 12:59:46
Yes, Brian - agent influence is part of the reason cited in the Tifo football video.
I'd be very surprised if our new management team really does want Winks. More likely Spurs and agents trying to generate interest.
The Tarkowski deal seems to have concluded very professionally without much noise from the club.
I expect a lot of behind the scenes work is happening now but contingent on sales and possibly takeover too.
So nothing concrete may happen until the last minute. Bit boring for transfer enthusiasts but commercial realities.
Martin Mason
171
Posted 22/06/2022 at 13:40:07
Interesting. What faults do people see in Richie's game? Given that in general he plays where told to even as a lone striker which he isn't then where exactly is he weak. For me he doesn't have a weakness of any significance. His massive strengths in most areas are supplemented by one of the best engines in football that get him up and down the pitch in defence and attack quickly. I really doubt the clubs who may compete to pay a significant fee for him this window are doing so to buy weakness.
Mike Gaynes
172
Posted 22/06/2022 at 15:53:46
Latest rumor is that Chelsea may be willing to trade us Christian Pulisic as part of a Richarlison deal.
The responding tweet from avid Blue Roger Bennett on the Men in Blazers account:
BITE YOUR ARM OFF
I agree. If he can stay healthy, Captain America would instantly become our best attacking player, a solid leader and a game-changer for Everton -- and a marketing bonanza in the US.
And I'd be on the plane three times every season.
Stay calm, Yank. Stay calm. It's just a rumor.
Brian Williams
173
Posted 22/06/2022 at 16:23:30
Brian #163.
I'd hate to get the likes of Christian Pulisic just to get him off Chelsea's wage bill when he offers no more than the rest.
You obviously haven't seen the lad play. He probably offers more than all our midfield put together!
Tony Everan
174
Posted 22/06/2022 at 17:47:17
Brian, I looked at those stats too, I just don't get it. Is he enough of an upgrade on Gomes to be spending scarce transfer fees on? I am hoping for a player on an upward trajectory, not a long term flatlining Spurs squad player. This quality DCM is a massive signing for us and for Frank's future.
Buy Broja 30m and get Pulisic on loan for a year with an option to buy. A fantastic attacking midfielder that I'd love at Everton. Maybe slightly more possible than getting Gallagher ?, I think Chelsea may use him his season. Then look for that quality DCM we need with 30-40m ready to spend, if necessary, on the best we can get .
Trevor Powell
175
Posted 24/06/2022 at 10:01:16
While we are discussing the undoubted love of EFC by Richarlison, can the site REMOVE all mention of Koppite actress Rita Tushingham from this website.
If I remember correctly, she featured as a Blue in the celebrity section of the 1995 FA Cup Final programme along with John Parrott and Ed Stewart et al.
So there I was this morning having a lie-in (not the type as performed by our disgraceful prime-minisiter) listening to Radio 4 when Desert Island Discs comes on featuring Rita Tushingham. Any doubts about where her loyalties lay were soon disspelled as her first music choice was YNWA. Heresy!
Rita Tushingham now belongs to that despised group of professional koppites such as Boardman, Marsden and the other slimeballs who slide out of the swamp for publicity purposes. Tushingham is nothing but a RED!
Dave Abrahams
176
Posted 24/06/2022 at 10:07:39
Trevor (175) think at one time Rita had something to do with the Everton Supporters group, may before she fell in the sewer!!
Steve Boardman
177
Posted 24/06/2022 at 10:11:09
Trevor (176), not me pal! Who do you mean? The cyclist?
Cheers
Trevor Powell
178
Posted 24/06/2022 at 10:46:03
Apologies Steve, I was talking about the supremely unfunny and embarrassing Stan Boardman. Remember all those jibes at the Germans, so how does he accept Klippity into his toad ridden mire?
Trevor Powell
179
Posted 24/06/2022 at 10:46:10
Apologies Steve, I was talking about the supremely unfunny and embarrassing Stan Boardman. Remember all those jibes at the Germans, so how does he accept Klippity into his toad ridden mire?
Trevor Powell
180
Posted 24/06/2022 at 10:46:11
Apologies Steve, I was talking about the supremely unfunny and embarrassing Stan Boardman. Remember all those jibes at the Germans, so how does he accept Klippity into his toad ridden mire?
Brian Murray
181
Posted 24/06/2022 at 11:01:01
Trevor. Back in the day when I first seen boardman on opportunity knocks he sounded as they say not right in the head. All pc nowadays so you know what I mean. Very cringing making scousers out to be idiots. Cilla god rest and Tarbuck big tories couldn't wait to leave the area. Sounds bias but big blue eddie flanagan knocks spots off them as comedians.
Danny O'Neill
182
Posted 24/06/2022 at 11:08:10
Stan Boardman and Jimmy Tarbuck.
Shudder.
Two of my favourite comedians have been / are Scottish ones. Billy Connoly back in the day and now Kevin Bridges.
Chris Hockenhull
183
Posted 24/06/2022 at 11:24:03
Brian (181) Big thumbs up re Eddie Flanagan. My favourite to make me laugh alongside.. Ken Goodwin!! Can't add anything re the Cilla and Tarby comments. For those who have it but take a look at the Evertonians coming out of the London station singing in "The Golden Vision". Is that the dreadful Stan Boardman singing his head off wearing a Nazi helmet??? Helmet being the best description to that tosser!!!!!
Dave Abrahams
184
Posted 24/06/2022 at 11:54:51
Brian (181), Eddie Flanagan, brilliant, he was on The Temple off Dale Street one Sunday afternoon and got one of the biggest and longest bursts of laughter with one of his jokes, everyone knows it, he sings the last line to the captain of the ship. "oh your sausage and mash has gone overboard Oh Rah oh rah"
Tony Shelby
185
Posted 24/06/2022 at 12:02:16
If we're naming and shaming unfunny, disingenuous, RS-loving comedians then we need to get bang up-to-date and mention
John Bishop
.
Devastatingly unfunny and apparently loves his 'home' of Liverpool, despite being brought up in Cheshire; recently selling the Grade II listed Georgian Mansion he lived in there for £6m, to help the government build the HS2 rail project.
Stick 'im on the list.
Brian Murray
186
Posted 24/06/2022 at 12:08:49
chris post 183 Ken Goodwin ( settle down now ) hmmm 🤔 Ok since we are all blues il say no more 😂
Andrew Ellams
187
Posted 24/06/2022 at 12:59:34
Didn't Cilla come from a family of blues but became a red because they carry the name of the city she used to make her name and fortune?
Brian Murray
188
Posted 24/06/2022 at 13:11:32
Andrew. Before she changed her name and was cilla white she was a blue but like rooney never a real evertonian in my opinion.
Chris Hockenhull
189
Posted 24/06/2022 at 15:37:06
Brian (186)… Your too good for this place🤩
Steve Boardman
190
Posted 24/06/2022 at 16:38:45
Trevor (169/170). Thanks but no need to apologise whatsoever. Stan Boardman was truly awful but thankfully no relation!
Ray Said
191
Posted 24/06/2022 at 16:55:33
What I love about Richarlison is that look he gives when he walks out on the pitch in the royal blue and sees the opposition centre backs-and it doesnt matter who they are. The look that says ' I am centre forward for Everton and Brazil mate. Who the xxxx are you'?
Should we not be holding onto him how ever many others we have to let go?
Kim Vivian
193
Posted 24/06/2022 at 18:33:41
Yes Ray - and on the assumption that he will be away it will be interesting to see how he embraces and responds to his new surroundings and his new fans particularly, especially if he remains in the PL.
He and us definitely have a place in each others hearts which his leaving will be hard for him and us respectively to replace.

---
Add Your Comments
In order to post a comment, you need to be logged in as a registered user of the site.
Or Sign up as a ToffeeWeb Member — it's free, takes just a few minutes and will allow you to post your comments on articles and Talking Points submissions across the site.
---
---
© ToffeeWeb