Report
Blues dig out a dramatic point from another dreadful display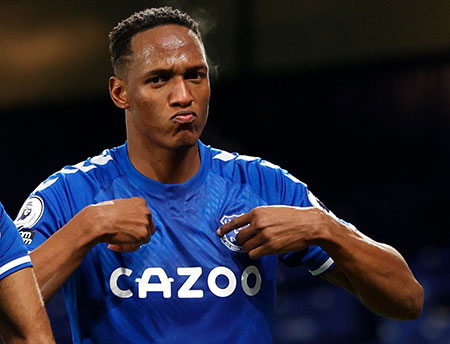 Yerry Mina returned to Everton's line-up for the first time since he was forced to withdraw from the defeat at Newcastle back in February
Everton 1 - 1 Leicester City
Everton are back at Goodison Park under the lights to host Leicester City with the Blues hoping to register successive victories for the first time since August.
Yerry Mina returns to Lampard's squad for the first time since he was forced to withdraw from the defeat at Newcastle back in February. Mina is deemed fit enough to start but Calvert-Lewin is ruled out through injury.
Donny van de Beek, who hasn't featured since the home game against Wolves five fixtures ago, is on the bench along with Kenny, Holgate, Keane, Doucouré, Gomes, Rondon, and Dele Alli. Jarrad Branthwaite is not selected.
Frank Lampard confirmed that Dominic Calvert-Lewin will miss Everton's next two matches due to a minor quadriceps problem: "Dominic felt a small sensation in his quad in training. We scanned it and it's 10 days to two weeks, unfortunately, so we'll miss him for these next couple of games, for sure. He'll possibly be back for Chelsea."
Tom Davies, Andros Townsend and Nathan Patterson are long-term absentees.
The visitors got the game underway and almost burst through, Coleman having to tackle Dewsbury-Hall at the crucial moment before he took a shot. But in the process, Coleman damaged his right knee, only to jump up like a spring chicken after the requisite treatment.
Leicester did well to keep the ball away from Everton and then just waltzed down the right wing and cut in through the Everton defence for a tap-in from Harvey Barnes after the ball came to him off Ineacho. What a dreadful goal for Everton to give up so early in this crucial game.
Everton tried to press The Foxes but they were passing it around like Real Madrid, leaving the Blue shirts to chase shadows in the deepening gloom, while the Foxes' press was far more effective when Everton did secure any turnover and they soon lost the ball again. They worked it to Maddison who had a free shot at Pickford.
Leicester City won the first corner in the 13th minute, it was hacked away by Allan, ceding possession again. Everton tried to build confidence by passing it around at the back but Iwobi took too long and was very lucky that the weak challenge on him was given as a foul.
Article continues below video content
When Everton finally mounted their first attack, Iwobi fed Anthony Gordon who put in a superb cross that Richarlison somehow completely missed with a hopeless shot back across goal, an absolutely dreadful dreadful miss, Utterly unforgivable.
Leicester resumed their confident play, knocking the all around at will until Iwobi went on something of a run but Roicharlison was not clued in to the upcoming pass. Gray finally got on the ball but Tielemans closed him down quickly to block his shot.
Everton got a free-kick that Gordon took but he floated it over everyone and out of play. Gordon got wide right and ran past the defenders but his cross again was horribly over-hit. Everton's passing was so poor, just shocking.
Iwobi fed Gordon again but this cross was straight at the first defender. No end product. Unfortunately, that still bedevils this passionately enthusiastic young man.
Everton were at least getting forward now but just not taking their chances, as a Richarlison header on a cross from Mykolenko(?) flew well over the bar. Mykolenko did well to win an Everton corner that was worked cleverly to Gray and his beautiful shot just failed to curl into the top corner.
A hugely frustrating half for every Evertonian watching finally came to an end, with Lampard now under massive pressure to turn this dismal mess around in the second half.
After the restart, Everton continued to struggle with the close attention denying them space. But there seemed to be 3 more Leicester players on the field. Richarlison did well to win the ball back but then immediately gave it away. Everton again tried farcically to play out from the back.
Iwobi got a chance to run and saw his chance to shoot with Gordon running off him but it was hopelessly high over the bar. Leicester resumed their tippy-tappy play with plenty of accurate passing that Everton just couldn't get close to until Yerry Mina was a rock that Harvey Barnes could not play through.
Everton constructed a decent forward move but the ball in to Iwobi was difficult and he could only loop it behind. But Everton kept possession until Allan gave it away and Leicester came so close to a second, Pickford coming out to punch it off ____ head.
Another decent piece of forward play saw Gordon feed Gray but his shot was too high. Gordon then did well to win a corner as Everton ramped up the pressure, but there was no threat from the corner as Allan was finally dragged off, Dele Alli the man to change this horrible game.
Felp played a nice ball out to Gray who allowed it to bounce under his foot and out. Shocking. Iwobi again tried but failed to release Gordon down the right. After a period of Everton pressure with nothing to show for it, Leicester started to come back into it, but Dele Alli didn't. He had yet to touch the ball.
Alli finally got involved but the pace was too slow and the move went nowhere. Lampard decided to bring on Rondon, but not before Everton played themselves backwards until Coleman slipped and gave the ball away. Incredibly Leicester failed to capitalize. Rondon came on for Gray.
A forward ball from Rondon was flicked on for Richarlison and his shot was far too easy for Schmeichel to save. At the other end, Maddison got forward and fired a decent shot that Pickford parried away.
Leicester switched the play and rapidly had the ball upfield, threatening Everton. They won a corner and took an age to take it, and should probably have scored but Lookman was offside. Another Everton attack broke down and Leicester attacked at pace.
Richarlison fouled and got a yellow card, needing treatment as the minutes ticked away. Leicester pressed again and drew Pickford out but Fofana headed the corner just inches beyond the angle.
Yerry Mina tried a cleaver dribble in the middle and completely messed up, slicing down his man and earning a stupid booking, just shockingly poor play by Everton.
Mina got a chance to redeem himself with a header that Schmichel saved easily.
Everton won another corner that Gordon planted right onto Richarlison's head and he put it wide!
Everton won a free kick but Gordon's delivery was pathetic, straight to a defender, and Leicester attacked again, Maddision miskicking and failing to score again. Dele Alli, who had done nothing, went for a crazy lunge and a yellow card.
Yerry Mina's knee struck Daka in the head and another long stoppage sucked what little life was left in this game. Gordon with a corner, Rondon won the corner but it flew too high over Dele Alli at the far post.
Another Everton free-kick, headed well wide by Richarlsion as 5 minutes of added time were shown. A chance fell for Coleman and he took an age before missing it.
But Dele Alli then chased down Pickford's long ball, battling to control as he got to the goaline and fired in a low cross, that, Rondon scuffed under pressure and Richarlison completely mishit it, but the ball deflected off the defender's heel and looped past Schmeichel into the net for a very precious Everton goal.
More Everton pressure off a late corner but the unlikely winner would not come and Everton had to be very thankful for a precious point from another utterly abysmal display of shockingly poor football.
Kick-off: 7:45 pm, Wednesday, 20 April 2022 (Not on TV in the UK)
Everton: Pickford, Coleman, Mina, Godfrey, Mykolenko, Allan (58' Dele Alli [Y:86']), Delph, Iwobi, Gordon, Gray (66' Rondon), Richarlison [Y:75'].
Subs not Used: Begovic, Kenny, Holgate, Keane, Doucoure, Gomes, Van de Beek.
Leicester City: Schmeichel, Pereira, Fofana, Evans, Castagne, Tielemans, Mendy (84' Amartey), Dewsbury-Hall, Maddison, Barnes (67' Lookman), Iheanacho (77' Daka).
Subs not Used: Ward, Justin, Soyuncu, Albrighton, Perez, Choudhury.
Referee: David Coote
VAR Michael Oliver
Share article:
---
Reader Comments (205)
Note: the following content is not moderated or vetted by the site owners at the time of submission. Comments are the responsibility of the poster. Disclaimer
Andy Crooks
1
Posted 20/04/2022 at 19:08:10
If some of these players can put together two good performances we will win. Never thought I would consider Rondon as a starter but in the absence of DCL maybe we need him. Still, !ooks about as strong as available.
Kieran Kinsella
2
Posted 20/04/2022 at 19:11:24
Delighted to see the Chuckle Brothers restricted to the bench. Hopefully Mina doesn't limp off early. I would have picked the same line up myself so hopefully we are both right. lol
Bill Gienapp
3
Posted 20/04/2022 at 19:22:45
We finally have a full strength squad (give or take DCL) and, in theory, should be way more up for this than Leicester. We shall see!
Tony Everan
4
Posted 20/04/2022 at 19:41:41
It's a good side, an alternative would be Richarlison on the left and Rondon in the middle? On balance though probably the best starting line-up available. Calvert-Lewin didn't contribute a lot to the Man Utd win so theoretically this side could produce more. COYBlues! Go for it.
Kieran Kinsella
5
Posted 20/04/2022 at 19:47:59
Leicester quick out of the gates.
Grant Rorrison
6
Posted 20/04/2022 at 20:19:21
Think this group of players will get us out the Championship at the first time of asking. How they'll get us out of League One the following season should be a bigger concern.
Bill Gall
7
Posted 20/04/2022 at 20:50:29
Same Everton whoever the team is, slow build up, pass to the opposition its strange that other teams always mange to pass to an open player were Everton continue to pass to marked players and it seems we only have 10 men.
And when are they going to get rid of that stupid recording Grand Old Team it makes you feel down. not give you inspiration.
Kieran Byrne
8
Posted 20/04/2022 at 20:52:42
We're getting killed in the midfield, Allan has been brutal & the difference between a £80M and a £30M striker was evident, for fuck's sake. We've got to get the ball out wide to Gordon & Gray then mix it up & have a few attacks through the middle Iowbi wake up.
45 minutes to man up & wake up! We're so slow zzzz
Joe McMahon
9
Posted 20/04/2022 at 21:48:59
Everton 2 Watford 5, IMO was the huge warning sign that we needed a proven goalscoring striker and a quality CH. Never happened.
Dale Self
10
Posted 20/04/2022 at 21:55:05
Not going to skip over the obvious, Frank should be replaced with Dyche. No matter if we survive this season we will still need the kind of set up and discipline that Dyche's teams exhibit. Don't be shy and don't be cheap, just get Dyche signed. End of.
Neil Lawson
11
Posted 20/04/2022 at 21:55:34
Agony following this game. Looking forward to seeing highlights shortly, but given our usual capitulation, the jammy equaliser leaves us feeling like it was almost a victory.
Fingers crossed for the Saints tomorrow. Write off Sunday. Start fretting again even more next week. Are the gods finally deciding to give us a reasonable share of their attention?
Robert Tressell
12
Posted 20/04/2022 at 21:57:23
A point is valuable. Too many losses this season not enough draws.
Lot of character to score late too.
Obviously played awful.
Grind out more points now.
Pete Jeffries
13
Posted 20/04/2022 at 22:03:31
Lucky to get a draw but did battle to the end.
Frank dead right to sub Allan and Gray both having mares.
Now for the RS.
They always start with Klopps blitzreig for the first half hour to finish the game with early goals.
While Van D in his customary armchair half asleep.
Old Jimmy Harris RIP was right, whats the point of one up front versus 3/4 defenders plus now a ball playing goalie. We will need Rondon and Richie on from the start etc.
Every manager copies Klopp and Pep but no manager is brave or clever enough to come up with a new strategy a la Brian Clough..

Dennis Stevens
14
Posted 20/04/2022 at 22:03:58
Aye, Robert. Our first draw since Chelsea away in mid December. A handful of draws since then would have us in a much better place now.
Tony Everan
15
Posted 20/04/2022 at 22:08:11
Poor quality in the final third, need to be better, mostly disjointed play but a draw was probably fair. Richarlison should be finishing those chances he missed and we would have been celebrating a slightly fortuitous win.
Better option to play Richarlison left and Rondon through the middle from the start at the moment.
Andrew Keatley
16
Posted 20/04/2022 at 22:09:27
We were lucky to still be in the game after an hour, and Lampard was bold with his substitutions, so credit to him for that; Alli made a difference - and not just for the equaliser, while Rondon showed a good amount of willing and endeavour and enabled us to get up the pitch a bit.
When we pressed with a little bit more force and ambition in the last 15 minutes Leicester started to turn the ball over, but it was way too easy for them up to that point. Gray was poor with and without the ball and was always five yards off where he should have been when pressing, while Allan and Delph have to be cautious when committing as they lack any recovery pace at all - so our press was token at best.
Iwobi was bright and energetic, and in the last half-hour Gordon showed up and displayed some extraordinary close control and clever direct running. Relief is the abiding emotion I have, and I imagine Richarlison might feel the same way. As should Coleman, who had such a glorious chance to equalise and cocked it up royally by basically tackling himself! The fact we managed to somehow score from our next attack really takes the spotlight off him, but make no mistake it was a nosebleed of epic proportions.
Our passing out of defence was tentative and woeful all game, and the long clearance by Pickford (who played very well) ended up being our most regular out-ball. We got away with it today but I wouldn't be surprised to see Keane back for our next home game against Chelsea.
Ian Edwards
17
Posted 20/04/2022 at 22:09:41
Rondon caused problems and gave Richarlison support. Should have started. Playing Richarlison on his own at home when we need to win is ridiculous.
Bernie Quinn
21
Posted 20/04/2022 at 22:12:52
Hey Fellas - I'm too old for this stress - I can hear the Fat Lady tuning up in the distance!
Christy Ring
22
Posted 20/04/2022 at 22:13:32
Nice to see Rodgers play his best team after resting seven against Newcastle? We played for 5 minutes out of 95 minutes, it's the attitude of the players, not the manager.
Mal van Schaick
23
Posted 20/04/2022 at 22:14:18
Leicester bored us to death with their passing shite. Glad we fought to get a point, but I couldn't see Lampards tactics, it was bluster and hustle with very little quality.
Lampard has had time to work with the squad now, and he had better have a better game plan for Sunday or else we could get battered. Perhaps Richarlison wide, Rondon up top 5-3-2 with wing backs, to counter being over run.
Let's hope Southampton beat Burnley tomorrow.
Joe McMahon
24
Posted 20/04/2022 at 22:19:53
After his performances in the FA Cup, Rondon should always be leading the line and Dobbin being used as a sub. We were luck today, this is going to the wire.
Burnley's easier run in and having better strikers may finally put an end to that embarrassing, pathetic Grand Old Team song and the Danny La Rue wannabe that has spearheaded our demise.
Ed Prytherch
25
Posted 20/04/2022 at 22:21:11
If we escape relegation, it will be by the skin of our teeth. We did not look like a team fighting for survival for much of the game.
Two dreadful misses by Richarlison. Ossie reckoned that he was thinking about his celebration when he missed the first. Rondon needs to start if we are to rely on Pickford's big punts up-field. No-one else got near them.
I thought that Gray may have pulled something out of his hat against his old club but he was poor today, continually slowing it down before cutting inside and either running into a crowd or shooting wildly over the bar.
Iwobi and Gordon deserve credit for their energy and attempts to make something happen.
Bill Gienapp
26
Posted 20/04/2022 at 22:21:58
Robert (12) - That's definitely been the story this season, our inability to turn losses into at least draws. We have the same number of wins as Crystal Palace, who everyone seems smitten with, but they've banked an additional eight points via draws.
Mike Doyle
27
Posted 20/04/2022 at 22:24:23
We looked much more dangerous with Rondon on as the central striker. This created more space for Richarlison who, despite 2 poor misses, kept going and got his reward.
Gordon looked much better in the latter stages and Iwobi stuck to the task all night. Nice to see Dele play a part in something constructive.
Leicester are a better team than us so 1 point is not a bad result. Goal difference could prove critical so I'm expecting 4-5-1 for the next game. Not sure about Chelsea who blow hot and cold.
Christy Ring
28
Posted 20/04/2022 at 22:28:17
Rondon made a huge difference when he came on but, in my opinion, Alli yet again was a total waste of space.
Terry Farrell
37
Posted 20/04/2022 at 22:39:38
Christy, it's all about opinions but I'd say Dele played with some confidence on the ball and Rondon did nothing of any note.
We got lucky but deserved it due to Leicester time-wasting.
Kieran Kinsella
38
Posted 20/04/2022 at 22:40:49
You can say that again, Christy.
Ian Bennett
39
Posted 20/04/2022 at 22:44:10
You can see why we get nothing away from home.
For 75 minutes we gave them so much respect, and just bent over. No tackles, no intensity, and no bottle – and that was home under the lights. Fucking cowards.
Fake jogging, when did that become a thing? Jogging for a ball you've no intention of remotely get.
10 minutes they had a go, and guess what – we rock them back, get the crowd up and create chances.
Don't understand people having a pop at Richarlison. He's the only bit of quality we've got. If anyone is getting us out of the shit tip, it's him. When he's gone, we will be a poorer team for it.
If you want to have a pop, point the finger at Moshiri, the recruitment team, the many managers, and his shithouse teammates. He's going places, the rest aren't.
Tony Everan
40
Posted 20/04/2022 at 22:47:08
Rondon made a huge difference when he came on but, in my opinion, Dele Alli yet again was a total waste of space.
Gary Jones
41
Posted 20/04/2022 at 22:47:44
Edgy, horrible night, with an end that at least keeps some small hopes alive. Could feel the depression in the air walking down from Stanley Park, and after a 4-day bender at the weekend, most of the lively ones were taking it easy on a midweek game.
On the pitch, some notes and thoughts:
- Iwobi was excellent again, imho.
- Richarlison is not a target man. We simply cannot pass it out from the back so we need a target man! Rondon now a must if no Calvert-Lewin.
- Gray's better from the bench against tired legs.
- Mina is a scary dude.
- Seamus has gone, but still gives his all (could have cost us at both ends)
If we play like that against Liverpool, we will get absolutely mullered. For me, I'd experiment against them with kids and benchwarmers. We can at least say they beat the "sub team", and you never know that could fluke a point like we did at Chelsea. My new team for Sunday:
Begovic
Holgate Keane Branthwaite Godfrey
Dobbin Dele Doucouré Van de Beek Gordon
Rondon
Gavin Johnson
43
Posted 20/04/2022 at 22:49:48
Terry #37, you say Rondon didn't do anything of note, but we looked a lot more dangerous when he came on. He was the focal point which allowed us to go more direct with his lay-offs and hold up play. He took a man out for the eventual goal.
He should start against Liverpool. I'd consider giving Dele a start too.
Overall, a point was a good result considering how poorly we started. It was men against boys for the opening 15 minutes. Just looked at the Richarlison sitter again. How did he miss?!? It was easier to score. I'd have put that away and I ain't played Sunday league in 10 years…
Terry Farrell
44
Posted 20/04/2022 at 23:03:04
Gavin, it was Last Chance Saloon stuff. I'd rather have Moise Kean or Ellis Simms but we have messed that up.
To lay a glove on teams in the Premier League now, you have to be pacey and sorry but Rondon cannot do it. Don't you wonder why Calvert-Lewin has been missing most games and Frank doesn't start him? You are playing with a man short!
Also, those having a go at Seamus imo are wrong. He was excellent, saved us early doors with tracking back and a superb tackle where he injured himself, and was very clever on the ball all game. Got caught out only once.
For the derby, I would go backs-to-the-wall, hard work and just stop them where we can and look for a set-piece opportunity. Sad but that's where we are…
Bill Fairfield
45
Posted 20/04/2022 at 23:05:39
The first half performance was shocking. Hoofing it up to a player who hasn't got a clue with his back to goal in the centre-forward position. Might as well have played Rondon if that was the tactics.
Better effort in the second half when Rondon came on, he knows the art. Precious point in the end. But totally outplayed for long periods of the game. Surprised Leicester didn't create more clear chances.
Jerome Shields
46
Posted 20/04/2022 at 23:07:24
Leicester were always going to be the bogey team. Everton played their typical after-a-break football.
Frank, in selecting Delph, played right into Leciester's training ground preparation: Delph being targeted, Van de Beek should have started.
Leciester were able to push their defensive line up, compacting and supporting their midfield. Bringing Rondon on stopped Leciester doing this and provided more space in midfield.
Bringing Dele Alli on changed the p!ay that Leciester had prepared for. A goal resulted. Rondon to the rescue!
Getting a point out of this game was an achievement and gave Everton a valuable point.
Kieran Kinsella
47
Posted 20/04/2022 at 23:08:50
Not picking a side in the Rondon debate but the fact there is legitimate discourse about him being a starter says it all. Likewise the praise heaped on Delph in the last game.
If they're key men, it shows how poor we are. We haven't had a decent run of results all season and I don't expect to see one now. It's a matter of whose worse between us and Burnley.
Tony Abrahams
48
Posted 20/04/2022 at 23:10:52
Left my glasses at home but that wasn't the only reason I never really enjoyed the game. Started poorly, gave Leicester way to much space in which to play, isolated Richarlison, who is never a centre-forward in this league, and this also meant we missed his energy on the flanks.
I'd have also brought Doucouré on to add more energy because I thought we were really lacking in this department tonight; I was just delighted that the two subs helped get us a point in the end tonight.
Now for Sunday... We lack guile, we lack craft, but somehow we've got to find a team that can at least try and match Liverpool's energy, and that's got to mean using all three subs, whilst also taking Mykolenko out the firing line for this one, because his positional sense seems tailor-made for Salah.
Peter Mills
49
Posted 20/04/2022 at 23:11:16
I've got the choice of going to bed downcast at our performance or pleased at rescuing an important point.
I'm going for the latter.
Oliver Molloy
50
Posted 20/04/2022 at 23:12:23
Tonight was a must-win game, just like the Burnley match – another opportunity to give us all a little breather – and they fuck it up, per usual.
I don't think it will matter which fucking players are on the pitch for the derby, I just can not see it ending well – I for one am dreading it.
Dave Abrahams
51
Posted 20/04/2022 at 23:20:45
A draw was more than we deserved with that pathetic performance – even allowing for the two sitters missed by Richarlison and another poor effort from a half-chance set up by Rondon followed by Seamus not taking his chance quick enough. Not hardly any of the players played well against a fit fast and talented Leicester team who missed more chances than us.
Lampford is turning out to be a naive disappointment of a manager whose tactics are limited and hard to understand and although Rondon was a good sub, Alli did little to impress in the 30 minutes he was on the field and he looked knackered after 10 of those minutes but he did have hand in the goal doing well to get his centre across, and Frank failed to use the third sub again, can't he count!!
All-in-all, a very poor performance by Everton who played like there was nothing to play for with a half-hearted attitude that makes me wonder: Do any of them really care or understand how serious our predicament is?
It seems like I have used that sentence before recently… does anyone care inside the club as much as us fans? It is heartbreaking looking at the players who represent our immediate future and, until the last 10 minutes, didn't look like they had any real fight in them.
So sad looking at them and, all around me, the fans' faces seemed to acknowledge how poor we were. This squad has drained a lot of life and belief out of many lifelong Bluenoses and young fans who have had nothing to celebrate after following them loyally for well over 20 years.
And yet we are still in with a chance of staying up – simply because there are possibly three worse teams than us in the Premier League.
Eddie Dunn
52
Posted 20/04/2022 at 23:23:01
Only saw the second half but thought Frank was at fault in playing Richarlison up top. Rondon came on and we had second balls to compete for.
Dele did well and was instrumental in the goal. I was amazed that Frank thought Seamus was so good. Perhaps I missed something during the first half but I saw him fuck things up several times. Richarlison was dreadful – who would be mad enough to buy him?
I am coming back home this weekend and unfortunately will be watching the match with my Red in-laws. They are very circumspect regarding my affiliations. I expect a hiding but hope that somehow we can grind out a draw, denting their ambitions… but Frank needs to sort his head out.
We are far too open and without a proper Number 9, we simply won't score. Bench Gray, play Rondon, bypass midfield and get bodies in their box.
Denis Richardson
53
Posted 20/04/2022 at 23:24:43
Burnley play twice before we play again. If they stick to form then they'll probably draw both. We desperately need The Saints to put in a decent shift tomorrow.
Still amazed we're in this situation. Had we even just drawn against them, we'd be well clear!
Frank Thomas
54
Posted 20/04/2022 at 23:37:51
Frank you have had over a week to prepare for this game and you are
NOT
doing the required homework for a manager in any football division.
How many times do Everton managers, including Lampard, have to play Richarlison in the centre-forward position before they realise he cannot play in that position.
His strength is his willingness to chase and create unusual chances. Hence Richarlsion's two dreadful misses that even Rondon might have scored because Rondon is a natural centre-forward, just like Dobbin. Dobbin, who scored 3 hat-tricks in pre-season, does not even make the bench now.
Also, Gray failed to show up against his old team… surprise, surprise.
Mentioning homework again, Gray only really lasts for 70 minutes before he starts running out of steam and quality. Hence we needed to sub him.
We keep a clean sheet in the last game and you change the defence??? "I like your thinking," says Brendan Rogers.
You need to have better attacking options on that bench and you need to play three subs when you are down. Same team for Sunday and you might just become a legend for the wrong reasons.
Frank, have you actually looked at any of the games we have played so far this season to figure out our strengths and weaknesses 0 or are you just using the 'force'?
Peter Carpenter
55
Posted 20/04/2022 at 23:38:55
Why so depressed? We looked good on the highlights. Rondon did well and should play more. He did something no one has done for ages – attacked the near post – and we got a goal.
Don Alexander
56
Posted 20/04/2022 at 23:48:14
I have inside knowledge that Kenwright is putting a DVD of the match out as "Yet another example of our good times."
Available in charity shops only of course.
John Keating
57
Posted 20/04/2022 at 23:50:25
Shocking.
We really needed those 3 points and can only hope Southampton and Wolves do us a favour.
Richarlison, great non-stop effort, but he is no centre-forward. He needs someone up top with him.
If we are as open on Sunday as we were tonight, the goal difference will get a hammering.
Mina and Keane back in the middle on Sunday, 4-5-1.
Neil Copeland
58
Posted 20/04/2022 at 23:58:50
I thought it was a strange game because – despite how poor we played – we still had enough chances to win it. However, it was most definitely a point gained rather than 2 lost.
Why did such a talented team as Leicester resort to time-wasting when we were there for the taking? I am pleased they did though and got their justice.
Agree with those regarding Richarlison as a Number 9, he is wasted and we rarely play well with him in that position. Rondon gave us a better shape and made a difference.
Dele looked okay to me, he found space a few times and used the ball well. Still doesn't look 100% fit but is getting better.
So, on to Mordor. Bring it on! UTFT!

Ernie Baywood
59
Posted 20/04/2022 at 00:00:53
I struggle to believe anyone still thinks we don't need to start a striker... or that Richarlison is one.
It must be getting pretty close to being a fact?
Just don't do it, Frank. Try Rondon, try Alli, try Dobbin. Try anything but don't waste Richarlison by playing him in a position which manages to leave us two players short (left-wing and striker). Richarlison has always been more dangerous off the left – he's a nightmare to deal with when he links up.
Rondon did alright, I thought. His role in the goal is underrated. He was in a Number 9's position occupying a defender - sometimes that's enough. I certainly don't want to see Van Dijk given an easy time so he's a definite starter for me.
Good to see Alli used and looking interested. I actually didn't think anyone had a particularly bad game – just that we weren't really at the races as a team for much of the game.
Peter Carpenter
60
Posted 20/04/2022 at 00:01:20
Poor performance. Nobody really played well, even Gordon.
It's a point gained and at least there was some fight.
Tony Twist
61
Posted 20/04/2022 at 00:02:08
Extremely poor, this team is shockingly bad and, in such an important match, to concede so early is just incompetence. But that is how it has been for a number of years and it is a habit yet to be coached out of these players.
Really under pressure now and I just hope that the gods shine down on us and results go our way because this team has turned down so many opportunities to get out of this mess, this being one of them. I think it is 2 vital points dropped not 1 point earned.
Low block required the next game with Holgate, Mina, Keane, Godfrey and if possible a midfield three of Allan, Doucouré and Delph. Load up the centre of the park so there isn't even room for Liverpool to breathe.
Frank Thomas
62
Posted 20/04/2022 at 00:02:16
Gary (41), I was agreeing with everything you said until you put Holgate in your team.
Holgate has cost us so many points against West Ham (foul, leading to free kick and goal, bad pass to Iwobi), Man City (he knocked the ball away from Keane and his clearance) and Burnley (his pass out from defence straight to a Burnley player lead directly to their second goal).
Holgate panics and unerringly passes out to the opposing players, bringing another attack onto our defence. I cannot believe Frank has him on the bench.
Tamhas Woods
63
Posted 21/04/2022 at 00:06:27
Under Benitez, that's a 3-0 or 4-0 loss easy, so credit where due. That said, Liverpool are going to give us an asshole like a clown's pocket though.
Might watch the Fly Fishing Championships on Sunday instead – appropriate as I've had a face like a brained trout all season thanks to those horror bags.
Derek Knox
64
Posted 20/04/2022 at 00:07:11
Not long got back from the match. To crown a disappointing performance, the M53 was shut, just after the Tunnel exit. A detour via Leasowe and Arrowe Park delayed us by at least 20 minutes. The annoying part, as with most roadworks, there were loads of cones but no work appeared to be seriously under way. Who plans these outages?
Anyway, I digress, I really expected a joined-up performance tonight after the Man Utd victory… sadly, that was not to be, and with Leicester scoring early, it was going to be an uphill struggle. Another goal for Leicester looked more likely than an equaliser for us. Thankfully, we levelled in extra time.
We are almost in that precarious position which I hate, in relying on other results to go our way, rather than get them under our own steam. Still hoping that we can survive!
Rob Dolby
65
Posted 20/04/2022 at 00:07:44
Dave 51 Totally agree. The worrying thing for me is the schoolboy headless chicken run direct at a player only for an easy 1-2 to then break us down. This team cannot press, we just don't have the legs.
At this stage of the season, there is nothing wrong in sitting tight, staying organised and hitting teams on the break. The first minute Coleman stopped a clear chance from an easy 1-2 and midfielder runner. Really basic stuff.
As soon as Leicester started to time-waste with about an hour to go, you sensed that we could get something as long as we don't make mistakes.
Every week, I read on here that Coleman is finished. He was my MotM tonight, from start to finish – there isn't another player that wants to win more than him.
God knows how we approach Sunday. I disagree with Tony, Mykolenko should play and man-mark Salah. I would also play a 6-man midfield and try to find Richarlison at every opportunity against their right back.
Come on, The Saints.
Peter Carpenter
66
Posted 21/04/2022 at 00:20:57
Corners. Leicester, 1-0 up, left 3 players up when defending corners, giving them a chance of a breakaway goal if they clear the corner. It also gave us a chance because it was much less crowded in the box than usual – 14 players instead of 20. So, spread out and attack the spaces. Good idea?
What did we do? All stood together, same as we always do. Easier to mark and created the usual scrum as the ball comes in.
Does no one on the coaching staff notice these things? There's enough of them. Or are they all just thick?
Dale Self
67
Posted 21/04/2022 at 00:32:39
I don't know, Tamhas, Frank is still below Benitez in points per game so there is really no empirically based reason to believe that claim.
Phillip Warrington
68
Posted 21/04/2022 at 00:37:17
Yes, we got a point but on that performance which lacked any intensity. We will get slaughtered by Liverpool. Watching them dismantle Man Utd without getting out of second gear, they are miles ahead of us and you can guarantee they will turn up for the derby. Hopefully so will our players because, if they don't, we will get hammered.
Derek Moore
69
Posted 21/04/2022 at 00:51:30
The Foxes have two legs of a European semi-final coming up, and little to play for in the Premier League. They seemed to be trying to win the game whilst expending the minimum of energy and without wanting players risking injuries – hence the absurd time-wasting a truly dreadful referee Mr Coote did nothing about.
So to gilt edge a chance within the first minute for them and then concede only a few minutes after that was absolutely woeful on our part. The crowd was immediately and thoroughly removed as a factor and we gave them everything they wanted for most of the rest of the game. Time, space and the ball.
The response after going down that early was virtually and tellingly non-existent. Earlier in his tenure, Lampard's Everton would start with a cogent plan and then seem to suffer collective amnesia at the 15-minute mark or so. Obviously Lampard has been working on this and stressed sticking and believing in the game plan.
That was probably a big part of why we didn't fold altogether – but ironically it was also the absolute wrong approach today. Why? Because the game plan was dreadful and needed to be changed! But we played the rest of the half minus the ball as if we were mid-table and on level terms; it was bizarre.
Lampard would possibly argue he's been begging the players to remain calm, especially in the face of adversity. But how "calm" translates to an almost contemptuous lack of energy and urgency against a side playing very much within themselves is a circle only Lampard can square. It's beyond me.
Richarlison's first-half miss was almost comically awful, and really summed us and the team's first-half performance up in a few seconds.
The second half was marginally better, but perhaps only because we couldn't play any worse? The ground was so quiet throughout you could hear the individual pieces of abuse and occasional bursts of nonsense from the Foxes fans. ("You'll Never Be Champions of England" – do you want to tell them or should I?) Abuse that became ever more desperate and vitriolic as time wore on. Lampard's halftime instructions must have consisted of "Shoot on sight" as we peppered the Gwladys Street seats with truly dreadful attempts on goal.
Allan deserved to be hooked – he and Delph are a bizarre and painfully slow pairing – but his replacement was not much better.
Clearly Dele Alli is low on form and confidence, and struggling to find a role in this team. Until he played his part in the goal, it seemed his only contribution would be booting Maddison near the touchline (allowing the Foxes to waste even more time).
Rondon did his part, but it seemed as if Leicester had decided one was enough by that stage anyway. And realistically, they should have been almost over the hills and far away by then.
We didn't really show any urgency until stoppage time which was when our goal came. Richarlison did his best to miss what became the equalizer, with a miskicked scuffed deflected effort that somehow ended up going in. Goodison roared into full voice – 3 minutes before the end of the match.
We probably deserved something from the game as the Foxes were so half-arsed and cynical but it felt very much like a point gained rather than two squandered.
I thought Pickford was unusually calm and was noticeably organizing his defenders at set-pieces. Gordon tries hard but faded noticeably in the second half.
We had largely played through Iwobi – in the brief moments we had the ball, that is – within the first half but Dele's introduction seemed to turn Alex invisible. He was a passenger from then on.
Yerry Mina played like someone who doesn't fully trust his body. But we looked better than we have from corners at both ends of the ground with him out there. His encouraging of Richarlison when we had a corner or free kick was I think vital. He – alongside Pickford – are the only two players we have with any real leadership qualities. It should be noted neither of them are exactly Beckenbaueresque though.
Allan was dreadful and offered almost nothing. He played as if he has a transfer lined up he doesn't want to be queered by injury. The exclusion of Calvert-Lewin, Doucouré and Keane altogether I also found odd and has me concerned that Lampard has already lost a chunk of his dressing room.
A valuable point is just that, but I've said it elsewhere and I'll say it again. We have neither the right manager in place nor players fit for purpose right now. If not for a truly dreadful three clubs below us, we would already be cast adrift IMO.
Even with that fact in our favour, it will likely come down to the wire or very close to it. Lampard not using his third substitution after 10 days off and with the toughest fixture of the season to come in a few days was alarmingly baffling.
Our away form is no secret and neither is Liverpool's quality. The place to leave it all out there was here and the time to do it was today. Perhaps further evidence of Frank's inexperience in relegation battles?
We'll probably just about get away with it this season, but to what end? It's painfully obvious how much this iteration of Everton is on borrowed time. Smart recruitment, improved off-field performance and accountability and a vast improvement from the manager need to happen because our borrowed time is running terrifyingly short. These are very very dark days indeed.
We're not so much sleepwalking to disaster as driving full speed at it in a supercar. This club needs to change, and it needs to do it as a matter of urgency.

Mike Keating
70
Posted 21/04/2022 at 00:54:42
Just saw Richarlison's miss in first half on TV and it was appalling – Schmeichel in no man's land but still misses the target proving that he is not a centre-forward (as with the header in the second half).
Rondon – Ox in the Box for the winner.
Should have been on from the start.
Gray really disappointing, as was Allan.

Jay Harris
71
Posted 21/04/2022 at 00:56:26
When this squad start playing for 90 minutes instead of 45-60 we might improve. In the meantime we just rely on luck and 3 worse teams than us.
If we can't get points on the board, I fear Watford as well as Burnley.
Lester Yip
72
Posted 21/04/2022 at 00:57:48
Previously we haven't been able to put some quality crosses in and I think if we can improve that we would have scored. But today shows our strikers have poor finishing when the ball is placed to their feet they can't get a shot on goal.
I like Richarlison. he always gives his best. And he scored some spectacular goals (diving header/ bicycle kick). But he really needs to work on the finishing (or composure) when it counts. We can't keep missing those chances if we want to stay up.
Pete Clarke
73
Posted 21/04/2022 at 01:08:35
Pretty poor performance for such an important home game. Huge lack of quality and creativity in the team to go with the lack of everything else required at this level.
A very lucky goal has saved us from a real devastating home defeat with some horrible fixtures in front of us. Richarlison did get the goal via a lucky break but he should be embarrassed with that header late in the game. He is a fully-fledged Brazilian international, for fuck's sake!
So now we have to rely on other results again and not only Southamptonton and Wolves to do us a favour but also Watford.
Every man behind the ball on Sunday and I'll be behind the couch.

Brian Wilkinson
74
Posted 21/04/2022 at 01:18:36
We have the derby on Sunday, while Burnley play 3 games, before our next game against Chelsea; for the remainder of the season, Everton play all their games after Burnley have played their round of matches.
Could work in our favour, knowing what we have to do results wise, to Burnley's.
After that first-half performance, which was even more embarrassing than meeting the lads in The Oak, only to find they do not accept card payment over the bar, and no cash in wallet, had to go cap in hand.
That could be a massive point we picked up tonight; we will know more after the Burnley game later today.
Keep Iwobi in the middle of the park, he always plays better down the middle, than out wide.
Bill Gall
75
Posted 21/04/2022 at 03:03:10
There was no excuse for Richarlison with them misses, I understand he is not a typical #9 but this is a position he has expressed he would like to play.
Watching training videos, although it only looks like a couple of minutes, I am sure they practice putting these types of crosses in all the time. This is the manager's responsibility to tell the player where he wants him to play, and I believe the majority of supporters who have watched him since he was bought will agree he is at his best on the left-hand side.
I am keeping an open mind on Lampard, he has had this squad for over 2 months but the same failings keep popping up: players are good one week and the next they are poor, he can't seem to get a balance in the team.
The passing to other players unless they just play around the back is not good and trying to go forward, pass to a player closely marked.
Today, both teams missed good chances but Everton's were the easier. We can't afford to miss chances like this as there is not long left, and pressure causes mistakes when you are struggling.
Gary Jones
76
Posted 21/04/2022 at 06:49:17
Frank (62) - I cannot argue with your point; Holgate is gash. My rationale is simply:
1) Four big lads at back plus Doucoure, Alli, and Rondon gives us a fighting chance at set-pieces (albeit can't recall us scoring from them).
2) Only 2 of these considered "first choice" by Frank… play the subs to give us at least an excuse when we get battered.
3) The only other options are Coleman (legs gone) and Kenny (debatably worse than Holgate).
Danny O'Neill
77
Posted 21/04/2022 at 07:00:56
I've said time and again that Richarlison isn't and shouldn't be used as the main striker. I know we're light in numbers and whatever happened with Calvert-Lewin didn't help.
On the goal, I read some criticism earlier, but looking at it again, he does the basics right. Okay, not the cleanest strike but he does what you are taught from a young age. Take the chance early, hit the target and shoot across the goal aiming for the corner as the keeper should be covering near post.
We salvaged something. We're on course to get the 4 points I wanted by Sunday, just the hard way! Anyone who hasn't got the stomach, give me a shout and I will take your place.
After that, Frank then does one over his former club (see you there), then Leicester, Watford, Brentford and Palace.
Right now, I don't care how we do it, just do it.
By the Arsenal match, I want to be relaxed enough to go early at half-time and get that half-time drink off that lady in the Upper Bullens that she has denied me all season!!
Eddie Dunn
78
Posted 21/04/2022 at 07:33:04
Danny, if you do that, you will have broken into Goodison and that lady won't be there, as we will all be at the Emirates!
Gary Jones
79
Posted 21/04/2022 at 08:00:44
Danny, I think Richarlison would make an excellent number 9 in a team that can play passing football, and create the 3x chances he needs for a goal sometimes.
I think the issue is (and I realised it again last night) that we can't. It's an inevitable hoof from Pickford or a centre-back. Against 2 big centre-backs, he hasn't got a hope. If he's played there it needs to be next to another big fella.
I'd actually go a front 3 of Calvert-Lewin, Richarlison and Rondon and accept this is how we need to play for now. However, not against Liverpool as toe-to-toe in 4-3-3 would be disastrous.
Danny O'Neill
80
Posted 21/04/2022 at 08:04:43
Fair call out Eddie. I'll try in one of the fixtures before.
Just re-watched the highlights. Some of those missed chances were criminal. Gray went close. That would have been a screamer.
Eddie Dunn
81
Posted 21/04/2022 at 08:11:23
Danny, one day you will get that pint. And I also just watched the highlights... oh for a Pukki!
James Hughes
82
Posted 21/04/2022 at 08:13:23
Danny, you have made me curious, what have you done that she won't serve you?
Jim Bennings
83
Posted 21/04/2022 at 08:46:21
I think we will get 6 more points, one win and three draws.
Maybe I'm being too optimistic with that or some may say negative, but I think it's most realistic.
I don't see us winning another away game, maybe a point at Watford that's it.
Who knows whether it will be enough to stay up, I can see it being more in Burnley's hands than ours given the two teams fixtures remaining.
Paul Cherrington
84
Posted 21/04/2022 at 08:48:21
Real shame about last night as a win would have given us real breathing space in the relegation battle. But on the bright side, at least we got a point and that might be the point that keeps us up come season end.
For me, it all comes down to missed chances and playing Richarlison as centre forward. I know he scored at the end (more luck than judgement though IMO) but the chances he misses at CF when he plays there are criminal at times. This has been true in other games too as well as last night. We should have really won by a goal or two last night with the chances we had and be revelling in a much needed win.
He is just not a striker and not clinical enough - especially for this team where he might only get 1 or 2 chances a game. He is much better on the left wing in general too in terms of the team shape/his overall effectiveness.
Until Lampard starts playing another actual striker when DCL is out, then we will keep missing key chances to score that cost us in games. If he doesn't fancy Rondon so much, he must give Dobbin a go who knows how to score.
The other thing which I think has hampered us all season is the huge break inbetween games we seem to have at times. It would have been much better to play fairly soon after the Utd win when confidence was high and the team were in a rhythm. Not much anyone can do about that though!
Rob Halligan
85
Posted 21/04/2022 at 09:46:46
Came away last night feeling rather dejected, thinking a win was an absolute necessity, then kept reminding myself that if you can't win a game, then make sure you don't lose. Ok, we achieved the "don't lose" objective, but cursing Richarlison for those misses that would probably have brought the victory. Funny thing is, though, even if we had won, creating a six point gap, Burnley could still have overtaken us before we play again, providing they win both their games against Southampton and Wolves. As it is, a win and draw is sufficient, but I can't see them doing it.
Was saying on the way home last night to my mates, for whatever reason DCL was un-available, be it an injury or attitude, but had he been available, then surely he would have played, so why didn't Frank go like for like from the start and play Rondon? Richarlison simply cannot play the centre forward role, he was totally isolated when balls were being pumped up to him, and if he did win a header then he was chasing his own flick on. Frank brings Rondon on, and his first header won creates a chance for Richarlison. Like him or hate him, Rondon can be a nuisance if nothing else. Should Rondon start on Sunday? I don't know, but Virgin Van Dick has to be kept occupied somehow, and maybe Rondon can do that. A front three of Gordon, Rondon and Richarlison, leaving Rondon up front throughout the match, with Richarlison and Gordon covering back when the RS are on the attack.
Dare we be as brave as what Leicester did last night, and leave three up front when defending a corner? They had three players on the halfway line, one each almost hogging each touchline, and one on the centre spot, when we had corners. This of course, means we had to keep at least three players back to mark them. Would make the penalty area a little congested, and less chance of the RS divers falling over when breathed upon.
Anyway, I'm still confident of avoiding the Big R. Chelsea will rollover for Frank, and victories against Palace, Brentford and Watford, along with a draw at Leicester and we can all go to Arsenal in a relaxed mood. 🤞🤞🤞🤞
Laurie Hartley
86
Posted 21/04/2022 at 09:57:46
Rob, #85,
I have been calling for Rondon to start for about 5 or 6 weeks now. Frank seemingly doesn't rate him. He should definitely start him at Anfield.
If he plays Richarlison up front, Van Dijk will stomp on him in the first 5 minutes. Rondon has been round the block a few times – he will keep Van Dijk occupied and I reckon he would score.
I commend you for your optimism – depending on tonight's result it could go all the way to the wire.
Andy Crooks
87
Posted 21/04/2022 at 10:24:06
It is disappointing that too many of our players seem to think that one decent performance means a holiday in the next game.
Danny O'Neill
88
Posted 21/04/2022 at 10:28:22
I'm with you on those predictions, Rob.
James @82, it's usually my bad planning or bad luck. I always seem to be that person who finally gets to the front of the queue as they stop serving. No negotiation, no sympathy, no drink.
Big game for us tonight. I think I'm more nervous about Burnley v Southampton.
Kevin Dyer
89
Posted 21/04/2022 at 10:41:19
Christy #36 + Kieran #38,
Yet without Dele chasing down Pickford's long ball, battling for control of the ball, getting to the goaline + firing in that cross, we end up with no points.
Something to consider.
Tony Abrahams
90
Posted 21/04/2022 at 10:42:20
Rondon is one of the "very few" arl-arses in our squad. After the way he's been treated by a large portion of the crowd, because Benitez played him when he clearly wasn't fit enough, you could forgive him for being like a few of the others and not really caring.
But Rondon looks like he wants to play and he's also prepared to fight, and probably because this is something he does naturally.
Mark Ryan
91
Posted 21/04/2022 at 10:44:19
I think we have all been saying the same thing for weeks and weeks: Richarlison up top, on his own, does not work. However, Frank being a top professional footballer and now a manager, together with all his plethora of top coaches, clearly don't agree, so we can only hope they have an epiphany or a change of heart for the Liverpool game.
It's costing us dearly up front but he sees things differently to most on here. I'll trust him to get it right for Sunday. To beat them would be my cup final this season. At this stage, those 3 points would so vital, as good as a cup! UTFT
Christopher Timmins
92
Posted 21/04/2022 at 10:46:10
Our players can't put two performances together because of a lack of quality, indeed the one against Manchester United was down to effort and a large slice of luck. We got another slice of luck last night so maybe just maybe we will survive.
If we play Allan and Delph on Sunday, we will take a hiding. Get another game into Mina, bring Van de Beek back in, and give Dele Alli some minutes. Watford, Palace and Brentford are the target games, anything from the other 4 games will be a bonus.
Let's just fall across the line and then start the rebuild.
Christopher Timmins
93
Posted 21/04/2022 at 10:57:11
I forgot to add that Rondon should get some minutes on Sunday, his best game was against them at Goodison. Tony, you are spot-on: it's in his DNA to give his best.
Jim Lloyd
94
Posted 21/04/2022 at 11:10:04
A lot of mixed feelings before going the match last night; and just the same, coming home!
I didn't think we were good enough to win; but thought we might just be able to get a draw. Derek Knox felt we'd get win and I felt perhaps I am just too pessimistic. Anyway, the way Leicester started I thought we were going to get murdered (I'd love to see us with a team who could play good football like they did.) We were awful collectively and it was embarrassing to see the Leicester players slice through us like we were a bunch of amateurs who just scraped a team together for the first time. Passing awful, marking abysmal, attacking????
Dysfunctional, yep, I thought we were; and if Leicester had been 3 or 4 up after half an hour, that would have been a fair assessment of the gulf in the football between us.
They were passing first time to players in space, while we, when we eventually got the ball, either didn't know what to do with it, or stopped it and passed it to players who were usually marked.
Having said all that, Richarlison had the easiest chance of either side and hit the corner flag (well, exaggeration I know) from the 6 yard box!
Yet in the end, Richarlison himself, could have had a hat trick.
Like a lot of posters, I'd like to see Richarlison move over to the Left wing; but I think that since DCL got injured, it was either Richarlison, or an unfit Rondon take the CF spot from early on in the season. As for the injuries we've had, it's by far the worst injury crisis of the Premier Div, a big reason in our demise; but recruitment over the last five or so years, of unsuitable players, is unbelievably poor.
Where we are now? Well, I believe Rondon got an unfair assessment from a lot of posters in here. I think he was played when patently unfit. He is to me, the best option we have as a CF and we should use him as such. Richarlison is a marked man and takes a battering off opposition teams: but I think he's partially brought this on himself by going down as though he's been pole axed, at the slightest touch. Get him out on the wing and take some of the weight off his shoulders.
Anyway, back to last night, I went for a jeff Hurst when the 5 mins of extra time sign went up and decided to wait for my mates by the Upper Bullens tea bar. Hearing the massive roar, I just felt relief that we'd got another precious point that might just save us from relegation.
Whatever happens, I hope to the gods that there is a bloody great revolution in this club of ours, to ensure that never again, are we in such a mess as we are now.

And that starts with binning our Chairman; and sorting out our Board to get men and women in who know how to run a football club!

Mike Doyle
95
Posted 21/04/2022 at 11:43:17
Rob # 85 & Laurie # 86 ] On Sunday we need to set up 4-5-1 with Rondon as the one up front with the brief of making life difficult for VVD and whoever plays beside him.
Playing Ritchie as the central striker won't work. He'll get kicked to pieces and will get zero protection from the ref and VAR official.
Ritchie & Gordon should be out wide with a brief to make life difficult for the 2 x RS fullbacks - protect our fullbacks - and lead our counter attacks (if we get any).
Alan McGuffog
96
Posted 21/04/2022 at 11:46:29
Whoever plays on Sunday we shall have our arses served up to us on a platter. Will be north of four nil.
The thing to look out for will be which of our lads walks off at the end, fresh as a daisy, smiling and laughing, and queueing up for autographs from Salah and Co.
Gary Jones
97
Posted 21/04/2022 at 11:57:37
Agree with Mike Doyle on the 4-5-1 for Sunday, with Richie or Gordon on the Wings working hard to help our full backs, and maybe offer the long diagonal ball outlet that can get in behind that very, very high line they play.
I'm not sure Rondon is going to get much change physically from the big Dutch donkey and whoever's with him though. Maybe thinking give Dobbin a go and hope he has enough pace to get past the high line too. What's to lose?
Joe McMahon
98
Posted 21/04/2022 at 11:58:40
Jim@94, last time with pace would have been with Joe Royle with the likes of Limpar and Kanchelskis.
With their easier run in, with Weghorst, Cornet better defenders and possibly keeper Burnley are going to run us to the end. Anfield will be humiliation (again) and Arsenal away last day (last win there was Joe Royle, that name again). Gunners could also be needing win for 4th place.
In a nutshell I seriously feel that our time is up. The squad is absolutely pitiful, and injuries have taken their toll.
A special mention for Messrs Kenwright, Moshiri, Koeman and Walsh. I'm not spiritual, but they can all Go To Hell!
Andrew Ellams
99
Posted 21/04/2022 at 12:06:20
Agree with 451 on Sunday but would like to see Gray as the one. Fast counter attacking is our only chance so we need Richarlison and Gordon playing in front of the full backs and the midfield 3 getting the ball out wide to them when we have it.
Jim Lloyd
100
Posted 21/04/2022 at 12:15:00
Joe, :) :)
I'm fairly spiritual, so I'd be content with Kenwright and co, leaving the Board for anywhere they liked, as long as it was away from our club.
I think that Walsh had a great record with Leicester and the players he got for them, and I heard there were several players who he wanted at Everton: but was knocked back by Koeman and Kenwright and maybe Moshiri too. As for him (Moshiri) my view is that we'd have been in an even worse mess without his money coming into the club.
I think Koeman was a distrastous choice by Moshiri, who's made some poor choices, but without him, we'd not have a stadium at the Bramley Moore...no matter which division we end up in!
Raymond Fox
101
Posted 21/04/2022 at 12:32:47
It was a good point last night, but comparing our coming fixtures with Burnleys we have by far the most difficult run in.
Yes we have a 4pts cushion but its going to be a close run thing I suspect, might depend on goal difference and that might not favour us.
The betting is saying Burnley are more likely to go down but I'm not sure I agree!
Laurie Hartley
102
Posted 21/04/2022 at 12:37:27
Andrew # 99 - Playing Gray as the 1 against VD would be tantamount to cruelty - the RS centre back is a bad un. It has to be Rondon and you know what I would put Alli just in behind him to give Henderson something to think about.
If I was picking the team for Sunday it would be 4 4 1 1
Pickford
Coleman, Mina, Godfrey, Mykolenko
Gordon, Allan, Delph, Richarlison
Alli,
Rondon.
No use trying to finesse it against them - fight fire with fire.

Andrew Keatley
103
Posted 21/04/2022 at 12:43:26
I'm going to buck the trend of outright pessimism and say that the derby on Sunday is going to be a much tighter game than the humiliation that others seem to be expecting.
Of course they are a very good side, in form, and with better individuals all over the pitch - but they probably need a win more than we need a point. If we set up properly and continue to be focused, well-organised and competitive all over the pitch then it won't be the cakewalk that others are predicting. Strange things can happen. Luck will play a part. If we can get to half-time without conceding then it could be very interesting indeed.
Jerome Shields
104
Posted 21/04/2022 at 12:44:43
Andy#87
Whilst there might be some truth in that. Players like Gomes and Delph after a good game become targets. As a matter of fact if one Everton Midfielder is targeted they fold like a deck of cards.
Rodgers would have been pleased with the Everton line out , being relevent to his training ground work. Add to that a after a break Everton after their prolonged stay at the Finch Farm Holiday camp. I am surprised that anything else would have been expected. 'After the break 'performances have had that attitude for years.
Getting a point is a bonus.
Jerome Shields
105
Posted 21/04/2022 at 12:59:05
Andrew, #103.
I agree.
It's not' after a break' – there will be space in midfield. , Rondon may lead the attack, preventing Liverpool's support play.
Dave Abrahams
106
Posted 21/04/2022 at 13:01:34
For those at the Derby game at Goodison this season then think about how Liverpool outplayed us for the first thirty minutes and took a 2-0 lead which could have been more, but during that time when we attacked Rondon was backing into Van Dyke all the time annoying him and not giving him a moments rest, then Grey got a goal back and we had a good go at Liverpool and they became nervous right up to half time and we continued to press and attack them with Rondon playing his part in making the Liverpool defence work and getting flustered with him, then he got injured and went off but we were still in the game at 2-1 down until Seamus made an utter cock up of an easy situation back in defence when Liverpool broke from an Everton corner and scored the third goal which deflated us and they scored a fourth with us still attacking trying to get a goal back.
A load of words there to describe why Rondon should play on Sunday and why he should have had a lot more game time since Lampard became manager, Rondon will upset the Liverpool defence and create space for others and maybe get a chance himself.
Allan and Delph were very good versus United because United were slow all over the field, Leicester, last night were speedy from defence to attack and those two, together, simply couldn't cope with speed that Leicester used, Liverpool will be faster and more lethal than Leicester so I would leave one of the two out, Delph would be my selection with Doucoure and one from de Beek or Iwobi, Iwobi wasn't bad last night but there were many traces of the old Iwobi last night and we can do without that fella but his energy would be useful if the new Iwobi turns up, but we must pack the midfield and conserve our energy because it will be a very long ninety minutes but we can frustrate Liverpool as long as we don't try and attack too much or without any real purpose like last night and leave ourselves open for them to break out, especially from any corners we might get or attacking without leaving sensible cover.
Big Sam did this twice at Anfield, horrible to watch but got a 1-1 draw in the league and lost 2-1 in the cup from a Pickford cock up at a corner when we could have even have snatched a win.
Christine Foster
107
Posted 21/04/2022 at 13:08:15
What is clear to me that we need a centre forward in the middle to allow Richarlison to be more effective and act as a natural target for crosses or holding a ball up. With DCL out we have few options other than playing Rondon, considering the flack and abuse he has taken since his arrival, large dollops of humble pie need to be consumed here on TW, including my own portion I might add. He is a different proposition now fit and should never have been playing when clearly so short of fitness to play at this level.
But he looks sharp and hungry, he has experience and he offers more than what other options we have. He is a natural target man which gives us far more options than just Richarlison trying to close down several players at a time or win balls in the air, with no one to lay off to even if he did.
In short playing Rondon gives better balance when attacking.
Julian Exshaw
108
Posted 21/04/2022 at 13:13:20
I don't know what to make of last night. The late goal saved it from being a downright miserable evening at GP. I wouldn't fault any player in terms of effort but there was very little forward passing,cohesion, flair or skill. One positive for me is the progress of Mykolenko. He looks a million times more comfortable than when he joined us.
I think Rondon has to start on Sunday with Richarlison on the left. I'd put Doucoure back in for Delph as we will need runners and players 100% fit. I would probably leave Gray out. It's going down to the wire, it really is. Oh, and come on you Saints tonight!!
Tom Bowers
109
Posted 21/04/2022 at 13:13:44
I don't think any of us have any optimistic thoughts about the next game.
This has been a season of the utmost misery whilst for the RS absolutely
the opposite. RS score goals for fun and Everton get outplayed almost every game.
We hope before every game that they can put in a good defensive shift but they fail every time so why should the next game be any different except that RS are in destructive mode and breathing fire.
Towards the end of every season you get a few crazy results here and there but it never happens to Everton-right !!
If we put out 11 defenders and forget about scoring we would still lose this game. It's not about our shaky back four but the whole team who just can't seem to play as a tight unit in the middle of the park as shown against the Foxes and many other games.
The basics, marking, tackling and passing are way substandard and way behind all the other teams. When Everton try to pass the ball out from the back as seems to be the norm these days they are woefully slow and just invite trouble.
Expecting a miracle on Sunday just to get a point but it won't happen.
Jim Lloyd
110
Posted 21/04/2022 at 13:17:26
Good points, Dave, Especially regarding how we got ourselves back into the game after Gray got our goal. Rondon was giving Van Dyke a hard time, which he didn't like one bit. He gives them something to worry about and our other players to use their skills to our best advantage,
Gray isn't back to his best yet, but he still nearly scored a beauty last night...we haven't got much of it but he needs a bit of time to get back to his best.
You're spot on about the game at Goodison, we were well in it, until Seamus did his party piece then then we just folded after that.
I don't care how horrible we look when we play at Anfield. All the darlings and so called pundits will say how we are spoiling the game. That'll do me just fine, spoil it and fight them.. Fight the buggers for every ball for the whole game.
John Raftery
111
Posted 21/04/2022 at 13:21:11
The risk associated with changing managers so frequently is that they all need time to assimilate the lessons previously learned by their predecessors. As others have said the notion of playing Richarlison as a centre forward in this team reduces his effectiveness as a forward and deprives us of an effective defensive shield on the left flank. Hopefully Frank will now know what we knew three years ago.
At least the players kept plugging away. The effort was always there. It was all too frantic though and the lack of quality and composure continues to haunt us. Tonight we were outclassed in the opening stages by a team with fast, agile, skilful opponents playing to a defined pattern and within a clear structure. After such a poor start out team did well, first to stay in the game defensively, and then claw their way into it as an attacking force as the game wore on.
Rob Halligan
112
Posted 21/04/2022 at 13:43:01
While we are still talking about the game this Sunday, would anyone play Pickford or Begovic? We all know Pickford is going to be slaughtered by the steaming RS, for having the audacity to injure St. Virgin in a freak accident over eighteen months ago. Could well be that one of their gobshite players takes retribution, in a sly way of course, and will escape any punishment following an hour long VAR review. We need to reduce the pressure on our back four as best we can, and I just think taking Pickford out of the firing line will help.
Oh, and by the way, Stuart Attwell is the referee, and Jon Moss is fourth official, with Darren England on VAR.
David Midgley
113
Posted 21/04/2022 at 13:45:21
Ali is a quality footballer, it seems that he's lost his confidence. He's training and getting fitter, he was introduced with thirty minutes to go and after he settled down I thought he got into the game and wasn't too bad. He needs his morale boosting, Frank should tell him that he'll play every game if he's fit from now until the end. More than an arm round his shoulder but a public statement to give him that boost. Many on here called for perseverance with AG and it has paid off, Ali is already the real deal he just needs cosseting. No matter what, Frank needs to give one or two of youngsters a few minutes they have the ability. 80 years ago lads of the same age and younger were flying Spitfires without any experience and the didn't do to badly.
Ray Jacques
114
Posted 21/04/2022 at 14:12:30
I am more worried about relegation now than I was a few weeks ago before the Burnley game, especially after the performance last night and looking at our run in.
Our 'winnable' games don't come until the last week of the season and I fear that we will be ensconced in the bottom three by that stage and our lilly livered players wont have the mental capacity to cope in the must win games. The pressure will simply overwhelm them.
If Burnley take 4 points from their next two home games and we are as expected hammered by the RS on Sunday, then come the end of the weekend we will be in the bottom 3 at Anfield (so Everton), with Chelsea to play next. Not good.
I keep thinking about sublime moments such as Iwobi's error and Keanes sending off at West Ham and the comical last goal and loss of a lead at Bunley and cant help but think they will go down in the annals of history as turning points that defined our relegation. These events combined with the farcical and chaotic ownership, money wasting, disorganised nature of the whole operation, revolving management door and deluded Chairman with his stupid comments about the Everton way will all align and combine to put the final nail in our coffin.
An awful feeling pervades me. Not even thinking about the expected slaughter on Sunday afternoon, now wheres the Jack Daniels??
Robert Tressell
115
Posted 21/04/2022 at 14:13:48
Odds will vary but the RS seem to be about 2 / 9 to win. That's roughly an 80% (+) expectation of an RS victory.
There is always a chance that we could win but that is unlikely.
So we should instead try to make ourselves as hard to beat as possible.
A draw would be an excellent result.
A defeat not so much obviously but a slender defeat is not a terrible result given that both Everton and Burnley currently have -19 goal difference.
What we must avoid at all costs is a heavy defeat like against Spurs.
Personally, I would play a very deep, unambitious 433 / 451/ 4411 of.
Pickford
Coleman
Mykolenko
Keane
Mina
Allan
Doucoure
Delph
Richarlison
Gordon
Rondon
And I would instruct the players to foul, waste time, moan, disrupt play etc from minute 1. Safety first, long ball, play for set pieces and knock downs / 2nd balls.
I want this to be an awful footballing spectacle which becomes increasingly frustrating for the RS players, manager and crowd.
Who knows, we might just sneak it with a header from a corner.

Ray Jacques
116
Posted 21/04/2022 at 14:21:04
Robert, this team is not capable of such a performance and the manager is not capable of organising it.
Hope I am wrong.
Kieran Kinsella
117
Posted 21/04/2022 at 14:22:23
Robert
If we replicate Athletico Madrid that's fine with me. My worry though is the ability of the players to execute. Utd went there with 7 defenders and or defensive mids with a similar plan. They didn't execute well and essentially defended poorly for 90 minutes and conceded 4 goals. I fear that if we go defensive we may suffer a similar fate but if we are more adventurous we might lose 6-2 instead of 4-0. I'm not feeling optimistic. We need a Wayne Clarke moment when we stopped their steamroller of consecutive wins in the 80s.
Pete Clarke
118
Posted 21/04/2022 at 14:24:56
Lampard is obviously watching the players day-in and day-out, so he must believe that Rondon cannot start and finish a game. He chooses Richarlison because he has the energy to keep the opposition defense on their toes constantly. Nobody else offers this and at the same time he will get the odd chance to score.
Yesterday, he let us all down with his concentration because you don't need to be a Number 9 to tap that ball in or get a head on that perfect unchallenged ball. He has let us down a lot with his scoring opportunities this season and needs 3 chances at least. Let's hope that changes soon.
We can only try and be very organized and disciplined against these bastards on Sunday and play for a point plus dent their hopes. No use trying to venture forward too often as we will get slaughtered. Goal difference could be crucial as we once again look to other teams to do us Favours.
We may all need to have a look at Fulham right now and our former manager Marco Silva. He was doing nothing with us and we, in our demand for immediate success, quality football and results etc called for him to go.
I'm not saying he is going to light the world up but he has had Fulham playing nice football and scoring lots of goals (40 for Mitrovic) in a division we are scared may be too good for us should we be relegated.
My point being is that we need to allow Frank Lampard time to find his way and learn the trade. He's a very intelligent guy with great knowledge of the game and a clear winner's mentality. It's not his fault the club's a mess and if it's not a big enough job for him with these shit players we have then he's also got to deal with The dickheads in control of the club plus the hangers-on at the club.
Let's not scream for his head because we will end up back at square one looking for the messiah to help us out. He ain't out there.
Back to the talk of the derby and who we play in goal and up front well if we really want to cause a stir then play Bergovic in goal and Pickford can go up front just do Van Dickhead again. (Only when we are 2 up with 1 minute left of course.)

Gary Jones
119
Posted 21/04/2022 at 14:27:21
Robert - on at least 8-9 occasions yesterday, we nicked the ball off Leicester and went to attack quickly….only to have a Leicester player do a deliberate tug/arm pull. It was utterly blatant, but the ref kept letting it go. We neither copied the move, nor complained about them getting away with it.
We are not a savvy team……and you're right, we need to learn to be one. Quickly. Just not sure we'll get an "anti-homer" ref at Mordor in the same way we do in every match at goodison.
Stephen Brown
120
Posted 21/04/2022 at 14:33:45
Leeds are not out of this relegation battle yet!
They also have an awful run of fixtures!
Robert Tressell
121
Posted 21/04/2022 at 14:41:06
Gary you're right and we've long been hopelessly innocent, fair and naive. I hate it.
There are certainly question marks over whether Lampard can organise a defensive display. But he needs to do it. Not just this game but away generally.
Too many losses, not enough draws is really killing us.
I believe the players are capable of a deep, boring defensive performance - because they did it routinely and successfully for Ancelotti.
So really it's up to Lampard.

Barry Hesketh
122
Posted 21/04/2022 at 14:43:58
I can fully understand the angst and trepidation of fellow supporters, but Everton may not have to win too many games in the remaining matches. Obviously last night's result wasn't what we wanted or needed, but a point was most welcome given the performance and the lateness of the equaliser.
If the team can nick perhaps two victories and eek out draws in other matches that may prove enough, the longer the club has matters in their own hands the better, but following the Burnley game we would have been happy with four points from the next two home games, six would have been better, but we didn't play well enough to earn that many points. As I've said before, If Everton matches or betters the results of Watford and Burnley in the run-in, we'll be fine, it won't be an easy ride and it would have been much easier had we a) beaten Burnley rather than Man United b) won last night.
I don't believe that anybody on the planet expects much for Everton from Sunday's game and it may have to be a case of damage limitiation and regroup for the Goodison encounter with Chelsea. As badly as we played last night there were enough chances created to have won the game.
There were murmurings of disquiet last night at Goodison and whilst it was understandable it wasn't at all helpful, we have to try and urge the players on in every game, but most importantly the players have to show more than they did in the first-half against Leicester.
Where there's life there's hope!
Andrew Keatley
123
Posted 21/04/2022 at 14:53:45
David Midgeley (114) - "He (Dele Alli) needs his morale boosting, Frank should tell him that he'll play every game if he's fit from now until the end."
Nope. Now is not the time for experiments with emotion. The players need to know that performances are key, and that opportunities to start will be on the basis of form, effort and tactics.
I thought Alli did well last night, and he might be in the reckoning for a start against Liverpool, but nobody should be guaranteed a shirt until the end of the season. If ever.
Emotions are to the fore – and some on here are already looking back at things that have already happened as being telling nails in our eventual coffin. I hope the players and the coaching staff do not have such pessimism at the forefront of their minds.
It is all to play for, and the home game v Chelsea will be very winnable if performance levels are good.
Colin Malone
124
Posted 21/04/2022 at 14:54:08
Demarai Gray needs to up his game. He is a luxury we cannot afford right now. We need warriors in every game, as Seamus showed last night.
Mykolenko is improving with every game. Do we stick with Delph and Allan or Allan and Doucouré? The latter for me.
Mick O'Malley
125
Posted 21/04/2022 at 15:20:20
I'd love to know where some of our fans passed their coaching badges, some want to sack Lampard already! Havnt you realised it's the fucking players, If gobshite Richarlison had buried 2 of the biggest sitters I've seen this season no one would be arsed about the display last night, we can not sack another manager it us getting us nowhere and the calls for Dyche are just plain embarrassing, everyone was calling out Burnley for the way they kicked us of the park with their agricultural football, is that the football you want to watch? That is all he knows, we are we're we are cos of the poor run of form which started under the kopite and left a big dark cloud over Goodison, Lampard is trying to lift that with the same group if shite that has let down manager after manager, I m made up for March Silva, I'd love him too lead Fulham to a good season and show everyone we pushed the panic button to early, maybe if we supported him we might be better off now, I'm getting behind Lampard even if we go down, we must give him time, he will make mistakes but I'm 100% behind him, I'm sure Lampard, Cole etc know a lot more about coaching and setting a team up than the supporters do, let's just get this season over and give him the time to build something instead of hounding him out after 2 months, I'll say it again Dyche? FFS! Peter @118 I completely agree with you, excellent post as far as I'm concerned
Brian Wilkinson
126
Posted 21/04/2022 at 15:44:48
I know a few are dejected and recounting the Richarlison misses, but truth be told, for large parts of the game Leicester themselves missed at least three very good chances and dominated large parts of the game.
We should thank our lucky stars that Leicester for whatever reason, then started to resort to time wasting, make no mistake, we were dead and buried had Leicester pushed on and continued to take the game to us.
For whatever reason nearly every single Everton player was off the boil, even Gordon, Mykolenko being one of the very few that showed up for the first half.
That was certainly the worst game I have seen Gray play, Allan as well.
The second half changed, once we brought Rondon on, he made their centre half work and freed up space for others.
Once again Iwobi ran his balls off,whatever stick Iwobi has endured,he is again one of the few that has rolled his sleeves up these last few weeks, looks like the penny has finally dropped of playing Iwobi in the middle, than out wide.
We have to start Rondon on Sunday, not even debatable, he will be a nuisance to their defence, and create space for other players.
If we play Richarlison as a loan striker, vvd may as well bring his flip flops and deck chair, it will be the easiest outing he has had all season, let Rondon lead the line and niggle vvd, that is our only hope in hell.
That last night could turn out to be a massive point, be thankful of it.
Jim Lloyd
127
Posted 21/04/2022 at 16:22:20
I'm not so sure our run of poor form started with our previous manager, Ancellotti in his last season found great difficulty in winning at home. Probably the major factors in him leaving. Poor squad, no money to bring players in; and going to a lot warmer climate to a successful club.All the managers we've had, and in the first couple of seasons, (well, definitely his first,) Martinez did well, but slowly and surely, we started a manager merry go round. On top of that weve had a mess of a recruitment mishmash. It's no wonder we are where we are.
As for Lampard, I think it's more a matter of lets see what players we can sell/give away/retire and who we can bring in to start the rebuild. And let him have the chance of recruiting some replacement for some of the puddin's we have now.
All we've got now is the fit players in this current crop, so, I think we have to get on with it. We can't bring in another manager this season, so we've got to get behind who we've got.
David Midgley
128
Posted 21/04/2022 at 16:50:20
Andrew #123.
Sorry, too emotional.
Chris Corn
129
Posted 21/04/2022 at 16:53:27
Mick O'Malley... "gobshite Richarlison"?
Granted he missed two chances... but he never went missing and saved the game for us.
Where did you get your coaching badges?
Ian Riley
130
Posted 21/04/2022 at 16:59:38
We must work harder!
Why frustration over last night? We got a point and lucky with that!
The players will put a shift in Sunday.
Better days are ahead! Stay positive all!
Brian Wilkinson
131
Posted 21/04/2022 at 17:23:04
Just to lighten the mood, anyone else spot Denise in the white coat, just side of Rondon's left shoulder, on the photo to this thread? :-)
Alan McGuffog
132
Posted 21/04/2022 at 17:28:10
Mick... are you saying that our problems began with Benitez?
Me ? I'd say they began in the late 1980s.
Bobby Mallon
133
Posted 21/04/2022 at 17:30:44
Ray @126, we have played those type of games under Ancelloti and did very well thank you. Frank can set this team up to play that way and they can do it.
My worry is he's just set in his ways and he will play Iwobi. Robert's team is a very good defensive team. We got a right good draw at Chelsea. Me personally, I think we will win against the Red Shite.
Dale Self
134
Posted 21/04/2022 at 17:40:40
For the record, Mick, I'm not embarrassed at all in my call for Dyche to replace Lampard. We can discuss that but hyperbole should be avoided. Frank simply isn't giving you some good material to work through.
All the vitriol directed at Benitez and there Frank sits below him as we all have turned into waiters looking for him to show us some signs of improvement. The claims that it is the players' fault entirely begs for some rephrase or retraction of the over-the-top criticism of Ancelotti and Benitez.
We will be in a mess with regard to this roster and our financial position for some time. Dyche has proven he can sustain a club in the Premier League with less than Frank has to work with.
The rather open style of play that Frank insists on is not well suited for our present roster and we can't turn it over in one or two windows. I would like us to stay up while we turn over the squad and Dyche provides a greater probability of that outcome than Lampard.
Andy Crooks
135
Posted 21/04/2022 at 18:12:17
Agree, Bobby @133. Sadly, I'm not sure Frank has it in him to do what Robert suggests and what I believe we need.
We haven't got the players to football us out of this. I worry we haven't the nasty bastards either. Come on Southampton, we actually did you a favour stealing Koeman!
Ian Riley
136
Posted 21/04/2022 at 18:51:08
Dyche is not a bad call for manager next season. My worry with Frank is he has struggled to make us difficult to beat. My thoughts are the transfer budget next year may be tighter based on who is sold. Players brought in will need more bite for us to become harder to play against.
I agree mick the players are not good enough. I am not closely qualified to question tactics or player selection but I see no improvement either end defensively or attacking.
Limited funds may see Frank jump ship anyway. He has ambition and knows the group currently will struggle next season. Our expectations over reality as fans are there to see. Our squad has neither the ability or bite to win matches on a consistent basis. A top manager wants top players. Reality, we are skint unless we sell with a new ground coming.
However, first thing first. Staying up is a must. How we stay up next season is another matter. All I know is being a fan of this club can be exhausting.
Derek Moore
137
Posted 21/04/2022 at 19:00:53
We also paid them good readies for that donkey Schneiderlin, Andy. (#135)
Beat Burnley and we're square.
Jim Lloyd
138
Posted 21/04/2022 at 19:06:56
:) Well said Andy regarding Koeman.
Robert Tressell
139
Posted 21/04/2022 at 19:38:32
Ian and others, I think Dyche was a good call for THIS season. Partly to organise the defence properly and get a tune out of average players (something he's very good at), partly to destabilise Burnley (which Newcastle deliberately did by buying Wood).
Lampard should keep us up but narrowly. He should then stay on and develop us in the same way Arteta has developed Arsenal - with better football and by better coaching. No point chopping and changing managers again if Lampard does his job.
Anyway, come on Saints!!
Mike Gwyer
140
Posted 21/04/2022 at 20:00:08
Ian Riley #136.
Absolutely spot on. We are definitely slipping down the order within the Premier League but it's imperative that we stay in the league and being hard to beat will become a necessity.
Can Frank oversee this... well getting beat at Burnley when you are leading was really poor management.
I like the guy and he seems to like Everton but he needs to be able to put out a team who can grind out a draw, even when you are getting battered.

Joe McMahon
141
Posted 21/04/2022 at 20:08:16
Pete Clarke @118, a very well reasoned post sir! As I type Burnley have just scored, the ice is getter thiner but unless he walks we have to stick with Frank.
Christy Ring
143
Posted 21/04/2022 at 20:22:54
If we survive, and looking like Southampton won't do us any favours, I'd stick with Frank, guarantee he knows the players we need, a few of the Chelsea young players.
Just a thought, if Moshiri who knows nothing about football, hadn't been so pig-headed to appoint Benitez and given Howe the job he wanted, where would we be in the table now? Romeu has missed 2 sitters.
Ian Edwards
144
Posted 21/04/2022 at 20:23:42
We are in deep trouble. The Manager set the team up conservatively in a home game against a team with nothing to play for last night. At the moment Burnley are pressing Southampton to death and battering them.
Paul Smith
145
Posted 21/04/2022 at 20:30:27
A terrible result and performance last night looking worse by the minute. Gordon was ambling about the first half not giving a fuck until the last 20 minutes. They should have been flying.
Nick Bower
147
Posted 21/04/2022 at 20:30:28
What is more soul destroying? Supporting Everton or Southampton?
Joe McMahon
149
Posted 21/04/2022 at 20:33:04
Oh fuck. We really are heading down. Burnley's goal difference is getting better, and what will ours be like after the Anfield trip?
Ian Riley
151
Posted 21/04/2022 at 20:48:14
Have this feeling Southampton will come back and draw!
Christy Ring
152
Posted 21/04/2022 at 20:51:03
Ian #144,
Rodgers knew what he was doing last night, why did he rest 7 players against Newcastle and play them last night?
As for Southampton, Hasenhuttl doesn't like us, and a personal friend of Shergar (Klopp) and was Cork not in an offside position, in front of the keeper? Our friend the VAR said No!

Colin Malone
153
Posted 21/04/2022 at 21:03:20
Should change Southampton motto to a box of chocolates. You don't know what you're going to get.
David Chappell
154
Posted 21/04/2022 at 21:05:21
How can the Burnley lad not be interfering with play when the Southampton goalkeeper has to push him out of the way and then reset himself, unless the rules have changed I don't know. It looked to me like it touched him. Maybe the footballing gods have given up on Everton.
Derek at 137, Everton bought Schneiderlin from the Manc red shite.
Ray Jacques
155
Posted 21/04/2022 at 21:05:38
Were doomed. More chance of finishing above Leeds than Burnley, their fixtures are worse than ours. We need 9 points, can we get them? I don't think so.
Bobby thinks we will win on Sunday, I hope he is right and would love to know what he's been drinking. It will be all over after 20 minutes.
Ian Edwards
156
Posted 21/04/2022 at 21:33:31
Looking very much like 2 points dropped last night.
Peter Mills
157
Posted 21/04/2022 at 21:39:59
Leeds have some tough games coming up, Burnley are behind us having played a game more.
A little less Fraser, a little more Corporal Jones, please.
Pete Clarke
158
Posted 21/04/2022 at 21:42:36
We are where we are because of the piss-poor running of the club by two idiots who threw money at recruitment that has cost us dearly and left us with a really poor and mentally weak squad.
At the same time, and especially in the Burnley defeat and the likes of last nights game, it is awful mistakes that have cost us dearly along with terrible finishing. These are by the players Lampard has inherited and I don't know if any manager could get better out of these shower of shitbags.
Injuries have not helped but we are generally so poor that Iwobi and Rondon are being called to be starters in our team. Two of the worst players to ever put a blue shirt on. Iwobi may have a chance to change because he's young but he's not gonna dominate a midfield.
Burnley I think, have actually realized that Dyche had sort of accepted their status as overachievers and made a change for a more positive mindset. They have very strong battlers and we are seeing it now.
We are in deep shit but let's not start calling for another managerial change in the hope that these shit players are all of a sudden come up trumps.
Jamie Crowley
159
Posted 21/04/2022 at 21:49:57
I saw a team yesterday not at their best, dig deep, never give up, and get a much needed point in stoppage time.
Character. Heart. Personified.
I've said for about 3 weeks or so now, Leeds isn't out of this by a long shot.
Keep hope alive.
Jamie Crowley
160
Posted 21/04/2022 at 21:55:33
One other quick thing.
We could, quite easily, be in the relegation zone after May 8th. And yes, there will be wailing and gnashing of teeth.
But even if that is the landscape after the Leicester game, our final four games should see us rise above either Burnley or Leeds. If we're not above them, then the magic number will be near 39/40 points, and I don't see both Burnley and Leeds getting there frankly.
It's ugly right now. But the sun still shines, and it will until the Fat Lady sings.
Mike Doyle
161
Posted 21/04/2022 at 22:00:35
Jamie – agree with your first point. Despite their shortcomings (against a better team) they didn't give up – and certainly didn't collapse after conceding an early goal.
I work with a Leeds fan who is very concerned by their run in.
Kevin Molloy
162
Posted 21/04/2022 at 22:10:06
Burnley are playing well, let's face it. They beat us, should have beaten West Ham, and they stuffed a good Southampton side. But then they go and get beat by Norwich.
It just shows that no game is predictable, even Sunday. If we score first, that would send them all loopy.
And just as Burnley are playing well, we ain't. But not playing well, we've still taken 7 points from the games against Man Utd, Leicester and Newcastle, which is amazing really.
I really thought Burnley wouldn't win tonight, so we really are on the rollercoaster ride from hell, right to the finish. You poor bastards.
Alec Gaston
163
Posted 21/04/2022 at 22:12:36
It's still in our own hands which is positive but also terrifying. I think Leeds and Aston Villa, given they have to play Burnley twice, are both in contention too.
If Villa beat Burnley, they are safe. But if not, their remaining matches, aside from Norwich, look really tough. COYB
Jamie Crowley
164
Posted 21/04/2022 at 22:20:37
Kevin Molloy -
You're correct about Sunday. We score first, and I think it will be a massive, massive thing. People overestimate the "first goal" often, but in this case I think if we can find a way to score first, they'll get very concerned, very quickly.
Look, smart money says they'll win. Let's be honest. There's very few objective people on earth who think Everton will come away from Mordor with anything.
But could you imagine if we pull the upset ('Merican speak...), help solidify our position from relegation, and destroy their chances at the League?
Sounds like an opportunity in the face of adversity to me!
Ted Donnelly
165
Posted 21/04/2022 at 22:21:17
The worst thing Everton can offer us now is hope. It looks like the curtains will be well and truly drawn on our club. Everyone else seems to have some fight left in them, not so with these embarrassing people masquerading as footballers wearing the blue shirt. I think I'm at peace now with the inevitable.
Geoff Lambert
166
Posted 21/04/2022 at 22:40:48
I do love the blind optimism on here. "If we score first" Jamie, if we score first, they will score 5 – bet your last dollar on it. Not on us scoring though.
Our goal difference will take a hiding on Sunday and we are hoping again for Wolves this time to do us a favour. Leeds are on an upward spiral, as are Burnley. But we don't need any favours, do we?
Andrew Keatley
167
Posted 21/04/2022 at 22:47:18
Ted (165) - There is plenty of woe-is-me rubbish on this website, especially right now, but your post is next level pathetic.
"The worst thing Everton can offer us now is hope."
It is all to play for and you are already "at peace with the inevitable"? Why are so many of our fans such comfortable losers, tapping out when the pressure gets real?
Colin Malone
168
Posted 21/04/2022 at 22:55:13
James Ward-Prowse...
How you can rate yourself as England team player with that performance? You were fucking shite.

Colin Malone
169
Posted 21/04/2022 at 23:02:08
Nothing to lose on Sunday.
No pressure, enjoy yourselves.
Bernie Quinn
170
Posted 21/04/2022 at 23:03:12
For Heavens sake, stop worrying. There are worse things happening in the world today...
I was disappointed 70 years ago when we last were relegated. but I remember many enjoyable games in the Second Division. All Clubs have bad spells so just think on: "What goes round, comes round." COYB
Bill Gall
171
Posted 21/04/2022 at 23:40:11
My only gripe if they go down, and I don't believe it will happen, I will still support the club that I have supported since 1954-55 season.
The problem will be that, living in North America (Canada), it has taken years to get the Premier League on TV, and this season and for the next 3/4 years all Premier League games are available by subscription.
I don't believe that the Championship games will be available, so there will be an awful lot of supporters who live abroad that are going to be very disappointed.
Ian Riley
172
Posted 21/04/2022 at 23:50:24
Let's just beat Liverpool on Sunday. Then put 3 past Chelsea at home!
Then we can put this relegation talk to bed and have a holiday. Really is as simple as that!!
It's not over, hope has been our saviour for decades.
How I long for a Top 10 finish! Those were the days!!!
Positive thoughts!!
Brian Wilkinson
173
Posted 21/04/2022 at 23:53:35
Like I said last night, that point at the death could turn out to be a massive point for us.
Phil Smith
174
Posted 22/04/2022 at 00:08:34
Looks like us being in the Bottom 3 this weekend. Hopefully that'll be all the extra motivation they need to stay in the game on Sunday and beat Chelsea the weekend after. Have to win that now.
Ted Donnelly
175
Posted 22/04/2022 at 00:23:53
Andrew (167), name me a worse footballing side in the division?? thought not!!... The fact is these cUNts who play for our beloved club deserve to go down, there's no escaping that and anyone who thinks otherwise is delusional... the table never lies, lad!!
Pete Clarke
176
Posted 22/04/2022 at 01:55:37
We have all known for years how poorly the club has been run and, although we have brought in different managers and different players, it is coming home to roost just how badly those two dickheads have handled our club.
Calls for Lampard to go are ridiculous and even worse for Dyche to be installed. Dyche is a very blunt down-to-earth hard-working northern Englishman who most of our squad would fail to understand and he would scare most of them to death. Even if he could rescue us, what then? We would be calling for his head next season and, once again, ignore the clear issue at the helm of the club.
Let Frank get on with it and do some long term planning for this club. He has average players at his disposal who are set in the easy-going Everton way and he's trying to coach them, even though most would leave us at the drop of a hat. They don't care, apart from the obvious ones like Coleman and Gordon.
What he can't do is be on the pitch making tackles for them or actually putting the ball in the back of the net for them. Most of them are thick and can't take instructions. How they got this far in the profession and earned fortunes is beyond belief.
The only hope we really have from here on is to beat the poorest teams we have left to play and hope results go our way.
In the meantime that gormless fucker in the Main Stand should be given hell at every opportunity for just hanging around pretending to be big time whilst the club has become a shambles.
Derek Moore
177
Posted 22/04/2022 at 02:56:04
Posters turning on each other here for "ignoring reality" or "being too negative" are striking examples of, in psychology terms, transference and displacement.
These internecine quarrels are a perhaps an inevitable byproduct of a long and difficult period in which to be an Evertonian.
Objectively and somewhat obviously, both sides are very much in the wrong here. Neither side of the argument can win because it's an inherently flawed argument to begin with. Unless Kenwright or Moshiri or Koeman are on here under a pseudonym then it's fairly clear. None of us are responsible for what has happened to our once great football club.
Thus nobody here should assign blame to a fellow poster for what has sadly transpired. Turning on each other or losing ones rag are excellent real world examples of defense mechanisms in operation - examples my second year psych student niece is gleefully using in an assessment she is doing for her course - but they don't stand up to intellectual scrutiny.

I'd just like to urge all the posters here to try and think a bit more before posting. The only place that really suffers is sadly this actual website itself. A few have recently noted the departure of regular voices and the falling number of comments across the site. An environment where people go to routinely lash out at others is very much an environment most of us would try to avoid in our physical, day to day lives. The online space is not so very much different.
We all care, and we're all hurting. But let's not damage this website or drive away any more of our wonderful userbase. Because our club has been seemingly ruined on and off the pitch does not mean we have to extend the same treatment to here, or indeed to each other.
Whatever will happen on the pitch will happen. For those who are not match going Blues we have no influence over events there whatsoever. The players shall not hear cheers or boos from those of us who are forced or choose to watch on a screen.
But we certainly have control over our actions and words on here. Let's make ToffeeWeb great again, that's entirely within all of our sphere of influence. Let's build ToffeeWeb back better.
Let's drop the misguided if entirely understandable in the circumstances blame game. For if our worst fears are realized, many Evertonians will need this site more than ever.
Derek Knox
178
Posted 22/04/2022 at 07:51:19
Good post, Derek M, which encapsulates my feelings too. I am totally against all this name-calling for fellow fans because they have a different opinion, or have blurted out something illogical in a time of panic. At the end of the day, we all support the same team, well, I think we do.
Let's get behind them as a unit on TW, like the match attending fans do, so no fingers of blame can only be misdirected.
We had an off day against Leicester, for whatever reason. If ever we need all to be singing from the same sheet, it is Sunday. Whoever we are playing then!
Marc Hints
179
Posted 22/04/2022 at 08:00:44
I think for the Liverpool game, forget playing from the back or nice football just go out and frustrate them and get a point. I don't think the way we play will beat Liverpool and will cost us the game. Just frustrate them and get a point which is better than nothing.
We have other games we can win.
Tony Abrahams
180
Posted 22/04/2022 at 08:54:33
I didn't think it was two points lost after the Leicester game, I definitely thought it was a point gained. I wasn't overjoyed but I left the stadium with a lot more hope than I would have if Richarlison hadn't levelled it up near the end.
It's disheartening when other teams get points, but they are in the same position as ourselves, fighting for their lives, and unless Everton just die on their feet, then I expect a few more twists and turns before the season finishes.
However hard it is, I still think the only thing we can do is get behind the bastards, and hope they can get enough points to survive. I think we should be past playing the blame game anyway, but that's because I think that divide & conquer has been around at Everton for way to long, and has definitely contributed to us being in this current predicament right now.
Tony Abrahams
181
Posted 22/04/2022 at 09:14:42
Marc@179,
We all have our own opinions and mine is that Everton had enough chances to score a few goals the other night. How many of those chances were created by good football?
Gordon robbed a Leicester player to put it on a plate for Richarlison, who also should have scored from a corner. Mina had a header from a set-piece. Richarlison had another chance off Rondon's flick-on that came from the boot of Pickford, as did our goal which Alli doing well to chase down and keep alive the play.
Gray also had a decent effort from a well-worked corner, but Everton never created much from trying to be intricate, and I think we should take a leaf out of Liverpool's book and go and try and play and force mistakes in the opposition's half.
I'm certain that's how we also threw away 3 points at Burnley, who just fought and scrapped to stay in the game, even though they would have known we were playing much better than them, and also that they just couldn't have out-footballed us.
Derek Knox
182
Posted 22/04/2022 at 09:19:20
Marc @ 179,
"We have other games we can win."
I believe if we realistically want to retain Premiership status, that should read "We have other games we must win."
Marc Hints
183
Posted 22/04/2022 at 09:26:54
Tony #181,
Yes, I agree with what you're saying and we should've won against Leicester, especially the miss from Richarlison. What I was trying to say was I think Lampard wants to play nice football but at the moment that needs to be put on the back burner and we just become if you like 'Dogs of War' again, for every game. I only mentioned Liverpool as it's our next game.
Derek #182,
Yes, absolutely that's correct – they are must-win games.
Ray Jacques
184
Posted 22/04/2022 at 09:45:47
I don't think we will need to wait too long for Sean Dyche to be the manager of our beloved basketcase of a club.
I think he will be the manager of Everton in the Championship next season.
Tony Abrahams
185
Posted 22/04/2022 at 10:06:36
I was just backing up what you wrote in your earlier post, Marc, especially because we haven't got many players in our back seven (the other night) who are actually that good at dictating the play anyway.
It does seem to be more a case of just for the sake of it, rather than having any real belief in what we are doing, imo, especially in the games where it's obvious that the opposition are so much more fluent than us when they have the ball.
Marc Hints
186
Posted 22/04/2022 at 10:17:19
Tony #185,
Thanks. Yes we don't seem to have those players, especially the midfield that dictates play, we saw that in the first 20 minutes against Leicester when they had a lot of the ball.
The other thing I find odd is how many games we seem to start very slowly and it takes either a goal from the opposition or a half-time teamtalk to get them to play with more urgency.
Is that down to lack of confidence, do you think?
Jerome Shields
187
Posted 22/04/2022 at 12:18:20
Dave #106,
The selection in midfield is going to be critical for the reasons you have given.

Jamie Crowley
188
Posted 22/04/2022 at 12:43:03
If we beat Watford, Brentford, and Palace we're on 38 points, and I'd bet we'd be safe at 38 points.
It's become that simple.
Every other game if we pick up points, great. If we don't, it won't determine our fate.
Watford, Brentford, Palace.
Paul Hewitt
189
Posted 22/04/2022 at 12:45:55
Jamie @181.
Have you seen Burnley's fixtures? They could win most of them.
Christy Ring
190
Posted 22/04/2022 at 12:46:30
Ray #184,
Great to have a loyal and pessimistic supporter like you, and you think Dyche is the answer.
I'd start Van de Beek on Sunday ahead of Allan, we need a playmaker in midfield, and play Richarlison on the left instead of Gray, with Rondon upfront.
Jamie Crowley
191
Posted 22/04/2022 at 12:56:25
Paul -
I have. Here's the thing I keep saying. I don't see both of Burnley and Leeds taking 12 (Burnley) / 9 (Leeds) points from their last six games.
Villa will want to beat Burnley once, and will, to solidify their safety. I see Burnley picking up 9 points: Villa, Watford, Newcastle. Their key game is against Wolves in my opinion coming up next. Beat Wolves, and I could see them finishing on 39.
Leeds, frankly, are fucked. They have 9 max points out of Palace, Brentford, and Brighton. Lose any of those three and they finish on 39.
I don't see both of them doing that. Hence, if we get to 38, I think we'll be safe.
But yes, Burnley has the "easier" run in.
Michael Lynch
192
Posted 22/04/2022 at 13:03:20
It's all very well to say "if we beat Watford, Brentford and Palace", but we've all been watching our games this season, and what reason is there to believe we can get more than a couple of points from those three?
Watford beat us 5-2 at our place, and we've been looking steadily worse since then; Palace have beaten us 3-1 in the league and 4-0 in the cup this season, and Brentford beat us 1-0 at their place. The only glimmer of hope is that we beat Brentford in the cup at home.
I admire some people's optimism, but there's very little evidence to support it. I just hope you're right and I'm wrong.
Jamie Crowley
193
Posted 22/04/2022 at 13:06:26
Michael -
If we lose to any of Watford, Brentford, or Palace, we deserve to go down. I see that as simple truth.
Bill Gall
194
Posted 22/04/2022 at 13:27:52
The only way Everton are going to survive is in their own hands, it is what they do on the pitch not what other teams do.
We can't win away from home so that just leaves our home fixtures, and it shows how poor we have been as all 3 teams below us have beaten us.
We are fighting against relegation because we are one of the poorest teams in the Premier League. We have missed opportunities to be clear of the position we are in because of poor management, lack of discipline and fight in the squad, and yes injuries,
I still believe we will stay up, but it is going to take a lot more fight and determination in the players, and better game management from the manager that we have not seen so far.
Neil Copeland
195
Posted 22/04/2022 at 13:31:09
Whilst I fully understand that some are optimistic and others pessimistic which may also be the difference between fantasy and realism, as a match going supporter I never go expecting us to lose, I always have hope that we will win and today will be "the day". If I was expecting a defeat, I don't think I would continue to go, what would be the point?
Yes, I appreciate that we are generally garbage but we may just turn it on at the next game. To me, as a supporter, I will give it my all to try and roar the team to victory in the hope that the players respond. The time for an inquisition is once the final Premier League placings have been decided. Other than for debating reasons, there is little point until then.
Every game is winnable, all teams have an off day and a very good day at some point. You never know, perhaps Sunday will be that day.
UTFT
Michael Lynch
196
Posted 22/04/2022 at 13:37:41
Jamie, I can't disagree with you there. I think we will go down, and we deserve to go down.
We've had our fair share of bad luck, with injuries and VAR and how the fixtures have fallen at times but, over the course of the season, I think we're one of the worst three in the Premier League.
I said a while back that, since Lampard took over, it's been like he's singing Ten Green Bottles. After every defeat, he's said "ten games to go... nine games to go… eight games to go" etc. Well, we're running out of bottles now.
I think the team are trying hard, but they're frightened, they're confused, and their ill-equipped to deal with what's facing them. If I was in charge, I'd bring in some of the players who haven't been central to the position we're in. Start Rondon, start Dele, start Van de Beek, even start El Ghazi. They might be carrying less baggage then the likes of Gordon, Gray and Iwobi.
Sam Hoare
197
Posted 22/04/2022 at 13:41:01
No-one knows. Happily football is rarely predictable or else it would be rather dull.
I have a horrible feeling it may come down to something as painful as goal difference and, if it does so, then it may be to our detriment.
I rather hate Moshiri and Kenwright et al for putting us in this position. It's intensely stressful. Though maybe in some perverse way, that is what football fans crave?! Mostly at this point in previous seasons, I'm losing interest in the Premier League as we drift to another mid-table disappointment.
Gary Jones
198
Posted 22/04/2022 at 13:56:49
If we beat Brentford, Watford and Palace - and ideally manage a draw against one of Chelsea (home), Leicester or Arsenal then we will very likely survive. However, as others have stated, that is going to be a tough ask, and if we can't manage it then we only have ourselves to blame! No injuries, no injustices, our own fault. The end.
Personally I really don't want us to go down – who the hell does!!! But if it does happen, then getting depressed and shouting at the forums about 'blame' isn't going to do fuck all.
The biggest issue is the debt and the stadium. Moshiri will need to 'continue Plan A' and hope we come straight back up, or he'll have to look for a buyer on the cheap who can take over the project now and accept his loses.
Unfortunately I think he'll try Plan A, and we will see no fundamental change for the Championship (other than maybe yet another new manager) and I think that should be a No from all of us. If we go down, this board needs to go. All of it. Not just Kenwright but Moshiri too. The club will survive and we will be back.
Christine Foster
199
Posted 22/04/2022 at 14:01:39
With the cushion gone, the hard reality is kicking our butt.
How many times have we seen doomed clubs get poor luck, decisions go against them or absurd or freakish goals go against them... we see it every season. Those desperate for a bit of luck always seem to get the wrong end of the stick. So far that's not happened to us, which, with my crazy logic tells me the door is open.
Anfield. Game plan? Do the opposite of what they expect. Get physical. Stop the midfield playing. Dish out what Dick the Dyke loves to do to us. Let Salah and Moana know they are being marked.
They will target Seamus so make sure he always has cover... play Rondon and Dobbin on the bench and use him. Doucoure and Allan in the middle of the park with Van de Beek, Mina and Keane.
But most of all, energy and closing down. Physical midfield, compact but deep, stop the through-balls from the full-backs. We can do this because no one is expecting us to. Least of all, them.
Brian Murray
200
Posted 22/04/2022 at 14:02:20
Well we never quite got the Kings Dock legacy or the Kirkby legacy for that great Evertonian but we may get another type of legacy solely from him alone and his running of the club. Well done, mate.
Brian Wilkinson
201
Posted 22/04/2022 at 14:09:04
Michael, could the same not be said saying all very well saying we will lose to the shite and Chelsea, you just never know what is going to happen, from now until the end of the season.
Like I have said many times before, expect the unexpected from Everton, never cease to surprise us.
We have been in this position before, always found a way out, no one gave us a cat in hells chance, when we were near the bottom, when Royle took over and had a Goodison derby, Liverpool are on fire, but all the pressure is on them, if we can frustrate them, you just never know… Sigurdsson leveller in the game there… Jagielka screamer… last season – it can be done.
To frustrate and niggle them, we have to start with Rondon in attack, give Pickford someone to aim for.
As for the three games in question later on, best looking at one game at a time, I would rather be in Everton's position a point clear and a game in hand, than Burnley's.
It is still in our own hands, one final push, an unlikely hero stepping up, a Horne, a Farrelly… could it be Rondon, Iwobi, Delph.
Keep the faith, Blues.

Dave Lynch
202
Posted 22/04/2022 at 14:23:58
Why the fuck are people arguing for Dyche?
Are you forgetting Burnley have been in the Bottom 3 for most of the season and he's been sacked by them!
What makes you think he can improve us? He couldn't organise Burnley's defence, what makes you think he could improve ours?
Give your head a wobble.
Mick O'Malley
203
Posted 22/04/2022 at 14:26:28
Dale above, if gobshite Richarlison had buried 2 absolute sitters, 2 of many he has missed over the last few weeks, we would be okay.
Benitez put us in this position, Benitez played and flogged Rondon to death when he arrived.
And absolutely no to Dyche. Burnley put in their best performance of the season last night cos they let the handbrake off and went for it, none of the defensive shite and thuggish football that was the norm under Dyche.
I certainly don't want to watch that shit again, the shit that the kopite subjected us to.
If we go down, it's fuck-all to do with Lampard – the damage was done a long time before he got here. He will get my 100% support as long as he is here. No more changing managers, it has got us nowhere.
We don't have a divine right to be in the Premier League and if we go down, I'll accept it and be back next season for more.
Chris Corn above, I haven't got any coaching badges but what I have got is 50 years ofwatching Everton and, as far as I'm concerned, they were 2 absolute sitters what he missed – inexcusable for a Brazilian international, the team's talisman.
Matthew Williams
204
Posted 22/04/2022 at 14:28:40
Another chance for back-to-back wins gone again. Thank fuck we got a least a point but, with Burnley winning again and with the derby looming, we must now scrap it out in our remaining games... just believe, Blues, we can still do this!
Many congratulations to the Wales Under-18 lads: first Centenary shield since '81... remember the name, folks... Josh Williams — I've already emailed the club about him!
Jay Harris
205
Posted 22/04/2022 at 14:39:34
I don't want Dyche or his "Alehouse football" anywhere near Everton, in fact, at the start of the season, I was wishing Burnley would go down because of the turgid football they played under Dyche.
Rob Halligan
206
Posted 22/04/2022 at 14:46:54
FFS……Dyche……..that's nearly as bad as Allardyce.
Frank Lampard needs to be in charge next season. In his first full season at Chelsea, he finished fourth and got to the FA Cup final. In his second season he was top at Christmas before a mini collapse saw Chelsea lose 5 from 8 games, I think it was, before getting the bullet. His team did go on to win the champions league that season as well. So it's clear that Frank can organise and set up a winning team, providing he has quality players to choose from. If we go down, then it is no way his fault, it's the players that he inherited who are to blame.
Ray Jacques
207
Posted 22/04/2022 at 15:00:02
Christy, I haven't advocated Dyche and wouldn't want him but, if we are relegated, then the way the clowns who run EFC operate then they will get rid of Lampard and employ Dyche or someone of his ilk to 'fight' our way out of the Championship.
Perhaps the post reads wrong, it is just an interpretation of what I think will happen if we fail to survive.
Tony Abrahams
208
Posted 22/04/2022 at 15:20:01
"Compact but deep" sounds simple Christine, but it seems to be anything but for this team (simple) and this is one of the reasons I think we definitely lack confidence Marc.
I think we have looked like a team caught between two stations for a long time now, and the only time we have looked solid was when Ancellotti got us playing very deep but compact, which incidentally was how we played against Man City, in what was probably the team's best display under Lampard?
Whilst some press, others stay deep, and this is creating division, and loads of space for the opposition to play, and it's also making it look like we haven't been properly coached in having a real game plan, but this has been going on for years now imo.
Tony Mace
209
Posted 22/04/2022 at 15:44:24
Thanks for these 'good times' we're having, Bill. I'm feeling blessed.
Robert Tressell
210
Posted 22/04/2022 at 16:24:20
Tony # 208. Ancelotti, it seems, was actually a good manager who knew how to organise a poor group of players.
Unpopular view, but I think Benitez would have done okay with a fit Calvert-Lewin and Mina plus Sigurdsson being available.
The consistent theme here is that our players aren't very good. But hopefully Lampard and coaching staff can remind these average / poor players how to pick up points away.

Winston Williamson
211
Posted 22/04/2022 at 16:48:51
Ancelotti was and is a good manager. He set us up according to the shite show he saw in training daily. Had he stayed, there's no way we'd be in this position.
Benitez has to be the worst manager in our entire history. Absolute shit show of a choice of manager.
Lampard is consistently showing his overall inexperience of being in the bottom half of the table. Likeable guy. Good coach. Not what we really needed for the 2nd half of this season. After this season, he may well be a relative success here. Whatever league we're in...
These players are spineless, gutless and just plain shit. That defence is the worst we've had since the '90s and even the players from the '90s had more heart and determination.
The midfield is slow, weak, consistently show an inability to pass and find their own players and most can't shoot.
The forwards play for themselves instead of supporting each other.
The blame for everything above is the Chairman, owner and board. In that order. We have a substandard board and this is reflected on the pitch. Everton FC once had standards. Once had an identity. Once had a heart and soul. The only good thing about this club is us!
Fucking nobhead of a club
Tony Abrahams
212
Posted 22/04/2022 at 16:49:03
I think Benitez would have done alright if his appointment wasn't so divisive, and he never lost most of his better players to injury, Robert. The thing that never really impressed me under him was that we were still always way too open, and this is why we lost way too many games, which has definitely contributed to our current mess.
Ancelotti is a very wily old Italian but the thing that I couldn't understand about him, Robert, was why he didn't adopt the same tactics at Goodison as he adopted away from home? If he did, we might have even got in the Champions League, and that would have been some feat with most of these players, and is still something to try and make Frank Lampard understand before it's too late.
Dale Self
213
Posted 22/04/2022 at 17:04:19
Since I've been doing the Dyche thing, I'll weigh in on why. We have a roster that has declined across the board so much that it is folly to think we will be able to get rid without substantial losses. Our financial position prevents us from just taking the hit, so we have to move our best and hope that we can find a bargain or two that will drastically change the chemistry on the pitch.
Given the odds of that type of brilliance arriving in our transfer moves, having someone who can reinstall stability in defence is a crucial aspect of our survival.
Yes, Dyche is old school as fuck but go back and look at games where Burnley opened it up and there was a next level to his methods. I believe he would be pursuing that kind of strategy here rather than digging in like at Burnley.
Additionally, he would without doubt establish some strength in defence and, while we added to our quality, we would have that solid foundation to build on. This is similar reasoning as to why Martinez was able to flourish early on. He had Moyes's foundation to build upon.
I'm not suggesting Dyche for the long run but, if he came and developed a counter-attack and limited possession game that worked out, I would not immediately show him the door if he steadily improved our results.
He would be a good solution to what I see as a 2-3 year problem of getting past the business of moving most all of our roster now and adding new talent to what is kept. Sometimes you need the straight-forward approach until everyone is on the same frequency and I doubt we would be taken advantage of in transition after we lose possession which is our greatest flaw presently.
No offence taken from those who wish to resort to insults, I get it. But there are good reasons to advocate for Dyche if you seriously consider our current situation and how easy we are to destabilize when a good coach deploys their best eleven against us.
Jim Lloyd
214
Posted 22/04/2022 at 17:22:02
The 2 Dereks, (177 & 178) — Well said.
We can all look at what's happened (and what is still happening) to our club. In my view, the rot set in 20-odd years ago.
The one hope we had is when Moshiri invested. More detailed discussion another time; but I think we chased the Man City investors away, and Kenwright couldn't believe his luck when Moshiri wandered into his parlour.
Since then, we've spent haf a billion £££s and got little to show for it. We had Martinez, decent manager... little money. We got money and he was sacked and so it went on.
Two men were brought into the club to try and save a sinking ship. That was Sam Allardyce and Raphael Benitez. Both of these were unpopular (to say the least) with sections of our supporters, effectively poisoning the atmosphere while each man was at the club.
I think Moshiri went for those two men to try and bring some stability and for some foundations to eventually be built. Then I think he also, of his own choice. went for Frank Lampard, off his own bat, rather than have Kenwright wittering in his ear hole.
I think when he got Raphael Benitez, it was already too late to change much, as we had no money to bring in players. I think he spent £1½ million on Gray and Townsend who, in my view, were two of the best value for money buys we made in the last few years.
Sam Allardyce got us finishing 8th and was booed out of the club by a section of the fans. I think Benitez would have got us playing defensive but effective football, but I think the number of injuries we've had would scupper any manager's attempt to mould a team of our best players.
I think Frank Lampard is equally trying his best to mould a team out of a hotchpotch of players that are just not able to play football the way I think the vast majority of us would like it to be played.
So we're no doubt treading on thin ice, until the end of the season possibly. Who knows? I remember us going to Mordor with a team of reserves and beating them, I think it was 4-0, might have been 4-1. Anyway, I was in the Anfield Road end and it was unlooked for and absolutely fantastic.
Now we've got some decent players but too many in the team are not good enough. Well, we can't do much about that except cheer them on and see them fight for every ball and never give in until the game is over. Whether we win, draw or lose is pot-luck, with so many factors that can change a game.
The way I think is that, whether we stay up or get relegated, there must be a fundamental change in this bloody Board we've got and I hope that Mr Moshiri sets his mind to do just that. Not have a charlatan as a Chairman, nor an ex-footballer and an ex-Echo writer on the Board unless they've both got special skills and a Chairman who is an effective leader.
Then we might start building up the crumbling edifice from its foundations.

Gary Jones
216
Posted 22/04/2022 at 17:35:00
Many of those who are slagging off Dyche are those who laughed at the Eddie Howe idea too look how that's working out for Toon! However, I think swapping managers at this stage would be simply pointless. It's the same group of players, and switching systems again will simply confuse them, and will not inspire them.
However, I do think there are serious questions over whether Frank should stay if we do go down. and the likes of Dyche and/or Nuno should be serious contenders to manage our immediate return from Championship if we do. I'd prefer a Chris Cooper like, but that's unlikely.
Primary decision should be based on youth development. Frank came with a reputation for it, but has really demonstrated the opposite. Branthwaite, Onyango, Simms, Dobbin, Patterson, et al not getting a sniff of anything under him really.
My team for the Championship would be:
Virginia (pickford will need to be sold, still have hopes for)
Patterson Godfrey Branthwaite Mykolenko
Iwobi Onyango Doucoure
Dobbin Simms Gordon
With Price, Warrington, Davies, Welsh, Mills et al in and around the first team. Big question on leaders, but talent there to get back up first go if we play swashbuckling like Fulham and Bournmouth have. That'd be my second characteristic in chosing manager alongside youth opportunity.

Jamie Crowley
217
Posted 22/04/2022 at 17:59:09
Glasses half-full and glasses half-empty.
We've been terrible this season.
We've also managed 4 points in "never say die" way, with Iwobi's goal down a man against Newcastle, and Richarlison's goal at the death against Leicester.
I personally will hold to hope. Three wins from Watford, Brentford, and Palace and honestly who the hell knows what else? A jammy point against any of the other, more talented teams?
As others have said, anything can happen.
I don't like all the doom and gloom before the final whistle on the season has blown. When you're in a war – and we're in one not obviously in the literal sense, but in the soccer world with our current finances, I see no issue with using the term 'war' – you want players, managers, and yes fans, who will fight to the bitter end.
Don't give up yet. Fight until the end. Forget what your brain and eyes are telling you, just fucking dig in and see it out.
If you're at the game, get right behind those players and lift them. It's imperative.
My yelling from my couch or barstool won't make any difference. But you fine folks over there can indeed make a difference.
It's not over. Stop giving up. I'd argue to do so is decidedly not Blue and certainly not Scouse – that's a bold thing to say coming from me I realize, and I'll stand by it.
Stop the whining and the crying, the feeling sorry for yourself, it'll get you nowhere. Get down to the games and fucking lift the team. Do it for yourselves and for those of us who can't be there to make a difference.
As my late father might have said, "Knock it off. Stand up straight."
Jim Lloyd
218
Posted 22/04/2022 at 18:16:27
Spot on, Jamie! Whinging will get us nowhere! I think if the team show up and fight, in away matches as well, then we can't ask no more.
We'll do our roaring at the match if our players just fight for every ball, every tackle, and even every decision, get in the ref's face!
Soren Moyer
219
Posted 22/04/2022 at 19:03:08
Taken from Wikipedia:
"In the following season, 2020/2021, Chelsea made five major acquisitions in the summer transfer window in Hakim Ziyech, Timo Werner, Ben Chilwell, Kai Havertz and Édouard Mendy. Chelsea initially started strongly, topping their Champions League group and the Premier League in early December. However, after a run of two wins in eight Premier League matches, Chelsea dropped to ninth and Lampard was dismissed on 25 January 2021.[228] His dismissal came just 24 hours after Chelsea's 3–1 win over Luton Town in the FA Cup.[229] On 26 January, German coach Thomas Tuchel was announced as his replacement."
"It was reported Lampard's departure was also influenced by disagreements with the club's transfer policy; Lampard is said to have requested the acquisitions of Pierre-Emerick Aubameyang, Declan Rice, and James Tarkowski, with these moves being blocked by Chelsea's co-director Marina Granovskaia.[231] Lampard also reportedly fell out with or had limited communication with some players, causing former teammate and club advisor Petr Čech to have to serve as an intermediary."
Doesn't sound too promising!
Ian Riley
220
Posted 22/04/2022 at 20:23:22
I'm all for being optimistic and yes, we are not even in the Bottom 3 but surely conversations are going down in the boardroom if relegation happens.
Talking to a Wolves fan. He looked at me and said "Relegation is out of the family. The club is out of the spotlight both here and abroad." He found when Wolves got promotion and stayed up, they became known again. "You are soon forgotten. You feel the club is alive and bigger due to the coverage in the Premier League."
My thoughts when told this was "What if it happens?" It really is possible now. Plan b? Has the club a manager in mind? Stick with Frank? The plan must involve getting back to the Premier League within the first year or two years at least. The longer you are down and out, the harder to get back.
Too many fans look at Everton through tinted glasses. I can be like this. Blinded by love for the club. Yes, that's good but manager after manager has led us here. Everton are a big club but not a big team. Sam, Silva, and others all fell to our calling. Our expectations over realism with the squad are wide apart.
To get out of the Championship, we may need a Dyche. A realist, tells it the way it is. Might not be to everybody's liking but getting back quickly is crucial. The Championship is a grind, week-in & week-out. Tough, rough and takes no prisoners. We will need a manager who knows what it takes to get back and quickly!
I hope to God my post will never have to be put into action but we must prepare – it's a possibility.
Anthony Murphy
221
Posted 22/04/2022 at 21:23:38
God this is shit isn't it. I'll support the blues whatever happens and will cheer them on to the bitter end this season, but I do think personally that we will be relegated...
Appreciate there will be twists and turns, and I've changed my prediction more than my undies, but just going off the remaining fixtures, our dire away form, and lack of real progress in the keeping clean sheets and scoring goals stakes, I think it'll be too much with games running out.
I think it'll be decided on the last game of the season and my worry is that Arsenal are likely to need something to qualify for the Champions League. My other concern is goal difference which would be a horrible way to go down. On saying all that, I'll be changing my mind again if Wolves beat Burnley on Sunday. 😃
Danny O'Neill
222
Posted 28/04/2022 at 08:29:37
The point Tony makes about division. We either sit deep or we press. We currently have a defence that is afraid to come out and a midfield that wants to press. The result is we concede space. We have a gap. Be that between the defence and midfield or because we isolate the striker.
The most important commodity on the pitch is space. You win by creating it. You lose by conceding it.
Simplistic view, but for me it's about being compact in defence but expansive in attack. Space.
---
Add Your Comments
In order to post a comment, you need to be logged in as a registered user of the site.
Or Sign up as a ToffeeWeb Member — it's free, takes just a few minutes and will allow you to post your comments on articles and Talking Points submissions across the site.
---
© ToffeeWeb